The age between 10 to 14 is that when kids don't want them to be treated as babies! This is the age when they always have the adventurous passion on their brain and still remain ready to discover new things! Tweens just love exploring their interests and independence, and this is the stage when the parent can do a lot of smart additions to their daily activities that will be just life-changing! This may also be the age in the life of tween when they no more like the fantasy worlds like cartoons and fictional heroes but become a fan of real-life heroes! So, parents should go smart at this time and should give them some great inspirations or tween birthday party ideas! One amazing this that all parents can do is to organize individual tween birthday parties based on a theme that will depict best the interests of their smart tween!
Here we have brought a big list of amazing 23 DIY Tween Birthday Party Ideas that all parent will love to organize for their tween! These tween birthday party ideas are smartly collected and are guaranteed to nurture your tween's passion! Time to make your tween experience the freedom of choice through some fantastic birthday parties! There are just a lot of fun ideas to arrange a rocking birthday party for your little boys and girls. Insta theme, ice cream theme, race theme, detective and game themes are fresh for the boy's birthdays. For girls you can opt for the ideas like dressing up the cake, doing paint art projects and the spa theme.
And it becomes easy to choose the colors, decor type, and even the food when you have a decide theme and work accordingly. All these tween birthday party ideas would be so much fun and cheap to do at home than hiring a professional birthday party organizer to make your kid's day fun and unique.
No more time-taking and tedious research, just take a roundup of the whole collection and see what type of party themes would be high for your kids! Just hit the given links for complete picture guidance, detailed instructions and step-by-step tutorials for all of your favorite tween birthday party ideas you stop by!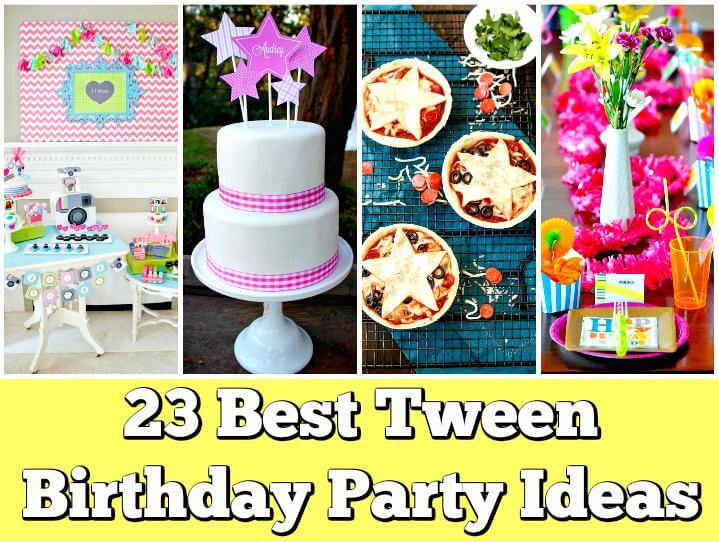 Want more Party Ideas?
DIY Instagram Teen Birthday Party Theme Idea: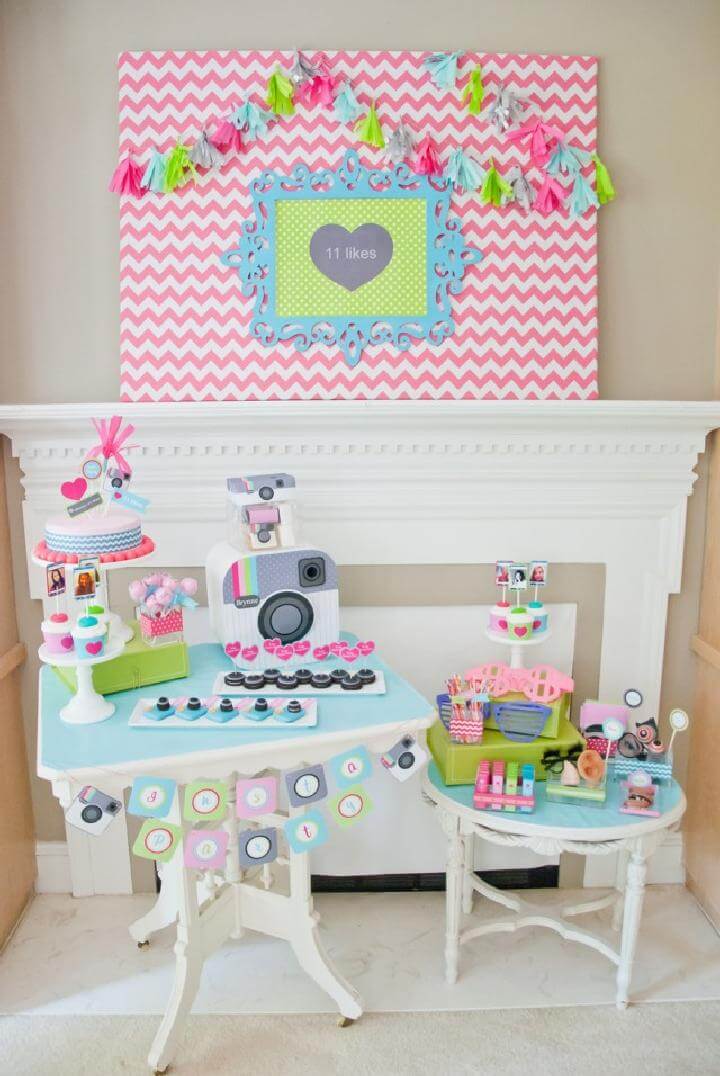 This is the age of internet and no need to tell how I am addicted to the social media apps especially to the Instagram. Even the kids are crazy for this app so it can be a great theme idea for the birthday party of your tween with everything from the decor, table setting and even the food be organized and prepared according to the to the Instagram theme and the colors related to it.Check out the complete tutorial of the theme here andersruff
DIY Timeless Minni Pizza Pies Teen Birthday Party Idea: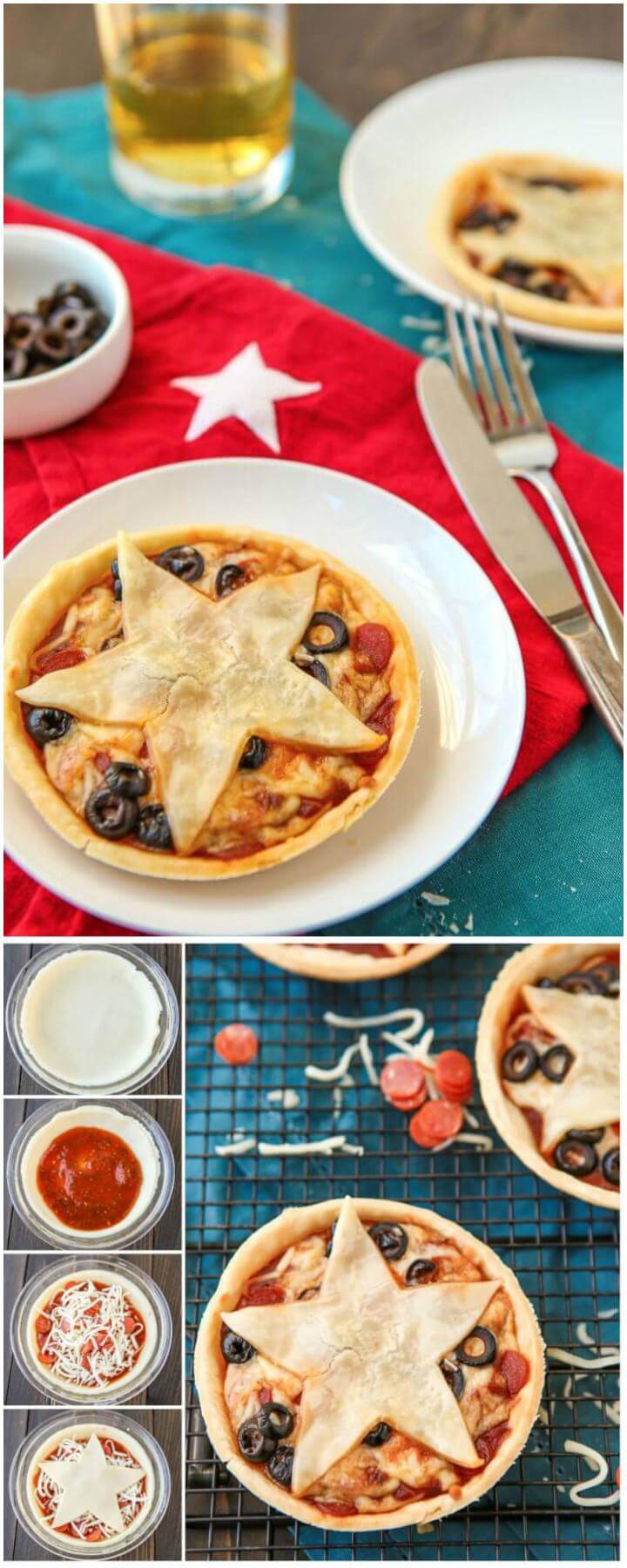 Kids just love pie, and they are just immensely in love with the pizza too so here we have this special recipe for the pizza to create and delight them on their birthday. Not only the kids but also the guests of the party would not help but appreciate you for this brilliant party food. get the complete recipe of the pizza here playpartypin
DIY Ice Cream Party Buffet Ideas: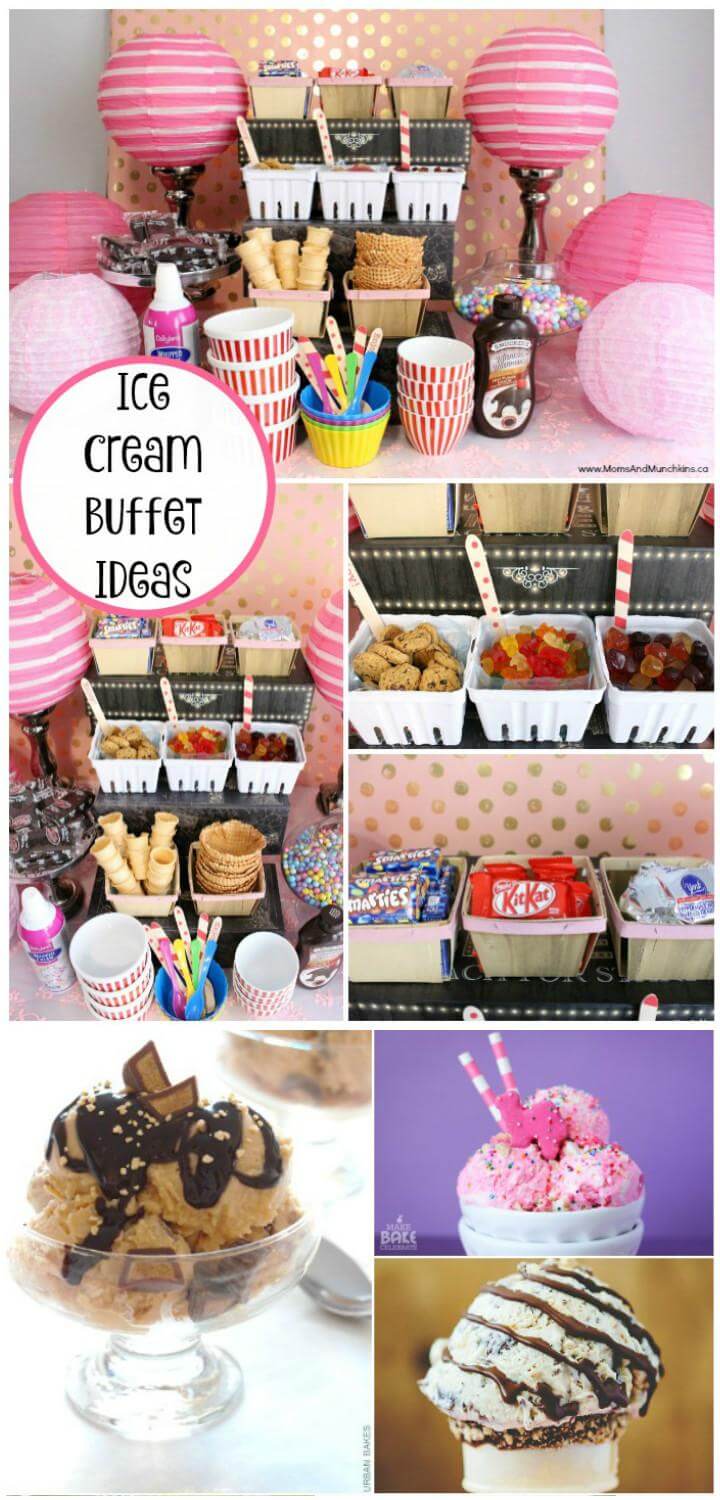 Kids can have cantons of ice cream, and still, they would not be filled with the yummy and tasty ice cream. So let their love for ice cream be taken to another level as you can adopt the ice-cream theme for the birthday party of your ice cream lover. Here is the link where you can know the idea of converting each thing into a fun ice cream inspiration for the birthday party of your tween momsandmunchkins
DIY Under Star Teen Birthday Party Idea: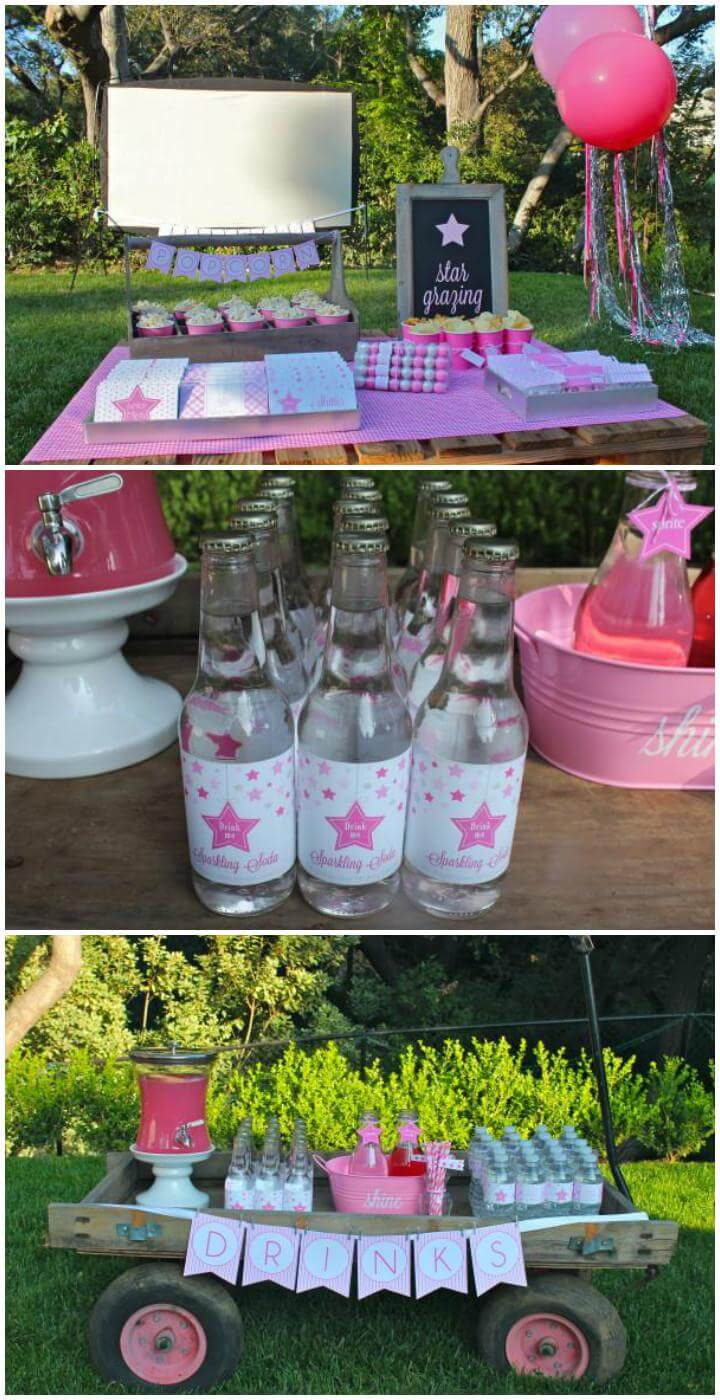 You can have loads of fun and enjoyment while making the decor preparations for the party of your tween when the theme is starred as it offers you a lot to create and craft. From the cake toppings, tags and banners everything would look just really gorgeous and pretty with the starts and that too in the pink the favorite color of the girls. Check out this star birthday theme in details here karaspartyideas
DIY Tween Girl Spa Birthday Party Idea: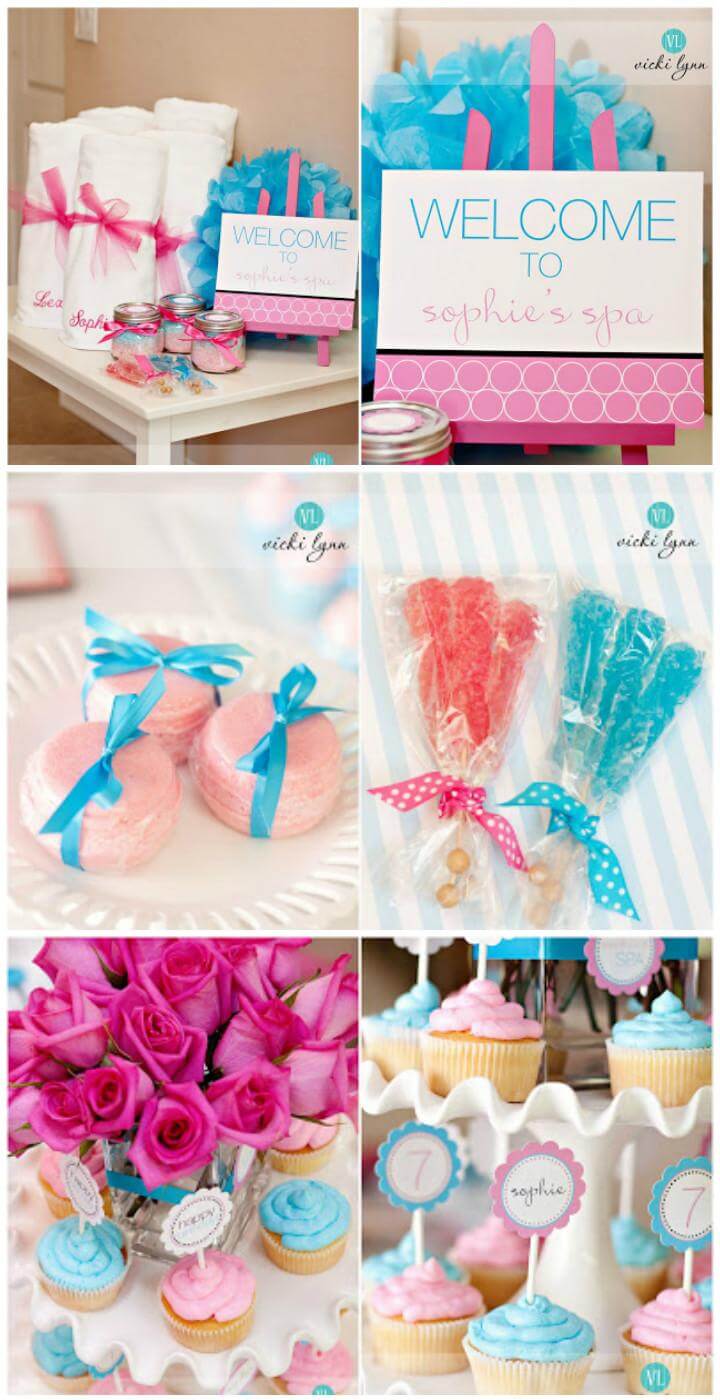 The tween girls and boys are just crazy for the parties, and they want their birthday party to be the most fun, and most rocking and a unique theme would do that. So if you have a tween girl with her birthday coming up this idea of spa theme would make her big day special and so much fun for her girlfriends too. It would easy to organize these theme with the complete tutorial help here hetomkatstudio
DIY Teen Birthday Party Scavenger Hunt Idea: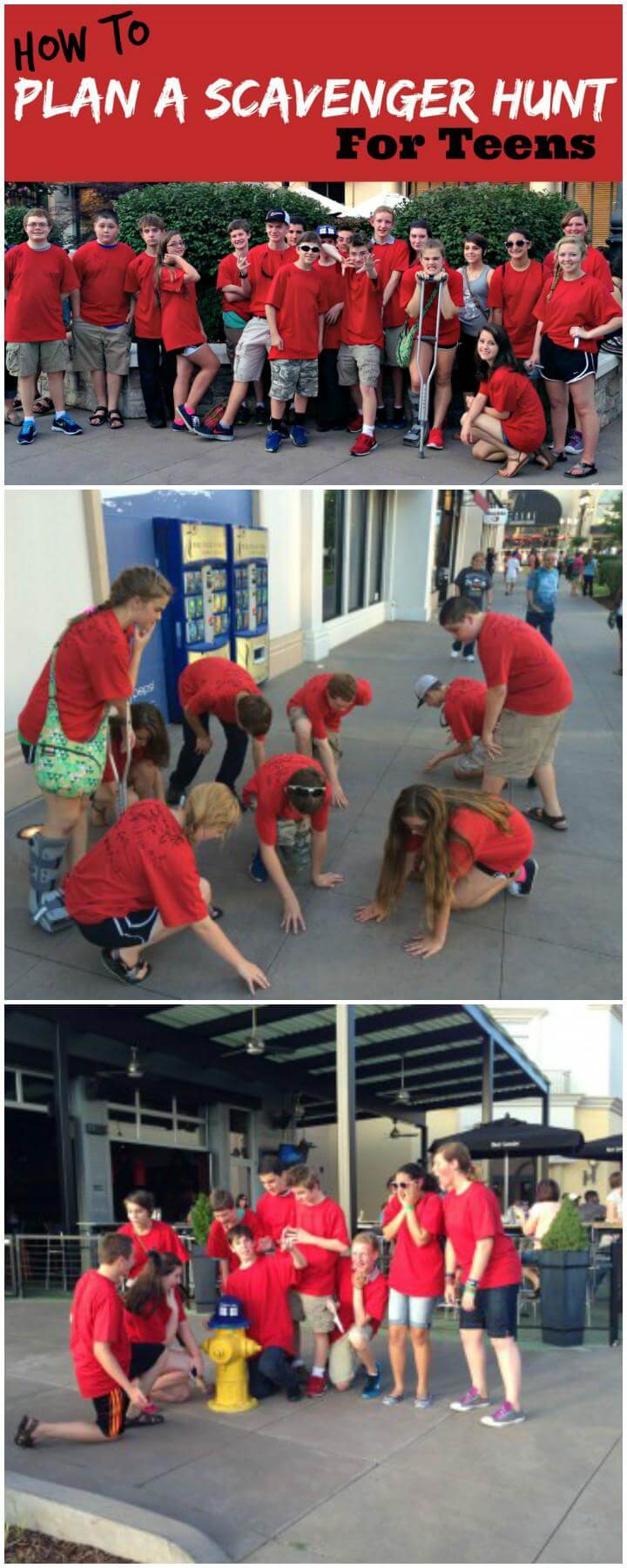 teenage boys are just love thing, and that are the games, and the scavenger is one of their most favorite game. So if the birthday of your game lover is coming up and you are thinking about a rocking theme idea, then you can check out this idea. This is the fun scavenger theme for the birthday party of your teen and his gang, and they would just love it.So to adopt the theme perfectly check out the tutorial guide here southernplate
DIY Backyard Teen Birthday Idea: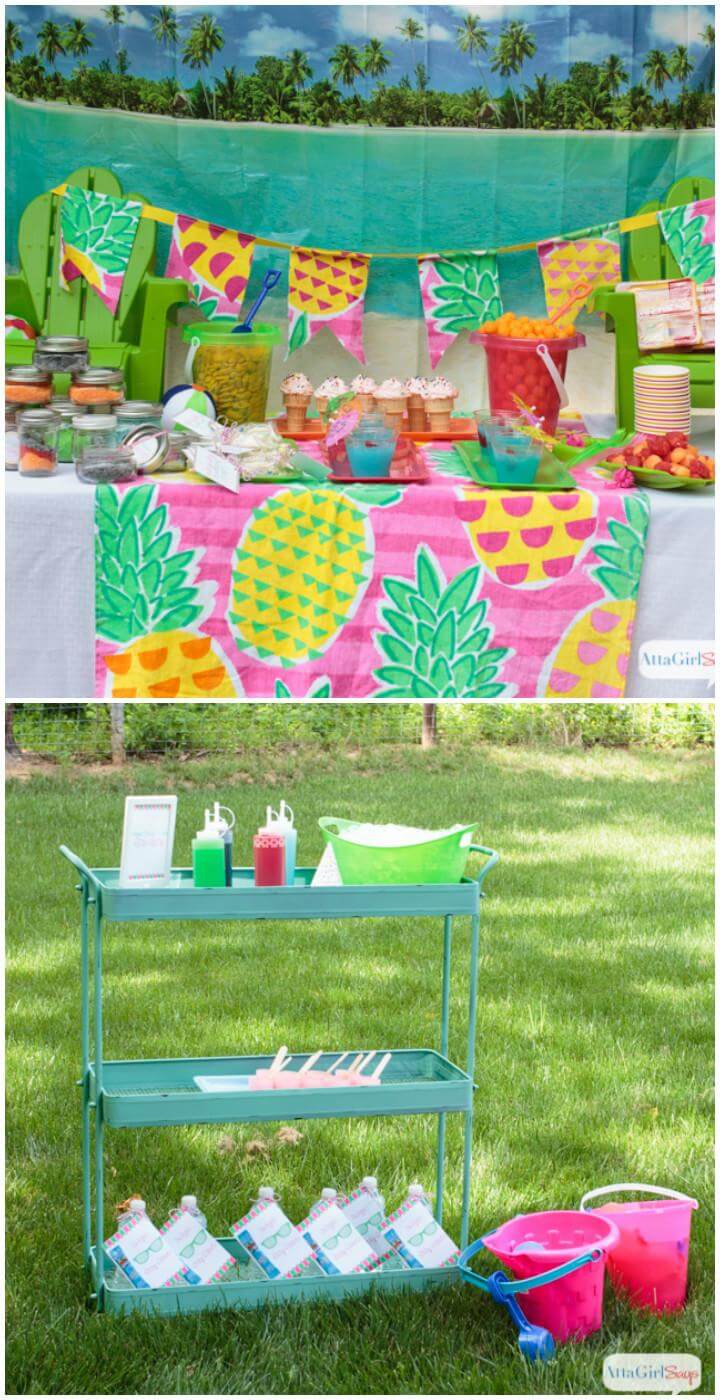 Outdoor parties are always the fun especially in the summers so if your kid's birthday is in the hot season you can choose to adopt this fun backyard beach party theme and work accordingly on the decor and the other preparations. The beach bucket,s shovels, and the beach umbrellas are the beachy things that you can use for the table and food decor and bring the beach theme live there. Tutorial here attagirlsays
DIY Cake Decorating Teen Birthday Party Idea:

One of the famous birthday themes these days for the tween girls is the cake decorating. Yes, the cute mini cakes are made and kept un decorated, and the girls are said to decorate them with the creams, toppings and much more embellishing the way they want. It not only provides them a yummy and delightful cake to eat but an enjoyable activity to enjoy the birthday party too. So here is the tutorial to know all about this theme in details strawberry-chic
Sweet Scavenger Hunt Swag Teen Birthday Party Idea:

Hey, mothers make your kid's birthday parties more fun and more hit, and party favors play an important role while declaring a party a big success. So if you people are enjoying the theme of scavenger for the birthday, then we have these pretty and yummy favors ideas for the guests that would incorporate your theme. Here is the link for complete details jacolynmurphy
Amazing Race Teen Birthday Party Idea: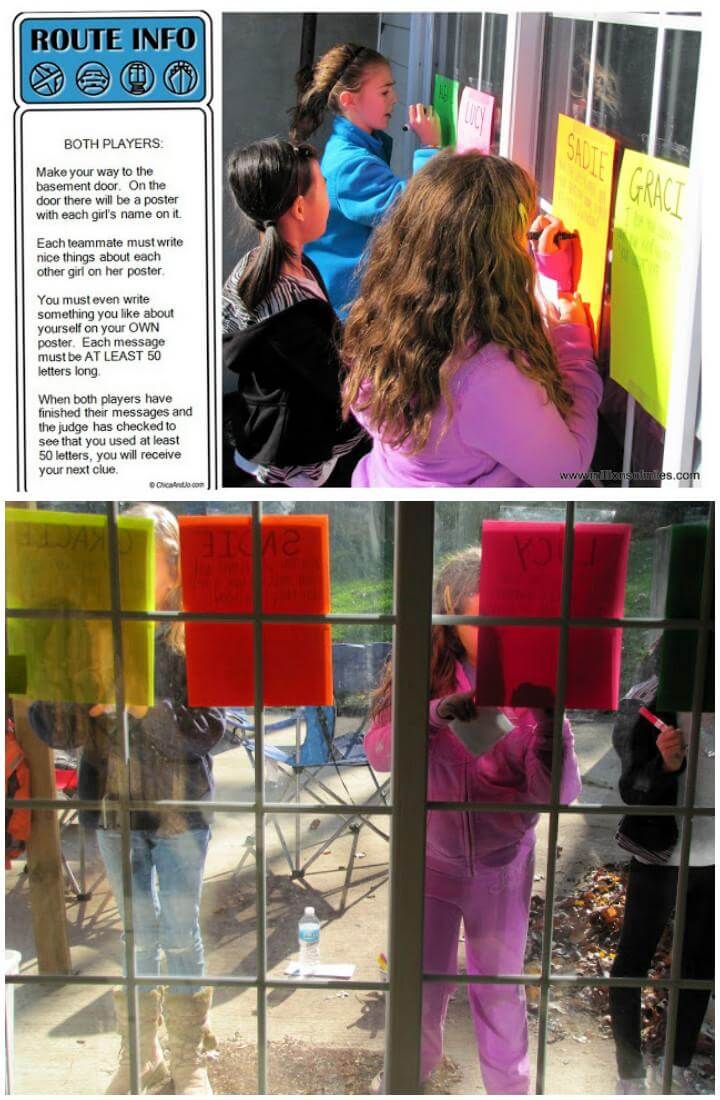 Its to better to spend a birthday party in some fun activity than just listening to music or dancing especially the kids just love doing game activities on the parties. So here we have this amazing race theme party for the parties of your teen and tween, and they along with their friends would love to participate and win the race.Here is the link to all the details of arrangements and preparations for the race theme party. millionsofmiles
DIY Neon Glow Teen Birthday Party Idea: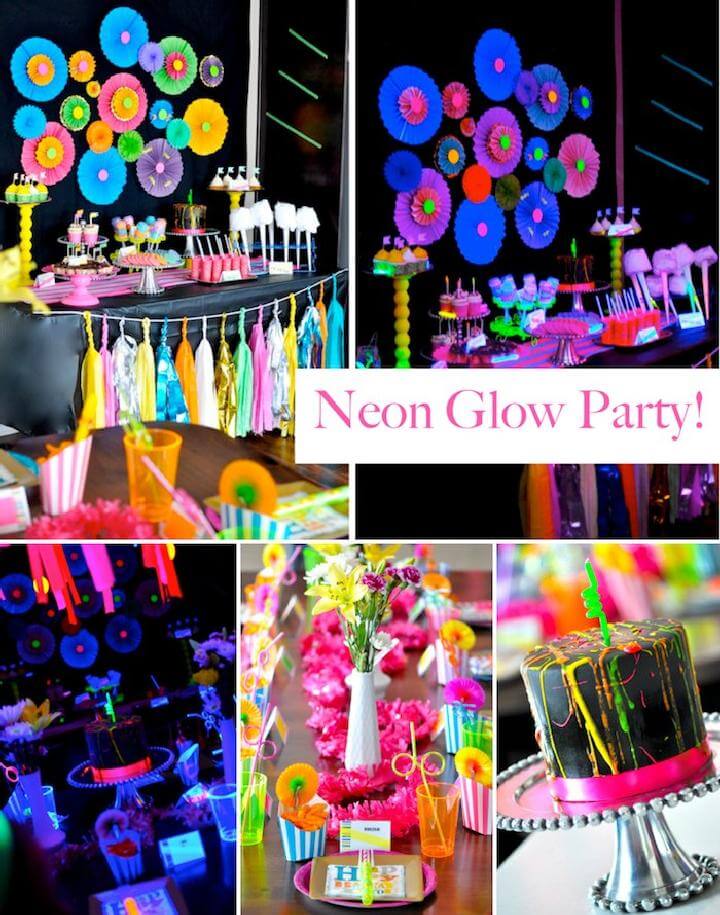 There are so many themes for the parties that you can adopt and celebrate, but this one is so damn rock on. This neon theme would be loved and appreciated by everyone with everything so colorful and glowing in the dark from the kid's accessories to the fun table decor and the table background. Here is the original link where you can grab those tiny details to adopt this theme so perfectly  karaspartyideas
DIY Tween Birthday Fondue Party Idea: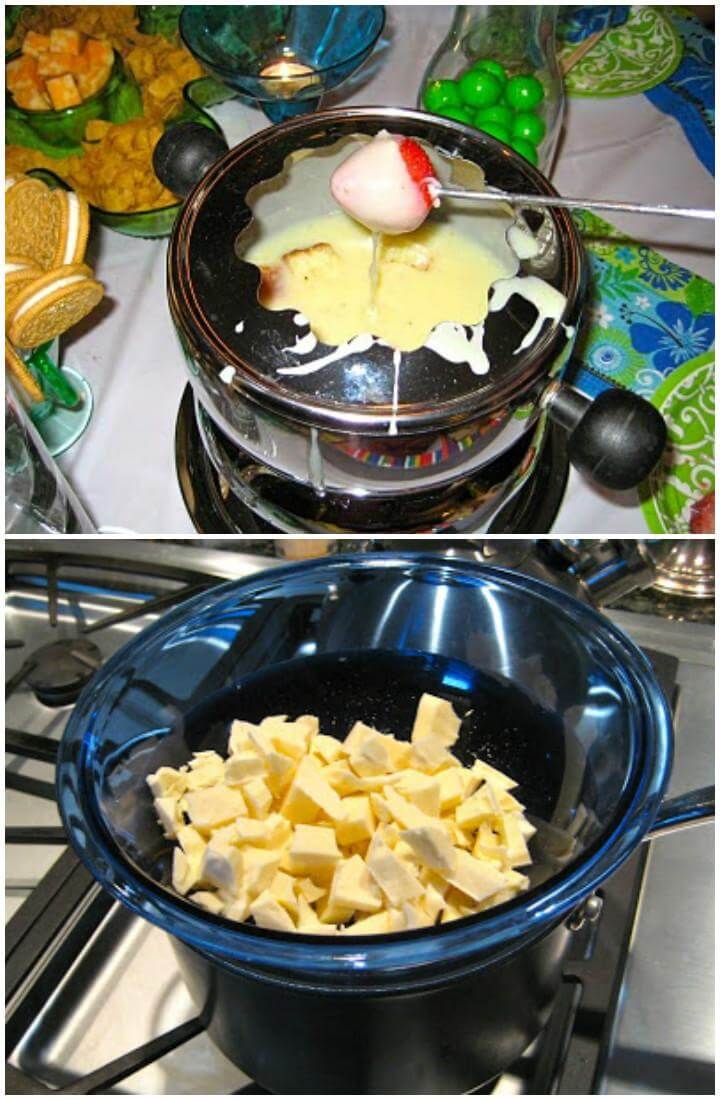 The girls love to cook from the very young age, and if the birthday of your girl is coming up, then you must take under consideration this fondue theme for the party to let her enhance her passion and interest for culinary activities. They would not only enjoy making it and then have fun eating it latter as a yummy dessert.Here are the complete details of this yummy recipe and party theme called Fondue karenbcookingmadeeasy
Vintage Nancy Drew Mystery Teen Birthday Party Idea: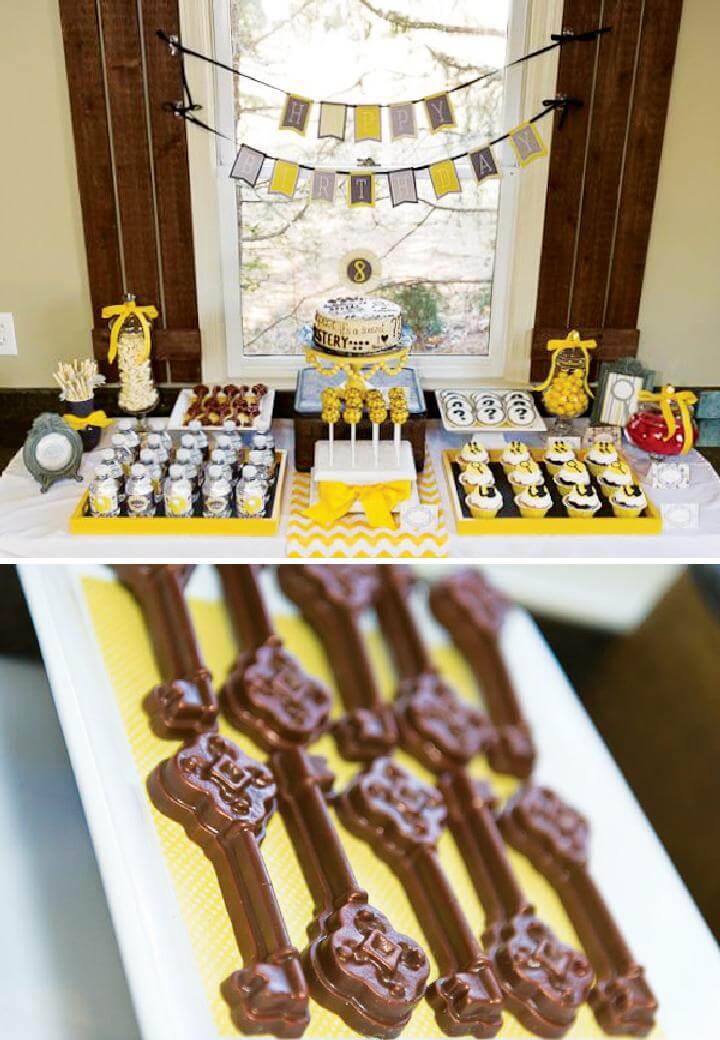 Kids just love to have fun with the mystery games and puzzles and here is exactly the kind of theme for their birthday party. SO either your daughter's or son's birthday is near you should really peak into this fun and totally thrilling Nancy Drew Mystery party where the favors have been hidden and the kids have to find out them with their special hunting capes on the backs. Here is the tutorial with each small detail love-the-day
Brilliant Safari Pool Teen Birthday Party Idea: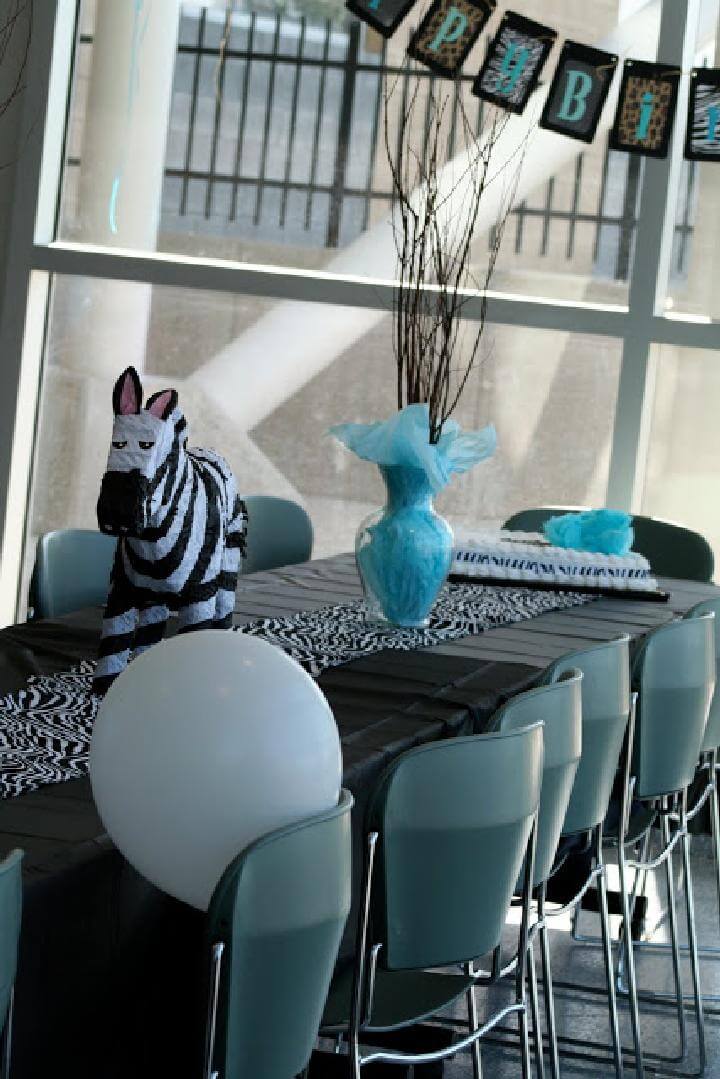 Kids love to visit a zoo and a safari park and here we have this lovely theme of safari park that you can adapt to the next birthday party of your son or daughter and they would just love it to the core. Everything from decor to the favors have been has the tincture of the safari theme with the cute zebras adding to the table decor and also serving as the cool pinata.Get to see these all lovely details in detail here mydesigndump
DIY Art Theme Party For Teen or Tween Girls: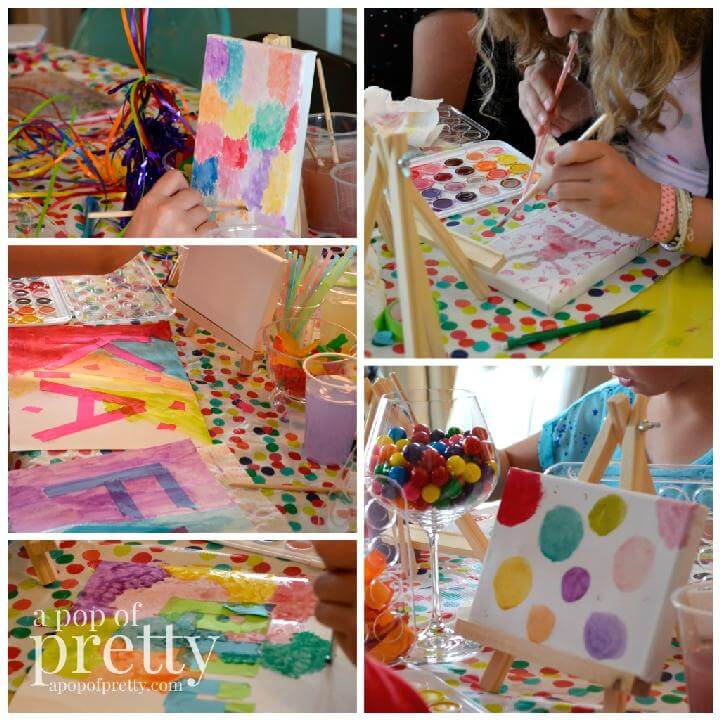 Girls just love doing art and craft projects specially the painting is their favorite art thing to do. So here we have this lovely art theme for the next birthday party of your little girl with the guest table being loaded with the colors and the canvases to let the party gang paint and have some fun. For more details about the theme, decor and food you need to look into this  tutorial link apopofpretty
DIY Great Sophisticated Tween Spa Party: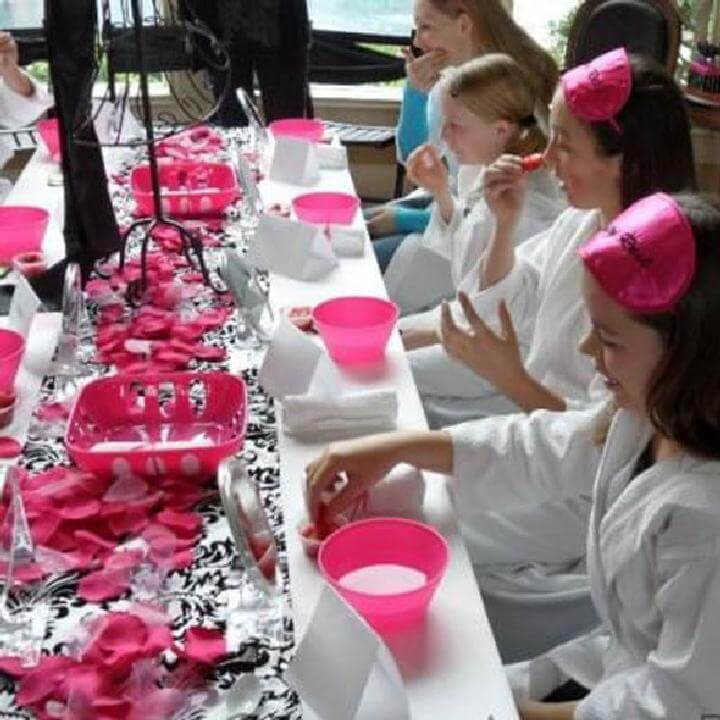 Spas are like the heavens for the ladies as they get to clean their bodies, get relaxed and make their skin more healthier and shinier. so you can take the spa as the inspiration and adapt it as a fun theme for the birthday party of your girl. You can arrange the table for the girls with mirrors, water bowls and some natural homemade face washes and scrubs and the girls dressed in the spa robes.Here is the full tutorial with complete details tipjunkie
Outstanding Vintage Detective Teen or Tween Party Theme: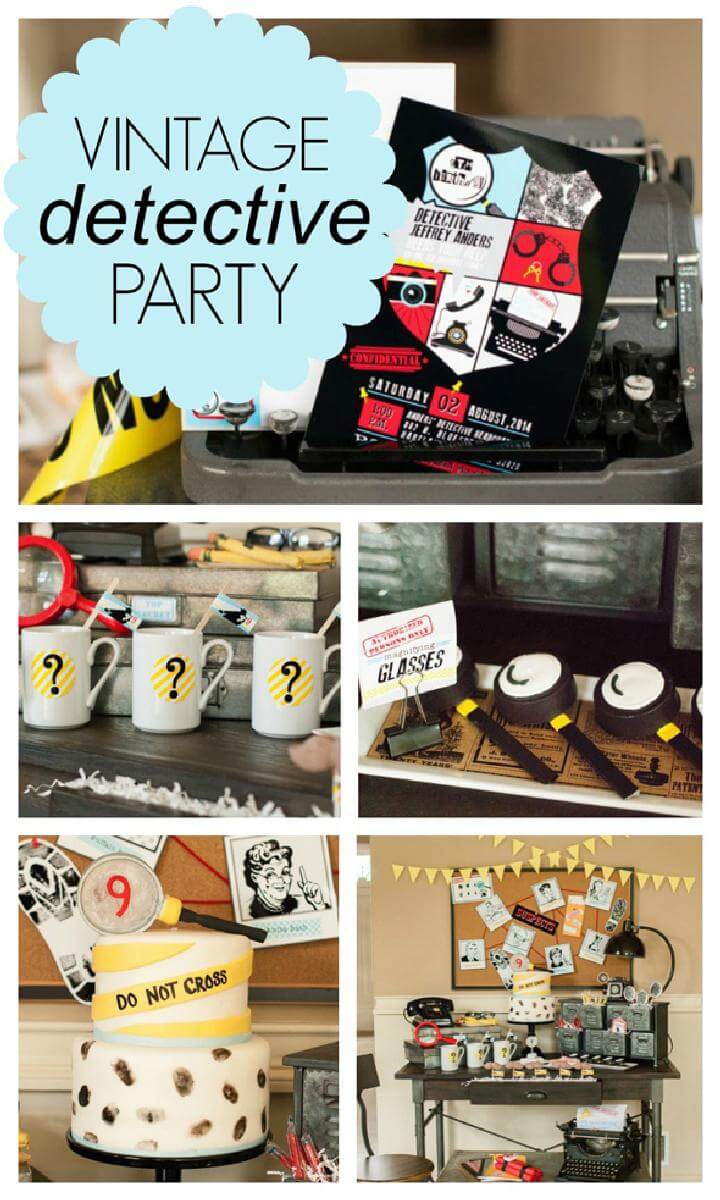 Boys just love the spy movies and games so what can the best theme for their rocking and fun birthday party than this vintage detective party theme. They will dressed up as the detective with hats, mustache and smoke pipe and other little details as the hand cups, magnifying glasses, old vintage phone, a suspect board with wanted criminals pictures etc.There is a lot to explore and know this theme in detail here preparatory
Gorgeous Preppy Beach Tween Party Theme: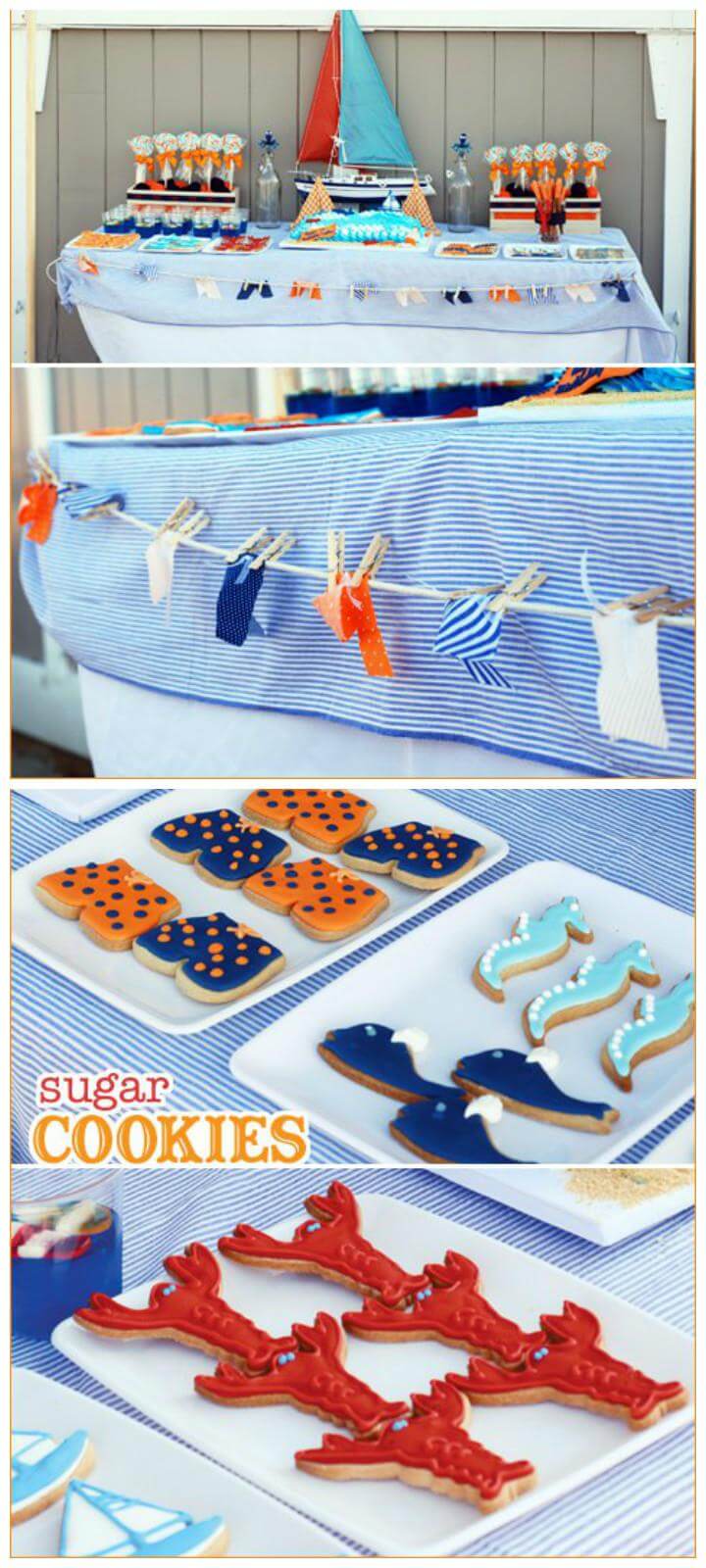 What we like the most about the summers are the beach parties and the fun we have their on sand, on boats and lots more..SO the beach can be really chic and fun theme for the next birthday party of your kids with everything being decorated and made with the fun nautical colors and touches. Here is the complete tutorial showing you to bring the beach theme with the full bang in your house wtm
Great A Day in Paris Tween or Teen Party Theme: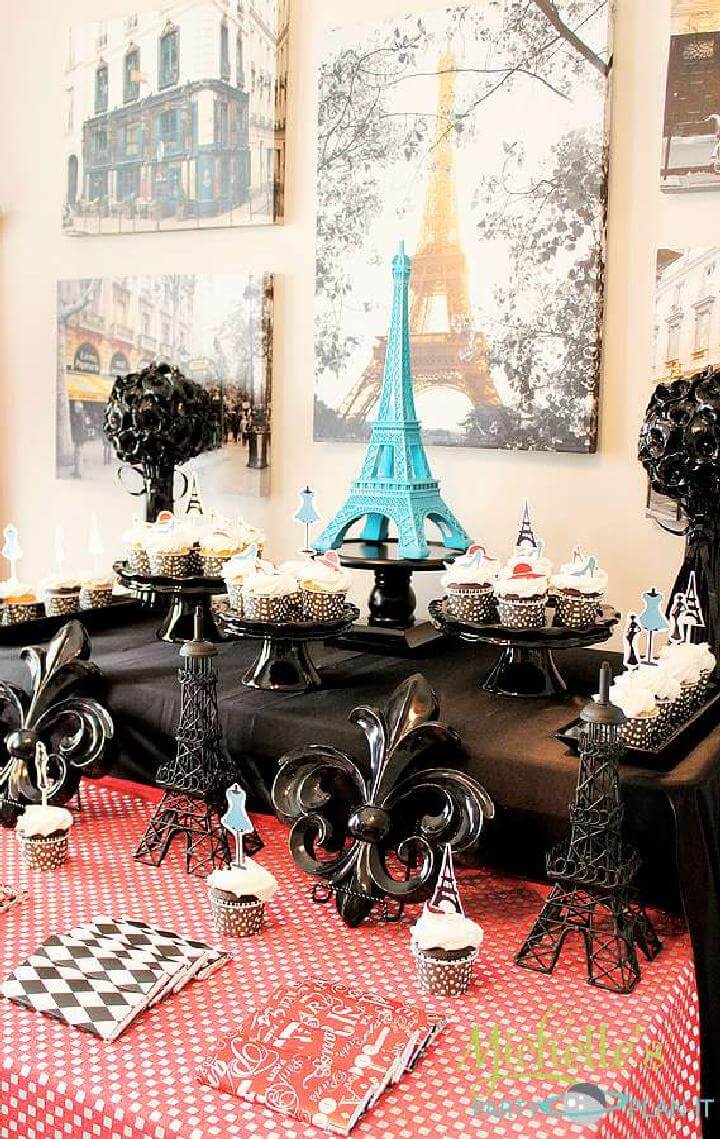 Paris is  one of the most beautiful and fun city and we all love to visit it or wish to visit it at least for once n our life. So if you have gone to Paris or you have a wish to go their then this lovely A Day in Paris theme for the birthday of your little girl or boy. The Eiffel tower would be the center of your table and all over decor so you can purchase a bunch of them in metal from any market near you.Here is the link to grab the every inch detail of this rocking theme catchmyparty
Awesome Minecraft Teen Party Theme: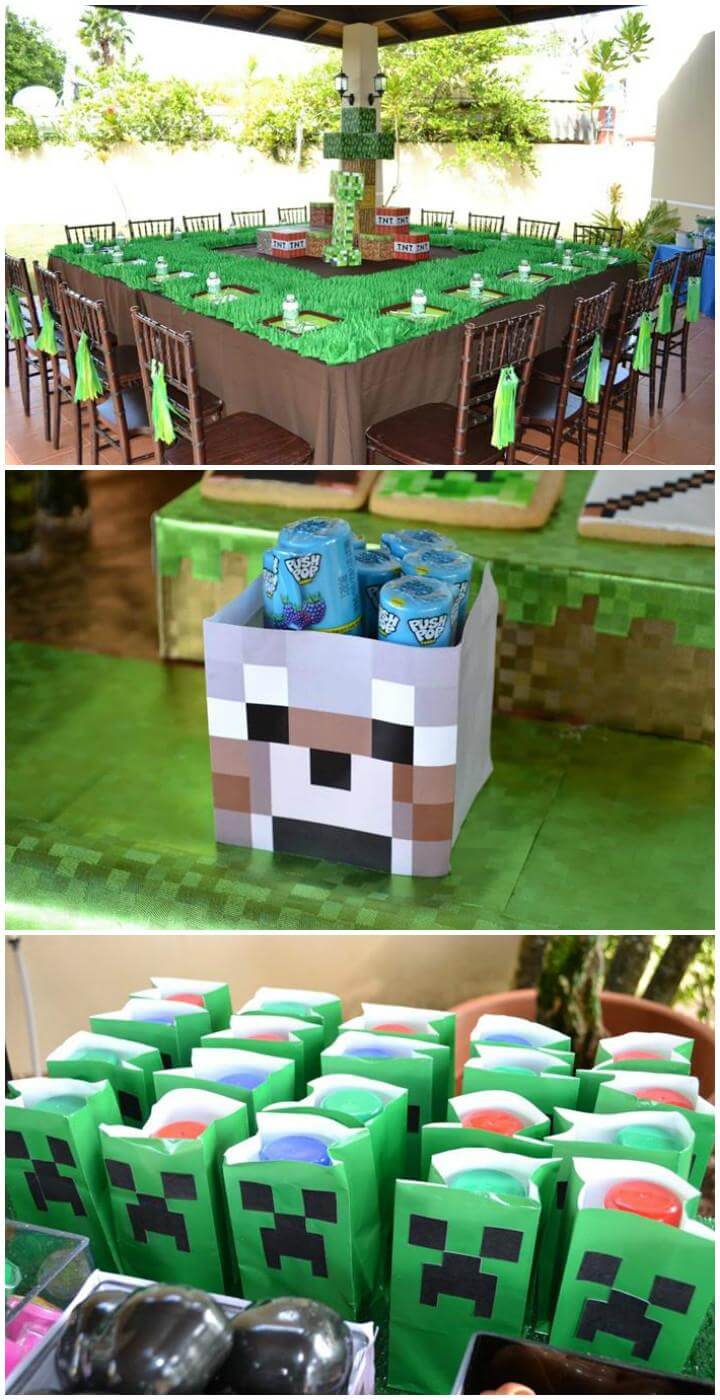 Kids love games especially the  mine-craft games and they would be like delightfully surprised and wonderstruck to see their favorite game as the theme of their birthday party. So here we have a complete idea of decorating a party with the mine craft theme with everything from decor, table setting and the food totally connecting to the theme of mine craft. Here is the simple and fun tutorial with every small detail you need to know karaspartyideas
Brilliant Mystery Tween Birthday Party Theme: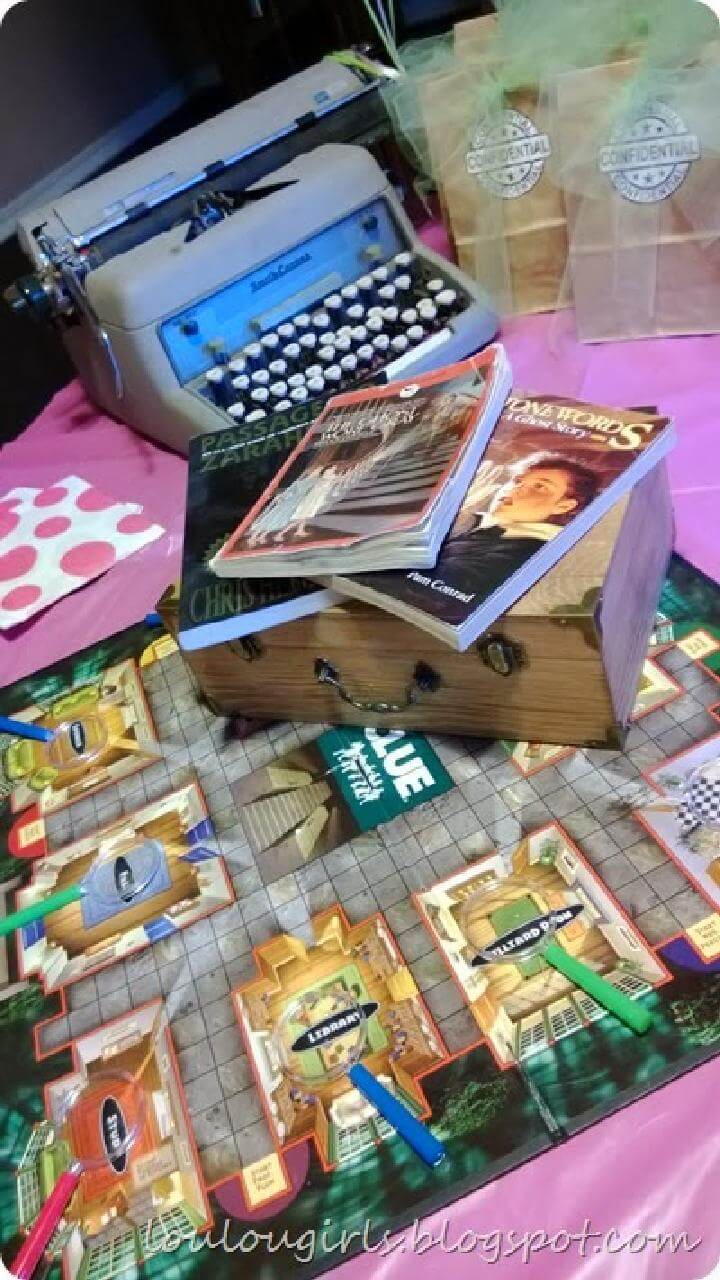 Kids love to discover, find out and hunt as the curiosity level is very high in them. So here we are suggesting you to incorporate these amazing mystery theme for the birthday of your tween be it boy or girl they would equally love it. You can use the printable like saying Confidential, mystery along with other detective accessories like magnifying glasses and the detective glasses etc. There are more fun details of the mystery party to make it an instant hit and success and for that you have to browse this link loulougirls
DIY Defence Ninja Birthday Party Theme: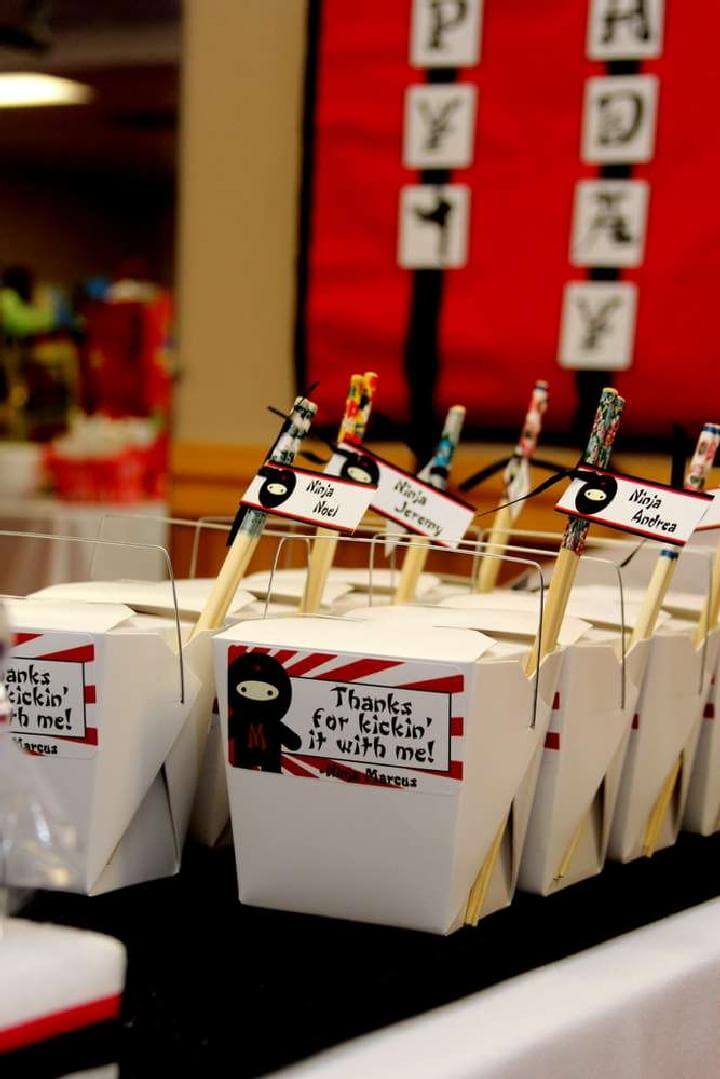 The real treasure for the kids are their favorite, cartoons, movies and the games and they love everything about them all so when you are planning a party for them keep in mind what they like and adore the most. So if your body is a huge ninja lover then here is a perfect ninja them party for them to be easily organize and let them have some kicking fun with the party telling you how to incorporate everything from invitations, decor to favors with the ninjas. atchmyparty
DIY Masquerade Birthday Party Theme: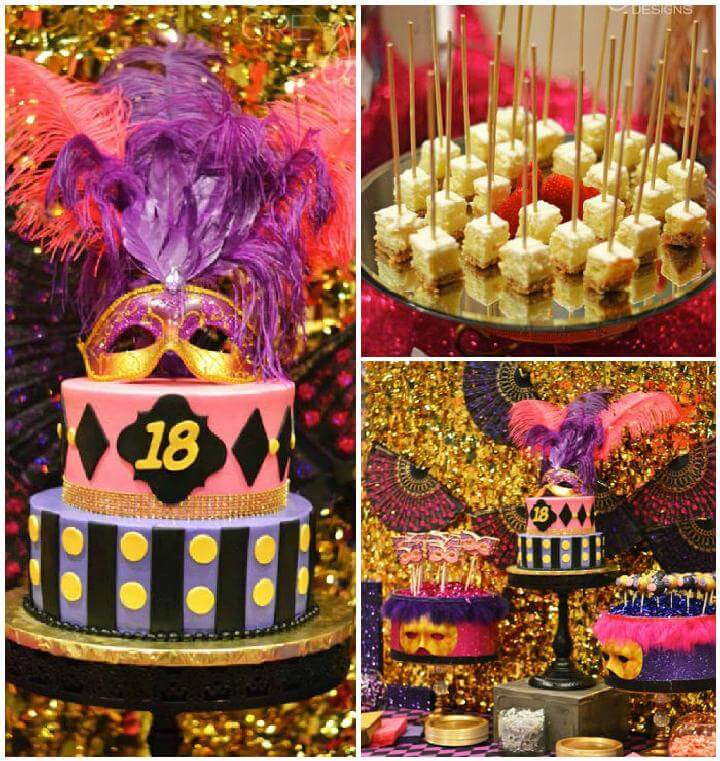 Masquerade party has been always a hit for the teenagers and they just love it. So here we have full-fledged mask theme birthday party ideas with not just the masks on your face but on everything in the decor and food be it the centerpiece, the tags, toppings, cake stand and much more.Here is the link where you can catch the every small detail of this masquerade party theme project karaspartyideas