The backdrops are crucial when you need to bring the necessary pop, elegance, personality, and colors to your photos. They are must to add in the photo booths to not let the photos look dull or unattractive. So, Get these 25 unique and easy DIY photo backdrop ideas to make your own photography backdrops that are guaranteed to take your photography to the next level. Unlike the professional backdrops, they are fairly easy and inexpensive to install but will come with the same grace and charm.
These projects will use ordinary and inexpensive materials and even recycled items to build professional style DIY backdrops. Explore these 25 DIY photo backdrop ideas and see a big collection of homemade backdrops that will rock for the wedding photo booth, birthday photo booths, and even graduation party photo booths. These photo backdrop ideas are sure to impress at a very first look for sure.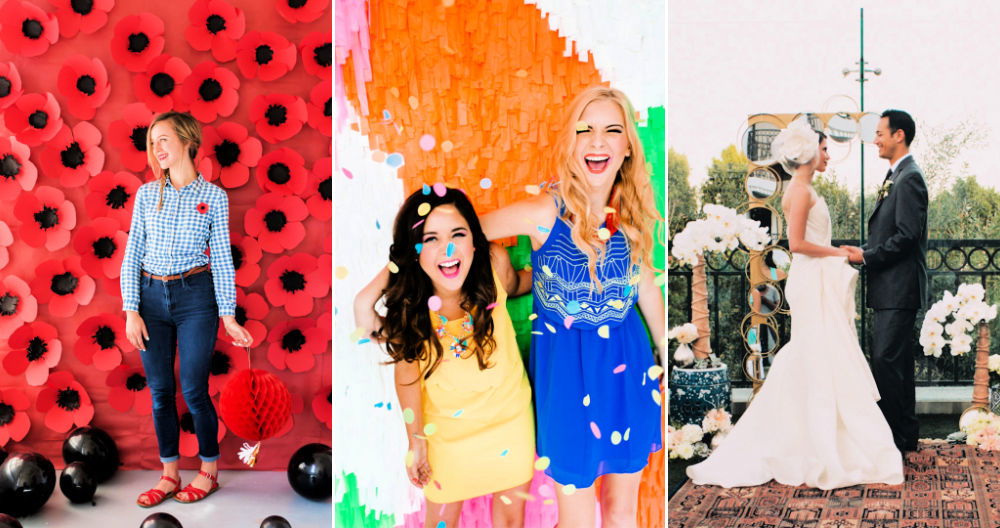 For floral backdrops, you can go with both real or faux flowers. Make the giant faux flowers out of colorful cardstocks. String up the flowers, glue the paper flowers on the wall, or tape off the natural flowers on the wall to get instant beautiful floral backdrops. Use the paper to install also the geometrical, watercolor, and even the mermaid backdrops. Take the paper plates, sheet grass, and trellis to make flawless beach-inspired and natural green backdrops.
Use the big plywood rounds and wood corks to build a giant weddingmoon backdrop and mount the rustic frames on the wood wall to create a rustic wedding backdrop. Choose the magnolia leaves, coffee filters, and patterned fans that will also rock to install precious photography backdrops. Explore the entire collection of these best DIY photo backdrop ideas Ideas to see a lot more and praise-worthy designs.
1. DIY Paper Poppy Photo Backdrop
The gathering should always end with nice and cool photography sessions, so their memories will get permanently saved in the form of a picture. So, it is always a cool background that makes the picture look interesting. So, build this diy paper poppy backdrop that will bring tons of visual grace to your photographs and will not take that too long to be in front of you. You need a handful of supplies to make these giant paper poppy flowers. Grab the red and black paper, glue, and a poppy flower template for this project. thehousethat
2. Cascading Flower Backdrop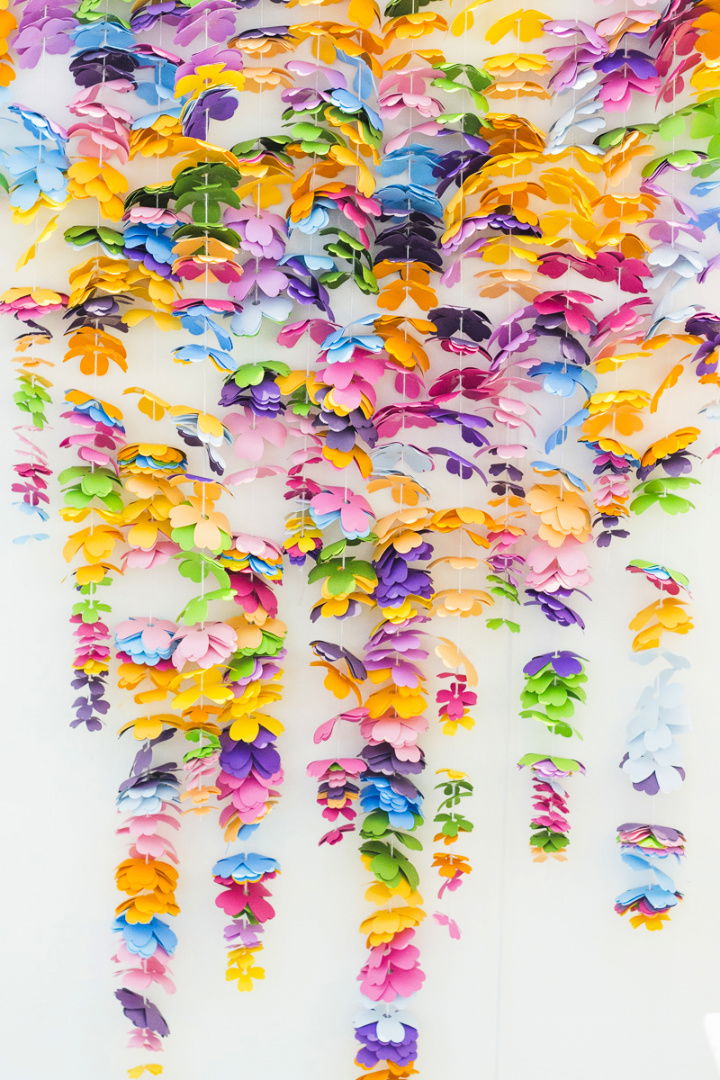 Your party photo booth will surely be missing one of the cutest floral backdrops. The DIY cascading flower backdrop will rock for the spring season and will bring colors to your photographs. This cascading flower backdrop needs the paper flowers, well-strung up, to get made for the party booth. Choose the card in colors of choice in size 12" x 12". Further, you need a threading needle, a Cricut Machine, and a pen to make this cascading flower backdrop. bespoke bride
3. Greenery Wall Backdrop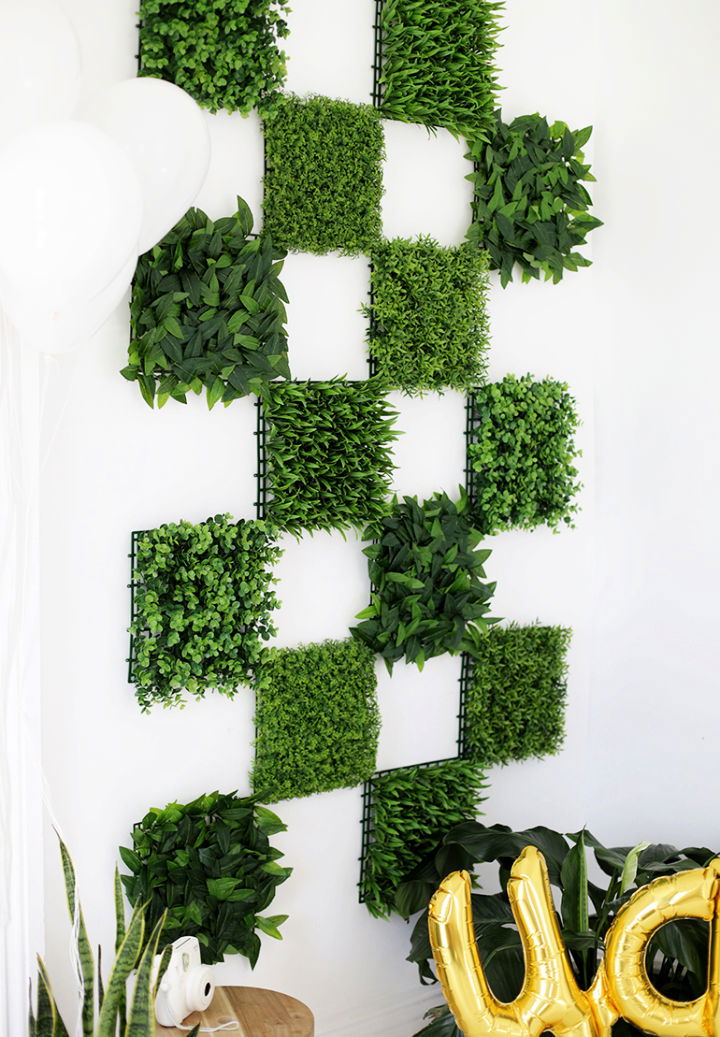 If you really like it naturally, get here instructions to build a nice green DIY photo backdrop for your party and celebrations. Installing this greenery wall is recommended, and it will work up really fast. You need the greenery mats, command mini hooks, and measuring tape to whip up this geometrical greenery wall, which will give a fetching background to your photos and will never get out of style. A big must-have for your photo booth. themerrythought
4. Wisteria Trellis Ceremony Backdrop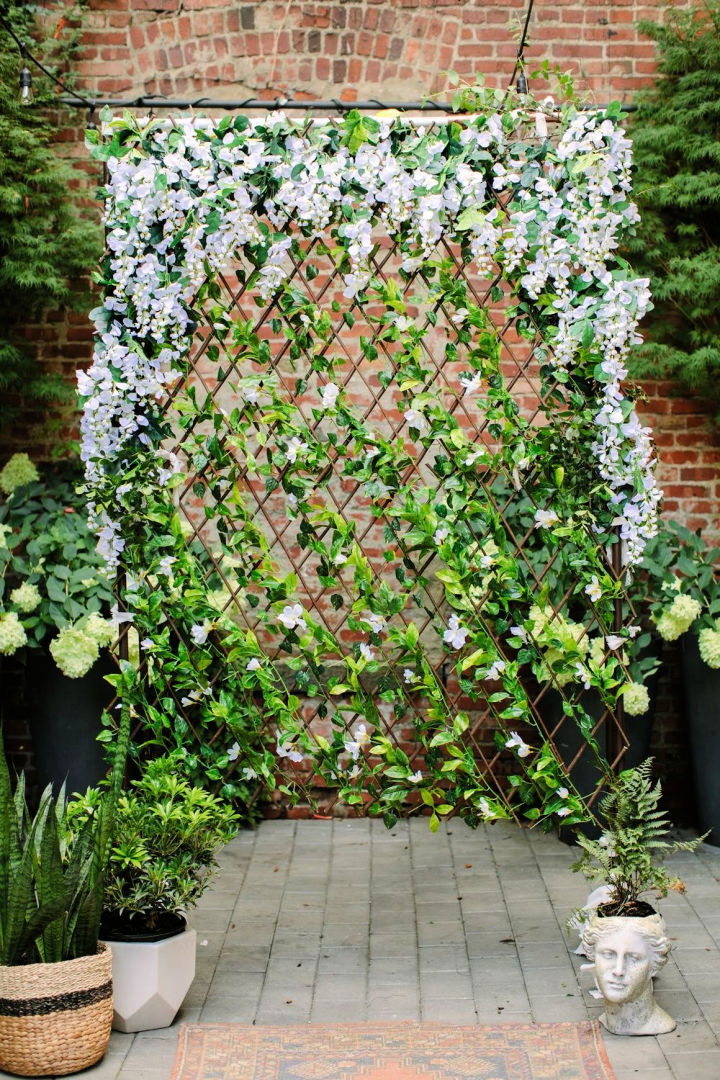 Amaze your guests by whipping up this DIY wisteria trellis ceremony backdrop, which will bring great visual interest to your photography sessions. Build this DIY photo backdrop stand using an outdoor trellis, white wisteria bushes, ¾" PVC pipes, spray paint, cement, milk cartons, and glue. The wall will work up super quickly and makes a graceful background for photography purposes. Build it for your photo booth, and it will surely be loved dearly by all the party audience. ruffled
5. Dyed Cheesecloth Backdrop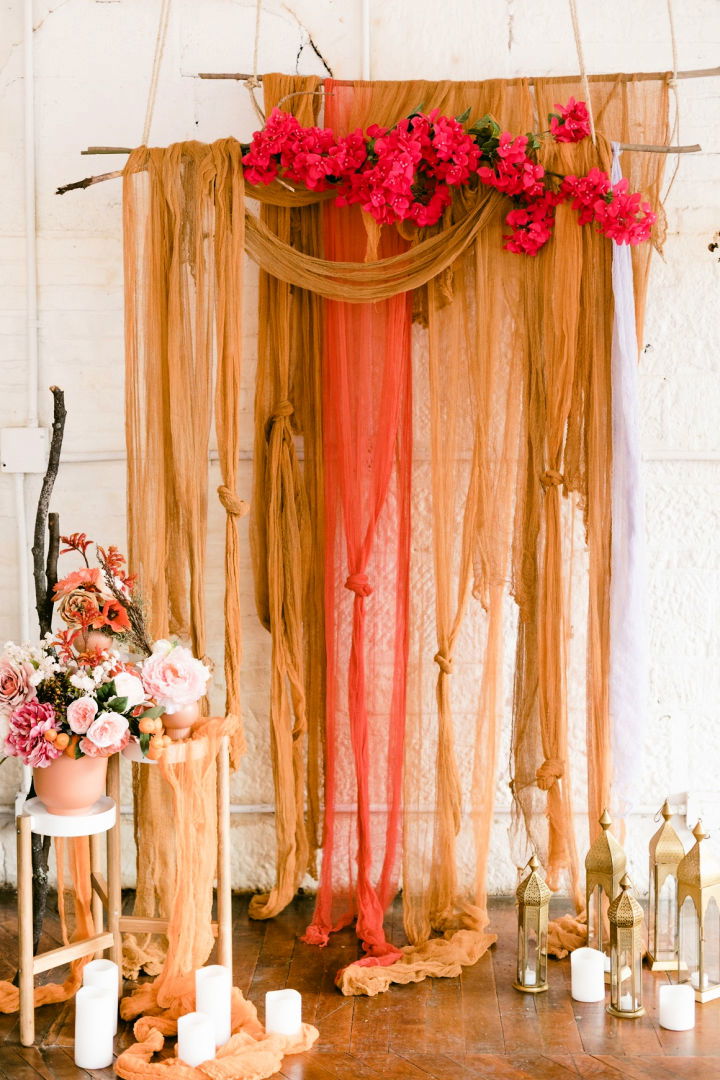 Lacking a cool backdrop at your party and celebration. Then take the help of cheesecloth and Rit dyes to install a better and enchanting looking backdrop, which will work up fast. Just dye the cheesecloth and hang the dyed ones on the wall covering a decided wall portion will be the amazing DIY photo backdrop. If you are a photographer, you will surely praise this backdrop's colors, and it will never get out of style. ruffled
6. Fringe Photo Backdrop
Satisfy your love for the geometrical backdrops by installing this fringed paper photo backdrop. It will be super cheap and easy to whip up. Just install the colored fringed paper squares on a canvas fabric in custom arrangements and then hang it up on the wall covering a decided portion, getting a cool and colorful backdrop for your party photography. The design is elegant enough to impress and will win the heart at a very first look. tellloveandparty
7. How to Make Shag Backdrop
Rock your photography routines by whipping up another beautiful backdrop that is looking amazingly beautiful and colorful. The best backdrop to style up your photos, and you will love building it at a minimal cost price. This backdrop has a size 36″ x 15ft, and it will add great visual interest to your party photographs. You need flagging tape, plastic, or polyresin perimeter fence in size of your backdrop, and zip ties to make this enchanting backdrop. ruffled
8. DIY Fringe Backdrop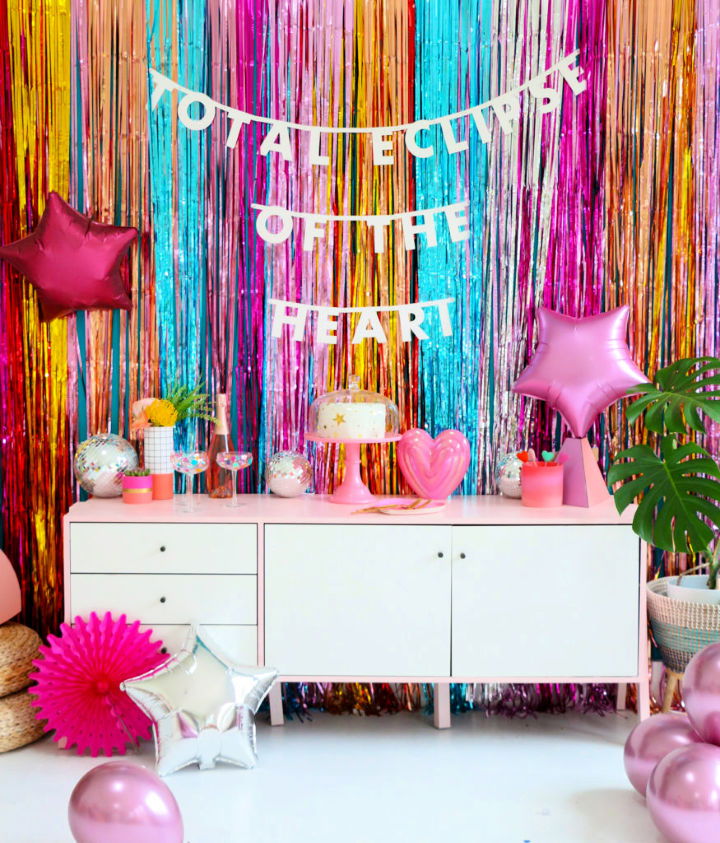 It the easy to make, but the super beautiful glittery backdrop is here to impress you. Make it using the metallic fringe in colors of choice. Next, just install them on the wall covering a targeted wall area and getting an arresting glittery backdrop for your photography sessions. This backdrop will also rock for your party dessert table and is a fun way to bring the alluring glitter to your party photographs. A one of the best frugal yet fab backdrop idea. akailochiclife
9. Rustic DIY Wedding Backdrop
One of the best photo backdrop ideas from our roundup. Satisfy your love for rusticity by whipping up this adorable DIY wedding backdrop featuring rustic round, square, and rectangular rustic frames. Build the entire background wooden wall using the 1x6s, 1x4s, and 2x4s, and then give it a nice wood finish. Decorate it more with fancy lights and classy knobs, and then start hanging the empty frames, antique lanterns, and vintage flower vases. One of the best backdrops for a rustic wedding theme. homedepot
10. DIY Ring Mirror Backdrop
Take your wedding decors to the next level by installing one of the best backdrops, the ring mirror backdrop, which will surely get praised by the entire party audience. To install this backdrop, you need glue, embroidery hoops in different sizes, mirrors in different sizes, gold spray paint, and some creativity. Just fit the mirrors in the embroidery hoops using hot glue and then collage them together, creating a mindblowing wedding backdrop. ruffled
11. Crepe Flower Wedding Backdrop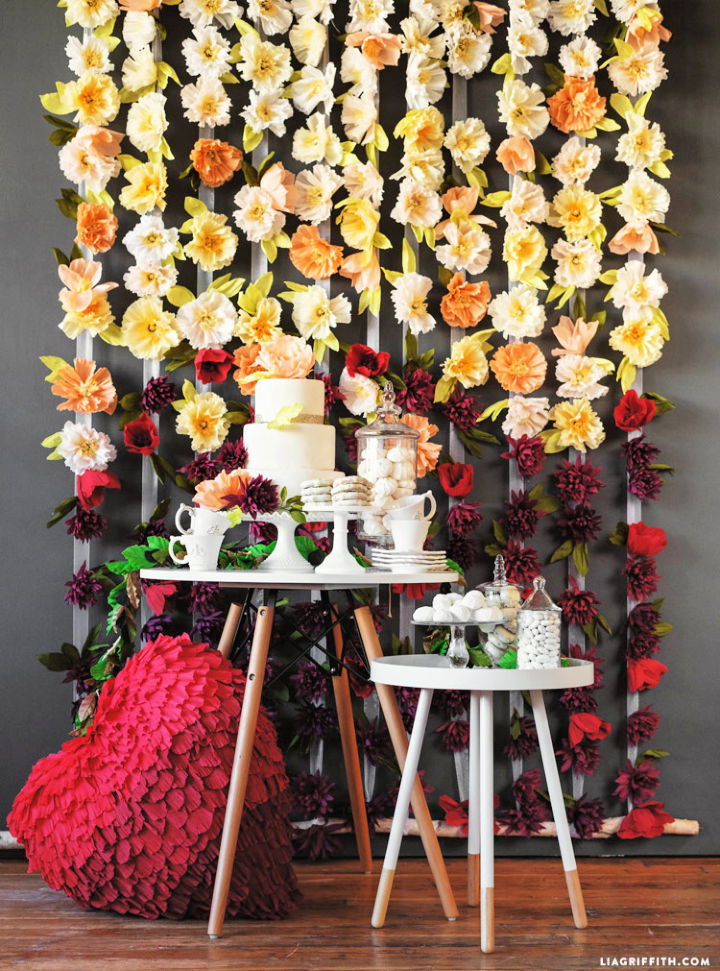 Wishing to give an amazing floral touch to your wedding decors? Then why not do so by making this crepe flower wedding backdrop. It will not take that too long to be on the wall for outstanding photography. You need the crepe paper flowers, floral wire, organza ribbon, birch branches, and ½" foam balls to install this gorgeous wedding flower backdrop. One of the best floral backdrops ever made. liagriffith
12. Giant Moon Photo Backdrop
Give your wedding a glam touch of fancy elegance by adding this giant moon backdrop, which requires a beginner skill level to work up. Here you are to use recycled items and materials to make this giant moon backdrop, which will take the bride or groom or the couple to the moon. You need ¼" plywood circles, paint, wooden corks, wooden dowels, Rit dye, marshmallows, gold paint, and glue to whip up this alluring weddingmoon backdrop. greenwedding
13. Oversized Paper Chain Backdrop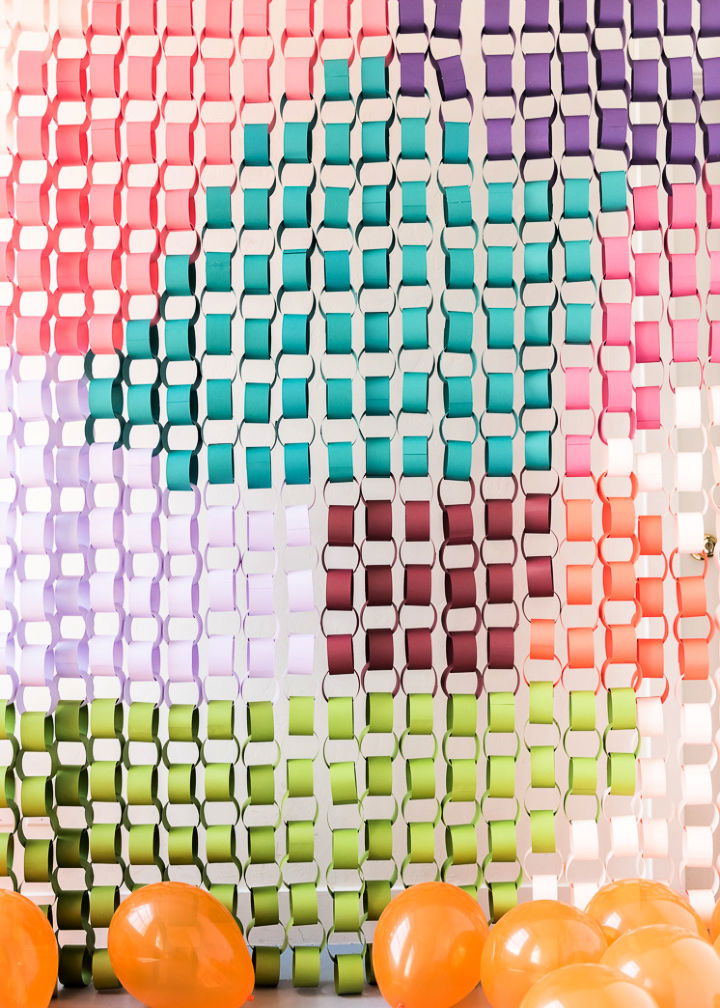 Wishing to gain an arresting geometrical backdrop for a wedding or birthday celebration? Then do make this oversized paper chain backdrop, which will give your photos the coolest color effect. It is super cheap to make out of paper circles. Grab 12″ x 12″ cardstock in 9 different colors and then take them into stripes that can easily be taken into a loop shape and can be linked together, making lovely chains. This is here a better chain mural that everyone can make easily and inexpensively. thehousethat
14. Paper Flowers DIY Photo Backdrop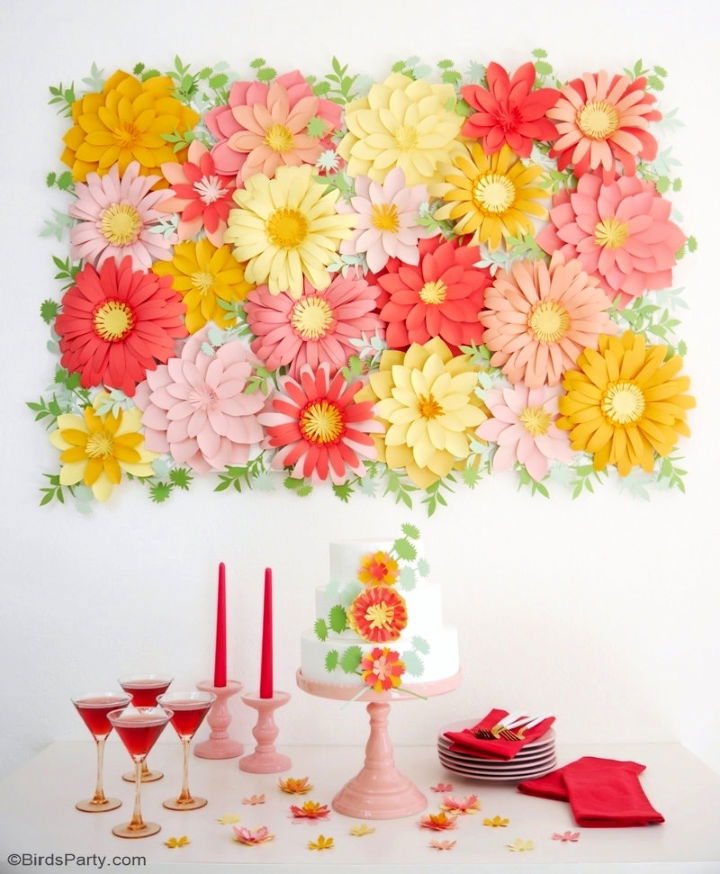 It gives us great happiness to look at the colorful flowers, and you will also feel great while looking at this beautiful flower backdrop made of fake paper flowers. It is always amazing to make flowers out of colorful papers, so use this art to make an amazing floral backdrop too. Make the flowers out of colorful cardstock or paper and then put them together, creating a precious floral backdrop that will bring great changes to your photography profession. birds party
15. DIY Mermaid Backdrop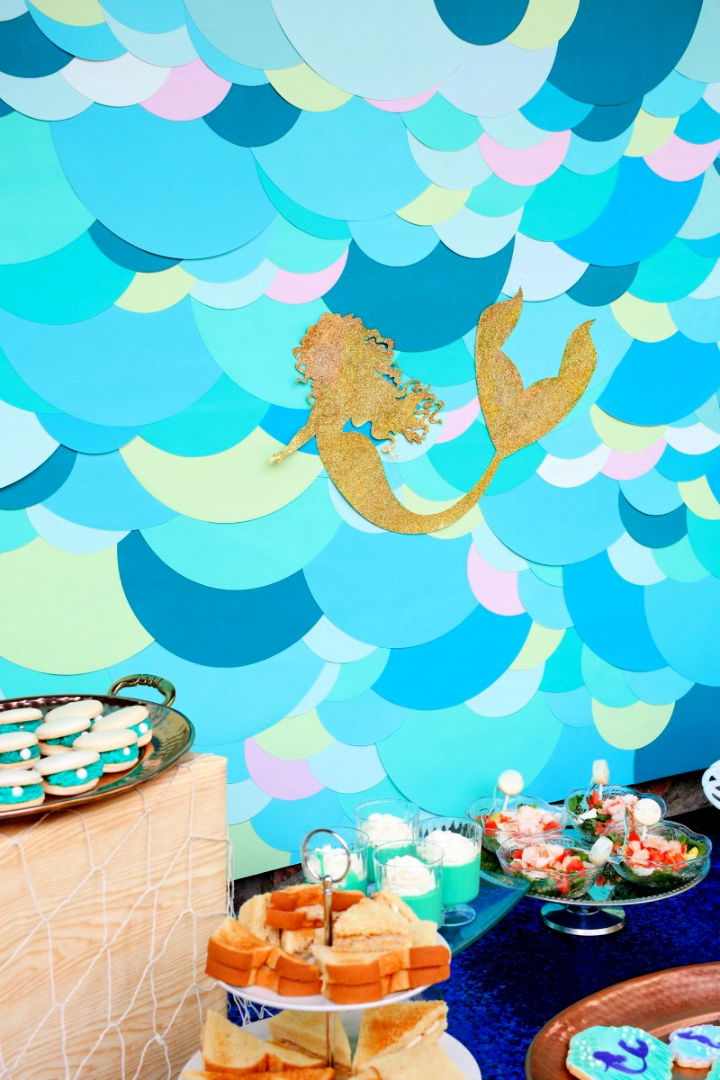 Are you decorating the party environments on a nautical or beach-inspired theme? Then make this mermaid backdrop that will work really fast and make with the half and full paper circles appearing in so many different colors. The idea is to put together the paper circles creating the mermaid skin design pattern, which will dazzle the audience. The final step would adhere to a gold glitter mermaid cut out in front of the backdrop for added visual effect. jordanseasyen
16. Patterned Fan Backdrop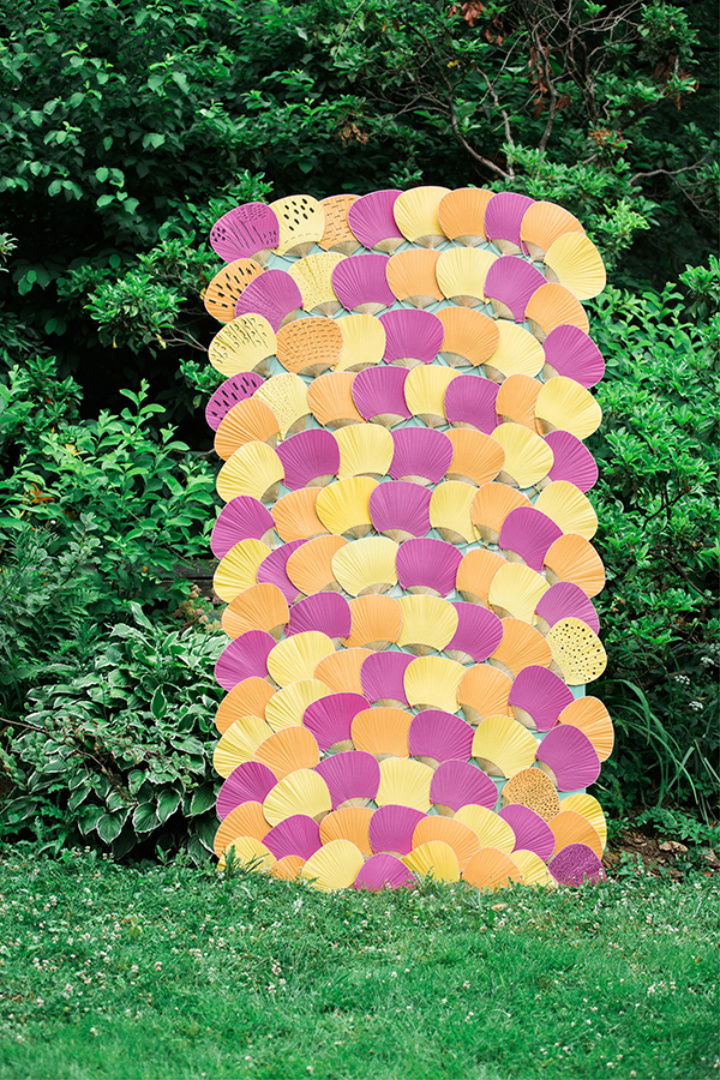 It is super easy to make a backdrop for your wedding or party photo booth, and here is an inexpensive hack telling how you can quickly make a beautiful backdrop. Use the beau-coup paddle fans and foam board insulation to whip up this crazy wedding backdrop, which will help take some amazing snaps of the wedding couple. Use the 8' x 4' piece of foam insulation board for this DIY backdrop stand. A one of the best and colorful DIY backdrop that everyone can make with great ease. ruffled
17. Coffee Filter Wedding Backdrop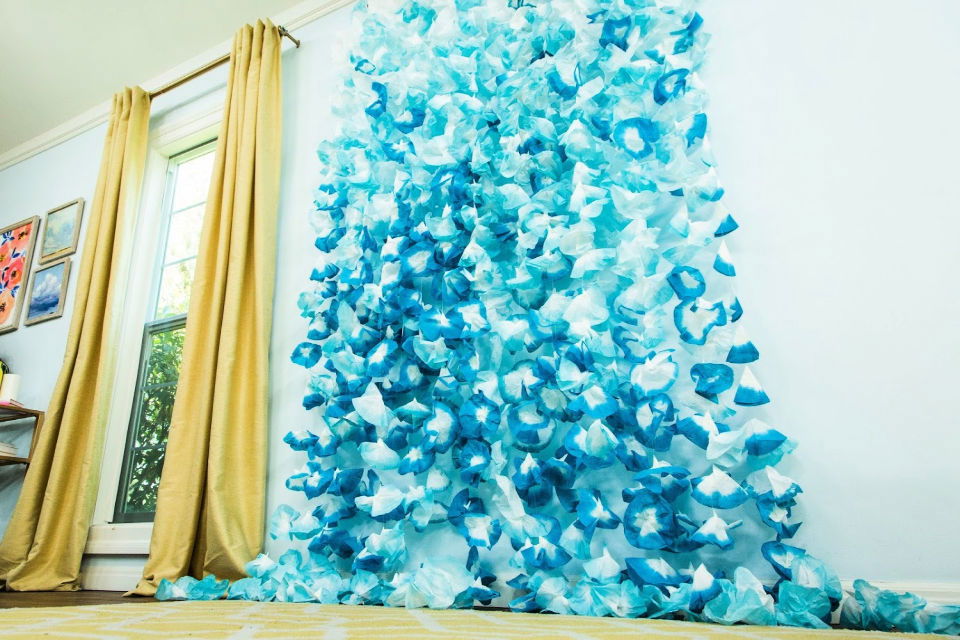 Repurpose the coffee filters to create interesting wedding backdrops that will bring tons of grace to your wedding and birthday photos. Just dye the coffee filters in any color of choice and then put them together, creating a fetching backdrop, will dazzle the audience. Use the fishing line to string up all the dyed filters and install them on a wooden board, creating an adorable backdrop for your wedding or birthday party. One of the most cost-efficient backdrop project. hallmark
18. DIY Floral Wall Backdrop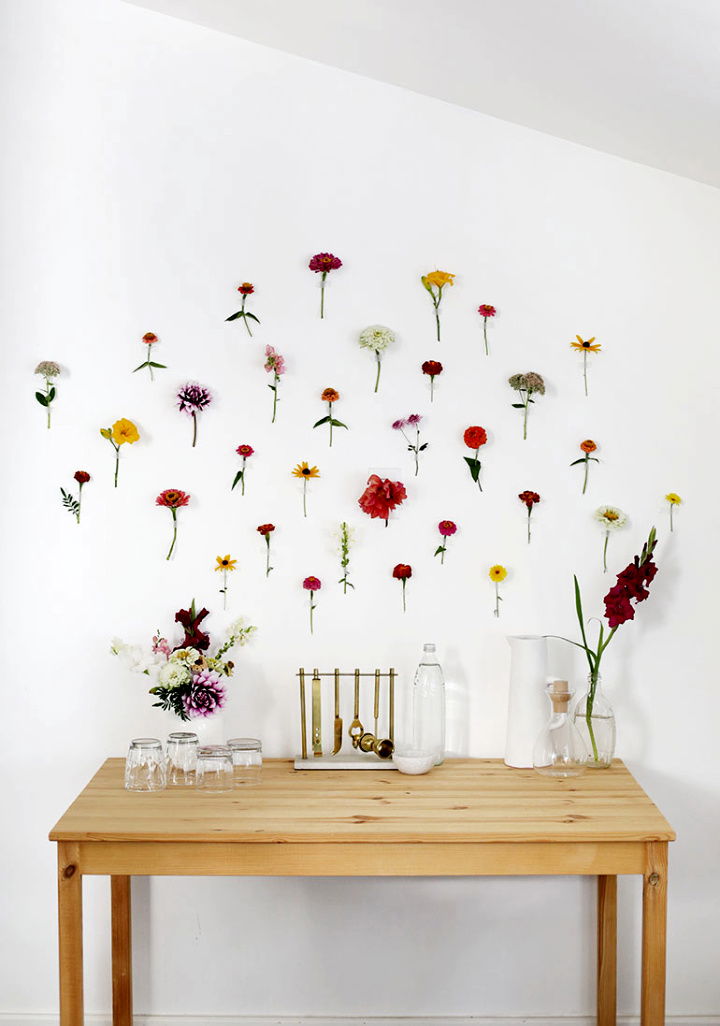 There is nothing easier but to build this awesome floral backdrop that will never get out of style. The simplest option in our roundup of photo backdrop ideas. Here you have to use the fresh flowers to tape on the wall after equal space intervals. After you cover a decided area, you will gain an enchanting floral backdrop. Do opt for this floral backdrop when wishing to take some great photos in the party photo booth. Here you are all free to experiment with this project with any faux or real flowers. A quick to build a floral backdrop ever. themerrythought
19. Ombre Magnolia Leaf Backdrop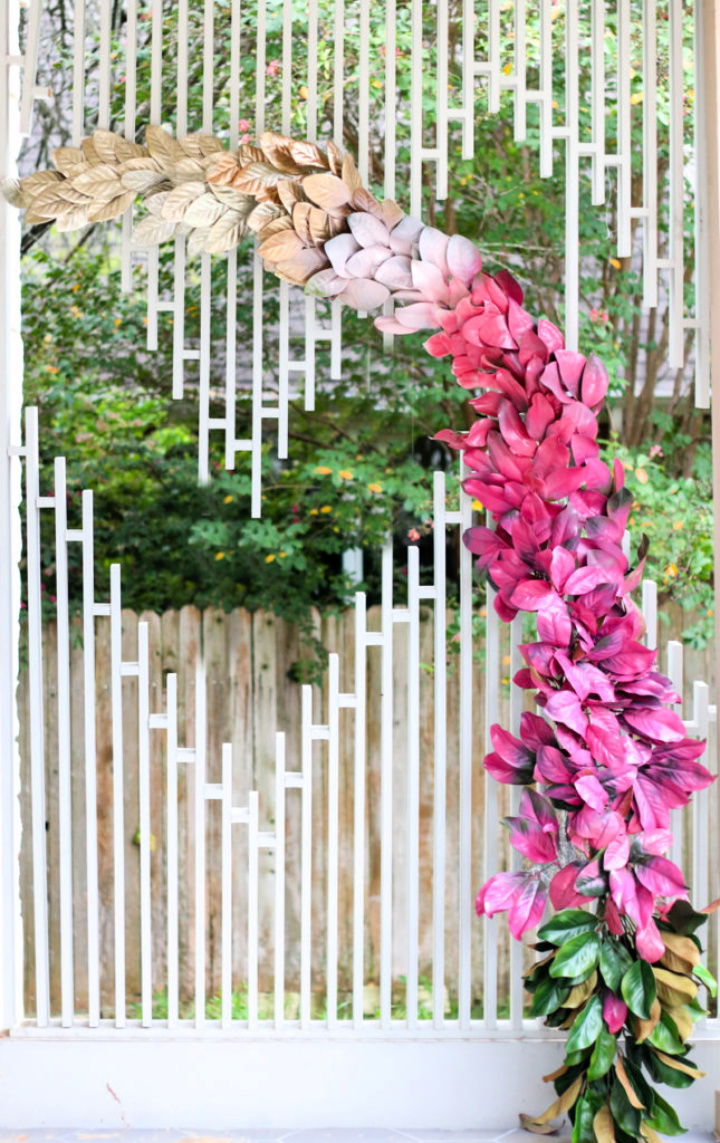 Give your party audience a big surprise by whipping up this precious ombre backdrop. It will work up really fast. Here you have to spray paint to create the leaves' stunning ombre pink appeal, which will be quicker to do. Use the magnolia leaves and chicken wire to create the fantastic leaf arch. Spray paint it in ombre, creating that mind-blowing magnolia leaf ombre backdrop, which will be quicker to build. You also need floral wire and green covered floral stem wire for this project. akailochiclife
20. Watercolor Paper Squares Backdrop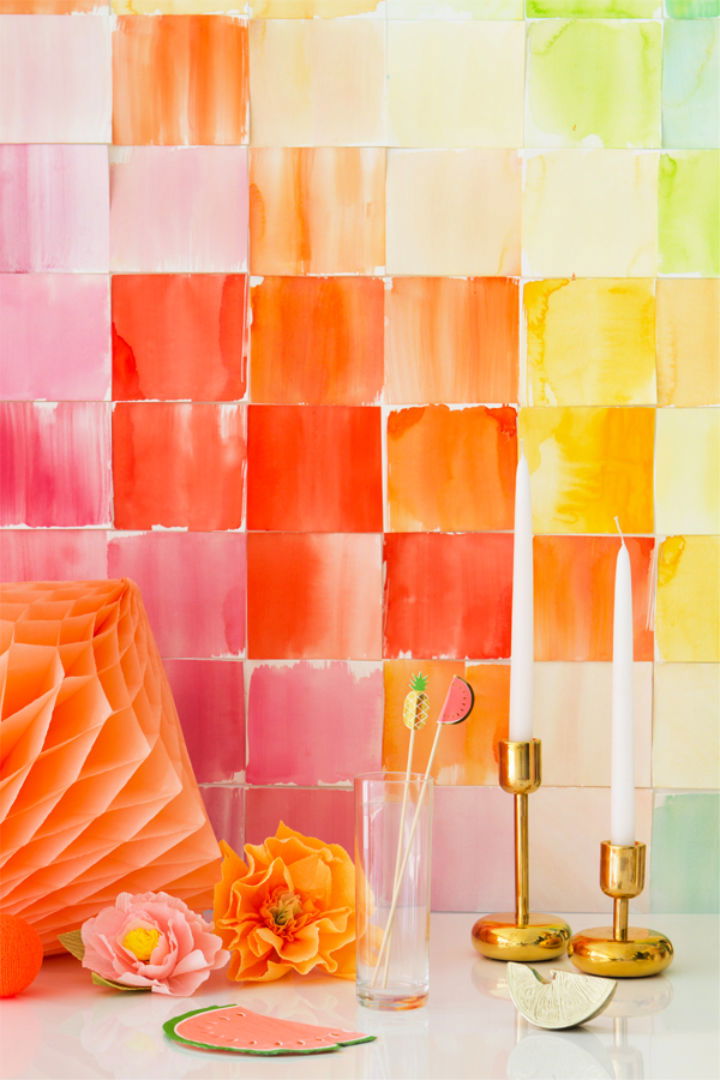 Are you deeply in love with watercolor paintings? Then satisfy your love for them by creating this watercolor paper square backdrop, which will create that lovely geometrical décor statement of a targeted wall too. Here the idea is to paint the paper square with the watercolor paint and then to adhere them up on the wall creating that amazing watercolor paper square backdrop. You are all free to choose any paint colors. ohhappyday
21. Under the Sea Bubble Backdrop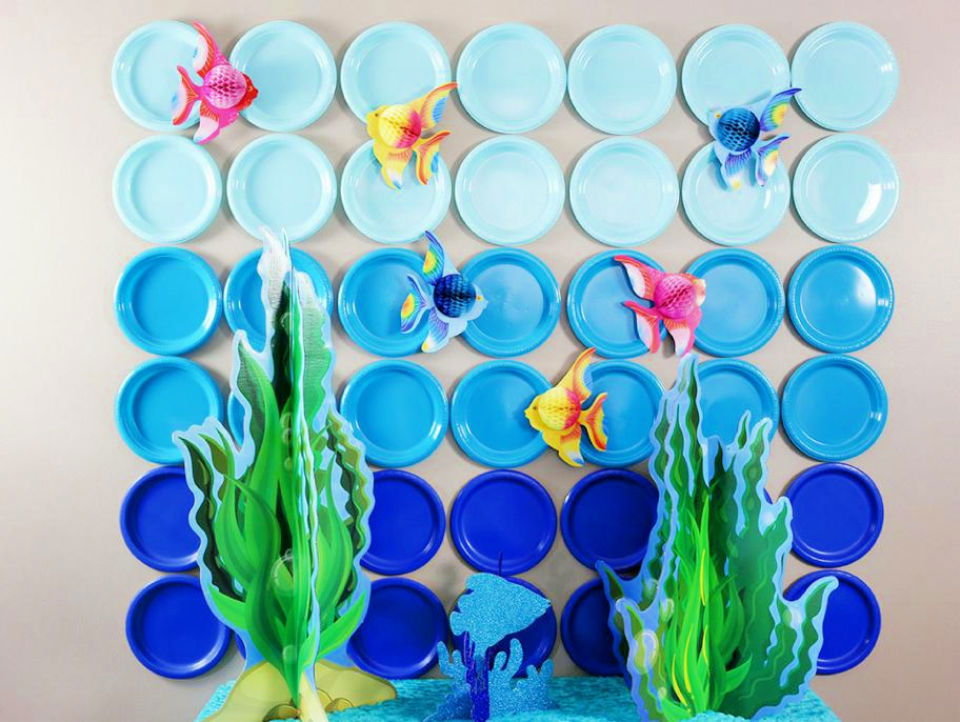 For a beach-inspired party theme, this paper plate ocean-inspired backdrop will really rock. Just paint the paper plates in ombre blue and then mount them on the wall creating this fetching nautical paper plate backdrop that is guaranteed to dazzle the audience. It will only take less than an hour to build this mind-blowing backdrop. Further, you need the under the sea glitter centerpieces and 3D seaweed cardboard stand-ups to build this super cute under the sea bubble backdrop. fun365
22. Omber Yarn Backdrop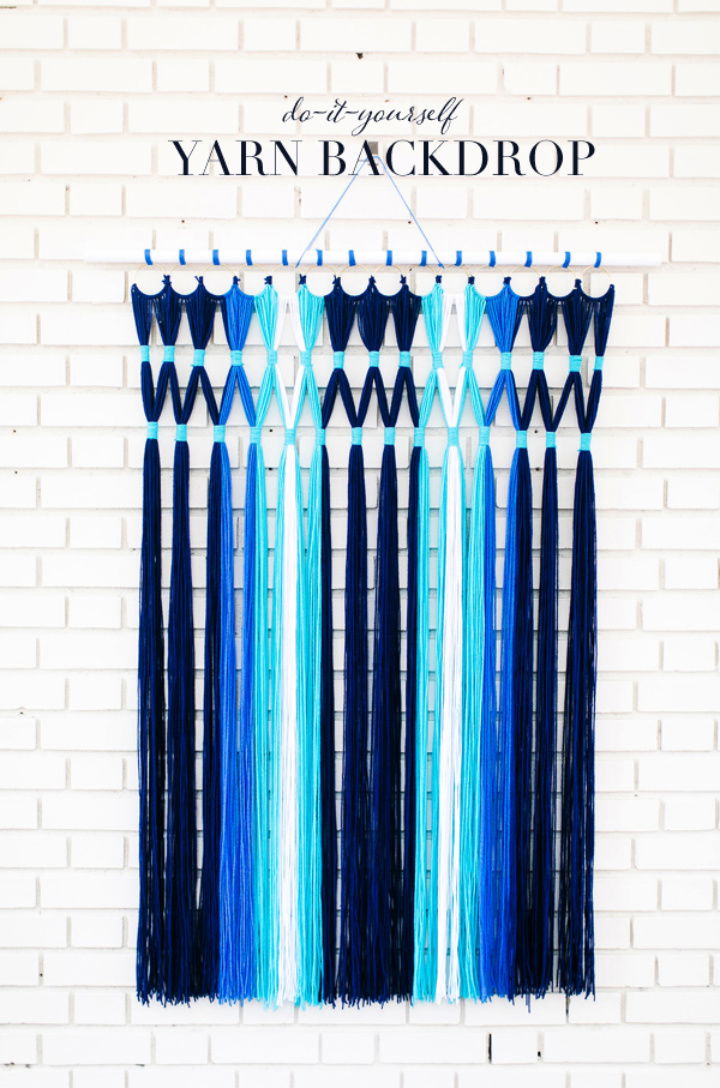 Get creative photo backdrop ideas with the yarn to install an interesting backdrop for the party photo booths. This yarn backdrop comes with an enchanting design pattern and appears in shades of blue. Grab a 4ft wooden dowel and add it up with the macramé rings and then tie the yarn to the rings' bottom side by giving simple knots and then making this very adorable looking yarn backdrop. It will work up super fast. All beginners can easily whip up this yarn backdrop. ruffled
23. DIY Paper Daisy Backdrop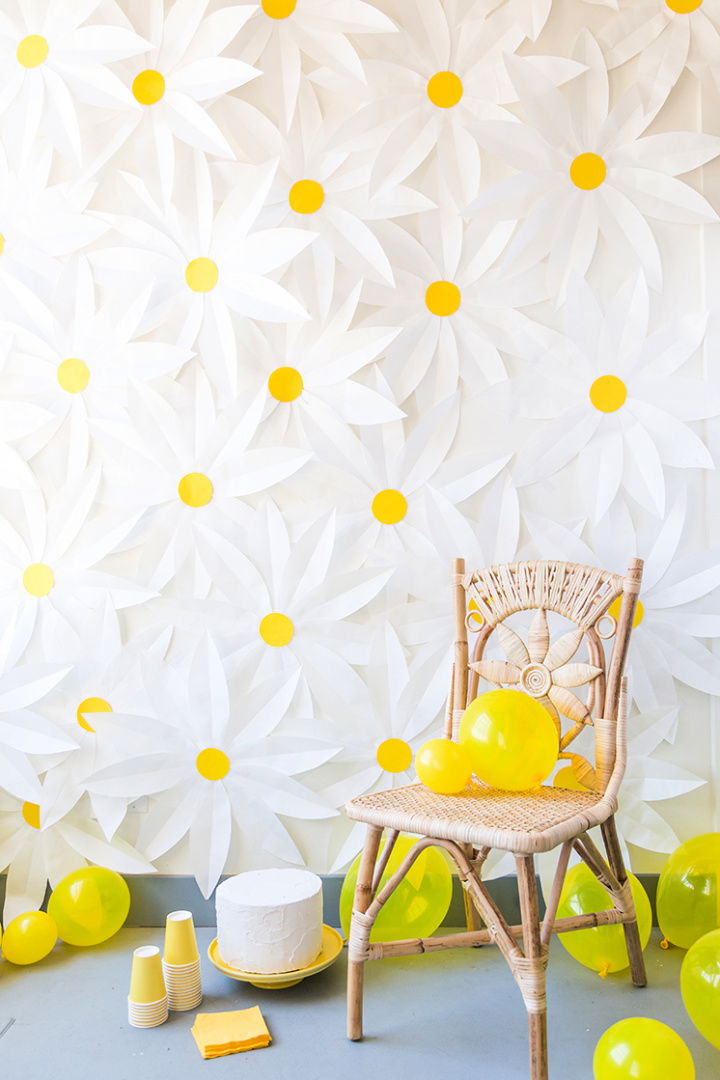 Are you addicted to making paper flowers? Then here is what to do amazing with the giant paper flowers. Just put them together, creating the very gorgeous and beautiful backdrops, will give the coolest backgrounds to your photographs you will take at the end of even as sweet memories. Here you are to make the giant paper daisies to make this very beautiful floral backdrop. This will also be a nice way t to update a boring wall. thehousethat
24. Floral + Greenery Backdrop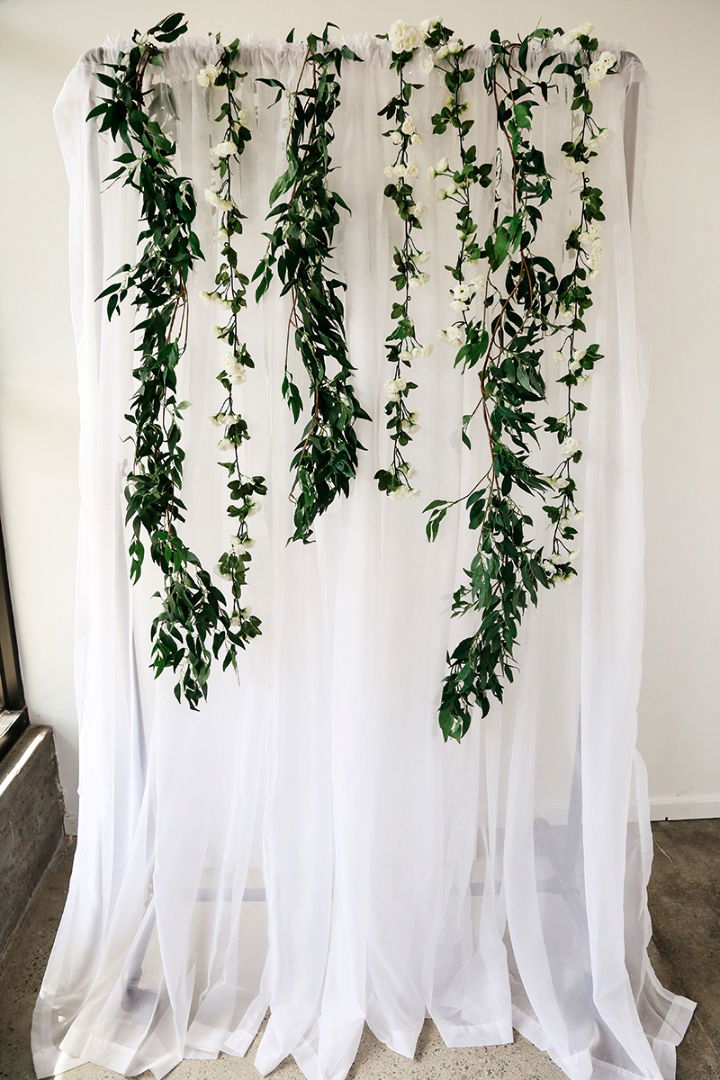 Installing this DIY photo backdrop will be super simple and cheap, but the visual effects it will provide to your photos are remarkable. You will learn how to build a geometrical washi tape wall backdrop and the flower and greenery backdrop like a pro. You need a clothing rack, sheer white curtain, faux greenery garland, faux flower garland, and clothespins to make the floral and greenery backdrop. Use only washi tape for geometric wall backdrop. lulus
25. Fresh Flower Wall Backdrop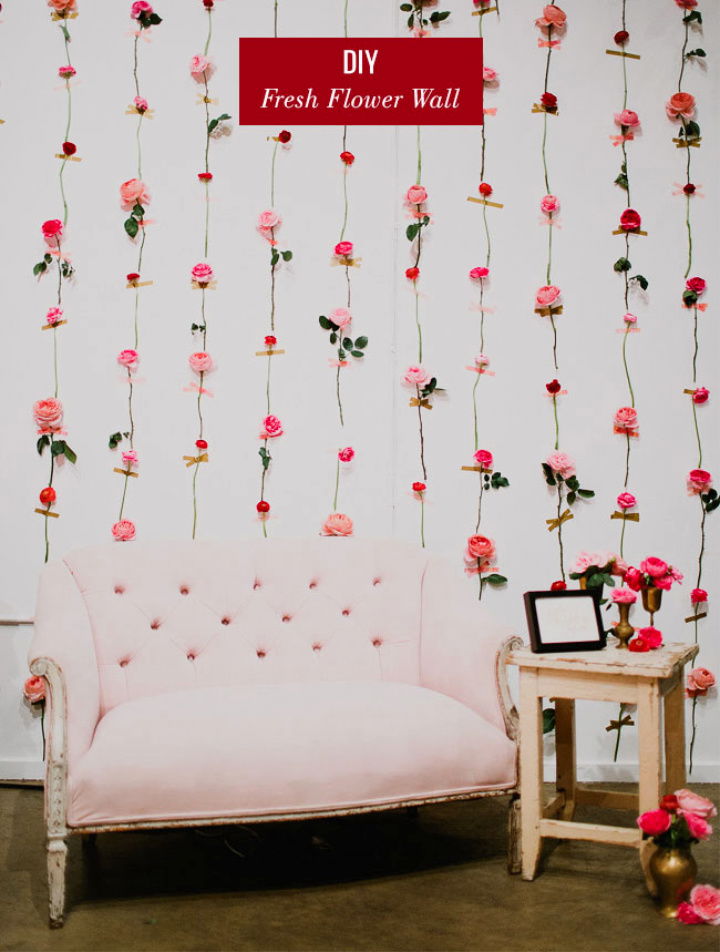 Fall in love with this; another great fresh flower wall qualifies all the features to make an interesting backdrop for your photography passion. This handsome backdrop will also rock for the party photo booth and be made with real or faux flowers. This floral backdrop features ranunculus, pink garden rose, dark pink garden rose, and dusty pink garden rose. Use washi tape to fix each flower on the wall.
DIY Wedding: Planning your wedding can be tough. There are so many little details to keep track of, and you only get one chance. Get inspired with these quick and cheap DIY wedding ideas for everything from decorations to food to apparel.
Conclusion:
Installing a professional backdrop will cost you big. So, save tons of your professional photography costs by installing the inexpensive DIY photo backdrop at home. These easy to make backdrop ideas will provide tons of hacks to make you build awesome looking backdrops like a pro. Some will use the paper flowers, and others will whip up quickly using the natural flowers. Create the minimal modern backdrops using the washi tape lines and use the yarn and dowel to build gorgeously cute yarn backdrops.
You will never get out of style. These DIY backdrop ideas will put a lot of visual interest to your photos, and hence you will love to save those photos as lovely keepsakes. These backdrop ideas will rock to spice up your photography game. Take a short tour of the entire collection to get a lot more photo backdrop hacks.