Building a rolling workbench is a great solution if you're looking for a way to organize your garage or workshop. Not only will it provide a flat surface for working on DIY projects, but it will also allow you to move the workbench around as needed. Learn how to build a workbench with these 15 free diy rolling workbench plans with detailed instructions and step by step PDF guides.
If you already have a nice workbench in your garage or workshop, it's time to start thinking about how to move it around. Fortunately, with these 15 easy DIY rolling workbench plans, you can build a workbench that will make your projects much easier to complete. Here are 15 of the best DIY rolling workbench plans you can use for your next project.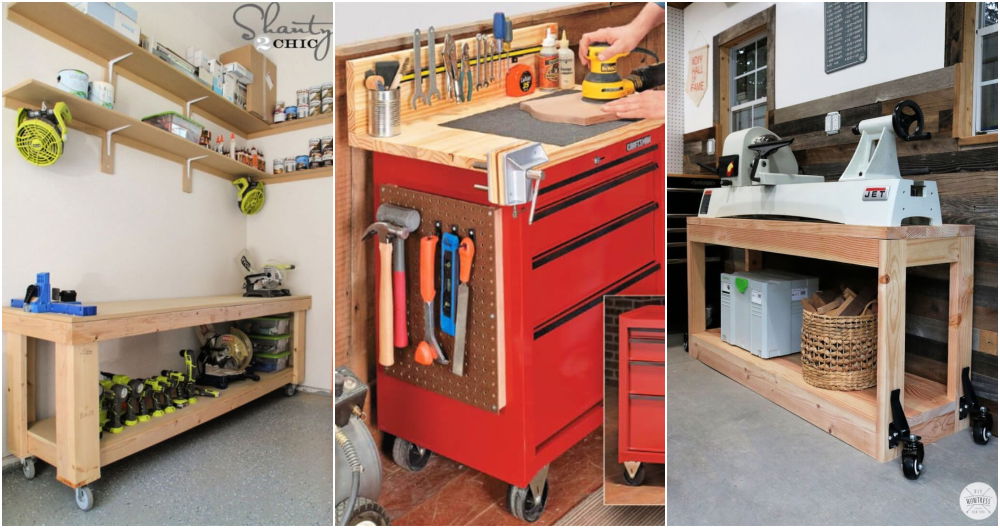 15 Free DIY Rolling Workbench Plans
A workbench is a big must-have for every workshop where manufacturing tasks are done regularly. They are designed to complete the workspaces you are working on and can handle a lot of weight. They will provide you with great ease in your projects by providing all the tools and materials in one place. Browse all DIY rolling workbench plans to see all ideas from simple to multifunctional.
1. Simple DIY Rolling Workbench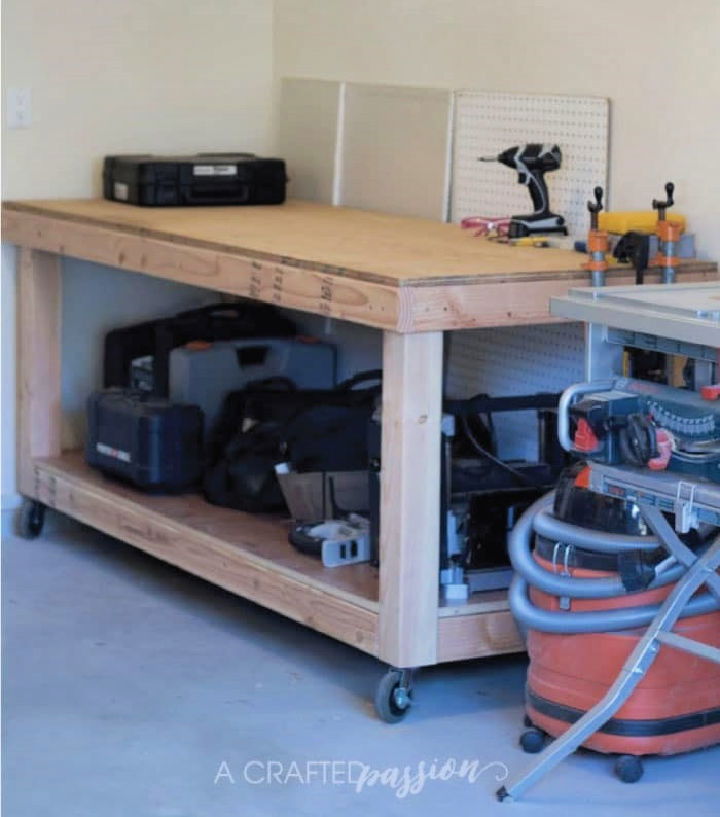 Opt for this simple rolling workbench for your carpentry and mechanical works. The wide plywood top will help in easy handling of your work. You need 2 lengths of 4″ x 4″ and 7 lengths of 2″ x 4′ lengths to build the base frame of the table. Finish with swivel casters and add the plywood top at the end. acraftedpassion
2. How to Build a Rolling Workbench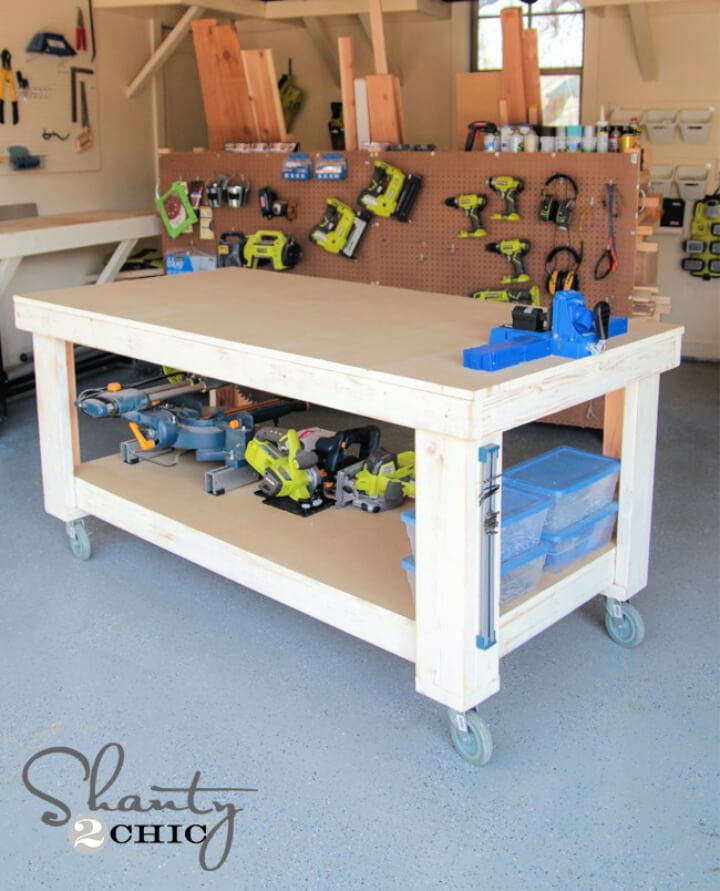 Get crafty with 2 lengths of 2x6x8 and 7 lengths of 2x4x8 to build the frame of this excellent looking workbench. Opt for the MDF board to build a plain workbench top. Install a bottom shelf and raise the entire workbench on rolling wheels. Add custom hanging hooks to hold additional tools. shanty 2 chic
3. Free Wood Workbench Plan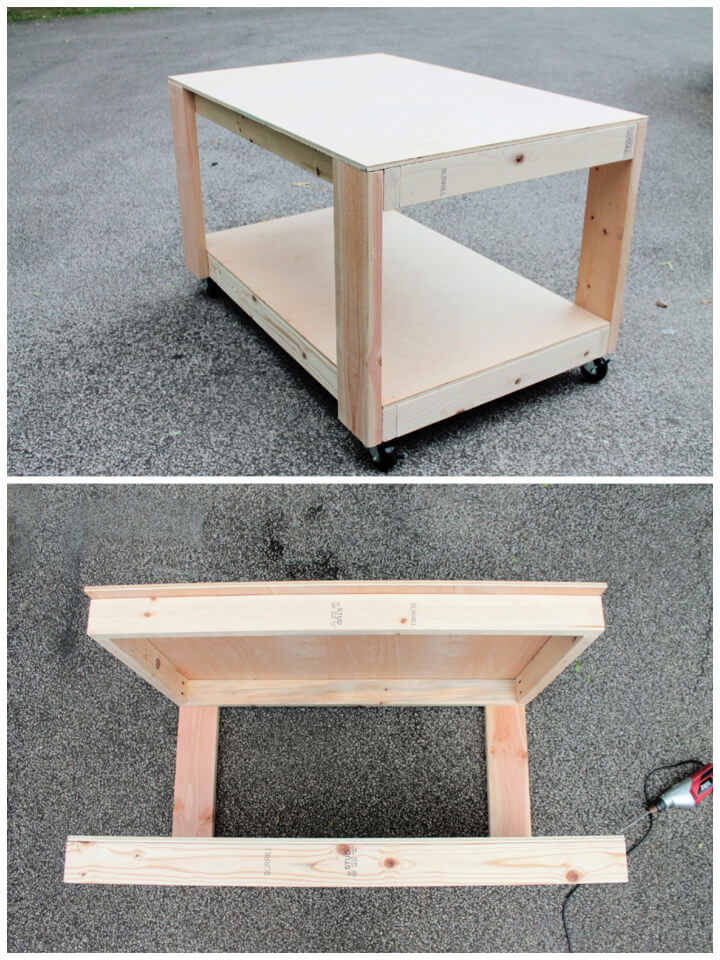 Building a workbench can be tricky, but you can follow the instructions here to build a one like a pro. Build the basic frames of both the top and bottom shelf by using 2″x4″x26″ and 2″x4″x48″ boards. Cover them solid using birch plywood sheet cut to size. Complete the design by installing 2″x6″x25.5″ legs that should be 40″ apart. Finish with caster wheels. buildsomething
4. Ultimate DIY Mobile Workbench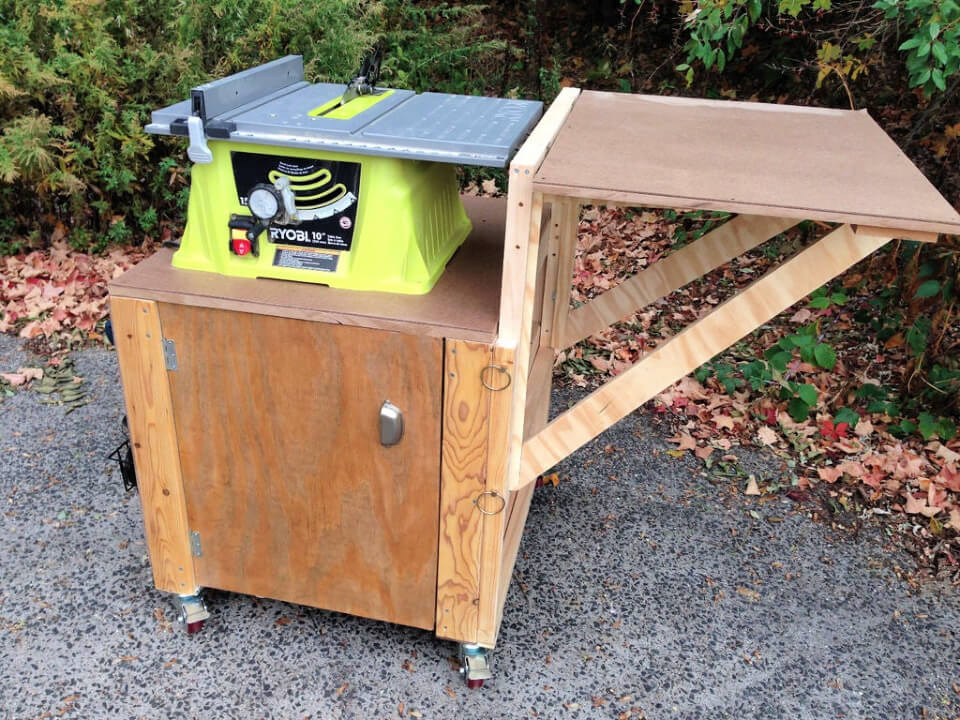 Build this ultimate mobile workbench at the cost of $150 to $200, a multifunctional workbench design to add to your workshop. Use the 2×2, 1×2, and 2×4 pineboards to build the basic frame of workbench. Go with 1/2″ or 3/4″ plywood or MDF board to install surfaces and cabinet doors. Choose a pegboard size to build an attached tool rack. Details here instructables
5. Build Your Own Rolling Workbench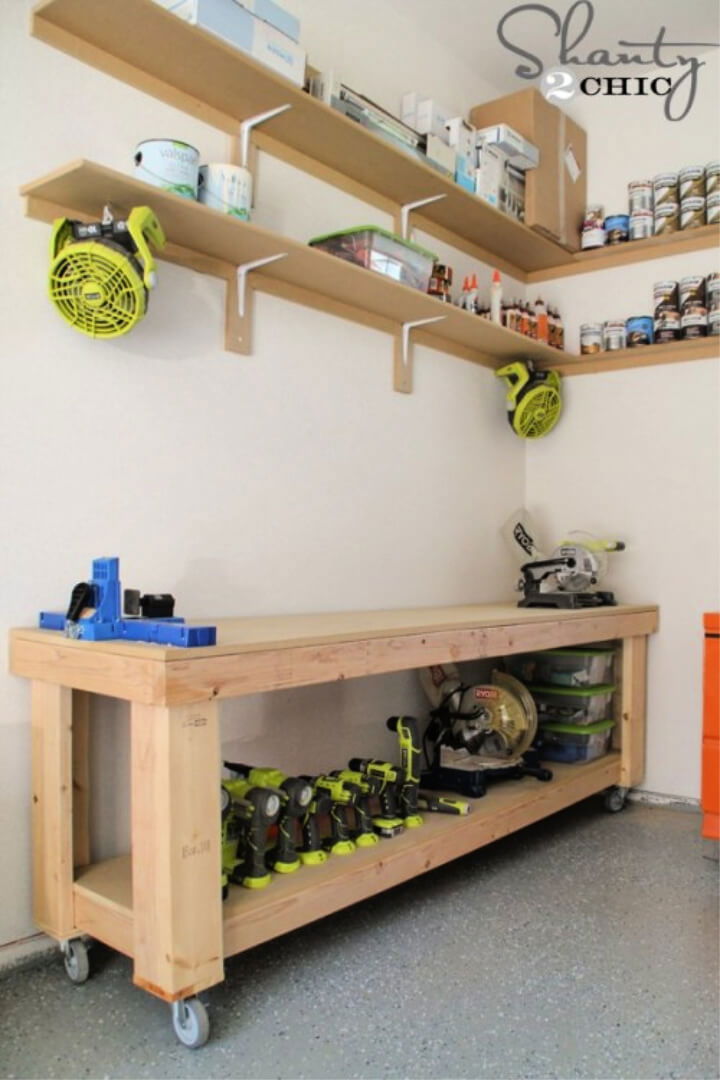 Choose this more extended size of rolling workbench that offers a bottom shelf for easy power tool organization. It should be added to your workspace, quite easy to build. The entire project will cost you $100, start building it by starting first the basic frame. Install the solid flat surface using the MDF board. Don't forget to install casters. shanty 2 chic
6. 4×8 Workbench and Outfeed Table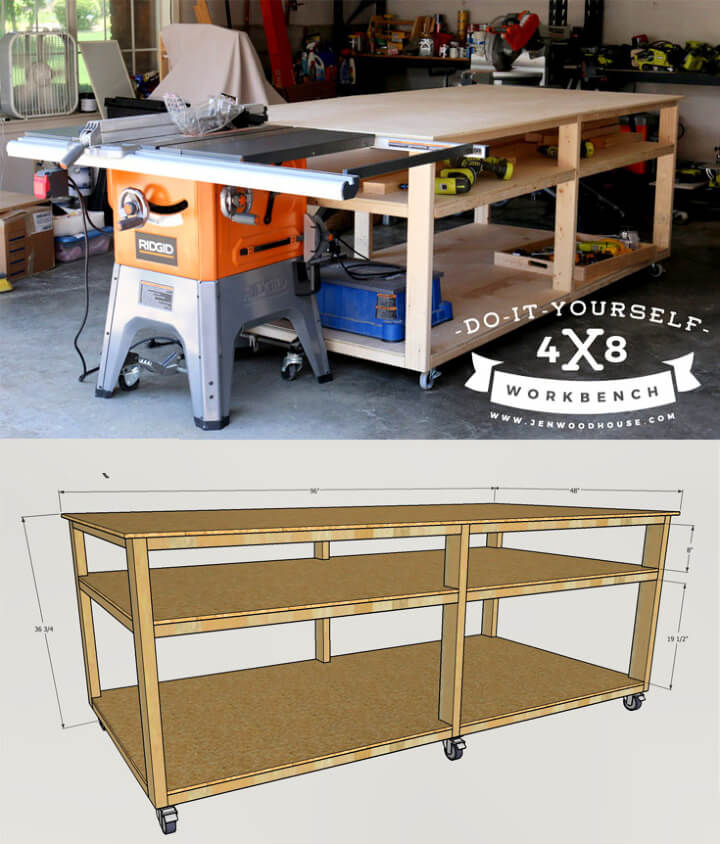 Get here easy instructions to build this 4×8 size of workbench. It comes with 2 large built-in shelves and stands on 6 legs ending up with caster wheels. The best outfeed table to build quickly for your workshop. Build first the primary frame cedar, pine, or lumber wood lengths. Use plywood or MDF board to add evenly flat surfaces like top and shelves. jenwoodhouse
7. Simple DIY Rolling Workbench – Free Plan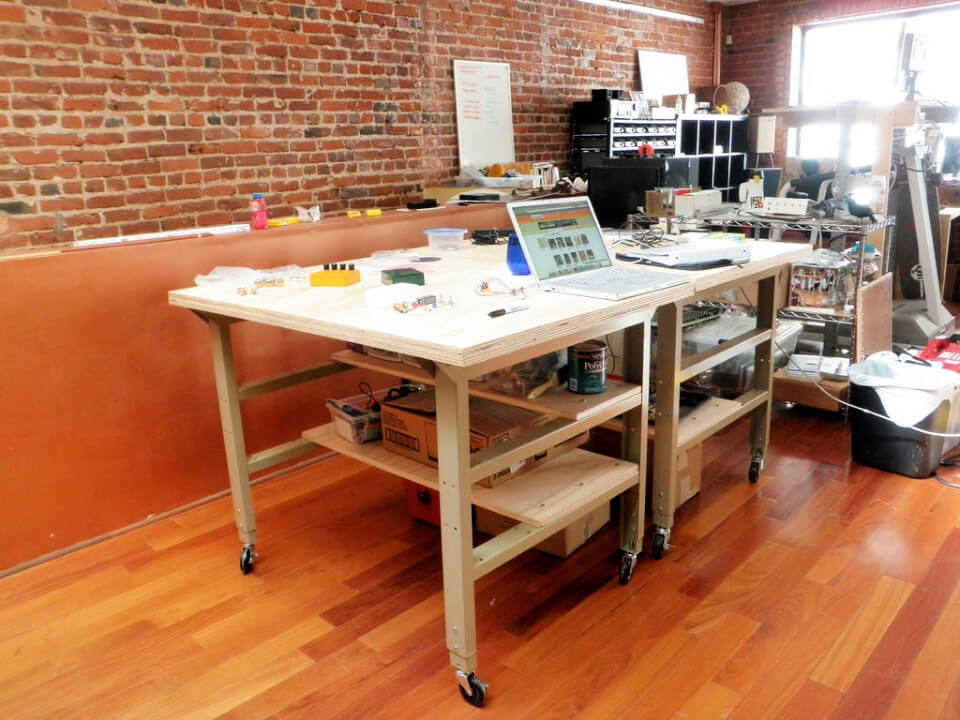 Save a lot of your woodworking time by building this rolling workbench with the help of provided free plans. You 2 panels of 48″ x 36″ plywood boards having 3/4″ thickness, locking casters with threaded rods, and adjustable bench legs to build this rolling workbench. Finish with Minwax water-based Polycrilic. instructables
8. Portable Workbench Plan with Storage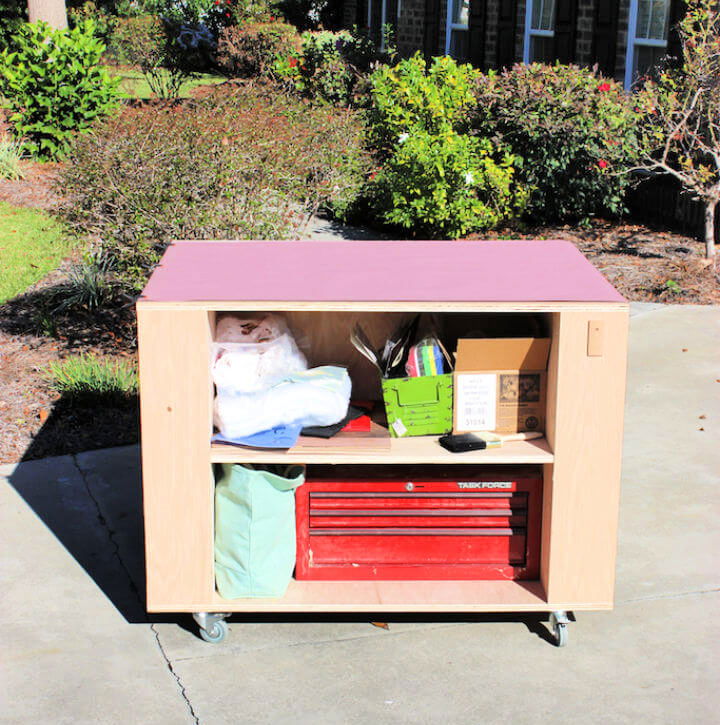 Are you a big fan of portable wood furniture? Then build this portable workbench using 3 sheets of 48″ x 96″ plywood having 3/4″ thickness, 3/4″ x 5′ electrical metallic tubing, 1 roll of rosin paper, and 4 swivel casters, etc.. It will help in easy doing of your woodworking and crafting projects. Full free plans here rogueengineer
9. DIY Rolling Workbench with Cabinets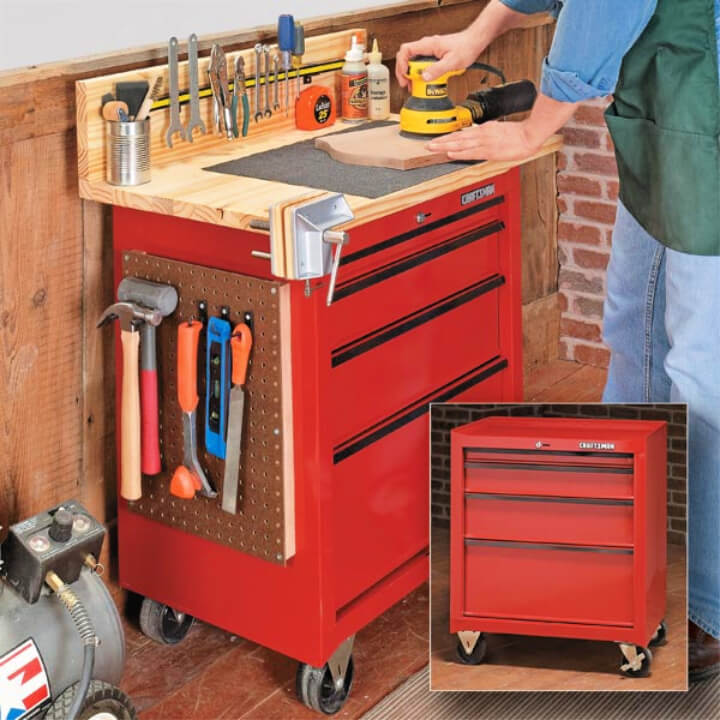 Hold your completed workpieces and tools nicely in your workshop using this rolling workbench. It will impress with cool storage cabinets helping the user in easy tool organization. The magnetic tool rack on the side and pegboard organizer on the other side and also a tool holder at the top are the accent features of this rolling workbench design. woodsmithtips
10. Mobile & Modular Rolling Workbench
Bring your workshop to the next level by adding this modular rolling workbench. It is super storage-friendly and comes with nicely added wood cutting tools on the top. You need 1/2″ thick 48″ x 96″ boards, 3/4″ thick 48″ x 96″ boards, 5 lengths of 2″x6″x96″ and 15 lengths of 2″x4″96″ to build this rolling workbench. Full details here gadgetsandgrain
11. Wooden Rolling Workbench Design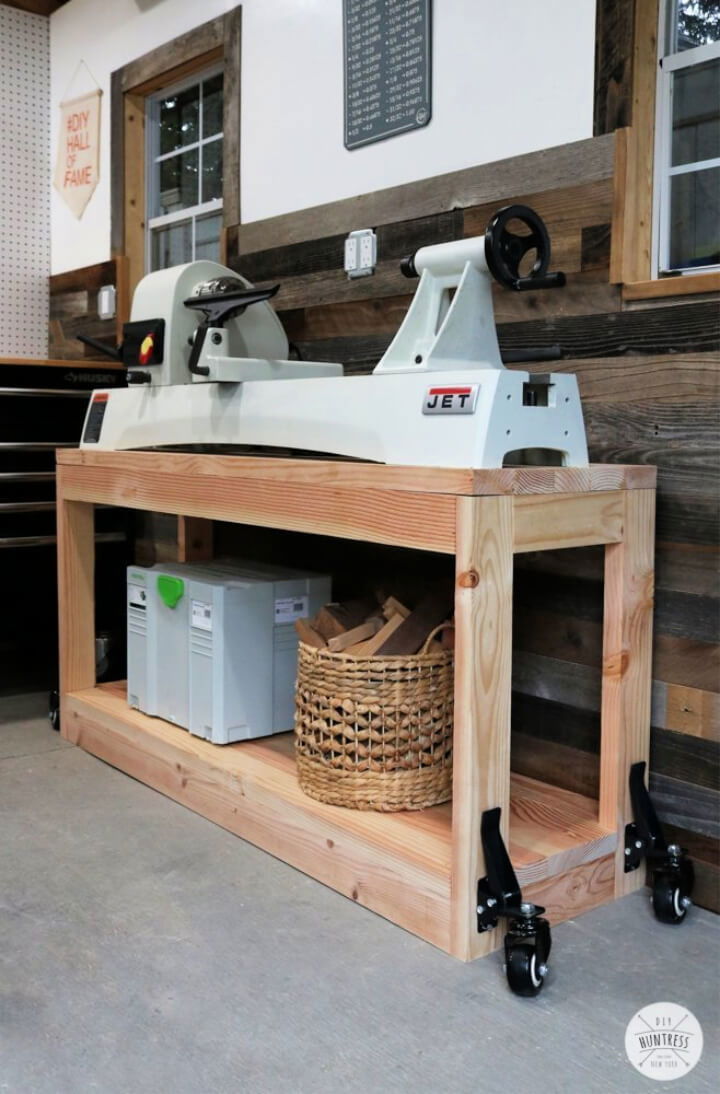 Depending on your needs, you can build lots of different designs of wooden workbenches. Built it using 14 lengths of 2x4x8′ boards, the design is simple but comes on stylish caster rolls that are not attached to bottoms. Add other features according to needs like a pegboard tool rack or a magnetic tool holder. diyhuntress
12. Build Rolling Workbench on a Budget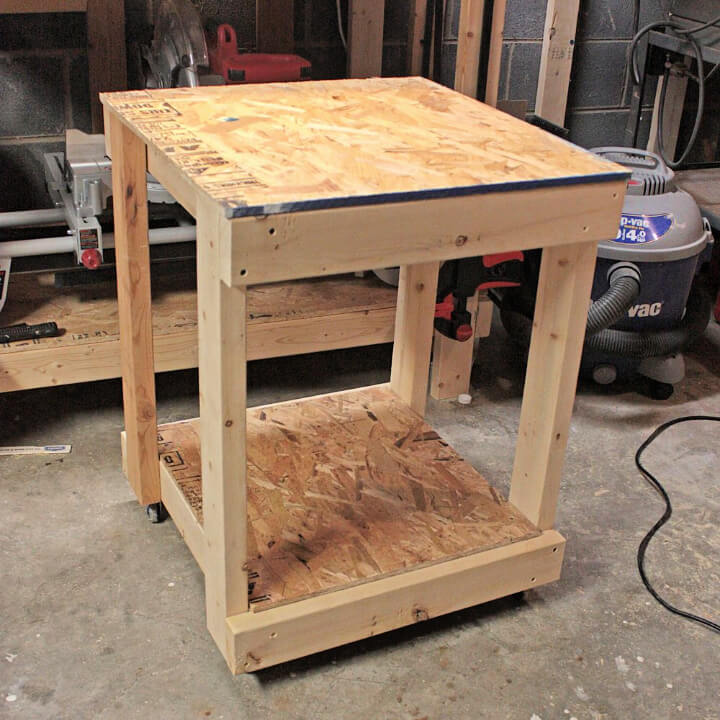 Build a workbench at home without breaking the bank. Grab here budget-friendly free plans to build a rolling workbench, comes with solid OSB top and a bottom shelf. Grab 2x4x8′ wood lengths and 4′ x 8′ size of OSB having 7/16″ thickness to build this lasting longer and a durable rolling workbench. How-to guides here instructables
13. How to Make a Rolling Workbench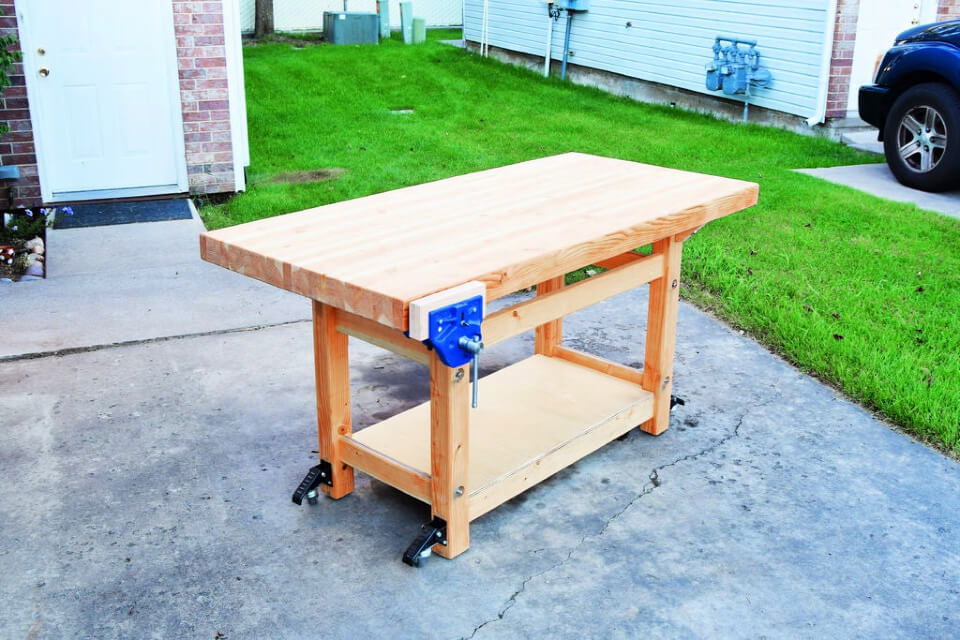 Grab 4 lengths of 4″x4″, 6 lengths of 2″x8″x12′ and 4 lengths of 2″x4″ 6′ to build the basic frame of this rolling workbench. Use 1/2″ plywood to build the solid surfaces, reinforce the sides using threaded rods. Pack the lengths together to get a solid butcher-block style workbench top. Tutorial here instructables
14. DIY Rolling Workbench With Shelves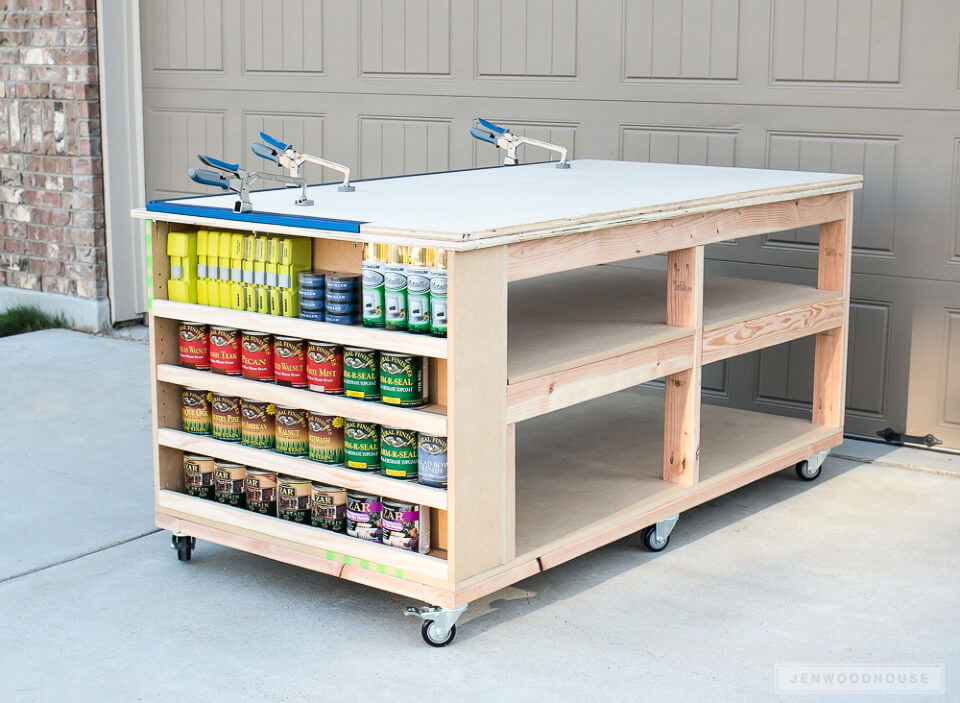 Get here free printable plans to build a rolling workbench with shelves. Get inspired by the readymade design that provides ample storage space in the form of built-in and side shelves. Again build the frame using lumber or pine wood boards. Use the Purebond or hardwood plywood to build solid flat surfaces. This design comes in 6 wheels. jenwoodhouse
15. Rolling Workbench with Drill Holders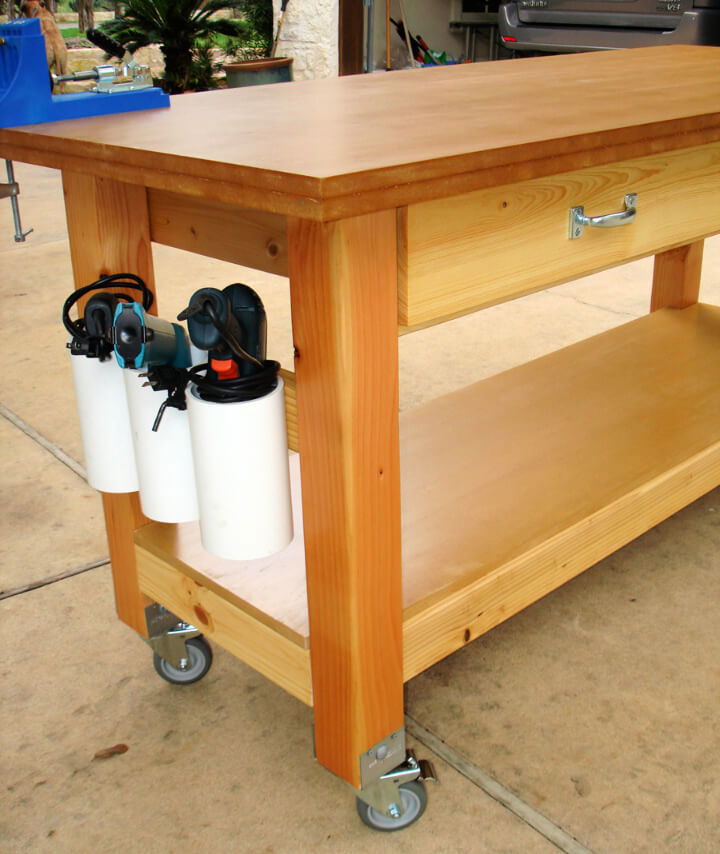 Get busy with your intermediate skill level to build this rolling workbench. In supplies, you need pinewood boards, Douglas Fir 4x4s, and MDF board. Build shelves and surfaces with MDF boards, finish the completed design with spar urethane. The project will complete in a week. ana white
Related DIY Projects and Ideas
Workbench Plans: Building a workbench for your garage, basement, or workshop is a great project. These free workbench plans are cheap and easy to build and will last for years.
Dust Collector Plans: Collecting sawdust and other particulates is important to keep your shop (or home) clean, but it can be expensive to buy it. Take a look at these easy DIY dust collector plans to collect harmful wood and metal dust.
DIY Furniture Projects: Learn how to create dozens of easy DIY furniture projects from reclaimed wood, pallets, and other salvaged materials that includes coffee tables, benches, headboards, nightstands, and more.
Outdoor Furniture Plans: Transform your backyard or patio with these free DIY outdoor furniture plans and décor. These plans are great for garden lovers, green thumbs, and people who love to tinker around the house.
DIY Plywood Projects: Want a great way to make furniture, shelves and planters out of plywood? This post includes simple DIY plywood projects that can be made from one sheet of plywood and some spare scrap wood.
TV Stand Plans: You don't need a degree in carpentry to build your own TV stand. Check out these easy DIY TV stand plans, which are inexpensive, easy to build at home, and they'll save you tons of money.
Find Easy DIY Projects
DIY Sewing Table: A sewing table is a must-have for any sewer. It provides a sturdy surface to work on and keeps all of your supplies organized and within reach. Here are DIY sewing table plans and ideas to help you create the perfect sewing space.
Scrap Wood Projects: If you're looking for a fun and simple project, try scrap wood! Here are some easy scrap wood projects to make all sorts of things from wood scraps, including furniture, art, and home decor.
Garage Storage Ideas: There are many ways to improve garage storage, and these practical DIY garage storage ideas will help you get started! From wall-mounted racks to clever organizers, you can find a way to create more space and keep your garage looking neat and tidy.
PVC Pipe Projects: These PVC pipe projects are not only affordable, but they're also a ton of fun. From a simple coat rack to a full-blown outdoor shower, PVC pipe can be used to create just about anything.
DIY Shed Plans: Looking for an easy way to build a shed? Check out these free DIY shed plans, perfect for any home. From simple shed designs to more complex plan, these sheds can be built in a weekend or less.
Conclusion:
Whether you're a professional carpenter or just starting out in your DIY journey, we hope you find the perfect rolling workbench plan for your needs. These diy rolling workbench plans are free and easy to follow, so get started on building your dream workbench today! Do you have any favorite DIY workbench plans? Let us know in the comments below.