Learn what to do with an old bookshelf with these DIY repurposing bookshelf ideas that share all the creative hacks to turn an old bookcase into fully functional furniture items. We all have old bookshelves in our homes just sitting there, a waste of space. Here are 15 creative ways to repurpose an old bookcase into something new. Repurposing is a great way to keep using your old things. From making outstanding kitchen island to precious media stand tables, the provided free repurposing bookshelf plans, step-by-step tutorials, and visual instructions will help you build from an old bookcase.
While doing a quick DIY home renovation project, you often leave with an old bookcase. At the same time, you can grab the old cabinets from the thrift stores to try out these repurposed bookshelf ideas. To see what type of wonders you can do with a recycled bookcase, explore these 15 DIY repurpose bookshelf ideas shared to amaze and inspire. After looking through all the listed repurpose bookshelf ideas, you will dig up your home for old cabinets.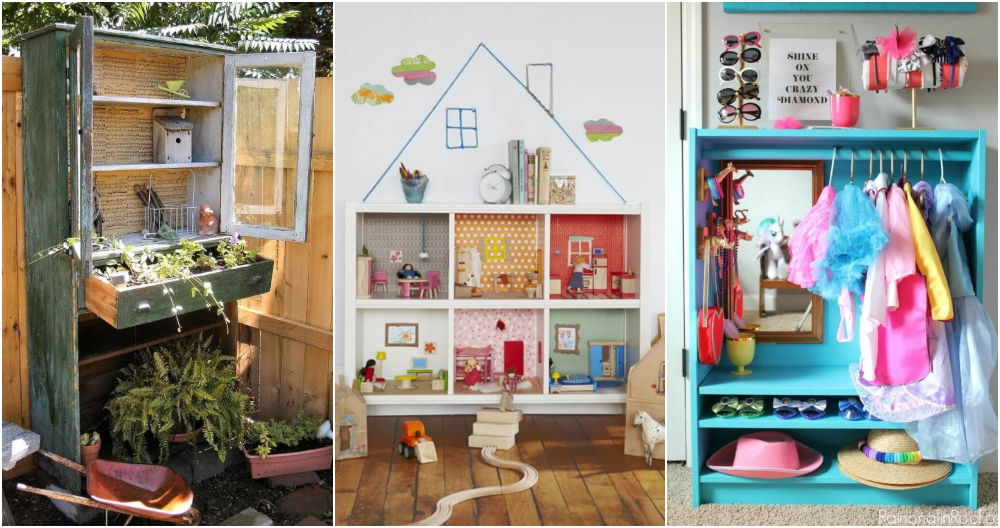 Repurposed Bookshelf Ideas
Furthermore, many IKEA hacks are involved in amazing your senses. Make use of IKEA Billy Bookcases to build outstanding items of furniture. From building a storage cart to a storage-friendly coffee table and from creating a storage bench to a DIY play kitchen, build all with IKEA Bookcases. Repurpose old bookcases to build kids' sandboxes and upcycle them to build mudroom lockers. Keep looking at each idea in this DIY repurpose bookshelf Ideas list to see more genius and amazing old bookcase hacks.
1. Repurposed Bookcase to Bar Table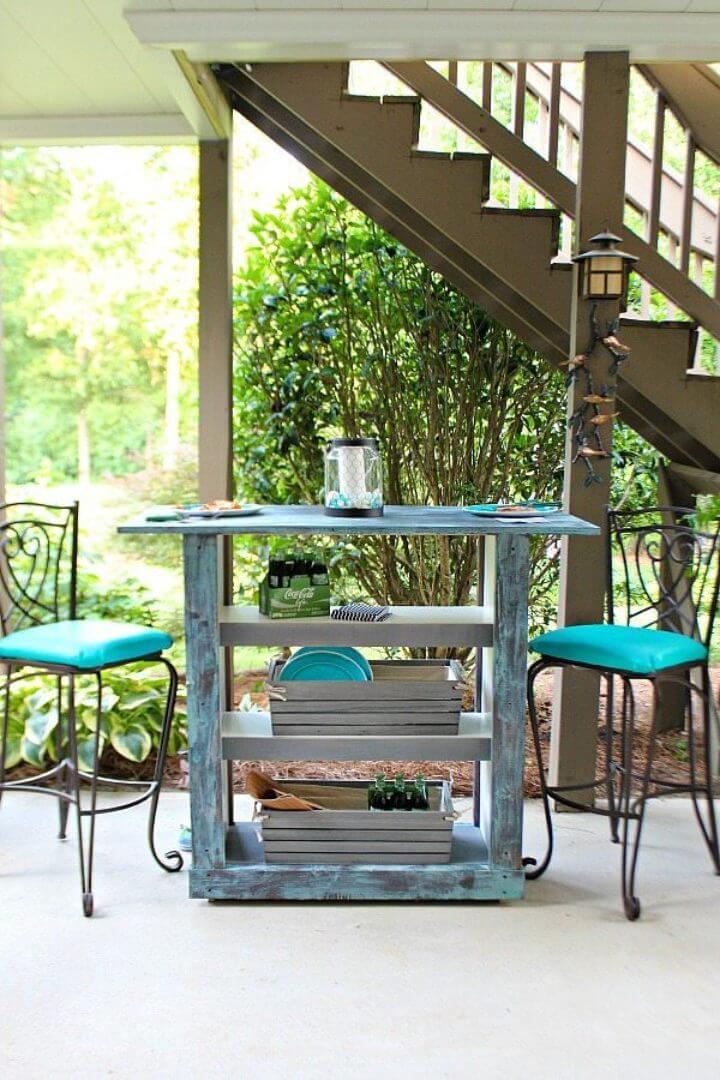 IKEA components are a big proud of DIY furniture building departments. You will love to be around this bar to enjoy free time, make it using the IKEA Billy bookcase. Remove the backing to get all open and then cover the IKEA billy unit with wood slats, even the shelves, install a new top, and that's it. refreshrestyle
2. How to Build a Bookcase Dollhouse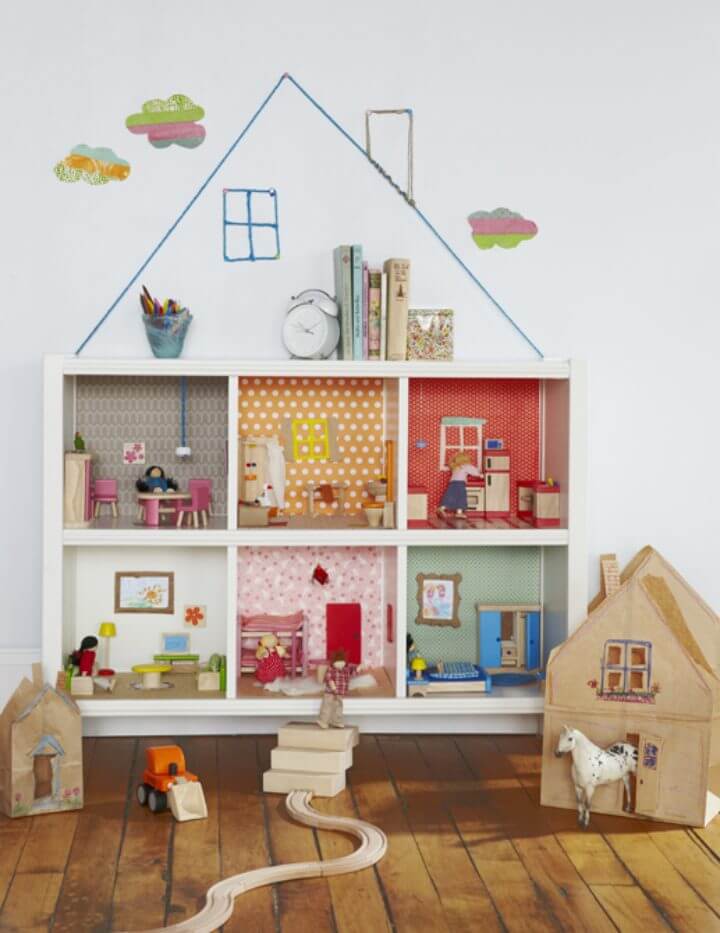 Looking at this cute bookcase dollhouse is a big treat, it is itself is an excellent gift for a little girl. You need wrapping paper, cardboard, and bookcase to build this precious doll dwelling. After you set it to the target location, add the doll furniture and house your favorite dolls in it. Full how-to details here landofnod
3. DIY Dress Up Storage from a Bookcase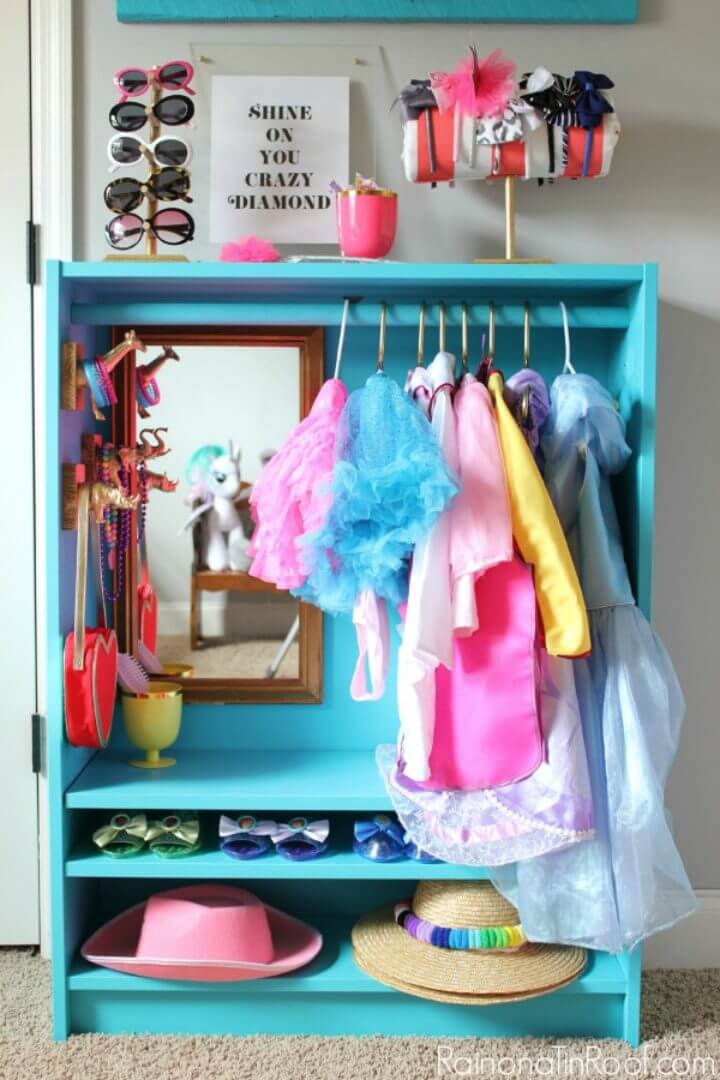 Another creative wonder to do with the IKEA Billy Bookcase, the dress up storage, a smart hack to update closet storage. Install a mirror inside the bookcase and a dowel too to get a cloth rack. Readjust the shelves to get storage compartments of the desired width and finish desired spray paint. rainonatinroof
4. Bookshelves Turned Kitchen Island IKEA Hack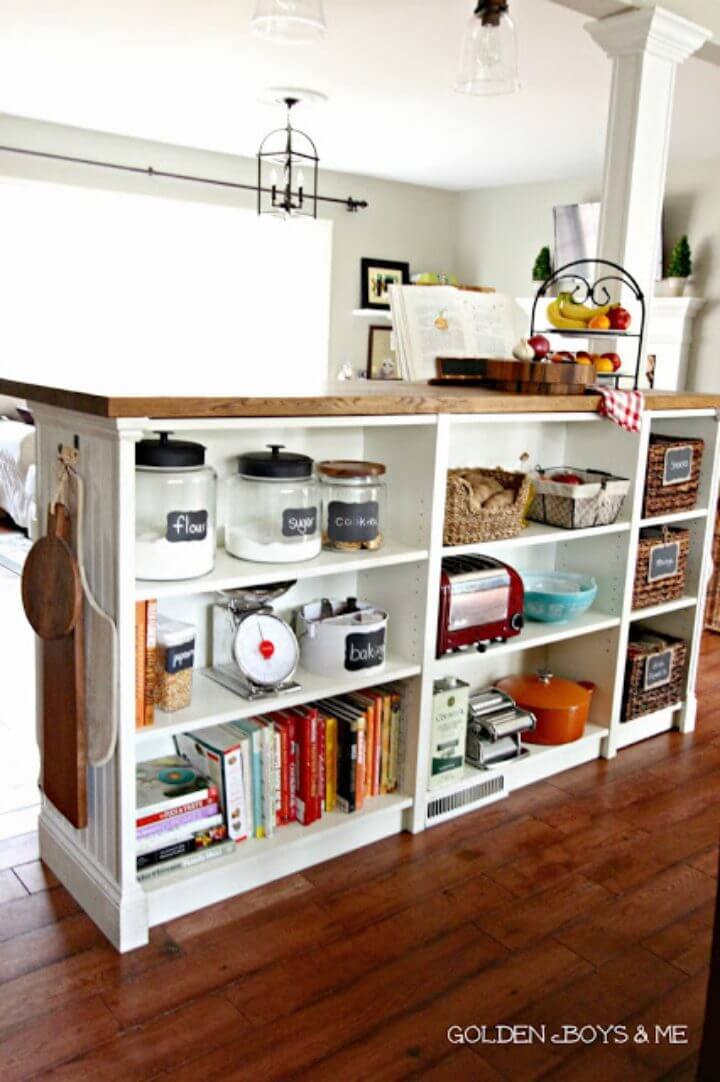 You will be sorting out some IKEA butcher blocks and IKEA Billy Bookcases after seeing this fantastic kitchen furniture hack, the precious storage-friendly Kitchen Island. Build it using 3 IKEA Billy Bookcases 2 should have size 31″ x 40″ and 1 should come in size 15″ x 40″ to build kitchen island base. Finish it with the IKEA butcher block. goldenboysand
5. How to Turn Bookcases Into Mudroom Lockers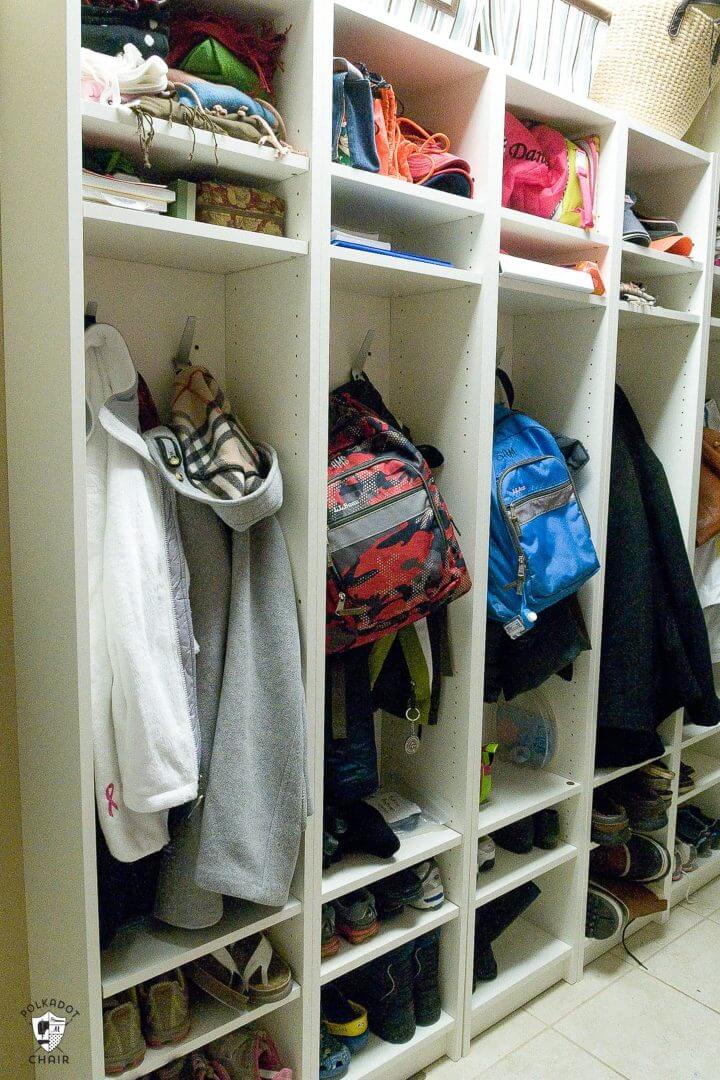 Mudroom storage becomes highly necessary some times, again, use the IKEA Billy Bookcases to build 5 mudroom lockers. They will help in easy decluttering of your home, and IKEA Bookcases will cost you $34. Install bookcases next to each other, add hooks to hang school bags inside them too. Details here polkadotchair
6. Wooden Kitchen from Re-purposed Bookshelf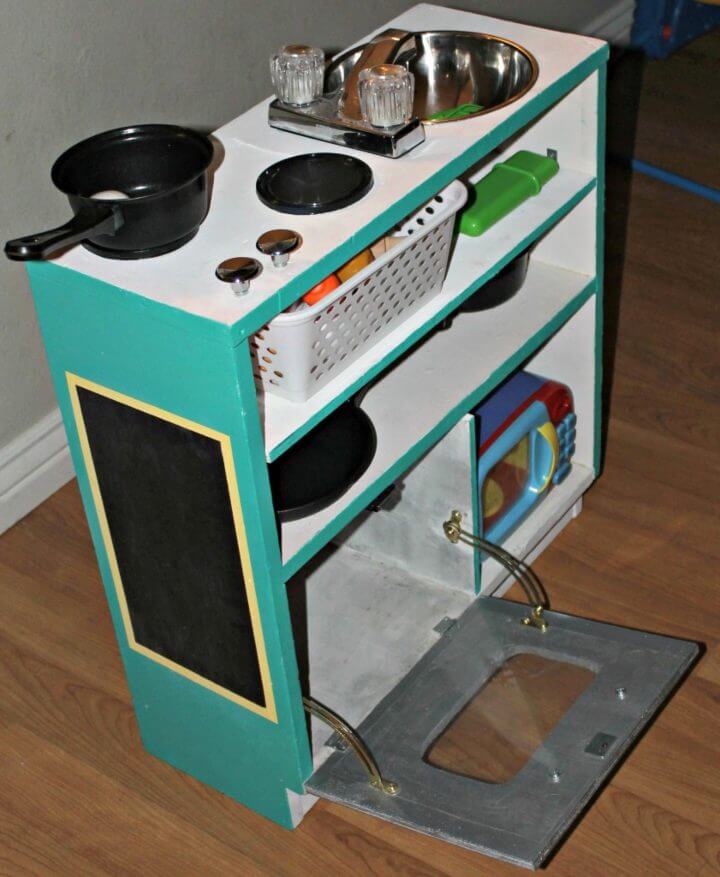 The play kitchens are one of the best kids gifts that helps increase their physical activities along with booting social skills. Repurpose an old bookshelf to build this wooden kitchen. Use plastic lids to install stove buttons, use a bowl and faucet for a kitchen sink. Further guides here lovinglifeand
7. How to Make Color-block Sandbox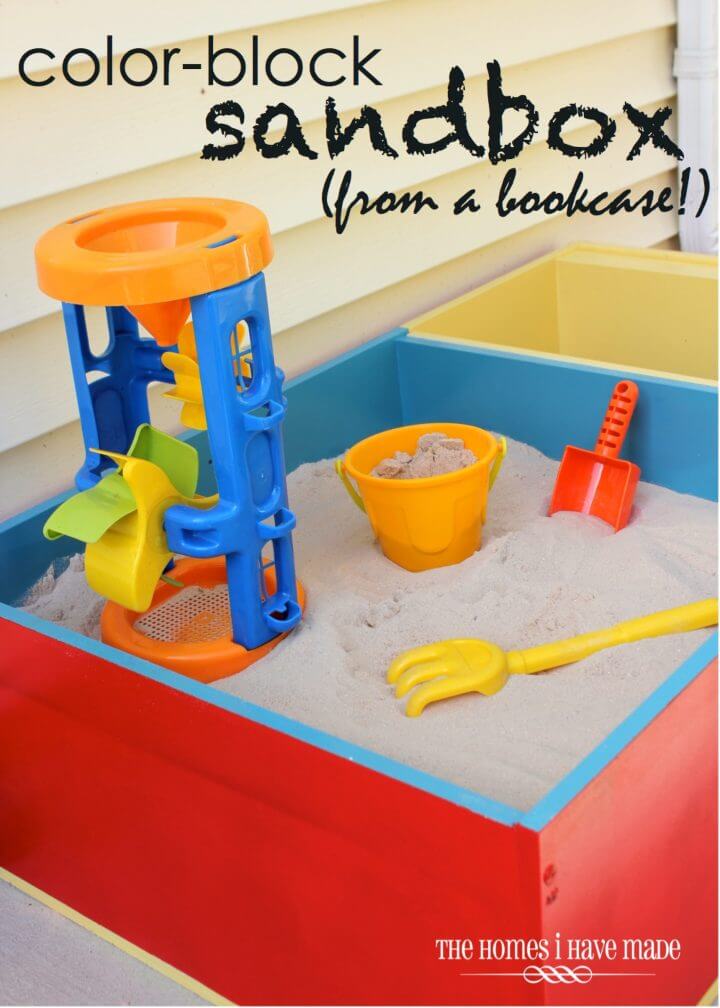 Sand play is another great activity to improve the excellent motor skills of kids. So, add up your backyard with this color-block sandbox. Make it with an old bookcase. Remove a shelf to get a big box for filling sand, keep one table to store kids' sand toys. Paint for an enchanting colorful appeal. thehomesihave
8. DIY IKEA Billy Bookcase to Rolling Cart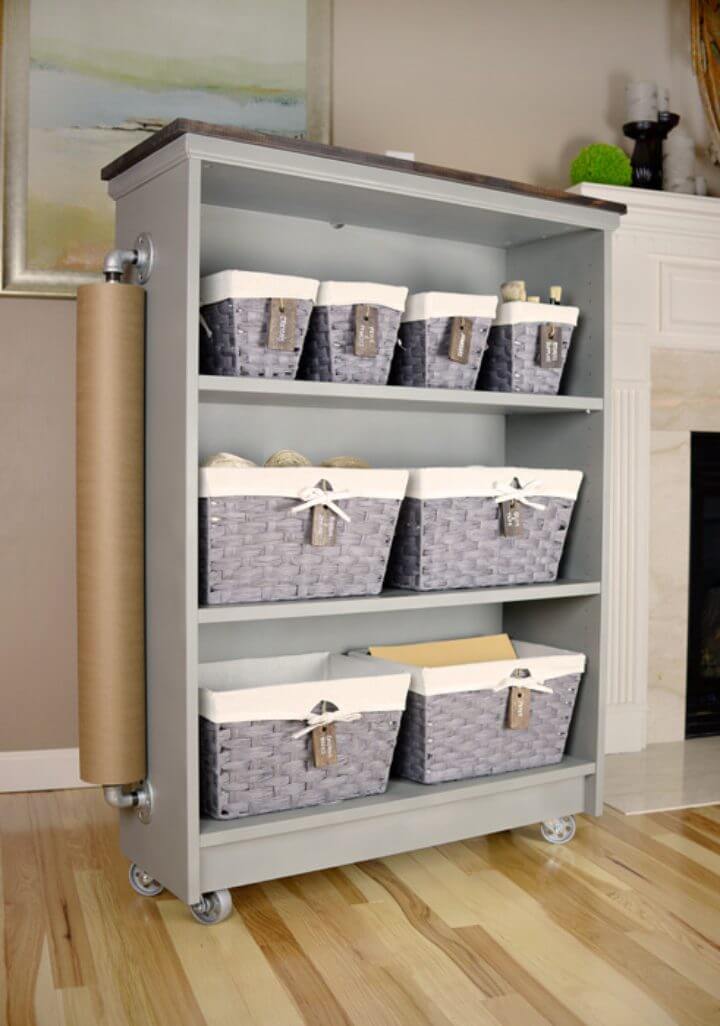 Are you a homey person? Then you will love to own this modern rolling cart, another creative IKEA Billy Bookcase hack. Use the metal pipe to install the craft paper holding rack at one side. Add the bookcase up with a new wooden countertop and finish with durable cartwheels. Details here livingrichonless
9. Repurposed Billy Bookcase Into Mini-mudroom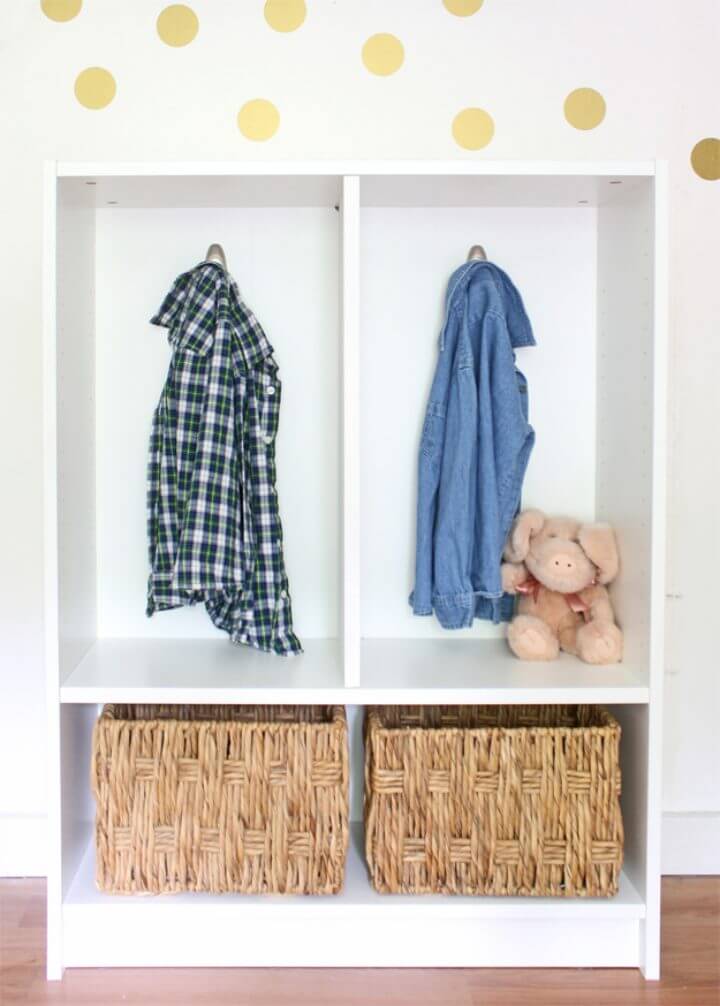 Grab a couple of baskets, a 1×12 piece of heat-treated lumber, and an IKEA Billy Bookcase to make this mini-mudroom. The whole you need for a modern manifestation of your mudroom will add amazing storage space too. The amazing IKEA hack for organizing your mudroom. theshabbycreek
10. DIY Bookcase Into Yard Stick Coffee Table
Bring a new color scheme to any room by adding this coffee table in the center, comes with a colorful striped tabletop. Another smart repurposing of an old bookcase. Trim down the bookcase and paint to make the base, install a tabletop, and finish with wheels. Keep the top hinged to reveal underside storage at any time. beneathmyheart
11. DIY Under Counter Shelves Out of Bookshelves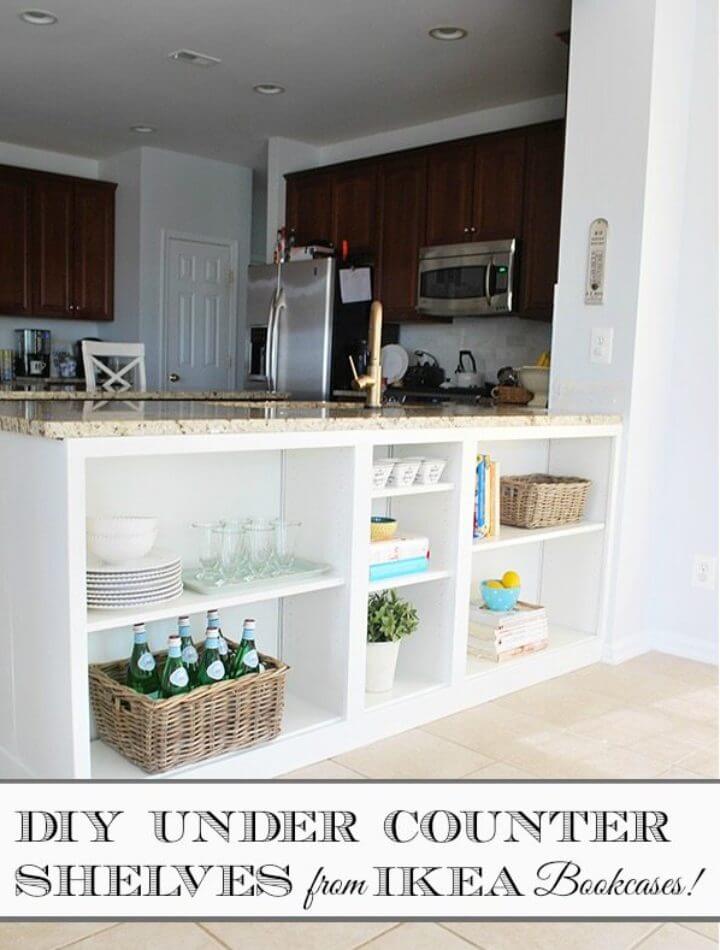 IKEA components are magical when you need to update your kitchen with them. Check out here the smart kitchen renovation done with the IKEA Billy Bookcases, the perfect under-counter shelves. This is what you need for the intelligent organization of your kitchen while being on a budget. 11magnolialane
12. How to Make Bookshelf Kitchen Island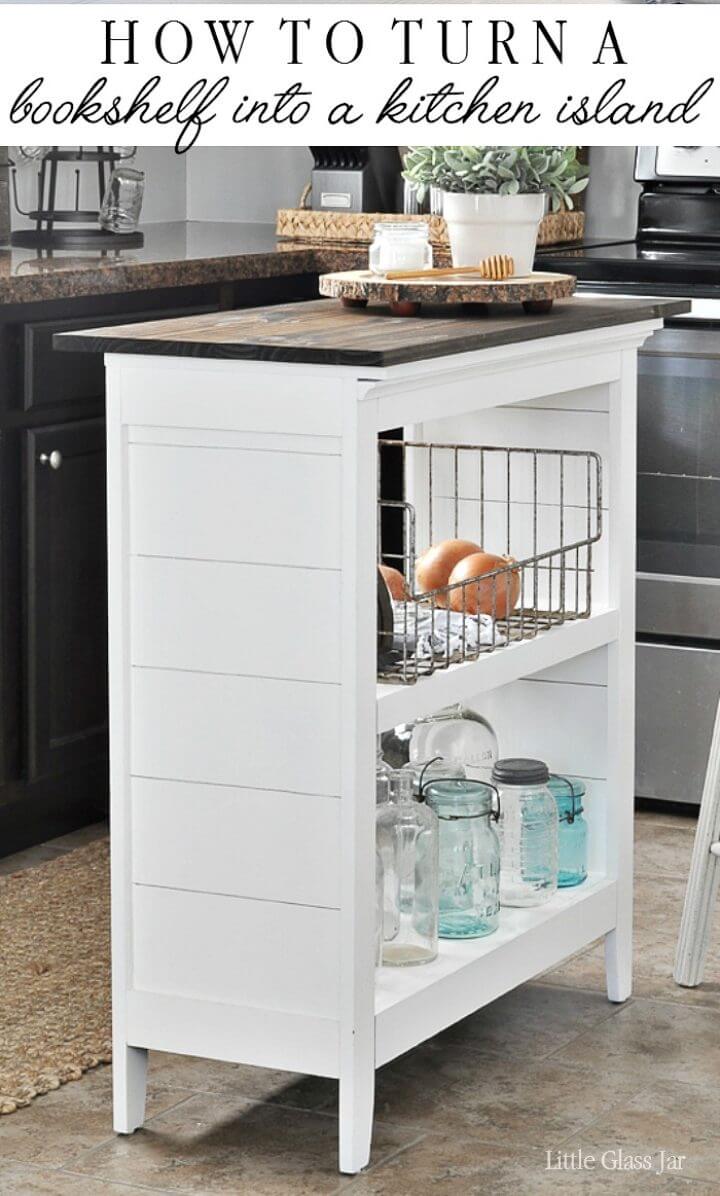 A kitchen island is most expensive to buy in kitchen furniture and is of great importance too. Upcycle an old bookshelf also to build a storage-friendly and modern looking kitchen island. Use plywood to fill the new bookcase sides, grab a wood slab to install a new countertop. Finish with primer, white paint and wood stain. littleglassjar
13. Storage Bench from a Repurposed Bookshelf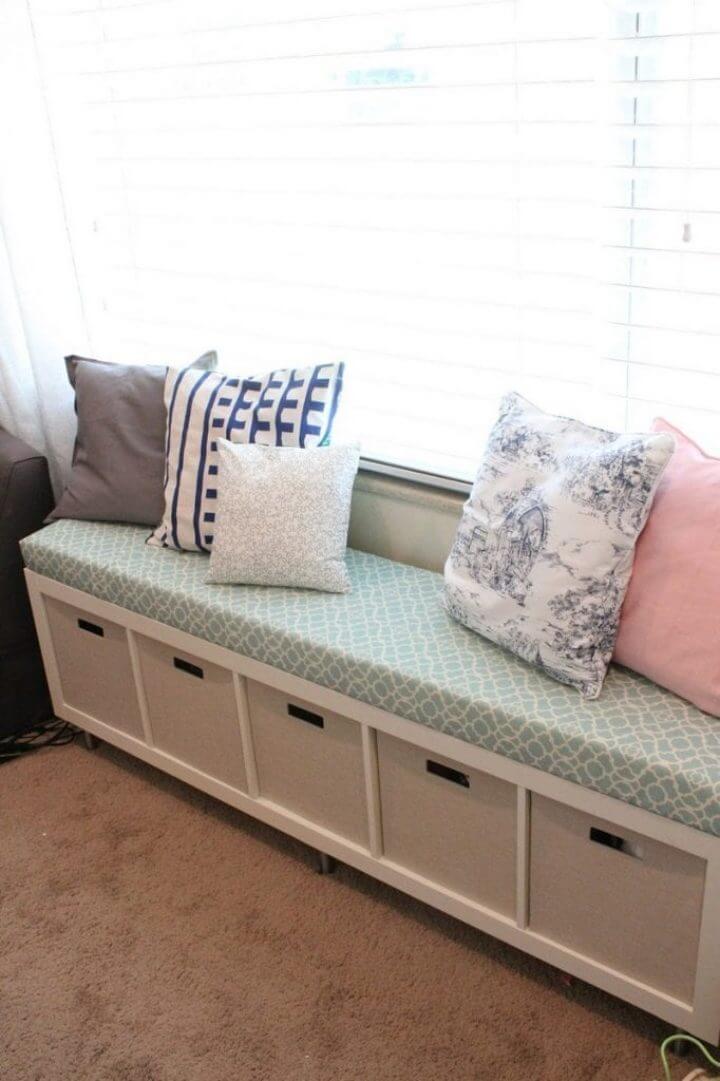 Bypass a luxurious storage bench using a bookshelf. Grab shelving unit, raise it on 2 sets of 4″ legs, and top up with MDF board. Upholster the top using foam, quilt batting, and fabric as cover. The perfectly modern storage bench to digest large kids' toy clutters. Creative recycling of an old bookshelf. project theowner
14. Upcycled Bookcase Garden Storage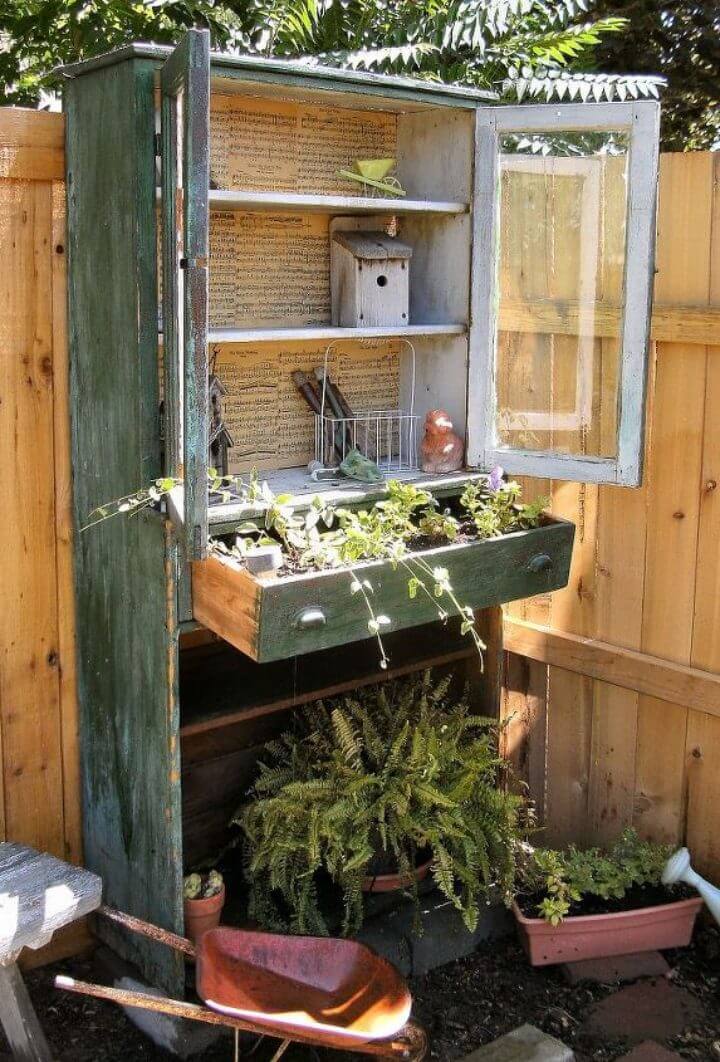 Go with the old bookcases to organize your garden too. Add up the old cabinets with storage drawers and hinged doors to get lovely garden storage units with built-in garden tool storage racks. Look at the fantastic given model, will surely impress a garden lover. Details here hometalk
15. How to Turn Bookcase Into Media Cabinet
Lacking an entertainment center in your living room? Repurpose a bookcase to build an instant beautiful one like this media cabinet. Grab custom size of the old bookcase, cover it up with extra wood, and then install the countertop and hinged front doors. Give a custom wood stain finish. myrepurposed
Related Projects and Ideas
Useful Recycled Projects: Recycled crafts are a great way to make something new from old materials. Here are easy and useful recycled projects that will inspire you to be creative with your recycling.
DIY Upcycling Ideas: Get inspired by these easy DIY upcycling ideas to repurpose old stuff into useful home decor. From furniture to music boxes, these upcycling projects are budget friendly and eco-friendly.
Repurpose Old Garden Tools: Repurposing old garden tools is a great way to save money, In this article, learn how to reuse old garden tools to make a planter, create a flag pole, or plant flowers.
Homemade Bookshelf Ideas: Make your home library look beautiful with these easy homemade bookshelf ideas that are easy to build, affordable, and won't take up a lot of space.
IKEA Billy Bookcase Hacks: Here are different ways to upcycle your IKEA Billy Bookcase. From organizing your home office to making a cat bed, these creative IKEA Billy Bookcase hacks are sure to inspire.
Reuse Old Picture Frames: Turn your old picture frames into a wall planter, a photo stand, or a picture frame for your favorite books. These easy ideas to reuse old picture frames are perfect for decorating your home without spending too much money.
Related DIY Projects To Organize Your Home
DIY Shelves: Shelves are a great way to add storage to your home without taking up a lot of floor space. You can build your own shelves with just a few simple tools and supplies. Here are different DIY shelves projects to choose from, so you can find the perfect one for your home.
Pallet Shelves: Looking for a way to add some extra storage to your home without spending a fortune? Check out these cheap and easy DIY pallet shelf ideas! With just a few simple supplies, you can create a beautiful and functional storage solution that will help you get organized.
DIY Pipe Shelves: These DIY Pipe shelves are a popular way to add industrial flair to any room. They're also a great way to use vertical space since they don't take up a lot of horizontal space. Plus, they're really easy to make!
Scrap Wood Projects: If you're looking for a simple DIY project, check out these easy scrap wood projects for beginners. With just a few pieces of wood, you can make something truly unique and stylish.
Conclusion:
Have you ever looked at your old bookshelf and thought, "I wish I could do more with this"? Well, you're in luck! We've gathered some creative ways to repurpose bookshelves that will have you thinking outside the box (or should we say bookcase?). From turning an old bookshelf into a kitchen island to using it as a headboard, the possibilities are endless. So get inspired and start brainstorming how you can use your old bookshelf in a new and exciting way with these repurposed bookshelf ideas.