Do you know how to build a dresser? We have rounded up 20 best and free DIY dresser plans that will help you to build one for your bedroom. These are going to add a rustic, vintage, and perfect look to your room and all the while providing utterly vast storage space. From ultra-modern designs to traditional designs, with various sizes, color schemes, and storage space, we have got it all here.
Are you planning to redo your bedroom decor? After exploring through our DIY dresser plans collection, you will no longer feel the urge to flash a fortune on buying them from the commercial market. These DIY dresser plans will provide a striking piece of handmade furniture with a classy look inside your room. But guess what, only a sweet sight is not enough! So our DIY dressers will actually no let's call it Practically provide you with some real-time extra storage in your room!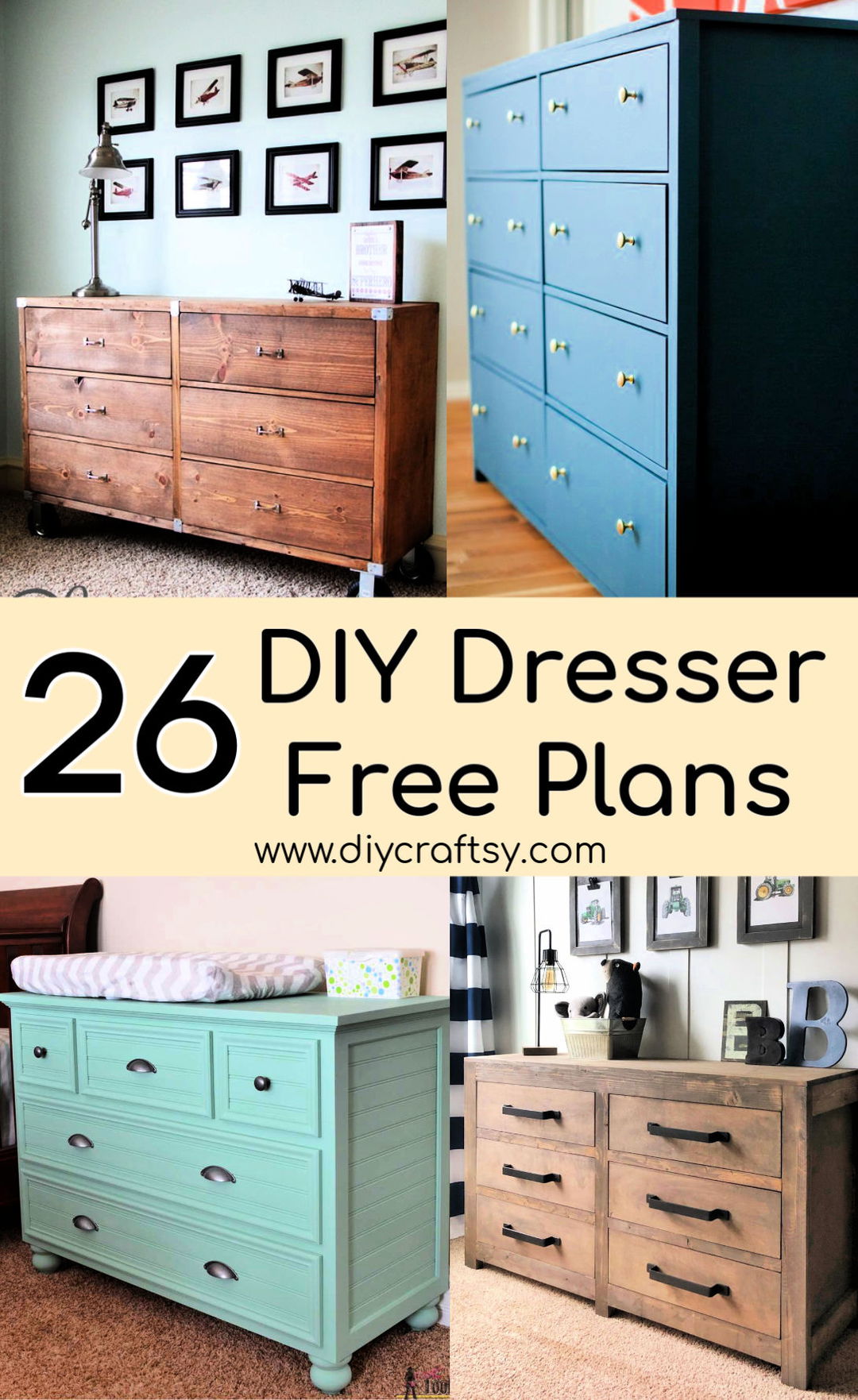 So, gather around your craft supplies. Drills, nails, dresser paint, wood, and build a DIY dresser. That said, let's dive right in!
1. DIY Rolling Dresser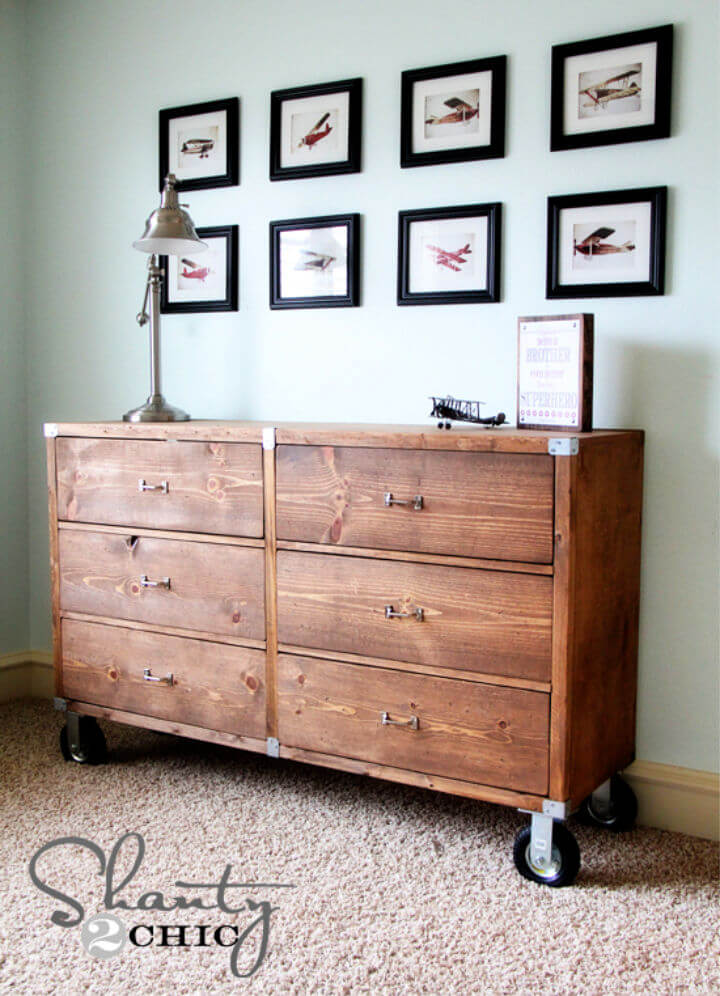 This classy rustic wood dresser would upgrade your room's decor game to another level. The best part is the rolling wheels. If you are looking to redo the decor, later on, no biggie. Just push the classy dresser to another corner! Get details in the tutorial. shanty-2-chic
2. DIY Kendal Extra Wide Dresser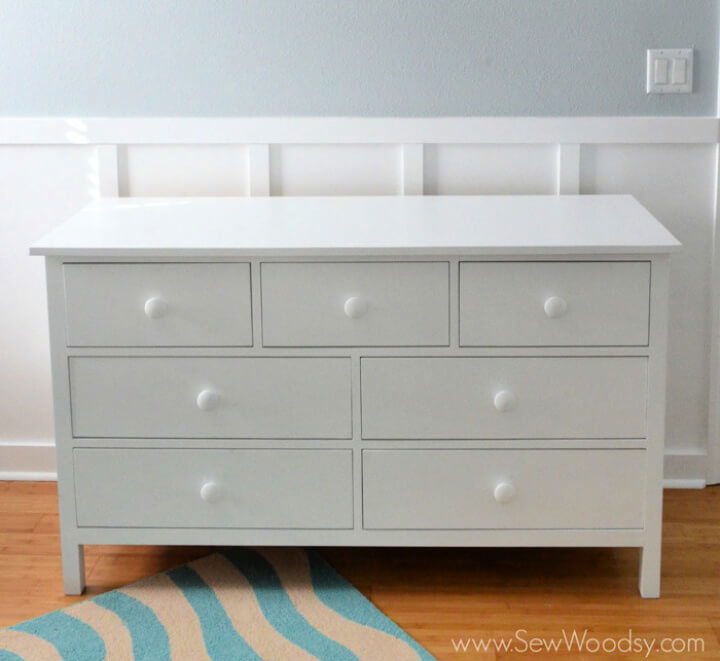 Bring minimalism to your room with this elegant Kendal white dresser! You can synchronize it with your room's decor and paint likewise! It will introduce a complete royal look to your room. The tutorial will walk you through the step by step guide. ana-white
3. Build a Rustic Dresser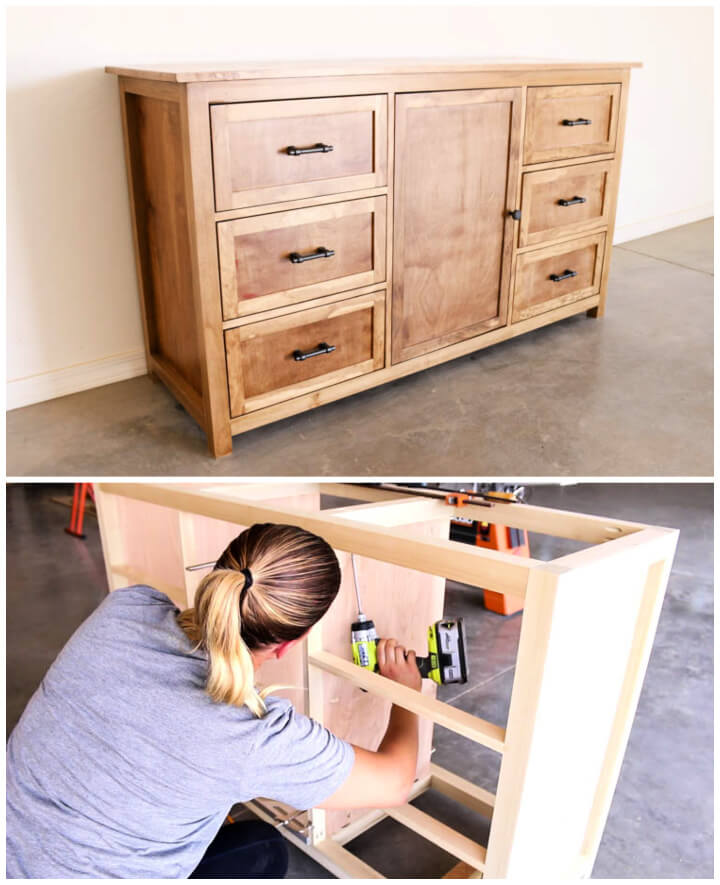 Get your favorite personalized or custom storage options with this DIY rustic wood dresser. With an additional cabinet in the middle, you can keep your shoes, bags, or anything you want to manage and organize flawlessly. Get details in the tutorial. addicted2diy
4. DIY Dresser on A Budget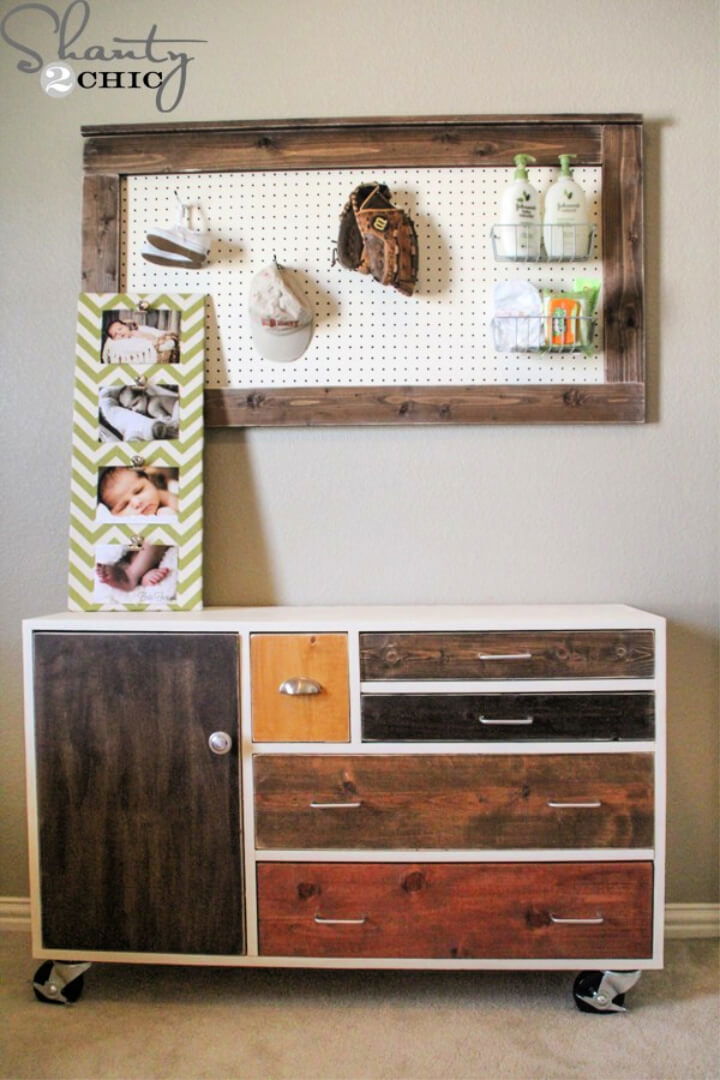 This pretty trendy and vibrant DIY dresser can not only be made in your considered budget but maybe even under it! Plus, the best part is the rustic vintage look you can add to your room with this piece of furniture. Hit the tutorial for details. shanty-2-chic
5. DIY Modern Dresser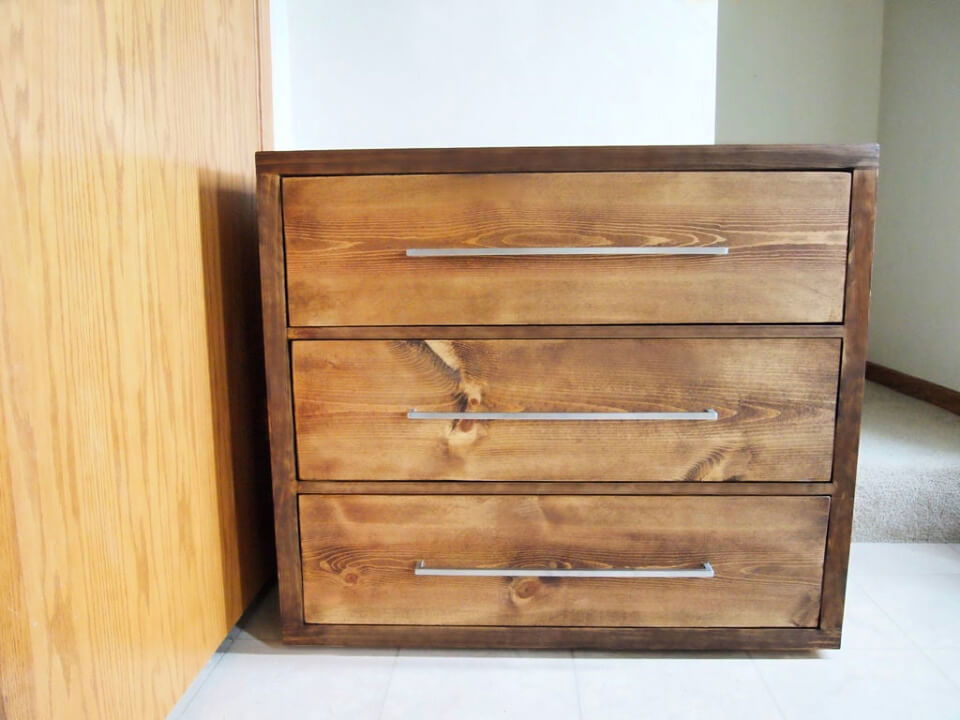 For a minimalistic and vast storage dresser, you have landed in just the right place. This tutorial will walk you through the guide on making this modern and trendy wood dresser for your bedroom. Add minimalism to your decor! Hit the tutorial now. instructables
6. DIY 6 Drawer Dresser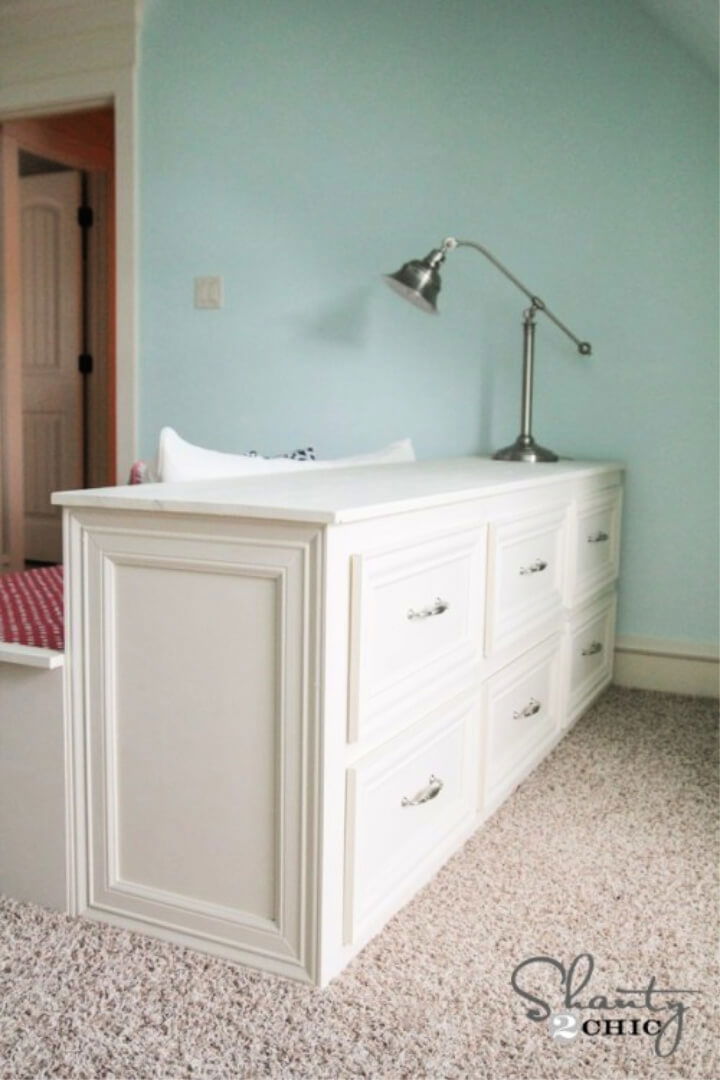 An equally parted six drawer dresser can keep your stuff organized and managed quite flawlessly. The spotless white paint on the dresser is bringing out a formal look and making it stand out. Upgrade your decor with this DIY dresser plan! shanty-2-chic
7. How to Build a Dresser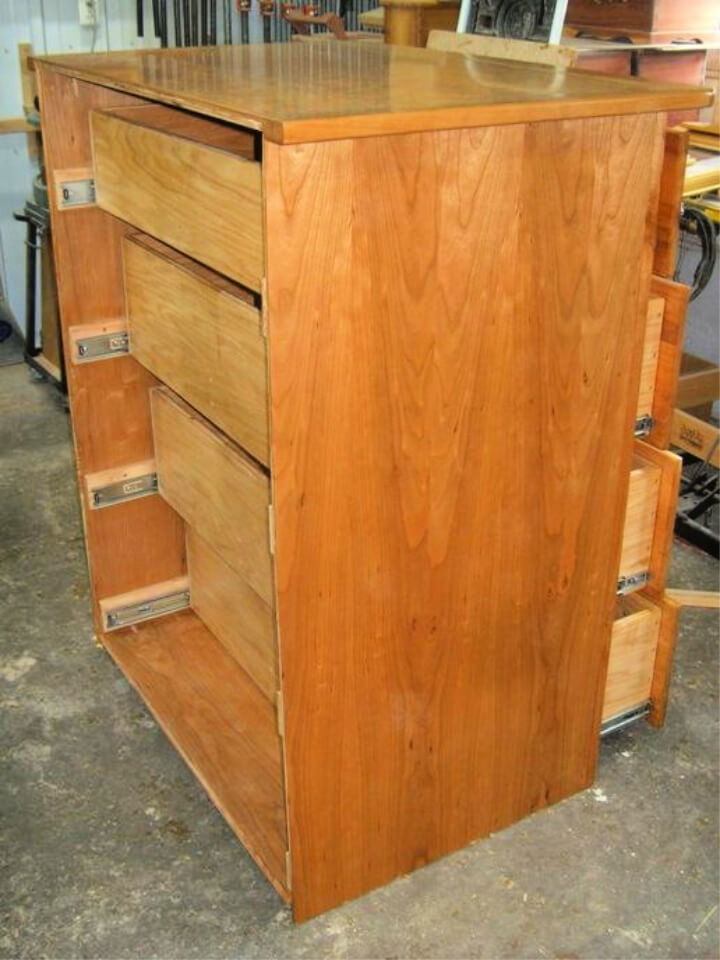 Learn how to make a simple yet accommodating cheap DIY dresser with sliding drawers by exploring through this tutorial. Despite its sleek look, this DIY dresser holds vast enough space to occupy fewer corners and hold more stuff. Head over to the tutorial. woodworking
8. DIY 5 Drawer Dresser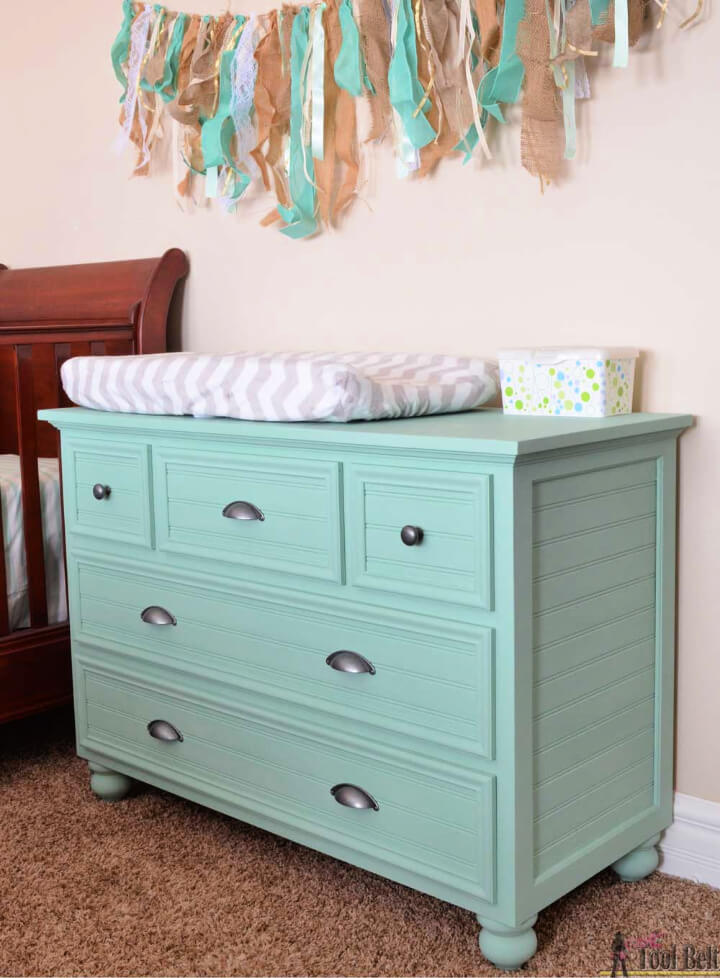 For your newborn baby boy or baby girl, this DIY personalized dresser can be your one in two kinds of homemade furniture. Organize your kid's stuff in the dresser like a pro and use its shelf as a changing table! Imagine all the bucks you have just saved yourself by this DIY dresser makeover. hertoolbelt
9. Pottery Barn Inspired Crate Dresser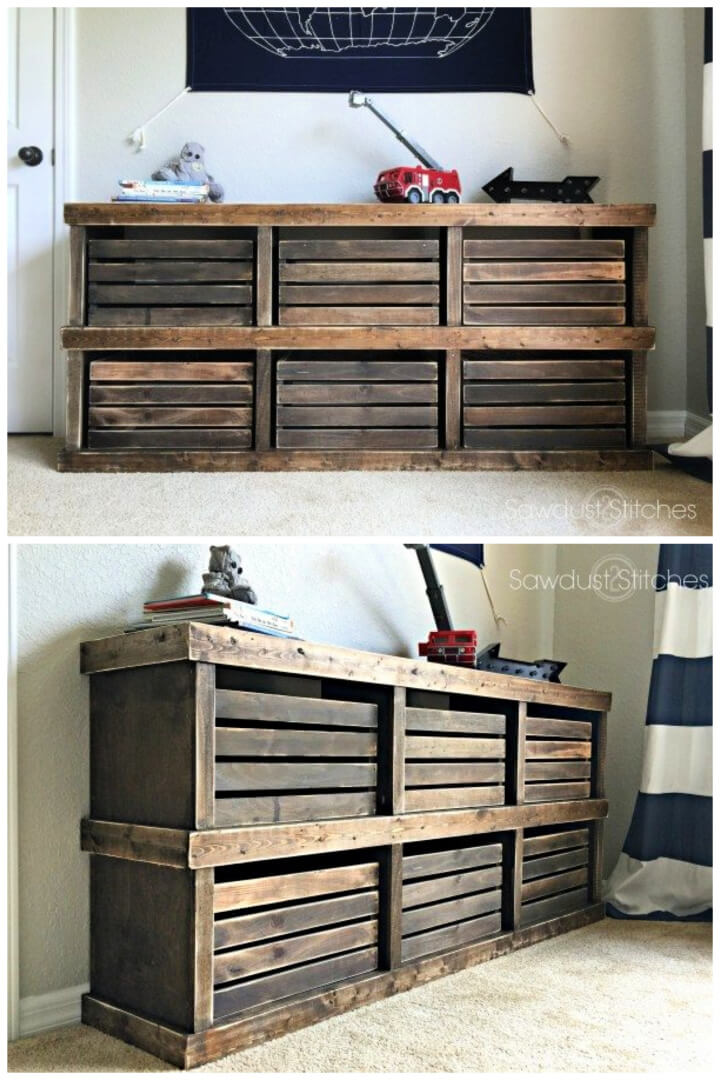 This rustic piece of furniture giving a unique look which has been inspired by Pottery Barns' crate dresser. What if we tell you instead of flashing that huge money on Pottery Barn, you can make yourself just the one? See for yourself in the tutorial. sawdust2stitches
10. Build 7 Drawer Dresser from Pallets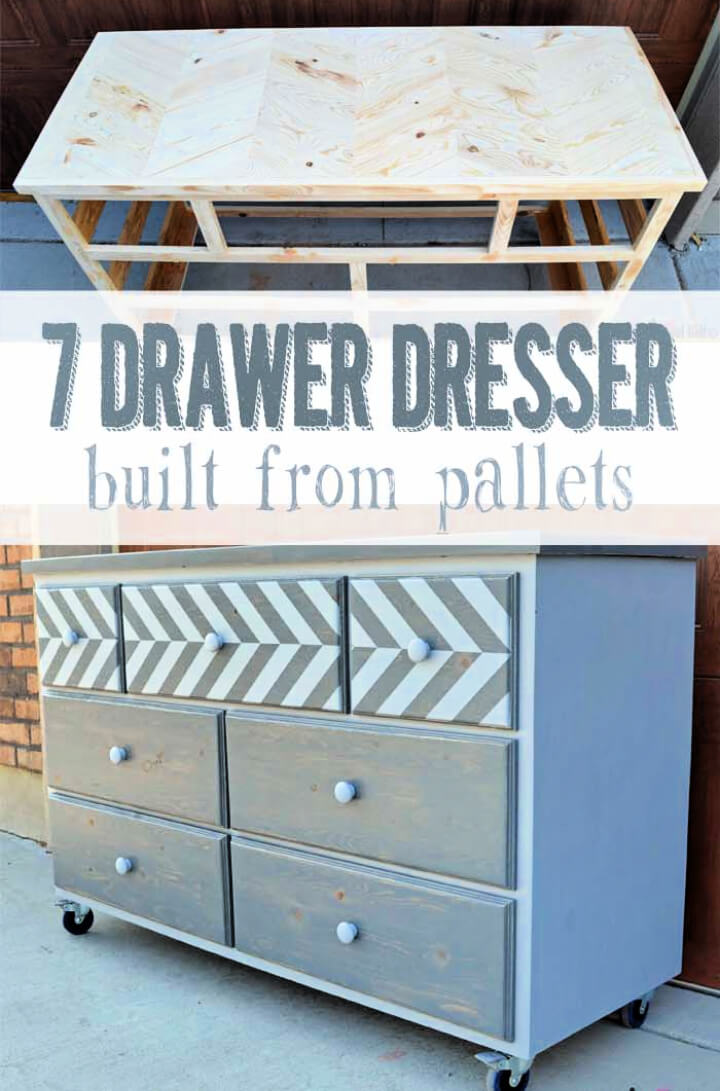 By using some reclaimed wooden pallets, you can transform them into this appealing and storage enhanced dresser! Paint it up with stripes, giving a perfectly even two-tone! Sync the colors with your decor. Get details in the tutorial. hertoolbelt
11. DIY 6 Drawer Tall Dresser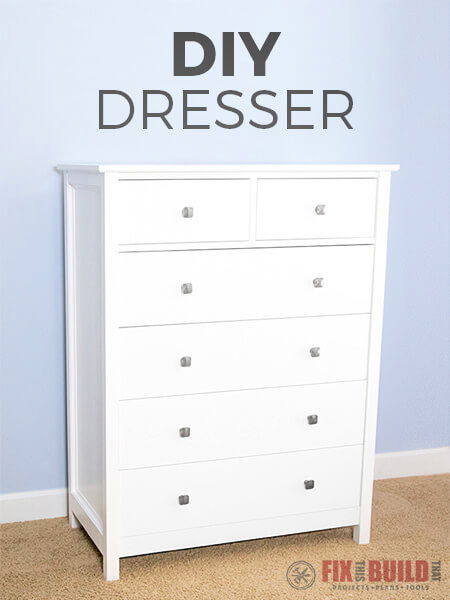 This sleek yet vast six drawer dresser can bring minimalism with style to your decor game. Paint it all white or any other matte color matching your decor. It occupies less space but gives more storage. See details in the tutorial. fixthisbuildthat
12. How to Make a Nursery Dresser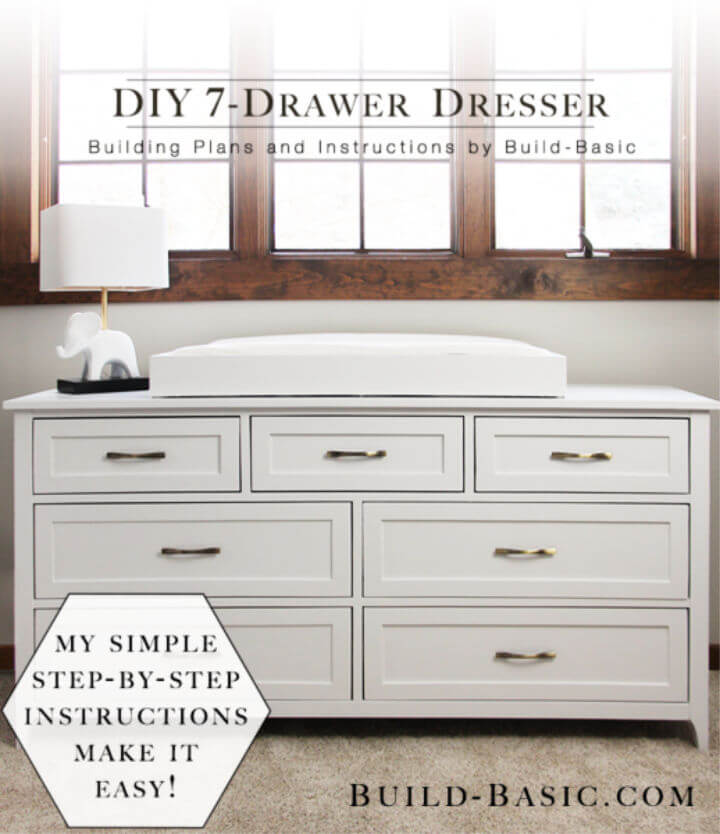 Are you getting ready to welcome your newborn? With all the paints and cot decisions, one major decision is setting up a handy and long term useful nursery dresser! This tutorial has got just all the right answers for you! Hot the tutorial now for all dresser construction details here. build-basic
13. DIY 5 Drawers Dresser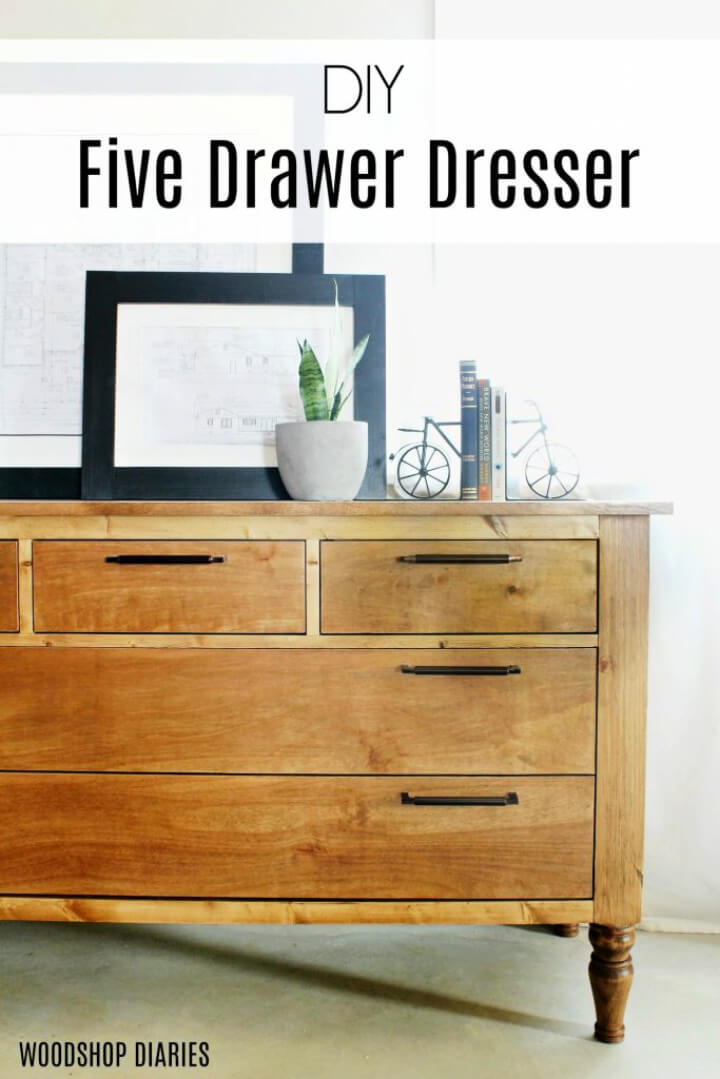 It's all about management. For keeping your clothes in an organized manner and your socks, caps, belts, ties, scarves or anything else in a well- managed space. This 5 drawer dresser could be your thing! Check it out in the tutorial. woodshopdiaries
14. Simple DIY 3-drawer Dresser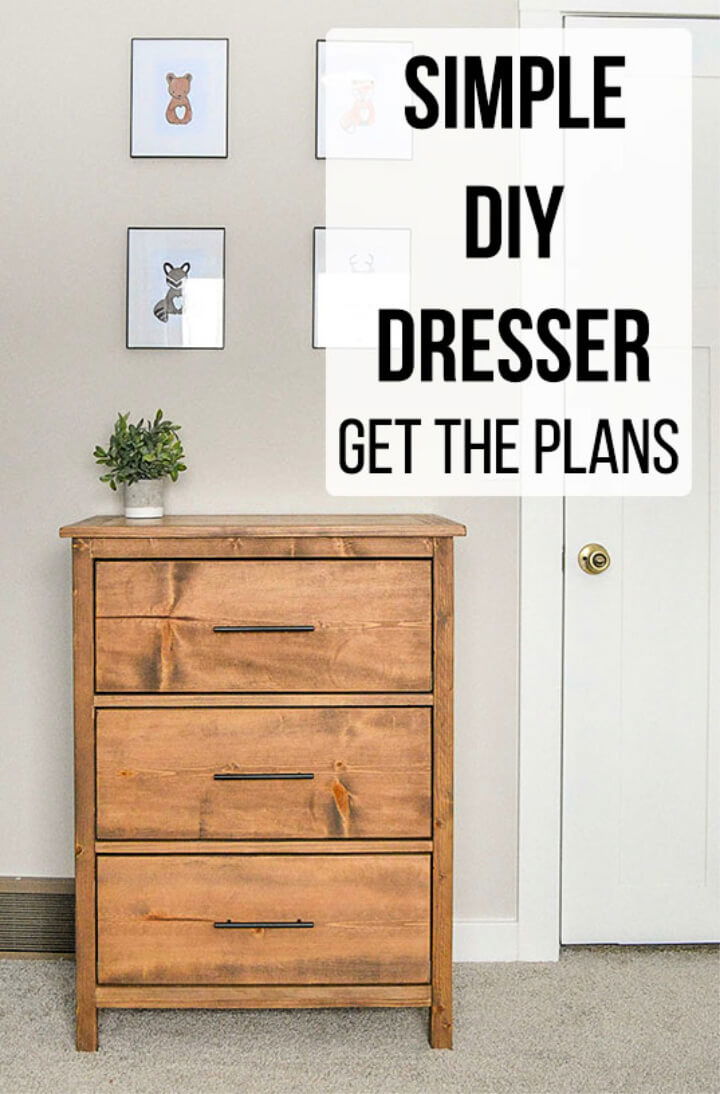 If you are not a person with a lot of luggage, this 3 drawer dresser could be your perfect bedroom fit. Or guess what you can set up this beautiful vintage piece in your guestrooms! Make your guests feel at home. Get details in the tutorial. anikasdiylife
15. Modern DIY Farmhouse 6 Drawer Dresser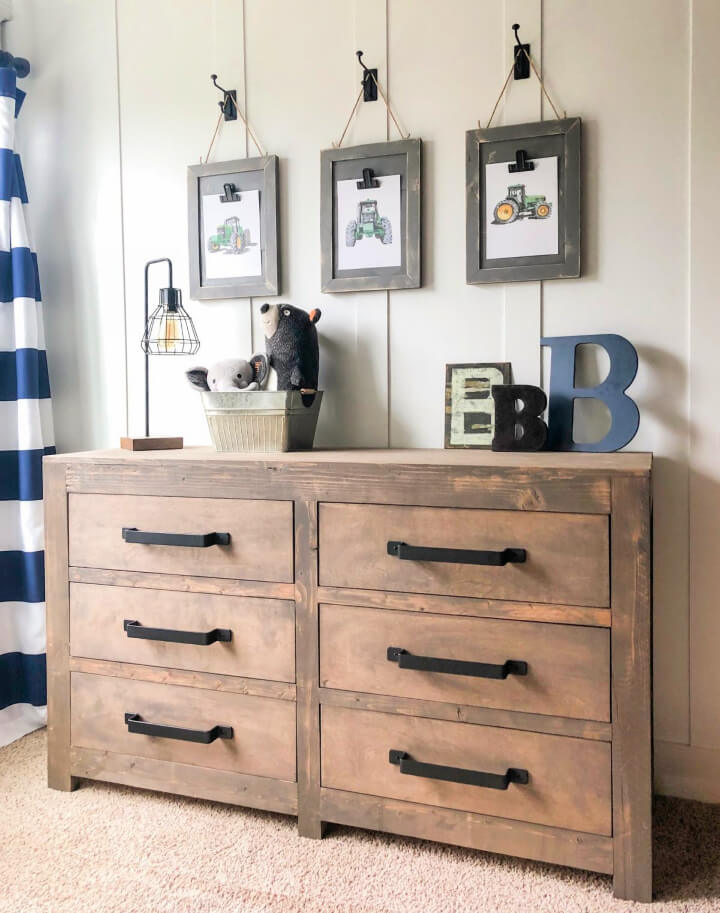 This vintage and classical piece of furniture will look amazing in your room. Add minimalism to your decor game! This modern DIY Farmhouse dresser with vast storage by 6 drawers can be perfect for you to manage your stuff quite swiftly! shanty-2-chic
16. How to Build a 9-drawer Dresser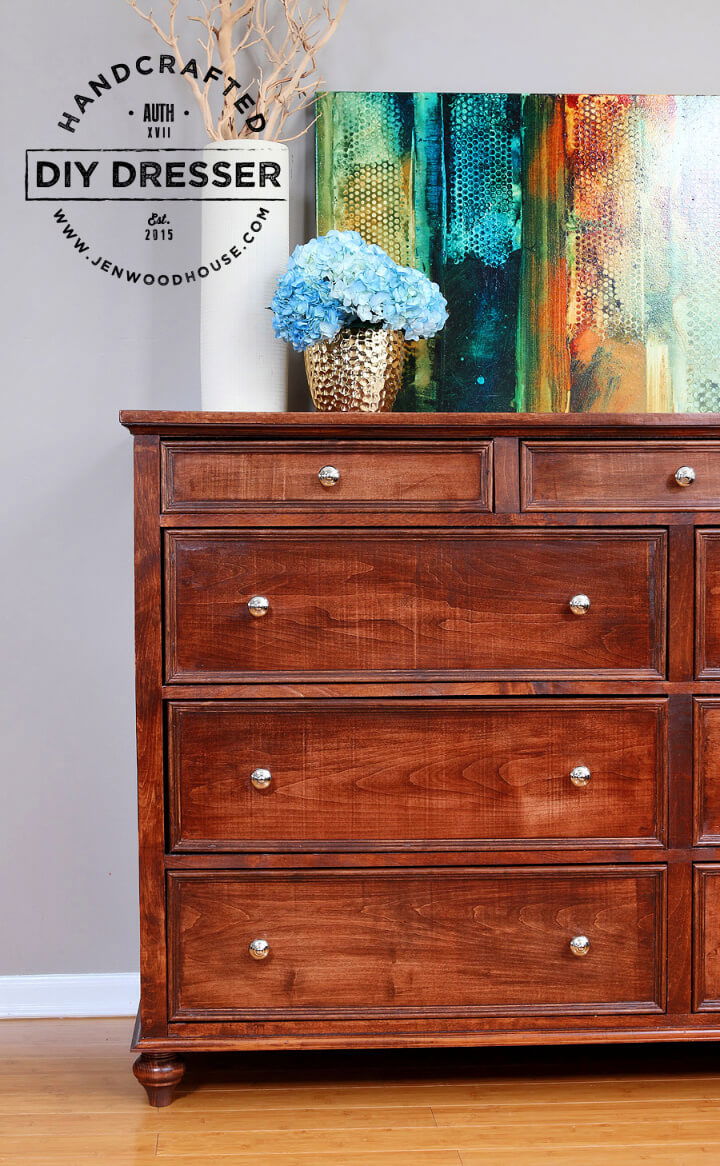 Well, look at this fantastic vintage and huge drawer! With this in your room, you will hardly need any other storage cabinets or cupboards. The design is even at all ends and offers 9 drawers to manage your stuff brilliantly. Get a free building plan in the tutorial. jenwoodhouse
17. Modern DIY Farmhouse Dresser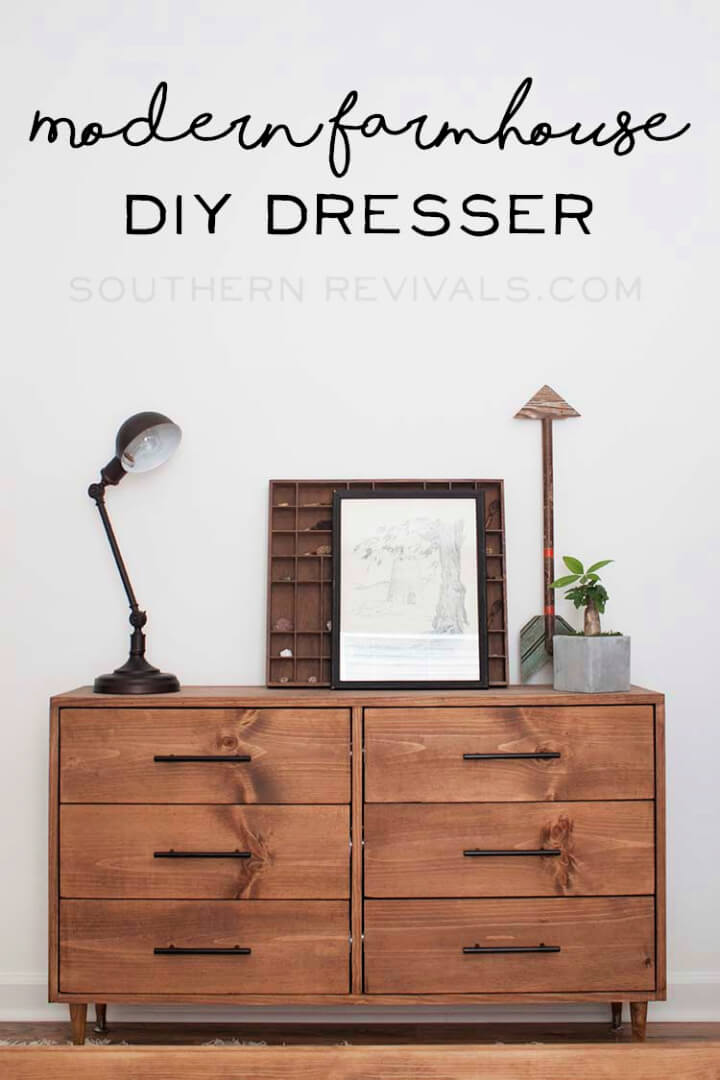 Save money by crafting this custom-sized DIY modern farmhouse dresser! It could be one perfect addition to your kid's room especially. This size will hold their stuff better! The tutorial is equipped with a totally free building plan, check now. southernrevivals
18. DIY Modern Chic Dresser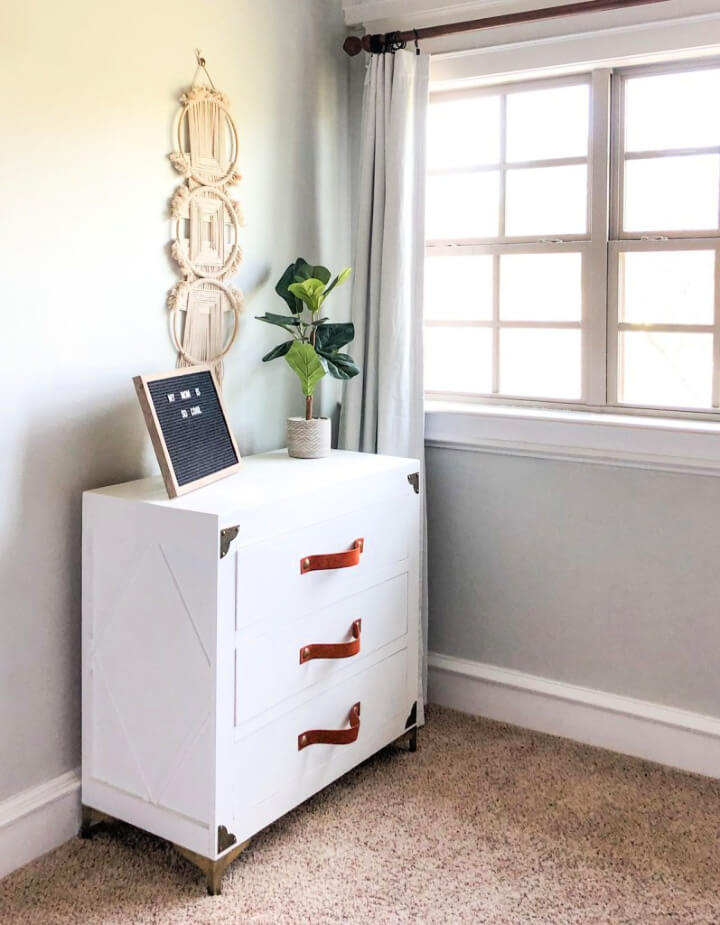 Who doesn't love a modern chic dresser to keep their accessories, skincare routine, chargers, leads, USBs, and whatever comes to your mind. This chic and ultra-modern design will add a stately vibe to your decor. Get details in the tutorial. shanty-2-chic
19. Modern 8-Drawer Dresser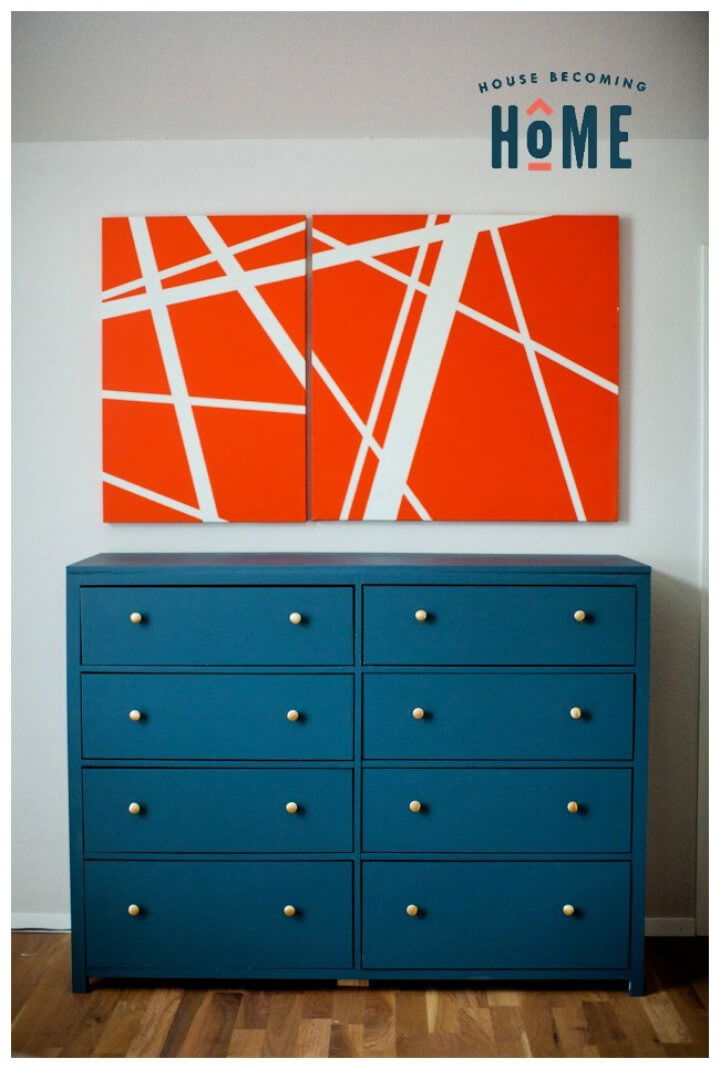 This vibrant and stately 8 drawers dresser is perfect to complement any room's decor! The color scheme is subtle and clearly gives royal feels! And well, the storage is perfectly managed with two huge sized dressers at the end. Get a free DIY furniture building plan, now. housebecoming
20. DIY Chest of Drawers
This vintage piece of furniture with these drool-worthy DIY chest of drawers laced with labels is sure going to be on your list! It looks so appealing, imagine getting this antique and old class royal view at your house, all times. Get a free building plan in the tutorial. ispydiy
We bet after exploring through our awe-worthy collection of DIY dresser plans, along with their free woodworking & building pdf plans, you won't be able to resist a decor redo! These DIY dresser designs will go too soft on your pocket and you can have all the big names inspirations made at home. All by yourself!