If you are owing a garage or shed, then there are lots of things to their from making new things to repairing old things! So, to do all different kinds of mechanical tasks, a great looking workbench design would be a very first need! Workbenches may come with amazing storage options, with a working surface and with the custom equipment and apparatus installed! The design of workbench can vary according to tasks you are going to perform on them and hence we have collected here 40 functional DIY workbench plans to choose from, and all these workbenches are easy to make at home and are mostly made of wood!
The list includes the workbench design that will be ready in just no time and are super easy to build! And there are also various other designs are included in the list that is a little complex and may take some time also to be completed! Moreover, these workbenches also vary in cost prices and budget, and it will also depend on which special equipment, machines, and apparatus you are going to install on them! So, the list provides you a big range of homemade workbenches and you can easily choose your favorite one to build at home according to your skill level!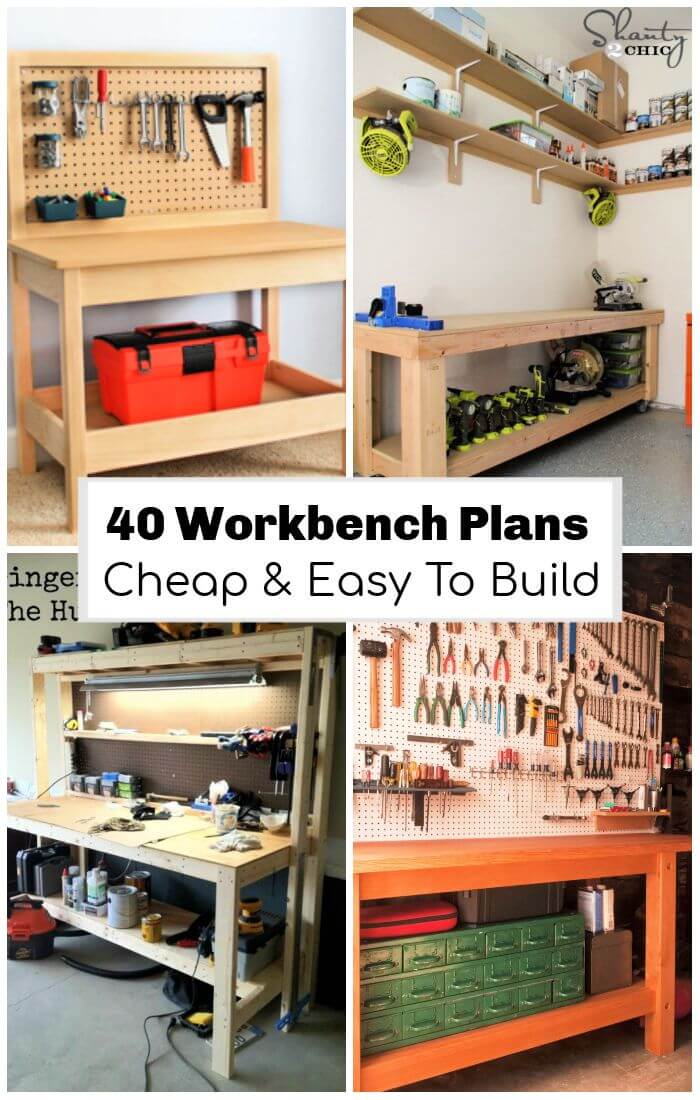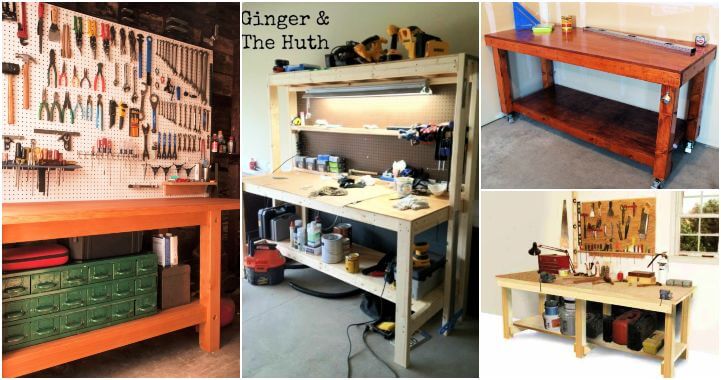 Build simple table like structure which may come with custom machines and tools installed to perform as a brilliant workbench, check out some mind-blowing samples, and you can use any type of wood to build such workbenches! Moreover, make workbenches with and without the upper back tools racks, if you want them with tool rack then pegboard will rock as tool rack, just have a look at some mind-blowing samples given below! Furthermore, build also workbenches with custom storage options this will depend on the number of tools and supplies you want to store in that particular design of workbench! Given workbench plans also provides you various designs that come with custom and smart storage options!
DIY Projects for Home Decor:
It is always expensive to buy a custom model of the workbench that will fit a particular space! So, you will find also various hand-built sizes of workbenches in the list that you can build for a spacious and short-spaced garage! Just check out the folding down workbench plans that will help maximize the garage space and have been built creatively and will put you in big amazement due to amazing design features! In short, this given list of workbenches is just great for getting a highly functional design in a budget-friendly way!
Just check out the entire list of workbench plans and see what type of designs catches your eyes! Just make a list of your favorite ones to duplicate or copy at home and just visit the attached source links that will open complete project details for you along with providing the step-by-step workbench tutorials, free workbench plans, and instructional guides! So, just do check out them for your favorite workbench plans!
Easy Build Your Workbench Tutorial:
If you are a carpenter or love to do various mechanical works at home, then a functional workbench would be a big need of you! Check out here a mind-blowing workbench that comes with a circular saw installed to one side and would be a great workbench for accurate and precise wood cuttings! This workbench comes on wheels and also is purely hand-built! Here is how to make it at home buildsomething
Easy How to Make the Ultimate Garage Workbench Tutorial:
You will just fall in love with the multifunctional design of wooden garage workbench that will also rock as a potting bench and also as a repair hub for all types of repairs! It comes with a  big tool organizer that is like a bigger pegboard, and it comes on a table shape like base that offers a bottom shelf as extra storage space and also comes with other mechanical equipment installed on the top! Full free instruction and step by step tutorial here curbly
Simple DIY Workbench Plan:
It is as simple to build workbench as to build a nice table, check out here another outstanding one that is super simple to build also! Just plan the wood to make a table with a bottom shelf and also install the drawers to the top side of it! Next, install the upper back tool rack that will look like a bigger pegboard and enjoy a fantastic workbench for your garage! Step-by-step instructions and tutorial here familyhandyman
How to Make a Kids Workbench Tutorial:
You may also indulge kids in doing some mechanical works so they can help you out in various home DIY projects! To do so, you can first build this workbench for your kids that is special and comes with all the features like a bottom shelf, a work surface and with a tool rack installed as the upper back! Here this handsome workbench creation has been done manually with wood, plywood, and pegboard and looks stunning in blank wood appeal! fixthisbuildthat
Easy DIY Sturdy Work Bench Tutorial: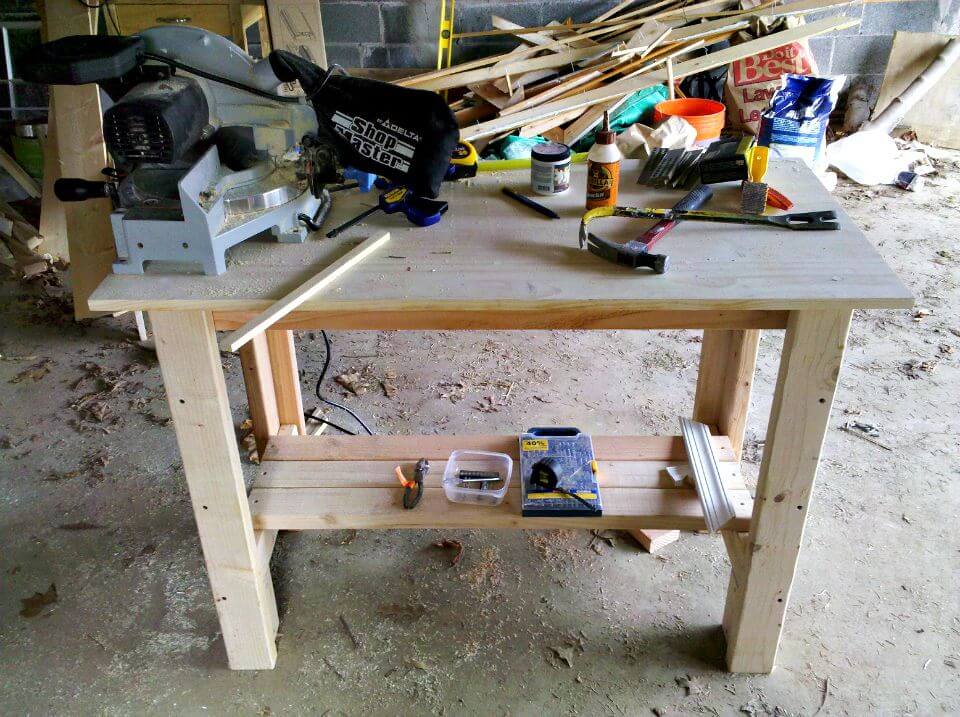 As you can build all different types of tables at home using wood, then you can also make the functional workbenches that will look like the same but will come with extra machines or tools installed to them along with several different storage options! Check out here this sample workbench that is beefy and looks like an accent entryway or sofa table and comes with bottom shelf! It comes with a  circular saw installed to one side! Here is how to make it manually at home white
Easy Build Your Own Garage Workbench Tutorial: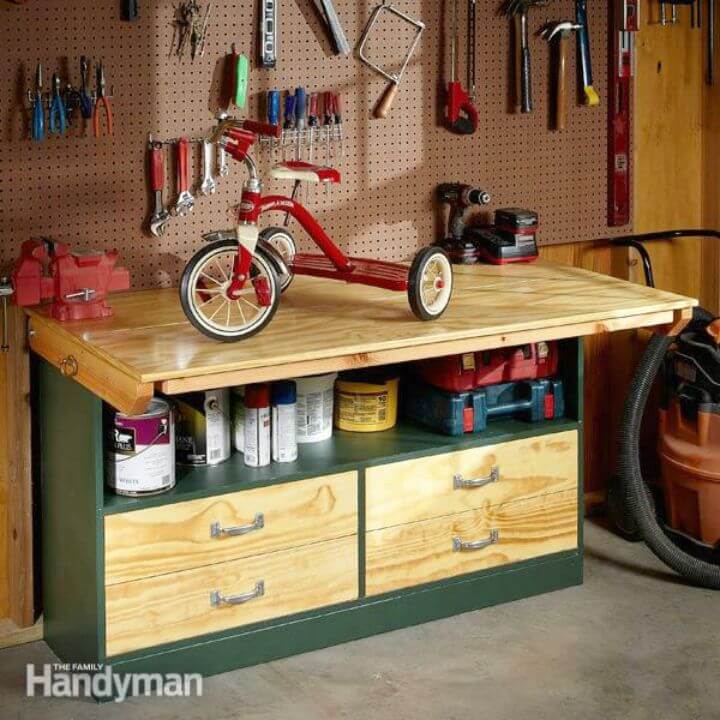 If you are willing to build a space-savvy design workbench in your garden, then you will surely like this garage workbench that comes with an expanded top that can be folded back or removed while not in use! Just underside the top there is a custom storage unit installed that provides a shelf and two drawers for storage custom tools and equipment and has also been painted a little! Next, there is a large pegboard install the upper backside that works great as an ultimate tool rack! Another great and creative hand-built workbench design that you can easily duplicate! Complete project instructions, free plans, and visual guides are here familyhandyman
How to Make Workbench in 10 Easy Steps: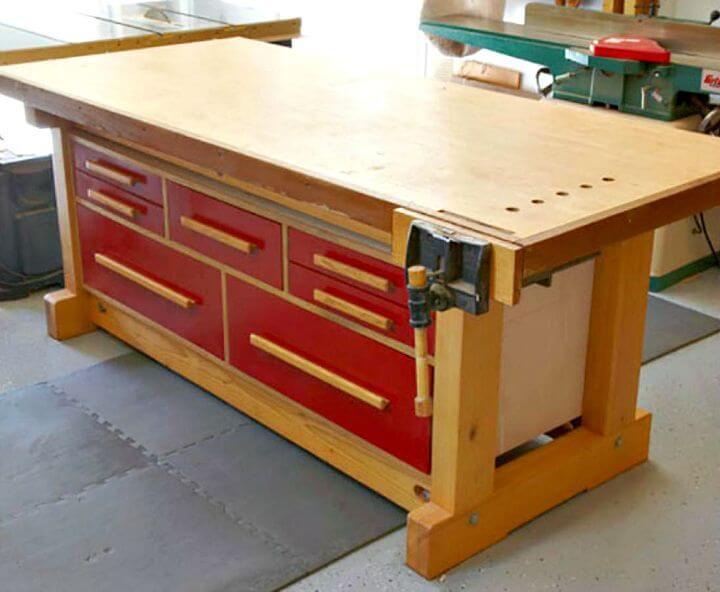 You will just fall in love with this another smart design of workbench that is looking much focally stimulating due to the red painted front and which comes with some small and big drawers! Here this handsome workbench design has the basic frame made of robust wooden planks and is having the interior wholly made of plywood! The top is also made of plywood and is super flat and would serve as a convenient work surface! Complete step-by-step visual tutorial here woodmagazine
Build Your Fold-Down Workbench Tutorial:
If you do not have much space in your garage to do your repairing tasks and mechanical works, then you can opt for some highly space-savvy design of workbenches! The very good news is that you can also build some special ones at home just like this sample fold-down workbench that will be ready in just no time! Build the folding down table frame with custom wood planks and then add a flat plywood top! Next, this entire setup may come in front of a pegboard that will serve as a rocking tool rack as you can see! Complete step-by-step instructions here diynetwork
How to Make Folding Workbench Tutorial:
Check out here another special design of workbench that is also made at home and will definitely win your heart with its genius folding features! It is entirely made of hardwood plywood and comes with dropping down surfaces at both sides! The surface will cover the entire workbench while not in use and will stand on metal pipe legs installed with pipe flanges while in use! This is here a highly genius and smartly build design of workbench, the folding workbench that is also storage-friendly! Grab the full free DIY workbench plan and instructions from here familyhandyman
Easy How To Build Workbench Tutorial:
If you need some instant workbenches, then you can also build a simple table like structures or design that will serve the purpose best! Check out here this marvelous sample that is made of lumber and comes with a robust top that a reclaimed door sanded smooth to serve as a top! This easy to build workbench can easily hold your mechanical equipment over, and you can conveniently work on it by standing in front! Grab the full free workbench plans and instructions from here woodgears
Simple Build Your Own Workbench Tutorial: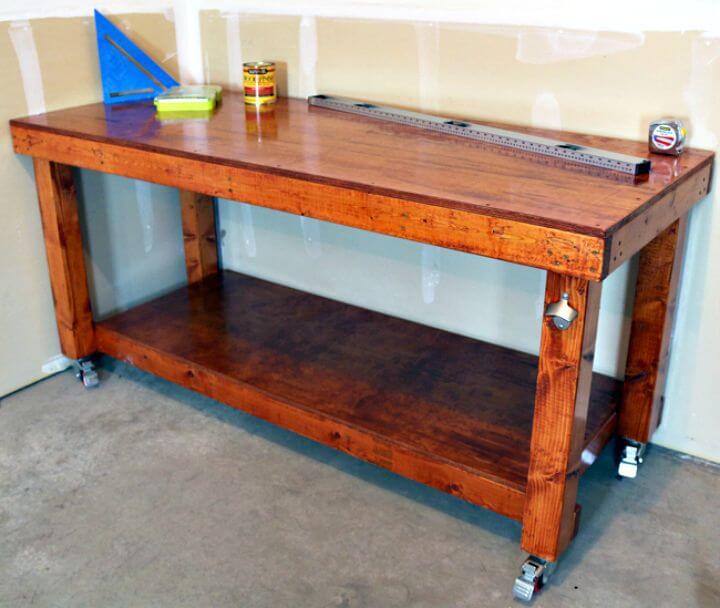 Look at this another design of workbench that comes on wheels and goes enchanting to eyes due to precious wood tone! Here the entire design frame is made of heavy-duty lumber while the surfaces are made of plywood and are evenly flat to work precisely! Moreover, entire workbench has been got dignified with the accent metal touch that comes from the rolling wheels and a bottle opener! Complete project guides and instructions here diypete
Easy How To Make Workbench Tutorial: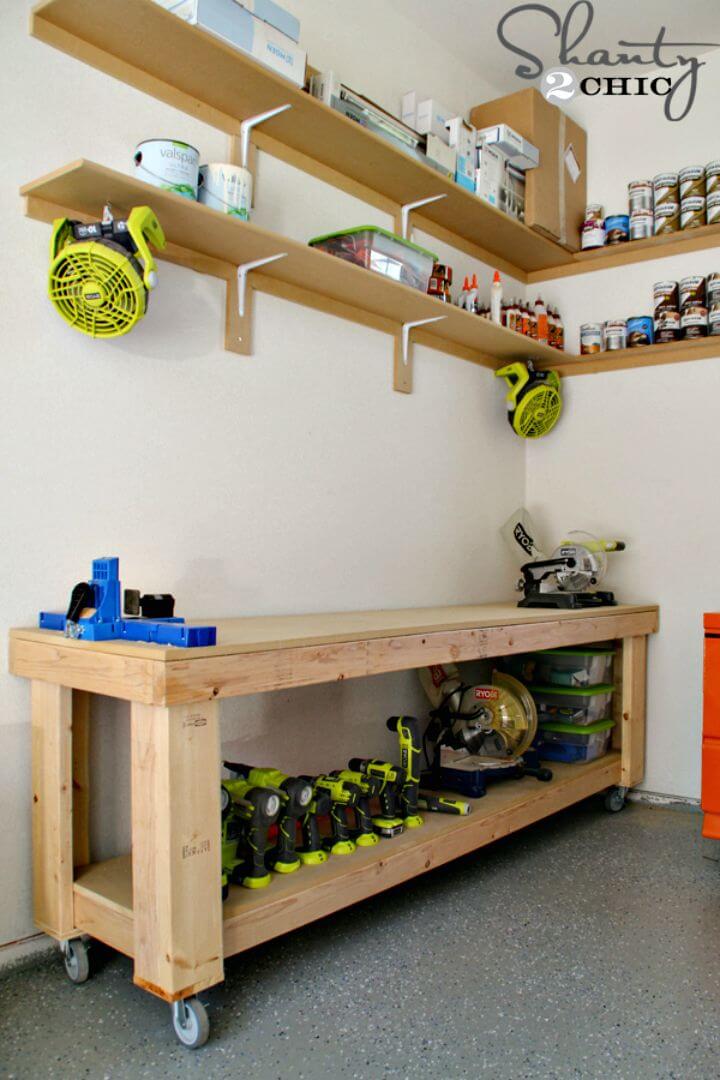 Look at this another fantastic design of wooden workbench that is looking robust and is just like a long durable wooden table that comes on wheels and is having a bottom shelf where you can easily store your items of need and interest! Here this extra large, robust wooden workbench has been made super easy to move by adding custom caster wheels and finally a circular saw and custom wood holding tools have been installed to both sides of the workbench! Another great workbench project you can easily duplicate! Complete project instructions and tutorial here shanty
Super Simple DIY Wood Workbench Bench Under $50 Tutorial: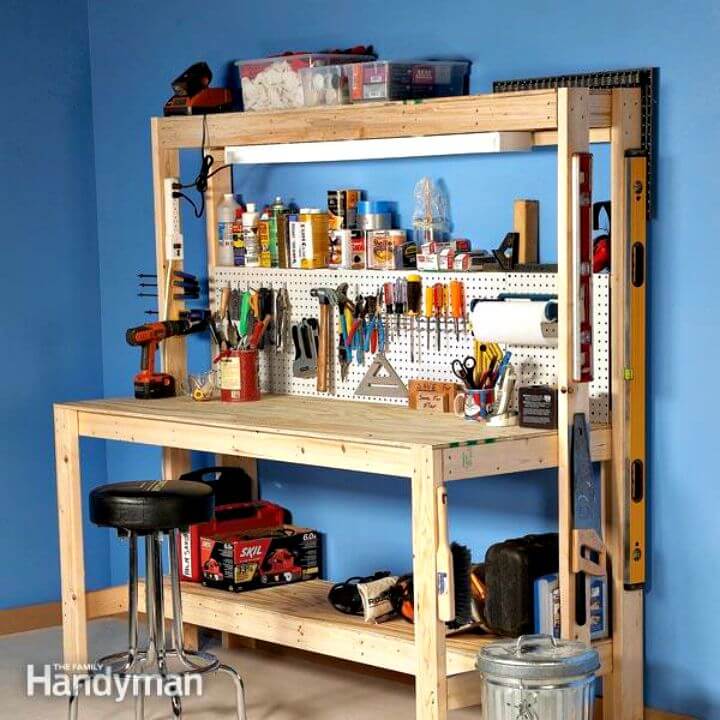 Check out here another fantastic looking wooden workbench that is also of a table style but offers a bigger upper back that also comes with a shelf and a pegboard for tool organization! Here this grand workbench also comes with a bottom shelf where you can easily store your items of need and interest! Here custom hooks have been added to both sides of workbench where custom tools and apparatus can easily be organized! Another robust wooden workbench that comes with plywood surfaces! Grab the full free workbench plan and instructions here familyhandyman
Easy DIY Work Bench Step By Step Tutorial:
You can do the repairs and other tasks in your garage nicely without adding some functional workbench designs there! If you are willing to gain a handsome workbench, then you can go with this great looking workbench that comes with a super functional upper back! Here the upper back comes with a pegboard and also offers custom hooks on both sides for easy organization of custom tools! Next, there is a bottom shelf also to store your spare items of need and interest! Willing to duplicate this handsome-looking workbench? Find the complete free tutorial and DIY instructions from here gingerandthehuth
How To Make 4×8 Workbench And Outfeed Table Tutorial: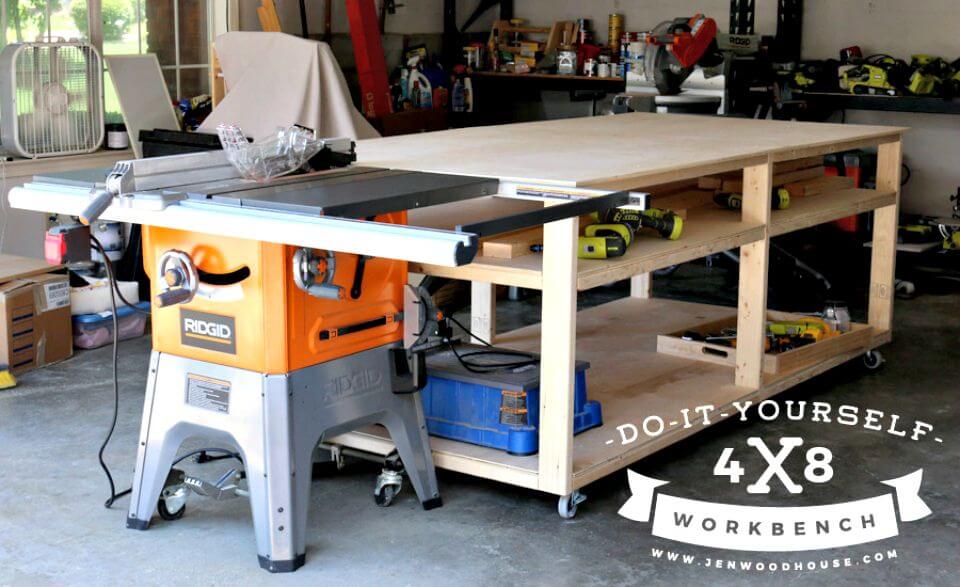 Have a look this another glam model of the workbench that offers multiple different built-in compartments for easy organization of tools and materials you are to work within your garage!  Here this entire glam model is made of plywood sheets that have been fitted in place using durable hardware and glue and finally the entire bigger design of 4×8 workbench has been raised on 6 caster wheels for modern glam movements over the interior floors! One more outstanding workbench design you can make easily at home! Complete tutorial and instructions here jenwoodhouse
DIY Timber Workbench Step By Step Tutorial:
Here the hand-built model of the workbench that will last for a decade for sure! Here the bigger timber wooden shelf-style boards and thicker timber posts have been put together for this super adorable looking workbench that is heavy in duty! Here the design has been strengthened using metal iron pipe braces and cross supports which have been secured in place using pipe flanges! Another fantastic workbench creation to hold your attention! Complete project guides and instructions here instructables
Easy How to Build a Rolling Workbench Tutorial:
Shape up a grand table with durable bottom shelf and start using it as a great workbench! Get inspired by this sample wooden workbench design that is looking fantastic with plywood surfaces and is as robust as you want! Here the addition of rolling wheels makes the design a bit more beautiful and eye-catching due to natural blanket wood appeal! This is here another glam and fantastic looking workbench that will definitely go rocking in your garage! Willing to duplicate it? Grab the full free workbench plan and picture instructions from here acraftedpassion
How to Build a Sturdy Workbench Inexpensively:
Have a look at this another self-made model of the wooden workbench that is too beefy to last longer in your garage and would help to do your mechanical works and tasks beautifully and comfortably! Here the entire primary skeleton is made of custom cut wooden lengths installed as legs, and cross braces and then the surfaces have been made using the plywood sheets! Another interesting design of homemade workbench that would make a great gift too! Free construction plans and tutorial here instructables
Easy How to Build a Workbench Tutorial:
Fall in love with this another epic design of workbench that comes on 6 legs and comes with a wall mounted tool rack! Here this design also offers plywood surfaces which put extra glam and charm to entire workbench! Here you also need to do a manual wood construction to build this outstanding-looking workbench for your garage! The design ideas for homemade workbenches are just endless! Duplicate this given design via free tutorial and guide given here motherearthnews
DIY Dave Flanagan's Collapsible Workbench Tutorial:
One more exceptional and super unique model of the workbench that is also made of custom wooden slats and lengths that build all from surfaces to frame of this collapsible workbench! Here the design is thoughtful and great looking you can easily duplicate it using recommended wooden slats! This workbench design is also special, creative and would go eye-catching in a garage! Willing to duplicate it for your garage? Then just grab the full free workbench plan and DIY instructions from here woodworking
Simple and Easy How to Make Workbench Tutorial: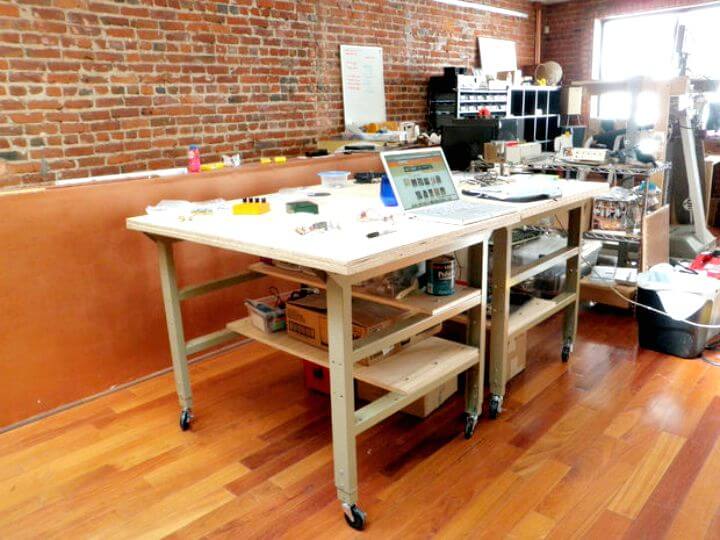 Have a look at this another dashing design of wooden workbench that is made of two tables joined side by side and comes with a combined wooden top! Here this handsome wooden workbench also comes on wheels and provides custom built-in shelves that help organizing the stuff beautifully! This adorable design is also made of custom wooden lengths and comes with precious plywood top that is super eye-catching! Complete project tutorial here instructables
DIY All-Purpose Work Bench Tutorial:
Look at this another fetching and adorable workbench creation that is just fabulous due to beefy dimensions and also comes with plywood top! Here this handsome workbench is having a thicker bottom shelf where you can organize dozens of your tools and accessories beautifully! Here assembly has been done with metal plates that have been screwed to hold the two lengths together! Moreover, this amazing workbench design also comes on wheels for easy and sophisticated movements! Willing to duplicate this workbench? Complete visual tutorial and guide is here artofmanliness
Build Your Own Workbench Under $70 Tutorial:
You will like to own this another fantastic workbench that will cost you nothing big but comes in a fab and modern design that simple goes enticing to eyes! This is here another fantastic design of self-made wooden workbench that can also be used as a potting bench in your garden! It provides a grand upper back, a bottom shelf and a black painted work surface that is made of wooden slats put together nicely and tightly! This is here the mini but great looking workbench design that will spruce up any shed or garage! Complete project instructions and guide here instructables
Easy DIY Portable Workbench Tutorial:
Have a look at this another robust looking workbench that is portable and is having a frame made of custom cut wooden lengths while it is having surfaces made of plywood! Here this workbench has been installed for accurate and quick wooden cuttings as it comes with a circular saw installed to top side! This is here another outstanding workbench design that will live for years to come! It has been raised on wheels and hence looks extra beautiful! Willing to duplicate this portable workbench? Grab the workbench plan and visual instructions from here rogueengineer
How to Building a Real Woodworker's Workbench Tutorial: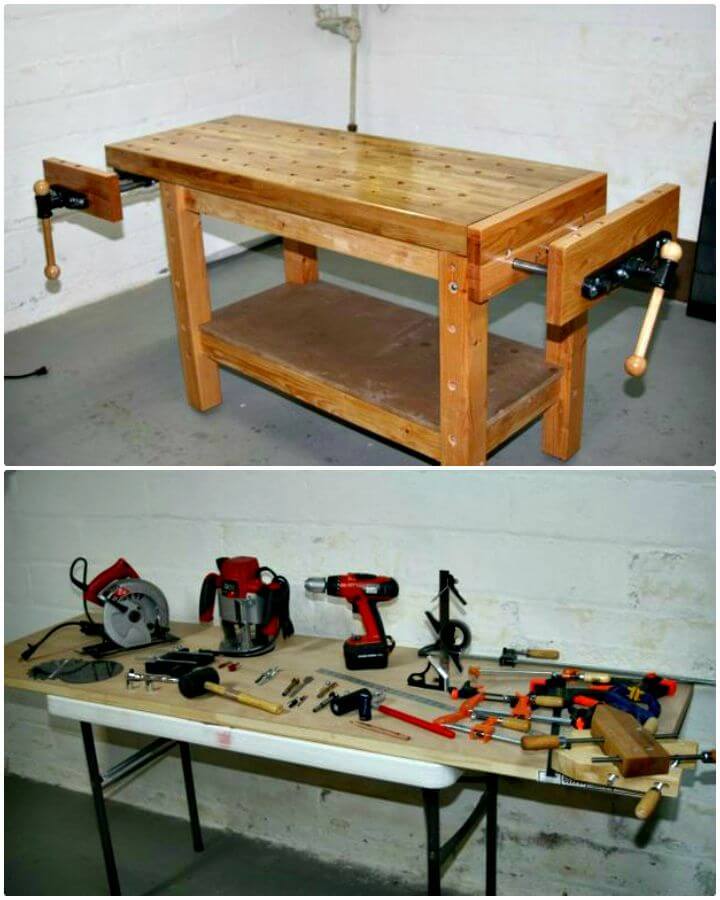 If you take great interest in wood works, then you will truly like this hand-build wooden workbench that is a real woodworker's workbench and is having hypnotic design features! This outstanding wooden workbench comes with graceful and shiny surfaces and also comes with custom apparatus installed to both sides for tabletop adjustments! Another epic and exceptional workbench design that you can easily duplicate! Complete how-to tutorial and easy step-by-step instructions here instructables
Build Your Own Portable Workbench with Storage Tutorial:
Checkout here another remarkable and fetching design of wooden workbench that is purely handcrafted also! It is having a design like a wooden cube and comes with custom built-in shelves that serve as smart storage options! The side of this portable workbench also comes with a row of built-in shelves that help organize different stuff smartly and nicely! Finally, this great looking workbench has been raised on wheels for extra glam and modern appeal! Willing to own this workbench? Grab workbench plan and visual instructions from here rogueengineer
How to Building Ultimate Workbench Tutorial:
You will just be highly amazed by taking a look at this super creative model of the hand-built workbench that is made of wood and custom craigslist findings! This is here ultimate workbench that comes with outstanding work surfaces and also a compressor installed in the base! Furthermore, there is a tool rack installed to one side of this workbench where assembly tools can easily be organized! This is an assembly workbench that will rock for your every shed or garage! A complete tutorial and visual instructions here sawdust2stitches
Easy How To Make Workbench Tutorial:
Look at the beefy dimensions of this handsome workbench that is also homemade and comes in bright wood appeal! Heavy duty wooden posts serve as legs of the table, and the bottom shelf and top has been done using custom wooden lengths put together tightly! Incorporate your woodworking apparatus to this wooden workbench and also install the custom tools rack or shelves for amazing storage options! Moreover, give also a nice wood finish to your workbench for weather protection! Step-by-step instructions and visual guides are here octanepress
Simple DIY Woodworking Workbench Project:
This handsome classic workbench design is made of 1x2s and is handsome to look at! It comes on a raised top that will be easily accessible by a standing person and next it comes on double trestle legs supported by heavy cross beams or braces! You can vary the wood tone by giving it a nice wood finish and next you can just incorporate your custom mechanical apparatus and equipment to start working on it! Building this workbench is pretty easy and simple! Grab the full free plans and visual instructions from here popularmechanics
How To Build Drop-Down Workbench Tutorial:
If you are a passionate woodworker and are going through a short spaced garage interior, then you will become a fan of this drop-down wooden workbench that is super space savvy! While not in use, it can easily be folded back in place! Moreover, there is a grand pegboard tool rack installed to the back wall that will help organizing the tools better! Another fantastic model of the workbench that you can easily duplicate at home! Free construction plans and tutorial here buildsomething
Easy DIY Heavy Duty Workbench Tutorial:
The design ideas for adorable workbenches are just never ending and here is another beautiful one that will catch your eyes! This is here the heavy duty wooden workbench that is made of 2x4s that build the frame, and with sanded plywood that gives the evenly flat surfaces like bottom shelf and top! This handsome workbench design is extra long and can hold your various tools and items of need at one time, see the sample organization of tools! It has been assembled with iron bars, screwed in place and comes on locking casters for a modern glam appeal! A complete tutorial and visual guides are here oneprojectcloser
Easy DIY Fliptop Workbench Cart Tutorial:
Check out here something different and outstanding; this is here the top, flip workbench that comes on wheels and hence looks like a card! This is here a fab workbench that will live for years to come due to being made of durable wood! It stands on a frame made of heavy-duty wooden lengths but comes with glam plywood top that goes much enticing to eyes! Here the top is rotatable and has been fixed in place using long carriage bolts and hence can be flipped easily as you can see! Another smart and creative workbench achievement! Complete free plans and visual guides are here sawsonskates
How To Build Ultimate Mobile Workbench Tutorial:
Get inspired by this most innovative and prize wining workbench design that is the ultimate mobile workbench design and is purely handcrafted! It is having a small size but offers too many storage options in that particular small wooden housing! This is made of tempered headboard sheet, plywood, pine boards and with pegboard and is offers also a offers and edged top supported by angled wood braces! There are hinged doors installed to sides that open to reveal the smart storage options! A complete tutorial and step-by-step instructions here instructables
Easy DIY Garage Workshop Workbench:
This is here the pretty simple design of workbench built for a garage shop, but it is looking much focally stimulating due to blank wood appeal! It is just having a shape like a table with bottom shelf and is made of heavy-duty wood! The heavy-duty wooden lengths and posts build the entire frame like the legs and cross braces while the surfaces are made of plywood! Another handsome and adorable workbench design that everyone can duplicate! Grab the full free DIY workbench plan and visual instructions from here ana
How To Build Workbench With Shelves Tutorial:
If you are intention is to grab a workbench with a lot of smart storage options then you can simply like this given sample workbench that is amazingly storage-friendly! It comes with smaller built-in shelves to sides and also offers bigger storage compartments and shelves built-in the base for better organizations of tools and materials! This rocking workbench creation has also been done with custom wooden lengths and plywood, and there are 6 rolling casters installed to the bottom side that make this workbench touch-to-move! Grab the full DIY workbench plans and visual instructions from here jenwoodhouse
Easy DIY Workbench Tutorial:
Another darling design of homemade workbench that is mini in size but is functional! This handsome design of wooden workbench is also having the primary skeleton made of durable wooden lengths and is having the surfaces made of plywood! This workbench is easy and quick to build and will also serve as a great potting bench in your shed! Looking forward to duplicate it? Then just find the complete free tutorial and visual instructions from here buildsomething
Simple and Easy DIY Workbench Tutorial: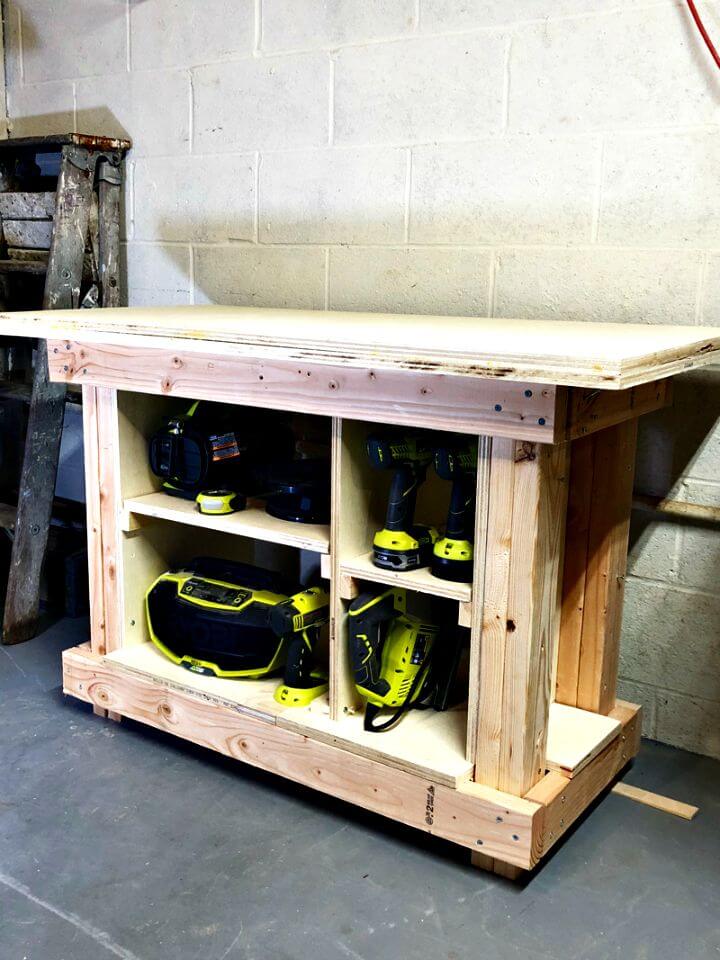 Are you in dire need of a workbench? If yes, then this given wooden workbench design is what that would make a great choice, and it would be ready in just no time! This simple and easy to build workbench is also made of plywood and custom wooden lengths and comes with smart built-in storage compartments that are also made of plywood! So, just grab the leftover plywood and wooden lengths from home and duplicate this fantastic model of a workbench in just no time! Complete tutorial here createandbabble
Easy DIY Workbench Tutorial:
Once again a table like a wooden workbench design that is looking fantastic and amazingly beautiful due to balanced plywood surfaces! Heavy duty wooden legs have been installed to the design that will handle a lot of weight! This is here another fantastic and glam looking workbench design that even a beginner can duplicate easily! Here is how to make it flowerpatchfarmhouse
Easy How to Make A Workbench – Free Tutorial:
Clone this another super functional and great looking design of wooden workbench that is also heavy in duty! This handsome workbench design comes with a table like base added with a bottom shelf and next there is a raised upper back that provides both a tool rack and a shelf all made of longer with lengths! This handsome hand-built workbench design is also super functional and ultimate in features, so want to duplicate it for your garage? Then just grab the full free tutorial and visual guides from here empressofdirt
Easy DIY Garage Workbench Tutorial: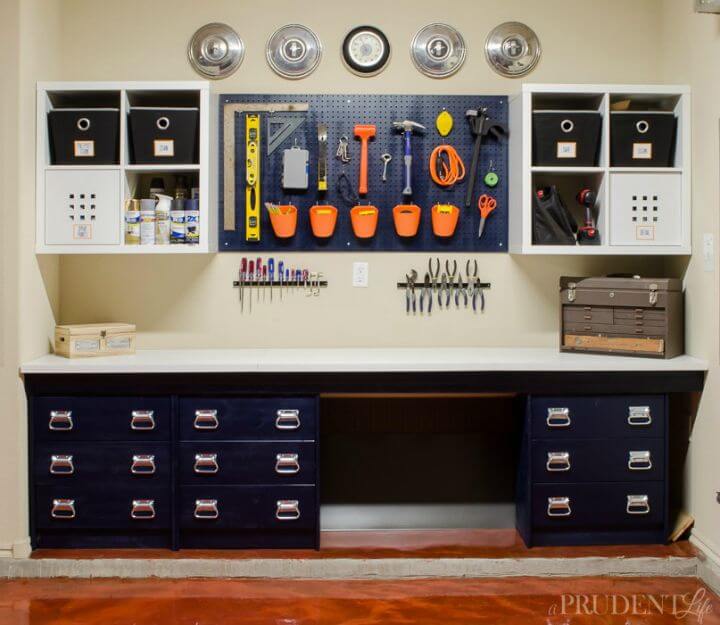 You can also go with IKEA furniture components to build a glam and very modern looking workbench! Just grab the IKEA kallax units that will work great as ready-made shelving units for the workbench and can also be put together for a great looking base! Same has been done in this case of garage workbench that comes with a wall mounted IKEA shelving units with a pegboard tool rack installed in between! This is here a super smart IKEA hack for an adorable workbench! Complete tutorial guides and instructions here polishedhabitat