The weighted blankets are the most advanced treatment by the physicians and occupational therapists to help people and kids with autism, insomnia, depression, sensory disorders, and restless leg syndrome. Don't want to buy a costly weighted blanket? Make the best ones at home with these 15 DIY Weighted Blanket Ideas for Toddlers that will be life-changing for toddlers having sensory issues. By giving a tight warm hug to toddlers, they will make them feel the mother's love and hence helping them come out from all the worries. Click here if you're looking for professional support for yourself to better support your toddler.
The weighted blankets work on deep pressure touch or deep pressure stimulation that helps release the calming chemical from the brains. The weight on the body will also the best soothing therapy, so weighted blankets are also the best to get for people having restless leg syndrome. Give amazing variations by using your snuggly fabric and weighted fillers.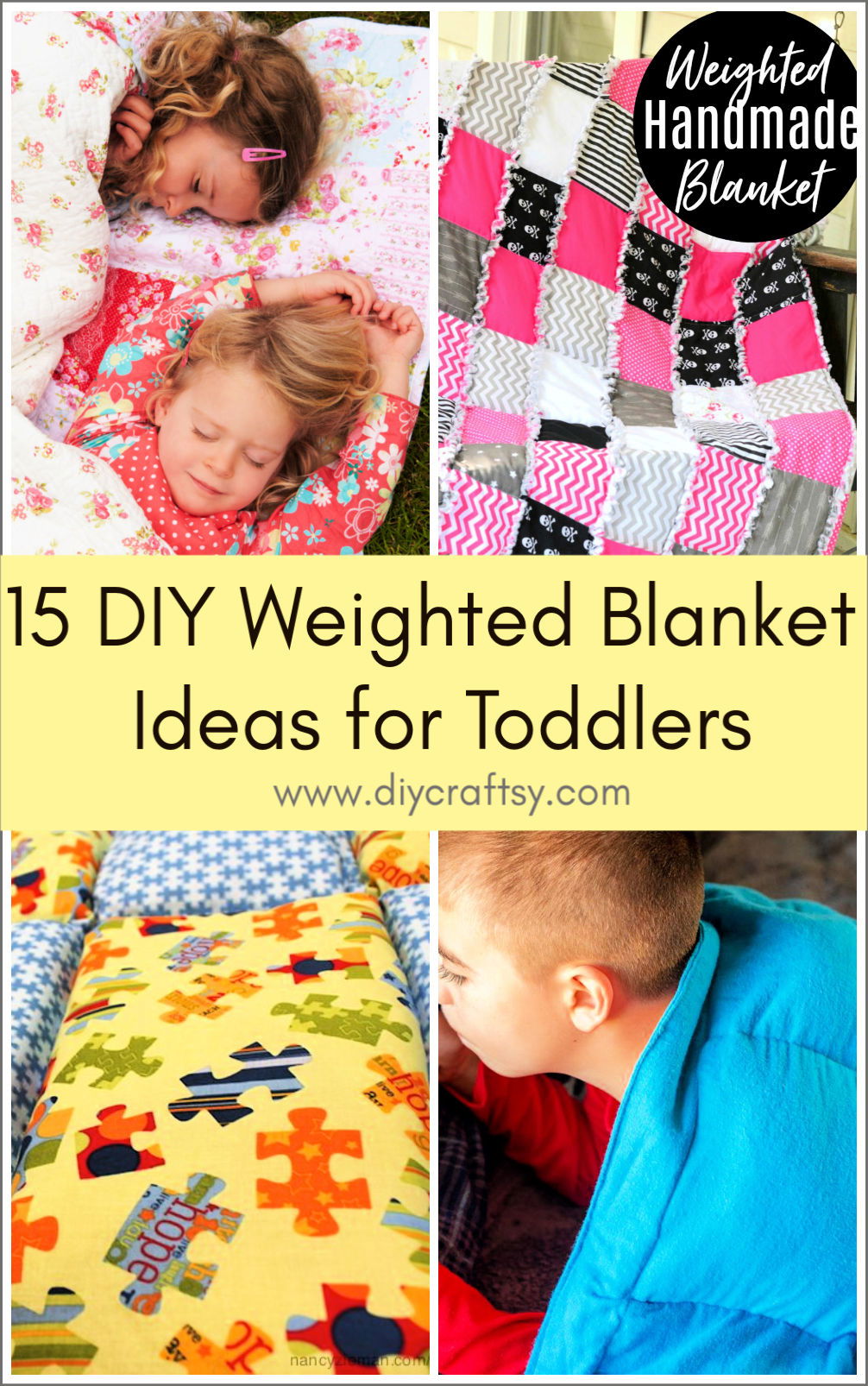 The list includes step-by-step instructions, tutorials, and sewing patterns for making all sorts of weighted blankets quite easily and quickly like a pro. If you are not handy at operating a sewing machine, you will also be delighted with the no sew weighted blanket patterns. Taking a visit of all these DIY toddler weighted blanket ideas will leave you stunned. The glass pellets, poly-fil pellets, weighted beads, stones, rice, and beans will be the best-weighted fillers for making these heavy blankets.
1. Handmade Weighted Blanket

Improve the way you relax with a blanket using this weighted blanket, will add more weight to make you feel extra relaxed. Bring the soothing comfort to your toddlers with this weighted blanket rag quilt, made of fat quarters, and come filled with poly pellets. Get a winter warmer by doing a beginner-friendly sewing project. consumercrafts
2. How to Make a Weighted Blanket

Intending to make a cool weighted blanket at home? Then follow the step-by-step instructions here will help you make a weighted blanket like a pro. Grab the fabric of choice, two sheets of battings and polyfill pellets to make this weighted blanket will be the best soothing therapy. Use a funnel for blanket filling. instructables
3. DIY Poly Pellets Weighted Blanket
Pressure on the body that a weighted blanket put helps release the calming chemical from your brains and hence raising our comfort. Snuggle in this weighted blanket this winter to get winter protected and also relaxed. It comes filled with poly pellets that make it gain a soft weight for Deep Pressure Touch. dandelionmama
4. DIY Weighted Blanket with Simple Supplies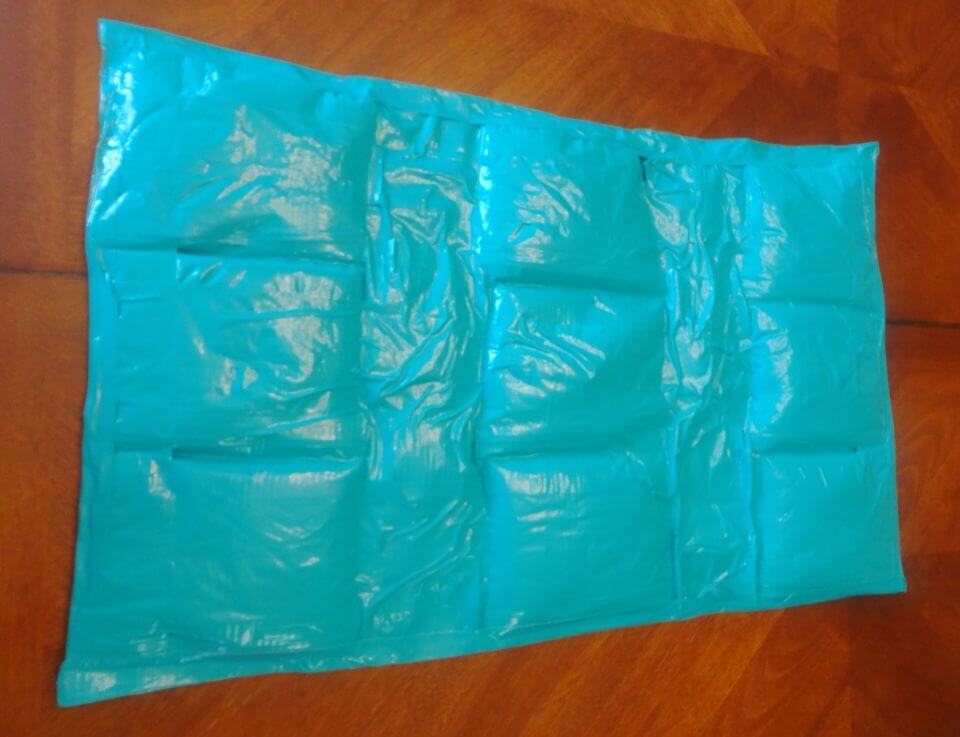 Get also busy with the rice, duct tape, and zip-lock bags to make a gorgeously cute weighted blanket will be a superb gift to give to toddlers in the home. The idea is to put rice bags on the floor or table surface and then to get them in a blanket using longer duct tape strips. This weighted blanket will cost you almost nothing. jesttupositive
5. Weighted Blanket for Children with Sensory Disorders
Treat the kids with sensory disorders with this weighted blanket, will help get the mind and body relaxed with the pressure treatment. Cut the fabric into panels, use welcome to create channels that you fill then with heavy fabric cs. A physician should suggest the weight of the blanket so that they will work great for toddlers facing sensory disorders. nancyzieman
6. DIY Weighted Blanket and Save Yourself $100
Are you on a mission to save a lot of money? Then save yourself a $100 that you can spend somewhere else, by making this weighted blanket. A best cozy and soothing treatment for toddlers having sensory disorders or trouble in sleeping. Sew the blanket design with 8 vertical channels, fill them with weighted beads, and give to your kids. coolmompicks
7. DIY Weighted Blanket – Sewing Pattern
The weight blankets are like the mother's love. They will make the toddlers feel like a firm hug and hence giving them a fantastic soothing comfort. They are the best treatment for autism and will help keep kids calm, helping them come out of the sensory issues. Sew a simple blanket fabric cover that you can fill then with a weighted filler like poly pellets and snuggly fabric. Details here mamasmiles
8. Make a Weighted Tie Blanket
Sewing a weighted blanket can be super easy wit this weighted tie blanket instructions. The best deep pressure stimulation to give to toddlers as a soothing therapy. The weight will provide a firm snug grip to the body of the toddlers and hence bringing fantastic comfort. Use the micro-fleece fabric and fabric scraps to sew the basic unfilled blanket. Fill it up weighted using polyfill beads. parentingchaos
9. Inexpensive DIY Weighted Blanket
Give the tension releasing snug grip to your toddlers with this weighted blanket, super cheap to make. 6 yards of fabric will be enough to sew basic cover of the weighted blanket. Next, you have to use the polyfill beads, will be like a tight, comforting hug for the kids having sensory issues. Complete how-to instructions here confessionsofa
10. Homemade Weighted Blanket
Why buy expensive weighted blankets, the soothing therapies for toddlers as you can make them inexpensively at home. Sew the blanket cover with 5 pockets in a row and then fill them up with the poly pellets or enjoy a comforting weighted blanket will also be an excellent therapy for Restless Leg Syndrome. A brilliant weighted blanket to make quickly. ilovemykids
11. Make Your Own Weighted Blanket

Help your kids also come out with insomnia and autism with a weighted blanket and get the instructions for making your own. Here this weighted blanket is sewn with dinosaur printed fabric. Hence, they will be loved dearly by all the kids. Next, you need the polyfill pellets for soothing weighted stuffing. Details here mommyhoodlife
12. How to Sew Weighted Blanket

Provide a significant aid to your kids in sleeping comfortably with this easy-to-sew weighted blanket. Get here the detailed instructions for a no-sew weighted blanket that comes with stone filling. By merely tying off together the edged fringes of full felt pockets, you can compose this weighted easily and quickly. thegfcflady
13. Washable Weighted Blankets

Most of the weighted blankets can't be washed, but you get here the instructions for a washable weighted blanket. It can also be adjusted in weight by removing and stuffing the weighted fillers. This sewing project involves an incredible use of Velcro, and you can go with your custom snug stuffing. autismunder
14. Cozy DIY Weighted Blanket

This one must be suggested by an occupational therapist, the cozy weighted blanket with plastic pellets filled in the pockets. The soft and comforting pressure will be good for various health benefits, along with releasing tension. An interesting weighted blanket, the best homemade alternative to expensive market-bought ones. Tutorial here diynetwork
15. DIY Weighted Blanket for Anxiety

The weighted blankets are also an excellent remedy for anxiety. They give you a tight weighted hug to get de-stress instantly.?? You need flannel in one solid color, and with a matching pattern to sew, this weighted blanket will be a cool treatment for anxiety and depression. The poly and glass pellets will make best-weighed fillers. shrimpsaladcircus
You may love these DIY Crafts: