Treat your Mother with an exceptionally special DIY Gift and detailed brunch this Mother's Day. While you are all set deciding the main course, starts, and desserts. We are here to help you with the centerpiece decor. Mother's day is a special occasion to make your mom feel special and truly loved. With this gorgeous DIY flower basket with lemons for Mothers Day Gift, you can set up an enchanting centerpiece, glamming up the decor of your brunch.
Deep pink royal looking tulips added with these vibrant purple flowers sure give an enchanting sight. Combine them with some freshly sliced lemons, and an entire gift basket with love, serenity and pleasant aura can bring a huge smile on your mom's face for sure. Especially, if she is fond of flowers and lemons (like lemon water or lemon-lime), she's going to feel extraordinarily loved for your attention to such intricate details.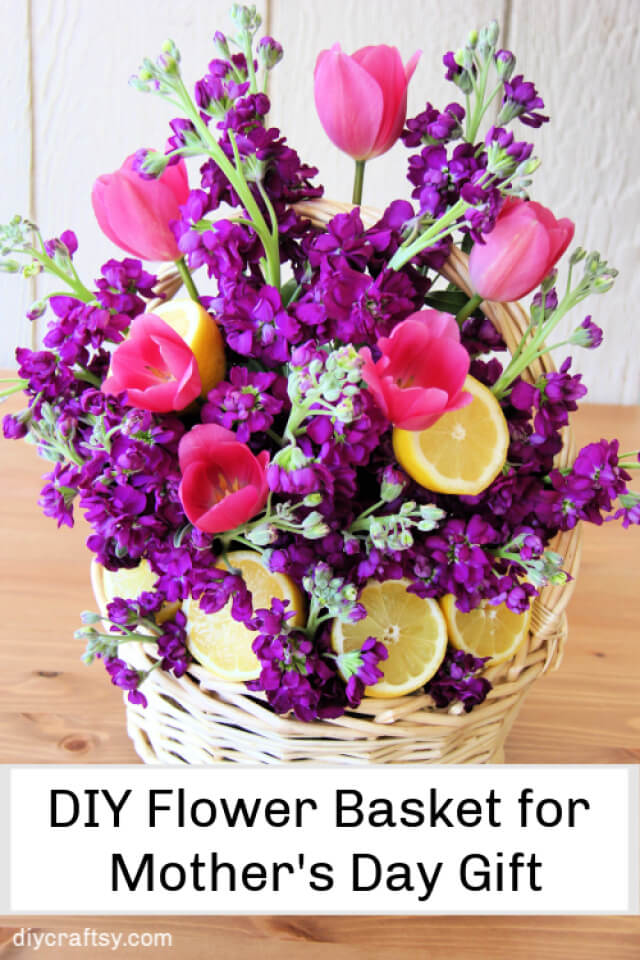 The step by step flower basket tutorial given below will walk you through the process:
Creates: 1 full fledge Mother's day flower basket with Lemons!
Required Supplies:
1 medium-sized basket
1 medium-sized bowl
About 1 dozen Tulips
About 3 dozen of stem purple or stock flowers
1 large piece of foam, wet and soaked
Scissors
About 6 to 8 citrus lemons, sliced into half
Stem wires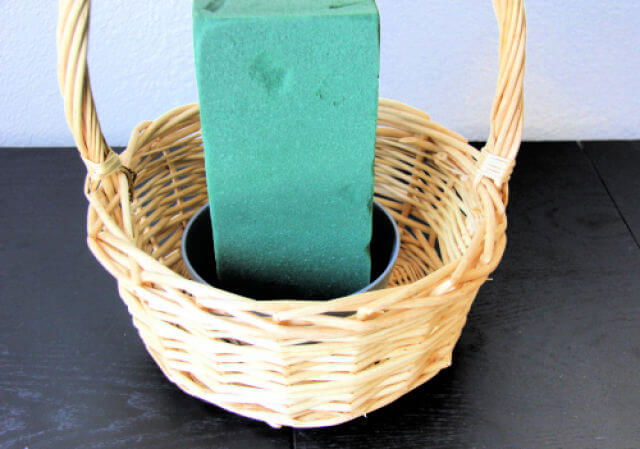 Steps Involved:
1) Get the soaked foam and place it in the middle of the bowl.
2) Now, place the bowl with the foam in it, inside the basket.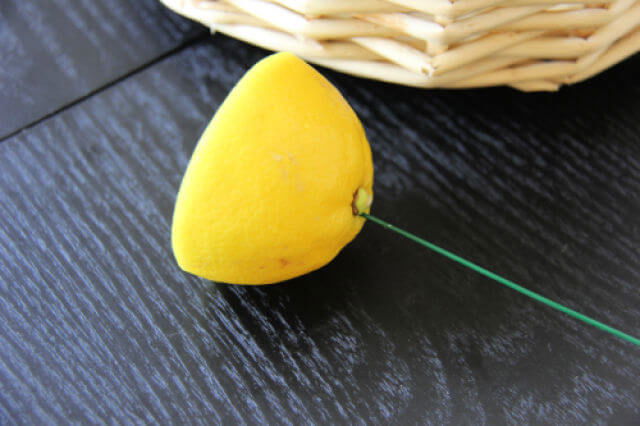 3) Now, pick up the half sliced lemon pieces one by one and start inserting the pieces of stem wire behind the lemons.
4) Insert the other end into the soaked foam and start arranging the lemons along with the wet foam in a liner form at the bottom of the foam. (In case the lemons are way too heavy to be held by a single stem wire, you might use tow stem wires for stable support)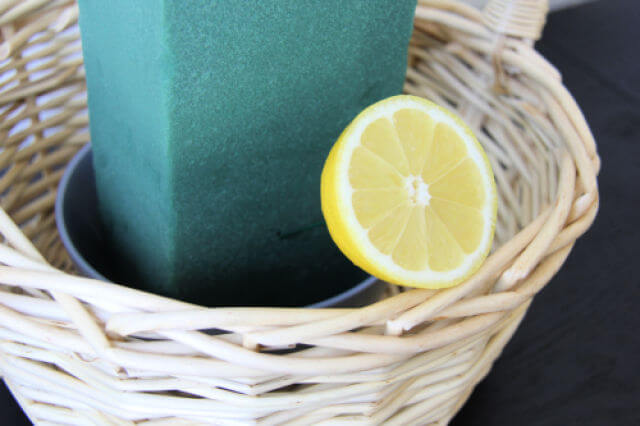 5) Now, cut the Tulip stems to a maximum of 8 inches tall. Again use the stem wires to support the Tulip steps in the foam. Make an even and synchronized arrangement. Around the sides and top edges of the soaked foam.
6) Now, it's the turn for stock flower stems, the purple flowers. Cut their stems around 6 to 8 inches and fill the empty spaces by putting them across the foam.
7) If there's still any empty space left and you have any lemons' remaining. You can arrange the lemons in the upper arrangement too, likewise.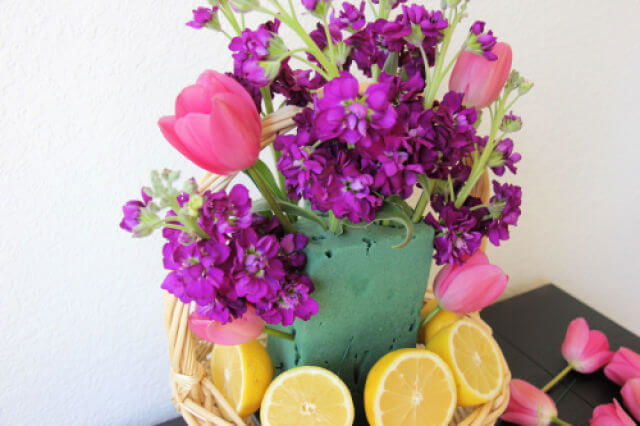 Add a DIY Mother's day card, optional. If you want to! Now take this perfect DIY Mother's day flower basket with lemons centerpiece to the brunch table and surprise your mom.