If embroidery is your passion, our collection of 15 free floral embroidery patterns and designs is absolutely going to steal your heart. Especially in floral embroidery, the finished product in which the flowers look absolutely stunning with all the delicacies used to layer the flowers, it's a vision in itself.
If you are having a quiet and dull day, these floral embroidery patterns can cheer up your day and help you get into something creative and vibrant to make. These could be cute floral additions to your home decor, your living rooms shelves, or a lively and warm gift for mother's day, sister's day to your old gal pal, or for any other memorable occasion. Apart from the inspirations and step by step guide, illustrations, and pictures in the detailed tutorials, we have also got some exciting floral embroidery patterns too! Yay! Welcome to your own floral embroidery world, where you can choose from several options to play around and make something creative and meaningful!
Floral patterns have ruled the DIY world for a long time. From old vintage designs to modern motifs, our floral embroidery patterns have the ability to surprise you! With all the classic designs that there ever could have been. Check out our 15 free floral embroidery collections now and choose among the best-suited pattern for your style. Happy Embroidering!
1. Free Floral Embroidery Pattern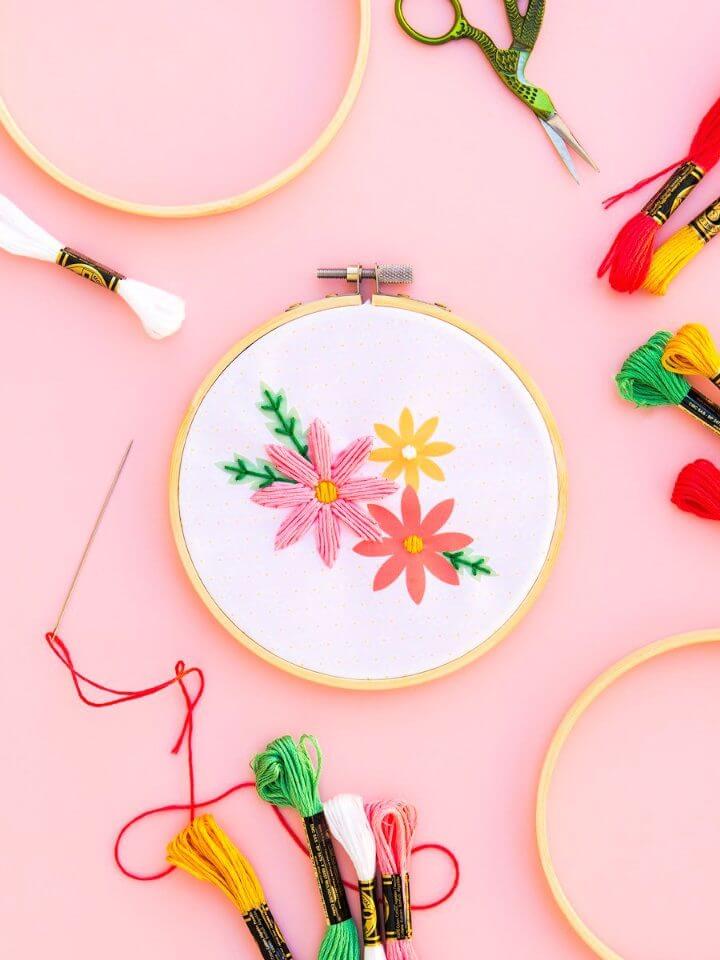 If you are a beginner at embroidery, your biggest concern and setback must be how to transfer the exact embroidery flowers on the cloth. With this tutorial, you can easily learn how to use a silhouette machine; you can just overcome this like a pro. sarahhearts
2. Sweet Posy Embroidered Hoop Art Pattern

To take you in on a secret, a few stitches are just as beautiful as many. This proves that a simple design can be as elegant and catchy as a complicated one. Get the design transferred 100% using a lightbox or iron-on transfer pen. See the full details in the tutorial. sewmamasew
3. DIY Spring Embroidery Hoop Art

With a combination of large, wagon wheel style flowers make this stylish floral wreath pattern. Inside the trendy flower hoop, it says. "Home sweet home," you could easily customize the quote as you please. Check the tutorial for full details. ishouldbemopping
4. Floral Embroidery Pattern for Dishtowels

Redo your old and plain dishtowels with these catchy simple flower embroidery designs, get these floral embroidery patterns totally free from Flax and Twine . Add a stately dress up touch to your cotton pearl dish towels! Get full details in the tutorial. flaxandtwine
5. Free Hand Embroidery Design

Minimalism has no expiration date! Check out this breathtaking and stunning free handed embroidery floral pattern. Everybody would adore these cute dancing and pink oriental poppies. One great idea for Mother's day gift, perhaps. stitchfloral
6. Sweet Mason Jar Vase Hoop – Free Embroidery Pattern

If you are a flower lover, the seasons must not be your boundaries. Stitch your own favorite kind of flowers any day and any season of the year with these cute mason jar flower patterns from Bev at Flamingotoes . Click the tutorial for step by step guide. flamingotoes
7. Adorable Floral Embroidery Pattern

Express your love and affection for your gal pals or your little girl with some cute and vibrant floral patterns. A beautifully embellished hoop art is all you need to brighten up someone's day! Hit the tutorial now for details. dabblesand
8. Alice's Garden Embroidery Pattern

Stitch up your little garden filled with colors, patterns, and flowers for the true Alice in wonderlands feels. The best and most exciting part is that the tutorial comes with Alice's garden's free pattern. Hit the tutorial now. sewmamasew
9. Love Without Reason Floral Embroidery – Free Pattern

Because a mother loves no boundaries, and even when you give her a billion reasons to give up on you, she would still love you just the same. This vintage and serene design with "Love without reasons" could be an adoring Mother's day gift! downgrapevine
10. Floral Stitch Sampler – Free Embroidery Pattern

This vibrant and detailed floral stitch pattern uses the famous petal stitch known as a lazy daisy stitch. With a fly stitch! Make an intricate and detailed floral embroidery pattern for a vibrant addition to your decor! Click the tutorial for details. instructables
11. Free Embroidered Bouquet Pattern

Get your hands on this detailed and complete floral bouquet pattern! We are all drool-worthy over this threaded bouquet with all the blue flowers with buds, yellow flowers with buds, gorgeous pink drooping flowers, and so much more. downgrapevine
12. DIY Floral Embroidered Pencil Case

Have your own customized sewed pencil case and get it embellished with these intricate and minimalistic floral patterns! Keep your supplies well managed and tidy in a perfectly catchy pencil case. Get the free pattern from the tutorial now. thesprucecrafts
13. How to Hand Embroider Flowers

A traditional and vintage floral design could never get out of style. This tutorial will elaborate on how you can hand embroider these beautiful flowers using woven spider wheels. The tutorial is going to walk you through the step by step guide with details. instructables
14. Easy Hand Embroidery – Stitch Your Flower Pattern

This gorgeous floral pattern with all the detailed embroidered colors and extended leaves is going to steal your heart right away. This could be a beautiful appreciation gift for your friends or a cute Mother's day floral affair too! youtube
15. DIY Woven Wheel Embroidered Flowers

If you are a vintage lover, this antique floral border pattern will be your next DIY floral embroidery project. The stitches involved in this one are usually all chain stitches! Head over to the tutorial now for a detailed step by step guide! youtube
Floral embroidery patterns and the minimalistic vibes associated with them can never get out of trend! In fact, with our collection of these beautiful 15 free floral embroidery patterns, you can come up with great ideas to upgrade your decor or express love with colors and warmth!