Are you looking for DIY Mother's Day card ideas that are easy to make and will put a smile on your Mom's face? Look no further! Learn how to make a mother's day card with 50 of the best, super easy DIY Mother's Day cards with easy step by step instructions to make one in no time. With these creative yet simple card designs, making a unique diy mothers day card has never been easier or more fun! From heartfelt messages to cute animals, there is something perfect for every Mom here
Whether you want to show how much you care with a special message just for her or create a one-of-a-kind card with classic artwork, we have all the diy mothers day cards inspiration you need for an unforgettable Mother's Day gift. Give your Mom something truly special this year by creating one of our 50 beautiful DIY Mother's Day Cards – she won't be disappointed!
Show your Mom how much you appreciate her with one of these 50 Easy DIY Mother's Day Cards! From cute and clever to heartfelt classics, there is a homemade mothers day card for every Mom. Our selection of homemade mothers day cards will make it easy for even the most craft-challenged person to find a special way to honor their mother on this special day. You'll find printable mother's day card templates and step by step instructions that will help create unique handmade cards in just minutes!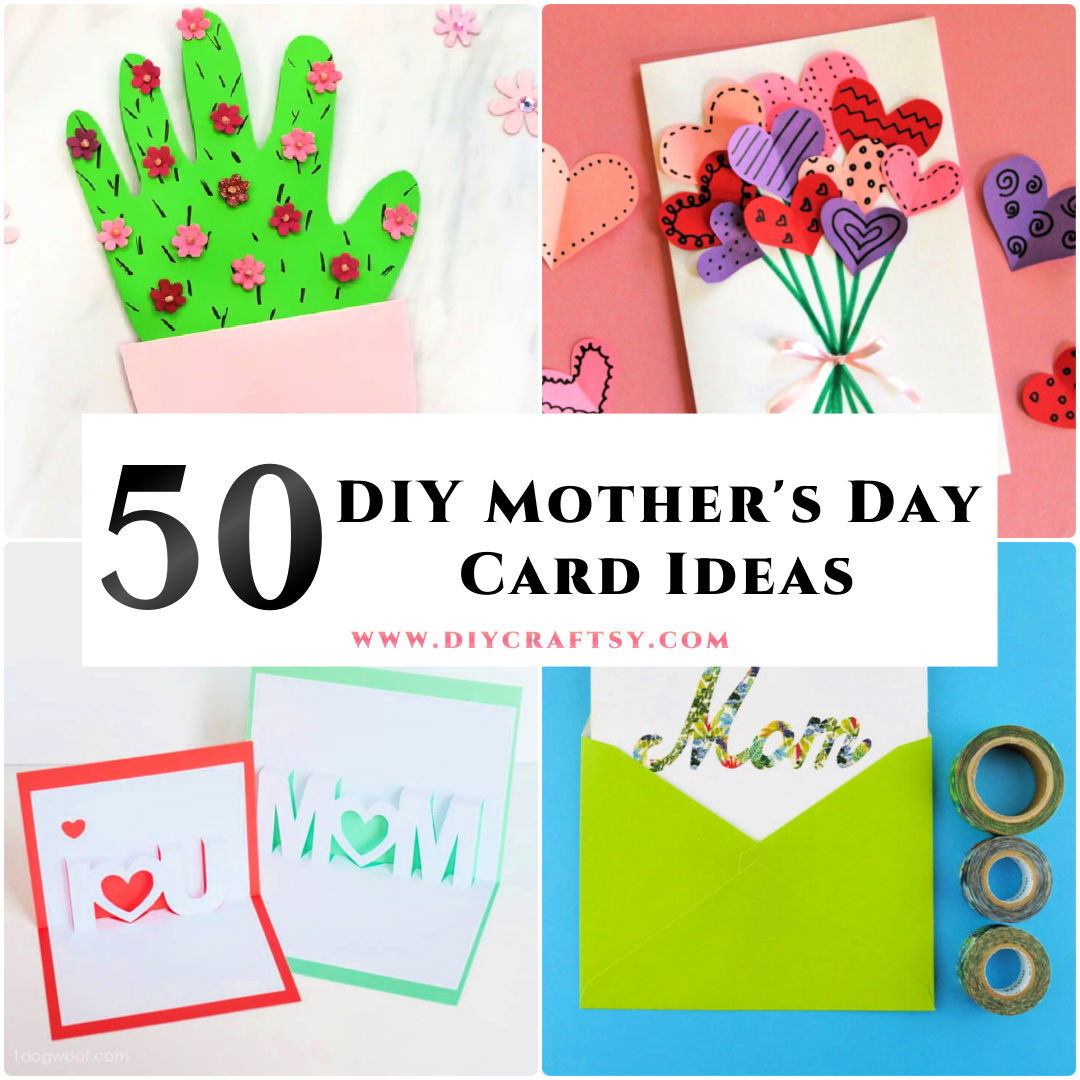 Easy DIY Mother's Day Cards
The perfect way to show your appreciation and love for mother on Mother's Day is with a card, and if you're looking to make an extra special one the diy is just the way to go! With some creativity, these diy mothers day cards will make her smile. There's something for everyone, whether she loves gardening, baking or handmade keepsakes. The possibilities are endless when you craft cards yourself – you can add personalized touches and get creative with different materials such as paints, markers, fabric scraps or even items like buttons. A diy mothers day card will surely bring a big smile to her face this Mother's Day season!
Whether you are looking for a classic card featuring colorful drawings and intricate designs or something more modern with fun fonts and messages, these 50 Easy DIY Mother's Day Cards have it all. Make sure your Mom knows just how much she means to you by giving her one of our beautiful cards that reflect your unique style and expression of love. With so many adorable diy mothers day card ideas from which to choose, you're sure to find the perfect card project that will make her smile on this memorable day!
1. Cupcake Liner Flower Mother's Day Card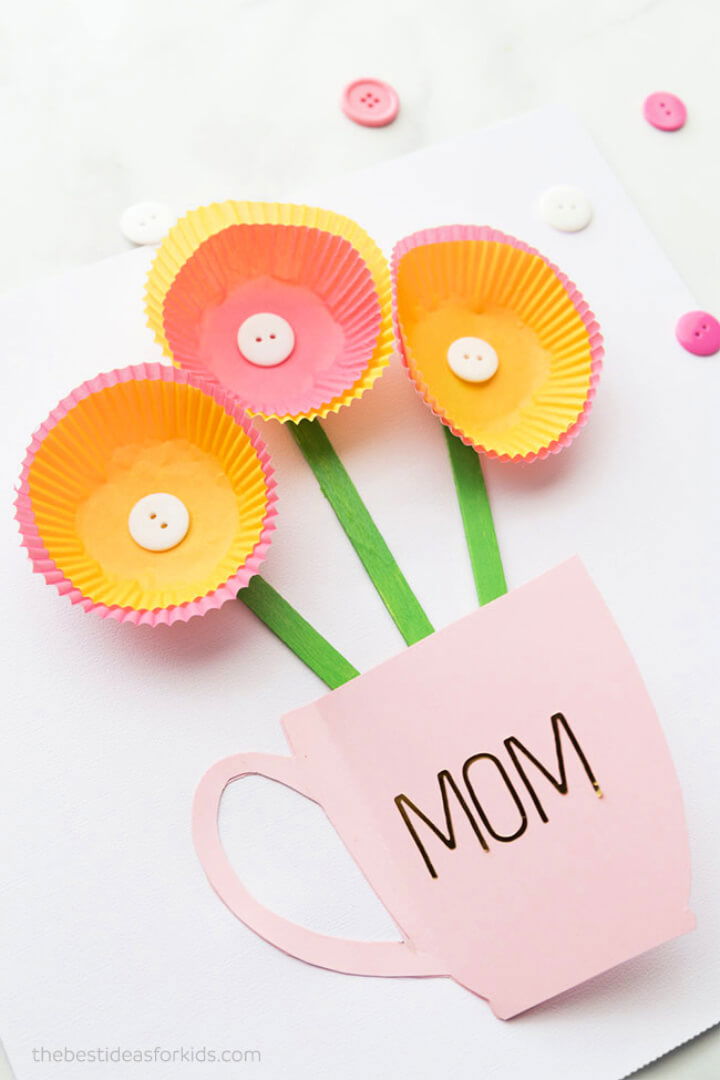 Mother's day is one of the most special days of the year! Just finding a perfect gift each year I not enough, make your mom a totally cute and adoring card that she can cherish for years to come. Just a few craft supplies will do the magic. thebestideas
2. DIY Mother's Day Pop-Out Card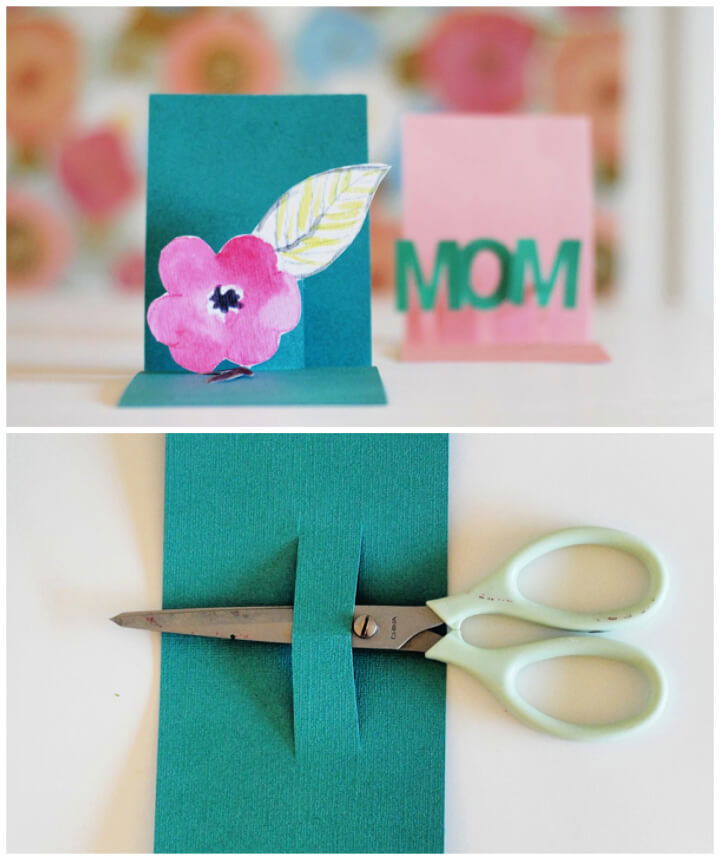 This cute mother's day pop up card can be a perfect way to tell your mom how by just seeing her, your life gets all flowery and blooming again. With hope, colors, flowers, and breezy roses around. Make this super original card for your extraordinary mom. mybluprint
3. How to Make a Mother's Day Card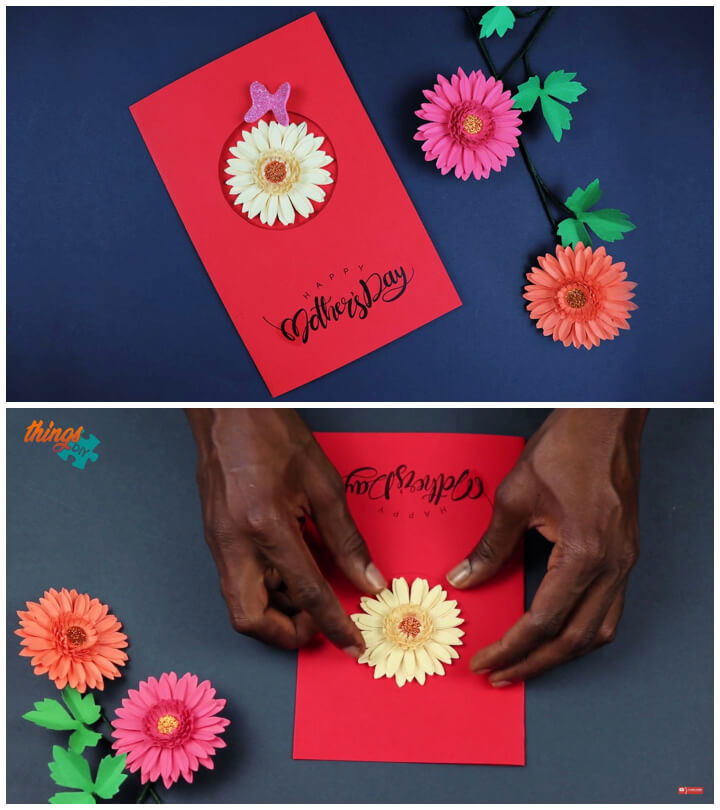 Make a cute 3D floral card for the most special lady in your life! Because she has always brought life and fresh air in your life, this breezy and adoring floral card is going to win her heart. Plus, it is so easy to make and yet so meaningful. instructables
4. DIY Orange Mother's Day Card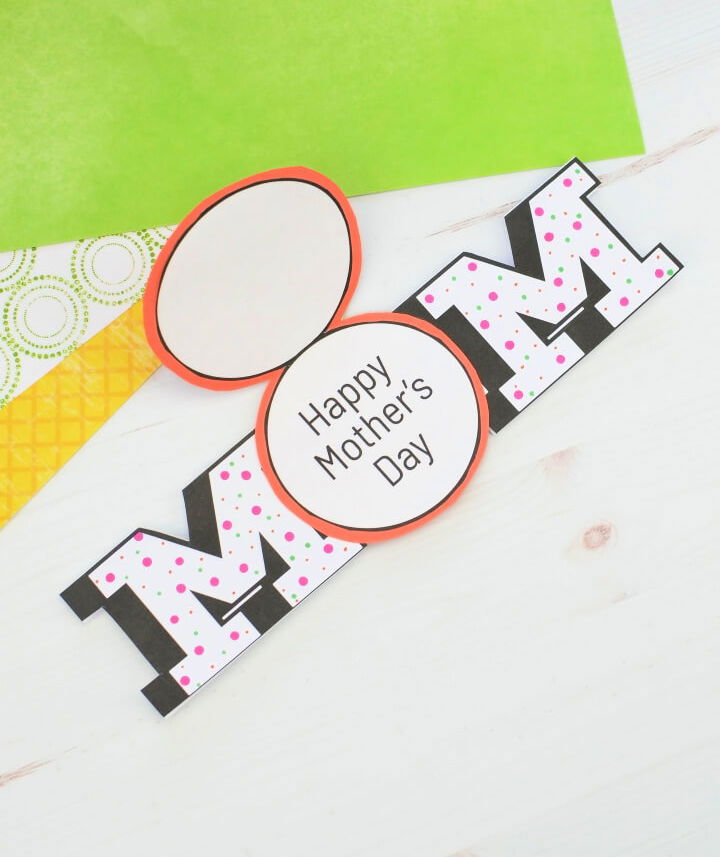 Get your hands on some orange construction paper, light green construction paper, googly eyes, markers, glue and the free printable template from the tutorial. Make this delightful DIY orange mother's day card. funforlittleones
5. Printable Unicorn Mother's Day Card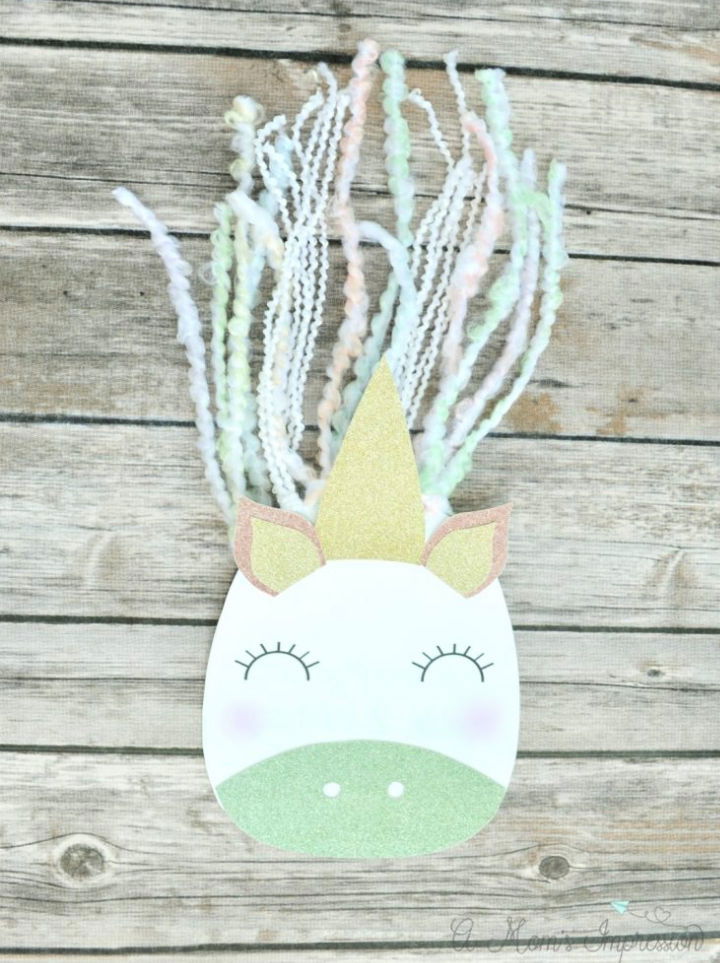 Gather around some pink, green, and glittery cardstock. Glam it up with white shimmery yarn and rainbow colored yarn. Pick up some other major craft supplies like glue, scissors, hole punch, and ruler. A mom's impression has a cute, customizable FREE printable template too! amomsimpression
6. Brag Book Mother's Day Card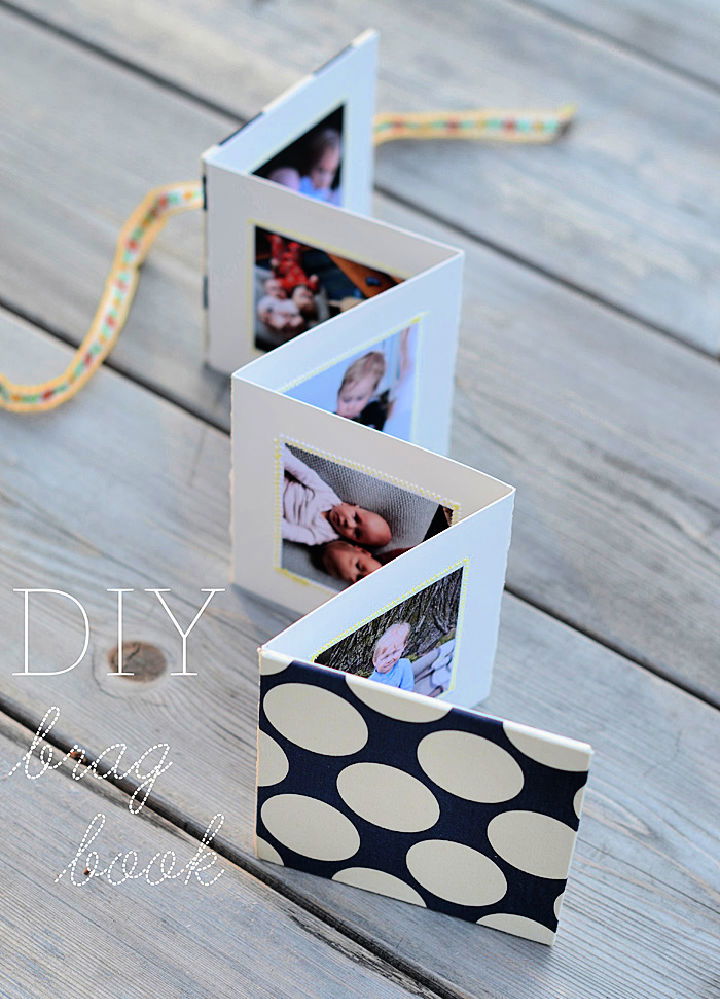 Every mom adores looking back at the beautiful childhood memories of their kids and their grandkids! This cutest Brag book for an adorable DIY mother's day card is perhaps the most special gift you can get her this year! nalleshouse
7. DIY 3D Flower Card for Mother's Day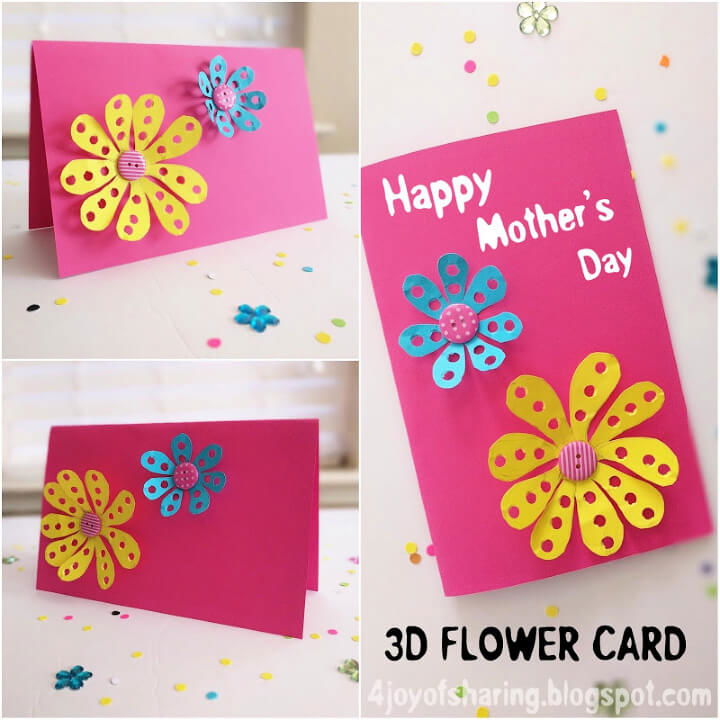 A fun and crafty project for the little hands! This could be an appealing idea to kids from kindergarten or pre-school to make these cute holes punched 3D floral DIY mother's day cards. By using some cardstock paper, buttons, glue stick, and scissors. thejoysharing
8. Making Mother's Day Flip Book Card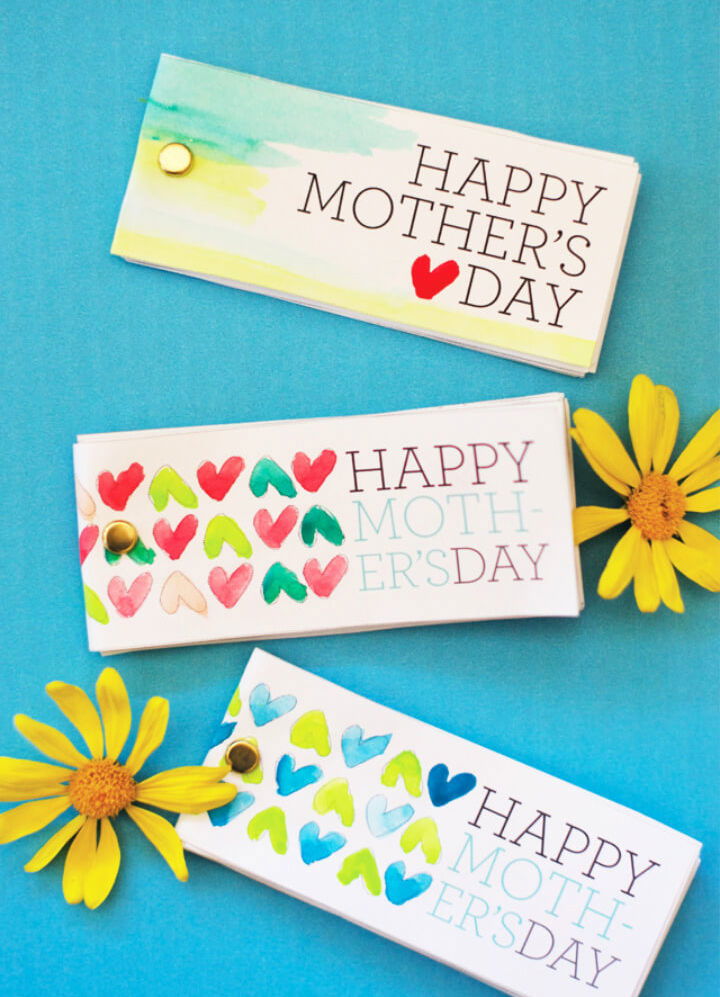 A flipbook is an exciting and inspiring gift card idea in itself! Make this unique flipbook for your mom this mother's day. You will be needing paint or crayons, paper fasteners, hole punch, scissors, and get the printable template from the tutorial. thelittlemonster
9. Cute DIY Mother's Day Card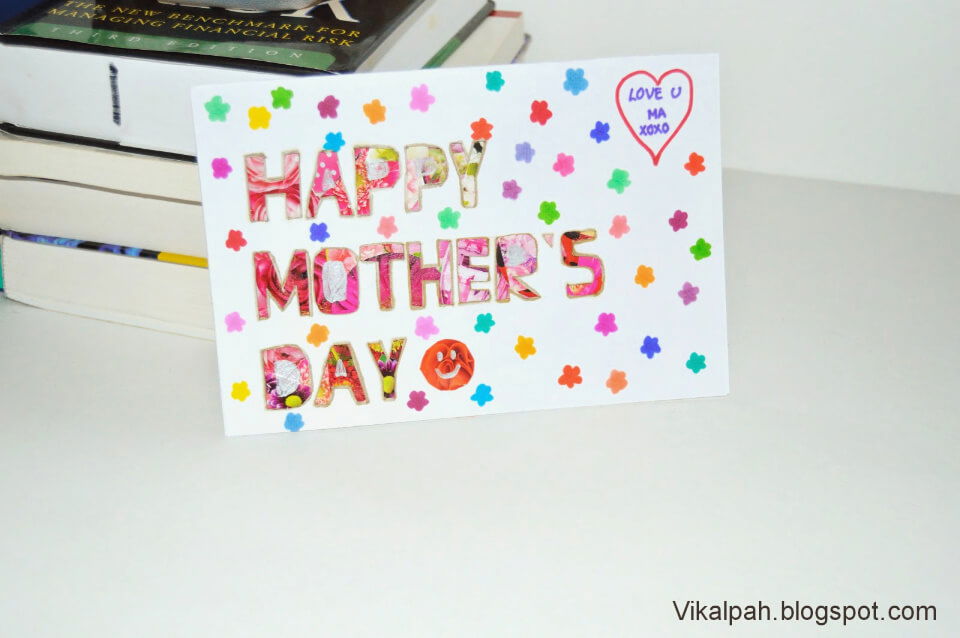 Use some white cardstock, some vibrant and colorful magazine papers for adding the texture, scissors, knife, a xacto knife, glue, and colorful markers. Make this super vibrant and appealing mother's day card for your mom this year on mother's day. vikalpah
10. Pop Up Flowers Mother's Day Card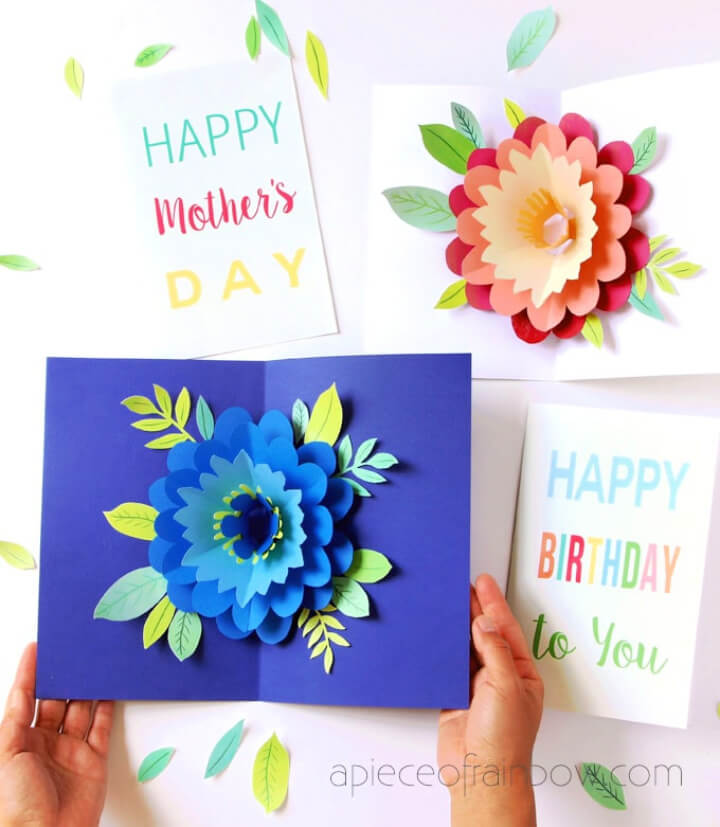 By just working around for 30 minutes, you can make this refreshing floral or bouquet filled popup mother's day card! All you are going to need for making this is a few pieces of paper, glue, and scissors. apieceofrainbow
11. Elegant Mother's Day Card Tutorial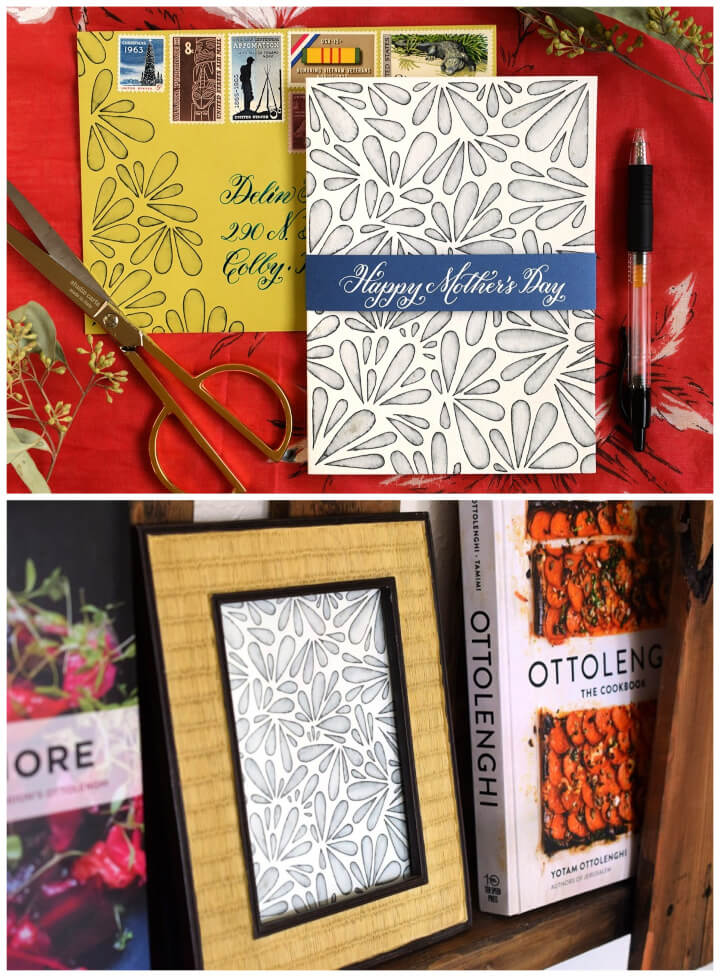 This chic and trendy patterned mother's day card could make your mom feel really special! The artwork with this card is unique and fun. You will be working on a waterproof plain card. Hand draw the design by yourself and fill it in with the water. thepostmans
12. Printable Floral Mother's Day Cards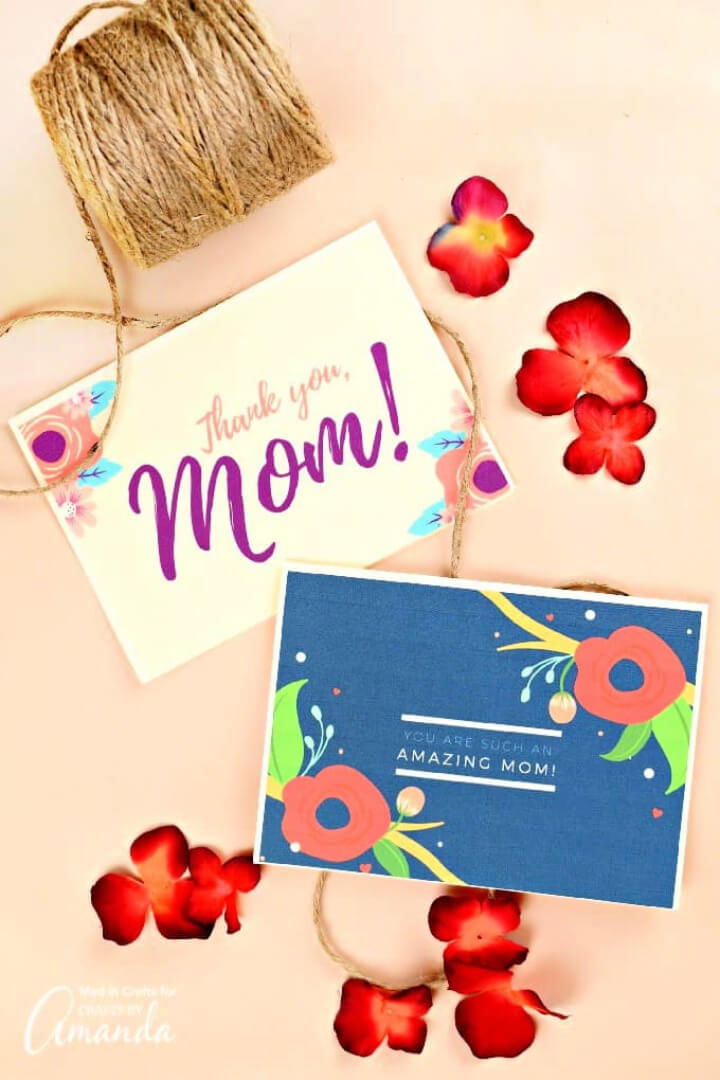 The free printable templates available at Crafts by Amanda are going to help you make some quite amazing and appealing mother's day cards! You are going to need some A7 cards, a colored printer and well get the designs from here. craftsbyamanda
13. DIY 3D Die-Cut Mother's Day Card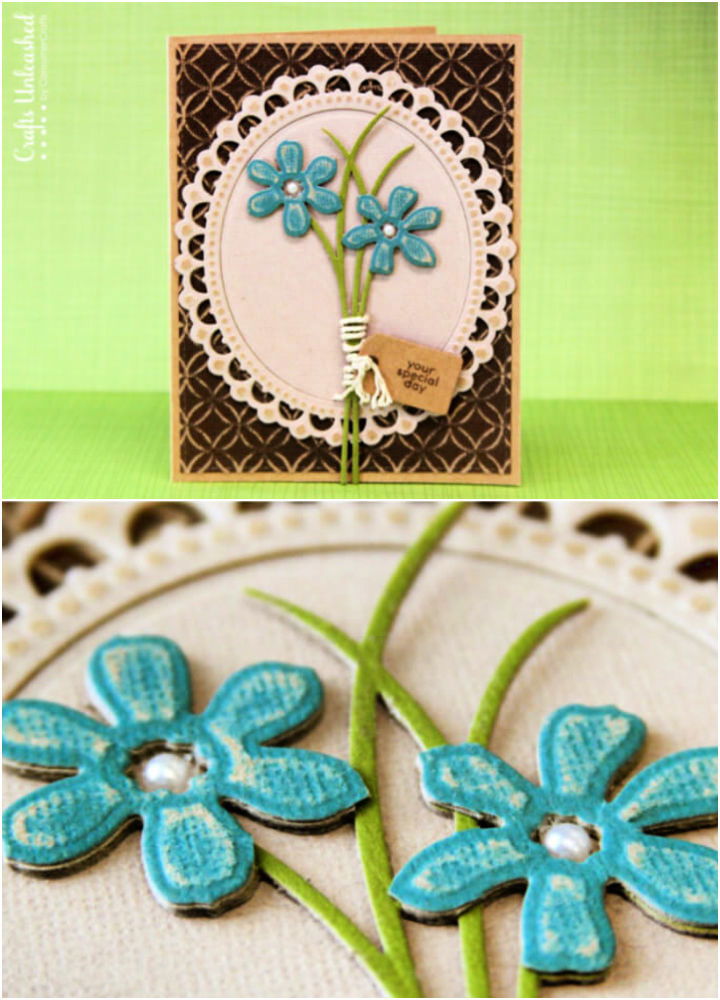 If you have a thing for crafting with metal dies, you are going to love this die cut technique. Make a dimensional and serene mother's day card using frame cut dies for beautiful daisies. You can use adhesive pearls in the middle of flowers to give it an even catchy look. consumercrafts
14. Create a Pop-Up Card for Mother's Day
Make your mom feel uber special with these everlasting and blooming flower bouquet in a card! You will be needing some text weight paper, a glue stick, double-sided tape, and card stock! The tutorial comes with a free printable template. marthastewart
15. DIY Preschool Mother's Day Card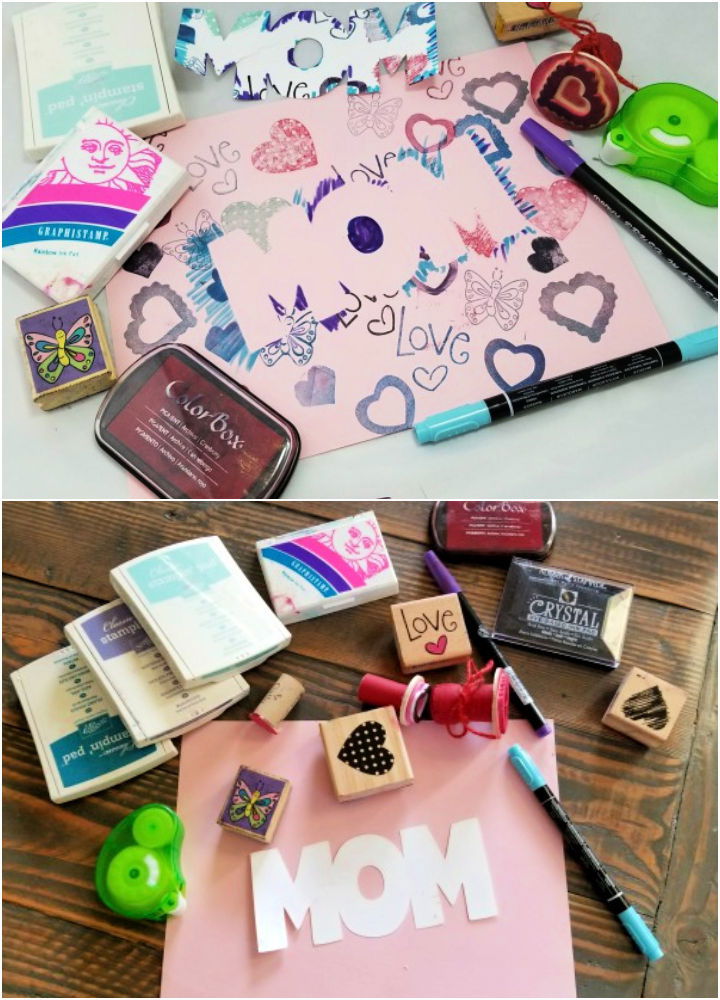 By using only a few supplies, you can put the teeny tiny hands to an affectionate use. With this idea, preschoolers can easily make cute and heartfelt mother's day cards. Using cardstocks, stamp pads, markers, paint, and dot markers. leapoffaithcrafting
16. Handprint Cactus Mother's Day Card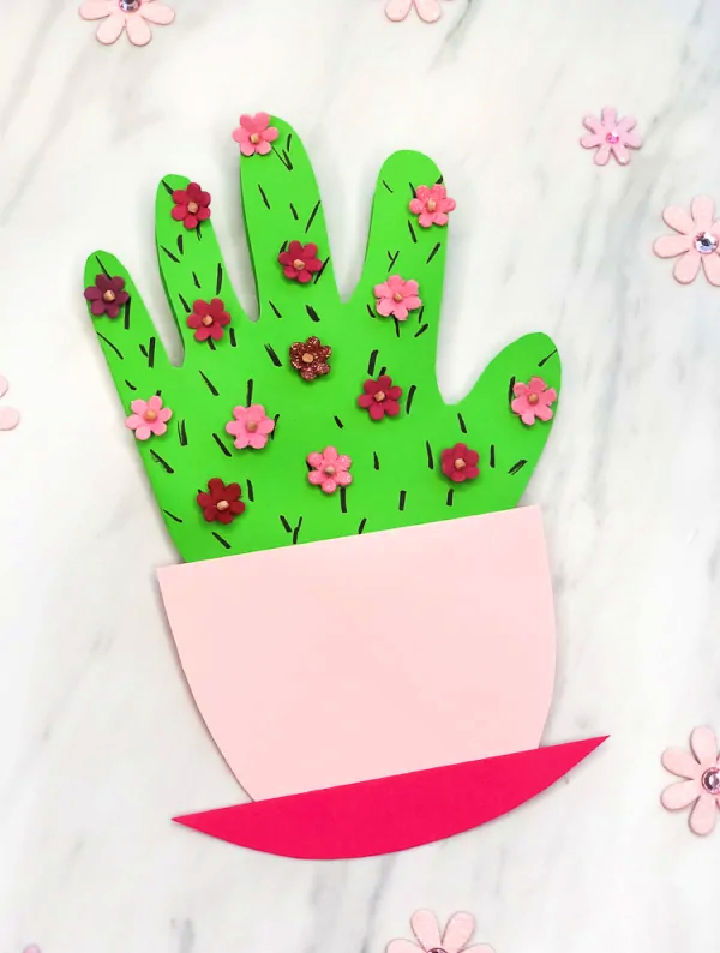 If your mommy has a thing for plants, this cutest and adorable handprint cactus is going to steal her heart. There is nothing as sensational to a mother than the sweet hands of her beloved kids. Make her something more than just a card, but a memento too. simpleeveryday
17. Easy DIY Unicorn Mother's Day Card
Who doesn't love unicorns? All rainbows, hopes, and lights. Moms adore unicorns too. Make your mommie this adorable and enchanting unicorn card with the free printable template, cut it out, use glue for adding up more bling like beads, pearls, glitter, etc. growingupgabel
18. How to Make a Floral Mother's Day Card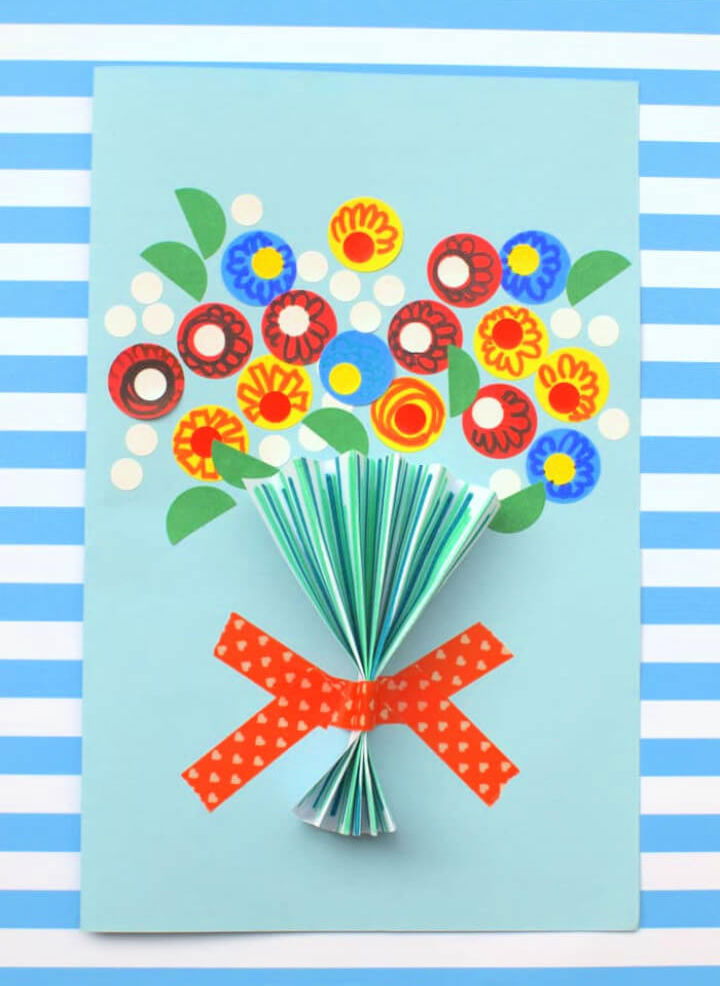 Make this enchanting and full of charms mother's day card using paper, scissors, markers, circle stickers, stapler, and washi tape! The pretty ribbon at the bottom is there to give it an even more extra special look. diycandy
19. Super Mom Cards For Little Girls
Trading cards are an exciting and way more personalized option for appreciating the superhero in our lives that is Mom. For little girls or boys especially, who have their reasons to share that why their mom's a superhero to them after all. Appreciation at its cutest! designimpro
20. How to Make Pinecone Roses Cards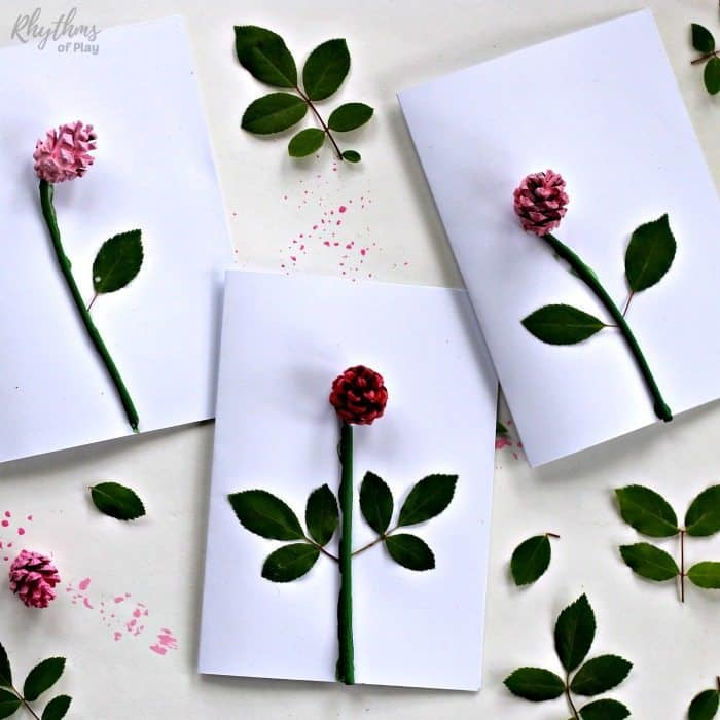 Check out these majestic and super cute pinecone roses for a ravishing mother's day card idea! Such an adorable 3D card to make your mom feel exceptionally loved. You'll be needing tiny pinecones, twigs, paint, and paintbrushes with few other craft supplies. rhythmsofplay
21. Mother's Day Cards With Free Printable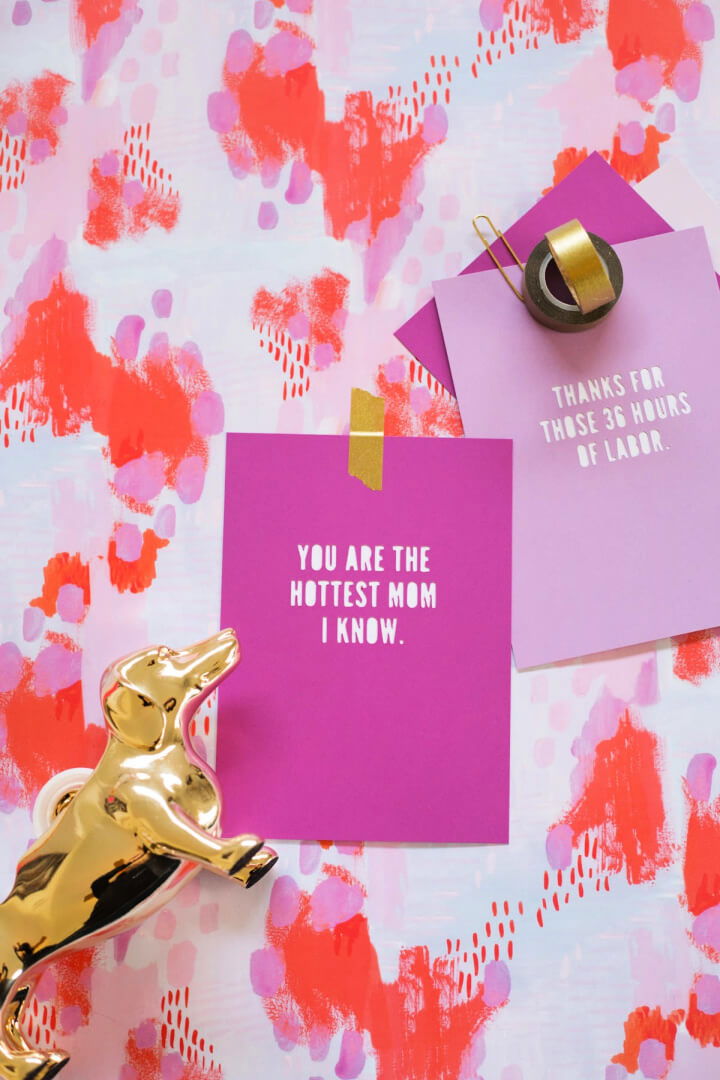 Make these catchy and meaningful paper cut cards for your mom and get her to laugh and cherish your beautiful memories of her! In about just 1 hour, using colorful cardstock papers, scissors, craft knife, glue stick and using your Cricut machine you can send a pretty intense and affectionate message to your mommie with these cards! lovelyindeed
22. Mother's Day Sewing Cards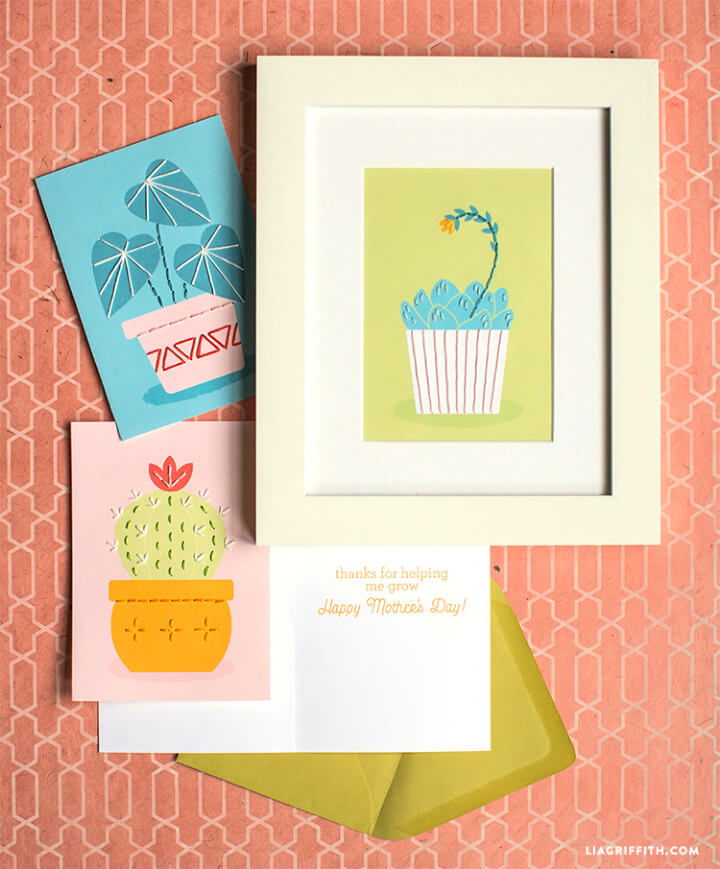 There's another way to appreciate your mom this mother's day. By giving her something as a gesture of her hard work which shows that all those hours she invested in you for learning something, say stitching, you nailed that! With these cute sew cards. liagriffith
23. Easy DIY Mother's Day Card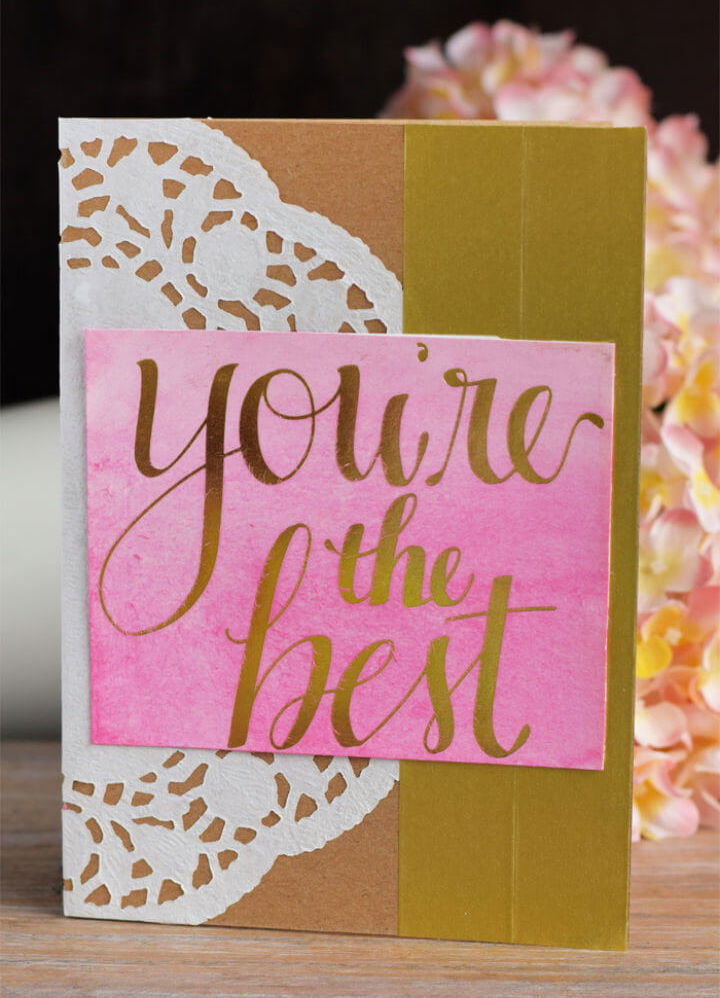 It is no surprise that no matter how many expensive perfumes, jewelry, or stuff you can get her. Your mom is always, ALWAYS going to adore your hand made cards more than a treasure! This pretty cute and meaningful "You're the Best," handmade card is going to steal her heart. ithappensinablink
24. Typography Mother's Day Cards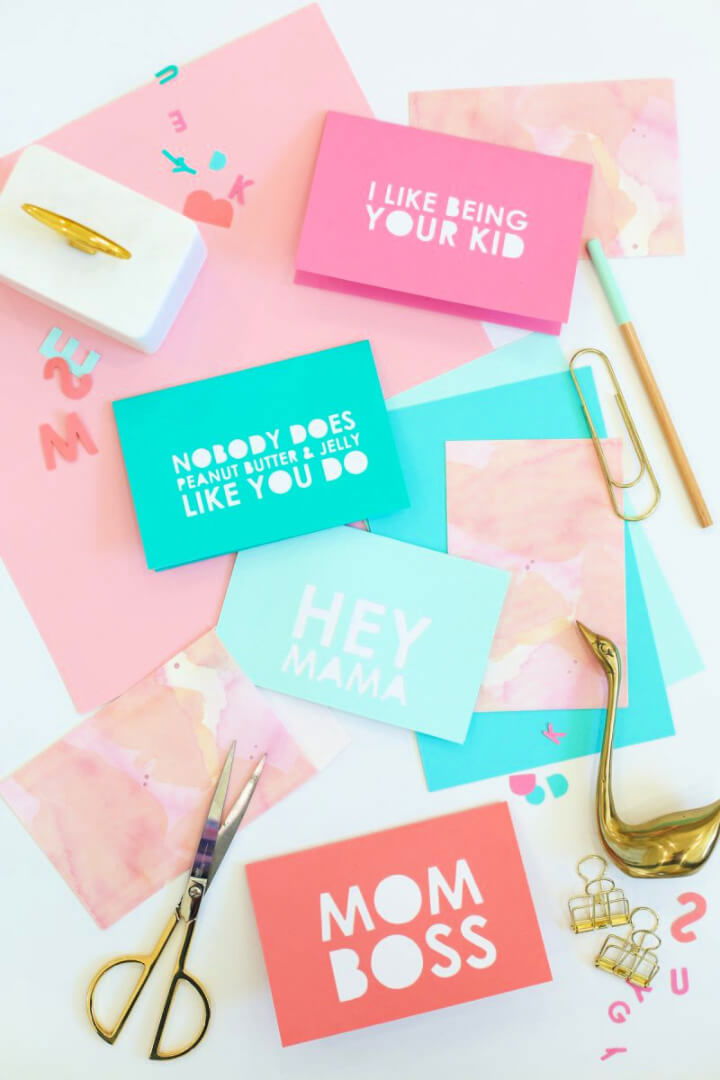 There are always the little things that matter and add more meaning. Such as these cute, meaningful typography cards. You might have been telling her already she makes the best-grilled cheese sandwich ever but put that in this card and see her glow with the happiness. lovelyindeed
25. Homemade Mother's Day Carnation Card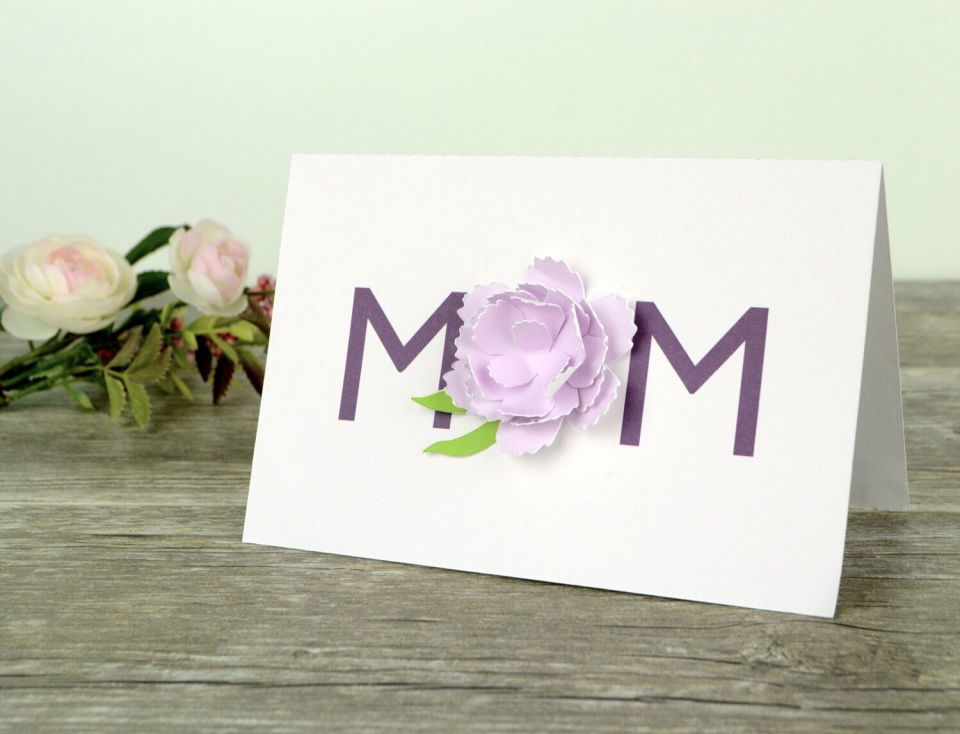 This beautiful mother's day carnation card involves a number of intricate details to sweat yourself with. But it isn't the purpose behind? Putting a lot of consideration and effort in making this serene blooming DIY mother's day card. bluefinworks
26. DIY Mother's Day Cards With Your Cricut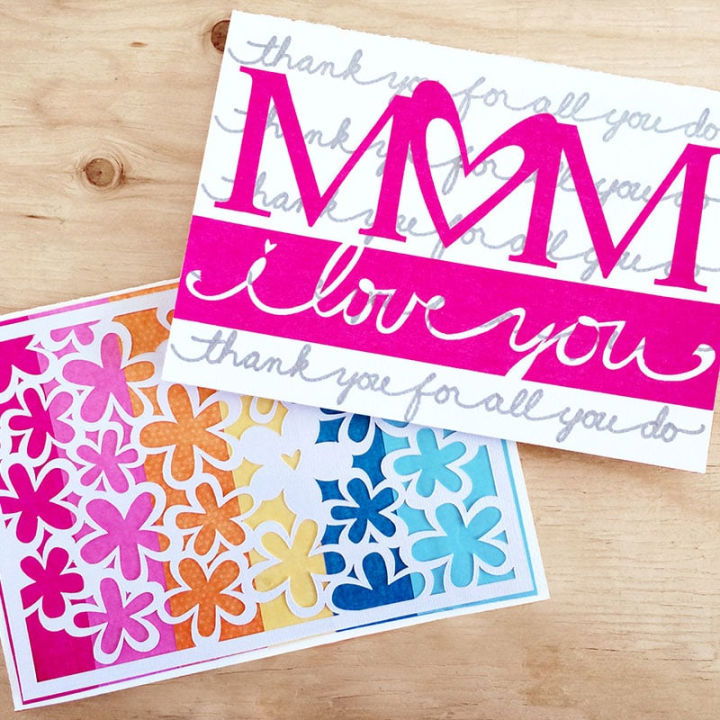 Among your strolls to find the best mother's day gift, you must have come across these pretty expensive mother's day cards! Well, with your Cricut maker, you can make just the ones with the added benefit of customizability at home. 100directions
27. DIY 3D Flower Mother's Day Card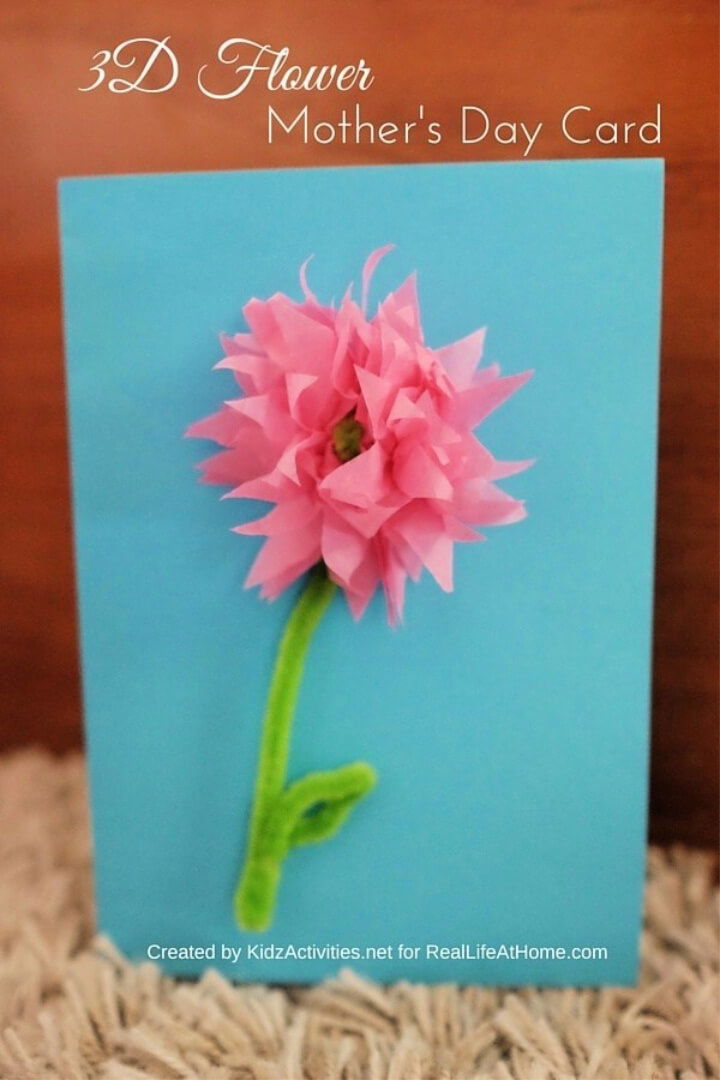 Make your mom feel truly special with this handmade DIY mother's day card made from scratch. This delicate three-dimensional flower is made using a pink tissue paper, a green pipe cleaner, glue, and cardstock! As delicate and special as your mom. reallifeathome
28. Surprise Mom With a Pop-Up Card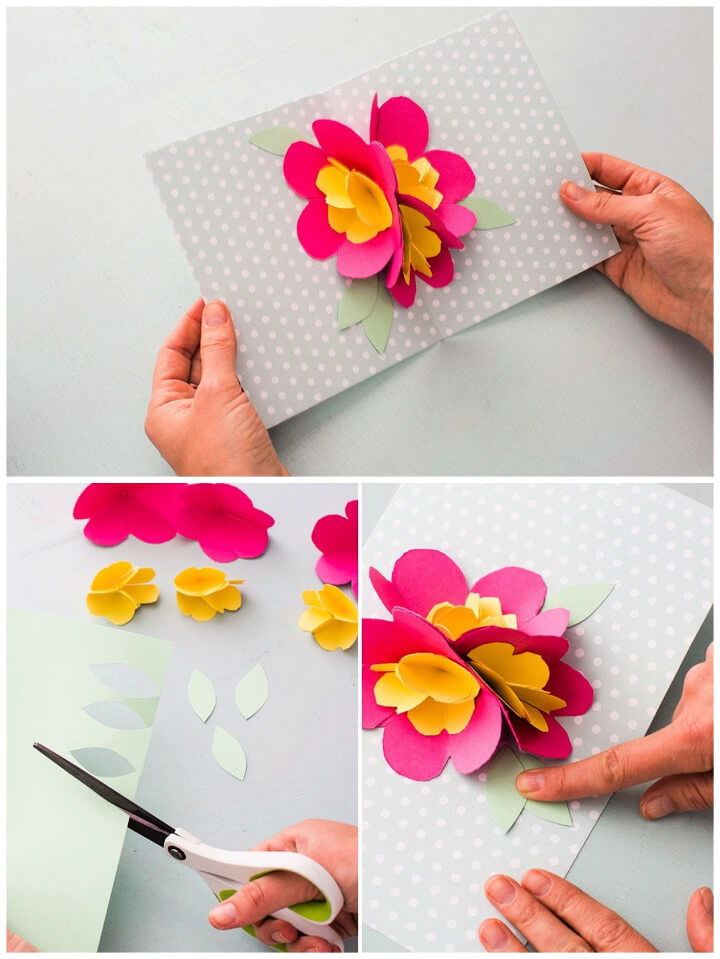 We believe by far the best surprises given in the world are still those that are given to our moms! As they get really happy and all glow-y with even tiny gestures like this popup 3D flower. Surprise her anticipations about the card with this popup blossom! brit co
29. Pretty Mother's Day Cricut Card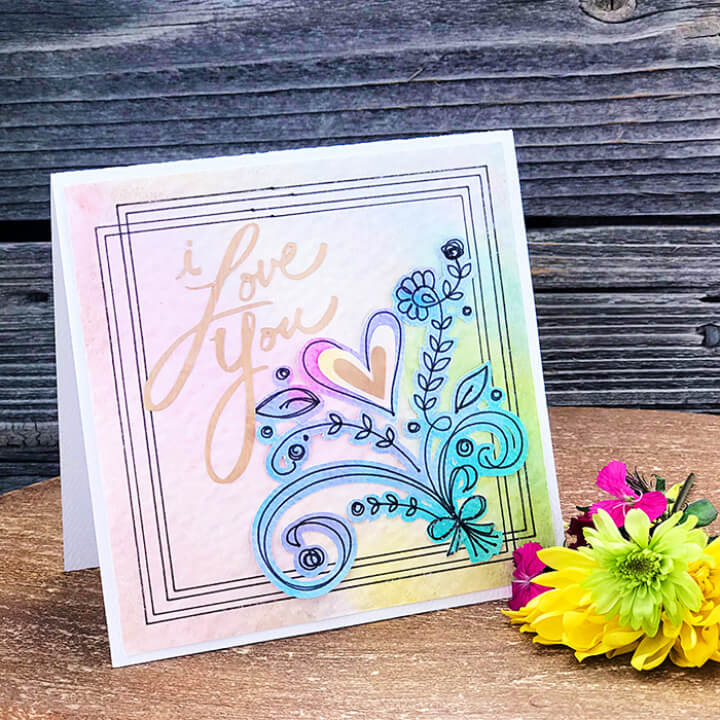 Make a meaningful mother's day card using glitters, foils, and your Cricut maker for other cute accents. Using a cardstock, adhesive, and other embellishments like Gold foil, glitter, and ribbons. Combine it with a handmade floral bouquet and make her day. thecountrychic
30. Make a Tea-Stuffed Mother's Day Card
Let's make it look more meaningful and crafty than anything! Try out this memorable and personalized DIY mother's day card with your mom's favorite tea bag in a cup carved out of an empty egg carton. Whoa, she is going to love this one like forever. diynetwork
31. Mother's Day Card Giving Ideas for Kids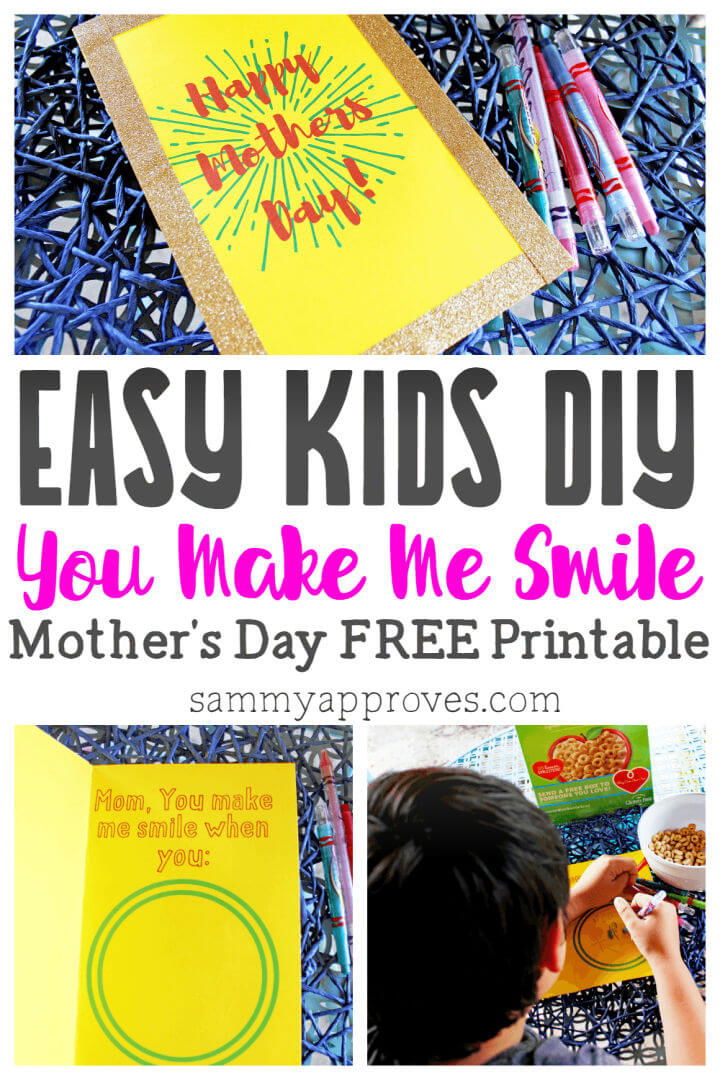 We can bet on it that all the mom's in the world has these drawers filled with their kid's cute first drawings, letters, cards, and sweet notes. This adorable DIY mother's day card could be an appealing and cute idea for little kids to make their moms feel special. sammyapproves
32. Make Your Own String Heart Yarn Cards
Make beautiful and pleasing cards with texture and taste. These colorful yarn cards with string hearts is an adorable gesture and as well as a productive threading activity with motor skills enhancement! Gather around your craft supplies and some cute helping hands! hellowonderful
33. Flower Card for Kids to Make for Mother's Day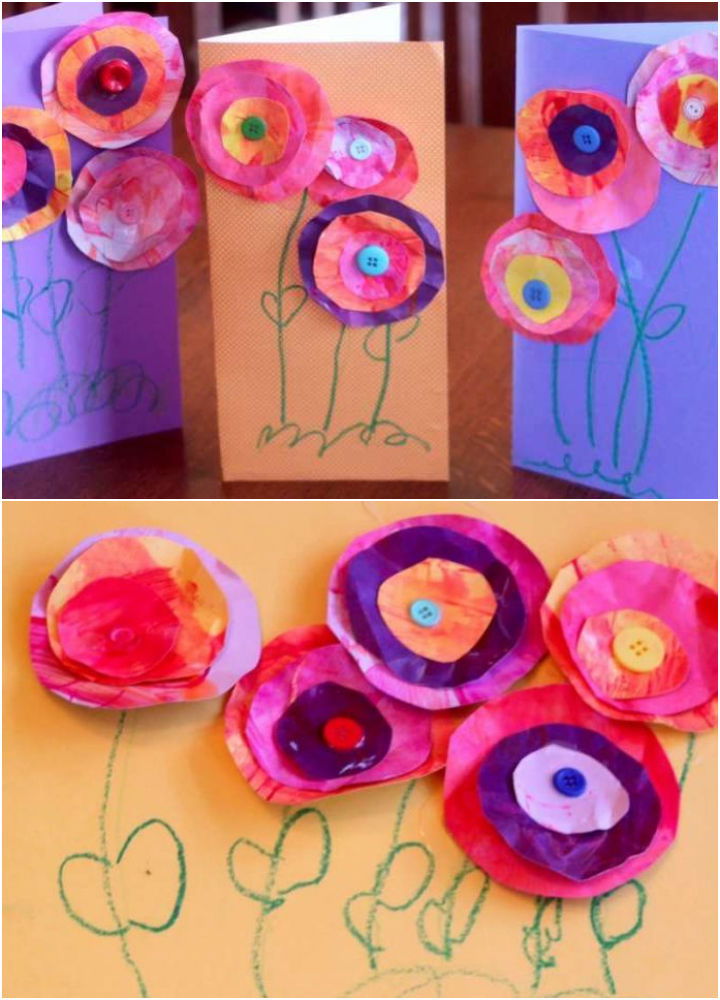 Mother's day is a special occasion for appreciating grandma's and their endless supply of lovely meals and care all these years! Help your kids make these cute and appealing mother's day gift using colorful scrapbook papers and buttons. handsonaswegrow
34. DIY Mother's Day Heart Fan Card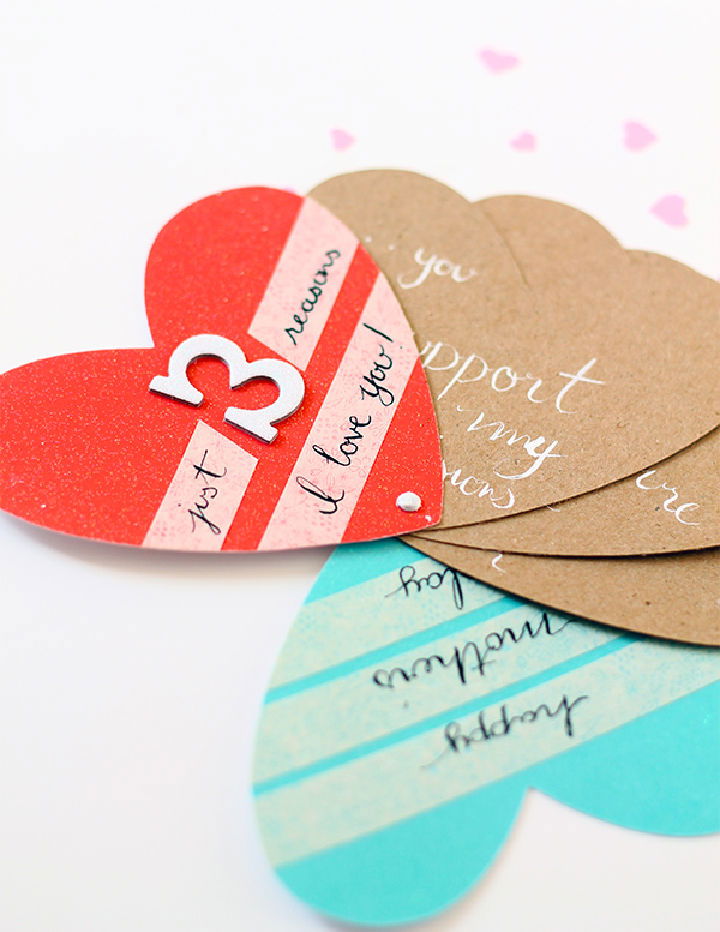 For valentine's day or mother's day appreciation cards, this cute, love-filled reasons to love card is an adorable DIY mother's day card idea. Let your mom know how she has endlessly supported you, and you realize each of those affectionate minutes. squirrellyminds
35. Mother's Day Card with Origami Letters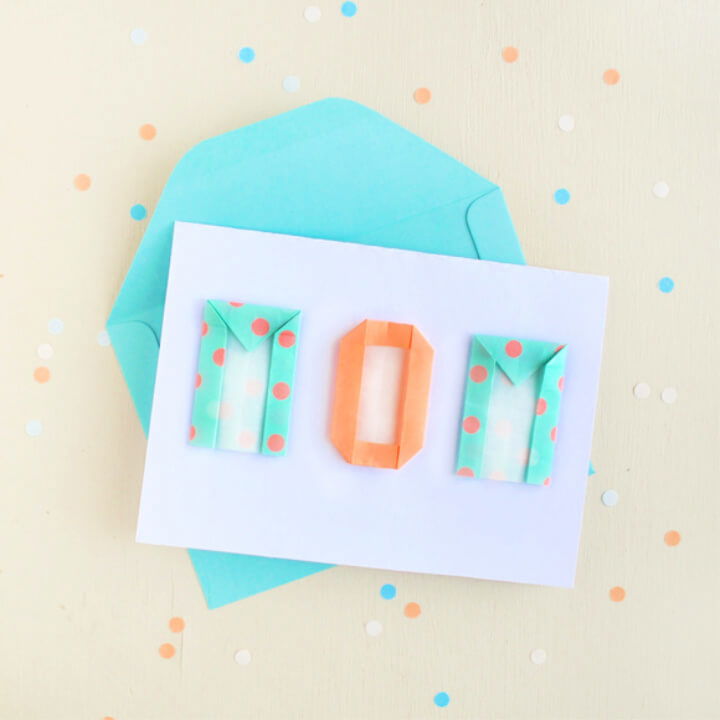 Origami never ceases to amaze us and awe-struck us with its versatility! Make a minimalistic and adoring mother's day card this year using origami paper, glue dots, cardstock folded into a card and a ruler. Spell out a serene MOM with origami art! zakkalife
36. Kid-Made String Art Flower Cards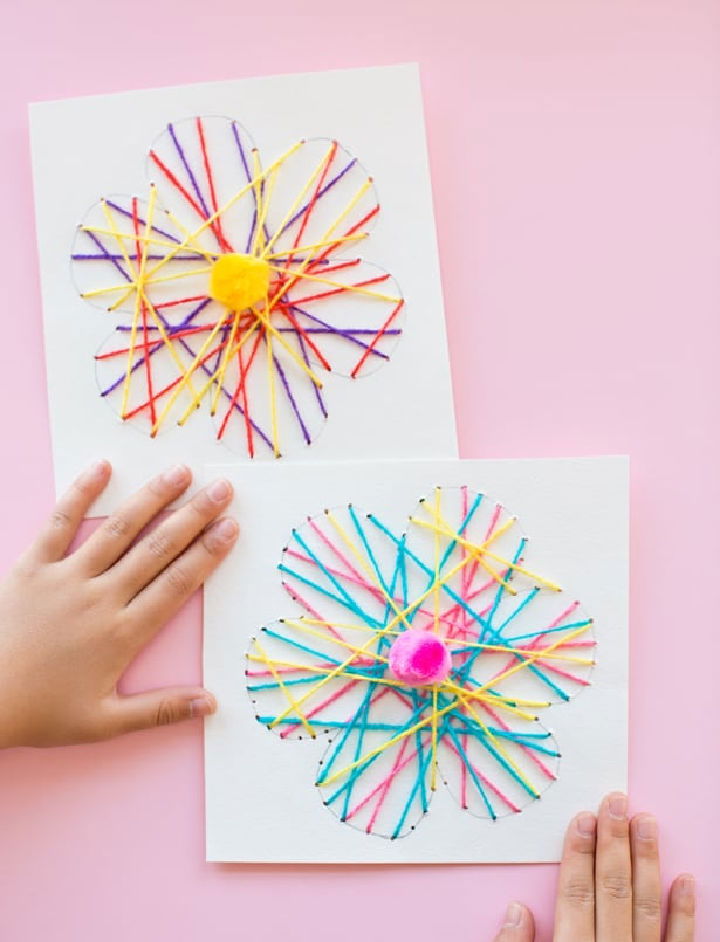 For a beginner at stitching this DIY mother's day string art could be a perfect exercise. Plus, you can help your kids enhance their motor skills and threading skills. Using a large needle and colorful yarn, make these absolutely pretty floral cards. hellowonderful
37. DIY Mother's Day Wheel Card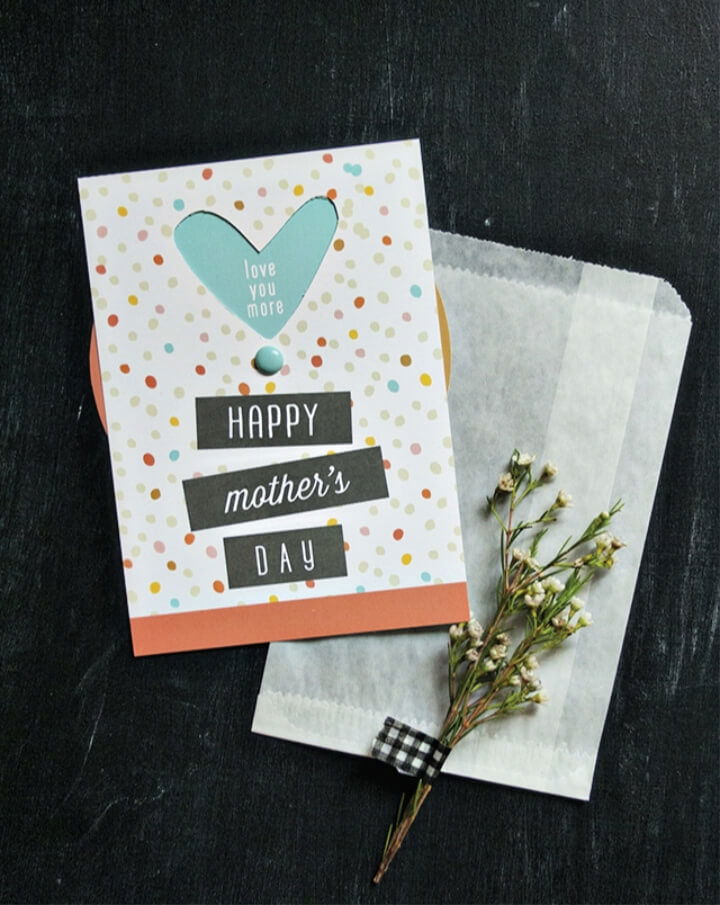 Because there is just SO much to appreciate about your moms, a few words or a single card could not suffice. But, if you get your hands on this cute and wheel DIY mother's day card, you can pretty much sum up how special your mom is to you! raeannkelly
38. Waffle Flower Mother's Day Card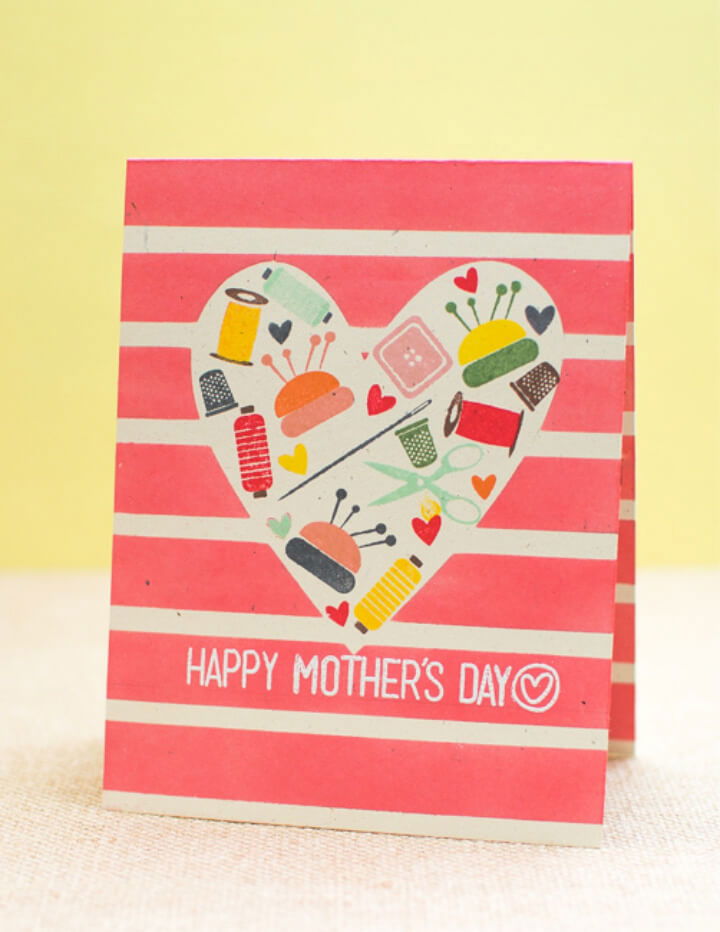 Use a card stock as the card base, cut the heart out of scrap paper. Paste it on the card stock paper, and add colorful stamps on the heart gesturing all the food and stitching and what not needs your mom has been fulfilling for you! mayholicdesign
39. DIY 3D Tulip Mother's Day Card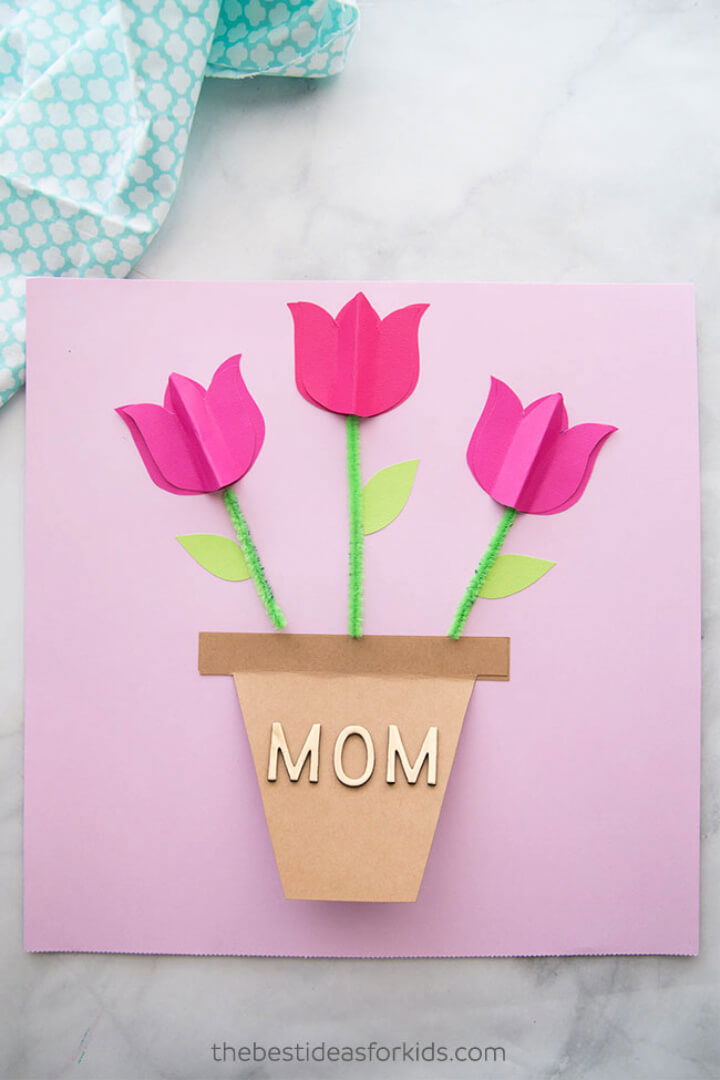 For an easy mother's days' craft to make with kids try this pretty tulip and flower pot card. In the middle of the flower, pot kids can also write down a personalized message. You will be needing light and bright pink card stocks, green pipe cleaners, brown card stock with other craft suppliers. thebestideas
40. Hyacinth Flower Mother's Day Card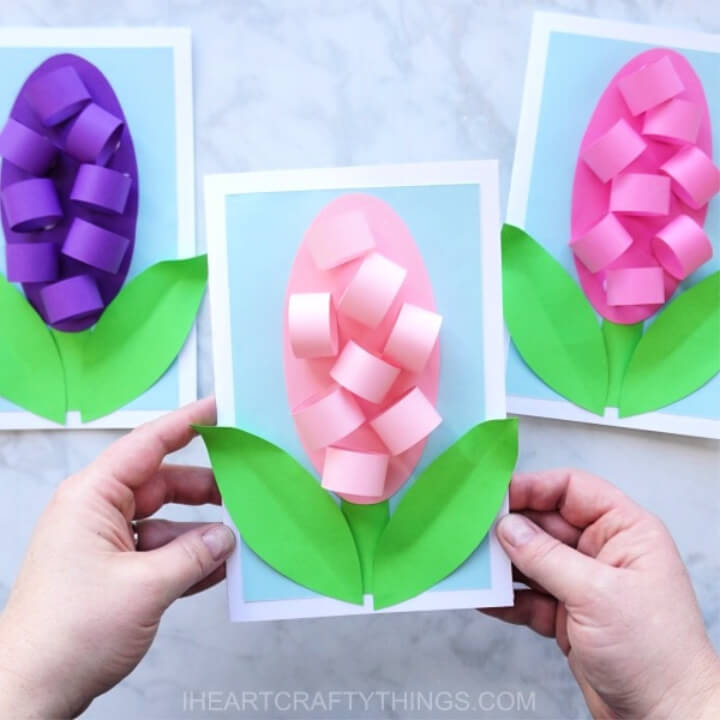 Get your mom some everlasting Hyacinth Flowers this mother's day! If you are looking for a gorgeous and simple DIY mother's day card idea, look down more. Your mom is going to keepsake these vibrant floral cards with her for life. iheartcraftythings
41. DIY Fingerprint Heart Card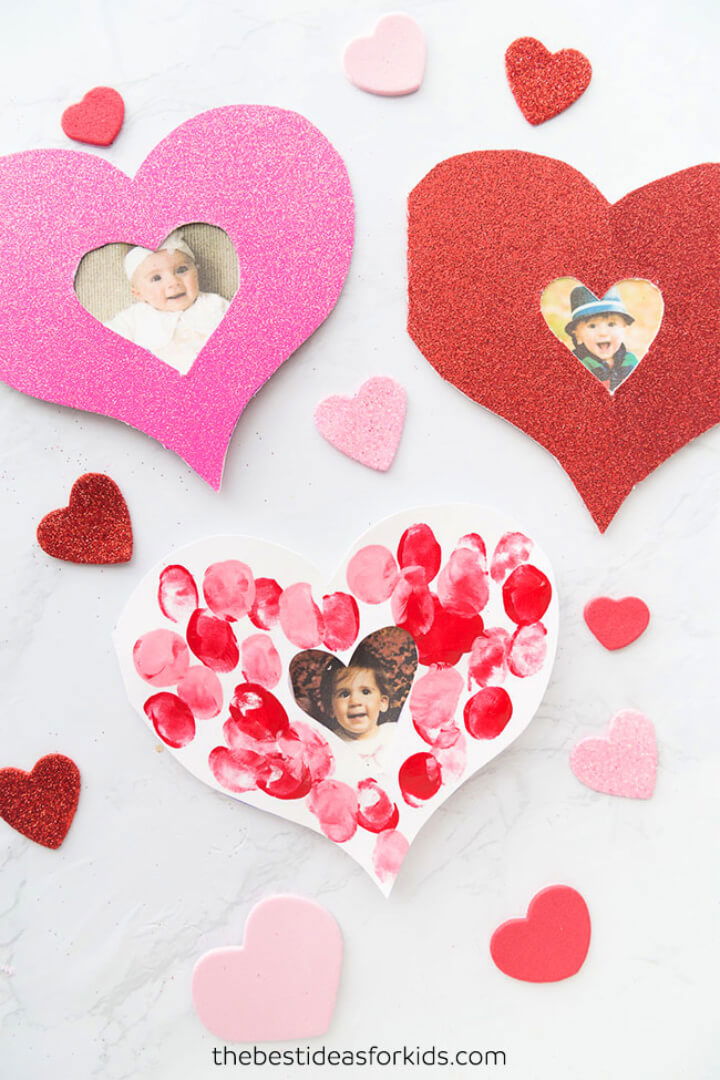 Make these cute personalized mother's day cards with your toddlers to surprise mommie this year. Carve a perfect heart out of cards stock put inside a memorable childhood photo and cover the surface with teeny tiny toddler fingerprints. thebestideas
42. Make Mother's Day Card Using Egg Carton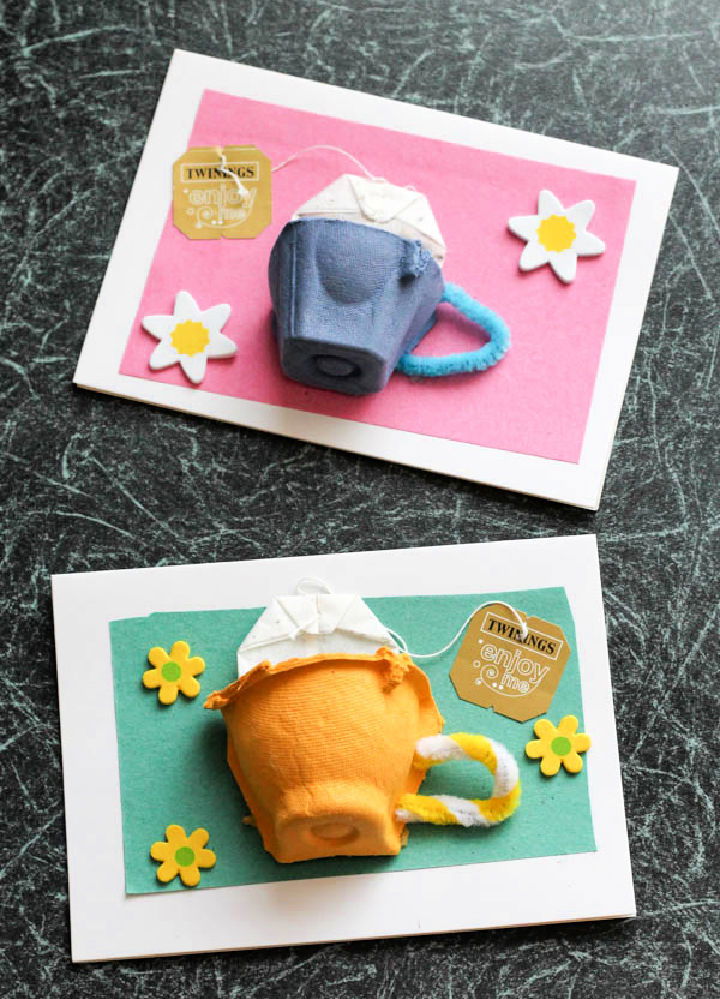 Spread happiness and love with these appealing DIY teacup cards. You will be needing a blank piece of card a colorful piece of paper, a cut-up egg box a small piece of pipe cleaner, tea bags, glue, and stickers or flowers to decorate. intheplayroom
43. Tropical Mother's Day Petal Card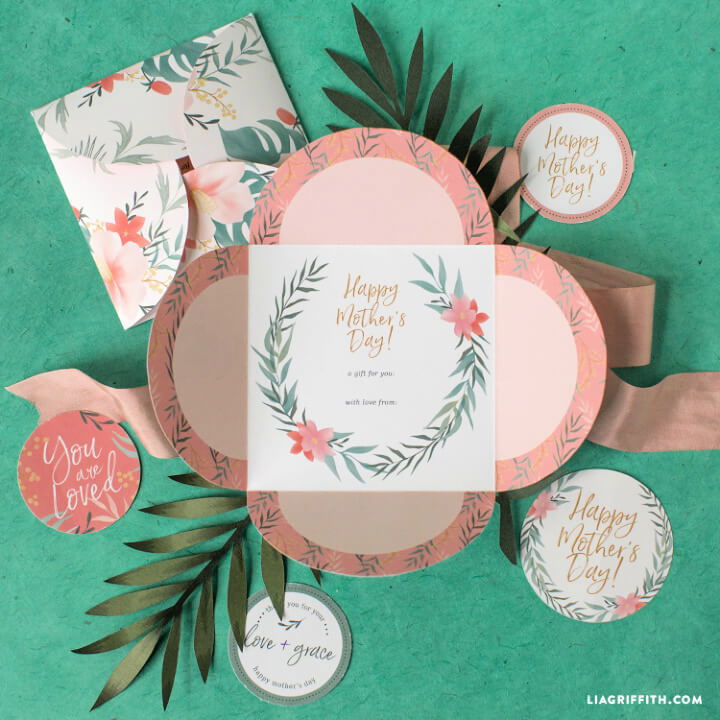 Because moms bring such breezy vibes to our lives, this DIY tropical mother's day, petal card can only do a little justice. You can put in meaningful, personalized messages inside the card and surprise your mom with even more love. liagriffith
44. Make Your Own Script Card for Mother's Day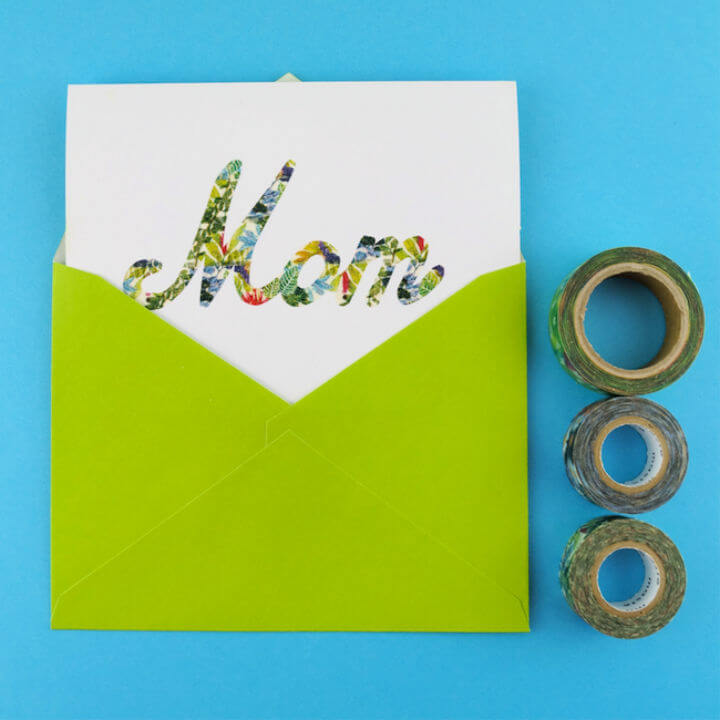 Get your hand on washi tape a parchment paper, marker, scissors or craft knife with a blank card base and make your own script card for mother's day. Pro Tip: smaller texts are going to more easy to handle. omiyage
45. Flower Button Art Card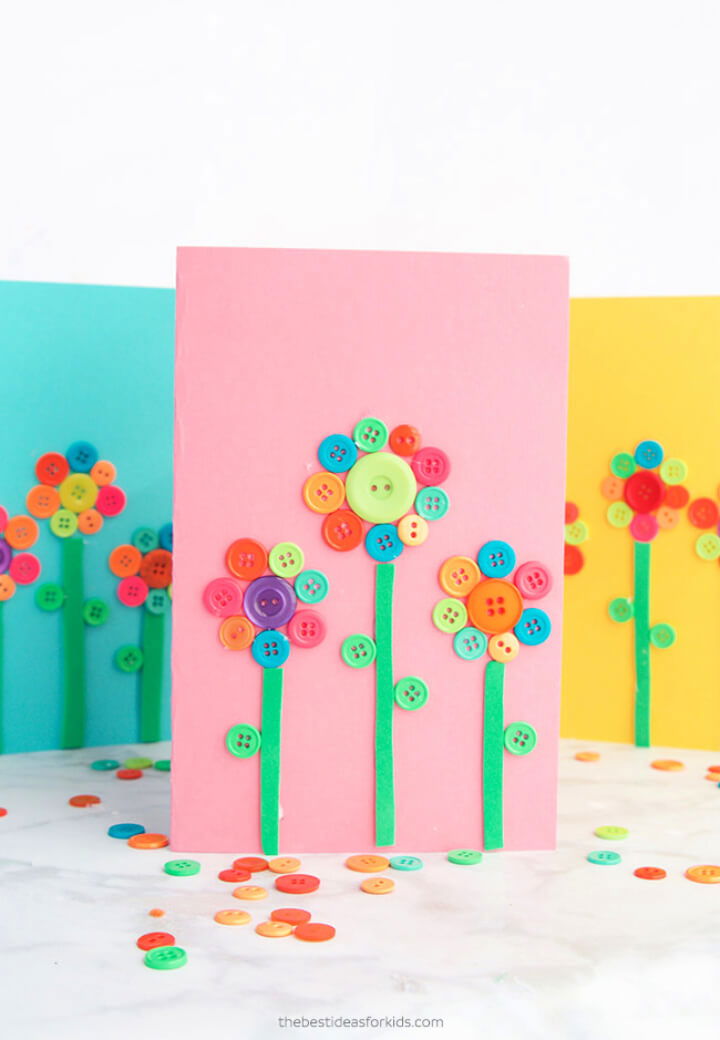 For little ones to celebrate mother's day with love and affection this DIY flower button art card is going to be it an easy way to make floral buttons using colorful card stock, glue, green foam sheet, and scissors. thebestideas
46. DIY Mothers 'Day Popup Card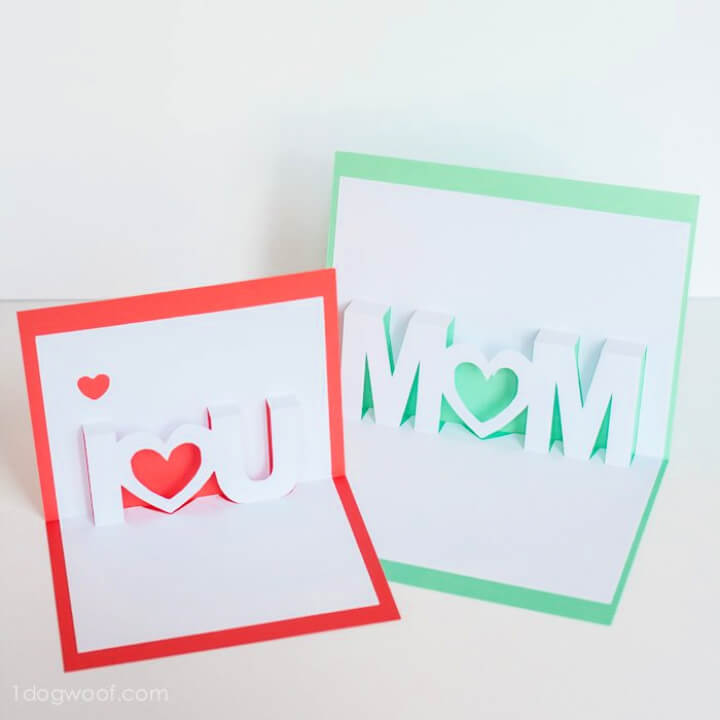 Create these cute popup cards for mother's day and surprise your mom with a popup love note. Whenever we receive a card, there is always a plenty of room available for the anticipation!Of what might be in the card. Let's make that even more amazing. 1dogwoof
47. Handmade Flowers Card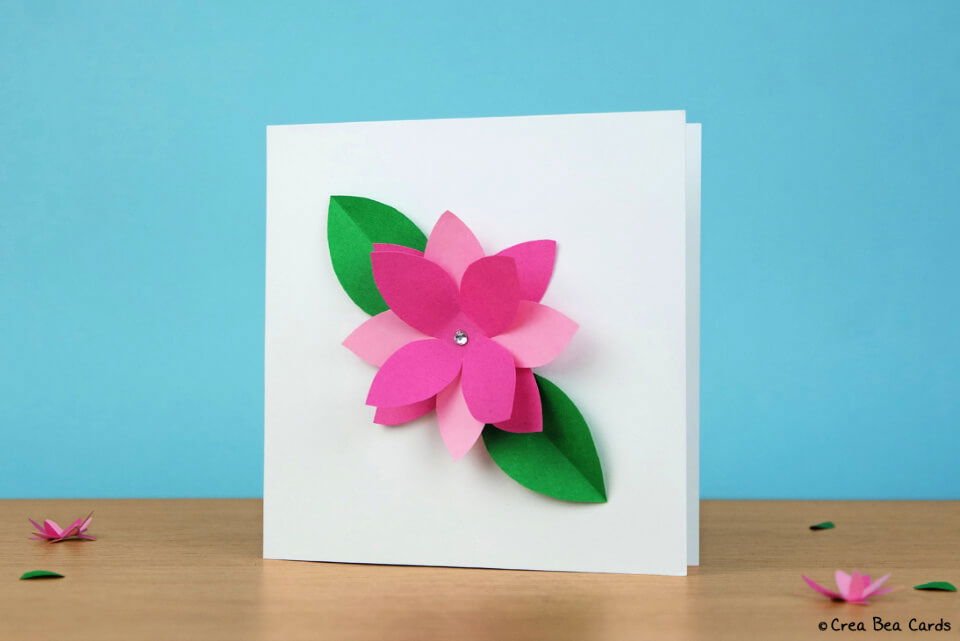 Gather around your craft supplies like scissors, pencil, double-sided adhesive tape, a sheet of green paper, color paper sheets for flower petals, and sticky rhinestones for embellishments. In just 15 minutes make this beautiful handmade flowerish card. creabeacards
48. Super Cute DIY Mothers Day Card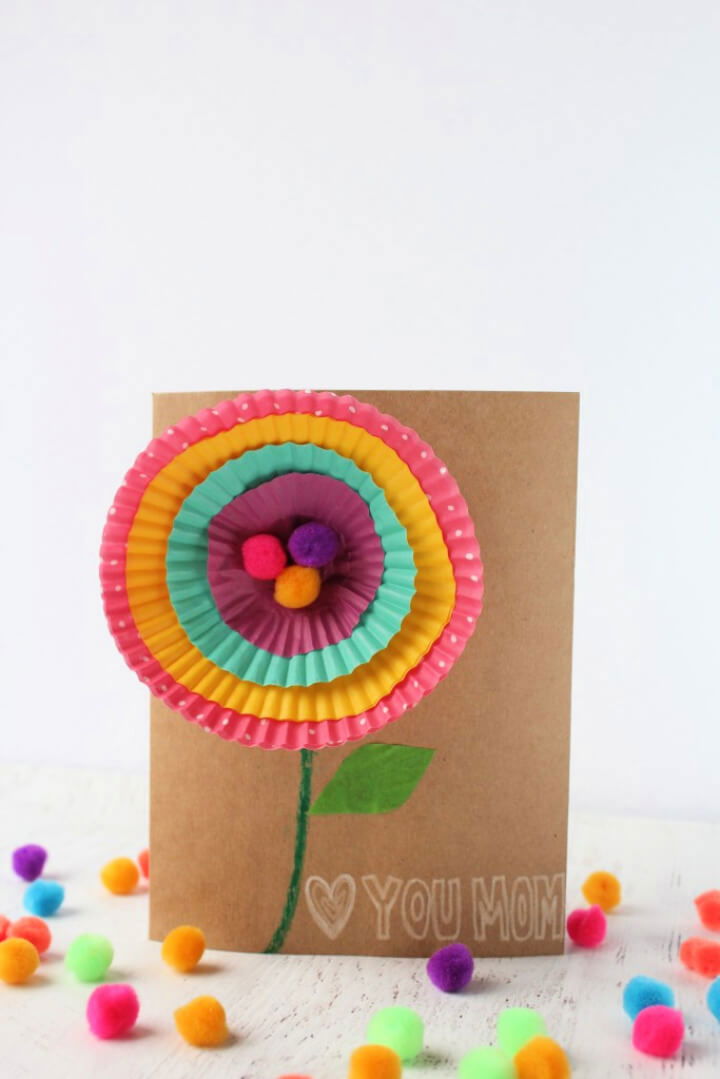 Using cupcake liners and pom-poms make this super cute homemade DIY mother's day card. Pick up 2 different sizes of cupcake liners to carry out the effect of the petals in the card with glue, stick the pom-poms in the middle of cupcake flowers. feelingnifty
49. Meaningful DIY Flamingo Card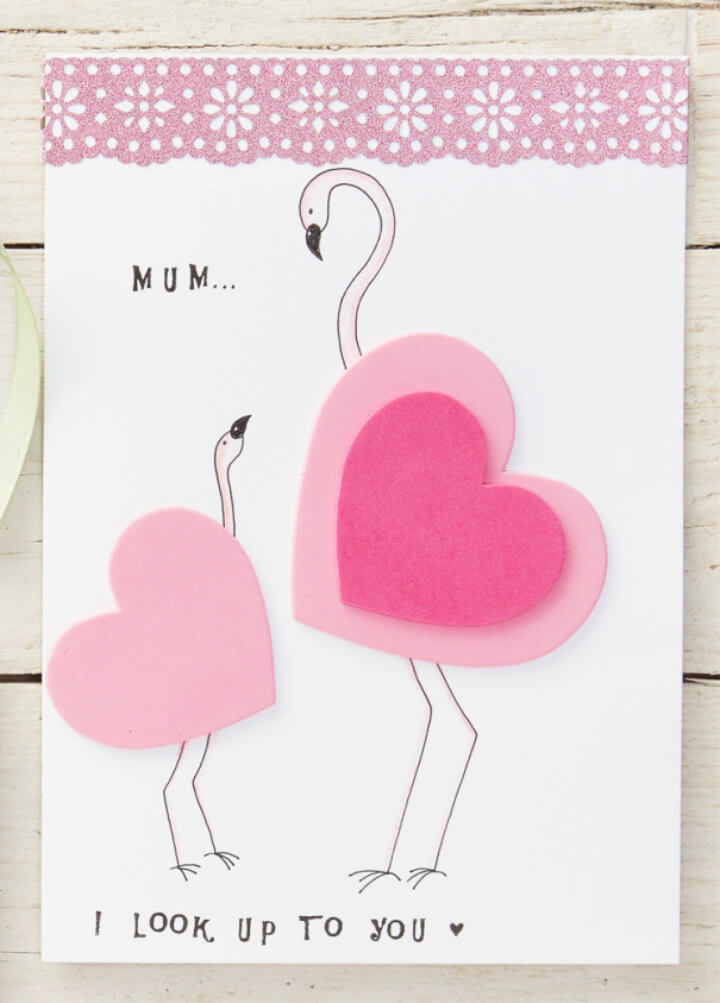 A meaningful flamingo card with "I look up to you," gesture is an adorable way to express your tremendous amount of love to your mom it is insanely easy to make using a blank white card, heart shape foams, and decorative mini alphabet stamps. hobbycraft
50. DIY Bouquet of Hearts Card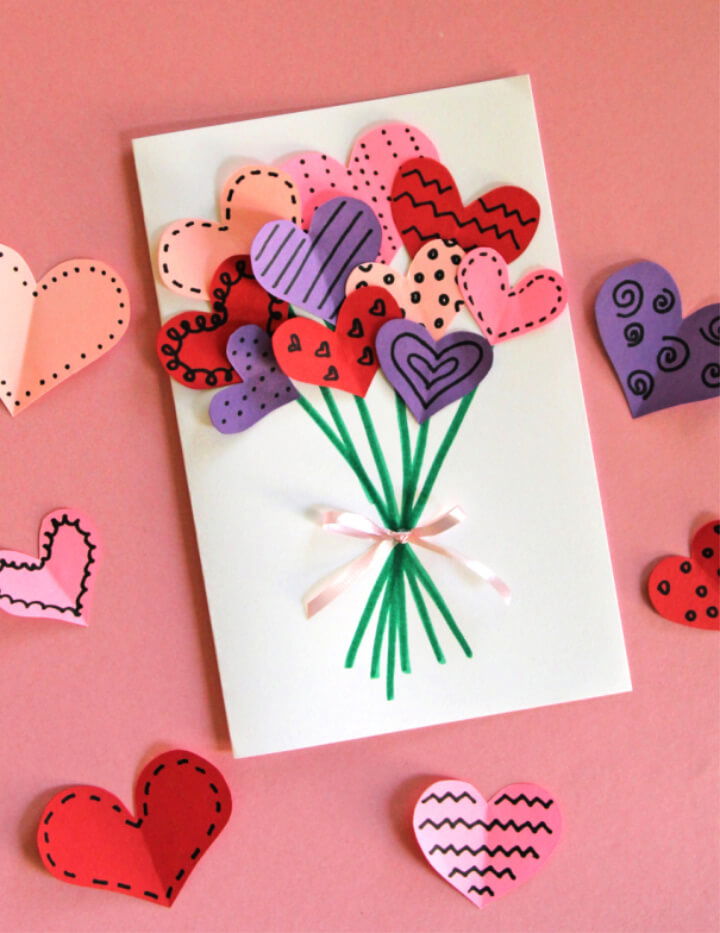 A bouquet of hearts for a heart full mother's day celebration time. Stack pieces of colored paper, markers and glue will have your kids go crazy with these bunch of hearts. Place it like a bouquet with a blinky ribbon at the bottom. makeandtakes
51. Twist and Pop Mother's Day Card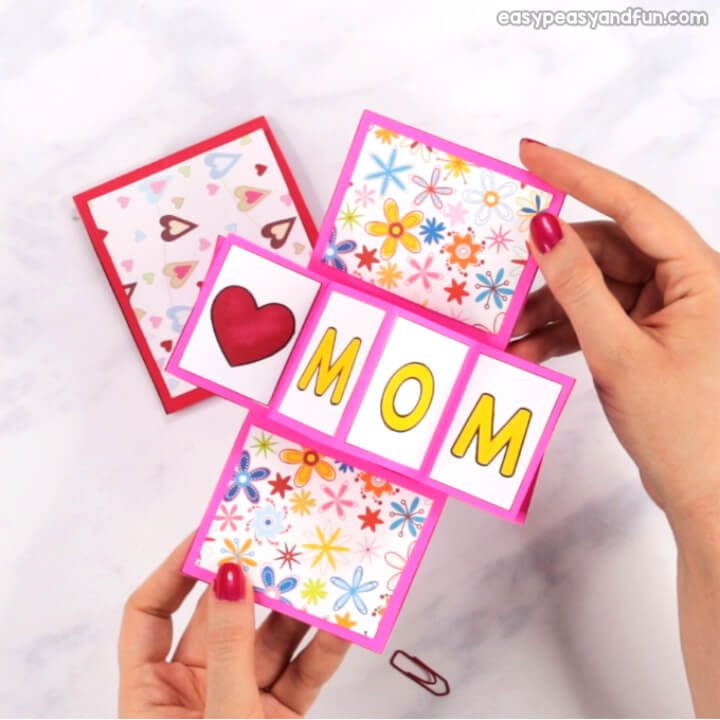 Let's take the pop-up cards mantra to a new level with this twist and pop mother's day card. Get the free printable template from Andreja at Easy Peasy and Fun , and use markers, scissors, glue and scrapbook papers to give it a trendy look. easypeasyandfun
Related DIY Projects and Ideas
DIY Birthday Cards: Create the perfect personalized DIY birthday card for your loved one with these unique DIY ideas. From homemade cards to 3D paper crafts, find a special way to show them you care!
Graduation Card Ideas: Ready to make a unique and customized graduation card? Make your graduate's big day special with unique and creative DIY graduation card ideas to make them feel extra special.
Wedding Card Ideas: Looking for unique DIY wedding card ideas to show your love? Check out our guide with tips on how to make a wedding card that will stand out.
DIY Mother's Day Gifts: Show your appreciation for Mom this Mother's Day with a DIY gift you make yourself! From creative crafts to homemade treats, find the perfect handmade present for your mom.
DIY Postcard Ideas: Add a creative touch to your next card with these easy-to-follow DIY postcard ideas. From scrapbooking and collaging to painting, find the perfect design for any occasion!
DIY Father's Day Gifts: Surprise dad this Father's Day with a thoughtful, inexpensive DIY gift! From cards to snacks & more – find creative ideas to show appreciation.
Gift Wrapping Ideas: Check out these amazing and unique DIY gift wrapping ideas! Put a little extra effort into your gifts this year with simple tutorials and tips to make the perfect presentation.
Mason Jar Gift Ideas: Create unique DIY gifts for friends and family with these fun DIY Mason Jar gift ideas to personalize your gifts with decorations, notes, and a special touch.
Conclusion:
Making a DIY Mother's Day card is the perfect way to show your mother how much you care. They are thoughtful and meaningful and allow an opportunity to express creativity, bring joy, and create lasting memories between parent and child. Whether it's a heartfelt message or an amusing illustration, these diy mother's day cards will make this Mother's Day one to remember!