DIY corsage is a stunning accessory for any special occasion. Learn how to make a homemade corsage with these 20 easy DIY corsage ideas, providing step-by-step instructions to make the perfect corsages, regardless of your skill level. From elegant floral arrangements perfect for Mother's Day or prom night to unique felt or paper creations, these DIY corsage tutorials cater to various styles and occasions.
Design your own DIY corsage using various materials such as real flowers, silk flowers, felt, or ribbons to create a one-of-a-kind accessory. Follow easy-to-understand guides complete with detailed instructions, illustrations, or videos to help you create a corsage masterpiece. Creating a DIY corsage allows you to personalize your accessory by selecting the size, color, and style that compliments your attire or event's theme.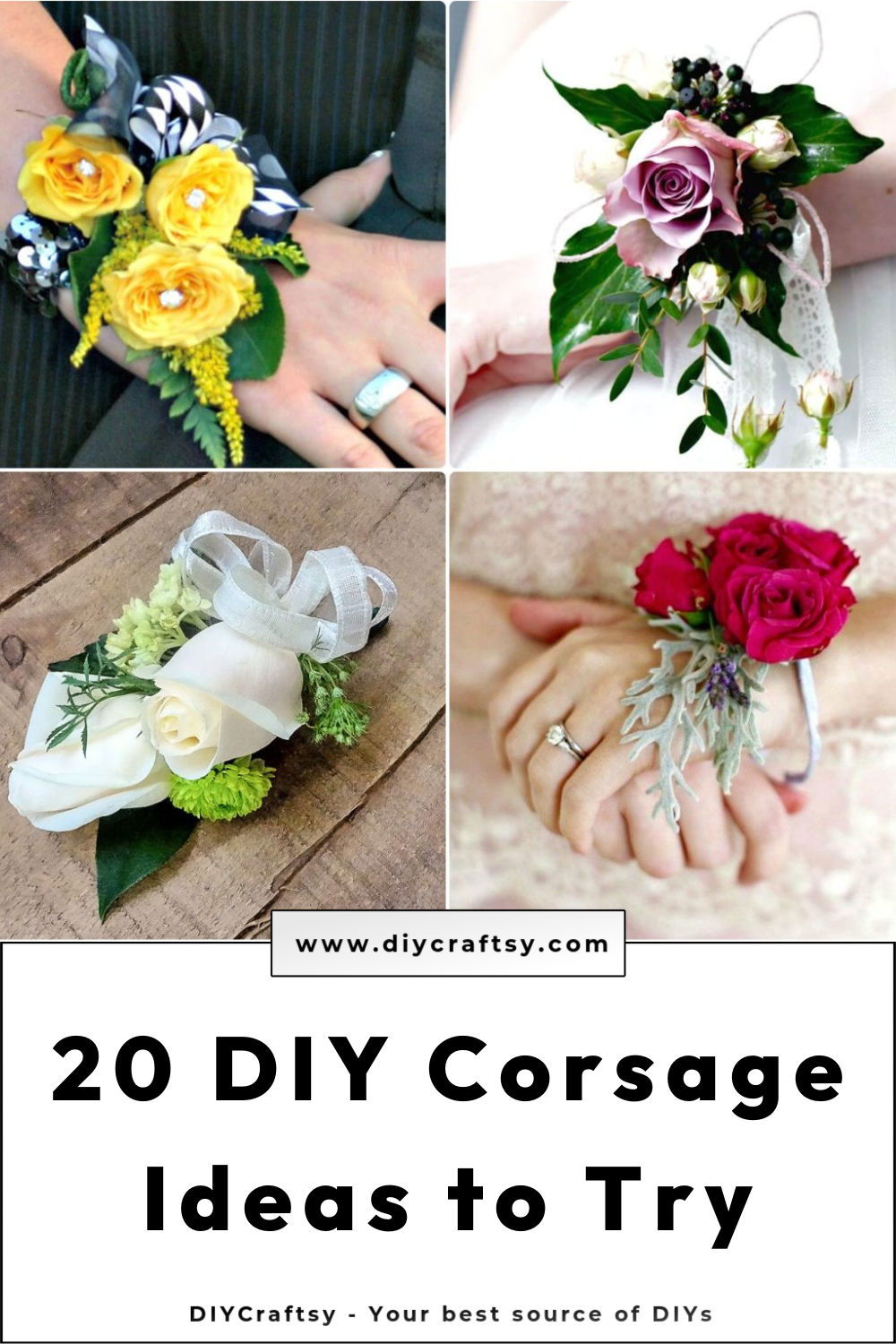 Explore your creativity and customize your corsage with these 20 homemade DIY corsage ideas for all levels of crafting enthusiasts. Don't wait any longer to design the perfect corsage; dive into these easy-to-follow DIY corsage tutorials today and make a lasting impression at your next event.
Uses and Benefits of DIY Corsage
A DIY corsage is a small bouquet of flowers that is worn on the wrist, lapel, or shoulder for special occasions such as weddings, proms, homecomings, graduations, or Mother's Day. Making your own corsage can be a fun and most creative way to express your personality and style, as well as save money and time. Here are some of the amazing uses and benefits of DIY corsage:
Personalize your corsage: You can choose the flowers, colors, ribbons, and accessories that match your outfit, theme, or mood. You can also add sentimental touches such as charms, photos, or initials to make your corsage more meaningful and unique.
Save money: Buying a corsage from a florist can be expensive, especially during peak seasons. By making your own corsage, you can use fresh or artificial flowers that are more affordable and available. You can also reuse or recycle materials that you already have at home, such as jewelry, buttons, or fabric scraps.
Have fun: Making a DIY corsage can be a relaxing and enjoyable activity that you can do by yourself or with your friends or family. You can unleash your creativity and experiment with different designs and techniques. You can also make corsages as gifts for your loved ones or as favors for your guests.
Learn new skills: Making a corsage can help you develop your artistic and crafty skills, such as cutting, wiring, taping, gluing, and arranging flowers. You can also learn more about different types of flowers, their meanings, and their care.
How to Make a DIY Corsage
Making a DIY corsage is not as hard as it may seem. You just need some basic supplies and tools, such as:
Flowers: You can use fresh or artificial flowers of any kind, size, or color. Some popular choices are roses, carnations, orchids, lilies, daisies, baby's breath, and greenery. You will need 3 to 4 blooms for each corsage, depending on their size.
Wire: You will need floral wire to secure the stems of the flowers and to create a base for the corsage. You can use 18-gauge or 20-gauge wire for this purpose.
Tape: You will need floral tape to wrap around the wire and the stems of the flowers to make them look neat and tidy. Floral tape is self-adhesive and comes in different colors to match your flowers.
Ribbon: You will need ribbon to make a bow for the corsage and to cover the base of the corsage. You can use any type of ribbon that you like, such as satin, organza, lace, or burlap. The ribbon should be about 1/4″ to 1/2″ wide.
Accessories: You can add some extra flair to your corsage by adding some accessories such as pearls, rhinestones, beads, charms, pins, or buttons. You can use hot glue or wire to attach them to your corsage.
Here are the steps to make a DIY corsage:
1: Dress the Flowers
Cut the stems of the flowers to about 1 inch long using scissors or pruning shears.
Cut two 5-inch lengths of wire for each flower.
Push one wire through the base of each flower where the bloom meets the stem. Pull the wire halfway through so that it sticks out on both sides.
Poke another wire through the base of the flower at a 90-degree angle to the first wire so that they form an X shape.
Bend all the wires downward to create a new stem for the flower.
Wrap the wires with floral tape starting from the top and working your way down. Use one hand to spin the flower while you slowly release the tape with the other hand.
2: Make the Bow
Cut a piece of wire about 5 to 6 inches long and lay it on a flat surface.
Make a loop with the ribbon that is about 2/3 of the width of your corsage. Twist it at the base to secure it.
Make more loops with the ribbon until you have 4 to 6 loops in total. Each loop should have a twist at the base.
Hold all the loops together by pinching them at their midpoints. Place them on top of the wire at its midpoint.
Wrap both ends of the wire around the pinched loops to hold them together. Twist the ends of the wire to secure them.
Fluff the loops of the ribbon to make them look fuller and more symmetrical.
3: Assemble the Corsage
Arrange the flowers in a pleasing way by varying their heights and colors. You can also add some filler flowers or greenery around the main blooms.
Hold the flowers together at their bases and wrap them with floral tape to form a small bouquet.
Cut the wrapped stem to about 1.5 to 2 inches long using pruning shears.
Attach the bow to the base of the bouquet by wrapping the wire around the stem. You can also use hot glue to secure it if you prefer.
Wrap the ribbon around the stem of the bouquet to cover the wire and tape. You can also use hot glue to secure it if you prefer.
Add any accessories that you like to your corsage by gluing or wiring them to the flowers or the ribbon.
Attach a pin or a wristlet to your corsage depending on how you want to wear it. You can use hot glue or wire to attach them to the back of the corsage.
Your DIY corsage is ready to wear or gift! Enjoy your special occasion with your beautiful and personalized corsage.
1. DIY Wrist Corsage for Mother's Day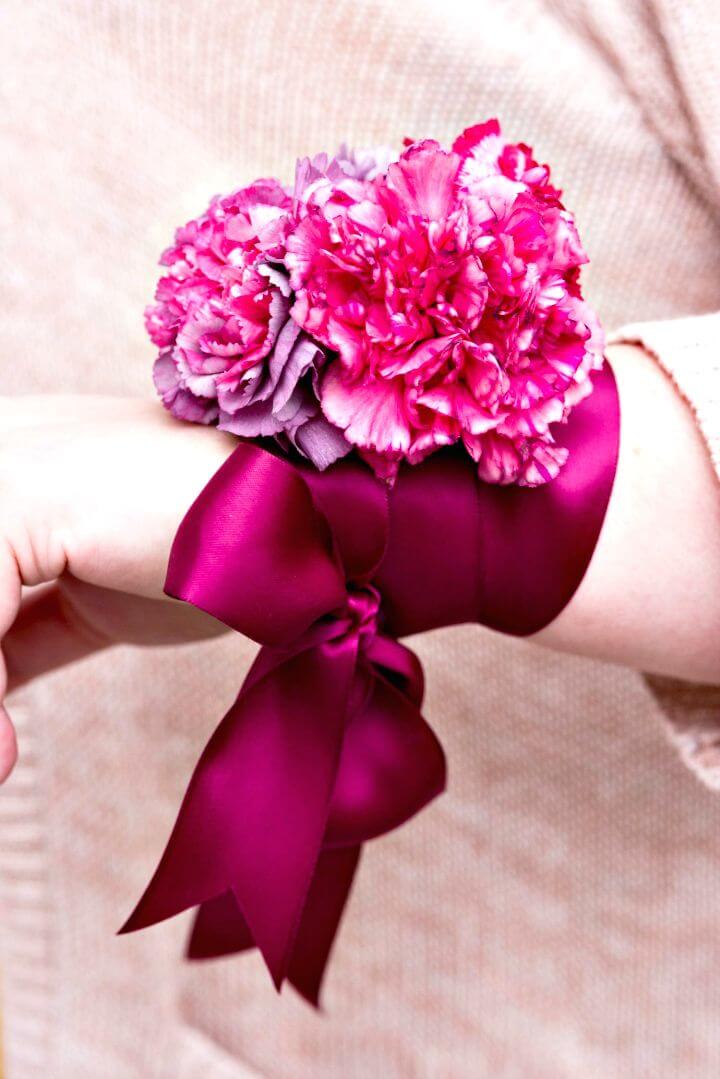 Dazzle your mom, spouse, or yourself this Mother's Day with a beautiful DIY wrist corsage. This simple tutorial requires only 4-5 medium-sized fresh flowers and supplies like 2″ double-faced satin ribbon, card stock/lightweight cardboard, and a hot glue gun. Create an inexpensive and easy homemade gift to show your love and creativity! Follow the steps for crafting these pretty wrist corsages that will make any special person feel cherished this holiday season. thesweetestoccasion
2. How to Make a Floral Wrist Corsage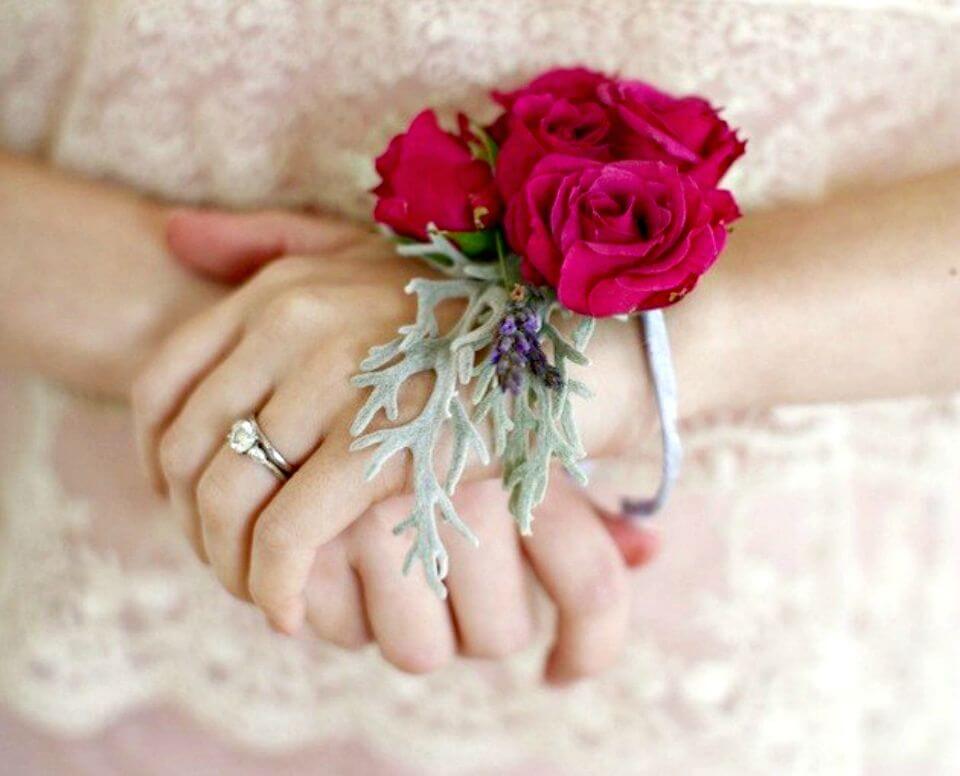 Craft a beautiful and versatile floral bracelet or wrist corsage with this DIY tutorial! Perfect for bridesmaids, flower girls, or proud moms at weddings, this cheap and chic alternative to a traditional bouquet is an adorable idea for younger members of the wedding party.
Gather your supplies, including aluminum floral wire (gauge 12), ribbon, spray roses, dusty miller, floral adhesive, two pieces of card stock, and a glue gun – then let your creativity bloom! With this easy-to-follow guide, you can craft stunning custom accessories to make any special event more memorable. bridalmusings
3. Beautiful Flower Wrist Corsage Tutorial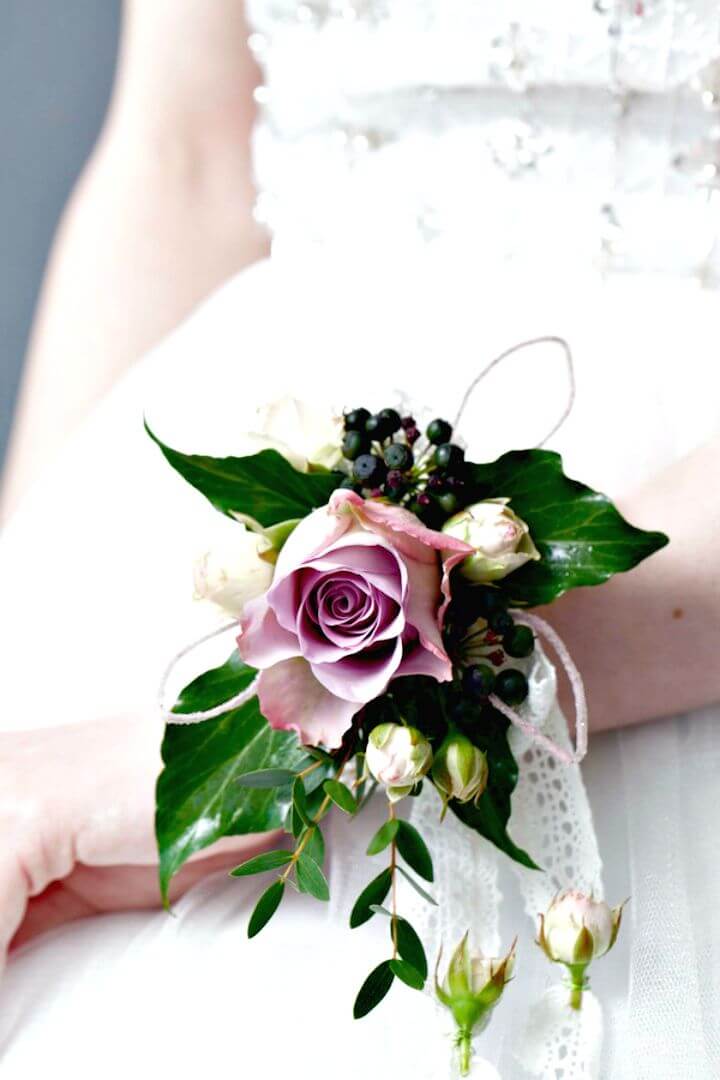 Delightfully craft a fashionable statement with this DIY flower wrist corsage tutorial. Achieve the perfect style to honor moms for weddings, bridesmaids, or special occasions. Stand out in an extraordinary alternative to the traditional handheld bouquet, and let your bridesmaids design their corsages to complement their outfits.
Gather lilac roses, pink spray roses, eucalyptus, ivy leaves, tree ivy berries, florist wires, green florist tape, expandable pearl bracelet vintage lace ribbon, and crystal-covered wire – all essential components of this stylish project! Embark on a journey of floral creativity today! thebijoubride
4. DIY Wrist Corsage for Homecoming Or Prom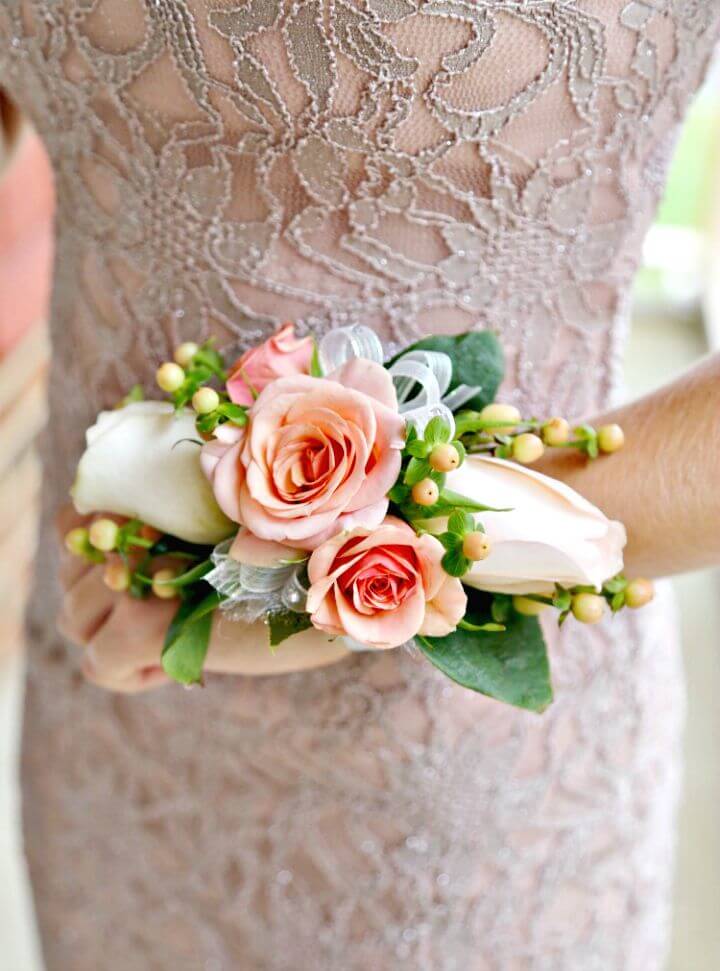 Bespokely craft your wrist corsage for homecoming or prom with the help of this simple tutorial. Gather velcro corsage wristlets, blush tea roses, blush spray roses, hypericum berries, ribbon, floral tape, and wire to create a beautiful accessory that fits any dress color perfectly. Save money by using bouquets from the grocery store – costing only $18 in total! Let your imagination run wild, and enjoy creating a stunning DIY wrist corsage from the comfort of your own home. sandandsisal
5. DIY Felt Flowers Wrist Corsage Tutorial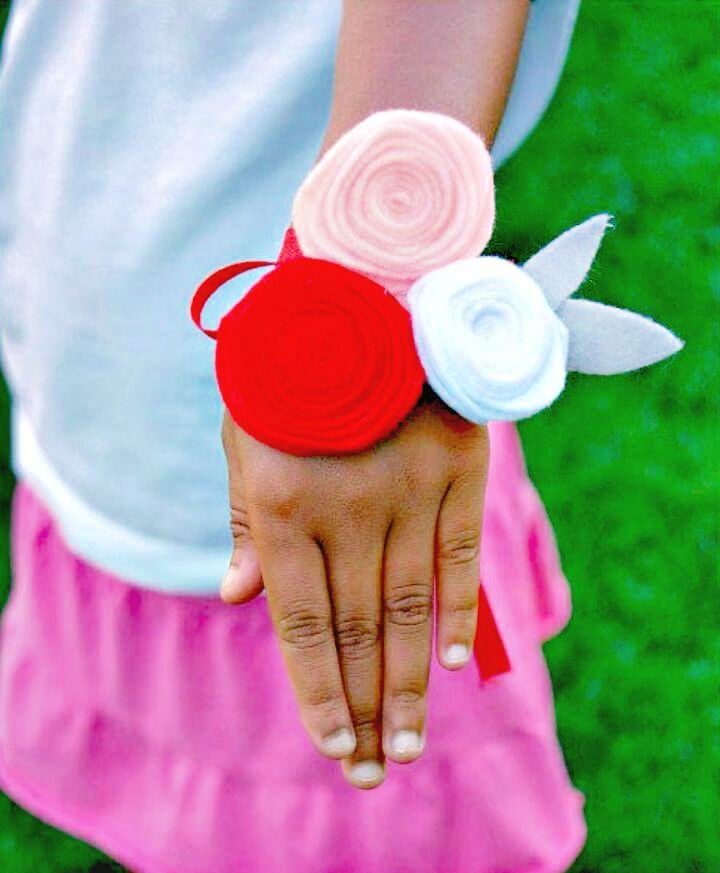 Captivatingly create beautiful felt flowers with this easy-to-follow DIY tutorial! You can make lovely corsages for any occasion with just a few simple supplies like felt, a hot glue gun, and ribbon. Follow the step-by-step instructions to craft your fabric flower masterpiece. Unleash your creativity and find joy in making these charming handmade accessories that delight any event or setting. livinglocurto
6. Make Your Own DIY Prom Corsage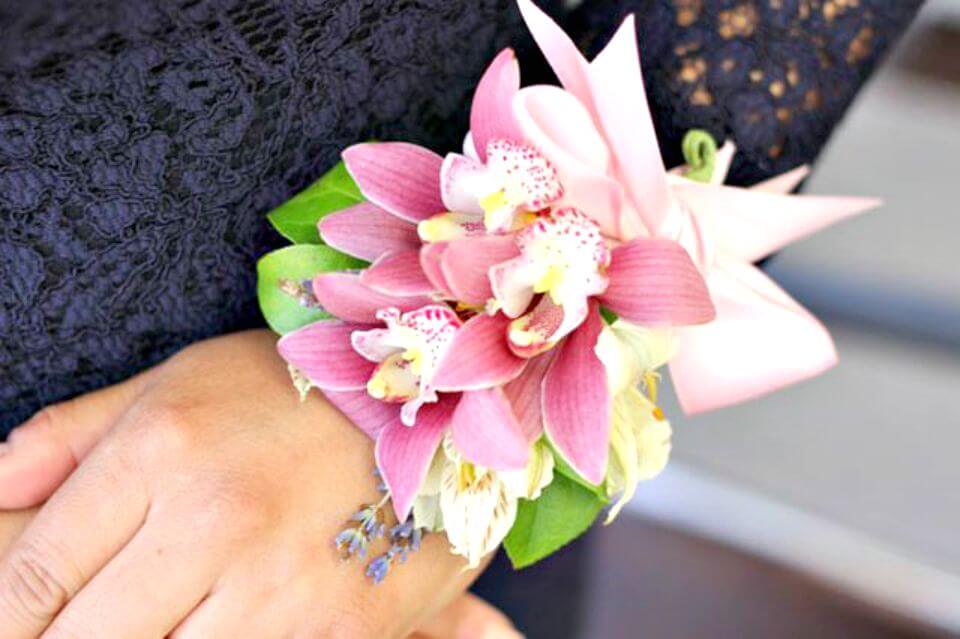 Create a stunning wrist corsage with this simple DIY prom corsage tutorial! Gather materials such as magnificent flowers, complementary foliage, floral wire, floral tape, ribbon (both wide and narrow width), elastic wristlet, and a hot glue gun.
For your corsage's main flower, consider sumptuous chrysanthemums, vibrant gerbera daisies, fragrant roses, or arresting orchids – select up to three buds for the best results. Add texture to your design by adding filler foliage but be mindful not to overdo it – you want it manageable! Perfect for proms, weddings, homecomings, and special events – get creative and make something beautiful today! ehow
7. Make Oasis Floral Wrist Corsage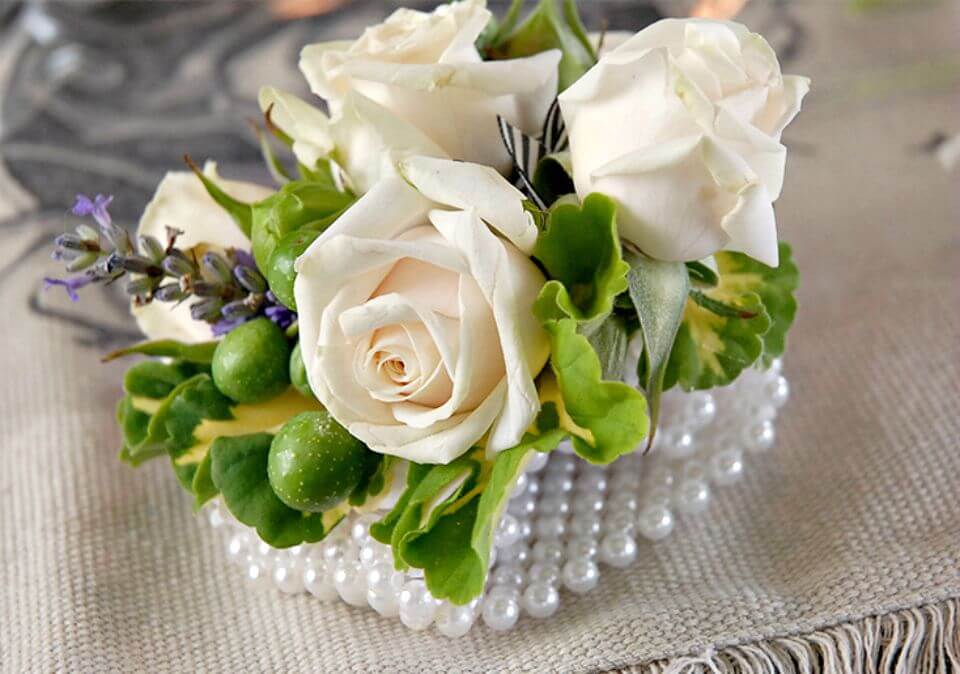 Marvelously craft your corsage with this DIY tutorial! Gather materials including 26 gauge wire, oasis floral adhesive, a cream-white pearl wristlet, floral tape, ribbon (7/8″ or 1″ width), and your choice of flowers and foliage. When selecting roses for the corsage, check firmness by gently squeezing the heads. You can also use freshly picked components from your garden but test their longevity first. Perfect for proms or weddings – follow these simple steps to make an eye-catching corsage that will surely have everyone in awe! ave on crafts
8. DIY Baby Roses Wrist Corsage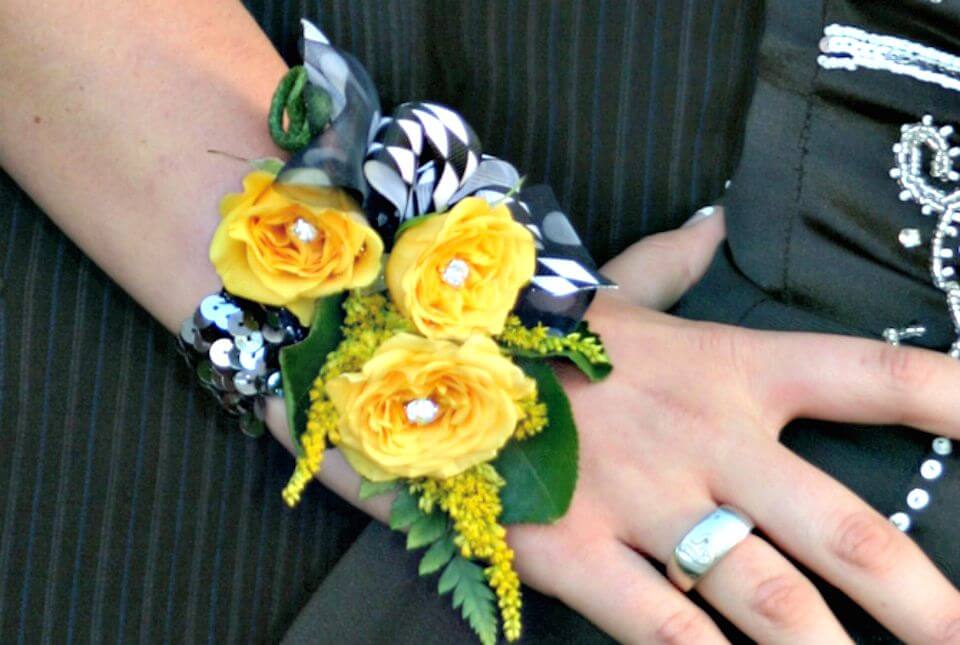 Beautiful looking prom corsages don't have to be expensive! Create an elegant and affordable wristlet with this DIY tutorial. Avoid the plastic coffin designs of the past and make a dainty floral piece instead. Start by cutting three baby roses, insert 10″ pieces of 22 gauge wire through each one, wrap them in floral tape, then add foliage and ribbon for a unique bow. Show up at your next special event with style and sophistication – forget about outdated corsages; you can make your own! meandjilly
9. Easy DIY Corsage – Step-by-Step Instructions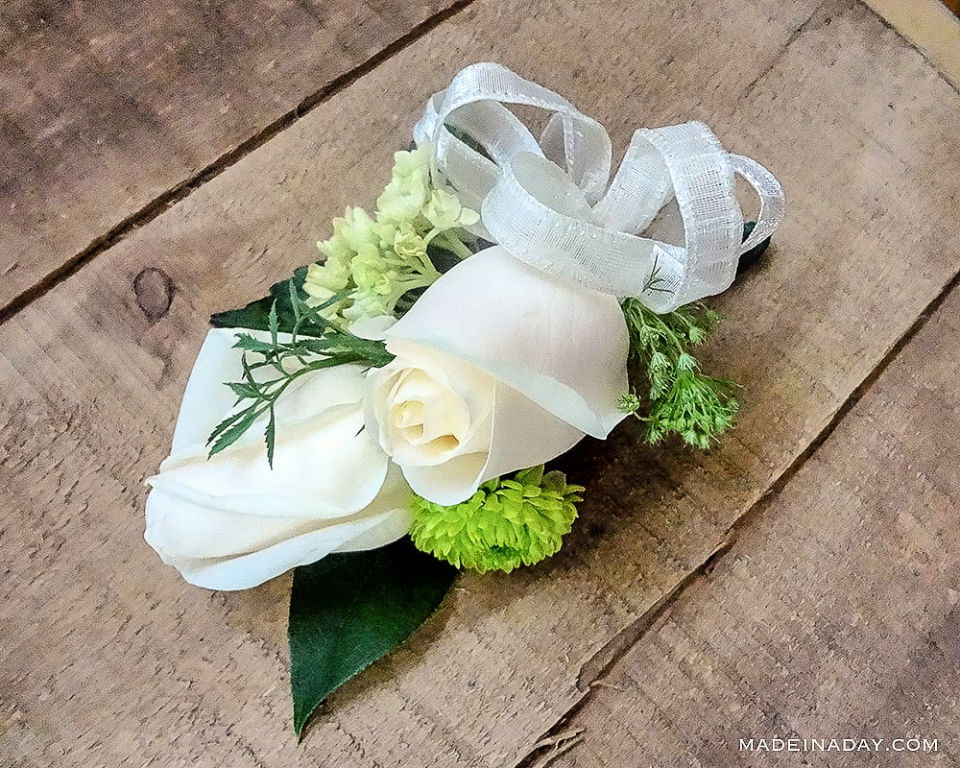 Enchanting and meaningful, take the time to craft a gorgeous corsage for your mom or grandmother this mother's day or any special occasion. Learn how easy it is with this DIY tutorial! Gather your supplies, including 2-3 fresh/silk flowers, greenery, floral tape, 22-24 gauge wire, ribbon & pins. Follow the step-by-step instructions, and you can create a beautiful corsage showing mom how much you care about her. Let this DIY project become an enduring tradition that will bring joy each year. madeinaday
10. Making a Galentine's Felt Corsage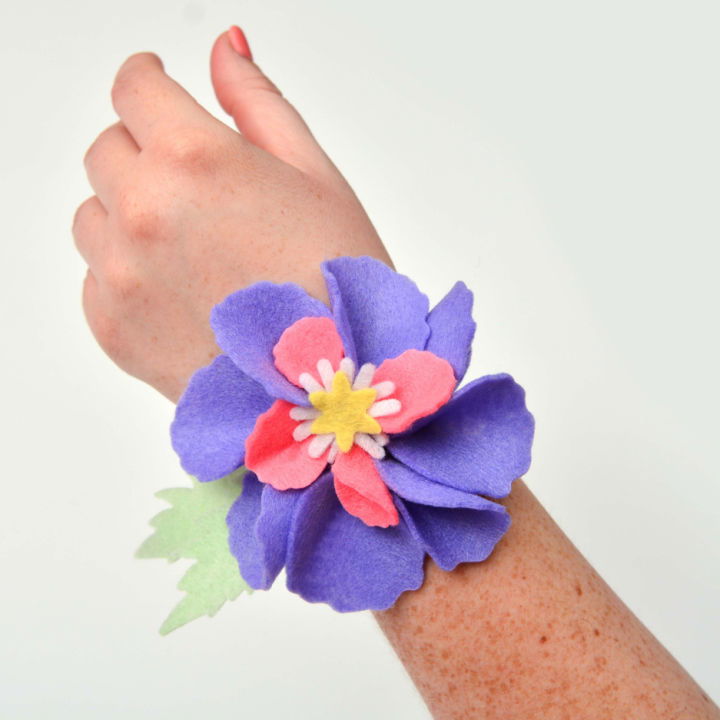 This stylishly handmade felt corsage will elevate your galentine's day festivities! Gather your crafting supplies, including a sizzix big shot machine, bigz poppy die, glue gun and accessories, felt sheets, white elastic band, and hook-and-loop oval. With this DIY tutorial, you can expertly cut and assemble the fabric flowers to create an exquisite accessory for gifting your special friends on the friendship holiday. Show them how much you cherish their presence with this lovely gesture – perfect for embracing the joyous spirit of galentine's day! sizzix
11. Handmade Silk Flower and Ribbon Wrist Corsage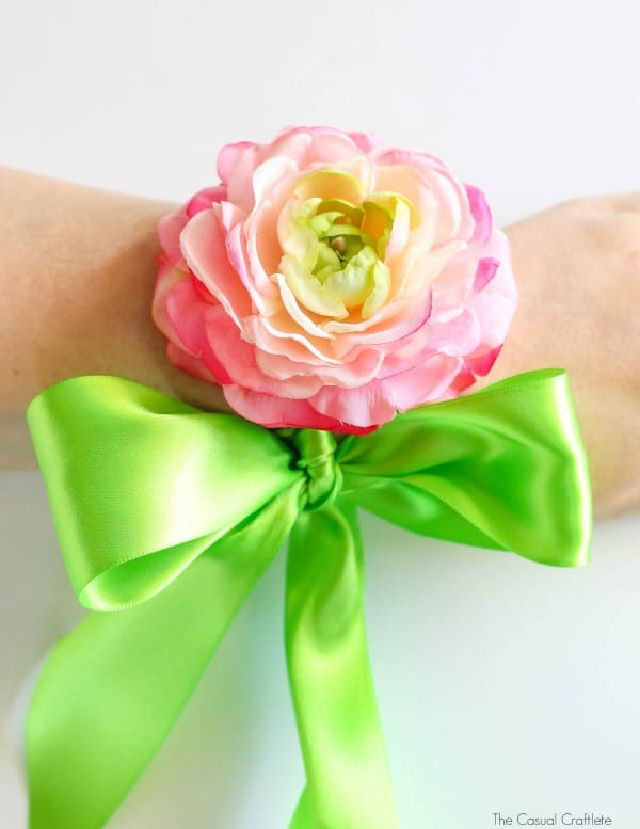 Gorgeously craft your own DIY floral wrist corsage with silk flowers and satin ribbon! This tutorial is perfect for mother's day, proms, graduations, and weddings. To make the wrist corsage, you will need a large floral bloom, apple green polyester satin ribbon, a hot glue gun, and wire cutters to trim the floral stem.
Also, gather a large sewing needle along with green yarn to secure the ends of the ribbon in place as well as a lighter to finish off the design. Read on for step-by-step instructions that will give you an exquisite piece of wearable art that can be cherished for years! purelykatie
12. Make Your Own Bride Corsage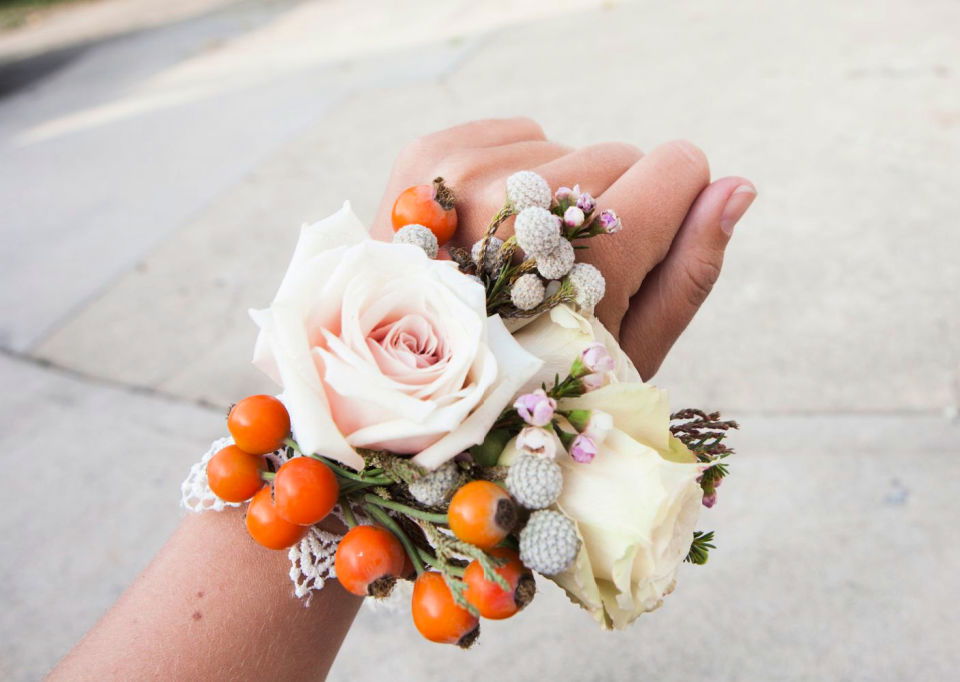 Astonish the mother of the bride with a handmade corsage on your wedding day! Crafting an exquisite bouquet is simpler than you think and requires just roses, berries, filler flowers, lace edging, floral tape, and corsage stems. Or, if you prefer something simpler, try baby's breath or wildflowers instead. You can create something special in no time by following this step-by-step instruction for making a beautiful corsage that will leave her feeling extra special at your big event. rusticweddingchic
13. Simple DIY Paper Flower Corsage for Prom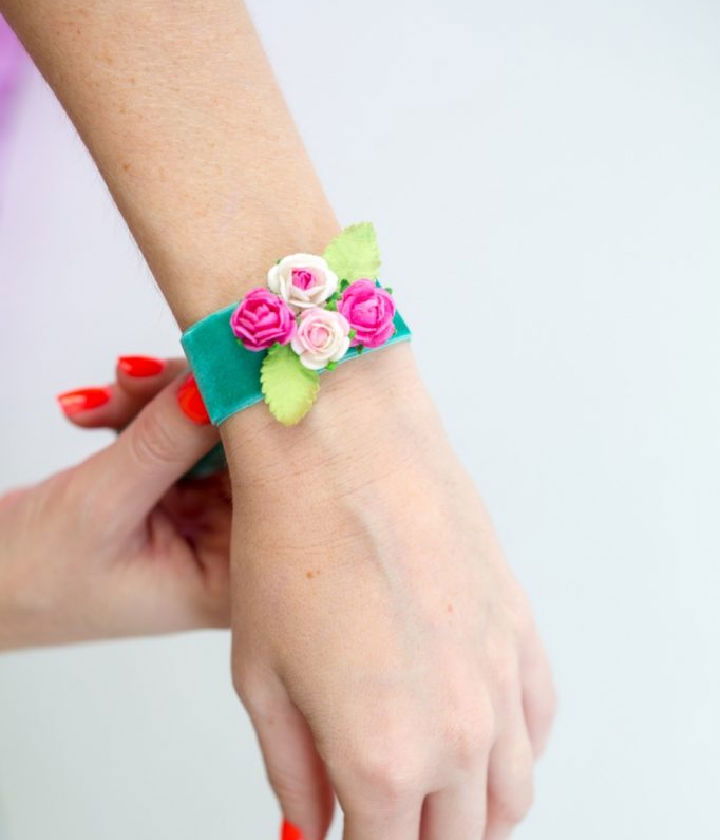 Elevate your style with this vibrant DIY paper flower corsage! Perfect for prom or any occasion, this colorful corsage is a charming accessory that can be worn with jeans, a white t-shirt, or even in your hair.
With just a few supplies like velvet ribbon, paper flowers, paper leaves, and a hot glue gun, you can create a unique and eye-catching corsage. Get creative and customize the design to your liking, adding as many flowers as you desire. Follow the simple instructions to assemble the corsage and achieve a professional finish. Make a fashion statement with this prom perfect DIY paper flower corsage and be ready to turn heads! popshopamerica
14. Homemade Prom Wrist Corsage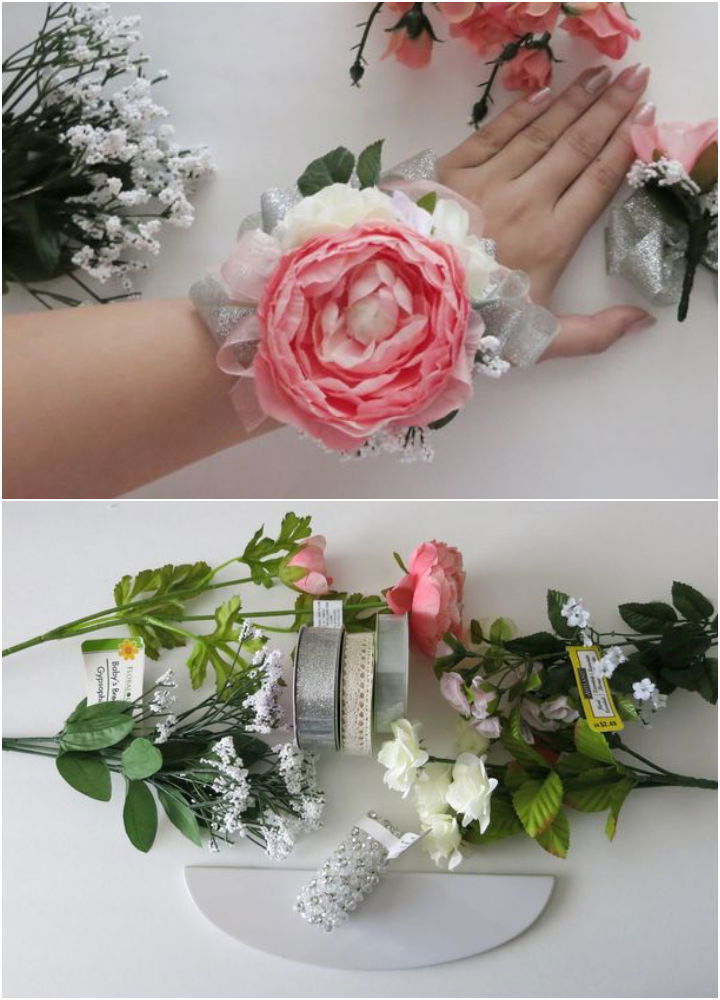 Glittering with creativity, craft your own mesmerizing prom wrist corsage and boutonnière! Follow this helpful tutorial to customize the color scheme and flower choices. Choose from roses, orchids, hydrangeas, lilies, or peonies as the main flower – adding smaller flowers or neutrally colored blooms for filler. Accentuate it further with leaves, baby's breath, or succulents for a unique touch. Gather hard plastic, felt pieces, silk flowers, glitter ribbon, and sheer ribbon; then finish with a wide-band bracelet held together by hot glue. Unleash your inner artist today! vibrantvantage
15. DIY Corsage With Faux Flowers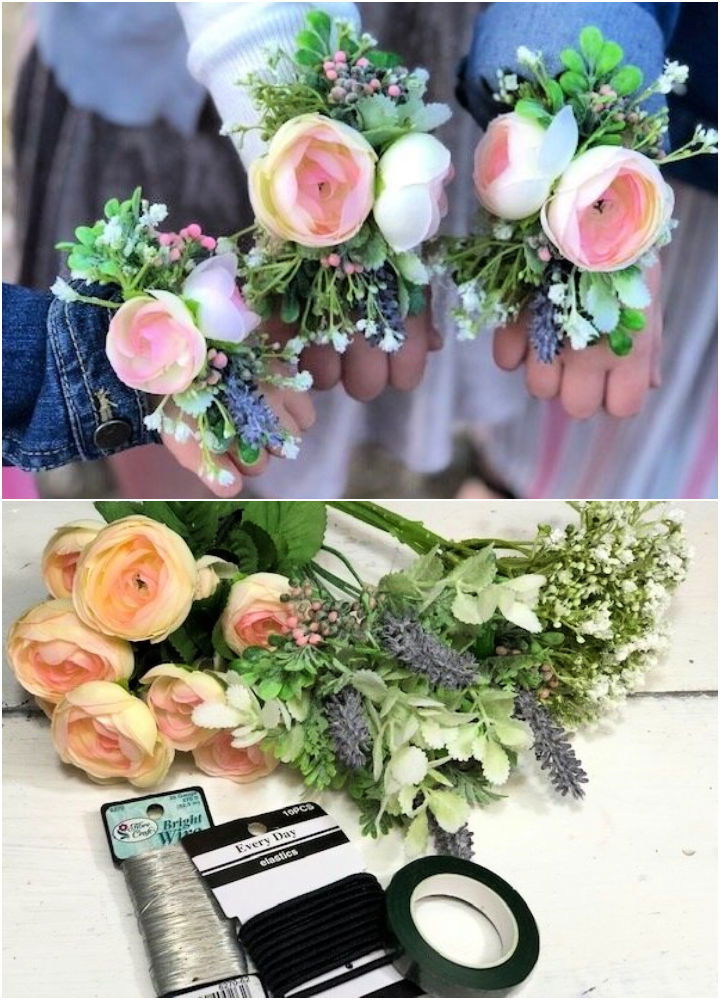 Stylishly craft your very own wrist corsage using faux flowers! This creative and economic project allows you to save money while adorning yourself with a beautiful, personalized accessory. You only need inexpensive materials such as faux roses, baby's breath, spring flowers, green floral tape, a hair tie, hot glue sticks, and felt. Follow the step-by-step instructions for creating the perfect DIY faux corsage that is sure to garner attention. Get ready to rock an eye-catching piece of jewelry all your own! meganplusfive
16. DIY Ribbon Wrist Corsage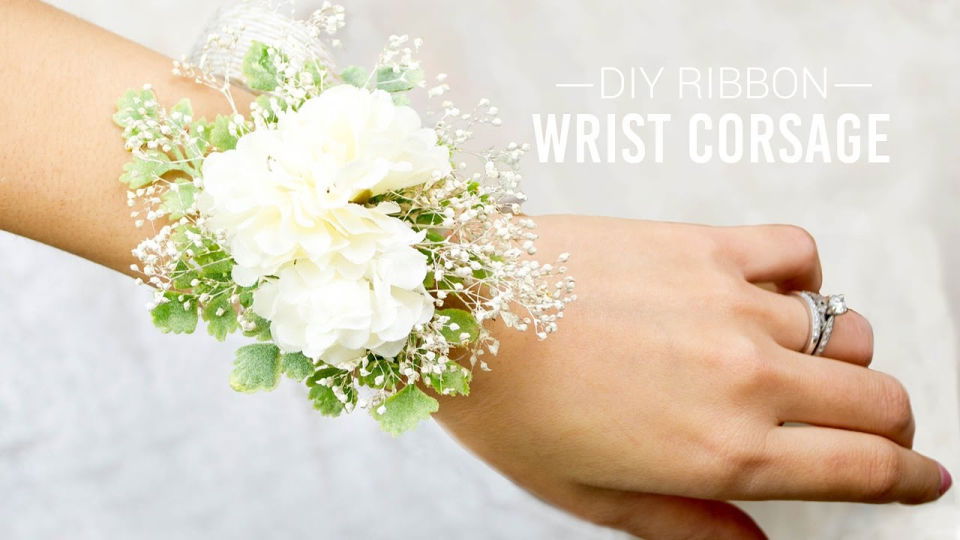 Indulge in an inexpensive and rustic-inspired corsage for your special day! This charming accessory is easy with simple materials, such as stiffened felt, floral tape, dried baby's breath, leafy greens, white flowers, and jute ribbon. Follow the straightforward steps to make a personalized corsage that will be sure to complement your rustic theme. Save money on expensive wrist bracelets and opt for this budget-friendly alternative – it adds an elegant yet handmade touch to any event!
17. How to Make a Corsage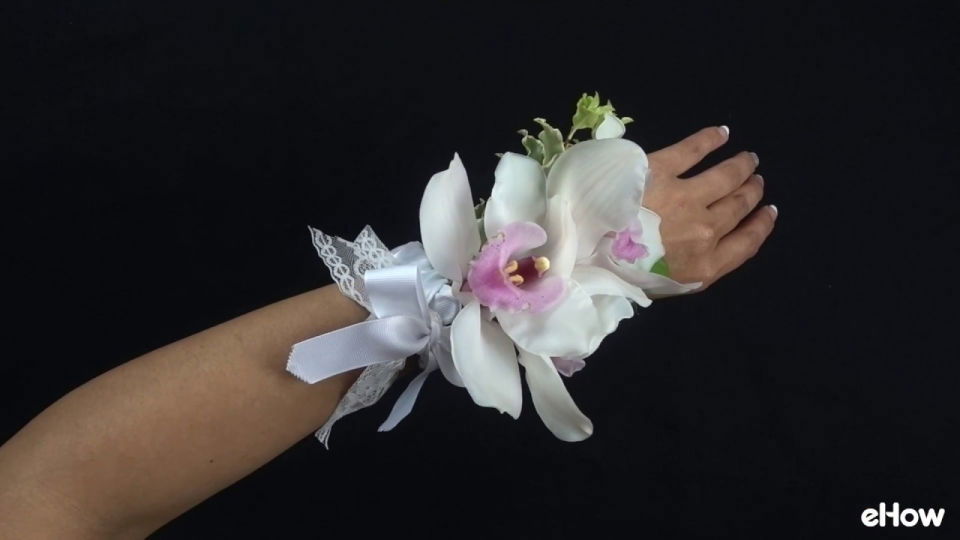 Awe-inspiring and breathtaking, this video tutorial provides an easy guide to creating a stunning corsage. This DIY wrist corsage is perfect for proms, weddings, or any formal occasion, making it a great, cost-effective, personalized gift. Follow along step-by-step as you craft your beautiful accessory that will surely make a striking statement! Surprise your mom on mother's day with this heartfelt homemade creation – she'll love it!
18. DIY Paper Flower Corsage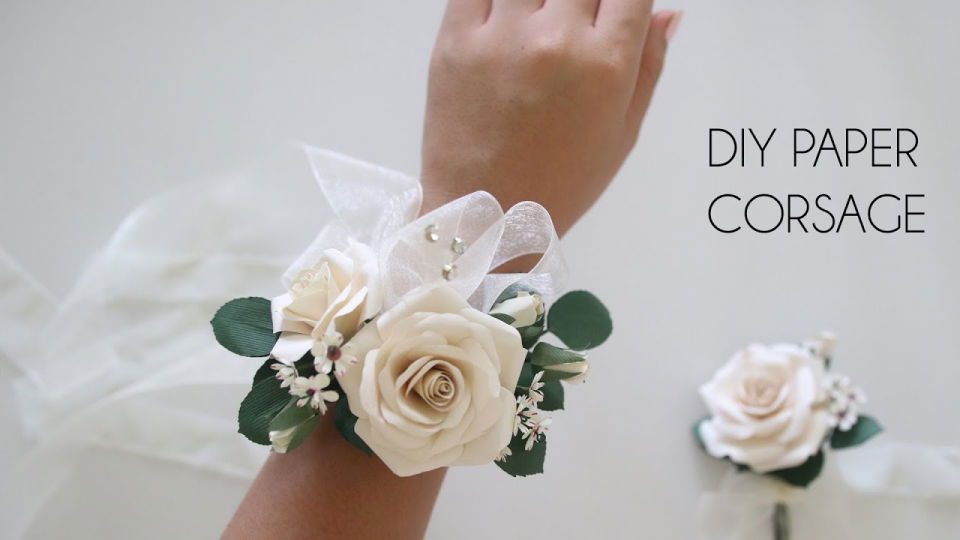 Fabulously craft a stunning paper flower corsage with this step-by-step video tutorial! Perfect for homecoming, prom, or bridal parties, this DIY craft will make you stand out from the crowd. Gather your materials – including paper flowers, green floral wire, floral tape, ribbon, and elastic – to create an affordable and unique accessory that expresses your creativity. Follow the simple instructions in the video to assemble a beautiful corsage that will impress everyone! Save money while looking fabulous with this customizable corsage.
19. Make a Ladies Freesia Corsage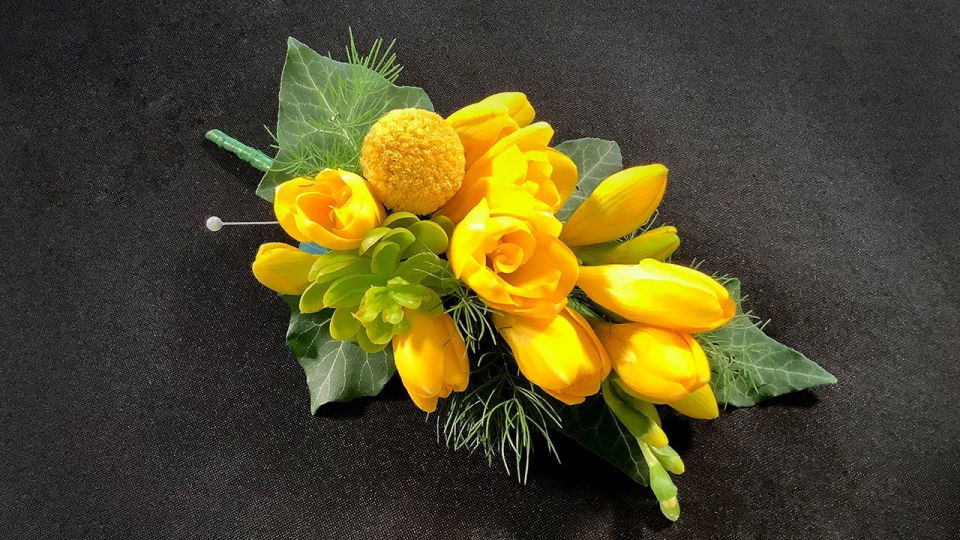 This video tutorial teaches how to construct a delightful ladies' freesia corsage. Gather your necessary supplies, including double freesia, ivy leaves, craspedia flower, faux succulent, wires (0.26 rose wire), pearl-headed pin, and parafilm tape for the assembly process. From wiring the foliage together to arranging each of the delicate freesia flowers with care and precision — you'll acquire valuable techniques that will help you create a traditionally elegant corsage worthy of any special occasion or celebration such as weddings, proms, or galas!
20. Quick and Simple Elastic Wrist Corsage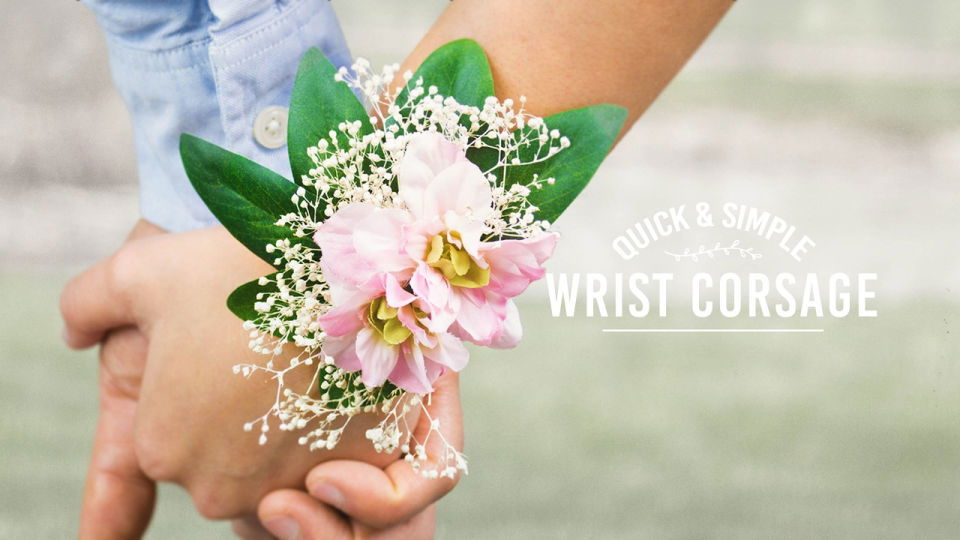 Elegant and economical, this DIY elastic wrist corsage is the perfect way to adorn your special day. You can easily assemble this budget-friendly alternative that doesn't sacrifice style with just a few materials like stiffened felt, floral tape, dried baby's breath, leafy greens, pink flowers, and a hair tie. No need for expensive bracelets when this modern corsage will make any event feel extra luxurious – without breaking the budget!
Related DIY Projects
Conclusion: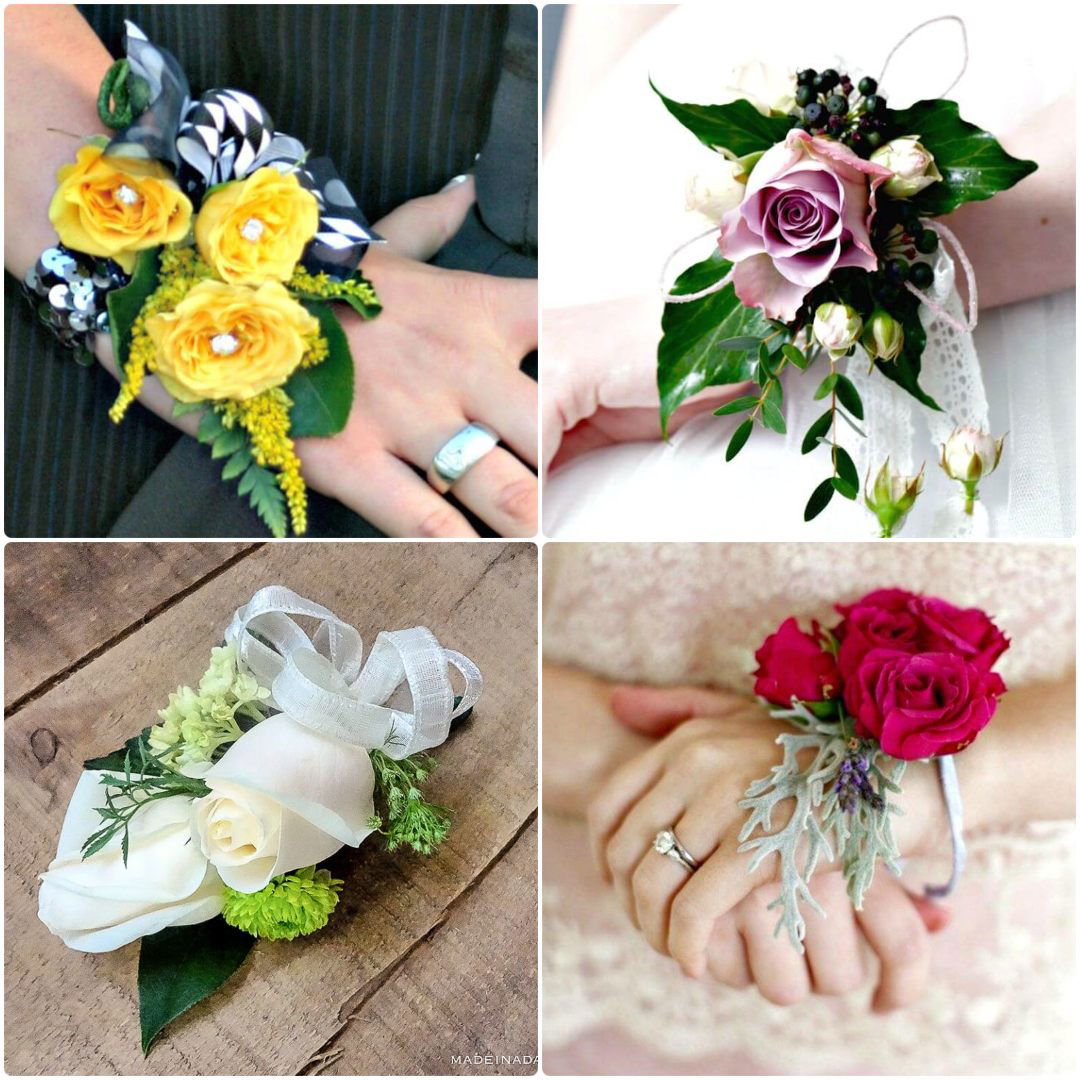 In conclusion, DIY corsages offer a creative, personal touch for special occasions such as proms, weddings, and Mother's Day. With a variety of techniques available, such as making wrist corsages with real or faux flowers, ribbon, or felt, individuals can craft unique, customized designs. Learning how to make a corsage step by step ensures that all skill levels can participate, creating beautiful, homemade corsages to complement any event. So why wait? Start exploring DIY corsage ideas today and make your own memorable accessory.