Have you ever heard about easy DIY Bean bags, and how can we use them in our day-to-day activities? If not, this is the place to be as we are sure you need these DIY bean bags at some point in your life. DIY bean bags are an entertaining, easy, and kid-friendly sewing project. Follow these 20 easy DIY bean bags instructions to learn how to make a bean bag. . Whether you are planning a party, a game night, a kid's birthday party, a sleepover, or a picnic, DIY bean bags serve as one of the best activities. We can use them as placement mats, paperweights, corn hole board games, juggling, and bean bag toss game. They are even therapeutic and satisfying for anxiety.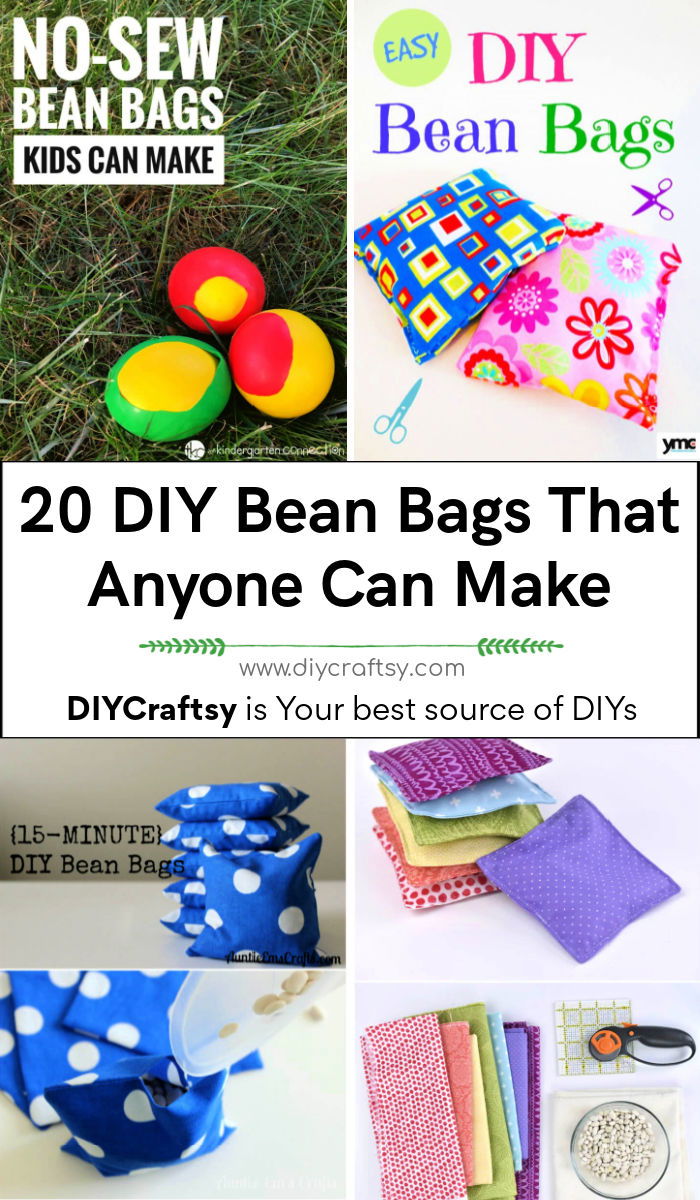 We all have that one friend or a family member who is always planning some party or a get-together or some social gig. Because of such people, you have to constantly catch up with all the events too. Well, we have got you covered as many of the activities and games require bean bags, and we will guide you to make easy DIY bean bags. If you know how important and creative bean bags are, then this is the right time for you to learn some skills of how to make them! Using different materials, colors, sizes, textures, and fabrics. Hop on and let us go on this ride full of creative ideas for making bean bags.
1. DIY No-Sew Bean Bags for Kids

Aren't we always running out of playtime ideas for kids? Well, No-sew bean bags are a perfect play idea to occupy kids for a long time. It is super easy and fun to make. It can be arranged in a field day trip or a birthday activity. All one needs is balloons, beans, scissors, funnel, and a spoon. thekindergarten
2. Make No-Sew Bean Bags
Planning a game night and do not know what to play? Making No-sew bags and then aiming the pots using them is an inexpensive and creative option. Provide every team with zip lock bags, beans, scissors, and some cloth. Time the bean bag making or set up aiming in a pot competition. allfortheboys
3. 15-Minute Bean Bags
We all have days when we want to play something different. Board games using bean bags are trending these days. The only thing required is to buy those board games and make some bean bags at home. They are straightforward and only take 15 minutes to make. auntieemscrafts
4. How to Make Bean Bag
The perfect way of using the cloth scraps at home is by making bean bags. They are a staple product of a house with kids. We all know how useful these DIY bean bags are for different kids learning activities. All you need is cloth scrape and some beans. happybrownhouse
5. Pretty DIY Animal Bean Bags
What is something unique that can be done with a bean bag? Decide a theme and design the bean bags accordingly. Arrange cloth pieces in different colors and use those colors to make some animals. Like green cloth to make a parrot and use buttons or pop up eyes to accessorize the bean bags. mothernatured
6. DIY No-Sew Bean Bags
Sensory play is the best way to make our kids experience the world. DIY bean bags serve the best sensory play accessory. We can make these by even using a glue gun instead of sewing it together. Isn't it amazing? mamaot
7. Easy DIY Cornhole Beanbags
Summertime calls for some outdoor game ideas and Cornhole board game using bean bags are an affordable yet relaxing experience. The good news is we can make the bean bags ourselves in no time. It does not sound difficult as it might seem. These are extremely easy and can be made using cloth scrape and beans. spoonflower
8. Make Your Own Bean Bags
Isn't it always fun to make our kids learn new things? Yes, it is always good to teach them an extra skill. Making easy DIY bean bags can serve as a first step in helping them learn sewing. All you need is random readily available cloth at home and some beans or lentils. thesprucecrafts
9. How to Sew Bean Bag
Ready-made bean bags are too expensive; hence it is a better option to make easy DIY bean bags. Using already available home items like cloth scrape and some beans or lentils. Why spend an immense amount of money on a thing which can be made in a few dollars? thekimsixfix
10. DIY Corn Hole Bean Bags
If corn holes can be made at home, why cannot we make bean bags on our own? These are the most straightforward sewing project, good for any outdoor or indoor game night and even for kid's playdates. Grab some cloth and start sewing. theblissfulbee
11. Quick and Easy DIY No Sew Bean Bags
Do you have some pretty floral print cut pieces which you are not sure how to use? We have a solution. Make some easy DIY bean bags in no time. These can be used as placement mats and even as small cushioning in different areas. Stitch them or make some no-sew ones. They all look just the same, captivating! thermoweb
12. Bean Bag Apple in 15 Minutes
Do you want to make some cute fruit and vegetable placemats for the kitchen? We have got you covered. Make some fruit shaped bean bags, and you are good to go. You can also gift these to a school for teaching purposes. Isn't it a great idea? makelifelovely
13. DIY No-Sew Bean Bags
We have a fantastic idea for those who have a missing sock, unused socks, or even old socks. We can now make bean bags using socks as well. All one needs is an inner knot and then an outer knot after filling them with beans or lentils. niftymom
14. Bean Bag – Sew Pattern
A proper sew pattern bean bag is always a desired upholstery item. What is better than itself on your own. We assure you it is going to be a bang. These can be made in different sizes, texture, colors, all depending on your requirements and budget. Isn't it amazing? sewguide
15. Easy to Make Bean Bags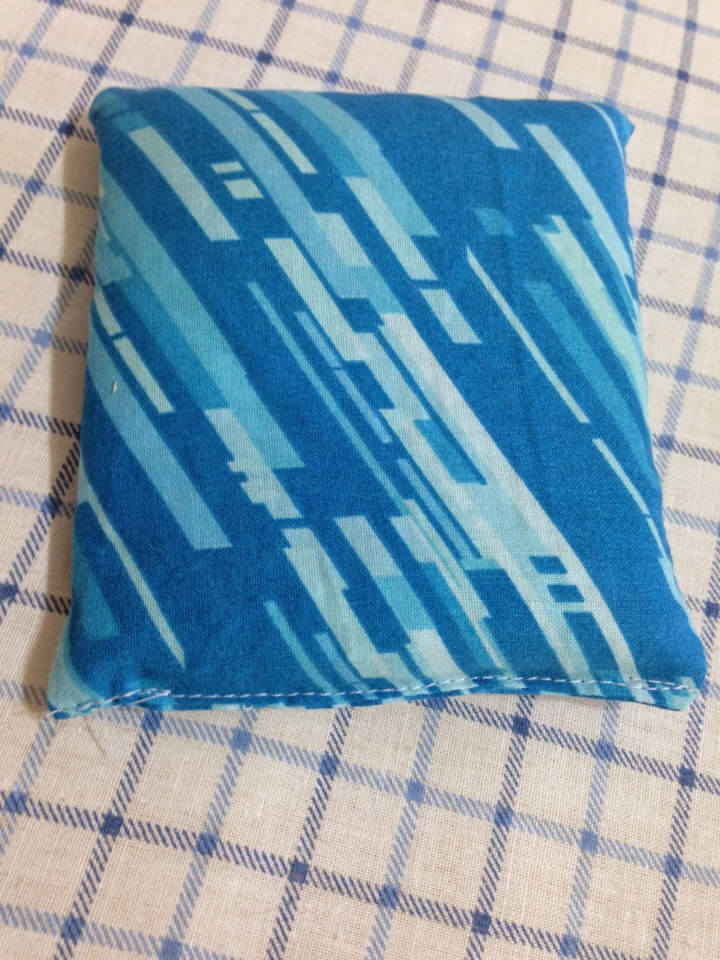 If your grandchildren are visiting you or coming for a sleepover, bean bags-based games are a must on your list. We know you want to spend quality time with them with some easy hassle-free and mess-free games? Hold your thoughts because we got you covered. There is no need to buy them, make some yourselves instead. homecraftsbyali
16. Pretty DIY Bean Bags

Are you confused about pretty printed cloth scrapes being wasted in your cupboard? Take them out right now because we have an easy DIY bean bag project idea that would require all those adorable prints you have been saving all these years. Lovely, isn't it? yummymummy
17. Juggling Bean Bags

We all know how much fun is juggling. Helping kids learn juggling using soft and harmless DIY bean bags is yet another great idea. There are innumerable activities one can do with a bean bag. All one needs is to learn how to make them at home with few readily available items. things to make
18. How to Make Marvelous Beanbags

Are you a Marvel fan as well? We know everyone loves a Marvel series, and it sort of makes it compulsory to even make customized marvelous bean bags! Because who would not love them? Simply cut the cloth pieces in those colors and stitch them or glue them together and kudos; you have a marvelous bean bag. geeknots
19. Make Small Bean Bags
Who needs a fidget spinner when one has a small bean bag? Beans bags are not only therapeutic but can also serve multiple purposes, whether it is some game, juggling, paperweights, or spot markers in a game. We all need them no matter what, hence it is a great option to make easy DIY bean bags instead of spending money on buying them. sewyoustudio
Conclusion:
The bag is not a luxury anymore! It is a necessity. No one can carry their phone, wallet, charger, and goggles in hand. Everyone needs a bag for these belongings. These tutorials for DIY bean bags will tempt you to make bags of your own. You won't have to wander to shop for bags in the market. You can make them at home, without any fancy equipment and according to your choice. Ooze all your creativity out and make these fancy yet simple bags at home. You will fall in love with your creativity all over again. Do not waste time and get ready to gather a ton of appreciation by making these DIY bean bags. At home!!