Yes, you can crochet for a wedding too. From amazing outfits to lovely wedding gifts to wedding decor, you'll get all these 20 free crochet wedding patterns with step by step instructions and a PDF to download. These crochet wedding patterns will argue that crocheting is for all seasons and incorporated into any life event like part or ceremony.
Get your wedding interesting with cool yarn additions ranging from unique wedding favors to glam reception decor to amazing bridal gifts. As you are crocheting everything with your hand, these free crochet wedding patterns will also be a way to bring a personal touch to your entire wedding ceremony. In short, these crochet wedding ideas will help you crochet in all wedding categories.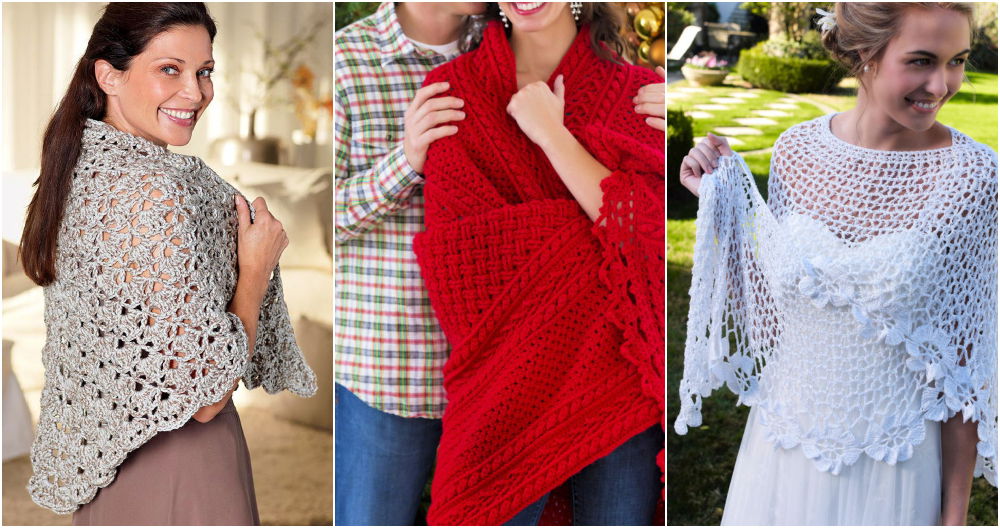 Free Crochet Wedding Patterns
Everything you will crochet for the wedding day will be long-lasting, especially the crochet flowers will be a durable part of your wedding decorations, and they will not wilt. At the same time, for the bridal dressing, crochet outstanding bridal shawls with matching bridal garters.
Please have a bridal with the yarn flower bouquet; you will crochet with your hands. Spending a few minutes with your hook to crochet flower bows will be the cutest wedding gift in big crochet wedding patterns, crochet wedding quilts, and gorgeous crochet wedding dresses. Browse all the Crochet Wedding Patterns to check more interesting stuff to crochet for a wedding.
1. Crochet Flowing Bridal Shawl – Wedding Shawl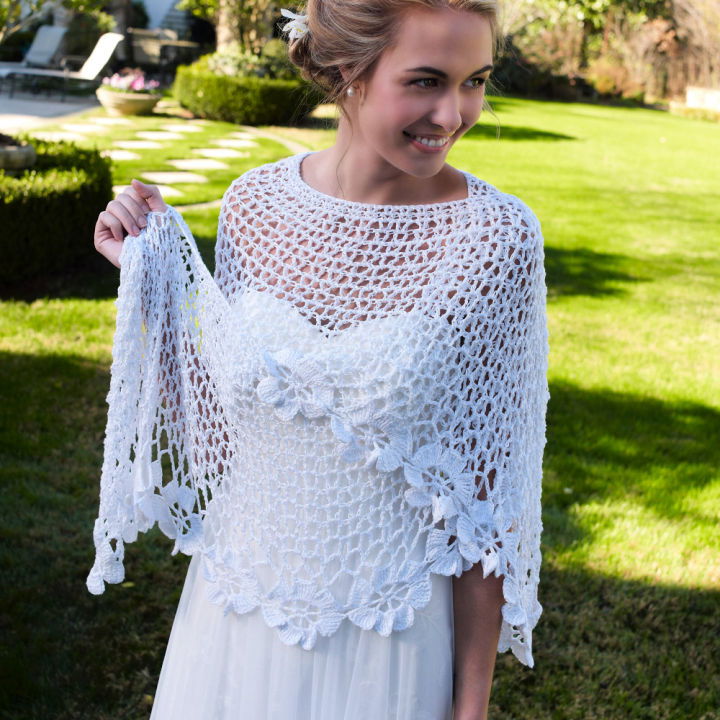 The brides can look so beautiful and gorgeous while wearing this pretty crochet bridal shawl. Also, it can save the bride from the chill in the weather. So get the pattern of this graceful bridal shawl right here, and even the non-brides can make it too. yarnspirations
2. Free Crochet Bridal Garter Pattern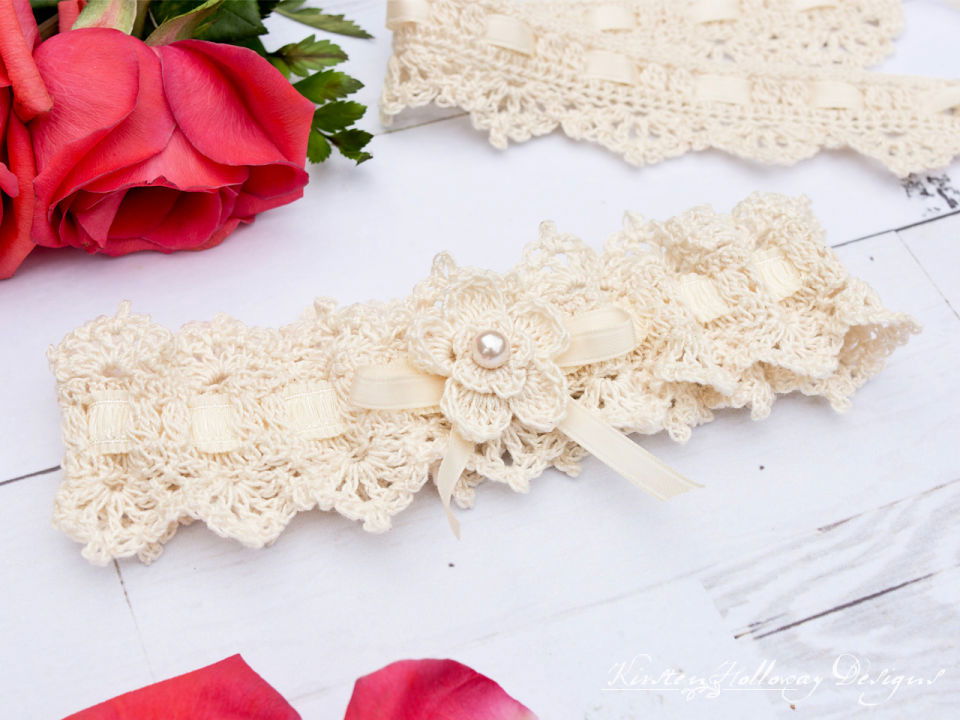 Garters are part of a bridal's attire for her wedding day, and it's really special, so making it with hands would be just perfect. So here is the idea of crocheting a bridal garter for your bride and giving the best wedding gift ever. An easy, quick, and free pattern is lying here! kirstenhollow
3. Red Heart Wedding Ring Quilt Crochet Pattern

Handmade things are always best to use as the wedding gift and gifts should be the most precious of all. So crochet up this adorable wedding ring quilt and create a memorable and love poured gift for the newly married couple. The free, easy, and fun pattern of this wedding ring quilt is here! yarnspirations
4. Crochet Bridal Flowers – Wedding Bouquet

If you crochet the bridal flowers, they will never wither or die and always be there for you to cherish your big day whenever you want. Using the cotton yarn, this lovely bunch of wedding flowers has been easily created, and here is the free for you to make one too. cre8tioncrochet
5. Beautiful Crochet Bridal Nosegay – Free Pattern

These adorable crochet bridal nosegay flowers in pretty pink colors are just to die for. The flowers are super easy and fun to crochet and turn into this exquisite bridal nosegay that you can use as the bride's perfect gift. A free pattern is waiting here for you! yarnspirations
6. Free Crochet Retro Wedding Dress Pattern

Look gorgeous and stylish at a wedding with this exquisite piece of the crochet retro wedding dress. The wedding dress's breezy pattern would not make it too hot, so you will feel much comfortable in this dress and enjoy the wedding. Catch the pattern here and start crocheting so that you can finish it before the wedding! ravelry
7. Free Crochet Amigurumi Bride and Groom Pattern

This cute crochet pair of the amigurumi bride and groom would make many fun contributions for a wedding. They can either be used for the lovely wedding table decor, or you can use it as a pretty handmade gift for the couple. Free pattern and details here! youtube
8. Little Bird Amigurumi Crochet Tutorial

These cutest crochet amigurumi birds are just the prettiest thing you can make and use as the wedding decor on the tables. One crochet bird has been dressed up as the bride and the other as the groom, and thus they can make an adorable gift for the newly married couple. Grab the free pattern with details here! crochetville
9. Crochet Doll Wedding Dress

Are you ready to tackle your first garment project? Work up this lovely crochet doll dress that comes with lots of intricate design details and impresses with the fabulous lacey look. Work in the shell, shell in shell, shell V-stitch, dc2tog, and dc3tog stitches to complete this doll wedding dress. Must crochet it with a matching headband and bouquet. yarnspirations
Yarn: Aunt Lydia's Classic Crochet Thread Size 10 in White
Hook: 1.6mm
Size: Fits to an 18″ Tall Doll, Neck to Lower Edge Measures 13″ and Underskirt Measures 9.5″
Gauge: (Dc, ch2) 14 times = 4″, 16 rows dc = 4″
Skill Level: Experienced
Other Supplies: 4mm White Pearl Beads, White Tulle Fabric
10. Crochet Wedding Dress for American Girl Dolls

Learn here how to crochet the best wedding dress for an American doll like a pro. The design appears in white, and you can fancy it up more with the amazing ribbon and beadwork. Work in the rows and rounds while working in the special V-stitch to whip up this gorgeous crochet doll wedding dress. Choose the sport weight yarn in white to complete this dress. bellabambina
Yarn: Red Heart Baby Econo in White – Sport Weight Crochet Yarn
Hook: Coordinating Hook Size
Size: Fits to An American Doll
Gauge: Not Critical
Skill Level: Advanced Beginner – Intermediate
Special Stitch: V-Stitch
11. Crochet Pinwheel Wedding Dress

If you are a master crocheters, you can easily crochet your fashion garments, including unique and adorable wedding dresses too. Grab here the free pattern to work up a gorgeous red sleeveless wedding dress. Crochet this dress for an about-to-be married friend. You can wear it at your wedding also. The projects involve lots of skills to work up this pattern like picot stitch, working in rounds, irregular crochet net and rows, etc. irarott
Yarn: Super Fine Metallic Kids Mohair Yarn in Red Color
Hook: 2.75mm (US Size 1)
Size: The Size will Fit XS/S or Size 2/4 in the USA and Canada
Gauge: not important
Skill Level: Experienced
Special Skills and Stitches: Picot, Irregular Crochet Net, Working in Rounds, Increasing, Decreasing, Working with Sewing and All Beginner Crochet Stitches
Other Materials: Satin Fabric and Notion, Glass Seed Beads
12. Crochet Pineapple Mermaid Wedding Dress

Wishing to crochet a maxi mermaid dress for your wedding. Then look no further and crochet this outstanding crochet pineapple mermaid dress that is insanely cute and beautiful. The dress is lacey and will make an impressive handmade gift. Crochet any lightweight or DK yarn to work up this dress. It will impress with the fine pattern details. Prefer any small or medium size of it to crochet. beacrafter
Yarn: Light Weight/DK Yarn: Nacre Silk
Hook: 3.5mm
Size: Small/Medium with Chest Size 30 to 34
Gauge: 9 double crochet stitches x 4 rows = Approx 2″
Skill Level: Experienced
Special Stitch: V-stitch, 2dc-V stitch
13. Crochet Snow Flower Wedding Gown

Win the heart of a doll-loving girl by crocheting a sweet wedding costume for her lovely doll. Crochet the fingering weight yarn in white with a matching hook to whip up this white wedding dress, impresses with lots of intricate details. 400 yarn will be enough to work up this snow flower wedding gown, making a remarkable handmade gift. ravelry
Yarn: Patons North America Beehive Baby Fingering Weight Yarn
Hook: 3mm
Size: Fits to a Small Doll
Gauge: not critical
Skill Level: Experienced
Other Supplies: 4mm wide ribbon, gems, 1 1/4 in Elastic, Snap Fasteners, 5″ x 7″ Piece of Organza, Bundle of Fowerettes
14. Crochet Griddle Stitch Wedding Favor Sachet

Do you love to crochet for a wedding? Try crocheting this mini and easy crochet wedding favor sachet. Work in the special griddle stitch to come with a lovely sachet design texture that will surely impress. The pattern is super quick and easy and will complete only with a ball of yarn. Adorn the sachet more with the ribbon and other accents of choice. Lionyarn
Yarn: Lion Brand Microspun Yarn in Lily White
Hook: Size G-6/4mm
Size: 3 x 3″ excluding top trim
Gauge: 15 sts = 4″
Skill Level: Easy
Other Supplies: 24″ Satin Ribbon and 1/4″ Wide
15. Red Heart Crochet Wedding Blanket

Sorting out the best wedding gift to give someone special? Then hook up this amazing crochet red shawl that comes with impressive design texture and details. The shawl will beautifully hold you warm and cozy and will impress you with the brilliant design texture done with the cables. Every newly married lady will love to have this shawl in the closet. yarnspirations
Yarn: Red Heart with Love in Holly Berry
Hook: US J-10/6mm
Size: 45″ wide x 60″ long
Gauge: 14 sts = 4″ in pattern
Skill Level: Intermediate
Special Stitches: Back Post Double Crochet, Front Post Treble Crochet, Back Post Treble Crochet, Woven Stitch, 3-Tr Cluster
16. Crochet Lovebirds Cake Topper

It can be amazing to crochet for a wedding and also for wedding decor. So, fancy up the wedding cake with these cute crochet lovebirds will bring tons of romance in the air and be the easiest crochet amigurumi projects ever. One bird appears in white, and the other half is half black and is wearing a black hat too. Both birds have yellow beaks and safety eyes. Lionyarn
Yarn: Lion Brand Vanna's Choice Yarn in White, Black, Silver, Beige, and Barley
Hook: Size G-6/4mm
Size: about 6″ in diameter
Gauge: not essential
Skill Level: Level 2 Easy
17. Crochet Mother Of The Bride Shawl Pattern

Sorting out the best wedding gifts that may be full of glamour too? Crochet this Mother of The Bride Shawl, featuring an amazing lacey work. Crochet the Lion Brand Vanna's Choice while working in the lacey yarn stitches to whip up this amazingly beautiful crochet shawl will make a superior handmade gift. Everyone newly married couple will love this handmade gift. Lionyarn
Yarn: Lion Brand Vanna's Choice Yarn in Linen and Moonstone
Hook: Size K-10.5/6.5mm
Size: 50″ at Widest Point
Gauge: 12 sts + 5 rows = 4″
Skill Level: Advanced Intermediate
18. Crochet Bouquet Wedding Gift

Win the heart of your mother on Mother's Day by crocheting this super beautiful crochet bouquet of lilies. It will make a great wedding bouquet too, so must crochet it for a bride. Learn to crochet your favorite flowers and then put them together to work up this amazingly beautiful and gorgeous bouquet. It will work up fast. One of the best crochet wedding pattern. berroco
Yarn: Berroco Pure Pima in Colors of Choice
Hook: Size F-5/3.5mm
Size: Flowers Range 10.5″ x 19.5″ tall
Gauge: not critical
Skill Level: Advanced Intermediate
Other Supplies: Green Electrical Wire, Nylon thread, Craft Glue, Green Floral Tape, 3/4 yd 1.5″ Wide Satin Ribbon
19. Crochet Wedding Favour Bags – Free Pattern

Make your wedding special by giving a handmade touch. Yes, crochet these adorable looking Crochet wedding favor bags will impress all the guests for sure. Most of the bags are to make with the hessian cloth, and next, you can decorate them with the crocheted laces and doilies will bring tons of focal stimulation to those wedding bags and purses. The pattern will rock for an advanced beginner. hanjancrochet
Yarn: Namolio Yarns – Linen Yarn in the Glacier Color
Hook: 3mm
Size: 12cm x 9cm, motif is 12cm in diameter
Gauge: not critical
Skill Level: Advanced Beginner
Other Supplies: Hessian Cloth, 1cm Glass Button
20. Crochet Wedding Dress With Hearts Free Pattern

Every onlooker will fall for this super beautiful and graceful crochet wedding dress that goes much fetching to eyes. The pattern required, intermediate skill level, and your favorite yarn to work up this lovely crochet wedding dress that features the heart motifs. The yardage will depend on the dress size and the hook size. Crochet this wedding dress for a friend also.
Yarn: Any of your Favorite Yarn in White
Hook: 1.75mm for S-M size and 3mm for an L-XL Size
Size: S-M/L-XL
Gauge: not critical
Skill Level: Intermediate
Related Cheap Wedding Ideas To Try:
Looking for some fresh and fun wedding ideas? These DIY wedding ideas will help you plan the perfect day.
DIY Wedding Gift Ideas for Bride and Groom
When you don't know what to give the bride and groom as a wedding gift, opt for something personalized that shows your care and creativity. Check out our list of DIY wedding gift ideas for bride and groom.
DIY Wedding Card Ideas
Create personal, memorable wedding cards and save money by doing it yourself. A curated list of homemade DIY wedding card ideas that are perfect for your big day.
DIY Wedding Veil Ideas
You don't have to break the bank to get a veil for your wedding. Here are some cheap DIY wedding veil ideas you can make from around your house.
DIY Wedding Favors
If you're on a budget but want to give your guests a special favor to thank them for coming, here are inexpensive DIY wedding favors that will please your guests and not break the bank.
DIY Wedding Table Numbers and Holders
Table numbers, place cards, and table signs are a great way to make your reception a little more personal. Here you'll find the best DIY wedding table numbers and holders.
DIY Arbor for Wedding
Want to add an arbor to your wedding? These DIY arbor plans are easy enough for the novice but chic enough for the professional.
DIY Balloon Garland Ideas
This article features DIY balloon garland ideas that are easy to create. Each design is detailed with step-by-step instructions, diagrams and photos. You can also make them for your wedding or any other event.
Conclusion:
Are you looking for free crochet wedding patterns? Crochet can be a great way to add a personal touch to your wedding day. Whether you're looking for crocheted wedding gifts or adding some homemade flair to your big day, these free crochet wedding patterns mentioned above include everything. Happy stitching!