Get inspired by these 80 simple, unique and inexpensive DIY wedding ideas. From diy wedding decorations to apparel and food to favors, we have everything you need for a successful wedding day. Wedding planning can be a really stressful event. Designing your big day doesn't have to be so difficult when you just follow the steps of these homemade DIY wedding ideas. Whether it's about DIY wedding decoration ideas, wedding dresses, flowers, or food, you will be able to do it all on your own.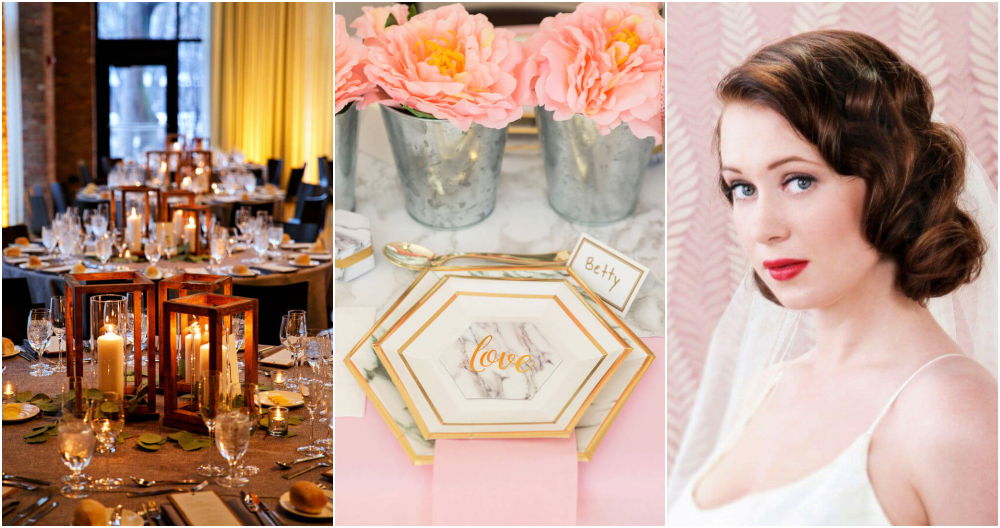 DIY Wedding Ideas for Decorations, Apparel & Food
We have got you these insanely cheap DIY wedding ideas to save money on decoration, apparel, and food. Your big day is the most important day of your life! And everyone wants everything to be perfect about it! But perfection doesn't always come on the cost of big holes in your pocket. Nah-uh! We are all set to help you walk around those big holes in your pocket and go budget-friendly. The three most important things on any wedding revolve around the decorations, apparel, and food. We have got it all covered!
From classy backdrops, wedding bouquet, and exquisite decor options, we have got some really exciting and at the same time, cheap DIY wedding ideas to save money! You can even choose some sensational and meaningful favors for your gifts, make your own wedding veil, be your own wedding stylist. Or best, if you are a bridesmaid or the best man, man, are you going to be the best one ever that there is or what?! So, gather around your wedding journals, and let's get started.
1. DIY Confetti Throwers for Weddings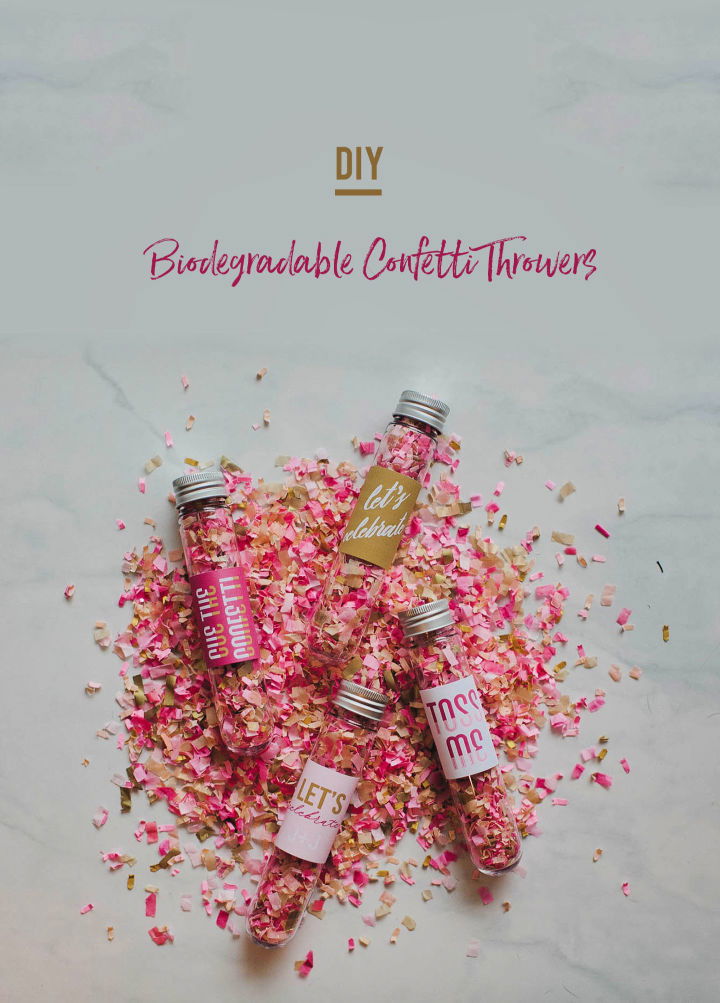 Everyone wants to have a fancy star-studded #feel to their wedding! If you are trying to arrange the best confetti paper stations to be welcomed at your favorite entrance, we have got you some cheap DIY Confetti throwers for your special day so it can be easy on your pockets too. greenweddings
2. DIY Marble and Blush Wedding Decoration Inspiration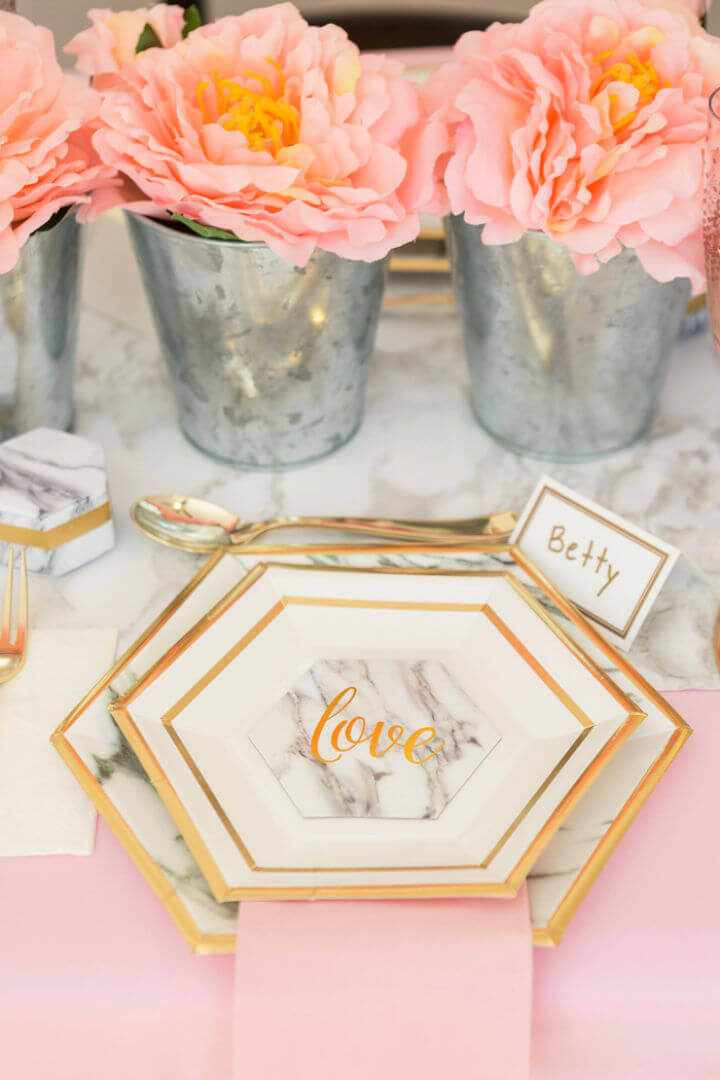 Looking for some cheap DIY wedding ideas? Marble pieces always add a sense of glam to your party decorations, add some floral hues in them, and place on top of your tables like done on DIY Marble and Blush Wedding Inspiration ideas. acoastalbride
3. DIY Frosted Paper Camellia Flower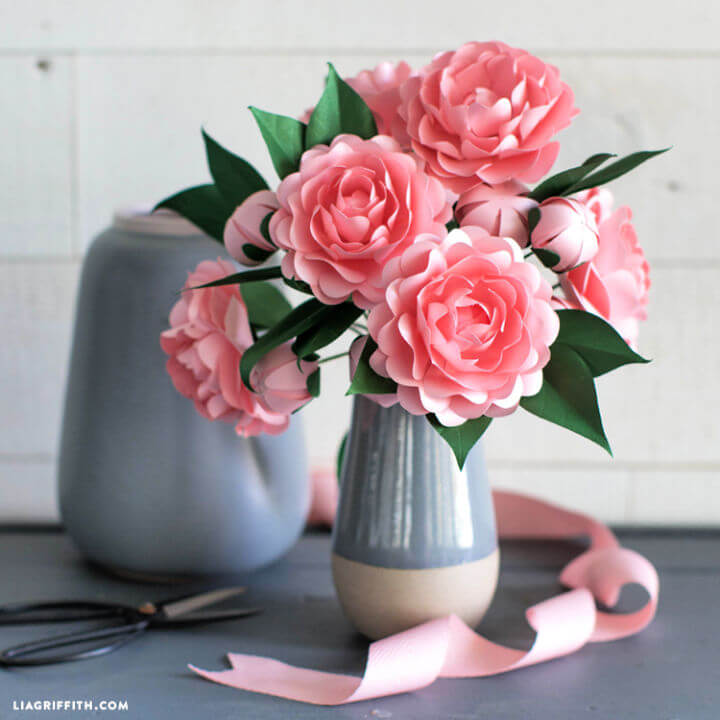 Flowers are the main essence of any wedding decorations. To be easy on the budget, we have got you some excellent DIYF Frosted paper camellia flowers design ideas. These flowers reflect a sense of admiration and love and add life to any party decor. liagriffith
4. DIY Limoncello Wedding Favors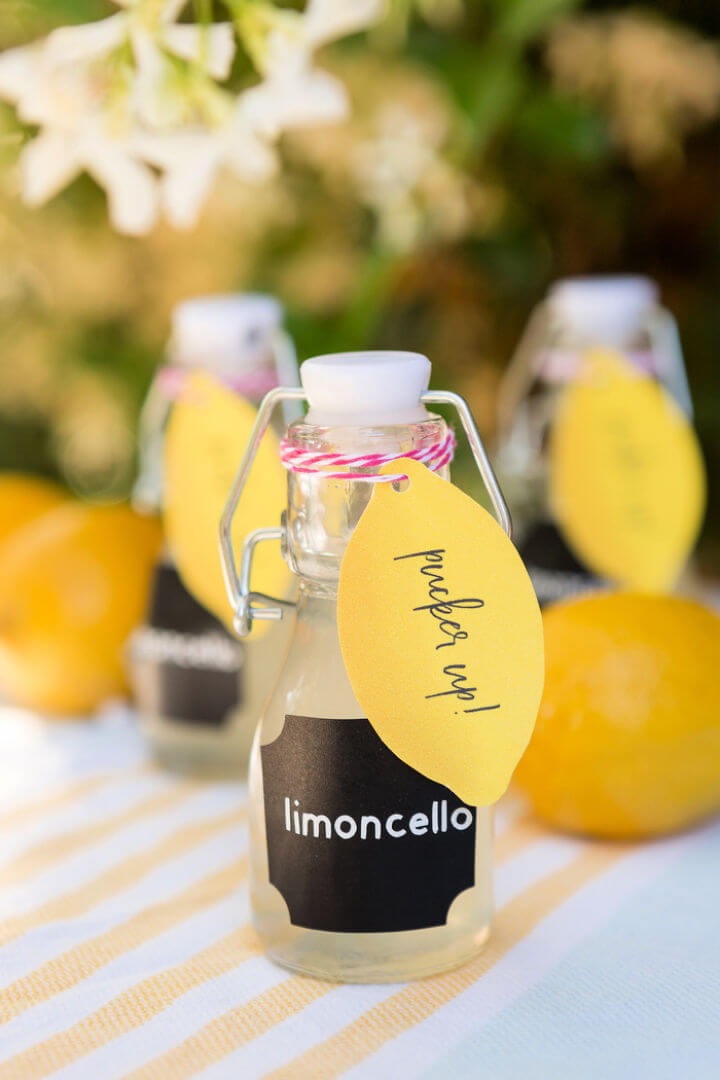 Outdoor events are always challenging to cater to, much tricky when you are hosting it. In order to avoid awkward resentment, we have prepared some ideas to create your own DIY Limoncello Wedding Favors, which you can serve before the food is served and be the best host one can ever be. acoastalbride
5. How to Make Fabric Flowers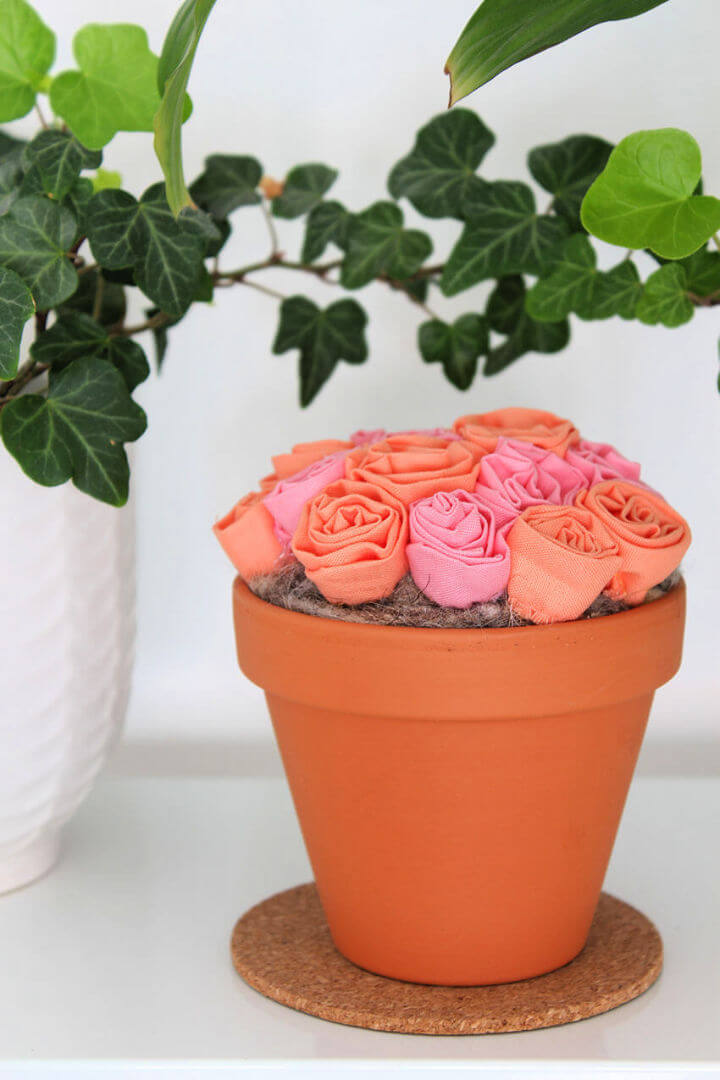 No matter the age flowers are always going to last an impression and mostly when they are used on a wedding decoration, add a little touch of customization to your wedding decor with these easy fabric flowers, they are cost-effective. They can be enhanced as per your likings. thecraftygentle
6. Rustic DIY Wedding Favor With Cricut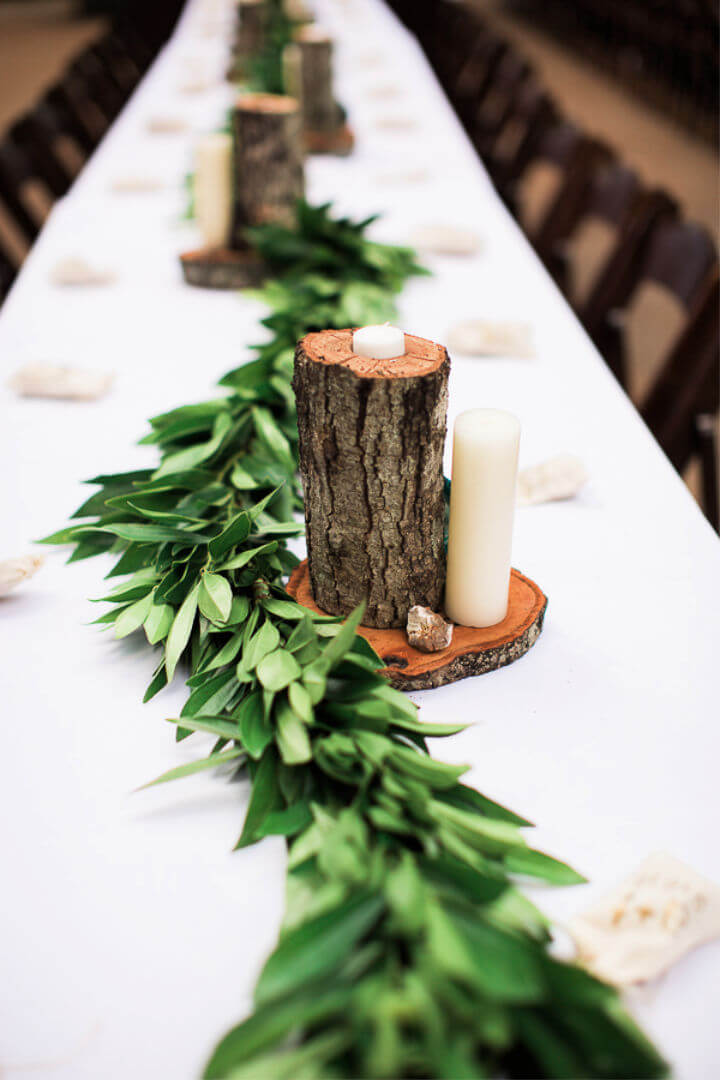 Wedding outdoors is a bit hectic but also fun to work on. You can almost have a close to nature feel while your guest dines in. You can get yourself your own DIY Rustic themed Wedding table as done. handmadeinthe
7. Paper Greenery DIY Wedding Bouquet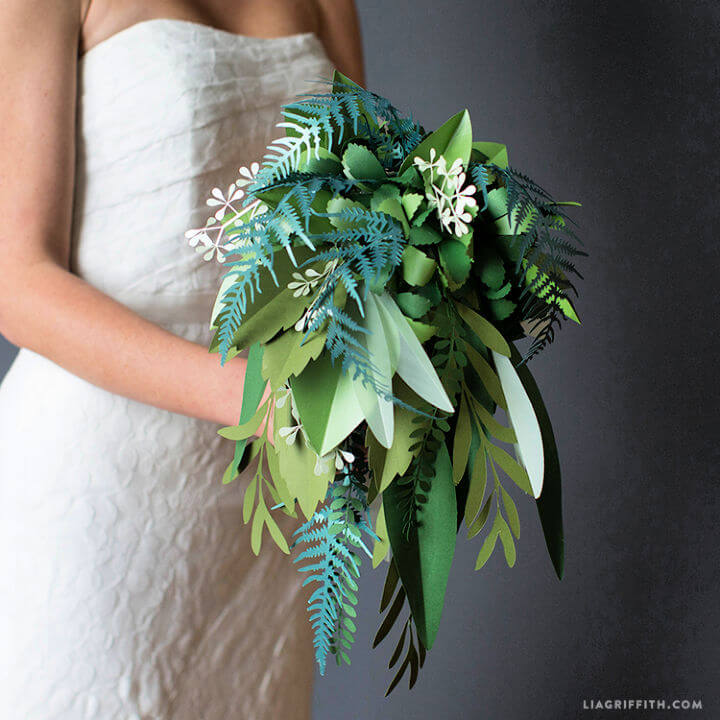 Using greenery instead of flowers gives you more freedom to play with textures and shapes than floral blooms, and it is also much less expensive. It provides more of a wild and organic look that symbolizes richness. liagriffith
8. Make Your Own Ultra Violet Veil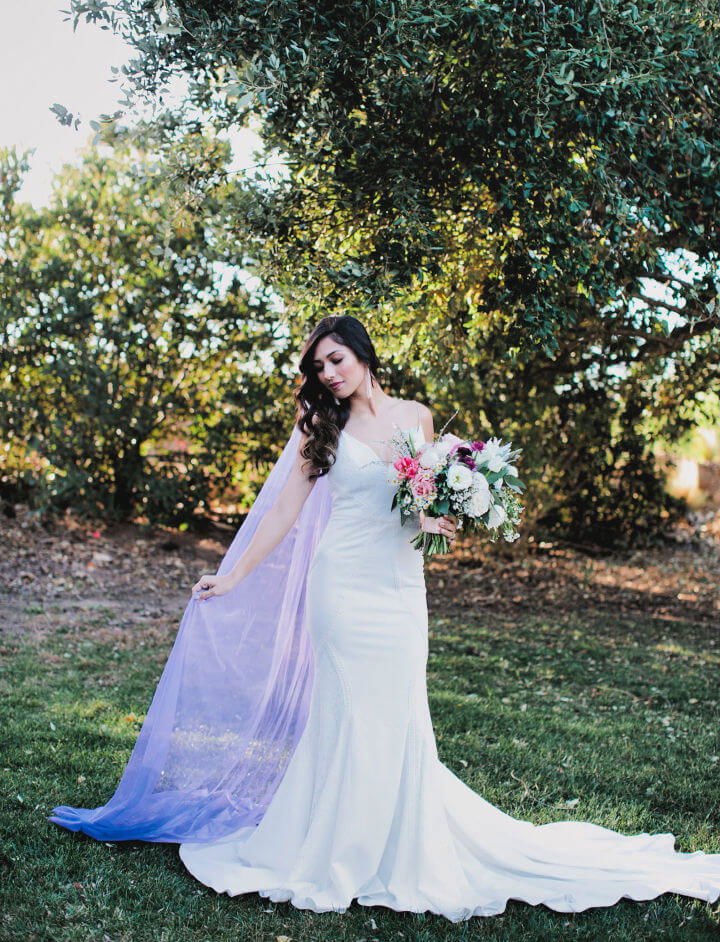 Girls take a lot of stress while deciding what kind of dress to wear on their special day, how it will look at how it will not. So does the veil of their dress, which has to be perfect. Get yours in ultraviolet color as done for a completely different look. greenweddingsh
9. Create a DIY Wedding Shoe Bar With Rescue Flats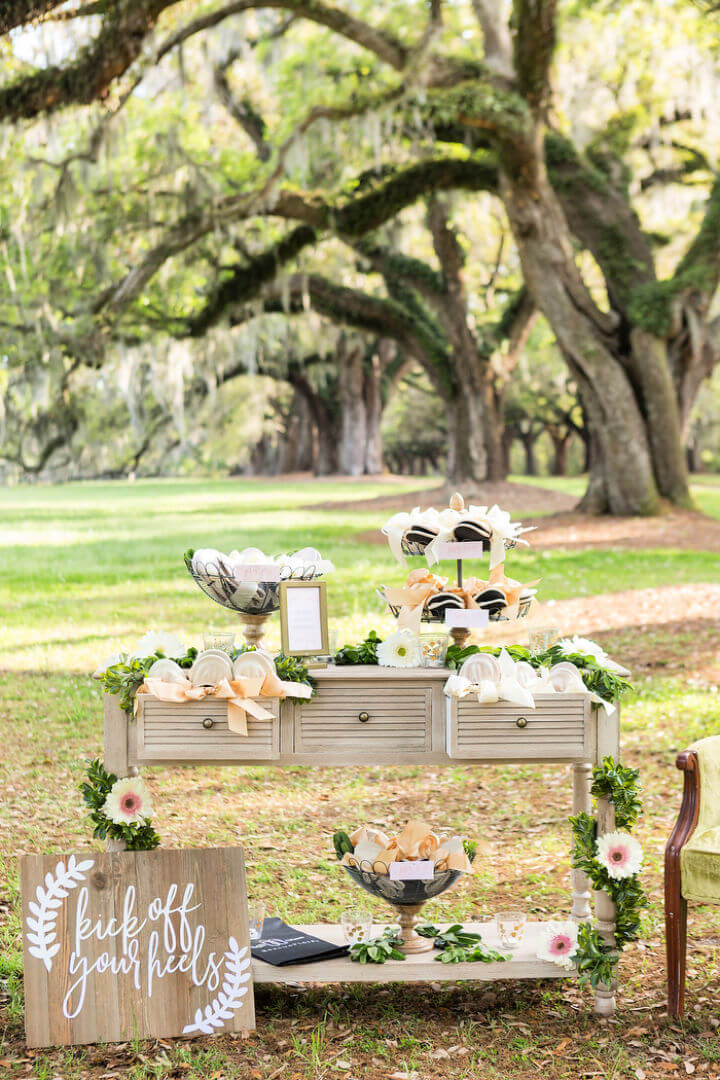 No one can dance all day with their heels on while wearing those heavy dresses and that jewelry. Get some wedding shoe bar with rescue flats for your guests so they can have the fun of their own on your special day. acoastalbride
Related DIY Wedding Ideas:
DIY Wedding Favors: Whether you're on a tight budget or want to ensure that guests remember your wedding day, these cheap DIY Wedding Favors are perfect. This list of inexpensive ideas will make it easy to find the right favor for your big day.
DIY Wedding Cards: Save money and time by making your own wedding cards! Here are the best DIY Wedding card ideas to inspire you. All you need is a little creativity and some basic supplies to make your own wedding cards.
DIY Wedding Gift Ideas: Learn How to create a perfect gift for the happy couple, without any stress, by following these easy DIY wedding gift ideas that are both thoughtful and inexpensive.
DIY Wedding Table Numbers: Save time and money with these cheap DIY wedding table numbers and holders that are easy to make and perfect for a rustic wedding!
Crochet Wedding Patterns: These free crochet wedding patterns are a great way to save on the cost of a wedding dress. These free patterns are a great start for more experienced crocheters or a great introduction for beginners. You can get started on a beautiful wedding project or add a handmade touch to your nuptials.
DIY Wedding Veil: Want to find an inexpensive way to make your wedding veil? This DIY wedding veil guide will show to make your own cheap veil with the help of a few materials.
Homemade DIY Wedding Decorations
DIY Arbor for Wedding: If you're in the mood to plan a wedding but you want a more personal touch, here's some inspiration for free arbor plans that are perfect for weddings and any other outdoor event, from rustic to sleek.
DIY Balloon Garland: Get festive this year with these beautiful DIY balloon garland ideas. These beautiful balloon garlands are perfect for events. Use your favorite color or theme to create a unique decoration for your party.
DIY Photo Backdrop: Looking for a backdrop for your next photo shoot? We have inexpensive DIY photo backdrop ideas that won't break the bank. You don't always need to pay a professional photographer to take your pictures. With some creativity and some simple handiwork, you can create the most beautiful photos of your life.
10. DIY Vibrant Frosted Paper Peonies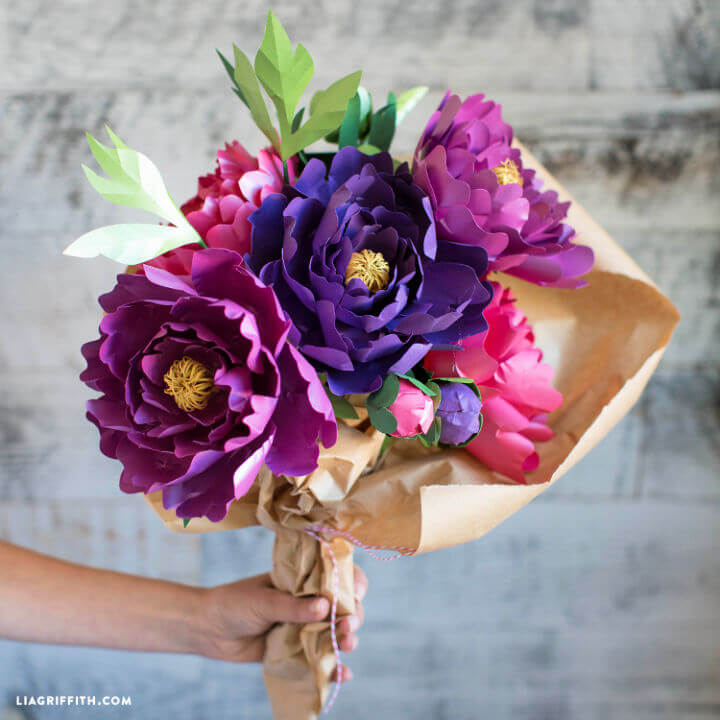 Revitalize your friend's wedding day with some lovely homemade DIY Vibrant Frosted Paper Peonies, though the real peonies look best in outdoor events these paper ones can rock in an indoor event as well. liagriffith
11. Beautiful + Easy Wedding Nail Art With Cricut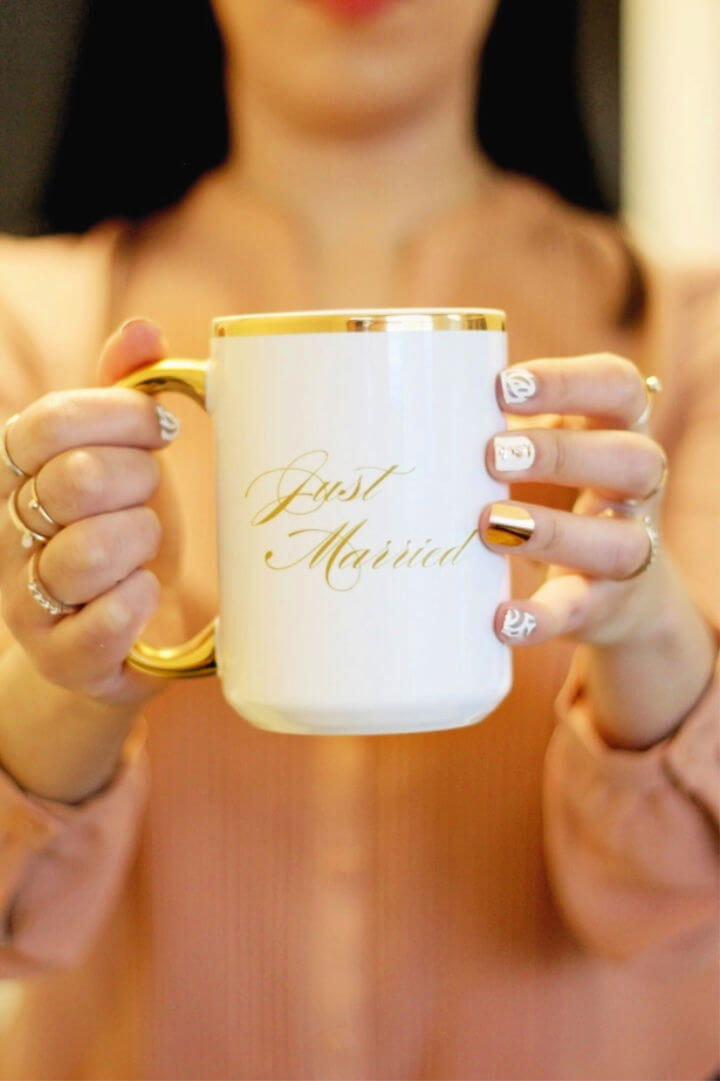 Sometimes it gets swamped for you to rush to the parlor and get yourself some Manicure pedicure with these easy tutorials for DIY Wedding Nail art even it is your own wedding, or you want to throw a party you have got all sorted in no time. bellethemagazine
12. How to Make a Flower Crown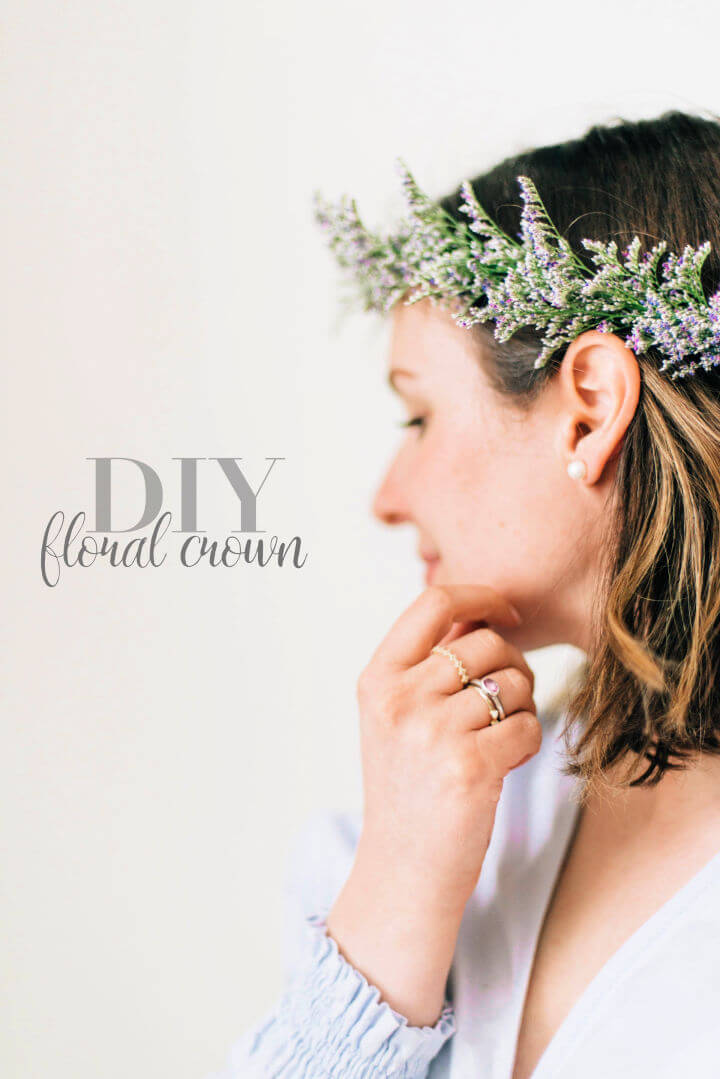 Flower crowns have always been part of many wedding parties, bachelorette parties, or even some bridal showers. Get your own crown by following this simple tutorial, or you can also plan one for your friend. threadsandbl
13. Build a Self Standing Wood Arch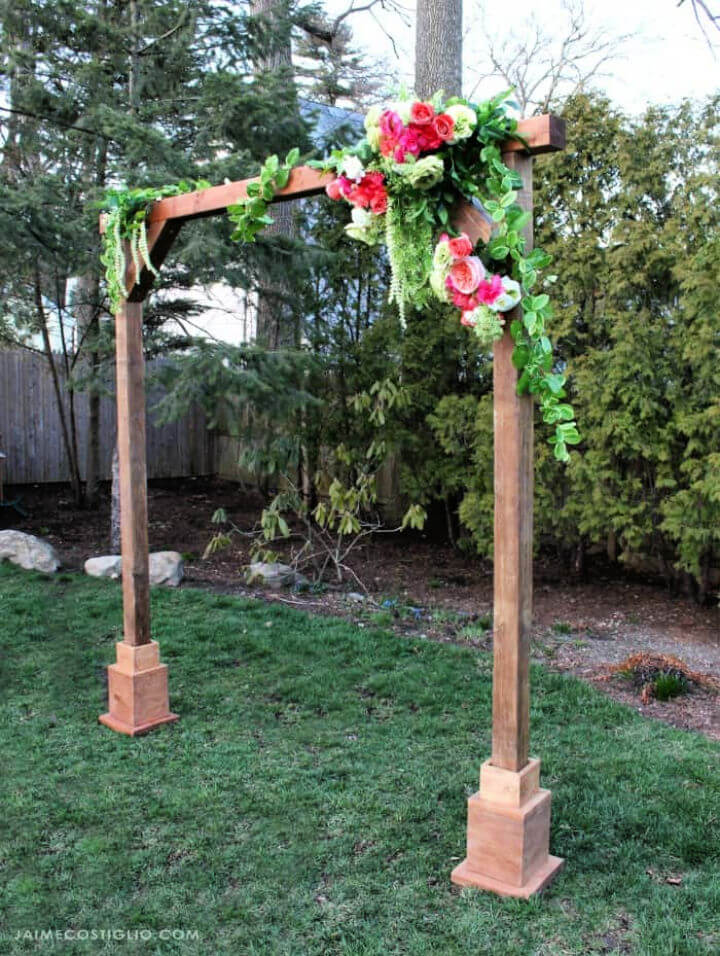 Wedding season is upon us, and so are the winters, which calls for outdoor wedding events. And with these events approaching, one looks for ways to decor the best way they can. A self-standing wooden arch for this matter suits best for your design ideas. jaimecostiglio
14. DIY Wooden Lanterns for Wedding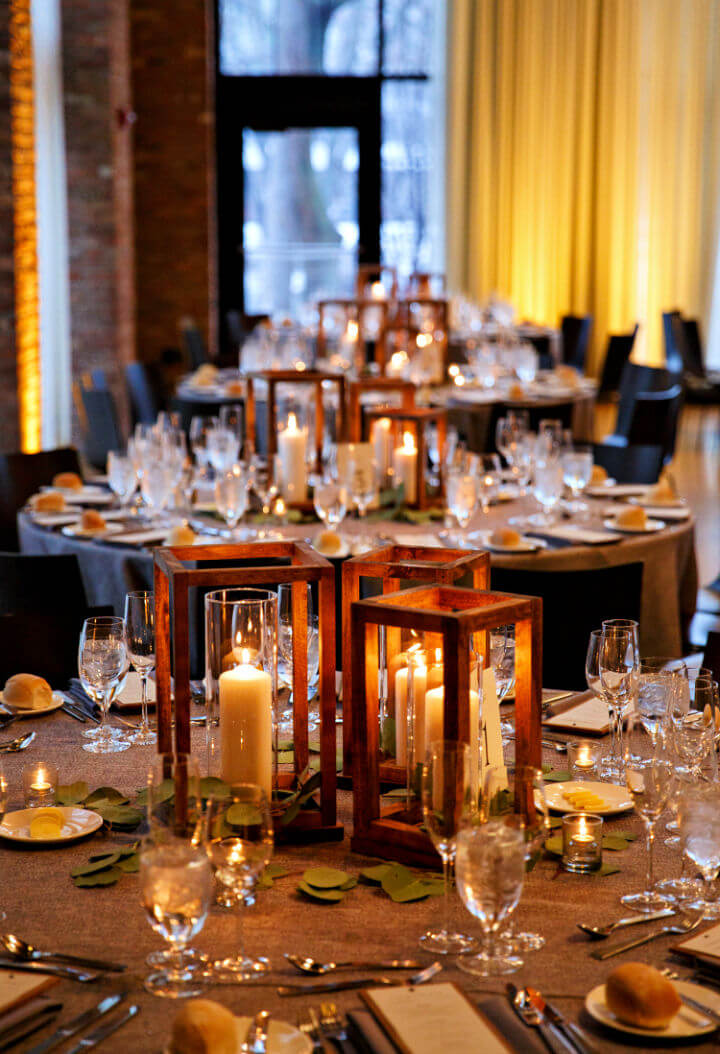 Night weddings have a different affair in their decor element, from setting up the candle to white napkins on the dining tables, add a touch of rustic wooden lanterns to give a classic feel to your wedding decor. homedepot
15. Handmade Welcome Sign and Stand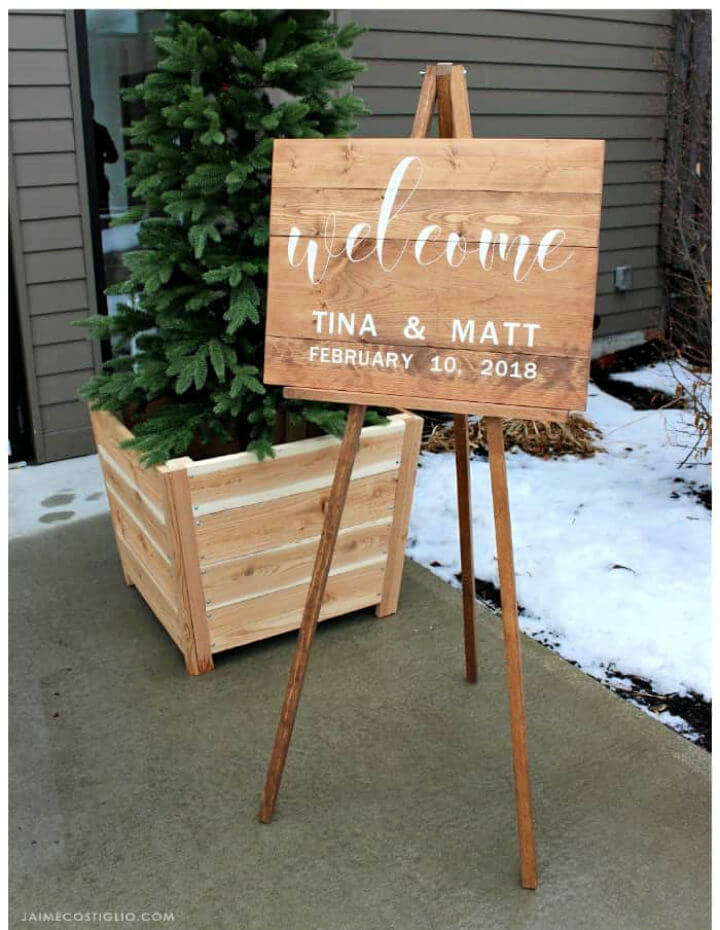 Wedding events are always incomplete till the last minute, so you have to make sure that all things are done with full accuracy. You can always create an excellent impression with some beautiful welcome easel board, so guests feel a sense of love and warmth in your big day. jaimecostiglio
16. DIY Fall Wedding Koozies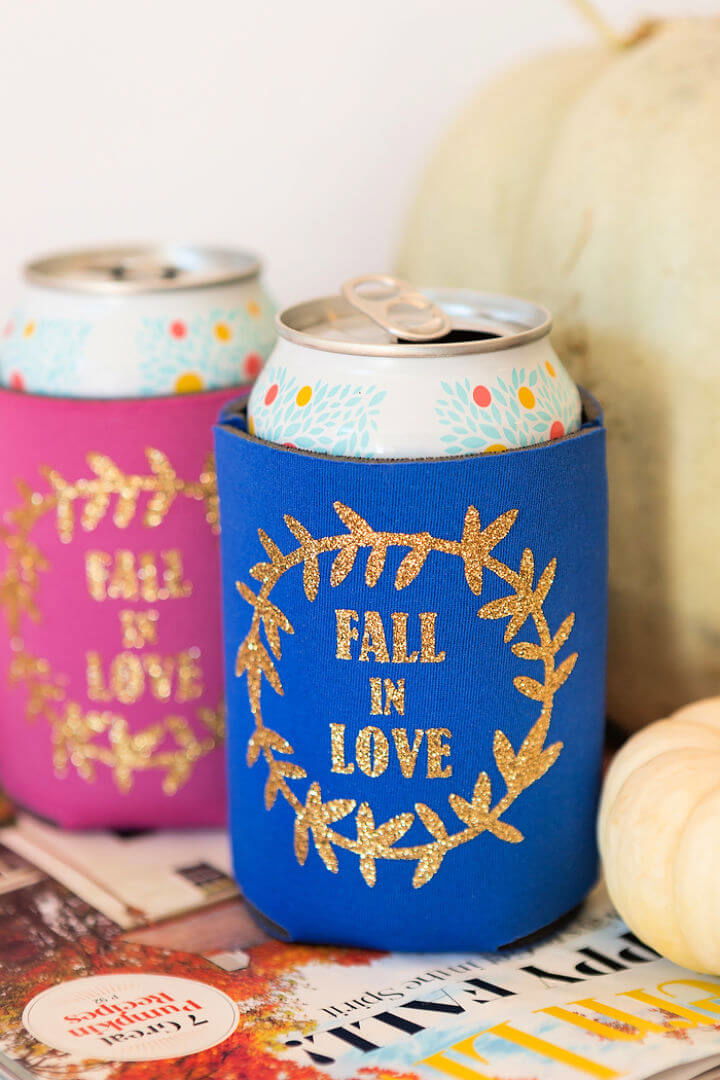 It's always great to create something yourself, even more, when it's your friend's wedding party nearby. With these easy DIY Ways to make wedding koozies, you can make those fall weddings last an impression that can count. acoastalbride
17. DIY Air Plant Embroidery Hoop Favor + Seating Card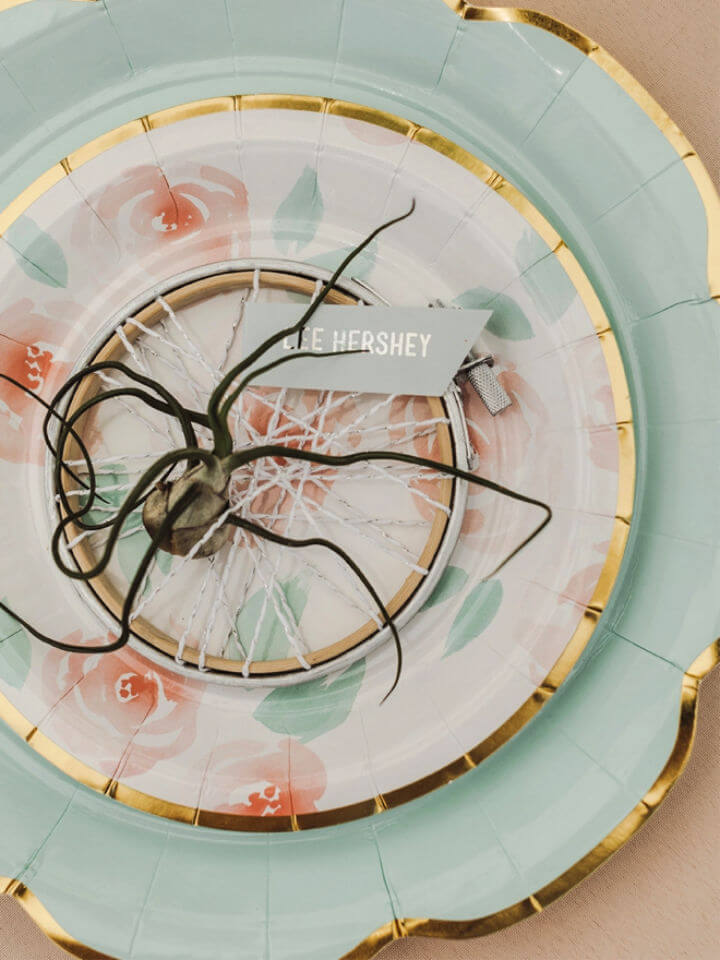 They say the first impression is the last impression. So why not make one nice impression when you invite them over your wedding party in such a way that they get welcomed by their own Embroidery plant hoop with their name tag in it on their seats. somethingturqu
18. Simple DIY Burlap Monogram Sign for Wedding Decorations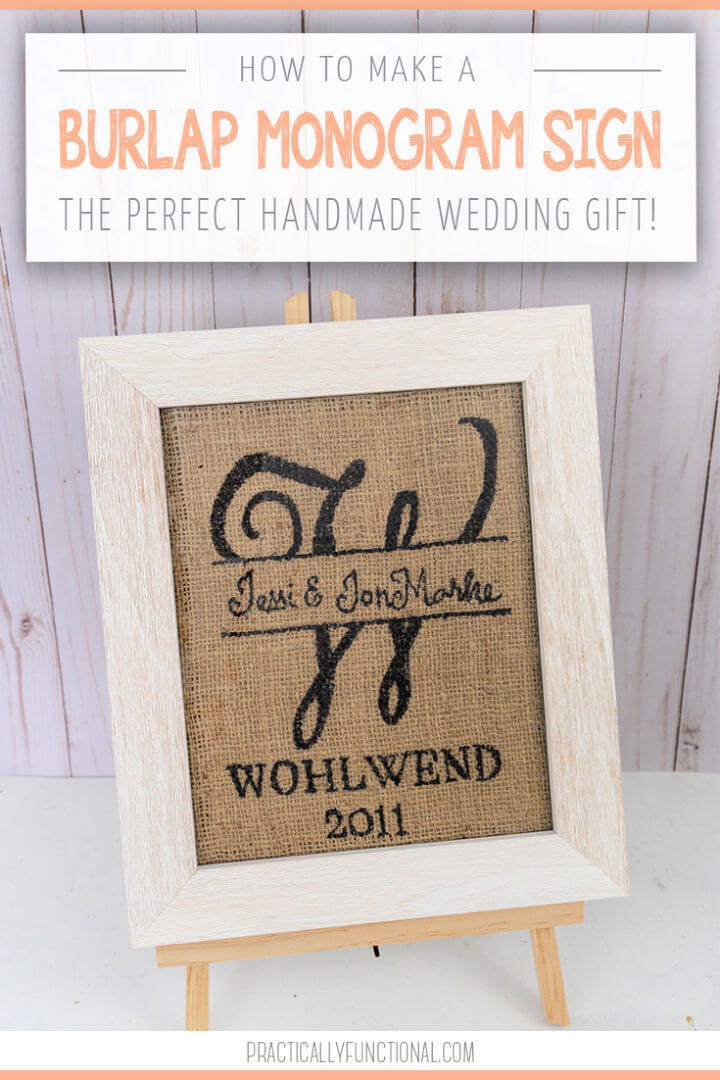 Can't decide what you want to give to your friend on his wedding day? Well, we have sorted it out for you with this DIY Burlap Monogram Sign, which they can maybe hang in their room. Give it a customized touch with their wedding date printed on it too. practicallyfunc
19. DIY Feather Eyelashes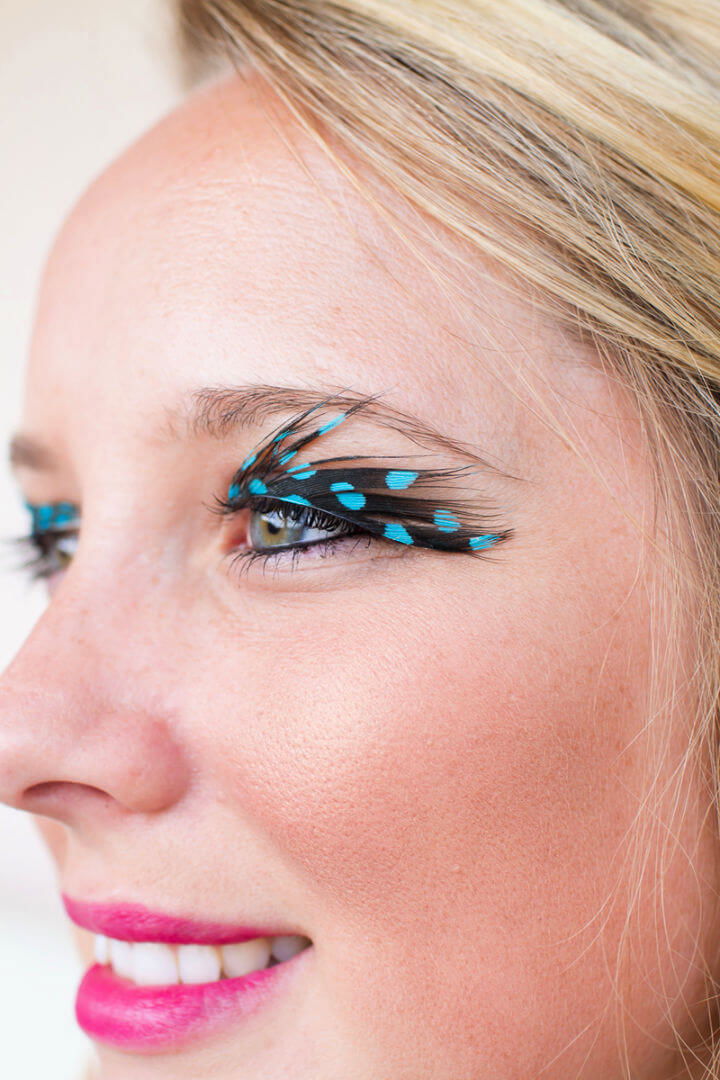 A little makeup harms no bride but gives this perfect glow on their special day! Looking for an additional charming look? Get that done with these feathered eyelashes, which can be made into any color of your choice. bespoke bride
20. DIY Bridesmaid Gift Boxes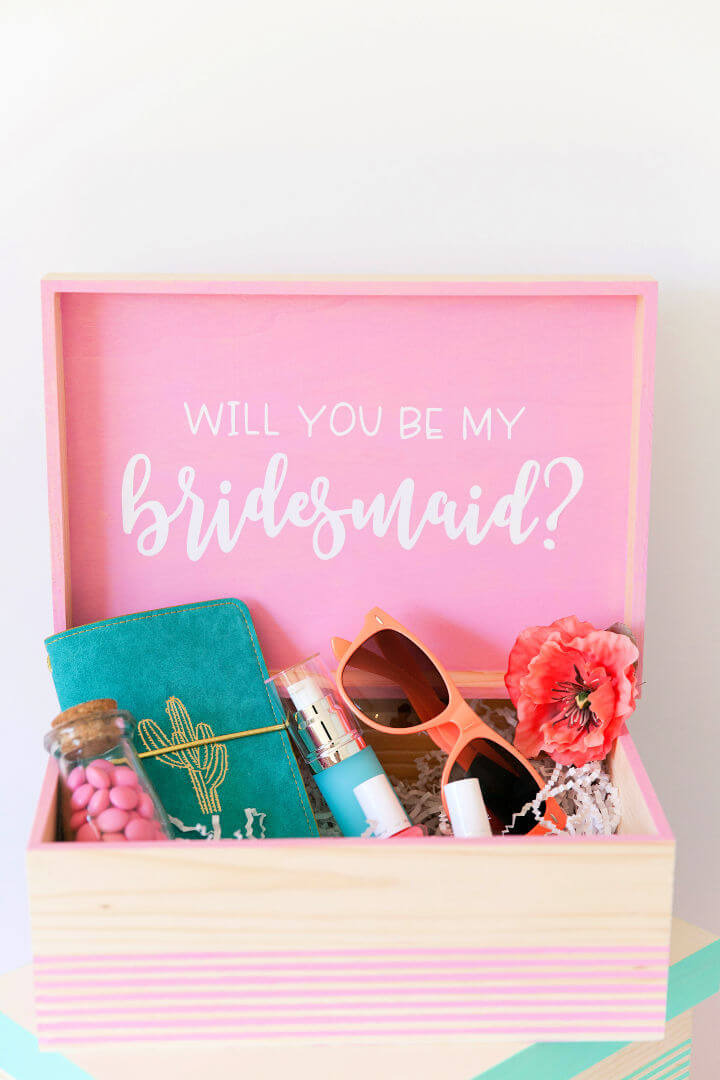 In any wedding, Brides are the emphasized center of attention for everyone, and other than brides, the bride's maid also make sure they are not left out in this race. So to make them feel privileged, you can set up these lovely presents for them too. tellloveandparty
21. DIY Darling Wedding Glow Stick Bar Ideas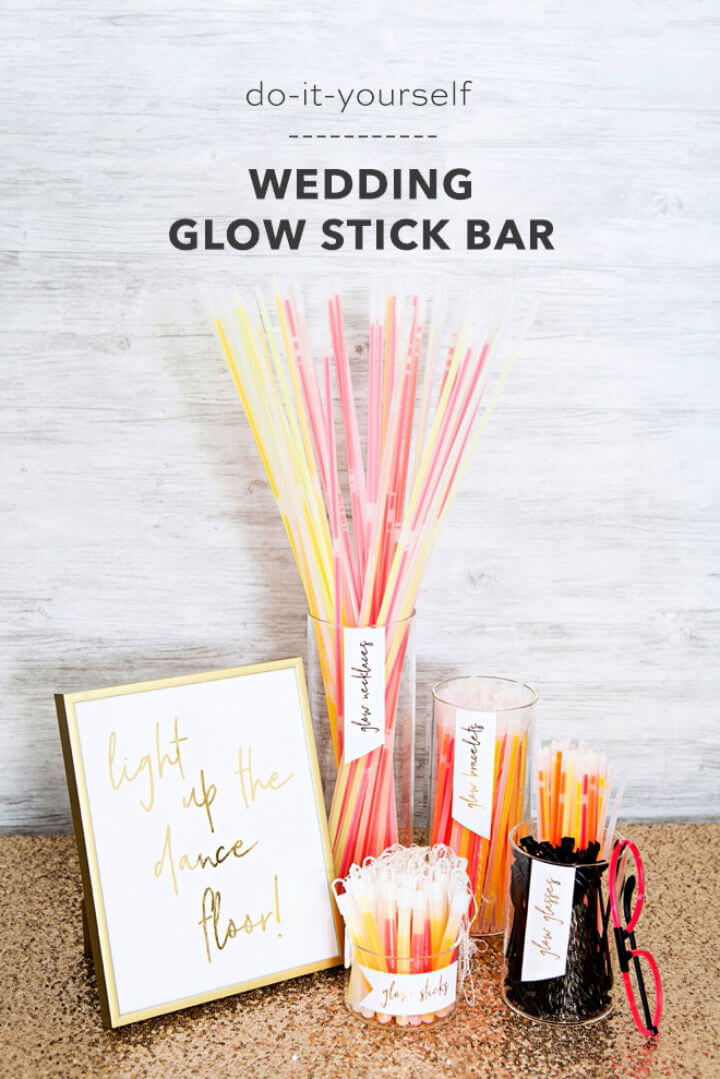 Wedding functions are all fun and full of excitement, good food, and lots of laughter. One can have more fun by adding some glow sticks that can be used on the dance floor that glows in the dark. Get yours from here in some easy steps. somethingturq
22. DIY Silk Floral Macrame Backdrop
Backdrop walls with some floral hues and plants add a more colorful feel to any wedding shoot pictures. DIY Silk Floral Macrame Backdrop is all that you need this wedding season, which will be cost efficient and easy to prepare with just a few supplies. greenwedding
23. Fun Succulent Necklace for a Wedding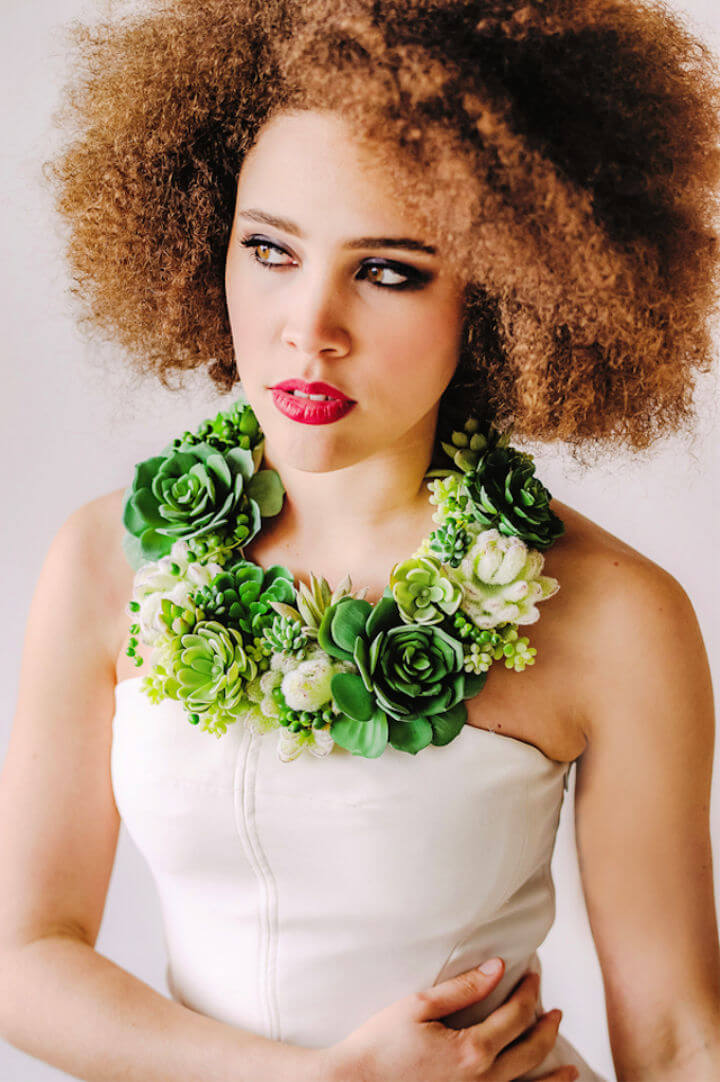 Check out these fantastic DIY wearable wedding floral ideas and used faux succulents necklaces for your weddings, these necklace designs are easy to make and require very less time and supplies to get the desired shape you want. burnettsboards
24. Succulent Wedding Favors With Kate Aspen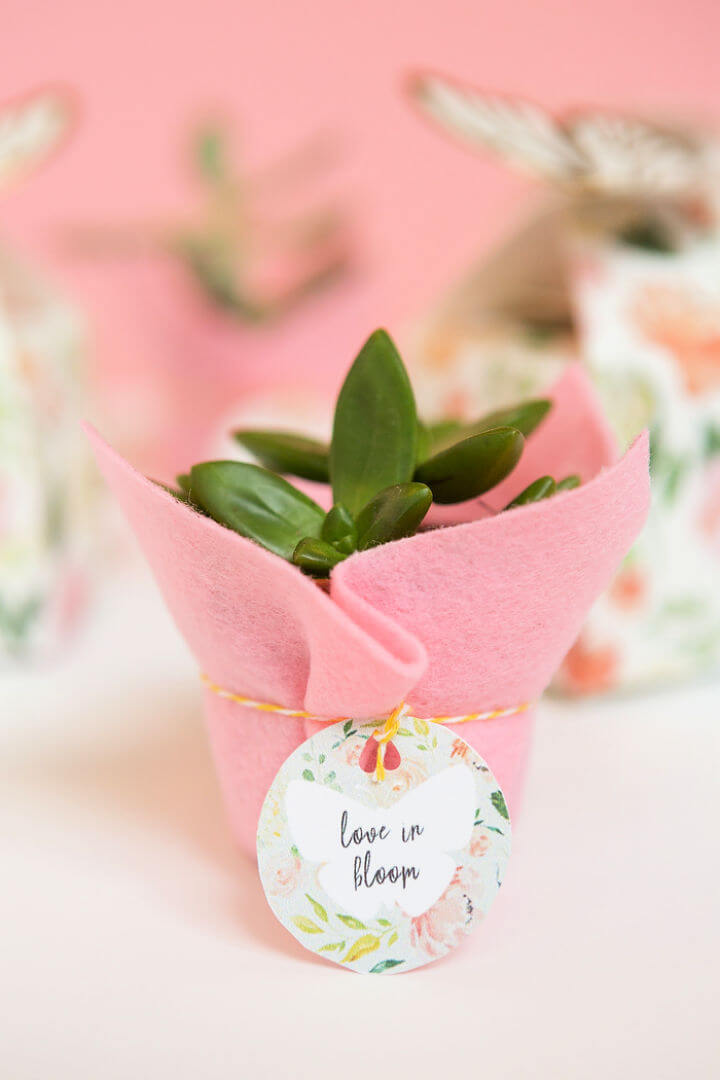 Do you want to give something to your Wedding guests that they can remember for some time, these succulent DIY wedding favors with some flower or plant are something that you can provide them when you see them off after the party is over. acoastalbride
25. Flower Hair Braid With Fresh Flowers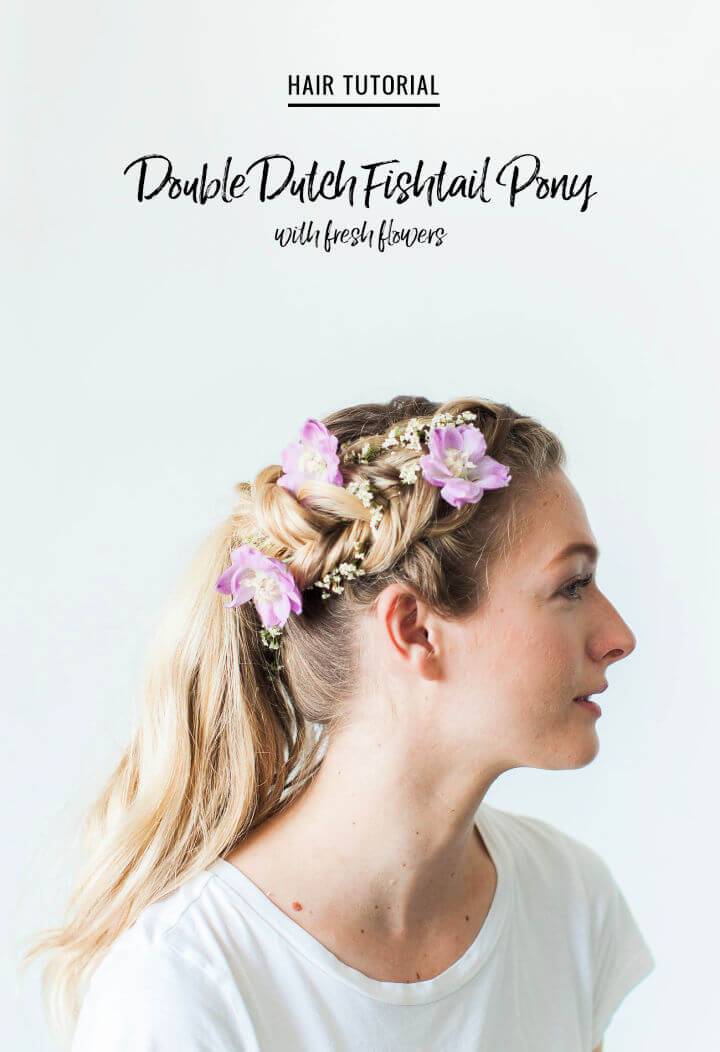 Looking for some go-to Bridal shower makeover inspirational ideas well look no further when we have sorted some exotic hair braids styles that you can rock when you are planning to go to a bridal shower. greenwedding
26. How to Make a Wedding Bouquet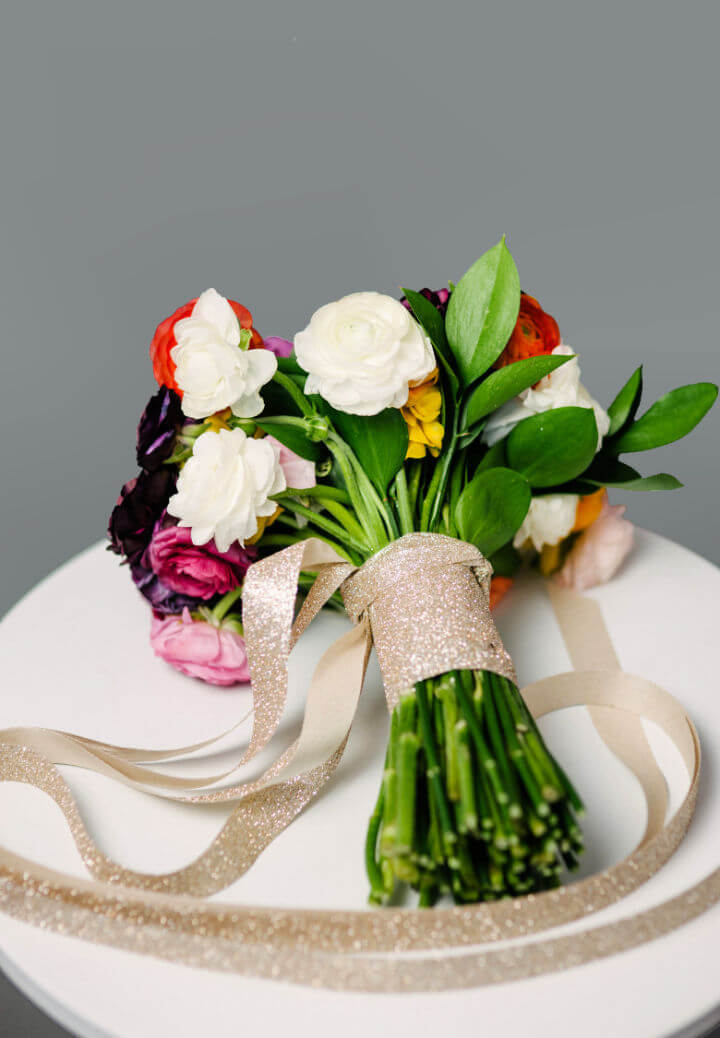 Bouquets are one of those important essentials in a wedding which you can use to welcome your guests with, though they get a little expensive during the wedding season but not the case with these DIY Wedding Bouquet Tutorials where you can make one yourself. apracticalwedding
27. DIY Floral Wedding Centerpiece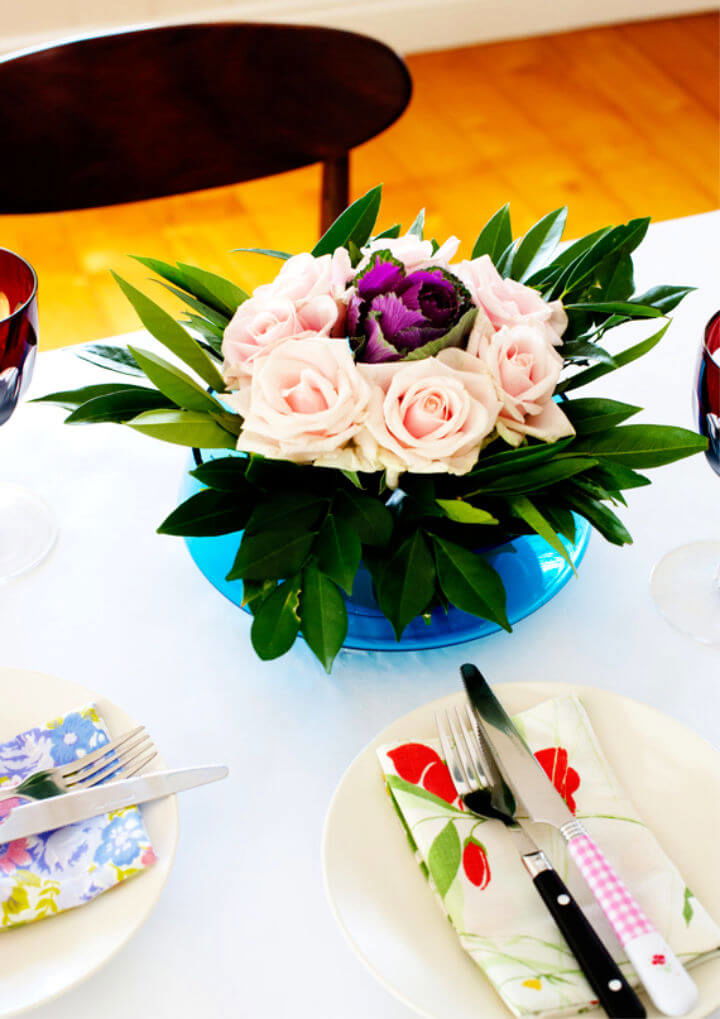 Gone are those days when all you need is to rush at a florist shop nearby your house and ask for some help with your catering table decor when you can use some basic supplies and get yourself a desired wedding floral centerpiece for your dining table. minted
28. DIY Faux Wedding Cake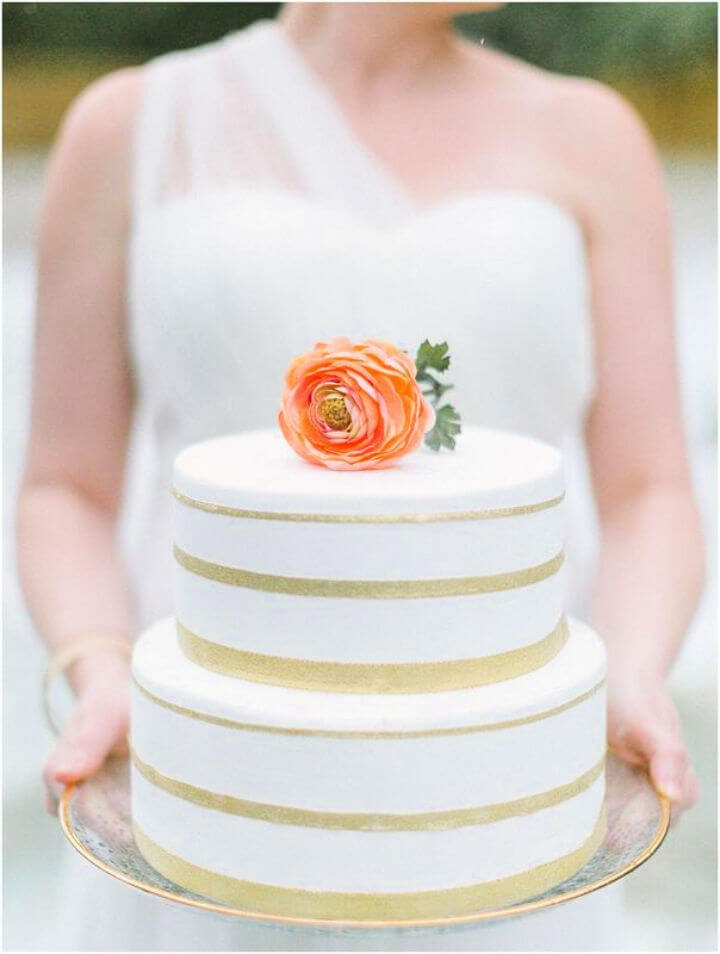 Just to add a little decor flow to your theme wedding, planners make sure to come up to your expectations, and sometimes it costs you a lot. With these easy DIY Faux Cake tutorial, you can get yourself some creative decor elements for your wedding. thebridelink
29. Wedding Cake Table Cloth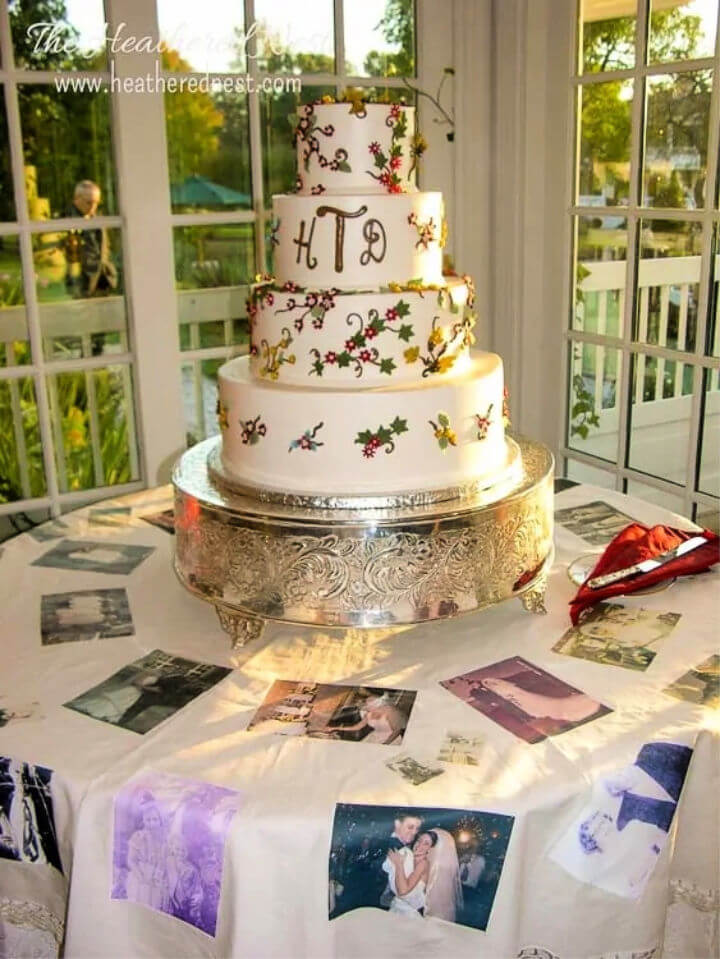 Wedding is all about two people inviting their family and friends, and all spread some love and happiness in the holy matrimony, why not spread some love with DIY Wedding Cake Table Cloth with some family photos on it like done. heatherednest
30. The Most Beautiful Spring Bridal Bouquet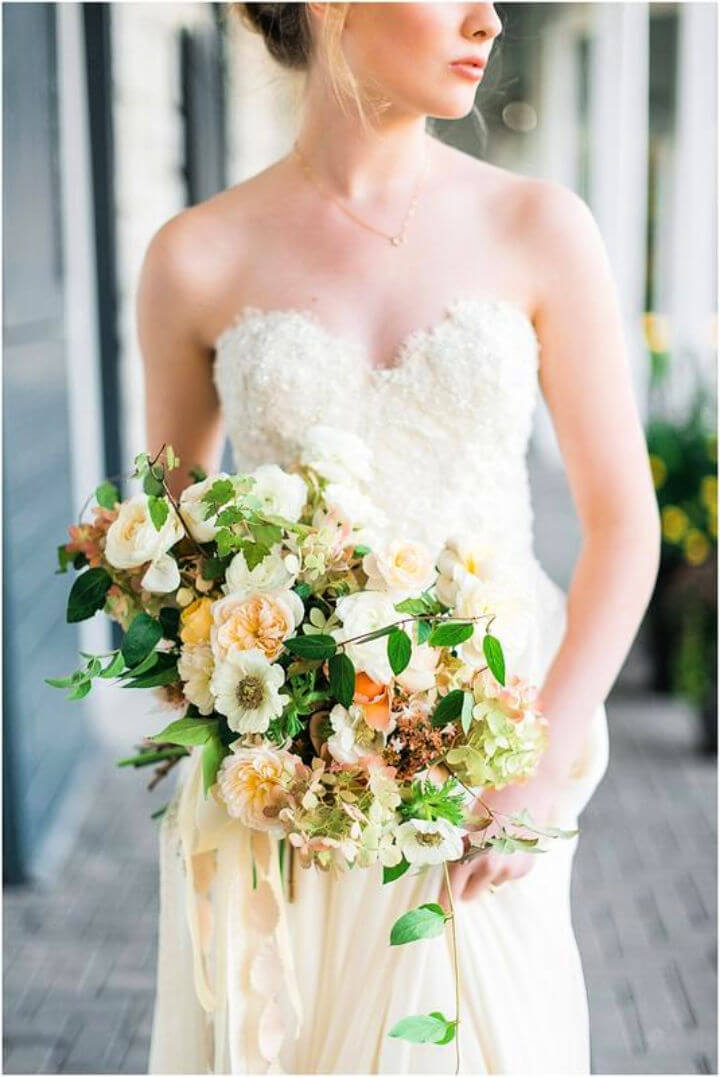 Brides entrance to the wedding function is always something that everyone waits for, so it has to be fabulous with little bridesmaid in the back, holding her veil and all. Why not give it a slight floral touch too by creating your own DIY floral Bouquet which bride can keep as she enters the party. thebridelink
31. Adorable DIY Handmade Bow Tie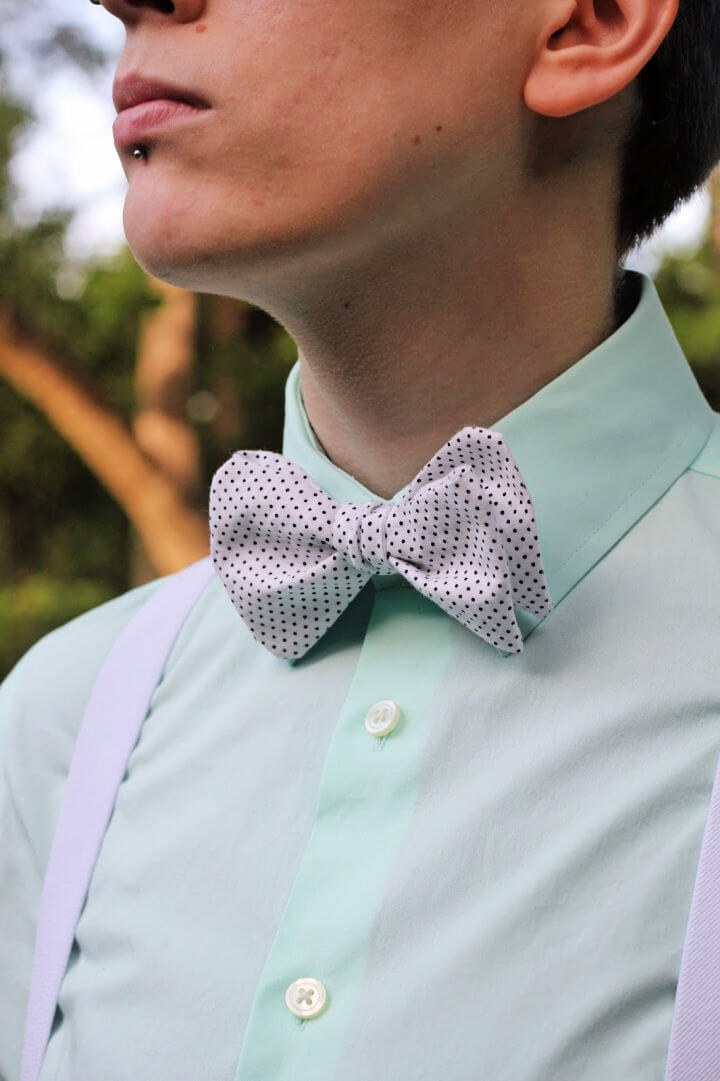 Not only bridesmaid have to look good, but groomsmen also need to look sharp and dandy on their friend's wedding function. So for that, we have found a few simple ways in which you can make DIY Bow Tie for the boys to rock their entire look. wecanmakeanything
32. Autumn Leaf Candle Centerpiece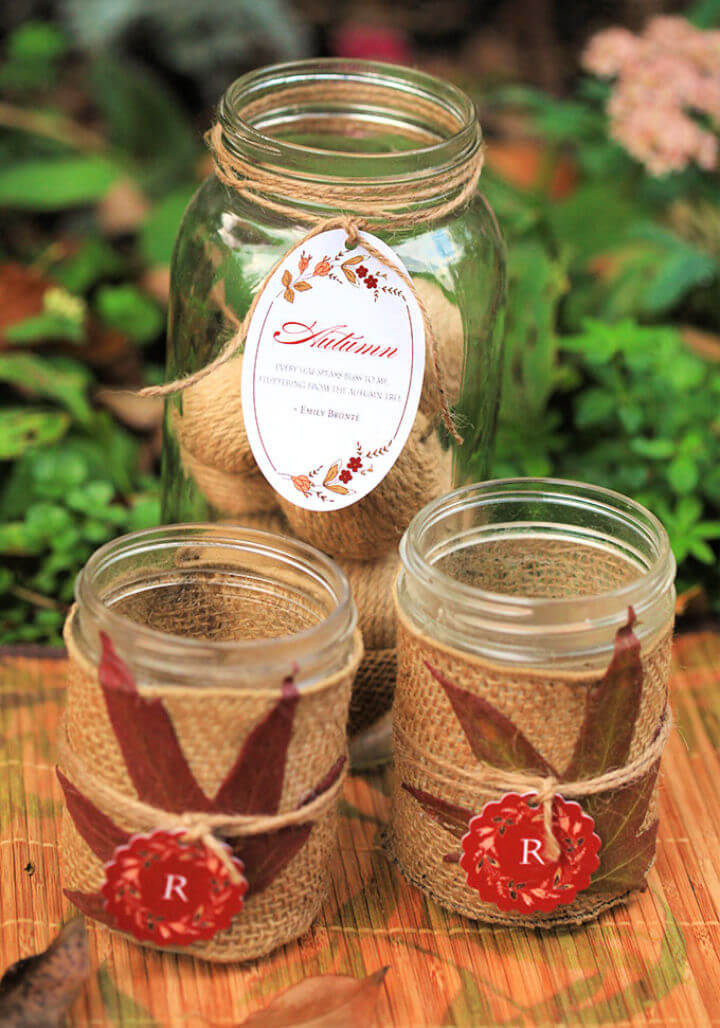 Seasonal Wedding are always a beautiful idea, this autumn why not make some seasonal add ons to your catering table with these DIY Autumn leaf candle holders. They will look best during outdoor events mainly at nights. evermine
33. Glitter Heels for Wedding Shoes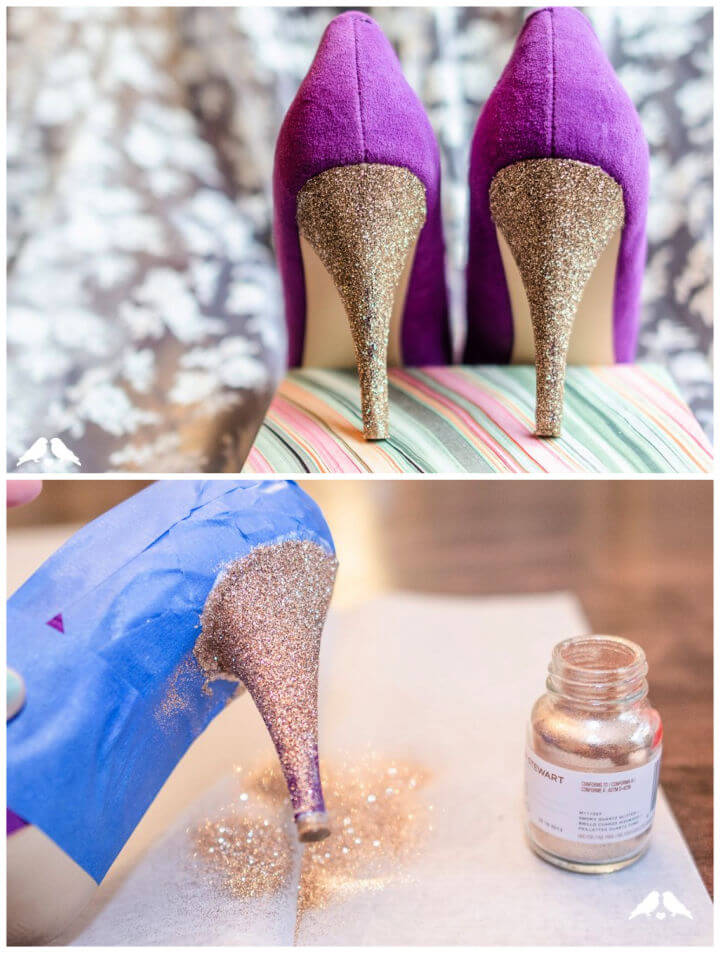 Glitter and shimmer add on a very glammed up appeal into your overall look, from glittery pouch to dress, there is no harm in wearing some nice pencil heels with some glitter on the base of them going with your overall wedding look. capitolromance
34. How to Create a Bridal Hair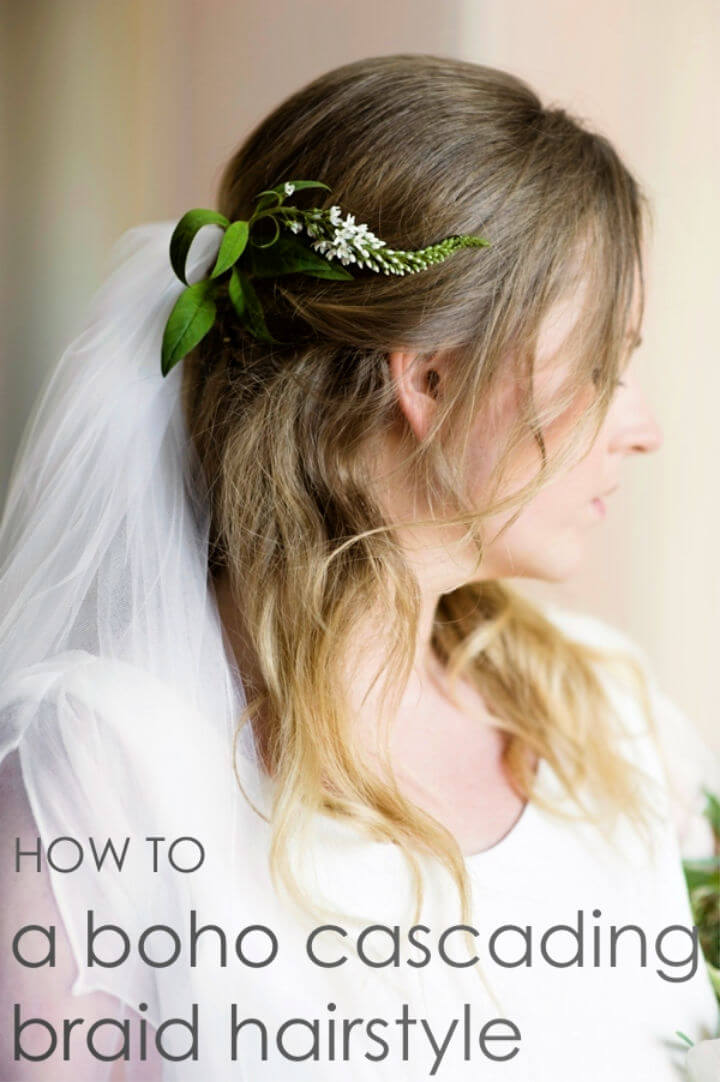 Brides make sure to look their best on their wedding day, for that they choose the best outfit, shoes, jewelry, and the overall look is up to the mark. So does the hairstyle to go with the overall look and feel as done here. whimsicalwonder
35. Marry Me Reveal Cake Recipe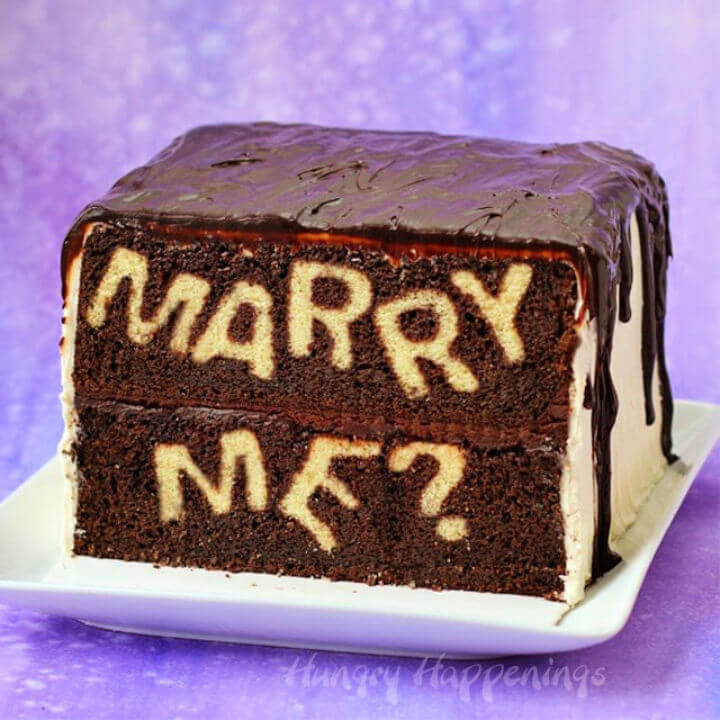 Who doesn't love a little surprise? It looks cute to propose by kneeling one foot but Surprise your favorite person with this Marry Me cake, full of surprise and taste, of course. This sure won't disappoint you. hungryhappen
36. Ultimate Great Gatsby Wedding Hair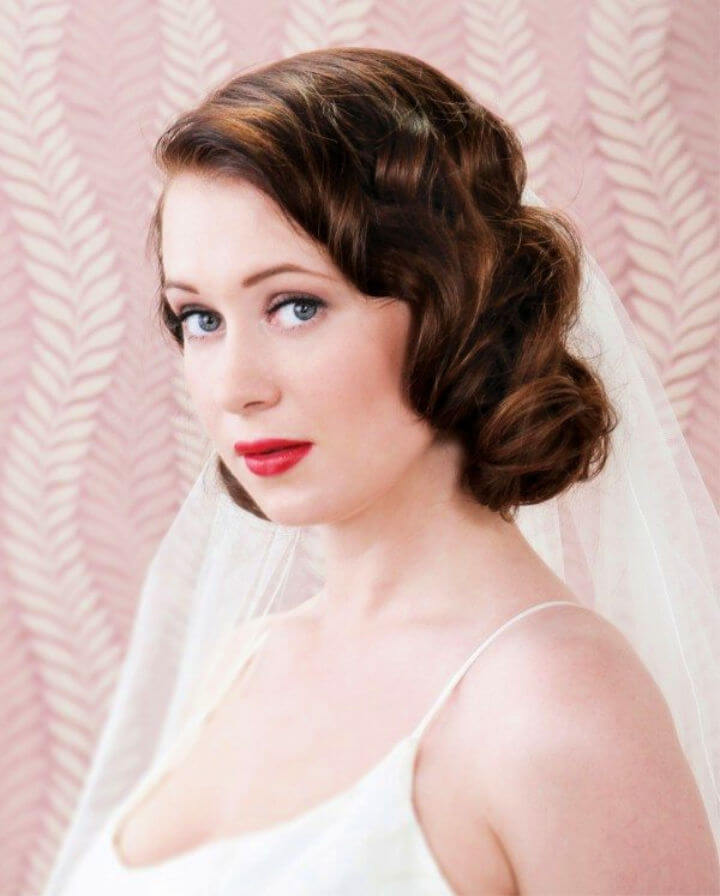 Every one of our age has watched the fantastic award-winning movie The Great Gatsby, the movie had so much of classic feel attached to it that you can almost feel to be part of it! Get your bride the complete classy look and #feels of Daisy as done here. weddingbells
37. Hot Pink Summer Floral Crown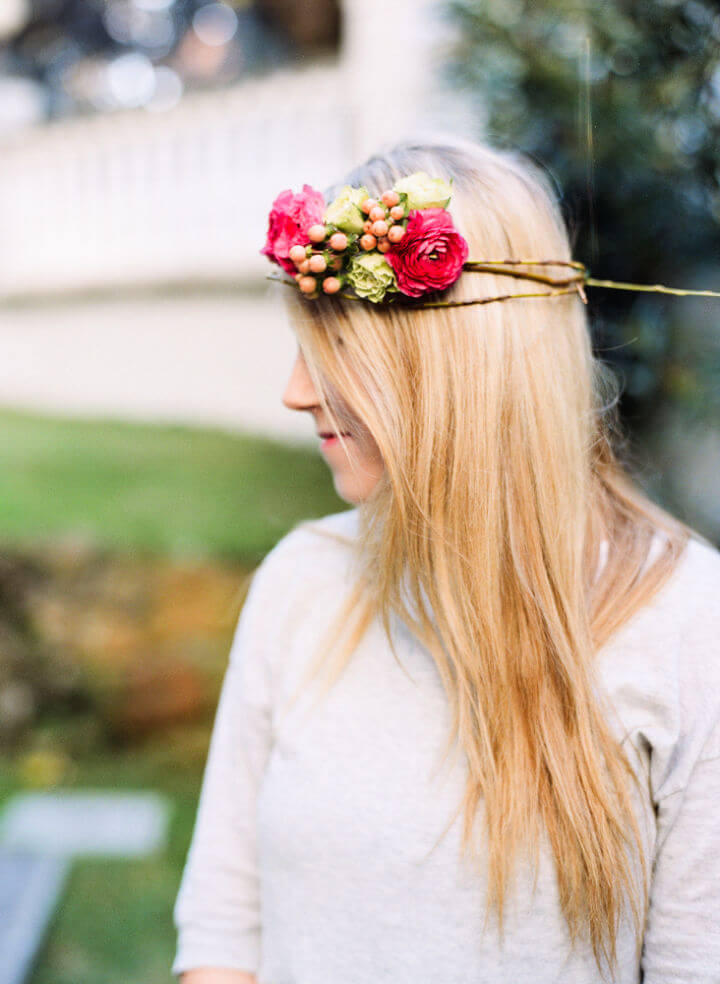 Floral crowns never go out of style; they have so much wedding vibes to them, and by adding some more green elements into them, you can make them look perfect for your event. Create your own crown as done here. bloved
38. The Bridal Faux Hawk Tutorial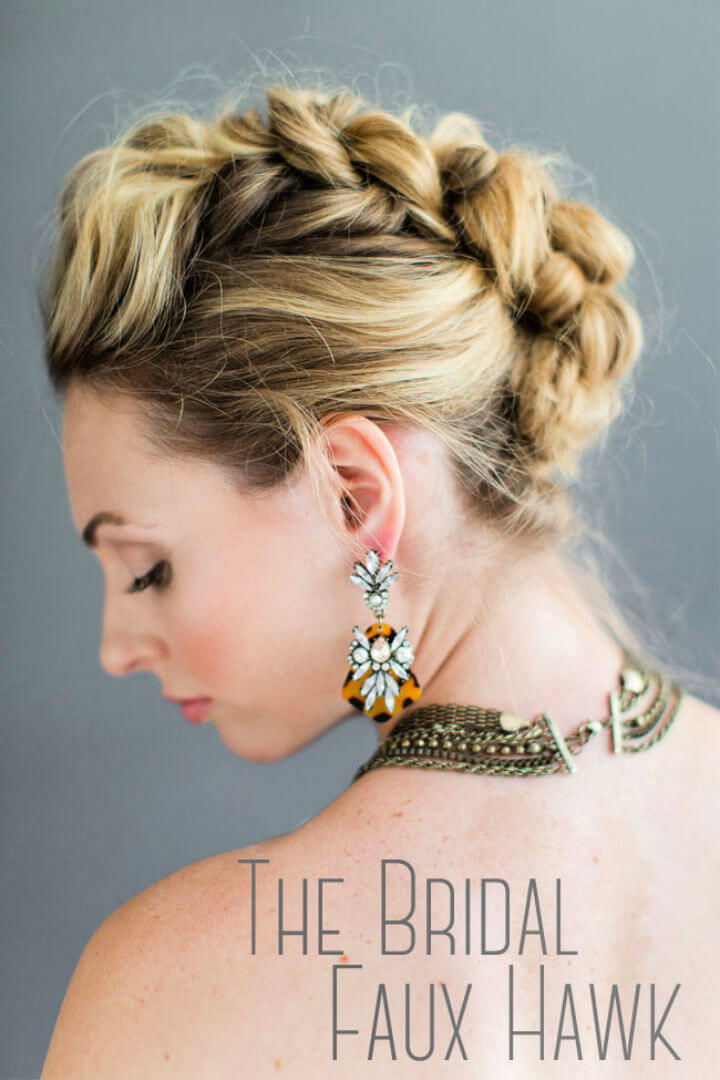 This wedding season Faux Hawk braids are super trendy right nowd by adding m, and you know the best part, they can be mixed and match with flowers or some colorful pins or combs to get a look for your favorite texture. Learn how to get yours from this Tutorial. storyboardwedding
39. Wedding Flowers Arrangements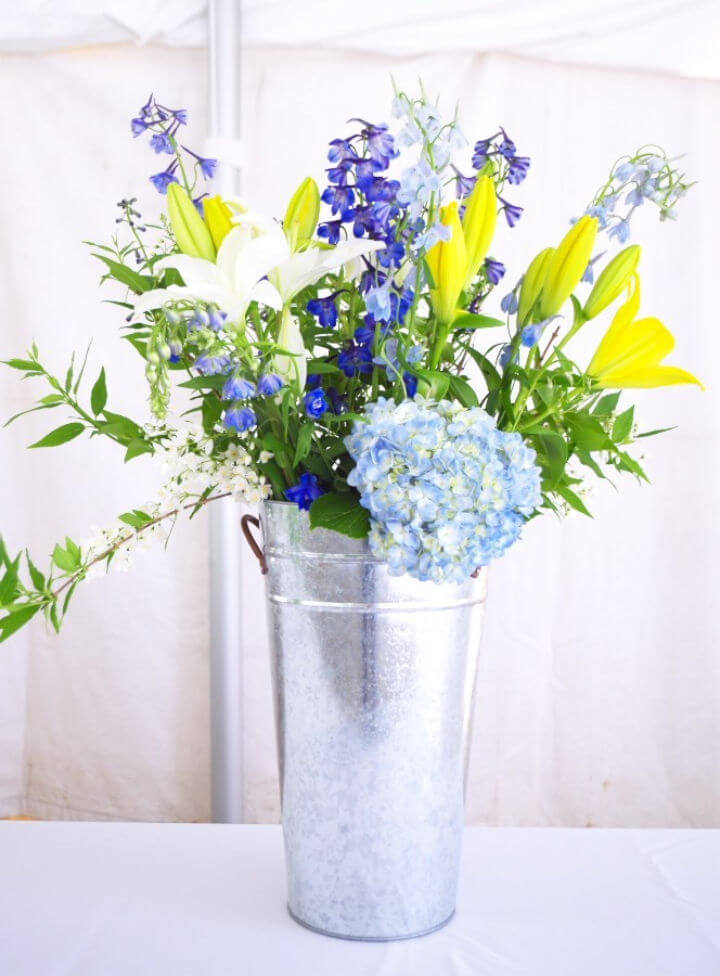 Flower decorations for any wedding are like the main element to any decor! You can put them in your backdrop wall, Centre dining table, or even on the back of your chairs, get your own DIY Wedding flower arrangement inspiration from here. plasteranddisaster
40. Chalkboard Sign Perfect for Weddings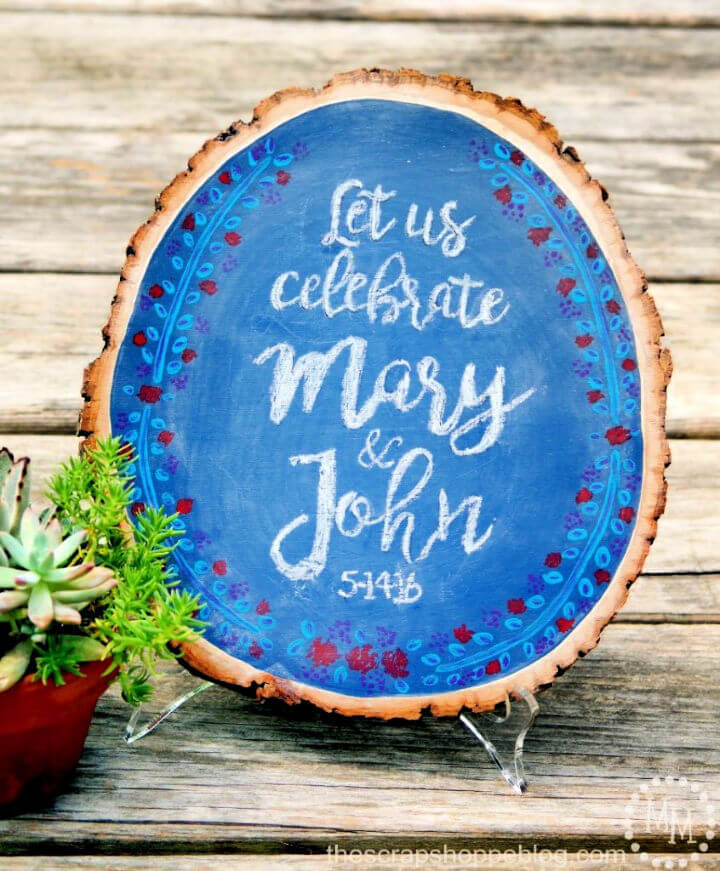 Wedding functions are all about fancy decor and floral elements. If you are one who loves to have a rustic element to his wedding, then adding this Rustic chalkboard sign is perfect for you to welcome your guests at the entrance. You can even place a charming greeting message on it for the guests. thescrapshoppe
41. DIY Wedding Chalkboard Seating Sign
Chalkboards signs always capture great attention whenever you see them somewhere. Add a touch of color by using colored chalks and place your greeting message for your guests by this DIY Wedding Chalkboard sign at your entrance. plasteranddisaster
42. Confetti Polka Dot Photobooth Backdrop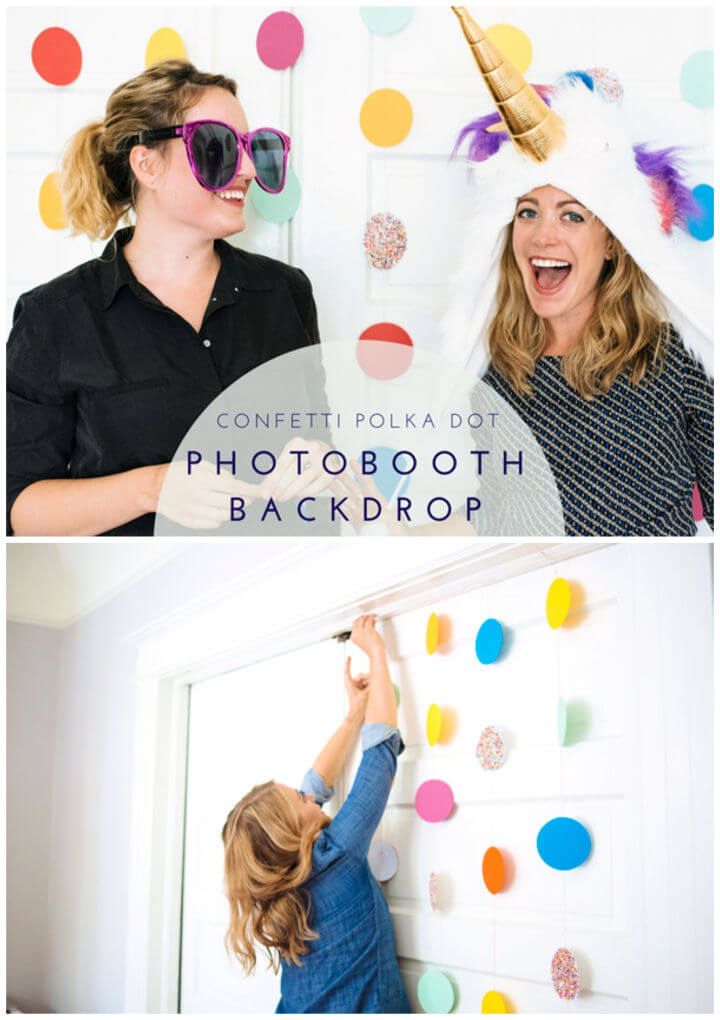 For every party or a function, you always need a backdrop photo booth. This backdrop can be seen in every picture you take, which you can recall later once your function is over. Get yourself your own Confetti Polka Dots backdrop photo booth with some basic supplies. asideofsweet
43. Easy DIY Colorful Cake Platter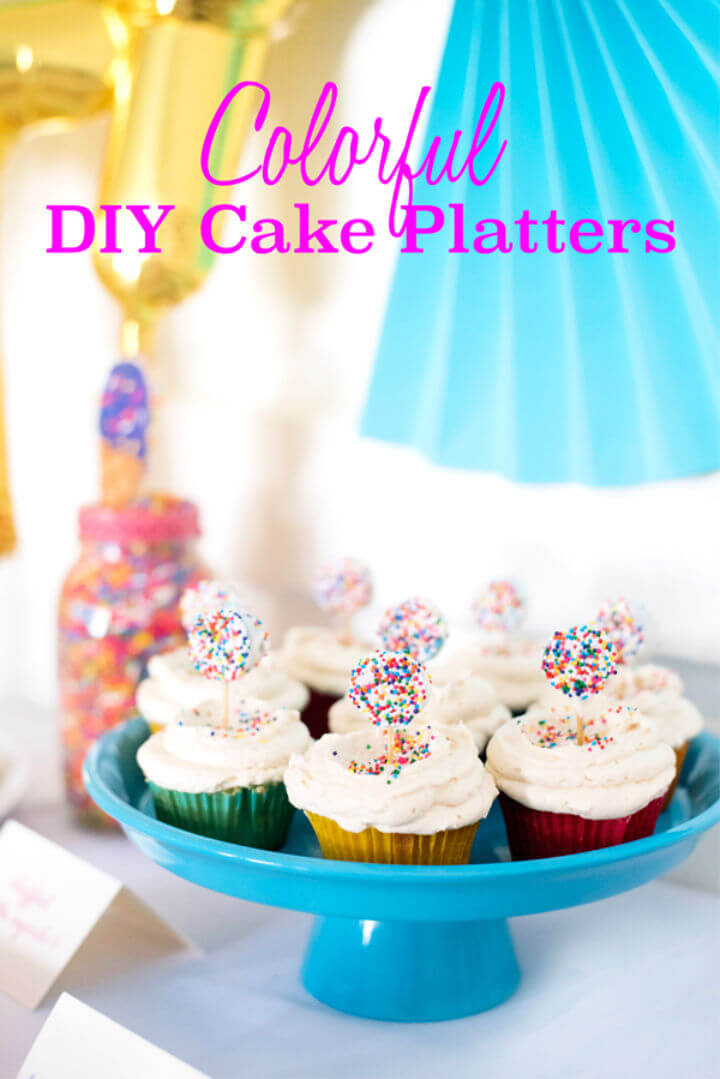 Sweets and cakes are a must part of every Wedding party food table, this table consists of some adorable cake stands with yummy cupcakes and sweets on it, get yourself a homemade colorful cake platter in simple steps. asideofsweet
44. Bold & Beautiful Bridal Flower Crown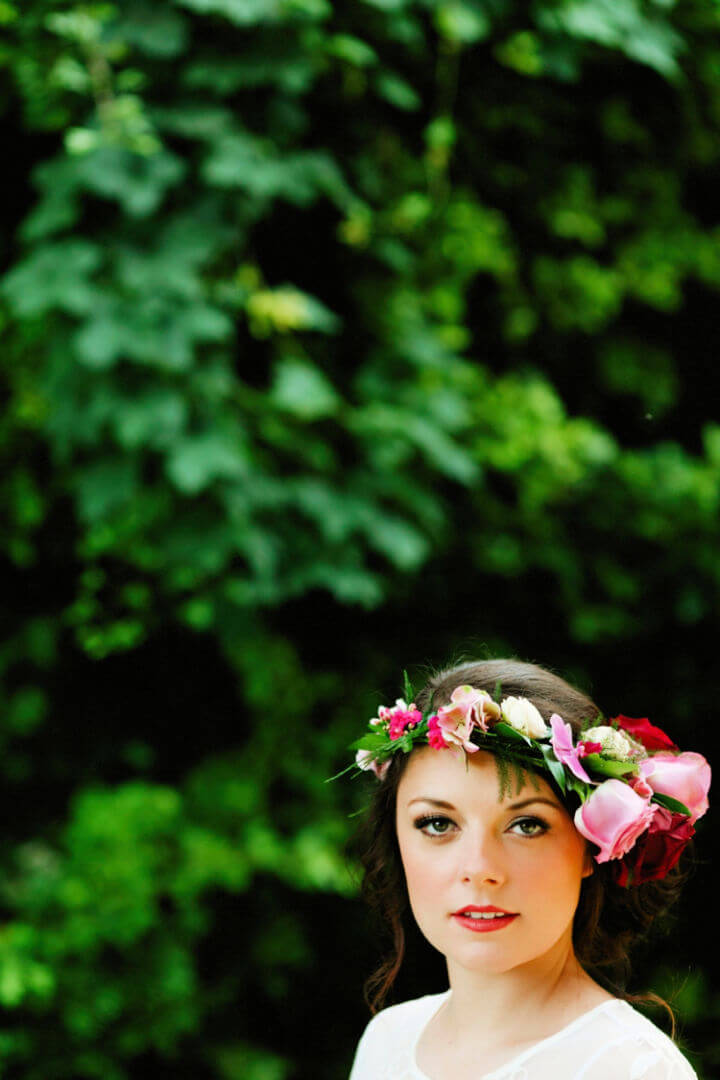 Along with colorful wedding themes and floral decors, one element of must-have in a wedding is the floral crowns for the ladies, Girls on any wedding love some handmade floral crowns which they can rock with their attire. whimsicalwonder
45. DIY Wedding Cake – A Beginner's Guide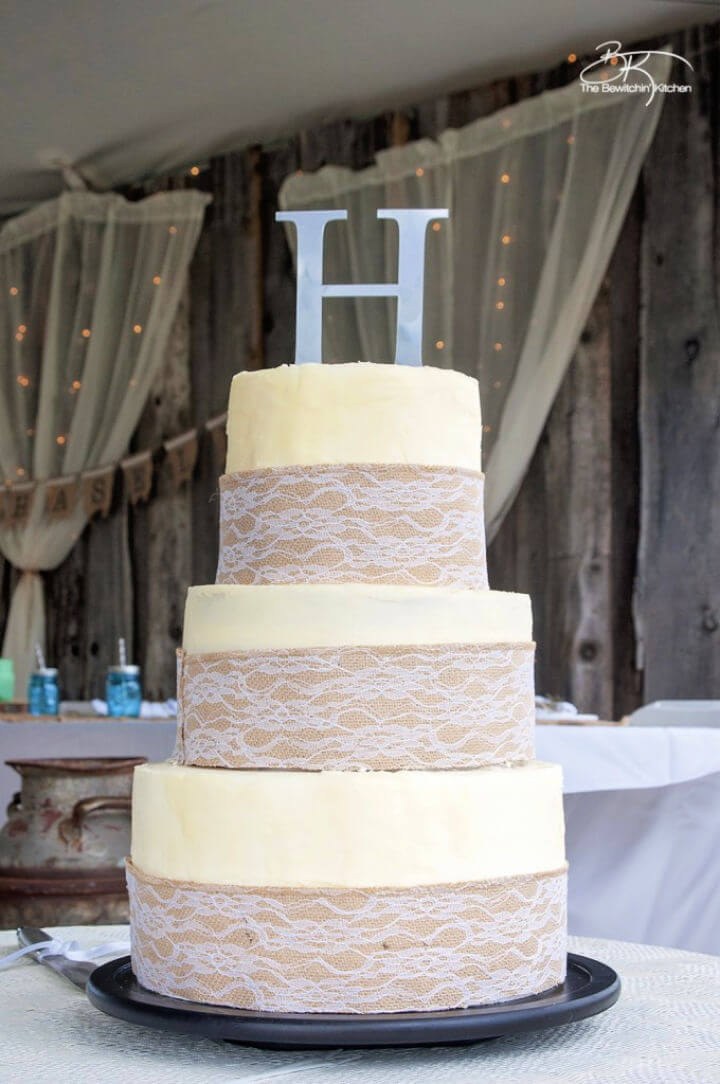 Weddings are incomplete without any wedding cake! Though the cakes specially designed for the wedding are costly, you can always create one yourself with this easy DIY Wedding cake, which is not just easy to make but also pretty nice on the pocket. thebewitchinkitchen
46. DIY Fingertip Veil for Your Wedding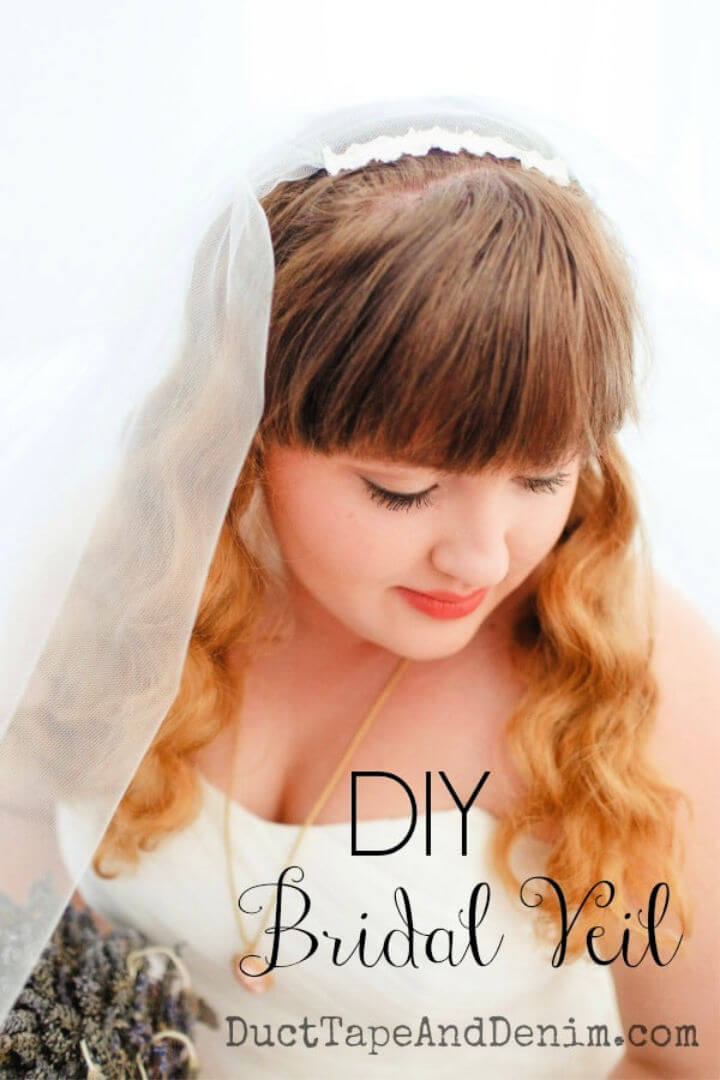 Girls on their wedding day try their level best to look as gorgeous as they can be, from choosing the wedding dress to picking the right size for the veil is also essential with suitable length and diameter, get yours in these simple DIY Steps. ducttapeanddenim
47. How to Make Mini-Planter Party Favors
Who doesn't like to have a little gift or some token of appreciation from an event they attended? From this one surely, feels privileged and loved. Wedding parties are such functions in which you can create such goodwill gestures like done here with small planters. ehow
48. How to Make a Mrs T-shirt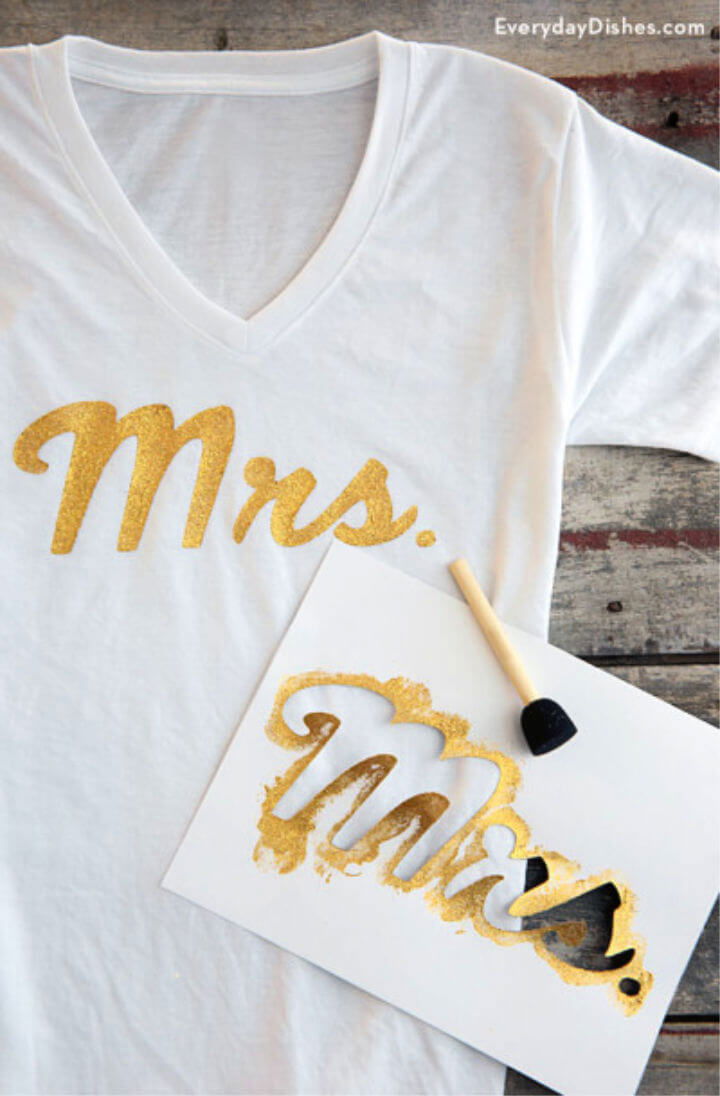 Whenever any bridal shower or some bachelorette party is being planned on, one thing is for sure that is custom made crafts. One of which is DIY Mrs. T-shirt. Obviously, this goes out to the bride, which she can rock it on the bridal shower or also on honeymoon. everydaydishes
49. Pom Pom Flower Girl Baskets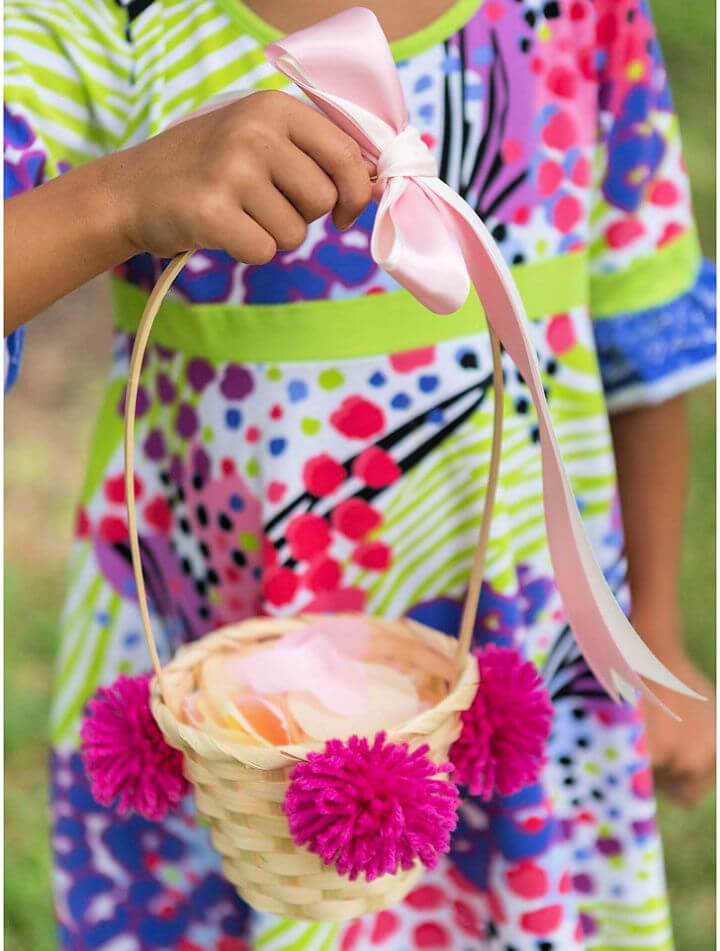 It's all about floral and colorful elements for a girl. As far as wedding parties are concerned, every tiny detail counts. For that matter, small baskets with a little pom pom on them will go best for the flower placements, which later can be handed over to the guests and brides and groom. orientaltrading
50. DIY Mini Pumpkin Floral Vase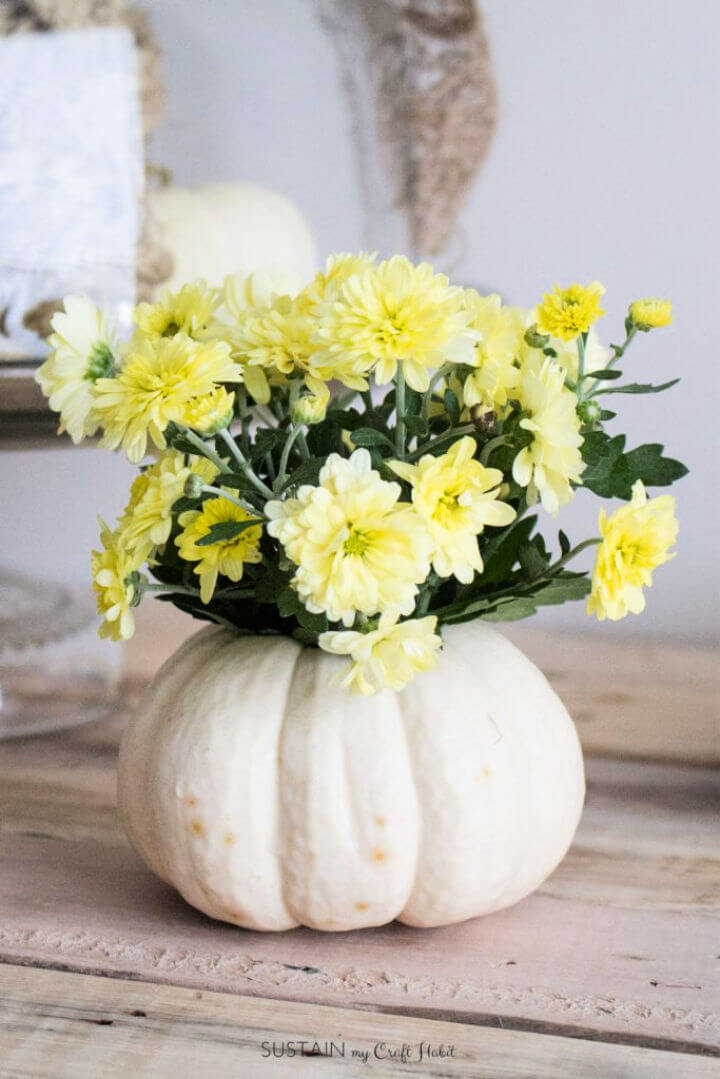 Every one of us has read the Cinderella story in our childhood, the horse with pumpkin card and frogs as coachmen's. It all looks like a fantasy, but you can create your own Cinderella themed party with this DIY Pumpkin Floral vase to go overall with your decoration. sustainmycrafthabit
51. Photo Centerpieces for Wedding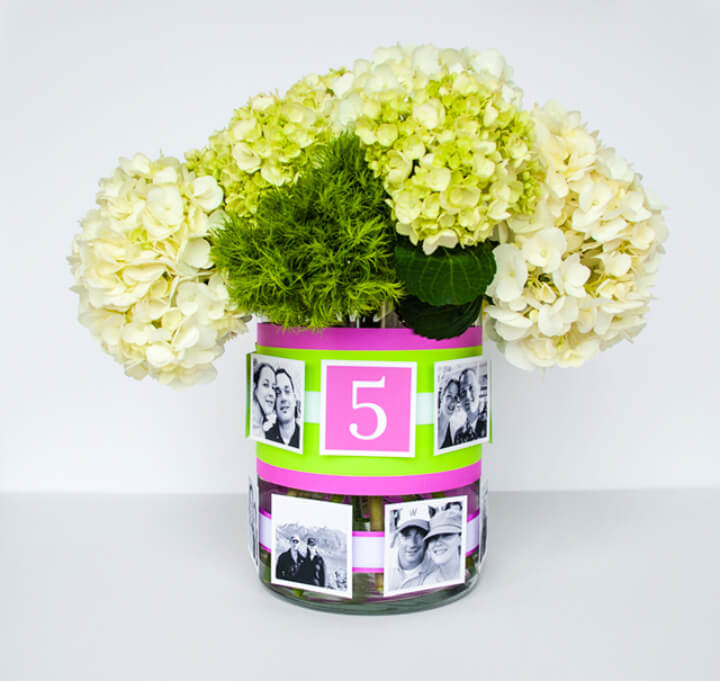 Photos are the best way to recall the old memories, these memories sometimes last in our thoughts and sometimes on our photo walls. Why not create them part of your wedding function and place them on your center tables when guests arrive for food. velcro
52. DIY Wedding Charging Station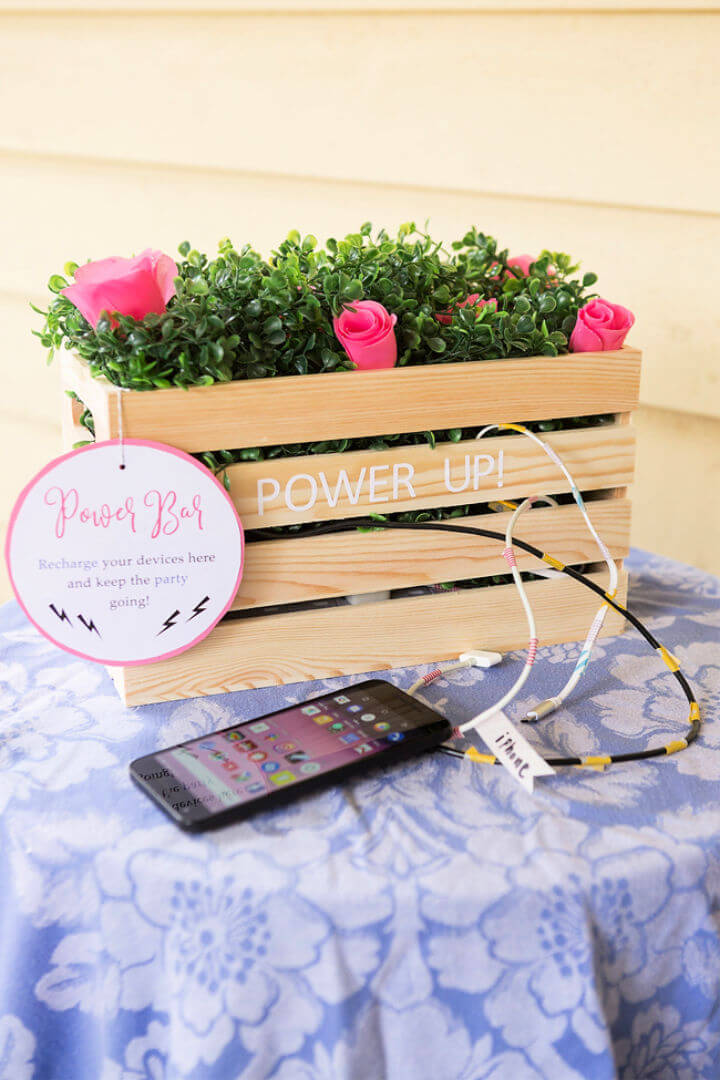 In this fast-paced world of technology, losing your phone to a dead battery is almost like a heart stroke! So, make your wedding preps even more perfect by setting up these charging stations for your guests and win their hearts. orientaltrading
53. DIY Teacup Bridal Shower Bouquets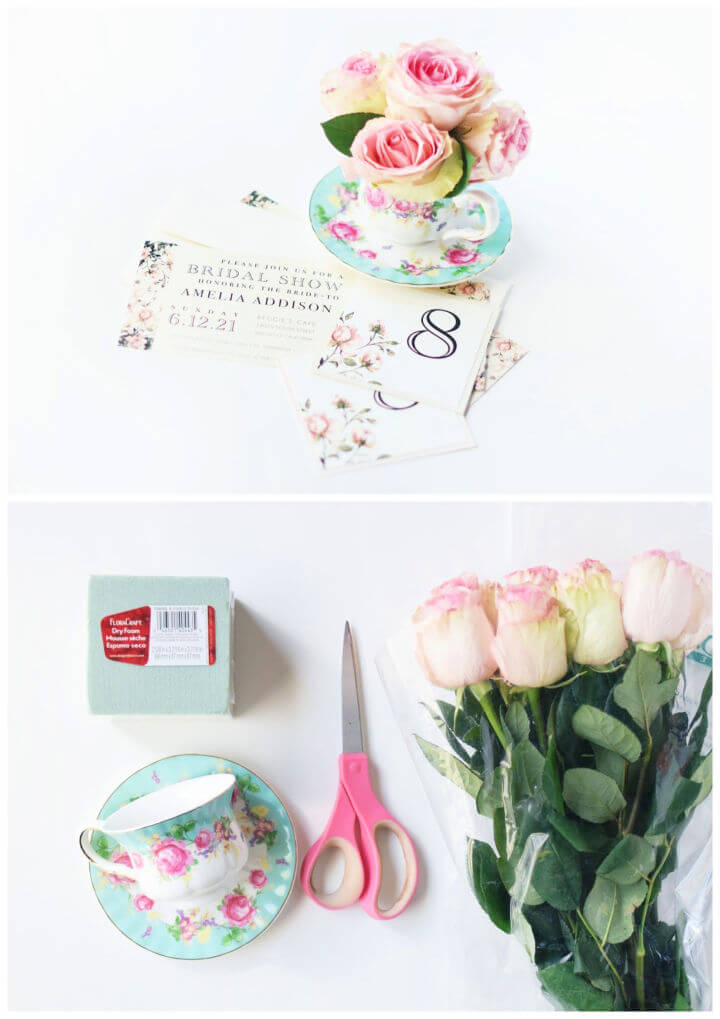 Worried about what to give to your bridal shower guests as soon as they come to your very precious event? With these easy DIY Teacup bridal shower bouquets, you can always create an impression. Guests will love these mini masterpieces, and it's even easy to make. beaconln
54. How to Make a Pumpkin Centerpiece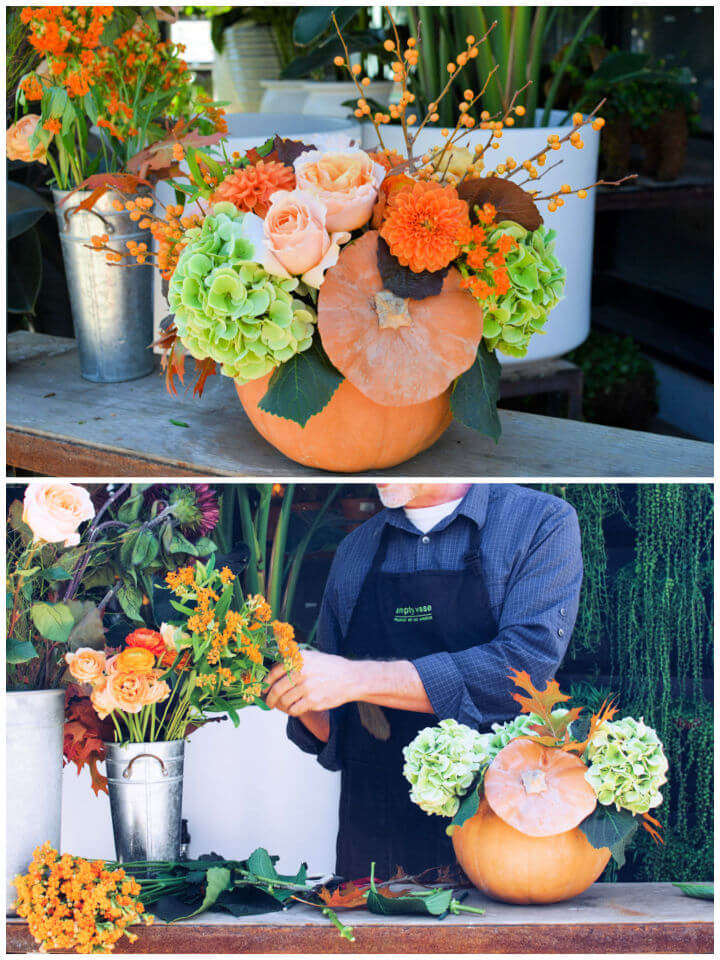 Halloween days are the fun days, and you can't miss the important decor element relevant to that notably a pumpkin head centerpiece. Also, sounds just perfect if you are getting married at the end of October! Theme up your wedding day with Halloween vibes, yeah! insideweddings
55. DIY LOVE Marquee Letters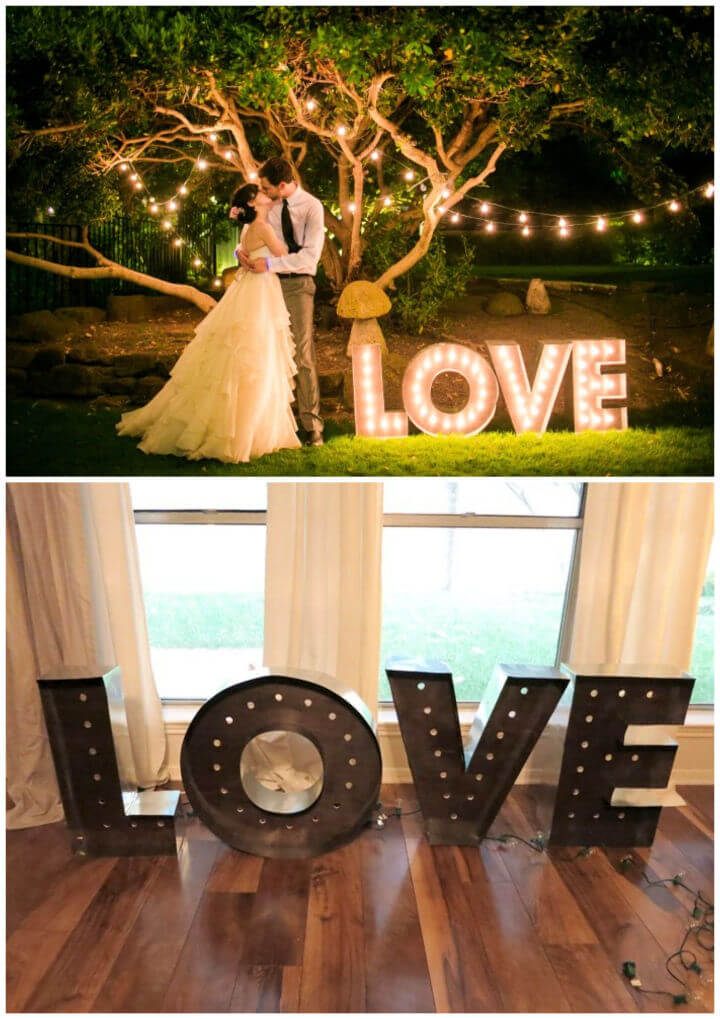 Wedding proposals are a cute yet memorable part of one's life, from deciding the best option for the perfect mood and overall look and feel of a place where you can propose is all one wants. You can place some delicate LOVE sign cutouts in the back and propose your favorite person. evanandkatelyn
56. Awesome Gold Sequin Heart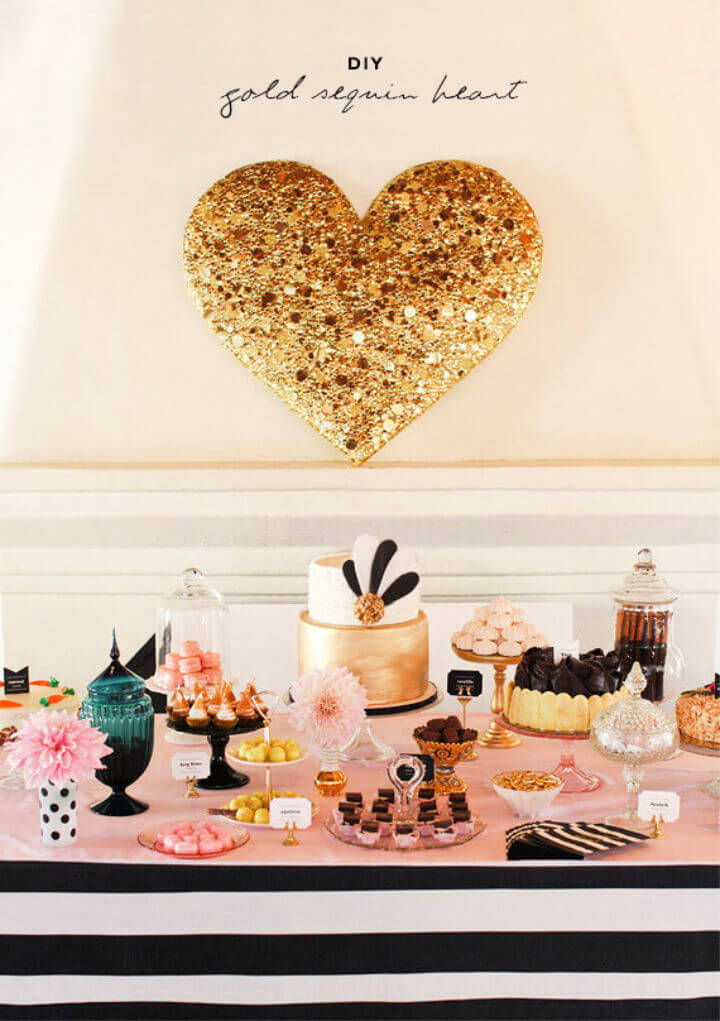 Glitter and shimmer are somehow central parts of any wedding party. These decor elements add a nice look and feel to your overall party decor. Get your party a complete makeover with these easy DIY Gold Sequin hearts and place them on your guest's table to show them love and sense of warmth. 100layercake
57. Touch of Gold – Wedding Decor Idea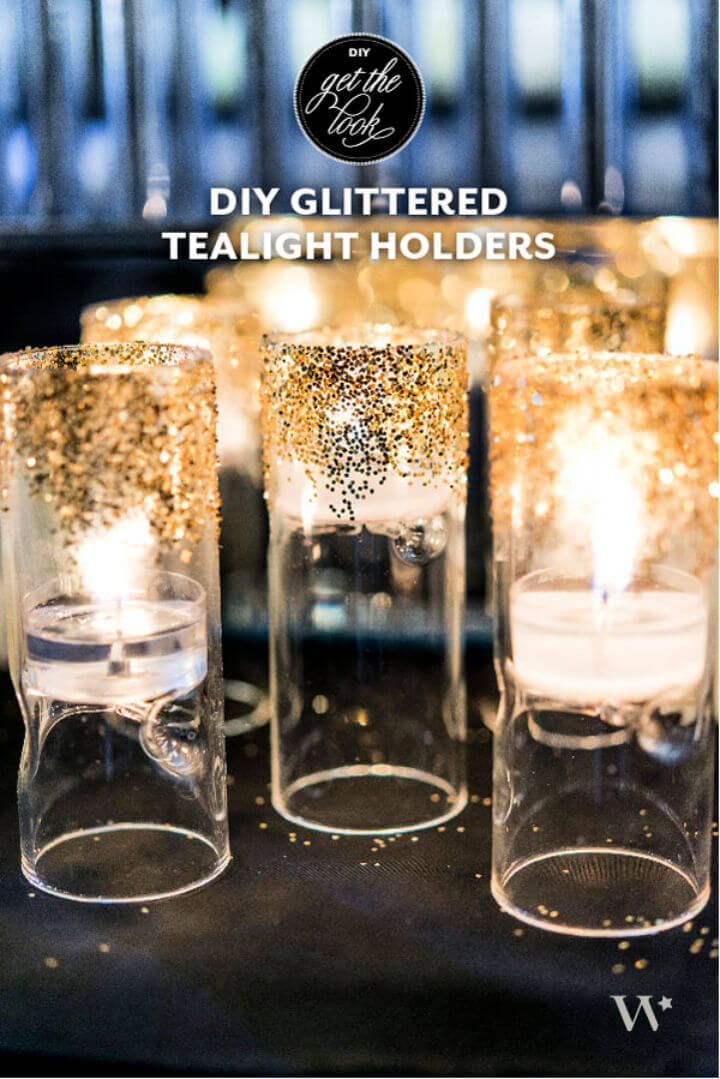 Every party has a theme associated with it, well for wedding parties Gold always suits best. Give your wedding a royal touch with these gold-colored decor elements and enhance the overall look and feel of your special day. weddingstar
58. Flower and Sand Centerpieces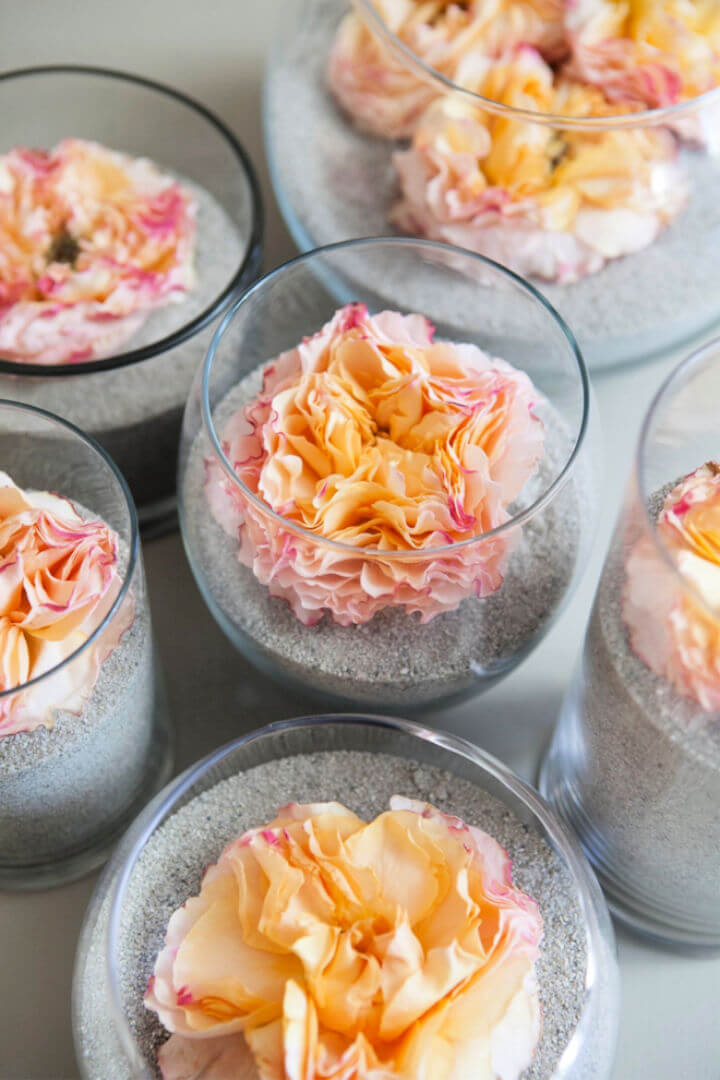 Gifts are something that always creates an excellent impression if packed properly, and pleasantly, the effort counts a lot. With this sand and flower centerpieces, you can always give a feel of warmth for your guests. somethingturqu
59. Geometric Table Runner for Wedding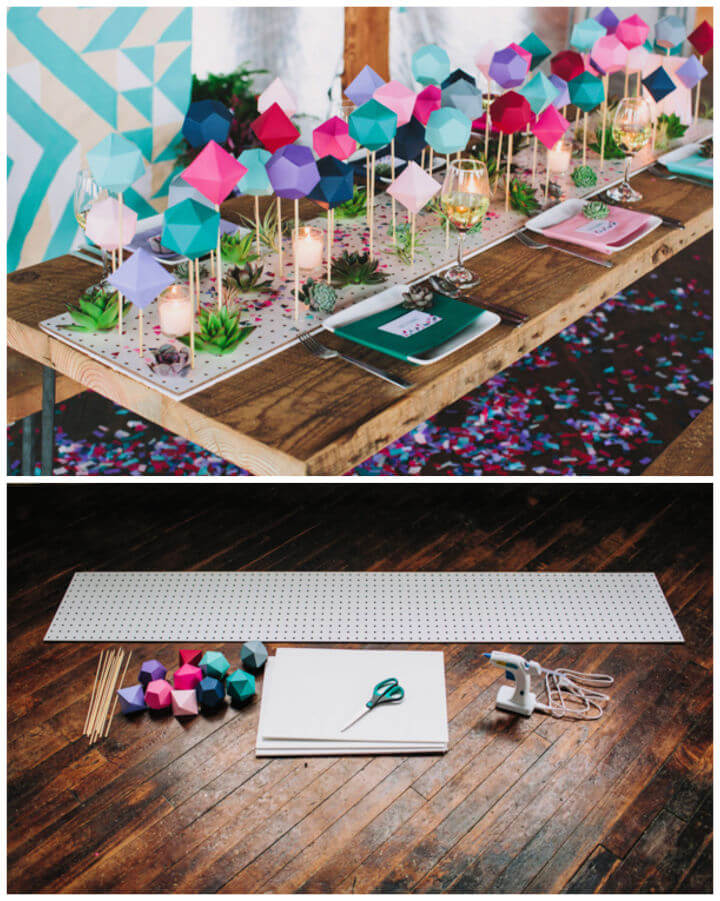 It's always fun and entertaining to make something with your hands on your wedding, you can see the creative side of yours when you do so. Give your guests a lovely, warm welcome with some beautiful table cloth runner while they dine in. ruffled
60. How to Make a Wedding Cake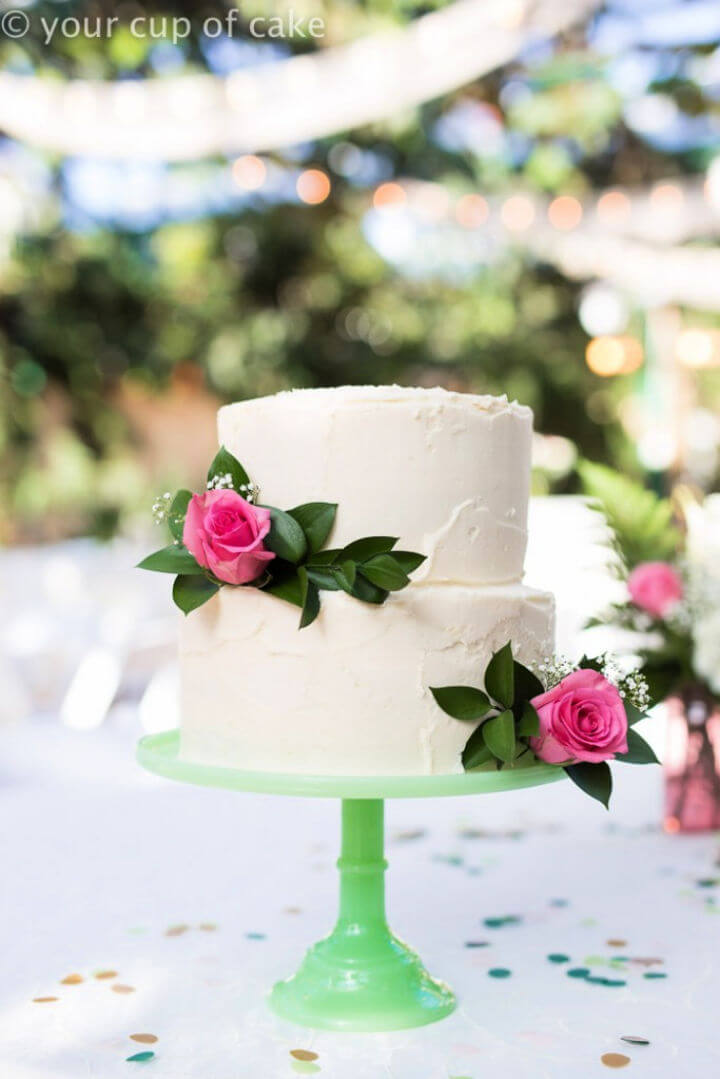 Weddings are that time of one's life that requires a lot of effort and time. From decor accents to your best dress to your food, everything should be up to the mark! SO, why not greet and treat your guests with some delicious handmade cake.
No Source
61. Simple DIY Floral Balloon Tails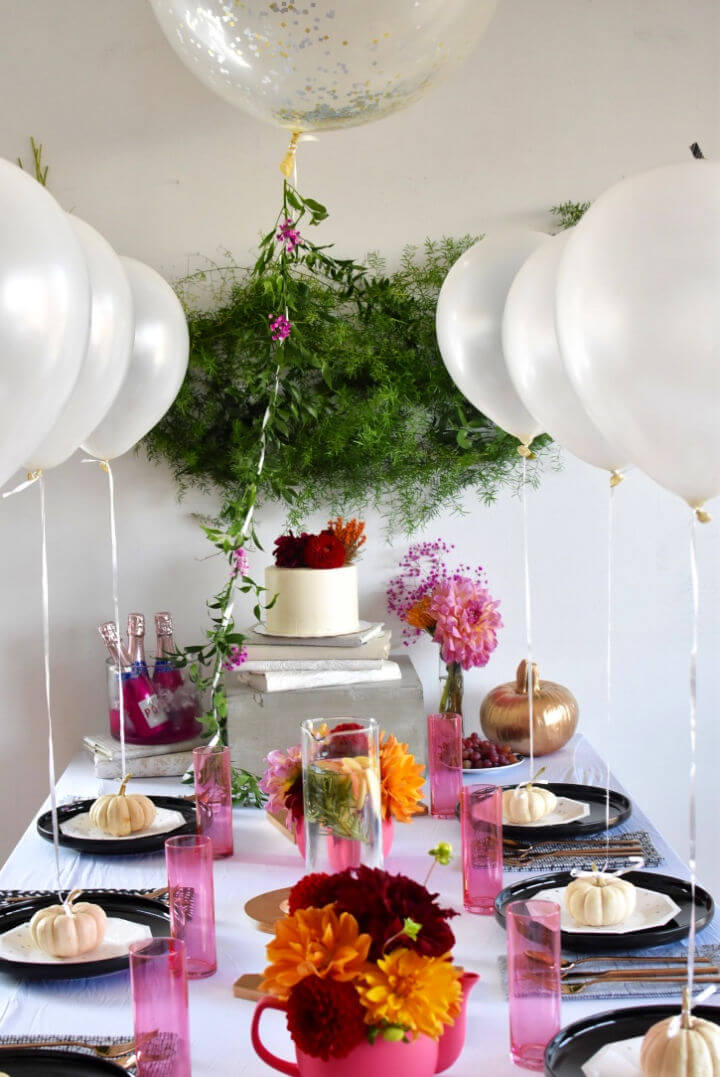 Make a fantastic entrance with this laced up confetti balloon for your wedding, this can be displayed on your wedding entryway and can be tied with a leaf on its tail. These floral balloon tails are easy to achieve and require very less of an effort. balloontime
62. DIY Silk Flower Wedding Wreath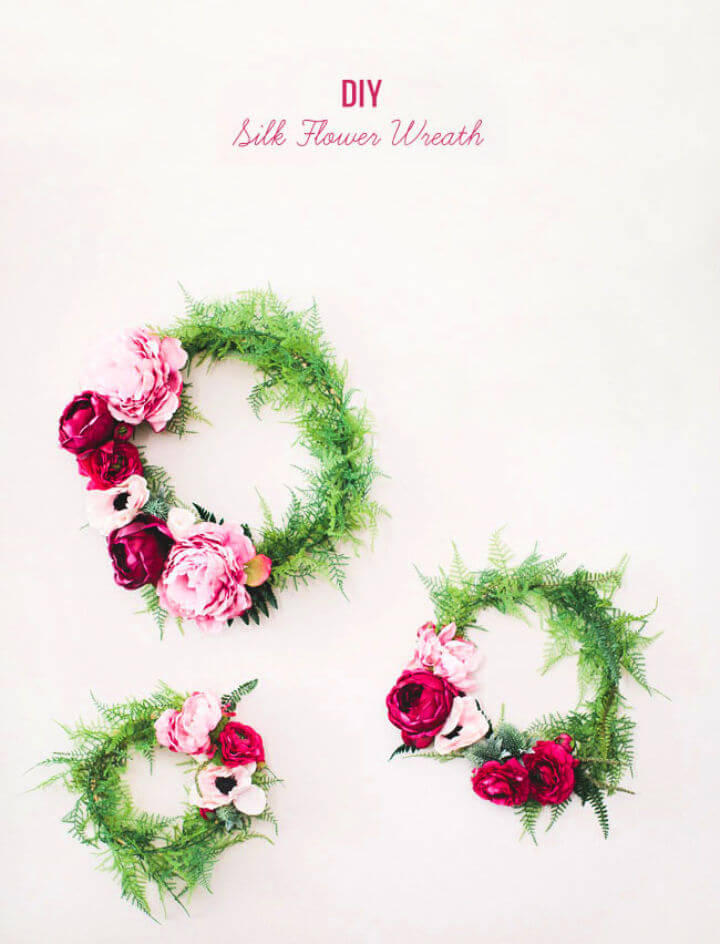 Since the wedding season is upon us, all we think of making sure that our every event is the best of the best. The decor for the event also complements the decor. To add an element of green, you can place these amazing DIY Flower wreaths on any wall and take pictures against it or even or your dining area where everyone is seated. greenwedding
63. DIY Wedding Table Stand Centerpiece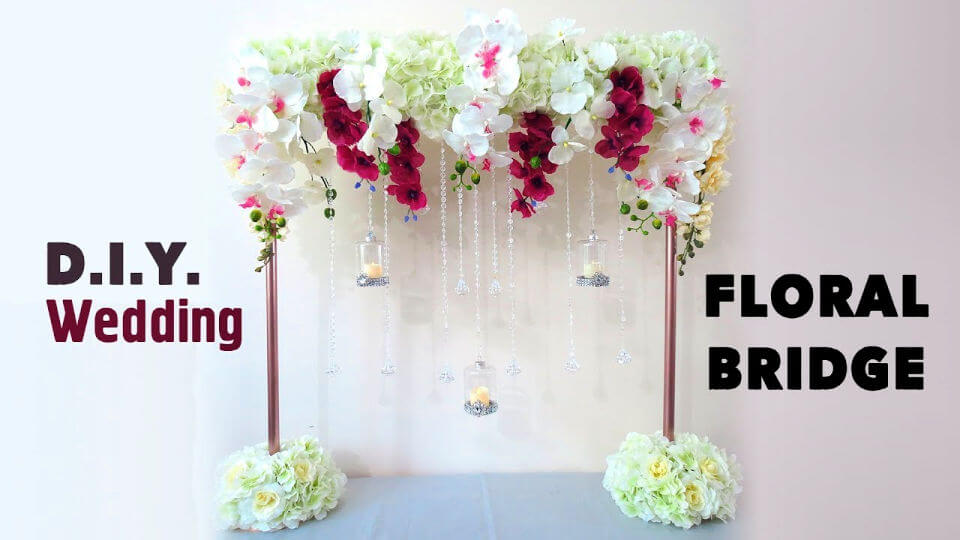 It is challenging to come up with the best ways to put up a lovely decor in any wedding, one has to work on the layouts and whatnot. With this DIY Wedding table stand centerpiece, you can always leave a good impression to your guests dining on that table. youtube
64. Wedding Centerpieces In Minutes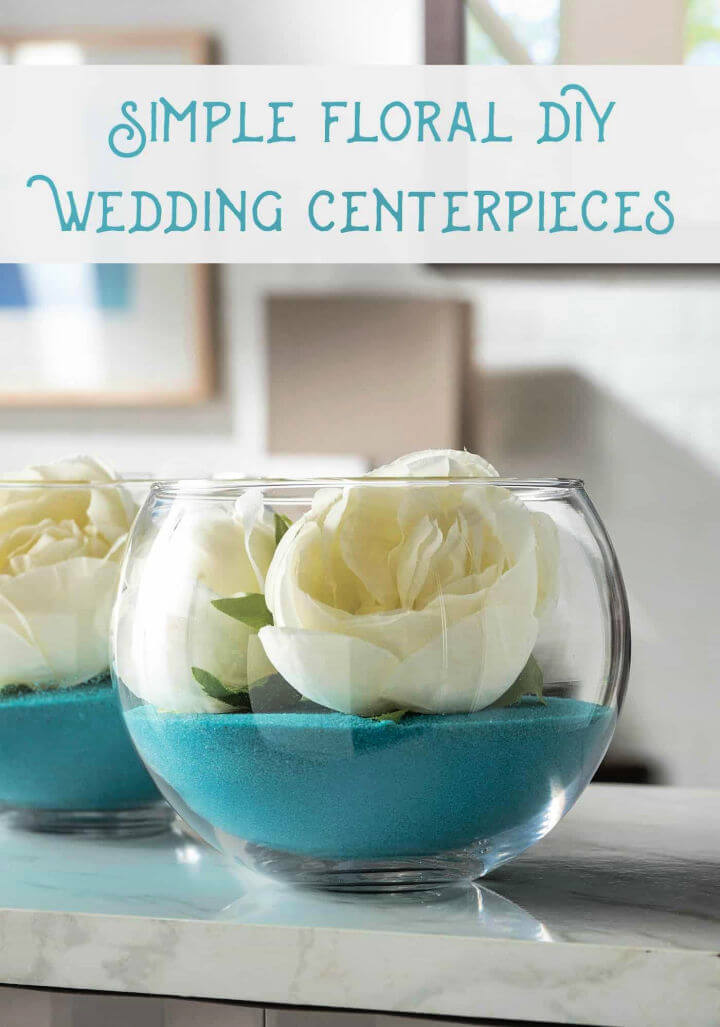 Weddings are those events that are never 100% complete, uncertainly any sudden mishap can happen, or you can forget something. Well, so is the case with the decor element. If you forget to add some nice centerpiece, then fear no more. We have got some easy ways for you to create your own floral centerpieces. diycandy
65. DIY Glass Wedding Centerpiece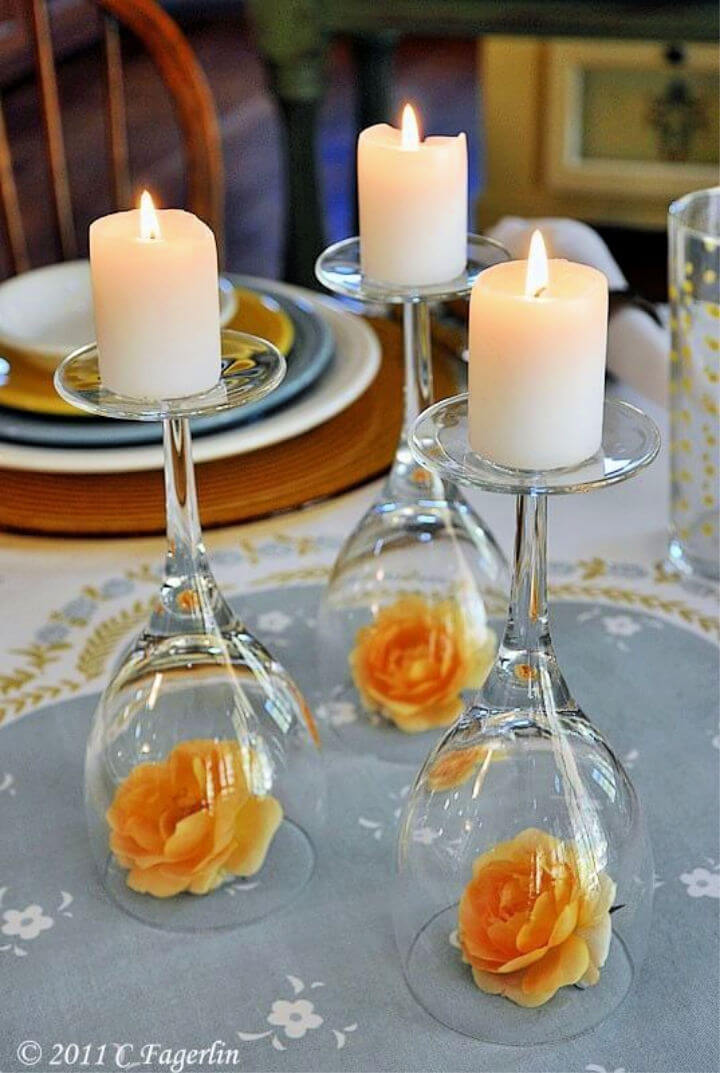 Apart from the main decor at the wedding, one major decor that needs to be amazing is on the food tables, and for that matter, you need to put some beautiful flowers on those tables, even some lovely floral glass centerpieces can do the job. superweddings
66. How to Make Paper Flower Balls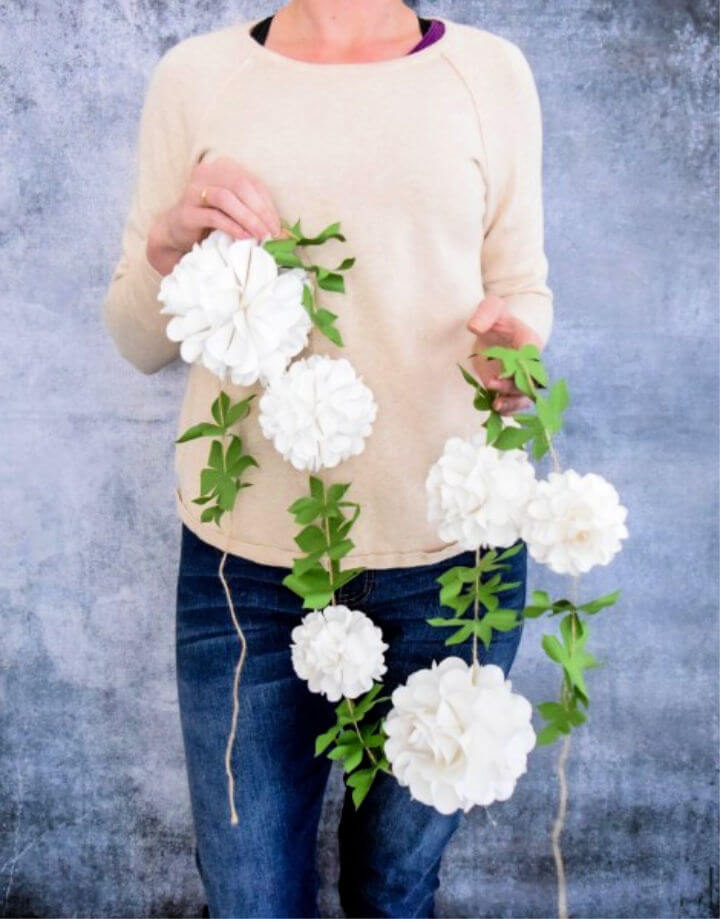 Wedding decor is always costly, and they require a lot of costs to work on the perfect ambiance of the wedding. For that matter, sometimes using a paper flower for the wedding event is not a bad option to go with like done here. abbikirstencolle
67. Starry Night Luminaries Wedding Centerpiece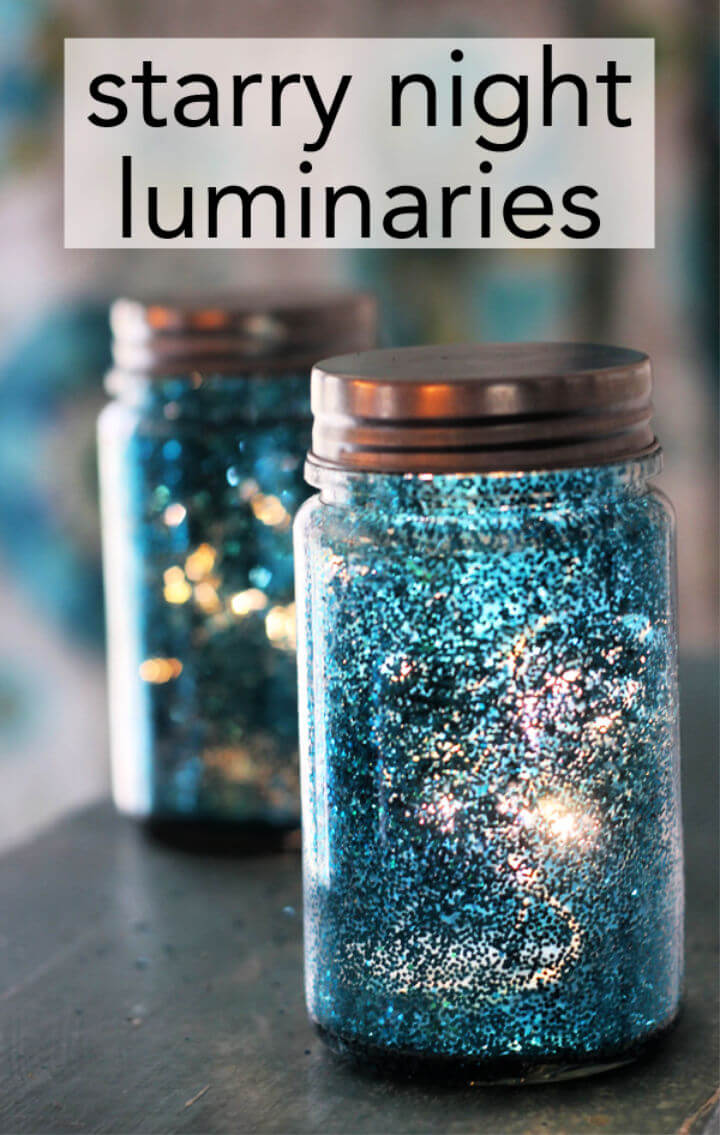 If you are planning to go for a Night outdoor event, then these DIY Starry night Luminaries are perfect to go with. You can place these centerpieces in the center of the table and give your guests a good time to remember. theshabbycre
68. DIY Glitter Wedding Letters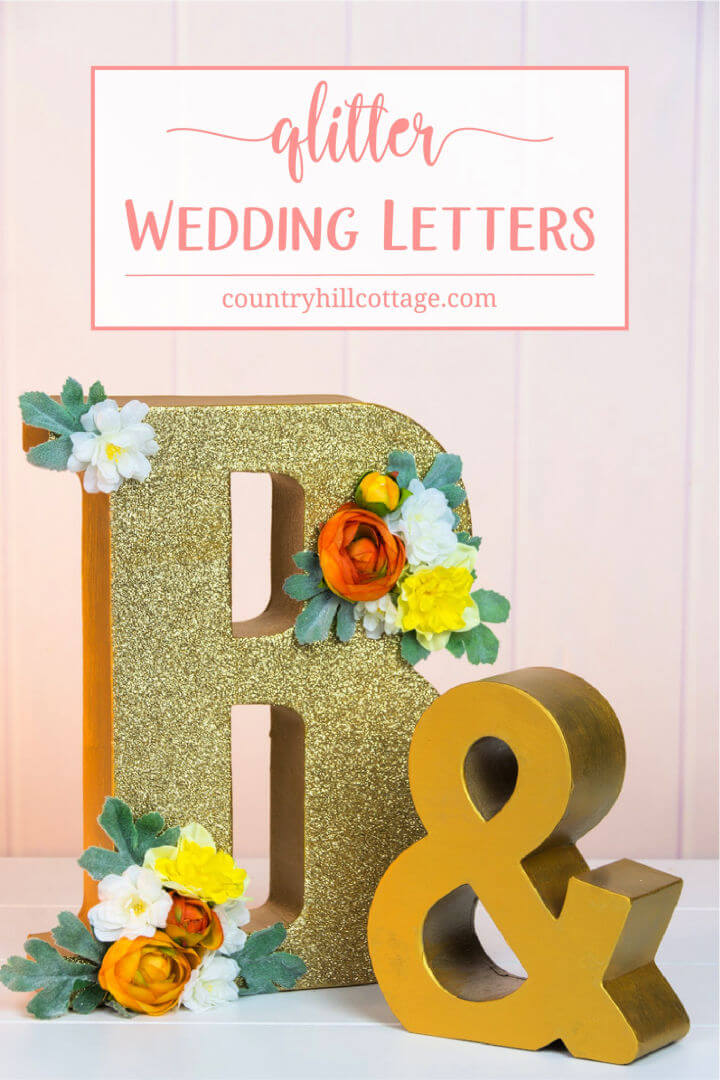 Wedding events entrances are always made in such a way that they give a nice warm welcome. Make your entrance somewhat glamorous and fancy by making these glittered wedding letters in simple steps. countryhillcottage
69. DIY Paper Flower Cake Toppers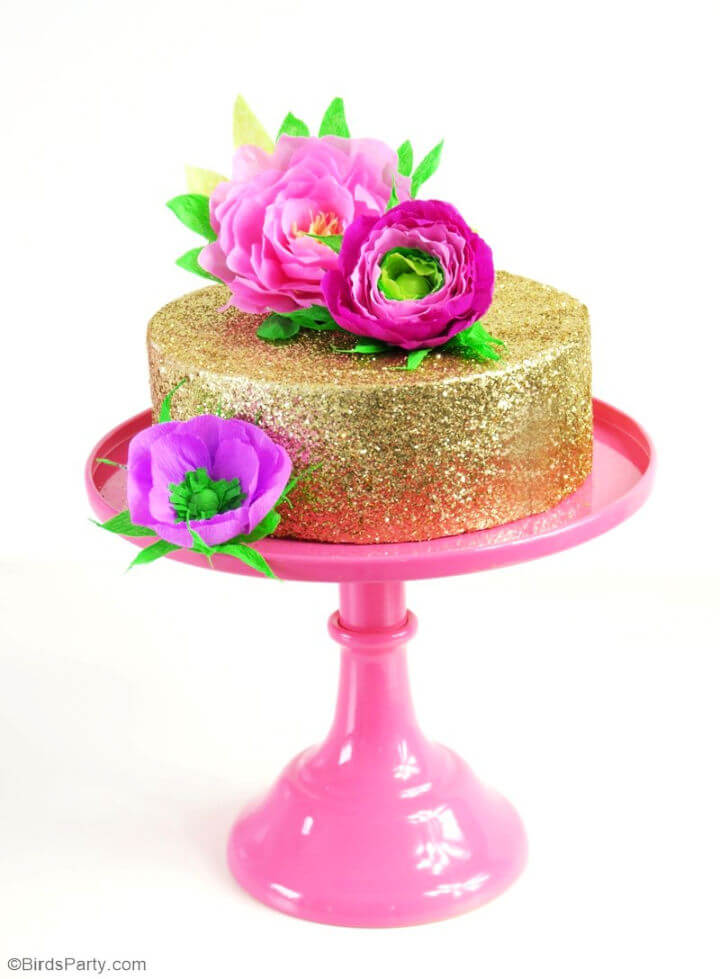 Paper crafts are somewhat that is easy to make, and even they don't cost you a lot. With these DIY paper Flower cake toppers, you can always add a subtle style statement that can look well with your cake dressing. birdsparty
70. Magical Hanging Mason Jar Lights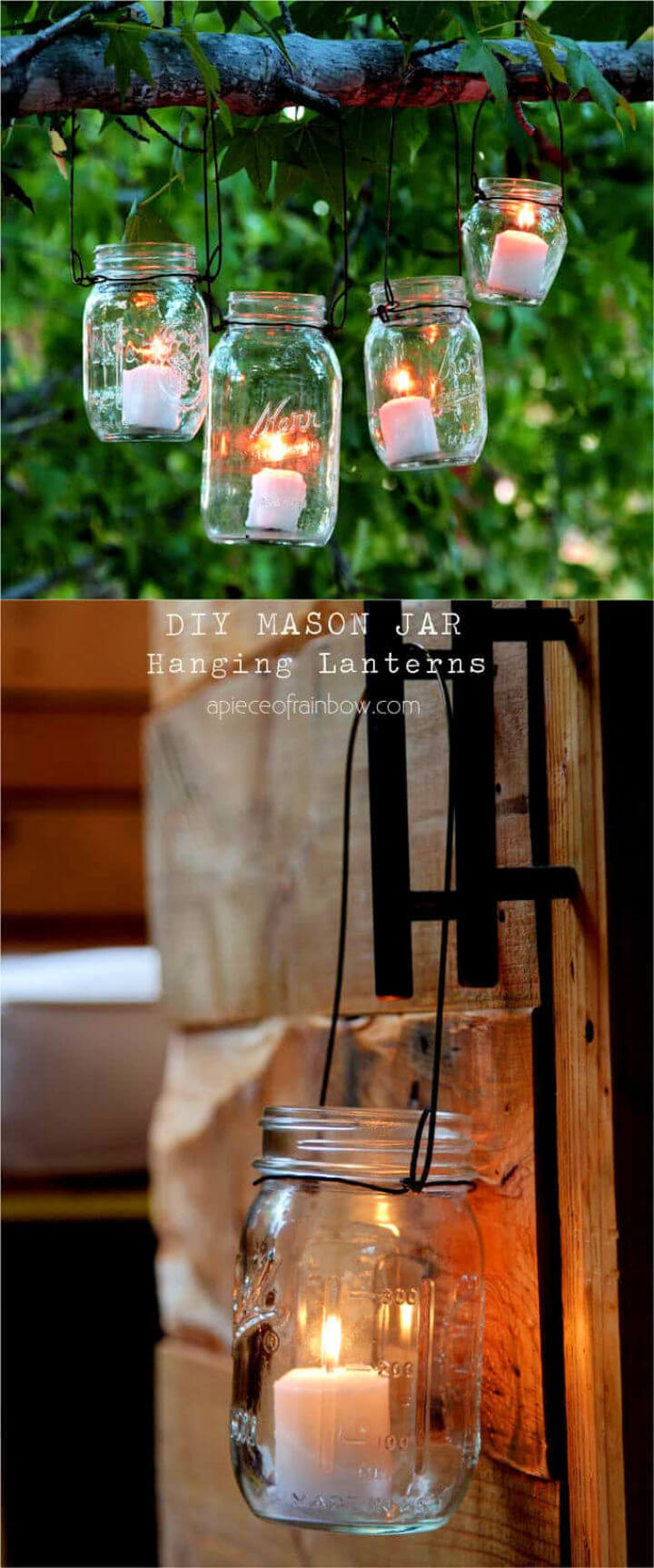 From everyday decorations to a wedding function, decor Mason jar lights look so lovely for an outdoor night event. These lights are so easy to make and can be achieved by using some basic home leftover kitchenware supplies like done here. apieceofrainbow
71. DIY Fringe Photo Backdrop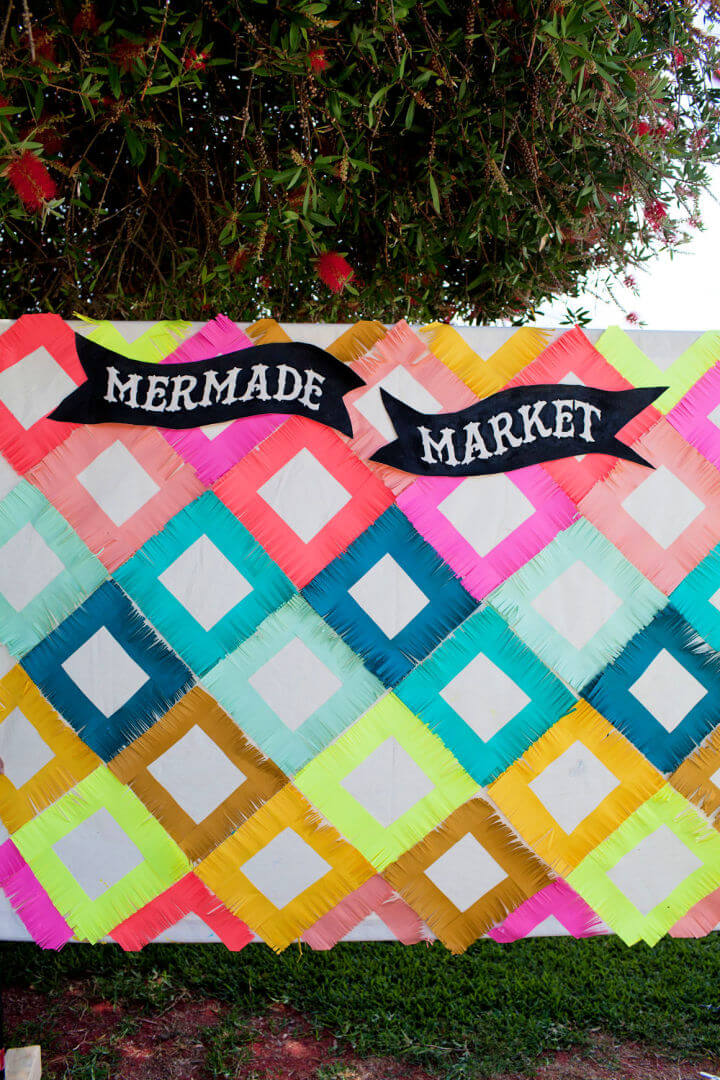 Photoshoots are a must part of any event from getting the perfect lights and perfect angle; one needs to make sure that the picture is best as Possible. Backdrop plays a vital role in this case, especially the backdrop with fringes on them. tellloveandparty
72. Quick Ombre Colored Sand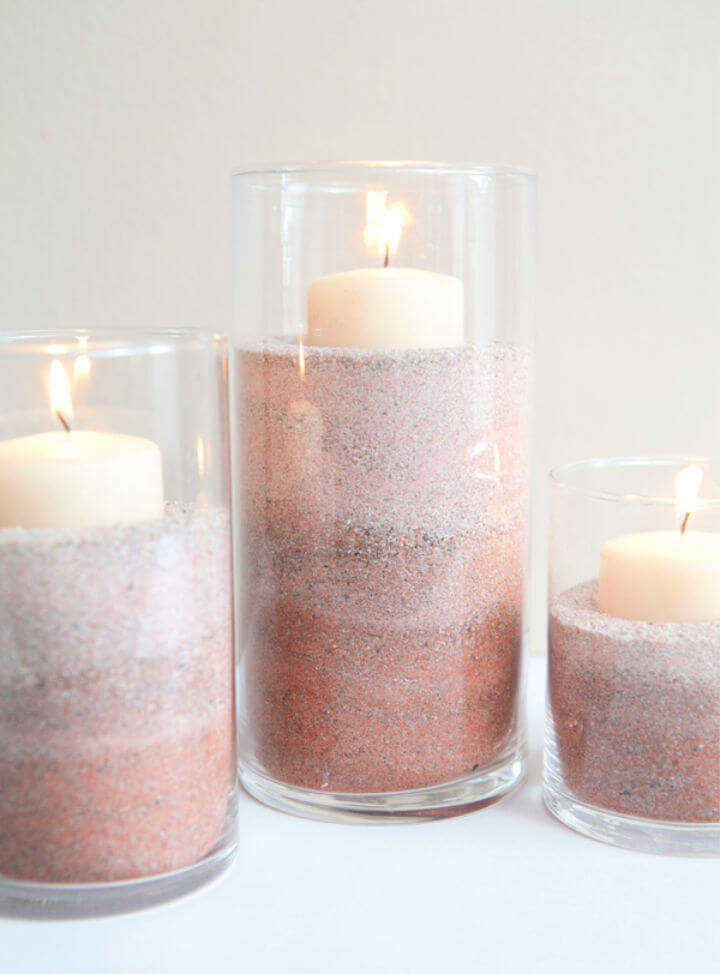 Beach sand might be a bit tacky, but if taken into consideration for the decor element, they look perfect when placed in a glass jar with a small scented candle on it. These jars go perfect with an outdoor night event. somethingturqu
73. DIY Gold Dipped Mason Jars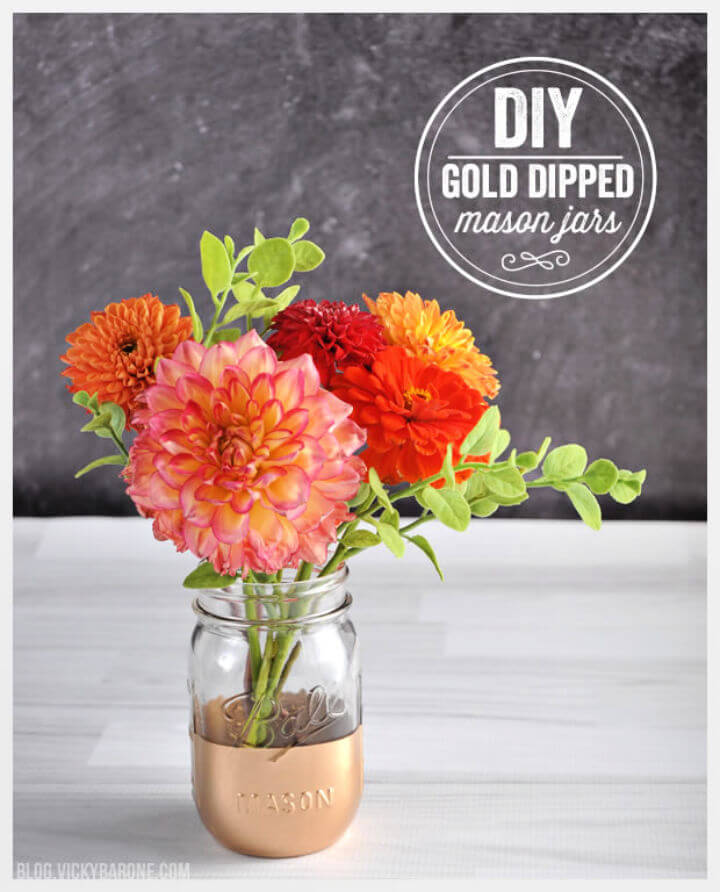 Gold dips mason jars are something that is a perfect wedding gift to the guests, these mason jars can be made from old jam jars that are not in use. To give them a more nice feel, add some handmade flowers in it which later can be placed with real ones. vickybarone
74. DIY Wedding Snow Globe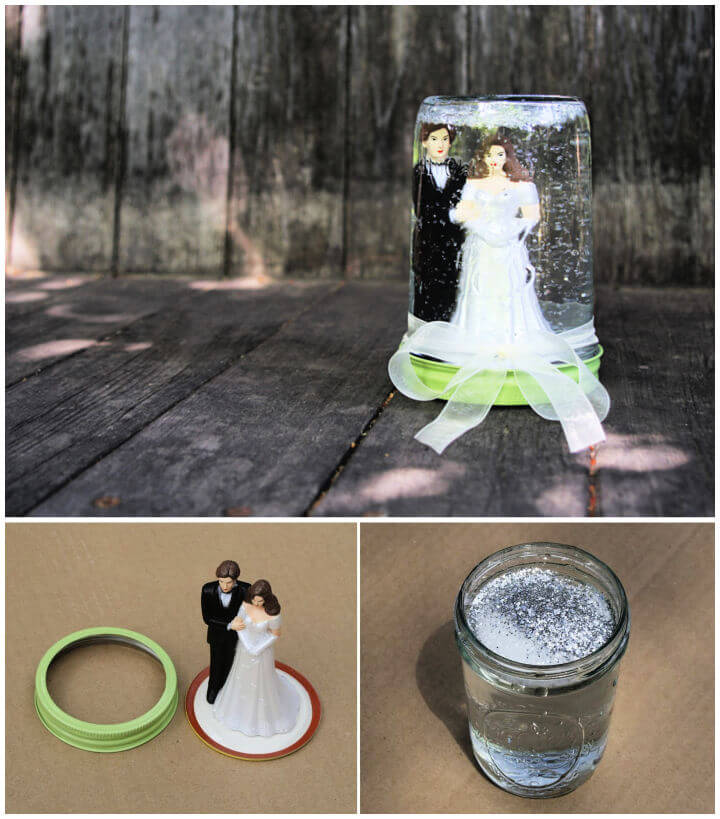 If you want to gift some recently married couple a nice token of appreciation, then this DIY Wedding globe is the perfect gift for you to gift them. You can add some cool dolls inside them that look like the couple to give them more of a personalized feel. pleasenotepaper
75. Pink Candles and Glitter Candle Holders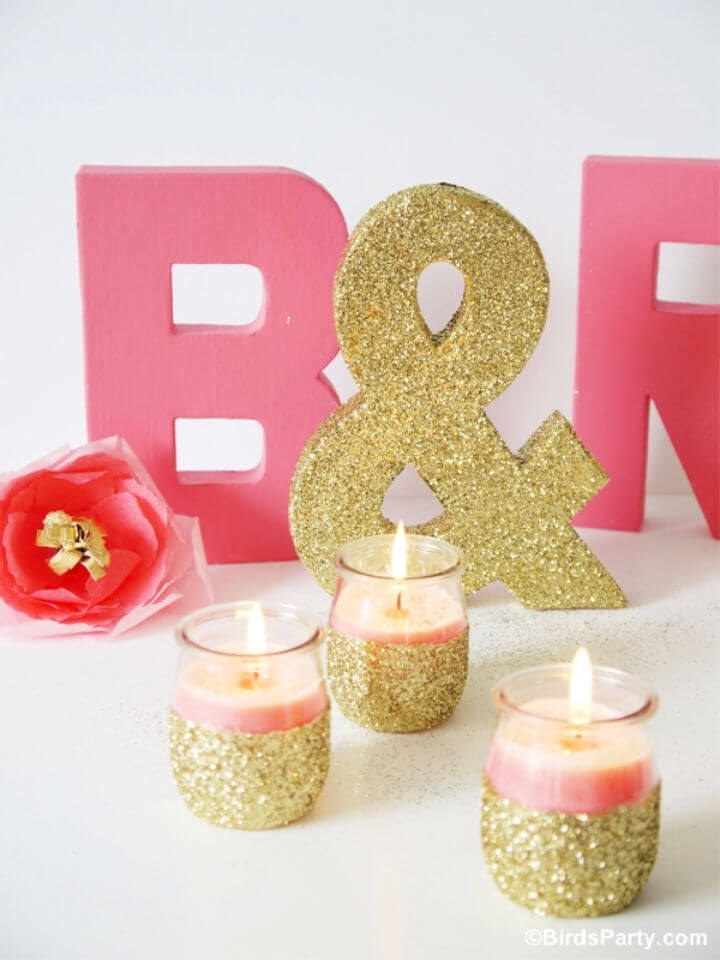 Candles for any event send a nice element of warmth and admiration, add a little touch of gold with these candles in glass holders with candles in pink color. This can be placed on top of dining tables or send as a goodwill gesture to the guests after the event. birdsparty
76. Burlap & Lace Mason Jar Centerpieces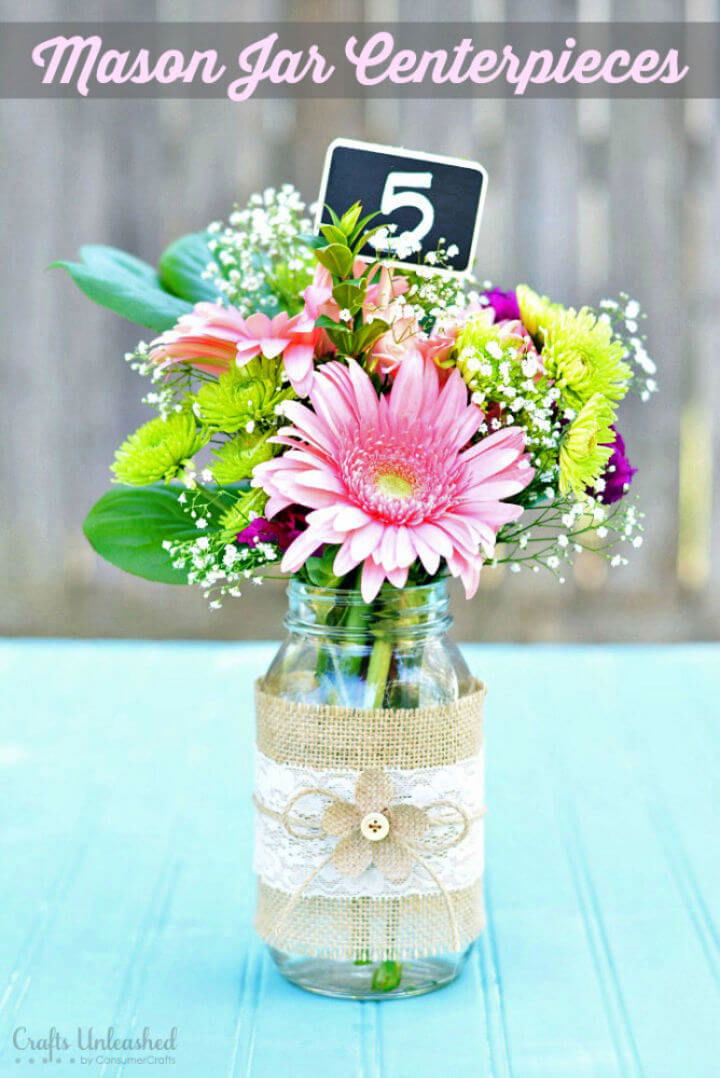 Traditional flower vases are surely beautiful, but Mason jar is the new deal now. These jars, if wrapped with burlap and lace, can be a nice addition to your dining table and can be used as centerpieces. Add some beautiful flowers in it to represent some love and happiness. consumercrafts
77. DIY Wedding Mason Jar Table Number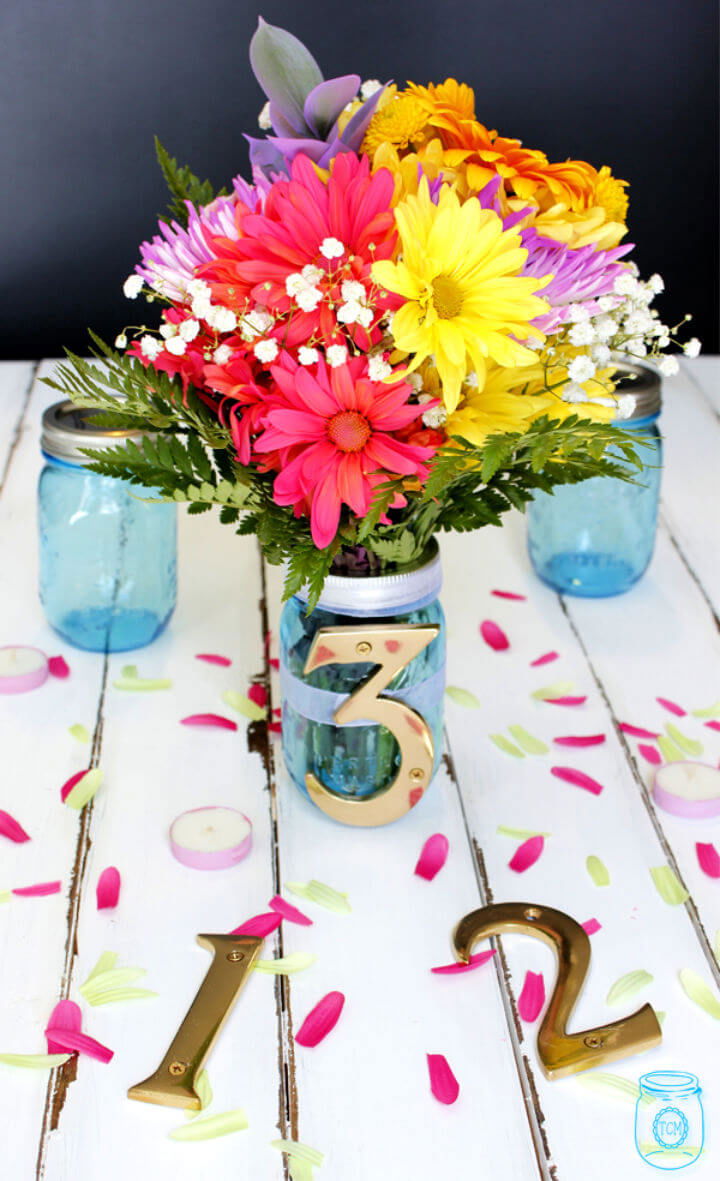 Along with other complexities in the wedding planning, the seating plan is the toughest one! SO, for that, what you can do is to make a nice Mason jar center piece and place numbers on it for people ease. thecottagemarket
78. How to Make Paper Flower Garlands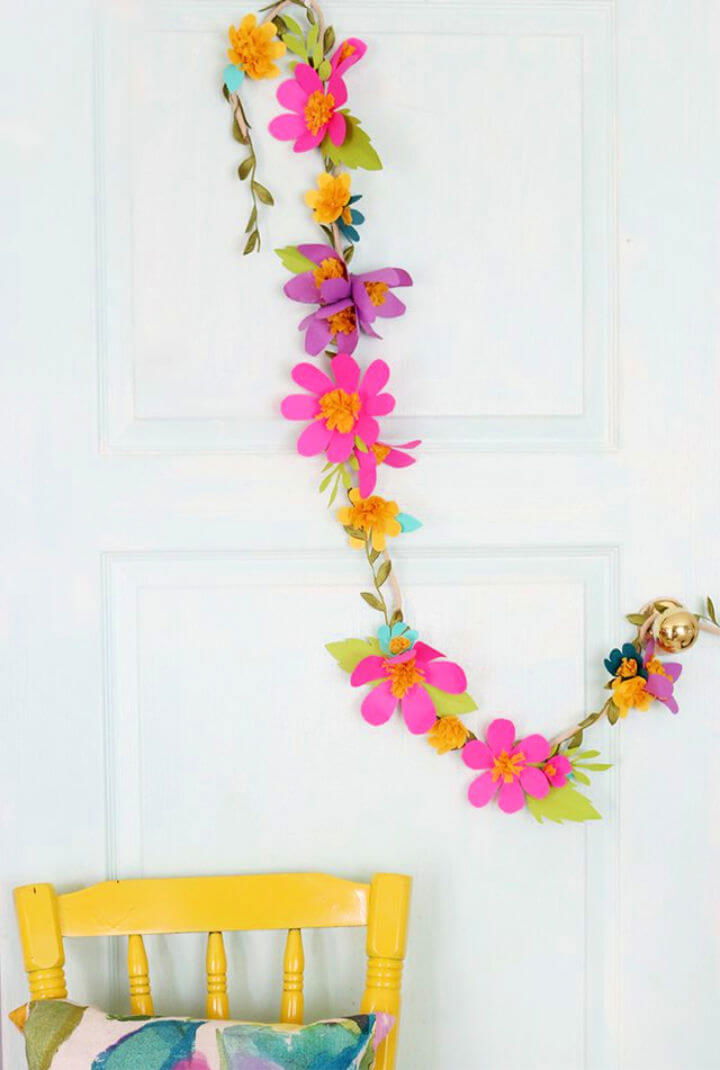 Here's another one from our DIY wedding ideas! Any festive occasion's calls for a nice decor, add richness and color to an empty wall with these paper garlands. These garlands are perfect for Wedding functions parties, or you can hang them on the back of any backdrop photo booth wall as well. ehow
79. Flower Chandelier for Wedding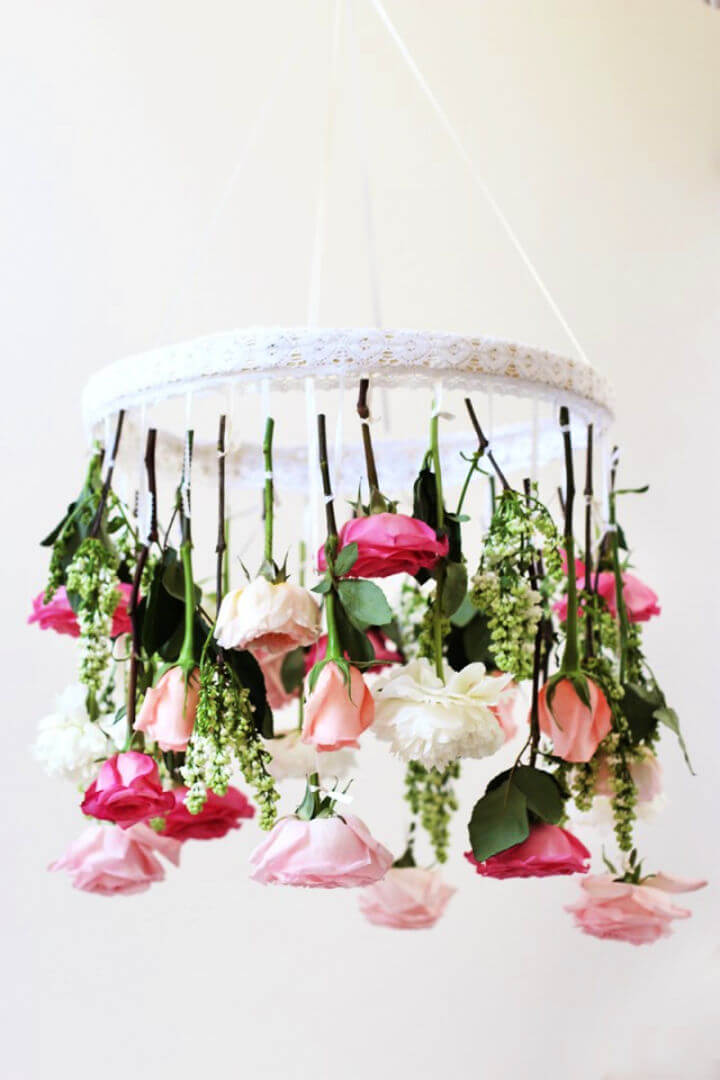 Wedding functions cater to hundreds of guests. For them, all the necessary measurements are taken. For cost-effective ways of decor, you can always go with some lovely flower chandeliers instead of crystal chandeliers since they cost a lot to get to a wedding. honestlywtf
80. DIY Paper Heart Garland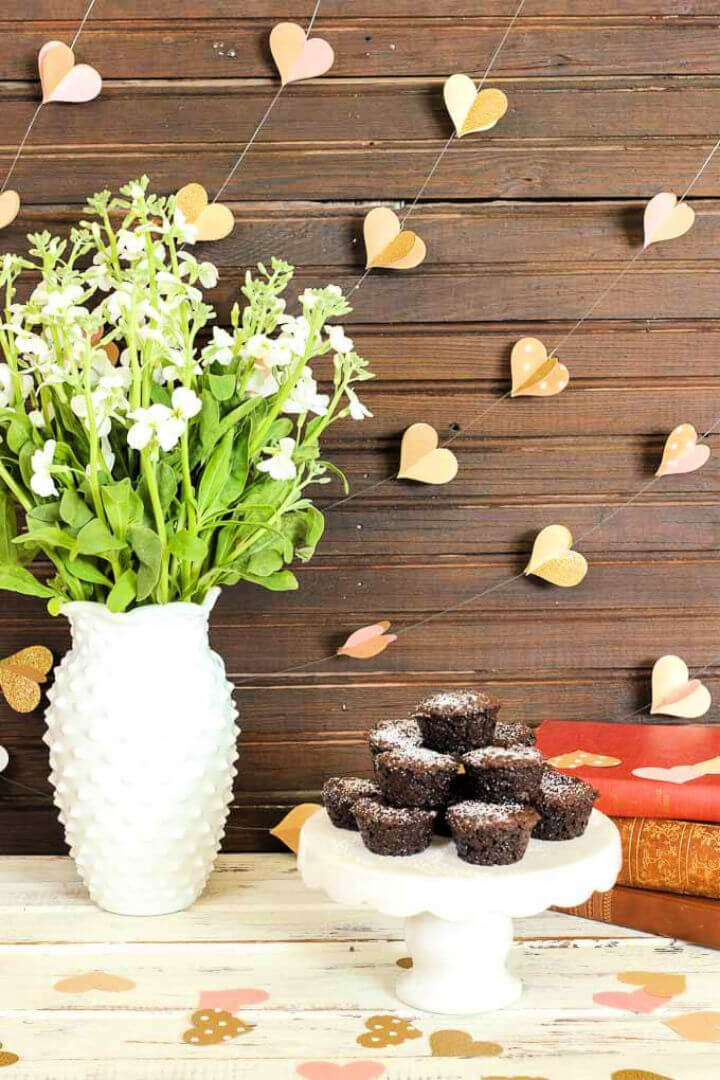 Who doesn't want a budget-friendly wedding event, with all the decor going on, fancy lights and good food, add these DIY Paper made custom heart-shaped garlands. They go well with any wedding decor, or you can also add some colorful garlands. makeanddocrew
Conclusion:
Wedding functions do take up a nice hefty budget to be spent on! And well, a true DIYer always likes to think ways out of the box that is budget-friendly. These cheap DIY wedding ideas shared above are some of the points that, if taken into consideration, can be an effective and efficient way to stay within budget. By using these simple DIY wedding ideas, you can look for easy ways to plan things around food, decor, and basic apparel related to your big day functions!