Enhance the functionality and aesthetics of your living space with a DIY plywood shelf. Explore 25 free DIY plywood bookshelf plans with detailed step-by-step instructions and customizable designs for every style. These DIY plywood bookshelf designs cater to different skill levels, ensuring that everyone can make their own unique piece. Plywood shelves are not only cost-effective but also environmentally friendly, making it a perfect material for DIY enthusiasts.
Utilize the versatility of plywood to make a range of bookshelf styles, from modern and minimalist designs to classic and traditional patterns. With these free DIY plywood bookshelf plans, you can customize the size, shape, and finish to suit your style and needs. Choose from easy-to-build options to more elaborate DIY plywood shelving units, and bring a touch of handmade charm to your space.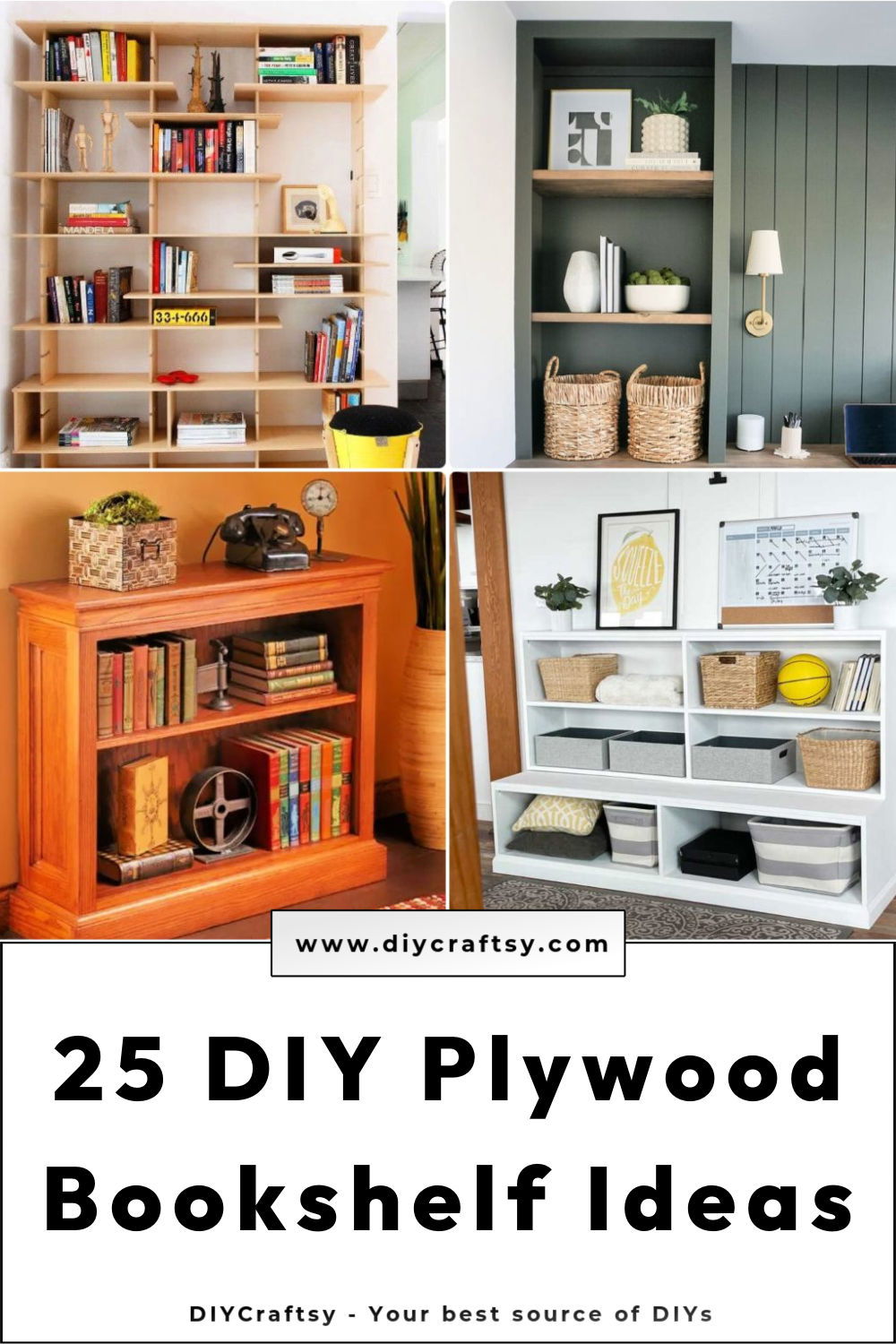 So, gather your tools and materials, and start building your own DIY plywood shelf today. Make functional storage solutions for your books, decorative items, and more, and showcase your DIY skills to friends and family with these remarkable plywood bookshelves.
Don't let the opportunity to enhance your home with a personalized touch pass you by, delve into the world of DIY plywood bookshelf construction now!
1. Modern DIY Plywood Bookshelf
Reinvent your reading nook with a unique DIY bookcase sporting an attractive Vintage Blue shade. The design uses a single plywood sheet, stained to maintain the texture of the wood while introducing an eye-catching color twist. It's not just storage for books but a blend of practicality and decor, with compartments for organization and style.
With a drill, circular saw, Kreg Jig, and electric sander, you can make this masterpiece following an easy set of instructions, including staining, cutting, and assembly. Get ready to experience tranquility with this serene yet contemporary bookcase that makes a simple structure feel unique and luxurious. pineandpoplar
2. How to Build a Plywood Bookcase
Elevate your living space by adding a custom DIY built-in bookcase without the high costs typically associated with this type of project. You can build an elegant piece of furniture worthy of any great library by utilizing veneer plywood, a sturdy and cost-effective alternative to solid wood boards.
The project uses a clever lamination technique to give the appearance of thick, routed boards. The guide provides an 8-step process, from cutting the legs, shelves, and supports to applying nosing to shelf faces, providing you with a comprehensive approach to this moderate-level DIY task. Enjoy making a functional, beautiful piece that enhances your home decor. thisoldhouse
3. How to Make Built Ins Plywood Bookshelves
Venture into a unique home improvement project with these DIY built-ins, a custom-designed solution to fit your room and needs. Starting with a solid kitchen cabinet base, the project evolves into a creative process of constructing bespoke bookshelves from scratch. The intricate design accommodates vaulted ceilings and ensures seamless integration into the room.
This endeavor involves measured planning and using materials like birch plywood, poplar, crown molding, and essential tools. As you progress step-by-step, assembling the bookshelves becomes less daunting, morphing into a satisfying accomplishment of crafting fully functional storage and display space.
The careful use of bookshelves promotes practicality and fosters creativity, allowing for personal expression through home decor. It's a cost-effective and enriching exercise that is a rewarding challenge. Embark on this creative journey, and enjoy the satisfaction of handcrafting your personalized built-ins. thediyplaybook
4. Best Plywood Bookshelf Plan
Learn how to build a functional and beautiful DIY kid's bookshelf for storage and organization. This three-shelf bookshelf is ideal for organizing toys and can be used for various storage requirements in your home. Designed with a classic and appealing look, it provides an efficient solution.
Save money and materials by constructing a single 4ft x 8ft sheet of 1/2″ plywood. The adjustable top and middle shelves allow for customization.
Get the printable kid's bookshelf plans for easy building and make a bookshelf measuring 41″ tall x 40″ wide x 14.5″ deep. The required materials and tools are provided for your convenience. Transform your space with this cost-effective project. angelamariemade
5. DIY Built-in Plywood Bookshelf
Experience the joy of building your built-in bookshelf that sits elegantly on your desk or any surface, adding a unique and custom touch to your office space. Made easy and affordable with a simple, detailed guide, this bookshelf incorporates basic tools like a circular saw, kreg rip-cut jig, miter saw, and drill, among others.
Starting with an 8×4 piece of 3/4″ plywood, a 2x12x6 board, and some wood glue, screws, and paint, you can design your personalized bookshelf measuring approximately 12″ deep, 5.5′ high, and 32″ wide.
The guide also covers making precise cuts, assembling the bookshelf, securing it to the wall, and giving it a professional finish. Perfect your craftsmanship while beautifying your workspace with this built-in bookshelf project. signedsamantha
6. Slot Joint Adjustable Bookshelves Using Plywood
Enhance your living space with these customizable plywood bookshelf plans that offer step-by-step instructions for creating a unique and sturdy unit. Increase your home storage with these DIY slot joint adjustable bookshelves. These shelves optimize room efficiency and style for loft apartments or small spaces. Crafted from high-quality Apple plywood, a type of Russian birch, these shelves are sturdy, versatile, and easy to assemble. They offer substantial storage for books, clothing, or decorative items at 8ft tall, 5ft wide, and 14″ deep.
This project keeps hardware minimum, relying on slot-fitted joints and dog-bone fillets for quick and easy assembly. With a total cost of around $550, you can achieve functional and aesthetic enhancement to your living space.
Follow a simple three-step process: cutting the slotted parts, extensive sanding, and finally, sealing and assembling the shelf. The adjustable nature of these bookshelves allows you to adapt to your storage needs over time, making them a sustainable choice for your household. Build your adjustable bookshelves and appreciate their difference to your storage game. instructables
7. Handmade Dowel Rod Plywood Bookshelf
Inject personality into your living room with a DIY dowel rod bookshelf. This open-storage furniture features a sleek design that couples well with the boho-style decor. With a half-sheet of 3/4″ plywood, six 1″ dowels, 3/4″ edge banding, pocket hole screws, and wood glue, you can build this chic bookshelf with a great storage solution without compromising style.
The bookshelf, fitted with dowel rod legs and three shelves, ensures a neat arrangement of items and reduces clutter. Perfect for storing books, toys, and small items, this simple project is a must-try for anyone seeking an affordable, stylish storage solution. Add charm to your home today with this dowel rod bookshelf project. charlestoncraft
8. DIY Plywood Bookshelf With Hidden Storage
Enjoy the convenience of cleverly concealed storage with this DIY bookshelf featuring hidden drawers. Made mainly from ¾" plywood and solid wood for side trim, it is a standard shelf while offering underground storage. Ideal for hiding living room essentials or sneaky treats in the pantry, it brings a new dimension to home organization.
The structure stands 83 ¾" tall, 18 ½" deep, and 37″ wide, featuring four shelves and four drawers. Required materials entail wood boards, plywood sheets, drawer slides, and optional edge banding. The step-by-step guide walks you through assembly, from making the back panel and installing drawer slides to adding the trim and top panel.
Although the drawers might seem like thick shelves at first glance, they offer practical and discreet storage. Note that the bookshelf should be securely anchored to prevent drawer overloading. Be creative, personalize your finish, and reap the benefits of this versatile project. Happy building! woodshopdiaries
9. How to Make a Bookcase With Plywood and Crates
Brighten up your bedroom by constructing this short, chic DIY crate bookcase. In under an hour, you can make an aesthetic and functional piece that provides storage and style. For this task, you'll need four large crates, 1/2″ plywood, casters, wood screws, brad nails, a circular or miter saw, a drill, and a brad nailer.
Assemble two crates side by side, secure them with brad nails or screws, then fix the plywood on top. Repeat the process to have two identical sections. Join these units together, ensuring the plywood sides face outwards, and finally, affix the casters at the base.
This easy-to-follow project lends an organized and trendy touch to your space, making it a must-try DIY adventure. The crate bookcase brings a rustic charm while keeping your favorite books and decor items within reach. So why wait? Grab your tools, and let's get crafting! familyhandyman
10. Custom DIY Plywood Storage Bookshelf
Exalt your interior aesthetics with customized DIY furniture! This inventive guide enables you to design personalized plywood storage furniture with ease. The resourceful guide will help you through crafting a bespoke piece, like a bookshelf, starting from simple measurements to selecting tools like a drill, Kreg Pocket Hole Jig, brad nailer, and materials such as cabinet grade plywood, hardwood, and paint.
The tutorial guides you through designing dimensions on the app, cutting plywood, and assembling the pieces using pocket hole screws. It emphasizes the significance of bay supports for project rigidity, recommends backing for content containment and eye-level aesthetic, and offers finishing techniques to achieve professional-looking results. Empower your interior decor creativity and transform your living spaces today! ana white
11. How to Make a Small Plywood Bookshelf
Are you looking to build a functional yet stylish small bookshelf with your hands? Explore these easy-to-follow plans! This DIY wooden bookshelf, perfect for any room, is a straightforward afternoon project requiring only basic woodworking skills and a handful of common tools, such as a pocket hole jig, miter saw, and drill.
It's designed with an appealing simplicity, complementing any decor style while being practical with its compact dimensions. It features room for a lamp or plant on top and beneath, two shelves for organizing books, or showcasing favorite decor pieces.
Made using affordable and workable pine boards, this bookshelf can be finished according to your preference – leave it natural, paint it, or apply a stain. Not only will this project level up your woodworking game, but it will also add a unique personal touch to your space. Don't wait – start building your small bookshelf today! sawsonskates
12. Traditional Plywood Bookshelf Idea
Build a timeless DIY bookshelf using standard materials and ingenious shortcuts designed for those who appreciate a woodworking project but are pressed for time. This design boasts elegance, simplicity, and durability.
Built with plywood, wood glue, and your choice of finish, the process entails assembling corner stiles, attaching rails, adding cove molding, and screwing on the top – no complex woodworking required!
It's straightforward to personalize, thanks to adjustable shelves and a clever pegboard template. This project is manageable in just a day, with finishing and adding a few extra hours. This bookshelf is a stylish home for your favorite reads and a testament to your handiwork skills! familyhandyman
13. How to Build a Plywood Bookshelf
Unveil a fantastic DIY project – a modern plywood shelf for storage and display. This practical creation uses a simple 4 x 8 sheet of 3/4″ maple plywood, a circular saw, a jig saw, a straight board, clamps, a speed square, sandpaper, and a clear polyurethane finish.
Cutting the plywood to size and making notches for the sliding pieces is all it takes to construct this beautiful shelf. This project can be painted to match any room's aesthetic, though a clear polyurethane finish gives it a natural wood appearance.
It's a great way to utilize space efficiently and stylishly while offering a platform for creativity and individuality. Make your plywood shelf and elevate your room's decor today! themerrythought
14. Make Your Own Plywood Tree Bookshelf
Enhance your living space with this easy-to-follow DIY bookshelf plywood guide that teaches you how to build a sturdy and attractive storage unit with minimal tools and materials. Travel into the enchanting world of DIY with this unique tree bookshelf project, designed to transform your living space into a natural and serene haven. The design's main feature is three sheets of 3/4 inch thick plywood, meticulously crafted into a tree-like structure with branches to hold your favorite books.
With basic tools like a table saw, miter saw, drill, and sander, along with Deckmate screws, wood glue, paint primer, brown paint, and polyurethane, you can complete this project at a rough cost of $150.
The step-by-step guide includes detailed instructions from cutting and gluing the plywood together to attaching the branches to the background. This aesthetically pleasing project serves as a beautiful bookshelf and an intriguing piece of decor that adds a tinge of nature to your home. instructables
15. Make a Little Plywood Bookshelf
Have a quaint, versatile bookshelf perfect for any room in your home with this straightforward DIY guide. A compact storage solution, this lovely bookshelf is just right for small spaces that could benefit from a touch of charm. This shelf is made primarily from oak plywood and promises durability while boasting a professional appearance.
The flexible design allows it to fit into a kitchen, bathroom, office, or child's room. Beyond just storing books, it can hold kitchen utensils and towels or even double up as extra counter space. The adjustable shelves ensure you can adapt them to any changes in your space or lifestyle.
Get busy with this enjoyable project and add a tinge of personality to your home. This modest bookshelf proves that the simplest things can sometimes make the biggest difference. The resulting piece will not only enhance your space but will also be a testament to your creativity and skill. woodshopdiaries
16. One Sheet Plywood Bookshelf Building Plans
Boost your home organization with a do-it-yourself one-sheet plywood bookshelf! This moderately difficult project can be a fun addition to a kid's room or a playroom, perfect for storing children's books, toys, keepsakes, and more.
Built with 3/4″ thick full sheet plywood and supported by a 2×2 base, it's cost-effective and versatile, thanks to adjustable shelves that can be customized to your needs. The assembly involves cutting and assembling plywood, drilling pocket holes, and installing shelf pins for adjustable shelving.
Safety is also considered; upon completion, anchoring the bookshelf to the wall is advisable to prevent toppling. Unleash your inner carpenter and make space for those cherished items with this step-by-step plywood bookshelf guide. learnkregtool
17. DIY Front-Facing Plywood Bookshelf Under $50
Discover a range of plywood bookshelf plans that showcase the versatility and adaptability of plywood, from minimalist designs to elaborate creations. Engage in a creative home improvement project with this detailed guide on building a wall-mounted, front-facing DIY bookshelf, perfect for a child's bedroom or playroom. Use economical and readily available materials such as plywood, lumber boards, wood screws, and drywall anchors to construct a set of sturdy and visually appealing shelves.
Benefit from precise instructions to craft your bookshelf, customizing the length, depth, and number of shelves according to your space and storage needs. This project, which costs less than $50, offers an affordable, stylish, and effective book organization and decor solution.
With this guide, breathe life into a space by displaying books in an attractive, easily accessible manner. So, ready your tools and make your eye-catching bookshelf today! theinspiringinvest
18. Build a Plywood Bookshelf Unit
Unleash your creativity with this versatile DIY bookshelf plywood project, allowing you to design a one-of-a-kind bookcase that suits your personal style. Get the joy of building your piece of furniture with this guide on building a freestanding DIY bookshelf from just a single sheet of plywood! This elegant yet functional creation showcases cherished photos, keepsakes, and decor.
Not only does this project enhance your space, but it also provides an opportunity to sharpen your DIY skills. Personalize it with a two-tone look, opting for a painted exterior, stained shelves, or any other finish that suits your style.
Making this adjustable bookshelf opens a world of possibilities for space optimization and aesthetic appeal in your home. So, turn up your sleeves, and let's get building! woodshopdiaries
19. Free Plywood Bookcase Plan
Take control of underutilized spaces in your home and convert them into practical storage with a custom-fitted bookcase. Hiding unsightly surfaces and providing open storage, this project is the perfect solution for areas beneath countertops that are too shallow for traditional seating.
This guide will help you undertake this task with minimal tools, resources, and time. You can house items such as cookbooks, glassware, and table linens using plywood and MDF to construct this attractive bookcase. Enhance your living room aesthetics with this engaging DIY endeavor, demonstrating that space is comfortable when infused with creativity and purpose. remodelista
20. Plywood Bookshelves for a Built-in Desk
Build a functional and stylish storage solution with these easy-to-follow plywood bookshelf plans that cater to various skill levels and room sizes. Unearth the joy of constructing your DIY bookshelves that seamlessly fit into a built-in desk. These shelves are made with finishing plywood, bringing functionality and elegance to your home office. These bookshelves feature open storage, making a perfect balance with the hidden storage of IKEA SEKTION cabinets in your workspace.
Carefully designed to fit the space between two tall SEKTION cabinets, the shelves appear as an original desk component, elevating your home office's aesthetics. This project results in six spacious cubbies that offer ample storage space and contribute to your office's bright and modern ambiance.
Build these personalized bookshelves today and add a unique touch to your workspace. Enjoy the sense of accomplishment and the aesthetic appeal of your home office as you work in a space that echoes your taste and needs. christeneholderhome
21. How to Make Plywood Bookshelf
Simplify your child's at-home learning setup with a DIY kid's bookshelf or homework station, expertly crafted to manage scattered books and stationery. Create custom compartments with this easy-to-build bookshelf to organize and personalize your kid's study area.
Equipped with tools like the Worx MakerX combo set, and materials such as basswood and plywood, you can handcraft a bookshelf with separate compartments for each child. The added feature of carving your kids' names onto the bookshelf makes it even more endearing.
This functional and unique piece could be yours with an estimated budget of just $0.00 for the PDF plan, boasting a list of supplies, cut diagrams, and 3D illustrations for each step. Transform your children's learning environment today with this practical and personalized project! thediyplan
22. Mid-Century Modern Plywood Bookcase Plan
Follow these simple steps to construct a durable and customizable DIY bookshelf plywood that showcases your favorite reads and decor items. Embrace vintage elegance with this DIY mid-century modern plywood bookcase project! It leverages straightforward woodworking techniques, making it accessible to all crafting enthusiasts. Constructed using 3/4″ maple plywood, this bookshelf adds an elegant yet simple touch to your home decor.
Detailed free plans, including a cut list and helpful tips, are provided to guide you through the building process seamlessly. Essential tools include a multi-square, wood glue, a Kreg Jig drill bit, screws, and plugs.
Once assembled, you can customize your bookshelf by adding a simple finish with wax for that smooth and sleek look. This project is functional, stores your favorite books, and doubles as attractive furniture that livens up your room. Turn your room into a masterpiece with this modern plywood bookcase!
23. Build Your Own Plywood Bookshelf
This DIY bookshelf project offers a distinct way to display your book collection and personal flair while enhancing your room's overall look. Following this guide and video, you can effortlessly build your bookcase. The project's magnificence lies in its flexibility – draw inspiration from various bookshelf designs and build a unique piece.
Regarding materials, quality plywood is your prime ingredient, a versatile and robust material perfect for this venture. With endless possibilities, from paneling to design, you can add creativity and style to your bookshelf.
Building your custom bookshelf is rewarding, especially for those who appreciate home decor. Make your mark with a personalized bookshelf! It'll hold your books, reflect your creativity, and show off your style. Get inspired today!
24. Homemade Plywood Bookshelf
Make your statement piece with this creative DIY plywood bookshelf. Its distinctive design, featuring angled edges and a unique shelf arrangement, will bring a modern touch to any interior. Using plywood as the primary material, this project is durable and cost-effective, ensuring your personalized bookshelf lasts for years.
The process requires a good understanding of woodworking and some essential tools, such as a saw, drill, and sandpaper. This hands-on project is rewarding and beneficial, as it fosters creativity and offers a practical solution for organizing your books and decorative items. Opt for this bookshelf and infuse your space with modern, customized furniture.
25. DIY Bookcase Out of Plywood
Follow these simple steps to construct a durable and customizable DIY bookshelf plywood that showcases your favorite reads and decor items. Dive into the DIY world and amplify your crafting skills with a unique plywood bookcase enhanced with finger joints for added flair and sturdiness. Using a table saw, and a router, this guide lets you construct a bookcase that serves its purpose and demonstrates various woodworking techniques.
The project revolves around the table saw finger joints and cutting mortise and tenon joinery with a router. With only a couple of tools and dedication, you can bring this functional and stylish piece of furniture to life. This an excellent opportunity for craft lovers to explore and experiment with different woodworking methods while enhancing their living space.
Conclusion:
In conclusion, these 25 free DIY plywood bookshelf plans offer a diverse and impressive selection for those keen on making their very own plywood shelves, bookcases, or bookshelves. With options ranging from modern designs to inventive storage solutions, these plywood bookshelf plans provide guidance and support for projects suitable for varied skill levels and stylistic preferences. So, if you're eager to embrace the engaging and rewarding method of crafting a unique and functional plywood shelving unit, these plywood bookshelf plans will help you make a masterpiece tailored to your needs.