Amaze, the wedding guests with the latest new ways of serving the donuts, the diy donut wall, will display a collection of savory fried ring-shaped confections. These diy donut wall ideas will display a variety of donuts on the hooks and hence will work great as party appetizers. Different yummy versions of donuts hanging separately on the hooks will provide big ease for the user to pick his favorite one. Explore this collection of 10 DIY donut wall ideas that actually the ten different styles of building a donut wall.
From a self-standing to a table stand to a wall-mounted donut wall, you will get instructions and step-by-step tutorials to build every style of donut wall in a trouble-free manner. Stealing the hearts of your guests with these doughnut walls, will blow the mind of every onlooker. The new style craze to serve the wedding party desserts will make a cool dessert backdrop too.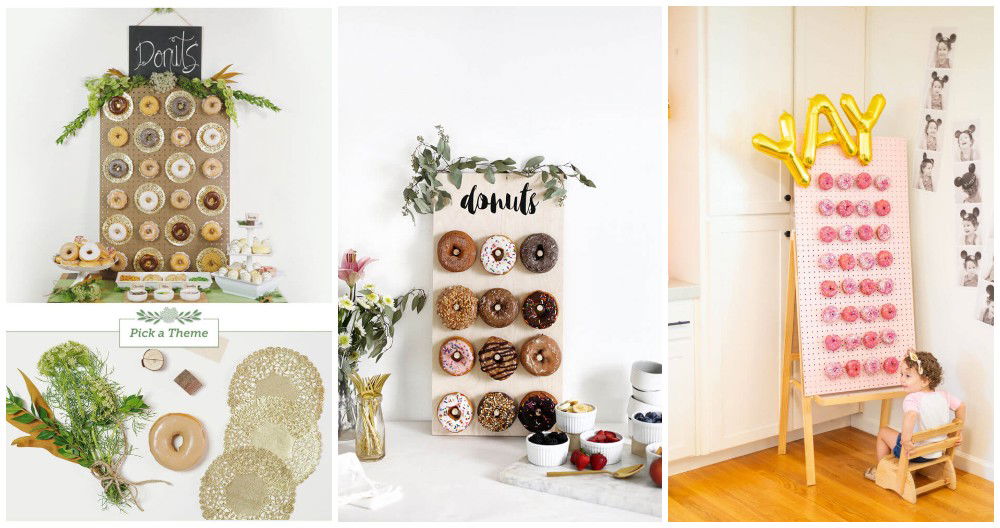 The pegboards will be the best choice to get the donut walls quickly made, like in a couple of minutes. Grab the pegboard in the size you want, add the wooden peg hooks, next display your donut collection on them. You can go with miniature to medium to extra large sizes of donut walls. Next, opt for plywood, oak boards, and cedar boards to make donut walls manually. This will involve drilling lines of holes and fitting the hooks in them. Use green floral garlands, stencils, and accent shelves to adorn your completed donut walls more. Browse the entire collection of these diy donut wall ideas to get yourself inspired by so many different design inspirations.
1. How to Make Donut Wall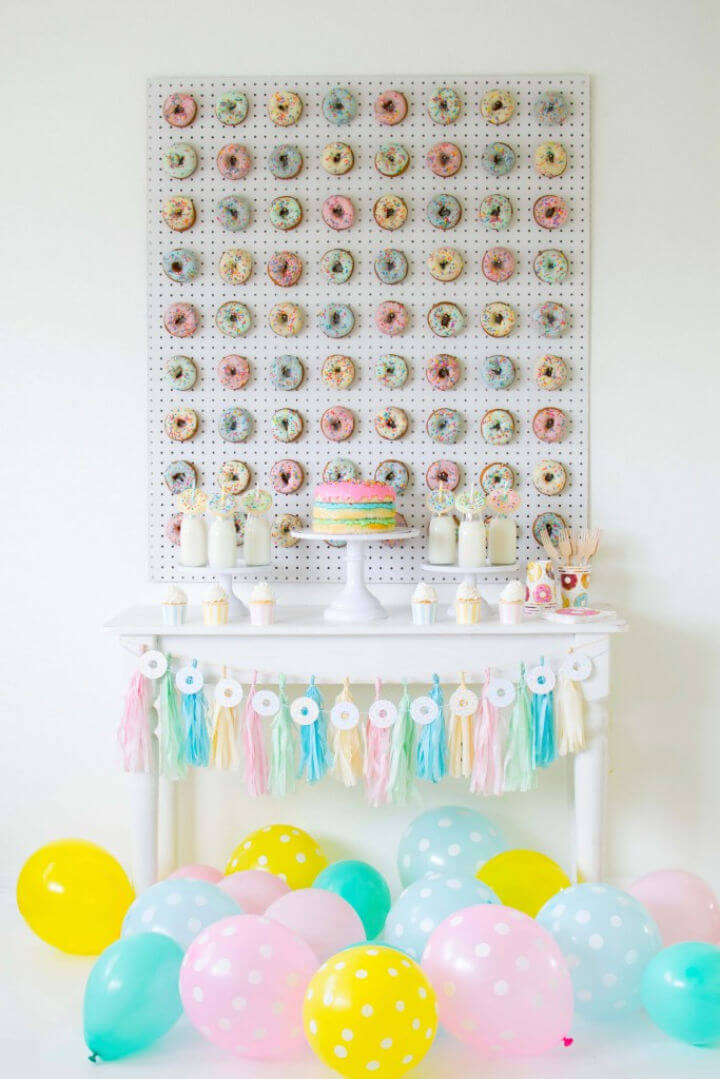 Mix the necessary sweetness to your wedding ceremony by making this donut wall, the perfect dessert bar backdrop. Mount a pegboard of size 48″ X 42″ on the wall, add it up with wooden dowel hooks having size 3/16 x 48. Finally, make the dowel hooks hold a variety of donuts. twinkletwinklel
2. Donut Board Wall Stand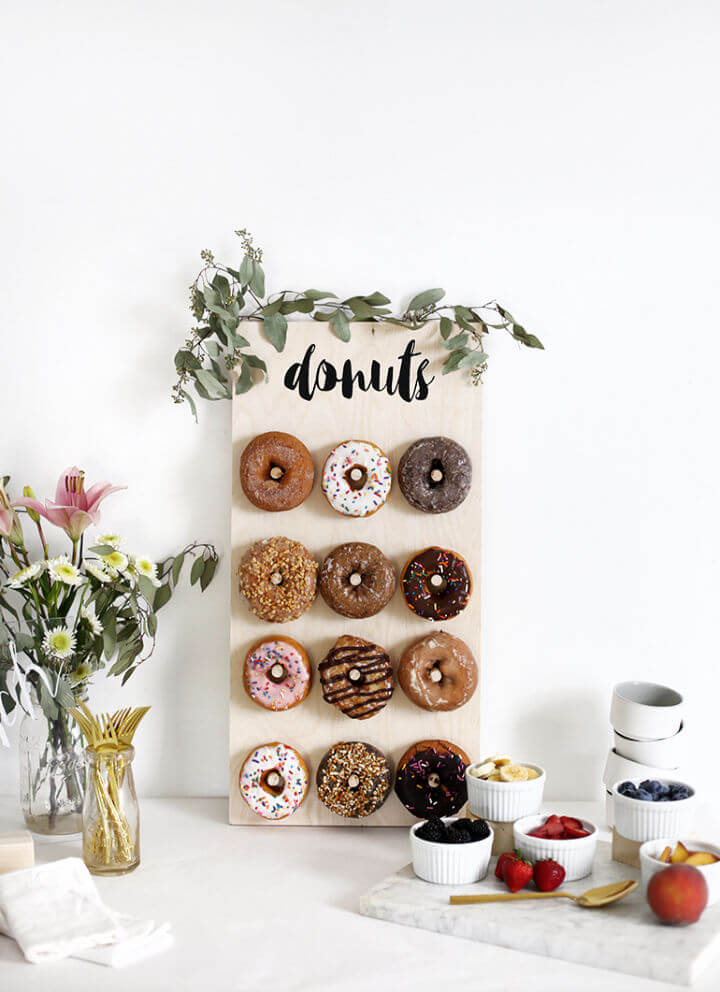 The donut walls are a new wedding trend to serve the desserts to the guests. Make this sweet little donut wall using a birch plywood piece of size 12″ x 24″. Drill holes in it with a neat line sequence and then use glue to fit the 2″ long and 1/2″ round wood dowel hooks in the holes to hold the donuts. themerrythought
3. Handmade Wedding Donut Wall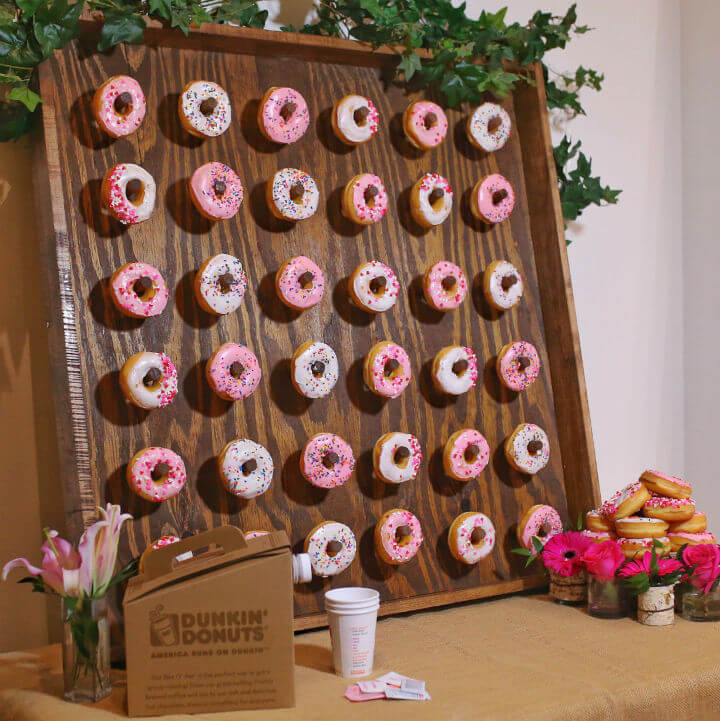 This donut wall comes in a dark choco tone of wood. Make it with plywood 40′ x 40′ square piece. Stain it for a choco appeal and then drill lines of holes in it to fit the dowel hooks. You will require 6 36″ dowels to make the hooks. Don't forget to add the accent border, 3″ x 1/2′ wood slats. thehouseofseq
DIY Wedding Ideas:
DIY wedding table number: Finding wedding table numbers to match a theme is tricky. Save some money and tackle one of these DIY table number holders for your wedding.
DIY Wedding Favors: If you're looking to save a few bucks and give something personal to your guests, check out our roundup of easy DIY wedding favors.
Wedding Gift Ideas: Picking out the perfect weddings gifts to celebrate your newlywed friends doesn't have to be difficult with these DIY wedding gift ideas.
DIY Arbor: From amazing floral arches to grand doorways, DIYCraftsy has ideas and inspiration for creating the perfect wedding altar, arbor, aisle or archway.
Pocket Square: Want to know how to make a pocket square? This easy-to-follow Pocket Square guide gives you step-by-step instructions for making your own.
4. How to DIY Your Own Donut Wall
Check out here another cute miniature donut wall, decorated with a little flair of greenery. Use a 25″ x 37″ pegboard size to build this donut wall, fit in 1/4″36 dowel hooks to display a variety of donuts. Further, use the 12 6″ gold paper doilies and 12 4″ green paper doilies to add as cool backgrounds to donuts. This donut wall can display 24 donuts at one time. berries
5. Pink Mickey Mouse Birthday Party's Donut Wall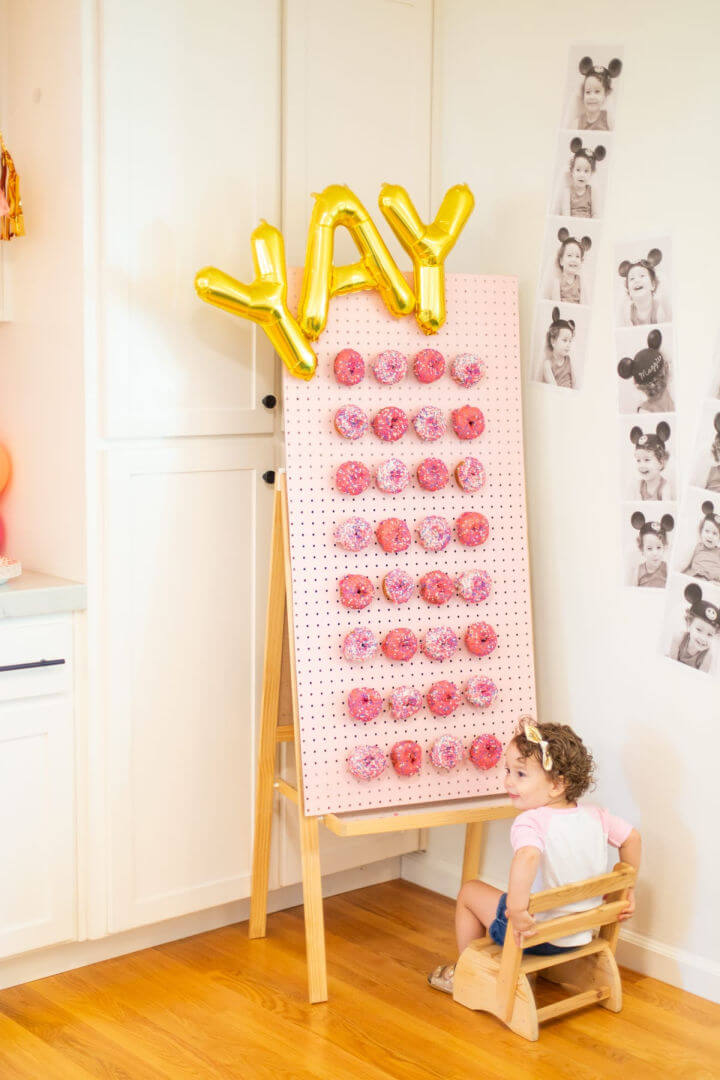 Dessert is often to serve on the tables, but trends have been changed, opt for this donut wall, the vertical dessert backdrop wall. Make this donut wall using a favorite size of pegboard, fit in the pegboard hooks, and finally set your donut wall on an easel stand for a prominent display. lovelyindeed
6. DIY Glitz and Glaze Donut Wall
Amaze your guests with the new hottest trends of serving and displaying desserts, the donut walls. Make this giant donut wall using an oversized white pegboard, fix the pegboard hooks in, and display the donut collection on them. A quoted sign in the center and green floral garland all around, double up its beauty and charm. fun365
7. How to Make a Donut Wall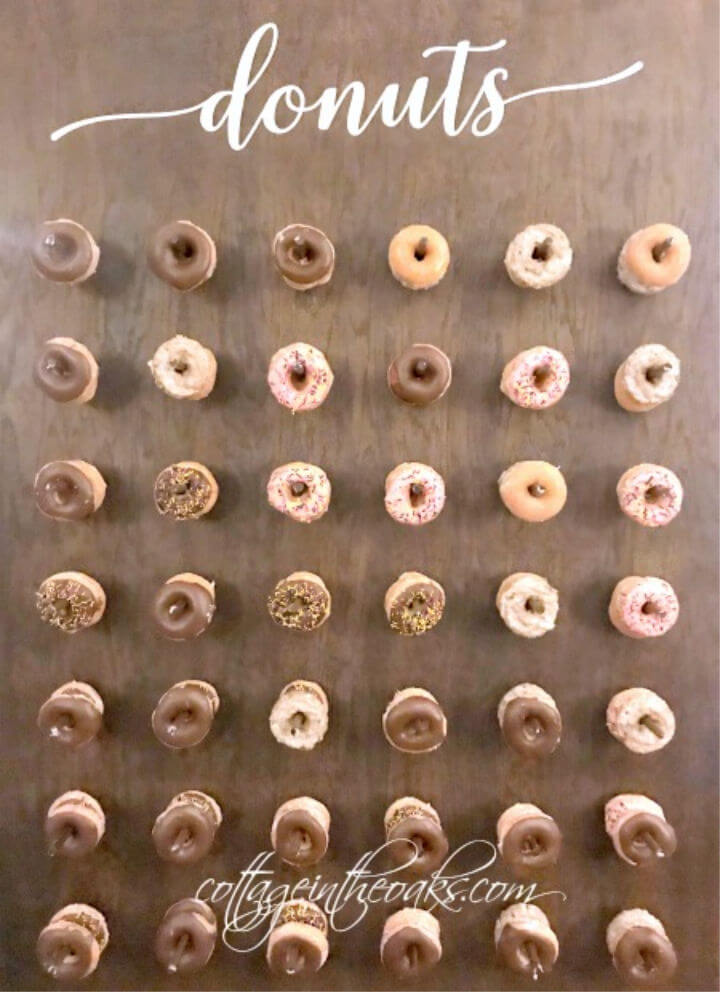 Get the best instructions here to make a donut wall from scratch. Build this giant donut wall with a 4 x 8ft oak wood board capable of displaying 126 donuts. Draw lines and mark the points to drill 126 holes in which you have to fix the wood peg hooks. Stencil the white donut letters on the top. cottageintheoaks
8. Easy To Make Donut Wall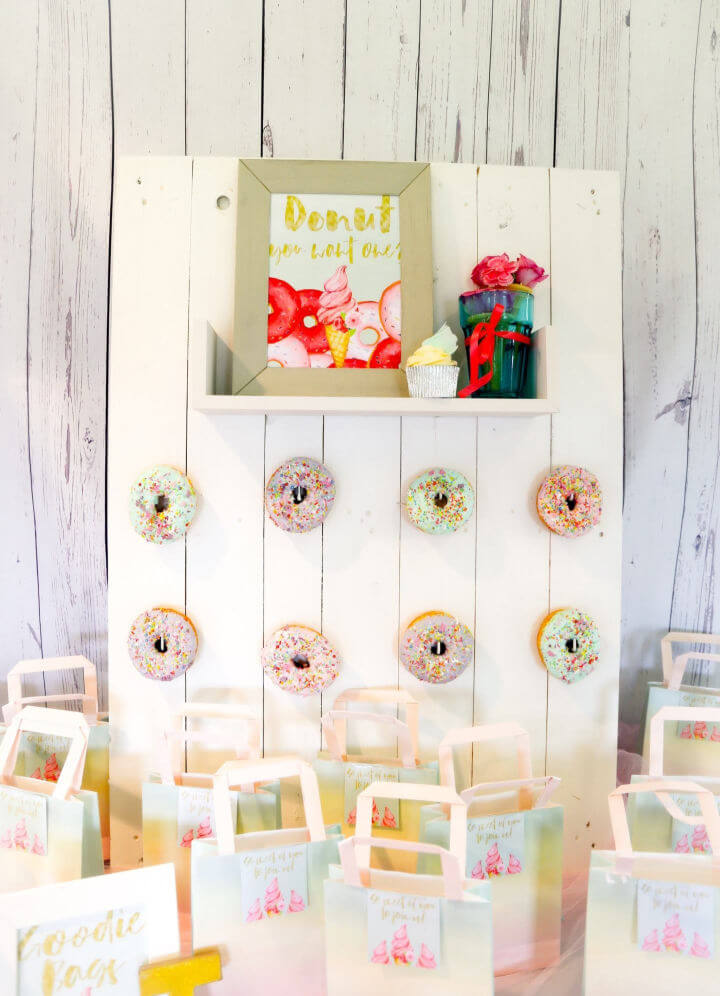 Win over your guests with this mini donut wall. Make it using any wooden board added up with hanging hooks. Drilling holes and then fitting in the wooden pegs are the best idea to get neat lines of hooks. Use wood slats of choice, even the reclaimed ones, to build this donut wall. It comes with a shelf too. ohsokel
9. Make Your Own Donut Wall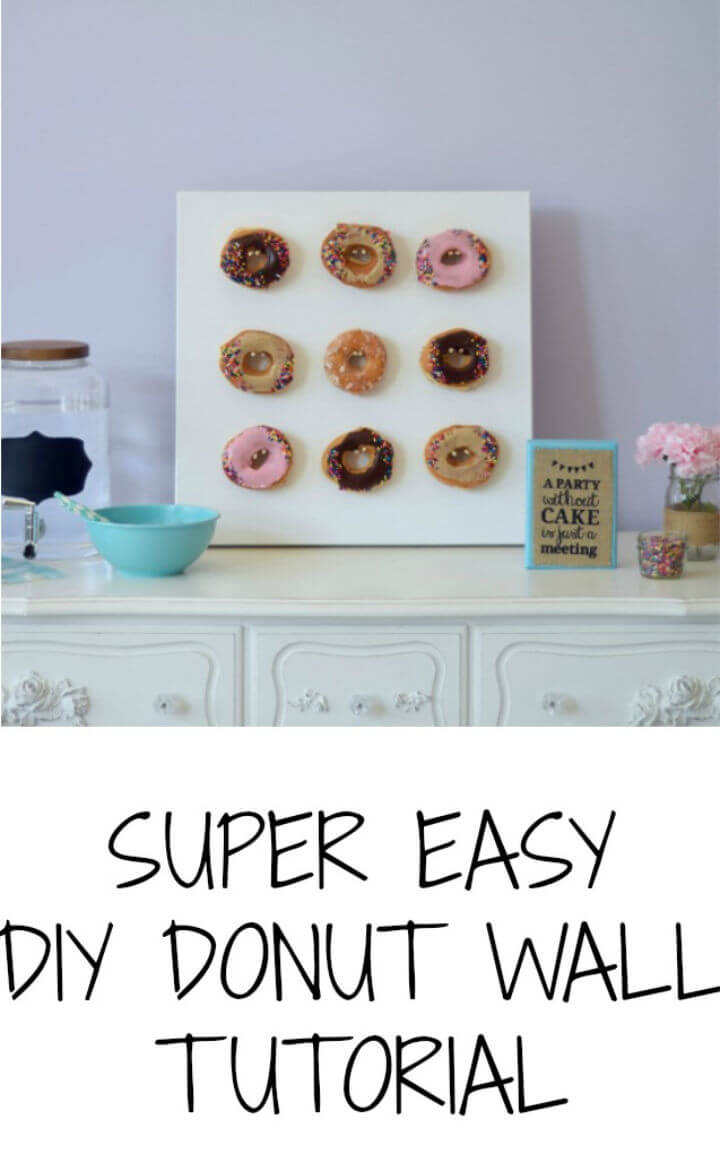 The canvas frames will be a smart choice too to build an elegant donut wall quickly. Grab a canvas frame having 20″x 20″ size, fix the wooden or metal pointed edged screws on it as a donut holding hooks, and here you go. Use glue for adhesive demands. This mini donut wall can hold 9-12 donuts to display. publiclivesse
10. DIY American Flag Donut Wall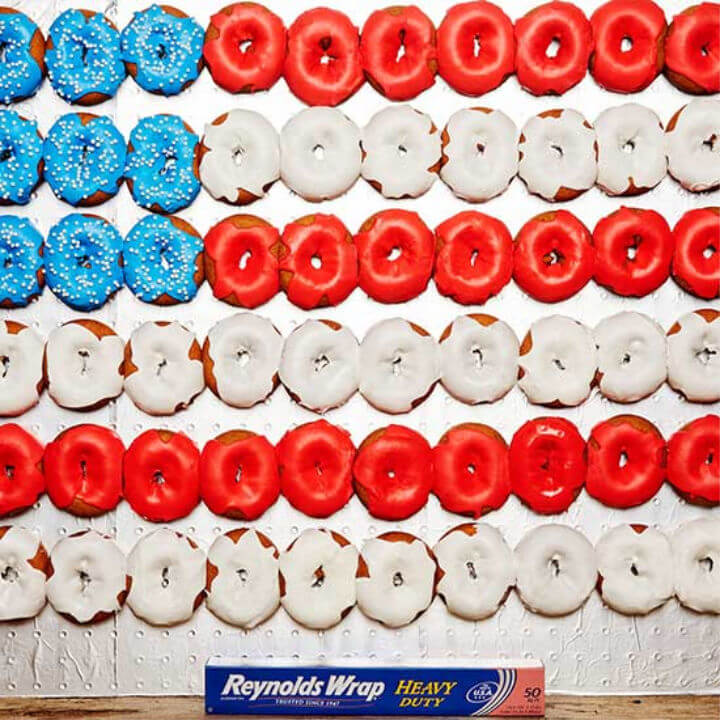 While building a donut wall, you can get inspired by so many different things. Build this patriotic American flag donut wall, which will rock for Independence Day parties. You only need a pegboard, dowels, spray adhesive, heavy-duty Reynolds wrap, and donuts to make this donut wall. bhg