Updating or transforming the baby's nursery can involve various changing and changing the crib sheet is also one of those changes. So, skip buying the expensive baby bedding and style up the nurseries with the DIY crib sheet pattern to sew at home. Sewing your crib sheets will help save a lot of money. Also, you will have the choice to pick any of your favorite fabrics to feature in the nursery decor theme.
From cutting the starting pieces to complete sewing instructions to adding elastic, you will have the guides for all steps. To master sewing, the crib mattress covers like a pro, explore this collection of 15 Crib Sheet Patterns sharing all the professional hacks and guides to sew a crib mattress cover like a pro. The projects are all about simple cutting and straightforward sewing and will complete in just minutes. You can even do these projects with the leftover or old fabric lying useless in your home!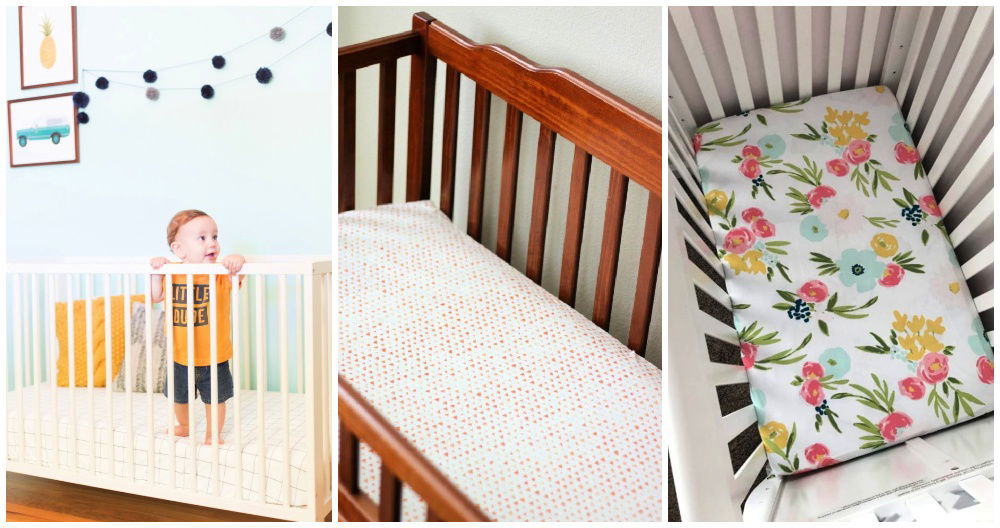 You will get here sewing instructions to crochet crib sheets for both mini and standard crib mattresses. Mostly you need the 1.5-2 yards of 44-45″ wide fabric to hook up these crib sheets, which surely be impressive additions to a baby's nursery. Furthermore, you will get here sewing instructions for the crib skirts and create a divine appeal of the entire crib. The majority of these crib sheet patterns will complete in 30 minutes and others in an afternoon. And you also need the elastic to add to the edges of crib sheets, so they will fit well around the mattresses.
1. DIY Crib Sheet With This Little Street
Cover the baby crib matter in this crib sheet that dazzles with the mesh-like design pattern on the fabric. Go for a nearby market visit and find the fabric with your favorite pattern, and then cover the crib mattress in it. You can sew it for a permanent fit and can also wrap the mattress in it temporarily. The simple grid pattern of this crib sheet will fascinate all the kids. lovelyindeed
2. How To Make A Fitted Crib Sheet
Are you puzzling at finding the right nursery bedding? Go with this DIY hack to make a quick nursery bedding. It will rock the entire nursery. To make the mattress cover, you need 2 yards of 44-45″ wide fabric, 2 yards of 1/4″ flat elastic. Next, you can get busy with all your sewing supplies to whip up this graceful mattress cover and make a better handmade gift. rootandblossom
3. DIY Crib Sheet
Make the crib sheets for almost all sizes of crib mattresses. This pattern will guide you to make a mini crib sheet that will spice up the entire nursery bedding. Getting good baby bedding at a reasonable price is not that easy, but making one at home is guaranteed to save a lot of your budget. You need a regular size crib sheet, mini crib mattress, 1 1/2 yard, 3/8″ elastic, and sewing supplies to make it. sixcleversisters
4. Sewing Mini Crib Sheet
Are you following a custom decorative theme for the baby's nursery? Do you need bedding that will fit them best? No need to buy it expensive. Make your personalized baby bedding with the help of this crib sheet tutorial. You need 1.5 yards of fabric, 54″ of 1/4″ elastic, and a sewing machine to sew this mini crib sheet at home. It will make a better baby shower gift also. lovelyindeed
Find more DIY ideas for your baby:
Baby sewing pattern: We've rounded up the best baby clothes patterns on the internet, just for you. Here are 40 super cool and creative free baby clothes patterns.
DIY closet dividers: Check out these 20 Easy DIY Baby closet dividers and make the handling of baby clothes much easier for yourself.
Baby Pants Pattern: Get 15 free baby pants pattern and learn to sew the best baby, toddler, and kids' pants like a pro.
Baby shoes pattern: Make your very own pair of DIY baby shoes with a free pattern from DIYCraftsy! Follow the free patterns for baby shoes to get started.
Doll Sewing Patterns: Find these Easy cloth doll patterns to sew. I just love making cloth dolls, don't you? Take a look at all the cute little Waldorf doll patterns to sew!
5. Fitted Crib Sheet Pattern
Easily match the baby crib to the entire nursery theme simply by changing the crib sheet. You will fall in love with this crazy crib sheet that is guaranteed to fancy up your baby crib. You need the 2 yards of 44″ wide cotton fabric with a striking pattern for a standard crib mattress, 74″ piece of 1/4″ knit elastic to sew this crib sheet pattern. fabric
6. How to Sew a Crib Sheet in Under an Hour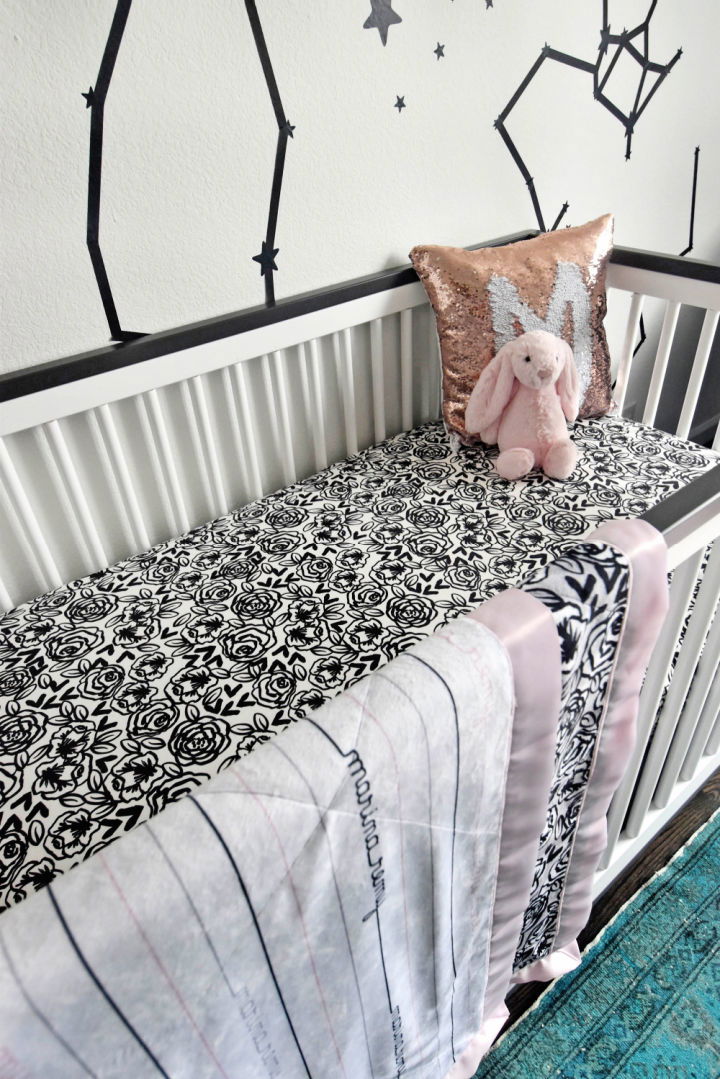 Impress the audience with the dazzling baby nursery setting, and the real beauty of the personalized nursery will come from this crib sheet that comes with a striking bright black and white design pattern. The pattern will guide you on how to sew this crib sheet in less than an hour, and you will love the entire sewing process. You need 2 yards of fabric with a black and white rose pattern, 5-6′ of 1/4″ elastic, and a sewing machine to make it. spoonflower
7. How To Make A Crib Sheet
You are puzzling about making a crib sheet that will spice up the whole nursery decor theme? Follow the complete guides here to make one according to your preferences. The sewing tutorial is just perfect for beginners, and you need 2 yards of 44″ wide fabric, an 80″ length of 1/4″ elastic, and a sewing machine to sew this crib sheet. Begin the project with the fabric rectangle having 68″ x 45″ dimensions. projectnursery
8. Crib Toddler Bed Sheets
Can't cope up with the market prices of baby nursery bedding or crib sheets? Sew your favorite ones at home that will be easy to fit a particular baby nursery theme also. You need 2 yards of fabric and 80″ of skinny 1/4″ elastic to work up this very beautiful soft cotton crib sheet. IT features again a mesh and grid-like design pattern that enchants. madeeveryday
9. Fitted Crib Sheet with French Seams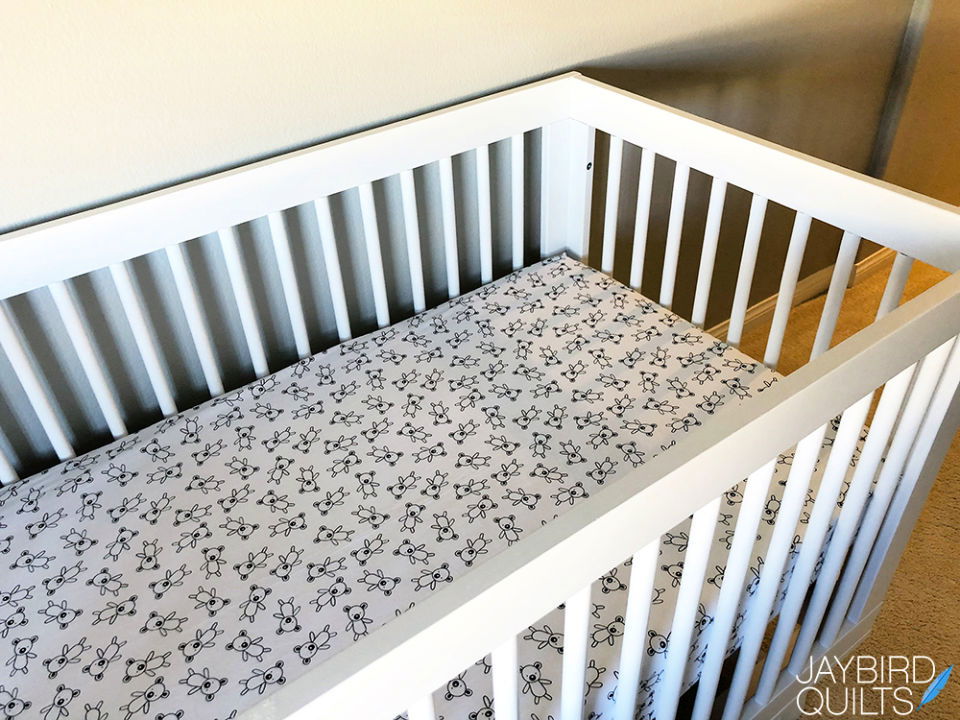 Do you love to be around the sewing machine? They why not save your baby bedding expensive by sewing the beautiful crib sheets at home. Even if you are not an avid sewist, you can follow the instructions here to sew a crib sheet in the easy and fast way while using 2 yards of 44-45″ fabric with your favorite print on it. You also need 2 yards of 1/4″ elastic to complete this graceful baby crib cover that will fit a 28″ x 52″ crib mattress. jaybirdquilts
10. How To Sew A Crib Sheet
Everyone can jump into this project who is willing to do some quick and easy sewing projects. The crib sheets are easy and quick to whip up and make a better handmade gift to your favorite toddler or baby. The project is beginner-friendly and will make an epic handmade present to a favorite person. 2 yards of 44″ wide fabric will be enough to sew this crib sheet that will fit best to a standard crib mattress having 51 5/8″ x 27 1/4″ x 5 1/2″ dimensions. You also need 60-70″ of 1/4″ elastic for this project. icansewthis
11. Make A Crib Sheet Free Pattern
After the crib sheet, you will surely be willing to sew a crib skirt that will be a big game-changer when spicing up the baby's nursery. Follow the complete detailed diagrams, visual instructions, and complete tutorial to sew a quick crib skirt like a pro. It will fancy up the way your baby sleeps, and you can simply opt for any fabric with any print to sew one at home. You need 2 yards of 45″ wide 100% cotton fabric to sew this crib skirt. oleanderandpalm
12. Crib Sheet Pattern
Save your market tours and a lot of money by learning how to sew a crib sheet at home like a pro. The crib sheet will be a total breeze to work up and make a better handmade gift to a favorite toddler or baby also. It will only take 1.5 yards of fabric to hook up the crib sheet for the mini crib, and 2 yards of yarn will be enough for a full-size crib. You also need the 1/4″ elastic 1.5 yards or 2 yards for this project. peekaboopages
13. Simple DIY Crib Sheet
Looking through this project will make you professional in sewing the crib sheet. The sheet will be quick to sew and will make a better handmade surprise also. Again you need the 2 yards of 44″ or 45″ wide fabric and 75″ of elastic to hook up this beautiful crochet crib sheet. The best way to update the crib mattress according to the new nursery theme. The beginners can easily do this project. ashesandivy
14. Easy Crib Sheet Sewing Pattern
Are you sorting out the best baby shower gift? Follow here the instructions to sew a beautiful crochet crib sheet. It will spice up your baby's nursery. The project will complete in an afternoon and is crazily easy to sew. Complete the project with 2 yards of cotton fabric sits around your sewing machine to complete this crib sheet in no time. The project is amazingly easy and quick and will make a lovely handmade surprise gift also. slayathomemother
15. 30 Minutes To Make Crib Sheet
Follow here another quick and easy tutorial to hook up a lovely crochet crib sheet. It will never get out of style and is a total breeze to sew in just 30 minutes or less. The project is just best for every beginner and helps crochet the crib sheet for a standard crib mattress having dimensions 52″ x 27.5″ x 5.5″. Grab the fabric with your favorite print to complete this sewing project. gluesticks
Conclusion:
Whether you need to style up the nursery or update the whole baby nursery, changing the crib sheets will rock for both purposes. So, this episode of sewing projects will provide all the hacks and tricks to master sewing a crib sheet, redefine and refine the entire nursery's look. You will get complete written instructions, visual guides, complete material lists, tool lists, and detailed diagrams to easily sew the professional style crib sheets, which will win your heart at a very first glance. Taking a tour of all the crib sheet pattern projects will reveal all the secrets and mysteries to you about how to quickly sew a crib sheet.