Looking for the perfect dog accessories that will keep looking furry friend stylish? Then you must go with these free dog bandana patterns, the superb fabric triangles, to tie around the neck of your dog! Along with helping in getting your dogs relaxed, they also create cute aesthetics for your dog! Another plus point is that they can help increase the health of both dogs and humans! They will hold the loose dog hairs in place, stopping the allergies due to them, and will also protect your dog against sunburn! Look through these 17 best sources and get a free dog bandana pattern, the most straightforward sewing project ever to do! Some cool no-sew patterns are also involved, and that will work up super quickly! Looking for cool and thoughtful gifts to a pet lover? These bandanas will make a great choice!
The one of the cutest dog collar decoration are these dog bandanas, will also be a lovely way to bring some colors to your furry friend! Make them in so many different styles with lots of cool variations! Sew the reversible slip over the collar dog bandanas that will keep slipping over the dog collar cord!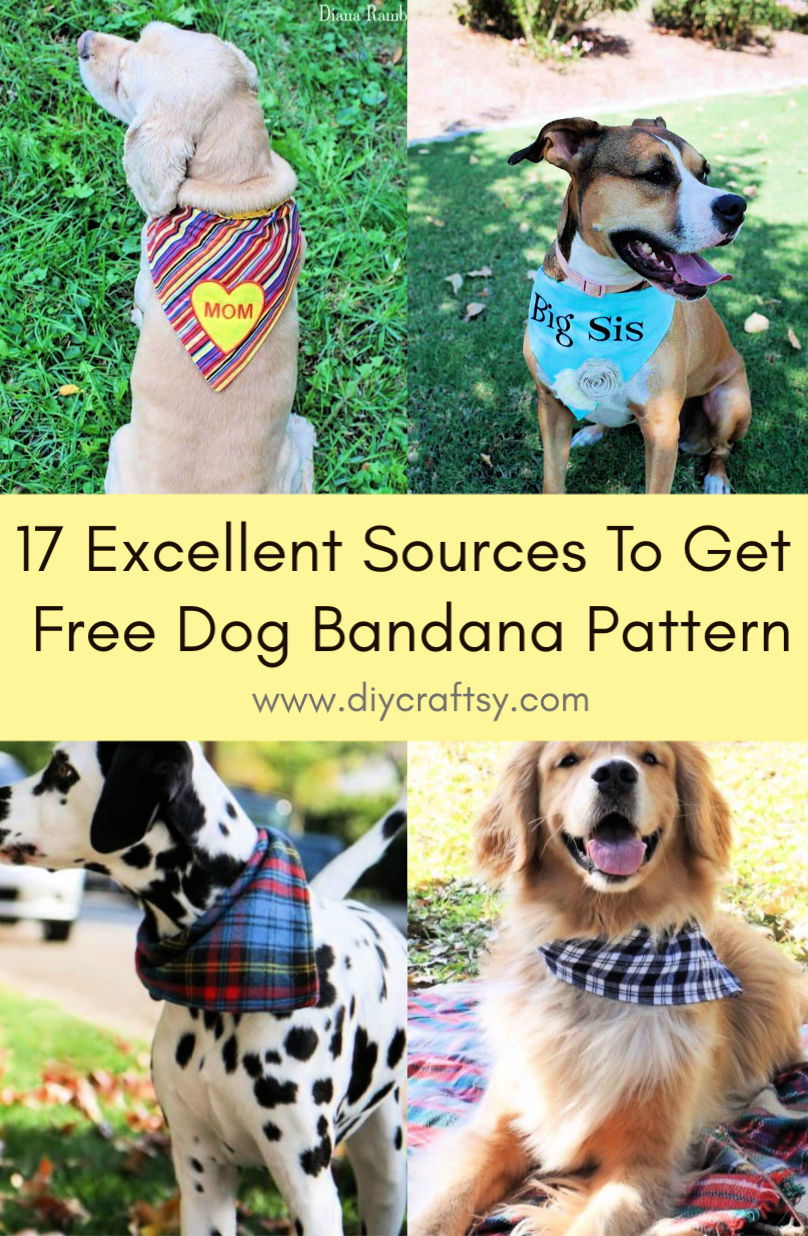 Next, use also the bandanas for easy personalization of dogs, write, print, or stencil the owner's names on the bandanas to do so! Explore all the free dog bandana pattern to hack a lot more information!
1. How to Sew an Easy Dog Bandana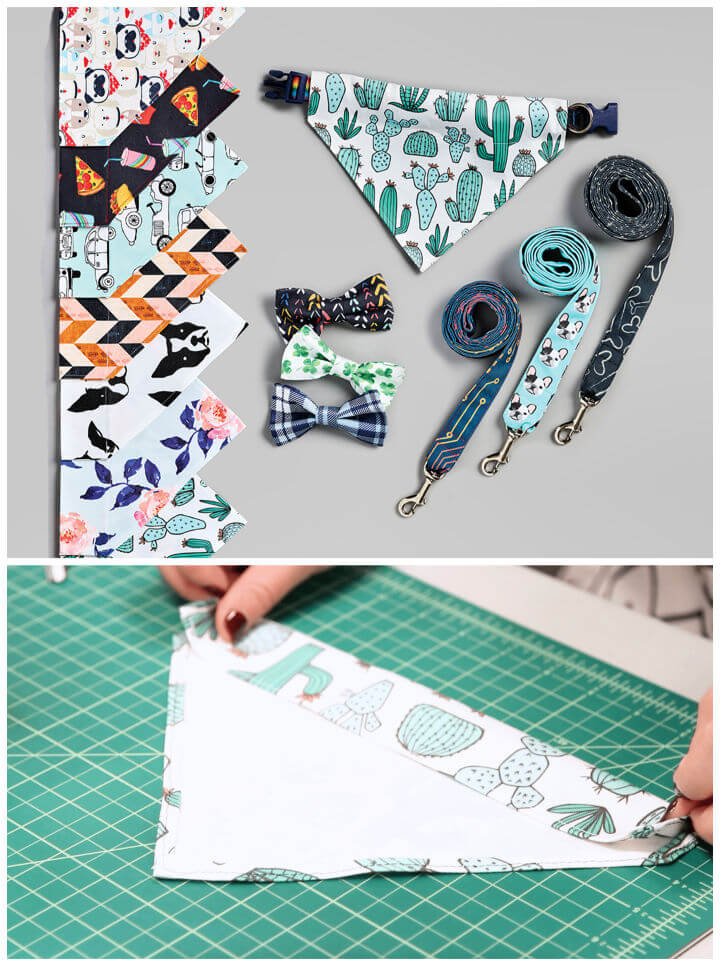 Bring a splash of colors to your furry friend by tying this bandana around the neck! Here you need one fat quarter of fabric to sew this bandana! A quite easy sewing project to do for your furry friend! Experiment with this bandana with your favorite fabric! Do use a bandana template to get your work a bit easier! Full project details here spoonflower
2. DIY Dog Bandana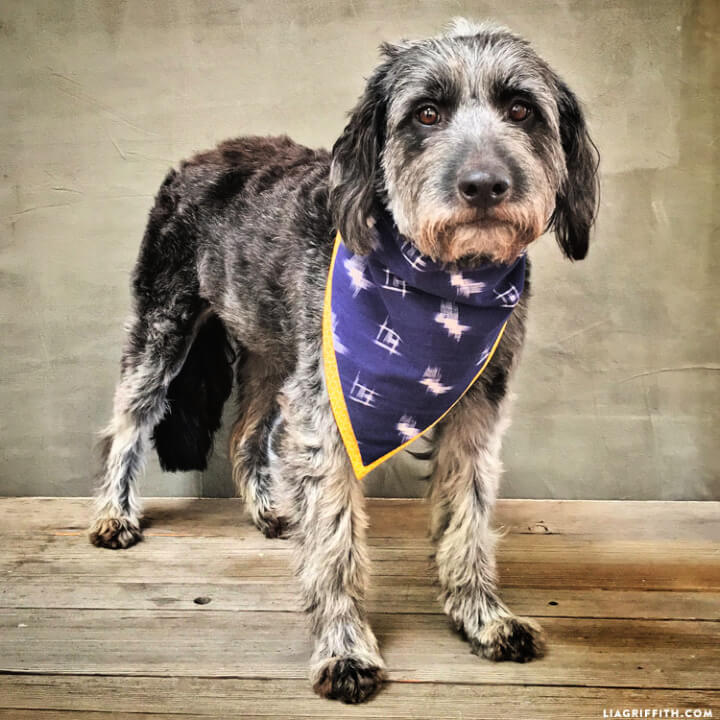 Create a bit more handsome personality of your dog with this bandana that you can slide over the pup's collar! This triangular dog charm is an easy sewing project that every beginner can do with great ease! Make the bandannas with soft and comfortable materials like with fabric! liagriffith
3. Free Dog Bandana Pattern
Cute up your little dog pets with this polka-dotted dog bandana will be stylishly around the necks of female dogs! A smart way to reuse the old fabric and to show you love to them! The polka-dotted touch will help create a feminine appeal of your dog! A quite easy to follow dog bandana pattern! mygoldenthimble
DIY Dog Bowl Stand: If you're tired of the same food and water bowls getting knocked over and scooted around your floor, having a DIY raised dog bowl stand may eliminate those issues for good.
4. Reversible Slip Over The Collar Dog Bandana
Bandannas also help to keep your dogs cool and relaxed, so they can be the best treatment for aggressive dog behaviors! It can be added to a dog collar you already have or can be string up to be around the dog's neck! Here this dog bandana is made of fabric having dog pas stamped pattern! This bandana can slip over the dog collar in either direction! sparklesofsun
5. How to Make Dog Bandanas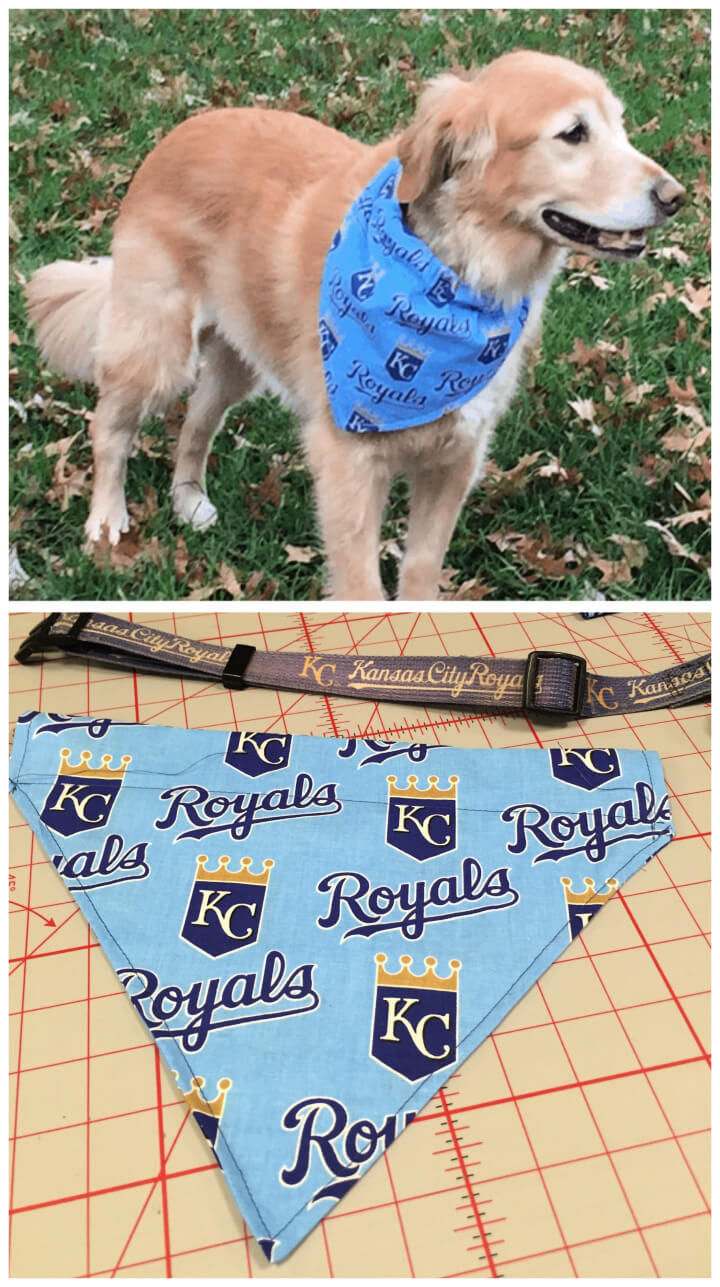 Check out here another triangular fabric beauty, the precious dog bandana, a cool handmade gift for a pet lover in the home or in a friend's circle! Using a template can make your work easier! The way to recycle the fabric scraps for! skiptomylou
6. DIY Reversible Dog Bandana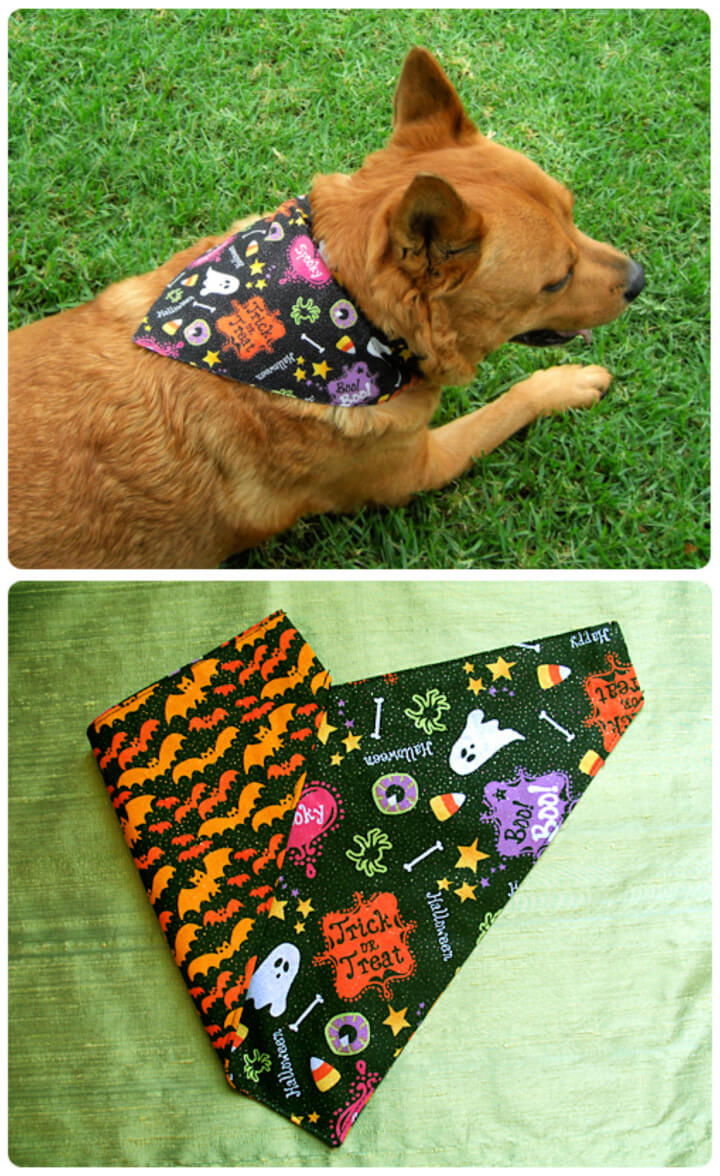 Make this reversible dog bandana for the super dog look of your furry friend! It will be an excellent fabric charm hanging on the front or back neck for cute style statements! The best you can get to get your dog aesthetically pleasing! Most importantly, your dog is going to love it wear around the neck! Full tutorial here gleefulthings
7. DIY Reversible Pet Bandana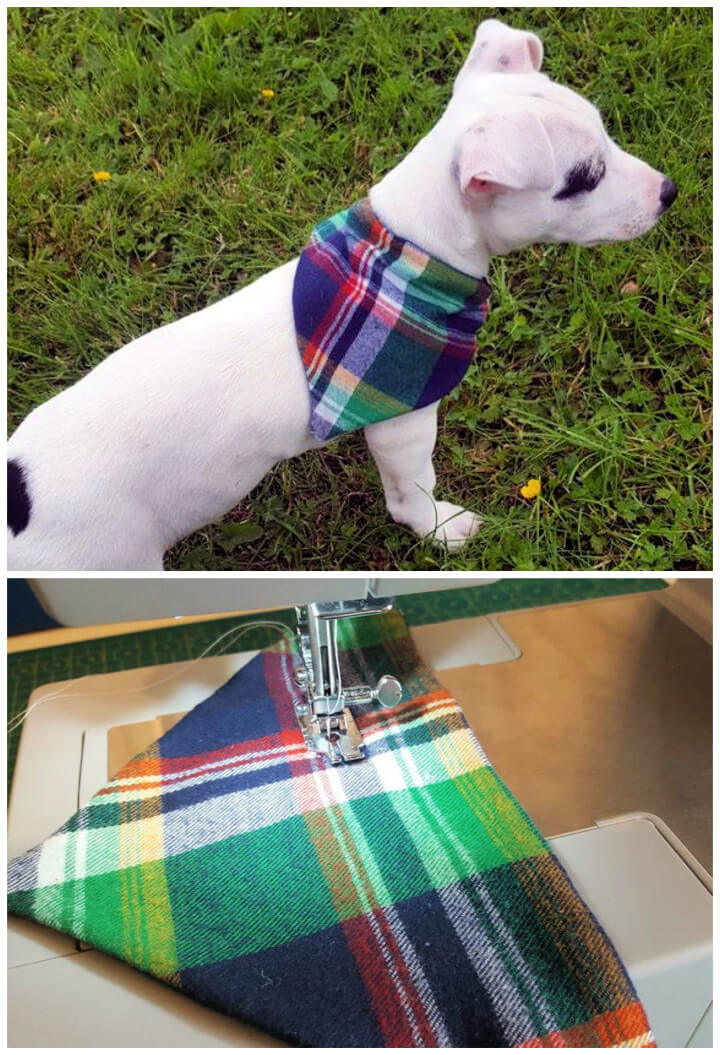 The dog collars get dirty, so you need to replace them after some time! This slip over the reversible collar bandana will also keep the dog collar look new all the time! Hence, bandannas also work great as dog collar covers! Make this bandana using a recycled t-shirt, a smart project to do with your old t-shirts too! instructables
8. DIY Personalized Dog Bandana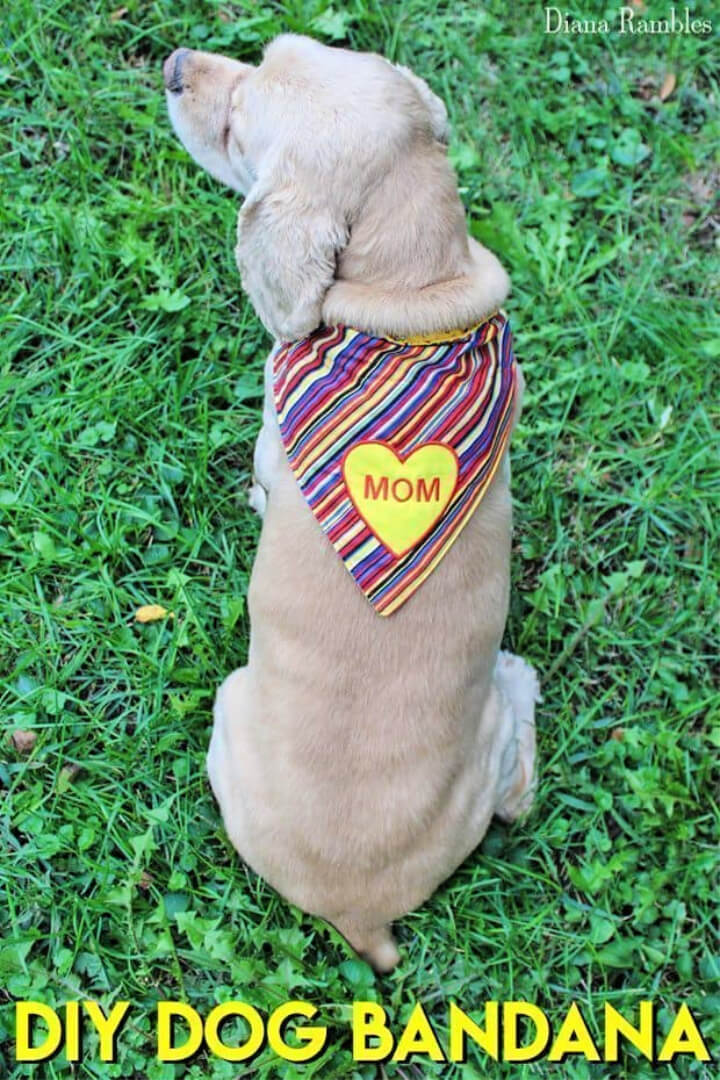 Building this bandana will too much fun as you have to sew a heart applique too on the bandana having name letters written over! Will be the best dog personalization done in a cute handmade way! The colorful stripes look great and will bring enchanting colors to your dog! dianarambles
9. How to Sew a Pet Bandana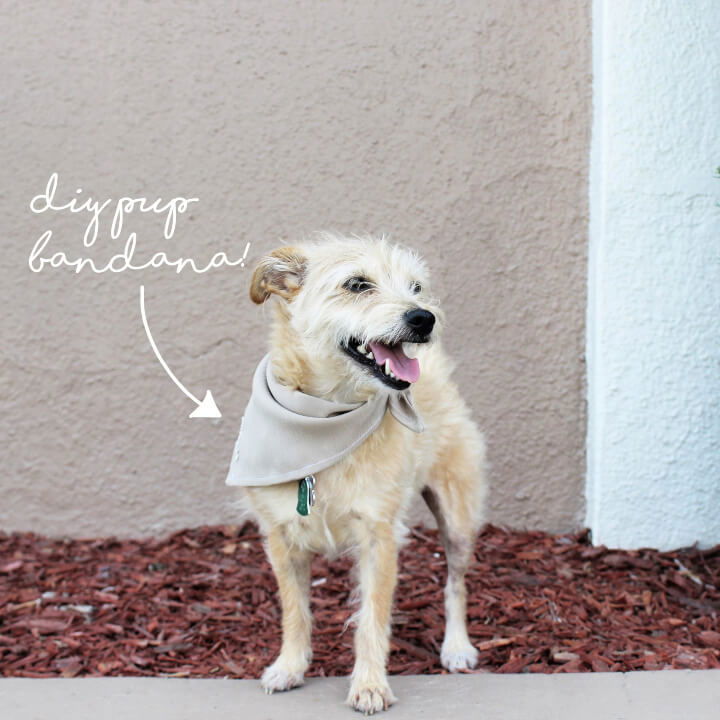 Bring colors and your favorite hues to your dogs by using bandanas, the perfect accent to tie around the neck of your pets! They are pretty decors for the dogs and can be your next inspirations to personalize your dog! This bandana features a soft neutral hue and can be sewn very quickly! Full how-to sewing tutorial here thefloramodiste
10. Make Your Own Dog Collar Bandana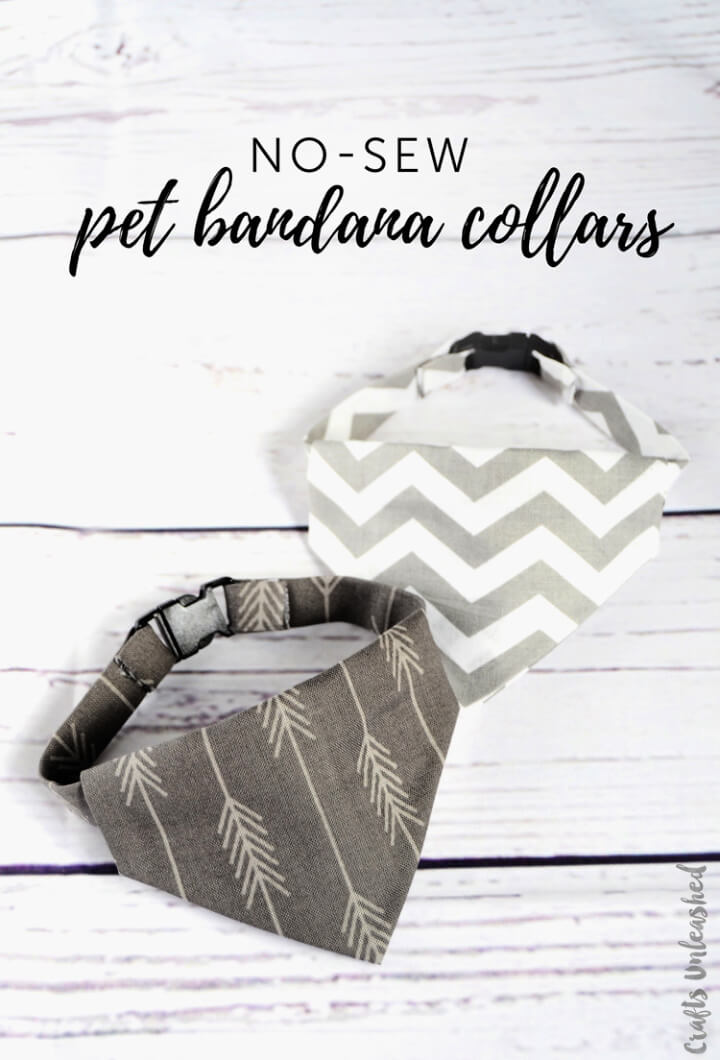 Make this precious dog collar bandana using fabric and end the collar strands with a lovely buckle! Put your design template on the table and start doing your work with great ease! This project begins by cutting a big fabric hexagon, make the strap separately, and then add! consumercrafts
11. Sew Dog Collar Bandana – Free Pattern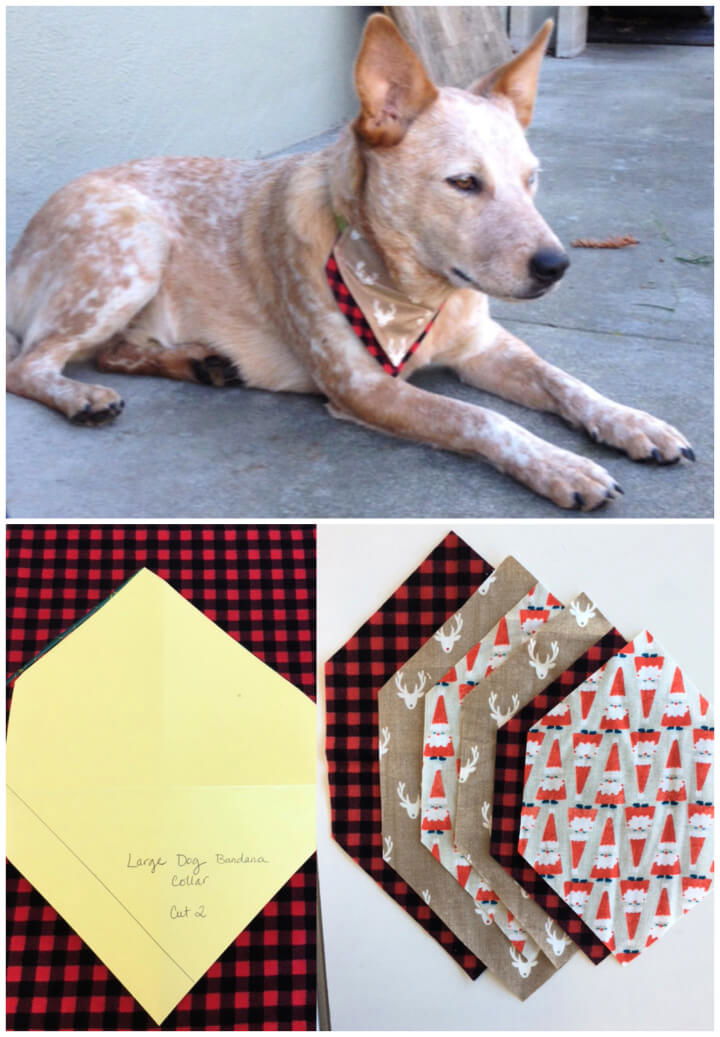 Put together also the contrasting fabric colors to make striped bandannas featuring outstanding colors and hues! Do too this project by sewing fabric hexagons, and you can go with any combination of contrasting fabric for this easy-to-sew colorful bandana design! Complete how-to guides here hartsfabric
12. How to Make Flannel Dog Bandana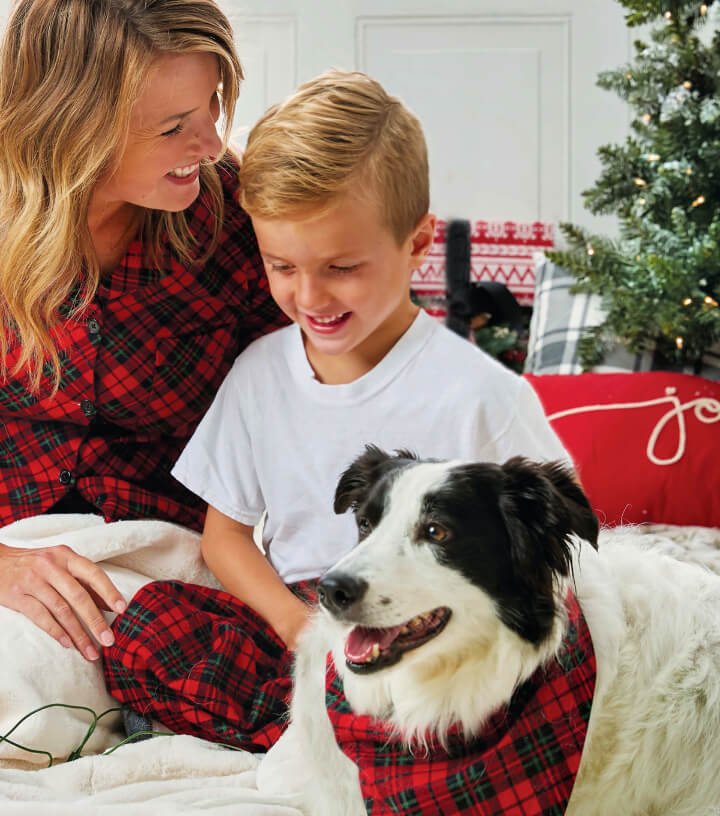 Go also smartly sew with the leftover flannel fabric to make a gorgeous dog bandana! Look at the stunning design texture of this readymade design featuring a red and black hue! The most handsome gift to prepare for a pet-loving friend! It will also help to catch the loose hair around the neck in style! Complete instructions here joann
13. DIY Fringed Flannel Dog Bandana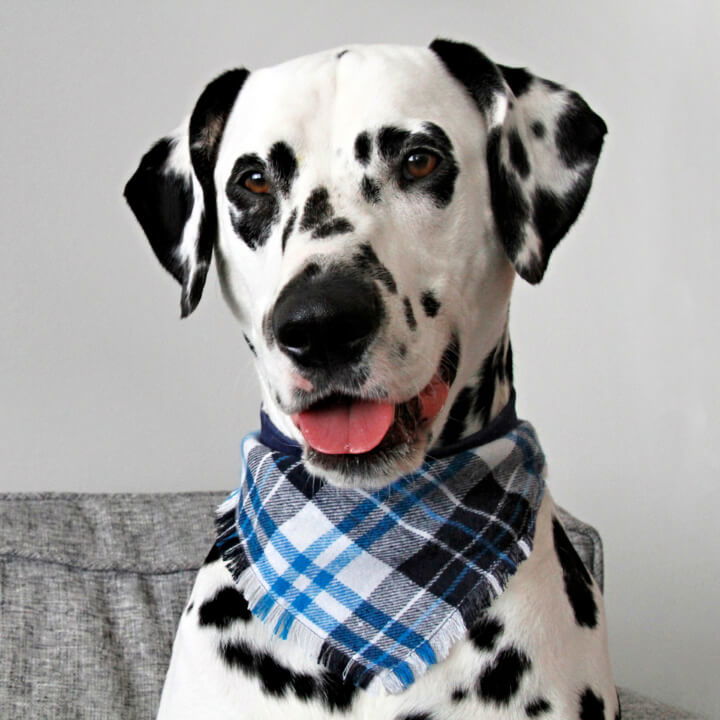 Sew the fabric having different design prints and patterns so they will appear in your bandana pattern! The best ornament fabric triangles to tie around the dog necks! The sewing pattern and design are the same and involve sewing a fabric triangle with a fabric hexagon! Full instructions here dalmatiandiy
14. Easy DIY Dog Bandana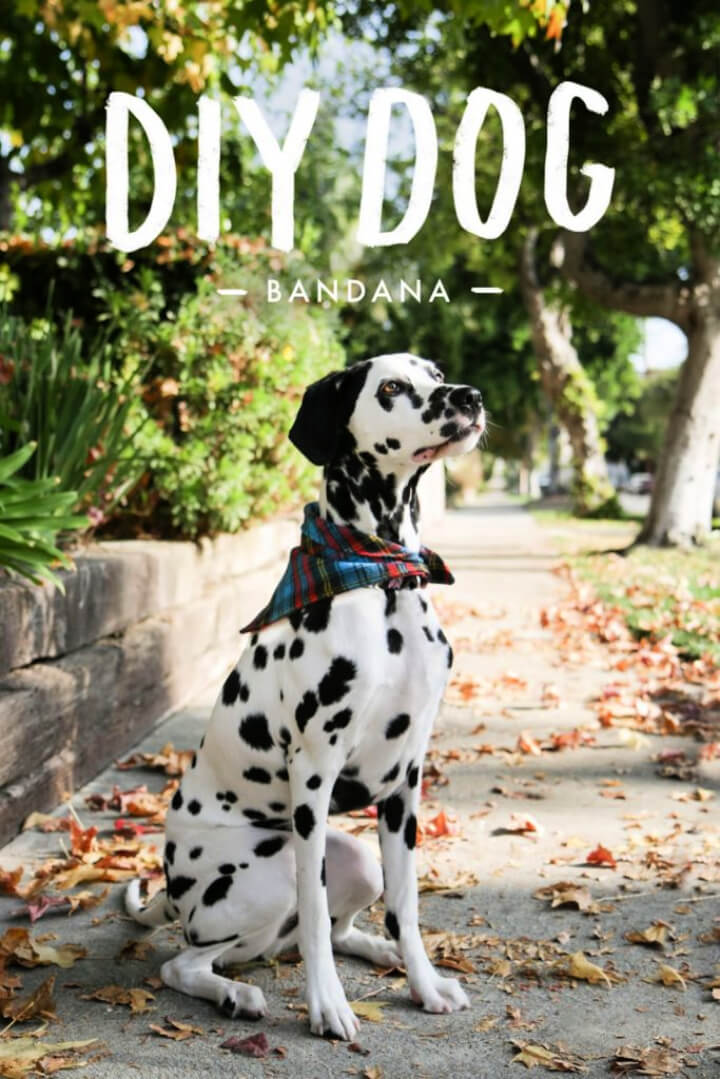 Protect your dog from sunburn while making them wear some colors, using this colorful striped dog bandana! The best neck decorations for pet friends! Sew it also for a friend owning a dog! The excellent looking design that even a beginner can duplicate with great ease! Complete pattern and tutorial here jamiebartlett
15. Homemade No Sew Dog Bandana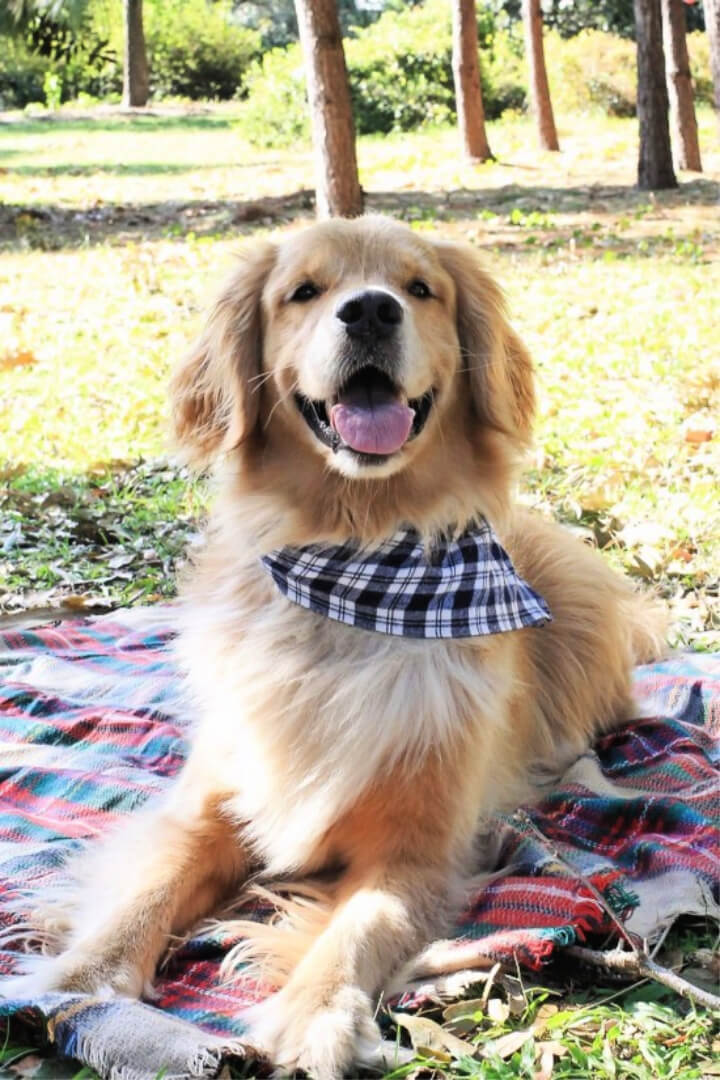 Also, go no-sew with your favorite fabric to make a bandana! This is going to be the most straightforward DIY dog bandana project that everyone can do with great ease! The white and black checkered appeal will go distinguished around the neck! angelamariemade
16. Quick DIY No Sew Dog Bandana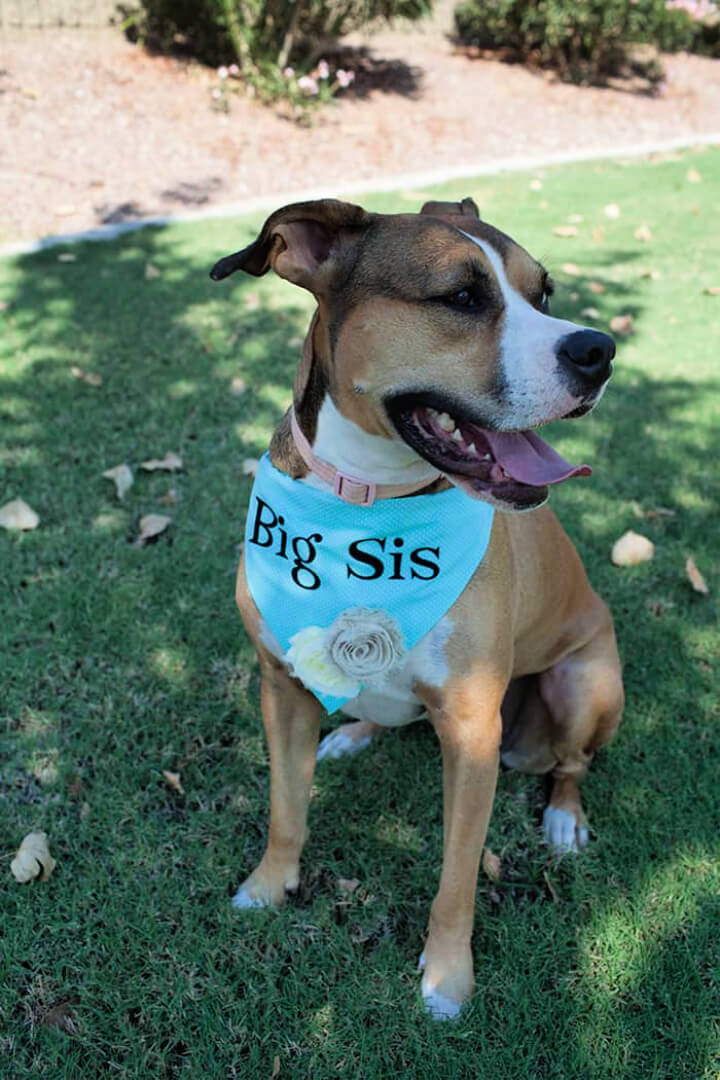 Need a bandana quickly? Then don't waste time by being around a sewing machine, make a no-sew dog bandana will be ready in seconds, will also be loved dearly by all! Also, write the name letters of your own on the bandana for some amazingly cool effects! Have a peek at this turquoise bandana having a rose flower print! Full tutorial here joyfullymad
17. Free Dog Bandana Sewing Pattern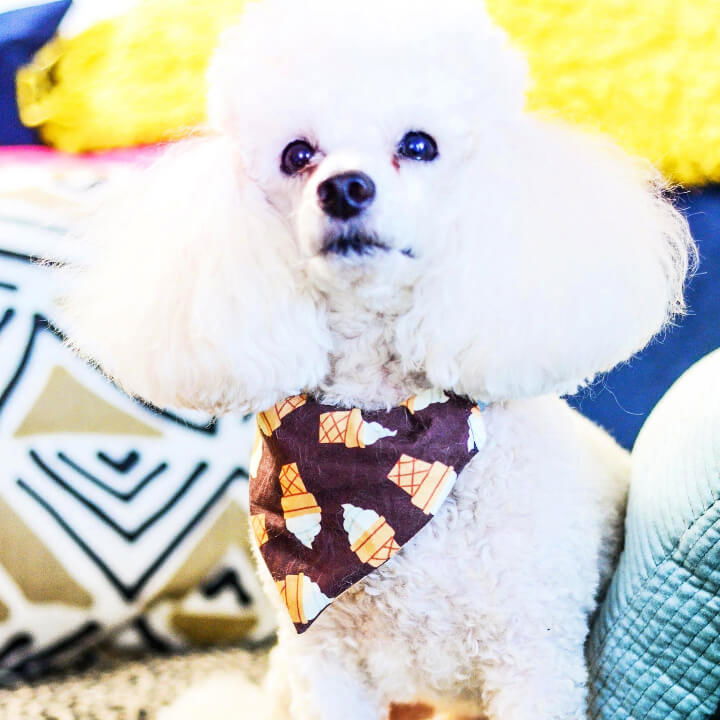 Make use of fabric having any print to make a cool bandana featuring that cool design pattern! This bandana design will rock for every dog breed and is something quite cute and lovely looking! A cool sewing bandana pattern that you can also sew as a slip over dog collar bandana! pbsfabrics
You may also like these best and free dog birthday hat ideas to give your creativity a new touch and make happy your dogs.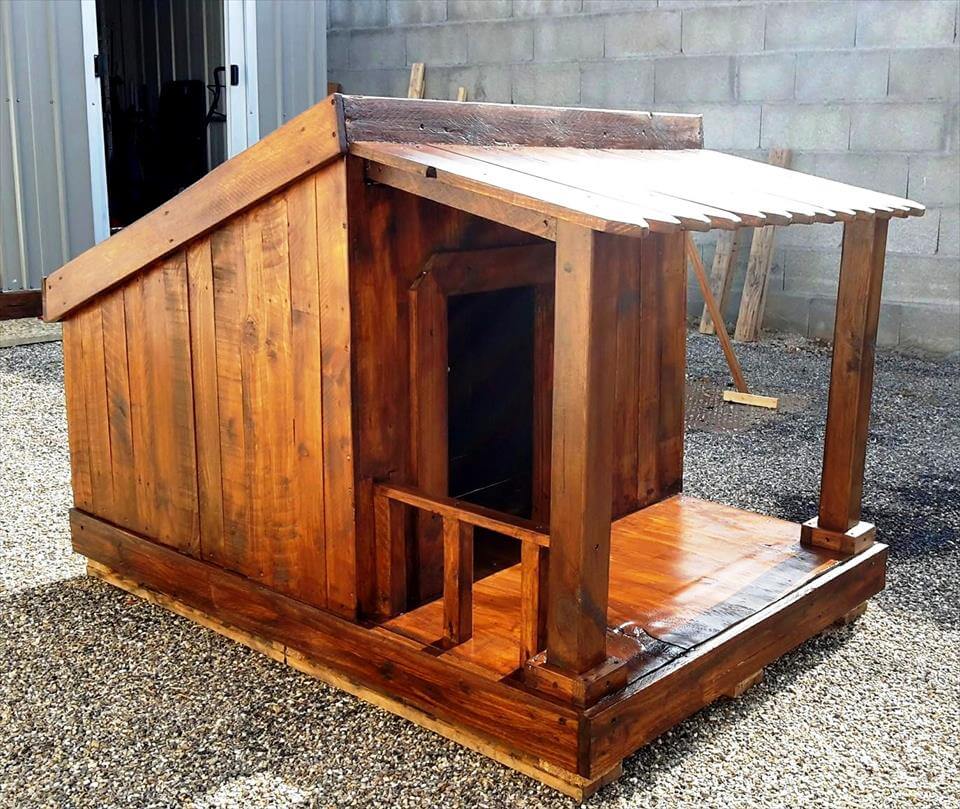 You must design a personal living place for your dog like a DIY dog bed or a dog house is a great choice for your furry friend. Get these free dog house plans and material list to build a simple dog house at no cost. Your dog may also love this inexpensive and easy to make a pallet dog house.