Building a diy sofa table can be an inexpensive yet rewarding project for anyone looking for a piece of homemade furniture that is both stylish and functional. Learn how to make behind the couch table with these 30 free diy sofa table plans, and instructions will provide step-by-step guidance, one can easily find something to fit their individual needs and theme. Whether you want a modern design or something with more traditional accents, plenty of free diy sofa table plans are available below. Once you have finished building your own diy sofa table, you will surely appreciate the uniqueness it brings to your home decor!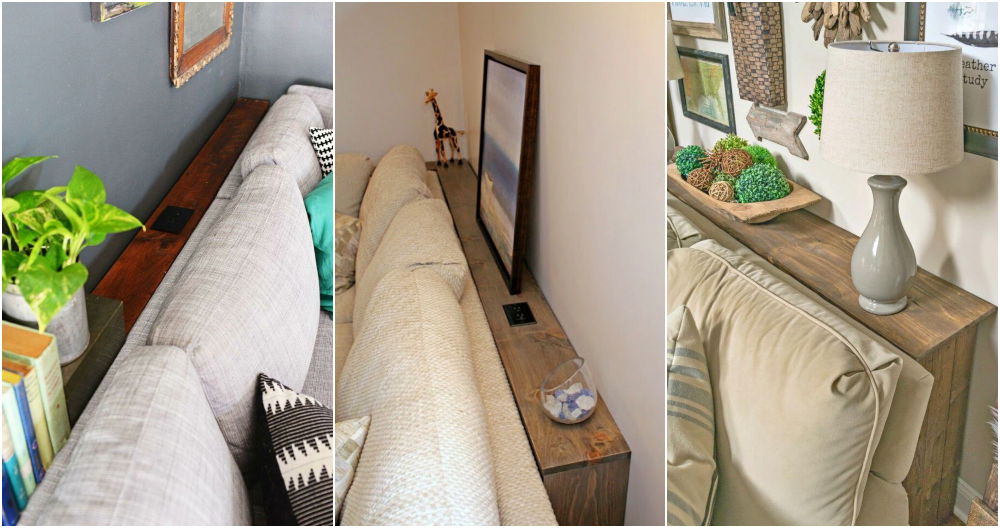 If you want to add an extra storage piece to your living room, then a diy sofa table is the perfect solution. With our list of free diy sofa table plans available here, you can easily construct your own behind the couch table with just a few simple tools and some basic materials. Whether you're a novice DIYer or an experienced woodworker, these instructions will provide step-by-step guidance for building your own custom diy couch table. With so many options available, you'll be able to find one that best fits the style and size of your living room. Plus, there's nothing better than having something unique to show off in your home!
1. DIY Sofa Table Under $30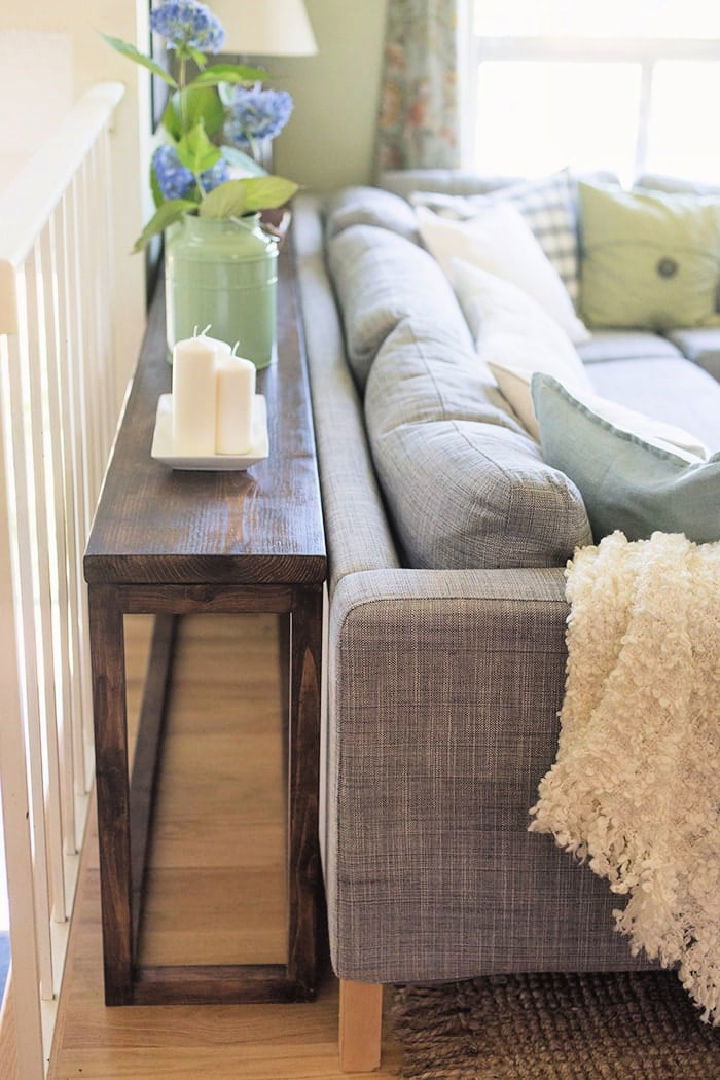 A classic sofa table is as important as the rest of the furniture in your living room. But so is staying under budget. Check out this vintage and just $30 sofa table that you can add to your living room and bring an even darling look to your decor. jennasuedesign
2. How to Make a Sofa Table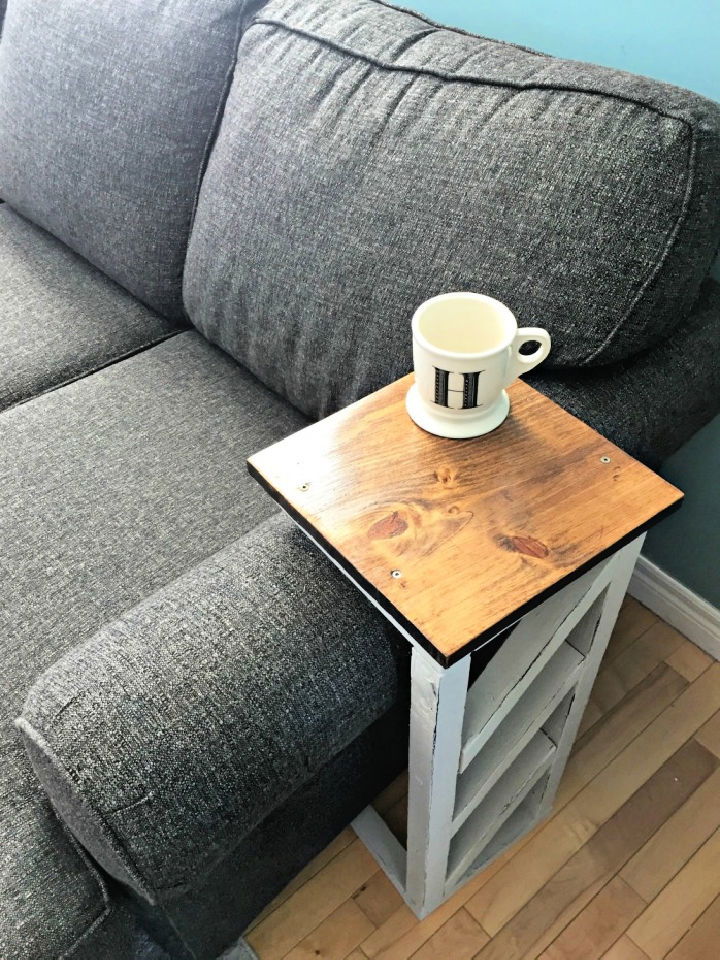 The cozy and warm sofas are the places you choose after long tiring days at work to relax in! And maybe have a cup of coffee or tea. Why not make your sanctuary even comfier with this uber-cute and handy SIY sofa table? heathershand
3. DIY Behind the Couch Table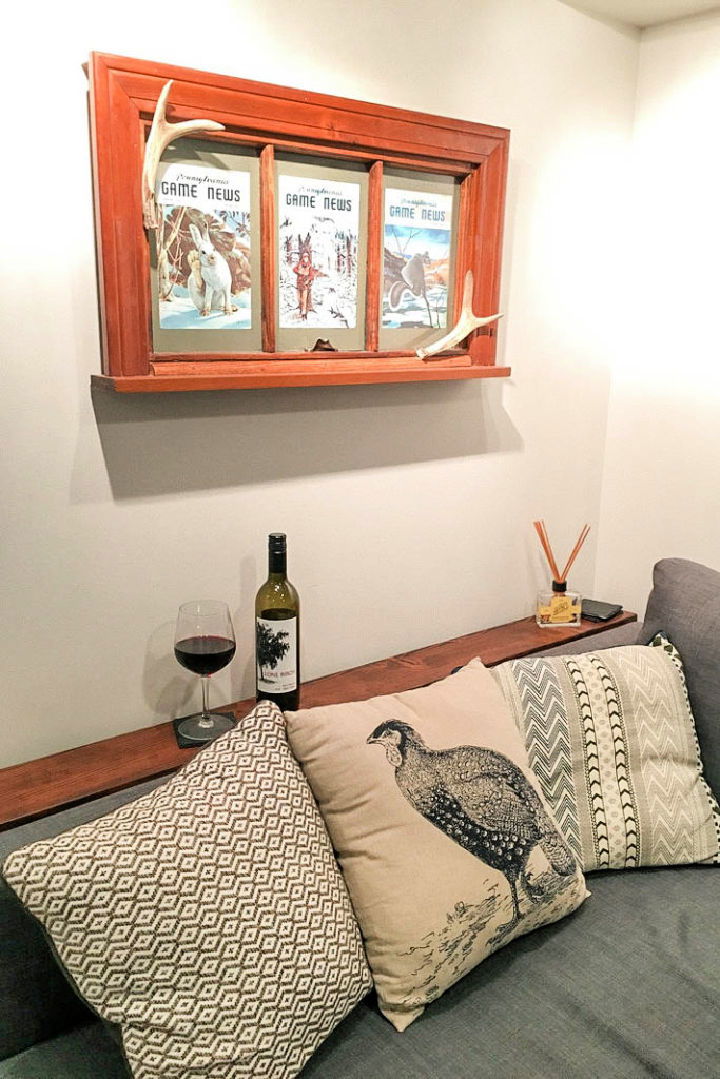 We can assure while you are all set on a relax-y mode on your sofa sofas, you must not like getting up and gathering your munching supplies or drinks! This behind the couch table by Effie Row is just what you need to add up to your comfort zones with class! effierow
4. How to Build a Sofa Table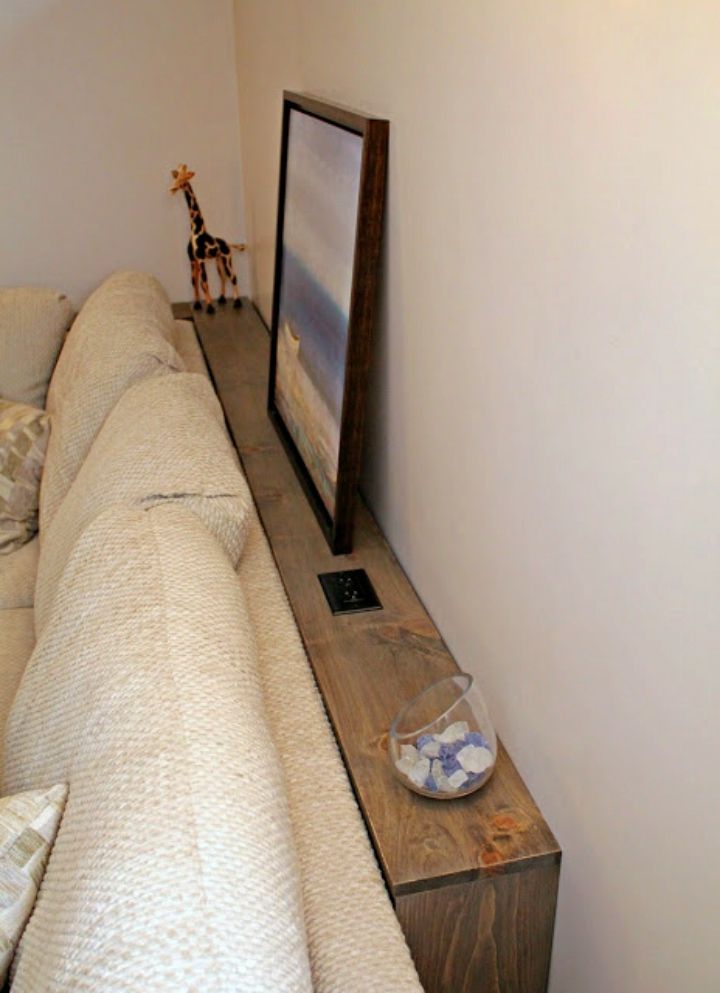 For such a huge and cozy monster sofa who would like to have food on the dining table while sitting all stiff? Cut yourself some major slack by making things as favorable as much you would like in the living room! Have food and manage the plates, glasses with this DIY sofa table. turtlesandtails
5. Homemade Salvage Sofa Table
If you have a salvaged piece of wood lying around somewhere in the back of your garage somewhere, let's put it into some classy and vintage use. Check out this pretty lovely DIY salvage sofa table with these salvaged spindles table legs. adiamondint
6. How to Turn Bench Into Couch Table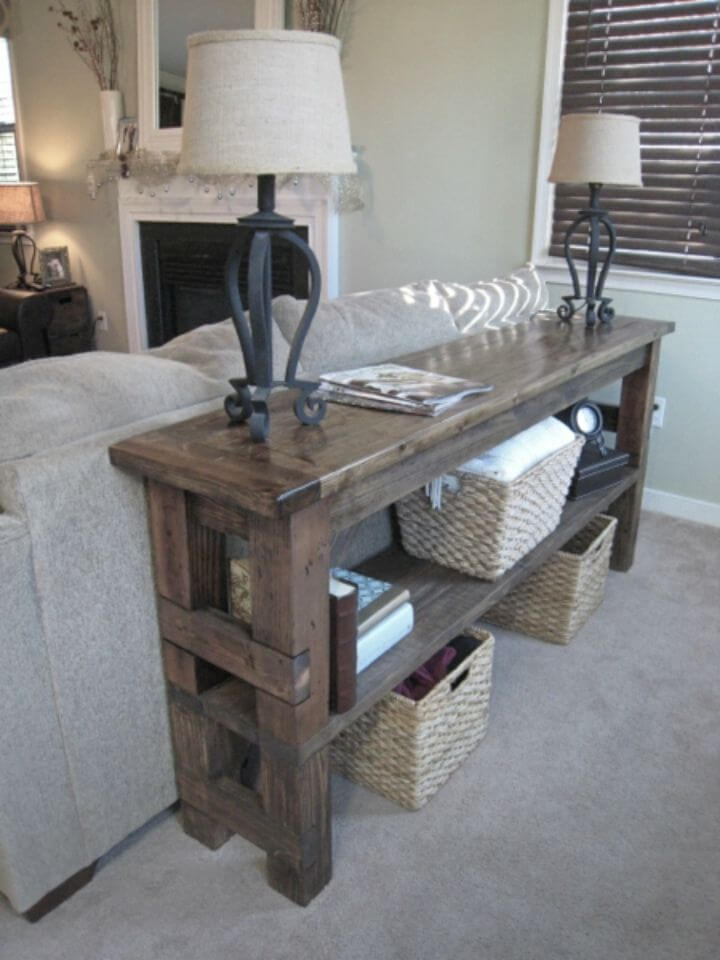 While most sofa tables are hidden and stuffed behind the sofas, this one is to add a vintage piece of furniture with some more storage options in your living room. Stain the super shelved vintage table with some Walnut stain and add a chic vibe to your living room decor. tommyandellie
7. DIY Sofa Table Under $25
Are you craving a living room decor revamp> But at the same time you have got to keep tabs on your budget? Well, this slim and ultra-modern DIY sofa table by Always Never Done is going to be just the sofa table for your limited space and budget. alwaysnever
8. How to Make Gray Sofa Table
Jolia has got just the perfect furniture to revamp and more character enhancement for you to have your big next DIY break! If you have a sofa table or a sideboard table with barn legs, upgrade it by adding this pallet shelf and redoing the stain color as gray! Minimalism at its best. farmfreshhomestead
9. DIY Reclaimed Wood Sofa Table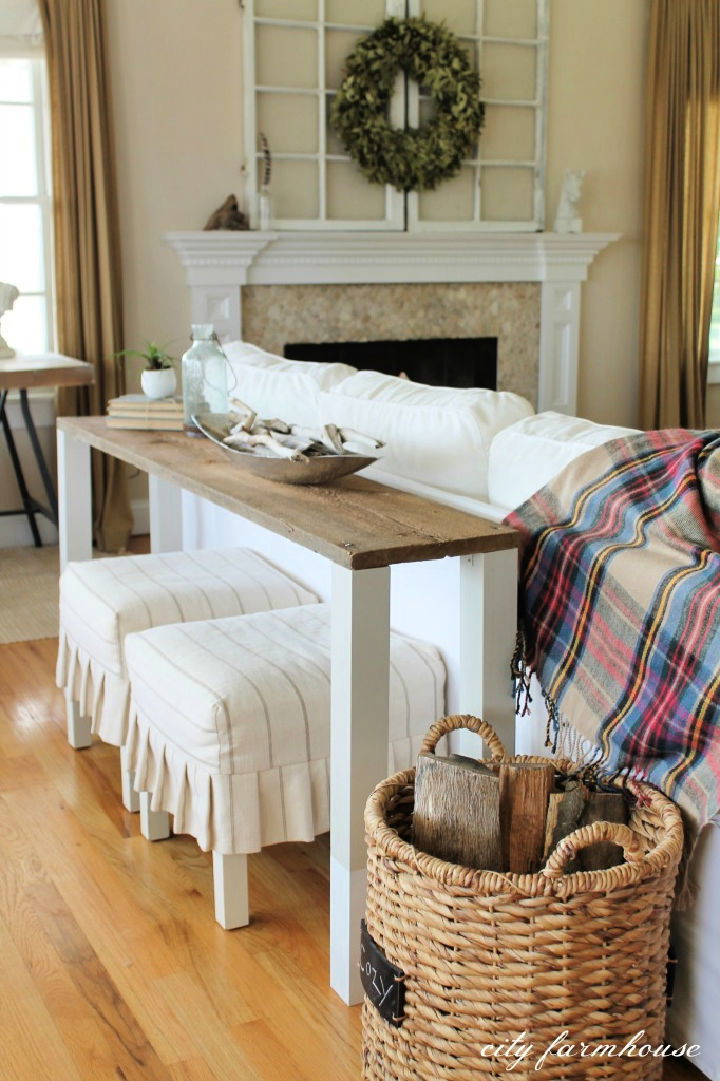 With Jen from City Farm House build a chic and super lovely sofa table using reclaimed wood. This DIY sofa table plan is perfect for newbies, especially it is the easiest to make, or perhaps it is how the instructions go by! cityfarmhouse
10. Building a Rustic Couch Table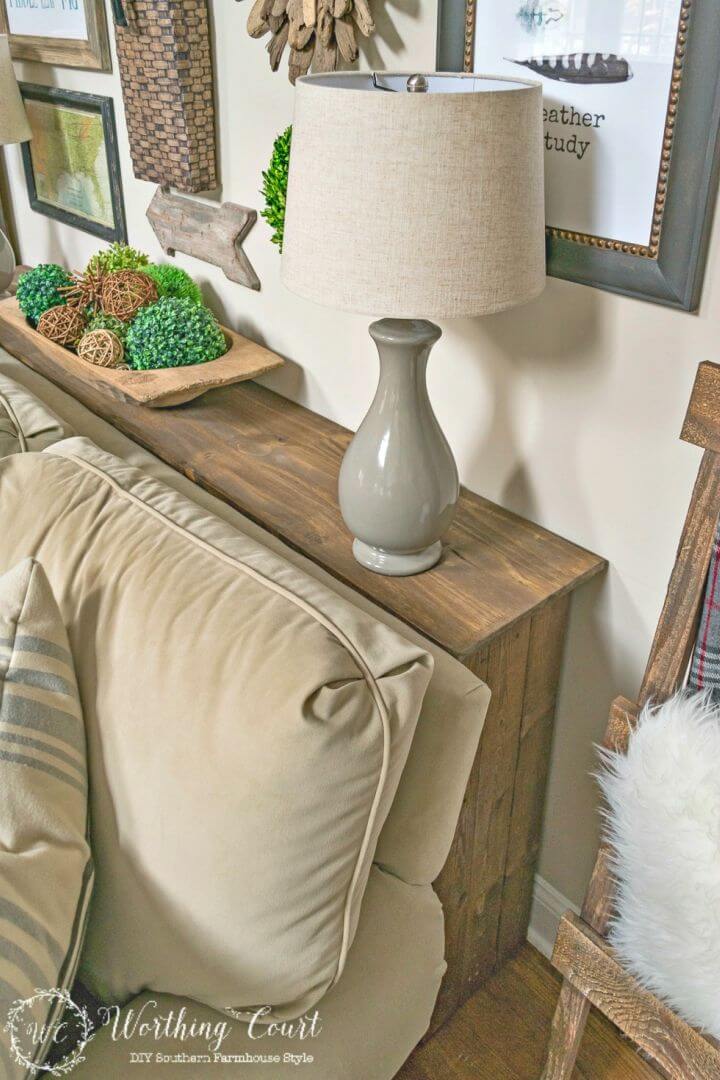 Build an uber rustic and classy couch table for your living room! Adjust the measurements and cuttings as per your space and requirements. The tutorial suggests using pine boards, metal corner braces, flat metal braces. Get full details here. worthingcourt
11. Handmade Narrow Sofa Table With Outlet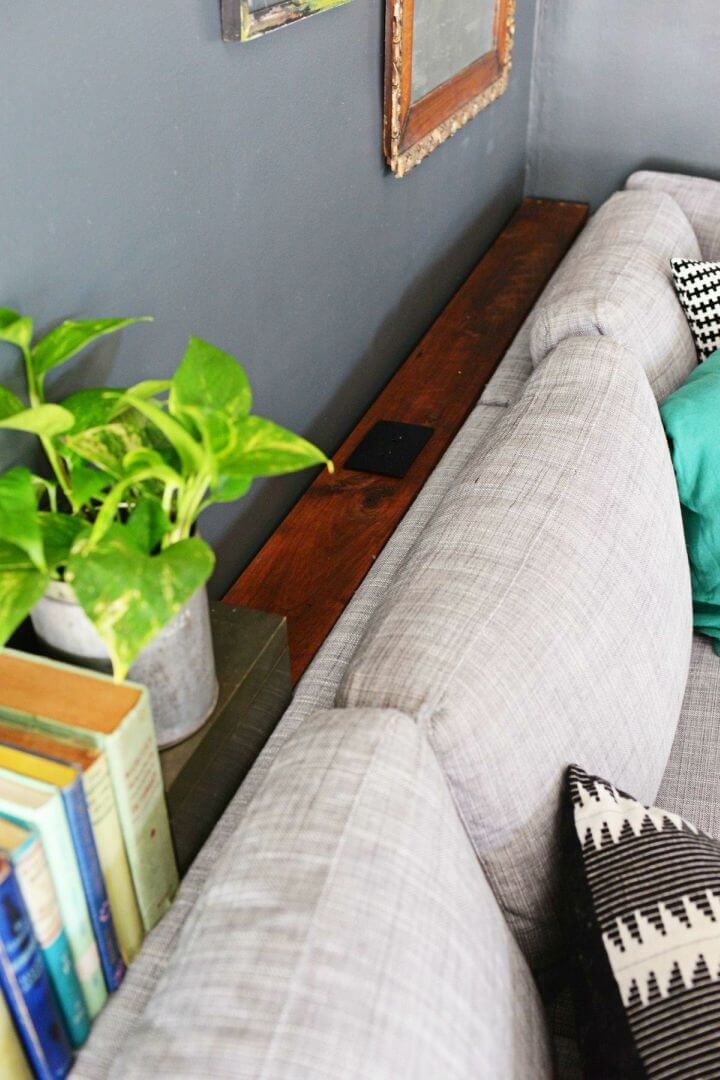 A sofa table that is totally simplistic but brings a whole lot of inspirational character in your decor. This DIY sofa table plan by Homed IT is the perfect companion for your cozy afternoons, evenings, or weekends on the couch. Bonus point, it comes with a charging outlet! homedit
12. Free Truss Sofa Table Plan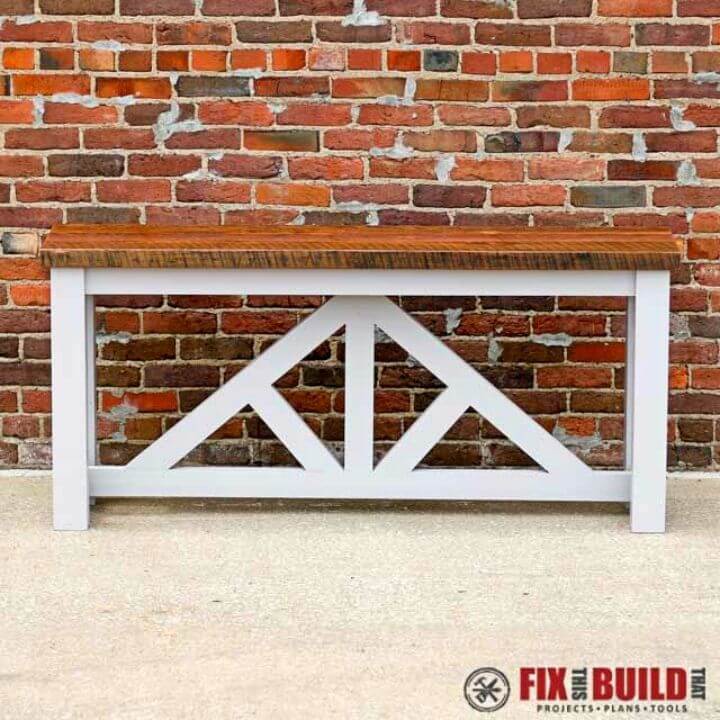 A DIY couch table with style, class, and rich texture. That is something you hardly come by with these much of characters on one sofa! But this DIY Truss Sofa Table just has these all! With the enriched white legs and shiny wooden stain, it will make any room look brighter. instructables
13. Building a Sofa Table for Only $30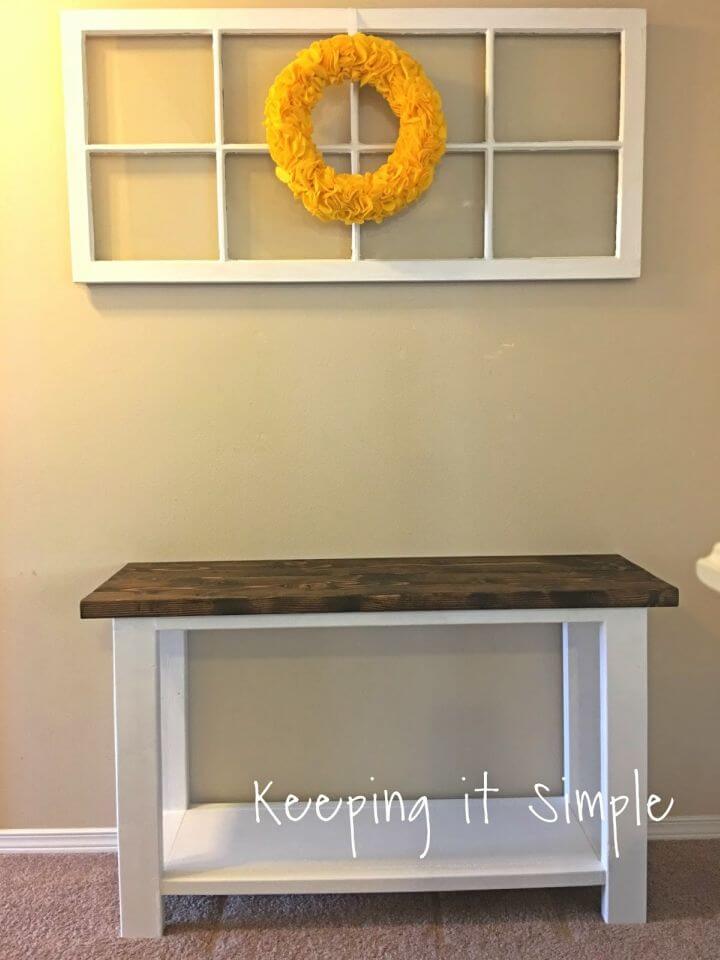 Let's keep it simple but keep it classy! Simple and minimalistic never gets old. Plus, they are the kind of attributes you can economically add to your furniture actually! Just like this two shelved simple DIY couch table by Kaysi from Keeping It Simple! keepingit
14. How to Do You Make a Sofa Table
Get your hands on a plank equal to the length of your couch, some "L" brackets, jigsaw, sanding paper, wood stain and one extension outlet. Here are the magical supplies you need to absolutely sleek and much needed storage offering DIY sofa table. buzzfeed
15. Sofa Table With Pipe Frame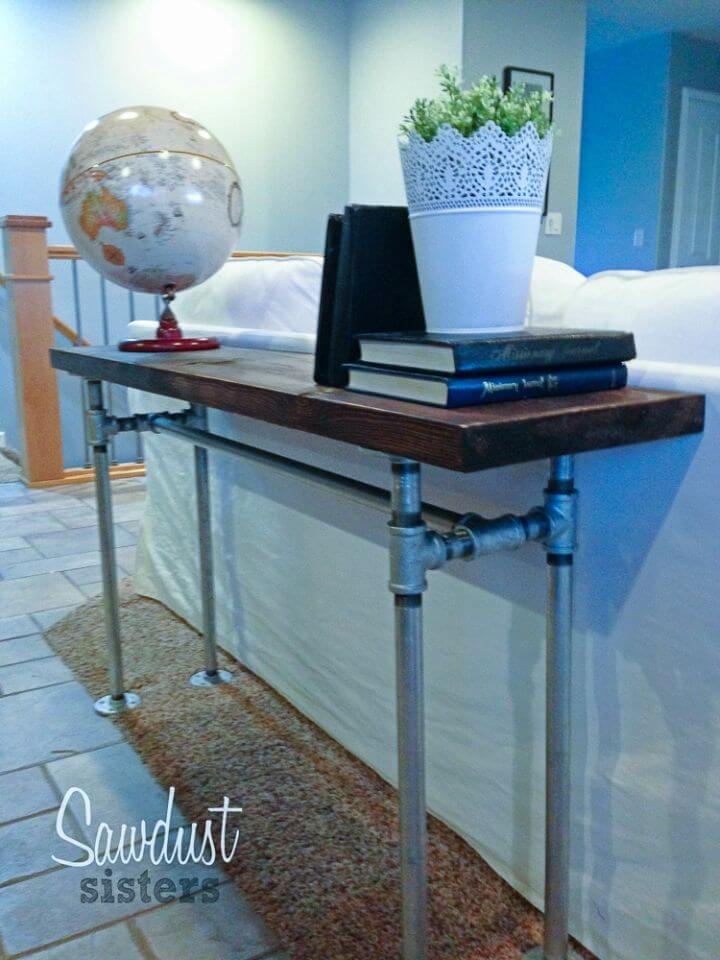 Bring this amazing and appealing industrial farmhouse look to your empty space with this DIY sofa table balanced with pipe frame as the table legs! This could not end up being the most versatile furniture in your house but also pretty durable. sawdustsisters
16. Simple DIY Wooden Console Table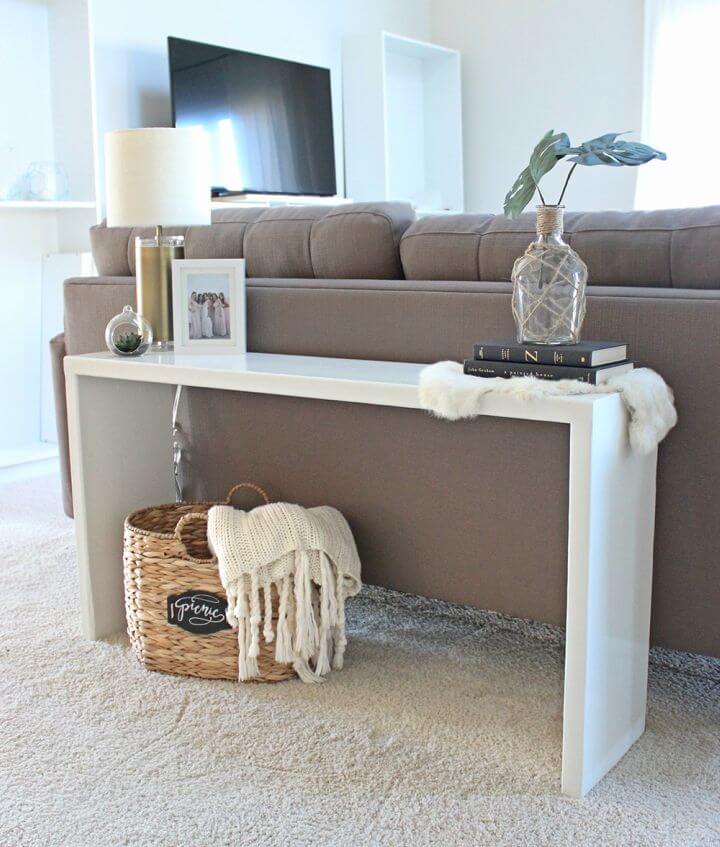 The sofa table that is utterly minimalistic and can be the perfect decoration spot in the whole living room or you can just keep it all clean. Because, well, the texture speaks for itself. Get the complete step by step guide from the Saffron Avenue. saffronavenue
17. Making a Laptop Sofa Table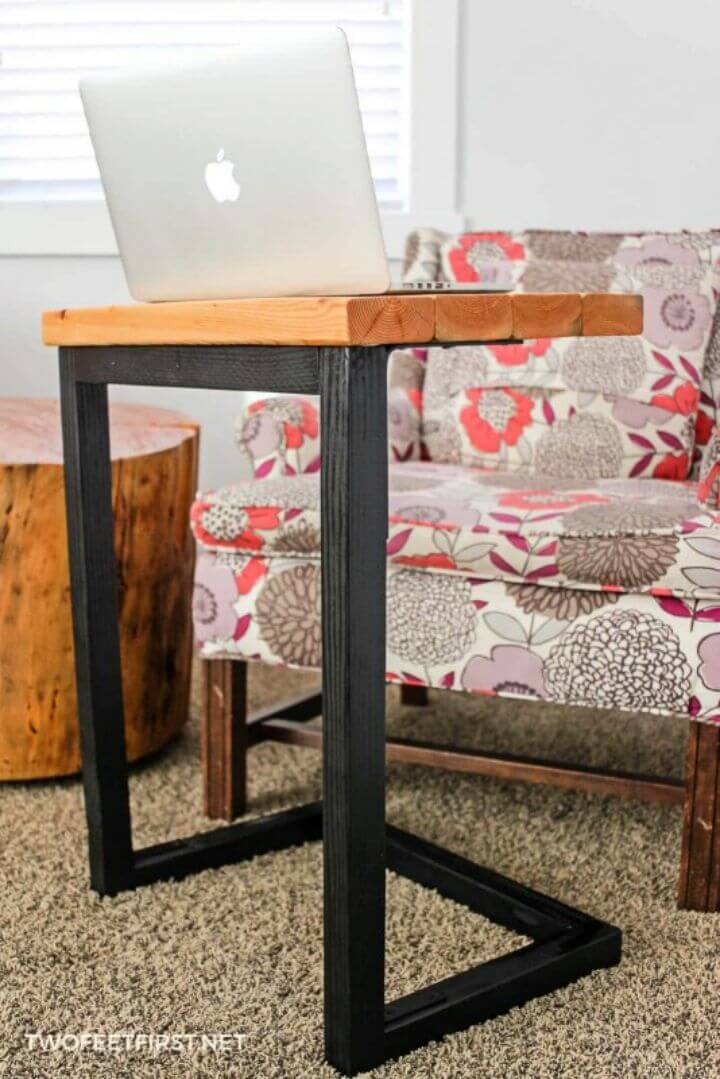 Using a laptop while actually putting it in the lap is not a very pleasant or viable option. While there are many laptop cooling pads and small foldable wooden tables available, now! Nothing can beat this perfectly designed 2 feet laptop table by "two feet first" for using a laptop at the sofa with total ease. twofeetfirst
18. How to Build a Wooden Sofa Table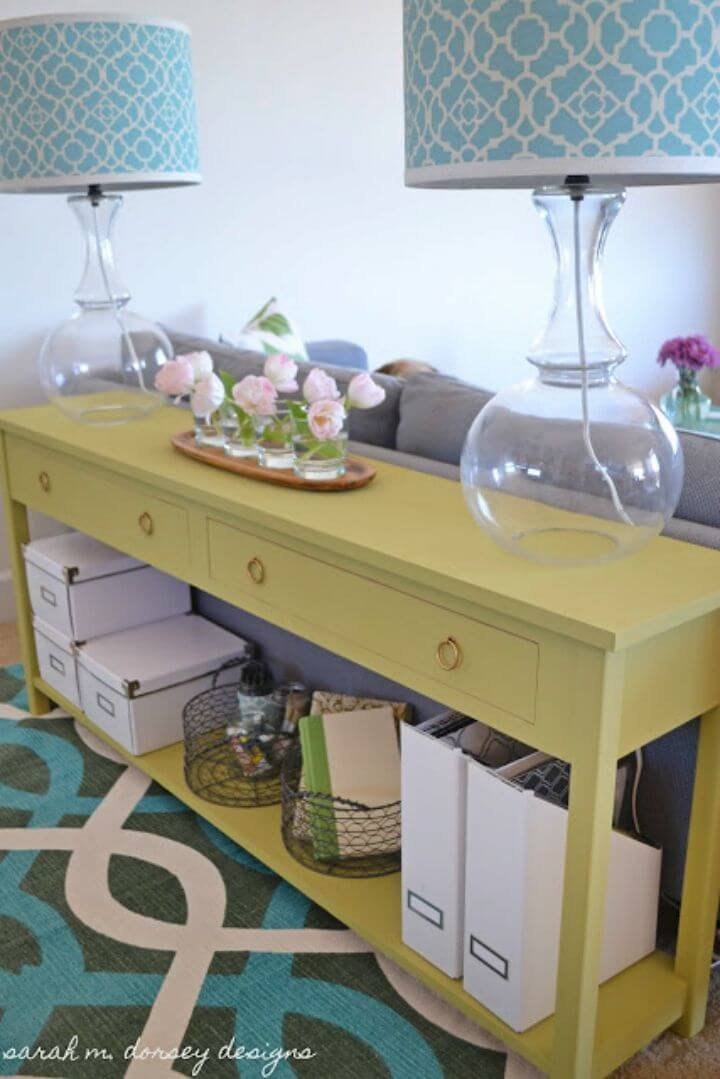 A sofa table can be more than just a sofa table. Not just in a perfect world but in reality too. With two wide and broad shelves and so many drawers for perfect storage options. Style with storage available is the best type of style that there might be. dorseydesigns
19. Cheap DIY Sofa Table
The Little Fit Puppy Doc is here to take away the carpentry troubles off your list and encourage the perfect DIY sofa table urges back in! Get plywood pieces cut in your required dimensions and sue hairpin legs. Save yourself the excessive carpentry if you are not a fan. thelittlefitpuppy
20. DIY Sawhorse Couch Table Design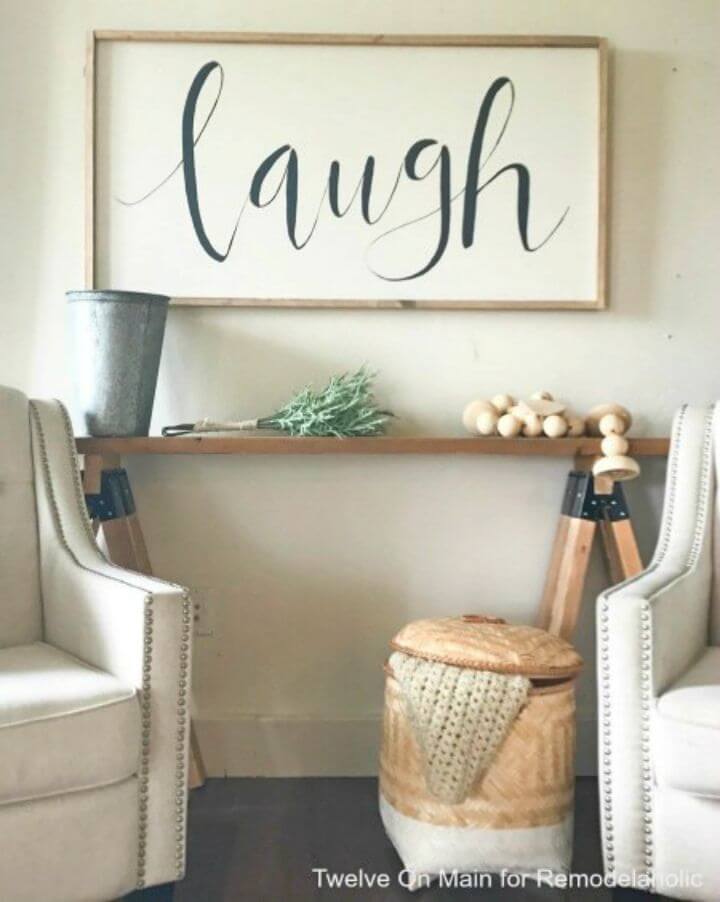 Add a vintage and industrial DIY sofa table with sawhorse legs and character in your living room! It is super easy, and you can literally be done making it in just one afternoon. Mix the ultra-modern and industrial decor and bring minimalism to your decor. remodelaholic
21. DIY Farmhouse Style Sofa Table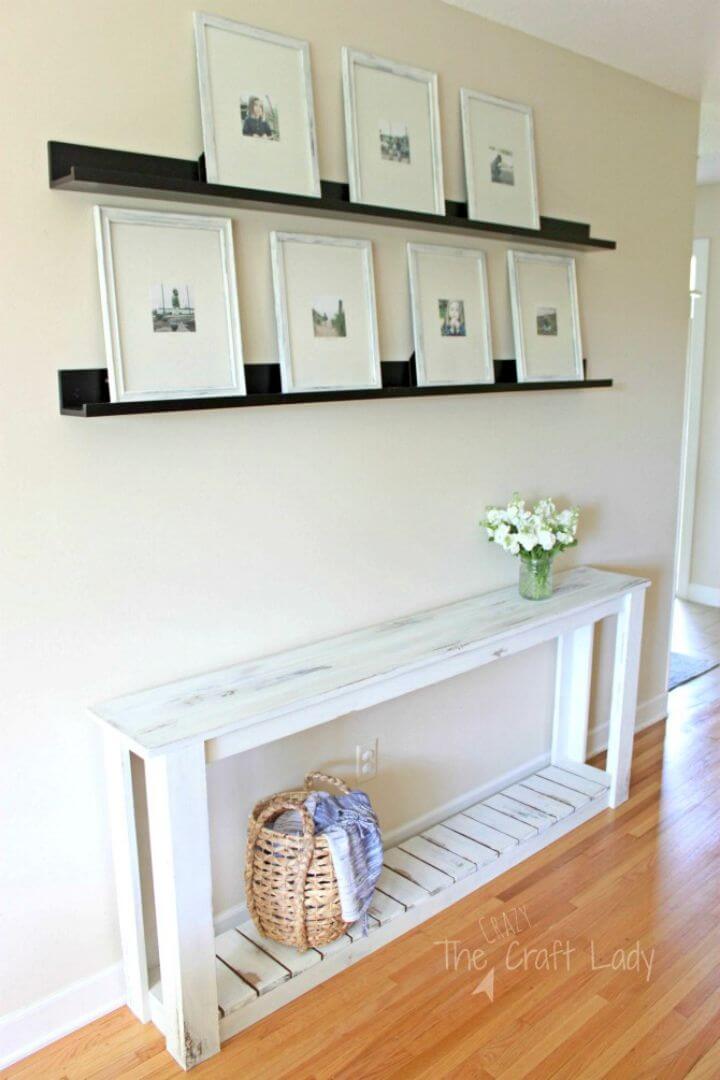 A farmhouse inspired minimalistic and subtle DIY sofa table is all you need to take up your decor game to a whole new level. The uber vintage wooden pallet 2nd shelf and the perfect console table top has got us all drooling. Check the complete sofa plan here. thecrazycraft
22. Building Sofa Table Plans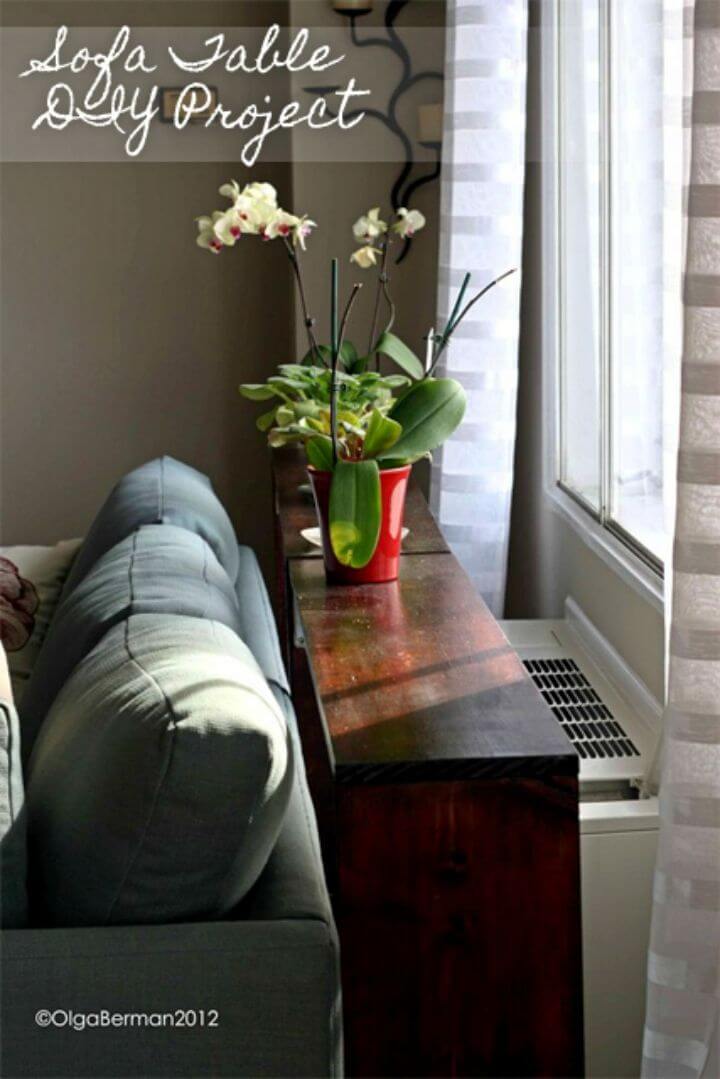 While there are so many adoring options for vintage rustic sofa tables check out this modern rustic sofa table look by Mango Tomato. A sofa table can be a perfect way to also hide your heat thermostats or other home equipment. Do so with style and texture! mangotomato
23. Rustic DIY Console Table
This minimalistic but totally On Point DIY rustic sofa table inspired by industrial style has caught our eyes! The long wooden piece of live wood with the naturally curved ends looks absolutely enchanting and the perfect pipe legs. Durability and style. ourhousenowa
24. Make Your Own Sofa Table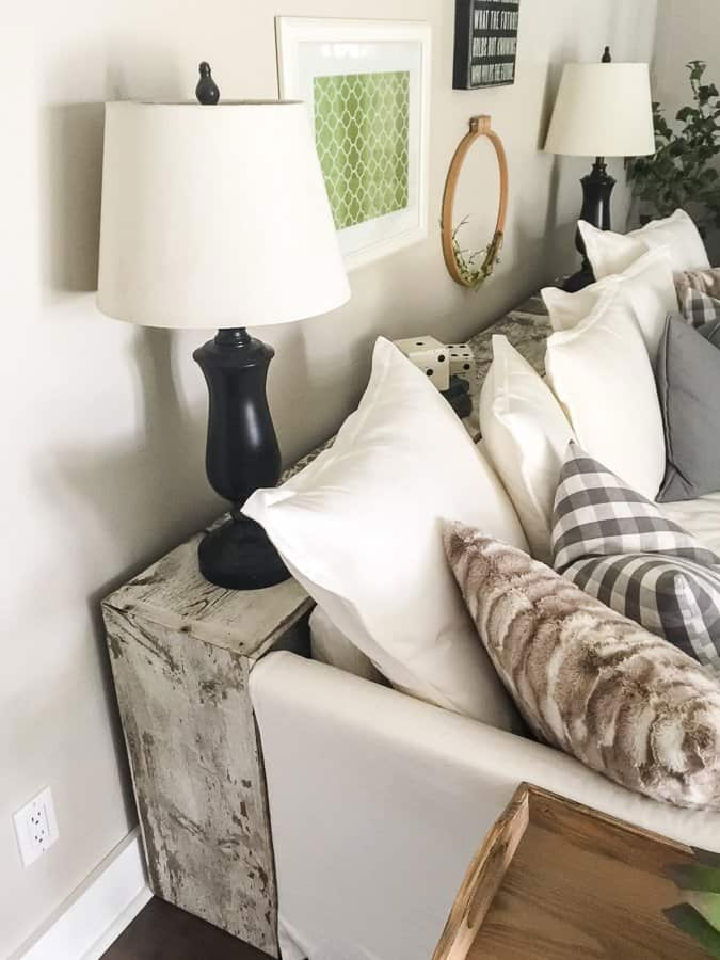 Rustic sofa tables are one the rise now, and you might be wondering where can you get the best one with suitable prices. Well, guess what the only place you can get that is at your own home with absolutely no money spent! Derive the best with Joyful Derivates here. joyfulderivatives
25. Super Easy DIY Sofa Table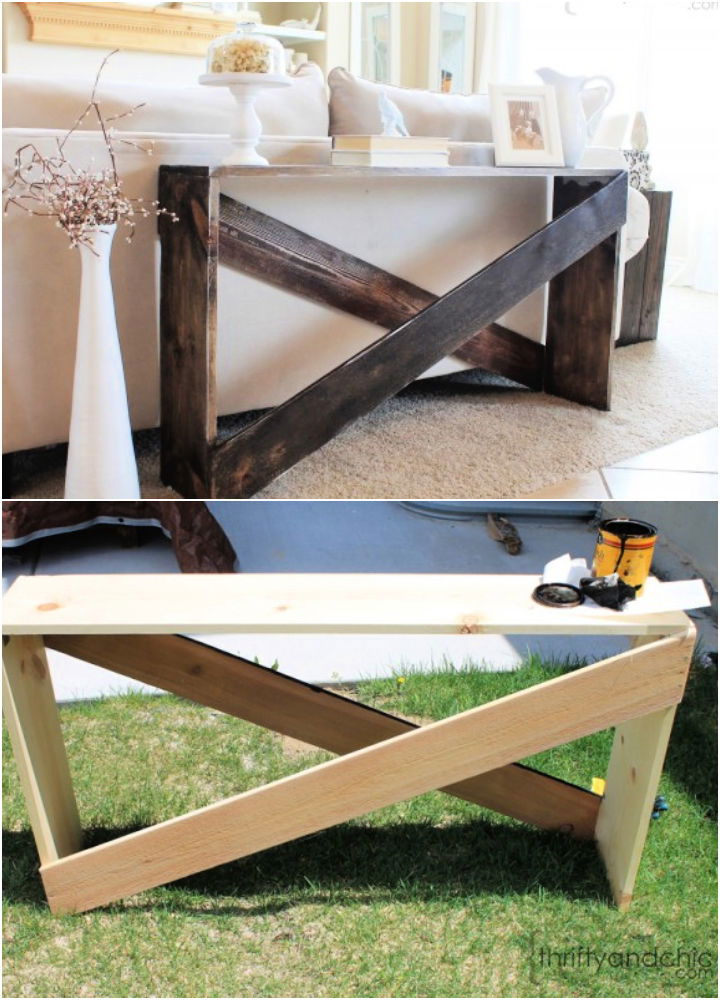 This super easy DIY sofa table with an added character or diagonal legs is going to bring oh so much texture to your living rooms! Especially with the modern rustic look added, it is going to brighten up the room so much more. remodelaholic
Related DIY Projects and Ideas
Sofa Arm Table Ideas: Here are best DIY sofa arm table ideas that which will transform your living space into an inviting, beautiful and functional one.
Entryway Table Ideas: Make a stylish and functional entryway table with these elegant DIY entryway table ideas. From rustic tables to sleek metal designs, these entryway tables are sure to impress guests.
Coffee Table Plans: If you are looking for a cool coffee table for your living room, then here are free DIY coffee table plans. You'll be sure to find one that fits your style and budget.
Pallet Table Ideas: Need a new idea for your next DIY project? Here are adorable DIY pallet table ideas to inspire your next project, whether it's a coffee table, a side table, or a stepstool.
Pallet Coffee Table Plans: If you're looking for a cool and affordable coffee table, these easy pallet coffee table plans are perfect for you. With these plans, you will be able to make a unique coffee table in no time.
DIY Table Ideas: These cool DIY table ideas will help you build a table on a low budget. This is the perfect solution if you have limited space but you want to create a functional and stylish table.
Dining Table Plans: Want to create an inviting dining room? Check out free DIY Dining Table Plans. From modern, to traditional, and everything in between, these plans are easy to follow and fun to build.
Pallet Couch: If you're looking for an easy way to add some extra seating to your home, look no further than these pallet sofas! With just a few simple supplies, you can create a comfortable and stylish couch that will perfectly match your decor.
DIY Sofa Makeover: So you've got an old sofa that's seen better days. Don't get rid of it just yet! With a little bit of creativity, you can give your old sofa a fresh new look. Here are ideas to restore sofa easily.
Conclusion:
DIY Sofa tables are a great way to add function and style to your living room. They can be used as a place to set drinks or snacks while you're watching TV, as a place to put your feet up, or even as an extra surface for working on projects. We've gathered 25 of the best free DIY sofa table plans from around the web, so you can find the perfect one for your needs. Whether you want a simple table with the minimal fuss or something more decorative and eye-catching, we've got you covered. So what are you waiting for? Start building your DIY couch table today!