Learn what to do with old books with our 25 creative, easy, and eco-friendly ways to recycle books. Improve sustainability by recycling old textbooks – an eco-friendly solution! With 25 unique ideas, you'll find amazing ways to recycle books and transform them into beautiful, functional, and decorative pieces. Create stunning book page wreaths, mobile phone charging stations, and even stunning paper roses using simple crochet techniques and easy-to-follow instructions.
One great way to upcycle unwanted books is to turn them into eye-catching home decor items. Try crafting a stacked books table lamp, a DIY book page chandelier, or a rustic paper vase using old book pages. Alternatively, consider functional items like an iPad cover made from a vintage book or a wall-mounted mail organizer. The possibilities are endless with a bit of imagination and dedication.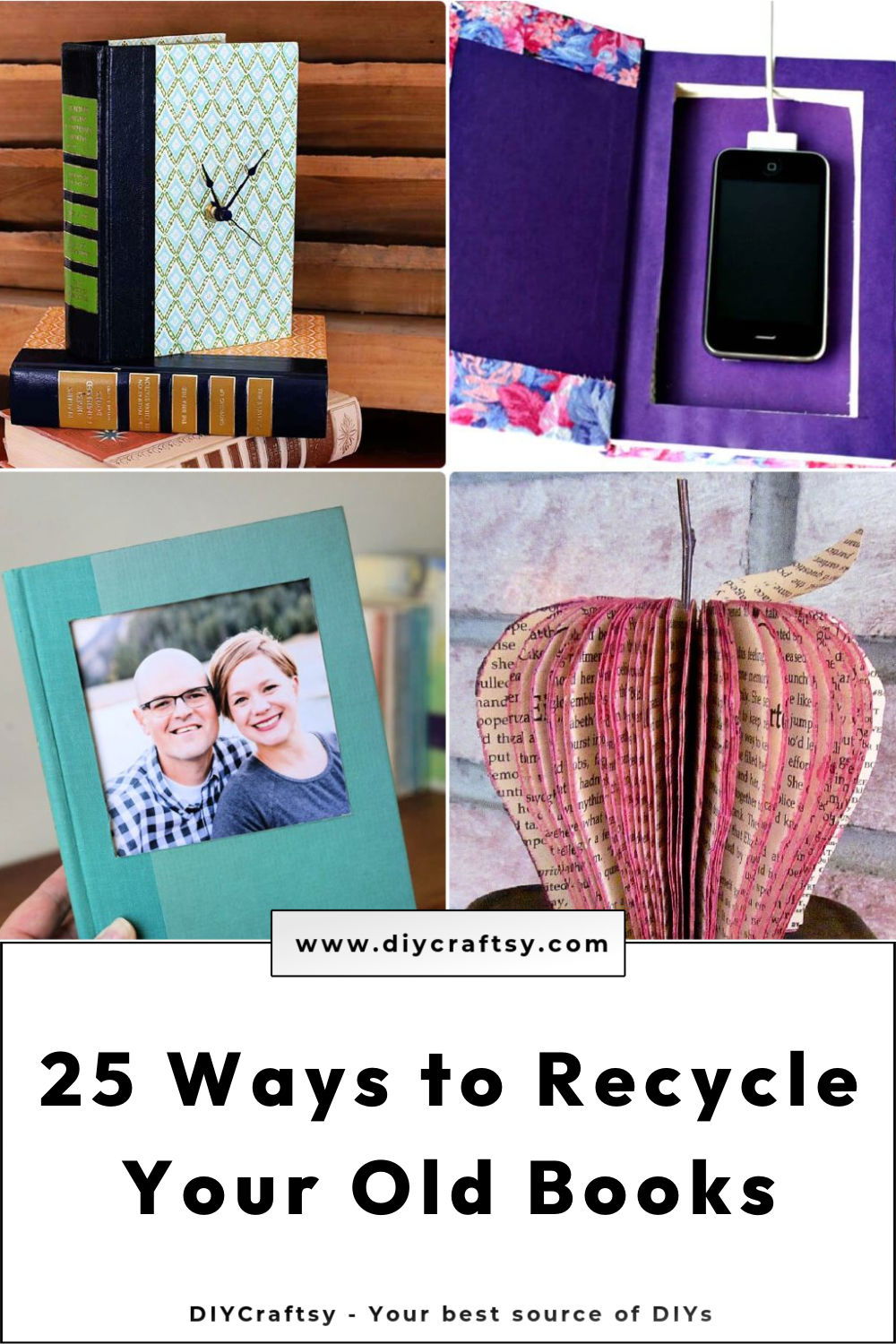 In addition to home decor, old books can also be repurposed into unique fashion accessories. Think about making a purse from a book, or crafting a jewelry box out of an old hardcover. With step-by-step guides and materials lists, these projects are perfect for anyone looking to breathe new life into their old books. So, gather your outdated textbooks and worn-out novels, and embark on an exciting recycling adventure with these 25 incredible ways to recycle books and create something beautiful and useful in the process.
1. How to Make Book Balls
Bring a unique touch of beauty to your home with book balls! These fabulous paper hydrangeas are crafted from Styrofoam balls or ping-pong balls, book pages, and other simple items like scalloped circle paper punch, a glue gun & glue sticks, and unsharpened pencils. Perfect for creating beautiful home decor pieces, elegant Christmas ornaments, and impressive table centerpieces – you'll love the look of these custom-made book ball creations! muslinandmerlot
2. DIY Stacked Books Table Lamp
Transform your old hardcover books into a unique and beautiful lamp with this stacked-books table lamp! The possibilities are endless, with around 8 hardback books, a convenient lamp kit, a lamp shade, and spray paint of any color you choose. A personalized table lamp is perfect for showing creativity and adding character to any room. This one-of-a-kind piece of DIY decor will stand out in any space! Make your own stacked book table lamp today. hgtv
3. Create Rolled Book Page Wreath
Get creative & crafty with this tutorial for a rolled book page wreath! Make a huge impact on your home decor for pennies. You only need a book, hot glue gun, cardboard base, and ribbon or twine. It takes just a little time to complete, but the results are worth it – so get ready to make that big statement without breaking the bank! christinasadventures
4. Simple DIY Book Page Chandelier
Creative upcycling projects, such as DIY home decor, enable artists to recycle books, transforming them into unique, handmade art pieces.
Introducing the gorgeous handmade book page chandelier! This unique home decor will surely add a special touch of elegance and charm anywhere it hangs. Made with love from upcycled books, this chandelier will bring new life into any room or space.
Whether you're looking for an artful statement piece or want to create a cozy reading nook, this DIY project is perfect for sprucing up your home in style. With intricate details and beautiful colors, you'll be amazed at how much character this chandelier can bring! Get inspired today and make one yourself – you won't regret it! makethebestofthings
5. DIY Storybook Paper Roses
Make a beautiful display of storybook paper roses with this simple DIY project. You only need paper, grosgrain ribbon, 16 gauge wire, a hot glue gun, and glue sticks. Start tearing pages out from old books to make your unique bouquet of storybook roses!
Transform the pages into something special that will last forever with this easy-to-follow step-by-step tutorial – no flower-arranging experience required! Make your romantic keepsake or give it a thoughtful gift for any occasion. Let your creativity bloom and create memorable handmade projects with these delightful storybook paper roses. 100layercake
6. Make Centerpiece From a Book
Create stunning centerpieces for your home with this Dollar Tree DIY project! All you need to make these beautiful decorations are supplies from Dollar Tree: a book, a candleholder, and a 4″ Styrofoam ball. You can save even more money with an old book instead of buying a new one for $1. This simple craft adds flair to your table or bookshelf without spending much money – perfect for those looking to spruce up their home in an affordable way! sweettmakesthree
7. How to Make Book Page Apple
Surprise your friends and family with a unique, handmade gift to kick off the school year! Learn how to make a book page apple – with just a few things you already have and some creativity. Perfect as an end-of-the-year teacher's gift or back-to-school present for your kids – they'll love this crafty project! Get ready for some fun family time while making these unique apples out of recycled materials. Follow the step-by-step instructions and see how easy it is to create a wonderful personalized gift that will bring smiles! hymnsandverses
8. Book Page Angel Wings Tutorial
Unlock the power of imagination and transform your book pages into angelic wings this holiday season! Perfect for adding festive flair to any home or office, these book-page angel wings are an easy and inexpensive way to get into the Christmas spirit. All you need is some paper, glue, scissors, and an old book (or two!), and you'll have everything you need for this creative project, perfect for crafting with friends. Show off your completed masterpiece this holiday season – it's sure to be the highlight of any room! jonesdesigncompany
9. DIY Cell Phone Charging Station From Book
Say goodbye to tangled cords and cluttered nightstands with this DIY cell phone charging station! This simple yet ingenious hack helps you keep your phone off the floor and in plain sight. All it takes is some mod podge, a ruler, a pencil, a Xacto knife, and of course, an old book – so easy to make that anyone can do it in no time! Plus, you'll be left with a neat little design feature for your bedroom, making it look amazing and practical. Get creative today and have fun crafting your unique charging station. caughtonawhim
10. DIY Succulent Planters From Vintage Books
Recycling books reduces waste, helps create unique home decor, and promotes education and sustainability across communities worldwide.
Craft a unique and stylish succulent planter from a vintage book! You only need a hardcover book, PVA glue, twine/ribbon, wax, a wax stamp, and a plastic bag. First, seal the edges of the vintage cover with PVA glue and leave it to dry for 24 hours. Then secure your hessian ribbon or twine around the cover using hot wax – personalize by adding an embossed wax stamp design.
Place a plastic bag inside to hold the soil, and add your favorite succulent plant. Enjoy your beautiful new succulent planter – perfect for any room in the house! joyusgarden
11. How to Make a Vase Using an Old Book
Turn an old book into a unique decorative vase! This DIY project requires only a few materials and is easy to spruce any home decor. Get creative with this craft by using an old hardback book with a sturdy, undamaged spine, then fit it inside the cardboard box. Cut off the top of a water bottle as the inner lining and glue it into place within the book. Finally, arrange fresh flowers in your new homemade vase for beautiful decorations that will last! katescreativespace
12. Upcycled Old Book Clock
Giving your old books a new life is simple with this easy DIY craft project. Learn how to upcycle those unwanted or outdated volumes into decorative clocks that adorn any room. Everything you need for this creative use of an old book is; an X-Acto knife, pencil/chalk, drill, bits, and battery for the clock kit! Keep these books out of landfills while adding unique style to your home decor. Start crafting today and make something great from what others might consider rubbish! houseofhawthornes
13. How to Turn a Book Into a Jewelry Box
Transform an old hardback book into a beautiful DIY jewelry box! This easy-to-follow tutorial teaches you how to hollow out the book and create a niche within for your keepsakes. The trickiest part is cutting the niche correctly, so watch carefully! You will also need mod podge Gloss, two pieces of decorative scrapbook paper, vintage clip art, four photo corners, four wooden beads, and E6000 glue. Make something special with this creative upcycled project that you can use for years! kenarry
14. DIY IPad From an Old Book and Sugru
Make a one of a kind iPad or kindle case from an old book and sugru! This custom creation will give you the perfect look with minimal effort. For starters, select an old leather-bound book that's just the right size for your device. Then grab some Sugru – a moldable adhesive with a grip – to stick it all together. You'll have your unique case crafted with your creativity in no time. And don't worry if it's not perfect; the beauty is imperfection! Get creative today and make an iPad or kindle case from an old book and sugru! instructables
15. Making a Book Picture Frame
Preserve cherished memories by converting aged pages into distinctive photo frames, preserving both the recycle books' essence and your moments.
Convert an old book into a creative and unique DIY book frame to showcase your favorite memories! With this easy craft idea, you won't damage the book or the photo. All you need is a hardback book, an acid-free page protector, photos slightly smaller than your book, a sheet of paper, and masking tape. Get inspired with this step-by-step guide on making a beautiful picture frame from an old hardback for yourself or as a gift! Say goodbye to boring frames and display your special moments in style. itsalwaysautumn
16. DIY New Star Design from Vintage Book pages
Get creative with decor this holiday season! DIY a one-of-a-kind star using vintage book pages. All you need is an old pen, tacky glue, and some patience to roll the pages all the same size and secure them into place. This unique star will add a special touch to any mantel by leaning against the wall, topping off your Christmas tree, or using it as part of your holiday centerpiece! Get crafty this year with DIY new star design from vintage book pages. houserevivals
17. Rolled Book Pages Flowers
Creating beautiful rolled paper roses from old book pages, newspapers, scrapbook paper, or Kraft paper is an easy and frugal way to add a special touch to your gifts! You only need scissors, a hot glue gun with glue sticks, and a pencil. Follow the simple steps to make stunning rolled paper roses that impress any recipient. Start crafting today and bring out the inner DIY artist in yourself! hgtv
18. Handmade Folded Book Art
Discover the best and most clear tutorial to make your own folded book art! With this detailed guide, you can turn any hard-covered book into a unique work of art in less than 45 minutes. All you need is a ruler (in centimeters), a pencil, and an old book, and you're ready to get started. Whether it's for decoration or as a thoughtful gift, craft something special with this easy-to-follow tutorial! Don't wait – start creating beautiful folded book art now! instructables
19. How to Make Book Page Lamp
Transform old literature into beautiful decor by learning to recycle books into stunning wreaths, lamps, planters, and unique artwork.
Design a unique and affordable reading lamp with an old book! With just an old book, a shade, a circle cutter, and Mod Podge, you can make your own "book page lamp." The total cost is only $0.70 – it doesn't get much better! Follow this guide for easy step-by-step instructions, and your new custom-made lamp will be ready quickly. Check out this tutorial on how to make a book page lamp today! roundaboutshop
20. Make Your Own Working Book Clock
Turn your old hardcover book into a stylish, one-of-a-kind clock with a DIY working book clock! Reuse your favorite vintage novels to create unique wall art that will center any room. All you need is an old book, clock movement, glue, and a battery for the clock to get started. Whether it's a wedding prop or everyday decor, this fun project will help you to declutter those shelves and boxes while giving you something new and beautiful in return. Make a DIY book clock today and bring life back to your well-loved novels! sheknows
21. Recycled Book Page Butterfly Wreath
Unlock your inner artist and create a stunning recycled book page butterfly wreath from pages of an old book or magazine. All you need is basic supplies like scissors, pencils,s, and branches to make this masterpiece without spending any money! This craft project can be completed in one to two hours, so grab everything you need and start. With a few simple steps, you'll have a beautiful butterfly wreath that will add the perfect touch to any home décor. diyinspired
22. DIY Lace and Burlap Covered Books
DIY a unique book makeover with this easy DIY lace and burlap covered books project! It's affordable and features three of your favorite elements – burlap, lace, and books. All you need is hardcover books, paint, a hot glue gun, book pages, burlap & lace for the perfect one-of-a-kind creation that will make any room look beautiful. Try this quick craft today to add a touch of style to your home, or give it as a personalized gift! littlevintagenest
23. Making a Purse from a Book
Upcycle your worn-out novels into fashionable accessories like tote bags or jewelry, merging eco-friendly practices with trendsetting styles.
Transform your old book into a stylish purse or clutch with this easy DIY tutorial! Not only is this a great way to reduce clutter, but it's also an excellent way to add personality and flair to any outfit. Plus, you won't need much more than the book, making this project nearly cost-free and unique! All you need now is time and creativity to show off your new fashion statement. instructables
24. DIY Old Book Mail Organizer
Unleash your creativity and recycle books into innovative storage solutions, such as hollowed-out secret compartments or attractive shelves.
Welcome to the start of a new year – and what better way to kick it off than with an old book mail organizer project! This stylish yet practical project is perfect for organizing without breaking your wallet. In next to no time, you can turn an old book into a nifty mail holder that will surely add charm and style to any workspace. Make this easy DIY project today, and get ready for an ultra-organized one! beyondthepicket
25. Rustic Paper Vase Decor From Old Book Pages
Make your own rustic DIY home decor with this unique paper vase from old book pages. Transform ordinary books into a beautiful accent for your mantle or shelf in no time! Create custom designs and add a bit of charm to any room in the house. Easy to assemble, this paper vase makes an ideal craft project that will provide lasting satisfaction. Add something special to your living space with this rustic paper vase crafted from old book pages!
Related Recycling Ideas
Conclusion:
In conclusion, recycling old books offer numerous ideas for unique and eco-friendly projects. With options like DIY book balls, upcycled book clocks, rolled book page wreaths, or even a rustic paper vase decor, the potential to transform used books is vast. So, if you have a collection of old books gathering dust, consider these 25 ways to recycle books. Not only will you free up space, but you'll also give new life to these beloved volumes while reducing waste. Happy crafting!