Transforming old t-shirts into reusable and fashionable items is an excellent way to give new life to clothing that has been sitting in your wardrobe for too long. Here are 25 creative ideas on what to do with old t-shirts to help you upcycle and recycle them while giving them a new purpose. From turning them into eye-catching DIY accessories like braided bracelets or necklaces to repurposing them for practical uses like a homemade apron or a no-sew tote bag, the possibilities are endless.
Experiment with different techniques such as tie-dye, adding fringe, or braiding to create unique and stylish outfits, like a chic ombre fringe skirt or a cool diamond smock t-shirt. If you love the idea of turning your old favorite t-shirts into home decor, then try crafting a colorful t-shirt scrap wreath or a cozy cat tent for your furry friend.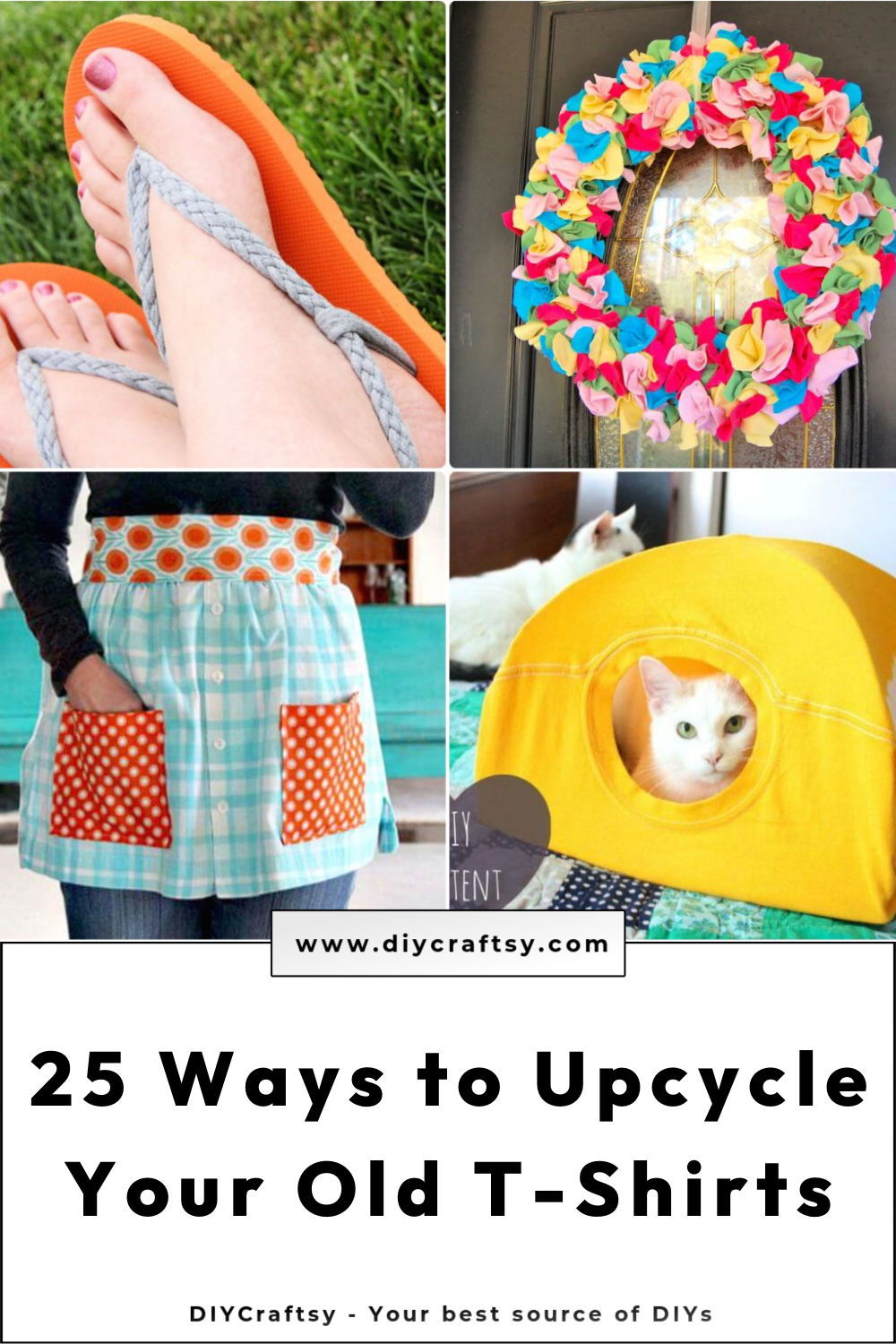 Don't forget about the little ones in your life; transform sentimental t-shirts into adorable baby boho leggings or a cute t-shirt bunny toy. With these inventive what to do with old t-shirts ideas, you'll add an eco-friendly touch to your wardrobe and save money while giving your old t-shirts a stylish makeover.
1. Colorful DIY T-shirt Scrap Wreath
Add some colors to your home with this unique DIY T-shirt scrap wreath. Made with scrap knit fabric, it's perfect for Valentine's Day with pink/white/red, or other seasonal colors. Use a twig wreath as the base and wrap it in packing paper to make the gluing fabric easier. Instead of making roses out of each strip of fabric, we suggest using hot glue, which will save you time and material. Be creative with your choice of fabrics for a one-of-a-kind decoration that is sure to stand out! blairandsteven
2. No Sew DIY Polka Dot Infinity Scarf
Slay in a stylish, no-sew infinity scarf with just a few craft items! Start with a large t-shirt and use scissors or a rotary cutter to cut it into two equal strips. Next, use foam pouncers dipped in all-surface metallic gold paint to dot the fabric however you'd like. Once dry, tape the ends of each strip together so they form one continuous loop, and your DIY polka dot infinity scarf is ready for wear. Perfect for adding pizzazz to any outfit! sugarandcloth
3. Making Braided Straps – Flip-flop Refashion
Transform your old flip-flops into fashionable straps with this DIY tutorial! Follow these easy instructions to make braided straps for your shoes. Start by snipping pieces of the flip-flop away on the back and creating a long strand of braided knit material. Then shove the raw ends down into the hole by the toes and top off with hot glue beneath knots and in crevices. Get creative with colors, styles, and textures – you can have a little fun while making some totally unique new accessories! makeit loveit
4. Turn a T-shirt Into a Tote Bag Without Sewing
Turn any of your old t-shirt into a stylish tote bag without sewing with just scissors! This easy project is perfect for those looking to revamp their wardrobe. Start by cutting off the sleeves of your shirt and then cut out the neck. Once you've created an open rectangle, simply cut a fringe along the bottom and tie it up! The thicker the fabric of your t-shirt, the sturdier and longer-lasting your bag will be – just make sure not to use a worn threadbare version. Create something unique today with this simple hack! practicallyfun
5. How to Tie Dye an Upcycled T-shirt Garden Flag
Transform a plain white t-shirt into your very own garden flag with this easy-to-follow guide on tie-dying an upcycled t-shirt! You will need a tulip one-step tie-dye kit, 100% cotton fabric, rubber bands, gloves, and plastic bags. All you have to do is just wrap the fabric tightly using the rubber bands, creating several shapes like spirals or stripes. Then submerge it in different colors from your dye kit for 10 minutes before washing it off with warm water and placing it on a wire rack for 24 hours before you can display your new vibrant garden flag! happinessishome
6. Easy DIY T-shirt Apron
Upgrade an old t-shirt into a stylish and practical apron with this easy DIY tutorial. Cut the front design out in a large rectangle from sleeve to sleeve, fold the bottom up under the design, then cut 6 strips for your waistband/ties. Sew three strips together and repeat to make two separate ties and pin them to the back of your skirt. Finally, stitch all around to complete your t-shirt apron – perfect for crafting or cooking! Get creative and express yourself with unique designs while making something pretty useful at the same time. rufflesandstuff
7. How to Make a Shirt Scarf
Creating a unique and stylish look with upcycled clothes can be easy and fun. Learn how to make a shirt scarf with this easy tutorial. Gather any old shirts, t-shirts, or tank tops you have lying around, then cut them into long strips for the perfect accessory. Get creative with your fabric choices for a one-of-a-kind aesthetic that's totally you!
With some basic sewing skills and patience, learn how to transform an old garment into something new that you can wear year-round. Step-by-step instructions will guide you through making the perfect DIY shirt scarf for any occasion. Make it bolder with colors, or keep it classic with neutrals – either way, accessorize in style! gina michele
8. Cat Tent from Old T-shirt
Are you looking for some creative and fun way to entertain your cat? With this DIY cat tent, all you need is an old t-shirt, two hangers, some tape, and cardboard. Cut the hangers into shape and reinforce them with cardboard if needed. Poke holes in each corner, then tape the two hangers together. Bend the ends and tape them down before lining everything up to create the tent! Finally, give it to your cat and watch them enjoy hours of playtime inside their homemade hideaway! Make this easy craft on old t-shirt ideas today for lots of perfectly fun moments with your feline friend. instructables
9. DIY Skirt from a T-shirt
Looking for some easy way to make a skirt with minimal supplies? Try this DIY skirt from a t-shirt! All you will need is old knit shirt (the wider, the better!), 1-inch elastic, and matching thread. Cut off the bottom of the shirt – don't forget to leave the extra fabric for hemming – then add a quick casing to the top for elastic.
This is literally one of the fastest and easiest ways to give your wardrobe an upgrade without sewing complicated seams or patterns. Get creative with colors, shapes, and sizes – it's time to show off your persoanlized unique sense of style! makeit loveit
10. Baby Boho Leggings from an Old Shirt
Put together the perfect look for your little one with baby boho Leggings from an old shirt. A fast and easy way to create stylish leggings; simply cut two pieces from a t-shirt hem, and you're done! The upper part of the leggings is roomy, making them comfortable for crawling, walking, or running around. The bottom of the legs are more fitted, so they stay in place and don't move about or get caught on things. Get creative with colors and patterns – you won't be able to resist these beautiful baby boho leggings! makeit loveit
11. DIY Braided T-shirt Rug
Grab this guide for making your own unique rug with this easy DIY braided t-shirt rug tutorial! Start with an assortment of old t-shirts or fine cotton knits. Cut them into strips, and then braid these strips together to create a sturdy base for your new rug. Use a clothes peg to keep the braids in place while you sew them together with a sewing machine. Finish off by adding some non-slip rug underlay to ensure that the finished product stays put on any surface! Create something stunning and unique for your home – start making your own braided t-shirt rugs today! mypoppet
12. Valentine's Day Old T-shirt Heart Wreath
Spruce up a one-of-a-kind Valentine's Day gift with this easy and affordable DIY heart wreath made from an old t-shirt. With the help of sharp scissors, cut 1 old white cotton t-shirt into long strips.
Use a sharp tool such as a nut picker or screwdriver to poke holes in each strip before threading them onto the ribbon. Now shape your ribbon into a heart and secure the ends together using glue or push pins. Finally, use a permanent marker to write your loved one's name on the finished product for an extra special touch! This is sure to be remembered by your valentine! redheadcandecorate
13. Easy Braided Belt Tutorial
Looking for an easy belt-making tutorial? Look no further! This easy braided belt tutorial will help you make your own braided belt quickly and easily. All you need is four strips of T-shirt, cut 2.5 inches wide, then pin the ends together and hold it down with a can or a book. Then start to braid – this tutorial uses a four-strand braid so that your finished belt is thicker and more like one you could buy from the store. When you're done, just knot off at the end, and if desired, machine sew over the little knot before wearing your new self-made accessory! deliacreates
14. No Sew DIY T-Shirt Skirt
Transform an XL men's t-shirt into a stylish and unique skirt without even picking up a needle and thread! All you need is tape, scissors, and a T-shirt. Follow these step-by-step instructions for cutting and styling your new DIY no sew t-shirt skirt. Easy to customize in any size or color – this versatile no sew project will be perfect for all kinds of occasions. Get creative and make your own fashionable look today! wobisobi
15. Homemade T-shirt Bunny – Free Pattern
Stitch together a unique bunny using scraps of T-shirts or any other kind of fabric! This free pattern comes with instructions to help you make your special one-of-a-kind buddy. All you need is polyester fiberfill or other stuffing, felt, buttons, and embroidery thread for the face embellishments. Get ready to have some fun while crafting this cute Homemade T-Shirt Bunny! mellysews
16. Awesome DIY T-shirt Hat
Craft an awesome DIY t-shirt hat with just an old t-shirt! Cut a long strip 4″ wide through both layers of the shirt, then divide the circumference by PIE to get your diameter. To give it some structure, cut two layers of the bill and insert a piece of heavy-weight interfacing in between them. Insert this inside the cap for added support, and voila – you've got yourself a unique t-shirt hat that will impress all your friends! With endless possibilities, why not make one today? atsecondstreet
17. Up-cycled Painted T-shirt Skirt
Treat yourself to something special with this up-cycled painted t-shirt skirt! This amazing craft is perfect for any wardrobe, and it's sure to be an eye-catching piece of clothing. Handmade from upcycled t-shirts, this skirt features a unique design that includes various colors and shapes for a one-of-a-kind look.
It's certainly the perfect way to show off your creative side while still making a stylish statement. Perfect for any season, this old t-shirt idea is sure to become the most favorite item in your wardrobe. Let your love of art inspire you every time you wear it! infarrantlycreative
18. Simple DIY T-shirt Pom Poms
Turn simple supplies into fun t-shirt pom poms! You'll need 1 t-shirt per pom pom, a pair of scissors, and cardboard to make the templates. Trace two circles onto the cardboard using round objects as shown above, then cut the t-shirts into 1/2″ strips. Sandwich each strip between the template circles close to the inner circle for an easy way to create beautiful fluffy decorations for any occasion! Try out this simple DIY project and add a little extra flair to your celebration with homemade t-shirt pom poms. craftaholicsanonymous
19. Easy Upcycle T-shirt Cape
Recycling at its best! Transform an old t-shirt into a fun and fashionable cape with this easy upcycle t-shirt cape tutorial! All you need are a few simple supplies: an old t-shirt, acrylic paint in your favorite colors, sponge brushes, stencils printed on regular paper, a rotary cutter or Exacto knife, and Glad Press'n Seal. Customize it with glittery metallic paints to make the cape truly unique. Add detail to your cape using stencils for that perfect finishing touch! With these tips, you can upcycle any t-shirt into a stylish statement piece. thetiptoefairy
20. How to Make Ombre Fringe Skirt
Style a fashionable fringe skirt for any special occasion with only old knit T-shirts! All you need is to is just decide the size of your skirt, which can be easily worked out by subtracting 1 inch from the main skirt and adding 1.5 inches for the waistband casing – making it one inch longer than the fringe. So start crafting this stylish ombre fringe skirt today that will make heads turn wherever you go! makeit loveit
21. DIY Aprons from Shirts
Change an old shirt into a fashionable apron with this simple DIY! All you need is a large button-down shirt with a pattern you love, fabric for the waistband and pockets, a seam ripper, an iron and ironing board, measuring tape, a washable marking pen, scissors, sewing pins, and coordinating thread. Tailor it to fit perfectly by carefully removing seams from the shirt using the seam ripper. Then add the waistband and pockets by cutting out pieces of fabric according to your measurements. Finally, sew them together with your preferred stitching technique – perfect for kitchen activities or crafty projects at home! ehow
22. Quick Diamond Smock Your T-shirt
For a rather quick and easy upgrade to your wardrobe, look no further than quick diamond smocking your t-shirt! This simple DIY project on old t-shirt ideas will have you looking super stylish in no time by taking an oversized white t-shirt and transforming it into a unique diamond-smocked pattern.
All you need is a thread, needle, scissors, a ruler with 1cm dimensions, and a fabric pencil. In just five steps, you can easily create the perfect addition to any outfit. Get creative with this fun idea today and show everyone how amazing your new customized look can be! freepeople
23. Turn a Basic T-Shirt Into a Summer Dress
Let creativity unfold and transform your basic t-shirt into a beautiful summer dress with just a few items and some simple steps. All you need is 1 T-shirt in your size, another 2 sizes larger, scissors, tape measure, pins, and a sewing machine.
Find the perfect fit as you measure out your t-shirts according to the instructions given. Cut away the excess fabric and sew along the edges for a stylish look that's sure to turn heads! With this easy tutorial, you can have an effortlessly chic dress ready for casual wear or special occasions in no time at all! trinketsinbloom
24. Super Cute DIY Braided T-shirt Bracelets
Are you looking for a super cute DIY project? Look no further than braided T-shirt bracelets! With just a few materials, like cotton or jersey fabric, rattail cord, and magnets, you can make these adorable accessories. Pick up supplies from your local JoAnn's store – the rattail cord is only 50-99 cents per yard. You'll also need either hot glue or tacky glue to complete this easy craft. Try it today and enjoy wearing your stylish homemade creation tomorrow! helloglow
25. Upcycled T-shirt into Choker Tunic
Looking for a creative, sustainable way to upgrade your wardrobe? Look no further than this upcycled t-shirt into a choker tunic tutorial! With just an L to XL tee and some handy measuring and cutting tools, you can easily transform your boring old look into something fresh. Plus, with the help of a sewing machine, you can make sure your new tunic is fitted perfectly. So don't wait – get upcycling today and show off your unique style!
Related Recycling Ideas:
Conclusion:
In conclusion, finding creative ways to repurpose old t-shirts is an eco-friendly and fun activity. There are numerous projects, such as DIY t-shirt wreaths, no-sew infinity scarves, and upcycled t-shirt tote bags, that allow you to transform your old shirts into something new and unique. These recycle old t shirts projects cater to various skill levels and interests, making them perfect for anyone looking to recycle and reuse their old t-shirts in an artistic and environmentally friendly way. So, why not give one of these 25 creative ideas a try and breathe new life into your old tees?