Birthdays are special occasions, and the little happiness trains that cross our ways while we are all caught up in life! Must hop on to that train with cute little details on the check. For your special days, we have rounded up some easy to make and personalized 35 perfect birthday hat ideas for your kids and pets. Make the big days look special by making personalized birthday hats using felt, pom pom lace, colorful pom poms on the top, embroidered age number, foam sheets, or cut out sheets. With these supplies, you will require the basic craft supplies like a hot glue gun, sewing kit, and a hint of imagination.
The cute glittery appeals will brighten up the birthday funs so many times and will make some perfect Instagram shot pictures! These perfect birthday hat ideas are a darling way to appreciate and celebrate your furry friend's loyalty over the years. Or celebrate your kid's little milestones like 6 months old or more with tiny cute hats to celebrate and take perfect and memorable pictures. Let's explore through our collection below and get inspired to make some cute birthday hats for your lovely fellows!
1. Peach and Gold First Birthday Hat
Make your kid's first birthday all glittery and gold! This perfect birthday hat for the 1st birthday is super adorable with a subtle peach and gold combination. Laced with a huge pom pom on the top to give it a celebratory look.
2. Felt Birthday Party Hat for Boys
This cozy and warm felt hat in blue color is going to make your little guy's birthday even more special! The tiny yarn pieces on the top are like the cherry on top of the cake! The whole art and details lie in making the cone.
3. Personalized Dog Birthday Hat
How about making your little furry guy feel extra special with a customized birthday hat for him?! Personalize it by adding a cute tag of your dog's name and how old is he getting this year! Use some glitter colors as the pom poms on the top and lace on the bottom.
4. Puppy Birthday Hat
Ok, now, we can't resist saying that this is going to be one of the cutest pictures on the internet today! Make your little furry fellow look extra cute by making his birthday even special. How about some teeny tiny but perfect birthday hat craft?
5. Navy and Green Birthday Hat
Looking for a flawless Instagram birthday shot for your dog? This one here is all coordinated perfectly! Pick up some bright colored and contrasting papers to make your dog's perfect birthday hat! Like the navy green and bright red appeal here.
6. Blue Floral 1st Birthday Crown Hat
Finley turns three! And doesn't he look the cutest?! It is always the tiniest things that make the most perfect memories of all times. Just a combination of some bright and cheery colors like blue and green sprucing up the mood.
7. Homemade 2nd Birthday Dog Hat
Get your hands on some purrfect bright colored gift paper or paper with little paws walking around it! Cut out a cute little bone and put your furry fellow's name in it! Personalize this cute and perfect birthday hat for your dog!
8. 7th Birthday Dog Hat
Here is another one! Gather around your supplies like some paw-filled gift paper or paper sheet, scissors, some hot glue gun, a cute round tag, and a printed name tag for your dog in a little bone.
9. DIY Baby Birthday Hat
Check out this cutest birthday hat for your loyal friend! The combination of cheery green with bright blue is making the whole thing look absolutely lively and celebratory! All the supplies you need for this might already be in your craft drawers!
10. Perfect Birthday Baby Hat
For your little guy, here's this cute and perfect hat idea! You can coordinate the birthday hat with his costume to make him look even more darling. This one here is looking super lovely with the matching bow tie and the hat.
11. DIY Birthday Party Hat
Simple to make and super cute birthday hat idea for your little guy! By using some striped blue and white pieces of cloth or sheets, give it an attractive cone-shaped hat look. Sew or hot glue the birthday guy's age and use two perfectly spaced lace lines to provide it with a complete look.
12. Fabric Birthday Hat
Check out this perfect hat for Graham made on some check printed fabric! In blue and white color! The colors of the Boys. The whole thing is sewed with a huge One also sewn on top of it beneath the birthday guy's name.
13. Birthday Fabric Hat for Girl
Another cute and   hat idea for your little princess! While you may find a lot of birthday hat ideas in the market, why not opt for a personalized option to make the day even more memorable?
14. Baby Shower Girl Hat
So, Paxton turns one! This one here is a little different and brighter than the other conventional "Boy Colors" birthday hat ideas that we shared! A combination of bold red with cheery green on a blue and white striped base color.
15. Baby First Birthday Hat
Because first birthdays are just SO special! Why not make them all glittery and gold with this darling baby hat. Themed up with glittery and gold base with the added peach or pink details in the pom-pom and bottom lace.
16. Pink Girl First Birthday Party Hat
Inspired by the Disney Land, this darling "One" year birthday hate come hair catcher is the cutest! Kids love the mighty and fun Mickey mouse. Themed up with those remarkable black ears and an all glittery and shiny tiny hat inside.
17. Mickey Mouse Baby Birthday Hat
Here is another Darling Mickey mouse birthday hat idea! Super simple to make. You can start off with some glittery black and red foam sheets base. Combined with a personalized name in the middle and don't forget the two famous Mickey buttons on the bottom.
18. 6 Months Birthday Party Hat
Celebrating the important moments and things in life is just so important for a healthy life! If your little one is going to get 6 months old, here's a cute option for a shiny and pretty 6 months old birthday hat!
19. First Birthday Paper Hat
Want to keep it simple yet pretty? Check out this super minimalistic yet uber-cute black and gold birthday hat. With one huge black pom pom on the top. Two twists of simple black pom pom laces on the bottom and "1" in the middle of a gold base.
20. Girly and Pink Birthday Hat
For your little princess, check out this cute girly and pink hat! Even if you have some cute pink frilly lace resting somewhere in the back of your closet, time to put it up to some fancy use!
21. Golden Birthday Hat for Dog
Celebrate your furry guy's lifetime loyalty with this cute glittery and hat for your dog! Pick up some glittery gold foam sheet for the base and add up some pom pom lace details on the bottom to balance the gold look.
22. Mini Dog Birthday Crown Hat
Here's another mini but oh so cute birthday hat idea for your dog! Get your hands on some glitter gold sheet, some lace with pom poms, and preferably in some neutral shades, a well-sized golden pom pom.
23. Easy to Make Hat
Keep it simple and super pretty! Check out this adorable DIY birthday hat for your little fellow. If you are not into sewing, you can easily make this one up in just 10 minutes with some basic craft supplies.
24. Baby Hat with Pom Pom
One more cute idea from our baby birthday hat ideas basket! Made up with simple blue fabric or paper base and a huge blue pom pom resting on the top. Magnify the details with blue lining at the bottom and paste or sew the age in the middle.
25. Mini Gold Glitter Party Hat
Check out this cute birthday hat with a mini gold glitter hat and an added lace details in the bottom. The combination with the cheery pom pom colors in the cake is looking absolutely cute.
26. 1st Birthday Crown Boy Hat
This cute birthday crown hat is looking absolutely cute and charming. Make this lovely little crown with a textured sheet and use a hot glue gun to paste the trendy "One" written with cut out form.
27. Kid Birthday Party Pom Pom Hats
Make some cute birthday hats for your little one's birthday party! Keep the whole theme coordinated by using the same twinkling lively glittery sheet for the hat and put up a huge pink pom pom on top.
28. Toddler Boy 1st Hat
Cut out cute little circles to give this birthday hat a perfect and adorable polka dots look! The colorful yarn pieces are flattering the complete look of this  hat! The neon outline around the "1" is making it stand out.
29. Dog Birthday Hat – Party Pet Gift
Make this cute dog hat for your little furry guy with a glittery blue hat and combine it with a white cut out age number. Use a glittery white foam sheet to make it stand out. Finish the cute look with blue pom pom lace.
30. Pom Pom Dog Hat
Time to celebrate your big guy's loyalty year points? Try making this super cute dog hat with a huge blue pom pom at the top. Match it with a glittery bow tie and make your big guy look even more handsome.
31. Pretty in Pink First Birthday Party
Get crafty with simple blue, and pink felt to make some cute and adoring birthday hats for your little ones! This one is pretty easy and simple to make with a glittery pom pom on the top and some multi-colored pom pom lace on the bottom.
32. New Year's Eve Birthday Party Hats
Here are some more pretty perfect options for birthday hats! Made adorable with colorful lace details at the bottom and a huge, lively pom pom at the top is brightening the entire hat itself.
33. Felt Birthday Hat
If your kid loves the king or queen feels, they are going to fall in love with thi  hat made with felt. Embellished with cute tiny colorful pom poms at the cornered edges and completed with a delicate lace look at the bottom.
34. Embroidered Baby Birthday Hat
For your cute little one, make this adoring embroidered birthday hat. Go unconventional with an orange-colored fabric and sew a huge "1" or age number with thread. Finish the look with a colorful pom pom on the top and two stripes of zig zag lace on the bottom.
35. DIY Customize Birthday Hat
This one here is a beautifully customized and embroidered birthday hat. With some colorful and vibrant polka-dotted ribbons at the top. Embroidered name and age number in the middle and furry lace at the bottom.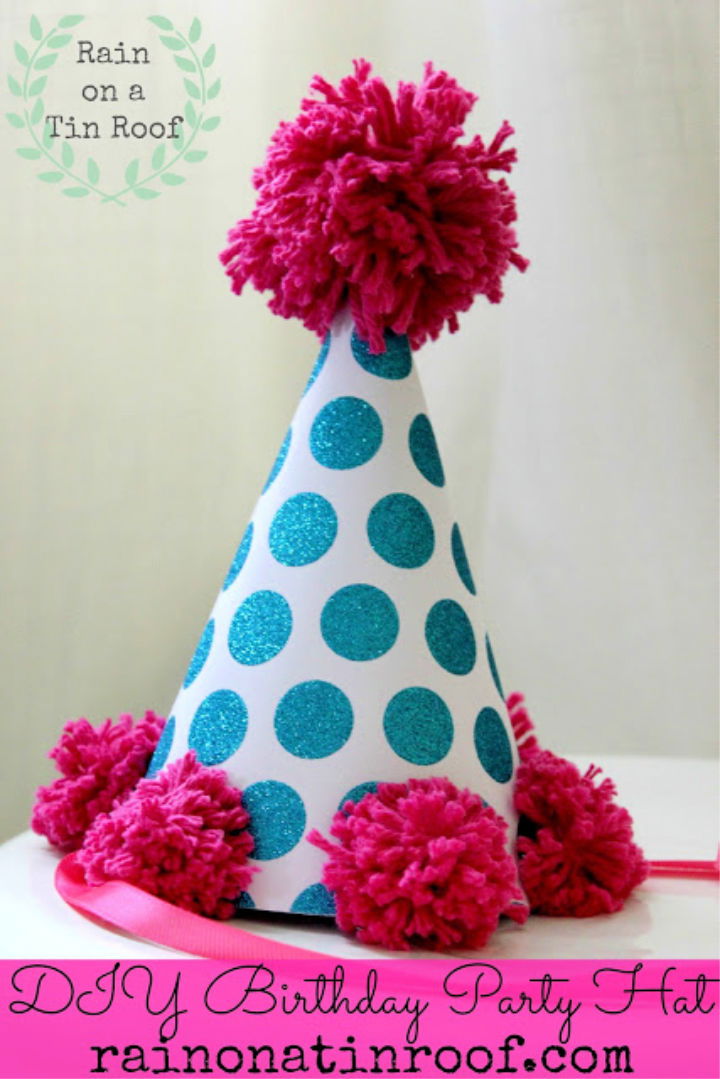 If you want to DIY your own hat then find a tutorial here: rainonatinroof
Without any doubt, you can find a lot of options in the market for pre-fabricated birthday hats. But, the real fun is in making hat all by yourself by working around the fun details like choosing the themed pom pom for the top or edges. The pom pom lace for the bottom or the simple zig zag lace. Along with the choice of fabric, like felt, glittery foam sheets, etc. All these tiny details will make up for a beautiful and memorable craft time for your lovely fellows. Happy Birthday planning, folks!
You may also like these DIY Crafts for Kids: