Making a terrarium in a jar is an excellent way to bring a touch of nature into your home. Learn how to make a terrarium in a jar with these 25 easy DIY jar terrarium ideas, you can find the perfect design to suit your personal style. These terrarium projects range from adorable fairy garden mason jar terrariums to beachy seashell mason jar terrariums, providing endless options for creativity and customization. Each DIY jar terrarium idea includes easy-to-follow, step-by-step instructions to guide you through making your personalized indoor garden.
A jar terrarium makes for a fantastic decorative piece while also showcasing your love for plants and greenery. By opting for low-maintenance plants like succulents and air plants, even a beginner can successfully make a thriving terrarium in a jar.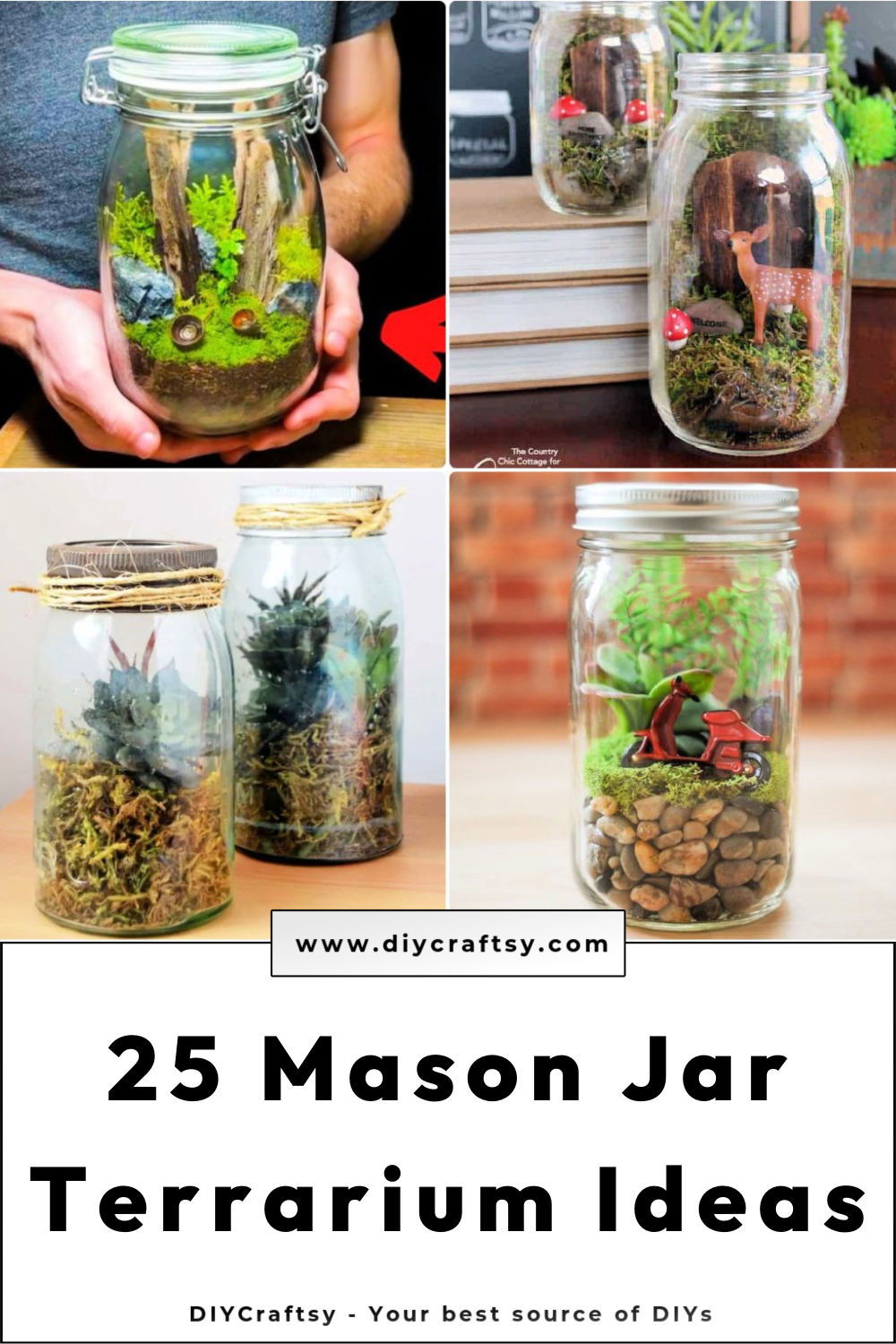 Also, these DIY jar terrarium ideas are perfect for kids, as they encourage creativity and connection with nature. So don't wait any longer – explore the unique world of jar terrariums and start crafting your own miniature indoor garden today!
1. Adorable Fairy Garden Mason Jar Terrarium
Infuse magic into your everyday life with this beautiful DIY fairy garden mason jar terrarium. This charming craft seamlessly merges the whimsy of fairy gardens with the rustic charm of mason jars, making a captivating display to brighten up your space.
You only need simple crafting supplies like mason jars, rocks, moss, miniatures, craft sticks, hot glue, and creativity to craft your fairy houses. The beauty of this craft lies in its versatility—you're free to pick any miniatures that appeal to your imagination!
This project is an entertaining activity for children and a delightful addition to your home decor. Place your fairy garden mason jar terrarium on a mantel or porch to enchant your surroundings! craftsbyamanda
2. How to Make a Mason Jar Terrarium
Make a verdant ecosystem in miniature with this DIY mason jar terrarium project! Requiring only a few everyday items – an old jar, soil, various plants, and potentially small toys or decorations – is a simple yet rewarding craft. First, line the jar with gravel or sand, then add soil and your chosen plants, keeping the proportions small for the perfect fit.
With a touch of water, a sealed lid, and your mini greenhouse is ready. Regular ventilation and careful observation of condensation are key to maintaining your lush little world. Customize to your heart's content, transforming the jar into a picturesque landscape, a superhero playground, or a compact garden.
A terrific activity for nurturing children's creativity, it also brings a dash of nature indoors for anyone. Boost your mood with this creative, eco-friendly endeavor today. barleyandbirch
3. Build a Mason Jar Terrarium at Home
Make a personal forest ecosystem on your desk with this easy-to-follow DIY mason jar terrarium tutorial. This self-sustaining miniature landscape changes over time without watering or maintenance, offering a delightful spectacle. Gather materials like a sealable mason jar, soil, gravel, various mosses and plants, and decorative items.
You'll also need gloves, a knife, tweezers, a spoon, a spray bottle, and Q-tips. Start by meticulously cleaning the jar and preparing it for a crystal-clear ecosystem view. Make a foundation using gravel and soil, then shape your landscape using your collected mosses, plants, and decorative items.
With all the components in place, clean the jar interior one last time, spritz some water, seal it, and voila, your maintenance-free terrarium is ready. Remember to place it in a well-lit area and watch it transform over time. instructables
4. Faux Vintage Style Mason Jar Terrarium
Creating an engaging atmosphere with unique home decor must not be expensive. This guide shows how to craft a DIY faux terrarium with a distinct vintage flair, effortlessly bringing organic charm to your space.
With easy-to-find materials such as vintage mason jars, floral foam, Spanish moss, faux succulents, and twine, you can make your picturesque faux terrarium in under 30 minutes! Perfect for those without a green thumb, these faux succulent arrangements require no upkeep yet retain their fresh appeal.
They are not only a charming addition to your own home but also an ideal centerpiece for events. You can further enhance the aesthetic interest by varying jar shapes and sizes. Enjoy the soothing presence of greenery without any worry about maintenance! diycandy
5. Easy DIY Mason Jar Butterfly Terrarium
Get ready to embrace the freshness of spring with a beautiful DIY mason jar butterfly terrarium! It's an effortless and charming project that is sure to delight. All you need is a wide-mouth mason jar, clay, a butterfly paper punch, floral wire, card stock, and your choice of faux greenery, flowers, and decorative rocks. Begin by preparing your mason jar and placing air-dry clay onto the lid.
Make delicate butterflies with the paper punch and card stock, attaching them to cut floral wire with hot glue. Construct your terrarium by pressing the wire ends into the clay, adding faux elements, and covering any visible clay with moss.
Once completed, carefully screw your jar into place on the lid. You can even add a touch of enchantment by tucking in a strand of battery-powered micro-LED lights. This beautiful project brings a piece of nature indoors and serves as an adorable decoration or a thoughtful gift. atcharlotteshouse
6. The Basics of Closed Mason Jar Terrarium
Discover the artistry and tranquil appeal of closed jar terrariums in this comprehensive DIY guide. Embrace your green thumb and learn how to gather, cultivate moss, and design your ecosystem. The process starts with moss gathering and preparation, setting the groundwork for your small habitat.
The subsequent steps walk you through building your terrarium, offering informative tips for arranging your jar aesthetically pleasing and ecologically sound. The final steps focus on how to display and care for your terrarium, ensuring its longevity.
Don't overlook the informative notes within the image sections for added guidance. Dive into this eco-friendly project today and find the joy in making a thriving microcosm right in your living room. instructables
7. DIY Bunny Mason Jar Terrarium
Embrace the spring season and the festive spirit of Easter with a crafty, DIY bunny mason jar terrarium! This decor element will add a charming touch to any space. A simple craft involves painting a ceramic bunny with chalk paint, placing it in a mason jar adorned with reindeer moss and mini Easter eggs, all topped with a scrapbook paper lid and a twine bow.
The allure of this project lies not only in its simplicity but also in its affordability. With readily available materials, like a mason jar, chalk paint, a foam pouncer, reindeer moss, Easter eggs, scrapbook paper, and twine, this project is a fun and cost-effective way to add a bit of Easter spirit to your home. thecrazycraftlady
8. Making a Mason Jar Beach Terrarium
Relish a serene retreat within your living space with a DIY beach terrarium, creatively repurposing a mason jar and encapsulating calming beach elements. By utilizing everyday items like a large mason jar, sand, sea glass, driftwood, and twinkle lights, you can build your tranquil beach terrarium, ideal for those craving a coastal touch.
Start by preparing the jar and painting your driftwood. Then, assemble the terrarium by layering sand, sea glass, and your painted driftwood, finishing with the strategic placement of twinkle lights.
The lid adorned with seashells adds an extra beachy touch, bound to inspire thoughts of sun-soaked days by the sea. Relish the tranquil ambiance of a beachscape in your home with this engaging and straightforward project. Enjoy crafting this unique decor, perfect for any coastal-themed space. craftsbyamanda
9. Creative Mason Jar Air Plant Terrariums
Adding a glitz and glamour to your interiors, these DIY terrariums are simple to craft with everyday items like Mason jars and spray paint. The concept centers around air plants, known for their minimal upkeep, as they don't need soil for growth. In your chosen Mason jar, utilize painter's tape to mark out your design before applying a generous coat of spray paint.
Remove the tape to minimize peeling while the paint is still wet, then let it dry overnight. Fill your painted jar with dried navy or pinto beans, then proudly place your air plant on top. Apart from being an elegant decoration, this project encourages sustainable and minimalist living.
Remember, with a quick spray or occasional soak, your air plant will remain vibrant, making this the perfect decorative solution for those seeking greenery without the upkeep. bridalguide
10. Do It Yourself Mason Jar Terrarium Kit
Bring a little natural beauty into your home with these fun and easy DIY mason jar terrarium kits! This tutorial highlights how to make a Terrarium Kit – a unique gift-in-a-jar idea, adding an eco-friendly touch to traditional holiday presents. The kit consists of everything needed to set up a mini indoor garden: a mason jar, mini plastic bags, moss, soil, rocks, and succulents (live or artificial).
Assembling the terrarium is part of the excitement, making this gift a fun and engaging activity. Each kit can be customized to include real or faux succulents based on the recipient's preferences. So, make your holiday season more meaningful by gifting loved ones a tiny piece of nature to nurture and appreciate. eastcoastcreative
11. How to Make a Mason Jar Succulent Terrarium
Fetch the beauty of nature indoors with a spark of creativity – make this DIY mason jar succulent terrarium! This easy project involves layering pebbles, potting soil, a small succulent, and moss to form an aesthetically pleasing miniature garden. Ideal as a thoughtful present for teachers, coworkers, or friends, this terrarium enhances any space with its natural charm and promotes an appreciation for botany.
Further, embellish your gift with rustic twine and a handmade tag, and consider using a JarJackets silicone sleeve for protection and added aesthetic appeal. These sleeves are durable, reusable, and made from earth-friendly materials, embodying the concept of zero waste.
This succulent terrarium is an enjoyable project with a beautiful outcome, perfect for those with green thumbs and novices. Sustainably crafted and delightfully distinctive, it's sure to be a well-received gift. jarjackets
12. Handmade Mason Jar Succulent Terrarium
Looking for the perfect handmade Mother's Day gift? Discover how to make a beautiful DIY mason jar succulent terrarium. This easy-to-assemble gift merges the timeless charm of mason jars with the refreshing beauty of succulents, proving to be a delightful surprise for mothers everywhere.
To make this heartfelt present, you'll need a quart-sized mason jar, succulents, white sand, and optional theme accessories such as beach-found rocks or seashells.
This easy, gorgeous project provides a unique and thoughtful gift for Mother's Day, offering the beauty of nature within a chic, elegant mason jar. In a world filled with fleeting, mass-produced items, gifting a succulent terrarium symbolizes a return to simplicity and authenticity! domestically speaking
13. Make a Mason Jar Air Plant Terrarium
Fetch a bit of nature indoors with your DIY mason jar air plant terrarium! A perfect blend of sustainability and home decor, this project repurposes used jars to house the stunning air plants from the bromeliad family, known for their power to absorb water and nutrients through their leaves.
Adding lichens contributes a unique texture to the terrarium while enhancing the plants' thriving environment. This hands-on tutorial guides you through the process, requiring basic materials such as pebbles, twine, a water spray bottle, and your selected air plant.
It's more than just a project; it's a chance to teach kids about the wonders of the plant kingdom and the importance of recycling. Engage with nature in a fun, creative way and nurture a beautiful, low-maintenance air plant terrarium today! cultured
14. Cool DIY Mason Jar Terrarium
Infuse new life into your space by making an interesting, hands-on DIY mason jar terrarium project. The steps are easy to follow, and the supplies required, including a Mason jar, small rocks, moss, and assorted greenery, are readily available. This makes it an excellent craft for both adults and children.
Choosing between real and faux plants lets you customize the terrarium according to your lifestyle and maintenance preference. To make it more personal, integrate small figurines or favorite characters to enhance the appeal. This project can be an intriguing tabletop or desk decor item or a unique gift for loved ones. Liven up your surroundings with this creative project. ohmy creative
15. Beachy Seashell Mason Jar Terrarium
Embrace the beach vibes with this creative DIY beachy mason jar terrarium project, an inspired way to display and cherish your seaside treasures. This initiative effortlessly blends your love for the beach and terrariums into a single, captivating piece. You'll need a mason jar, some sand, and your beach find, such as seashells, sea glass, and driftwood, to bring this project to life.
You can assemble your beachy mason jar in just a few simple steps. Begin by filling the jar half full with sand, gently placing your seaside finds, and lightly shaking the jar to settle the sand. Add a personal touch by painting the top with chalkboard paint to note the beach origin of your treasures, and decorate the rim with washi tape.
The finishing touch? A pretty piece of crocheted ribbon for an extra dash of charm. This cost-effective and unique project is a beautiful way to preserve beach memories, making every day feel like a sunny, beachy getaway right at home. makinghomebase
16. Fairy Garden Mason Jar Terrarium
Make a tiny world of enchantment with your own DIY fairy garden mason jar terrarium! It is fantastic for a thoughtful gift for your Easter dinner host and a charming decoration for your home. In partnership with Ball Mason Jars and Michaels, you'll make special edition anniversary jars that mirror a century-old design.
Transform these jars into delightful miniature gardens using a variety of rocks, moss, and Easter-themed figurines. This fun project doubles as a fun group activity to entertain all ages.
The simple supplies will bring an enchanting piece of spring right into your living room! Plus, with the 'make one, give one' approach, you'll spread the Easter joy while keeping a piece for yourself. legallycrafty
17. Dinosaur Night Light Mason Jar Terrarium
Thrill your young dinosaur enthusiasts with this fun and easy DIY terrarium night light. This project fosters their creative skills and helps combat their fear of the dark. Utilizing basic materials like a mason jar, pebbles, dried moss, mini dinosaurs, and a submersible flickering LED light, you can make a fascinating prehistoric landscape right in a jar!
This terrarium night light can be fully personalized to your liking. Opt for a rainforest look with moss hanging from the lid or a rocky landscape using sand and pebbles. The submersible LED lights give a calm and serene ambiance and can be easily turned on/off, and have replaceable batteries.
Remember, the magic lies in adding your personal touches and letting your creativity shine. The terrarium can be more than just a night light – a gateway to a prehistoric world filled with roaring and growling adventures. Happy crafting! thetiptoefairy
18. DIY Succulent Mason Jar Terrarium
Transform your ordinary mason jar into a unique succulent terrarium with a few easy DIY steps! Craft a mini-garden within a mason jar for a perfect gift that blends nature with creativity. This terrarium project is straightforward, requiring supplies like artificial succulents, a wide-mouth quart jar, sand, crushed shells, river rocks, moss, and scissors.
Start with layers of sand and shells in the jar, followed by rocks and moss, making an aesthetically pleasing base. Artificial succulents are then trimmed and added, producing a maintenance-free green space that even those lacking a green thumb can cherish.
Make this delightful terrarium for friends and family or a unique decoration for your home. Its simplicity and beauty make it an eye-catching piece that effortlessly brings a slice of nature indoors. countrychiccottage
19. Sand and Painted Succulent Mason Jar Terrarium
Introduce a dash of color into your surroundings with a DIY project that blends nostalgic sand art and modern painted succulents. This effortless yet vibrant project is a brilliant way to enliven any space, whether a tabletop centerpiece or a dull desk corner. Start with a few straightforward materials – mason jars, colored sand, faux succulents, and spray paint.
Embark on this creative journey by spray painting the succulents, allowing them to dry thoroughly. Next, let your creativity flow by layering different colored sand into the mason jars. A funnel and scoop can make this process more manageable and allow for intricate design execution.
Once your sand art masterpiece is ready, it's time to place the painted succulent into the jar, making a festive sand art and painted succulent terrarium. This project is versatile, fun, and adaptable, perfect for introducing a bit of spring cheer into your life. Craft your own today and experience the joy of personalized decor! prettylifegirls
20. Make Your Own Mason Jar Terrarium
Unveil a simple yet elegant way to bring a slice of nature indoors with a DIY closed terrarium. This easy-to-follow guide uses ordinary materials like gravel for drainage, activated charcoal to prevent odors, regular compost for soil, and greenery of your choice.
Succulents are popular, but traditional plants like ivy and moss can add a unique touch and larger pebbles for additional detail. These self-sustaining ecosystems require minimal care, only needing a light water spray and placement in indirect sunlight.
This terrarium is a fun project and creative addition to any home decor, perfect for adding a dash of green to your living space. So go ahead, and add a burst of life to your interiors with this project today! burkatron
21. How to Make a Mason Jar Terrarium – Step by Step
Craving a touch of nature inside your space? Why not make a vibrant DIY succulent terrarium with a beachy vibe? Start by gathering your supplies, such as sand, seashells or pebbles, activated charcoal, sphagnum moss, potting soil, succulents, focal crystals, trinkets, and a glass container. After assembling these items, start layering sand and seashells in the container.
Next, add the activated charcoal and sphagnum moss. Finally, nestle your succulents in the soil and embellish them with crystals or different seashells. This terrarium is perfect for your desk or kitchen windowsill and offers an eye-catching natural ornament.
Terrariums add a splash of greenery and symbolize growth and resilience. Remember to keep your terrarium in indirect light and monitor water levels for a thriving mini ecosystem. Make your oasis today and enjoy the calm presence of your succulent terrarium. likelybysea
22. Succulents Glass Jar Terrarium for Kids
Escape winter's icy grip with an easy DIY mason jar terrarium, infusing a touch of lush greenery into your home. Engage the kids in this simple project and let their imagination flow as they make miniature worlds within the jar. To get started, you need old mason jars, white sand, colorful pebbles, large stones, moss, potting soil, and small plants. The assembling process involves layering these elements and is adaptable for different plant types. These terrariums offer affordable, kid-friendly fun, doubling as enchanting interior decor pieces. Make your little piece of summer today with this easy-to-follow guide. momtastic
23. Homemade Mason Jar Terrarium for Beginners
Experience the beauty of nature indoors with your own DIY masonry jar terrarium! It's incredibly simple and engaging, transforming a simple 2-liter masonry jar into a green oasis. Terrarium creation is rewarding and tranquil, fostering a deeper connection to the natural world. This project requires minimal supplies, including a masonry jar, soil, plants, and creativity!
The step-by-step guide simplifies the process, making it easy to follow and build your masterpiece. Not only does this terrarium offer aesthetic appeal, but it also serves as a vibrant addition to any home decor. Embrace your inner botanist today, and craft your slice of nature with this masonry jar terrarium.
24. Simple and Beautiful DIY Mason Jar Terrarium
Turn your living space into an enchanted garden with this simple and beautiful DIY mason jar terrarium-a simple yet effective green oasis! You'll discover that even the simplest designs can achieve stunning results with many containers. There's no need to splurge excessively – beauty can be attained within the bounds of simplicity. This tutorial is ideal for producing a breathtaking terrarium that adds an organic aesthetic to your surroundings. Embrace the simplicity with this tutorial and embark on the satisfying journey of terrarium crafting!
25. How to Make a Mason Jar Terrarium
Unlock the beauty of nature with your own DIY mason jar terrarium – all you need is a touch of creativity and a little bit of greenery! By employing a 2-pint mason jar, gravel, soil, large tweezers, and a selection of small succulents, you can make a low-maintenance, stunning home décor piece.
The process is simple: you start with a layer of gravel for proper drainage, followed by soil ideally suited for cacti and succulents. Next, you add the plants, carefully ensuring they are secure and well-positioned in the jar. Conclude by gently adding more gravel for stability and aesthetics.
This do-it-yourself terrarium serves as a delightful touch of greenery, adding life and charm to any space. Remember, the first watering should be done after a week to let the plants adapt to their new home. Craft this perfect piece of living art today with this guide!
Conclusion:
In conclusion, making a jar terrarium is a fun and rewarding way to bring nature indoors. With a wide range of DIY jar terrarium ideas, such as fairy garden, beach-themed, and succulent terrariums, you can easily find a project that suits your interests and skill level. Terrarium jars are versatile, allowing for endless customization and creativity. So, explore the various options and techniques to make beautiful jar terrariums that will brighten up your home and showcase your love for plants.