Are you changing the plans to brighten up your dwelling by switching to new light decor? If you are choosing more appropriate and energy-saving lights then old light bulbs, mostly consume extra energy, must be a waste for you. The old incandescent light bulbs may be big energy-suckers in one way, but they can be the most beautiful natural decor in your home in another way. So, just don't destine the old light bulbs to landfill, give them a second chance to brighten your home decor.
Upcycle them into glorious vases and other home decors that you will love to cherish for years. Take the glass housing of the light bulbs as a glass container or jar, and do amazing DIY home decor projects with them. For making vases, surge great inspirations from these 12 DIY light bulb vase ideas that are more than easy to make than you think and can be incorporated to your home decors in several different ways, well explained here. This episode of DIY Projects is promoting the recycling of the old light bulbs for gardening purposes. The miniature light bulbs having with your favorite plant or cut flowers will be an element in your home decors of bigger interest.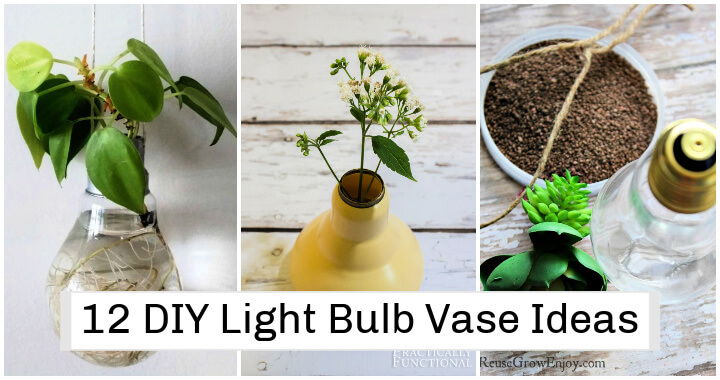 Brainstorming, how to make a vase out of a light bulb? Well, it is pretty quick and straightforward. Grab a bulb of choice, maybe any size or shape, but the round bulbous shaped bulbs will make an ideal choice in this case. Using transparent glass bulbs will be much better than the frosted and fluorescent bulbs.
Next, wear safety gloves and grab the nose pliers and other tools to carefully remove the black part, silver layer, and guts from the bulb. After you remove the inner filaments, insulation, and other back parts, you will be left with a cute little vase that you can fill half with water and then with desired cut flowers, lots of different options are given below.
Make the wire stands to make your self-made light bulb vases stand alone on a flat surface like on a table or shelf, add them up with rope or wire loops to hang on wall hooks. They can also be suspended in the air using custom hardware hanging systems and ceiling hooks. Thread them also onto a piece of string to make decorative garlands of unusual interest. Fill them up with sand, soil, custom green plants, and succulents to make cool mini terrariums, will be centerpiece worth in your home. See all the DIY Light Bulb Vase ideas to have more design inspirations for boosting your creativity.
Unique Vase from An Old Light Bulb: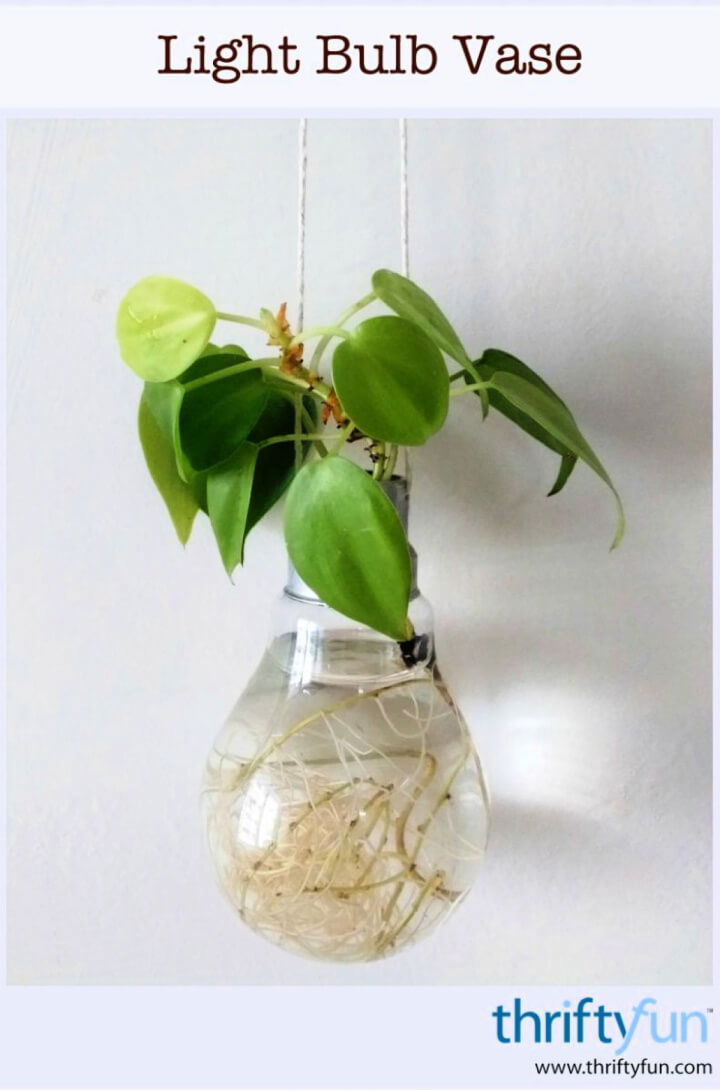 Don't destine the old glass bulbs to dumpsters or landfills, give them another reuse, make gorgeous flower vases out of them.
Make the bulbs empty by removing the black party, silver layer, and guts and then fill the water in the bulbs and add some cut flowers. Full how-to instructions here thriftyfun
Turn Light Bulbs Into Vases: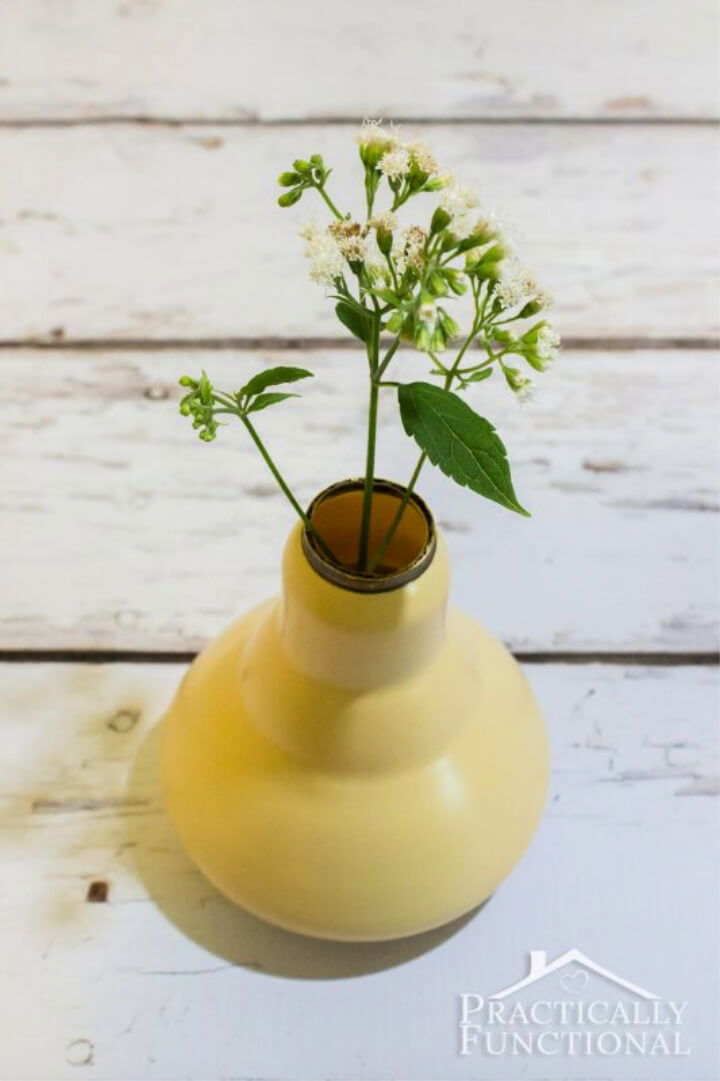 Take apart also the metal backings of the colorful bulbs that are not in use. Fill them with cut flowers of choice and use as your next most enchanting home decor vases.
An unusual vase to make with your colored fused light bulbs. Full instructions here practicallyfunctional
How to Make Light Bulb Vase: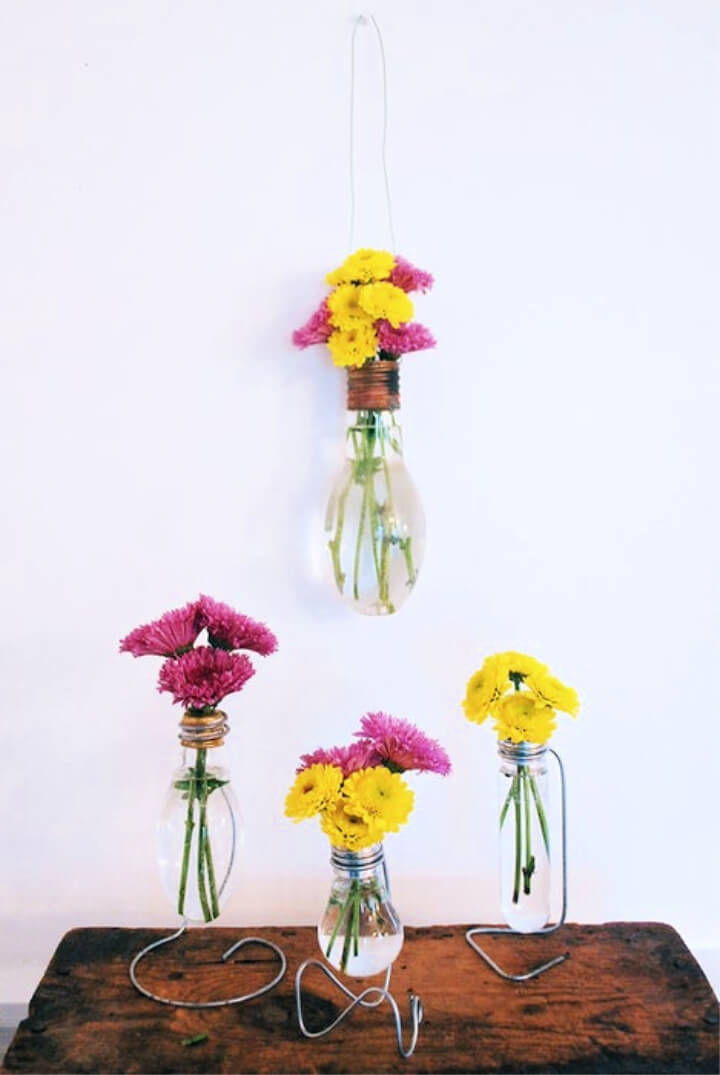 Empty the miniature glass bulbs and hang them with rope or wire on the wall hooks. Give a half water fill and then add some cut flowers in them and make gorgeous light bulb vases in just no time.
Also, make the thick wire stands to make these lightbulb vases stand alone on some flat surfaces. How-to details here instructables
How to Make a Light Bulb Vase: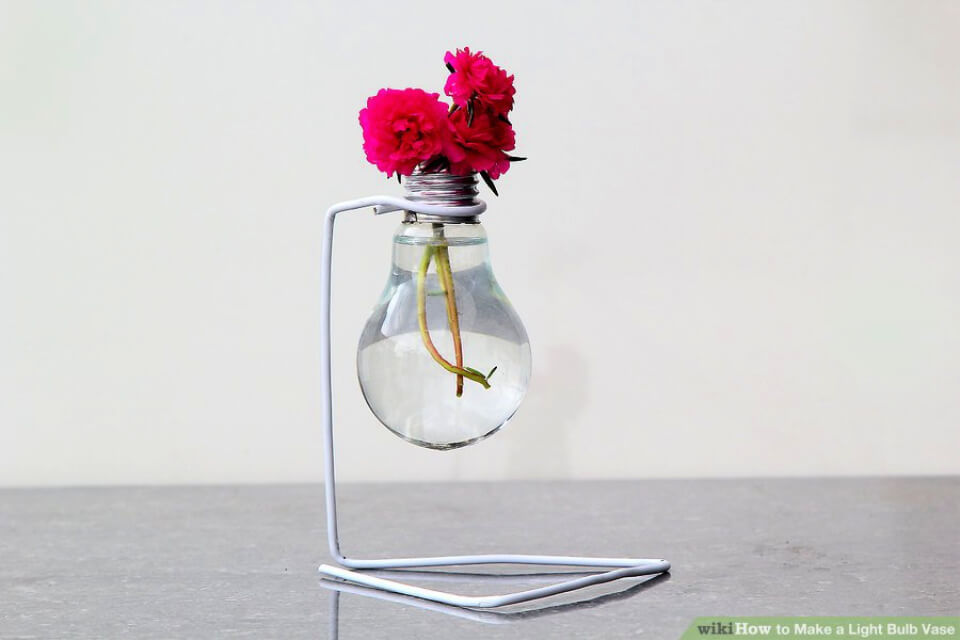 Once again a cool light bulb vase is here, made in the same by removing the guts and black party from a bulb and it stands in style using a wire stand. Full how-to instructions here wikihow
Awesome DIY Light Bulb Vase: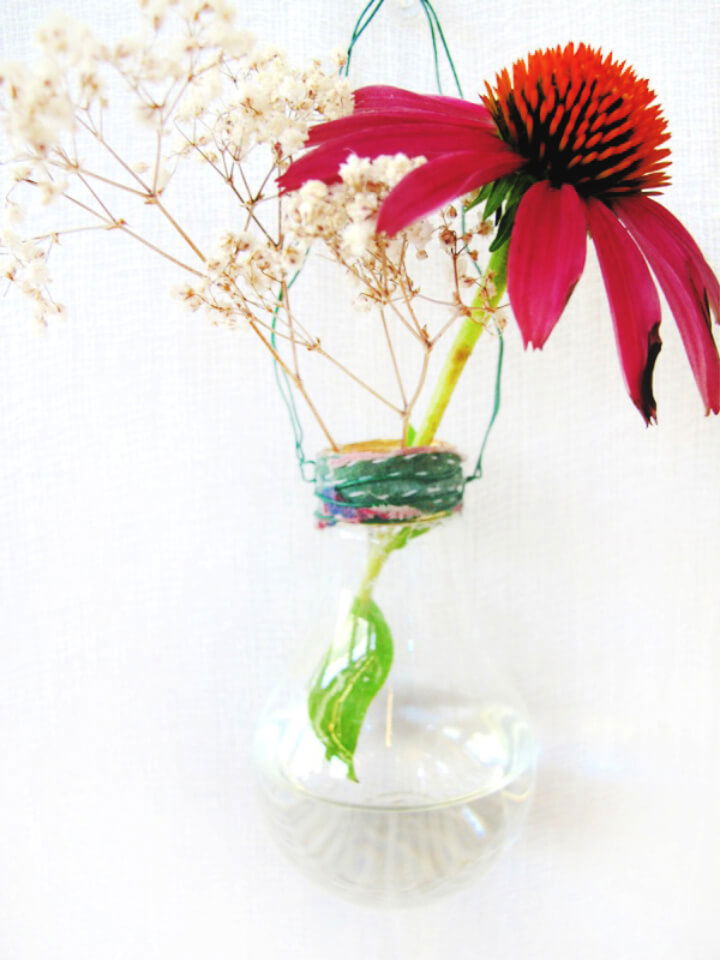 Make this beauteous hanging vase using an old bulb, gardening wire, and some beautiful cut flowers.
What you have to do in most of these projects is to remove the black part from a light bulb and then to wrap the gardening wire around the back part for instant hanging. Full details here freepeople
DIY a Hanging Vase from a Light Bulb: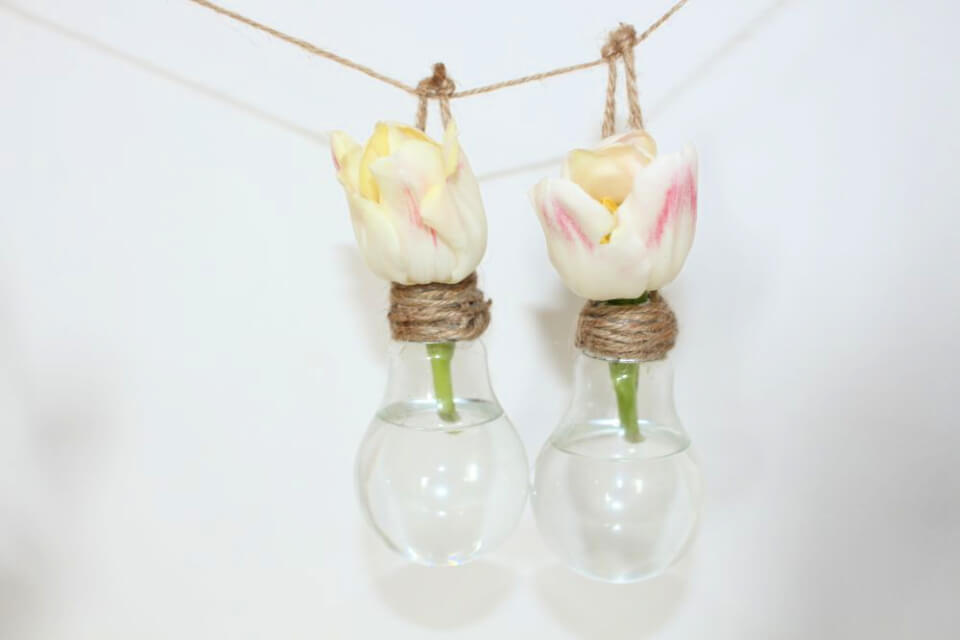 It will only cost you two old or fused light bulbs to make this epic hanging beauty, the cute mini glass vases, a creative remake of old bulbs.
Remove the black metal part from the old light bulbs and then wrap the rustic rope around their back for instant hanging and add a tulip in each light bulb vase. Instructions here homedit
Make Hanging Lightbulb Vase: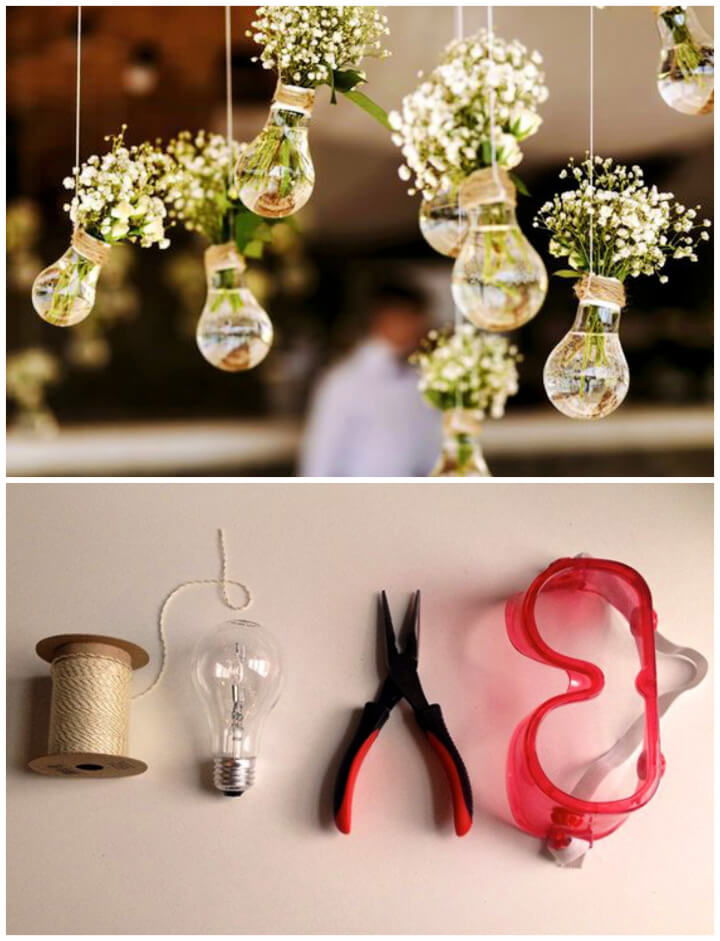 Your old glass bulbs are not waste anymore. They can be much more than being just trash if you think like a genius.
Keep using your old bulbs as cute hanging vases in your home, and the whole transformation will not take much of your time. Full how-to tutorial here fiftyflowers
Quick DIY Light Bulb Vase: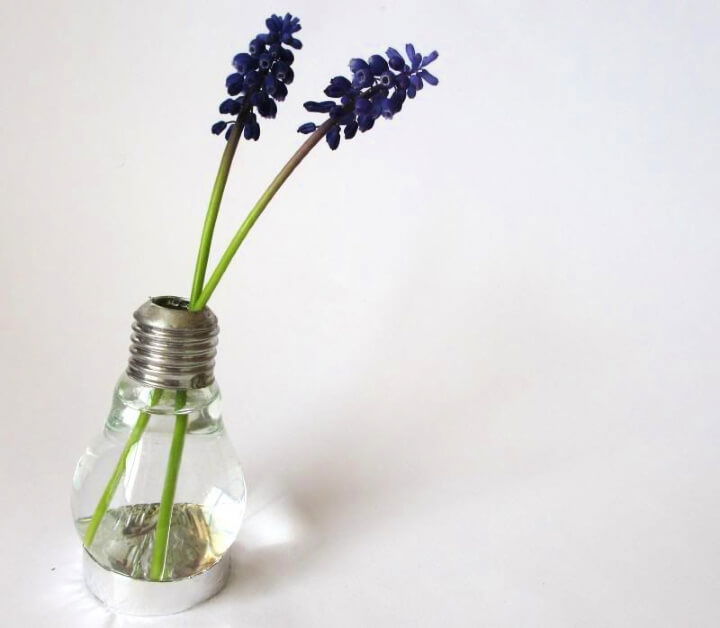 Making the cool vases out of burn out light bulbs is like the same in all ways as you have to remove the black metal part first to add the cut flowers in.
Make a hoop stand also to hold your finally finished light bulb vase as you can see here. Here this light bulb vase comes filled with herb sprigs. Details here magicaldaydream
Create Your Hanging Lightbulb Vase: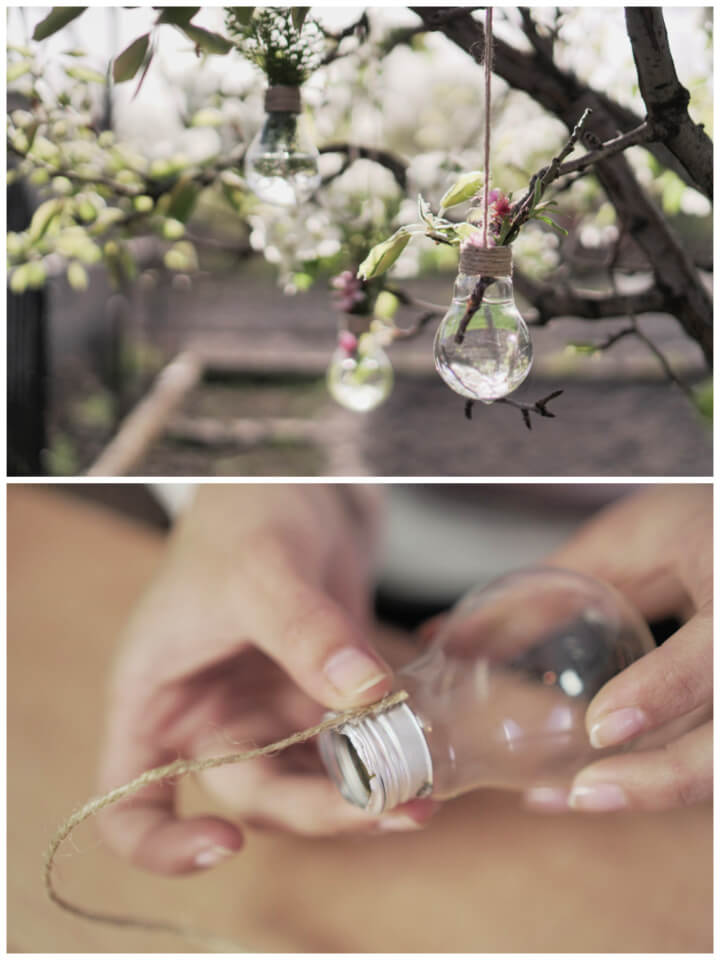 Your trash-worthy old bulbs can be the next most mesmerizing decor in your garden as you can see here.
Fill a little water in the old bulbs by removing the back metal part and then hang them on your tree branches using a rope. Don't forget to fill the light bulb vases with rustic tree branches or with cut flowers. How-to details here wantthatwedding
Hanging Light Bulb Flower Vase: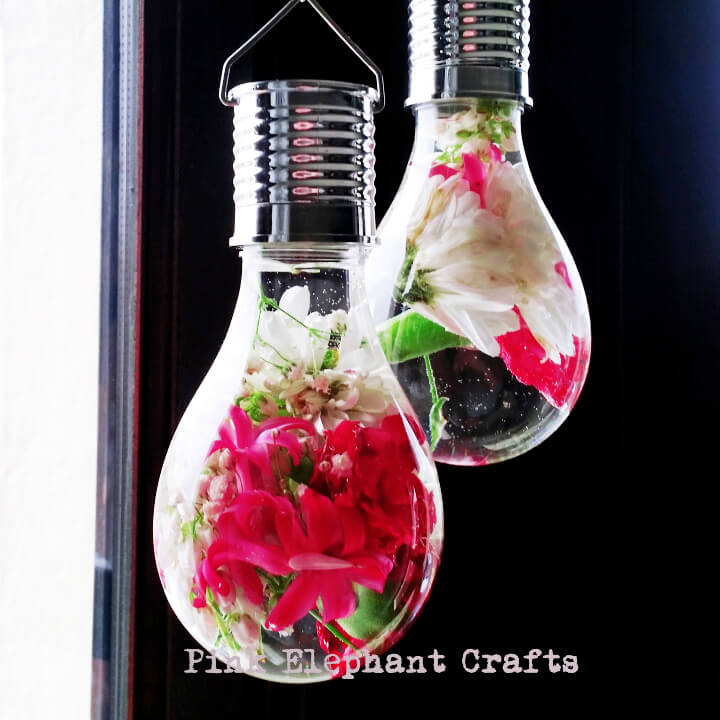 The cutest and colorful ever flower vases to make with old light bulbs. Empty the glass bulbs and then fill with water and colorful flowers and make cool light bulb flower vases.
Hang them higher in your home and as enticing decors.
DIY Light Bulb Succulents Garden: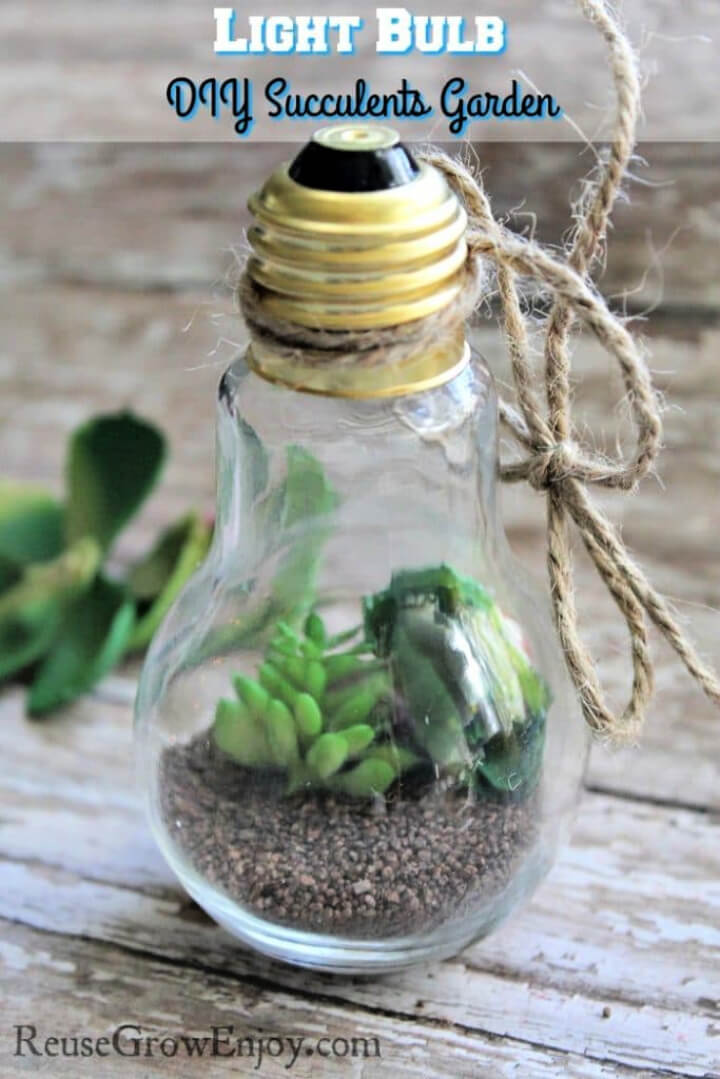 There are diverse different ways to make splendid vases and decors out of old light bulbs.
Make precious mini succulent garden out of old light bulbs by adding some stones or soil in the bulbs, and next add the mini succulents. Full how-to instructions here reusegrowenjoy