A big thanks to these 20 unique and best IKEA hacks and ideas for making life easier. You can make all from stylish DIY furniture to ultra-modern home decor to multi-featured and fashion-worthy storage options with IKEA without getting a bit expensive. To amaze your senses, we have shared here these 20 Smart and Adorable DIY IKEA hacks that will make bigger changes in your life and are too creative to impress and to win your heart for sure. These hacks will help you to bring modern decor vibes to your home by letting you make some fabulous modern decor using items of IKEA, and you will also be delighted here with the multi-functional organizers and items of furniture that will go modern to every environment and will be super cost-efficient to make at home.
Go smartly handmade with the IKEA Rast chest of drawers, make standout designs of apothecary cabinets, and finish the square IKEA kallax units with solid wooden tops and bottom wheels to make touch-to-move and ultra-modern kitchen islands that will be super storage-friendly also. Get also crafty with the IKEA pinewood boards to make fabulous farmhouse style tables and benches and use the IKEA fintorp system to install wall-mounted charging stations looking great and modern at the same time. These cheap IKEA hacks are sure to turn you into a big genius for sure as they are more than smart and creative.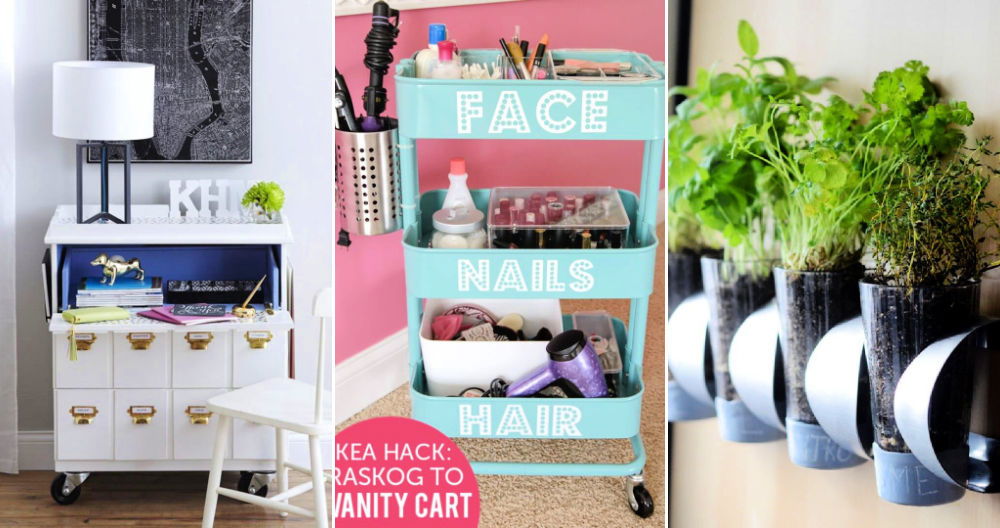 Check the IKEA Hacks list to update your home cheaply:
Put also the plants in the IKEA lanterns and make lovely terrariums that will be a big show stopper and modify the IKEA dressers to make fabulous mini-study desks for the kids that will also provide ample storage space. Browse the entire list of these IKEA hacks to get yourself inspired more and click on attached reference links to grab full free instructions and step-by-step tutorials.
1. Apothecary Cabinet from Rast Chest Of Drawers

IKEA furniture hacks are highly popular worldwide, and they can help you make every time of furniture from rustic to vintage to modern at home in a cost-efficient way and a pro-style. Use IKEA Rast chest of drawers, and extra plywood and drawer handles have been used for making the rest. Full how-to tutorial here ikeahackers
2. Ikea Kallax Kitchen Island Hack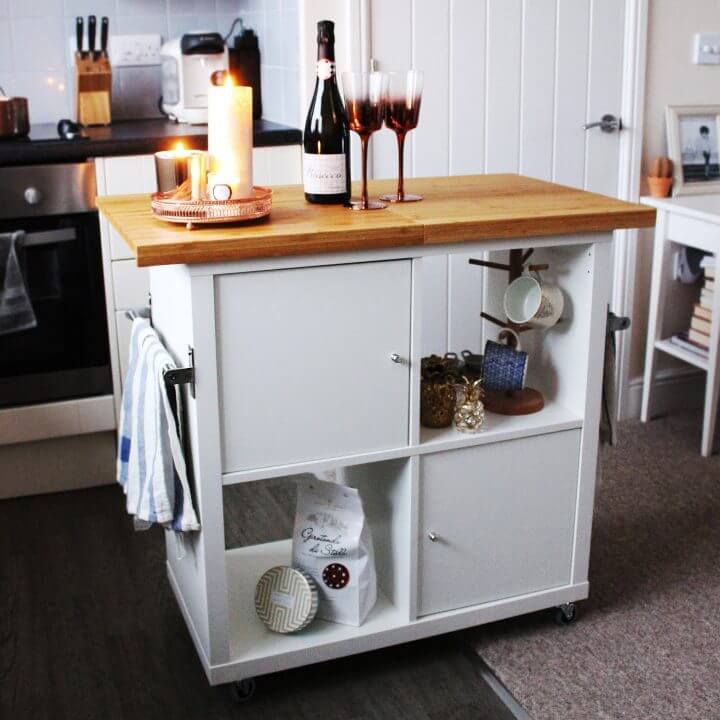 Looking for a modern kitchen island to add to your kitchen? Then do make this gorgeous one that is also a smart IKEA hack. Here an IKEA kallax unit has been added up with a lovely wooden top, and hence a lovely kitchen island has been made that also comes on wheels for an industrial appeal. Don't forget to install the side towel rack. Instructions here jenloumeredith
3. Build a Farmhouse Table The Easy Way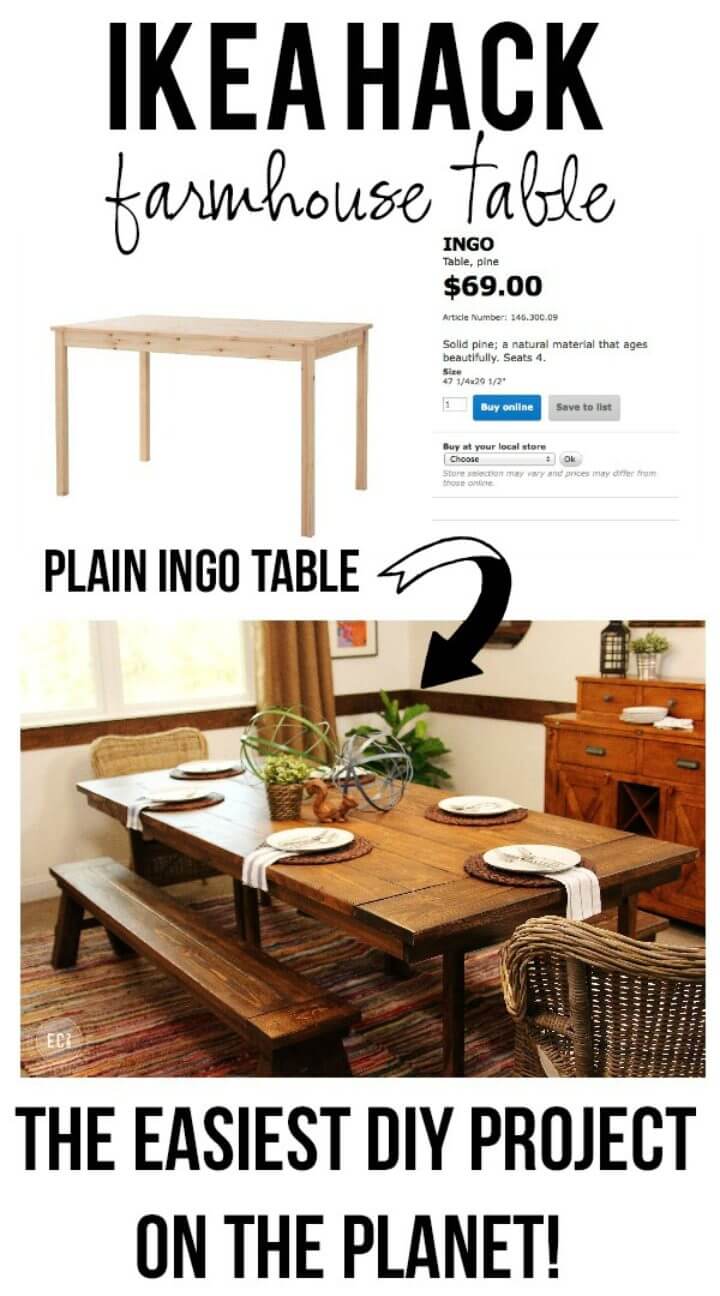 A table is the most important in the home furniture and sometimes super expensive to buy also. So, do make lovely farmhouse tables at home using the IKEA components. Here extra pine wood planks and two IKEA wooden tables have been used to make this fantastic wooden farmhouse table finished for a rustic look. Full how-to tutorial here eastcoastcre
4. Charging Station Using Ikea's Fintorp System

Lacking a cool and safe mobile charging station? Then make a cool and lovely one using the IKEA components that will be loved dearly by all. Duplicate this given one that is made of IKEA's fintorp system and is super beautiful. Everyone can quickly make this charging station. Instructions here hometalk
5. DIY Lantern Terrarium – IKEA Hack

If you need some cool light decor for your home, then do head over to IKEA bobby lanterns. You can further use them to make cool lovely decors like this beauteous model of a terrarium, a brilliant IKEA hack for a home decor centerpiece. Fill the IKEA lantern with moss, ferns, pea gravel, and shade-dwelling plants. Full how-to instructions here thouswell
Do you want to save more money on home decoration? Get DIY solar light to craft an inexpensive decoration piece.
6. DIY IKEA Dresser Makeover

IKEA is a great market for readymade components and accessories that you can compose to make modern, featured, and stylish furniture items in custom dimensions. Look at this lovely dresser made of IKEA Tarva dresser that has been modified using extra wood and has been raised on rubber swivel wheels that also come with a brake. Full tutorial here inmyownstyle
7. DIY IKEA Makeup Vanity An IKEA Raskog Hack

Here is a DIY makeup vanity, an amazing IKEA that will make an amazing makeup organizer. Duplicate this IKEA makeup vanity by adding up an IKEA Raskog cart with IKEA utensil holders, plastic dividers, and zip ties. Use vinyl lettering to name the storage compartments. Full instructions here polkadotchair
8. IKEA Rast Hack – New Craft-Room Desk

Are you addicted to crafting, then here is an IKEA desk made of IKEA Rast and is sure to be all one solution for organizing your craft room supplies and materials. This IKEA craft room desk also comes with a glass top and hence gains a lovely modern appeal. Full instructions here addisonmea
9. DIY Modern Vanity

A modern minimalist dresser, vanity, and a desk, this is all in one IKEA furniture vanity that is a piece of cake to make. All the items like the round mirror, fur chair, and the two slim drawer vanity are made of IKEA components, and everyone will love to own them. A great Ikea hacks to try out at home. Full instructions here newblooming
10. DIY Ottoman – IKEA Hack

You will love this fantastic ottoman that is sure to make a brilliant footrest for a living room. Grab an IKEA ottoman, replace the metal legs with short wooden ones, and then add a new fabric cover, and make a lovely ottoman for your living room. See the lovely given sample. Full instructions here rebeccapropes
11. IKEA Billy Bookshelves Hack

You can update a whole living room using the IKEA components. Check out the sample remodeling done by installing a modern bookshelf that is looking much expensive but actually is not. All you need is the IKEA Billy bookshelves and accent wood molding to install this brilliant beauty station in your living room. Full how-to tutorial here themakerista
12. DIY Indoor Herb Garden IKEA Hack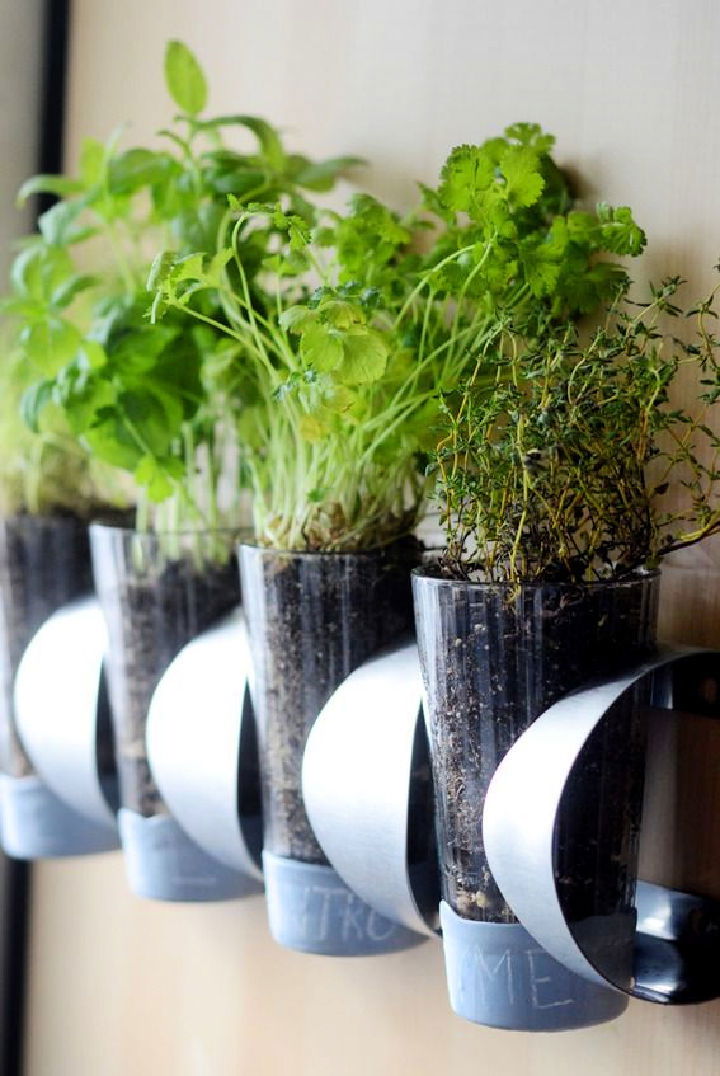 There are IKEA hacks to help you in every aspect of home decorating. Bring the natural decor vibes to your home in a modern way by installing this precious indoor herb garden. All you need is the IKEA form and pint glass herb planters to make this brilliant hanging herb garden. Further project details here curbly
13. DIY Desk – Office Update

Build also the modern featured desk for your office or home working space using the IKEA Hacks. Grab a wooden kitchen worktop from the hardware store, IKEA drawer elements, a cable basket, and a table leg to make this exciting DIY desk. Full project details and instructions here beautyressort
14. DIY Rock Planter IKEA Hack

Make the lovely and decorative planters for your indoor and outdoor sitting spaces that will rock for your spaces' natural garnishing. Here the idea is to do a decorative makeover of the plastic planters using the IKEA pebble rocks, and you can glue them in place. Full how-to instructions and tutorial here poppytalk
15. IKEA Lack Tisch Hack Mit Plexiglas

This is where you need to style up your living room, a very modern glassy side table to be insides of your living room couch. Grab the IKEA black side table and then cover it up solid using glass sheets and make a lovely glassy side table. Get inspired by the lovely given sample. Full how-to instructions here ichdesigner
16. Wooden Headboard With Stikwood

Make also super gorgeous and enchanting looking DIY headboard at home using the IKEA components. Grab the IKEA Malm bed frame and cover it up with the stinkwood pieces, and it is going to be like a fun puzzle game and gain a stylishly beautiful and modern wooden headboard. Full how-to instructions here sugarandcloth
17. DIY Legged Basket Planter

If you need some brilliant planters and pots for natural garnishing of your interior home spaces, then do opt for these legged basket planters, another great IKEA for boosting your home decors. Grab the IKEA baskets and legs and then fill them up with the plants, and that's it. Full how-to instructions here fallfordiy
18. Ikea Hack White Fur Stool

You will love to own this super comfy fur stool that will be a modern addition to any home interior too. Here again, a creative makeover has been done of an IKEA stool that appears great. Grab an IKEA stool, cover it up with foam, and then with the white fur, and here you go. Full DIY stool instructions here darlingdarleen
19. DIY Painted Basket – Ikea Hack

Lacking storage options in your home will also look great? Then you must choose this painted basket that is also a smart IKEA hack. Grab the IKEA basket and paint it for a colorful appeal using acrylic paints and finish with the hanging pom-pom baskets and that's it. Full instructions here tellloveandparty
20. DIY Wooden Stool Ikea Hack

If you strive for stylish furniture, then IKEA is a great option that will make you get stylish furniture without getting a bit expensive. Grab an IKEA stool and finish it up with a rustic wood slice seat and gain a lovely wooden stool that will be a great pleasure to sit on. Full tutorial here burkatron