Do you like the bungee jumping? If you really like it and know about it very well then you will be all aware of the bungee cord too, all made of elastic strands and comes with a woven cotton cover! Bungee cords are too durable to lift and hang weights over and they can also be found in every home with custom metallic or plastic hooks at both ends! The hooks at both ends makes the handling of different objects in home a much easier and the most amazing thing is that you don't need to tie multiple knots here to secure your items and objects! This time we have brought 28 ways to use bungee cords in your home or DIY bungee cord hacks that will make you learn about some more genius uses of bungee cords that would truly be life changing!
Bungee rope is one of the cheapest materials that you can easily find in the market and the shops so using it for the home betterment projects would be really cheap and no burden on your pocket. You can find it any color and thickness to use it aptly for your relative purposes without missing the color coordination.If talking about the basics, you can go genius with bungee cord to do some amazing DIY furniture projects, for crafting low-cost but fashionable jewelry items and doing amazing home improvements! Bungee cords can be a super fast solution for a number of things in home like they can be tied across the shelves for instant braces to them or can be used in place of missing curtain rod, checkout some amazing samples given below!
Exploring the creative nature of the bungee rope you can test your crocheting skills with it and do some weaving projects to dress up some homey items like a weaved table top and stool seat.The rope would be a great support to your spice jars on the rack, shopped items in the car and perfect to create any kind of holder in the house.For more brilliant bungee cords hacks and projects, checkout the whole collection!

A big good news is that you are also going to find the DIY tutorials and step-by-step instructions for most of showcased bungee cord projects, just visit the reference links!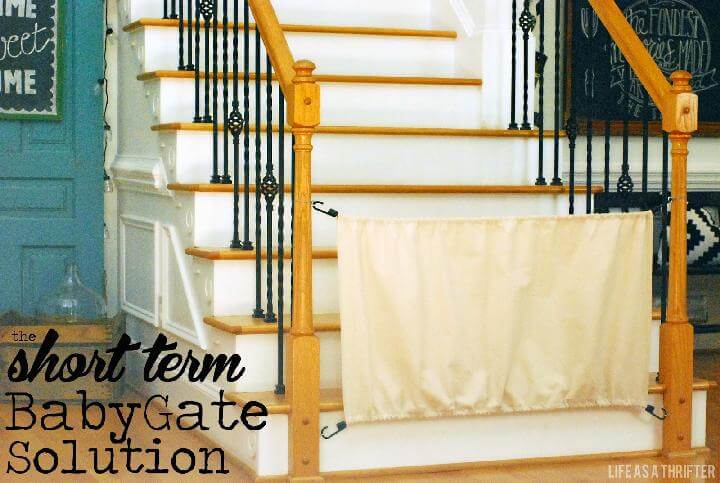 Need an instant but temporary baby gate? Here is the perfect solutions for it using the bungee cord and fabric! This project will also demand for some exclusive type of hardware like eye-hooks and metal rings for better installation! A super low-cost and creative ideas to install a baby gate in no time for a short period of time! Further project details and step-by-step instructions here lifeasathrifter
DIY Bungee Wrapped Cords: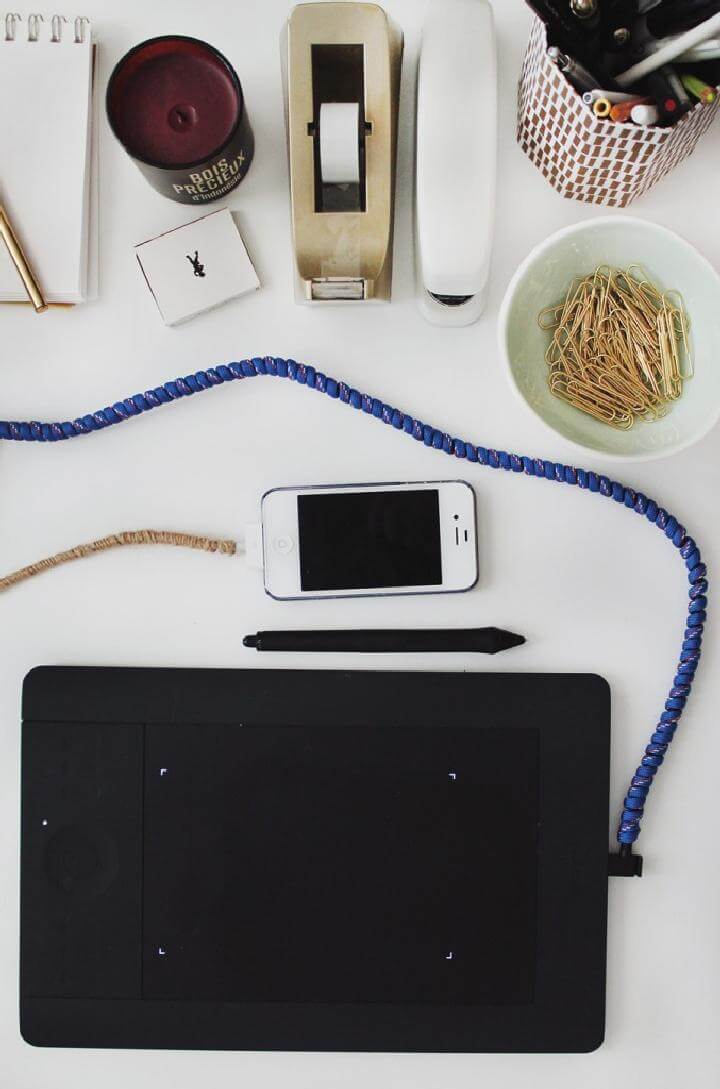 Make your computer cords and mobile charging cables a bit more durable by wrapping bungee cord around them! This would also be a nice way to give some great colors to ordinary computer cord so they will look special! Wrapping process is pretty simple, start from end, sew the cord in place and start wrapping it around while moving toward other end of the cord! Complete tutorial and step-by-step instructions here almostmakesperfect
DIY Bungee Cord Knotty Shoes Laces:
Make use of small bungee cord pieces for making beautiful shoe laces! Pass the pieces of cords from the holes and tie a knot at each end! Use some glue where necessary and enjoy wearing the same shoes with a more special and funky look! Another smart use of bungee cord to make your inspired! Complete instructions and details here thegunnysack
DIY Bungee Cord Garden Grasses Ornamental Trimming: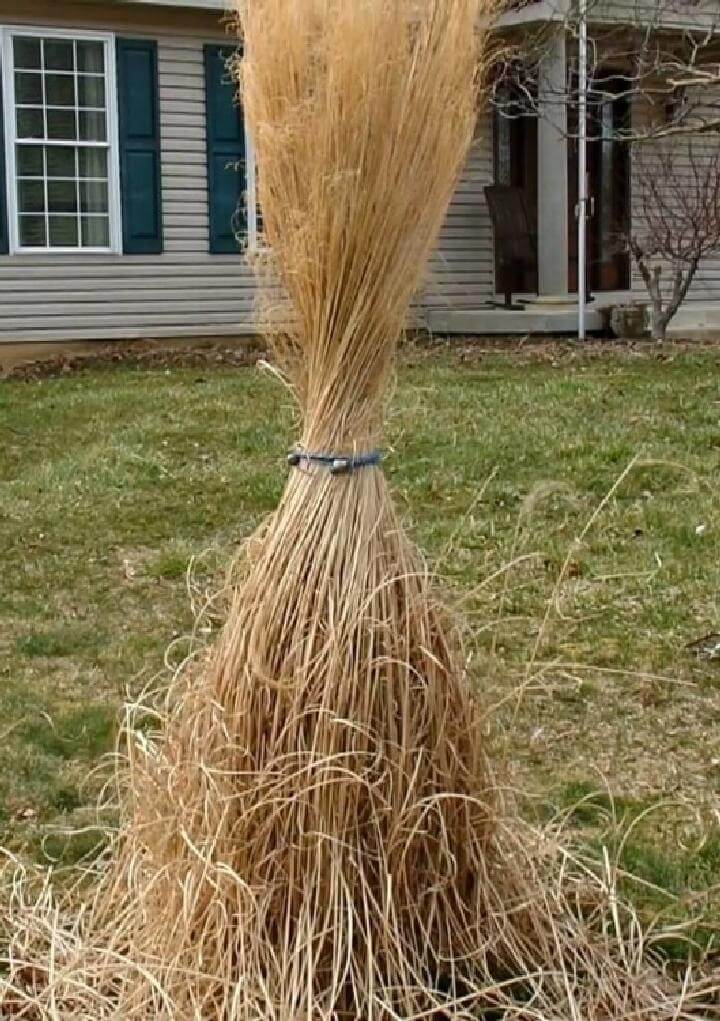 Get also a great help from bungee cord while decorating your garden in spring! Here is how you can hold your ornamental grass bundles with bungee cord for amazing garden decor statements! Just imagine a number of such a grass bundles standing in your garden! Further project details here thehypertufagardener
DIY Easy Bungee Cord Ball Organizer or Holder:
Make smart use of bungee rope also to organize nursery and kids room! Here you can see an amazing ball holder built in a sports room, 3 lengths of bungee cord come vertically between the 2 wooden frames and have been fixed their in the wood by making holes! This gives a perfect ball rack for the room where the basket ball, football and rugby ball so nicely and carefully! Further project details here designedtodwell
DIY GIft Bucket Wrapped in Bungee Cord: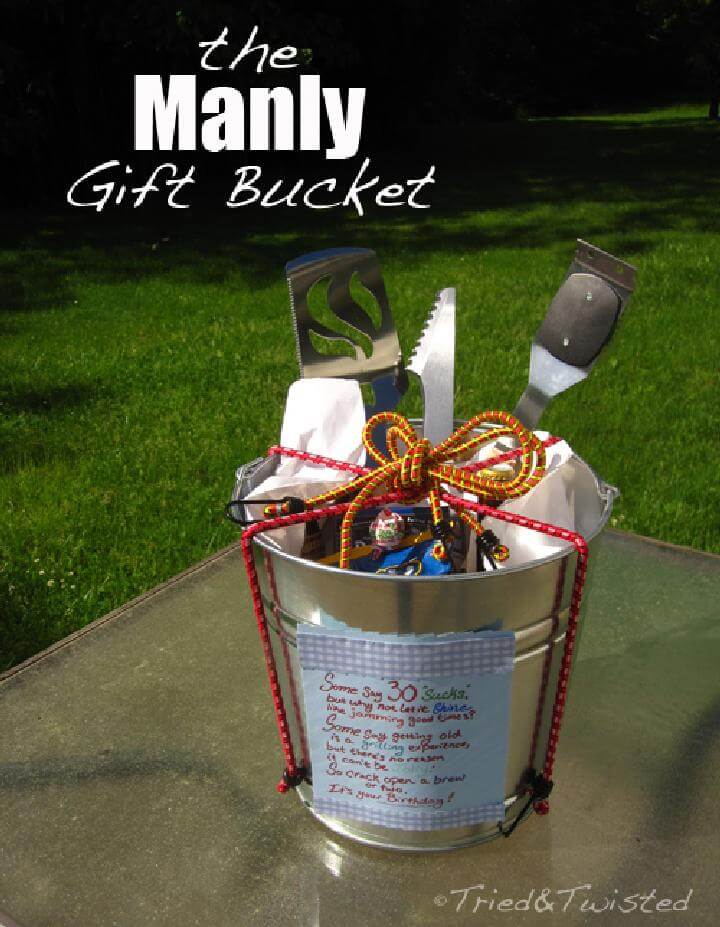 Go genius with bungee rope and use them in place of ribbons while wrapping you gift buckets! Due to being more stretchable and durable they will finely grip the bucket while holding nice the inside stuff! Checkout the sample here to get inspired! Further project details here triedandtwisted
DIY Bungee Cord Bulky Jar Ring Holders:
Checkout this mind-blowing rack for bulky jar rings, totally made of bungee cord and with some metal hooks! A great and super smart use of bungee rope! Bungee cord can handle a lot of weight so this is going to be a great project to hang some weight over! Further project details here hickeryhollerfarm
DIY Easy Bungee Cord Yoga Mat Holder:
Use also bungee rope also to tie the yoga mat, another good and smart use of bungee rope! It would not take some time to make this very easy yoga mat holder! Here a full video tutorial has been given that would tell you that how to craft this yoga mat holder! Complete video tutorial here youtube
DIY Bungee Cord Bracelet Tutorial:
Not only for functional tasks, one can also do amazing jewelry projects with bungee rope! Here is a beautiful bracelet made of bungee rope and is pretty simple to make and craft! This bungee cord bracelet would also make a perfect gift if you want to please a beloved one in life! Complete bracelet tutorial and step-by-step instructions here blog.darice
DIY Bungee Cord Woven Stool: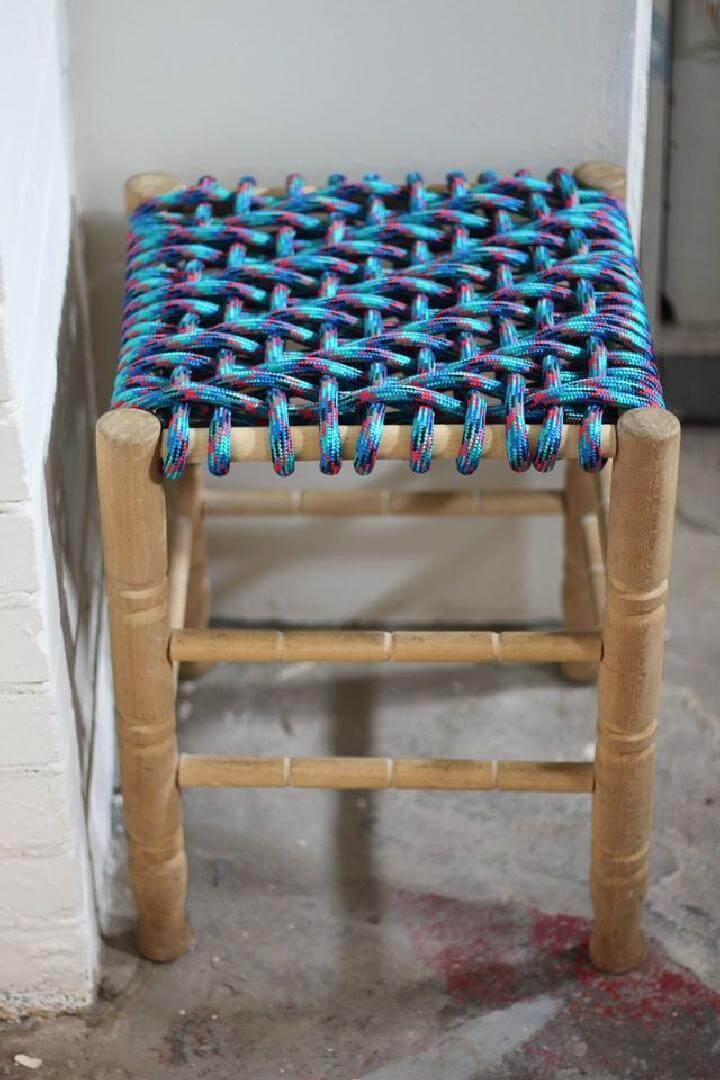 Here is one more smart project to get crafty with bungee cord! One can also use the bungee cord to weave chairs and stools that will last longer than usual woven furniture items! Checkout this wooden stool, beautifully woven with bungee cord is as comfortable to sit as one can wish it to be! Complete project instructions and picture guidance right here smileandwave
DIY Wooden Cork and Bungee Cord Ties: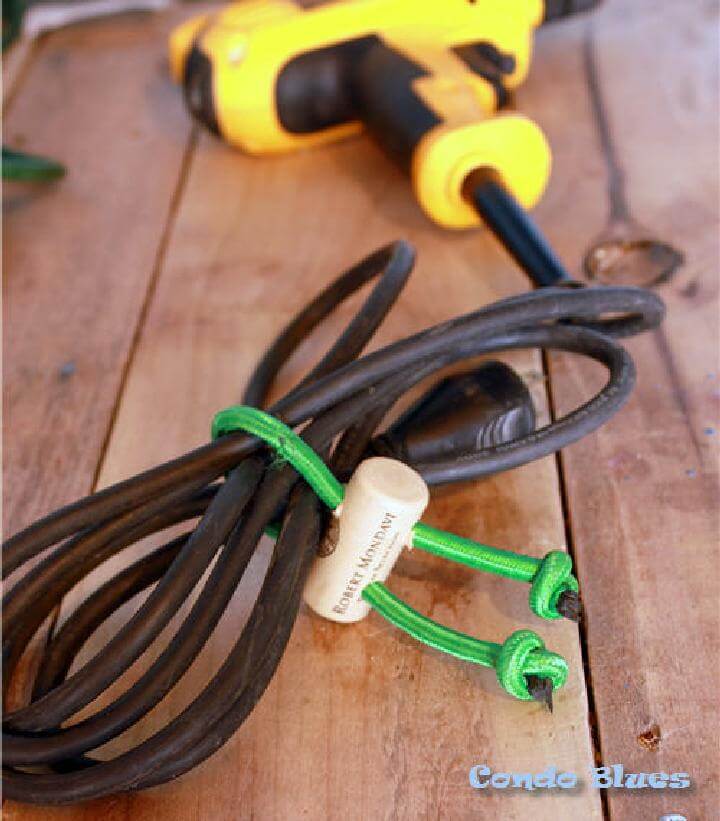 Mostly the husbands have  garages in the house and they love to do all types of technical chores of their own. So they must be having some wires in their working spaces and to organize the wires nice and easily without any tangle or jumble you can use a piece of bungee rope and cork to make the wire ties. It would be like 10 minute project just check it out here condoblues
DIY Sailor Knot Bungee Cord Bracelet: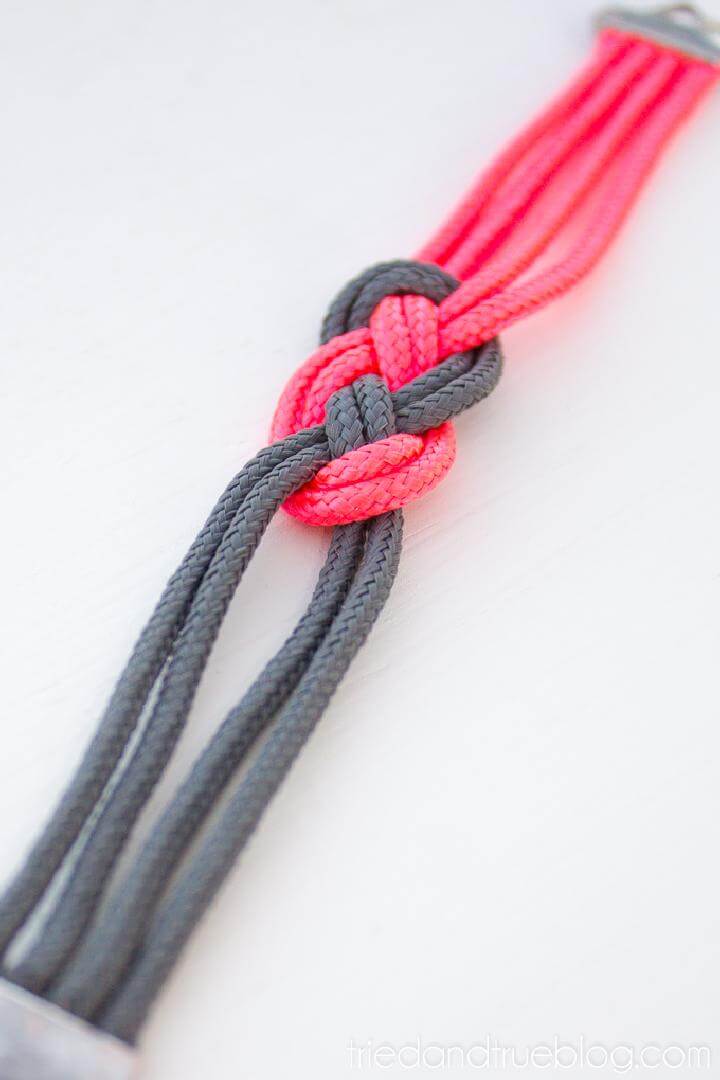 If the friendship day is coming and you are pondering upon the gift idea you can make this lovely bracelet from the bungee rope, the cheap and easy to find material found in our home so commonly. You can combine two colors and then make one braided style bracelet as the perfect gifting for the friendship day. Here is the complete tutorial to know it with step by step instructions triedandtrueblog
DIY Bungee Cord Drawer Baby Proofing:
Here is the smart idea for those having naughty kids who keep on pulling the drawers and taking out all the stuff out. So you need to make your drawers safety proof and you can use the bungee top for the purpose to lock the handles and make it unable for the kids to open and disturb your stuff. Here is the full tutorial to let you learn it step by step with all the directions syncopatedmama
DIY Bungee Cord and Bike Hook Industrial-Sized Extension Cord Hanger:
If you have some electric wires in your house and you want to store it safely from the kid's approach then bungee rope can really help you a lot to hang it safely on the ceiling. Just a piece of bungee rope and the hook and its done to hold your supplies on it far away from the damage. Get more details and instructions here onegoodthingbyjillee
DIY Bungee Cord Wall Hanging Shoes Rack:
If you do not have some extra space to store your shoes or organize your footwear, then find a bungee rope as it would instantly solve your problem of shoe storage. Just tie a piece of bungee top on the wall and tuck your shoes in it and that too as many as you like and thus so simply and nicely organize your footwear. See the complete directions right here roadtreklife
DIY Bike-Mounted Bungee Cord Dog Leash:
Bike riding with your dog is really fun and entertaining and if you like slow bike rides you can keep your pet along the bike using a bungee rope leash. Just keep in mind that the leash should be long enough so that your dog does not crashes to your bike. Here are more details to make the leash of your own blog.jamestwood
DIY Bungee Cord Car Activity Center for Babies:
While you are traveling and its a long journey then your kids might create some trouble for you. So you can create a car activity center for the baby with toys and the bungee rope would really help it to hang the toys and let the kids play with them. So use the bungee rope and make your journey so comfortable for your an your kid also. Tutorial here lifehacker
DIY Wood Planks and Bungee Cord Wall Organizers: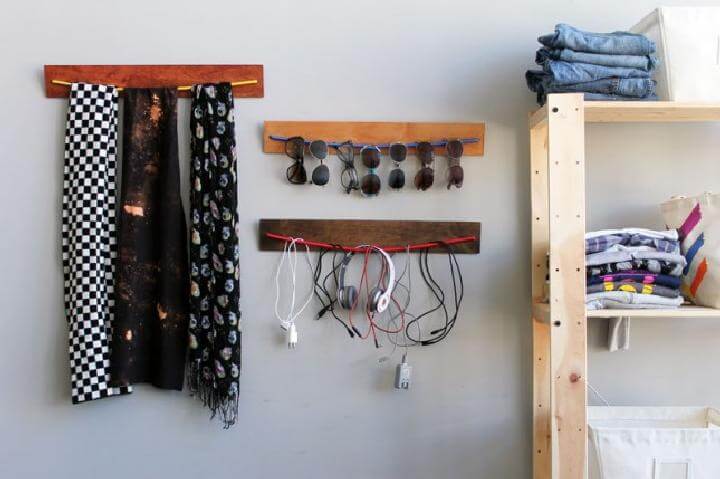 The girls would really like this project to organize and hang their accessories especially when they are short on money. Just grab some bungee rope and a few wooden slat piece and your would be able to create these simple and easy organizers for scarves, sun glasses,  chargers, headphones etc. Grab the step by step tutorial here brit.co
DIY Bungee Cord Stroller Stower:
Baby carriages are always with us when we have the cute babies so here is an amazing hack that would really help you manage your kid while you are away from home. You can use a fine piece of the bungee rope and make a stroller stower so that you can easily pull the baby cart with you and keep him/her around you all the time. Tutorial and details here largefamiliesonpurpose
DIY Bungee Cord Instant Shelf Brace and Paper Towel Holder:
If you are afraid that your spice jars would fell out of your spice rack and break then you should instantly take some safety measures. And the bungee cord can really help you a lot as its really solid and sturdy can cake really a durable brace for your spice rack.  Catch more details of this project here theboatgalley
DIY Bungee Cord Gift Wrap Holder:
If you are a crafting person then you must have a big bunch of the gifting paper in your spaces as they are abundantly used in the crafting and gifting projects. So to hold them nicely in their spaces and to organize them perfect at the fixed spot you can use a bungee cord lock to keep them in their places. You can get the whole details of this idea here thefeltmouse
DIY Bungee Cord Curtain Rod: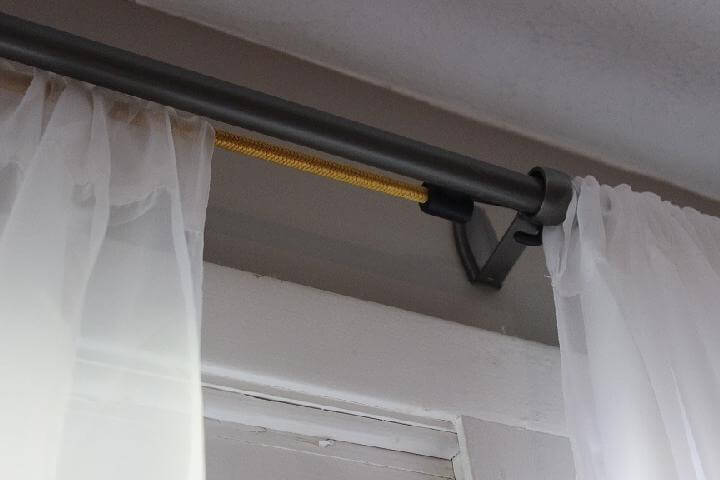 If you need to add curtains on your windows but you do not have much money to spend on the purchase of expensive curtain pipes then you really need to hack this idea. Here the use of bungee rope has been shown in the replacement of the curtain pipe and it would really cheap and easy so do try it. Catch more details of it here planetperryblog
DIY Bungee Cord Pokemon Center:
If your kid is in love with the Pokemon and that too crazily then you can bring this lovely and totally fun Pokemon zoo for them. It would be so cheap, fun and easy to make with the feasible supplies like some wooden slats and some yard of sturdy and durable bungee rope. The woo for the zoo cage with the rope forming up the bars. See the full tutorial here thehandymansdaughter
DIY Easy Bungee Cord Necklace:
Girls are going to fall in love with the bungee rope as it can make them lots of jewelry pieces like the above shown bracket and here is the lovely bungee rope made necklace for you.Using a small piece of bungee rope in your favorite colors you can craft this lovely neck pieces using some gems and stones too. For the complete hack you need to browse this link jessejamesbeads
DIY Bungee and Wooden Cork Cord Ties:
No matter how much nicely we tie the charger, ear phone cords they still get entangled and its take a lot of time to sort them out. So use some bungee rope and the corks to make these nice and feasible cord ties so that your cords never get un folded and get entangled around the other things in your bag. See the full method of making these ties here thekimsixfix
DIY Bungee Cord Magazine Shelves over the Desk:
Creating a study or working desk is really easy if you have a nice and functional desk there because the rest of the work would be done the bungee rope. yes you can use this solid rope to build these magazine shelves over your desk and save lots of your money and time. Here is the full fun and feasible tutorial to show you the making of these bungee rope shelves marthastewart
DIY Bungee Cord Groceries Hanger in the Car:
There are so many easy hacks and tricks to make your routines really more fun and easy. So now when you will go to shopping none of your items would spill in the card as you can make this easy bungee rope hanger their to hold the grocery bags on it and do not let anything spill out of the bags. See the tutorial here handyman
DIY Bungee Cord Tablecloth Anchor:
outdoor breakfasts, lunch times or dinner nights are just always so much fun and delight especially when the weather is breezy and pleasant. So next time you plan a meal outside to tie your table cloth with the bungee cord so that it does to blow with the breeze and create any inconvenience. Check out the full tutorial here marthastewart