The whole elegance and prominence of modern home interiors lie on one thing that is whether they are clutter-free or not! It lowers down the look and mars the chic appeal of interiors if there are always to see some unpleasant messy collections of things! So if you are on a way to get your home ultra-modern then adding your home interiors with better storage and shelving systems would be the very first demand!
We just can overlook the IKEA BILLY Bookcases while talking about the modern and cost-efficient interior storage solutions! A bunch of custom sized BILLY bookcases can be put together to install large storage shelves in any particular interior wall space! Moreover, you can install glass-paneled modern doors to them and can also make the look built-in by using moldings, beadboard and other items of this kind! To give your creativity a big genius spark, we have brought these super amazing DIY IKEA BILLY Hacks or Bookshelf Hacks that will through light on all the technical aspects to hack Billy bookcases into custom storage units, modern furniture items, media stands or entertainment center with all the modern look and features! For complete help and guidance, you can click once the reference links under each idea to get further project details or to reach complete DIY tutorials with step-by-step instructions!
Not only cutting the clutter there are some really fun transformations of these IKEA Billy shelves for the kids and kid's room betterment both for your little prince and princess. You can use these shelve for creating a nice baby crib in the nursery saving a huge amount of fortune. Playroom activity can be enhanced as you can feasibly create the cute dollhouses for the girls and arcade game station for the boys. Home styling, up gradation, immense storage, and panty organization, these shelves are worthy of so much utility in your house.
You will also like these unique 48 DIY PVC Projects your home and garden.

So it is really the time to go creative with solid-built geometrical shapes of BILLY bookcases to meet all the demands of modern shelving systems in your home, an easy, modern and budget-friendly solution ever!
DIY Easy Billy Bookcase with GRYTNAS Glass Doors: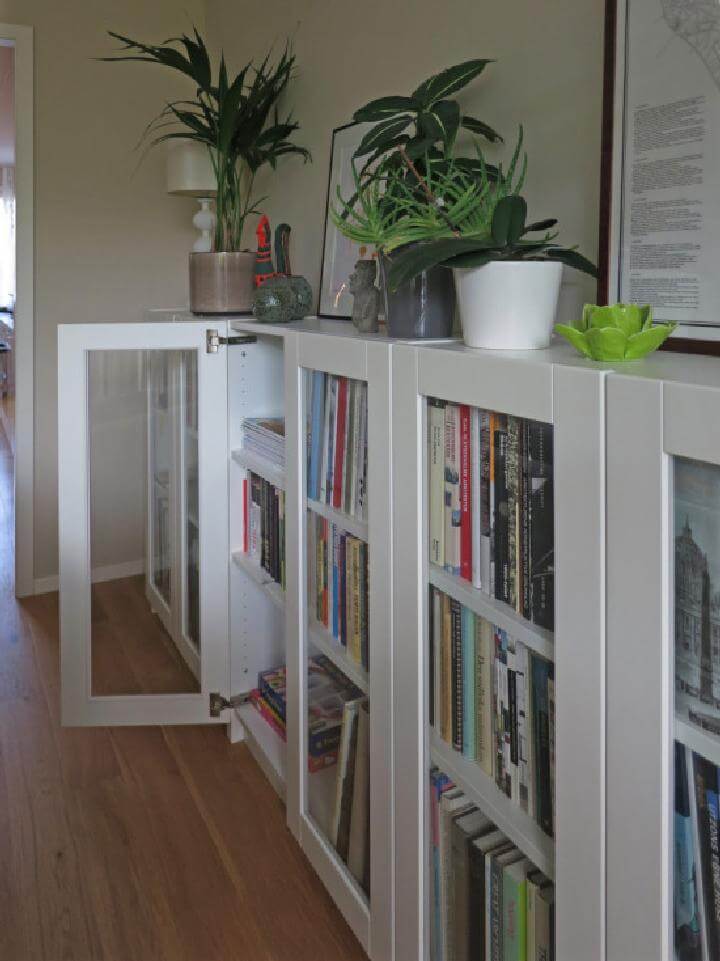 The IKEA Billy bookcases are perfect for the book storage and you can add more custom and personalized touches to them to make them perfectly work for your spaces and decor. Here is a big Billy bookcase unit provided with the Grytnas glass doors and the result is so damn gorgeous to make a a lovely display in your living room spaces. The tutorial is here ikeahackers
DIY Timeless IKEA BILLY Bookshelves: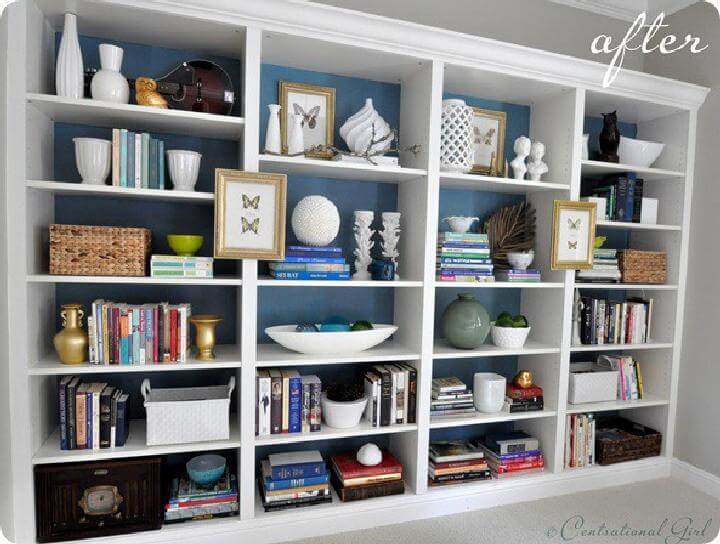 Creating a big wall with bookcase holding books, artifacts, decor objects and some styling ornaments would be a perfect idea to convert any dull space into a huge decor hit. So be it living or hall you can use this giant Billy bookcase would be the center of your home beauty, style and decor. Learn more instructions and directions here to create this book and beauty wall in your home centsationalgirl
DIY Modern BILLY Bookcases with Height Extensions and Glass Doors: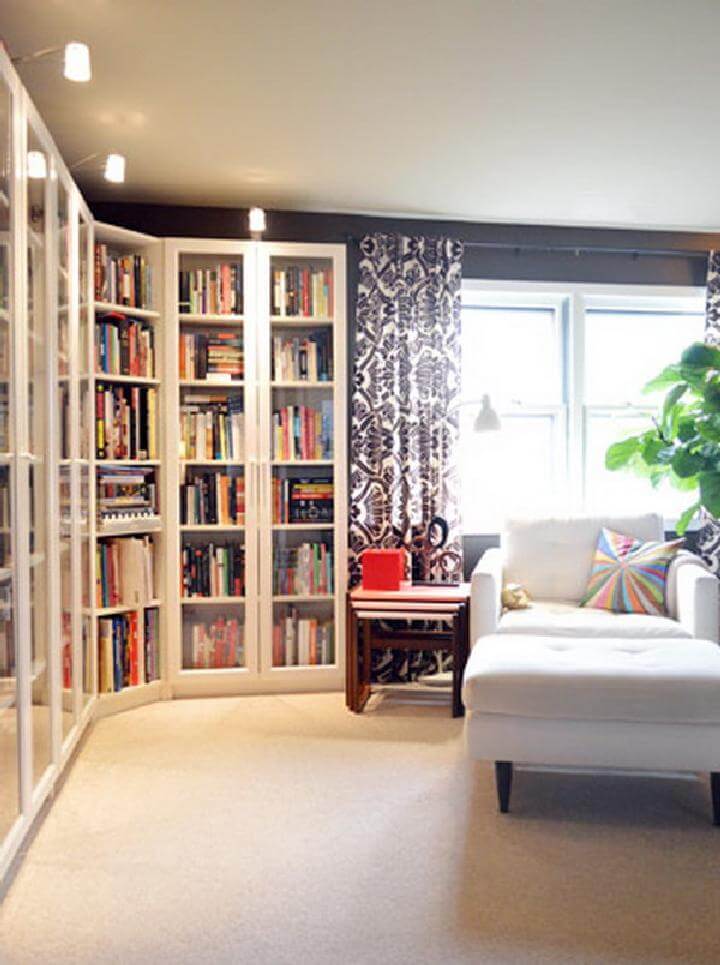 Book lovers just can not resist to have a library sections in the house to house their big collection of books so nice and gracefully. And now using the IKEA Billy shelves with medium height you can create a gorgeous library of your own. Double up the shelves on each other for that great height and add the glass doors for an elegant and accomplished look. Complete details of this superb project here younghouselove
How to Pimp IKEA BILLY in 10 Steps – DIY Tutorial: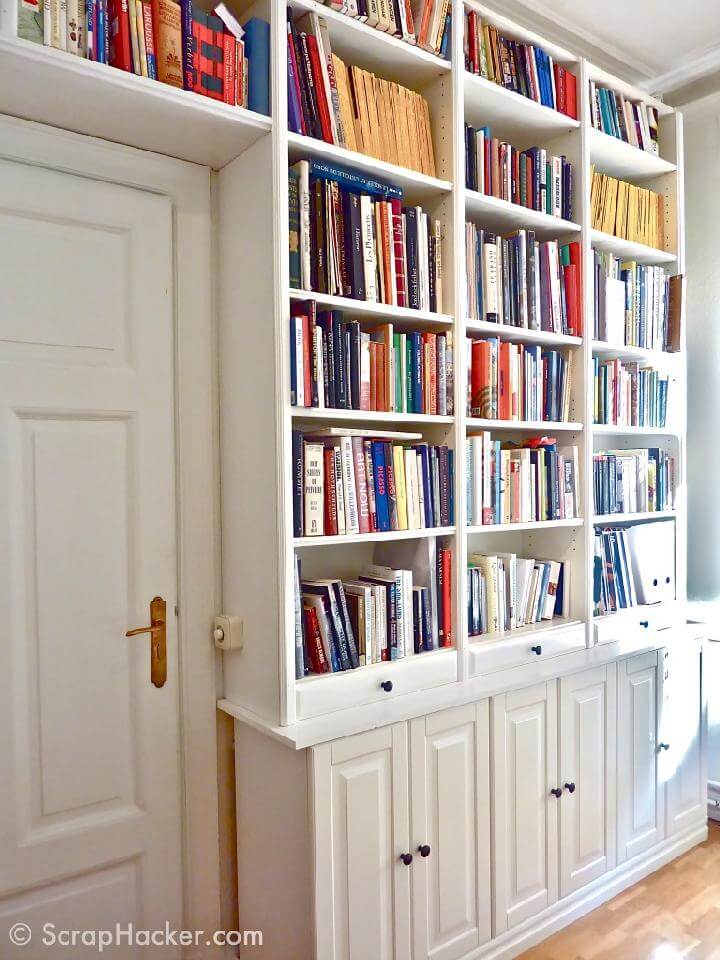 No doubt that the IKEA billy bookshelves are the perfect for the book storage but you can really customize them according to your needs and desires.Utilizing the space over and on the sides of the doors a genius library sections has been created with the help of the Billy shelves. You can do it all by yourself if you can work well with the wood and wood crafting tools,. The tutorial is here scraphacker
DIY IKEA Butcher Block and BILLY Kitchen Island: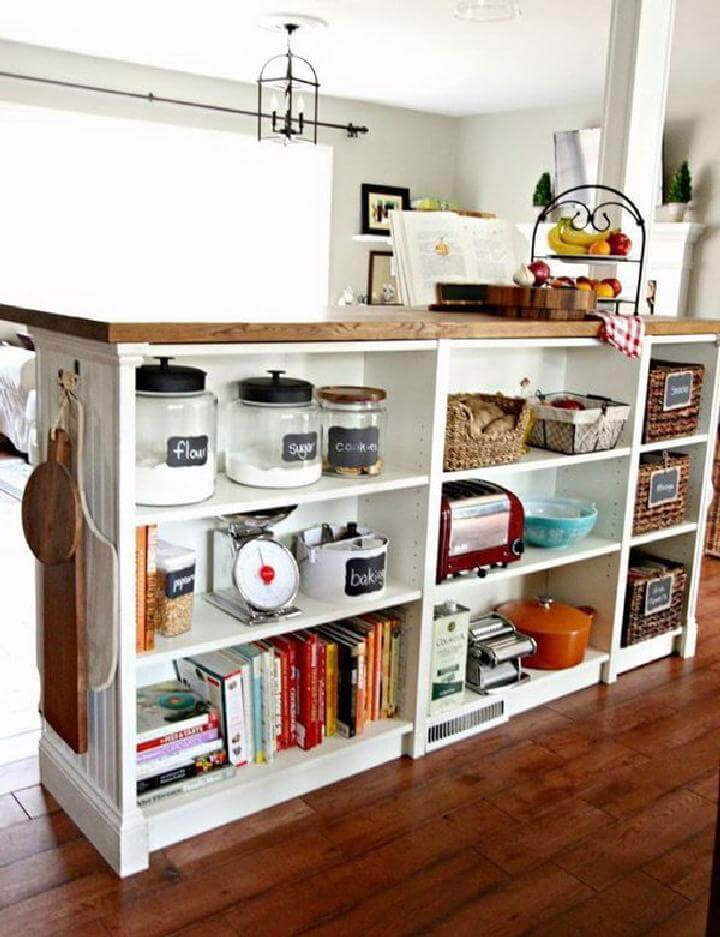 A nice kitchen island really defines the functionality and the beauty of a kitchen so if you are in need of an island you can hack this IKEA Billy bookcase turned into kitchen island idea. Combining the Billy bookshelves and adding a wooden top to the whole unit this exquisite and hugely functional kitchen island with all the required features has been yielded with immense storage space for your kitchen stuff to get nicely and easily organized on it. Tutorial here thekitchn
DIY IKEA BILLY Bookcases Library Walls: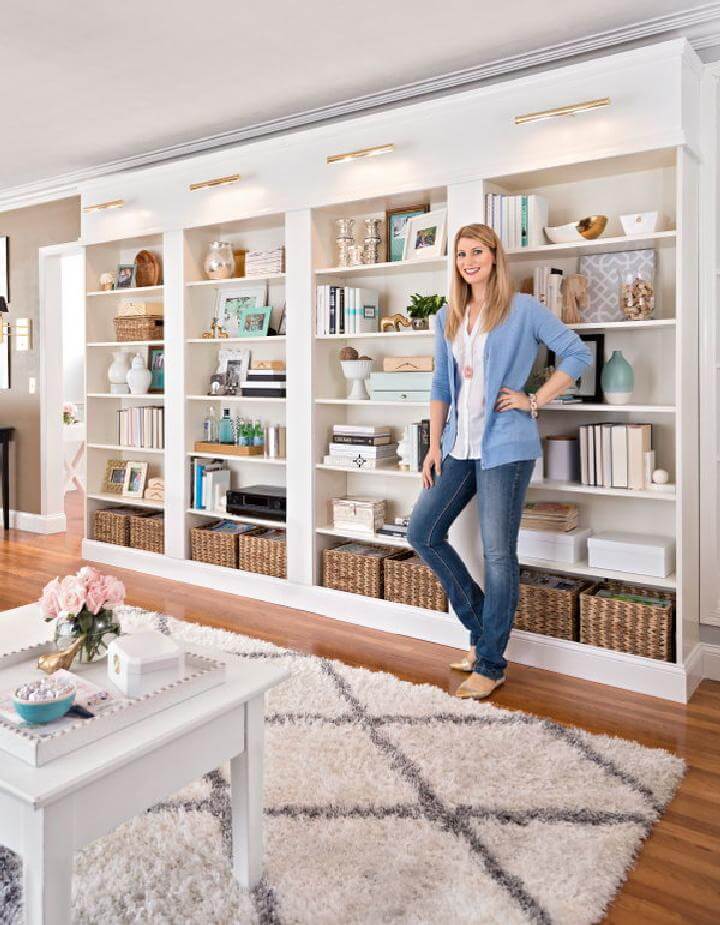 Do not have a separate room to create a library in your house? don't worry as you can still manage to enjoy a wall library in your house and that too easily, nicely and cheaply. Just order the big wall IKEA Billy bookcases and combine them to create this giant library walls that would house not only your books, but lot of other stuff like artifacts, decor apparatus, storage baskets and lot more. Get the details of this brilliant project right here bhg
DIY BILLY Transformed into Built-ins: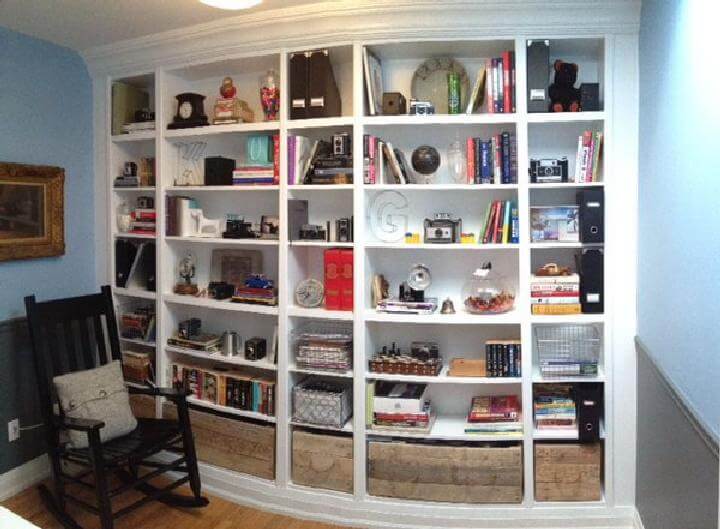 IKEA billy bookcases come in different sizes and here to build these storage built ins in a wall almost all Billy shelves have been brought in uses like the full size, skinny one, billy extension and billy height bookcase. This lovely built in wall looks amazing holding a huge bunch of your utility as well as home beauty stuff on its built in storage shelves and bringing the clean and immaculate vibes in your home spaces. Here is the full tutorial storefrontlife
DIY Pantry Made of 2 IKEA BILLY Bookcases: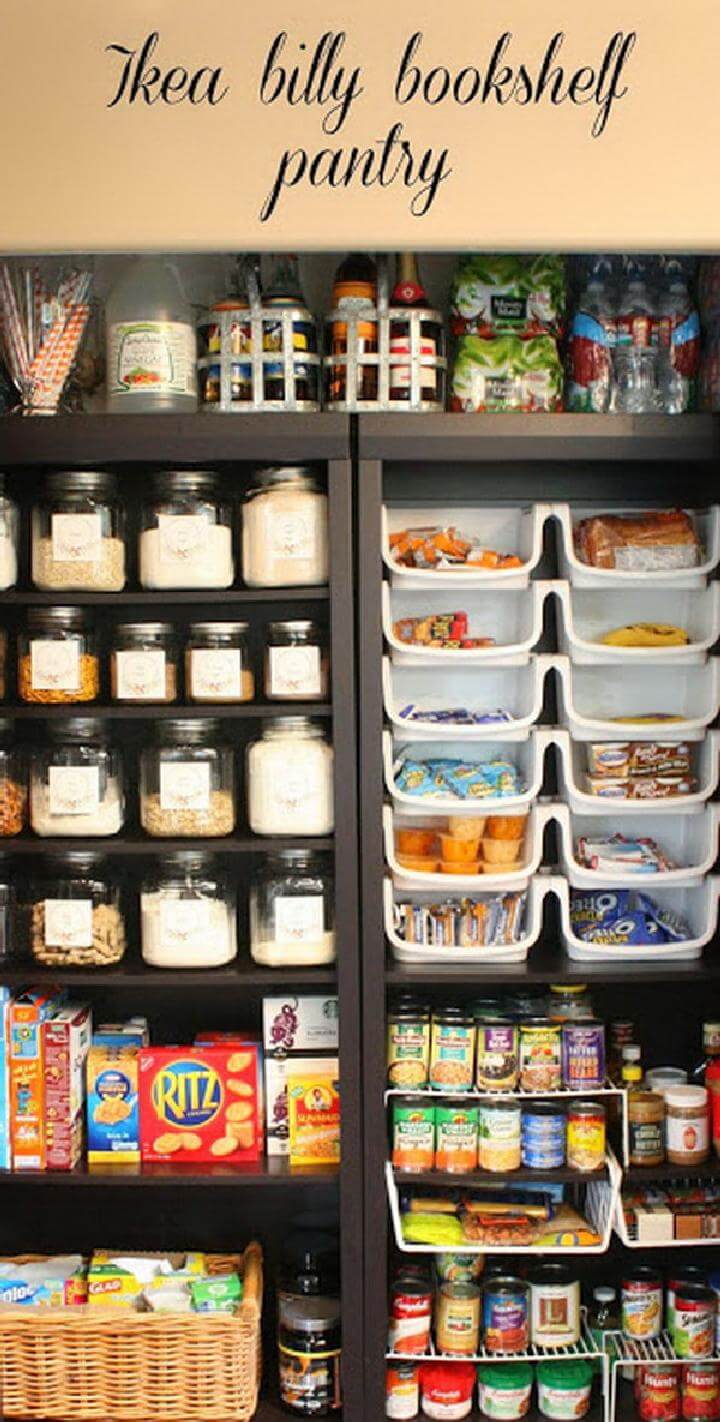 Pantries are must for a kitchen to house and hold all the grocery , spice and food stuff. So if you are in search of a new pantry for your kitchen spaces then we have a brilliant idea for you to work on. Just grab this IKEA Billy shelf and turn in into a kitchen pantry and it would be no doubt an immensely functional transformation of the Billy shelves. You can paint them to make them perfectly match with your decor and styling of the relative spaces. Check out this Billy pantry idea here bloglovin
DIY IKEA BILLY Bookcase into Mudroom Lockers: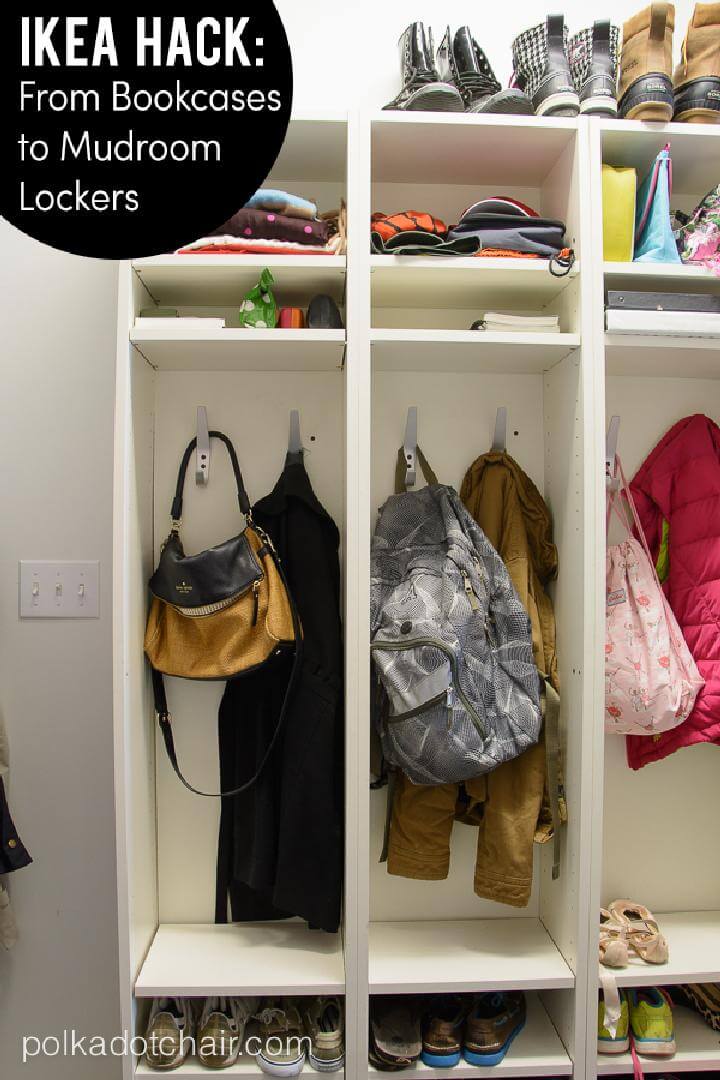 Mudrooms are one of the most cluttered space of the house with bags, coats, shoes and lot more. So creating lockers there for everyone would really make it easy for everyone to have a separate room for his/her belongings and it would be hassle free or organize it. Here is the brilliantly smart idea showing you can turn the IKEA billy height bookcase into a locker unit for your mudroom storage and that too in style. Full tutorial is here to get every inch detail of this feasible and cost efficient project polkadotchair
DIY IKEA BILLY Bookcase into Baby Crib: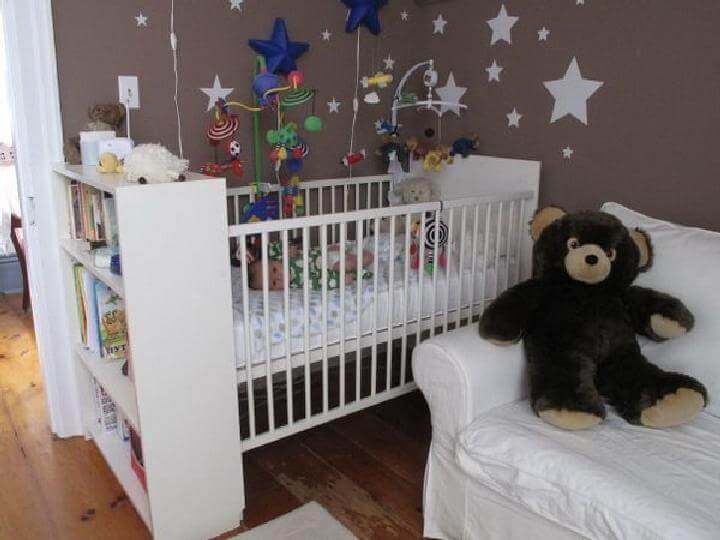 Using the crib Gulliver , oven boards  and a Billy shelf, all from the IKEA this lovely baby crib with bookshelves has been nicely yielded for the baby in his nursery. Now the baby can sleep well in his crib with the story books lying around so that whenever he is not sleeping you read him a story. The white stain really bring the chic and modern style in the spaces. Here is the full tutorial of it ikeahackers
DIY IKEA BILLY Kids Closet: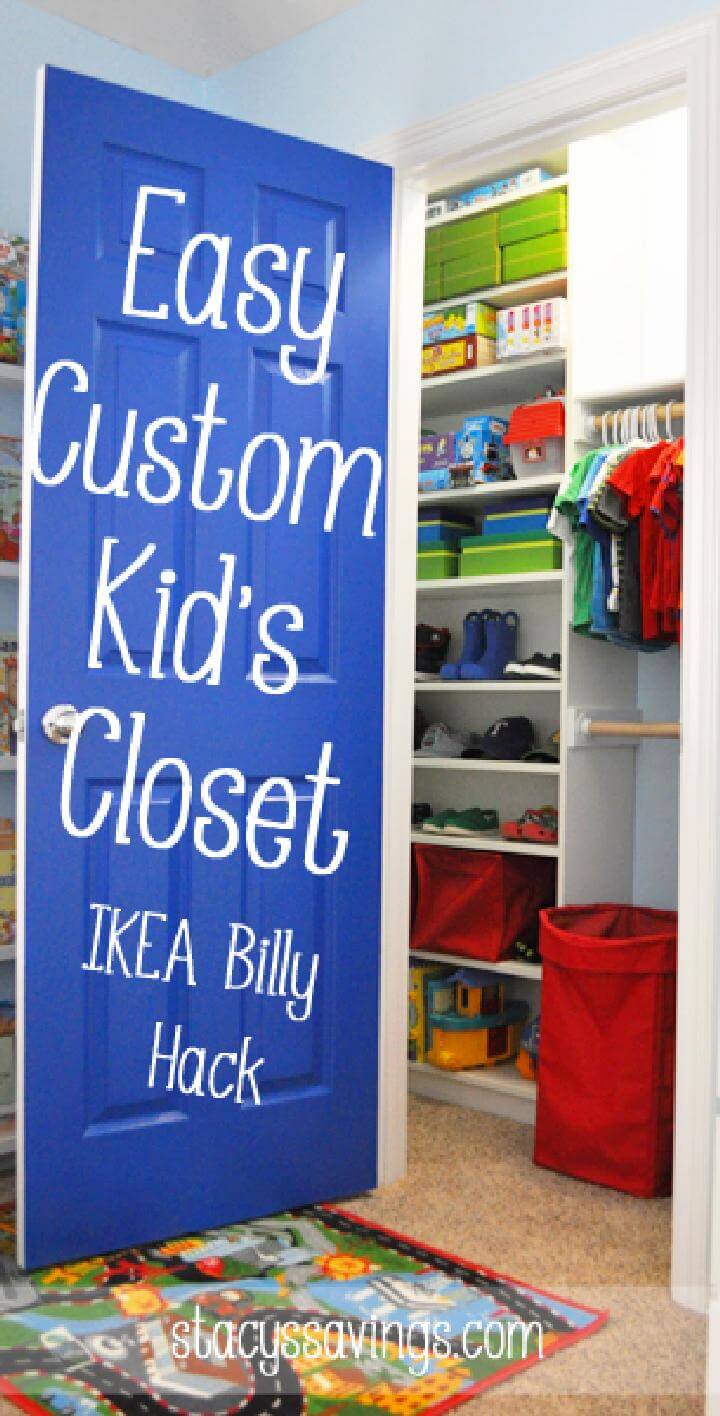 It would be like a bliss for the mothers if they could hold and house all the kid's stuff at one place like shoes, clothes and toys etc. And now every mom can enjoy this bliss with this IKEA Billy bookcase as kid's closet and that too with a door like a secret hidden compartment. So do have it in your kid's room and cut all the clutter so nice and easily. Here is the link to know about it stacyssavings
DIY Painted IKEA BILLY and Aspelund Chest Custom Furniture Hack: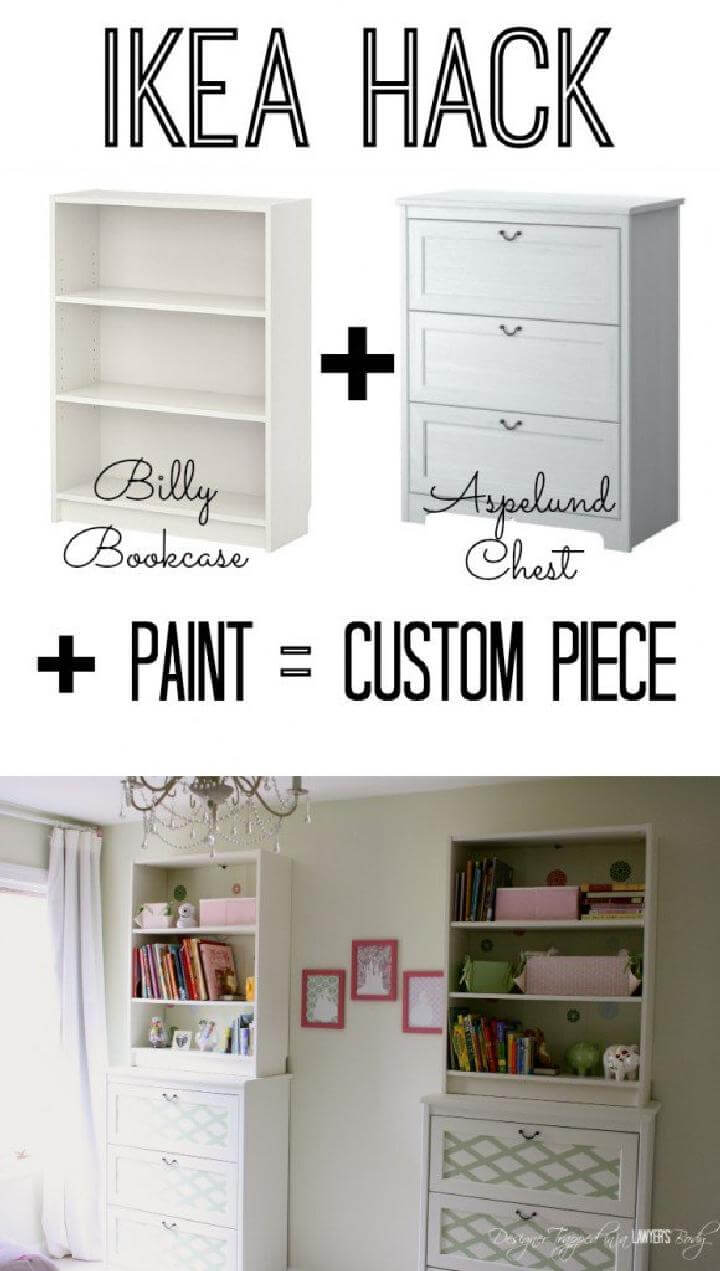 The IKEA shelves are really helping the people to get customized storage console furniture possessions and that too with personalized touches of styles and designs to make them look apt for the home decor. A perfect sample is right here with us showing how the simple IKEA Billy bookcases have been turned into the chic and modern styled chest of drawers for the rooms. Drawers with a cute painted pattern have been added to the shelves of the bookcase and its done. Here is the complete feasible tutorial designertrapped
How to add Beveled Crown Molding on IKEA BILLY Bookcase: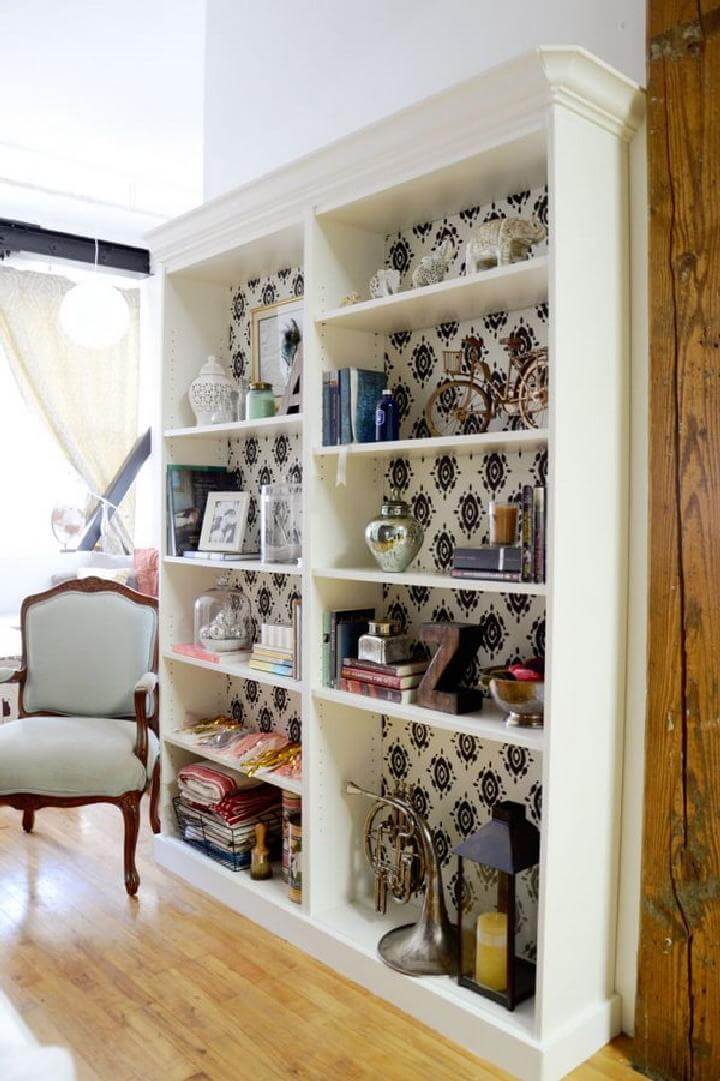 There are lots of fun ways to beautify your spaces especially when you have a creative mind with crafty hands. Here is the lovely idea of adding the double beveled crown shelves to your living or hall spaces and enhance the tidiness and beauty of it as it would store a huge amount of knick knack and some of the decorous stuff too. More beauty and style has been added to these IKEA Billy bookcases with the stenciled work being done on the back. Here is the pictorial and written instructions of this project to know it fully. Tutorial here brittanymakes
DIY Built-in IKEA BILLY Bookcases: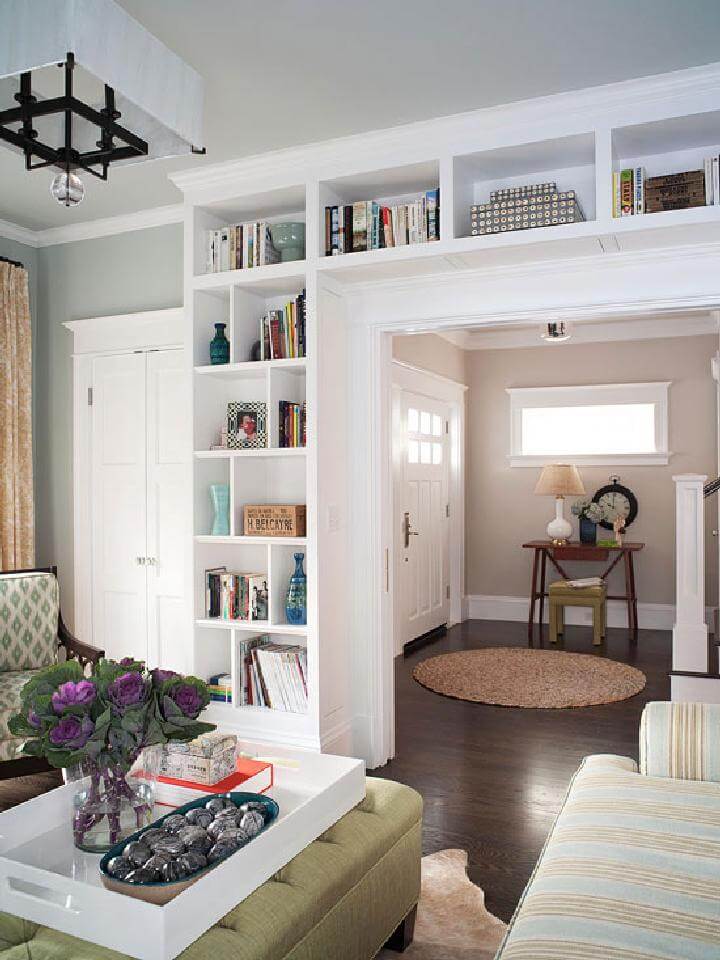 Built in shelves are the perfect kind of storage solutions for the compact and small houses and also look great when done with the great effort and smartness. And here we have this genius IKEA Billy bookcase hack for you to let you create the built in shelves over and around the room doors to store and organize a big bunch of the books, artifacts and decor pieces on them. With the tutorial guidance you can do it more easily and feasibly so browse to get the full instructions theinspiredroom
DIY IKEA BILLY Bookcase for Kid's Rooms: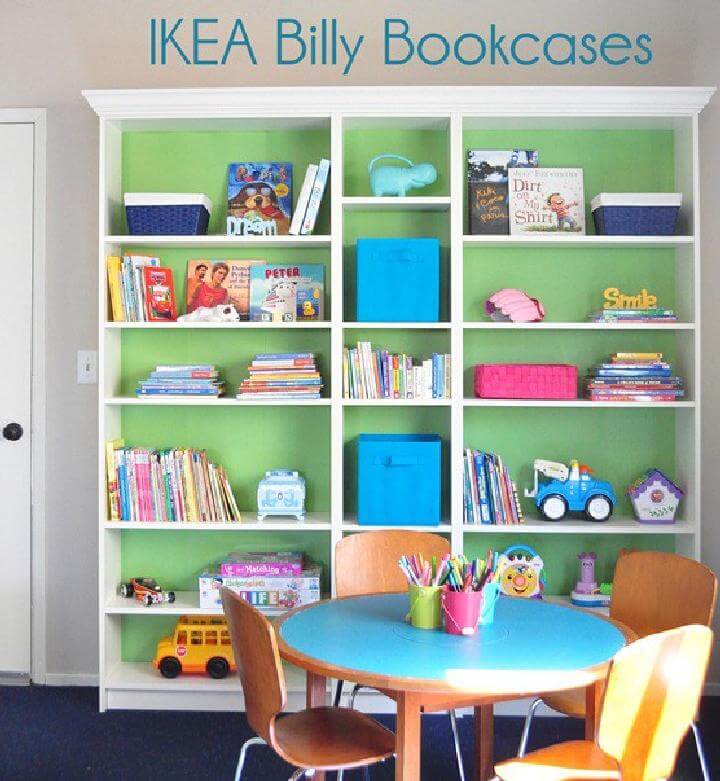 Kids rooms are somewhat hard to organize and store as there is huge bunch of the things to store and organize there. Here is this lovely IKEA Billy bookcases that you can turn into a gorgeous and functional bookshelf for the kid's room and that too with less expenditure. You have to make some efforts to make the unit look that stylish like joining them together and painting it the back with the green which really contrast so amazingly with the white. Books and toys would look great being well organized on this shelf. Full tutorial here centsationalgirl
DIY IKEA BILLY Modern Bookcase with Glass Doors: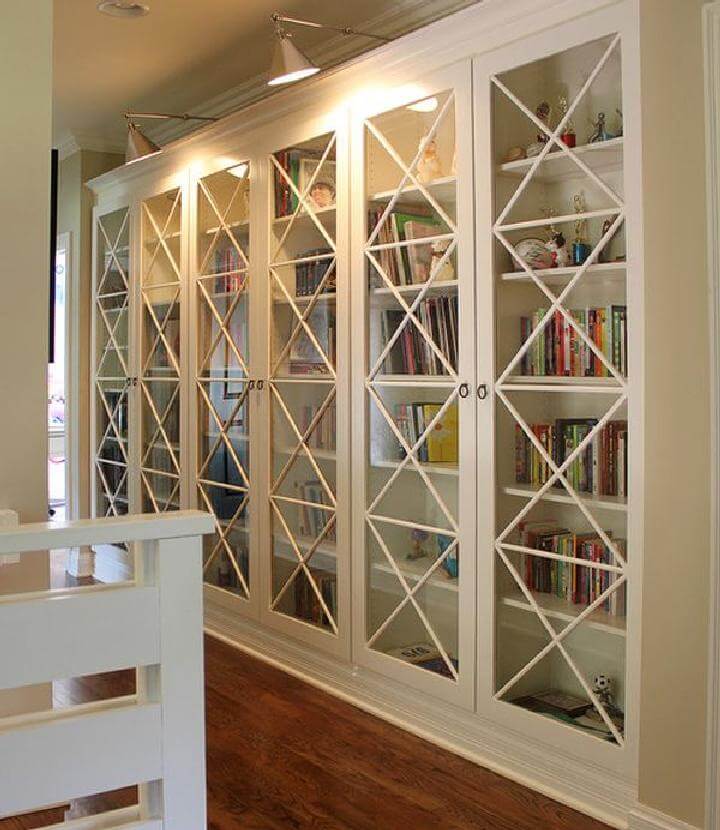 The modern IKEA Billy bookcases here have been turned into a stunning library for your house with the glass doors adding really to the beauty and style of the house. To make the library look more unique and stand out an X style motif has been added on the glass doors. And you can do it all library installation and decoration yourself so that it costs you the least. Here is the full tutorial with the details so that you can hack this amazing idea easily and feasibly. decoist
DIY IKEA BILLY Faux Built-in Bookshelf Hack: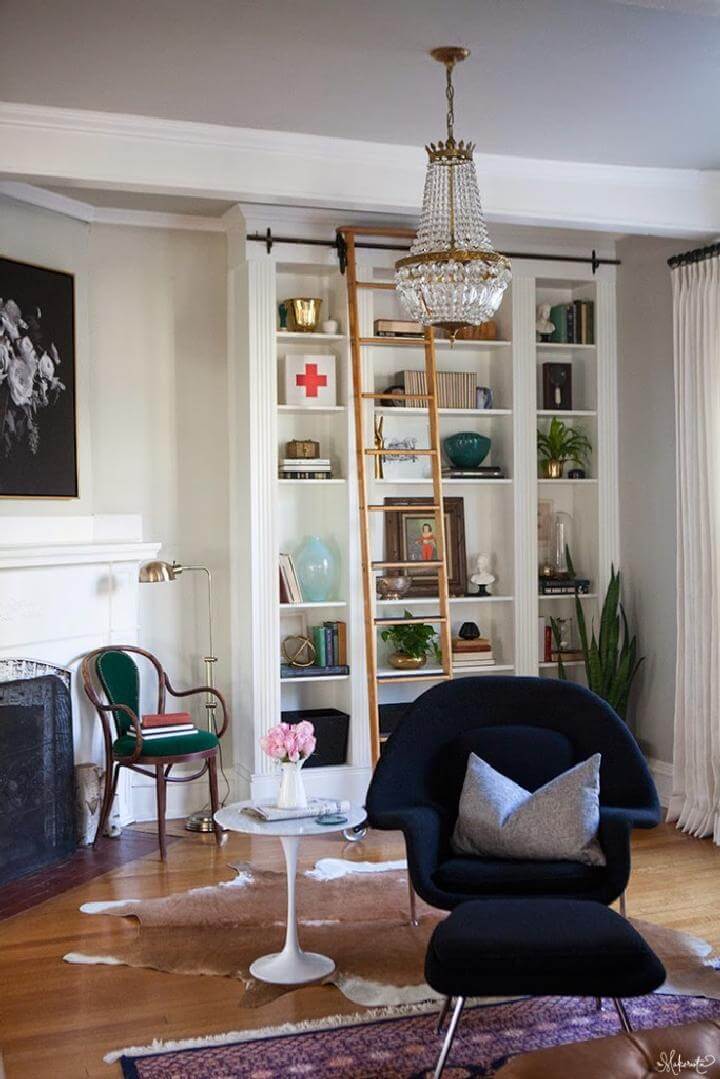 Your living spaces are undone with the decor and with the style if you are having the gorgeously designed book or displaying shelves there. What if you can do the both together and too in the most gorgeous and effortless way. Just grab some IKEA Billy bookcases and fix them on the walls with some added wood making it look like a faux built in book shelf unit. So store, organize and display and make your spaces look all spruced up. Full tutorial here themakerista
DIY Dollhouses Made of IKEA BILLY Bookcase: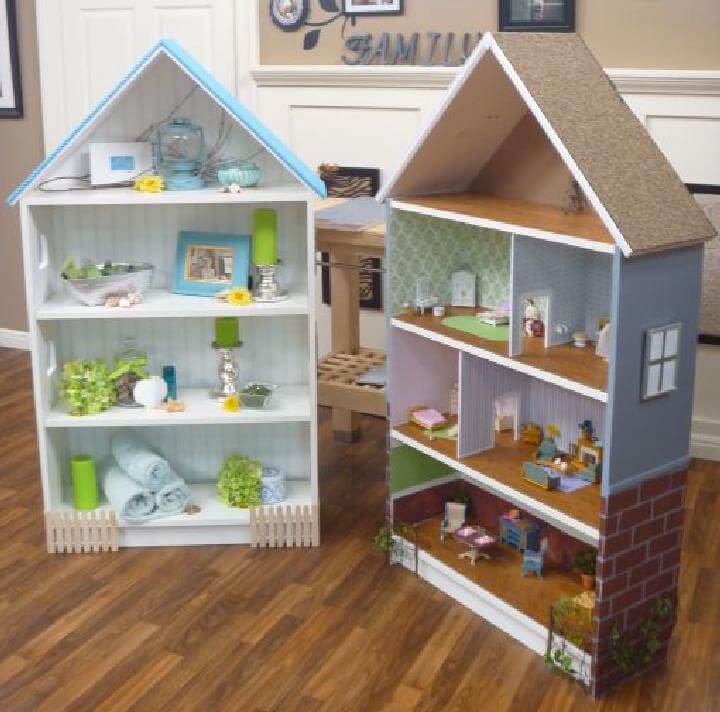 A little girl's room is just incomplete without a doll house there.  Its like the doll house is their only world they want to live in forever. So brighten up their faces with a big curved smile giving them this lovely and adorable doll house that you can easily make out of an IKEA Billy bookcase. With a little added work on the bookcase like adding the roof and some delightful paint work would amazingly transform these bookcases into the fun doll houses to make a perfect birthday gift for your little princess. See the full tutorial here tamarajewelry
DIY Amazing Indoor Home Bar Made of IKEA BILLY Bookcase: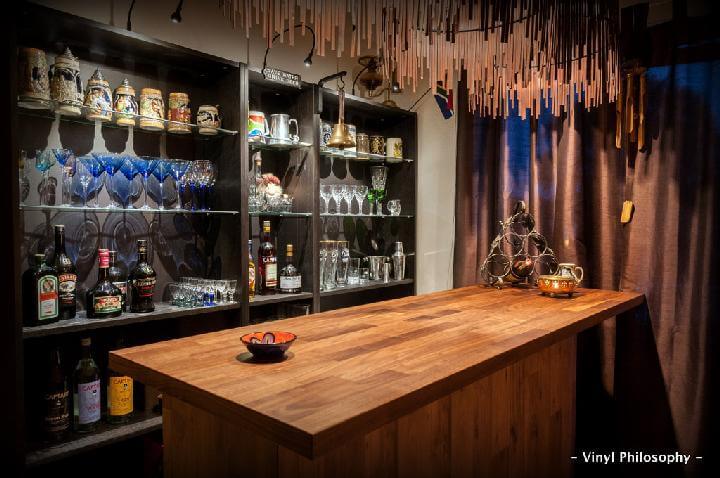 A home bar can be your ultimate entertainment center when you are not able to go out and have fun with your gang. So now its totally in your budget and approach to make a home bar and that too with professional kind of look and style. Just bring the IKEA Billy Bookcases and enjoin them to create this absolutely fun and functional bar area in your house with immense storage space for the bottles and other bar stuff. It has been stained in the black hues for that perfect intense look. See the full tutorial here vinylphilosophy
DIY IKEA BILLY Living Room Entertainment Center: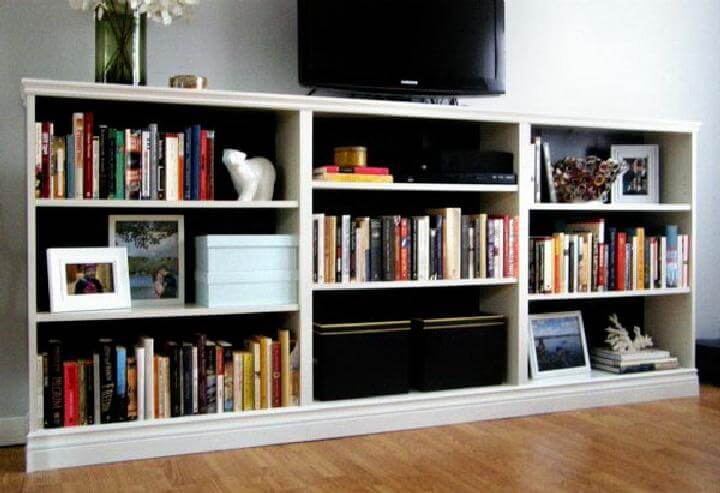 We watch TV, movies, listen to songs, read books and magazine and all this is done to entertain ourselves. So you need a large entertainment center in your spaces to house and hold all these mentioned entertainment sources in apple pie order at one place. So do it now with the IKEA Billy bookcases being nicely turned into his big size entertainment center for your living room. With its white stain hues it would be look so modern and chic in style for you spaces and decor. Full tutorial is here house-pretty
DIY Smart Transformation – IKEA BILLY Bookshelves into Built-ins: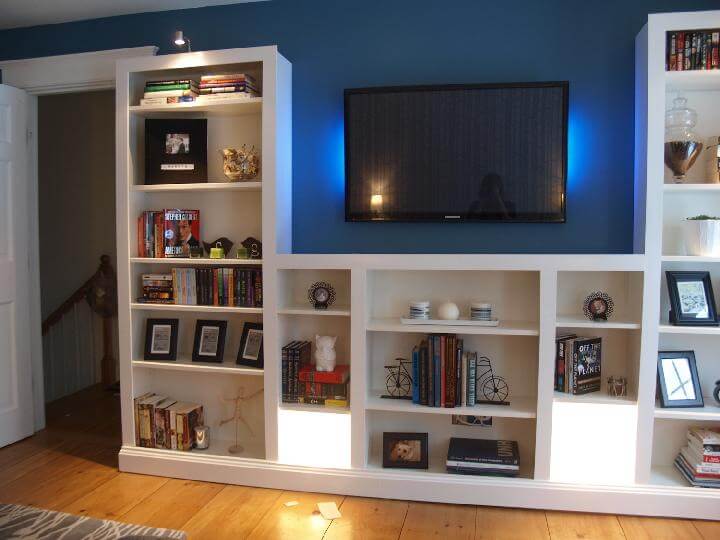 Using the IKEA Billy cases you can now solve all your storage problems and that too with least expenditure and with added personalized and customized touches. You can mold the bookcases in any of the ways so that they easily and nicely fit to your spaces. Like these absolutely functional and totally chic built in shelves have been created in the living on the TV wall with super decor goals by holding frames, artifacts, vases, decor objects and much more. So elevate the style, beauty and tidiness of your spaces of your own with details provided here imgur
DIY IKEA BILLY Arched Bookshelves: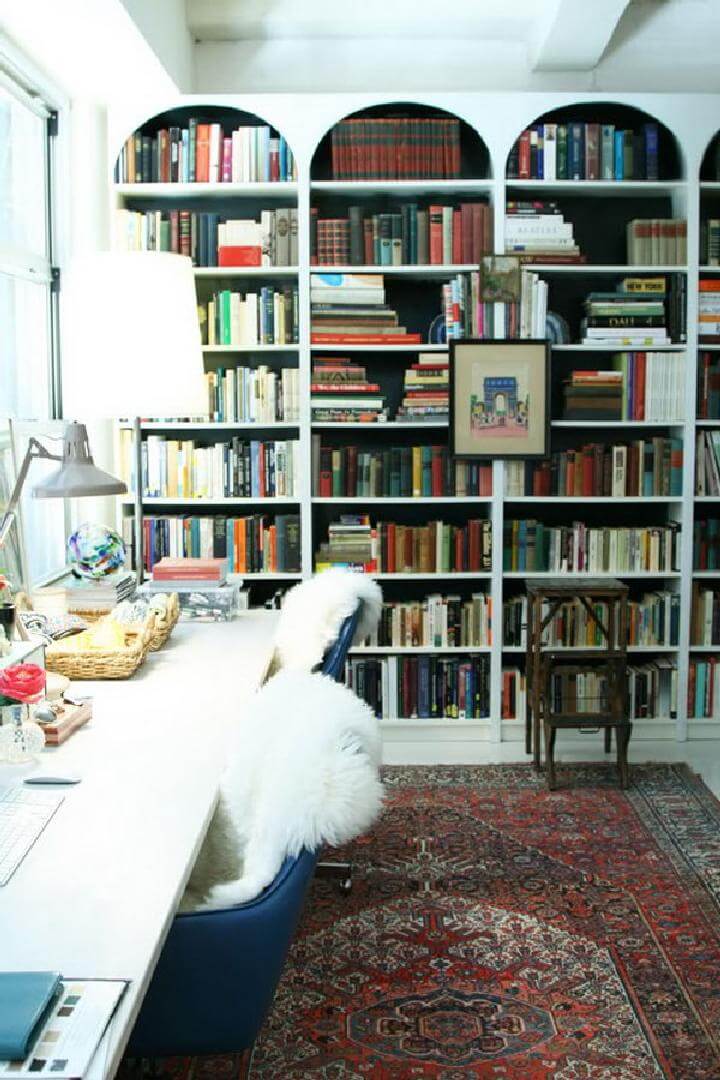 Books are love and they not only make our life incomplete but also the home decor that is why a book corner or a library section is a must addition to any house. So now you can create that professional like library and that too so much easily and nicely using the IKEA bookcases. The personalized and more professional touch added to the bookcases is the arched roof top which really makes it  look an absolute stylish, professional elegant shelf unit that we witness in the libraries. Tutorial here littlegreennotebook
DIY IKEA BILLY Bookcase Castle with Upper Play Deck: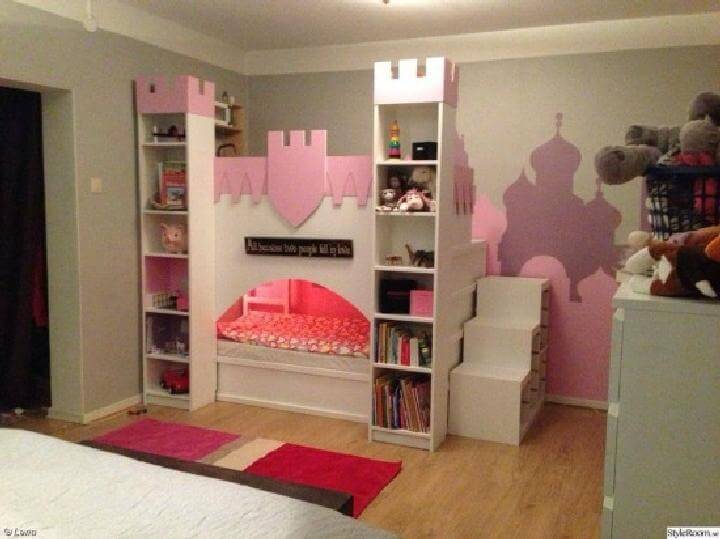 kids just love to have themed rooms and and castle is one of them. Especially the girls feel like the princes of the castle and really adore the theme. And now without going high on your budget you can fancy up the room of your princess by creating this lovely castle with bed having the IKEA Billy bookcase being used as the castle pillars. She can not only enjoy being in the castle but also organize a huge amount of of her stuff like books, toys and decor in these bookcase shelve. See the tutorial here  and give your girl's room a fairy tale look ikeahackers
DIY Convertible IKEA BILLY Princess Row House: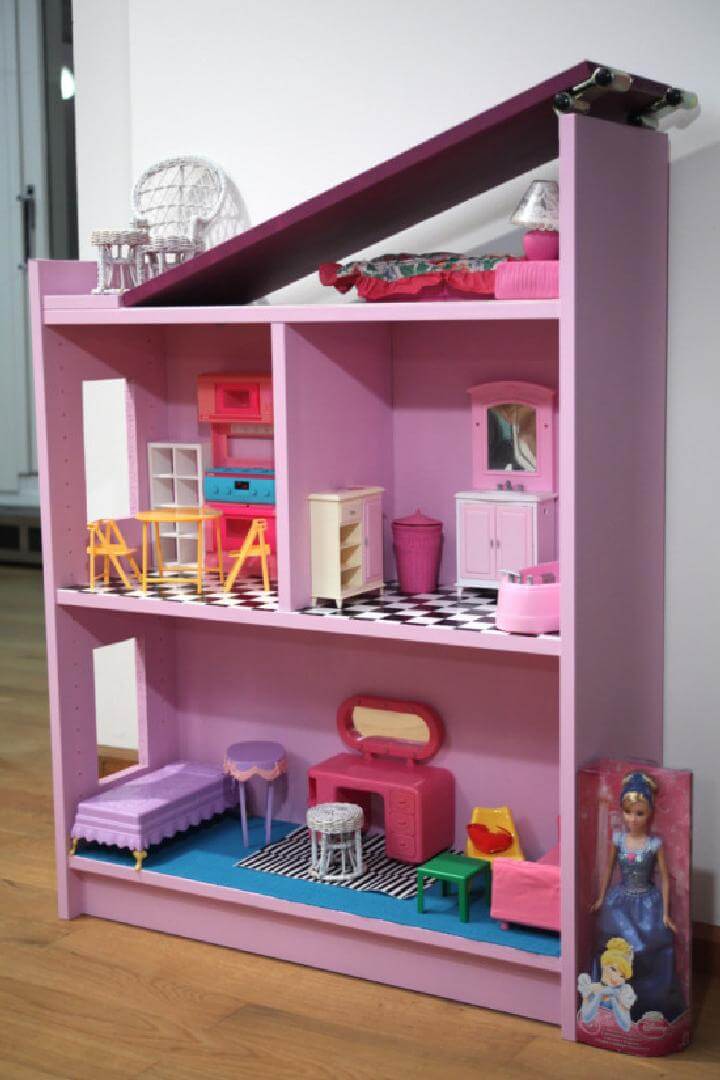 With a little fun additions to the IKEA Billy bookcase with the wooden pieces you can easily transform it into a foll house for your little girl that you can adore in her room and play with it. Unlike the expensive doll houses in the market this would be really in your budget to build but can beat those professional doll houses with its utter beauty and cuteness. Being the favorite color of the girls this lovely doll house has been made to look more fancy and girlish with the pink stain hues. See the tutorial here ikeahackers
DIY IKEA BILLY-BESTA Bookshelf Wall with Pink Backing and Brass Lighting: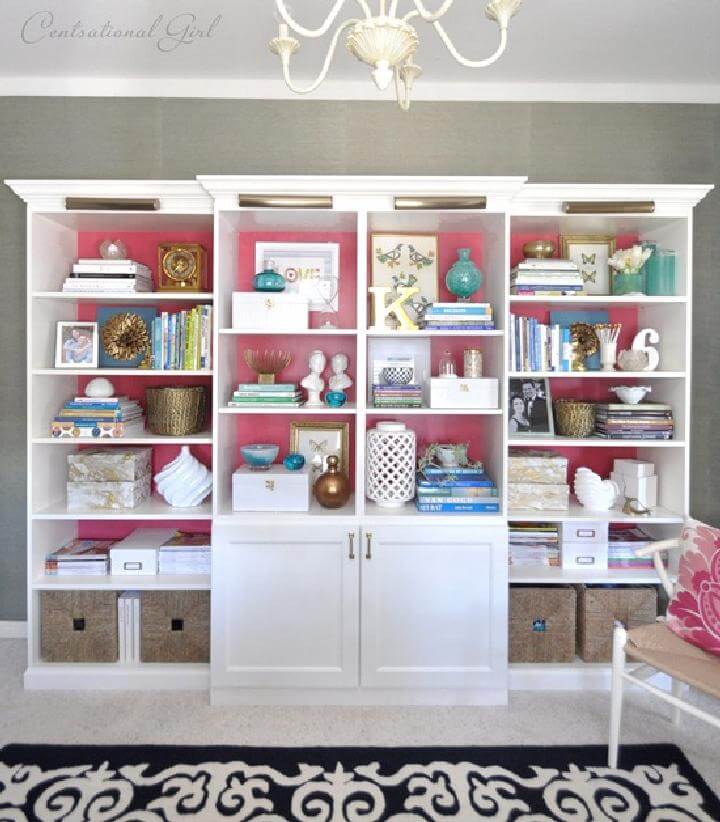 If you want to refresh your home decor especially of the spaces that are most visited like the hall and living room area you really need this IKEA Billy bookshelf hack. Using them together this lovely wall of shelve has been created with the pink background and brass lightning adding icing on the cake of the decor. Almost everything from your necessities to knick knack and from artifacts to decorous objects all can be housed so nice and easily over this Billy transformed shelf unit. Here is the full tutorial to know this project step by step ikeahackers
DIY IKEA BILLY into Arcade Game: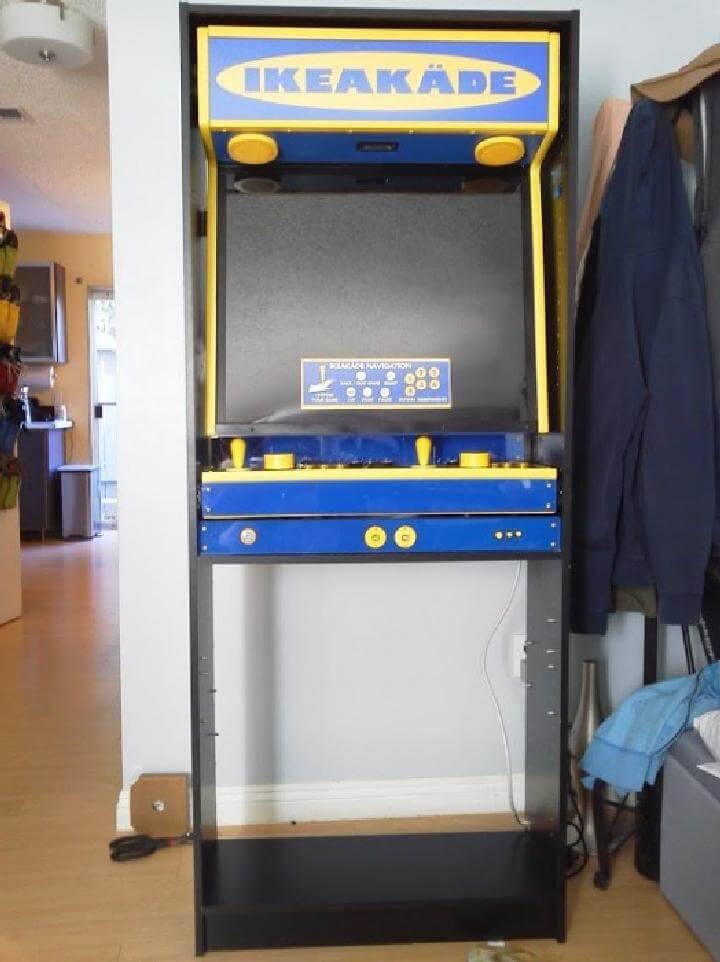 Like the IKEA Billy shelf has been turned into the pretty doll houses to please the little girls so its time to delight up the boys too and they are in immense love with the games so here is this lovely Arcade game made out of the same Billy bookcase. You can have all its details and instructions right on the given link so that you can copy the easy steps and make it yourself at home in the boy's room. Link is here ikeahackers
DIY IKEA BILLY Bookshelf into Shoes Rack: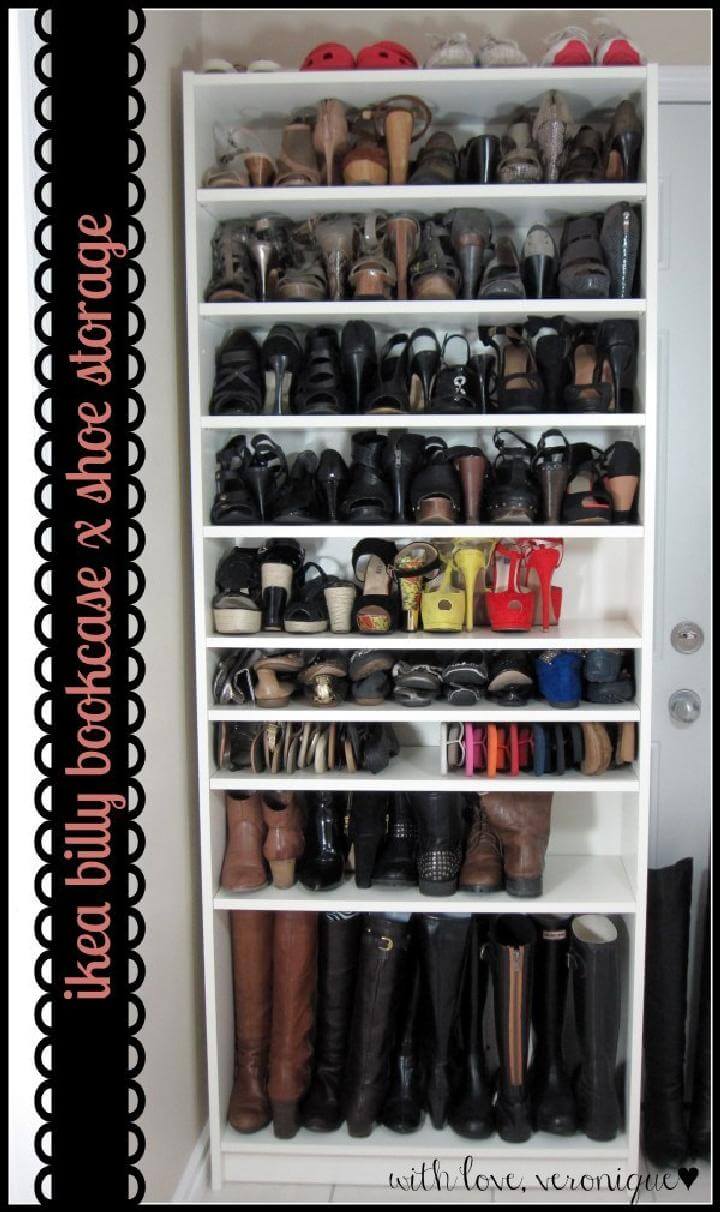 Women just love their dress up accessories but there is one particular item they are crazy for like bags, shoes or the jewelry. So if the fashion diva inside you is addicted to the shoes and have a huge collections of them, she really need this IKEA Billy bookcase being turned into an awesome shoe storage rack, It has plenty of space to house all your footwear so nice and easily on its shelves and thus you can easily organize and clean up your room. Tutorial help herewithloveveronique
DIY Amazing and Creative IKEA BILLY Bookcase Mudroom: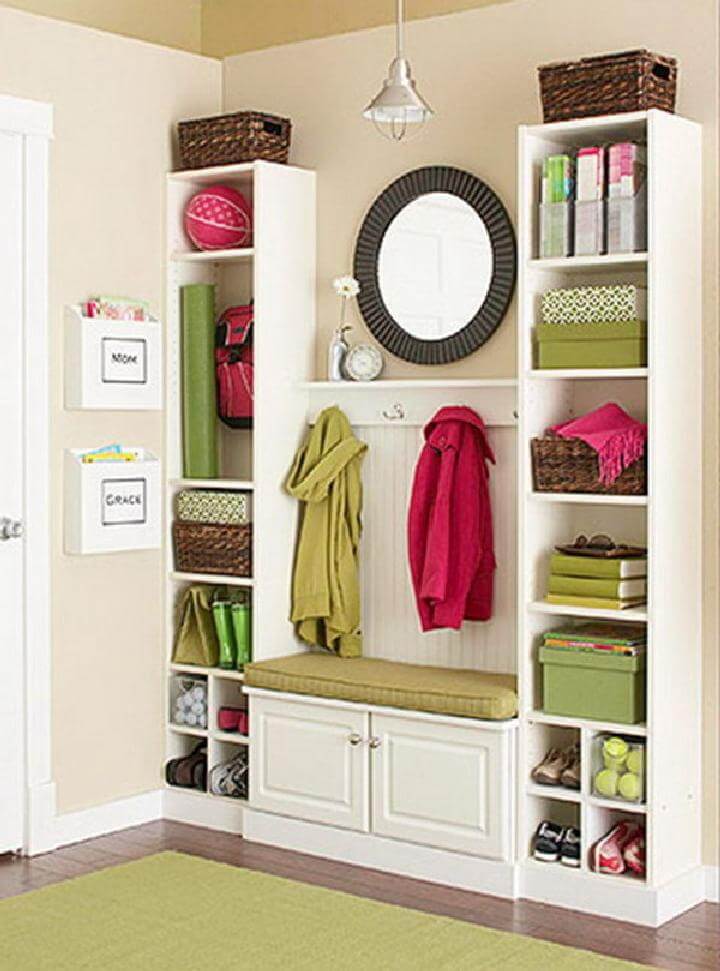 Shoes, bags and coats are the things that seem to be scattered all over the places when the family is back from the outdoor visits. So you really need to make some quick and permanent arrangements for the organization of your mudroom so damn perfectly. Here we are sharing this lovely idea of IKEA Billy Bookcase being molded into the lovely and functional mudroom storage unit with shelf boxes for shoes, hooks for the coats and lockers for the bags. A seat has also been arranged to let u sit and get ready easily in the mornings. Check out this immense functional idea in detail here sandandsisal