If you have been looking to remodel your outdoor or indoor decor, you can get plenty of amazing furniture ideas by exploring through our collection here! We have rounded up some quite easy to build and cherish-able 30 free Ana White plans that you can build by yourself! If you have a thing for a farmhouse-inspired design, their sturdiness and broad featured angles inspire you. You can explore through our exciting farmhouse furniture designs below too! From farmhouse beds to outdoor picnic table, outdoor bench, one arm sofa, we have got plenty of exciting decor upgrades waiting for you and featured on the Ana White plans list!
Even if you are not a pro at woodworking projects, you can still get many easy to build furniture ideas. Most of these Ana White plans are made using a few simple tools like a hammer, nails, screws, drills, or other basic tools. Plus, all of these come with a complete step by step guide, video tutorial, materials list, cutting lists, and some great insights on how to do it like a pro that you can quite easily nail any of these. From your backyard chicken coops, bedroom panel beds to outdoor benches, and entryway decor, there are plenty of farmhouse decor ideas to spruce things up at your home! Let's have a look.
1. Rustic Three Drawer Nightstand
This rustic farmhouse-inspired nightstand is made using shelf lumber with some basic tools. Hence it is quite easy to build and add a perfect rustic character to the room. The back of this nightstand is made by 1/4″ of Plywood. Get the free printable woodworking plans on ana white
2. Modern DIY Kids Bookrack
To inspire book reading in your kids, along with the attitude to keep the books back in the right place, make this absolutely pretty DIY mid-century inspired modern bookshelf. The height of these things is low enough, so kids can easily access it. jaimecostiglio
3. Build a Kids Treehouse
We are sure all of us been through the beautiful evenings and quite book reading days of a soothing treehouse! With this Free Plan by Ana white, you can build your kids this absolutely stunning tree house by using cedar fence pickets. ana white
4. Outdoor Cabana Bed for Your Backyard
Are you looking for some soothing and cozy Me Time? When the kids have fallen asleep, and the dishes are all washed? Check out this super mesmerizing outdoor cabana bed for Backyard that you can easily build by yourself! Make it your personal version of a lazy lounge. jaimecostiglio
5. Garage Shelving Using Only 2x4s
The messiest of the places in almost every house is the garage! With all the stuff piled over one another and the real chaos arrives when you have got to find something out of that! Make these super handy garage shelves using only 2x4s. ana white
6. DIY Plywood Miter Saw Cart
If you have a shed or space allocated for storing your tools, you can totally add this miter saw a cart with extending leaves and rolling wheels to it! Save yourself some more money by using a single sheet of Plywood. Get full details here. ana white
7. SandBox with Built-In Seats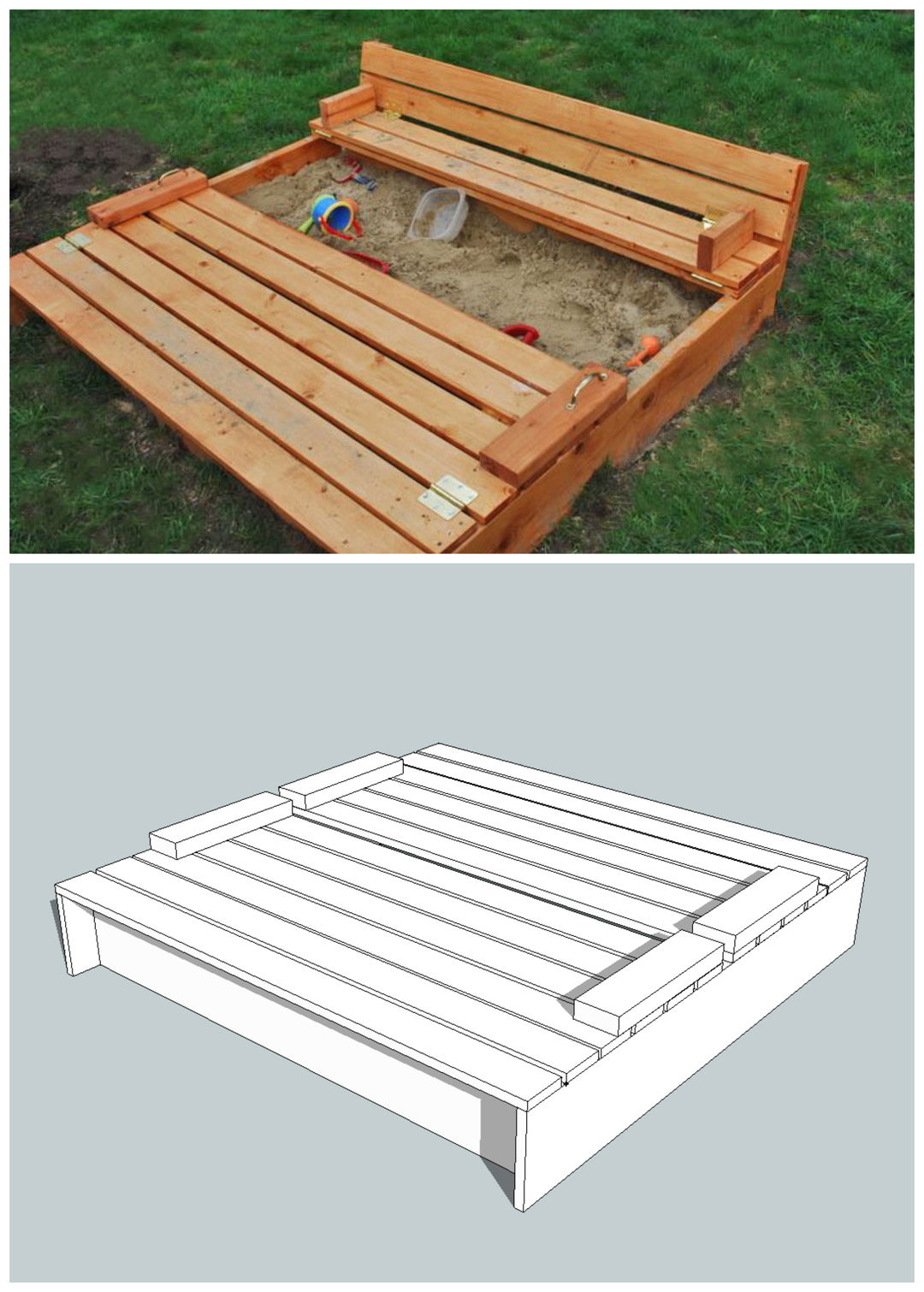 This super easy to build a sandbox with built-in seats has been a hit for quite some time now. Adding lids to a sandbox is a must, but when you add double duty lids, they can also come in handy as perfect convertible seats! ana white
8. Ana White Tiny House Plan
If you have a thing for trailing and traveling more often, this tiny wooden house plan by Ana White is going to change and upgrade your on-road life! It is sure a bit difficult to make, but it comes with all the amenities, including the bathroom as well. Check out the full plan here. ana white
9. Farmhouse Storage Bed
The beauty of farmhouse furniture is its sturdiness and the added benefit of working around extra storage! This farmhouse bed features extra storage and storage shelves. This could especially be perfect for a kid's room and the extra needed storage. ana white
10. Vegetable Storage Drying Rack
We are totaling drooling over this DIY vegetable rack with pull out trays! The size of these trays is such as that they can easily handle 4" tall produce or bought vegetables or fruits! If you have proper storage available, you can easily manage and enjoy fresh fruits and vegetables for a complete winter. ana white
11. Build a Simple Outdoor Bench
Bring a vibe of contemporary to your outdoors with this DIY outdoor bench. This outdoor bench features a slated top, and it can be used as a dining seating or a simple bench too in the outdoors. You will need 4 – 1×3 Boards and 4 – 1×4 Boards. ana white
12. Ana White Farmhouse Bed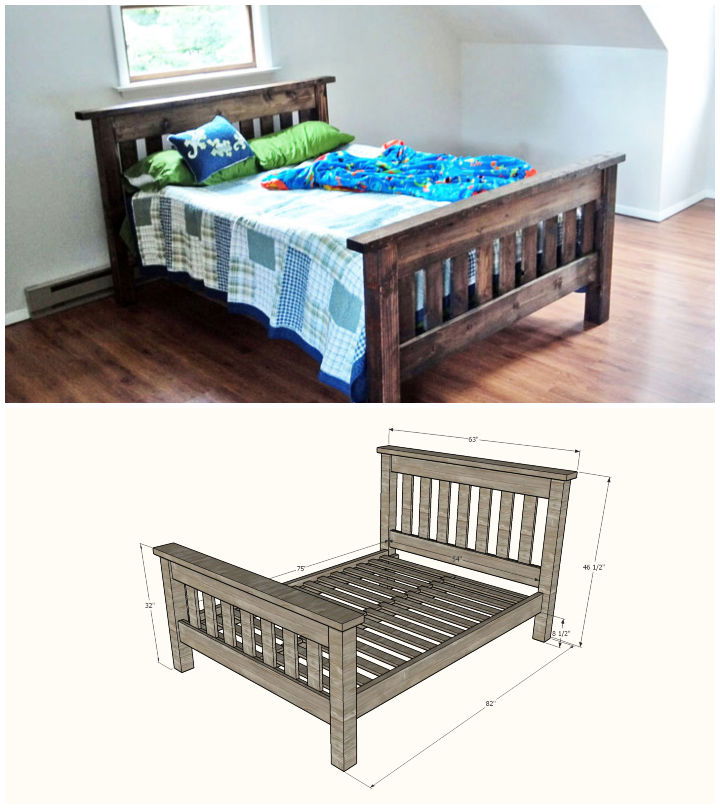 This full-sized bed frame is made using standard 2x4s and other dimensional lumber pieces. It is quite simply put together using simple and basic woodworking tools and techniques. Save yourself some tons of money and build this in just under $100. ana white
13. Pine Board Vertical Toy Box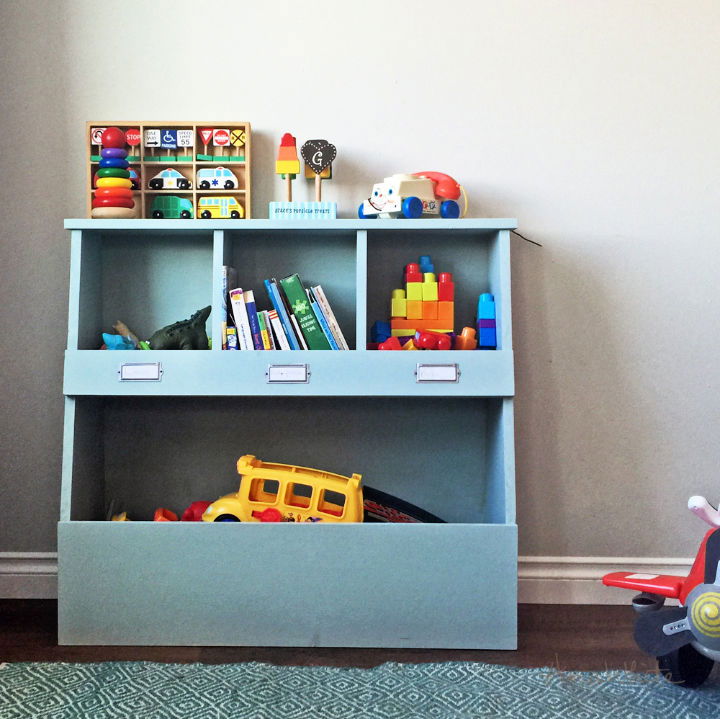 This vertical toy box made with pine wood with ample storage space available is going to save you so much time picking off the toys from the floor and corners of the house. It features storage shelves and dumps storage so kids can easily pile up their toys in it. ana white
14. Make Wooden Closet Shelving

This wooden closet shelving is quite easy to build; you can comfortably customize it is totally budget-friendly. One linear foot's cost is around $10, so you can manage the foot shelving s per your requirements. If you want a freestanding closet, here's your option. ana white
15. Farmhouse Dining Table

Here's your chance to build a rustic dining table! Inspired by the broad and wide features of farmhouse design. This one is a keeper! It is made using two basic tools drill and saw on the 12 pieces of 2x4s lumber. ana white
16. Build Your Own Greenhouse

Build your very own and super sturdy greenhouse! This DIY greenhouse features 12′ long pieces of corrugated metal roofing for the side walls. It features 3 to 12-foot-long tin panels for side and back. Get the full plan here. ana white
17. Triple Pedestal Farmhouse Table

Another perfect, stunning, and exquisite farmhouse table featuring triple pedestal. This flawless table is hardly going to cost you around $125. All of it is made using shelf lumber! It can surely bring a lot of character to any room with its giant three pedestals. ana white
18. DIY Planked Wood Headboard

Bedroom upgrade alert! We are totally loving the serenity of this wooden headboard. It is bringing a lot of character to the room and looks totally stunning. The basic tools you are going to use for this one are simply some hammer and nails! Transform your room in just a few hours. ana white
19. Ana White Twin Farmhouse Bed

Are you looking to revamp your kid's bedroom decor? Have a look at this super perfect and sturdy farmhouse bed in twin sizing! It is featuring quite an elegant styling, sturdy outlook, a sustainably large headboard, and substantial legs! Get the full guide in the tutorial. ana white
20. DIY 2×4 Adirondack Chair

Adirondack chairs are classy outdoor décor furniture items! Their inclined backrest, an added footrest, and wide arms make theme exceptionally relaxing for a soothing Me Time! This tutorial features easy to build 2×4 Adirondack chair plans for cozy reading time. ana white
21. Farmhouse Hall Tree

This whimsical farmhouse tree is showcasing the flawless work of Pure Bond Plywood (which you can easily find at any Home Depot store). While you can find a piece similar to this in the market worth $1400, you can actually make this all by yourself in just $120. shanty 2 chic
22. Mini Fridge Cabinet With Microwave

Here's a perfect idea for maximizing the space around your dorm room or your guest room with this barn door cabinet that holds a mini-fridge and a microwave. It is not just sized for these two, but you can actually fit in your snacks too and use the top shelf as your coffee maker holder! ana white
23. Chicken Coop with Planter

Building the right chicken coop is as important as anything else! Keeping your feathered friends happy with your aesthetics in check is not so tricky after all with this chicken coop with a planter idea! Featuring a 23 sq. foot run, planter and sturdy nesting box with a door. ana white
24. Ana White Coffee Table

This absolutely unique Ana white coffee table that you see here is hardly going to cost you around $60. It will bring some substantial feels and character to your living room! With its double shelf storage option, makes it quite functional with style in check. ana white
25. Homemade Farmhouse Toy Box

If you are looking for economical and functional ways to manage the toy tsunami in your house, this farmhouse toy box is here for the rescue. It is built using some common pine boards!  And has this lid to keep all the pile hidden! Pro-Tip; cut the boards with a miter saw or circular saw. ana white
26. Panel Bed for All Mattress Sizes

Check out this uber chic and vintage panel board made using simple tools, including a circular saw or a drill. All the materials included and this sturdy panel bed is going to cost you just $120. The tutorial has a detailed step by step video featuring all sizes of mattresses. ana white
27. Bathroom Ladder – Over the Toilet Storage

If you are not someone who likes drilling holes in their home or if you have limited space available in your bathroom and there's no chance for a vanity! Check out this bathroom ladder shelf, leaned storage shelves to hold your toiletries, towels, and other stuff quite perfectly. ana white
If you need some farmhouse style bathroom vanities then you must check our 26 Free Plans to Build a DIY Bathroom Vanity from Scratch.
28. How to Build Kids Picnic Table

If you or your kids have this "Host" feelings oozing inside, you must love building this picnic table and giving your guests the perfect seating area! This super sturdy picnic table is large enough even to accommodate an adult. Get the full free ana white plans here. ana white
29. Laundry Basket Dresser

This laundry room dresser can be your big-time life savior without any doubts! It offers many shelves, and you can easily sort out laundry in the baskets right there and then. Your laundry baskets will be like a chest of drawers! ana white
30. One Arm 2×4 Outdoor Sofa by Ana White

This outdoor sectional is made using some simple 2×4 s! With this one arm sofa plan, you can turn your outdoor one arm sofa into a cozy and spacious outdoor sectional. The tutorial suggests using glue at all joints! Hit the tutorial for a full plan. ana white
Best and Free Ana White Plans That You Can Build By Yourself:
As promised, you must have seen how, by putting in some DIY effort, you can elevate the overall farmhouse decor appeal in your house!  The best part is you can actually make such pretty things all by yourself, and they are going to cost you just a fraction! Manage your bathroom storage, kid's toys storage in the most innovative and aesthetically befitting ways! All these best DIY furniture ideas are featured on the Ana White plans list.