If you are working in a well decorated and pleasing environment, then you will like to sit there for doing more work resulting in more significant outputs! Whether you work in an office or do the rest of the tasks in the home office, the only item you can focus on to make your workspace overwhelming and precious would be a desk! This statement is so true also for students and study desk! Turn your boring home or office desk from boring to pleasing by just doing some fun Easy Crafts! Here are some cheap and insanely creative Fun DIY craft projects to do for your Desk that will do nothing but will make your desk spell-binding!
The items you mostly see on the office desk, no matter functional or decorative, you can craft them all at home using your genius mind and some cheap materials! Whether you are willing to put a decorative vase on your desk or just intending to populate your desk with some eye-popping organizers, there are amazing crafts for teens for each given in the list!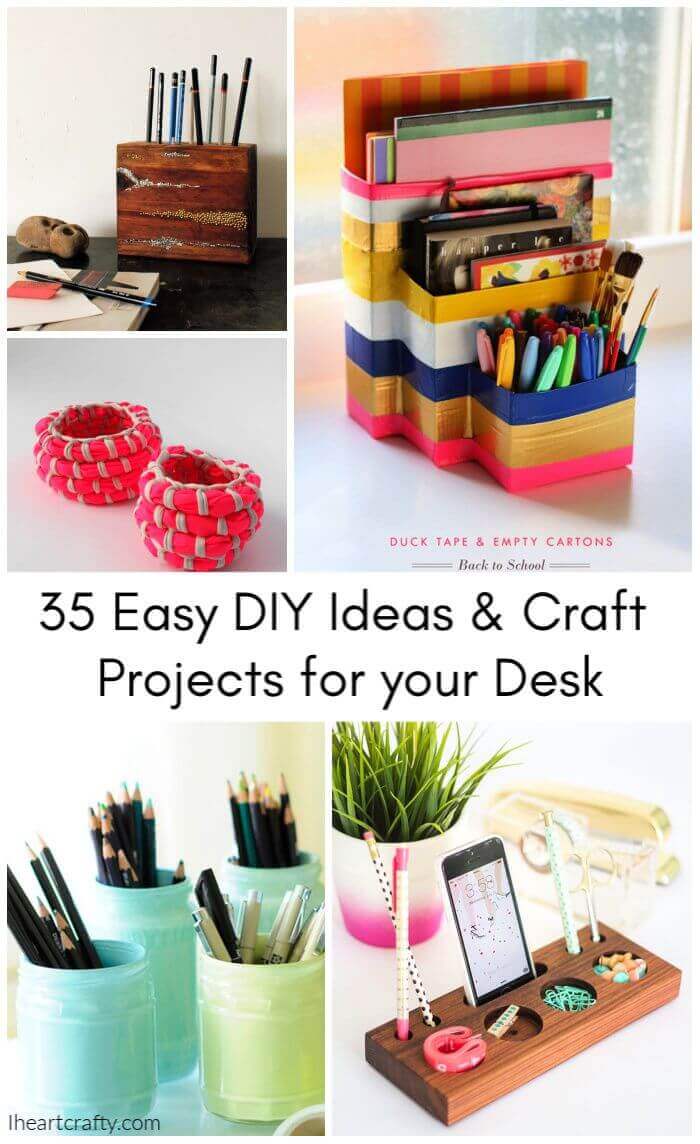 Make a decorative statement of your desk with color block desk accessory holders made of the cardboard tube with magnets mounted to their inside! Bring eye-catching colors to your desk using neon bowls; you can easily weave using fabric or t-shirt yarn and neon cord! Organize your desk accessories also with pastel painted Mason jar organizers, would be free to get your hands on! Cover also the cork boards with fabric and make brilliantly colorful desktop coasters for free! Give your old basket a few coats of metallic spray paint, and they would ready to go on your desk as modern organizers!
DIY Home Decor Ideas You May Like:
Grab an old drawer and create sub storage compartments in it using cereal or pasta boxes, now start using it as a cool desk organizer built at no-cost! Get crafty with the junk and craft outstanding memo boards for your desk and also the gorgeous wooden pencil holder, see some cool samples given below! Add custom logos to stackable glassy letter holders and use them as ultra-modern desk organizers!
Bring great fun to your home or office desk using the Lego man cable holder, a super fun way to handle your computer cables! Drill custom holes and cut out slots according to needs in a single wooden plank and you are made to have a very modern desk organizer right on your desk! Put together the cardboard boxes of different sizes and hold them together using colorful strips of washi tape wrapped all around them, another cool desktop organizer is ready at zero cost!! Mount different cylindrical items from junk on a wooden plank and then gold spray paint it, an Anthropologie inspired organizer would be ready to spruce up your desk!
Check out more by browsing the given collection! Do check the given source links for tutorial guides and step-by-step instructions for each particular project!
Magnetic Colorblock Desk Accessories:

Make outstanding desktop accessory holders in no time. Grab the cardboard tubes or paper mache boxes and paint them for amazing color-block appeal using your favorite paint shades and masking tape.
Next glue the magnets to their inside to make them capable of holding the metallic accessories on the top like thumbtacks, paper clips, standard pins, etc., you are often to use while operating your computer on your desk. Complete project details here earnesthomeco
Make a Fabric Coil Bowl:

Willing to add some enchanting colors to your home office desk? What you think about adding a visually captivating neon delight? Just grab some fabric which you can make by cutting longer stripes of your old t-shirts, tablecloth, and any other fabric scrap.
Next you simple coil your fabric yarn making a bowl and the final step would be to weave the coiled bowl using the neon cord of any color you like, it should go best with your fabric yarn.
These fabric coil bowl will make a unique desktop décor and will hold your desktop accessories too like washi tape rolls, ribbon rolls and other items of interest.
Complete step-by-step instructions here we-are-scout
Painting Pastel Glass Jars:

Having nothing to do special with your empty Mason jars? Why not just paint them beautifully to turn them into beautiful desktop organizers or stationery holders.
The idea to pour some paint inside the glass jars and then to shake and swirl the paint smoothly so it will stick to the entire inside of Mason jar, creating a visually pleasing look of your jar.
Next, fill them with your items that need some storage space. Check out the complete project details and step-by-step instructions here kootutmurut
Fabric Covered Cork Board Tutorial: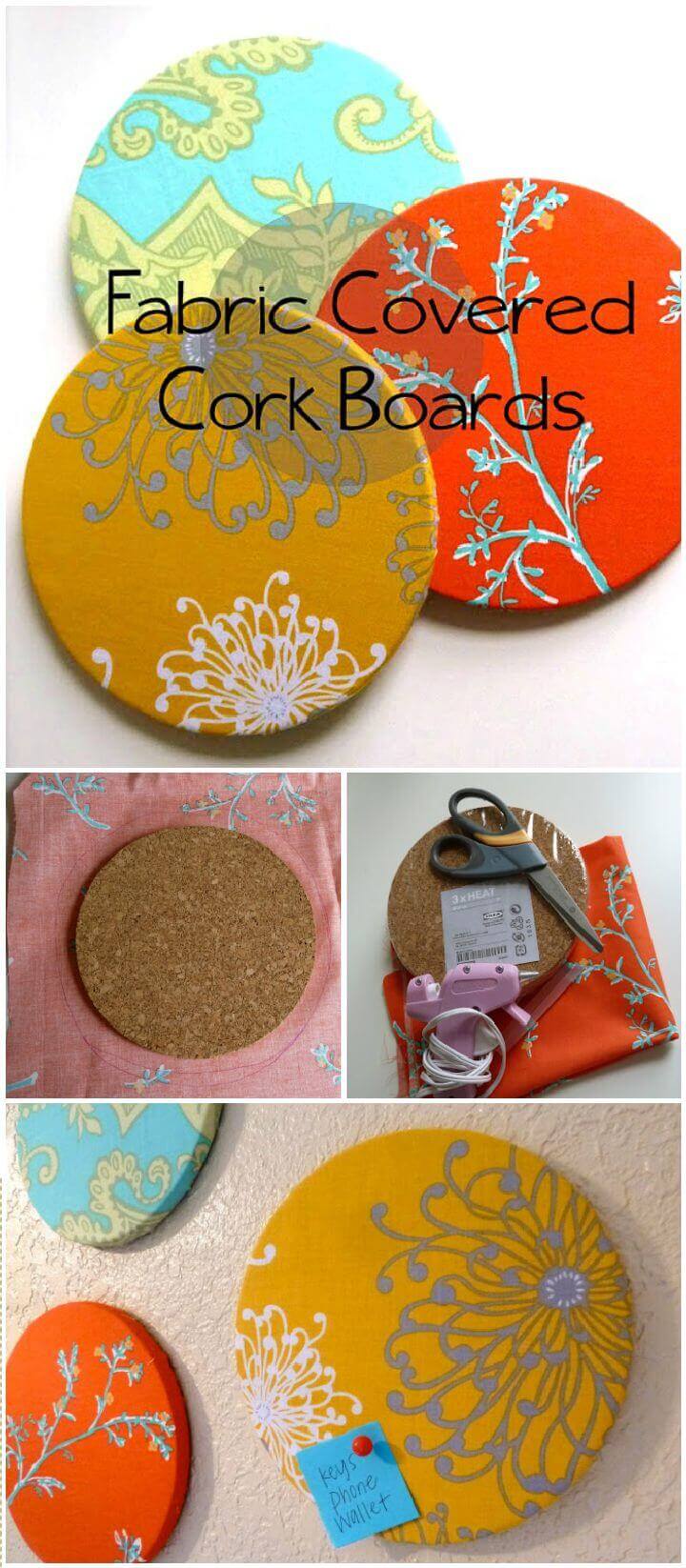 Go handmade with some cork heat boards and turn them into beautiful corkboards for your desk.
There can be several different options to turn them pretty and beautiful as you can paint them, can stencil them or can dye-dip them but the super easy and smart way would be to give a fabric cover.
Just spread glue all around the cord boards and then cover them with your favorite piece of printed fabric cut in round shape. Leave an extra inch to cover the edges of cork boards nicely with fabric.
Grab complete project details and step-by-step instructions here sewmuchsunshine
DIY Painted Berry Baskets: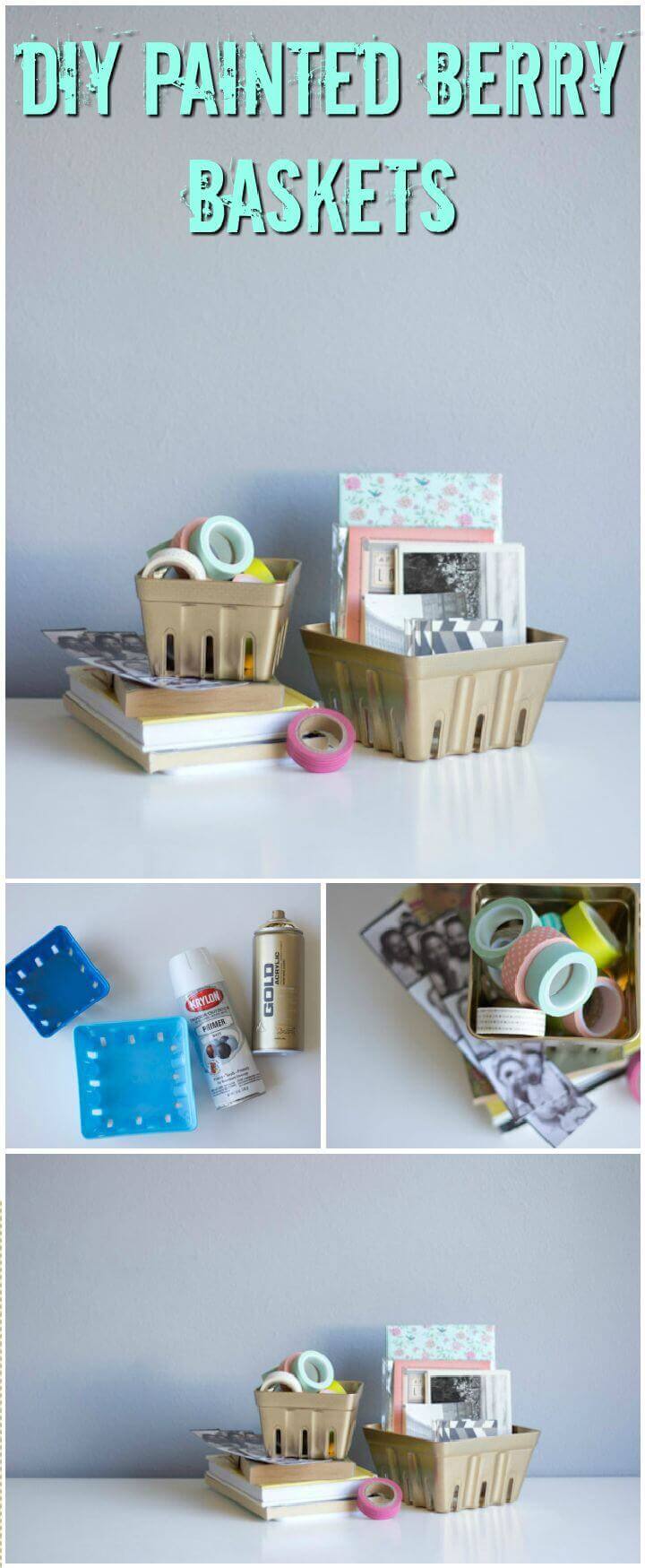 One more beautiful desktop organizer made out of recycled materials.
Here empty berry baskets have been reclaimed and spray painted to transform into a beautiful desktop accessory holders.
Go with any paint shade you like, the metallic shades like brass, gold, and silver would rock as you can see.
Another no-cost desktop organizer and décor project. You would find project details and step-by-step instructions here lovelyindeed
DIY Cereal Box Drawer Dividers: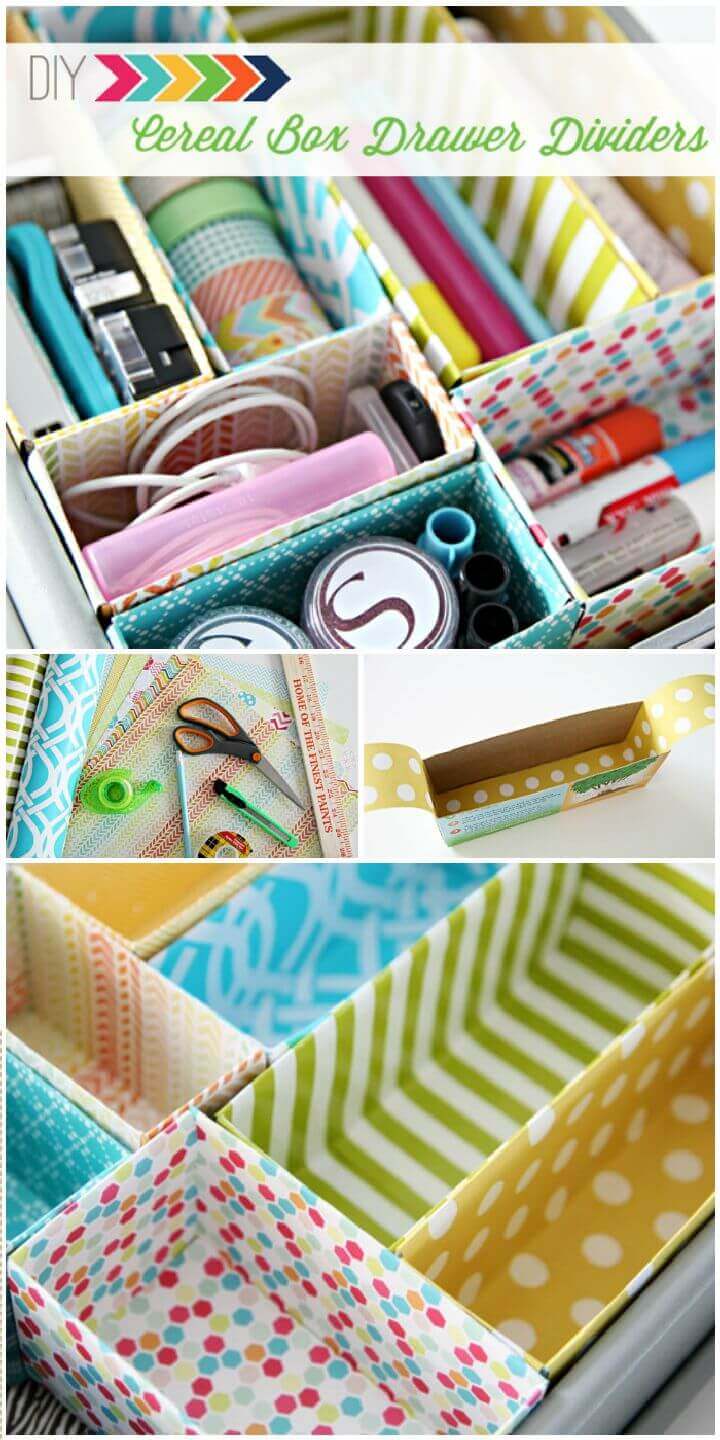 Time to live more with your scrapped away drawers. Just repurpose them for storage purposes and let them be back to storage services again.
So, why not reclaim your old drawers for making cool desktop organizers at zero-cost? Get inspired by the given sample made of an old drawer and with some empty cereal boxes.
The drawer serves as a primary organizer while the cereal boxes fixed inside neatly are the dividers that give multiple built-in compartments in the drawers for storing different items of need and interest separately and neatly.
Catch all the project details and step-by-step instructions here iheartorganizing
DIY Project Hanging Notepad: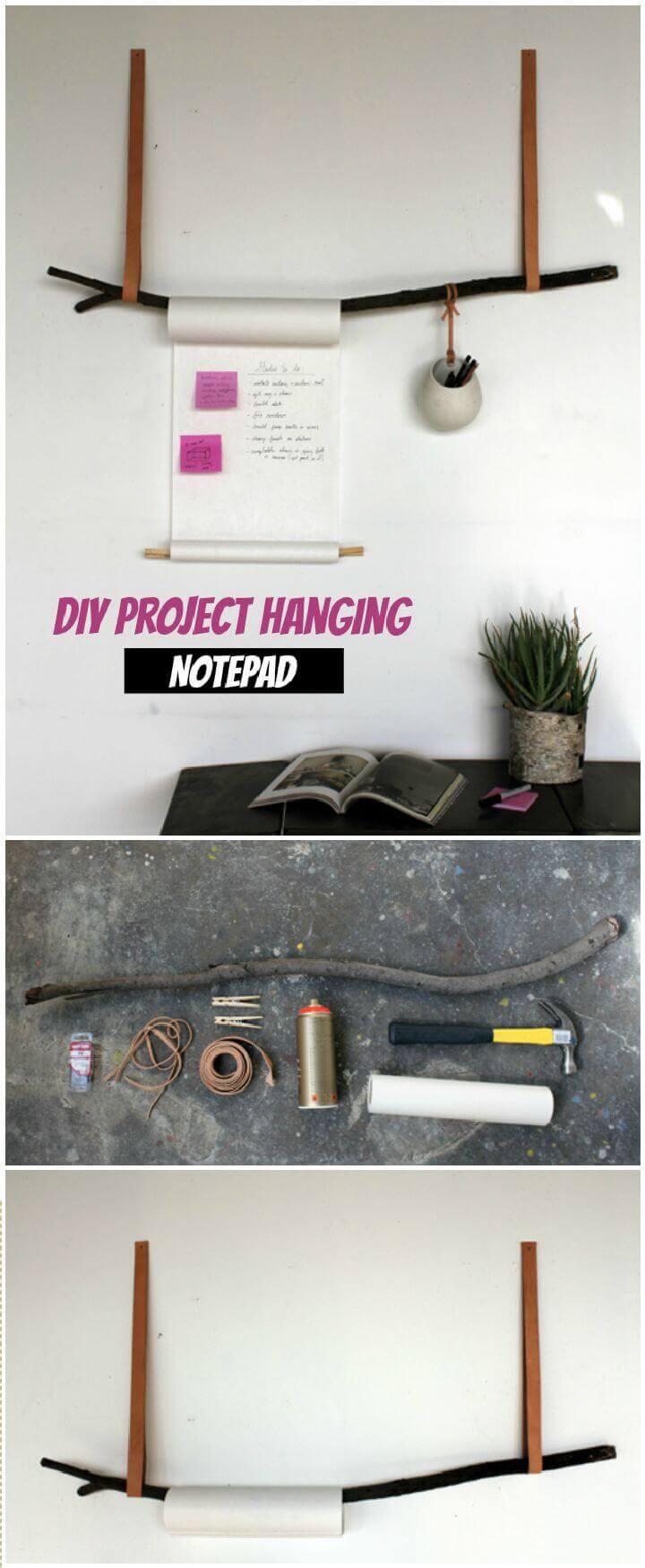 Here is how to give some cool effects to your mini home office. Bring this hanging notepad to the back wall of your computer desk and get some praising comments.
Grab 2 leather strips, fold them half and then nail on the walls, mark the points first by taking some measurements.
Now insert a metal pipe, a wooden dowel or a tree brain in the hanging loops of leather strips and also slip a custom paper roll onto the branch or wooden dowel, this will be your hanging notepad.
Now add a little pencil holder insides of notepad, grab a ceramic pot and tie it to hanging branch using the thin leather cord as you can see. The fun project details and step-by-step instructions here designsponge
DIY Project Embellished Wood Pencil Block:

Pencil blocks are always to see on office desks, so why not add a sweet one to your home office desk too? Just grab the wooden block in the size you want, otherwise trim it down to size.
Next sand it well and give a beautiful wood finish using the mixture of stain and wood sealant. Drill holes in the top that will hold the pencils and next embellish your wooden pencil block in your way.
Go for a nail pattern with a little mix of brass escutcheon pins, and this will make your final finished product look extraordinary. Another mind-blowing and fun DIY project for your desk.
The easy project details and instructions here designsponge
Kate Spade Inspired Desk Accessories: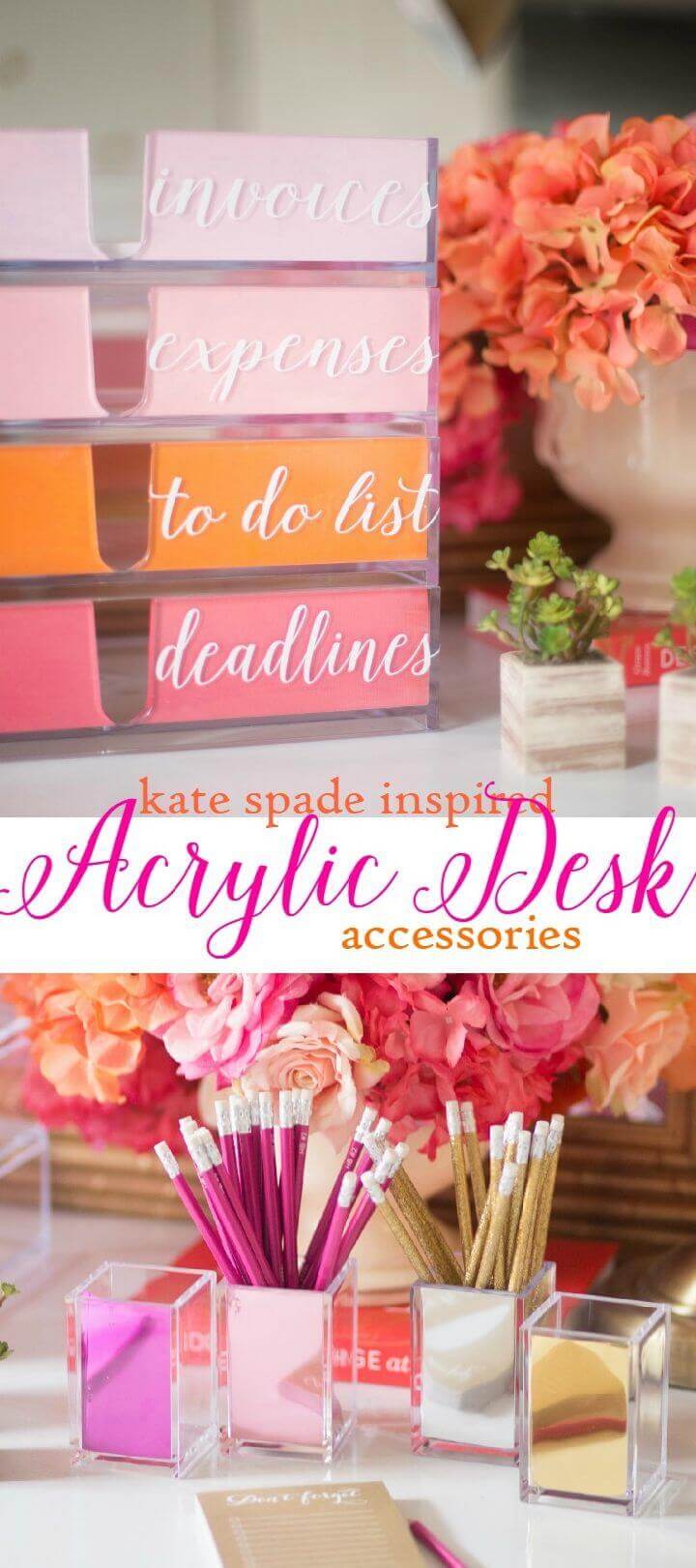 Amaze yourself with this another smart DIY project that will bring tons of focal stimulation to your desk.
The idea is to use the clear stackable letter holders which you can custom cardstock labels and white vinyl letters that will show the name of time you are to store separately.
Stick the labels in place using a mod-podge or glue, and you can use the custom templates to cut out the perfect labels.
Complete project details with a fun tutorial here justdestinymag
Lego Men to Hold your Cables:

Your computer cables should always be handled with care, and you should also make some arrangement to avoid getting messy.
Here is an amazingly fun DIY for it using the Lego. Build the lego men that will hold your cables neatly and will always be on duty.
This fun project will please the kids, and you can also clone this project for a kids computer desk for easy handling of cables.
Another fun DIY idea for your desk. Grab the project details and easy instructions here sadesignerlife
How to Make a Modern Desk Organizer:

Having some old wooden planks lying useless? Have you ever thought that they can be your next all-in-one, modern desk organizer?
Just make a construction chart that will contain the size and measurements and also the number of holes, pockets, and sockets to organize all your necessary stuff.
Here this wooden plank comes with phone slot surrounded by a pair of holes that will hold the pencils.
The bottom row comes with 4 cubby holes that will hold your paper clips, thumbtacks and other items of this kind separately. Want to clone this desk organizer? Complete project details and step-by-step instructions here for your excellent help ehow
DIY Recycled Organizer:

Another fun DIY to do for your desk using the cereal or pasta boxes. You can even go with other cardboard cartons of 3 different sizes lying empty in your home.
Just get them as open boxes by removing their tops with a  sharp scissor cut and next put them together in ascending order.
A final step would be to wrap washi tape around them in 3 or more different colors to treat the boxes as one unit that is your next desk organizer.
Take a cardboard tube into equal pieces and fill the lower or mini cardboard box them to create sub-storage compartments for different desktop items or to hold the pencils and pens.
You can peak into the project details and step-by-step instructions here auntpeaches
Gold Pencil Holder Anthro Knock Off:

Here is super smart trash into treasure project, a brilliant handmade anthro pencil holder, made of mostly with recycled items and super cute to look at.
Custom cylinder-shaped containers made of glass, steel, and cardboard have been put together on a wooden plank and have been fixed in place using liquid nails.
Finally, the entire finished model has been gold spray painted to look great. Using random sizes of containers is recommended here — a mind-blowing pencil holder for your desk.
Grab the project details and  complete guidance here viewfromthefridge
DIY Books End Tutorial: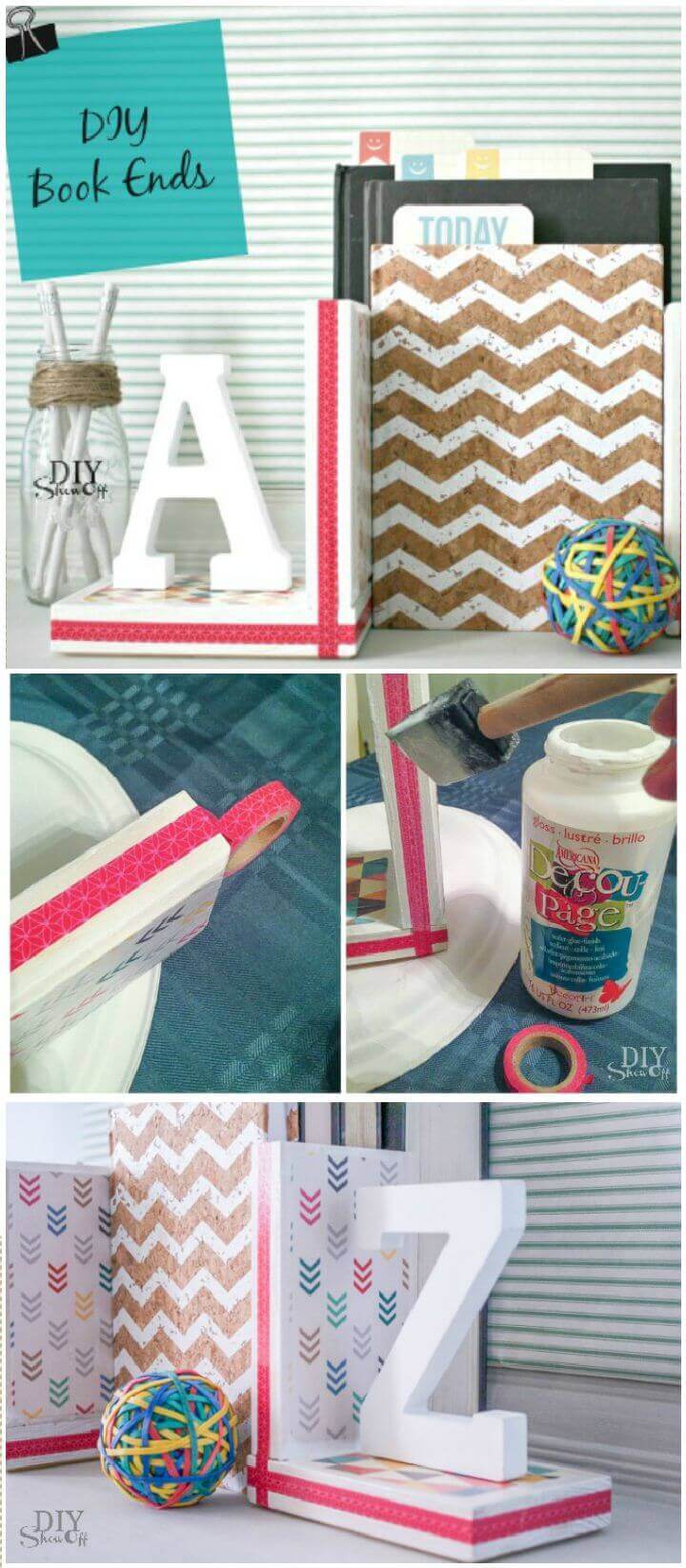 Build beautiful book ends at home, will surely be an accent addition o your desktop. All you need 2 wooden planks, custom alphabet letters, some paint, glue, and some embellishments to create perfect looking bookends. Cut and rebuilt each of your wooden plank for making an "L" shape and then paint them both white.
Embellish them with scrapbook paper and then glue your letters onto them.
Another fun DIY to do for your desk. Complete project details and step-by-step instructions are lying right here diyshowoff
DIY 3D Calendar for your Desk: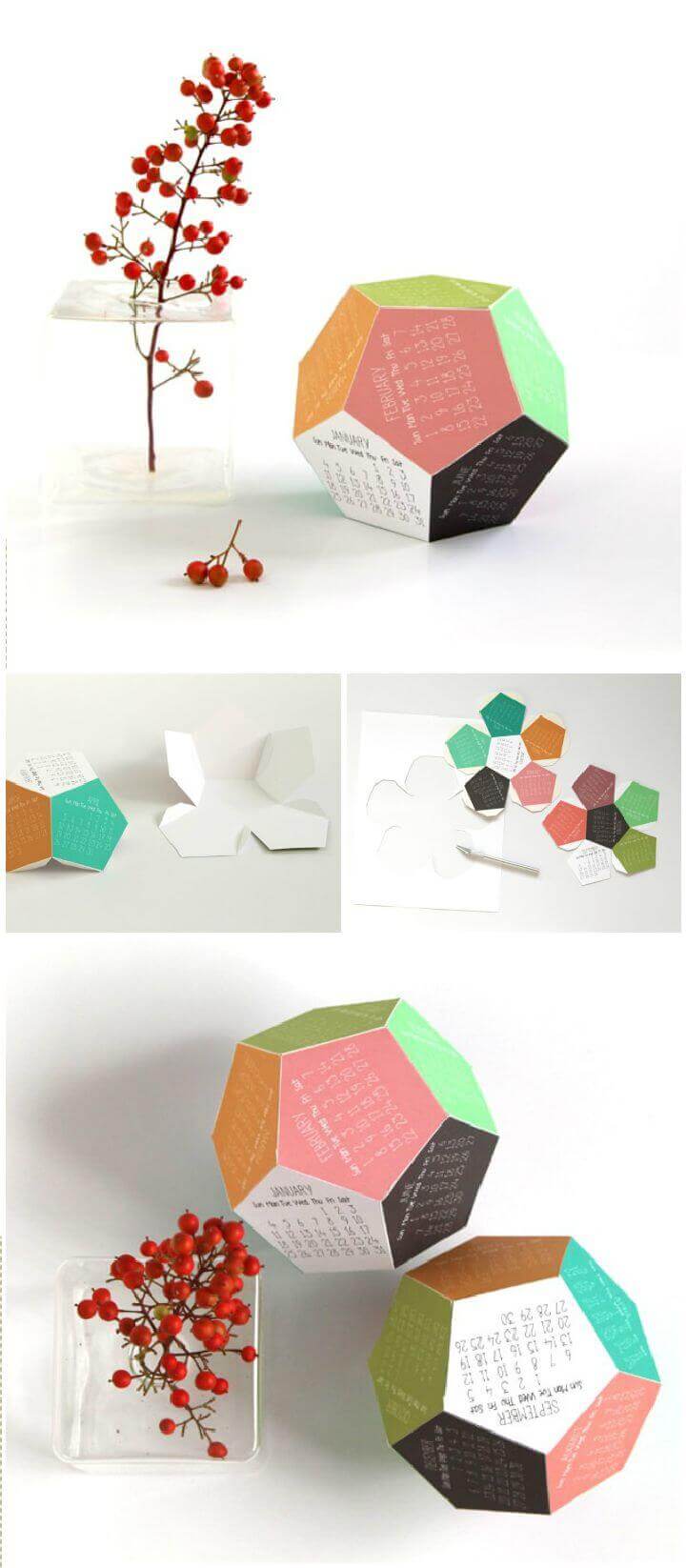 If you are populating your desk with some rare and unique ornaments, then it will catch more eyeballs. We would suggest you go with this homemade 3D calendar that will bring great visual attractiveness to your entire desk.
It is pretty simple to craft, and you only need 2 papers and some pentagon calendar months to duplicate this dodecahedron calendar for your home or office desk. Want to know how to make it?
All the project details and step-by-step instructions  have been given here apieceofrainbow
DIY Teatime Planters: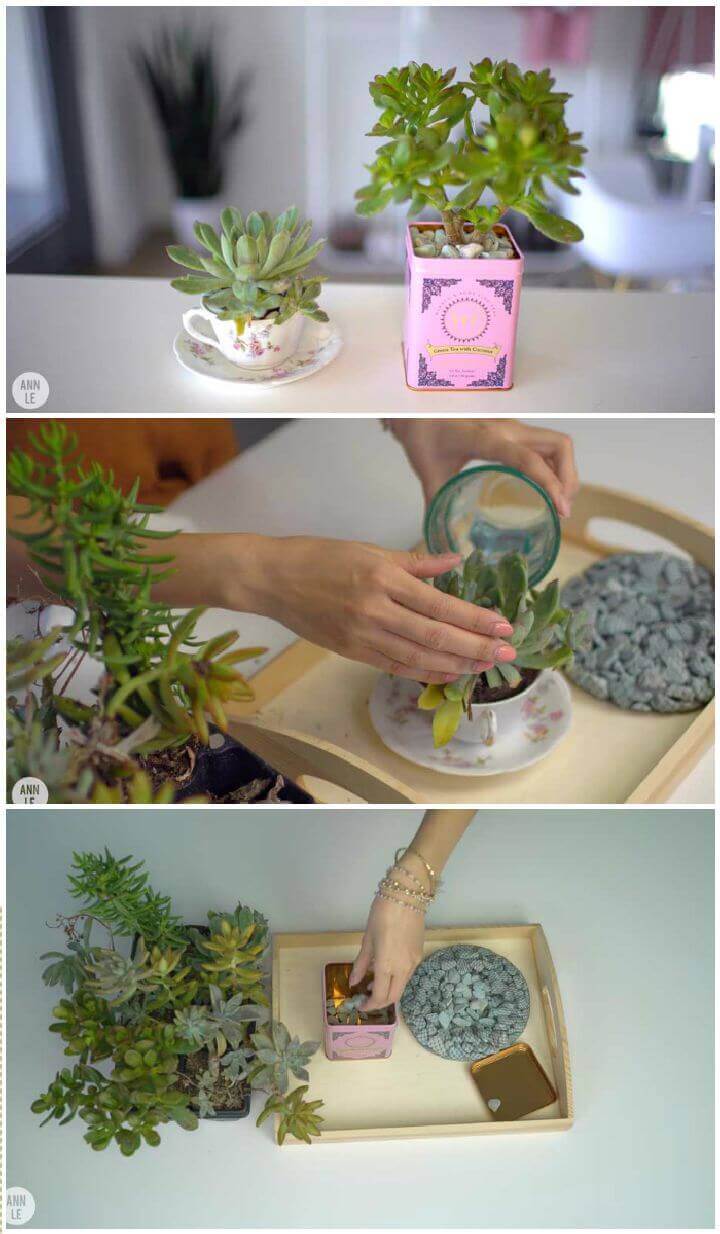 If you are missing out some natural decors at your desk then here something beautiful to perk your entire desk.
The mini and super cute teatime planters, built to inspire. Willing to clone these sterling natural beauties? Just get your hands onto some old tea tins and teacup, fill them up with pebbles and then with your succulents at the top.
A mind-blowing project to bring a natural vibe to your desktop. Complete project details along with the step-by-step instructions here lifeannstyle
DIY Cord Pencil Holder for your Desk: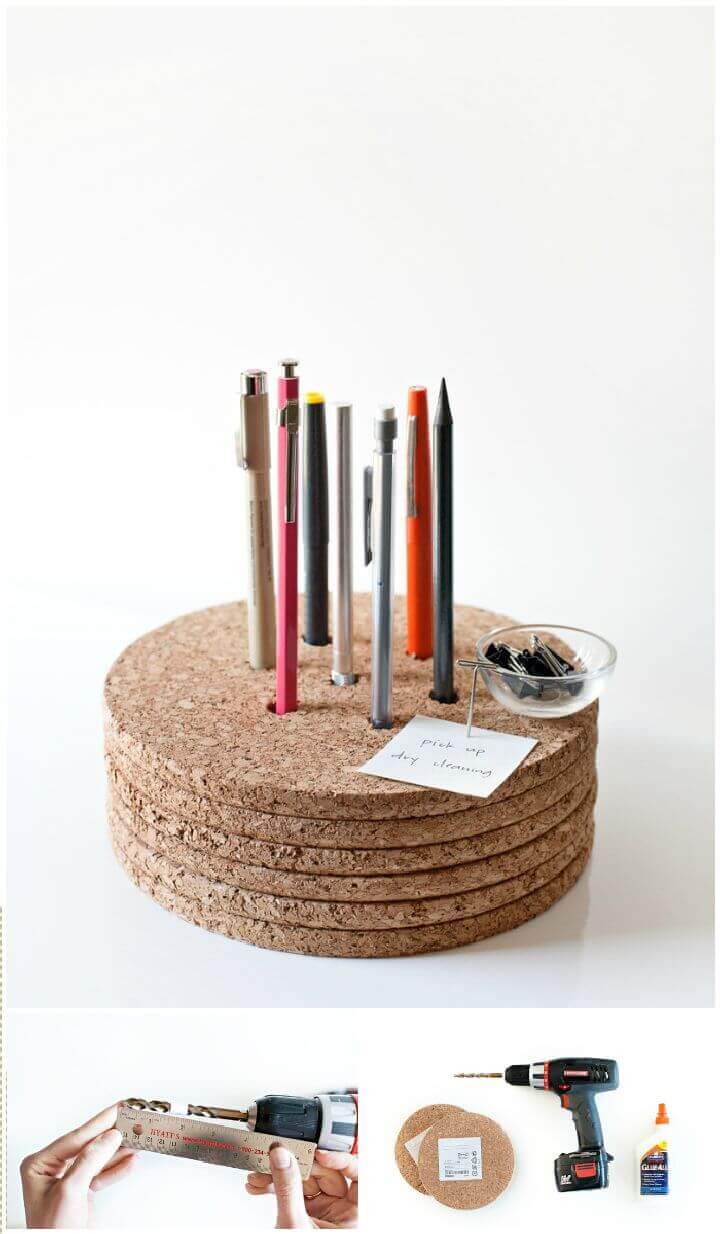 Pencil holders are the first them to place on your home or office desk, and they are also what the other person sees very first on your desktop. So, getting some eye-catching pencil holders will be a great way to adorn your desks. You can make your beautiful looking ones using cork trivets.
Just tier a stock of round cork trivets, layer glue and then put the second trivet, repeat it till you get a thicker round pencil holder. Next, drill holes in it using a drill bit matching to the diameter of pencils, and that's it. The fun project details and easy step-by-step instructions here designformankind
DIY Clip-On Desk Organizers:

Make your desk look cheerful and lively with this clip-on desk organizers, will also organize the desk clutter beautifully without using the desk space. Paint white a soup and coffee can and also a loaf pan and then add grip clips, one to each to let them hang on sides of your desk holding your thinks in a cool manner.
The clipped-on cans can hold both your items of interest and custom flower picks. A cool and nicer way to organize your desk. Catch all the project details and step-by-step instructions here brit.co
OLD BOOK MAIL ORGANIZER AND BOB VILA'S THUMBS-UP:

Time to do some fantastic crafting with old books will also bring great visual details to the wall next to your desk. Just make your book pages-free and keep the bindings only. Now cover the sides of books by adding fabric strips across the bindings. Now you will gain your books as perfect boxes that will hold well your files and mail.
Now make a couple of more book boxes and add them up to a wooden plank and build a stylish wall mail organizer.
Go with a perfect hanging system to mount the entire organizer on the wall, and that's it. Check out the complete project details and step-by-step instructions here beyondthepicket
DIY Decorated Magazine Holder:

Next, you can focus on adding some precious magazine holders to your desk to organize your favorite books and magazines in a great style. The idea is to decorate the magazine holder you already have.
Grab your wooden magazine holders and decorate them with scrapbook papers or with any printed or decorative paper, simple place your wooden magazine holders on your decorative papers, trace the outline and next cut your sketched area out. Next, paste them on wooden magazine holders using hot glue.
The step-by-step instructions of the project are here gatheringbeauty
DIY Cross Stitch Office Supplies:
Remodel your mesh desk supplies with yarn and add them a more fancy piece of décor to your desktop. The idea is to do some needlework.
Just grab your favorite desk mesh supplies and stitch through the holes with your favorite colored yarn. Go with your favorite patterns and yarn colors to create a fascinating yarn patch on the metallic mesh supplies.
Complete project details and step-by-step instructions here camillestyles
DIY Desk Organizer: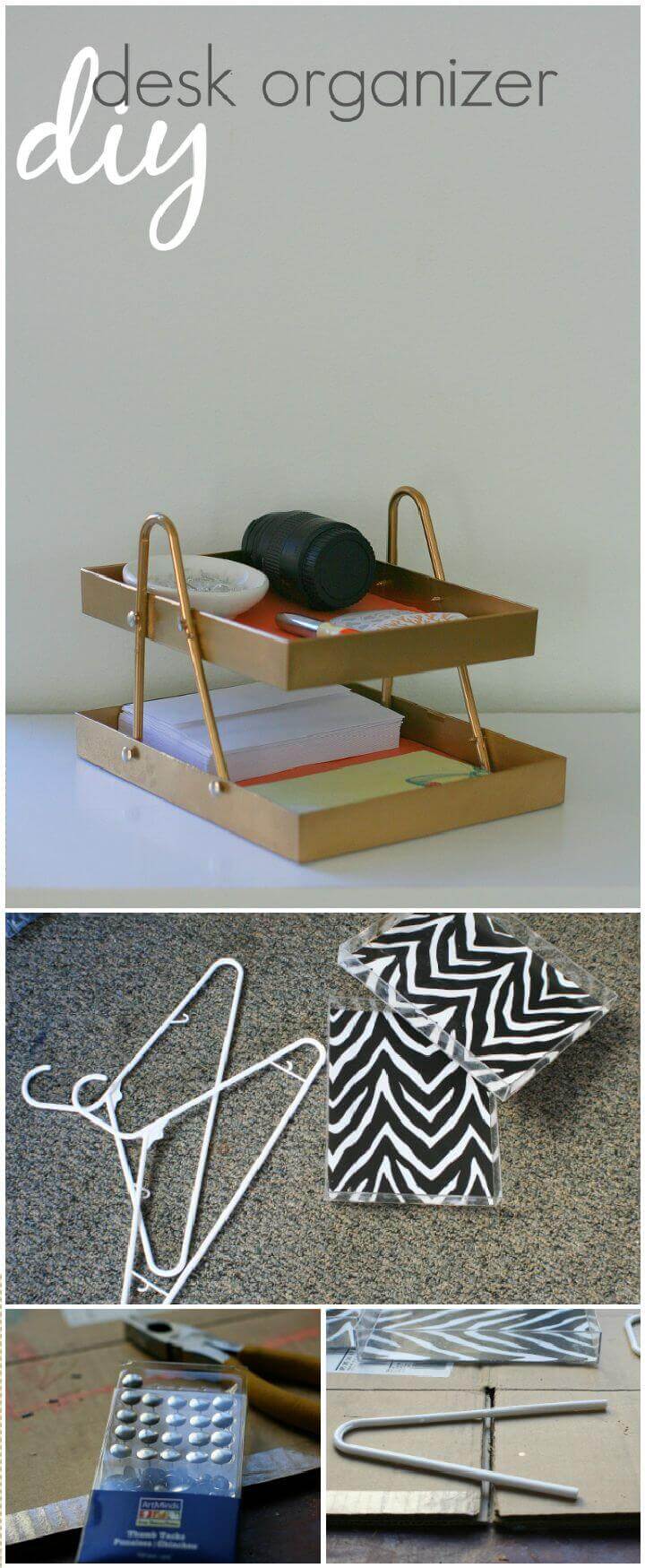 Get crafty with cardboard trays, scrapbook paper and with some old plastic hangers to build a great desktop storage unit. This is going to be a great but low-cost desk organizer ever. Just make some dry arrangements and then bring the trays in vertical V-shape hanger supports. Secure the tray in place using nails straight through hanger holes to cardboard trays.
Don't forget to adorn you cardboard trays with decorative scrapbook paper. Spray paint the whole finally finished homemade organizer and added it to your desk.
The fun project details and easy step-by-step instructions here amykrist
DIY Animal Memo Holder Gifts:

Another fun craft to do to jazz up your entire desktop. Add cute looking memo holders to your let the onlooker admire it. Grab the kids plastic or rubber animal toys and drill holes in their center tops. Put your wooden dowel sticks into holes and let their tops come with alligator clips.
Now the last but not the least step, spray paint your entire creation and congrats you have made one more appreciation for your desk. Here metallic gold spray paint has been used, but you are all free to go with any.
Check out the project details and step-by-step instructions right here sugarandcloth
DIY Geometric Thumb Tacks:

Thumbtacks are the most used item on your home or office desk, and they are always to find in desktop organizers.
Thumbtacks help in easy handling of papers and documentation on the desk, so why not make some stylish geometrical thumbtacks for your desk that will add great visual details to your entire desk for sure.
Here are brilliant sample to check out which are sure to make you inspired. Complete idea  details and step-by-step instructions are lying  here stuffstephdoes
How To Make Rope Coil Vessels:

If you intend to add a wow factor to your desk, then a mind-blowing idea would add some delightful centerpieces to your desktop. These coiled rope vessels would be both an eye-catching desktop centerpiece and a cool accessory holder.
Just keep on coiling the rope and raise it from the edges to create a bowl shape, weave this rope bowl with your favorite colored yarn and enjoy cool desktop organizers for free — one more fun project to do for your desk decors.
Complete project details here we-are-scout
DIY Painted Storage Box:

We can't go ahead to organize desk clutter with suitable organizers and storage boxes in hands. So, white not kill 2 birds with 1 stone?
Grab some highly decorative boxes that will also make an eye-popping desk décor. For an inspiring sample, you can peek into details of these painted storage boxes and can clone them.
Grab your wooden boxes and attention-grabbing patterns to them by throwing acrylic paint to them through the patterning tape.
Do duplicate these gorgeous wooden storage boxes to perk your desk. Complete project instructions here tellloveandparty
Make This Belt Strap Memo Board DIY:

Bring great fun to your desk by making some unique and good-looking memo boards. You can take a look at this given mind-blowing belt strap memo board sample to generate a unique idea for your desk or clone it.
Grab a piece of rustic wood and adorn it with colorful belt straps, nailed horizontally on the board.
Pretty quick and easy project to add great fun to your desk. Using colorful belt straps would also be a smart indirect way to add fascinating colors to your desk. Complete project details are given here abeautifulmess
DIY Gold Desk Dishes:

Another washi tape or masking tape project here that you can do to create some stunning desktop organizers.
The hack is to get crafty with your glass jars and dishes to make adorable desk dishes. The only smart thing you need to do is to spray paint them from inside using metallic paint like brass, gold, or silver.
Don't forget to cover the glass jars and dishes with masking tape and aluminum foil before your paint. Get inspired by these given super fantastic gold desk dishes. Grab the project details and step-by-step instructions here homeyohmy
A Simple DIY Family Charging Station: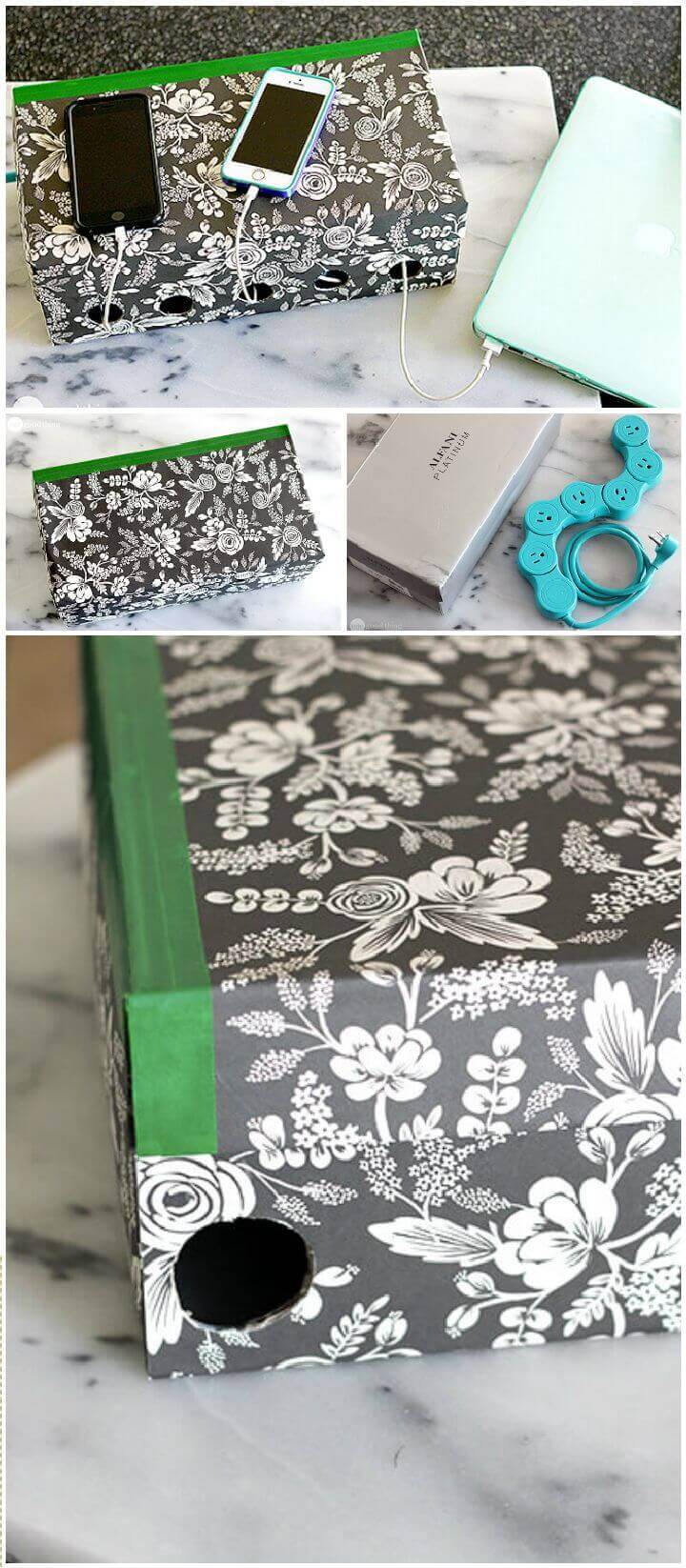 Go handmade also with your old shoe boxes to add both fun and function to your desk.
The idea is to make a family charging station out of a shoe box or empty cardboard box. Just cover your selected box with a decorative paper or scrapbook paper using glue and then make holes in the front side of it to let the charging cables come out stylishly.
You can catch the tutorial and step-by-step instructions here onegoodthingbyjillee
DIY Lego Desk Organizer: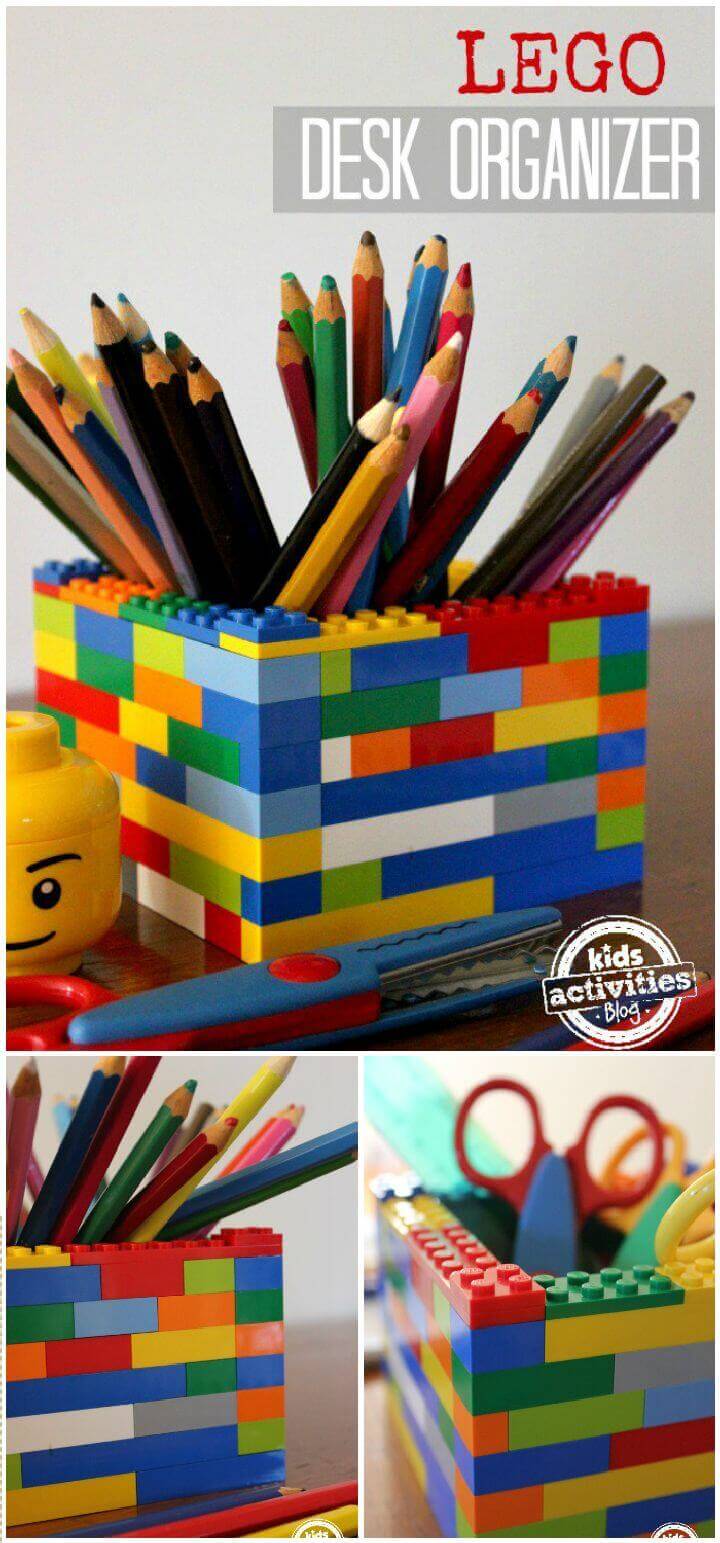 Here are a genius and super fun way to add colors to your desktop. You can do so by adding some painted and colorful items of decors to your desk.
One mind-blowing colorful décor would be this lego desk organizer that is super cheap and easy to make. Get it in no time by just making lego box.
Place your accessories in it and also your pencils and let it enchant the onlooker by being on your home or office desk. Complete project details are here kidsactivitiesblog
DIY Modern Monitor Stand: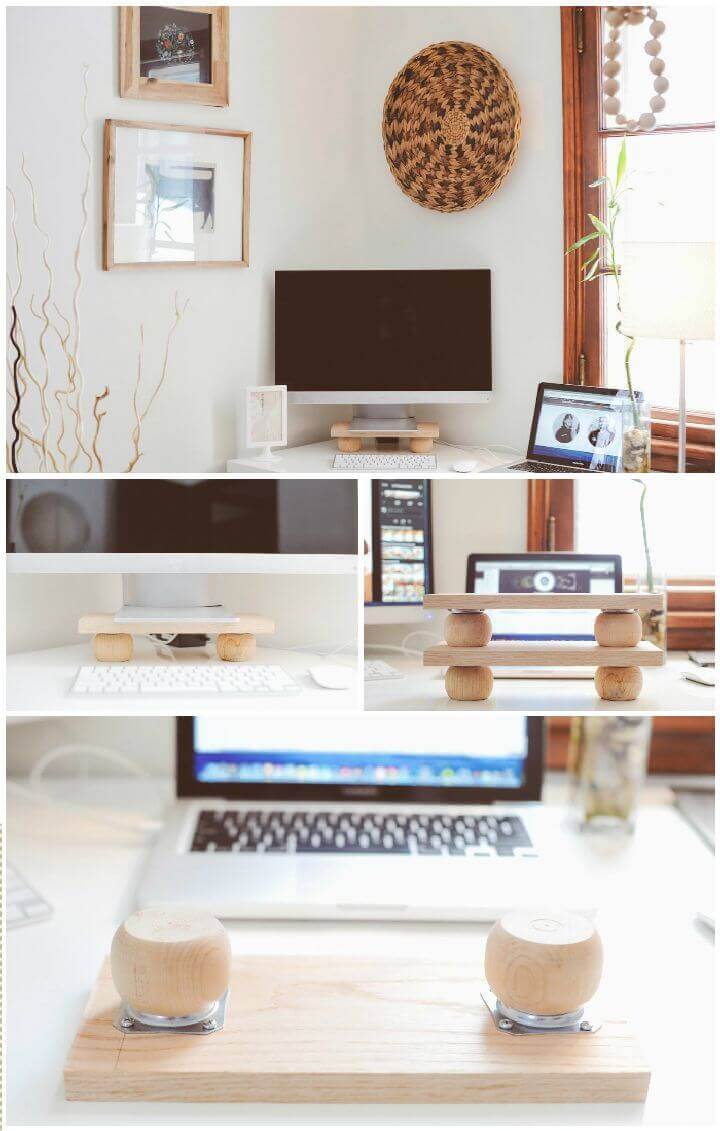 Do this one more fun DIY craft for your desk. Make a cool looking monitor stand and bring a great style to your display screen.
You can build a modern monitor stand with your own creative hands without getting expensive. Get inspired by the sample project here which you can also duplicate for adding focal stimulation to your desk.
Grab some unfinished artesian bun wooden feet, 2 straight metallic top plates, and a cedar wood piece to clone this given modern monitor stand in no time. Complete project details are here to peak into newblooming
DIY Desktop Pencil Cup: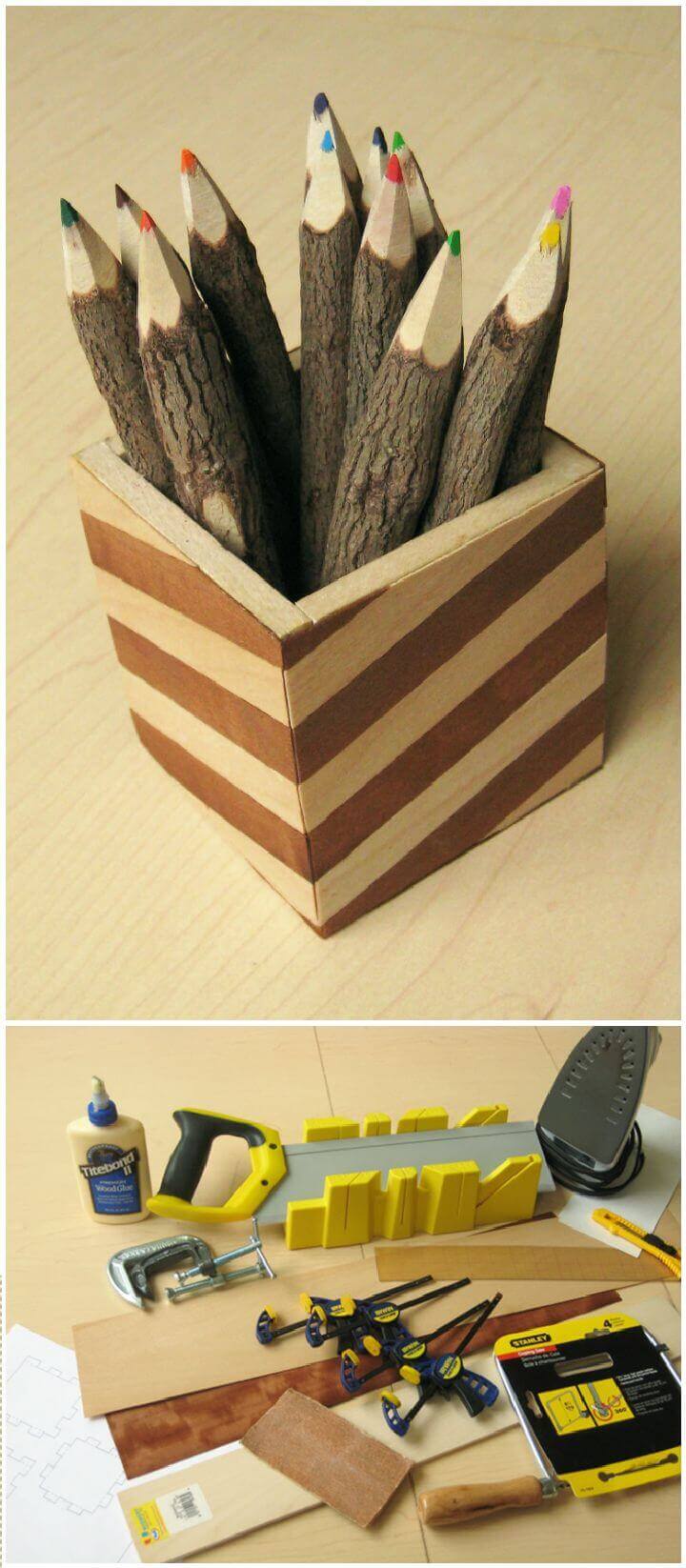 For the gorgeous and nature inspired wooden tree branch colored pencils, you should get this really chic and pretty wooden holder and bring the lovely decor vibes on your desk.
All you would need is four pieces of wood and then stacking them together to form a cute square box holder and then staining it in lovely stripes to make it look more enchanting and gorgeous.
Check out the details here howdidyoumakethis
Pencil Holder DIY Ideas: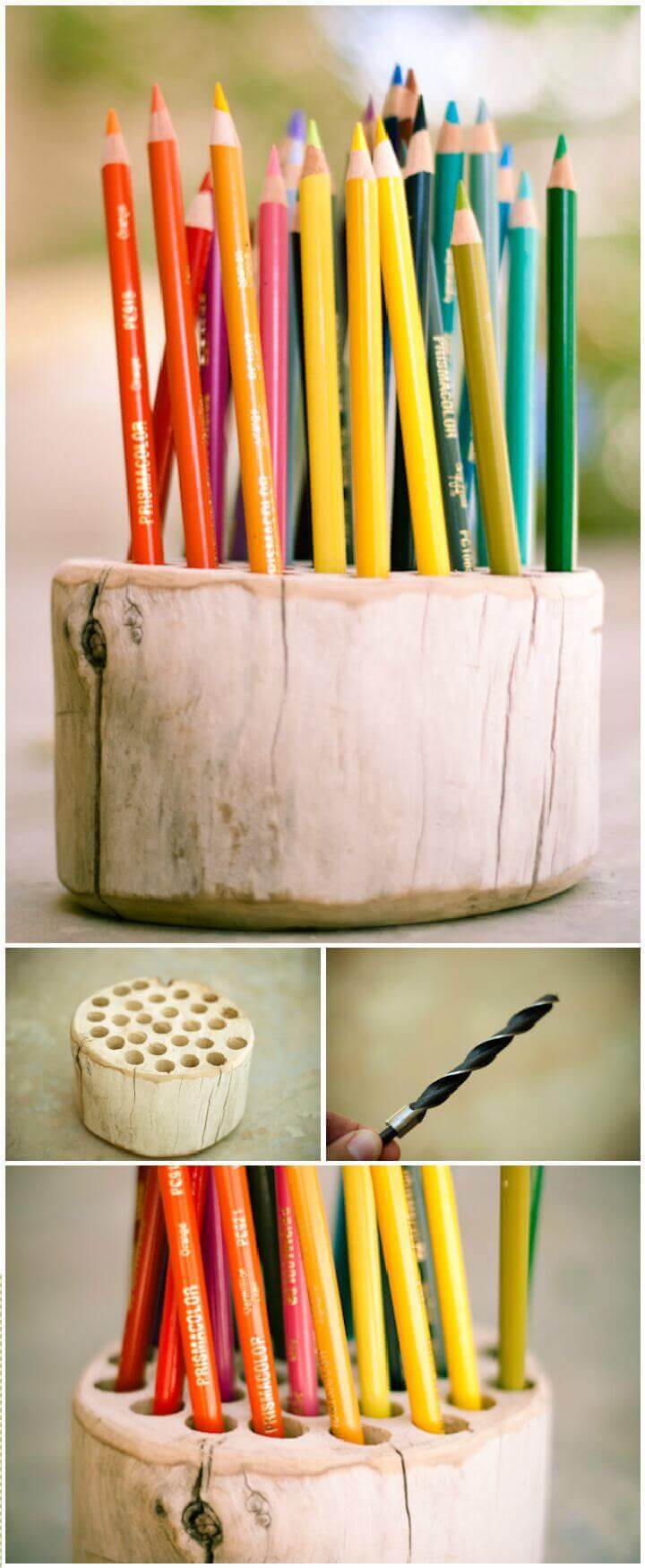 The wooden crafts have a natural beauty, and the warmth in them, and they are just perfect to use around the decor and bring some rustic touches to it. You can grab the wooden base and cut out this log like the piece, drill multiple holes in it to hold the pencils and thus use it as the most unique and the fun kind of desk organizer ever. Here are the easy and enjoyable details of this project to get your hands on thesweetestoccasion
DIY Office Organization: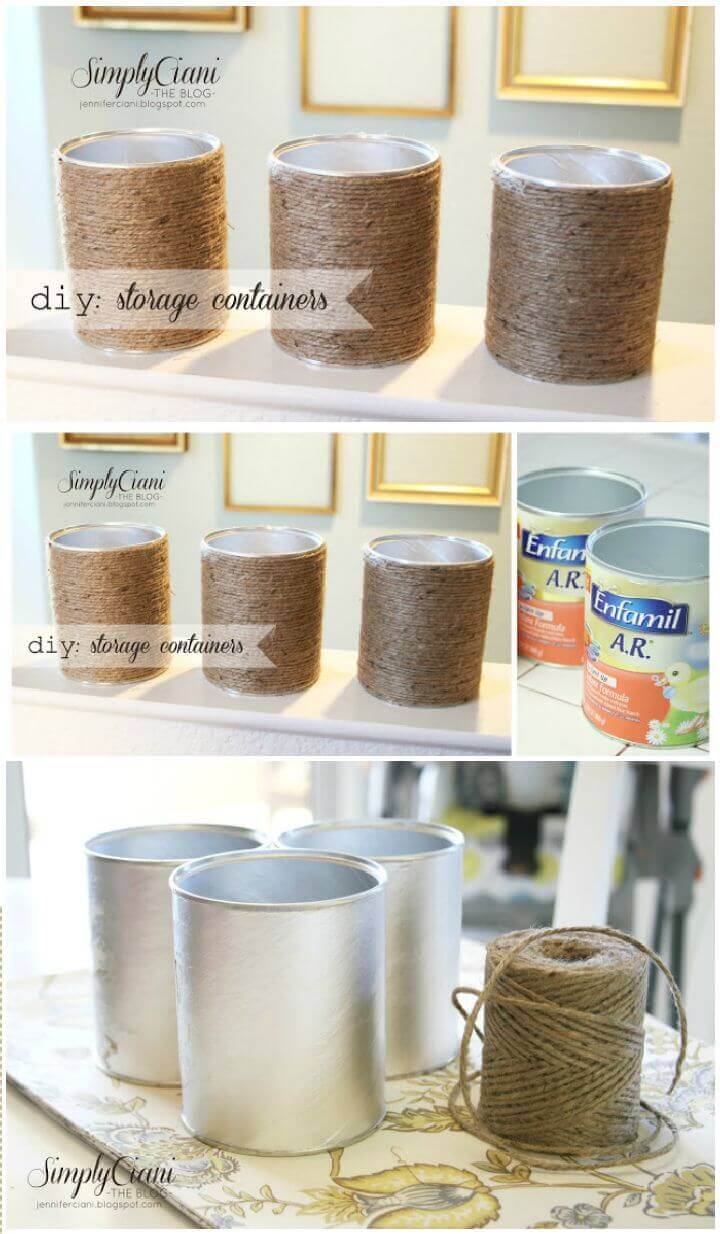 You need so many things to get organized on your working desk like pens, pencils, markers and so much more so here we are sharing with you the idea of creating these easy and fun organizers and you would need only two simple supplies for the purpose.
Grab the empty baby formula food cans and some twine to cover the cans with and they are just ready to use as the desk organizers. Check out the complete tutorial here jenniferciani
DIY Embroidered Pencil Cup:

If you are using a wire mesh cup for the holding of your pens, pencils, and other such stuff, then we have this lovely idea to beautify that simple cup and turn it to look more gorgeous and fancy one.
You can use the colorful embroidery floss to be passed through the mesh holes and create a lovely and simple pattern in the center of the cup.
Here are the easy and fun tutorial details to learn it quickly thecraftedlife