After the spring, the season when we celebrate colors, the summer starts that are also a fun season when we enjoy the outdoor barbecue parties, the poolside feasting, and various outdoor fun activities! So, you can also decorate your homes to pay some attributes to hottest season of the year, the summers! Along with increasing the water fun, the outdoor visits and the beach picnics, also raise the decors of your home just by making some DIY Home Decor! Nothing would work great but the wreaths while intending to give a warm welcome to the summers! So, time to make your own beautiful summer wreaths at home, before you starting making the wreath, we would like you to boost your creativity by sharing some amazing inspirations! Just have a look at these 25 DIY summer wreath ideas that are all great and would definitely go outstanding on your front door! These superb handmade DIY wreaths would be a big fun to make and will no cost your big!
Celebrate the summer beach fun by hanging the beach special wreaths on your front door just like the given beach umbrella wreath! Grab a grapevine DIY summer wreath and adorn it up with tulips and hydrangeas an make outstanding floral wreaths for summers! Dye the coffee filters and then tie them together to make fantastic tie-dye wreaths for summers and also make a nautical rope summer wreath that may come with custom charms and decors! Have a look at the given sample that comes with slippers fixed to one side and is also having an aqua painted wooden background that has been got dignified by adding some linger decors!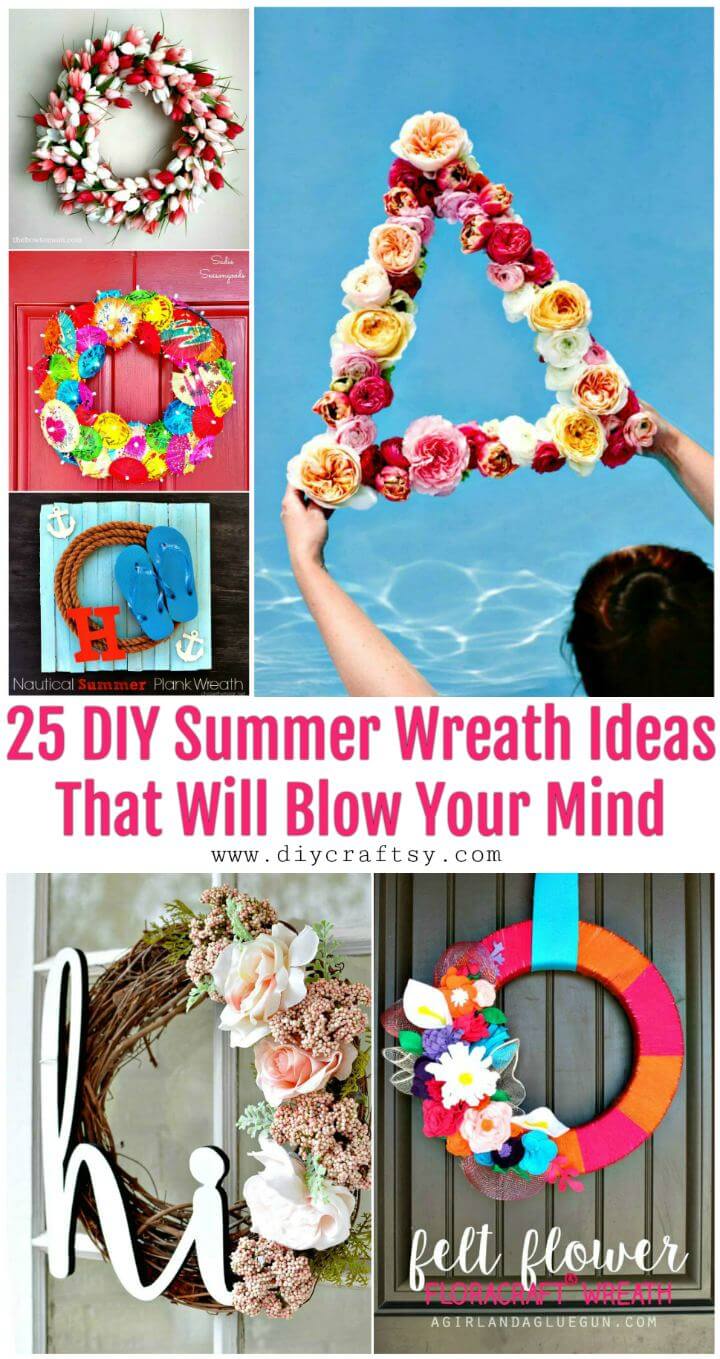 Wrap the Styrofoam wreaths in rope and then install the clothesline in front using clothespin and twine and make outstanding summer wreaths get inspired of the given sample that has been adorned with custom cardboard letters and also with faux colorful flowers! Make also the special wreaths inspired by summer fruits and food items, a very interesting example here is the given lemon wreath that will definitely go enticing to your front door!
Repurpose also the metal wheels like wagon wheels or bicycle wheels to make adorable summer front door wreaths, Check out here a lovely sample that has been decorated with flowers and also with a garden watering tool! Make also the nautical life ring wreaths that would be a big delight to view hanging on your front door this summer! Moreover, make the floating flower wreaths, the monogram flower wreaths and also make the driftwood summer wreaths that will hang like a charm on your front door!
DIY ideas for Summer:
Have a look at more DIY summer wreath designs give below and get inspired! Clone every of your favorite wreath from the list by hitting the attached link that will take you to the complete visual guides, tutorial, and instructions!
DIY Beach Umbrella Wreath Tutorial: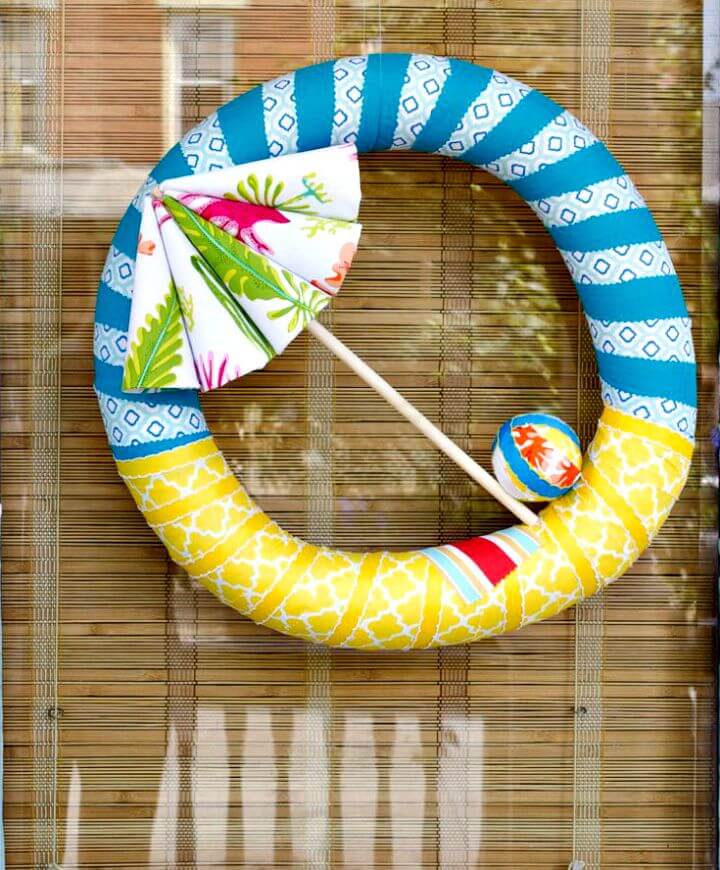 You can get your home nicely embellished with the themes of the weather and starting it from your main door you can make a perfect wreath that suits the summer vibes. Here is this pretty summer wreath made out of the easy and fun supplies at home to look so much amazing and fun. With a pool noodle covered with the bright summery fabric, the birthday hats being fabricated and turned into an umbrella and a cute fabric football to bring the beach vibes on the wreath.You can check out the details of the idea right on this link homestoriesatoz
Easy DIY Flower Wreath – Tulips and Hydrangeas:
A flower wreath is all you need to make your doors look so much welcoming for the summers and the good news is that you can make it on your own. With the grapevine wreath rings, some plastic floral vines and the flowers of tulip and hydrangea you can easily form up this lovely and adorable wreath on your own. You can check out the easy and fun details of the idea right on this link to make it on your own this weekend 259west
Adorable DIY Tie-dye Coffee Filter Wreath:
You can now easily play with the colors when the summers are here and now you can make a colorful wreath for the beautification of your main door for the summers. So with this idea of coffee filter wreath you can easily make one at home with least of the efforts and the cost. Just grab a bunch of the coffee filters, tie-dye them and then stack them on the wreath ring along with the ribbons and create this pretty wreath for your outer walls or the windows. The idea is too simple to work on and here are the complete details of it tatertotsandjello
How to Make Summer Wreath:
If you are boho person than this totally unique and quirky kind of summer wreath is just really your kind of thing to get your hands on. Instead of the traditional embellishing with the flowers and the vine leaves this wreath has been accessorized with the wooden monogram, a pair of flip-flop, a wooden board and the lovely coastal signs. Above all the pretty shades of the summer can really make it look so much adorable and fun.You can check out the details of this cool and awesome wreath idea here hellolifeonline
Awesome DIY Summer Breeze Clothesline Wreath:
The bright shads of the summers should really be reflected by the home decor too and do start it with the entrance of your house by making this pretty and fun summer inspired wreath for it. You would need a styrofoam ring to be covered with the rope and then get embellished with the chipboard letters saying Summer Breeze and the pretty white and pink fabric flowers. Check out the complete tutorial here with easy steps and the instructions littlemisscelebration
How To Make Lemon Wreath:
Get your doors the most gorgeous yet the most simple kind of wreath that would really add the beauty of the summers to your spaces. Yes with these faux lemons and the lemon leaves this gorgeous wreath has been easily installed with that white and black striped ribbon bow making it look so much gorgeous and fun. You can check out the details of the idea right on this link to make one on your own this summers. Link here chroniclinghome
DIY Wagon Wheel Farmhouse Style Wreath: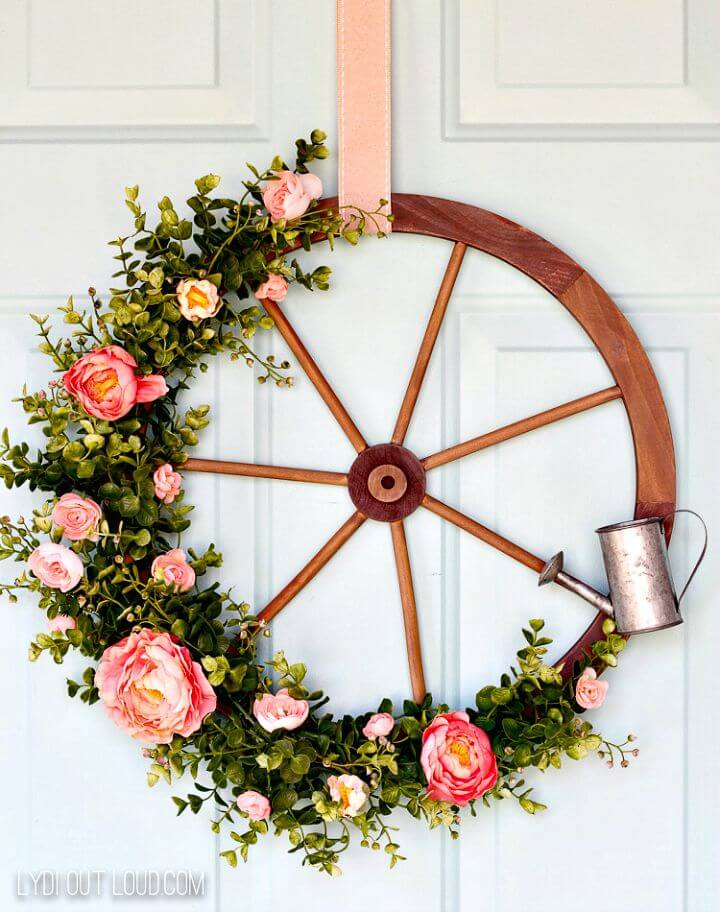 If you got an old wagon recycling around then you should really be getting its wheels as you can do a lot with them and one of the cute ideas is here with us suggesting you to make this really pretty and awesome wreath out of one wheel. You can add faux vines and the flowers to the left side of the wheel and a cute water can at the right and it would look just so innovative and gorgeous. The idea is really fun, easy and cheap to work on and here is the link to check out its complete details by yourself and try making it lydioutloud
How To Create Nautical Life Ring Wreath:
After the pretty and bright shades what else marks the summers in decor is the nautical or beachy touches in your home styling. So to be really quick and cheap for the preparation of your wreath with the nautical vibes you an use a life ring with a rope covering on the outer edge and its done. You can learn the easy and fun details of this gorgeous and simple idea right on this link to add it in your next to do list anextraordinaryday
DIY Geometric Floating Flower Wreath: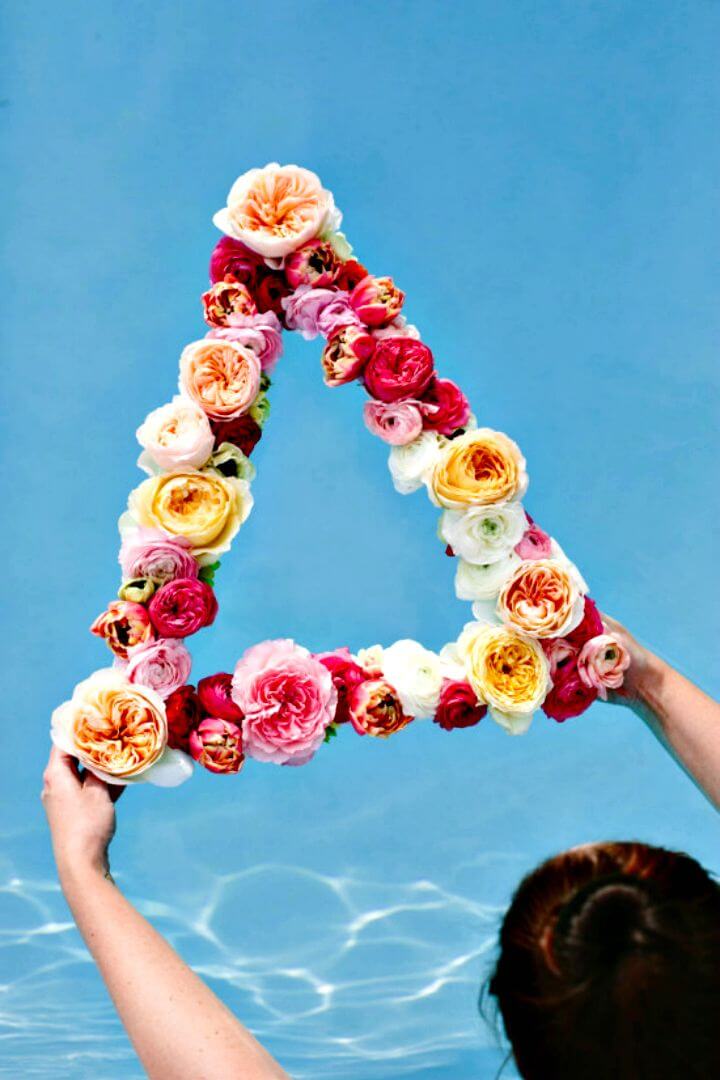 If you want to experiment with the making of the wreaths for your spaces then you can experiment with the shape of it and doing it in the geometric shapes other than the circle. Yes you can do it in the triangle shape like the shown above with the flowers all over it and enjoy a really fun and unique possession for your indoor or the outdoor home decor during the summers. You can check out the details of this idea here to follow it easily at home papernstitchblog
How To Make Summer Monogram Wreath:
If you got a big monogram letter in your house then its time to use it for another fun project for the summer home styling. Yes we are talking about this pretty monogram wreath having been full of flowers, vines and the leaves and hanging over your front doors to look so much stunning, gorgeous and unique at the same time. You can check out the details of this really cool and pretty idea right on this link provided to do it easily at home daisymaebelle
Gorgeous DIY Drink Umbrella Wreath: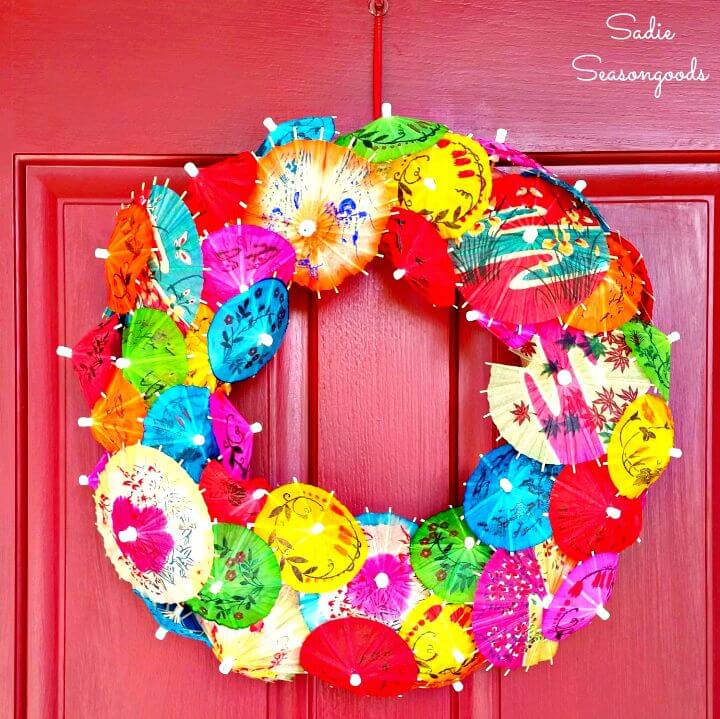 Summer is all about the colors and the cold drinks that we abundantly use to keep ourselves hydrated in the heating weather. The pretty and colorful drink umbrellas mark both of these summer qualities and you can make this perfect and colorful wreath out of them. The idea is really smart, easy and quick to work on and you can easily learn the details of this cute idea here to own one for your spaces. Check out the details of the idea right on this link sadieseasongoods
Adorable DIY Summer Lemon Wreath: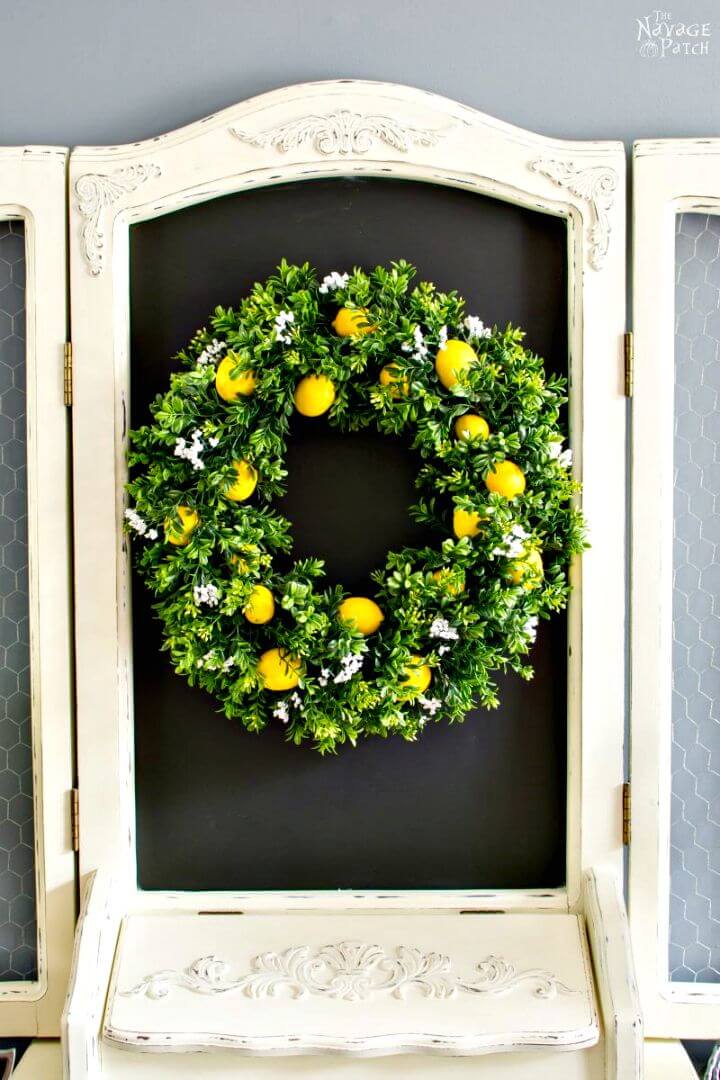 While changing your decor for the summers you can easily bring the pretty summer effects in your home decor with the simplest and the cutest of the possessions like the wreaths. You can easily create a summer wreath out of the green leaves, vines and the lemons and its ready to hang on your doors and make them look all welcoming and gorgeous for the summers.Check out the details of the idea here thenavagepatch
Make A Summer Wreath For Your Front Porch:
Faux flowers are available in all the colors and the shades in the market and that is why you can choose the right ones to make your pretty homey decorations out of them just like this gorgeous wreath with pink flowers and the white HI letters on the other sides making a hugely cute and fun welcome to the fun summer weather. You can easily grab the details of this wreath idea here to make it on your own at home littlevintagenest
Awesome DIY Cupcake Liners Summer Wreath:
If you are a lover of baking then you must be buying lots of cupcake liners for your kitchen and this time you can buy a bunch of them ore to do this fun DIY craft out of it. Using those colorful cupcake liners you can easily create this lovely wreath for your front door styling for the summer along with some pom pom time and the ribbons. You can check out the details of the idea here with all the details and the instructions the36thavenue
Simple DIY Driftwood Summer Wreath:
There is just something captivating about the driftwood being so rustic and natural in texture that is why they are adored so much for the home decor. SO if you also have some piles of driftwood around then you can grab them and create this gorgeous and stunning wooden wreath out of it for your indoor decor boost up or the outdoor beautification for the summer with huge nautical impacts too. You can check out the details of the idea right on this link to create one on your own at home sustainmycrafthabit
How To Make Faux Magnolia Wreath: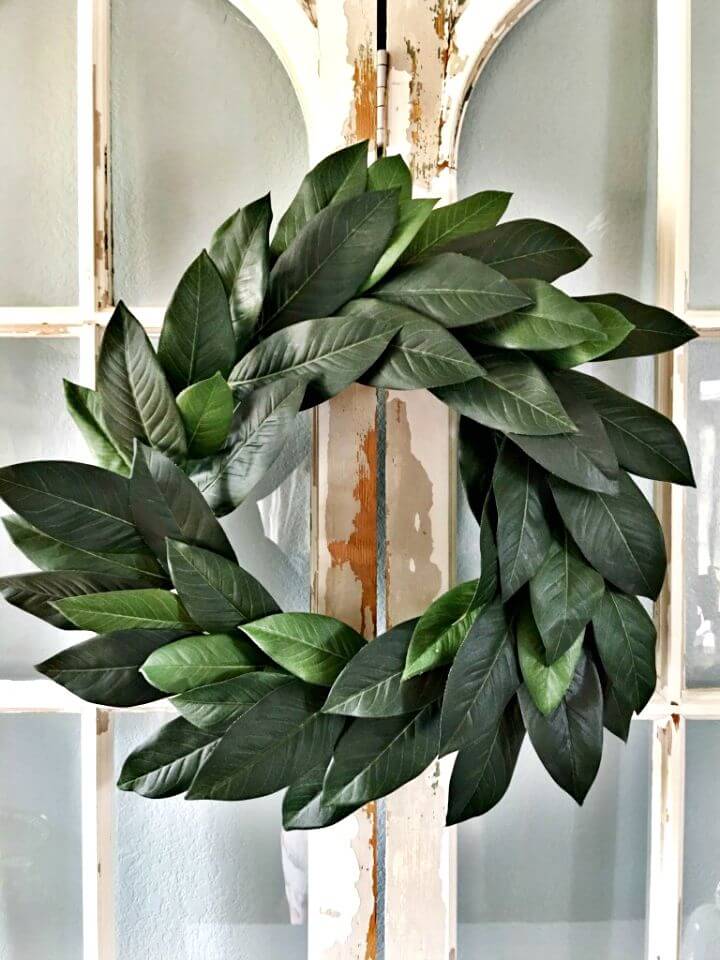 You would find immense charm and beauty about the simple decorative pieces its like the more you keep it simple the more gorgeous it turns out to be and so is the case with this simply beautiful DIY magnolia wreath. Yes by taking a bundle of these faux magnolia leaves and covering the wreath ring with them you can get the most whimsy and the most pretty kind o f wreath ever and that too easily and quickly at home. For more details about this lovely and simple idea you can check out the link here jollyandhappy
Gorgeous And Easy DIY Tulip Wreath: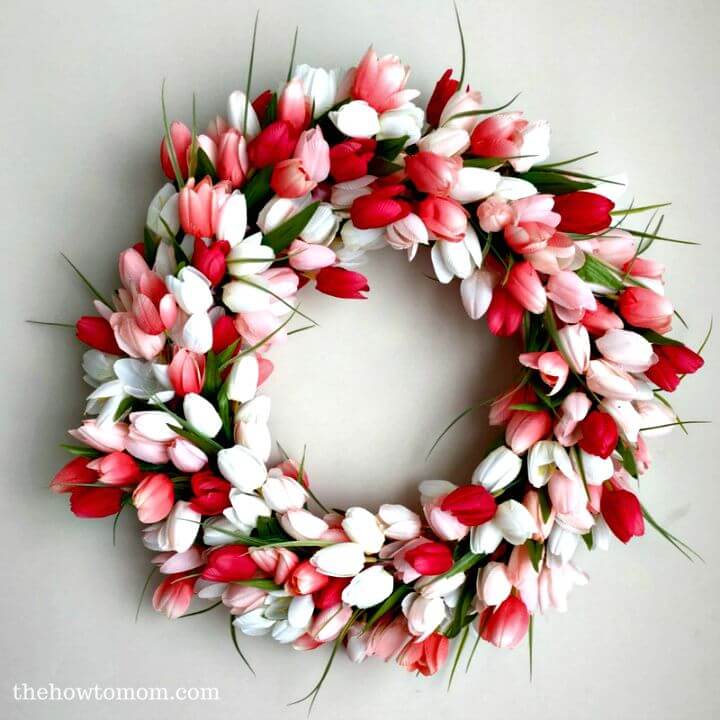 Tulips are one of the most adored and the most gorgeous flowers no doubt so you can use them in any of your home decor either for the regular spring or any of the special occasion like the wedding. So get a load of the faux tulips in your favorite shades and covering a wreath ring with them you can create this visually delightful decor piece for any of your events to be displayed over the tables or hang over the doors. Step by step details of the idea are lying here thehowtomom
Make Your Own Watermelon Wreath:
One of the most refreshing fruits of the summers are the watermelons and they really inspire a lot of our home decor for the hot season so why not do a watermelon wreath project too. Here is this cute watermelon wreath made out of the kelly green, lime green and pink cotton fabric being cut into the long pieces and then tired around the wire wreath having four wires to get the watermelon effect nicely turned out. You can check out the complete details of the idea right on this link provides craftcreatecook
DIY Summer Initial Wreath:
Instead of buying those boring and same kind of wreaths from the market you can now make a fun and personalized one at home using the feasible of the supplies and the material. Here is this pretty summer initial wreath that requires some faux flowers, a burlap ribbon and the grapevine wreath ring to be done and get it flaunted over your doors, windows or over the walls of the porch, entrance and outdoors too.You can check out the details of the fully detailed idea here stonegableblog
Adorable DIY Summer Bicycle Wreath:
Sometimes with the little of the efforts you can create some really huge decorative impacts in your home styling and this cute wreath is the proof to that.By just wrapping a pretty fabric over your styrofoam wreath and awarding a cute embellishing mini cycle on it holding a cue flower basket at the back and this gorgeous and custom wreath is done to rock your decor.The idea is really simple and fun and you can learn it all here with all the easy steps and the instructions craft-o-maniac
How To Make Pineapple Honeycomb Wreath:
Not only to the front doors the pretty wreaths can add the perfect charm to the walls for a birthday, baby shower or any other such decor. SO if there is a celebration for the kids and you need to spruce up the looks of the room decor you can make this lovely and colorfully bright honeycomb wreath for the places. About 8 honeycombs have been joined together around the wreath ring to shape up this gorgeous and fun wreath for the wall decor and here is the idea with complete details. asubtlerevelry
Make Your Own Seashell Wreath:
One of the best ways to show off our beach collectives is to display them in your home decor and making this pretty seashell wreath is the right idea to get your hands on. By just covering your wreath rings with the seas shells and stars you can easily get this totally summer inspired and the beachy kind of wreath to enjoy the summer vibes at peak in your home decor. The idea is just too simple and you can check out the details of it right here addicted2di
Gorgeous DIY Felt Flower Wreath:
Here is the perfect wreath that you can make with lots of cute colors and enjoy the summer with full swing. You would need some pretty colors of the twine to wrap around the noodle and then add the lovely hued felt flowers to the wreath and make it look all stunning and fun for a bright and colorful welcome of the summers. You can check out the details of the idea here agirlandagluegun
Make A Fiesta Wreath With Honeycomb Balls:
If there is a party over your places and you are looking for some ideas for the decor of your walls the pretty and funky kind of wreaths are the right thing to get your hands on. Yes you can take the colorful paper made honeycombs in different sizes and then paste them on the wreath thing you have a gorgeous and colorful embellishing on your blank walls.Here is the link to check out the details of the ideas step by step designimprovised
DIY Flip Flop Summer Pool Noodle Wreath:
Flip flops really mark the summers and the summer fashion too so here is how you can create some pretty cool and fun kind of decor possessions out of the flip-flops just like this awesome wreath. Yes the wreath ring has been covered with the bright-hued fabric and embellished upon by the fabric flowers and the flip-flop pair.You can check out the details of the complete flip-flop wreath making here foxhollowcottage