The clothing trends just change from season to season and light, and airy outfits would be in the summer fashion trends! Visit the nearby boutiques and fashion clothing stores for the new summer arrivals but if you are not in positions to afford those high priced market summer outfits then time to seek a big help again from the DIY Crafts! Yes, you can design your special DIY outfits for summer at home, and if you are having a boring collection of your old summer outfits secured in the closet depths, you can also take that out as they can easily be updated to new summer fashion outfits by just doing some cool makeovers!
So, whether you are looking for some amazing DIY projects for inspirations to refashion your old summer dresses or you are just willing to make your own special breezy and fashion-worthy summer outfits at home, you will get the most genius ideas here for each of your purposes! We have just picked and showcased here these DIY Outfit Ideas for Summer that will make a great gift for the summer fashion lovers, and you will see here the amazing professional outfit designer hacks that will make your jaws dropped with amazement! Time to shine this summer with these extra brilliant and creative DIY summer outfit ideas and projects that are super cost-efficient and easy also!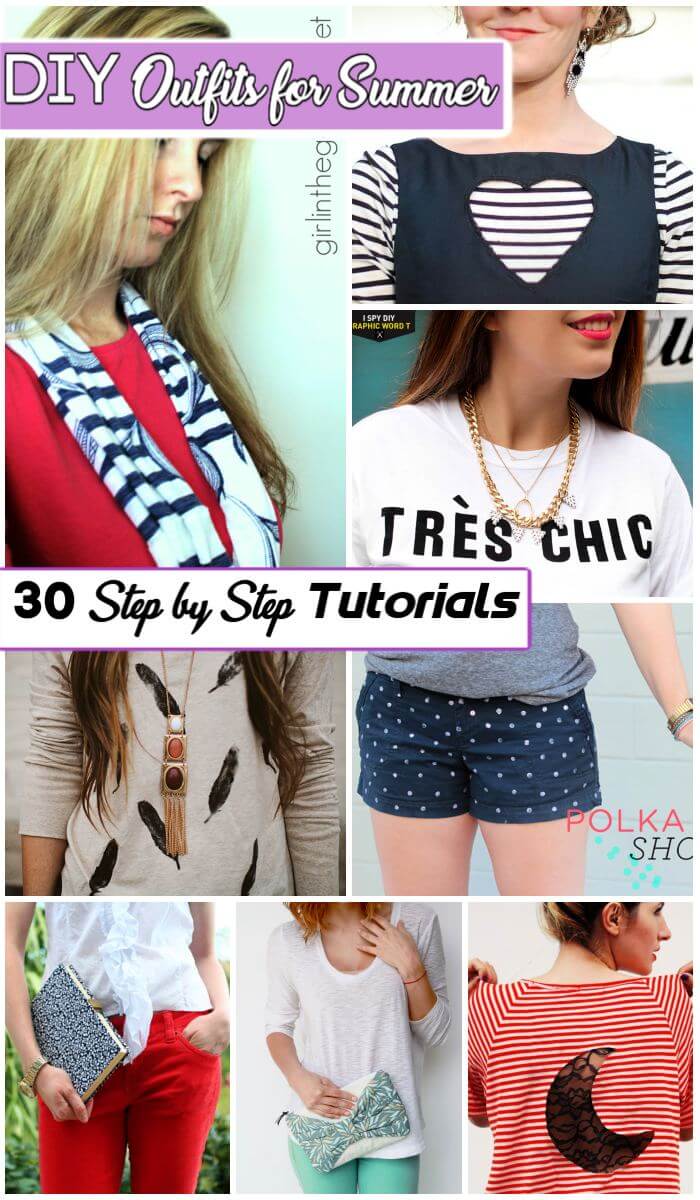 Cut the moon shape in the backside of your old summer t-shirt and bring great fashion to it using a lace patch there, this will also make the t-shirt airy! Cut the heart shape out of your old summer outfits and make them look lovely, double up also the cuteness of you and your kids by make the special flutter capes with armholes, and you can easily go no-sew for making a cool one at home! Add polka-dots to your denim or summer shorts and boost the feminine appeal of them along with getting a brilliant summer special look of them and also make smart use of summer flowers to make enticing flower crowns that will also add a great finishing touch to your summer outfits!
DIY Fashion Crafts for Summer:
The totes and bags can also be a special part of your summer dress up and personality, so you can also make enticing summer special totes that will be a big pleasure to hold in hands making the bigger fashion statements! If you love to sew, then design the no-sew graphic sequin crops that will be a fashionable outfit for the style-loving teen check out a given sample that comes with the sequin letters! Check out some more DIY summer outfit projects by browsing the entire list and do duplicate your favorite outfits for this summer! Click the attached links to gain full free tutorials, step-by-step project instructions and easy to follow visual guides!
Quick DIY Lace Insert Tee: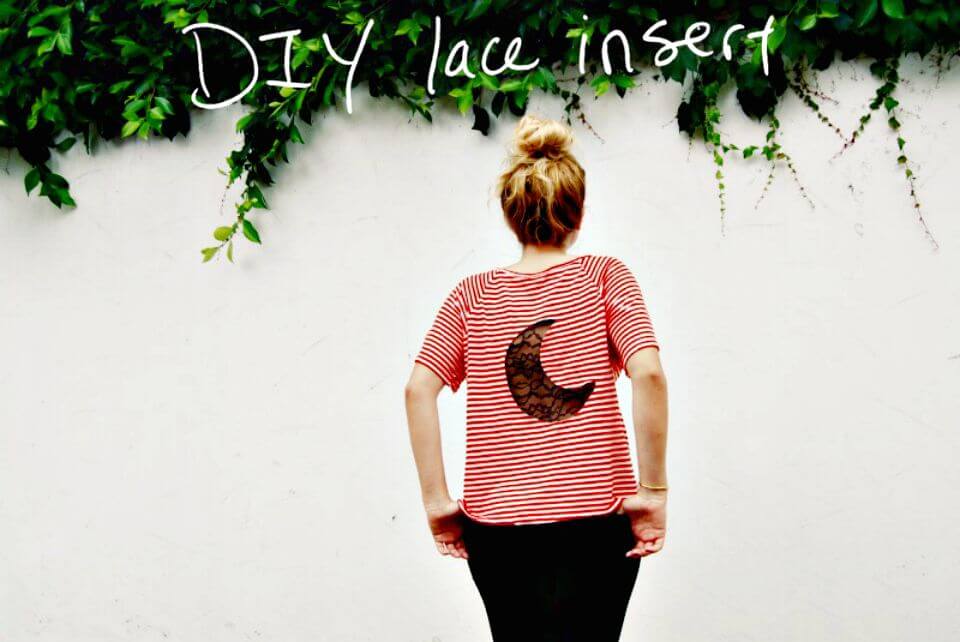 Here is how to beat the summer heat without sacrificing your style, just design your own special lace insert tees and enjoy the summer more! Check out here this sample striped t-shirt that has been given a moon shaped lace patch at the back and the t-shirt has been cut out from the same moon shaped area and hence t-shirt only lefts with the lace moon patch! This is a great way here to style up your t-shirts for summer fashion! Here all you need a moon template, markers and a patch of lace to do this project! Complete project tutorial here mrkate
How to Make Heart Cutout Dress: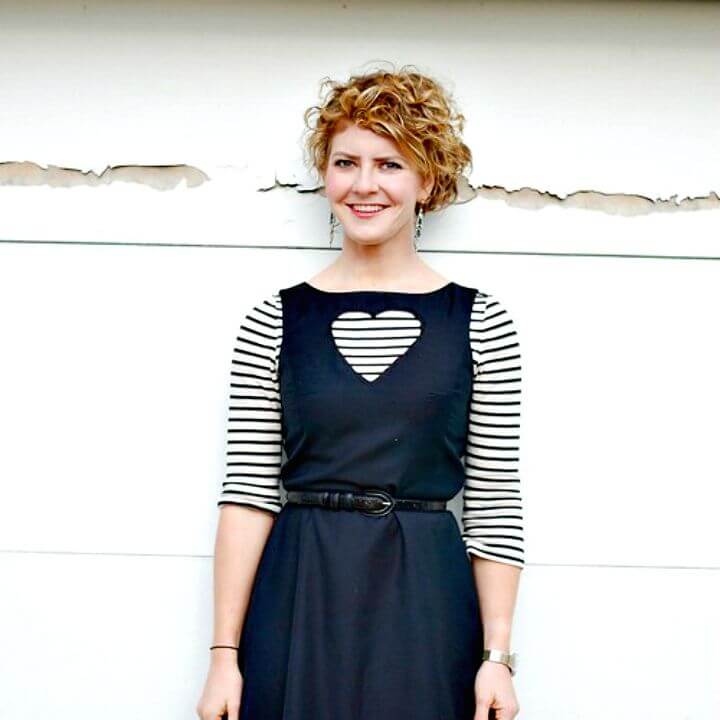 Here is another smart sewing project to design your summer outfits! Just cut out cute heart shapes in your outfits and dresses and make them look great along with getting some holes for air circulation! Check out here the sample heart cutout dress that is cute and would boost your fashion! Here all you need a heart template, a sewing machine, pins and some tape to do this project with any of your favorite dress! Complete project tutorial here starsforstreetlights
Easy DIY No-sew Flutter Cape With Armholes: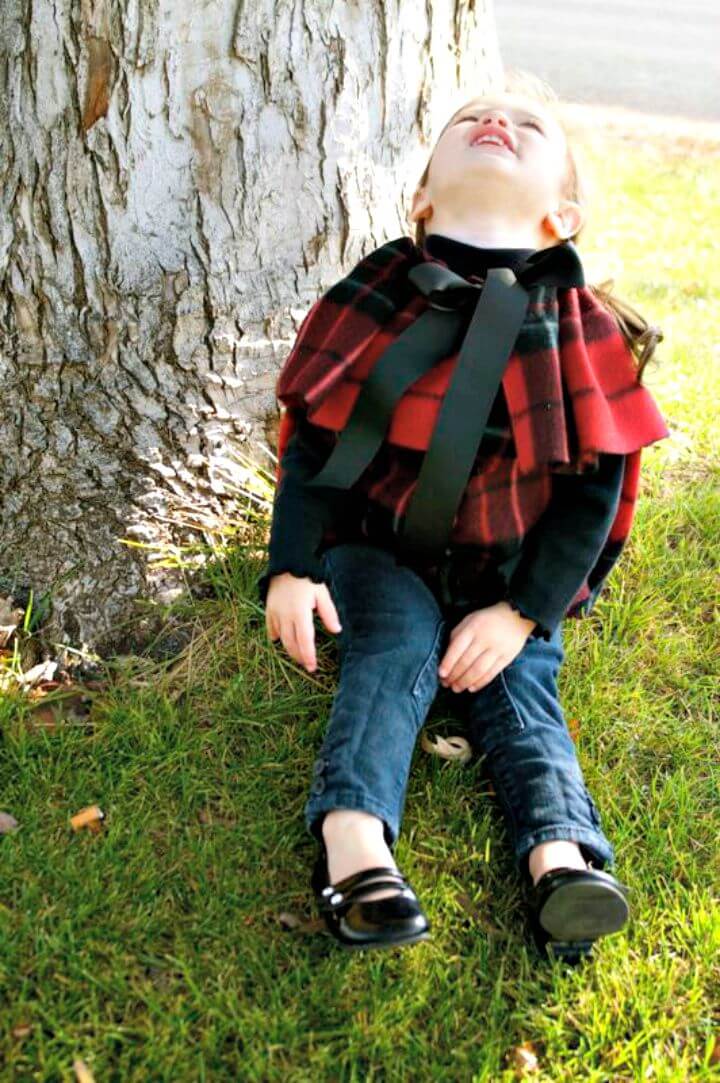 If you are not handy at sewing, then you can also do some no-sew project to design summer-special outfits! A very remarkable sample is the fluttering cape that comes with armholes for air-circulation! Here all you need a fleece and cut out two bigger strips out of it! Put the bigger strip on the smaller one and just cut slits with an equal spacing of 1 or 2 inches! Wear the ribbon through and make the perfect looking cape for your little ones, teen girls for the style loving ladies! Grab the full project details and tutorial from here rufflesandstuff
How To Make Polka Dot Shorts: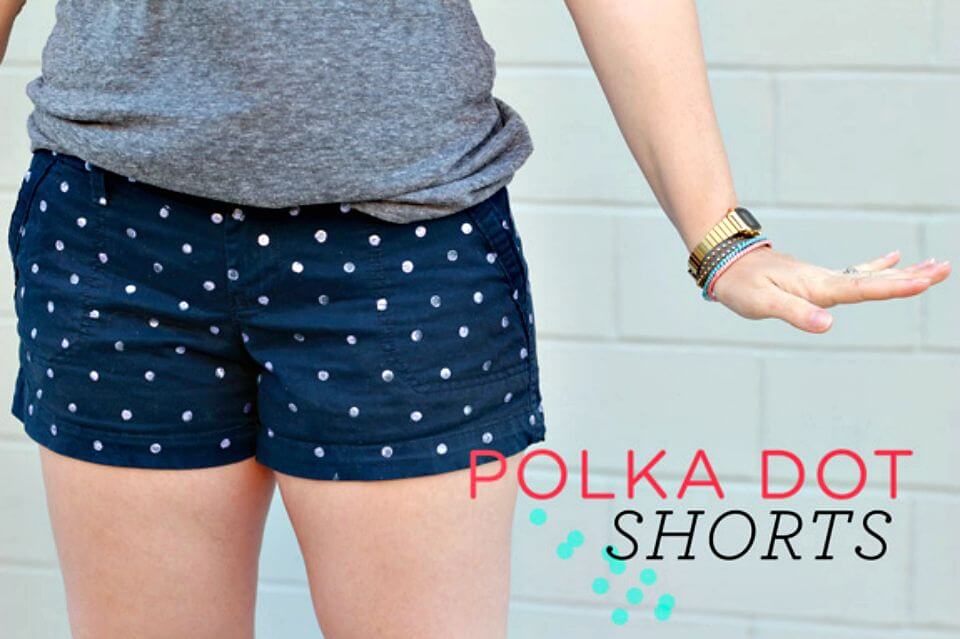 Bring a touch of summer fashion to your dresses and outfit by adding beautiful polka dots; this would also be a great idea to enhance the feminine factor of your summer outfits and dresses! Get inspired by these summer polka dot shorts, a beautiful sample and example here to inspire you! This is here another great DIY summer outfit project that every style-loving lady can do at home without getting expensive! Use an eraser pencil as the dauber and dip its eraser side in the fabric paint and then start adding polka dots on your shorts! Grab the full free project details and tutorial from here sayyes
Beautiful DIY Flower Crown: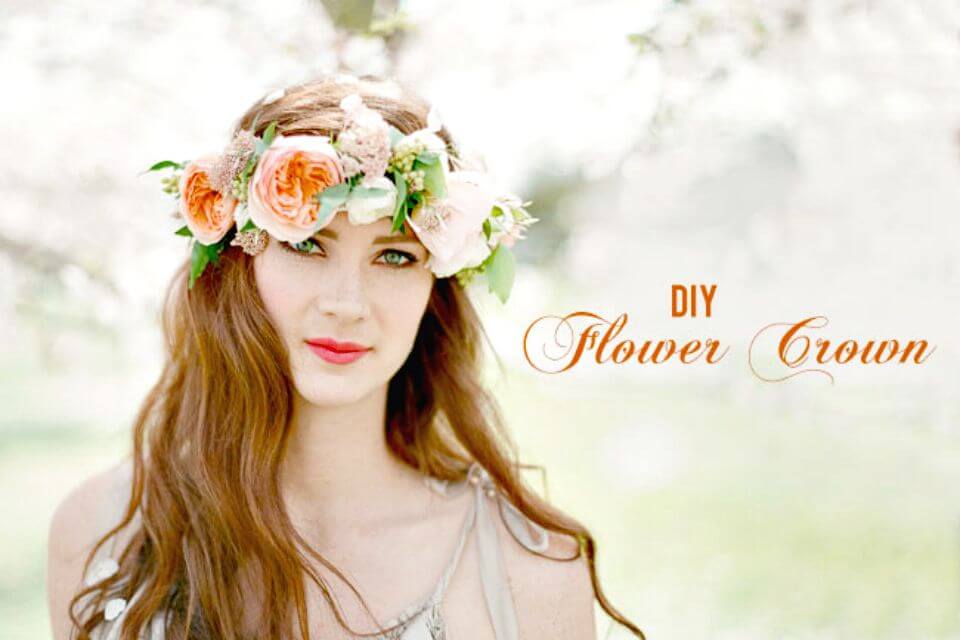 Enjoy the summers more by creating a princess look of you! This would not be possible without a special summer crown, so why not try making gorgeous looking flower crowns at home using the custom cut flowers and greenery! Here all you need your favorite flowers, double satin ribbon, florist tape, and straight wire to make a very special looking flower crown! Check out here a sample flower crown that has been made to rock and inspire! Grab the full free tutorial and instructions from here greenweddingshoes
Adorable DIY No Sew Tote Bag: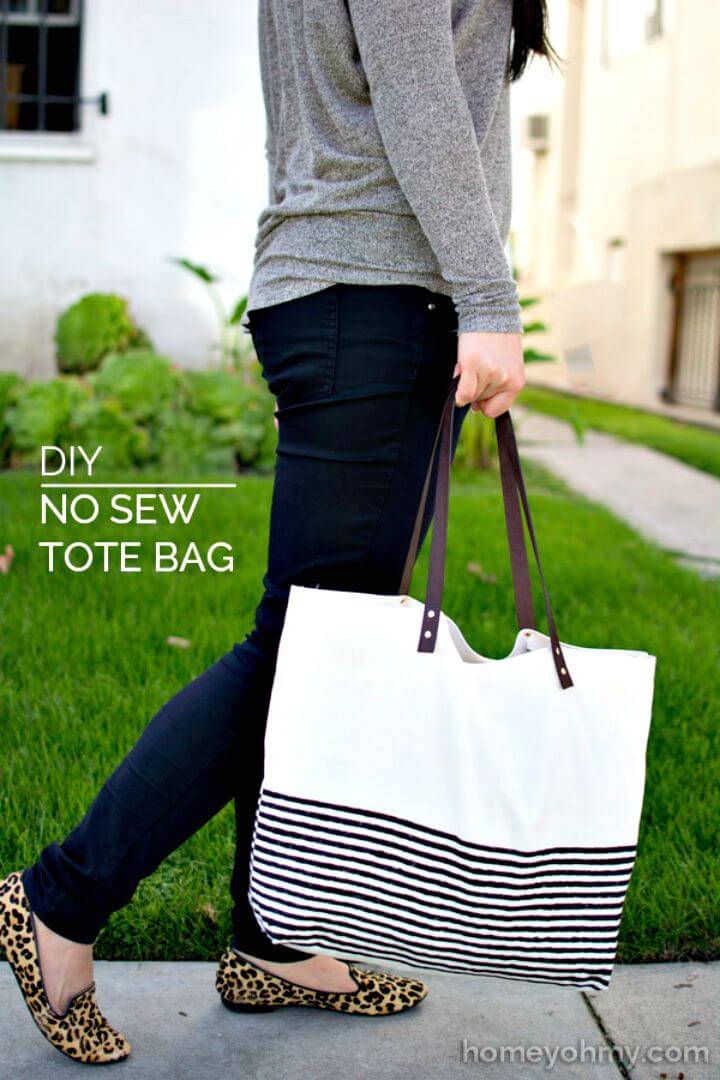 Make also your fashion-worthy tote bags for summers and enjoy the hot season more! If you come in enchanting designs, the shopping bags can also help to boost your fashion and style, have a look at this brilliant sample tote bag, a no-sew project to do at home! Just grab canvas fabric, unique stitch adhesive, iron and a rule to make the tote bag! For straps, just use the faux leather pieces and the rivets! Make custom patterns on your finally finished bag for a graceful appeal! Here this bag has been spruced up with black fringe style lines that have been made using masking tape, satin black paint, and a pounce! Step-by-step tutorial here homeyohmy
DIY No Sew Sequin Graphic Crop: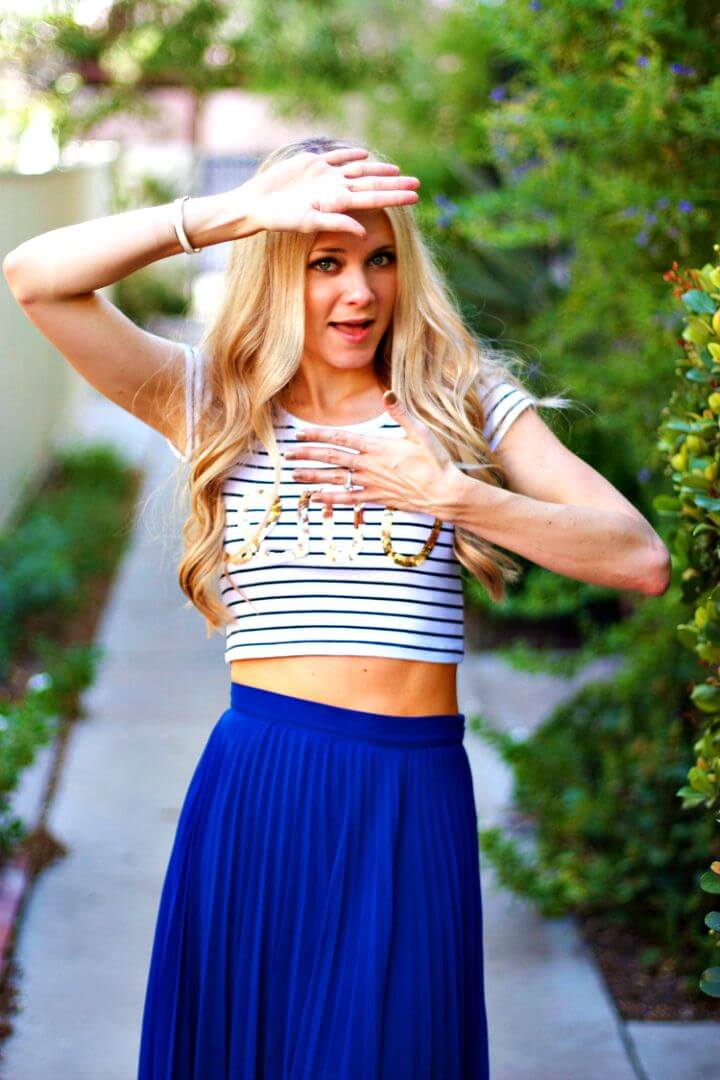 Look at this another fantastic no-sew project that will help design your outfits for a special summer look! Just make use of sequin ribbon to write custom names, letters and also to make custom art shapes on your outfits! Here a crop top has been adorned with the sequin ribbon that has been glued in front of the crop top making custom name letters! This would also be a great way to give a personal finishing touch to your summer outfits! Another great and outstanding DIY summer outfit project to do at home! Grab the full free tutorial and instructions from here kristimurphy
DIY Crocheted Leather Flap Clutch: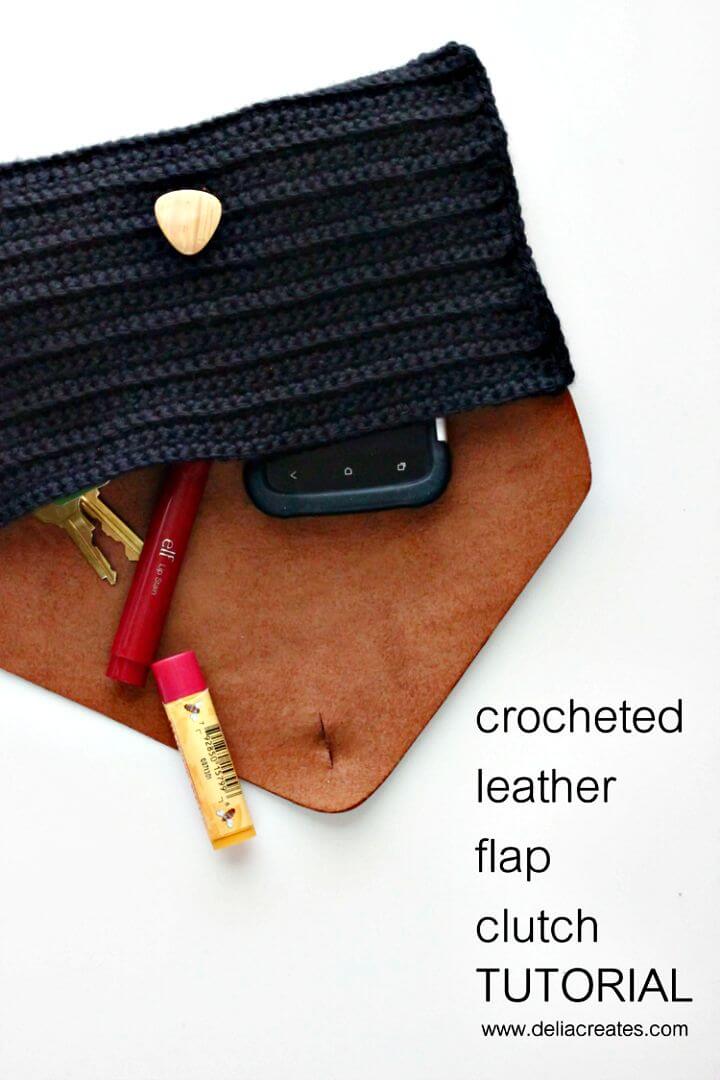 It also creates an extra handsome personality of you if you have a smooth looking clutch or purse in your hands! So, why not boost your style this summer by making some fetching look clutches at home! Use also your crochet art to make a fantastic one, get inspired by this lovely sample given here! This is here a crocheted clutch that comes with a leather flap and is looking handsome! The black and brown appeal goes enticing, and the addition of an art style button is just like icing on the cake! Free crochet clutch pattern and leather flap tutorial here deliacreates
How To Make Iron Transfer Tote: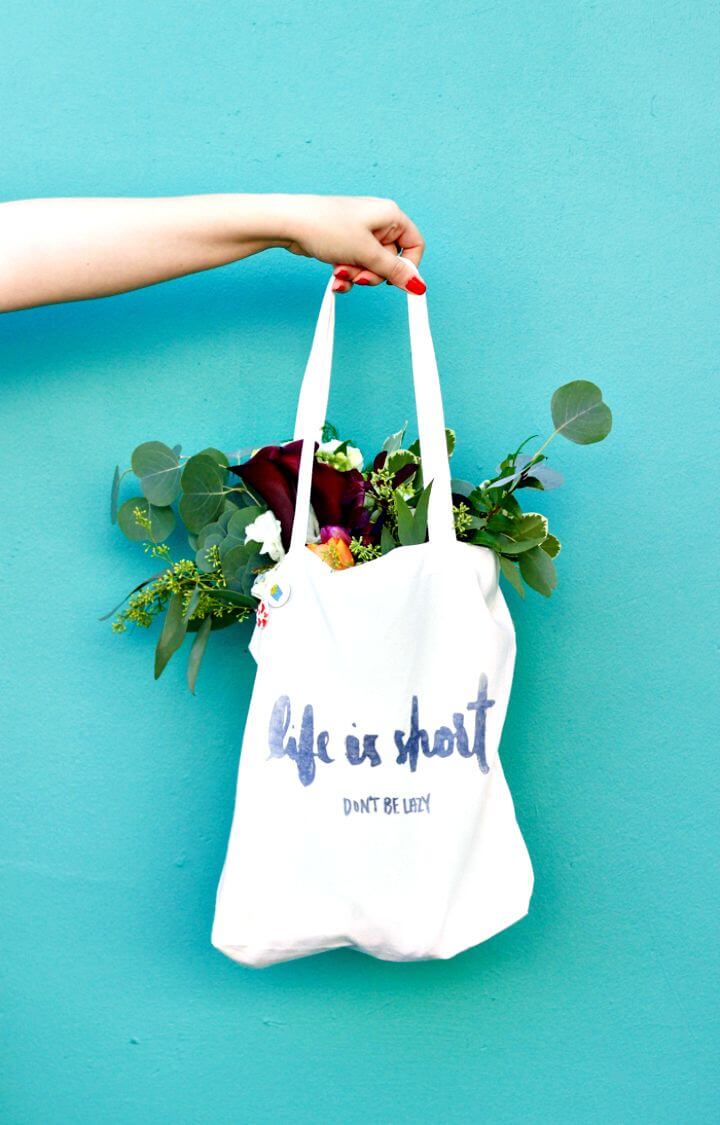 Have a look at this another fantastic looking summer special tote that is easy to make! The idea here is to personalize your tote bags with custom art or letters! Here a white canvas bag has been personalized with custom letters through the iron transfer! Here all you need an iron transfer pen and a paper to prepare the transfer art! Just write anything special on a normal printer paper and then transfer your art on the tote using an iron! Same has been done here! Grab the full free guides and visual tutorial from here thecraftedlife
Adorable DIY Nerdy Chic Book Clutch: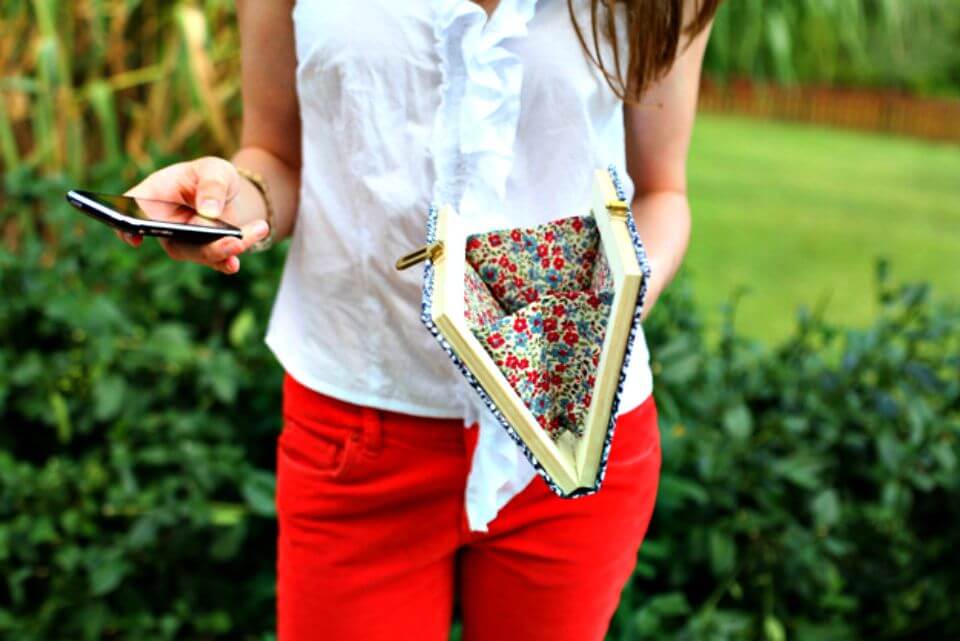 You can do amazing DIY projects to boost your summer fashion if you have a genius brain! Just have a look at this DIY nerdy chic book clutch that has been done to inspire and is something that will boost the fashion of all fashion loving girls! Here all you need a book, some fabric, needle and thread, glue and a clasp to make a chic book clutch! The idea here is to cut out the pages out of the book leaving behind only the boundary of the pages! Next, make a pocket inside the book that will be revealed when the book is opened! Just use a piece of fabric and then the needle-thread to add a fabric pocket inside the book! Don?t forget to finish your book clutch with a clasp! Grab the full free tutorial and instructions guides from here caughtonawhim
Make Your Own Tassel Sandals: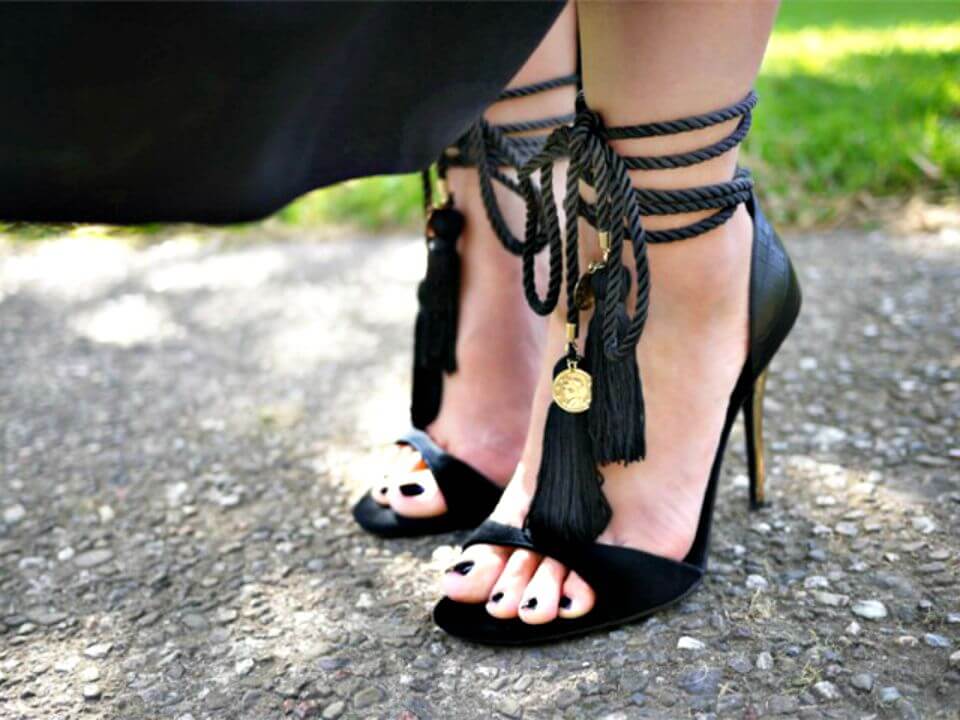 Design your own special summer special shoes at home using custom materials from home and from the store! Rest of the story will tell these amazing looking tassel sandals that have been crafted to amaze all the fashion lovers! Here the fantastic looking tassels have been added to sandals that are looking just fabulous! Here all you need, twisted silk rope, tassels, jump rings, ending caps, gold coins and of course a pair of sandals to duplicate this project! Complete project tutorial and instructions here honestlywtf
DIY Christina Clutch Tutorial: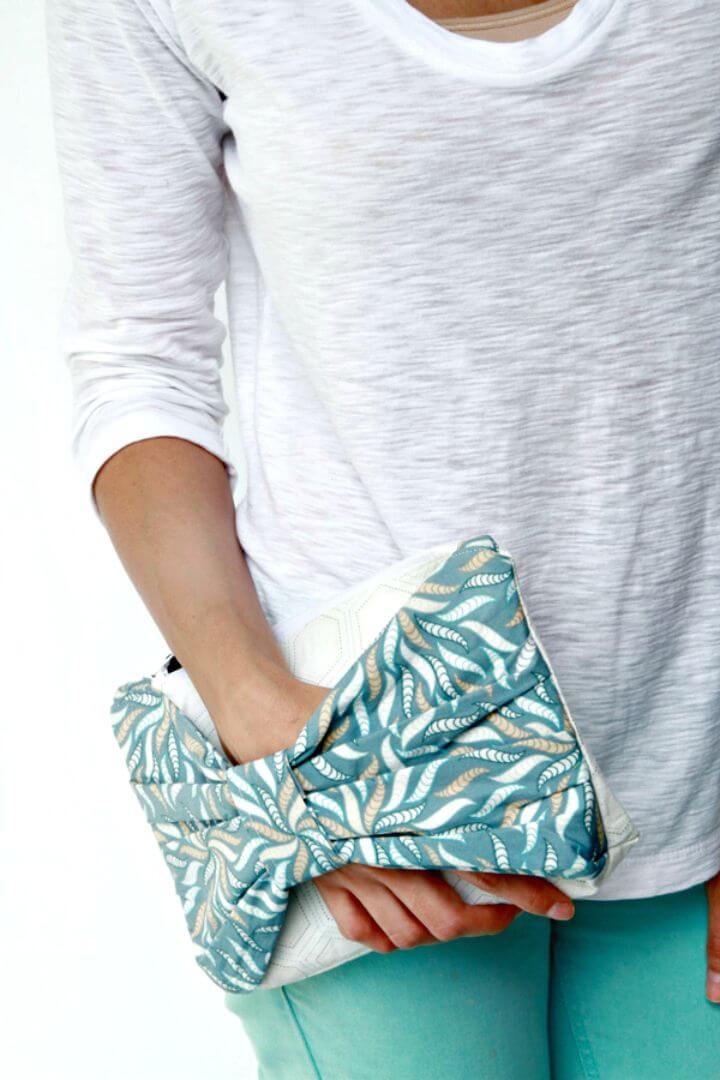 Once again a fantastic looking clutch is here to boost your fashion! This is here the fantastic looking bow clutch that gives a tight grip to your hand along with bringing a great style to your personality; this is here another great summer project that you can do at home! This handmade clutch would also make a great gift to all fashion loving teen and will also be loved dearly by all style loving ladies in your home! This is what you need this summer to give a fantastic final touch to your outfit! Here is how to make this very good looking clutch! Grab the full free guides and visual tutorial from here artgalleryfabrics
Easy DIY Elastic Headband Tutorial: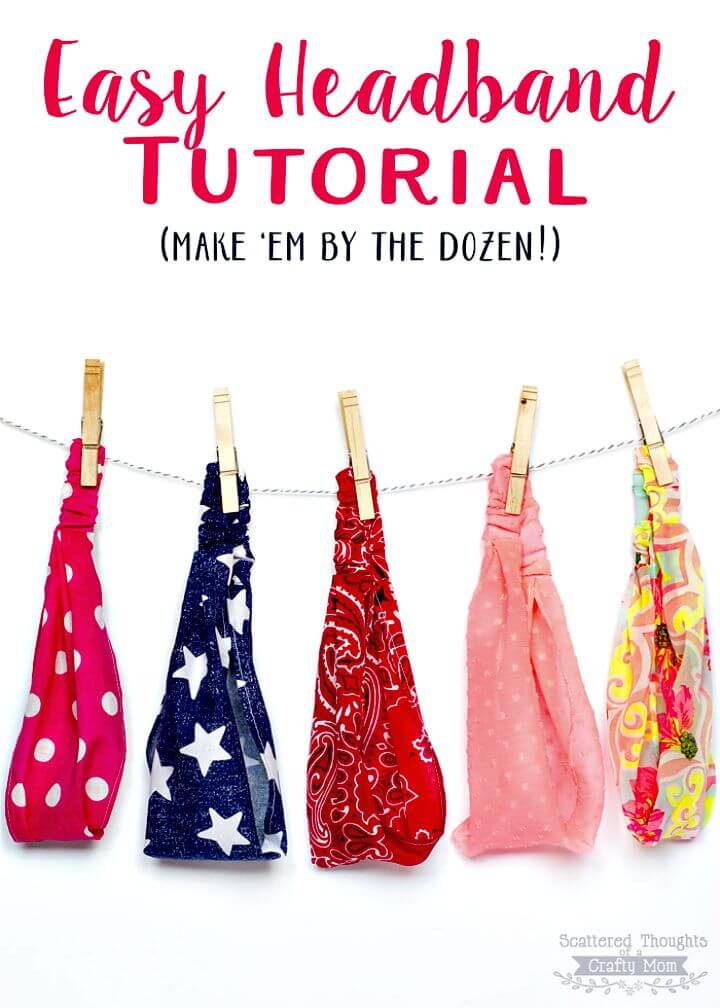 This is here another great and outstanding project that you can do in summers to give a brilliant finishing touch to your summer outfits! Just use the old or spare fabric from home and make perfect looking headbands out of it that can be worn with different summer outfits for bigger fashion statements! Make the custom polka dotted headbands or just create a cute personality of you by wearing the headband that will come with star-shaped or custom floral patterns! Another good way to adorn your head this summer! Complete project tutorial here scatteredthoughtsofacraftymom
Awesome DIY Donuts Floppy Hat: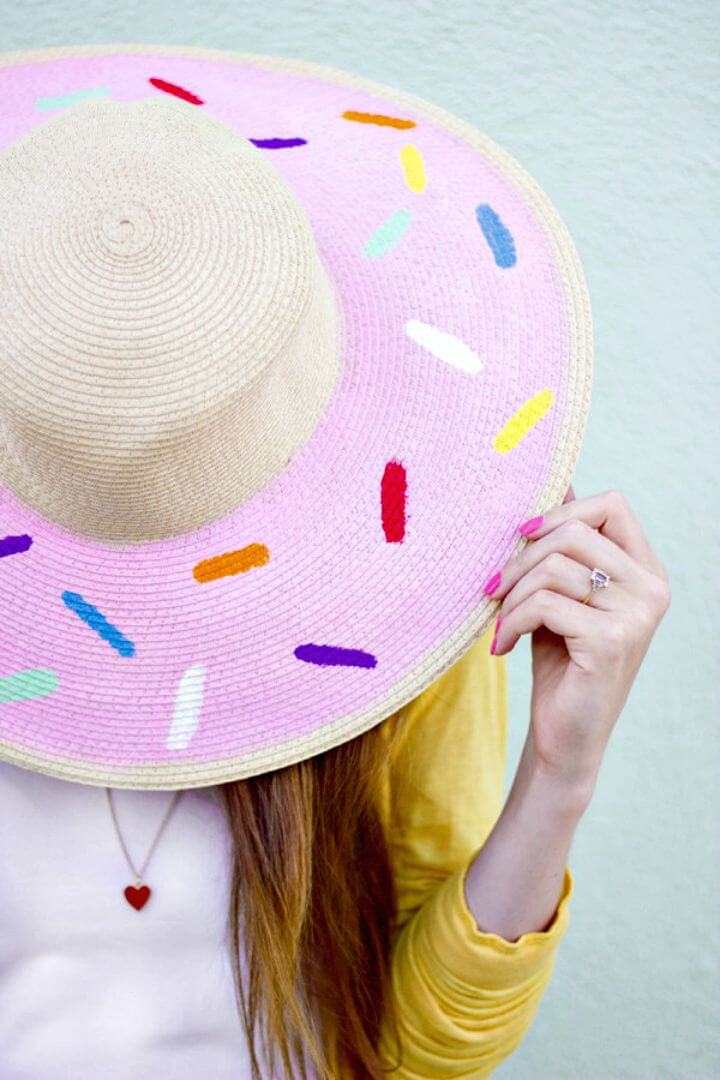 Wearing hats also becomes a great fashion in summers as they help beat the summer heat by providing shade to your head! So, you can also design special summer hats at home to boost your summer fashion! Check out here an extraordinary and adorable looking donut floppy hat that is sure to adorn any women?s head in a style! Here you need a hat with a brim that can be?painted for colorful donut icing for an instant donut look! Another great and outstanding summer project to do at home! Grab the full free tutorial and guides from here studiodiy
Simple DIY Feather Tee Inspiration: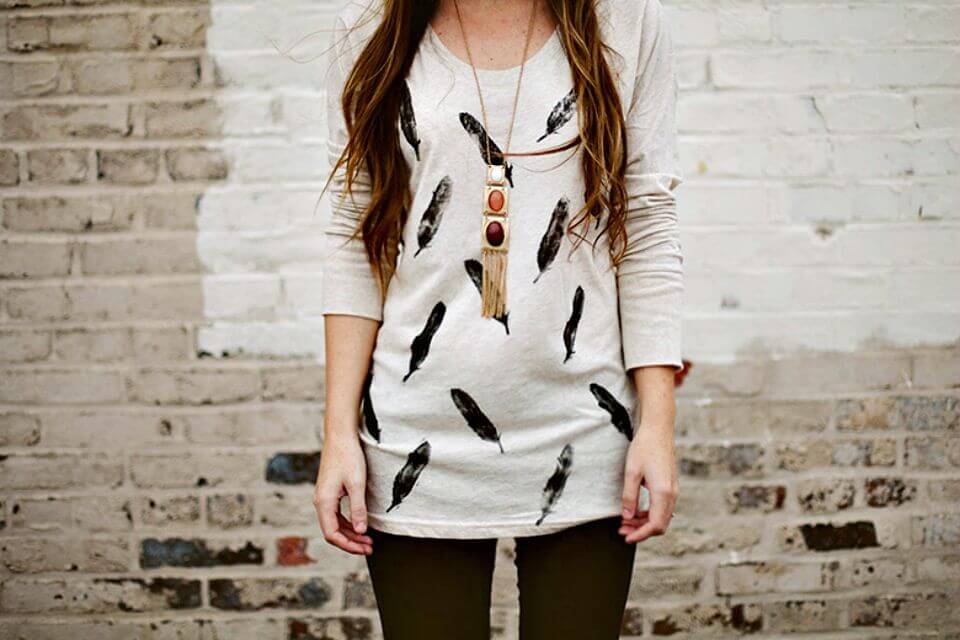 Make also fashion-worthy tee at home! The idea is to spruce up your normal t-shirts with custom stamps and stencils to make then look summer special! Just stamp make custom stamps at home using foam sheet and dip them in fabric paint to stamp custom art on your t-shirts! Just check out here the feather tee that is amazingly beautiful and fashionable and is sure to inspire your creativity! Willing to add this handsome-looking feather tee to your summer wardrobe? Then grab the full free instructions and tutorial from here sincerelykinsey
Adorable DIY Elbow Patch: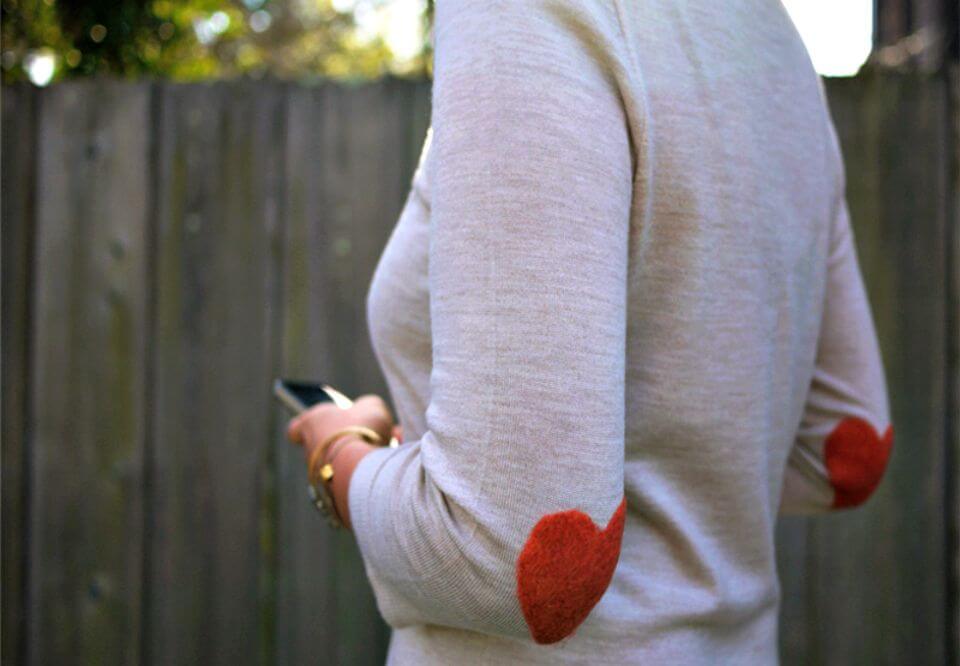 Here is how to enhance your style this summer by design your outfits and other items of fashion in your way! Here would like to inspire you with this example of a beautiful t-shirt that has been adorned with the hear shape elbow patches and hence is fashion-worthy! Place the heart shape cookie on the sleeve of your t-shirt or sweat and fill it with wool roving! Stab the roving down and remove the cookie cutter! Give an iron press and just make the heart-shaped elbow patches on both sleeves of your sweater and t-shirt! honestlywtf
Make Your Own Fringe Net Tank: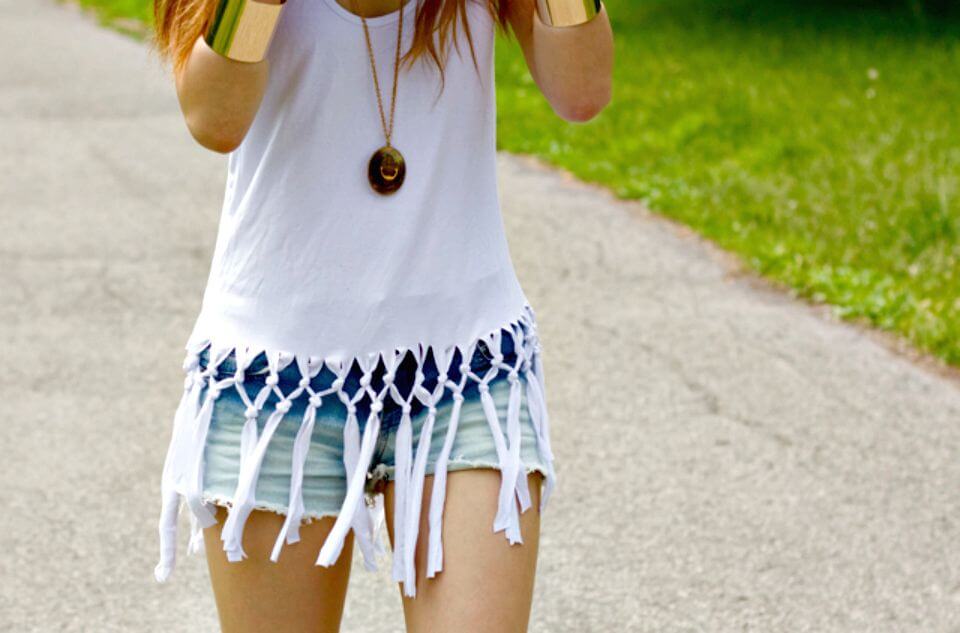 Look at this another glam dress or outfit that has been desired for summer fashion just by using a little creativity! Here the lower part of the tank has been cut into straight, and even strips and then easy pair of stripes has been knotted together to make an excellent looking net tank! This is here another brilliant and fantastic no-sew DIY summer project that everyone can duplicate in just no time without getting ab it expensive! Willing to do the same with your tank? Complete project tutorial here popchampagneblog
DIY No Sew Poncho Tutorial: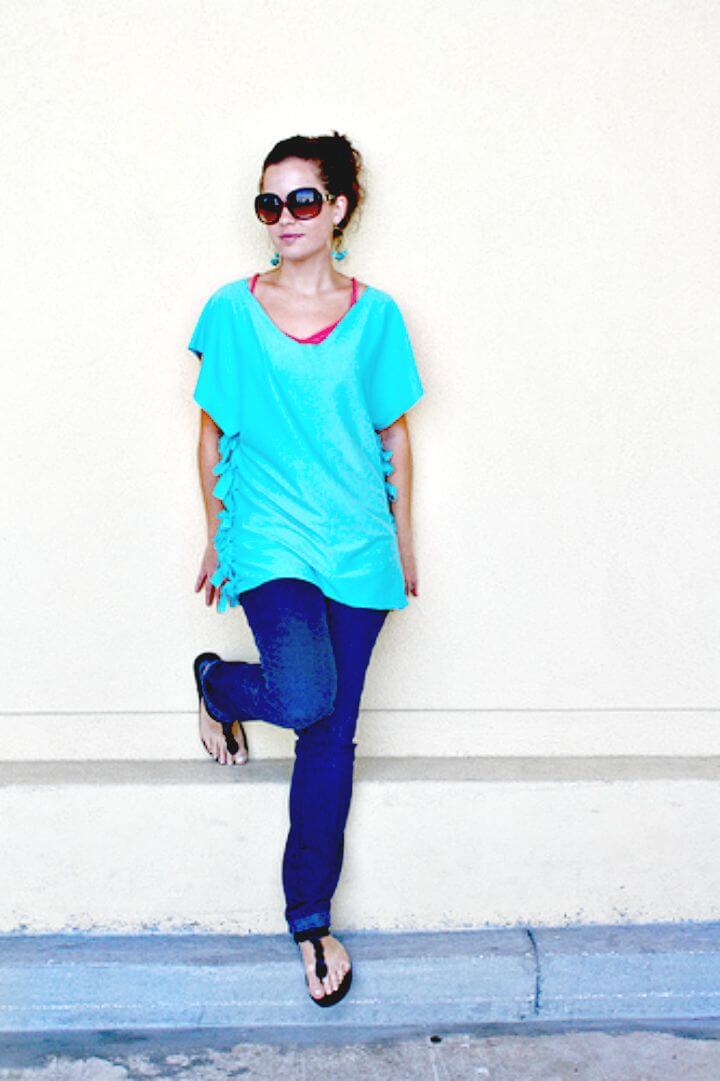 Here is another brilliant summer outfit that has been brought to an extra stunning appeal just by giving custom slits in the sides! Here all you need to do to this poncho makeover is to cut slits or stripes into the sides of the shirt which can then be woven by passing in a long ribbon or piece of fabric! This is here another brilliant and fantastic summer outfit project that everyone can do even the very beginner! Willing to duplicate this no-sew poncho? Grab the full free guides and visual instructions from here happytogetherbyjess
DIY No Sew Braided Headbands: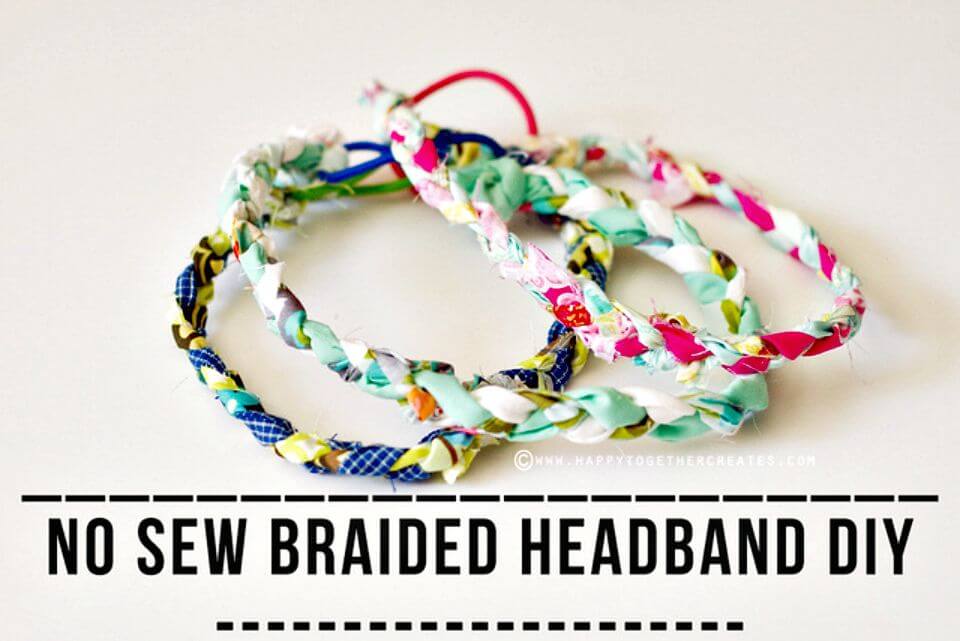 Here is what you can do amazing with the leftover fabric to enhance your summer style and fashion! Just cut the strips out of old colorful fabric pieces and then braid them together to make amusing looking summer headband that will add a great finishing touch to any of your summer outfits! Check out here the sample braided headbands that have been crafted to win the heart of all style loving girls! Here the complete braided headbands have been finished with an elastic ponytail holder that will give the headbands a tight gripe while being over your head! Complete project instructions and tutorial here happytogetherbyjess
Adorable DIY T-shirt Into Infinity Scarf:
Check out here another brilliant and outstanding hack to boost your summer fashion! Here the idea is to repurpose your old t-shirts to make cool summer accessories like this infinity scarf! Here all you need to do is just to grab a very good looking t-shirt which can be cut to remove the neck and sleeves and the rest of fabric can easily be used to make an infinity scarf! Complete project tutorial and instructions here girlinthegarage
How To Make Upcycled Sweater Slippers: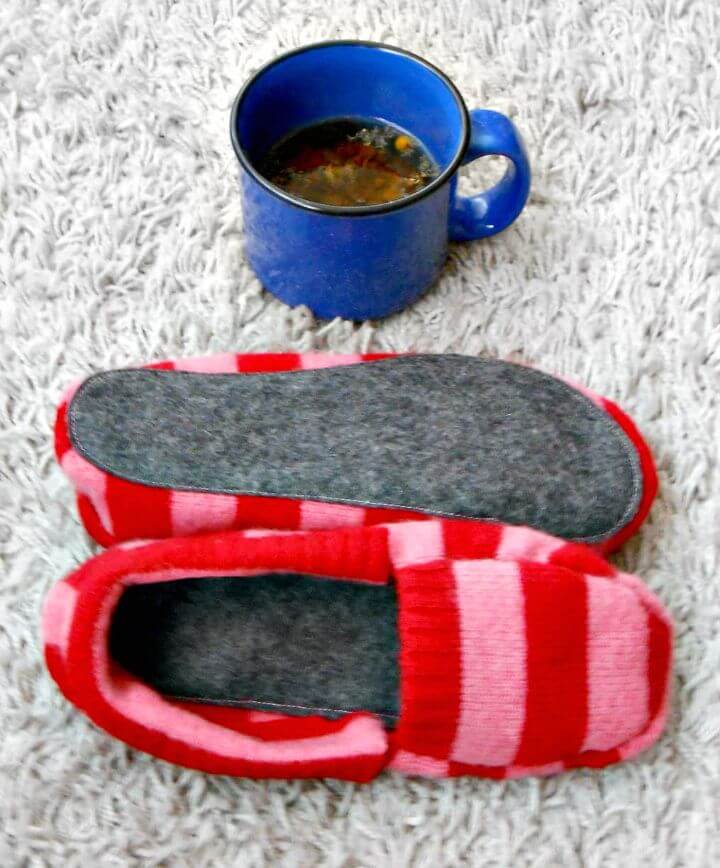 Don?t know what to do with your old sweaters? You will be amazed to see that can help to make adorable summer fashion crafts including the fashion-worthy footwear! You will fall in love with these slippers that are made of an old sweater and come with felt soles! Just use a sole shoe template to cut the soles out from the felt sheet and next use the custom cut sweater pieces and the sweater sleeves to make your slippers! This here a sewing project in which you also need to do a little needle work! Grab the full free guides and visual instructions from here wecanredoit
Easy DIY High Waisted Distressed Denim Shorts: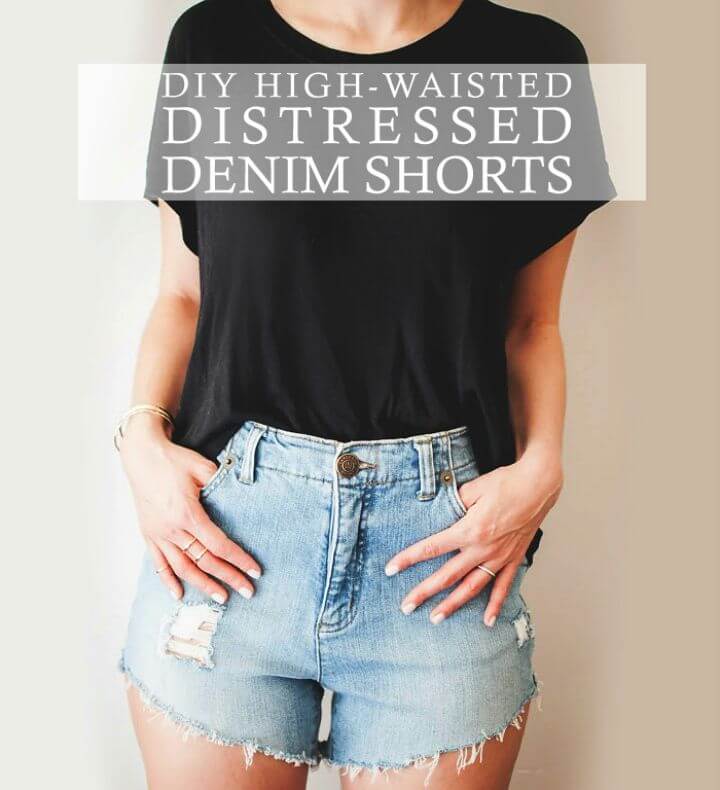 Wearing shorts is a hot trend in summers to beat the blazing sun?s heat! So, if you are also willing to go bare legs on the beach side, then you must make some good looking shorts at home! Repurpose your old denim jeans to make outstanding looking shorts! Just have a look at these distressed denim shorts that have been made to boost your summer fashion! Here all you need a denim jean paint which can be cut down to shorts lengths and next you and distress it a little to boost its style! Check out here the sample short and get inspired! Grab the full free guides and visual tutorial from here thewonderforest
Awesome DIY Rope Bracelet: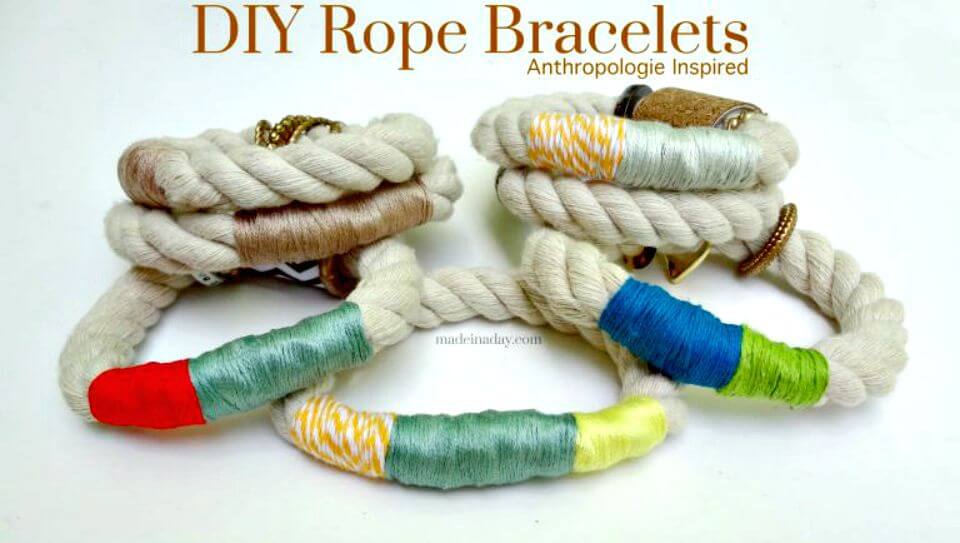 Have you ever thought that you enhance your style also with the ordinary rope? Yes, you can make amazing pieces of jewelry using the nautical rope which can help boost your fashion! Check out here the sample rope bracelets that are made of rope, cardboard tube beads, custom metal ring charms and also by using the twine in different colors! Just take a bracelet size length of rope and glue its ends, wrap the colorful twine around the joint to secure it more in place and next add your embellishments to make a good looking rope bracelet! Have a look at the given sample and get inspired! Complete project tutorial and instructions here madeinaday
How to Make Leather Hair Tie: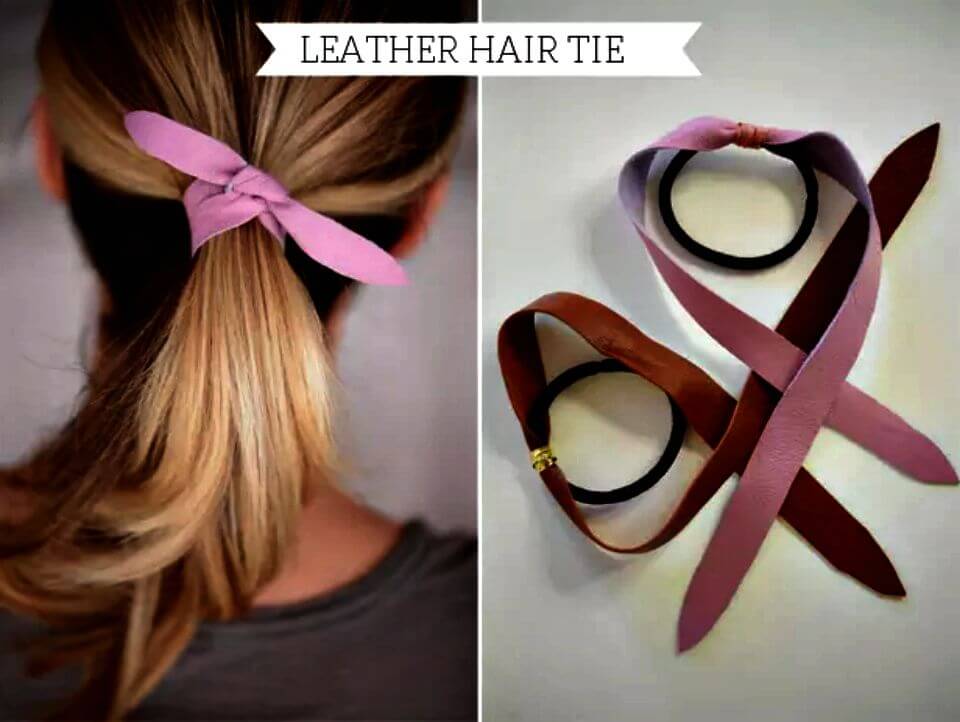 Another brilliant and fantastic summer fashion accessory that everyone can make at home, a good looking leather hair tie! Here all you need to cut longer strips of leather, put a leather strip on a hair headband and secure it in position using a twist tie! These summer ties can also be made in any color using what by choosing the leather strips in respective colors! Give a great finishing touch to your summer dresses with these leather hair ties! Grab the full free guides and visual instructions from here cupcakesandcashmere
DIY No-sew Polka Dot Infinity Scarf: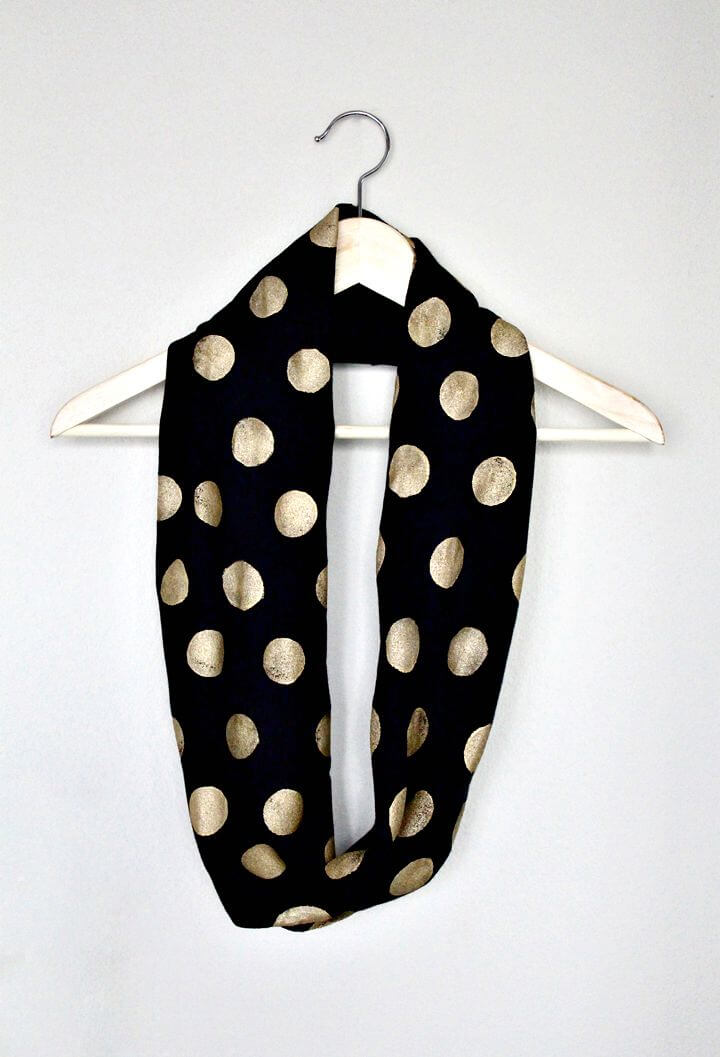 Another amazing and interesting summer fashion item here that will definitely be a wardrobe must-have for a style loving lady and you can easily make it at home! This is here a fantastic looking infinity scarf that has been brought to an expensive appeal using the gold polka dots! Just make an infinity scarf out of an old t-shirt and then use pounce and a gold metallic paint to add polka dots to your handmade infinity scarf! Grab the full free guides and visual instructions from here sugarandcloth
DIY No-Sew T-Shirt Bow Sleeves: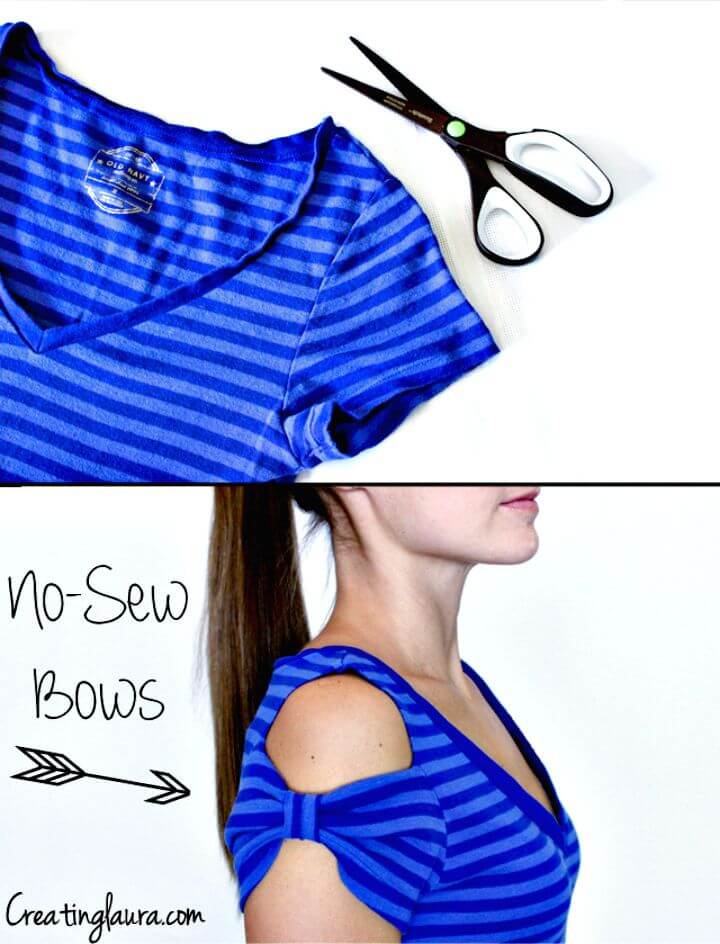 Do amazing makeovers of your summer traditional outfits to make them look summer special! Just have a look at this outstanding-looking t-shirt that comes with bow sleeves, and here a smart makeover has been done to make the t-shirt sleeves look so! Here all you need to cut the sleeves of the t-shirt smartly to shape up a bow there! The idea here is to cut longer fabric strips and then to cut a lid in the sleeves! Tie the fabric strips in the center of the cut sleeve to make a bow, and that?s it! Grab the full free guides and visual instructions from here creatinglaura
DIY Graphic Word T: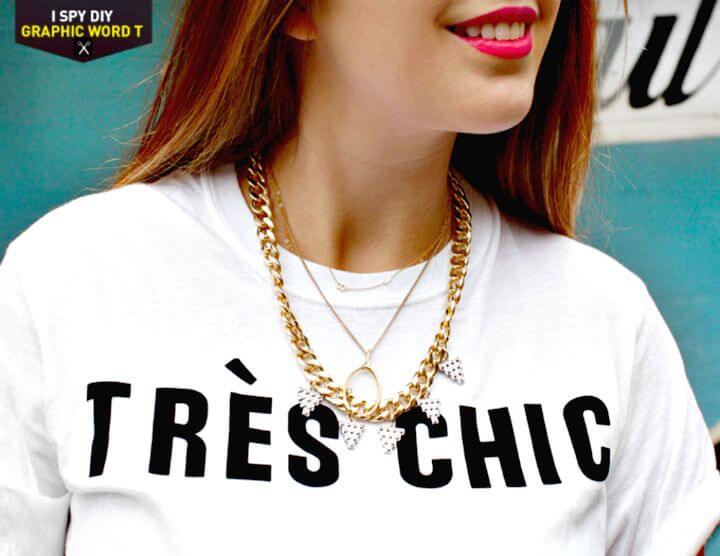 Check out here another smart t-shirt makeover that will help make your normal t-shirts look summer special! The idea here is to personalize your t-shirts using custom letters which can be printed there on the t-shirt for custom name letters, messages and also for custom quotes! Just grab your iron on letters and use an iron to stamp custom letters on your t-shirt to get it to look more special! Get inspired by this sample graphic word t-shirt that is looking special and outstanding! Grab the full free guides and visual instructions from here ispydiy
DIY New Look For Old Ballet Dancers: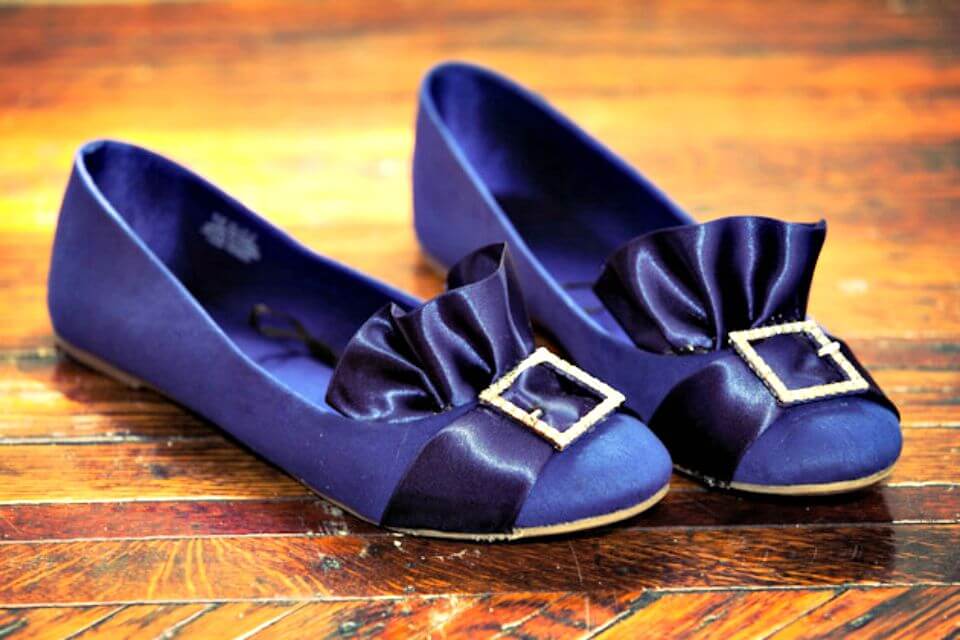 Here is how to redesign your old ballet dancing shoes for a new fashionable look! Here all you need is to do a smart makeover of your shoes using ribbon and some glittery metal buckles! Just select the ribbon in color of your shoes and cut a strip of ribbon to which may come with ruffles to make an inside toe accent as you can see! Next, add the buckled part around the front toe, and that?s it! This is here another brilliant and fantastic project that you can do to make your shoes look summer special! Grab the full free visual guides and instructions from here boza.mk
DIY No Sew Open Back Sweater: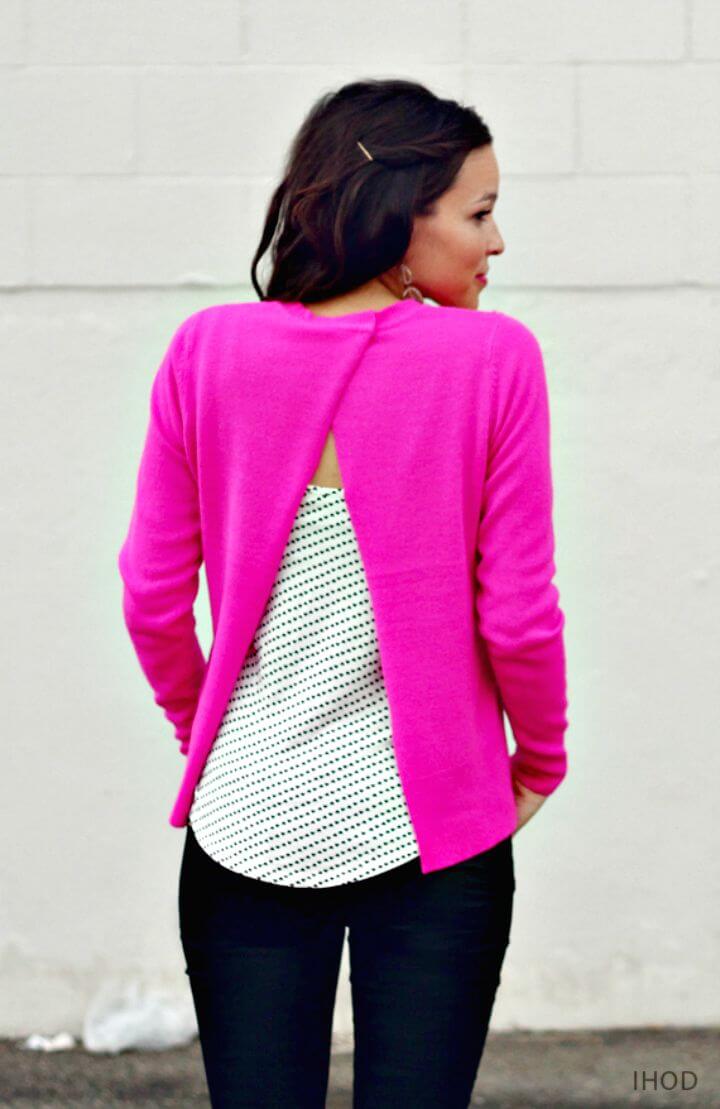 Getting your body uncovered smartly for air-circulation and to beat the summer heat, is something that is becoming a fashion! You can?t wear the sweaters in summers, but it is possible if you do a little summer special makeover for your sweater! Just get your sweater with open back, and hence you can also wear it in summers to look great and outstanding! Here the idea is elementary and straightforward! Just cut a big slit in the back of your sweater and then add the Velcro to secure the top edges! Hence you will get a summer special open back sweater! One more genius and innovative summer outfit project to do at home! Grab the full free tutorial and instructions from here inhonorofdesign