The DIY air conditioner is not less than a blessing for the summer. As the summers are unbearable for many of us who can't withstand the hotness of the weather. However, after the pool swimming, beach picnics, and outdoor showers, modern tech has invented air conditioners to stay cool and relaxed in the summers. All people can't afford the AC luxury and the air conditioner electricity bills. So, beat the summer heat with these 20 cheap DIY air conditioner ideas that are easy to make with inexpensive and common supplies. From building a portable air conditioner without ice to a homemade air conditioner without electricity, you will get step-by-step instructions, detailed diagrams, complete material lists, and visual tutorials for building all sorts of air conditioners here.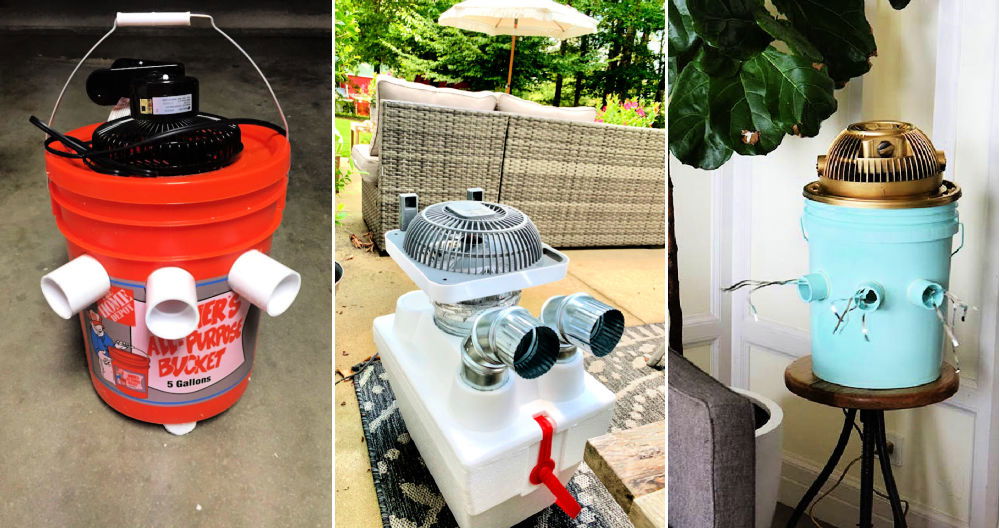 These DIY AC will be portable and dragged and carried with any outdoor location to beat the summer heat. Most of the homemade air conditioner ideas are to make with an icebox, cooler, or plastic bucket that you can fill with ice and frozen water and install a fan on the top and a PVC outlet to get the conditioned air. Some projects involve using copper tubing, and you will learn so many different ways to make them. The best part is, all these projects are beginner-friendly and will be a great STEM project to do with your kids. Browse the entire list of these best DIY Air Conditioner Ideas. See many unique projects that will teach the whole science behind making a DIY AC at home.
1. Outdoor Air Conditioner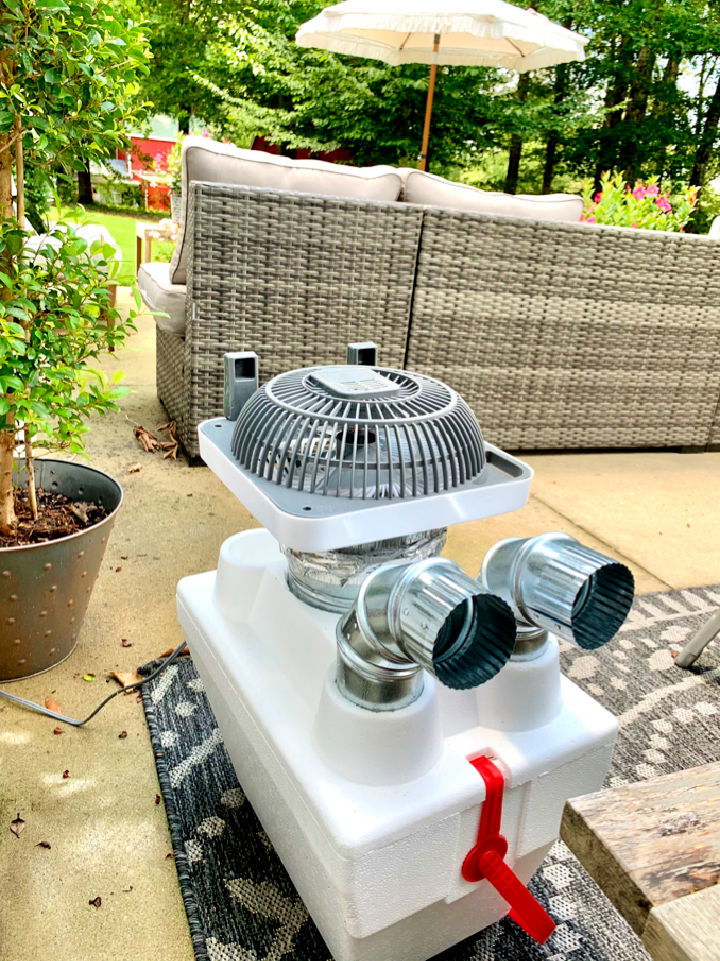 Yes, you can enjoy the AC luxury at your favorite outdoor space too. Build this low-cost yet fully functional DIY air-conditioner that will help keep you cool under the blazing sun. You have to use the cheap supplies and materials to build this tech, and it will work great for everyone who is hardly beaten by the ultimate hot weather. The design is much achievable, but you can work in precision. You need a Styrofoam cooler elbow dryer vents, small fan, box cutter, and ice to make this AC. homestories
2. DIY Air Conditioner with Fan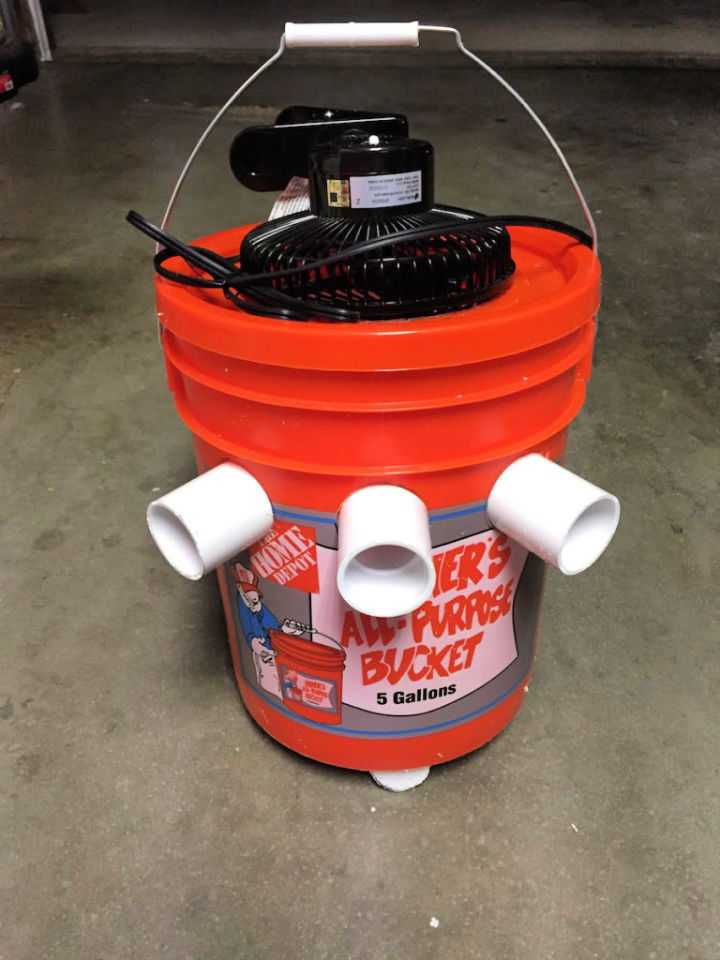 Make the 100% working outdoor air conditioners out of recycled plastic buckets also. This handmade AC will work great in a closed space where you need instant cooling. The making of the entire air-conditioner is pretty quick, and every beginner can make this air conditioner. You need a 5-gallon bucket with a lid, Styrofoam insulation PVC pipes, 6" desk fan 1.5″ hole saw, a gallon jug of water, Dremel, and a marker to build this AC. smartgarage
3. Travel Homemade Air Conditioner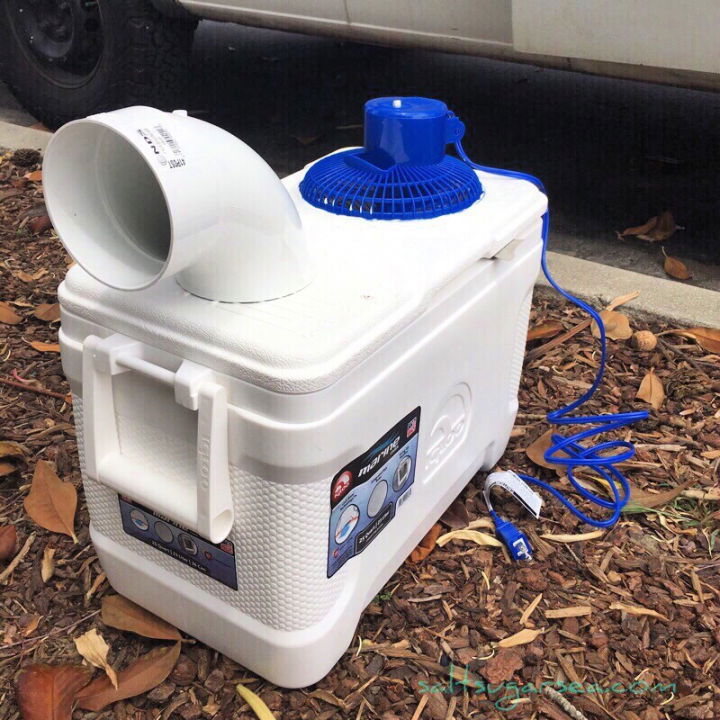 Travel with your home luxury by making this homemade air conditioner that is super cost-efficient to build. The entire air conditioner is a breeze to make and uses inexpensive supplies that everyone can easily afford and access. Here you need an ice chest, small fan, PVC pipe elbow, pencil, ice, and drill to make this luxurious travel ice, which will live for years to come. The whole air-conditioner will complete in just 10 minutes. saltsugarsea
4. Portable Air Conditioner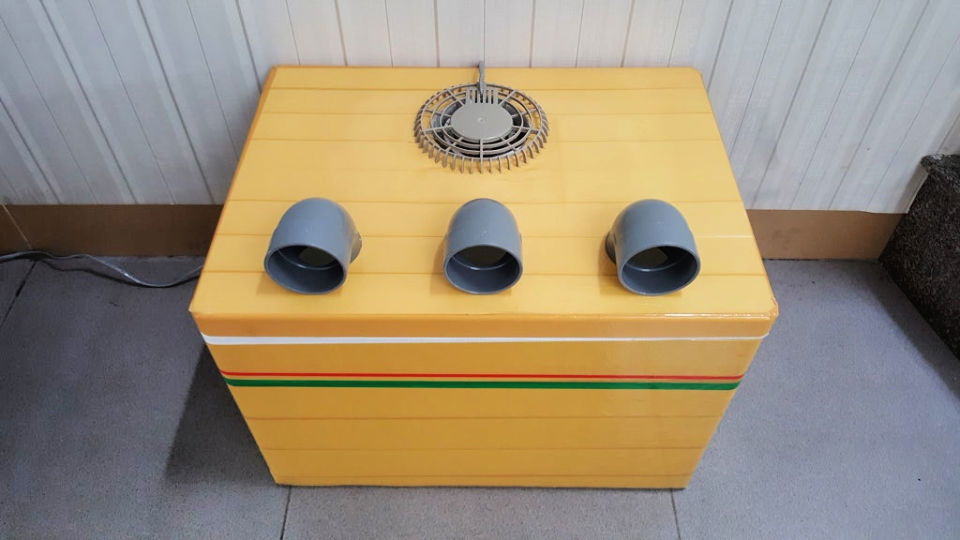 Learn how to make a portable air conditioner at home that you can also drag to any outdoor space. The design is easy to build and will surely work in a closed space where you need fast cooling. In supplies, you need the Styrofoam box mini fan and a 90″ elbow, and you will love building this nice and fully working AC at home. It will make a better gift for a close friend and is the best DIY project to do this summer with your kids and friends. instructables
5. How to Make Air Conditioner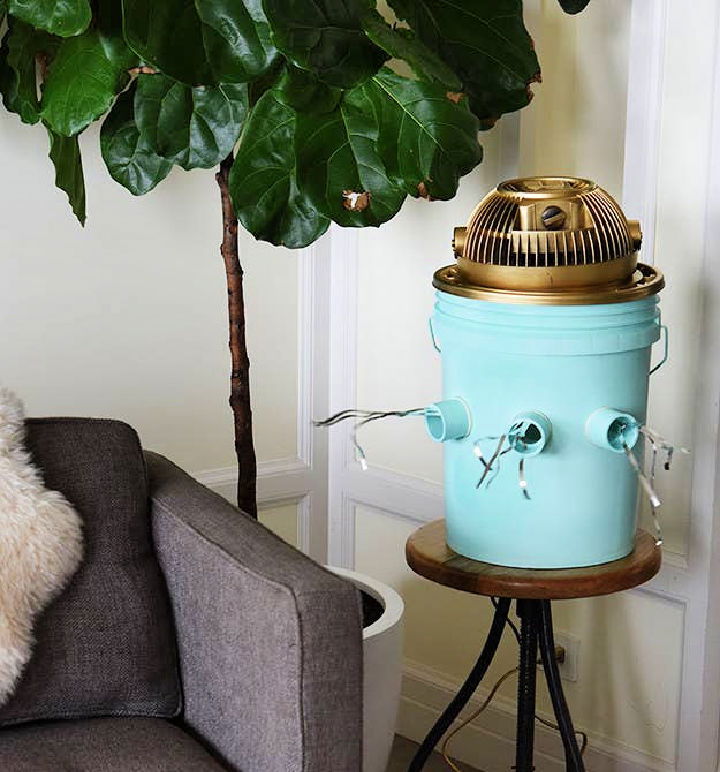 Can't you afford the AC to beat the summer heat? Time to change things up with your DIY creativity. Just understand the science behind the air-conditioner and make your own lovely AC at home. Get the free plans here to build one that will keep you cool even in the blazing sun. Upcycle a plastic bucket to build this AC. You need a big plastic bucket, table fan, PVC, spray paint, Styrofoam bucket liner, and a little bit of creativity to build this air-conditioner. It will cost you less than $60. buzzfeed
6. DIY Air Conditioner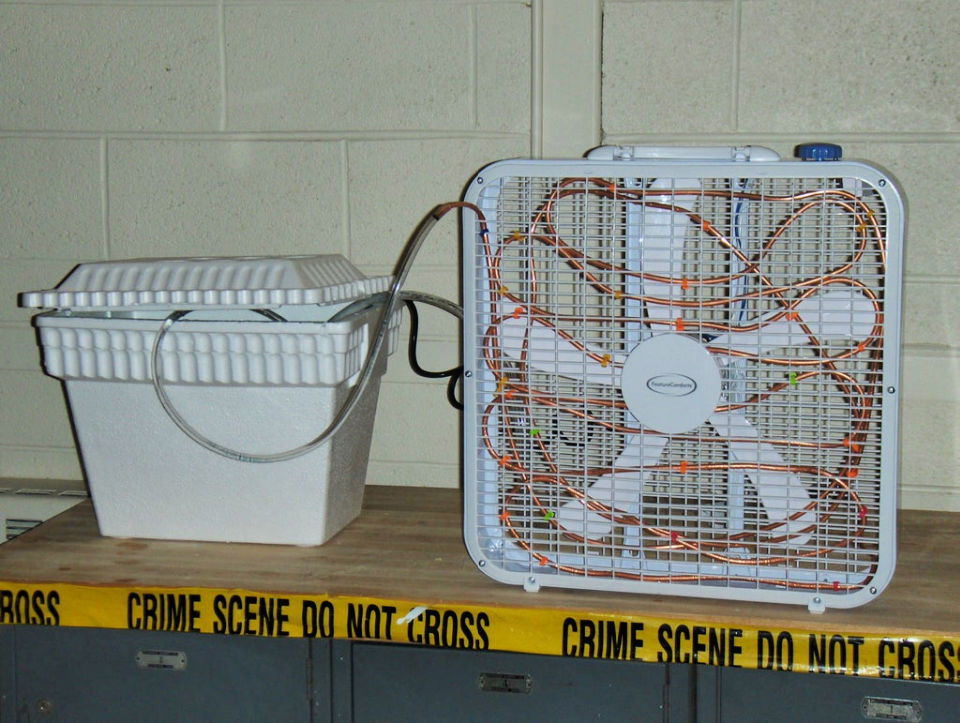 Learn the science behind how an air conditioner works and make your own AC at home inexpensively. You can choose the ordinary components to perform as different AC units are explained better in this project. This AC is unique to build, and it works on the major air conditioning principles. It will cool the air better than a fan and is super quick and cost-efficient to build. You need tubing, copper tubing, a fan of a Styrofoam container ice container to build this AC. instructables
7. DIY $25 AC Unit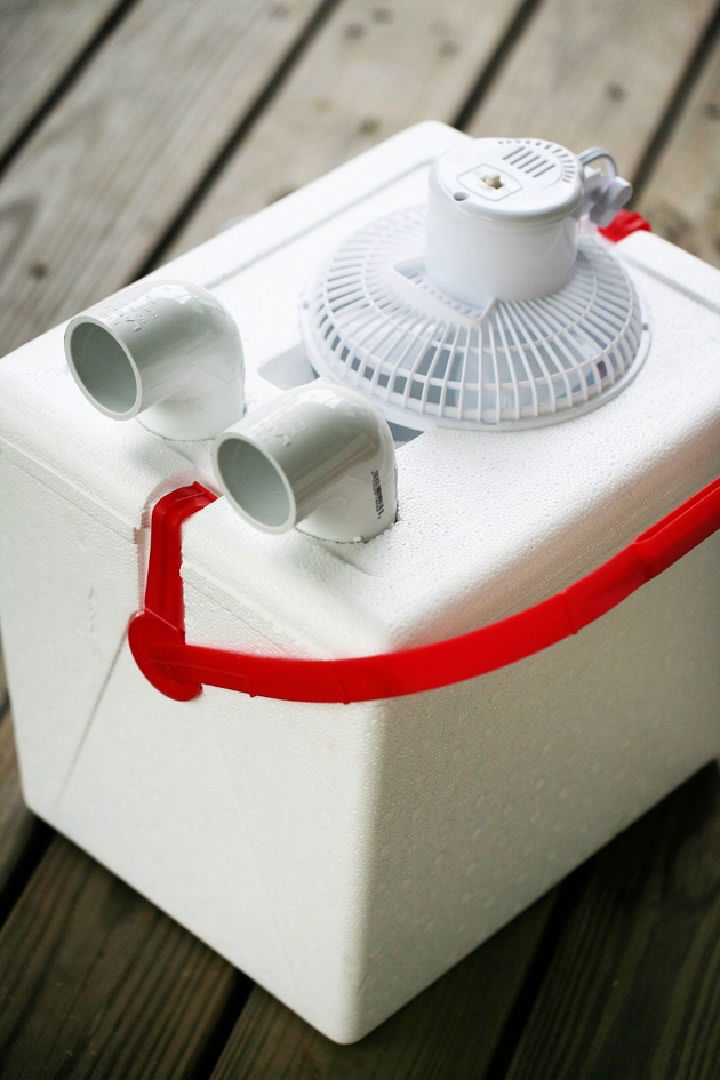 The AC unit is a big need to beat the summer heat that otherwise will roast you. So, learn here how to build an AC unit at home without getting expensive. Building this AC unit will cost you under $25 and will be a total pleasure to whip up in no time. You will love building this AC unit that will be an easy, quick, but smart creation for sure. Here you need a $7 Walmart cooler, 6″ fan, and elbows to build this portable air conditioner that is both praise-worthy and gift-worthy. ladyleeshome
8. Homemade Bucket Air Conditioner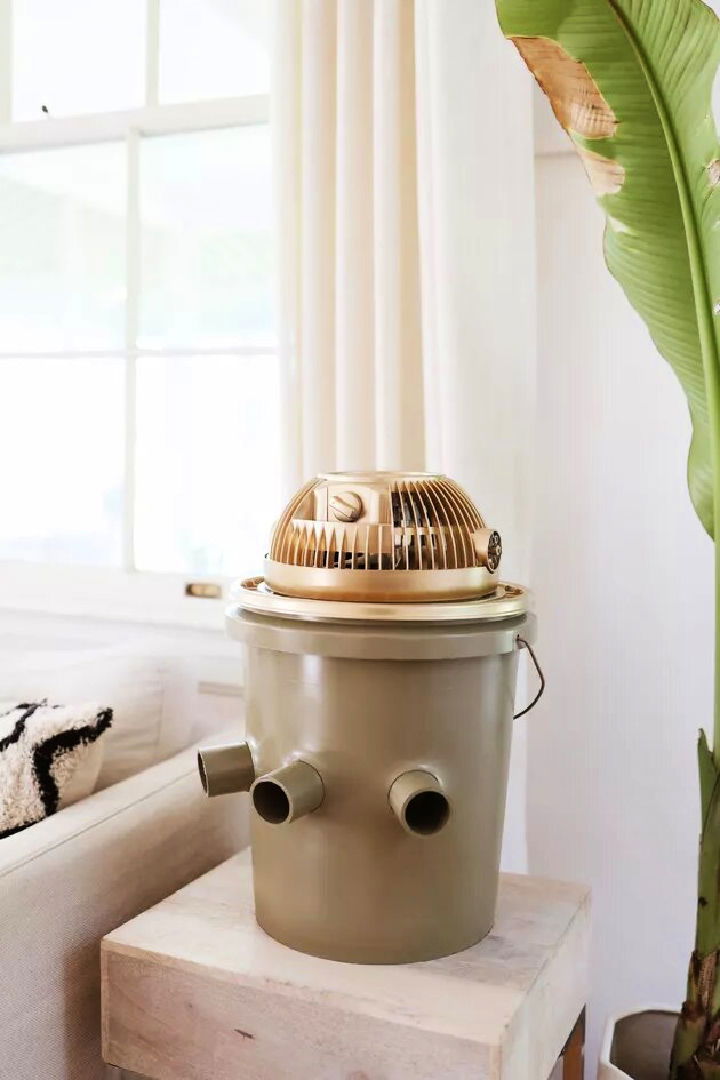 It is amazing to sit in an air-conditioned room on hot summer days. Most air conditioners come fixed in a place, and you can't have them anywhere you want. But this portable homemade AC is an amazing solution for it. It will work up fast and is a total pleasure to work upright in the comfort of your home. You need a plastic bucket with a lid, table fan, PVC, spray paint, and drop cloth frozen gallon of water to make this AC. hunker
9. Homemade Air Conditioner from a 5 Gallon Bucket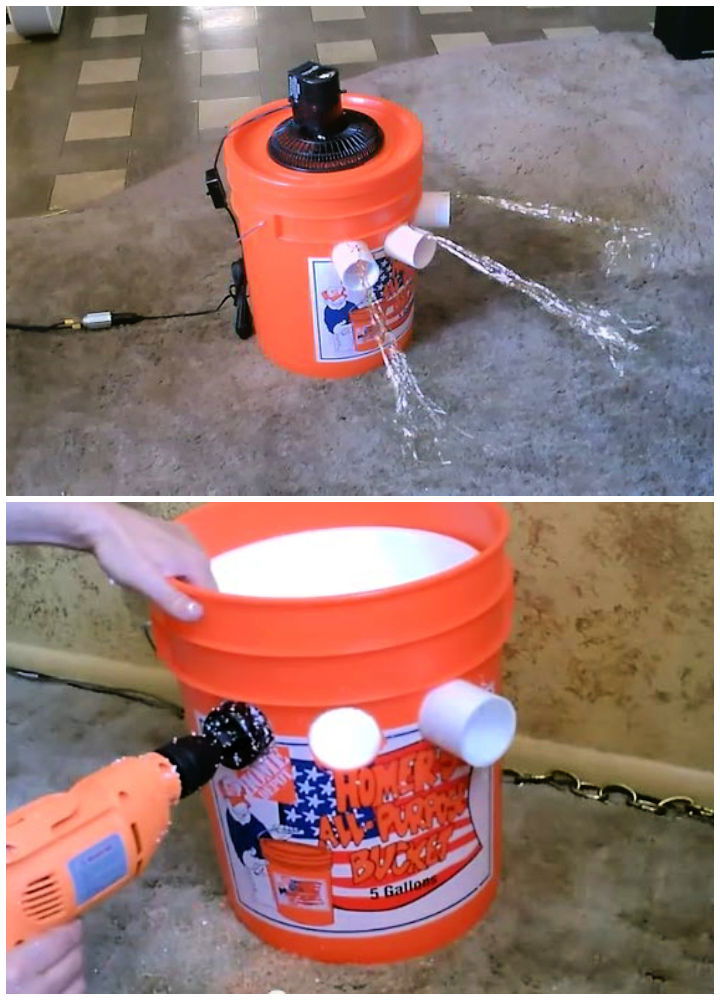 Even using a small fan, a 5-gallon bucket, and some PVC pipe pieces, one can install a beautiful portable AC that you can drag to any outdoor location to live the AC luxury anywhere you like. The construction is super quick and easy and will cost you next to nothing also. Make this DIY swamp cooler also for a friend, and it will make a better handmade surprise. Must make it to boost your DIY creativity too. One of the best DIY AC ever made. doityourself
10. DIY Tent Air Conditioner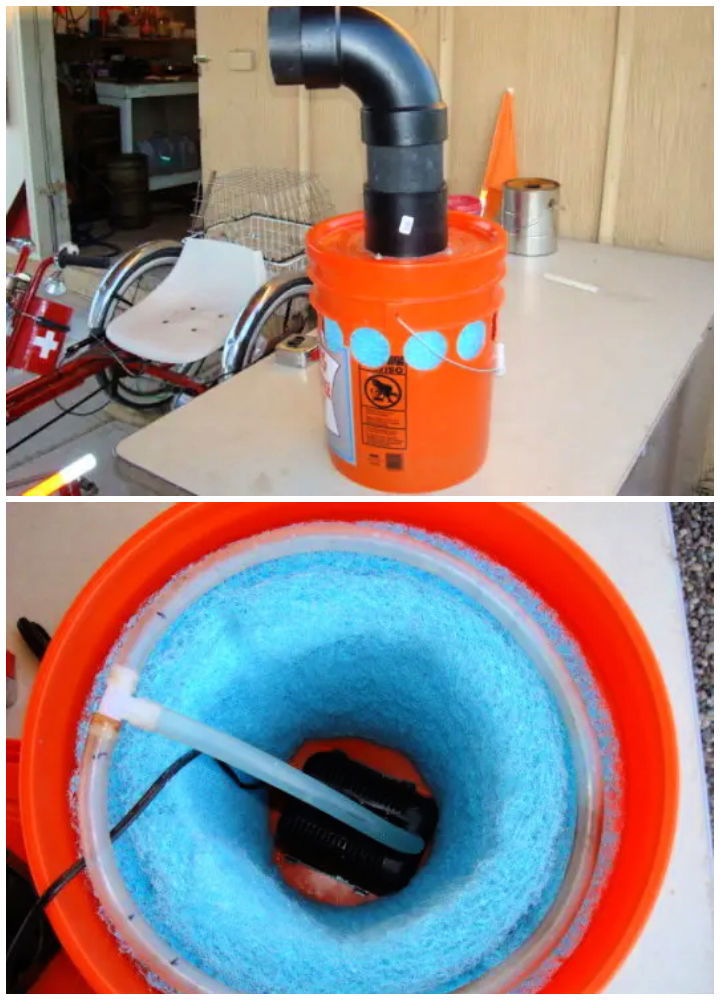 Yes, with a genius DIY hack, one can even enjoy the ac right in the camping tent to feel at home during all the camping adventures. So, learn here how to build your own 5 gallon bucket air conditioner that will amaze you with the fast cooling. Just insert the outlets into the tent and live the AC luxury right in your tent. Here you need a 5-gallon bucket, cooling pads, water pump, hose, fan, drill, battery, ducting, and plumbing fittings. The whole project is both beginner-friendly and budget-friendly. thetentaircond
11. $20 Cooler Air Conditioner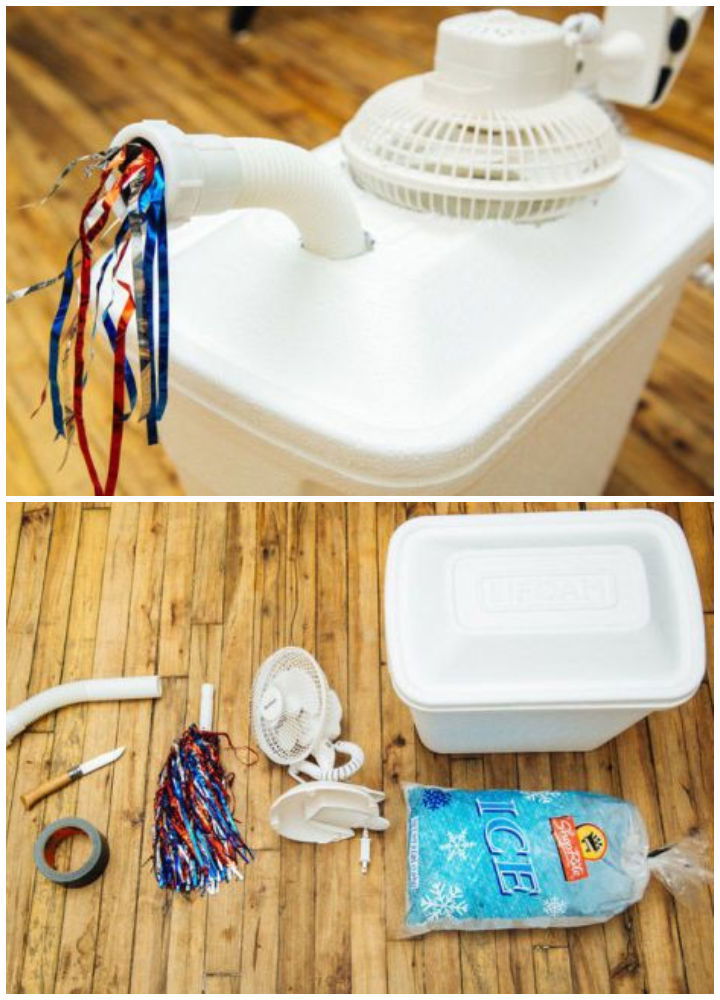 Get the easy and quick free plan here to build a lasting longer portable air conditioner at a minimum cost price. Yes, this project will cost you under $20 for a portable DIY swamp cooler that will work up super-fast. The project involves using cheap supplies like a bag of ice, rubber dryer tube, Styrofoam cooler, pom-poms, one desk fan. This is going to be one of the best DIY AC to build at home, right in the comfort of your home. huffpost
12. DIY Bucket Air Conditioner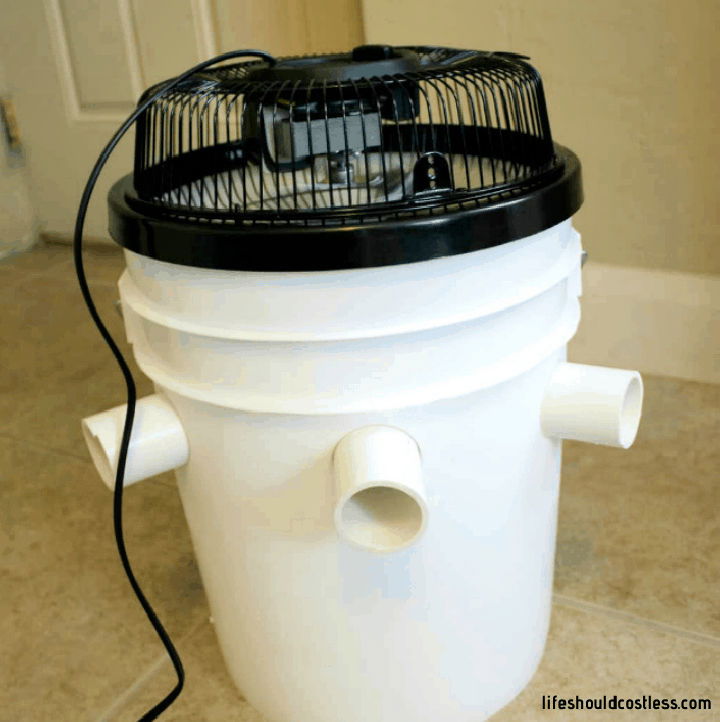 Get the step-by-step guides here to build an air conditioner step-by-step. Again you need a 5-gallon bucket to build a 100% working AC, and it will surely impress the user with the fast cooling. The whole you need is to make holes in the sides of the bucket to fit the PVC pipes, and you can easily do so by using a drill. Fit the fan on the top of the lid and drive the cool air through the PVC outlets. Don't forget to fill the bucket with frozen water or ice cubes. lifeshouldcost
13. DIY Air Conditioner for Camping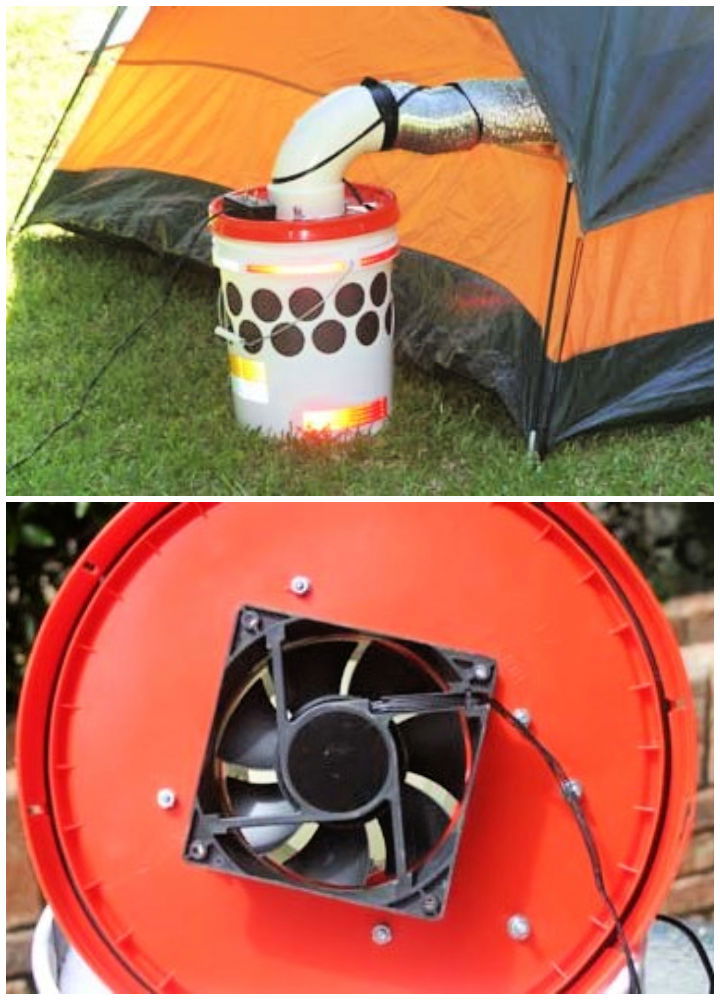 Rock your camping routines by making this another sweet and adorable off-grid air-conditioner. It will instantly cool down the camping tent and be a big love for all the camping lovers if given as a sweet handmade gift. The whole is an easier DIY project, and you can do with your kids to make them learn some AC science. You need a computer fan, water pump, PVC, goop glue, dryer vent, tubing, T-fitting, window screen, project box, switches, and some switches, etc to build this homemade air conditioner. offgridsurvival
14. DIY Dorm Air Conditioner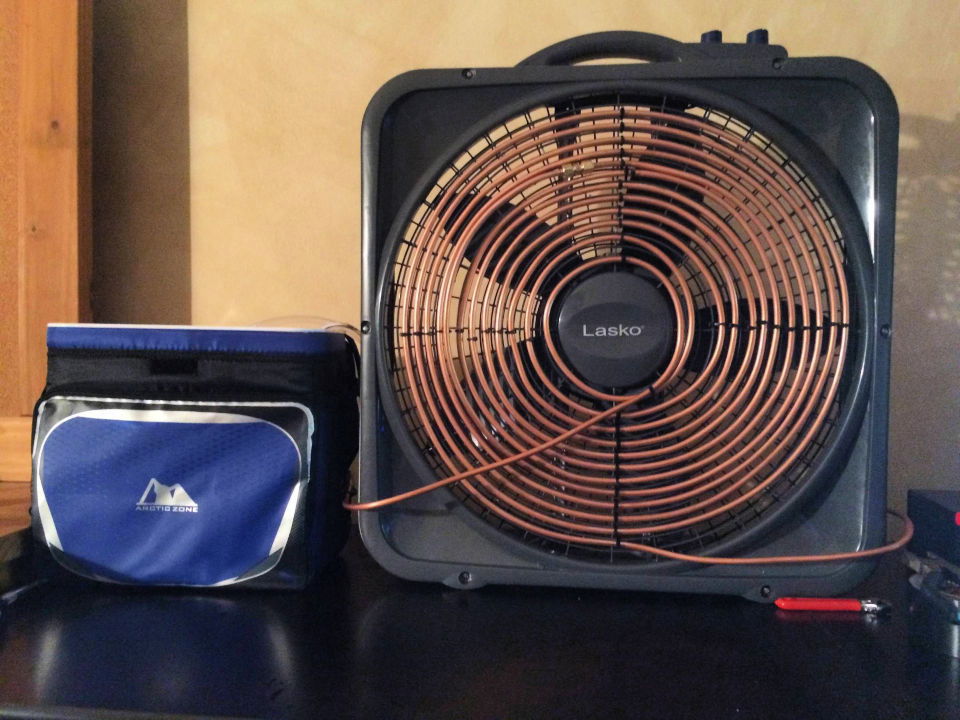 Before you lay in a puddle of sweat, try making this brilliant portable AC that involves using much fewer supplies that are easy to grab and cost-efficient also. Majorly you need a cooler that can be added up with a fan having front covered with copper tubing. Use another tubing to drive the conditioned air and fix it all in place using the recommended hardware. One of the best DIY dorm air-conditioners ever built will make a better handmade surprise. cluttter
15. Mini Air Conditioner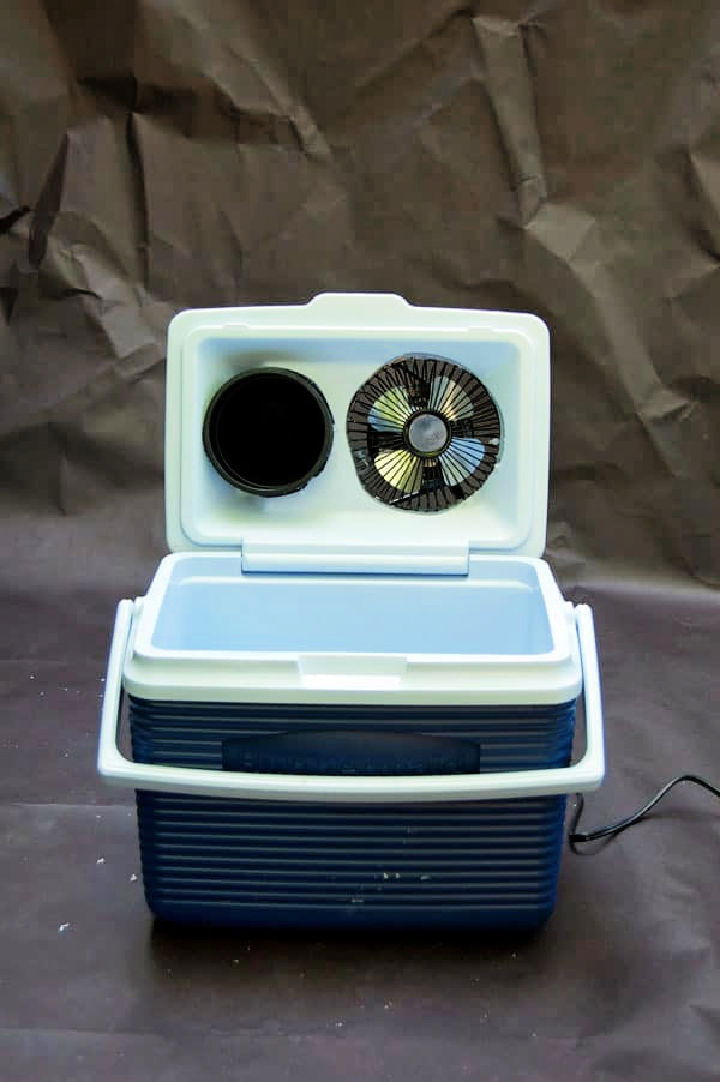 Feel free to whip up another cute model of portable conditioner that promises to provide all the expensive AC comforts cheaply. Here, it is a Redneck air conditioner looking amazingly cute and gorgeous and will surely impress all the camping and creativity lovers. Fill the cooler with ice cubes or frozen water, and then fit a small fan on its top. Create an outlet to let the cold air out, and that's it. theartofdoing
16. Little Bitty Homemade Air Conditioner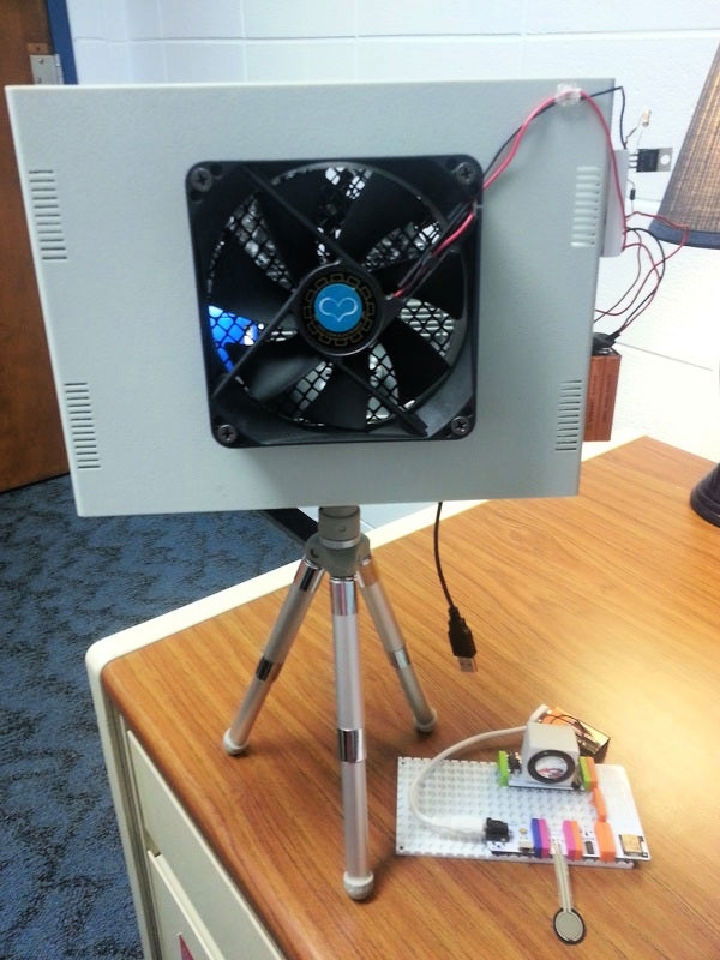 Are you sorting out the best way to stay cool in the summer season? Then must adding making this air-conditioner in your summer fun routines after the pool parties, beach visits, and outdoor showers. Making this portable air conditioner is an interesting kids' game, and project supplies will cost you next to nothing. Mainly you have to build this air-conditioner using the breadboard, mesh, and PC fan and you can install further a lot of hardware and gadgets to make it a lot more interesting. instructables
17. Homemade Air Conditioner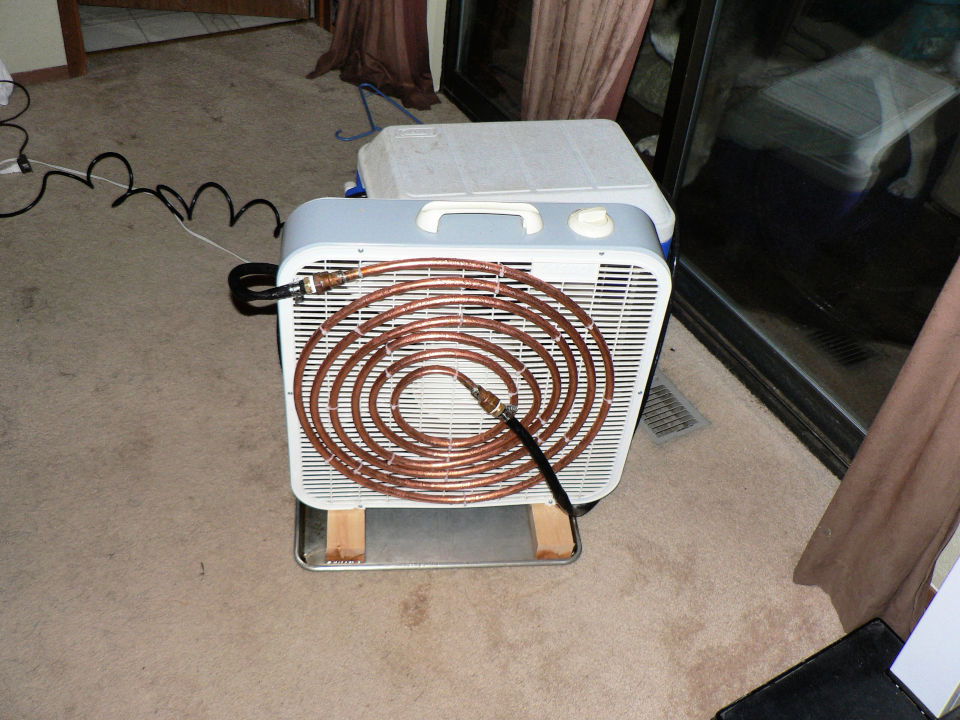 Stay cool when in the camping tent and anywhere at your favorite outdoor in the blazing sun by making this cost-efficient portable AC. The project involves using a cooler and a fan's best services to build a nice and gorgeous looking air conditioner without getting a bit expensive. Make a big hole in the lid of a Styrofoam cooler to fit a fan and make a little hole to get the cold air outlet. The DIY ac unit project involves using vinyl tubing and copper coil tubing for the cooling phenomenon. You also need an aquarium pump, wood, zip ties, reducers, and fittings to make this cooler air conditioner. fiscalgeek
18. DIY Air Conditioner with Ice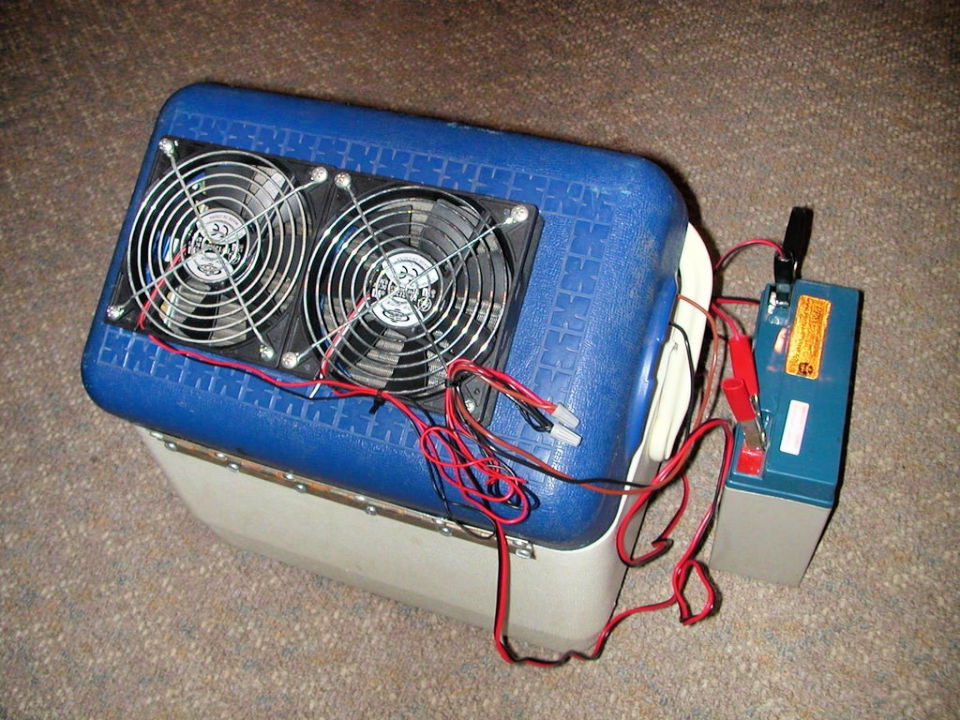 You will love to keep this portable AC with you at home, outdoor, in-vehicle, and even in the camping tent that will cool down the air fast. This is the best miniature AC that everyone can make to beat the summer heat, and it will not take much time to be in your services. Make this 12V air conditioner using an ice chest, Heater Core, Box Fans, Blade Guards, Bilge Pump, Hose, 12V Plug, Inner Tube Piece Caulking, and Assorted Wire. instructables
19. Air Conditioner without Ice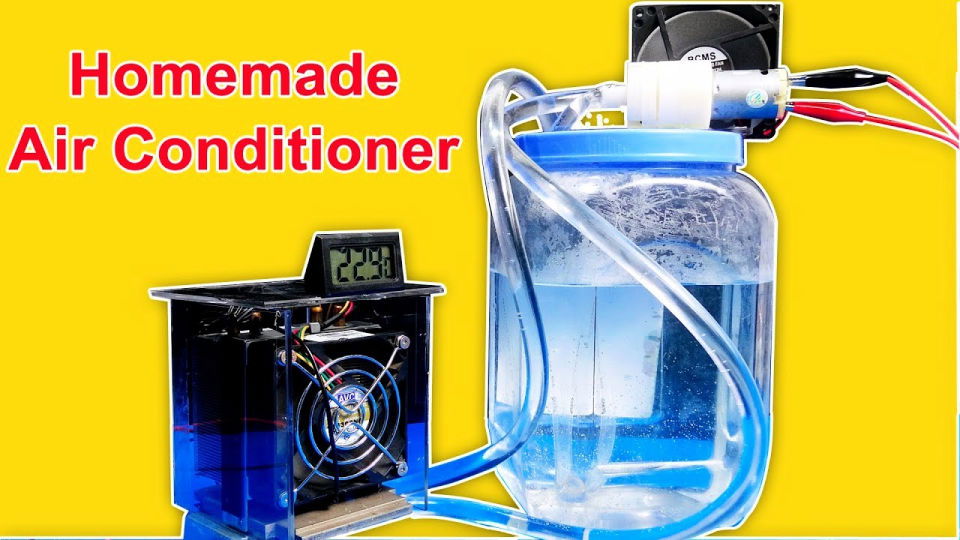 You will surely love this crazy invention of an air conditioner that works without ice and is a total pleasure to make. You need a computer heat sink, 100W thermoelectric cooler Peltier. Aluminum water cooling block 40 x 40 x 12mm, liquid cooler water block radiator, plastic mica plates, tubing, a jar, and lots of other mini but inexpensive supplies to build this air conditioner without ice. It will be a great STEM project for kids also.
20. DIY Air Conditioner on Budget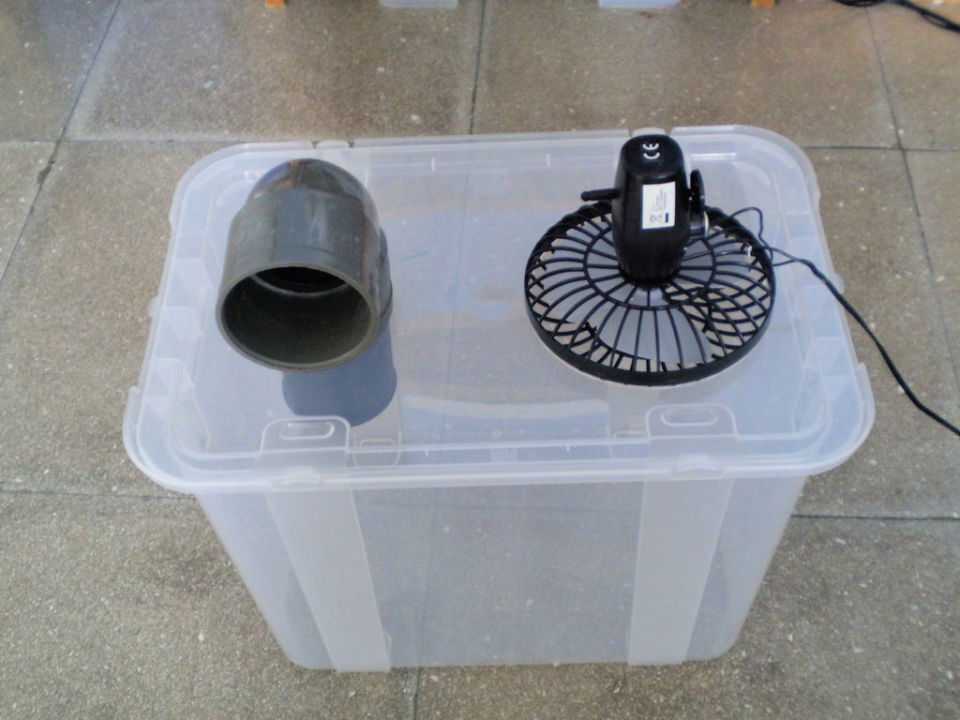 AC is a big luxury in the summer seasons, and many of us can't afford an AC and the AC electricity bill. So, grab the whole creative info to make an AC at home using the cheap and easily available store supplies. Fit a small car fan in the lid of a plastic box that you can fill with ice. Make another hole in it to fit the 2.5″ PVC 90′ elbow and use the cable ties, glue, and pipe clamps for overall assembly. instructables
AC enclosures: To protect your outdoor units with easy to make air conditioner screen.
How to Keep Cool in the Heat Stay Cool in the Summer
The summer heat can be unbearable. Learn how to keep cool in the heat with these tips from cooling experts. Stay comfortable and cool all summer long.
There are some key points to remember when trying to stay cool in the heat: drink plenty of fluids, stay out of the sun, and dress appropriately. Drinking fluids helps your body regulate its temperature and stay hydrated. Staying out of the sun will help prevent your body from overheating. And dressing appropriately means wearing loose, light-colored clothing.
The summer heat can be painful, but there are ways to stay cool. Here are some tips from cooling experts:
Dress for the weather. Wear light, loose-fitting clothing in natural fabrics like cotton.
Stay hydrated. Drink plenty of fluids, especially water, even if you're not thirsty. Avoid alcohol and sugary drinks.
Limit your time outdoors. If you have to be outside, stay in the shade as much as possible. Take breaks frequently in a cool, air-conditioned space. Spend time in air-conditioned places like libraries, shopping malls, or movie theaters.
Use fans wisely. Place them in front of windows to help circulate air and keep cool breezes circulating throughout your home.
Keep your blinds and curtains always closed during the daytime to block out the sun's rays.
Try cooling yourself naturally with a cool bath or shower. Splash your face with the cool water several times a day. Take a cold shower or bath, or use a spray bottle filled with cold water to mist your skin.
Protect your skin. Use sunscreen with an SPF of 30 or higher and reapply it every two hours, even on cloudy days. Wear a hat and sunglasses when you're outdoors.
Don't rely on a fan as your sole source of cooling. Fans circulate hot air and can actually make you feel hotter.
Consider building a portable DIY air conditioner. If you don't have central air conditioning, this can be a great way to stay cool indoors. Just be sure to properly vent the unit to avoid raising the temperature in your home.
If you really don't have an air conditioner or want to save money, there are a few inexpensive ways you can keep cool this summer. DIY air conditioners are a great way to save on energy and stay cool during the hot months.
Here are some tips on how to make your own quick DIY air conditioner:
1. Get a fan: This is the most obvious solution and the most effective one. If you don't have an air conditioner and want to save money, a fan is your best friend. Fans use much less energy than air conditioners, so they'll help you save on your energy bill.
2. Create a cross-breeze: If you have more than one window in your room, open them up and position a fan so that it blows across the room. The cross-breeze will cool you down much faster than a single fan.
3. Freeze some towels: Wet a few towels and put them in the freezer for a few hours. Then, drape them over yourself or your fan to enjoy the cool, refreshing breeze.
4. Make a DIY air conditioner: If you're feeling crafty, you can make your own air conditioner with a few simple materials. You need a styrofoam cooler, some dry ice, and a fan. Check out this tutorial to see how it's done.
5. Visit a nearby pool: When all else fails and it's just too hot to handle, take a dip in a nearby pool or lake. It may not be the most budget-friendly option, but it's the most fun!
These are how you can build your own air conditioner, so finding the right option for you will depend on your needs and preferences. However, all of the options listed above are great DIY air conditioners that can help you stay cool this summer. So, whether you're looking for a more affordable or more sustainable option, there's sure to be a DIY air conditioner that's right for you. You can stay cool and comfortable all summer long by following these above tips.
Conclusion:
Everyone just knows very well the price of the AC. It is one of the luxurious features that does not come in everyone's budget range. So, to make everyone enjoy the air conditioner, these DIY Air Conditioner Projects will rock, and they are super quick and cost-efficient to do. The projects will explore lots of possibilities to build an air conditioner while using cheap store materials. You mostly need an ice chest, Styrofoam cooler, a bucket, a small fan, PVC pipe or joints, ice, copper, and vinyl tubing, and custom assembling hardware to work up these DIY air conditioner projects, sure to impress all the AC lovers. Take a short round of all the projects to learn a lot more.