DIY bottle openers are a functional and stylish addition to your space. Learn how to make a wood bottle opener with these 20 simple DIY bottle opener ideas and plans, including wooden, wall-mounted, and magnetic designs that are perfect for both beginners and advanced craft enthusiasts. With step-by-step instructions, customizable details, and a variety of designs to choose from, making your homemade DIY wood bottle opener has never been easier.
From a rustic wall mount bottle opener with built-in cap catcher to a sleek and modern plexiglass design, these DIY bottle opener ideas cater to a range of tastes and styles. So, why not grab your tools, follow the detailed instructions, and make a unique and practical homemade bottle opener for your home?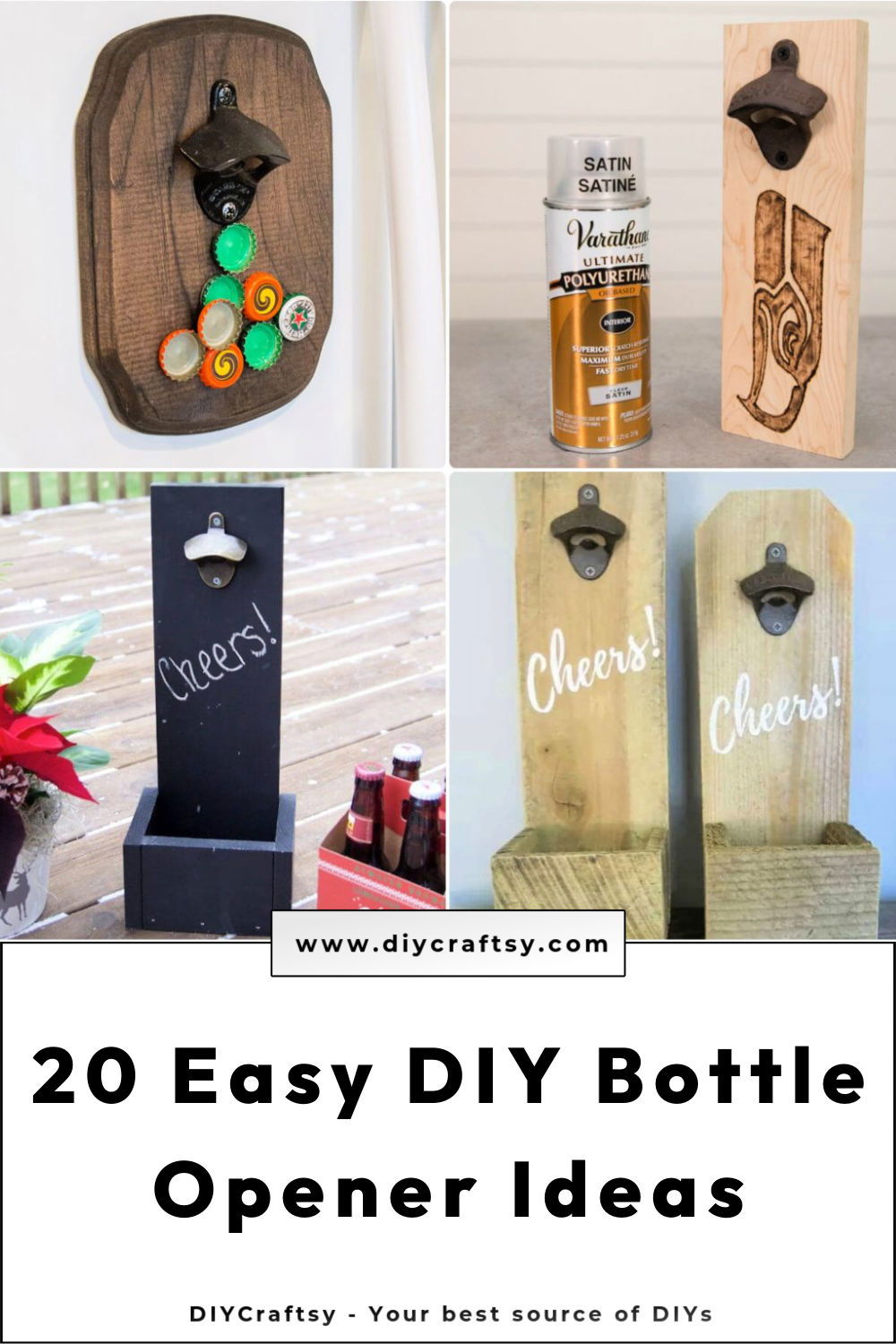 Along with being a conversation starter, a DIY bottle opener is an excellent gift idea for Father's Day or housewarming parties. Embrace your creativity and make a lasting impression with your very own DIY bottle opener!
1. Wall Mounted Beer Bottle Opener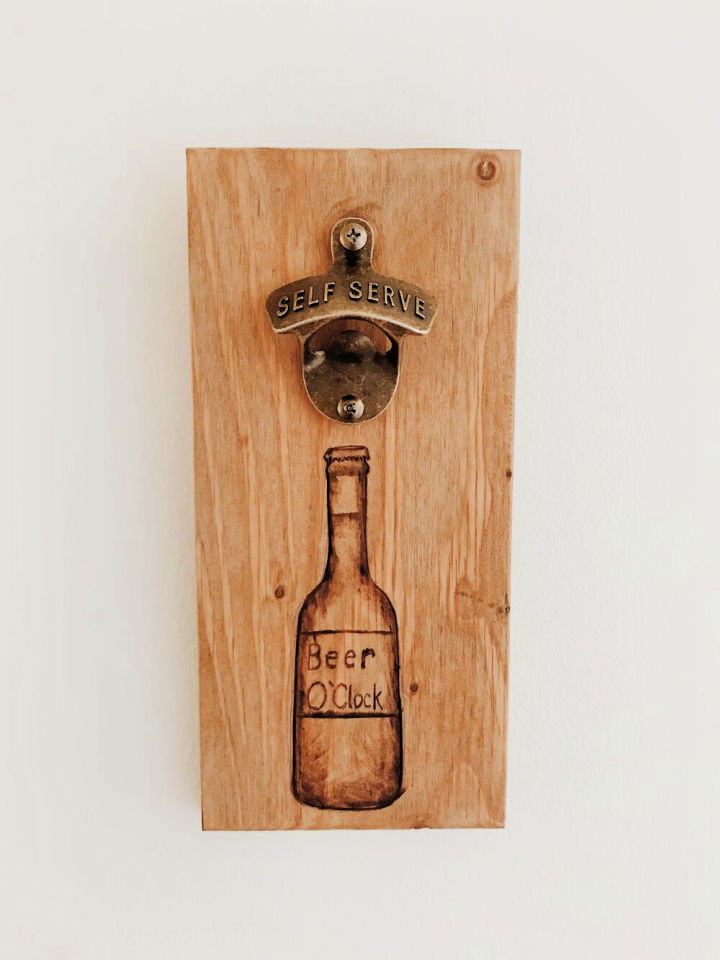 Brighten someone's day with a handy and stylish DIY wall-mount bottle opener! Simple and practical, it makes the perfect gift for the special men in your life – or treat yourself! A quick and straightforward crafting process; all you need is a piece of wood, a bottle opener, sandpaper, a pencil, a rag, a drill, a wood stain, and a wood burner.
Start by preparing your wooden piece and staining it to your preferred shade. Next, attach the bottle opener. From here, get creative and trace a design of your choice before wood-burning it into the piece.
The result? A one-of-a-kind gift that's ready to grace your preferred hangout spot. Remember, the size is flexible, so tailor it to your needs and enjoy your beverages in style! willing hands
2. Homemade Bottle Opener for Father's Day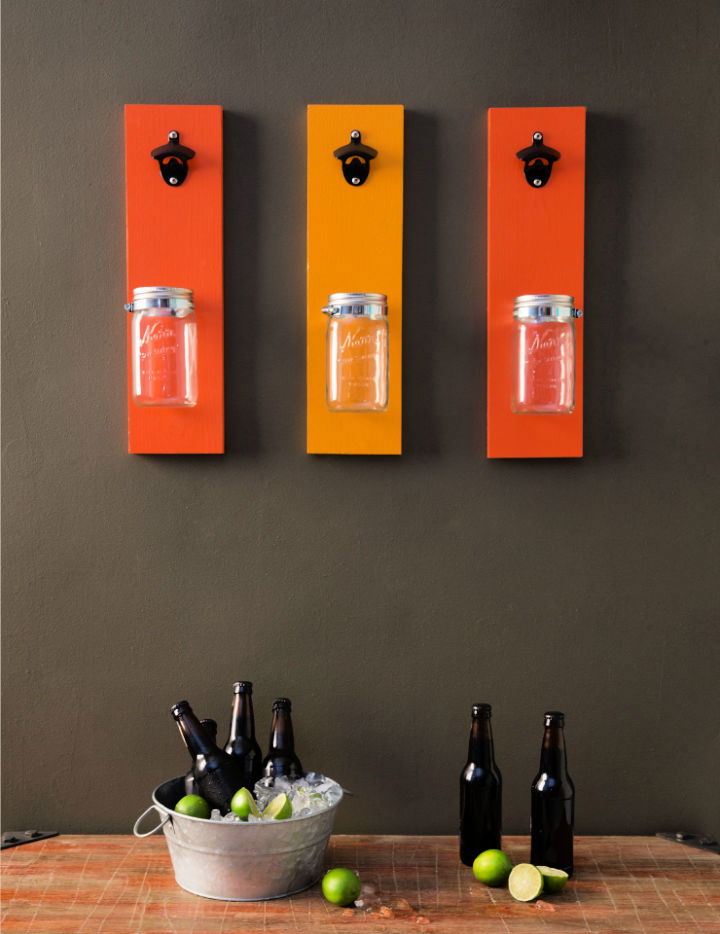 Explore unique DIY bottle opener designs that are easy to make and guaranteed to leave a lasting impression. Celebrate the most important man in your life with a handmade gift this Father's Day. Craft a unique DIY wall-mounted bottle opener with a mason jar using simple materials like 6 "x20″ wood boards, paint, screw-on bottle openers, and 8" mason jars. This project makes for a heartfelt gift and adds a rustic charm to your dad's space.
The process is straightforward: measure, cut, paint, and drill your wood board, then attach the bottle opener and jar. It's not just about gifting; it's about making a token of love that he'll use and cherish. So roll up your sleeves, gather your tools, and prepare to make your dad's day extra special! behr
3. How to Make a Wall-Mounted Bottle Opener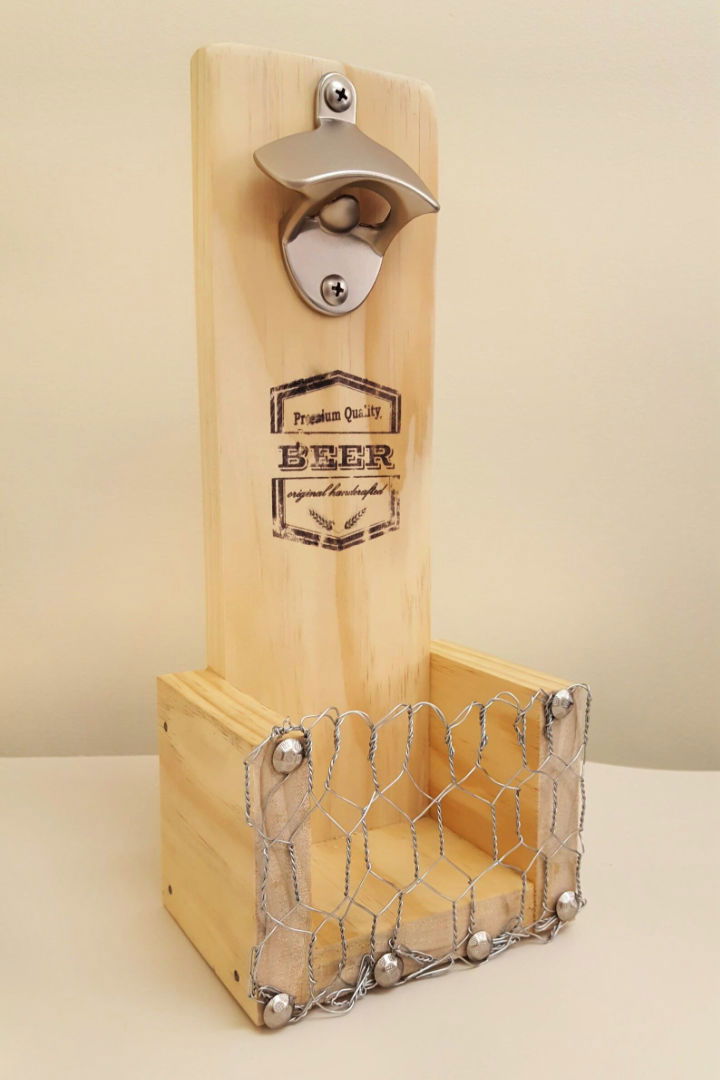 Elevate your hangout area with a unique, custom wall-mounted bottle opener that you can complete in just one evening! This DIY project adds functionality and infuses a touch of decor into your bar area, man cave, garage, or porch. You can build this bottle opener that also catches the caps using readily available materials such as 1×4 scrap pieces, chicken wire, decorative push pins, and wood glue. The assembly process involves:
Cutting the wood to size.
Gluing the pieces together to form the frame and catcher base.
Attaching a personalized decal and chicken wire for a touch of charm.
Finally, affix the bottle opener to complete your DIY masterpiece. This easy-to-follow guide walks you through the creation process, offering a blend of utility and aesthetics for your relaxation spot. Remember to handle all tools with care and enjoy the process of crafting this functional piece of art. tylynnm
4. Affordable DIY Magnetic Bottle Opener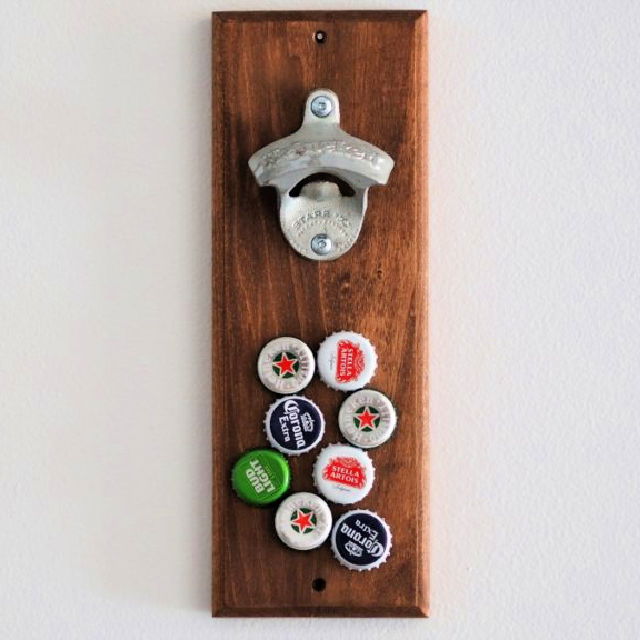 Experience the magic of DIY with this magnetic bottle opener project, a unique and captivating piece that'll wow your guests or make an extraordinary gift. This handy item uses concealed high-power neodymium magnets that attract bottle caps, making a captivating display of 'floating' caps.
Made with readily available materials like a wood, bottle opener, Krazy glue, and screws, alongside tools like a Forstner bit, countersink drill bit, and palm router.
This tutorial will direct you through the building process, from preparing the wooden face and drilling magnet holes to the assembly and finish. Spice up your parties or make Uncle Lou's day by crafting this magnetized bottle opener, an amazing intersection of fun. diymontreal
5. Magnetic Bottle Opener With Catch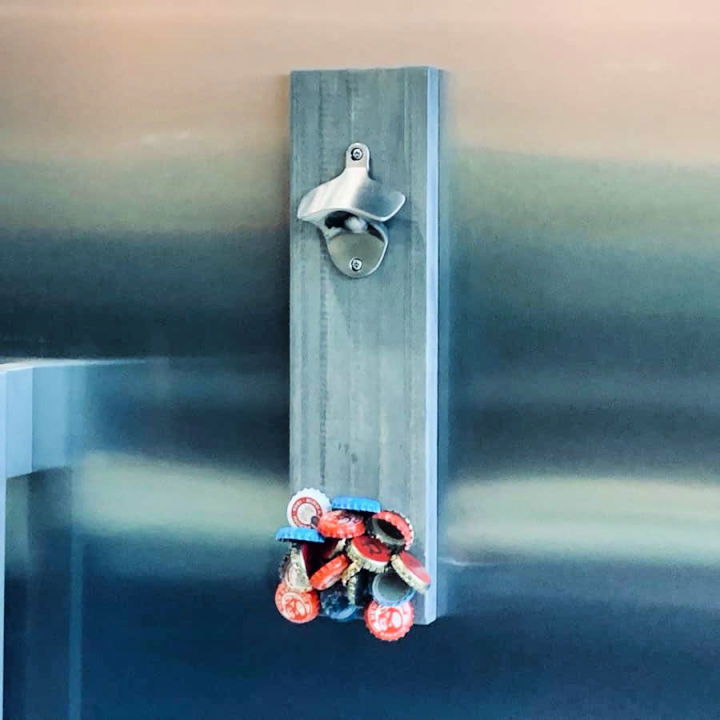 Make an effortless way to open your favorite beverages with this stylish DIY refrigerator-mounted bottle opener! Handcrafted from a 3'x1″ pine board, this magnetic bottle opener effortlessly catches multiple caps, preventing clutter and adding a unique touch to your kitchen space.
The built-in Neodymium magnets catch falling bottle caps and keep the opener secured to your refrigerator, ensuring a reliable and convenient experience.
Completed with a satin finish for an elegant look and a protective felt covering on the back, this DIY project blends function and aesthetic appeal beautifully. Grab your woodworking tools, follow the comprehensive instructions, and make this practical yet creative addition to your home today! artsyprettyplants
6. Inexpensive DIY Pallet Wood Bottle Opener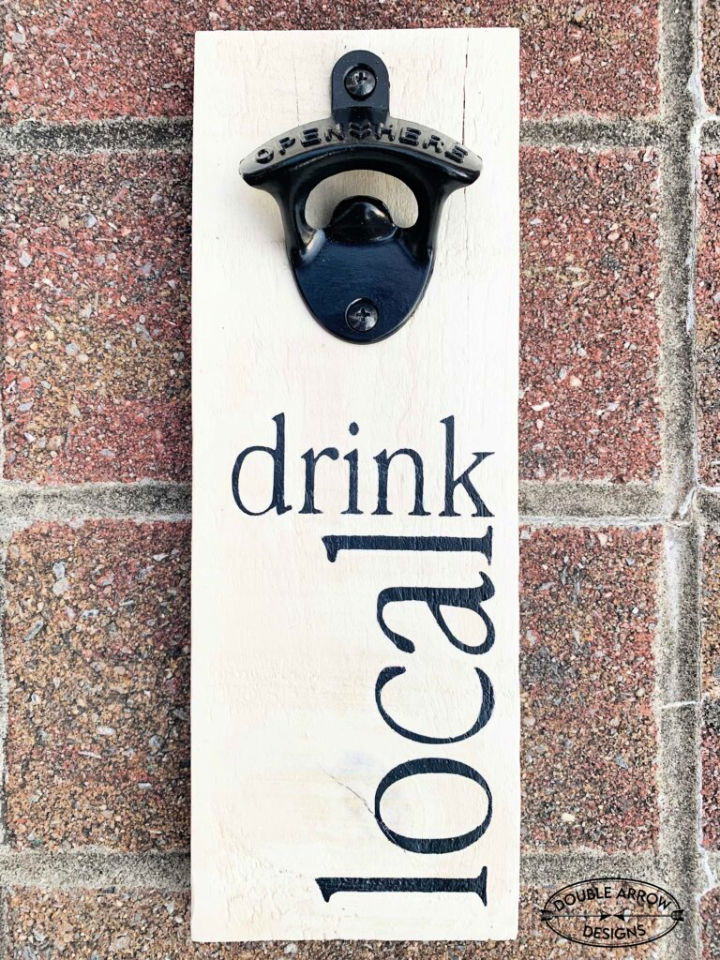 Unleash your inner craftsman by creating custom DIY bottle openers, combining practicality and artistic flair in one project. Immerse yourself in the joys of DIY with this innovative pallet wood bottle opener project. This enjoyable, straightforward task is an ideal gift for Father's Day or a fun addition to your backyard barbeque area. You can bring this unique item to life with materials as simple as pallet wood, a metal bottle opener, acrylic paint, and a stencil.
In your workshop, you'll start with pallet wood pieces, refining their surfaces with a hand sander before painting or staining to your preference. The stenciling step brings personality, encouraging a 'Drink Local' theme on the wooden surface. The guide ensures minimal stencil bleeding and details steps to seal your bottle opener for outdoor use.
Attaching the metal opener finalizes the project, leaving you with a conversation piece ready to crack open cold beverages at your next gathering. Try this simple, rewarding DIY task and impress your friends with your craftsmanship at your next BBQ. doublearrowdesign
7. Build a Bottle Opener With a Hidden Magnet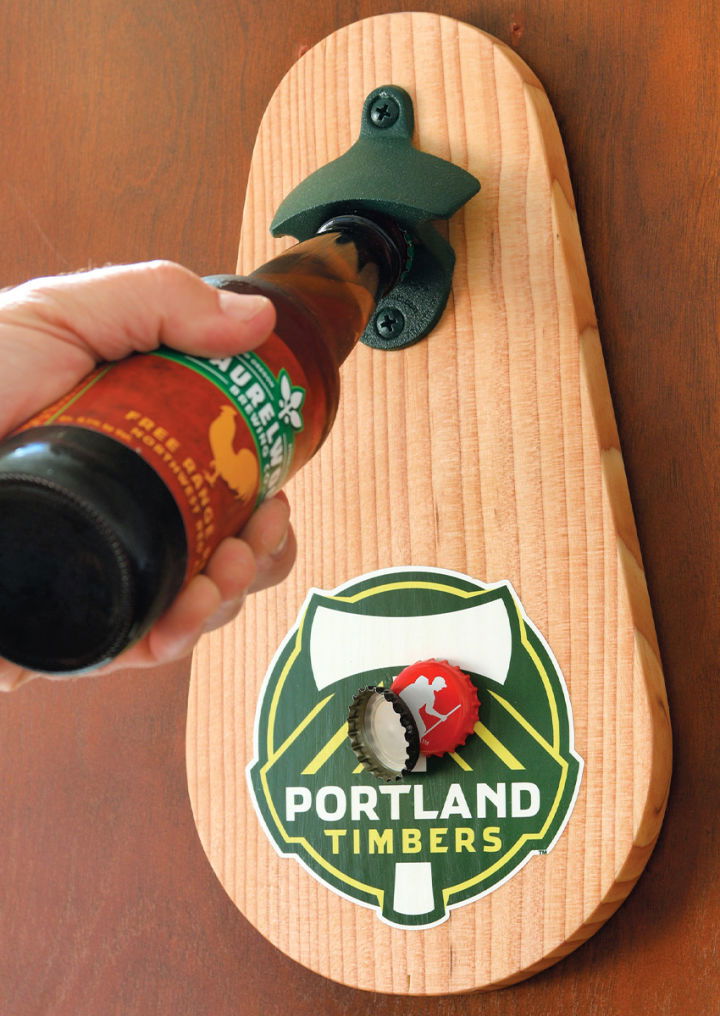 Get ready to impress your friends with a unique and functional DIY project. Make your custom bottle opener, complete with a cap catcher mechanism. All you need is a Starr X bottle opener, a neodymium magnet, a keyhole fitting, and aboard. Start by designing your board to fit a logo, mark your arcs, and cut the board smoothly.
Then embed the magnet inside the board to make a magical cap catcher effect. Post drilling and gluing, it's time to attach your favorite sticker to give your project a personal touch. Next, locate your hardware positions, predrill, and fix the components.
With a couple of coats of polyurethane, your creation is ready for use. This magnetized bottle opener will enhance your bar accessories and be a party talking point. Get crafty and enjoy the uncapping magic today! finewoodworking
8. Modern Plexiglass Bottle Opener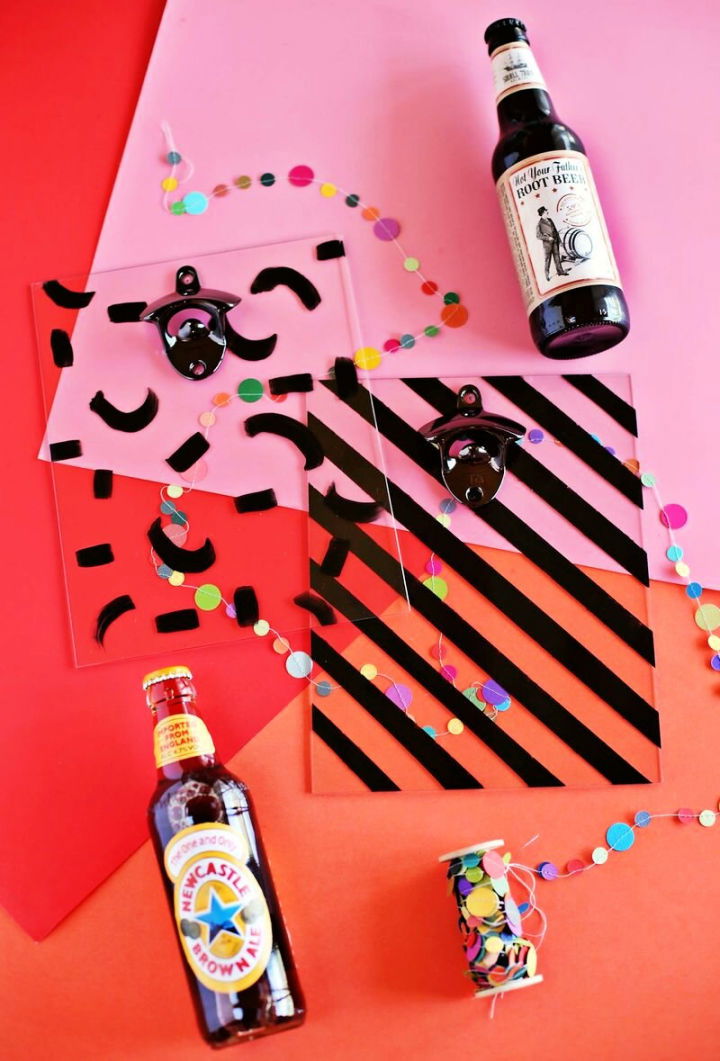 Explore the realm of DIY creativity with this innovative plexiglass bottle opener project! Plexiglass is a versatile, robust, and sleek material that elevates the final look of your handcrafted items. With this guide, you can quickly turn two 8×10 inch sheets of plexiglass, bottle opener hardware sets, a drill, craft paint, electrical tape, and optional transparency sheets into a stylish and functional accessory.
The addition of the bottle opener not only increases its utility but also its unique appeal. Customize the design with paint, applying it at the back to prevent scuffs during use. Once dried, assemble, and your plexiglass bottle opener is ready to glam up your kitchen corner or serve as an exquisite handmade gift! abeautifulmess
9. Quick and Easy DIY Bottle Opener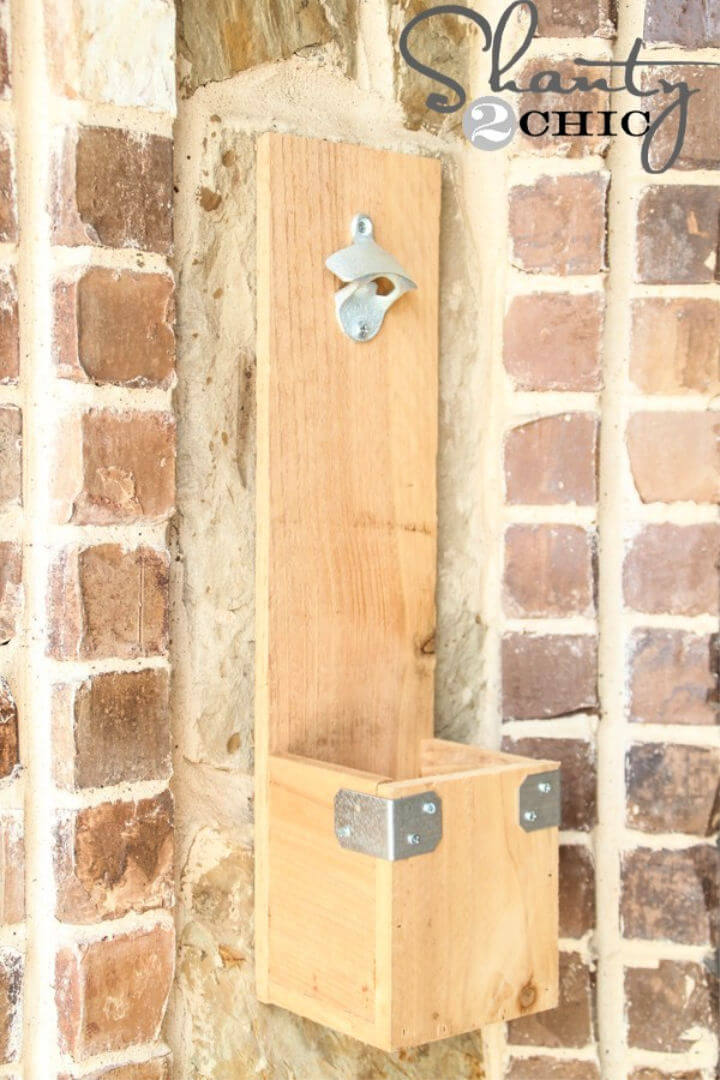 Get a practical and unique gift with a DIY bottle opener project, perfect for Father's Day or any occasion. This simple yet engaging project uses cedar fence plank scraps, metal hardware, a zinc bottle opener, and other tools like a hand saw, wood glue, and nails. If you don't have the scraps, a 1x6x6 from your local hardware store will do the gag.
Construct a small box to catch bottle caps and attach it to a larger board, securing the bottle opener to the top. For an elegant finish, metal brackets can be added to the corners. This convenient addition to your patio or indoor bar can be made in around 10 minutes for about $10.This bottle opener will add a functional and stylish touch to your home that will surely be appreciated. shanty
10. How to Build a Wooden Bottle Opener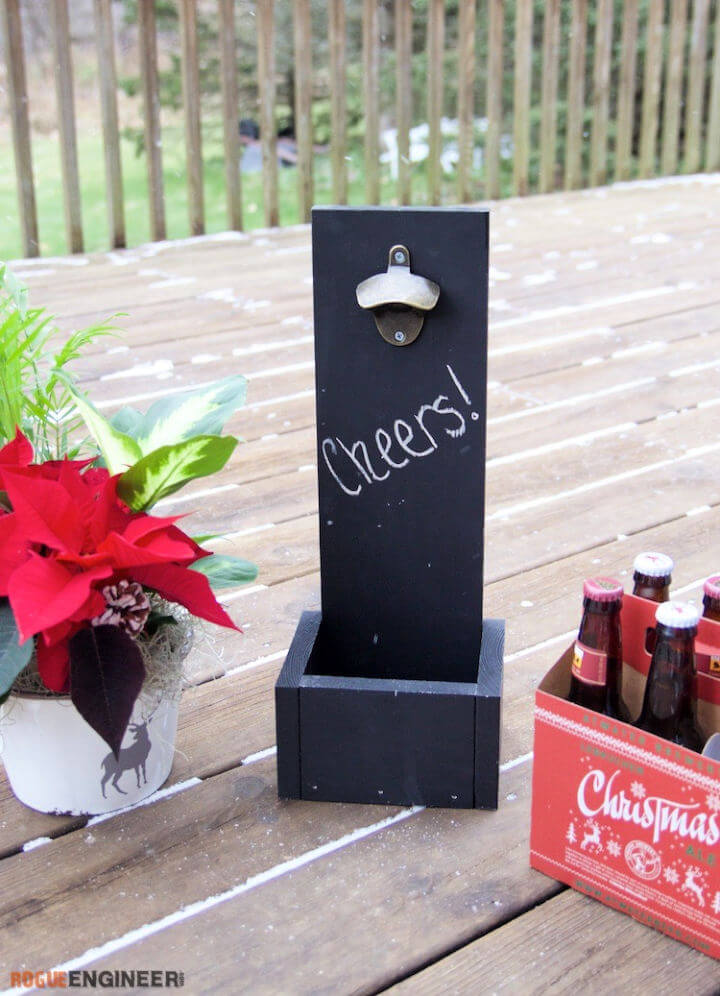 Gift the joy of handcrafted items this holiday season with an easy DIY project- crafting a unique bottle opener with a cap bucket. Made with everyday materials like a wall bottle opener, wood screws, brad nails, and wood glue, this thoughtful gift is simple and quick to assemble.
It's an engaging endeavor highlighting the love and cares put into making a personalized present rather than buying a mass-produced one. The handy bottle opener is a practical addition to any household, ensuring your gift will be appreciated and used frequently. Watch the step-by-step video guide for a bevy of DIY gift ideas. This holiday season, greet the spirit of giving with the warmth of handmade gifts. rogueengineer
11. Making a Magnetic Bottle Opener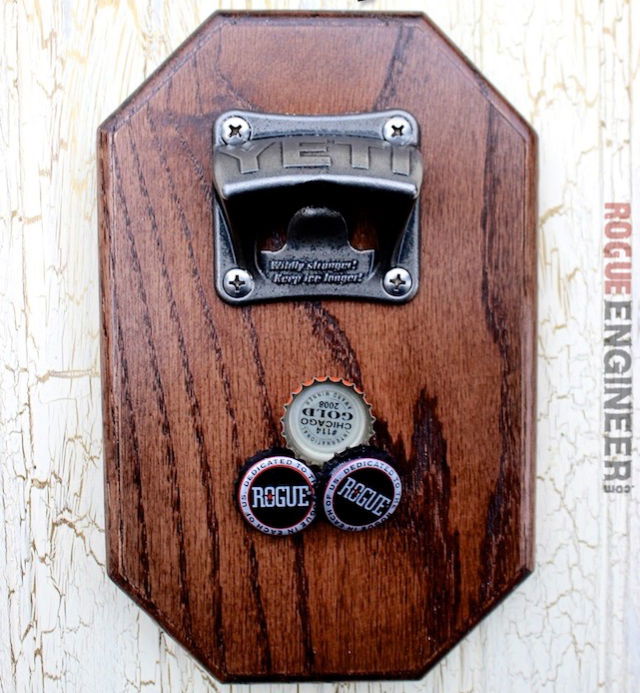 Unlock a new world of fun with your DIY magnetic bottle opener! This bottle opener adds a stylish touch to your kitchen or bar area. This project is not just cost-effective, costing under $25, but also offers an innovative solution for cap storage.
Rather than using a traditional catch bucket, this design incorporates hidden magnets that attract and hold bottle caps. Essential tools for this project include a drill, miter saw, router (optional), safety glasses, and hearing protection. You'll need a piece of 1 x 6 x 12″ Oak, a wall-mounted bottle opener, and strong neodymium magnets for materials. The project involves:
Cutting the Oak to length.
Routing edges (optional).
Drilling holes for the magnets.
Finishing.
Mounting the magnets and bottle opener.
This magnetic bottle opener can be conveniently mounted on your refrigerator or any non-magnetic surface using a sawtooth hanger or a keyhole router. Personalize your space with this DIY magnetic bottle opener, an appealing blend of functionality and aesthetics. rogueengineer
12. Simple DIY Bottle Opener for Father's Day Gift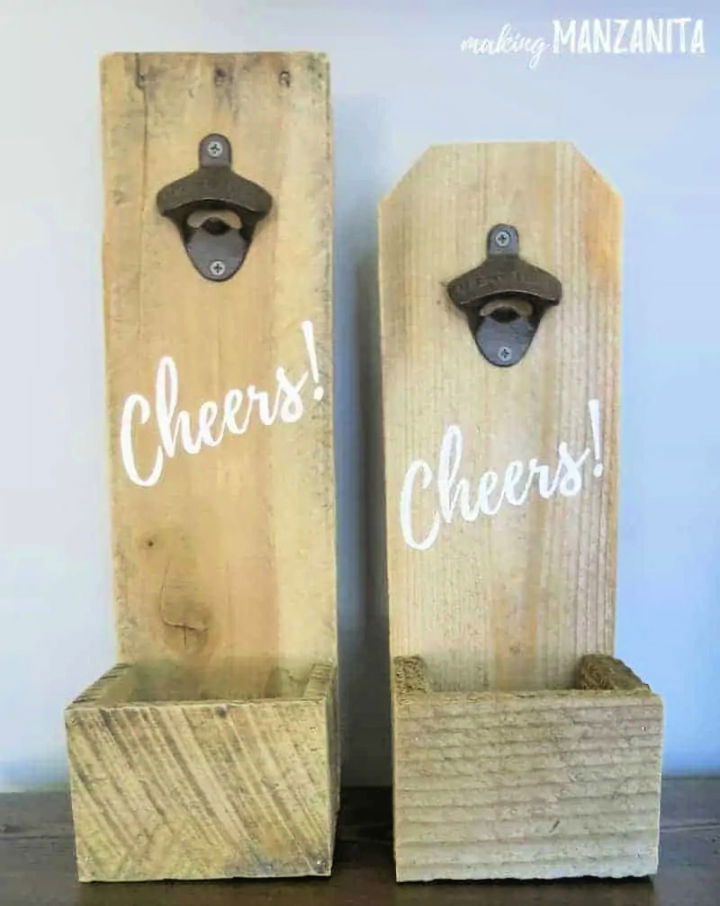 Celebrate Father's Day uniquely and memorably with a handmade reclaimed wood bottle opener! This easily crafted DIY rustic piece is an inexpensive yet thoughtful gift that Dad will truly appreciate. By using repurposed wood, this project also promotes sustainability.
From sanding and cutting to constructing a cap catcher box and painting designs, the procedure allows you to add a personal touch to your gift.
You can make this functional and stylish tool with a handful of materials, including wood, wood glue, nails, adhesive liner, acrylic paint, and a bottle opener. Celebrate fatherhood in style by gifting this wooden bottle opener that's sure to impress! makingmanzanita
13. How to Make a Wall-Mounted Bottle Opener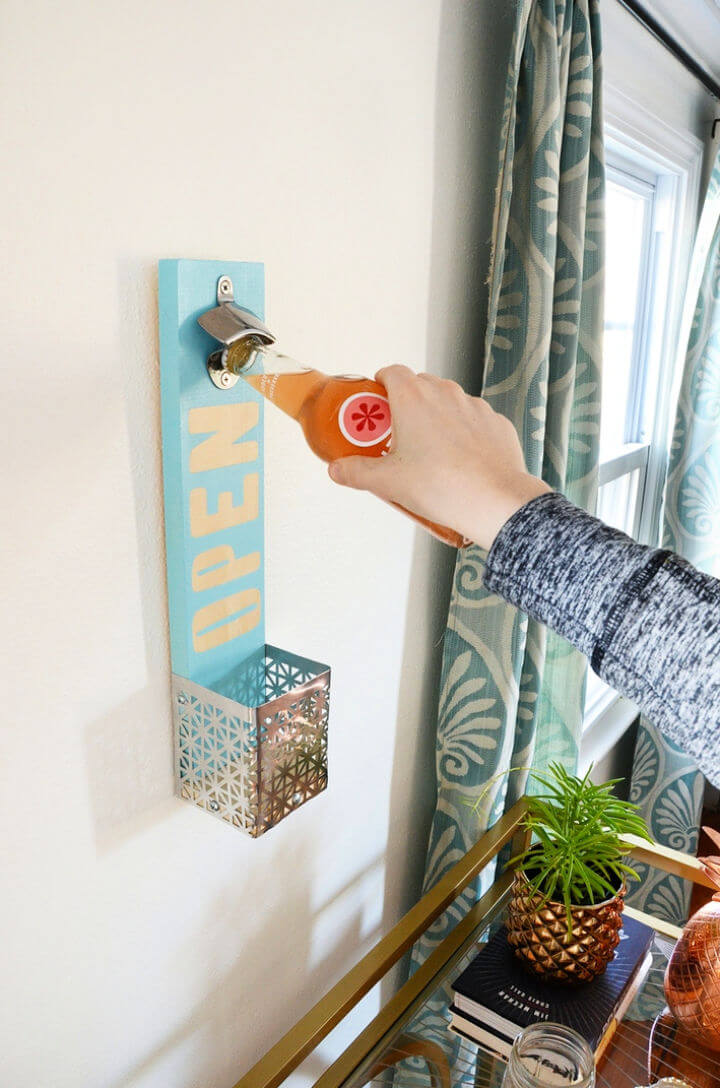 Learn how to make stylish and functional DIY bottle openers with our step-by-step guide and expert tips. Boost the appeal of your bar zone with this straightforward DIY wall-mounted bottle opener. This unique, vibrant piece is a cinch to make and guarantees admiration from your peers. A simple selection of materials, such as wood pieces, a radiator covering, a bottle opener, easily bendable wire, an adhesive shipping label, and spray paint, brings this practical yet stylish piece to life.
Customize it to your liking by playing with different radiator cover finishes or spray paint colors, or personalize it with your favorite sports team's hues or family names.
Not only does this wall-mounted bottle opener facilitate easy access to your beverages, but it also ensures a clutter-free space by catching stray bottle caps. Get ready to make your home bar your own with this easy-to-follow tutorial! curbly
14. Adorable DIY Magnetic Bottle Opener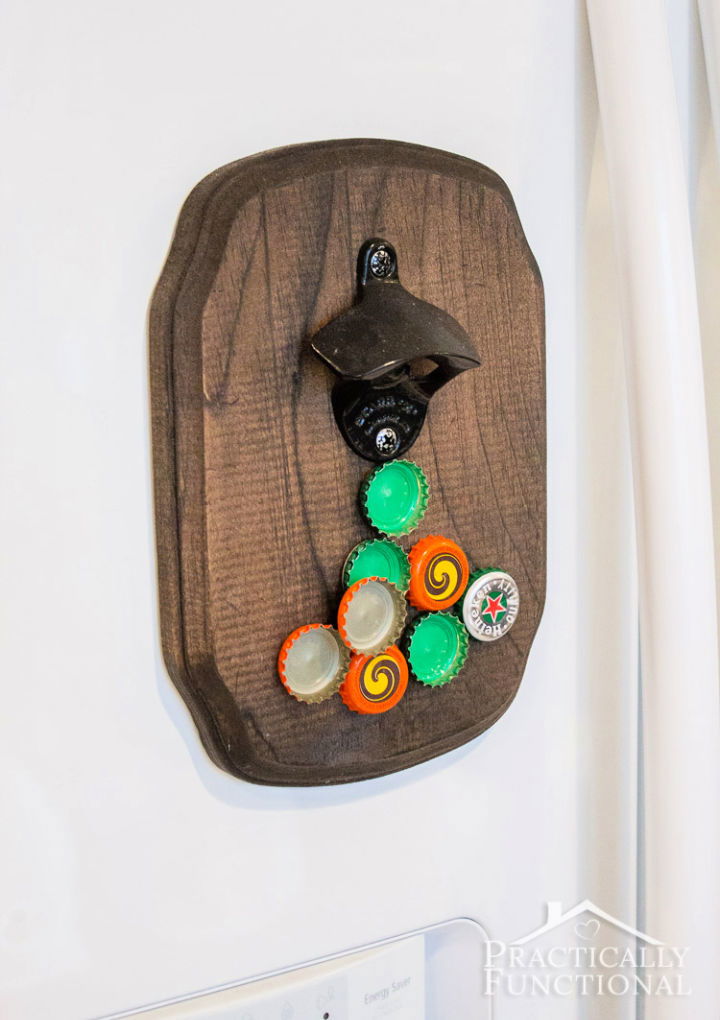 Relish the joy of crafting your magnetic bottle opener using this simple DIY guide. Ideal as a Father's Day gift or a token for the beer enthusiast in your life, this project is both fun and functional. Crafted from a pre-cut wooden craft plaque, this bottle opener features embedded magnets that magically catch bottle caps, sparing your floors from mess and potential injury.
The tools required are standard ones like a drill and a Forstener bit. A bonus is that you can personalize the wooden plaque with the wood stain of your choice, making your gift extra special.
Finally, mounting the bottle opener on the plaque places it at the perfect height to capture the falling caps with the strategically placed magnets. So, why wait? Build your bespoke magnetic bottle opener today and impress your loved ones! practicallyfunctional
15. Handmade Magnetic Bottle Opener Using Scrap Wood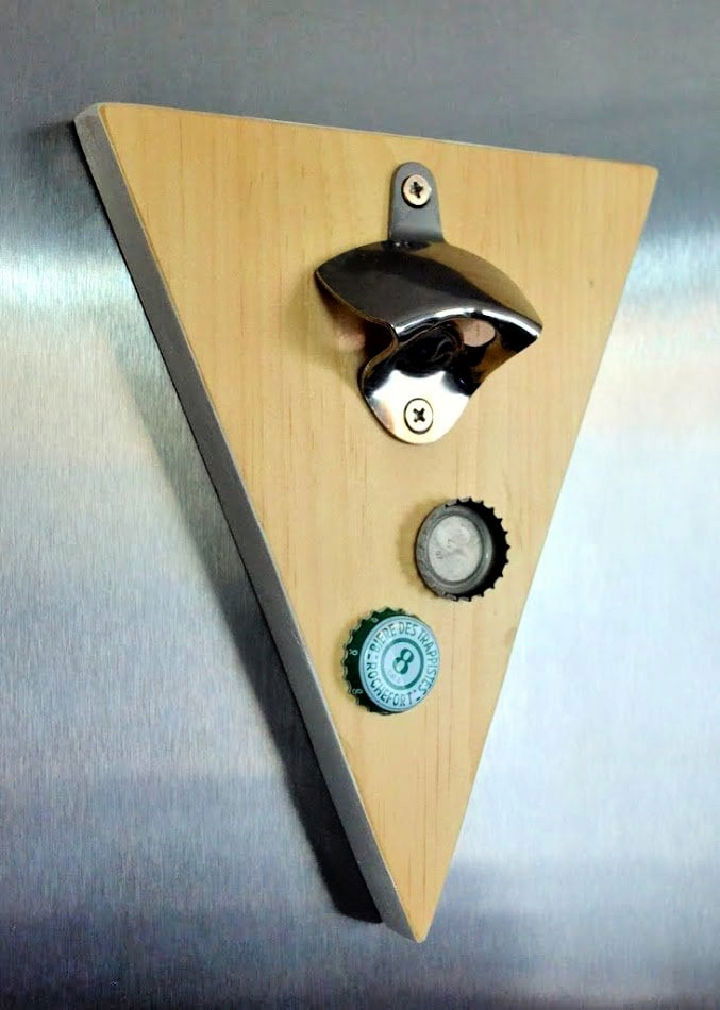 Elevate your parties with these innovative DIY bottle opener ideas, perfect for upcycling and sustainable living enthusiasts. Revive unused scrap wood by building a DIY bottle opener with a magnetic cap catcher. This clever project uses leftover poplar and pine and elevates your kitchen aesthetics. Using easily sourced items like magnets, glue, a straight edge, clamps, a metal bottle opener, a miter saw, a jigsaw, a mouse sander, sandpaper, wood stain, paint, wood filler, and a spray sealer, you can make a stylish and functional addition to your kitchen.
This innovative bottle opener can be attached to your fridge or mounted anywhere you prefer for easy access. It's customizable, too – play around with shapes, stains, and paint colors, and add personalized lettering or stencil patterns for a touch of creativity. Ideal for personal use or as a unique handmade gift. Get crafty with your scrap wood and start making today! uglyducklinghouse
16. Make Your Own Magnetic Bottle Opener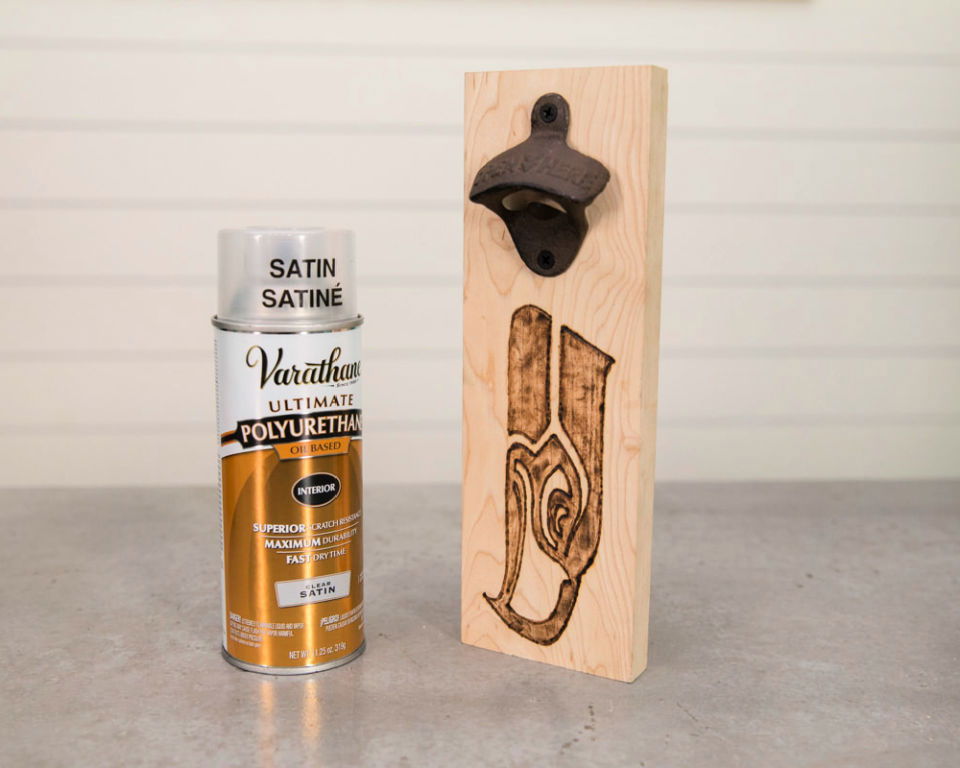 Breathe life into your parties with a customizable magnetic bottle opener! This fun DIY project lets you craft your bottle opener using a piece of white maple, a wood burner, and some mighty magnets. The best part is to personalize it with your favorite logo or image.
The guide walks you through each process step, from imprinting your chosen design on the wood to setting the magnets that'll catch those pesky bottle caps. All the needed supplies can be found in your local hardware store, making it a handy and cost-effective project.
The final product, a charming, magnetic bottle opener, is practical and a delightful conversation starter at any gathering. Give it a try, add a touch of creativity to your parties, and make opening bottles a breeze! dunnlumber
17. Cheap DIY Coaster Bottle Opener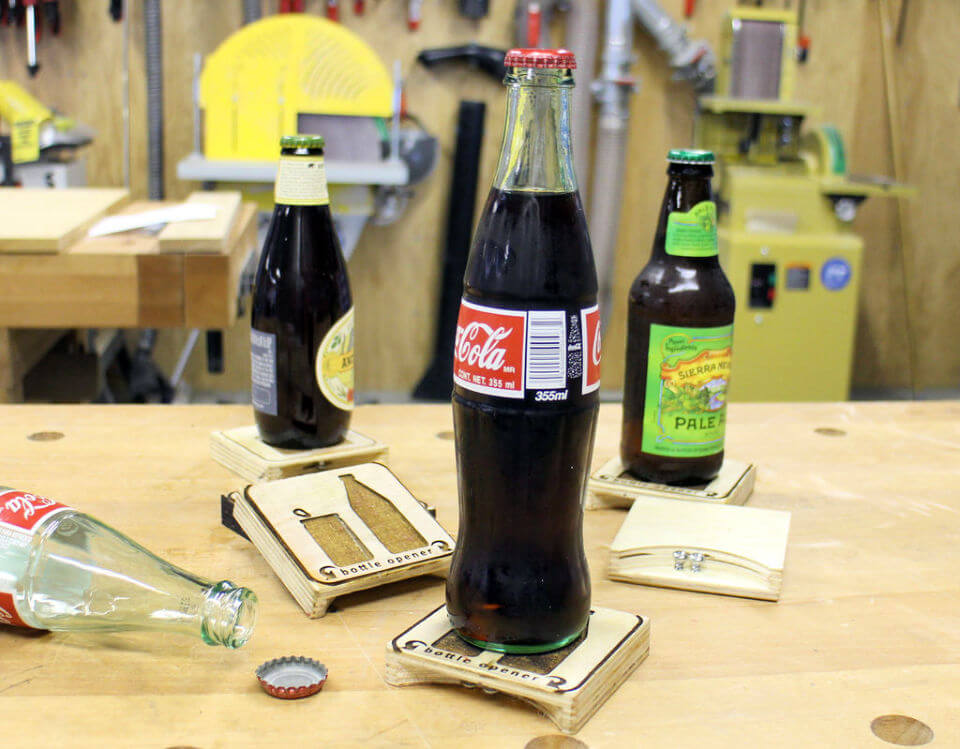 Discover creative DIY bottle openers to impress guests and add a personal touch to your home bar essentials. Pop open your favorite bottle easily using this creative and economical DIY coaster bottle opener! This project offers a distinctive and practical addition to your drinkware collection. Starting with a 3/4″ thick plywood, slice it into 3.5″ strips and sections, forming a perfect square.
The thickness ensures stability and provides ample room for the opener's screw. Follow the steps from marking the midpoint and depth to using a biscuit cutter and installing a screw.
The best part? You can add a personal touch or embellish the coaster as you wish. Now you can enjoy your chilled beverage, open it right at the table, and protect it from spillage – all in style. Let your creativity shape this unique accessory, perfect for parties or everyday use. Turn your woodworking skills into functional art today! instructables
18. Making a Wooden Bottle Opener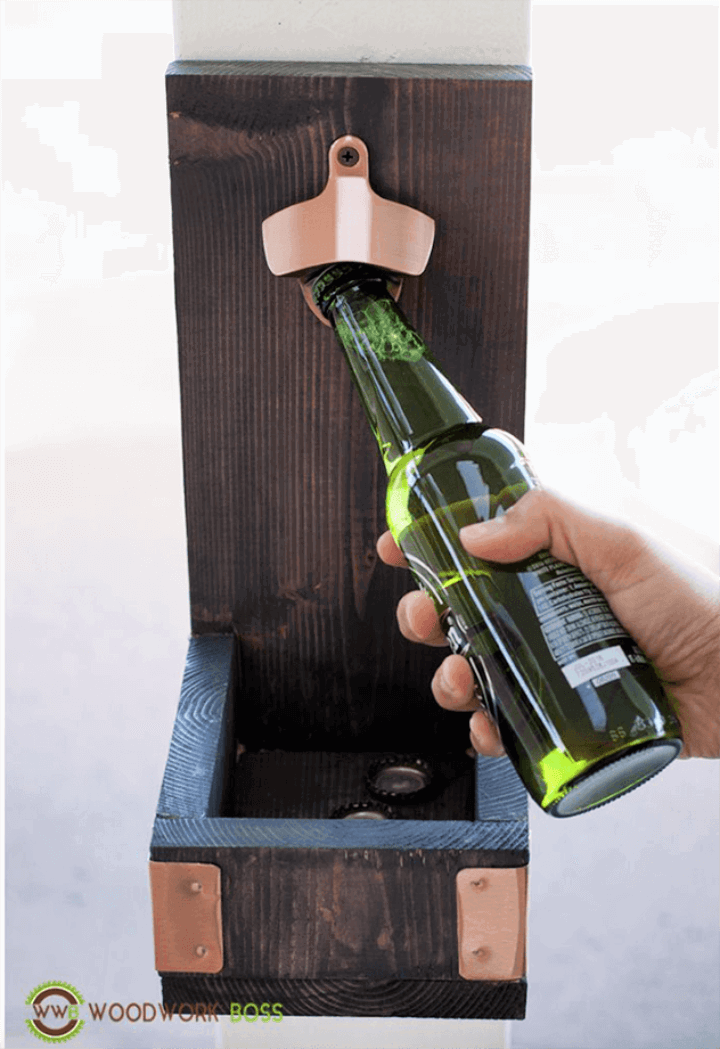 Looking to add a practical yet stylish accessory to your kitchen? Consider building your wooden bottle opener with a built-in cap catcher. This DIY project requires only basic woodworking skills and tools, such as a hammer or brad nailer, a saw, and a screwdriver or drill.
The necessary building materials include a 1″ by 6″ board, finish nails 1 1/4″ in length, wood glue, wood stain or paint, and a bottle opener. For an extra flourish, consider adding optional copper trim.
Once assembled, stained, or painted, this functional piece will be a handy tool during get-togethers and an attractive wall decoration. Furthermore, this homemade bottle opener can make a unique and considerate gift for friends, family, or neighbors. Follow the step-by-step instructions and revel in your creation! todayshomeowner
19. Building a Bottle Opener That Pops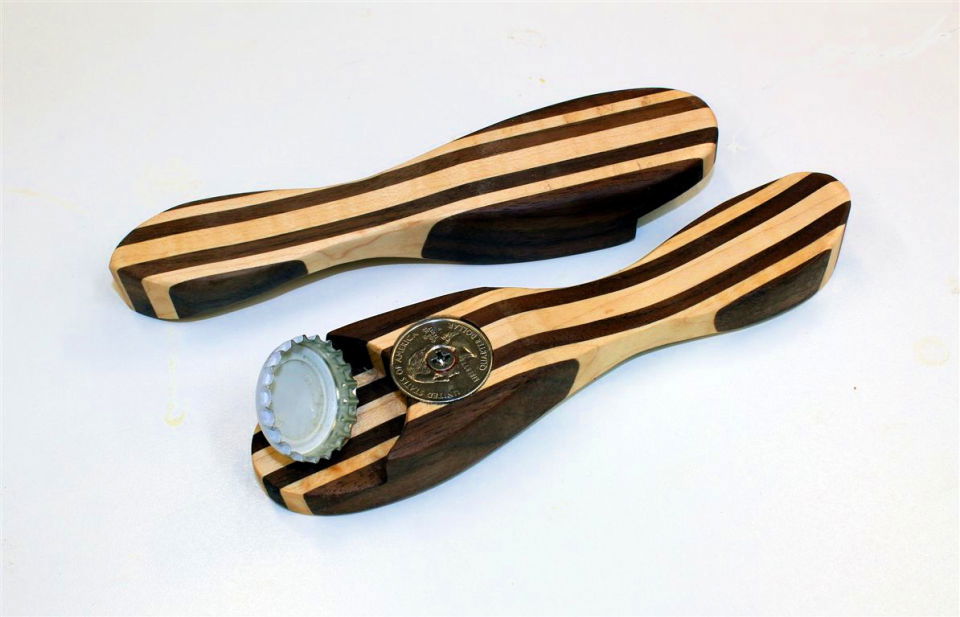 Open your drinks with a bang – build a DIY bottle opener that pops! Craft your wooden bottle opener with a unique touch – it utilizes a US quarter as the bottle opening mechanism. Adding further intrigue, a hidden rare earth magnet catches the bottle cap as you open it. The opener's construction uses hardwood strips, particularly maple and walnut, for an aesthetically pleasing contrast.
But feel free to explore other hardwoods that cater to your taste. Remember that softwoods might get dented due to the opener's function. Detailed steps guide you through the process, from preparing a 1-1/2″ wide x 6-1/2″ long x 1″ thick blank onto the drill press phase and right up to sanding and protection.
The crafting process also incorporates design elements for comfort and durability, such as a gently curved handle and a durable oil-based poly finish. Lastly, test your creation with a bottle of your favorite beverage. Cheers to creativity and functionality! wwgoa
20. Fun and Easy DIY Bottle Opener Game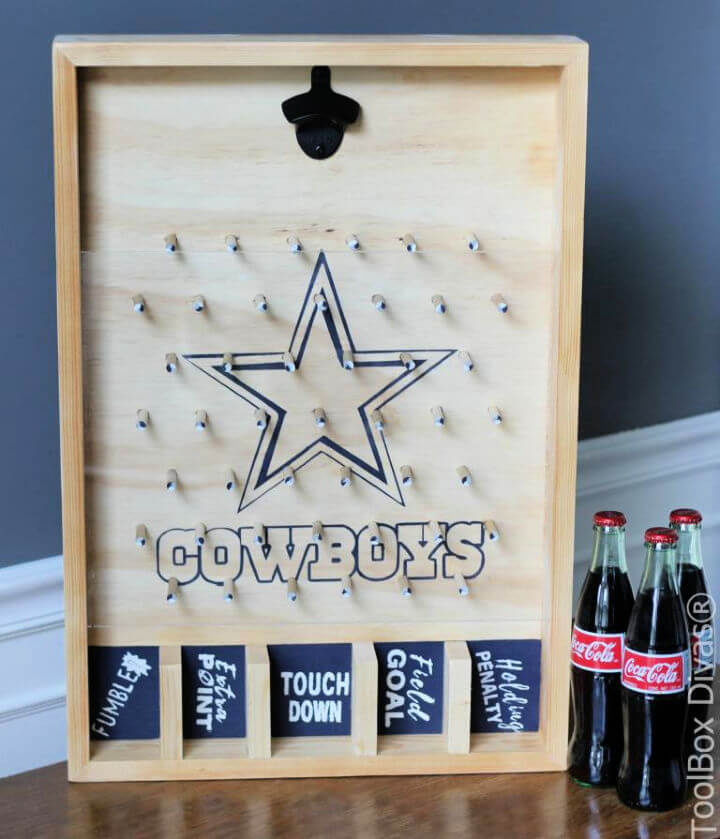 Add a new spin on the traditional wall-mounted bottle opener with this DIY bottle opener game! This creative project not only serves as a fun game for gatherings, but it's also a unique decor piece. Starting with a 2×4 plywood sheet, it's crafted into a board measuring 2'x16″, where a nail pattern for bottle caps to fall is precisely laid out.
With wooden dowels acting as pegs, the bottle caps descend, making it a fascinating spectacle. This game is not just fun but customizable; whether it's a sports team theme or color scheme, your game will surely be unique.
The materials required for this project include plywood, a steel framing square, a drill, wooden dowels, paint, and a bottle opener, making it an affordable project with a big impact. Whether it's a Father's Day gift or a unique addition to your entertainment area, this bottle opener game will certainly catch the attention and admiration of everyone. toolboxdivas
Conclusion: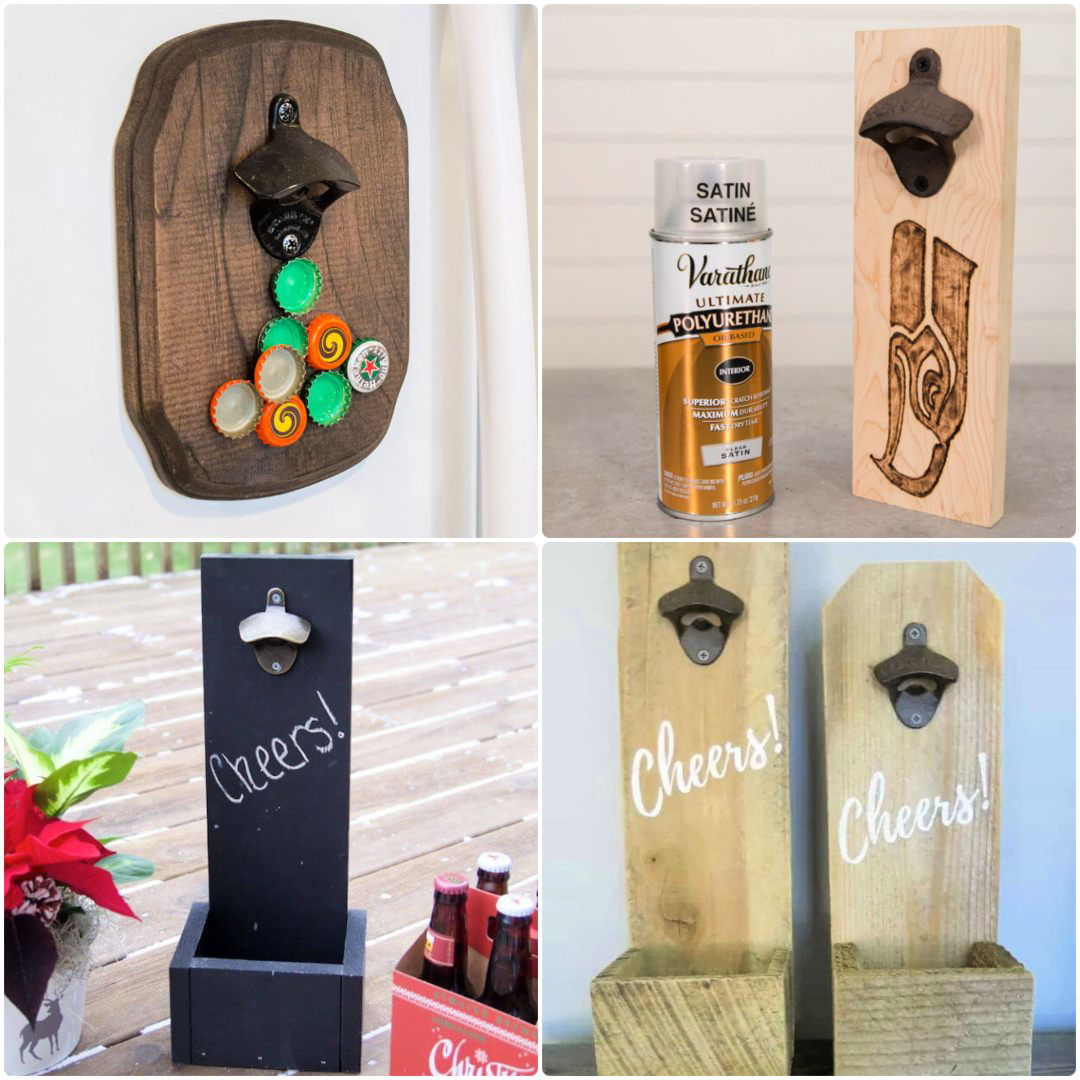 In conclusion, these DIY bottle opener ideas offer a creative and functional way to showcase your craftsmanship. From wall-mounted beer bottle openers to magnetic catchers and hidden magnet designs, there are many ideas to explore in the world of DIY bottle openers. Additionally, these projects make great gifts for friends and family, especially for occasions like Father's Day. So, transform your old wood, scrap materials, or plexiglass into inventive and useful bottle opener creations for your home or loved ones.