Enhance your patio or outdoor space with a stylish and budget-friendly DIY sun shades project. Discover 25 cheap DIY sun shade ideas for your patio or backyard that are perfect for those looking to make a cool and shaded area during hot summer days. These creative DIY sun shade ideas include ideas like PVC canopies, old sail shades, shade sails, patio sun awnings, and more, ensuring that you can easily find the perfect solution to suit your needs.
With these inexpensive and simple DIY sun shade ideas, you can transform your outdoor space without breaking the bank. Each sun shade idea comes complete with easy-to-follow instructions and step-by-step details to ensure a seamless DIY experience. From PVC canopy shades to mosquito net canopies and even shade sails fashioned from triangular fabric, there's a DIY sun shade idea for every outdoor space and budget.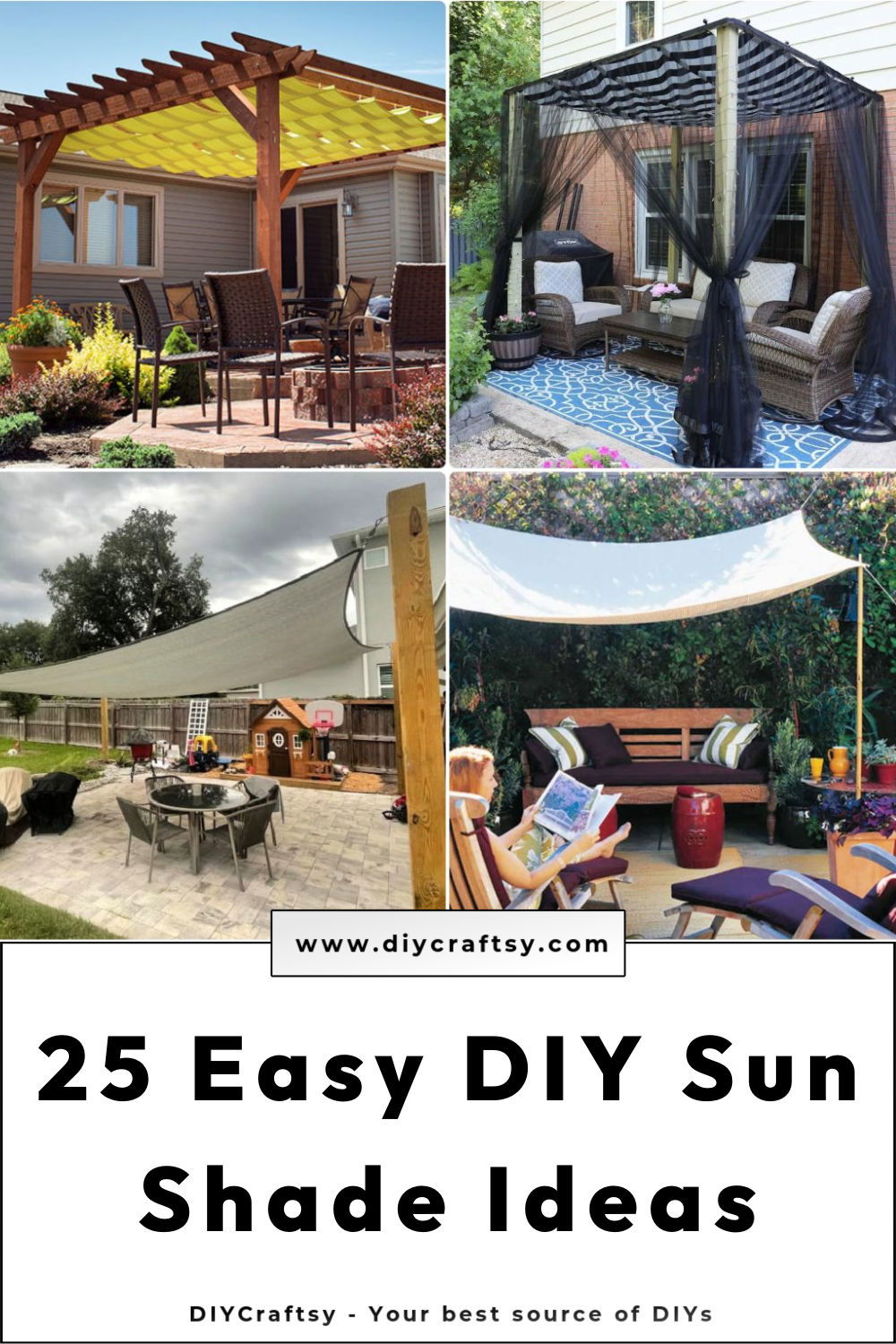 Whether you're looking to make a cozy shaded spot for relaxation or want to offer some much-needed sun protection for your outdoor dining area, these budget-friendly DIY sun shade ideas offer versatile options that can be customized to fit your unique space. So, gather your supplies, and get started on making your own DIY sun shade today!
1. Cheap DIY Outdoor PVC Canopy
Enhance your backyard comfort with a DIY PVC canopy, an affordable solution for making a shaded space for relaxation. This functional outdoor addition ensures you can enjoy your coffee or supervise the kids in the garden without the harsh sun disturbing your tranquility.
The project's core materials include rebar posts, PVC conduits, a conduit tee fitting, curtains, and terra cotta pots, all orchestrated with a touch of creative flair. This budget-friendly and easy-to-construct canopy stands out with its innovative use of PVC pipes and curtains, providing a customizable and stylish shade.
The result? A personal, shaded retreat right in your backyard, perfect for those sun-drenched Miami mornings. Embrace the joy of making and upgrading your backyard with this canopy project. thekreativelife
2. DIY Sun Shade From an Old Sail
Craft your unique DIY sunshade using an old sail and bring the spirit of sailing to your backyard! This sun shade, designed for easy assembly and disassembly, offers an ideal solution for those sun-soaked summer days. The process involves finding the right spot, acquiring an old sail, and rigging it.
While it's worth noting that sails aren't specifically made to resist UV rays and might eventually need replacement, the no-cost nature of acquiring the sail and the flexible rigging system can easily manage different sail sizes, mitigating any worries. So, put your sailing hat on, and navigate towards making your charming and functional sunshade today! instructables
3. Make Shade Sails for the Backyard
Enjoy a cooling oasis in your backyard with this DIY shade sail project! This innovative solution can lower outdoor temperatures by up to 15º, making your deck more comfortable during the summer heat. Custom-made sails are strung on robust hardware, with sturdy 4 "x4" steel posts providing strong support.
Whether you opt for a single large rectangular sail or multiple triangular ones, this project is an affordable alternative to pricier pergolas or retractable awnings.
With an investment of approximately $2,338, you'll gain a unique, functional addition to your backyard, perfect for those hot summer days. DIY shade sails – a versatile, cost-effective, and stylish way to enhance your outdoor living space. housetweaking
4. Easy DIY Patio Sun Awning
Transform your outdoor space with these affordable patio shade ideas that provide comfort and style without breaking the bank. Make your oasis this summer with a DIY outdoor canopy, transforming empty outdoor spaces into vibrant, welcoming spots. You can have your cooling shade using a drop cloth, grommet kit, tent poles, and sturdy cord in no time. Unlike permanent outdoor structures, this project doesn't require a massive commitment or expenditure.
The canopy installation depends on your preference. It can be hung from poles or extended between walls or rooflines. Get creative by opting for patterned canopies. For instance, two lightweight cotton bedspreads can be sewn together, adding a touch of personality and style to your outdoor space.
Additionally, the flexibility of the canopy means you can take it down effortlessly at the end of the season or during unpredictable weather conditions. It's the perfect solution for those seeking an adaptable, cost-effective way to make the most of their outdoor living areas! marthastewart
5. How to Make Sun Shade in the Backyard
Explore a budget-friendly and efficient solution for enhancing your backyard patio area with this DIY sunshade project. The guide covers a straightforward process that uses materials such as a shade sail, outdoor string lights, a large planter, concrete, a cedar post, and essential fasteners.
Start by preparing your planter post and securing it in a concrete base for optimal stability. The placement of anchor points, which ensure tension and keep the shade taut, requires careful consideration. You can use existing structures like your home or a tree for anchoring.
Installing carabiners makes it easier to remove the shade during harsh weather conditions or winter. The final touch of outdoor lights adds charm and enhances usability at night. Planting inside the planter base adds an appealing visual touch. This simple, do-it-yourself project helps make a delightful, shaded patio space perfect for relaxation and outdoor entertainment. partofme
6. How to Install a Shade Sail in 8 Easy Steps
Experience a refreshing reprieve from the scorching summer sun with a homemade shade sail – a cost-effective, DIY-friendly solution to enhance your patio's comfort level. Shade sails comprising large pieces of breathable fabric are stretched to cover outdoor spaces, offering UV protection and a physical shield from harsh sunlight. Key supplies include:
Pressure-treated posts.
A post-hole digger.
A portable ladder.
Essential hardware like stainless steel eye hooks and spring snaps.
This project offers an inviting outdoor space that provides a cool refuge even on the warmest days. Revel in the transformative power of a properly installed shade sail as it turns your backyard into a cooler, more inviting space for family and friends. reviewed
7. Pergola Sitting Space With Shade Curtains
Escalate the ambiance of your outdoor living space with these fabulous DIY outdoor curtains. Echoing the cabana-style comfort of a luxury resort, these curtains give your pergola a sense of privacy and coziness. Fashioned from basic white fabric, this project is as affordable as attractive.
You will need around 20 yards of fabric, a grommet kit, scissors, cup hooks, and a chain. Additionally, fabric spray ensures your creation withstands the weather. Detailed instructions guide you through measuring, cutting, hemming, and grommet insertion.
Once hung, these charming curtains serve as delightful tiebacks, making a secluded nook reminiscent of a dreamy tropical getaway. Transform your backyard pergola into an intimate retreat, and savor the tranquility at home. abeautifulmess
8. DIY Canopy Shade With Mosquito Net
Create a cool and inviting retreat using these budget-friendly patio shade ideas that maximize both function and aesthetics. Have a welcoming outdoor oasis free from pesky insects with this DIY canopy shade featuring an integrated mosquito net. Perfect for patios, this guide shows you how to transform your space into an inviting, bug-free zone.
You can construct your shade canopy with a handful of supplies, including 4×4 posts, planters, outdoor fabric, 2×2 boards, hook and loop tape, and a mosquito net. The structure is designed to be removable, offering flexibility to control sunlight in adjacent indoor spaces.
Enjoy the warmth of the sun or cool shade while keeping annoying mosquitoes at bay. This DIY project breathes new life into underused patios, ensuring your outdoor space becomes your favorite summer retreat. thriftdiving
9. How to Make Cabana Shade Using PVC Pipes
Relish a resort-style haven in your backyard with this DIY PVC Pipe cabana. This project, requiring essential tools and materials such as PVC pipes, outdoor fabric, fusible sewing tape, spray paint, and basic construction equipment, allows us to transform outdoor space into a relaxing retreat for around $300 in about two days.
The completed cabana is a versatile spot for entertaining guests, relaxing in private, or enjoying the outdoors year-round. This guide provides detailed step-by-step instructions, from building the frame, digging foundation holes, adding legs, and making the curtains. Get ready to enjoy a touch of resort luxury without ever leaving home! sunset
10. How to Make Patio Sunshade Using Triangular Fabric
Escape the summer sun by making a tranquil and shady spot in your backyard with a DIY triangular patio sunshade. Utilizing freestanding posts anchored to a concrete slab and sunshade fabric, you can achieve a cool outdoor oasis, ideal for relaxation.
This solution can be a game-changer for properties lacking natural shade, and it also significantly reduces heat reflection from concrete surfaces onto adjacent buildings. Key materials include a 20'x20'x20′ sunshade triangle canopy, aircraft cables, and concrete anchors.
The unique design ensures minimal risk of damage to existing structures, even during windy days. Prepare to transform your backyard into a cooler, more comfortable living space with this innovative sunshade solution. thediyplan
11. Free Standing Sun Shade Idea
Build a DIY freestanding sunshade for your backyard or events to beat the scorching summer heat. This self-supporting sun shade is crafted using three towers, each of six beams held in place by tension and ballasted with water-filled waste bins. Quick to assemble, the setup is flexible and doesn't require staking into the ground.
The materials needed are easily available, including 2×4 beams, bolts, screws, muslin cloth for shade, rope, and waste bins. The project costs around $150 and can be completed in a day, making it a convenient and affordable solution for making an inviting, shaded outdoor space.
This sun shade can also be a foundation for hanging clotheslines, string lights, or other suspended lines in tension. Enhance your outdoor experiences today with this practical and ingenious sun shade! instructables
12. DIY Slide-On Wire-Hung Canopy
Spruce up the outdoor living space with an innovative DIY wire-hung canopy system that offers adjustable shading. These beautiful shades glide effortlessly along cables, providing or retracting shade as needed, perfect for pergolas or standalone structures.
This project offers comprehensive instructions, including a step-by-step video tutorial, on sewing custom canopy panels and fitting them onto a pergola. Enhance your canopy's usability by adding an optional rope pulley system for smooth opening and closing.
A simple webbing strap can also be used if you decide against the pulley system. Instructions on how to make this alternative strap system are provided for download. Embark on this project and craft an inviting, shaded haven in your backyard. sailrite
13. Inexpensive DIY Clamshell Sunshade
Explore a variety of backyard shade ideas on a budget to find the perfect solution for your outdoor living area, from DIY canopies to repurposed umbrellas. Make a fun, safe outdoor play space with a unique DIY clamshell sunshade for your children. This innovative design is a fantastic way to provide shade and is inexpensive and easy to construct with readily available materials. The sunshade can be easily dismantled and stored away when not in use.
You only need some scrap 2″ x 6″ wood, a 10-foot section of 1/2″ PVC pipe, a king-sized cotton sheet, and flat stock metal. The end supports are painted with oil-based enamel for durability, and the sheet is re-purposed into a canopy.
This project offers the opportunity to use those unused materials and put them to good use. Make your clamshell sunshade today and let your kids enjoy outdoor playtime without the sun's harsh glare! instructables
14. Handmade Sunroom Window Shade
This DIY sunroom window shade casts a warm and inviting glow, bringing life and beauty to any room. Perfect to make an enjoyable, sun-free environment. This practical and cost-effective solution leverages movable panels to control sunlight in your room.
Constructed from basic materials, including untreated wood, wood trim, shade cloth, and paint, these panels will suit your sunroom and add an aesthetic touch to your space. This project allows you to customize the appearance of your sunroom while ensuring a comfortable, sun-safe environment.
The total cost for this project is over $300, a significant saving compared to other commercial options. Enjoy the scenic view of your backyard without the glaring sun's interference. The sunroom is an extension, providing a comfortable and heat-free space to unwind. diyinspired
15. Outdoor Dining Space With Sheer Curtain
Feel the tranquility of an open-air room in your backyard with this DIY outdoor dining room. Complete with plant-filled pots at the corners and mosquito netting for an intimate feel, this space offers an inviting atmosphere, especially when illuminated with soft candlelight or twinkling string lights.
The construction process spans two to three days, costing approximately $200. It requires materials such as PVC pipes, flowerpots, mosquito netting, bamboo poles, and a handful of tools for assembly.
The detailed instructions guide you through making the structure and adding decorations like string lights for added charm. Ultimately, you'll have a unique dining setup that brings elegance and warmth to your outdoor activities, all built with your hands. sunset
16. Installing Shade Sails in Easy Way
Breathe life into outdoor living space with DIY shade sails. These shade sails are ideal for homes enjoying direct sunlight all day, making your patio a comfortable haven. Leveraging common materials like 4×4 pressure-treated posts, cement, eye screws, and rope, this project is both practical and straightforward.
The making process is simple, yet the outcome is a cozy, shaded patio that doesn't compromise on natural light, making it perfect for those sunny afternoons.
Whether you're dining or relaxing, these shade sails promise to enhance your outdoor experience. Not to mention, it's a cost-effective alternative to pergolas, especially for larger patios. Get ready to redefine your patio's potential with shade sails. simpleliving
17. DIY Gazebo Sun Shade
Enhance your patio experience with these cost-effective patio shade ideas, offering respite from the sun while adding visual interest. Improve your patio experience with DIY sunshade curtains for your gazebo, providing an effective solution for avoiding the sun's glare during dinner time outdoors. Simply purchasing sun shades and adapting them to suit your gazebo can make a budget-friendly, convenient sun protection solution. The process involves:
Taking measurements of the required shade area.
Cutting the sunshade.
Sewing it onto existing curtains.
This project proves affordable, with each shade priced at $29.99, but it also offers flexibility, as you can roll and tie the shades when not in use. The result is a shaded patio that allows breezes to flow through, enhancing your outdoor living space.
Plus, the curtains have shown durability, remaining effective even after years of use. Bring comfort to your gazebo today with this practical DIY upgrade! brookhouse
18. Make Your Own Shade Sails
Upgrade your outdoor living space with an innovative DIY shade sail installation over your platform deck! This hands-on woodworking project significantly improves your deck's comfort, allowing for all-day enjoyment of your backyard. With a timeline of just two days, the ease of this project is outstanding. Essential materials include:
Shade sails.
A tape measure.
A circular saw.
A speed square.
A drill and driver.
A box cutter.
A post-hole digger.
This project's uniqueness lies in its practical solution to excessive sunlight on a deck, using a simple but effective shade sail setup. Dive into the world of woodworking, and make the most out of the deck this summer. Not only does this project add aesthetic appeal, but it also promotes outdoor relaxation and gathering, truly enhancing your overall backyard experience.
19. Making Your Own Sun Shade
Unleash your inner designer and make your DIY sunshade, a masterpiece of art that will envy your neighbors! Designed for an affordable budget, this 10×10 pergola is a stellar addition to your outdoor space. The structure incorporates innovative features such as adjustable metal caps.
Constructed with 10′ 4×4's, 12′ 1×8's, and a 10′ ¾" electrical conduit, the structure stands 8′ high and expands 12′ tip-to-tip on two sides, making it an inviting spot for relaxation. The smartly mounted sunshade material can be easily removed for winter or stormy weather.
This idea is great for those looking to enhance their outdoor living area without the hefty price tag of store-bought options. Make and enjoy your sun shelter today and experience the joy of shaded comfort for years to come!
20. How to Make Sunshade Sail
Exalt your backyard's practicality with a sunshade sail installation, a simple solution that transforms your outdoor space into a cool, sun-protected oasis. Starting with a Diamond Pad Eye installation, this project progresses through strategic drilling and the use of screws, ultimately leading to the use of a snap hook for secure attachment.
As you proceed, you'll utilize a turnbuckle to adjust the distance and ensure proper tension. Incorporating a one-way cable kit and rope contributes to stability and resilience. In a handful of steps and with minimal time investment, you'll be relaxing under your sunshade sail, savoring the sheltered serenity it provides.
21. Best DIY Shade Canopy Under $50
Discover cheap patio shade ideas that allow you to enjoy your outdoor oasis, even during the hottest days of summer. Spruce up outdoor space with a DIY pergola shade canopy, a project that can elevate aesthetics and offer a tranquil retreat. This appealing and accessible endeavor uses readily available wood, fabric, and lights to make a cozy, illuminated canopy. The structure may need additional investment despite minimal costs hovering around $50 for fabric and lights.
Nevertheless, the return on investment is high regarding visual appeal and enjoyment. As queries and concerns about its stability in wind and rain emerge, care must be taken to ensure structural integrity and weather resilience.
However, with proper planning and execution, this pergola could become the highlight of your patio, offering a quiet escape from the sun or the perfect ambiance for your next get-together.
22. Make a Portable Sun Shade
Enjoy an inexpensive, portable DIY sunshade that provides relief during sweltering summer days. With easy-to-source materials like sturdy fabric, a couple of poles, and connectors, you can construct a lightweight, easily portable sunshade custom-built to suit your needs. This versatile solution not only aids in rooftop work like HVAC maintenance but also offers respite during outdoor activities.
Tailoring the design according to your height or work requirement makes it practical, and with the capability to withstand high winds, it adds durability. Utilize your old bed sheets or purchase fabric, assemble a frame, and say goodbye to those expensive sunshades. This sunshade is the perfect ally to beat the heat!
23. Making a Garden Shade Cloth
Are you battling rising temperatures in your garden? Consider using shade cloth as an effective solution for protecting your green spaces. This affordable and easy-to-install DIY project can help decrease the temperature by 15° when the mercury crosses 100°.
A boon for gardeners, the shade cloth is easy to set up with a few metal rods to secure it. It enhances the garden's aesthetic and reprises plants from the intense sun.
You will report your plants thriving under this shade, even with sandy soils and areas with extreme heat. Grab your shade cloth today and give your garden protection from high temperatures.
24. How to Hang a Sunshade With Posts
Relish summer without the scorching heat by setting up a DIY sunshade in your backyard. You'll need minimal tools and supplies – primarily a 3/4 inch PVC pipe, caps, and full-length thread hex bolts. The PVC pipes are cut into 8-foot lengths to anchor the shade. A hand saw, and a drill is all you'll need for this easy, fun project.
Remember to bring your hand saw when buying PVC to avoid leaving it in a heated car, as it might bend. Also, pull anchor lines at a 45-degree angle from the shade for better support.
The shade sail from Coolaroo is a perfect fit for this setup, or consider alternatives like adjustable tent poles. Be cautious while using tools, and if unsure, call a professional. Enjoy summer days in the comfort of your cool, shaded backyard with this unique solution!
25. Simple DIY Shade Sail for Pool
Maximize your outdoor enjoyment with a DIY shade sail over your pool. This project ensures your swimming sessions are cool and comfortable, providing instant shade while you dive into relaxation. Follow simple instructions to attach the sail to your fence and house, making your pool the perfect oasis for those hot summer days.
The setup requires a few tools and supplies, such as a Cool Area rectangle sun shade sail, stainless steel hardware kit, and shade sail rope kit, with all items offering UV protection and durability.
Benefit from this creative setup that keeps your pool cooler and more inviting. Remember, it's not just about swimming; it's about swimming more and burning less under a protective shade sail. So, let's beat the heat and make the most of your pool!
Conclusion:
In conclusion, DIY sun shades are an affordable and creative way to protect your outdoor spaces from the sun's harsh rays. There are numerous diy sun shade ideas, such as PVC canopies, old sail repurposing, and shade sail installations, that cater to different budgets and preferences. With many options available, including mosquito nets, window shades, and garden shade cloths, you can easily make a comfortable and stylish retreat in your patio area. So, why not embark on a budget DIY sun shades project to enhance your outdoor living experience?