When we talk about childhood fun, we always recall playing with the toys! The childhood memories are great and fill us with great happiness! When we see the kids playing with the toys, we just lost in the past childhood memories but when you grow up, then playing with the toys seems to be a foolish act for you! The plastic animals are the most favorite toys that all parent love to select for their kids as they don't get old early and not break up so soon! But if you are having some large collections of the plastic animal toys that are lying useless as the kids have grown up, then we have something amazing here for you to do with those old toys! Just make do fantastic crafting projects with those plastic animals and amaze your beloved ones! Upcycle the plastic animals to make enchanting home decors, precious gifts and various other items that are beyond your imaginations! So, repurposing the old plastic animals can be your next crafting passion!
Willing to know that what type of wonders you can do with the plastic animals? Then just have a look at these 20 DIY Plastic Animal Crafts for Home Decor that are amazing and will win your heart due to creativity involved! People obsessed with creativity will also get satisfied here when they will see the amazing recycling tricks and hacks that they have never thought before! You can create fantastic crafting surprises with the plastic animals like you can paint them with custom colors and can also add different textures on them to turn them into smart gifts!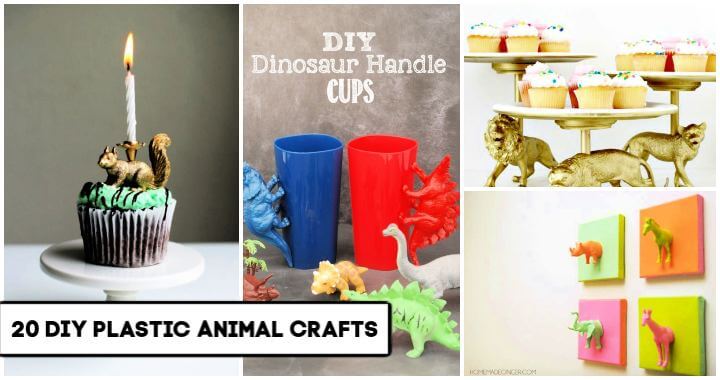 Adhere the plastic animals to the inside of the Mason jar lids and then tight the jars in them to make cool gifts and centerpieces with the animal toys! Just paint the plastic animals and fit the wooden dowels in center of their top, finish the dowels with some plates and make fabulous cake stands for your party dessert table! Paint also the plastic animals in gold and the adhere them inside the dishes to make lovely ring and jewelry dishes and also add up the plastic animals with custom hardware to make perfect drawer knobs, pulls and other items of this kind! Finish the plastic animals with the dowels ending with the alligator clips and then make them hold custom messages and notes and make perfect memo holders out of old plastic animals!
Again paint the plastic animals for enchanting appeals and give a sharp cut in the mid, insert photos in them and make lovely photo holders out of your painted plastic animals! Adorn the plastic animals with the pom-poms and make beautiful pincushions out of them also, get inspired by the given sample that is cute and adorable! Visit also the attached links to get full free tutorials, visual guides, and step-by-step instructions!
How To Make Gold Patterned Beasts: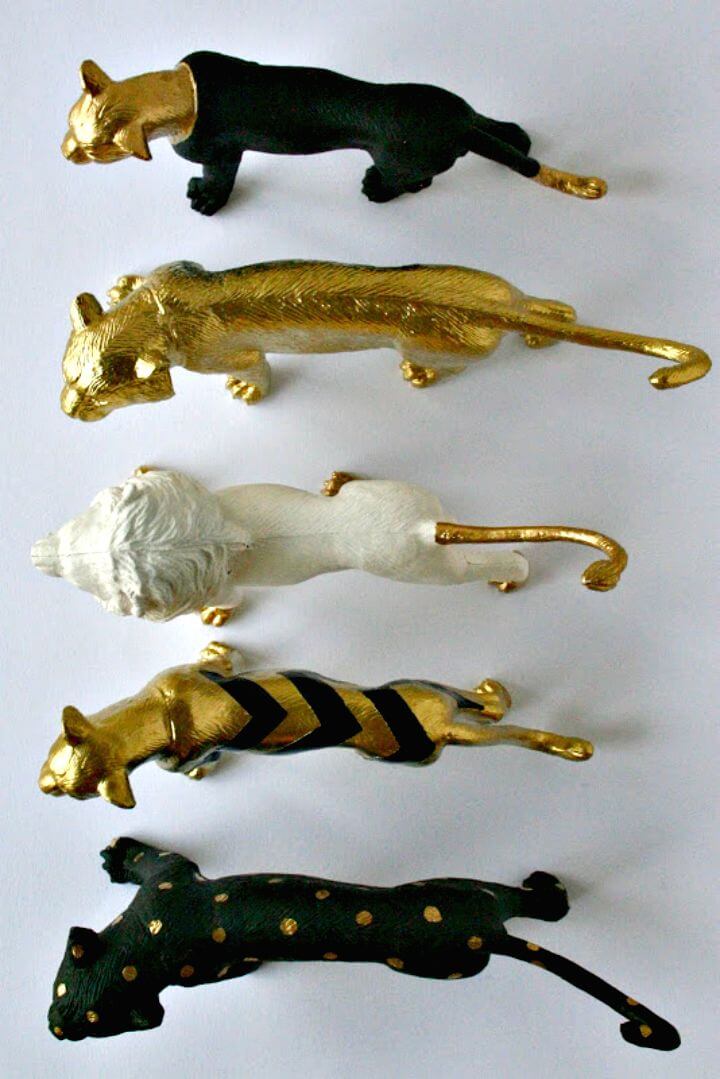 Repurpose your plastic animal toys to make amazing looking patterned beasts using gold paint! While painting your toys in gold, you can play in multiple different ways! Just make the toys completely painted in gold, or just paint them half in gold and add only gold polka dots! Check out some interesting and beautiful samples given below! These painted patterned beasts will make great bookends and the shelf decors if you like to do so! Grab the full free guides and visual tutorial from here heodeza
DIY Glitter Snow Globes From Mason Jars: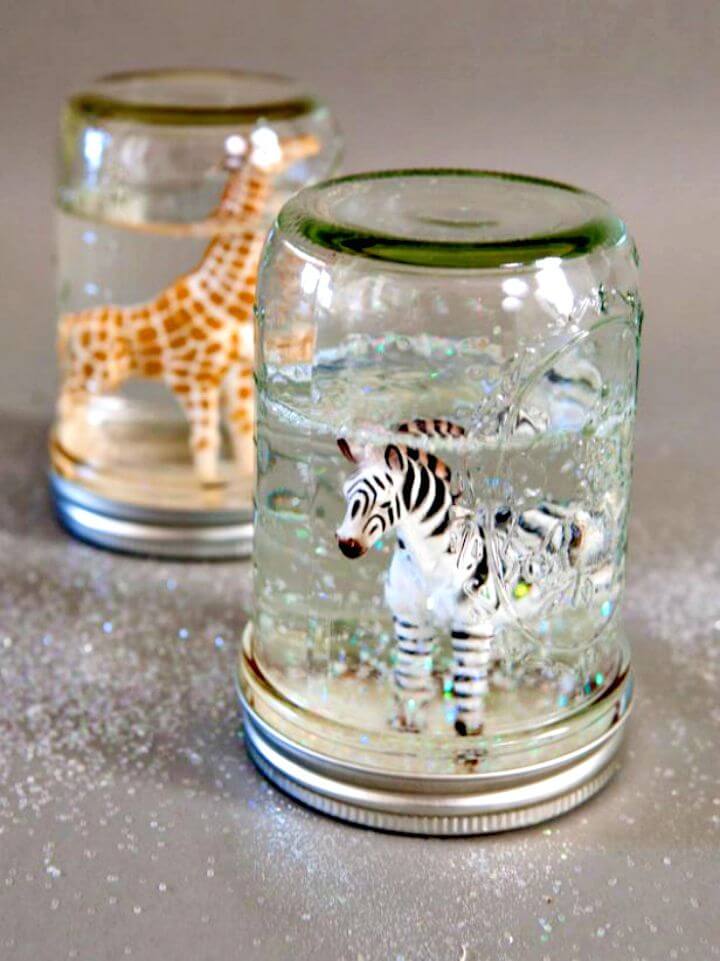 Are you looking forward to make some adorable jar centerpieces? If yes, then go handmade with the Mason jars and some plastic animal toys! Just put your toys in the Mason jars and then fill them up with glittery water to make interesting looking Mason jar centerpieces at just zero cost price! Check out some given below samples that are amazingly beautiful and breathtaking! Complete project instructions here diynetwork
Easy DIY Wild Cat Cake Stand: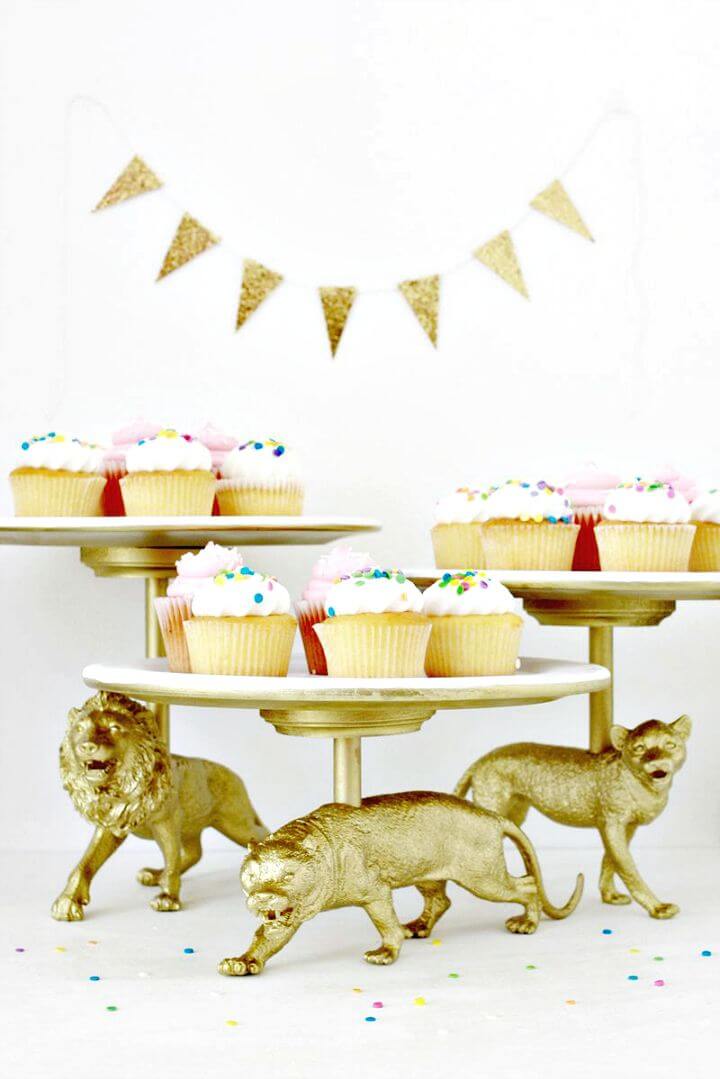 Another outstanding and beautiful crafting project to do with the plastic animals! Just make the awesome looking wild cat cake stands with them that will be just a big center of attention! Just grab some wooden dowels and fit them to back side of your plastic animal, fit the dowel tight in place using quick dry cement and then add the wooden rounds on the top of the dowels to hold the cakes! Don't forget to spray paint all in gold for a posh look! Grab the full free tutorial from here abeautifulmess
Quick DIY Gold Animal Ring Dishes: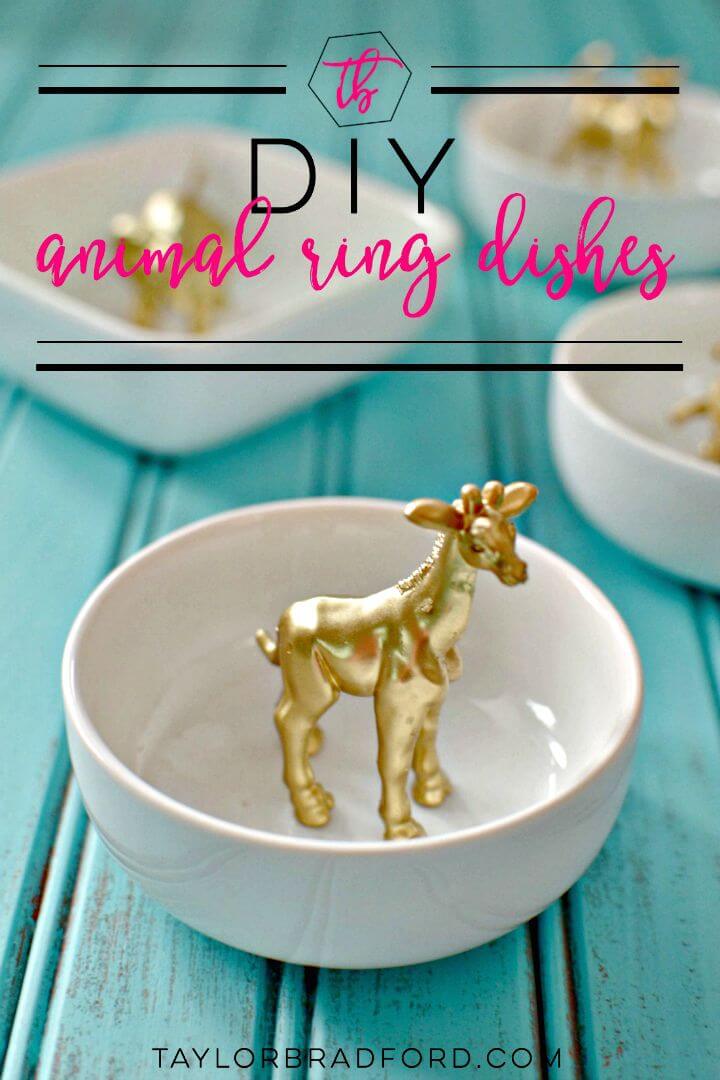 Craft also the focally stimulating and much good looking ring dishes using the plastic animals that will also make interesting gifts for the jewelry lovers! Here check out the beautiful ring dishes that are made by mounting the gold painted animals in the center of the ceramic ring dishes! It gives great visual details to ring dishes along with a stylish, posh look! Another great craft project to do with the plastic animals! Willing to duplicate this project? Grab the full free instructions and tutorial from here taylorbradford
DIY Drawer Pulls using Plastic Animal: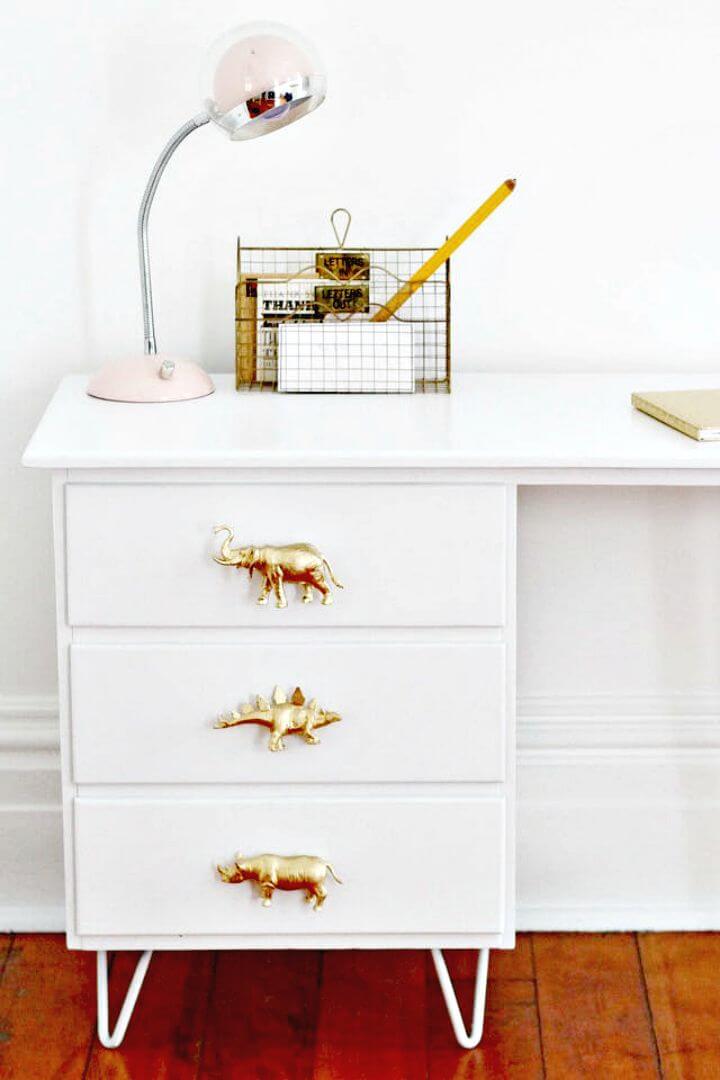 Make also the fun making drawers pulls using the plastic animal, and it would not just take much time! Just grab your plastic animals and then drill holes in them! Spraypaint them entirely for a custom appeal like here the gold spray paint has been done for an expensive sparkling appeal of them! The final step would be to use the hanger bolts, washers and nuts to fit the animals as drawer handles! Another lovely and fantastic craft project to do with the plastic animals! Complete project details here apartmenttherapy
How To Make Animal Memo Holder Gifts: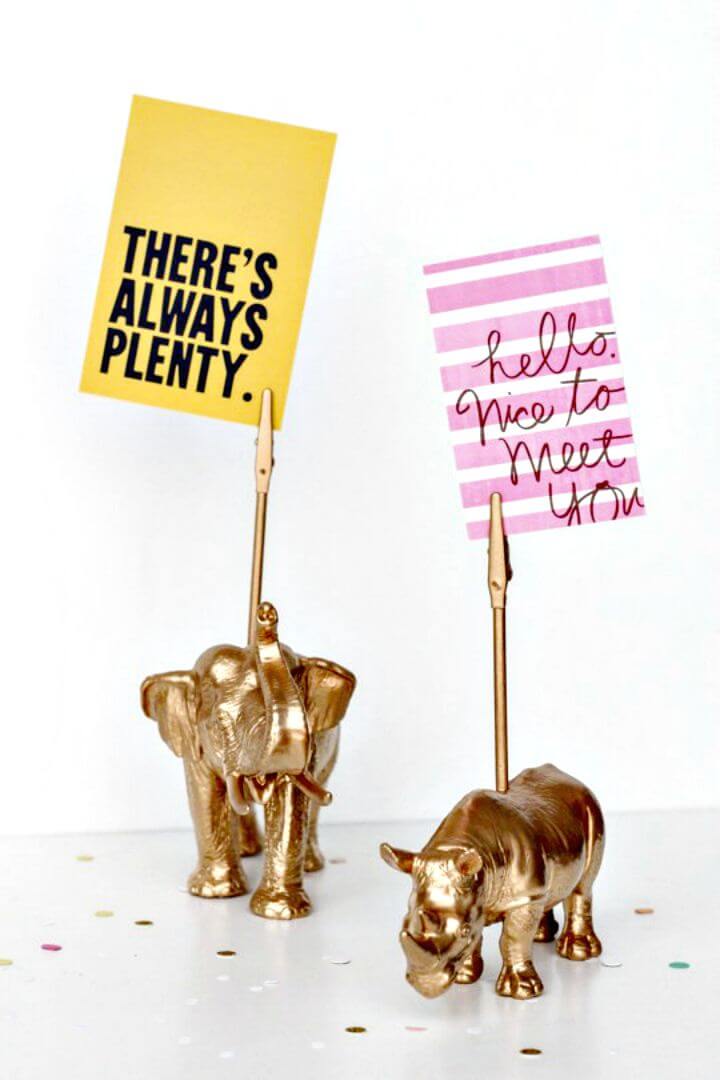 Bring also extra grace and focal stimulating to your office table or desk by making animal memo holders! Just drill the holes in the back of your plastic animal toys and then add the wooden dowel rods in the holes! Finish the dowel rod with an alligator clip and make the perfect memo holders for any of your desk or table space! This is here another brilliant hack for the plastic animal toys that are to find in everyone's home! Complete project tutorial here sugarandcloth
DIY Dinosaur & Animal Photo Holders: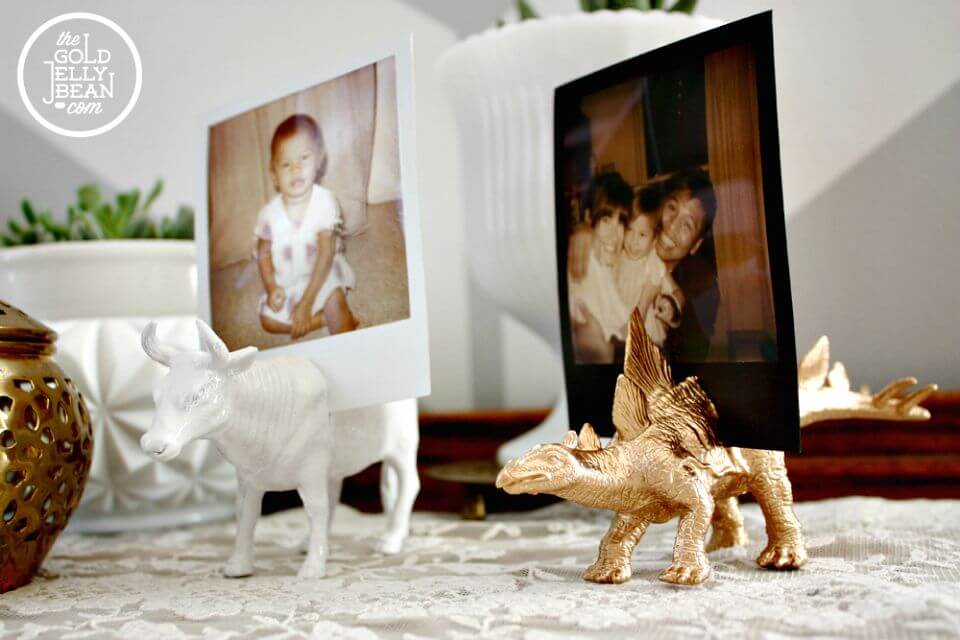 Another amazingly smart and innovative project to do with the plastic animals, just make some deep cuts in their backs where you can slide in the photos for an enchanting display! Have a look at these sample dinosaur animal and photo holders that hold the memorable photos and are looking damn beautiful! Use a utility knife to give a sharp cut, deep enough to hold the photos safely! Complete project tutorial and instructions here thegoldjellybean
Cute DIY Plastic Animal Pin Cushion: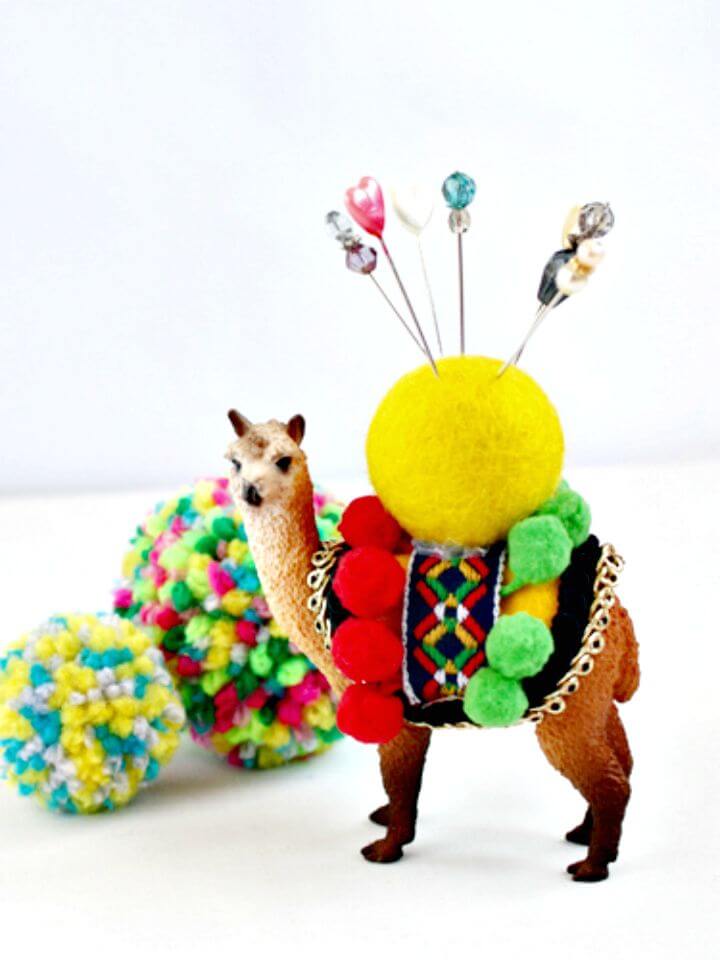 Check out here another outstanding and remarkable project that you can do with the plastic animals! Just make the animal toy pin cushions that will make Thanksgiving gifts to sewing loving moms and would be something super easy to make! Get inspired by this lovely sample that is made of an animal toy that has been adorned with the pom-pom trims and comes with a yellow felt ball in the center that will hold the pins! Just glue both pom-pom trim strips and felt the ball in place and enjoy! Complete project instructions here small-good-things
DIY Plastic Animal Ring Holder: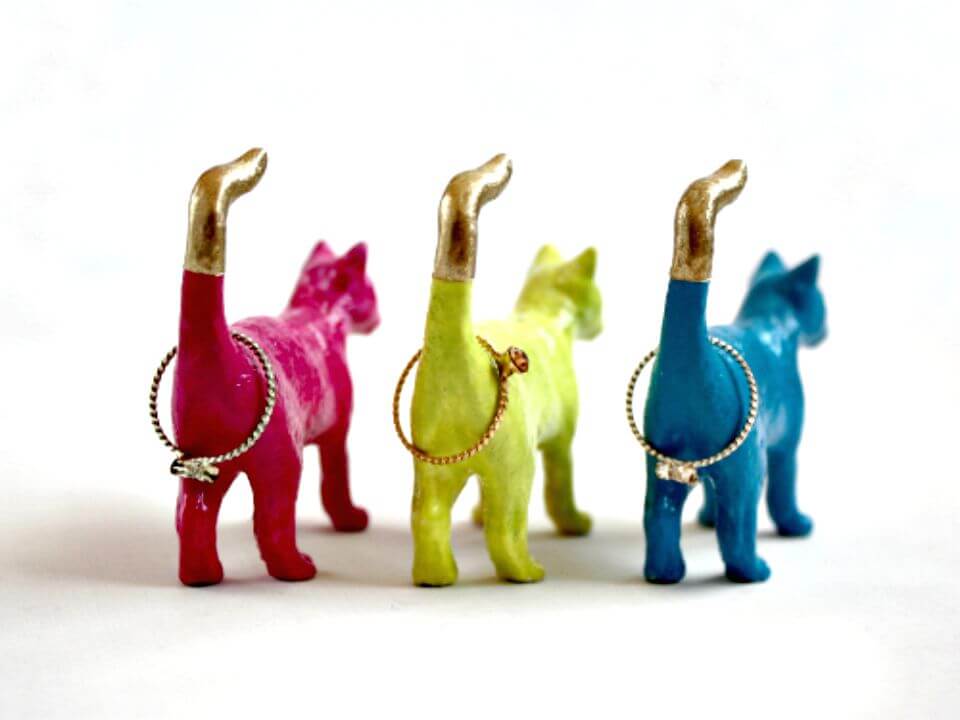 The ideas to use the plastic animal for decorative and functional uses are just endless! Here is one more beautiful one to hold your attention! Just make also smart use of your plastic animal toys to make adorable mini jewelry organizers! Just have a look at these animal ring holders that have been done to inspire and comes with gold painted tails that serve as fantastic hooks to hold the rings! Another great and lovely plastic animal craft project! Complete visual instructions and tutorial here small-good-things
Adorable DIY Animal Mobile For Your Child's Playroom: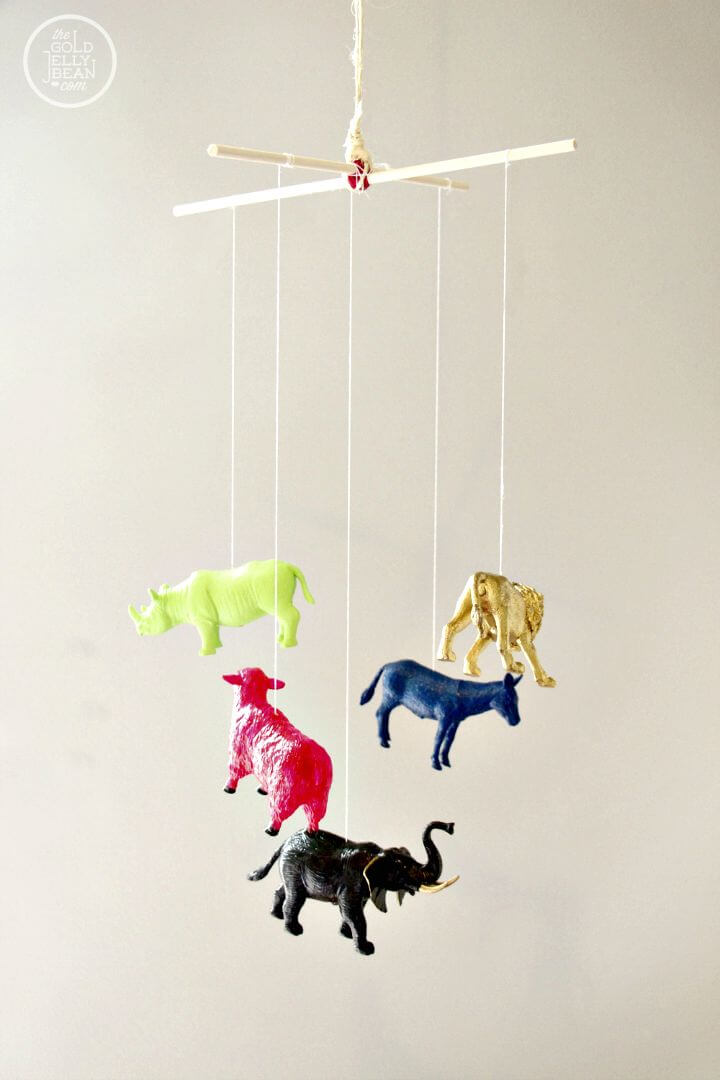 Make also enticing centerpieces and hanging ornaments for kids rooms using plastic animal toys! An exciting and remarkable example here is this animal mobile that has been done to inspire and looks like a precious wind chime! Drill mini holes in the back of your animals and add hooks there! Next, string them up and hang on an aloft frame that can make also use only 2 wooden lengths! Grab the full project details from here thegoldjellybean
Easy DIY Sheep Decor Using Toys: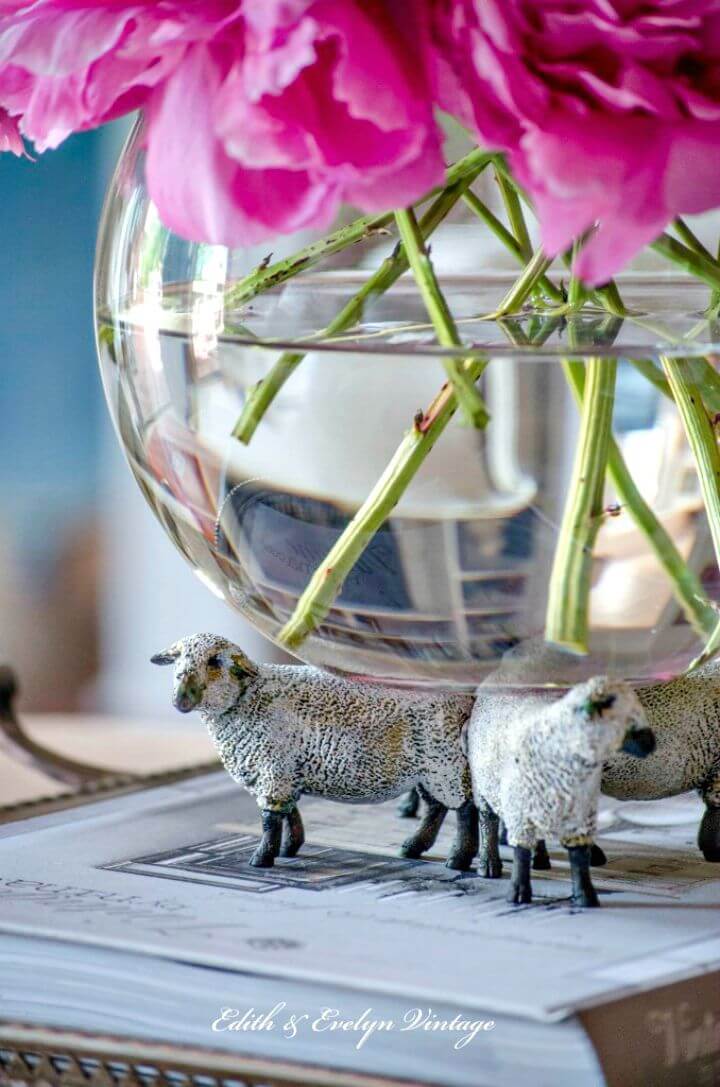 Here is another great hack for animal toys! Just make enticing centerpiece holders out of them and bring more grace and charm to your eye-pieces! Here four sheep toys have been put together in back-to-back arrangements, and hence they can hold different things and materials on them beautifully! In this sample project, these plastic sheep hold a big glass jar vase! Another smart way to use plastic animal toys for home décor purposes! edithandevelynvintage
Make Your Own Bunny Place-cards: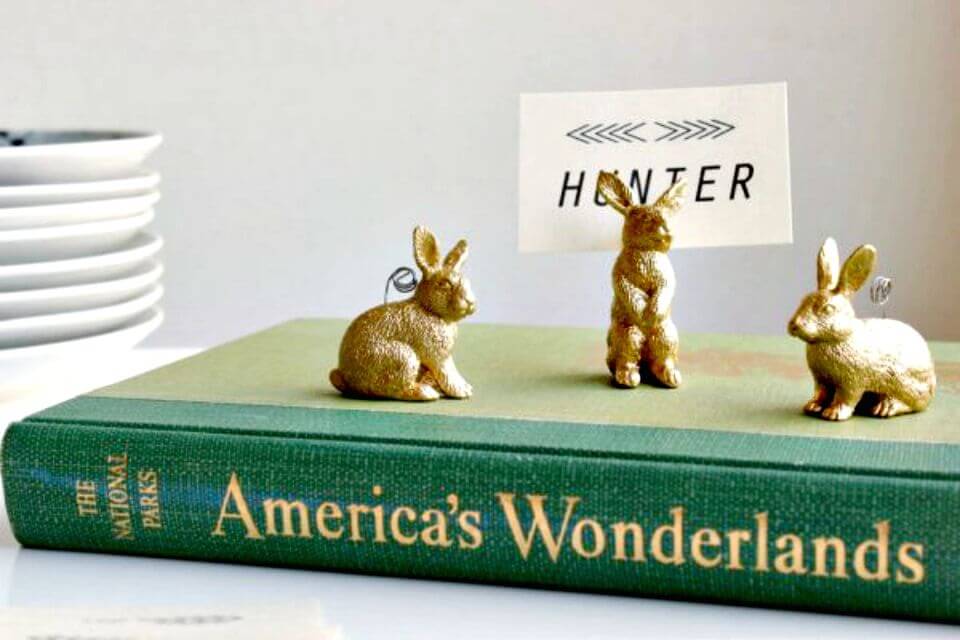 Make also the charming looking place-cards using the plastic animal toys! An exciting example here is these bunny place cards that have been done to inspire and are just looking damn gorgeous! Just grab your plastic bunny toys and drill holes in their backs and then just add them up with custom hooks or wire that will hold the place-cards! Grab the full project details and instructions from here thesweetestoccasion
How To Make Plastic Elephant Book Ends: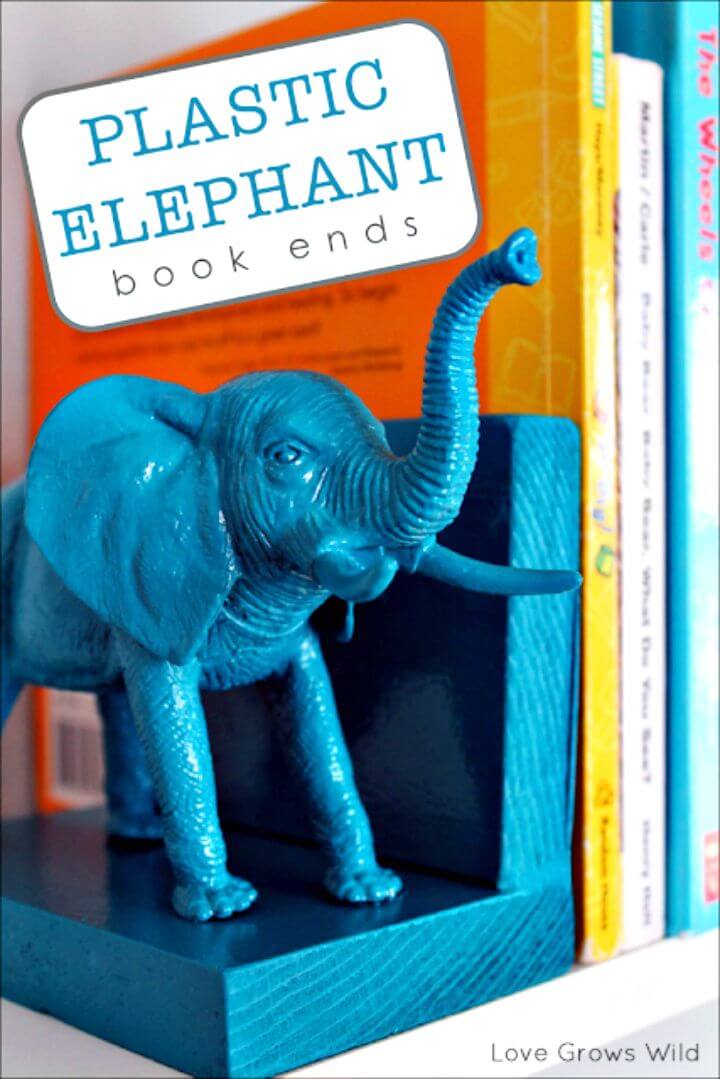 Fall in love with these more beautiful and enticing looking bookends that are also made of repurposed plastic animal toys! Here the mini elephant toys have been painted in blue and have used as bewitching bookends! Here finally painted plastic elephants have been finished with L-shape wooden bases that are made of 1x4s wooden pieces! Another sweet and lovely plastic animal craft to do at home! Grab the full free instructions and tutorial from here lovegrowswild
DIY Mini Plastic Animals Canvas Art: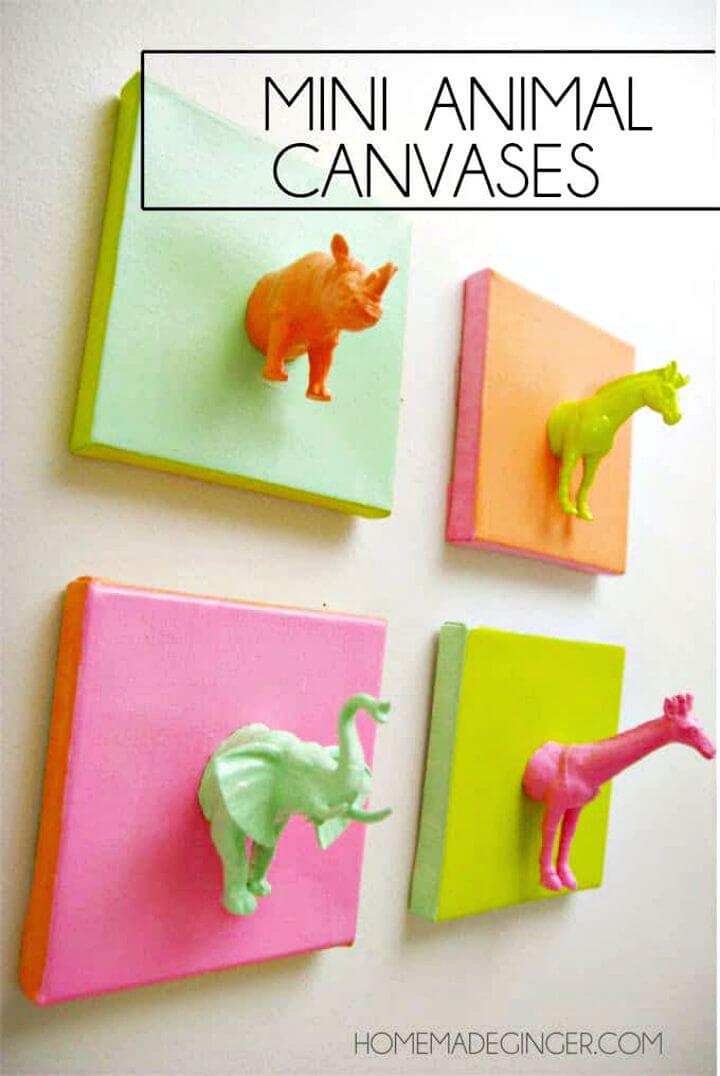 Bring also amazing visual details to your interior home spaces by making outstanding canvas wall art frames at home using the plastic animals! Just grab your canvas frames and the plastic animals and then paste the half cut animals on them which can also be painted in the desired color before you mount them on the canvas! Check out here the sample plastic animal to get yourself inspired! Complete tutorial here modpodgerocksblog
Cute DIY Party Animal Candles: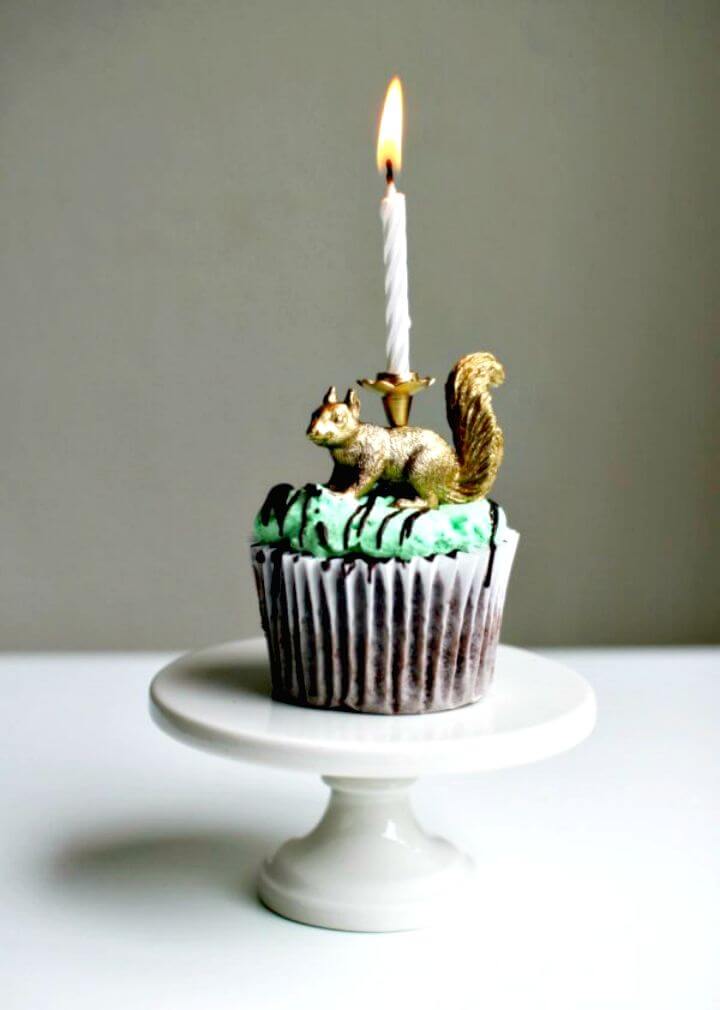 Get smartly crafty also with the plastic toys to boost your party decors also! The idea here to make the perfect looking party candle holders with the plastic animals! What you have to do is to fit the candle holders on the upper back of the plastic animals so they will beautifully hold the candles on them! Drill custom holes and then fit the candle holders in the holes made in the upper back of the toys and grab brilliant looking candle holders for your party tables! Have a look at the sample animal candles that come painted in gold! Complete project tutorial here thesweetestoccasion
Create Plastic Animal Necklaces: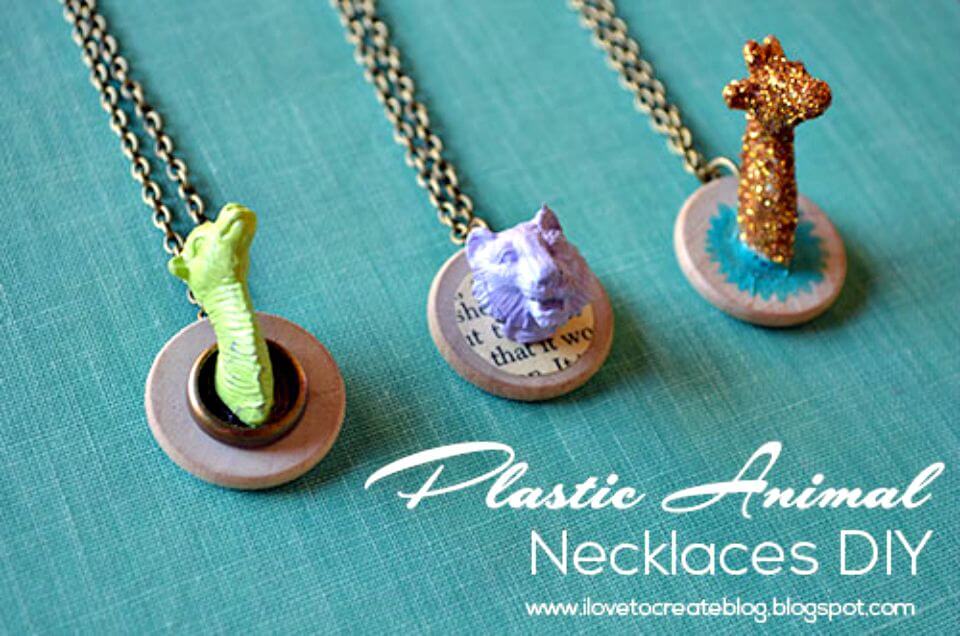 Make also super beautiful looking necklaces using the plastic animals the idea is pretty simple and easy peasy! Just cut the head of plastic toys, paint them in your favorite color and then paste to wooden circle blanks and hence you will get beautiful looking necklace pendants! Next, add the jump rings to your finally finished necklace pendants and add then to necklace chain for a stunning necklace! Make also smart use of scrapbook paper and glitter to adorn your necklaces more! Get inspired by the given sample necklaces here! Complete project tutorial and instructions here ilovetocreateblog
Cute DIY Dinosaur Handle Cups: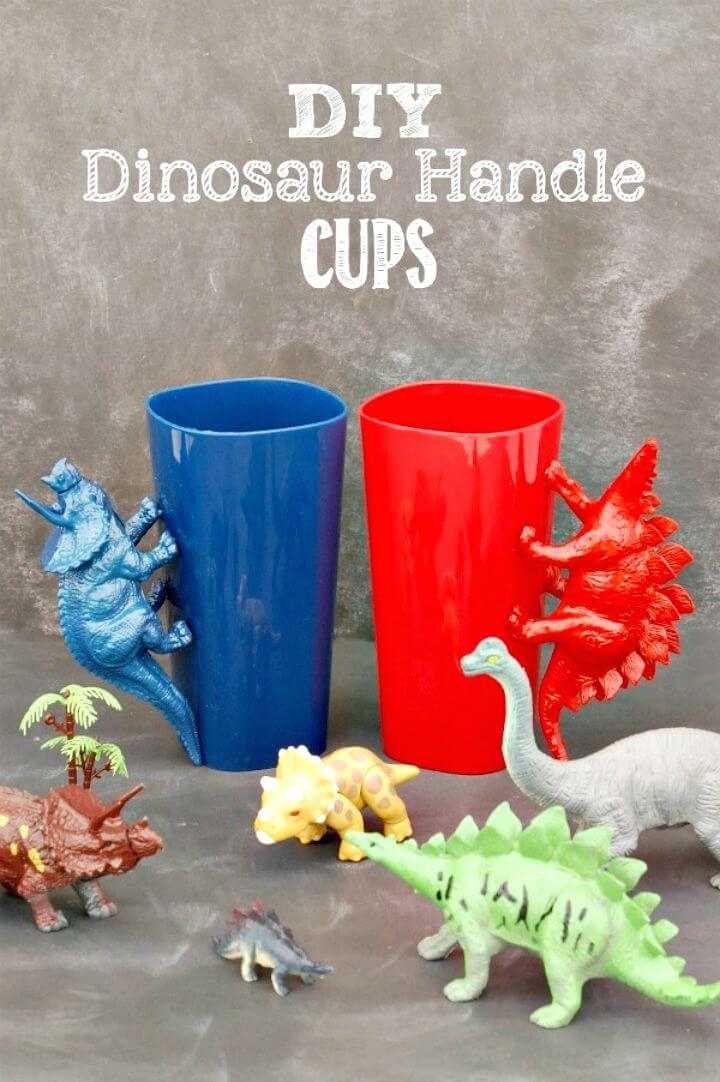 Another outstanding and beautiful hack to use plastic animals! Just mount them around your coffee cups or glasses as stunning handles! This idea will rock when you intend to make some cool kids gifts at home! Glue the plastic animals to the outside of the kid's cups and gain fabulous looking handles! This is here another beautiful plastic animal craft project that you can duplicate easily! Complete project tutorial here whitelightsonwednesday
How To Make Dinosaur Key Ring: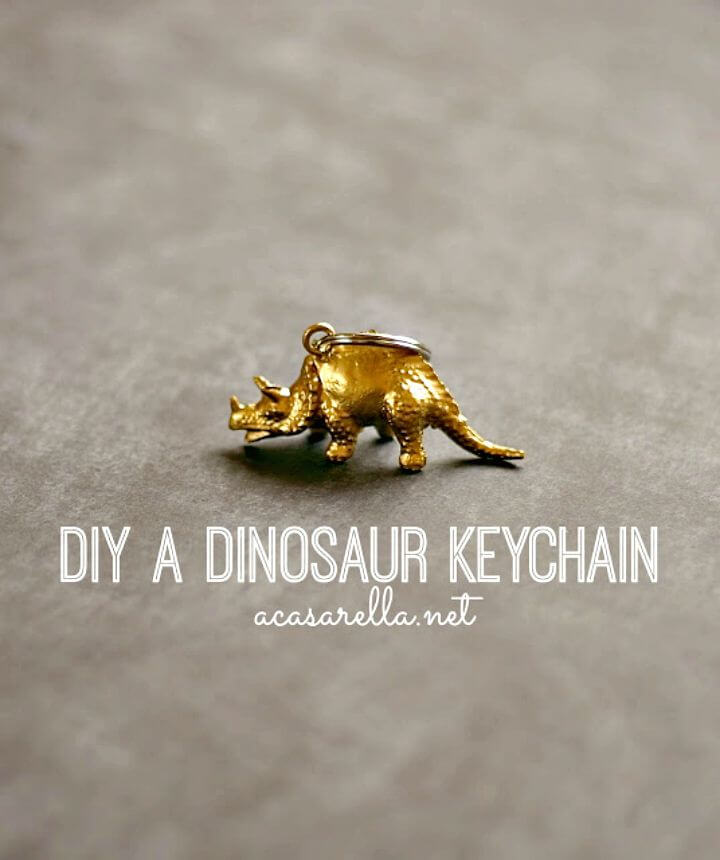 Looking for some excellent mini gifts to give to your friends? If yes, then why not make some amazing looking ones using the plastic toys! Just add the plastic toys with key rings and make brilliant looking key chains that will make Thanksgiving friends for all of your friends! What you need to do is to fit the key rings in the upper back of the plastic animals! Just spray paint your plastic animals and then add them up with custom metallic key ring and gain outstanding looking key-chains! Stare a little at the given sample and get inspired! Grab the full project tutorial and instructions from here acasarella
How To Create Plastic Animal Crafts:
Make gorgeous looking wall art pieces using the plastic animals that will help bring great visual details to your interior walls! Have a look at these sample plastic animal art pieces that have been gained by mounting the half cut fronts of the plastic animals on around and heart wooden shape discs! Paint your finally finished art pieces in your own desired way and then just mount your art pieces on the targeted interior wall! Grab the full project tutorial and instructions from here littlegrayfox
DIY Party Animal Necklace Tutorial: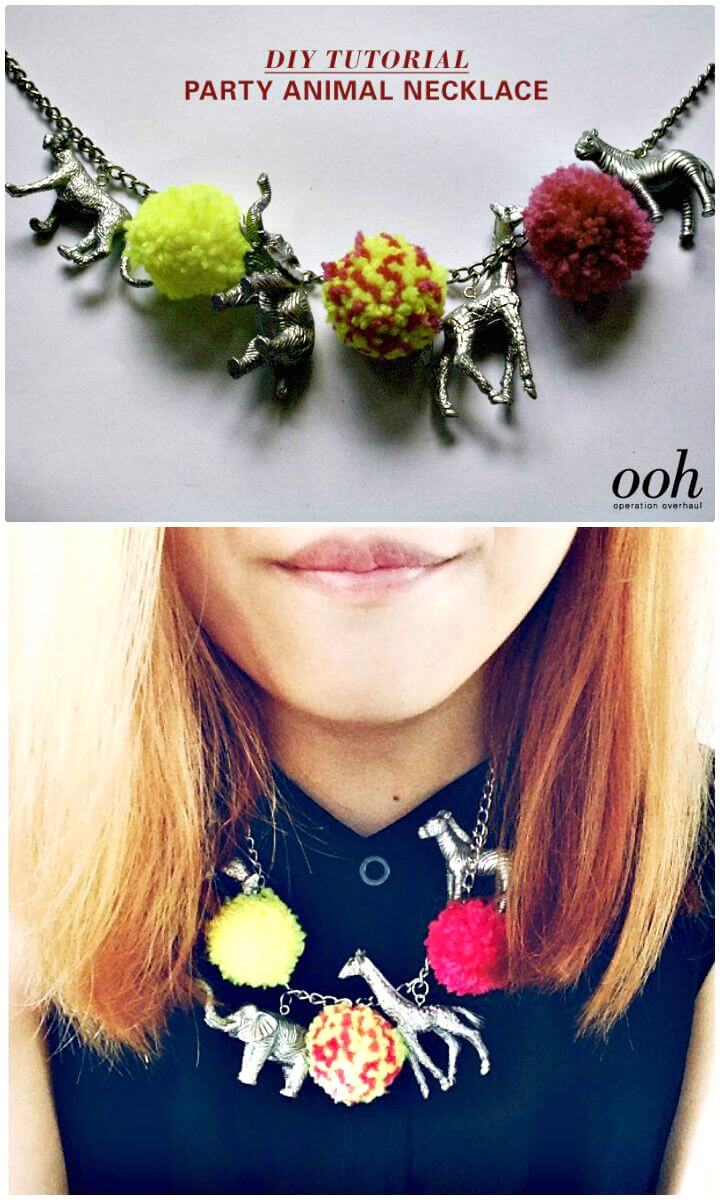 Make also interesting jewelry pieces using plastic animals! You can paint the plastic animal in your own desired metallic colors and then can add them with eye screw hooks to make beautiful necklace charms and pendants out of them! Peek into details of this ample party animal necklace that is made of painted plastic animal toys and also with colorful pom-poms beautifully added to the necklace chain! Finish your necklace with a lobster clasp and enjoy an elegant necklace hanging around your neck! Grab the full project details and instructions from here operationoverhaul