The interior light decors really matter when you are to create a super posh and luxurious look of your interior spaces! Interior lighting will not only be a way to brighten up the darken spaces of your home but if come in enchanting appeal and designs, they can really add mind-blowing visual details to your home! You can make use of different light decors or DIY chandelier ideas to get nooks and crannies of home brightened at night but when it comes to highlighting the mid of an interior or spruce up the ceiling of a room, the chandeliers always make a great choice! They are just the amazing light fixtures that mostly installed to ceiling or roof and comes pendant mostly for a sharp focus of light to floor items and spaces you are working on or with!
The fancy looking light chandeliers are considered to be a great addition to the dining room and hence can mostly be seen as pendant light fixtures hanging over the family dining tables! However, whether the chandeliers are a way to add extra glam and charm to a particular room interior, they are also expensive to buy from the market and some luxurious ones can cause a big load on your wallet! So, the only way to get your dream chandeliers on cost-efficient prices is only through the DIY Crafts!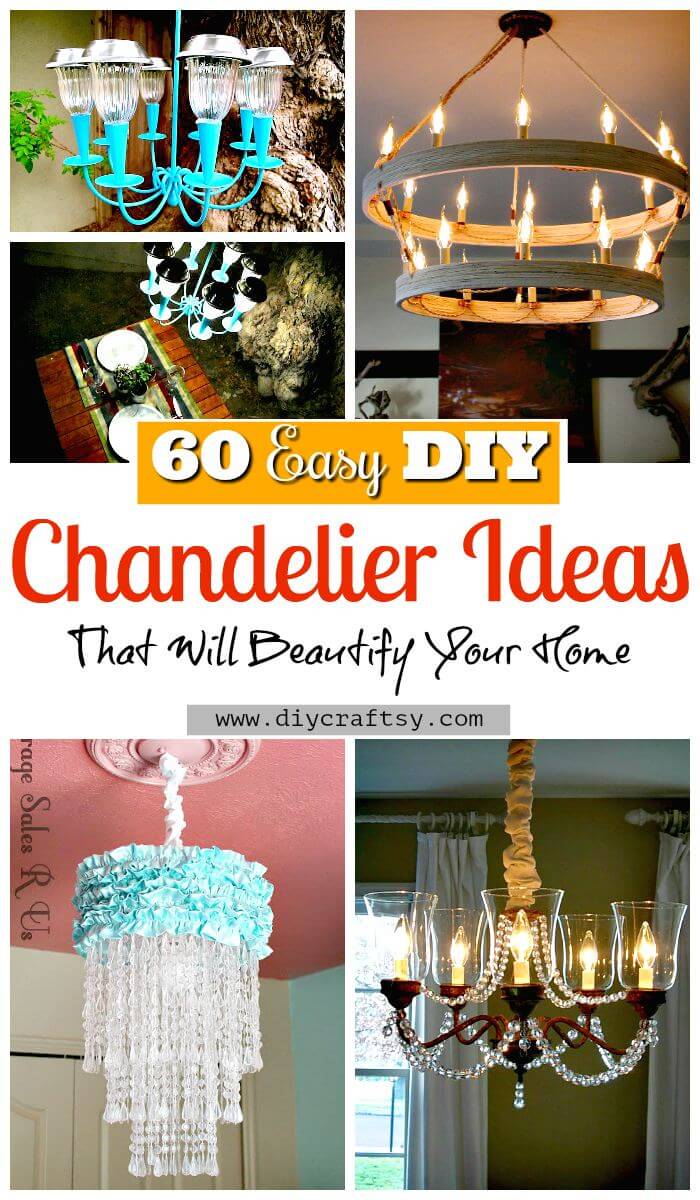 You can make amazing looking chandeliers at home using recycled items and materials! Just check out here some outstanding 60 easy DIY chandelier ideas & projects that will definitely provide you all the tricks about making cool DIY chandeliers at home using discarded, recycled, old and 24/7 materials from home or surroundings! Next, the list also includes the amazing DIY chandelier makeover projects that will help to update or refurbish your old chandeliers beautifully!
Make the outstanding-looking crystal ball chandeliers at home that can hang to the boob ceiling fixture through a metal chain and would be a big delight to view! Create antique light chandeliers by replacing the light bulbs of a chandelier with candle jar lights and also make colorful ping-pong ball chandeliers that will definitely be eye-catching to look at, have a look at some brilliantly given samples! Make awesome hanging flower chandelier for your dining tables and also make the yarn chandeliers that would be super beautiful to look at and will be cost-efficient too!
Make your old chandeliers posh looking by covering them with old necklace beads and also make amusing chandeliers using half cut glass bottles and light bulbs, get inspired by some amazing given samples! Make lovely ice cream chandeliers for kids bedrooms and also create a luxurious appeal of your bedroom by hanging handmade crystal chandeliers there!
The ideas for DIY chandeliers are just endless and just check out dozens of more given below in the list! For each light DIY chandelier project, you want to duplicate, there is an attached link which can simply be clicked once to reach to complete free tutorial, visual instructions, and step-by-step guides!
DIY Projects You'll Love for DIY Home Decor:
Easy How To Make A Solar Light Chandelier: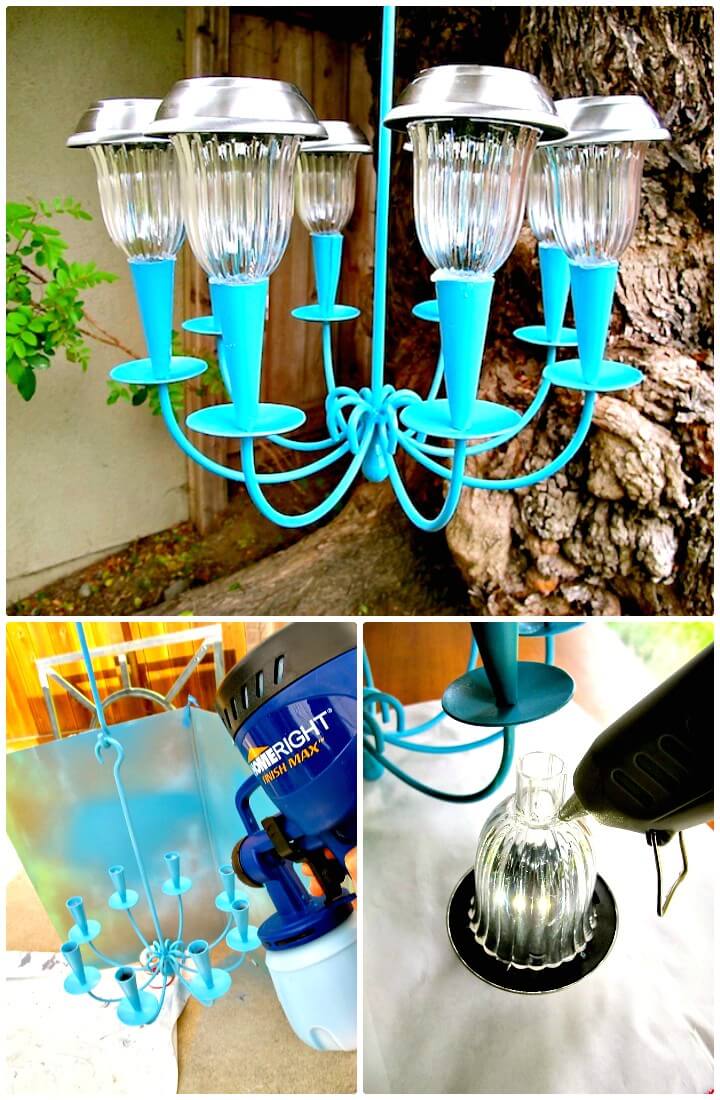 Enjoy the outdoor family dinners under the soft glow of solar lights that will come from this light chandelier! Here lights fixtures of an outdoor chandelier have been replaced with the solar lights to make a glam looking chandelier that will rock if hanged above on your outdoor dining table! Get inspired by the sample solar light chandelier here that has been made to inspire and is something super beautiful to look at! Grab the full instructions and tutorial from here homejelly
Easy Make Chandelier From Wood Beads: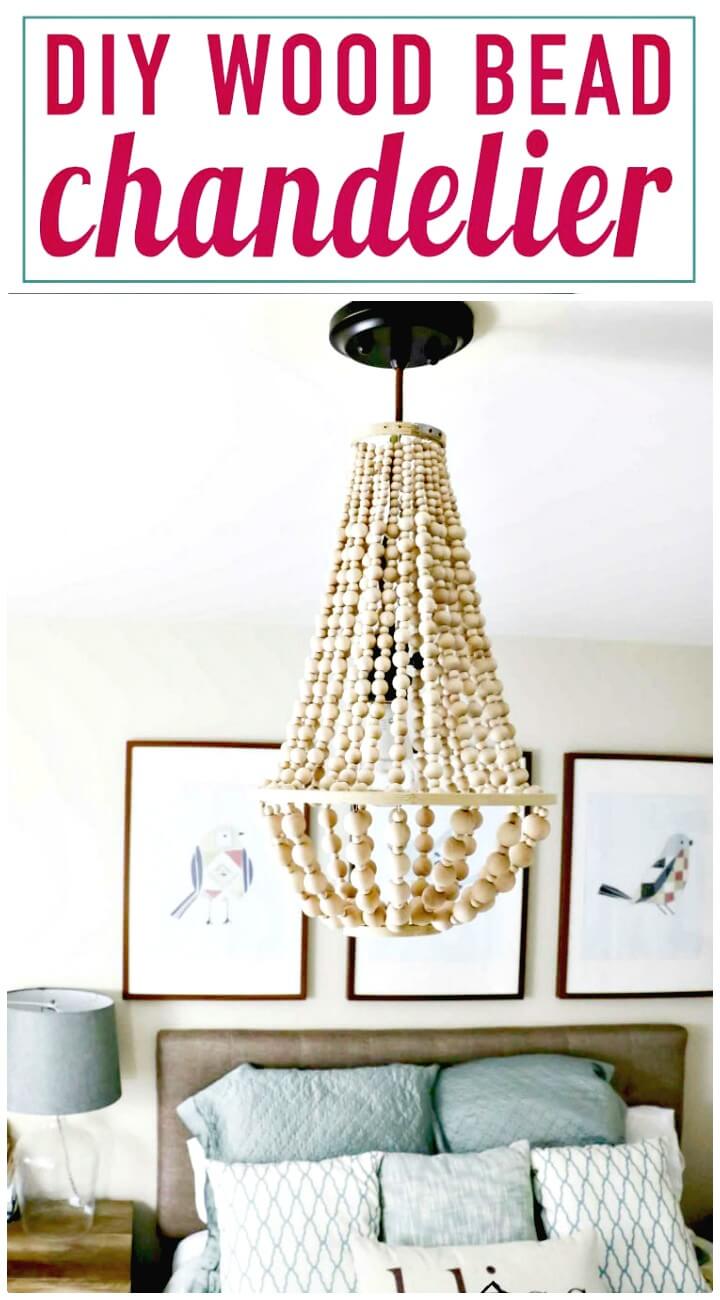 The wooden grace and charm of this chandelier would definitely amaze your senses! Here the frame of this wooden chandelier is made of two quilting hoops one is having 10-inch diameter while the other is having 3 inches! Next, the small and big wooden beads have been threaded onto custom string lengths and hanged between the hoops and around the chandelier hoops for making a glam looking chandelier! Don't forget to add custom lights inside and enjoy! Complete project guides and tutorial here designertrapped
Adorable DIY Paper Heart Garland Chandelier: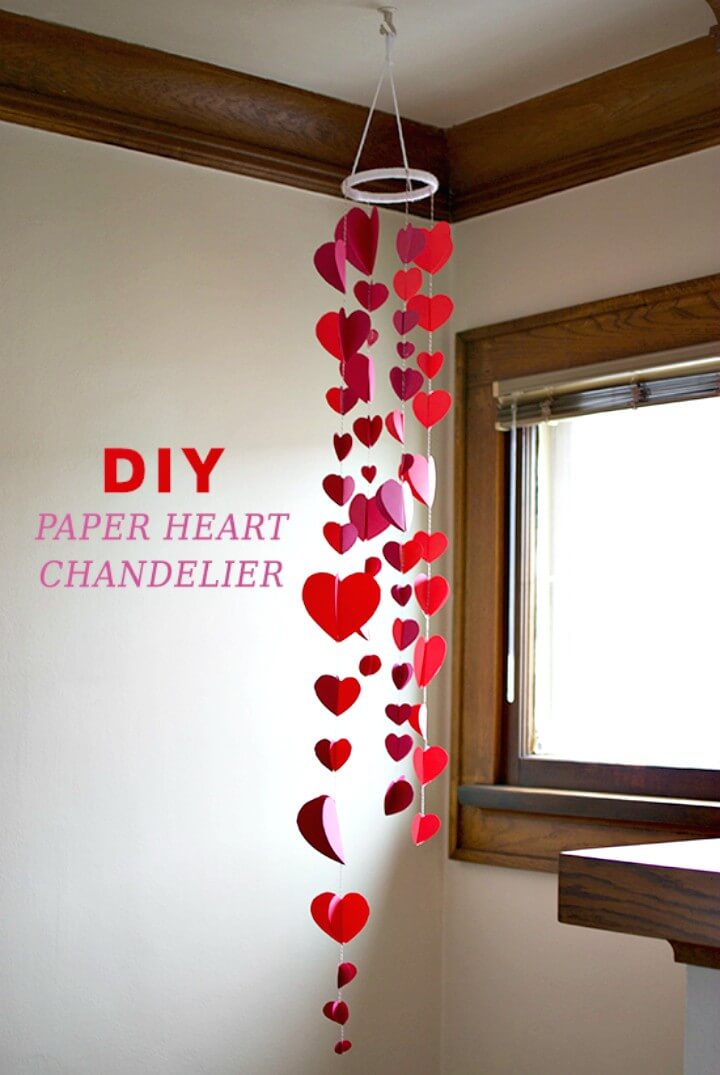 You will definitely like to clone to this another glam looking model of the chandelier that is a love chandelier actually! Here this chandler is having paper heart garlands hanging vertically downward that speak volumes about the love! Here these paper garlands have been glued onto a mini embroidery hoop that further hangs on a ceiling hook through some twine supports! Use a heart template for making red paper hearts and just paste your hearts onto a piece of twine using glue! A pretty quick and easy chandelier idea! It would make a great Valentine's Day gift also! Complete instructions here inspiredtoshare
How To DIY Double Ringer Chandelier: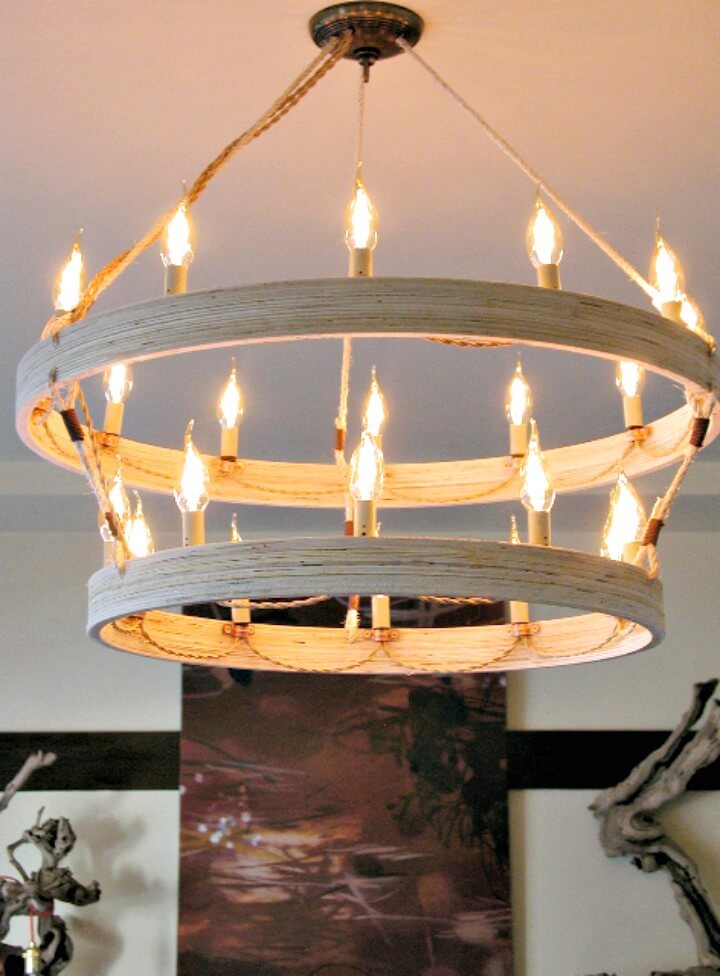 Bring a fantastic wooden touch to your interiors with this double ringer chandelier that is made of two wooden hoops having different sizes! Here both the rings have been interconnected using a sisal rope which also helps to hang the chandelier on ceiling hook! Fix the steel and copper pipe clamps inside the wooden rings which will help to hold the cloth covered fire and the candelabra light sockets! Fit the candelabra light bulbs in the sockets and just finish your chandelier! Another mind-blowing chandelier project to try out at home! Complete instructions here designsalononline
DIY Crystal Ball Chandelier Tutorial:
Every time you need to create a glorious bright look of the interior along with a luxurious appeal, you may just think of some modern light decors! Light chandeliers always get your first priority in this case and the good news is that you can make modern chandeliers at home without getting expensive! Just have a look at this sample chandelier that is made of a gold and crystal ball and it hangs onto a ceiling canopy through a piece of the metal chain! A perfectly modern light chandelier to grab your attention! Complete project instructions here viewalongtheway
Create Your Own Outdoor Candle Chandelier:
Have a look at this another great transformation that results into a fab light chandelier that will rock any particular indoor or outdoor space with soft glow of light!! Here an old dining room chandelier has been disassembled into pieces and then have been repainted in green! The wires and lights have been removed and then new candle jar lights have been fixed for a classy candle chandelier that will go outstanding to any outdoor space! Complete project instruction and tutorial here heytherehome
DIY Ping Pong Ball Pendant Chandelier: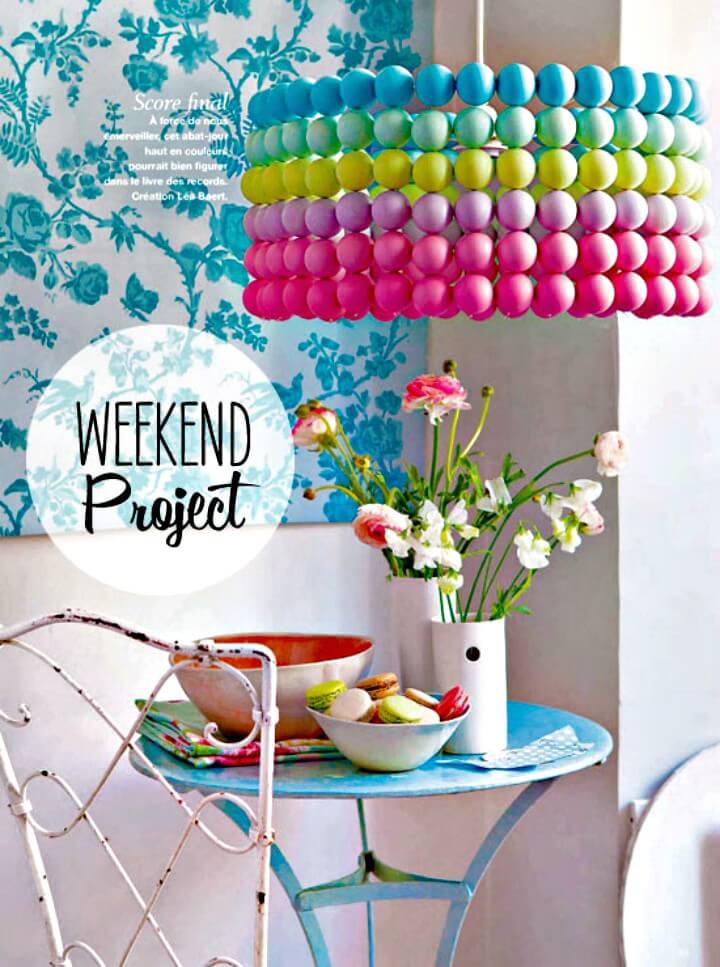 This exclusive handmade chandelier is sure to hold your attention and it is made of colorful ping pong ball that appear in a fab ombre appeal! Here the ping pong balls have been threaded onto a nylon strings and hence make beautiful ball garlands that have been put around a lampshade structure for making a super beautiful pendant chandelier! Hang this chandelier aloft using metal chain, rope or other supports and don't forget to install a light bulb inside this chandelier! Complete project tutorial and step-by-step instructions here poppytalk
How To Make A Hanging Flower Chandelier: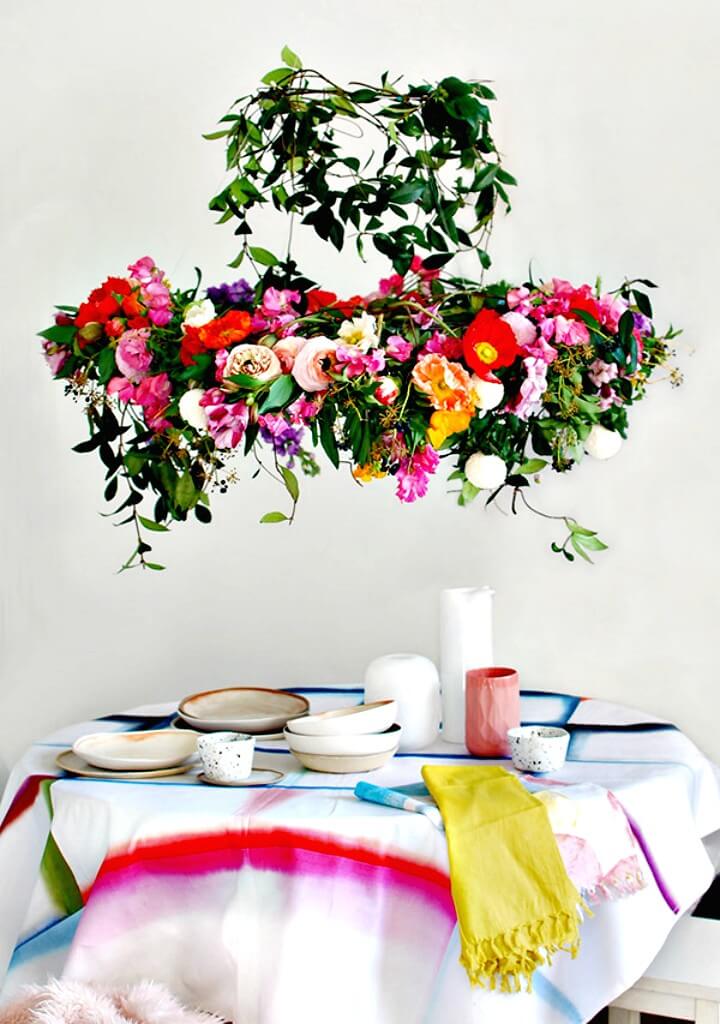 Another flawless chandelier hair that will bring a fresh garden flair to your interior spaces! Here it is a fantastic flower chandelier that has been done to inspire and is really looking super beautiful! Here a hoola hoop and a smaller wire hoop has been put together vertically through strings supports to form a basic chandelier frame and then the vines have been wrapped around them! Finally each hoop has been covered with fresh flowers and blooms for making a fantastic natural chandelier! Grab the full free instructions and tutorial from here we-are-scout
Modern DIY Yarn Chandelier Tutorial: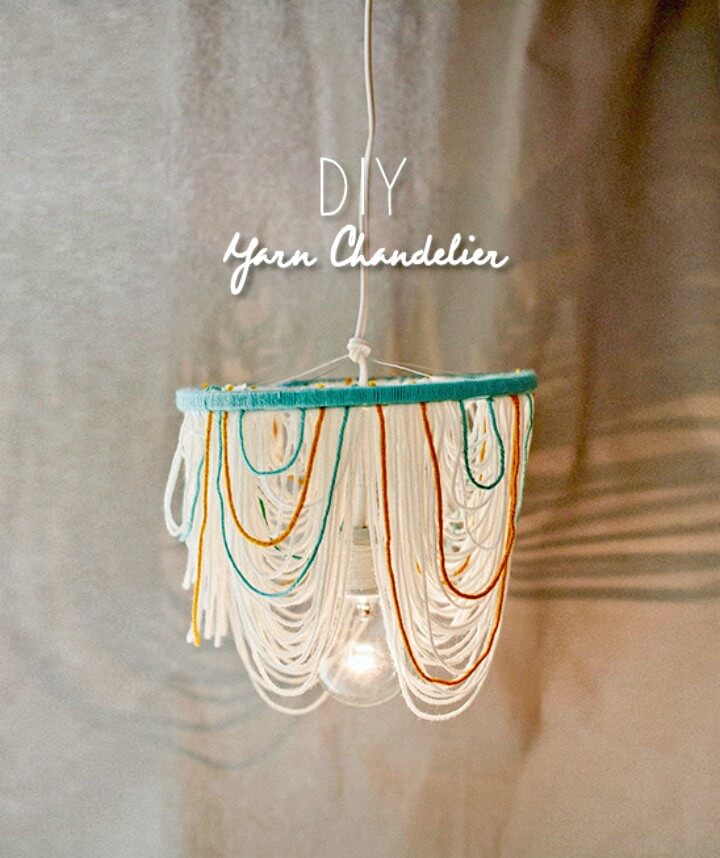 This just not ends here, another glamorous model of handmade chandelier is here to hold your attention! Here this adorable chandelier creation has been done using an embroidery hoop and different colored yarn! Just cover the embroidery hoop of washi tape and then hang yarn around it in form of wavy loop until you cover the entire hoop with cluster of colored yarn loops! This yarn chandelier will really rock on your indoor or outdoor dining tables and will be something super beautiful to look at! Willing to duplicate this glam looking chandelier? Grab the full free guides and visual instructions from here weddingchicks
Beautiful DIY Colorful Beaded Chandelier: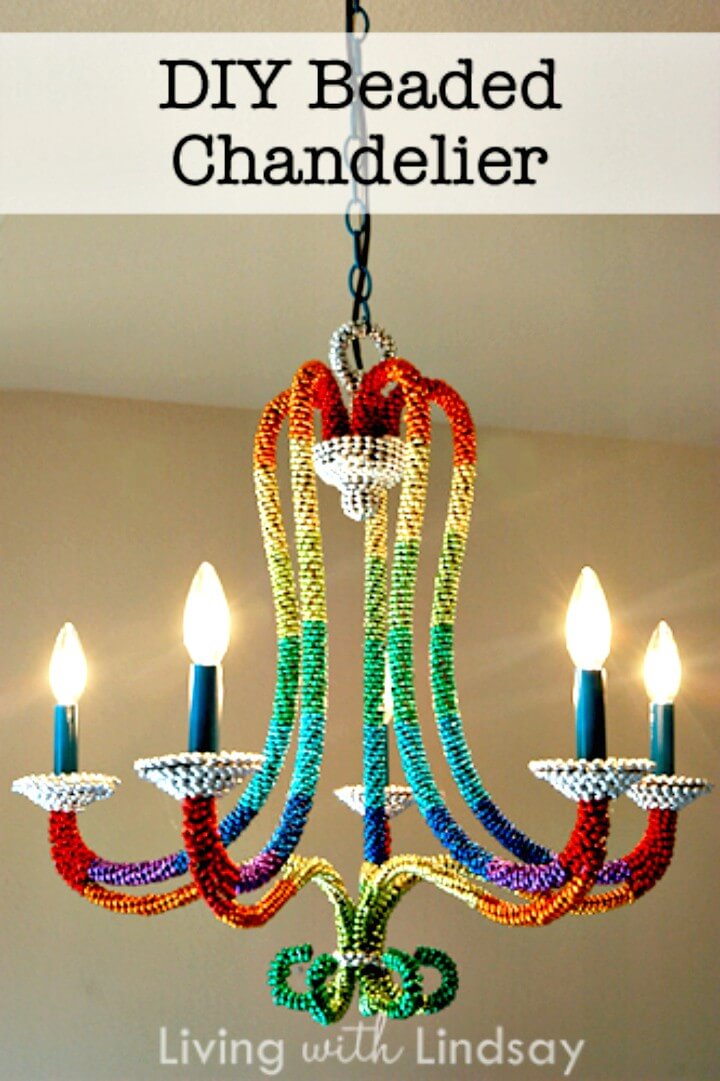 You will definitely fall in love with the colors and shine of this handsome homemade chandelier that is an exceptional piece of DIY crafting! This is actually a remake of a chandelier using beaded necklaces! In this makeover, the single color bead lengths have been cut down from the necklaces and then been wrapped around the chandelier using hot glue and hence the whole chandelier has been given a fantastic beaded look! This chandelier would definitely be a graceful way to bring some colors to any targeted room like dining or bedroom but here this chandelier has been made for a playroom! Complete tutorial here makelyhome
How to Make Wine Bottle Pendant Lights Chandelier: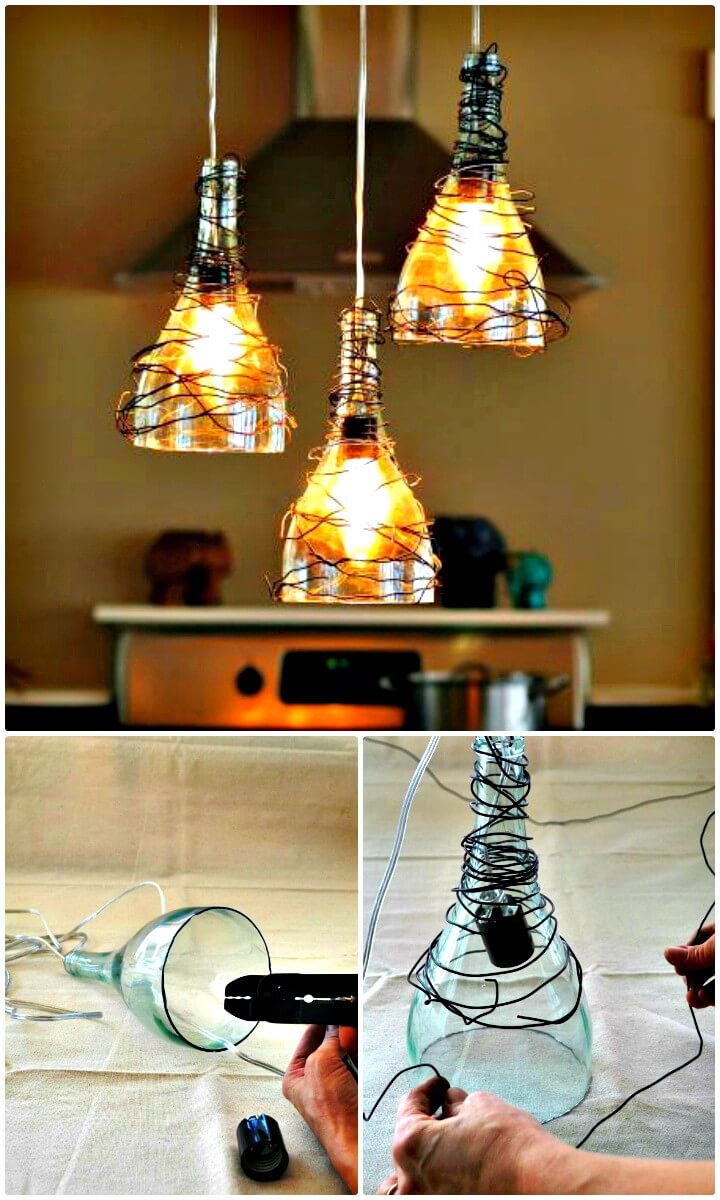 Looking for some fantastic but super low-cost chandeliers? If yes, then you can easily go smartly handmade with some old glass bottles to achieve some glam light chandeliers! The idea here is to cut the glass bottle in halves using a glass bottle cutter and then to hang the top parts aloft using metal wire wrapped around their narrower openings! Don't forget to insert beautiful light bulbs inside the glass bottle chandeliers! Here you can also paint the glass bottles in different color and can also use the colored light bulbs to give variations to your finally finished chandelier! Complete instructions here diynetwork
How To Make Ice Cream Chandelier: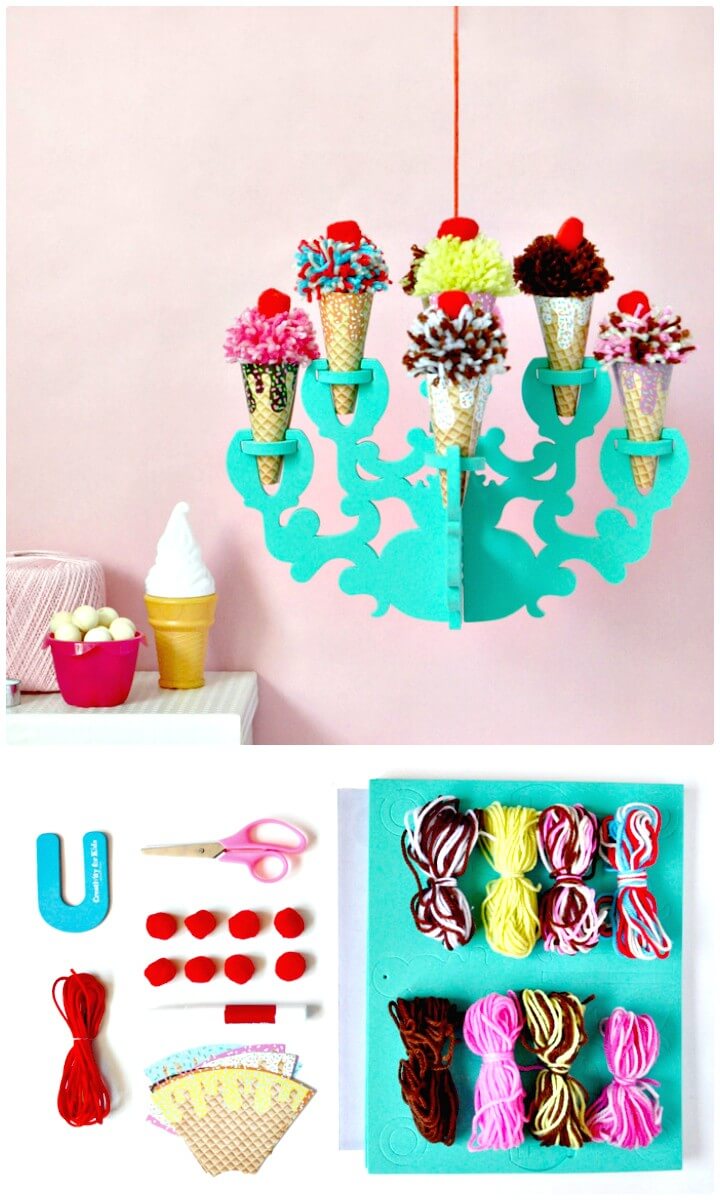 Rock your kids rooms with this lovely ice cream chandelier that is super easy to make and is also looking double cute due to brilliantly colorful appeal! Here all you need is to fit some self-made ice creams on a foam chandelier! For making ice creams, just use the paper cones which can be topped up with a multi-colored yarn pom-pom, use a red pom-pom for a cherry top! Next fit your ice creams in the foam chandelier and make an outstanding and glam looking ice cream chandelier at minimum cost price! Complete project instructions and tutorial here handmadecharlotte
DIY Crystal Chandelier Tutorial: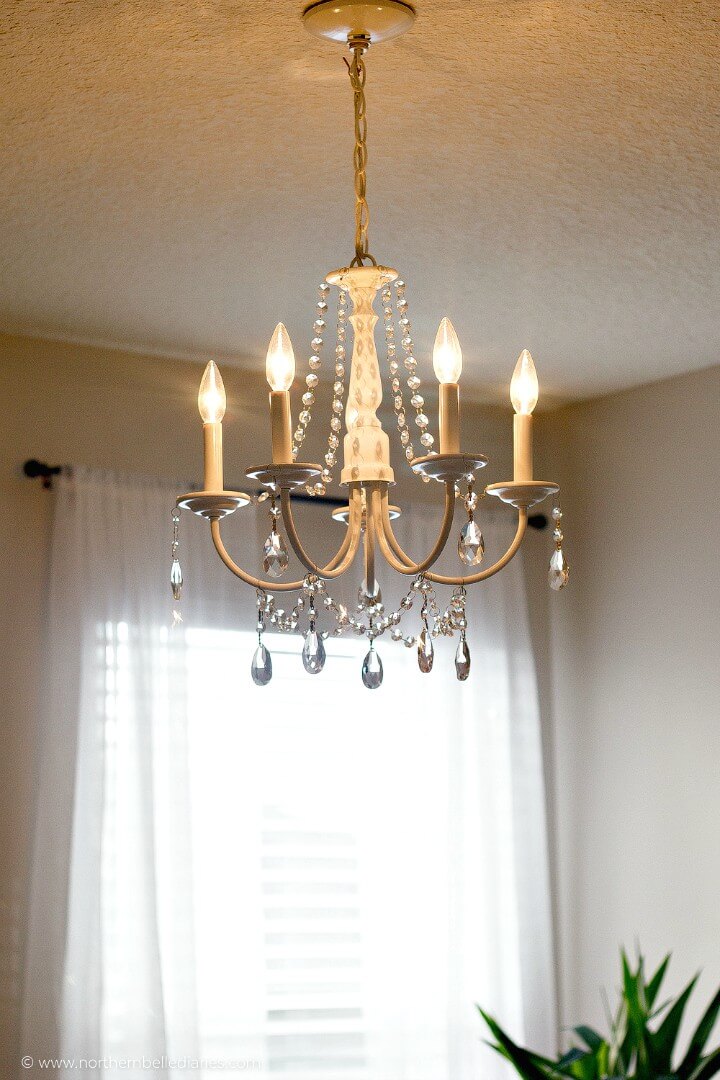 Here is another fantastic chandelier makeover that you will just love to copy! Here an old light chandelier has been refurbished and then added with crystal bead chains for a luxurious appeal and a lustrous appeal! This is here another light chandelier that will help creating a posh look of any particular room interior from dining room to bedroom! This makeover will just take a few minutes but the results would just be amazing! Complete project guides and instructions here lalalisette
Beautiful How To Create Floral Chandelier Garland: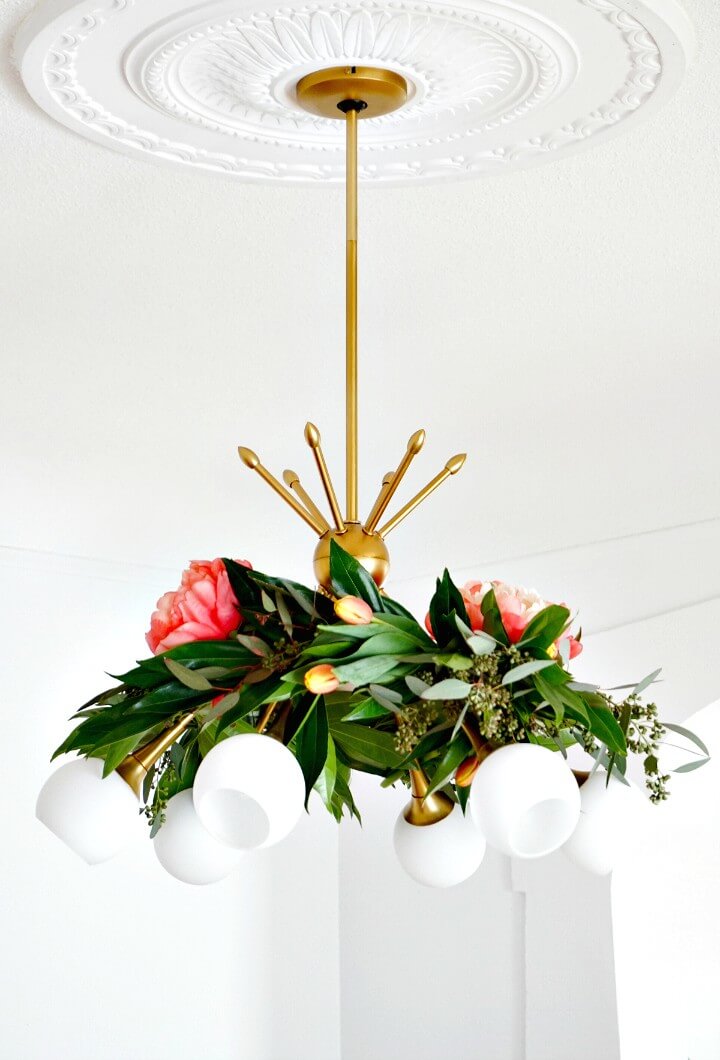 Here is another fantastic hack for a brilliant floral chandelier that will rock in any room interior! Here the idea is to make a floral chandelier that can be hanged aloft horizontally around a ceiling fixture for a beautiful flower chandelier! For making flower garland, you can make smart use of fresh or faux flowers, vines, flora wire and other custom embellishments! If you are intending to clone this given floral garland then grab the full free guides and instructions from here sugarandcloth
Make Your Own Fringe Chandelier: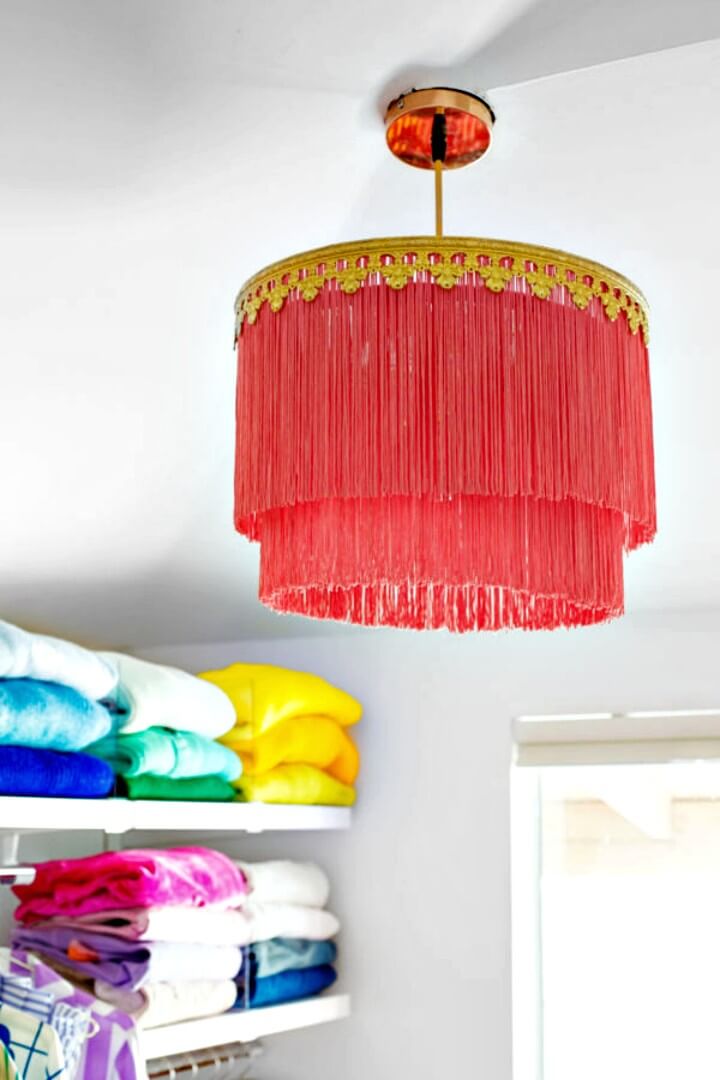 Brighten up your particular room interiors also with this handcrafted fringe chandelier that is really looking eye-catching and beautiful! Here this epic chandelier is made of two lampshade rings that are having different sizes and have bend adorned with brass lamp banding! Finally the yarn fringe trim has been glued around both lampshade rings for making a fantastic fringe chandelier! Add your favorite lights inside the chandelier and enjoy! Complete project instructions and tutorial here studiodiy
Cute DIY Paint Stick Chandelier: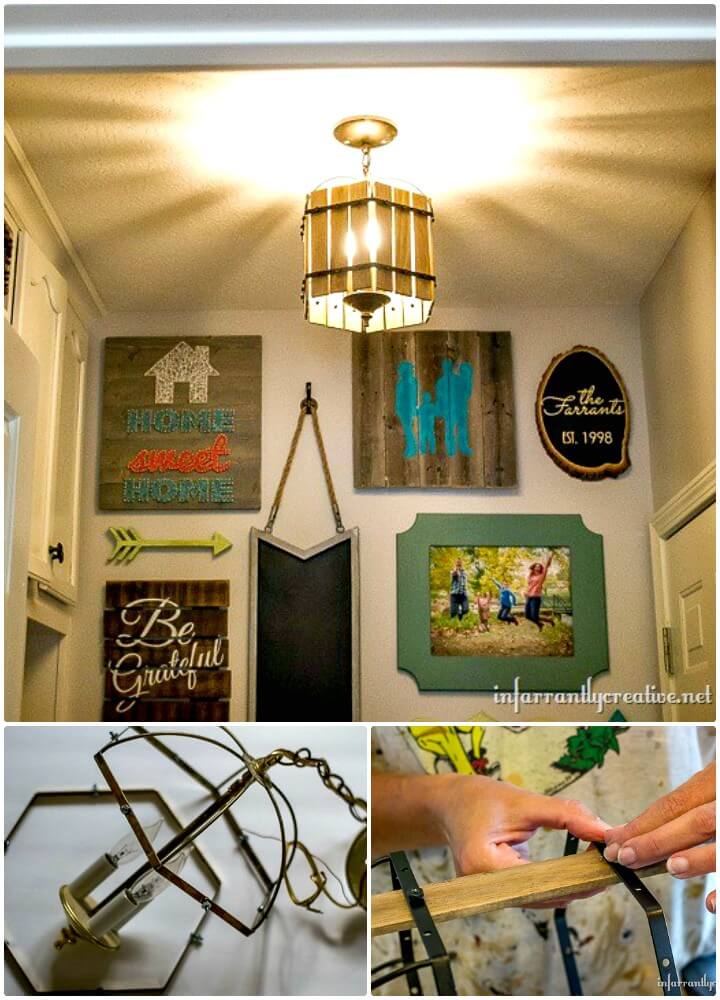 Grace up your room interiors also with the lighted wooden touch that will come from this paint stick chandelier! Here all you need a hexagonal chandelier cage, screws, a hand drill and a paint sticks to duplicate this fantastic paint stick chandelier! Just cover the entire inside of the chandelier cage using paint sticks that may come with drilled holes on marked points to be fit nicely in the cage with the help of screws! This is here another fantastic and low-cost chandelier that can be made easily at home! Complete project instructions here infarrantlycreative
How to Make a Mason Jar Chandelier: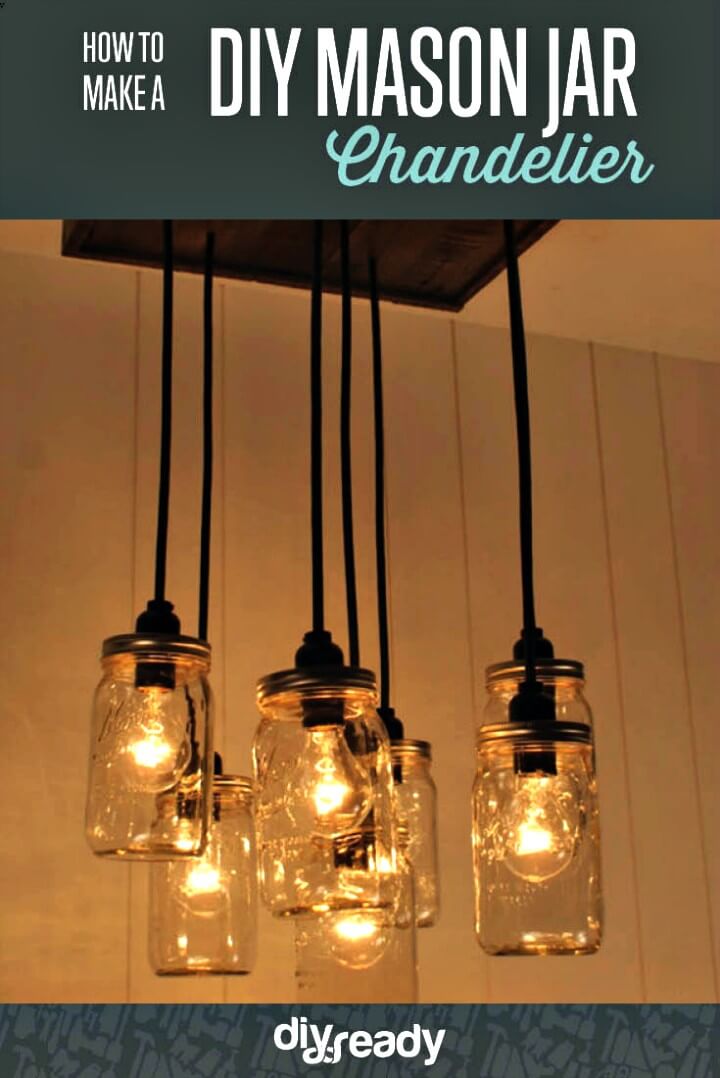 You will love to duplicate this another fantastic looking chandelier that has been done to inspire! This is here the mason jar chandelier that is just super cost-efficient to build at home! Here all you need to shape up a wooden box first with lid, just drill holes in the box for supply cables that will end up with bulbs enclosed in the mason jars! Cut out the lids for fitting wire connectors and use custom lights to put inside the mason jars, here IKEA lights have been used! This is here another fab looking chandelier that will rock any particular room interior! Complete instructions and tutorial here diyprojects
Multi-Bulb Dining Room Chandelier:
One more exceptional chandelier is here that will bring great charm and grace to your dining and amazing light to your dining table! This is here a multi-bulb dining room chandelier that also comes with a big wooden box fitted to ceiling in which the all the electrical connections have been made! The fire come from the box through predrilled holes and just end up with pendant light bulbs! Stain or paint the wooden box to match your dining room decors and enjoy! Complete project instructions and tutorial here loveandrenovations
Adorable Industrial Pendant Light Chandelier: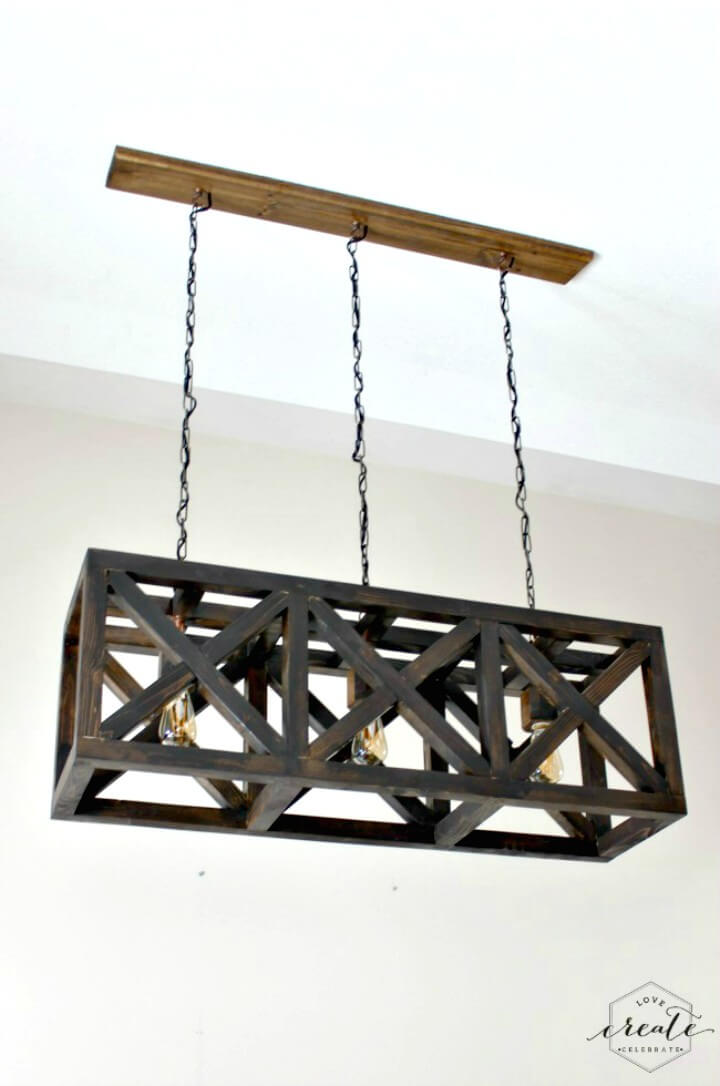 Have a look at this another fetching light system that is sure to bring modern vibes to your dining room! This is here the pendant light chandelier that comes with a big wooden cage that holds the light inside! Here use the pine or lumber length to build the wooden cage with criss cross supports installed to each section! Install your lights and then hang this pendant light chandelier aloft! Here a wooden plank has been fixed to ceiling which comes with custom hooks and hence the whole wooden chandelier has been hanged on it through metal chains! Complete tutorial and instructions here lovecreatecelebrate
DIY Giant Polish Chandelier Tutorial: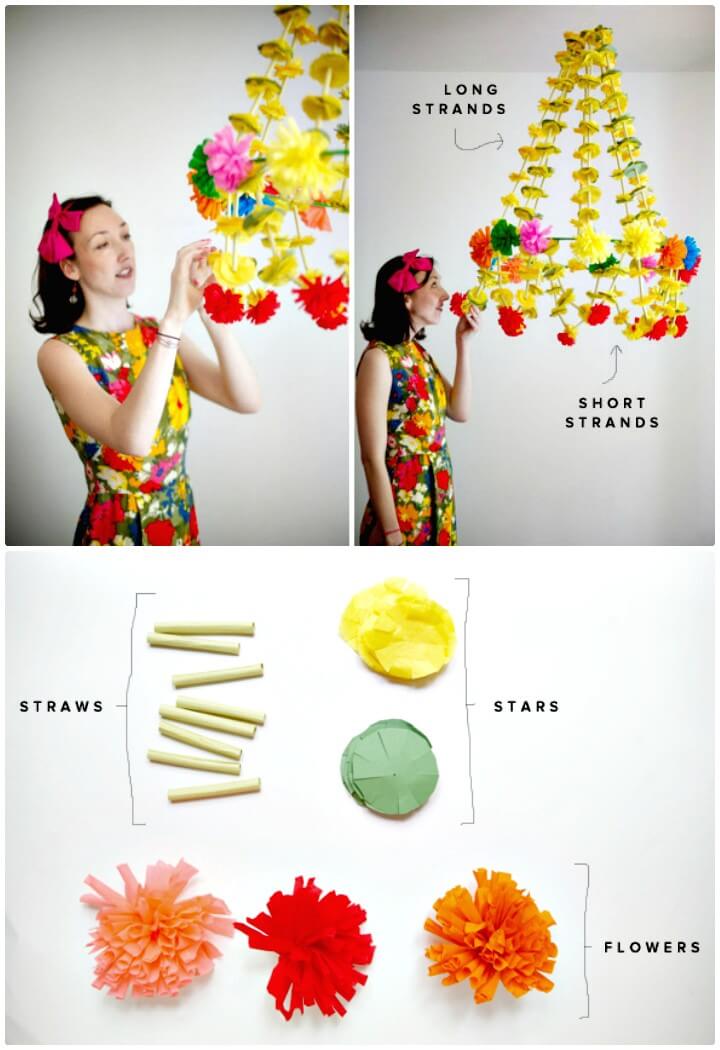 If you are willing to gain some colorful chandeliers for your particular interior spaces then you will definitely like this giant polish chandelier that has been built to inspire and is looking damn lovely! Here this handsome chandelier is made of a giant hoop that has been covered with crepe paper! Next the custom flower garlands have been made that have been hanged around and above the hoop making a dashing colorful chandelier! Along with the paper flowers the straw pipes have also been used in this project! Complete project instructions and tutorial here ohhappyday
How to Make Wood Bead Chandelier:
Bring a graceful vintage touch to any of your particular room interior with this brilliant looking bead chandelier that has been made to rock and inspire! Here and vintage chandelier has been adorned with the wooden bead strands! Just thread some wooden beads onto a piece of thread and make easily the wooden bead strands! Next just hang the wooden bead strands around the chandelier and gain a fantastic wood bead chandelier in just no time! Complete project instructions and tutorial here lifeonvirginiastreet
Make Your Own Knockoff Chandelier:
Have a look at this another lovely chandelier that will rock in every interior environment! Here this knockoff chandelier has been done by wrapping the rope all around the chandelier! This rope wrapped chandelier will just rock in every vintage to rustic environment and will also be a eye-catching if hanged in nautical interior environments! Willing to duplicate this chandelier? Then just grab the full free guides and visual instructions from here remodelaholic
How To Make Paint Swatch Chandelier: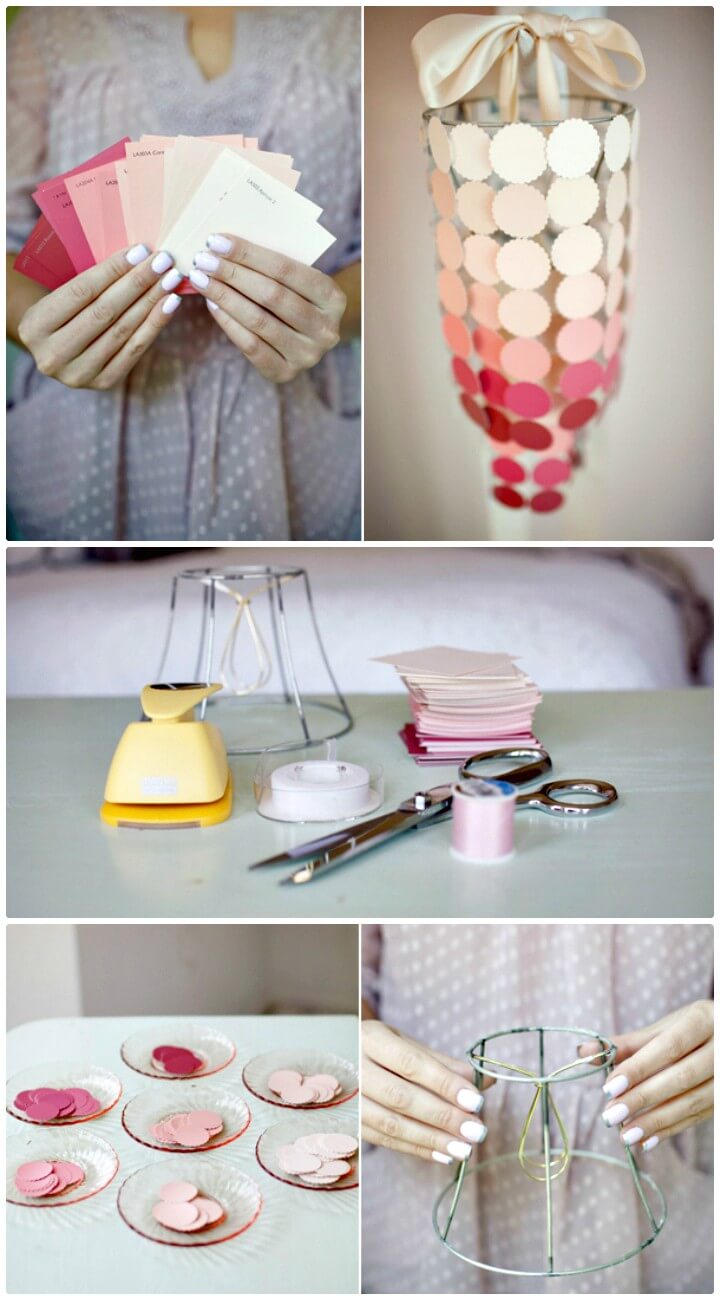 This is here another fantastic chandelier that will definitely go eye-catching to all! Here the custom mini circles have been cut out from the paint swatches which has been pasted on custom lengths of twine to make beautiful strands and next have been put around a lampshade frame for a fantastic light chandelier that will definitely be attention grabbing to hang to any particular interior! Willing to duplicate this brilliant chandelier? Grab the full free instructions and guides from here rhiannonbosse
Modern DIY Industrial Pendant Light: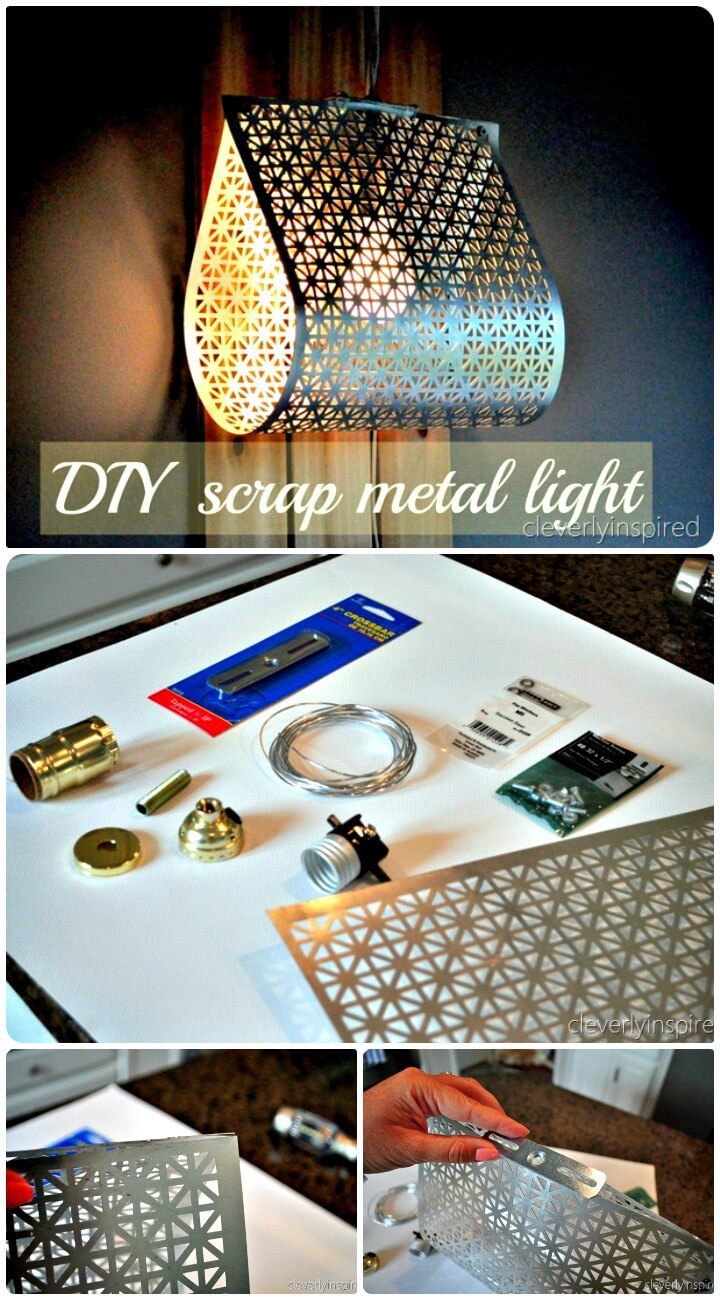 Checkout here the super simple and easy-to-make light chandelier that is made of a metal sheet that has only been folded and hanged aloft only with a bulb inside and hence makes a gorgeous light pendant that will definitely go rocking to any particular interior space! You can also hang it as a chandelier in a particular room interior! This is here a super simple and pretty easy peasy light chandelier project that has been done to rock and inspire! Willing to duplicate this another brilliant light chandelier? Grab the full free guides and visual instructions from here cleverlyinspired
How To Make Openwork Cube Pendant Light: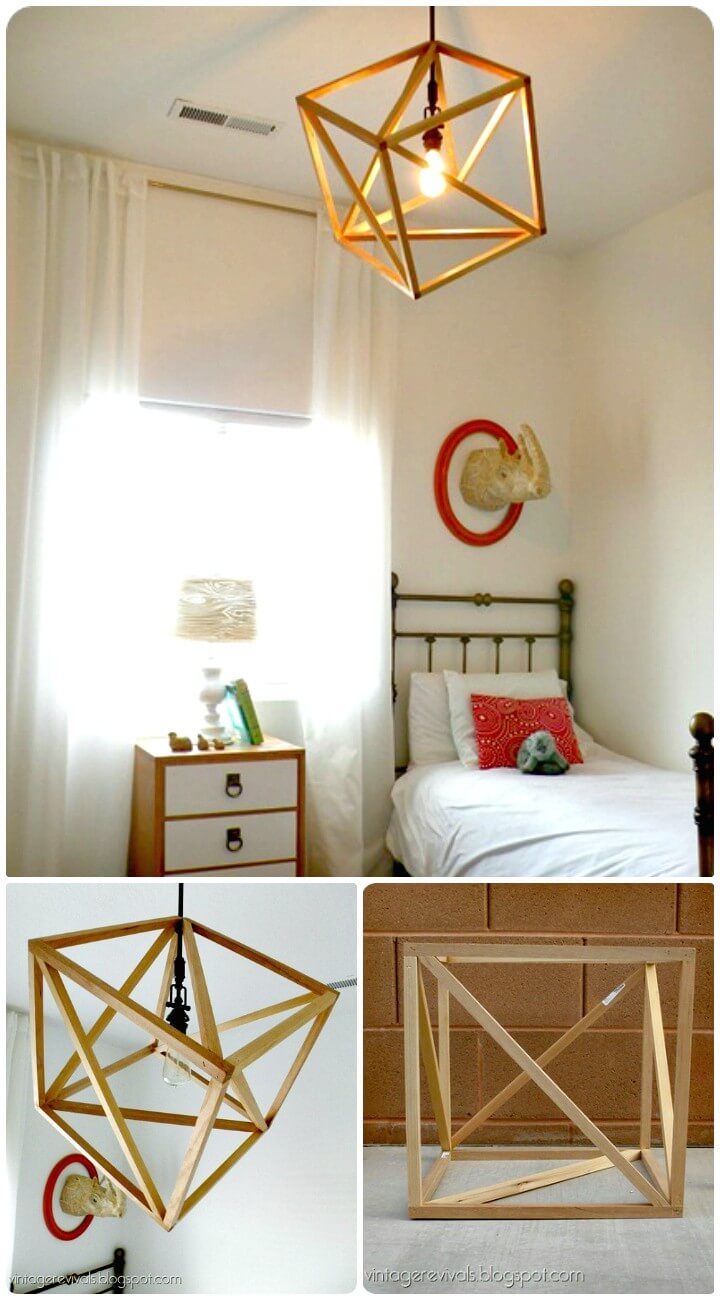 If you are all a big fan of geometrical interior décor statements then you can really boost the interior geometrical decors with this handsome pendant light that comes in a cube shape! Here the shade of the light is having a perfect cube shape and is purely handcrafted! You can also go smart with the custom wooden planks to make a perfect cube light shade in which you can simply fit a bulb to make a graceful pendant light in just no time! Get inspired of the given lovely sample pendant light that is looking amazingly beautiful! Grab the full free project details and instructions from here vintagerevivals
How To Recycle an Old Lampshade Into A Chandelier: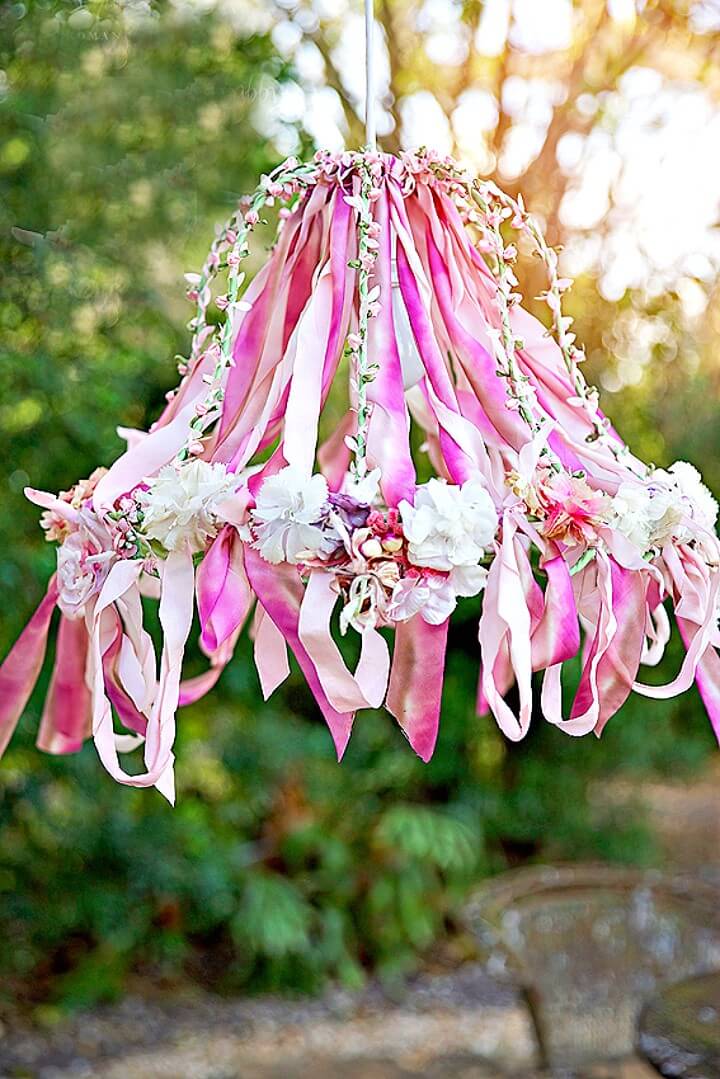 You will just fall in love with this fantastic DIY chandelier project in which a beautiful old lampshade has been repurposed to form a brilliant looking chandelier that will rock any particular interior space! Just grab an old lampshade and just cover it up with ribbons and custom faux flowers and make an outstanding looking chandelier at home that will rock any dining table or a particular room interior beautifully! This is here another brilliant DIY chandelier project that you will just love to duplicate! Complete project tutorial and instructions here shabbyfufu
Make Your Own Ombre Neon Zip-tie Chandelier: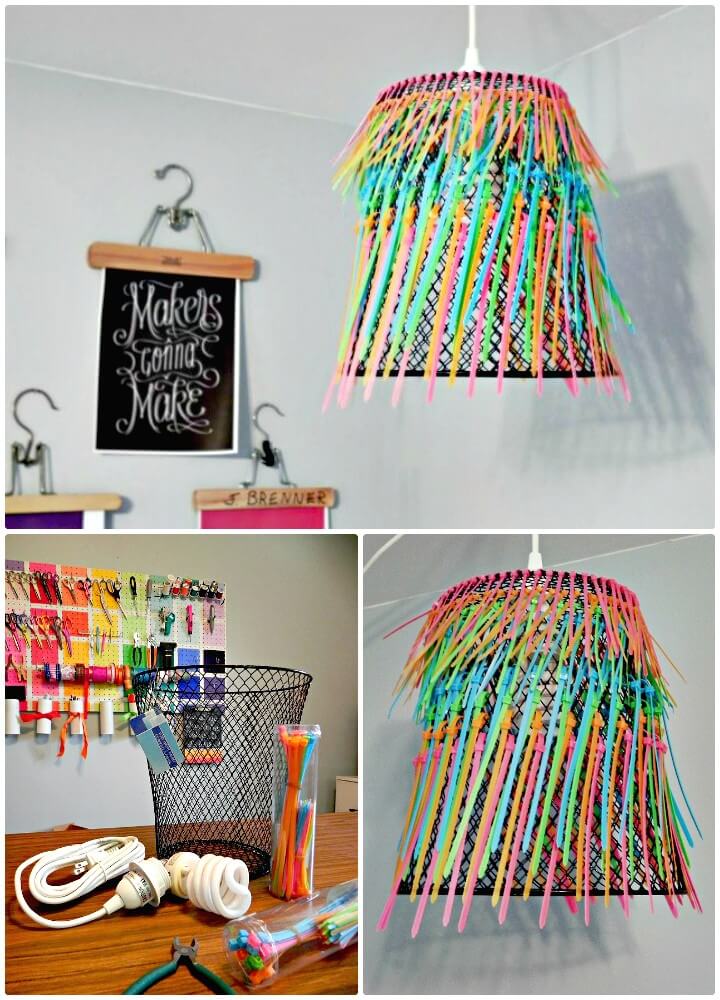 You will not believe that you can also repurpose the metal mesh baskets to make beautiful chandeliers for any of your space! Just get inspired of this given sample chandelier that is just super beautiful to look at! Here an old metal basket has been covered with the neon zip-ties for a colorful appeal and just comes with a handsome light bulb fixed inside! This results into a fantastic chandelier that will just be center of attention if hanged in any particular room interior! Want to duplicate this chandelier? Then just grab the full free guide and visual tutorial from here hometalk
How To DIY Shabby Chic Nursery Chandelier: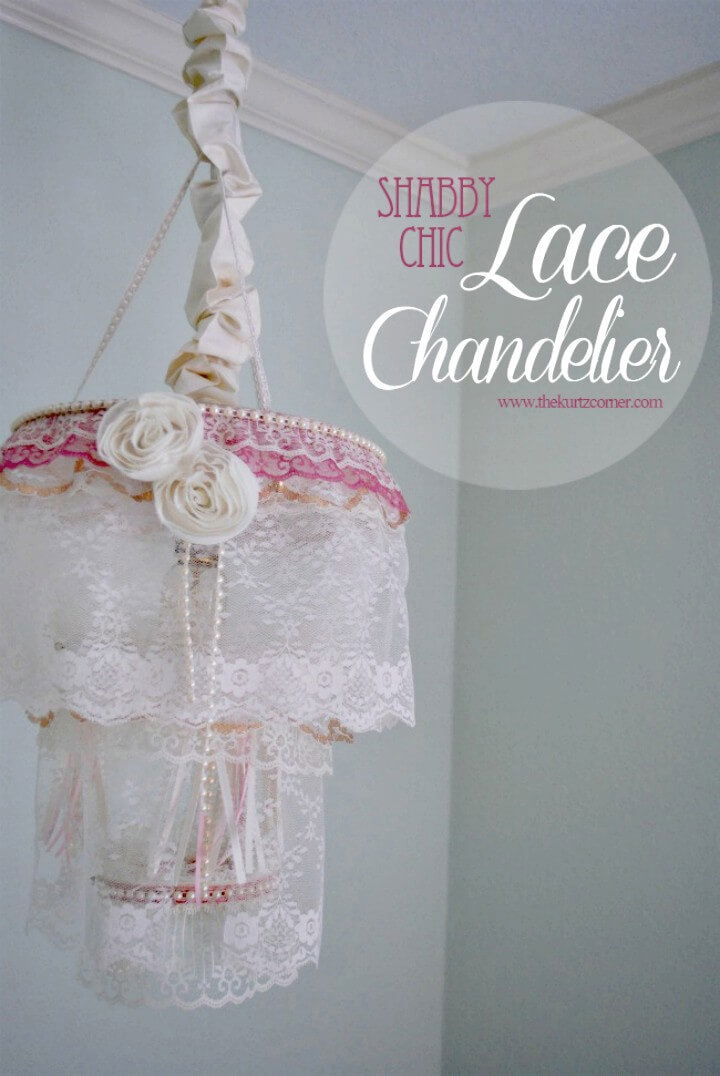 Duplicate this another rocking design of chandelier that is also purely handcrafted! Here this custom chandelier is made of 3 different sizes of embroidery hoops that have been put together nicely and then has been covered with lace for a fantastic light chandelier as you can see! Just glue the lace inside the hoops and just cover them nicely and evenly! Next put them all together and hang a bulb inside for a beautiful chandelier! Don't forget to adorn this chandelier more with custom ribbons, flowers and pom-poms! This is here another lovely and fantastic chandelier project that you will love to duplicate! complete project instructions here thekurtzcorner
Beautiful How to DIY Chandelier:
Looking for an expensive looking chandelier to add to your interior space? Checkout here the self-made luxurious light chandelier that is made of a lampshade frame that has been adorned nicely with self-sewn ruffles that wrap all around it and then the custom crystal strands have been hanged onto the chandelier for a posh look of the chandelier! This chandelier project would just rock for every home lover who want some modern home decors without getting a big expensive! Complete project instructions and tutorial here garagesalesrus
DIY Chandelier In An Hour: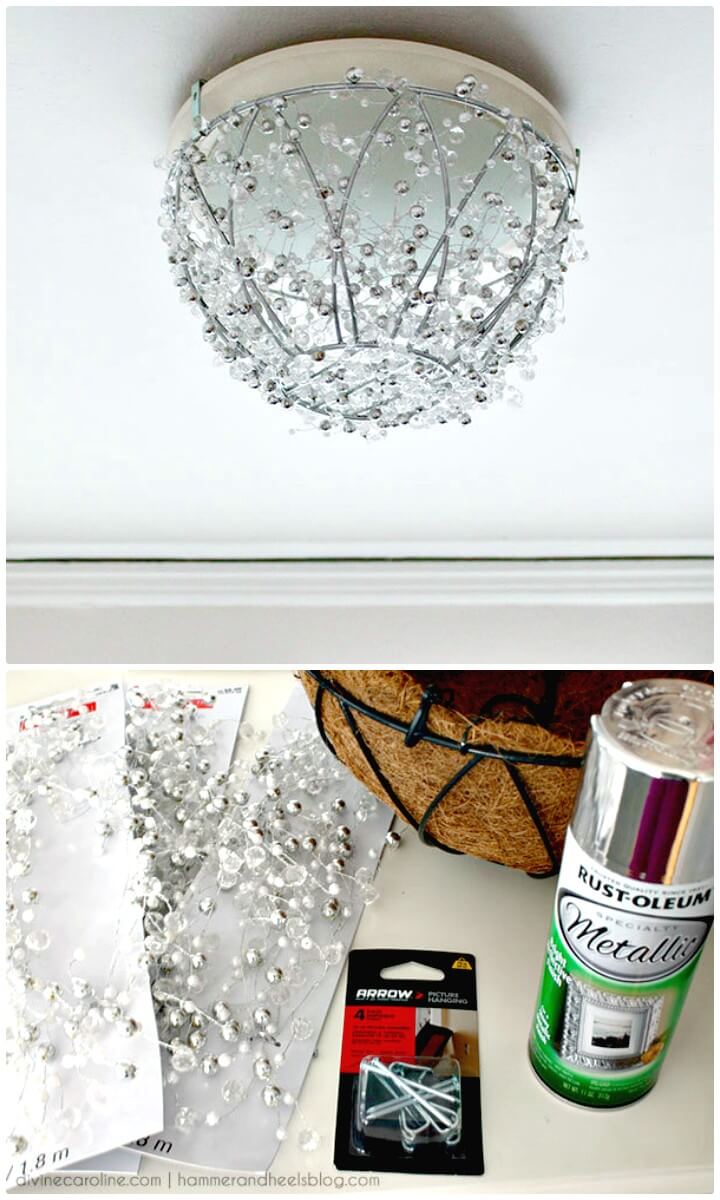 Fall in love with this another fabulous design of handcrafted chandelier that you can also make in the last hour! Here a metal basket garden planter has been added with beaded garlands that come hanging on the metal basket planter for a beautiful posh and expensive look of the chandelier! Get inspired of the given sample chandelier that fits to a ceiling boob fixture and is really looking damn cute and gorgeous! Willing to clone this chandelier for any of your interior space? Grab the full free tutorial and guides from here lifestyle
Make Your Own Boho Fringe Chandelier: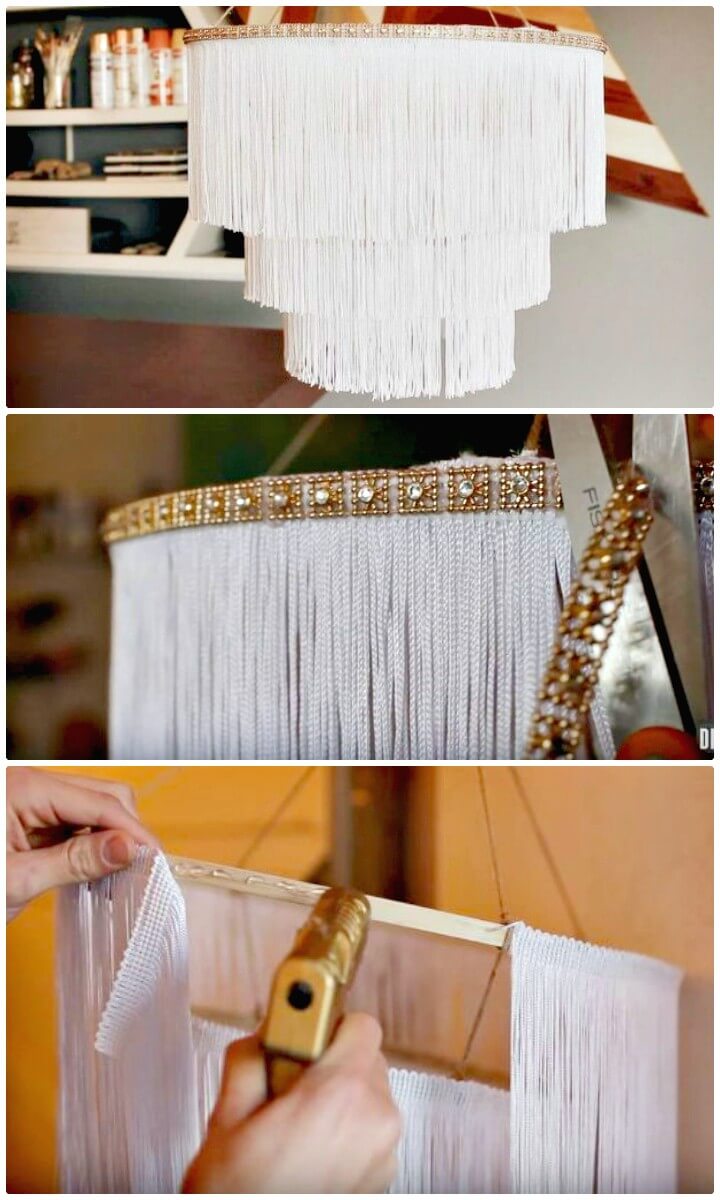 Have you fallen in love with the boho fashion ,if you really like the bohemian inspired home decors then you will definitely love to this boho fringe chandelier that has been done to inspire and has been done to inspire! First just make the frame using 3 different sizes of embroidery hoops that have been used to build the chandelier frame and have been fastened together using rope! Finally the boho fringe has been glued on the embroidery hoops nicely and then the accent trim has also been installed to raise the beauty of the chandelier to peak level! Complete instructions here hometalk
Make Your Own Bead Chandelier: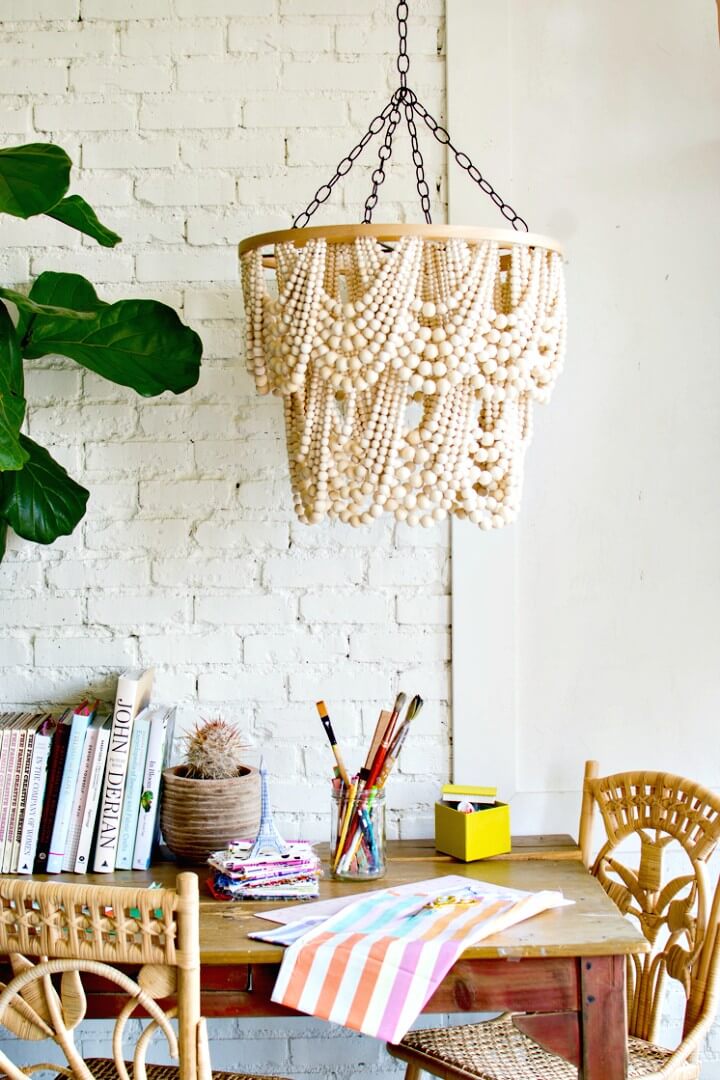 You will just fall in love with the charm of this another graceful design of homemade chandelier! This is here the wooden bead chandelier that comes with wavy loops hanging all around the chandelier! Here a single embroidery hoop has been to make this flawless chandelier that is looking rocking and fantastic! Here wooden beads have been threaded onto a string and hence made beautiful garlands which have been then been added all around the hoop as wavy loops! A perfect handmade chandelier that will rock any interior space! Grab the full free guides and visual instructions from here thehousethatlarsbuilt
Easy DIY Polish Paper Chandeliers: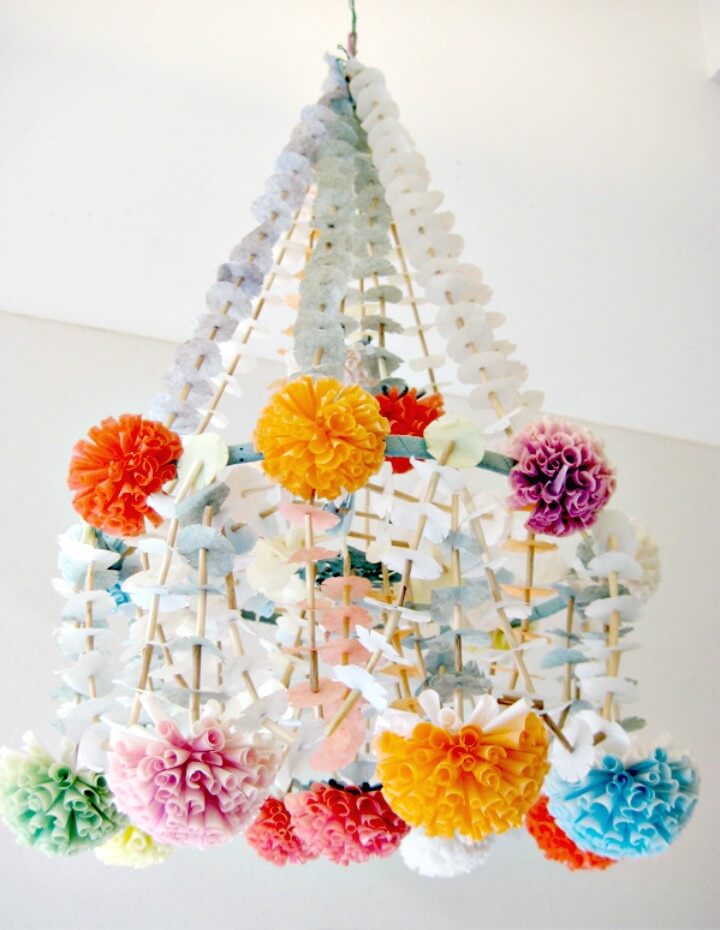 Just get crafty also with polish paper and straws and make gorgeous looking paper chandeliers at home! Here a hoop has been covered with colorful paper and straw garlands that also come with faux paper flowers as embellishments! Here you can also make beautiful flower using polish paper that will definitely be looking enticing! This chandelier would also be a nice way to add floral decors vibes and some fun colors to any interior space! Grab the full free instructions and tutorial guides from here decor8blog
Adorable How to DIY Brass Chandelier: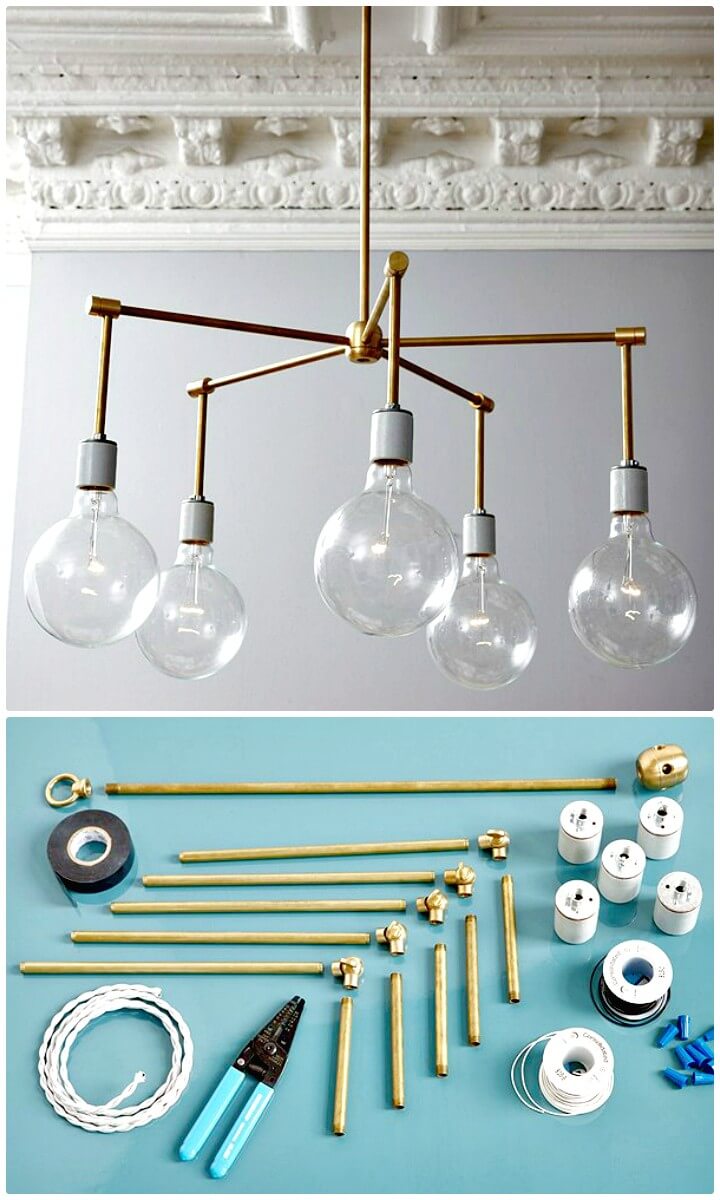 Bring an accent metallic touch to any of your decided room interior by hanging there a beautiful looking brass chandelier! Checkout here a arresting design handmade brass chandelier that is really looking fantastic due to 5 arms that end up with bulb sockets! Here this chandeliers comes with big light bulbs and hence will gorgeously illuminate any particular room interior! Don't forget to pass the electrical cable through the brass pipes for electrical supply to bulbs! Complete project instructions here onekingslane
Chandelier Makeover Idea For Spring: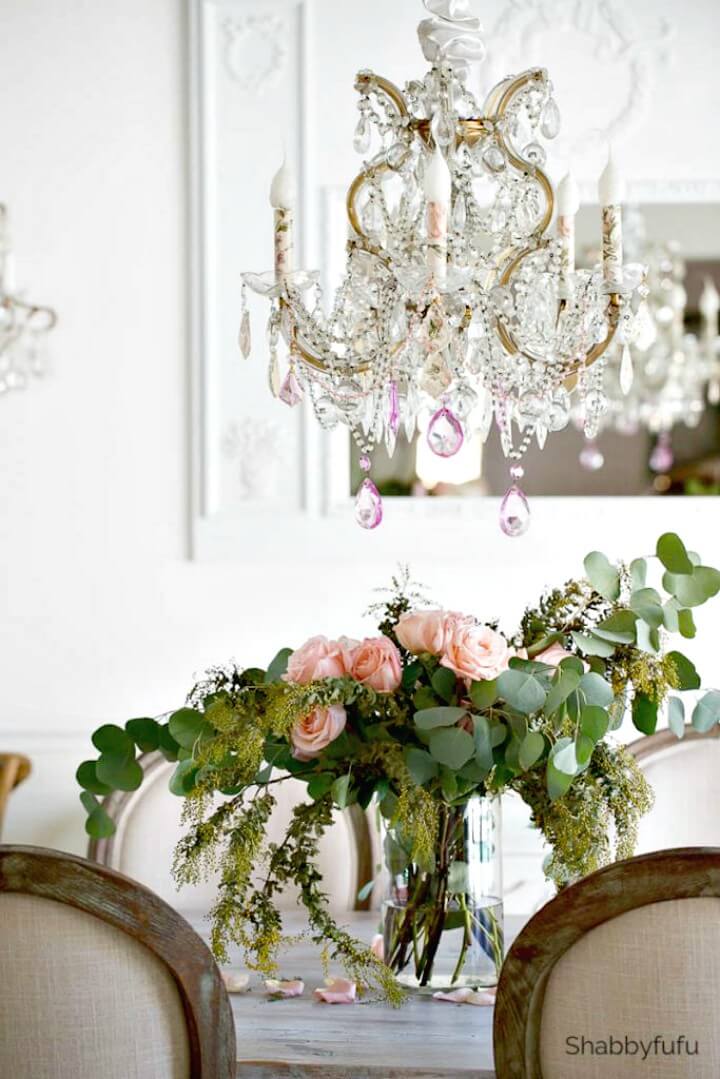 You can also update your chandeliers by doing custom makeovers! Checkout here a sample makeover in which the chandelier has been redecorated beautifully! Here this nice makeover has been done using custom chandelier candle covers, chandelier crystals and vintage paper and this really makes the chandelier look amazingly beautiful! You can simply experiment this chandelier project with custom embellishments and items of décor! Complete project tutorial and instructions here shabbyfufu
Make Your Own a Giant Paper Chandelier: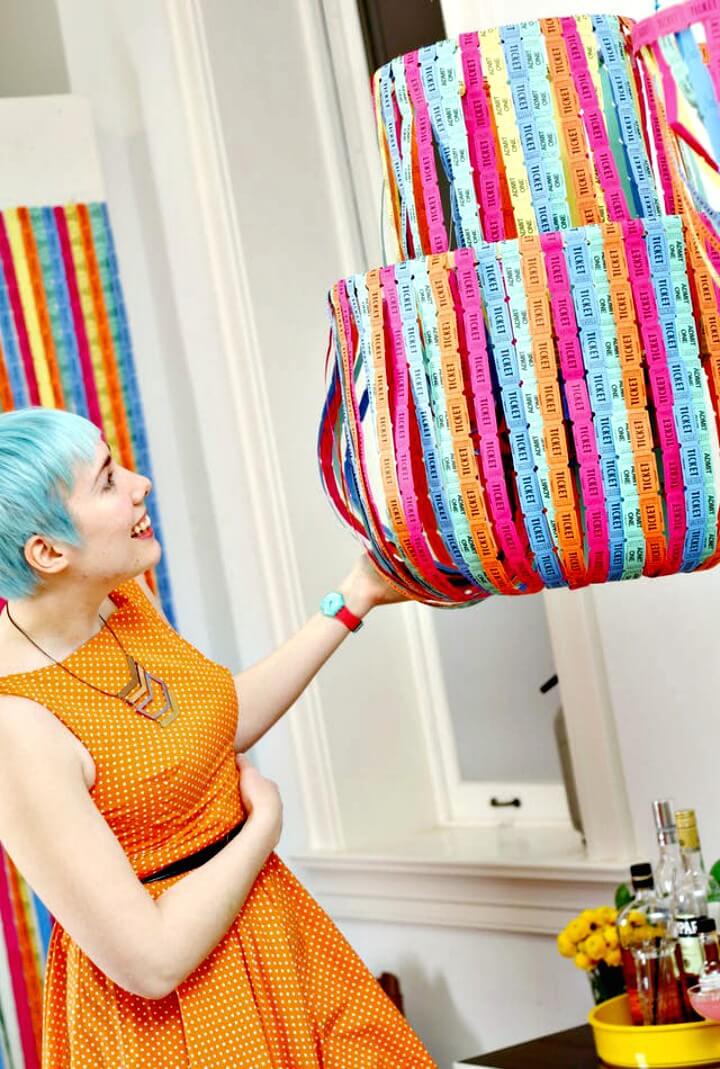 Having nothing to do with the old perforated movie tickets? Why not use them to make some amusing functional and decorative crafts just like this giant paper chandelier? Here 3 embroidery hoops have been covered with colorful vertical lines of colorful paper strips and hence a glam looking chandelier has been gained to spruce up any interior space! Making this chandelier would be a great fun project and you can use the glue as a brilliant adhesive! This is here one more exceptional chandelier made at home and will cost you nothing big! Complete project instructions here apartmenttherapy
Easy DIY Birthday Cake Chandelier: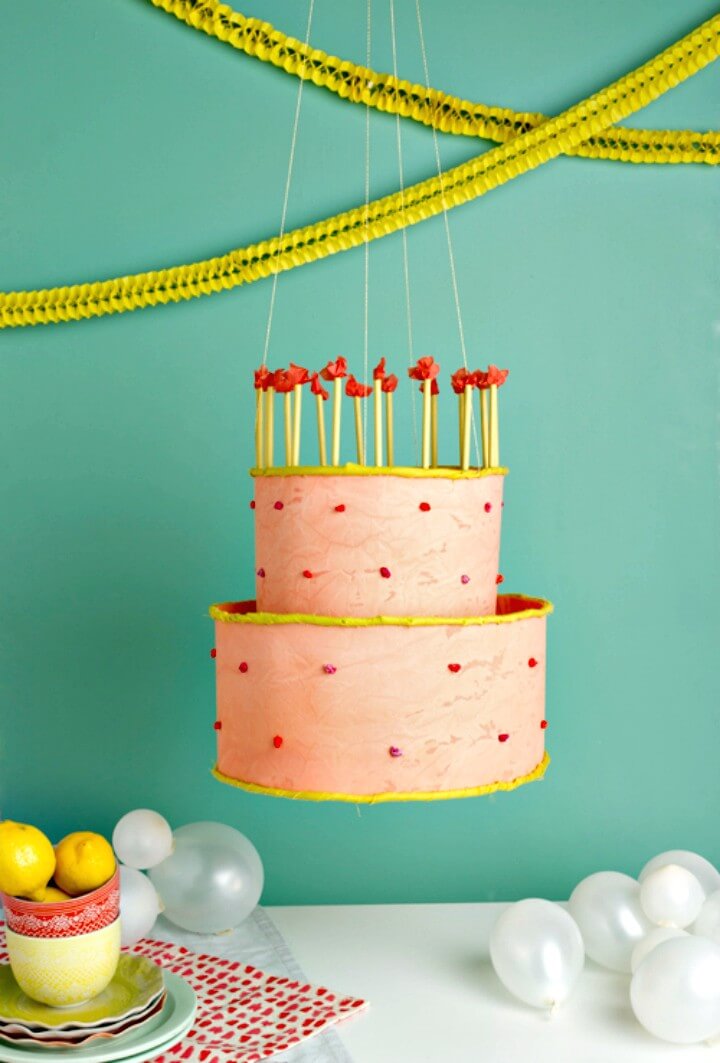 You will just love to clone this another great looking chandelier for your kids playroom or bedroom as this is here a brilliant looking birthday cake chandelier that is made of cardstock, pipe cleaners, fabric, tissue paper and with paper straws and is really looking beautiful and fantastic! Add your lights inside the chandelier and just hang it aloft in any of your favorite interior space! Grab the full project details and instructions from here thehousethatlarsbuilt
DIY Beachy Wood Bead Chandelier Tutorial: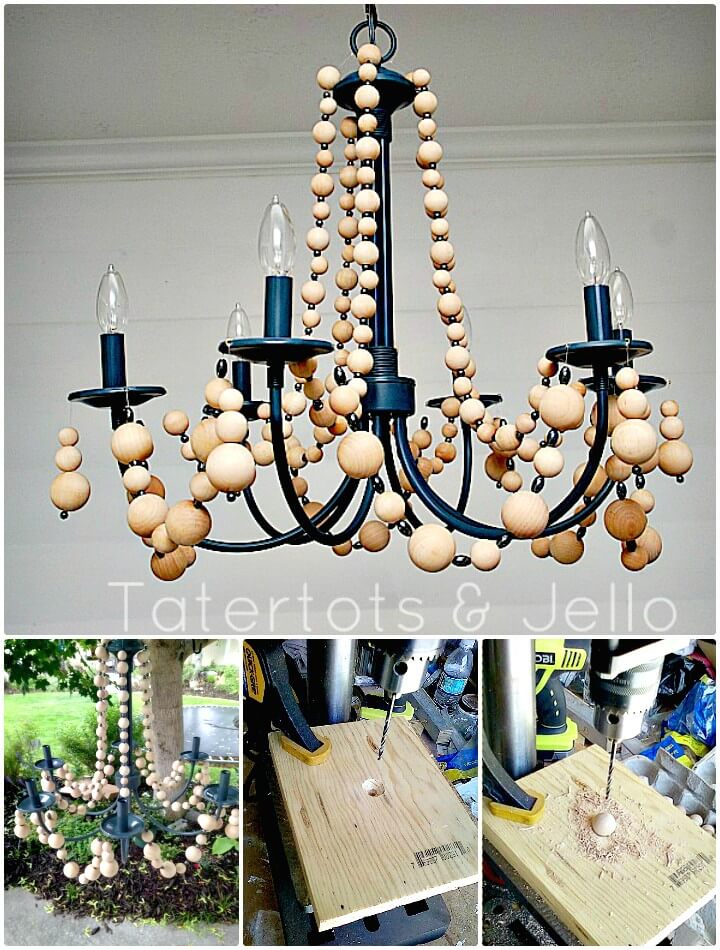 Get inspired of this another rocking makeover of a chandelier that has been done with wooden beads! Here the black and natural wooden beads have been threaded onto custom string lengths to make wooden bead garlands! Next these wooden bead garlands have been wrapped around the different parts of the chandelier for a rocking beachy or nautical appeal! Here the holes in the wooden beads have been drilled at home! Complete project instructions and tutorial here tatertotsandjello
Easy DIY Pendent Chandelier – Ikea Hack: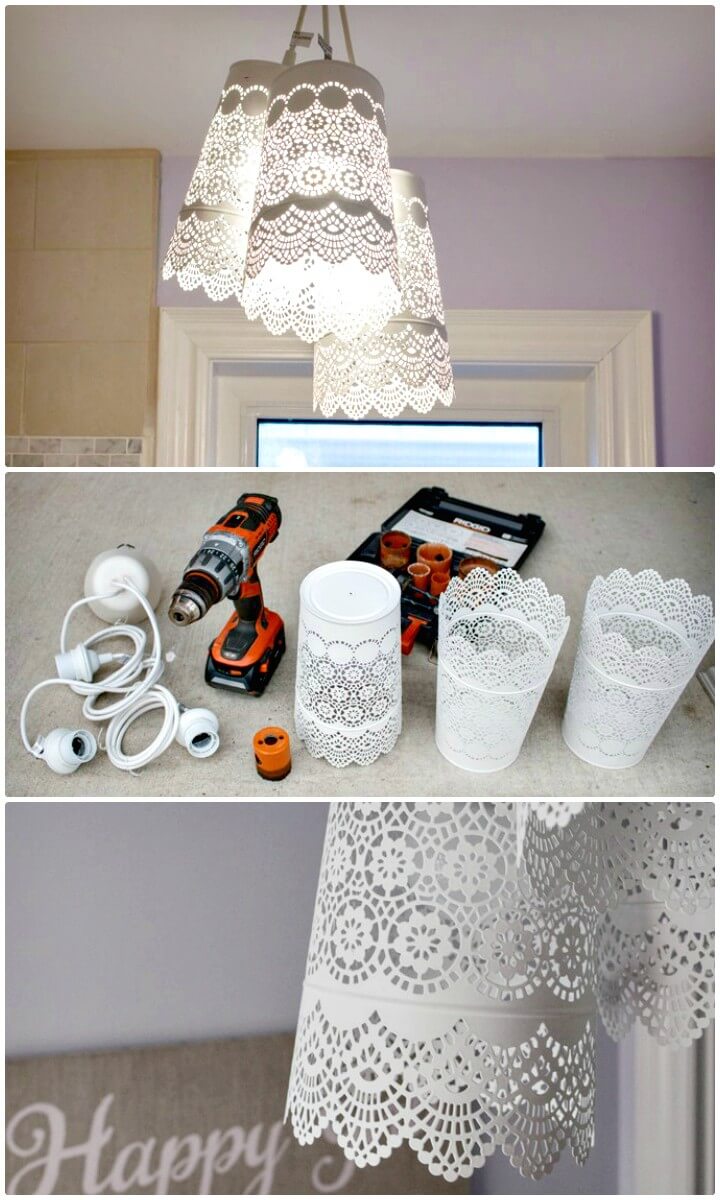 Bring an enchanting flair of decors to a custom room interior with this fantastic pendant chandelier that comes in a lacey style! This great looking chandelier is actually an IKEA hack, here 3 metallic candle holders and a set of triple IKEA pendant cord has been used to create this very good looking design of pendant chandelier that just goes enticing to eyes! These chandeliers would just hang like a charm and are super cute to look at! Complete project details and tutorial here kitchentrials
Adorable How To Make Flower Chandelier: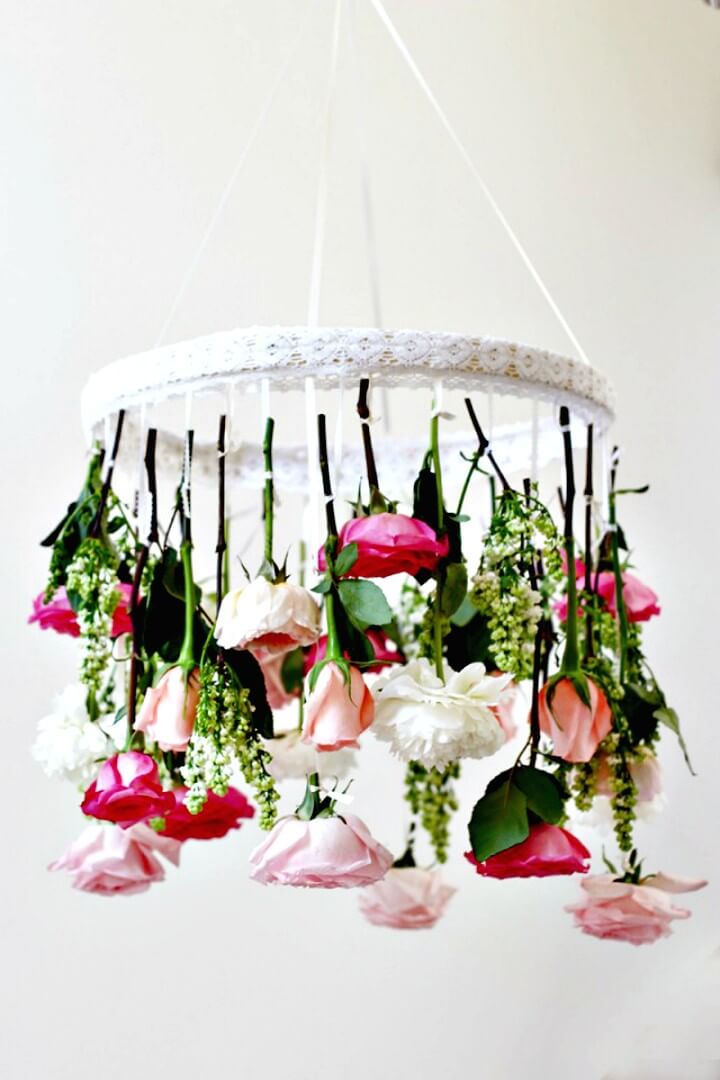 Create a great garden like atmosphere of particular interior room with this floral chandelier that is also purely handmade and handcrafted! This colorful chandelier has been made by usinga embroidery hoop as basic frame that has been given a lace trim next dozens of colorful flowers have been hanged around it using glue and ribbon! This is here another brilliant chandelier idea that will rock every interior! Complete project instructions and tutorial here honestlywtf
DIY Iridescent Pom Pom Chandelier: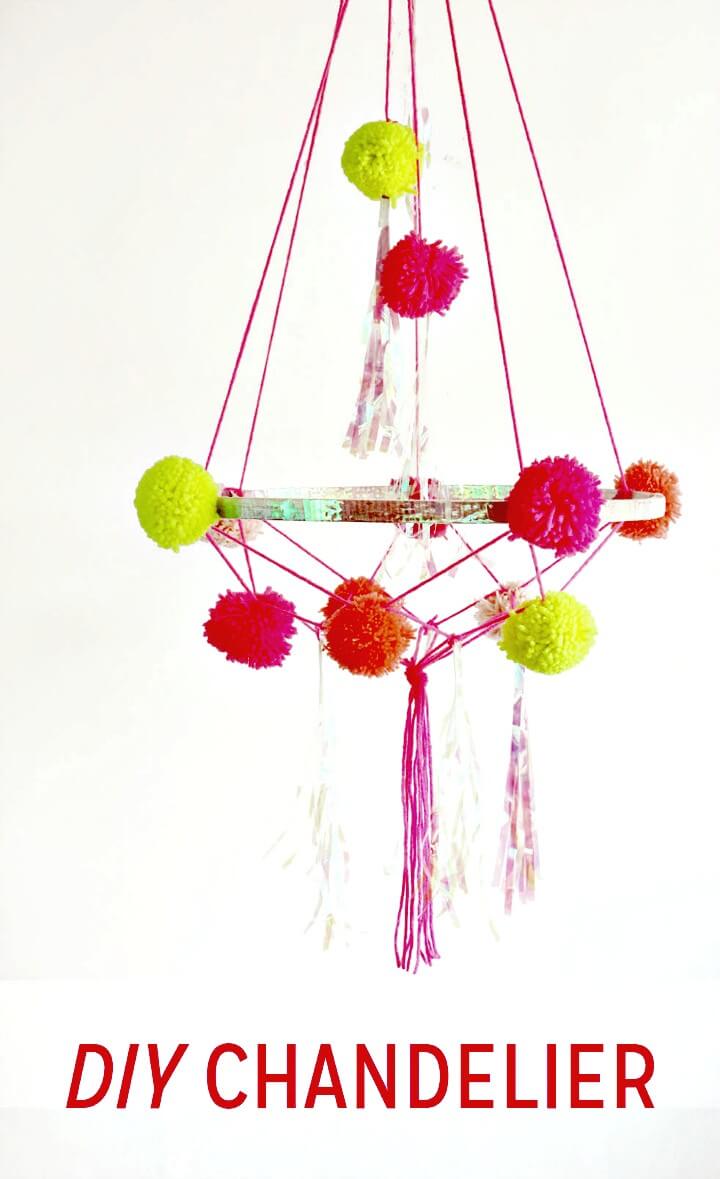 Make the onlookers stare at your ceiling twice by hanging this special handmade chandelier there! This is here the iridescent pom-pom chandelier that is super colorful and will definitely bring lots of colors to your targeted interior! Here all you need some pom-poms, an embroidery hoop and some twine to duplicate this handsome looking chandelier! Complete project instructions and tutorial here dailydisco
Beautiful How to DIY Wood Bead Chandelier: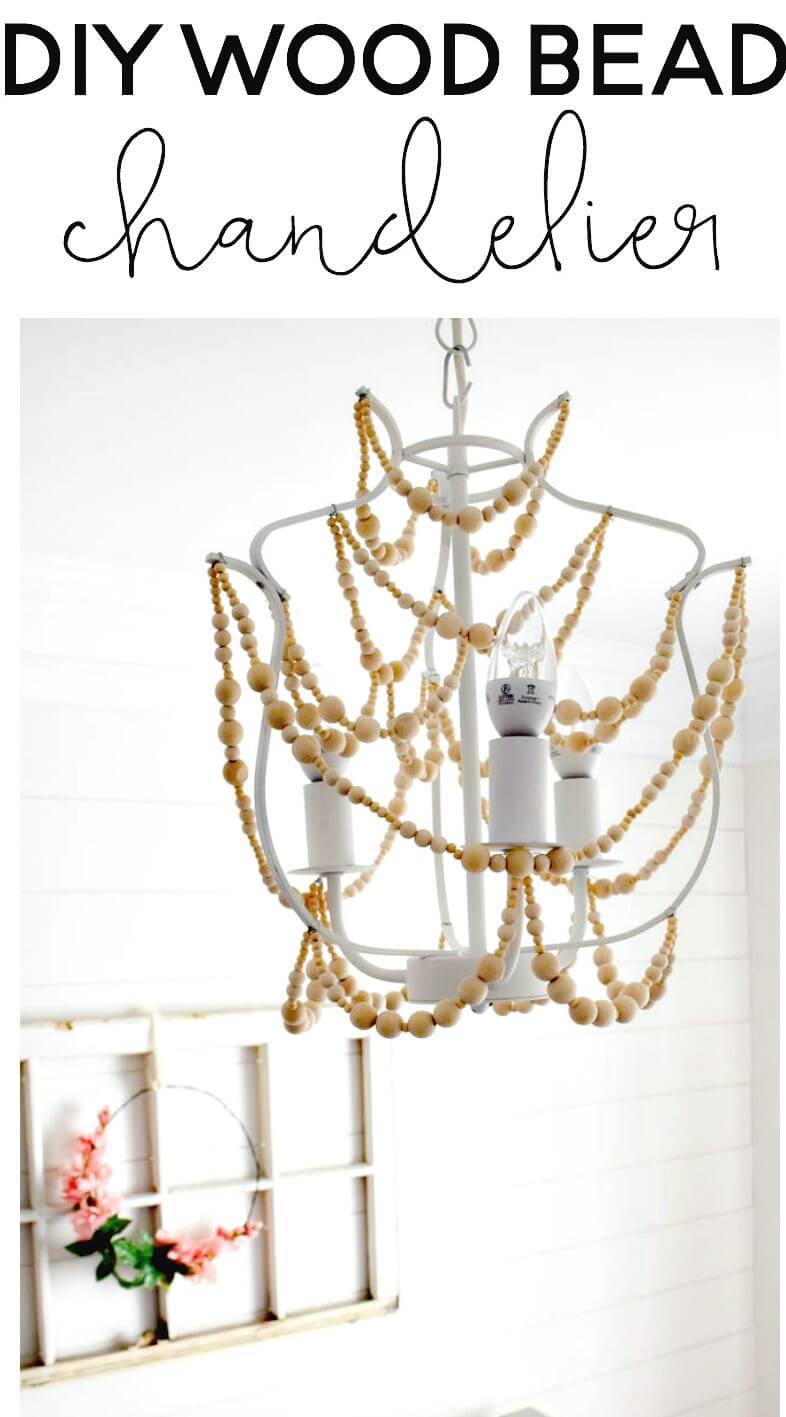 Another flawless creation of chandelier is here that has been done to inspire! This is here another smart IKEA hack that helps gaining a charming chandelier! Here an IKEA chandelier has been adorned with the strands of wooden beads that have been made by threading different sizes of wooden beads onto a metal wire! This adorable chandelier would be the most viewed centerpiece in every room interior and is super easy to make also! Willing to duplicate this another great looking chandelier? Then just grab the full free tutorial and instructions from here makingjoyandprettythings
Easy DIY Chandelier Transformation: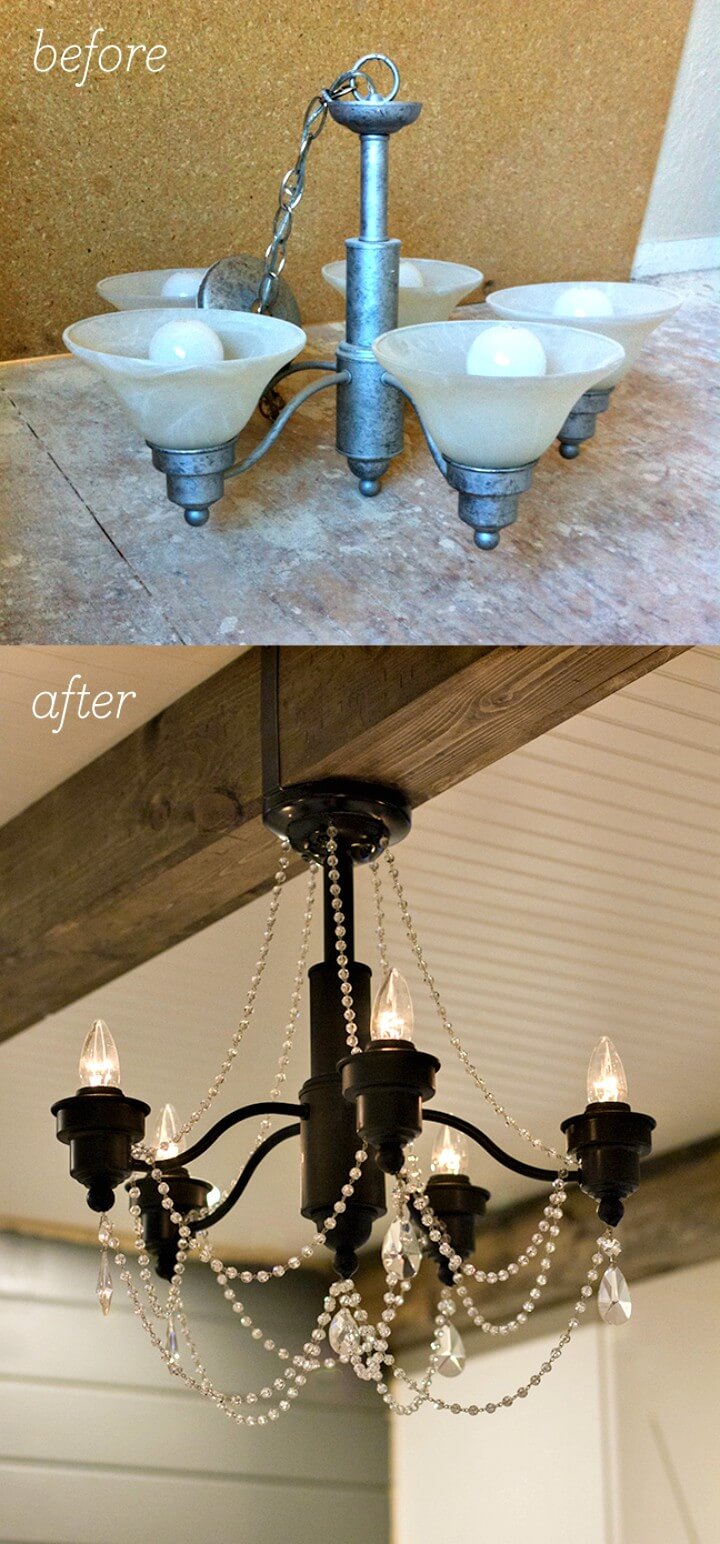 If you are in a position to buy new chandeliers for your spaces then you can simply upgrade your old chandeliers beautifully by doing some smart makeovers! You will definitely fall in love with this crystal light chandelier that is actually an ingenious remake of an old chandelier! Here the glassy light shades of the old chandeliers have been replaced with the light bulbs and then the custom crystal bead strands have been added in loop style all around the chandelier for an expensive luxury appeal! You can also paint your old chandelier in a color you like or that will match your interior decors! Grab the full free guides and visual instructions from here jennasuedesign
Make Your Own Creative Yarn Chandelier: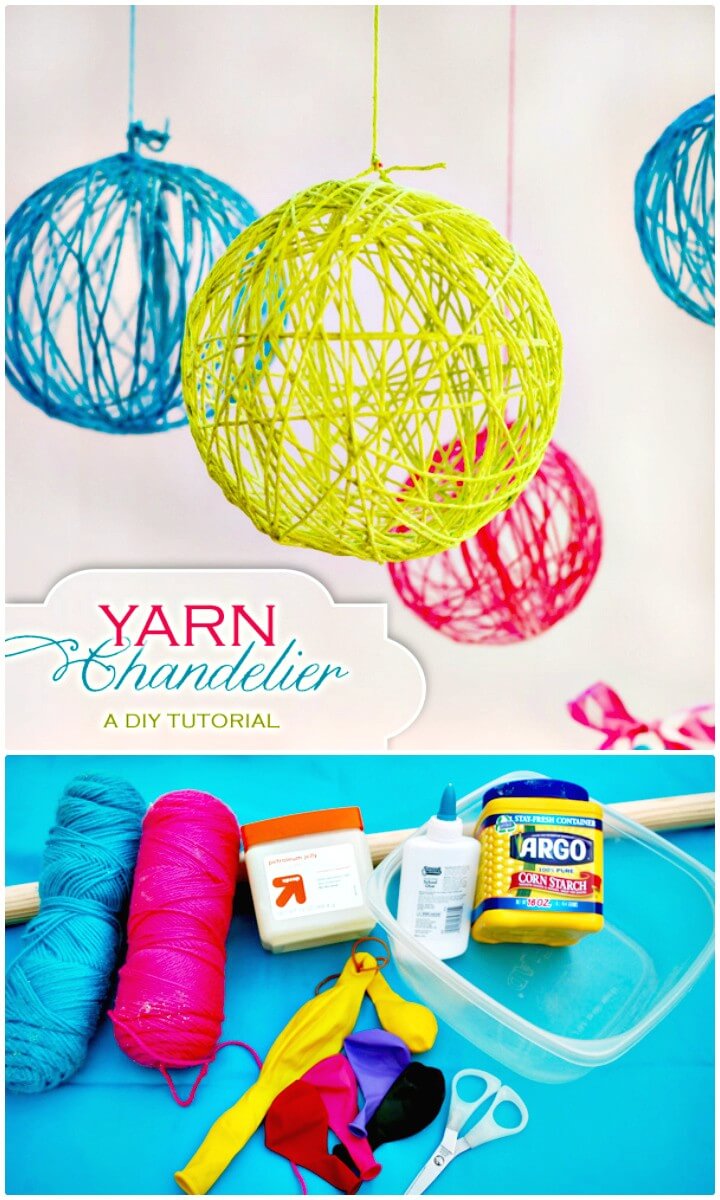 Go also smartly handmade with the yarn and balloons and make brilliant yarn globes that can be hanged aloft with light bulbs inside for making outstanding looking chandeliers or pendant lights in no time! Here the idea of making these colorful yarn globes is pretty simple and easy peasy! Just blow up your balloons and wrap the yarn, dipped in glue and corn starch mixture, around it! After the yarn is dried just remove the air from the balloons and you will only left with the yarn globes! Complete project instructions and tutorial here hwtm
Easy DIY Bent Arm Chandelier: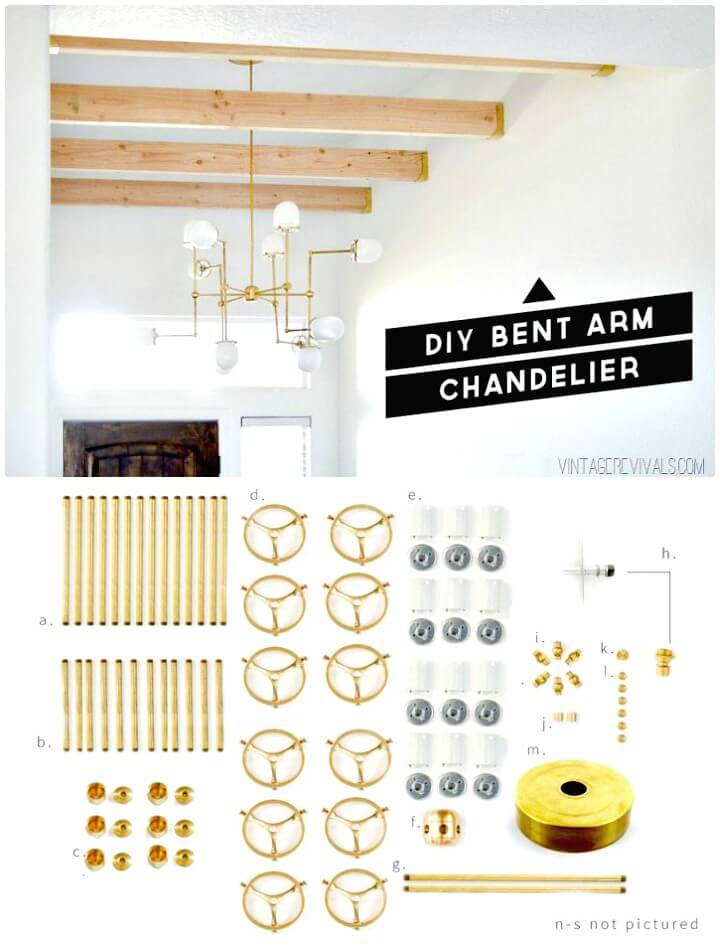 Here is what you can do amazing with custom metal pipes, fittings, couplings and custom joints! Here the brass pipes and brass spoked holder casts have been used with necessary hardware and fittings to giant his bent arm metallic chandelier that will bring modern flair to any room interior! Here this metal chandelier also comes with custom white bulb lights fitted to ends which double up the grace of this chandelier! This is here a professional model of chandelier that is made at home and you can also clone it at home easily! Step-by-step visual tutorial here vintagerevivals
Dining Room Brass Chandelier Makeover: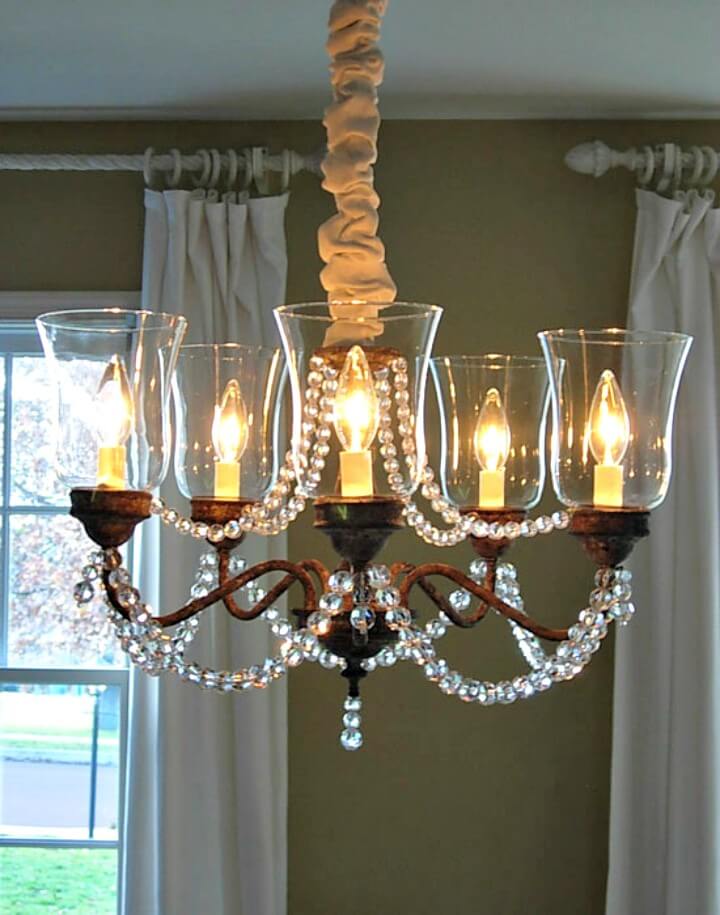 You will definitely like to praise this another great chandelier makeover that has really been done smartly! Here a faux brass chandelier has been given an expensive luxurious appeal by adding different white crystal bead strands! Here the style of adding the crystal bead strands would really matter while doing this brilliant makeover of the chandelier! You can simply hang them in loop style between each to chandelier light fixtures and you can also connect them from the top of the chandelier to each light fixture following the same loop style! Complete instructions here inmyownstyle
DIY Chandelier Shades & Covers: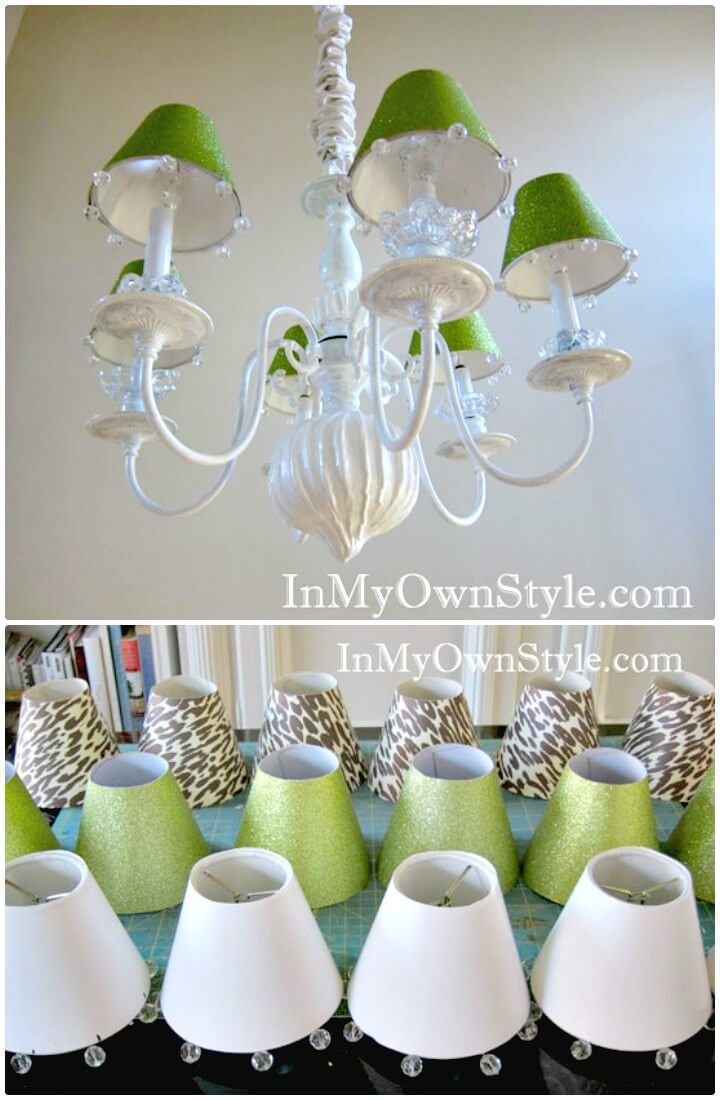 Next you can also make update your chandeliers by giving beautiful shades and covers to each chandelier light! The very good news is that you can also make beautifully the shades and covers for the lights at home! Get inspired of these sample chandelier shades and covers that are looking fabulous and much focally stimulating! Just cover the chandelier shades in poster board covers which may come with crystal balls hanging to bottom edges! Next also add additional glitter scrapbook covers around the shades and covers to give them a fancy appeal! Complete project tutorial and instructions here inmyownstyle
DIY Restoration Hardware Knock-Off Rope Chandelier: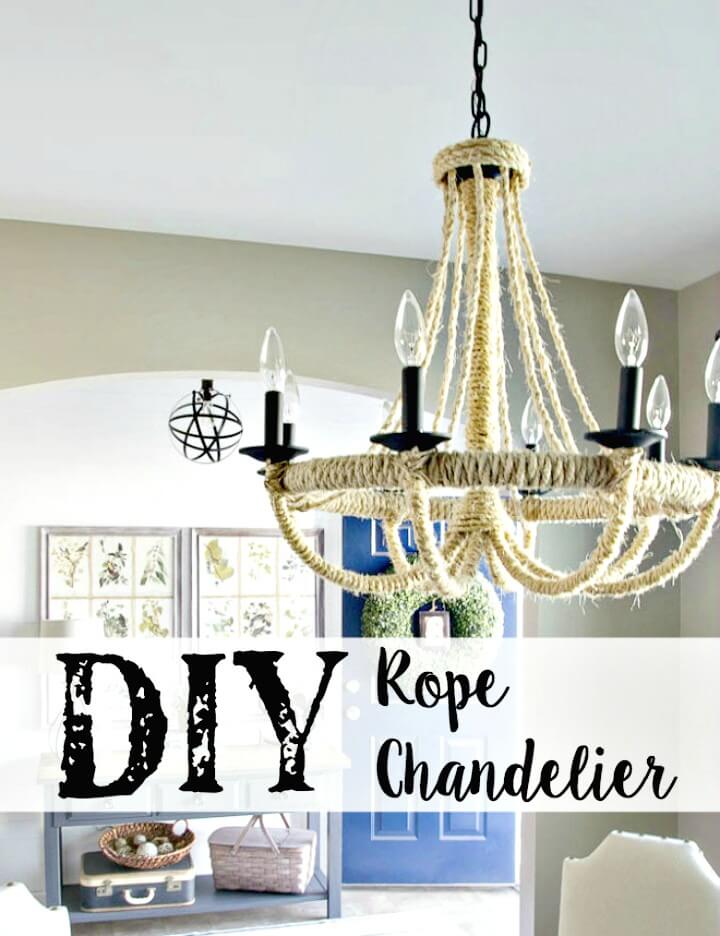 Here is how to restore your chandeliers back to look charming using only the rope! Here the rope has been wrapped all around the chandelier frame just leaving the chandelier lights uncovered and this gives a super beautiful looking light chandelier that will rock in every custom interior environment! This rope wrapped chandelier will be a great addition to a nautical room interior and will also make a fab centerpiece to a rustic room interior! Complete project instructions here blesserhouse
How To Make Baby Mobile Circle Chandelier: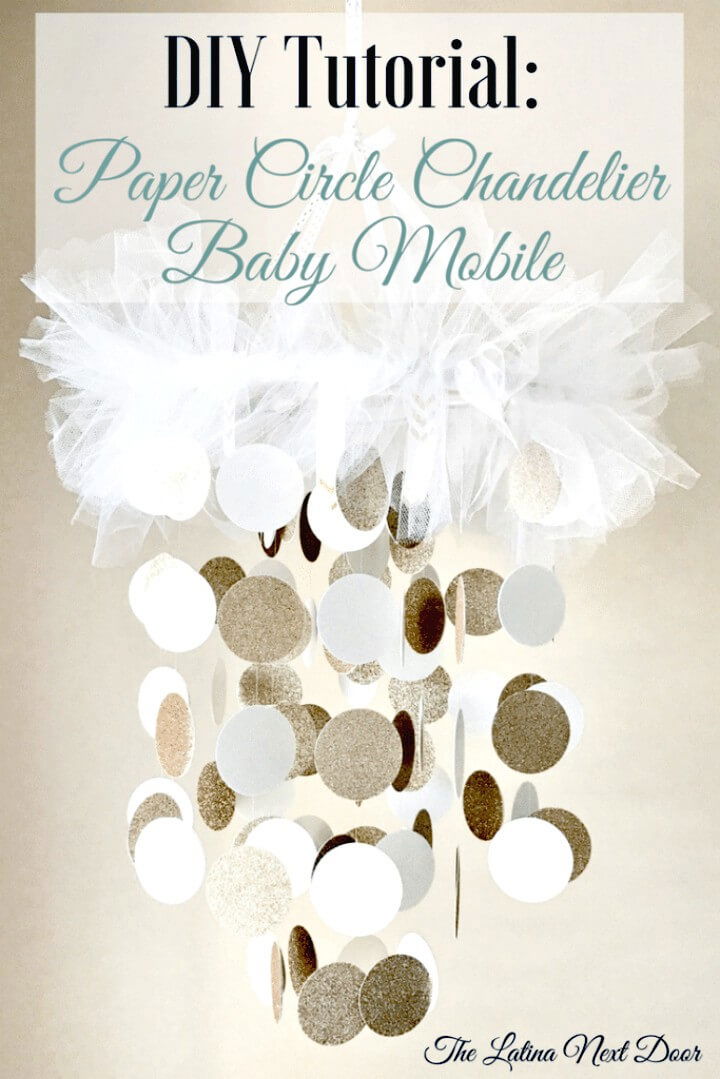 The ideas for DIY chandelier projects are just endless! Here is another great project that everyone can do to spruce up the baby playrooms! This is here the baby mobile circle chandelier that is made of two different sizes of wooden embroidery hoops put together as a single frame by using wooden dowels as inside supports! Next the custom mini circles have been cut out from the glitter sheets using a big hole puncher which have been put onto a monofilament cord to make the hanging strands! The embroidery hoops have been covered with ribbon and also with tulle for a fancy appeal! This is here another great chandelier project that you can duplicate easily! Complete instructions here thriftandspice
Make Your Own Test Tube Vase Chandelier: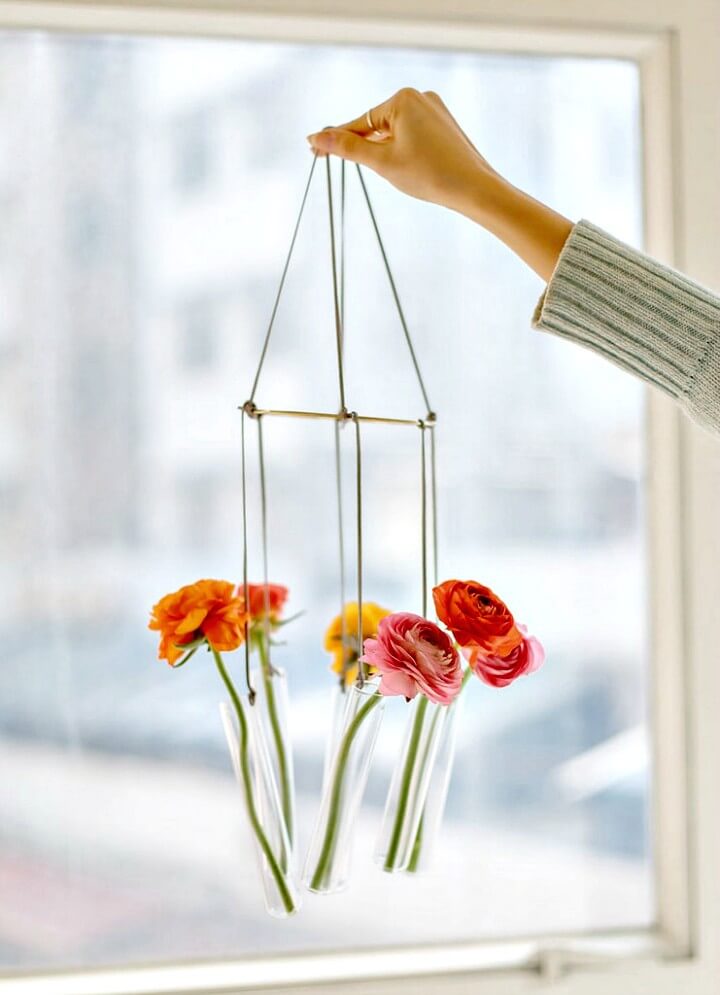 If you are willing to boost the home decors with some brilliant floral decors then you must own this handsome looking test tube vase chandelier! Here these test tubes come filled with custom flower picks and just hang vertically downward on a metal circle frame through leather cord! This is here another brilliant and super easy to make test tube vase chandelier that has been done to inspire and is really looking beautiful! Willing to duplicate this handsome vase chandelier? Grab the full free guide and visual instructions from here apairandasparediy
DIY Copper Pipe Chandelier: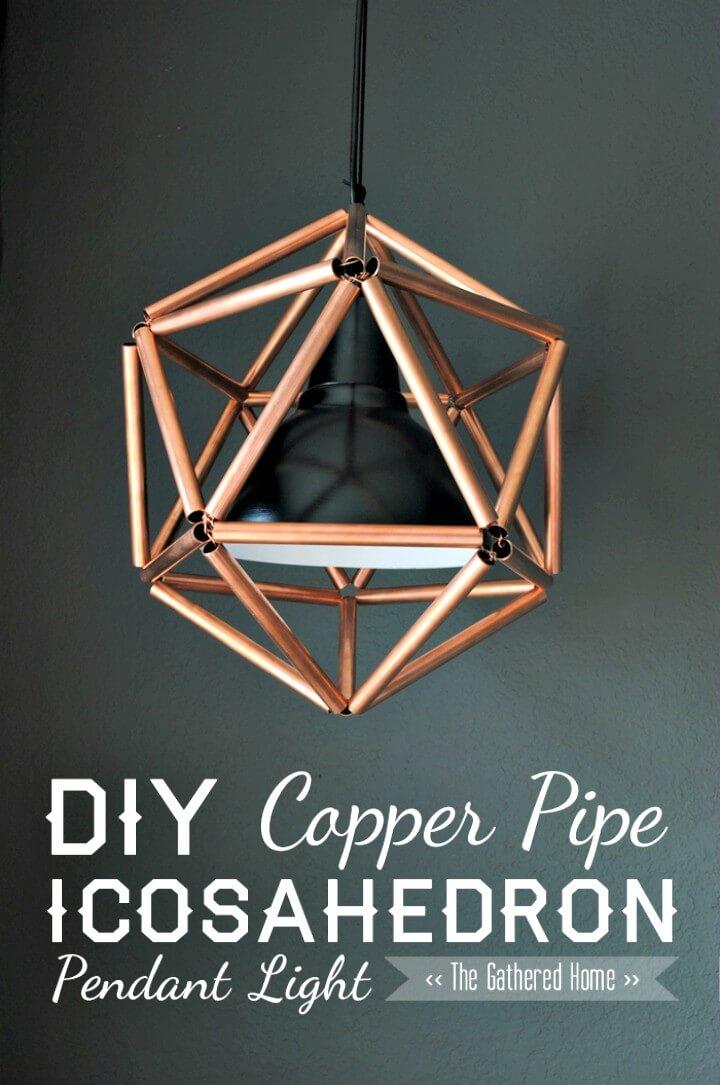 If you are a big fan of geometrical decors then you will definitely like this copper pipe chandelier that is having a cube like shape and is really looking damn beautiful and visually pleasing! Here making of geometrical pipe frame is what the whole project is all about! Just cut equal lengths of a metal copper pipe and then just thread copper wire in them and make a beautiful icosahedron out of them that will hold inside the IKEA pendant lamp light! This is here a fab IKEA hack that gives a fabulous chandelier that will rock every room interior! Complete project instructions here thegatheredhome
Make Your Own Little Painted Chandelier:
You will definitely fall in love with this another handsome chandelier makeover that has been done to rock and inspire! Here a brilliant looking little chandelier has been repainted in turquoise and is really looking awesome! Next this chandelier has also been added with custom bead strands to look expensively and much focally stimulating! This project is really a great inspirations about how update or refurbish your old chandelier to look brand new and fascinating! Complete project instructions and tutorial here howdoesshe
DIY Oversized Fabric Garland Chandelier:
You can also make smart use of fabric scrap to make beautiful light decors for your spaces! Checkout here another fantastic and brilliant fabric garland chandelier that is sure to amaze your senses with its unique beautiful appeal! This handsome fabric chandelier is amazingly cost-effective and would also make a great gift for every home lover! Here this epic model of chandelier is made of a wire cooling rack that has been covered with different shades of cream fabric and finally comes with twinkle light strands to be gracefully illuminated at night! Complete project instructions here abeautifulmess
Adorable How To Make Wood Beaded Chandelier: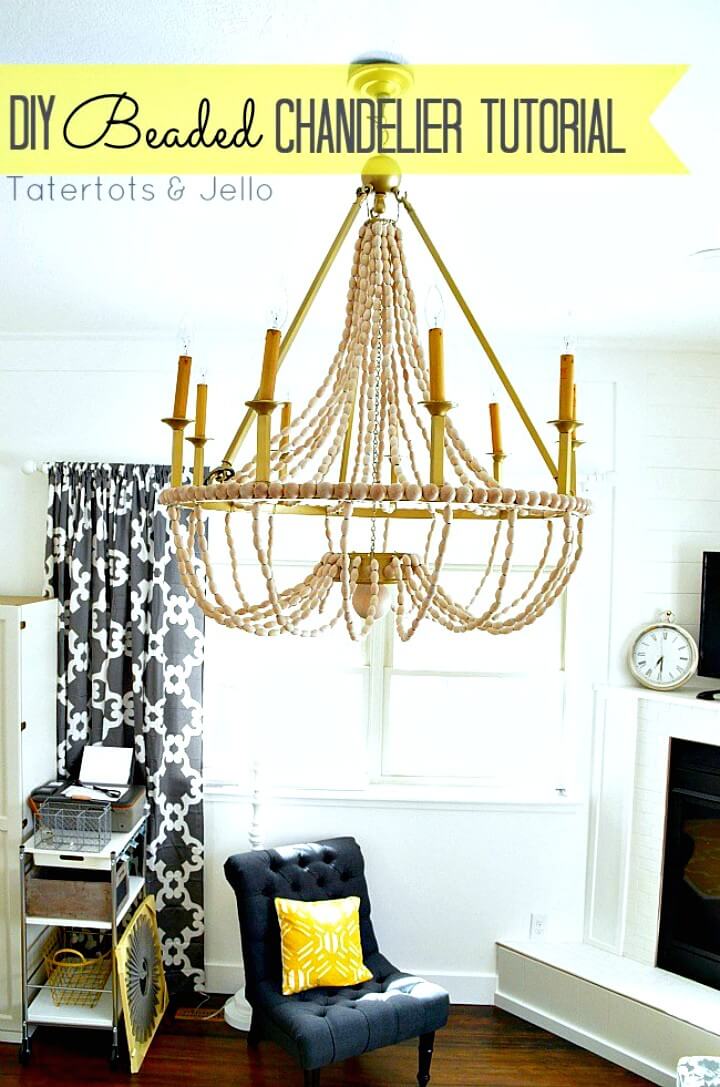 This is here a beautiful looking chandelier that has been done to inspire and rock and it would definitely go rocking to any particular room or home interior! This is here the wood beaded chandelier that is made of a light fixture which has been beautified with custom wooden bead strands! Here these wooden bead strands are made of oval shaped and round wooden beads which have been threaded onto the metal wire and make the chandelier look extra beautiful! This is here another great chandelier makeover project that has been done to inspire and amaze! Grab the full free instructions and tutorial from here tatertotsandjello
Adorable DIY A Capiz Chandelier: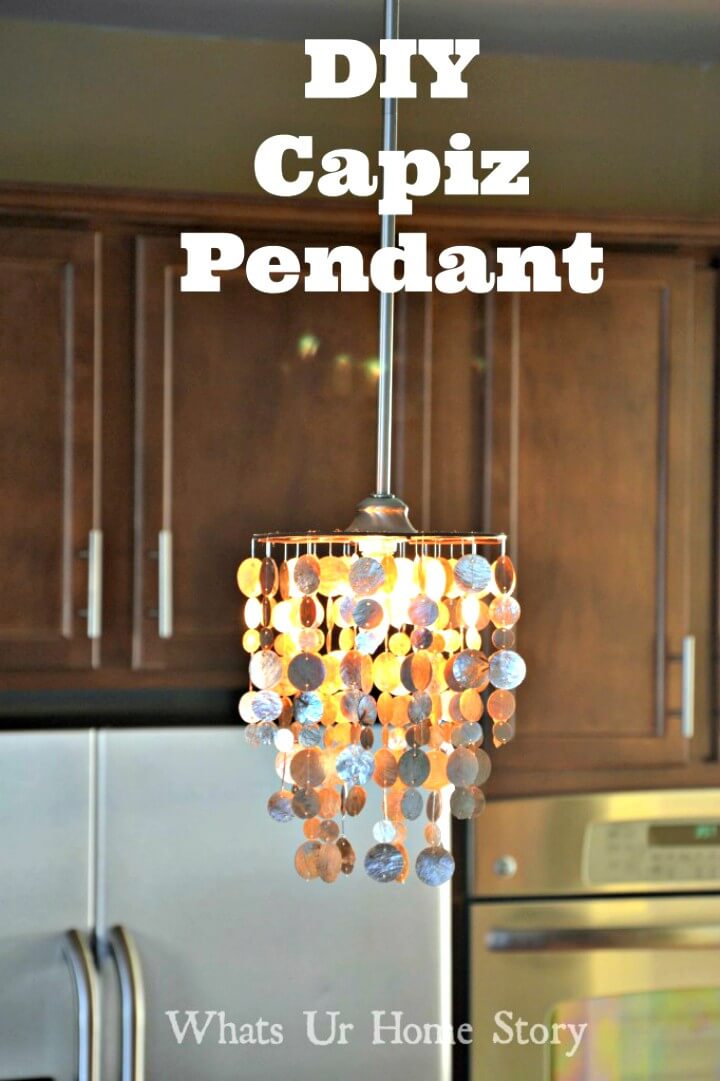 Look at this another fantastic and amazing chandelier that is looking extra brilliant due to sparking and lustrous appeal! This is here the beautiful capiz chandelier that is sure to bring a modern vibe to every of your modern or rustic interior and is something super beautiful to look at! Here all you need a round chandelier frame that can be added with hanging strands of capiz and can simply be hanged aloft around a ceiling fixture to make a cool and great looking chandelier at just no-cost! Complete project details and step-by-step tutorial here whatsurhomestory
How To Make Plug-in Chandelier:
This is here another remarkable chandelier that you will just love to duplicate in your free time! This here the outstanding plug-in chandelier that comes with amazing visual details and is something pretty vintage or rustic to look at! Here an old brass chandelier from an old thrift store has been repainted and then has been make look pretty vintage using antiquing technique! Finally the lights of the chandeliers have been replaced with brilliant light bulbs! Another outstanding and beautiful chandelier project that has been done to inspire! Complete project instructions here remodelaholic
Adorable DIY Foam Chandelier + Giveaway: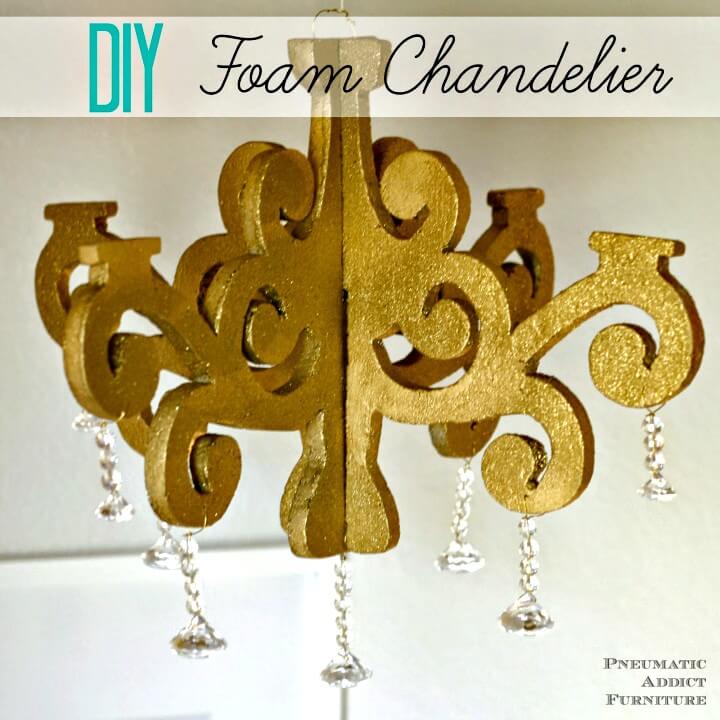 Bring a posh golden touch to your interior spaces with this handmade foam chandelier that appears in fantastic gold! Here a silhouette chandelier stencils have been used to cut out a foam chandelier out of a foam which has been gold spray painted for an expensive appeal! Here the finally finished foam chandelier has been adorned with crystal jewelry beads which bring a great visual appeal to entire chandelier! You can easily duplicate this another handsome chandelier that is brilliant to look at! Complete project instructions and tutorial here pneumaticaddict
Build Your Own Cardboard Chandelier: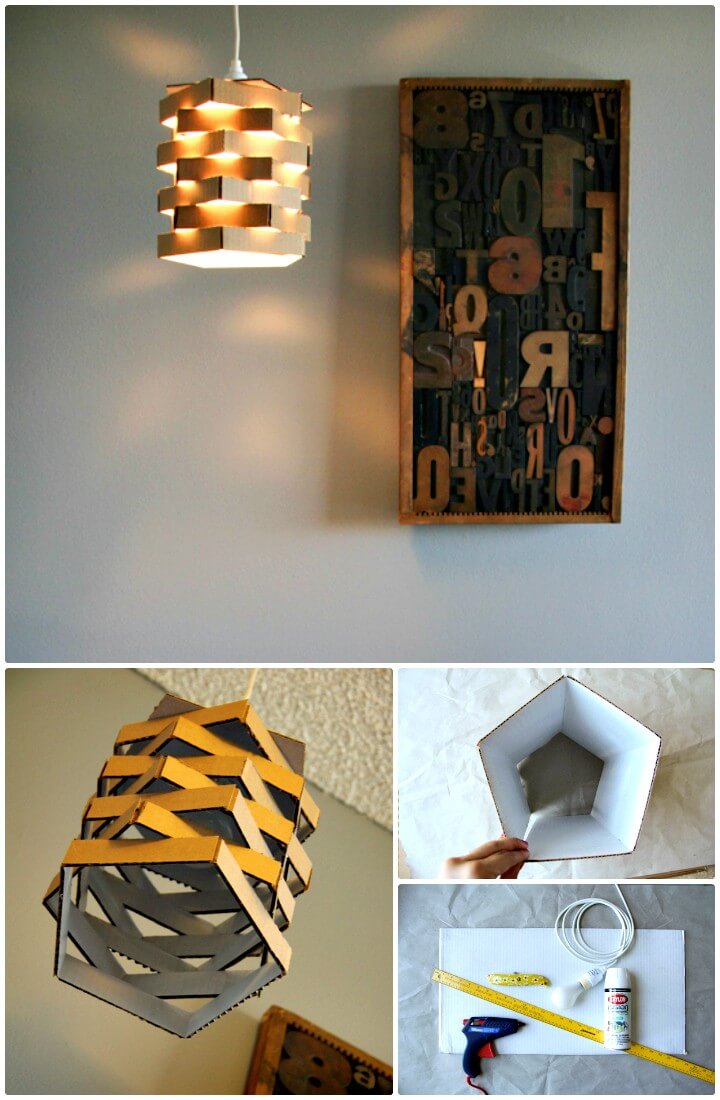 This is here another rocking design of cardboard chandelier that is looking damn beautiful and enticing! Here a pentagonal corrugated cardboard box has been chopped to make slim pentagons that have been put together not in the same way to make a beautiful chandelier that comes with multiple different edges! Finally this great looking cardboard chandelier has been added with a pendant light inside and hence makes a charming chandelier! Looking forward to duplicate this interesting cardboard chandelier? Then just grab the full free guides and visual instructions from here poppytalk
How to DIY Teacup Chandelier Tutorial: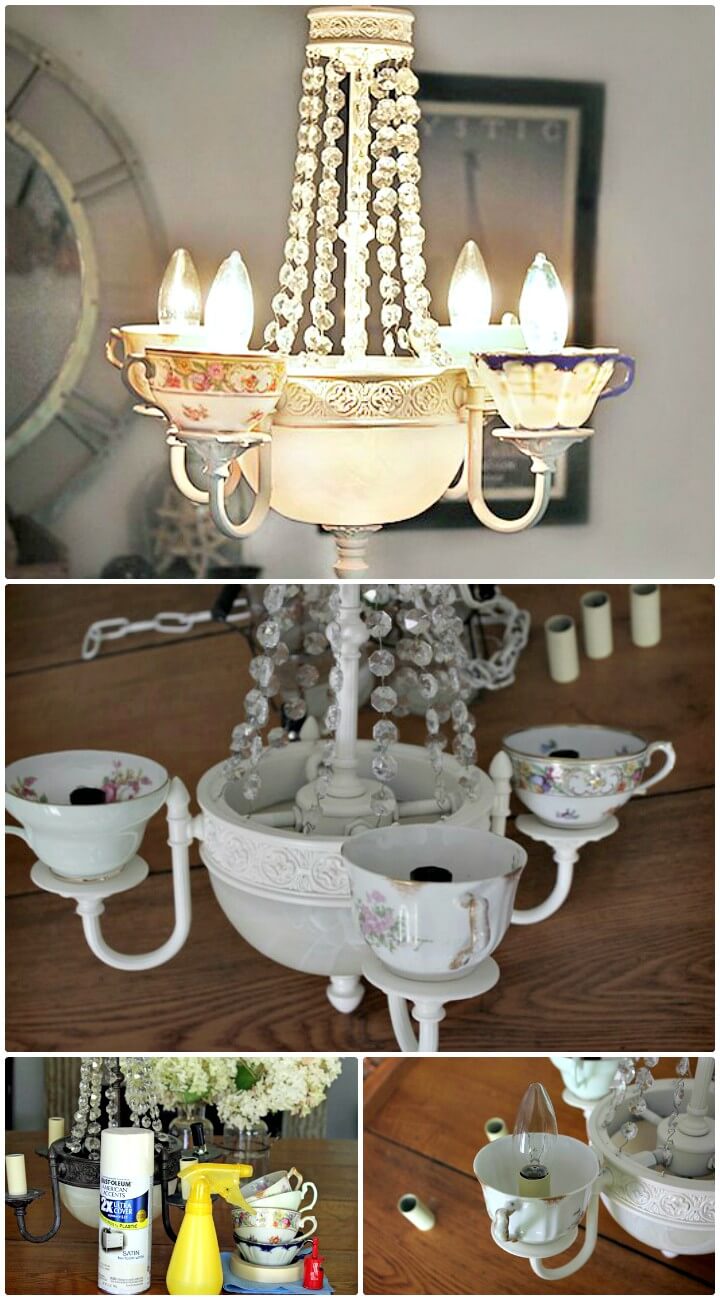 Here this is another mind-blowing looking chandelier that will rock every custom and specific room or home interior! This chandelier is super unique to look at due to teacup lights fixed to each arm of the chandelier! Here the custom holes have been drilled first in the bottom side of the teacups to pass the light sockets through which then beautifully hold the light bulbs at their top! Here first the chandelier has also been repainted and refurbished for a fantastic appeal and look! Complete project details and visual tutorial here ehow
DIY Solar Garden Chandelier: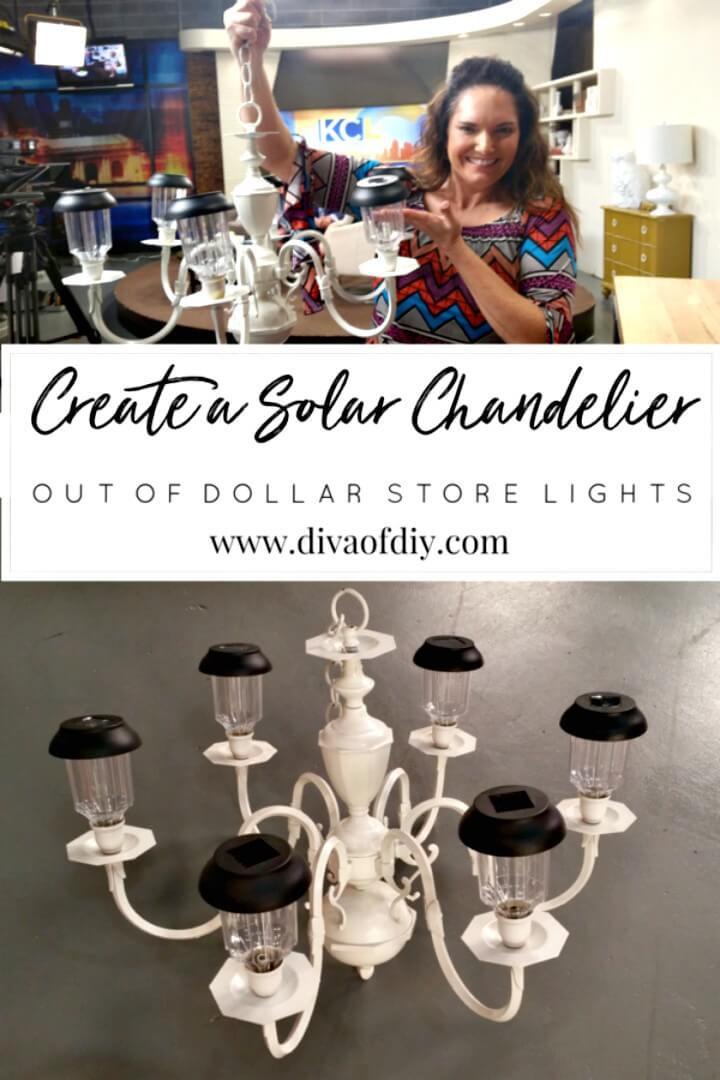 This is here another mind-blowing and beautiful garden chandelier that needs no power supply! This graceful chandelier is purely self-made and you can easily make it at home using an old chandelier and some solar lights! This will really hang like a charm in your green garden space and you can also gift it to someone special who is sorting out a glam chandelier to add to his space! This is here another mind-blowing chandelier project that has been done to inspire and rock! Complete project instructions and tutorial here divaofdiy