There are always some items in the home that can be repurposed to make new things but you will find them if you are having a genius thinking along with a passion to recycle the old and retired materials! Recycling and upcycling is a great thing and it has several different benefits to both our environments and also to human beings! You can get creative with the old materials and can recycle them to build new functional objects so this will reduce the need of buying new stuff resulting into great money savings!
On the other hand, the scrapped materials will be decomposed to make the environments dirty and the piles of old materials also create an ugly look of our Ecosystems, so you can also recycle items and materials to minimize these problems! Here we are with another great episode of recycling projects, we will show you here that how you can recycle the bicycle wheels and rims to make smartly functional objects, home decors and also to do various home and outdoor improvement projects! Before you get physically involved in the recycling of bicycle wheels, we would like to you take a tour of these 10 DIY Repurposed bicycle wheel projects that are an innovative and borderline genius! These bicycle wheel projects are beginner-friendly and are sure to inspire your creativity!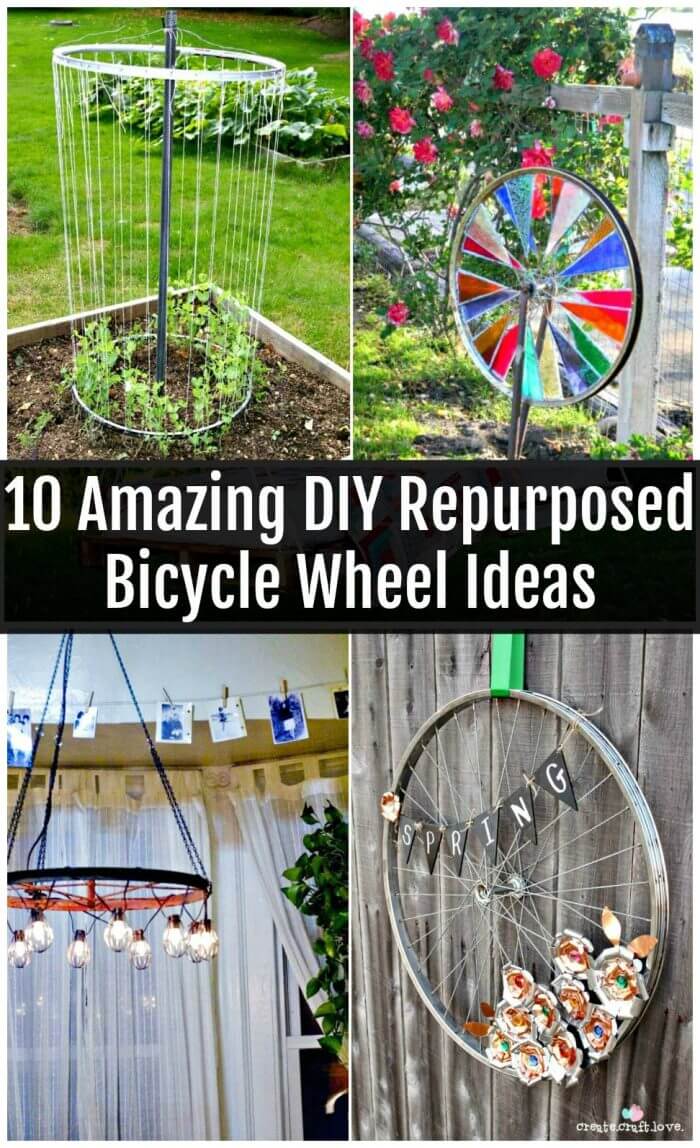 Repurpose the bicycle wheels to make the wall hanging chalkboard calendars that will hang like a charm on any interior wall! Make smart use of bicycle wheels and light bulbs to make outstanding looking ceiling lights and chandeliers that can hang on ceiling hooks through heavy duty metal chains! Add also the numerals to bicycle wheels and install the clock kits to make fetching looking wall clocks and also add the bicycle wheels to custom metal pipe poles and start using them as clotheslines!
Do also amazing landscaping and garden projects with the bicycle wheels and rims, an interesting sample here is the given fantastic looking garden trellis that made of two metal wheel rims, a metal pipe with metal wire! Add the colorful glass triangles to your bicycle wheels and make fantastic looking garden spinners that will make a great garden centerpiece!
DIY Projects Your May Like for Your Home Decor:
Also, make smart use of bicycle wheels to organize kitchen utensils and tools, just make ceiling hanging bicycle wheel utensil racks that will a delight to view! Adorn also the bicycle wheels with custom faux or real flowers and also with custom charms and embellishments to make excellent front door wreaths, check out a brilliant sample given below! Moreover, you can also recycle the bicycle wheels to make outstanding looking furniture items, just have a look at the given glass top table that will definitely amazing in a modern living room interior!
Choose your favorite projects to duplicate and then just hit the respective source links to grab the full free guides and visual tutorial and instructions for your selected bicycle wheels projects!
DIY Bicycle Wheel Chalkboard Calendar: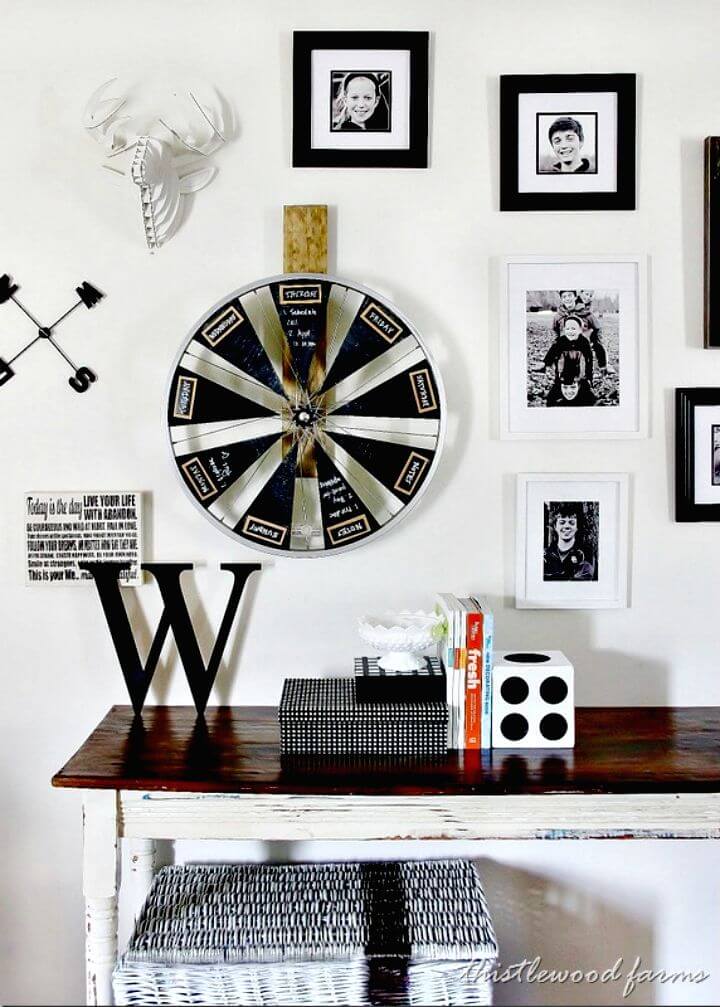 Here is what you can do beautiful and brilliant with the bicycle wheels! Just repurpose the bicycle wheels to make outstanding chalkboard calendars that will rock on every interior wall! Here the plywood, a bicycle wheels without tire and some chalkboard paint has been used to built this fetching looking chalkboard calendar! Here all you need to cut some triangles out of plywood which can be chalk-painted and then can be added to wheel with equal spacing in between! Hang the wheel on wall using custom hanging systems and enjoy! Full tutorial here thistlewoodfarms
Make A Chandelier Using Bicycle Wheel:
Also decorate your interior spaces with the bicycle wheels by making beautiful decors out of them! Get inspired by this gorgeous-looking chandelier that is made of a bicycle wheel and comes with hanging light bulb lights! Here the wheel has been suspended aloft using metal chain supports! This is here another amazing craft project to do with bicycle or old wagon wheels! Use ceiling hooks and extension cord also to ensure the safe and durable hanging of this hand-built chandelier! Grab the full free tutorial and instructions from here blackoakvintage
Cute DIY Bicycle Rim Clock:
Need some outlandish wall clocks to enhance your interior wall decors? Just make some beautiful ones also at home using the bicycle wheels! Fall in love with this bicycle rim clock that is looking interesting and much visually captivating! Here all you need is to grab a steel bicycle wheel without tire which can be added with custom clock numerals and clock hands to make a perfect wall clock that will really be center of attention! Get inspired by this sample clock that comes with white numerals and is just looking damn beautiful! Willing to duplicate it now? Grab the full free guides and visual instructions from here ehow
DIY Bicycle Wheel Clock: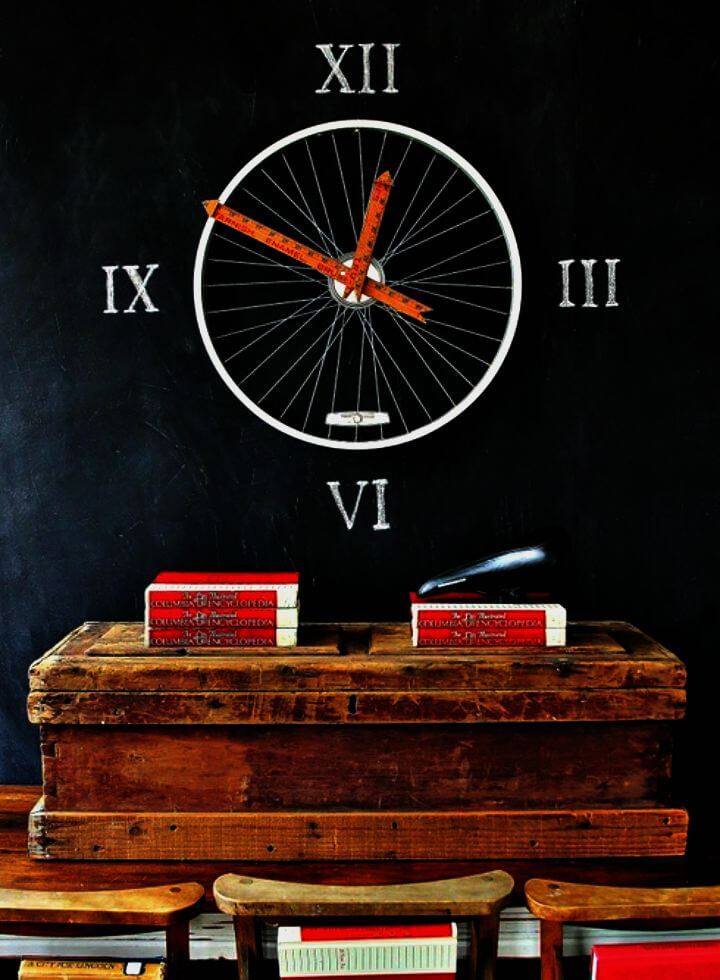 Once again another beautiful wall clock is here that is also made of bicycle wheels and is just looking fantastic! Making this handsome wall clock is pretty simple, just grab your wheel and cover its center using the paint can lid! Next, make the bigger clock hands out of bigger wooden yardstick and next install the clock system and numerals to finish your clock! Here the Roman clock numerals have been written on the black wall and then the wheel clock has been hanged in the center of them on the wall! Another great bicycle wheel craft achievement! Complete project tutorial here thistlewoodfarms
Adorable DIY Bicycle Wheel Clothesline: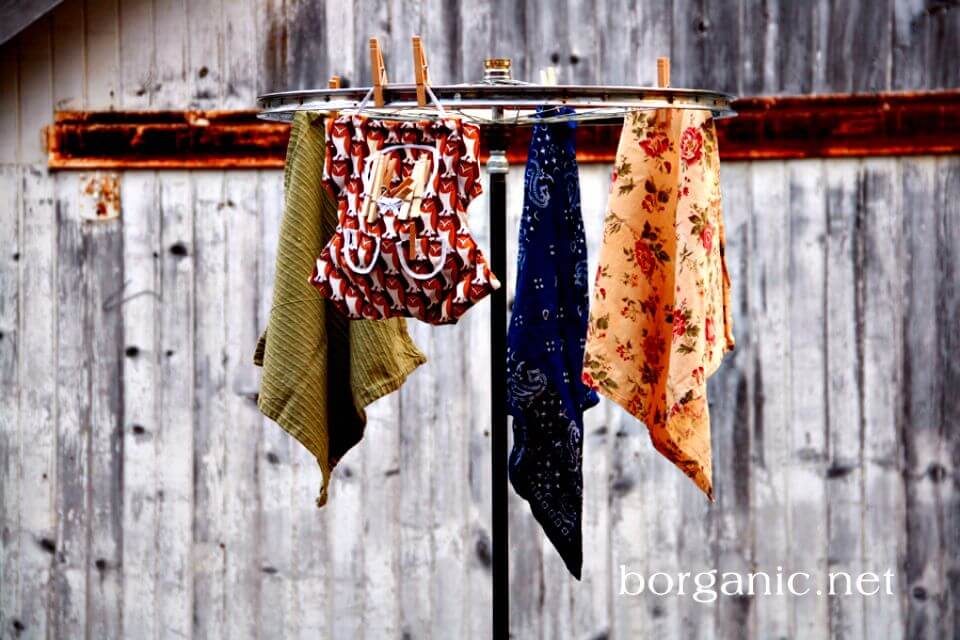 Tangled in cloth storage and organization problems? Then just solve your problems also by using the bicycle wheels! A very interesting example here is this bicycle wheel clothesline that has been made to rock and inspire! Install the wheel onto a galvanized metal pipe using custom fittings and next fit the base of the pipe in an umbrella stand to get a self-standing clothesline! Get inspired of this sample model that is amazingly beautiful! Start adding our clothes using clothespins and enjoy! complete tutorial here borganic
DIY Recycled Bike Wheel Garden Trellis:
Do also amazing outdoor and garden improvement projects with the bicycle wheels! Not going to believe it? Just have a look at this bike wheel garden trellis that is really looking gorgeous and much visually captivating! Here all you need a metal pipe length, metal wire, and two bicycle wheel rims to duplicate this fantastic-looking garden trellis that is a big delight to view! This is here another fantastic bicycle wheel project that every garden lover can duplicate easily! Grab the full project tutorial and instructions from here apartmenttherapy
Colorful DIY Stained Glass Garden Spinner: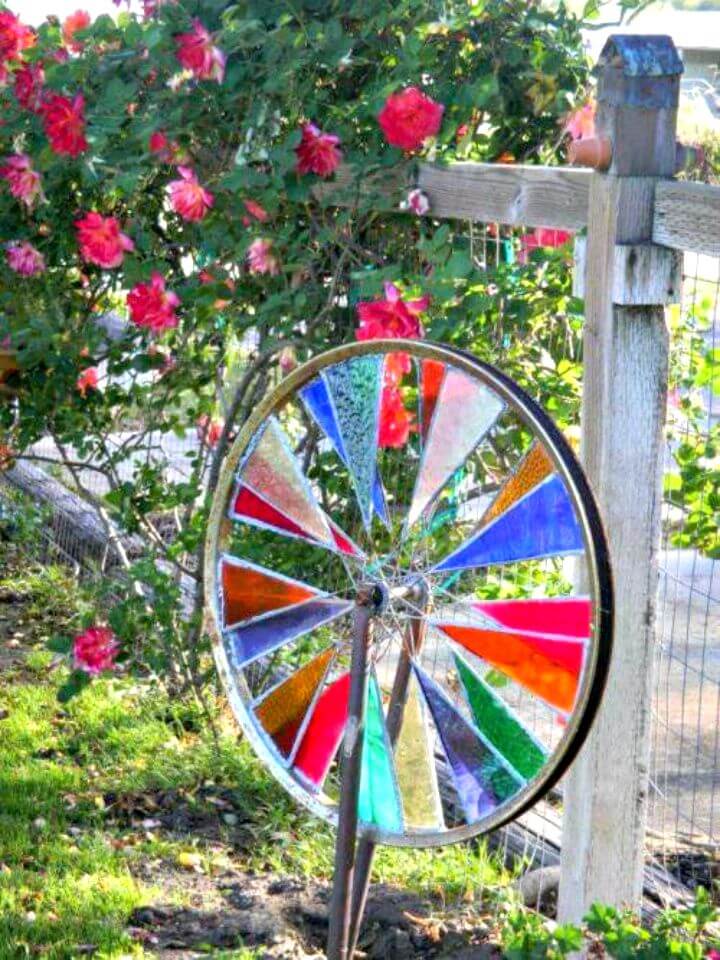 Make also interesting garden decors using the bicycle wheels! A very interesting example here is this garden spinner that is made of a bicycle wheel and also with the colorful glass triangles! Use the copper wrap, solder, soldering iron and flux to make the lasting attachment of glass triangles to wheels! This interesting stained glass garden spinner would also add lots of colors to your green space and is will be something super beautiful to look at! Grab the full free tutorial and instructions from here fleamarketgardening
Simple DIY Bicycle Wheel Pots And Pans Rack: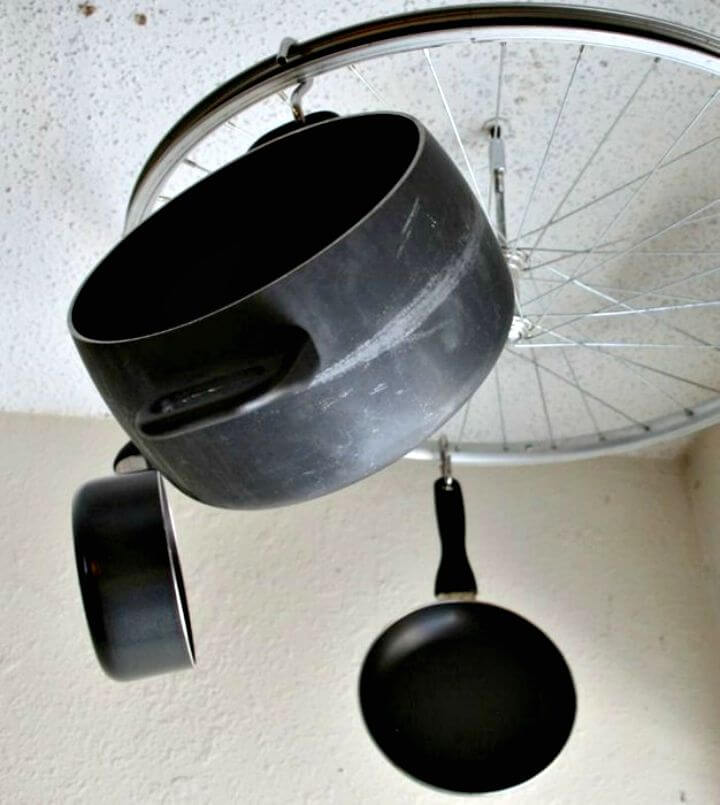 Willing to do some projects for kitchen organization? If yes, then you can also take a great help from bicycle wheels to make outstanding looking kitchen utensils racks in your kitchen! The idea is just to hang the wheels flat on some fixed ceiling support and then to hang pots and pans on the wheels using s-hooks! Here you can target both the rim of the wheels and also the spokes to hang your kitchen pots and utensils using the s-hooks! Another great and outstanding project to do with the bicycle wheels! Intending to duplicate this wheel utensil rack? Grab the full free tutorial and instructions from here instructables
DIY Metal Flower Bicycle Wheel Wreath: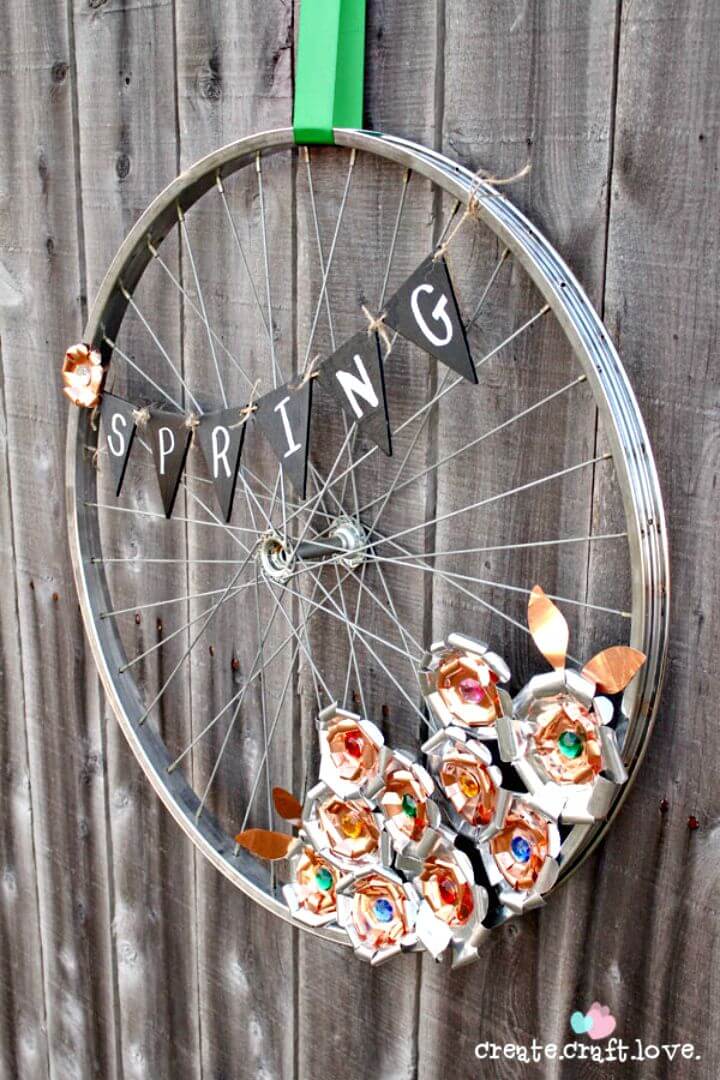 Make also an interesting festival and seasonal decors with the bicycle wheels! So, bicycles wheels can also be intended to boost your home indoor and outdoor decors! Create impressive looks of your primary entrance by hanging this bicycle wheel wreath there that has been decorated with metal flowers and also with a bunting garland or banner! Make use of cricut machine and aluminum craft metal and make brilliant looking metallic flowers which can be added with a big rhinestone in the center for a more posh and glam look, same has been done here! Complete project tutorial and visual guides are here createcraftlove
How To Make Wheelchair Wheel Table: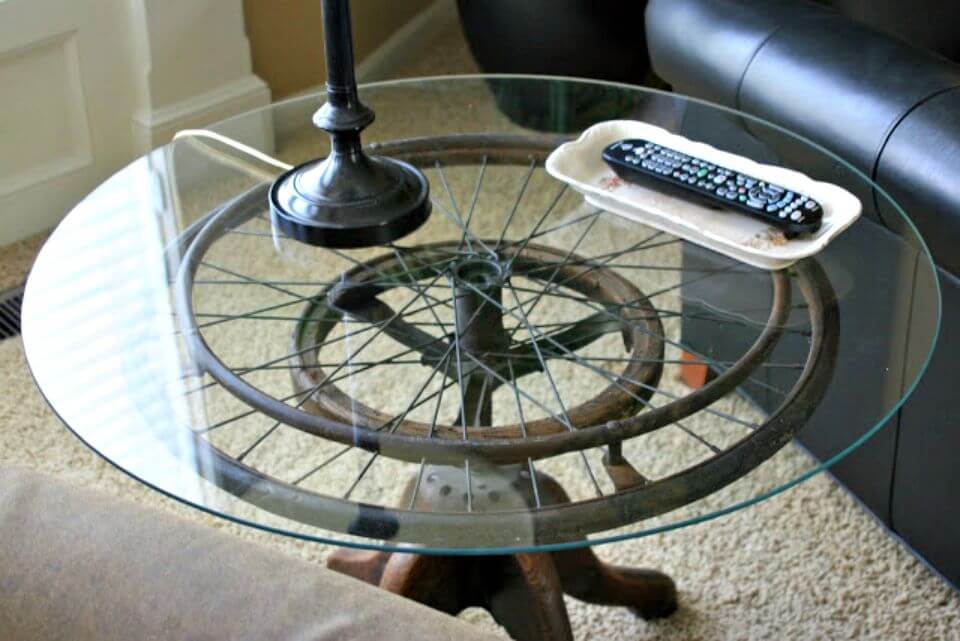 Looking for a modern and enticing glass to add as a centerpiece to your living room? If yes, then make your own outlandish glass tables at home using custom furniture bases, custom glass tops and the metal wheels! Here a wheelchair wheel has been added on the top of a stool base and has been finished with t round glass top to get a modern looking table that will rock as an accent table and also as a coffee table in your living room! Another brilliant project to do with old wheels! Full project tutorial and instructions here refurbished-ideas