Learn how to make a DIY dry erase board with 10 easy DIY whiteboard ideas, including step by step instructions and materials list. Looking for a fun and creative way to create your own whiteboard? With just a few items you have around the house, you can make a diy whiteboard with ease. whether it's for displaying important reminders on your refrigerator to keep track of what needs to be done each day, making practice exercises easier while homeschooling, or using it as an additional tool in the office, a diy whiteboard can make all these tasks simpler.
Creating your own whiteboard can be an excellent DIY project for improving your home or workspace. There are numerous ways to make a whiteboard, and depending on materials and personal tastes, some are easier than others. Before you begin, consider what size you want the board to be and what type of surface you are looking for. Depending on the level of personalization desired, materials could include board game material, luan plywood, a chalkboard surface with dry erase markers or wall paintable dry erase board coating.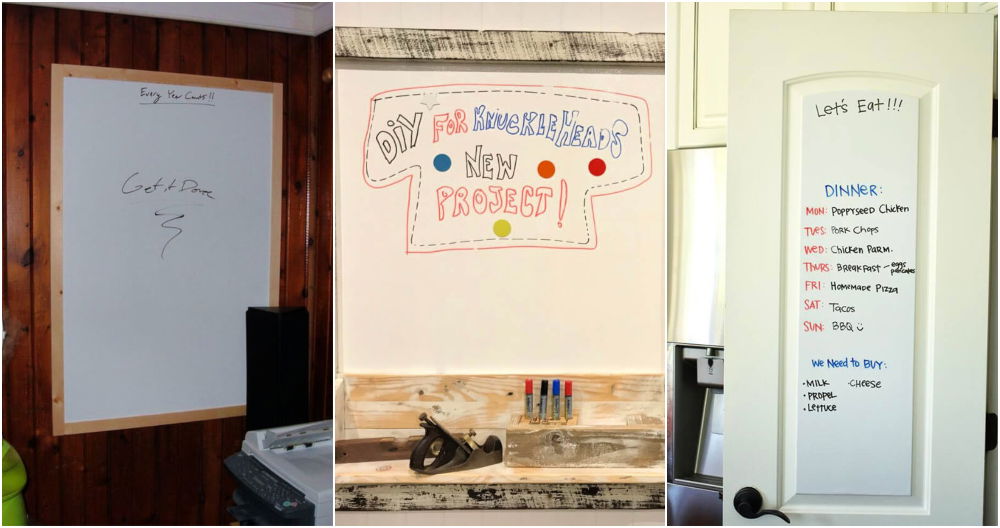 10 Easy DIY Whiteboard and Dry Erase Board Ideas
We have rounded up some brilliant, easy to set up, and handy DIY whiteboard ideas here for you to upgrade your home and decor. Manage your calendars, schedule, and time table like a pro by giving an entire wall dedicated to a DIY dry erase board! You can get your kids to be more productively occupied! By giving them the proper setup and space for painting their visions to life. Keep their and your creative juices flowing with these DIY whiteboard ideas.
Everybody adores a professional kitchen with a hint of catchy menu displays. Make your kitchen more appealing and interactive! By exploring our DIY whiteboards for kitchen ideas. After exploring our versatile collection and detailed tutorials with step by step guides, you will be perfectly able to set up your own DIY whiteboard as per your decor game, your available spacing for decor and everything.
Our DIY diy dry erase board ideas are easy to make using cheap materials to set up. You can even put your piled up and useless junk of timber or pine wood to greater use by mixing it up with a multi-purpose DIY whiteboard! There are just SO many extensive options available here. Happy crafting, folks!
1. How to Make a Whiteboard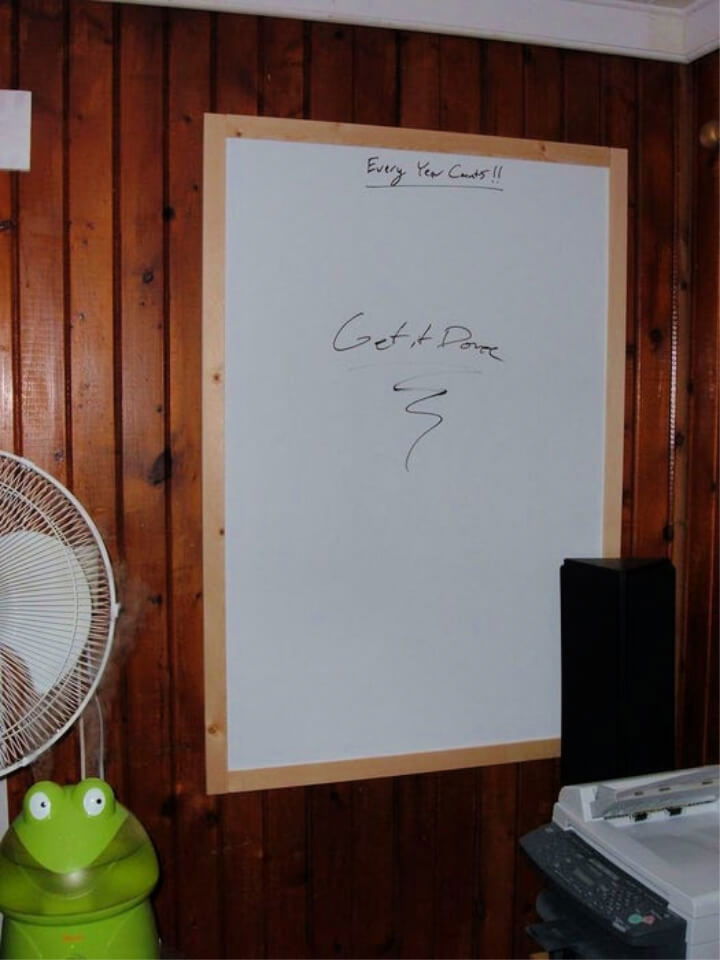 Add an interactive touch to your walls with this DIY whiteboard idea. Your tools to gather will be rubber mallet, a pencil, speed square, measuring tape, hand saw, table saw, sandpaper to refine the border and a few other supplies. instructables
2. Making a Whiteboard for Under $30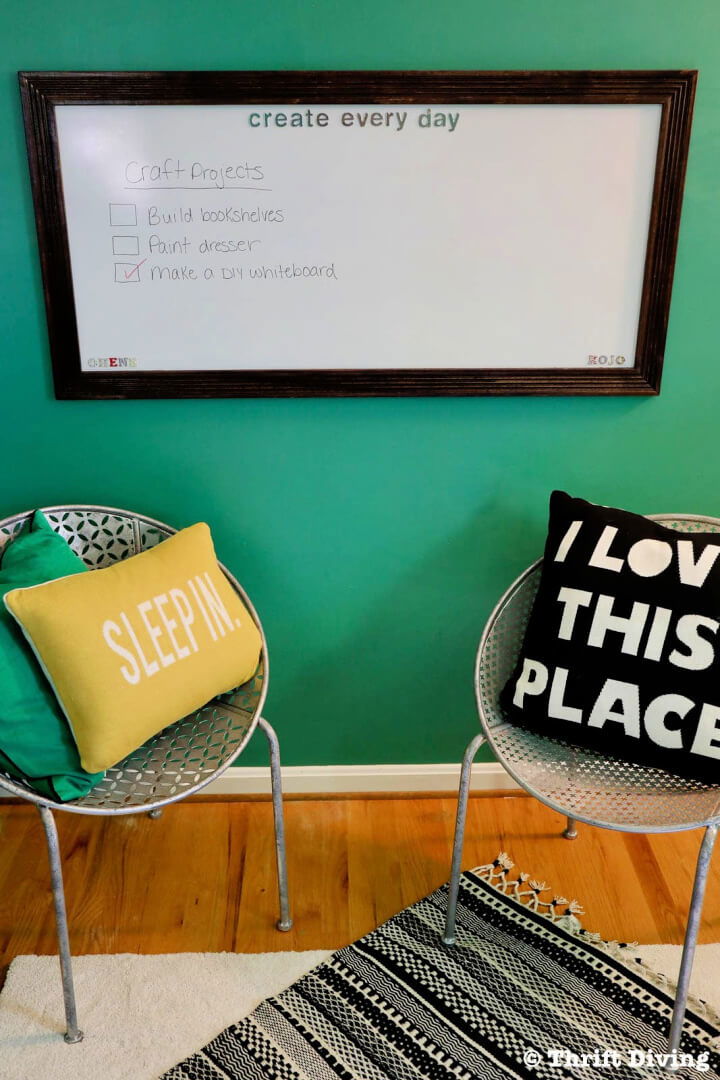 You can set up this DIY whiteboard in your kid's room, in your office or even at your parent's home! With the sole aim to keep everyone and everything pretty organized. With these, you can add a sense of meaning and accomplishment to a dull day otherwise.
3. DIY Whiteboard – 5 Minute Dry Erase Board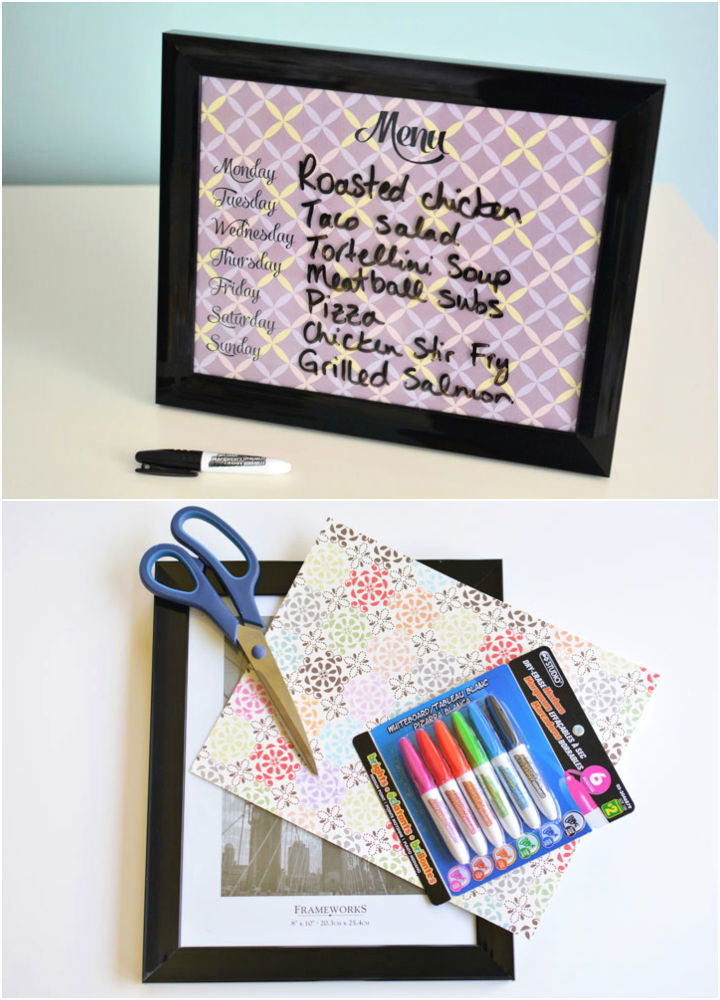 This DIY erase board idea is a perfect example of five minutes' achievement in just under five dollars. You can keep this cute and handy DIY erase boards nearby the phone. In the kitchen to keep the menu updated, or anywhere else you like. onelittleproject
4. DIY Multipurpose Whiteboard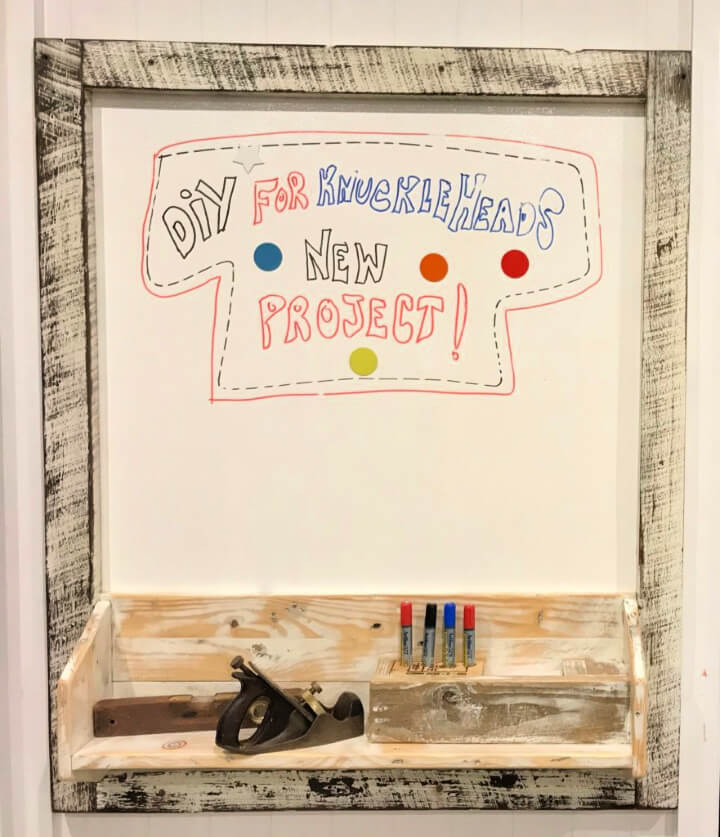 By using some recycled timber, you can make this multi-purpose whiteboard for managing your keys and your other stuff too. There are just so many versatile options. Look out for the best DIY whiteboard plan suitable for your decor here. diyforknuckle
5. Homemade Whiteboard for Pantry Door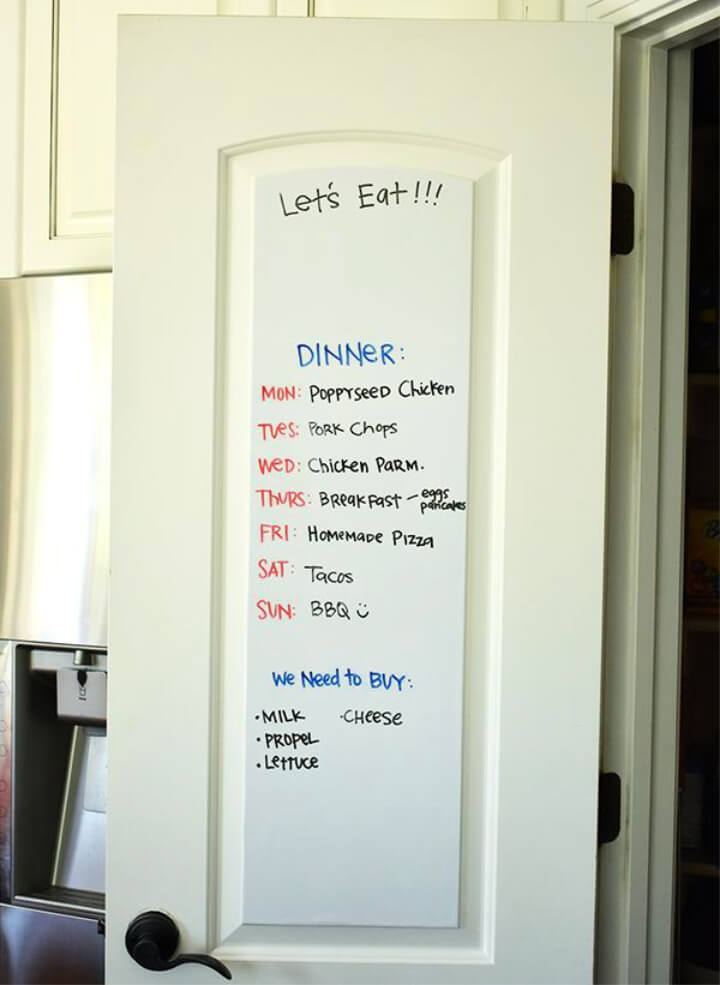 Everybody would love to add an uber classy touch to their kitchens! With creativity and temptation together. Check out this cool DIY whiteboard pantry door idea to manage your kitchen supply details and put the new menu each day like a pro chef. kassausa
6. Easy DIY Whiteboard Calendar and Planner
If you have a thing for staying as organized as much it takes, you are going to love the idea of having a whiteboard in your home! With this tutorial, you can transform your large dry erase board into a handy and personal DIY board calendar! domestically
7. Handmade Wall Mounted Whiteboard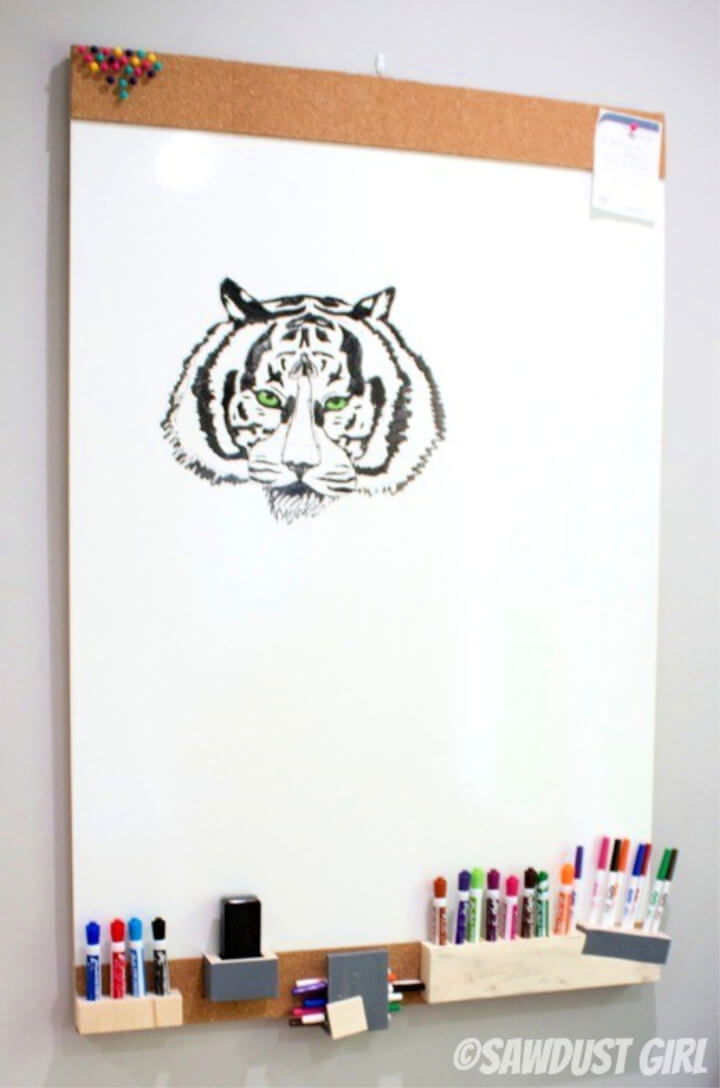 A quirky whiteboard is all you need to keep your family's creative juices flowing! With a wall offering so much imagination and creativity, everyone's going to stay stick to it. You'll be needing rough pine for the border and shelf. Get full details in the tutorial. sawdustgirl
8. How to Make a White Board for Kids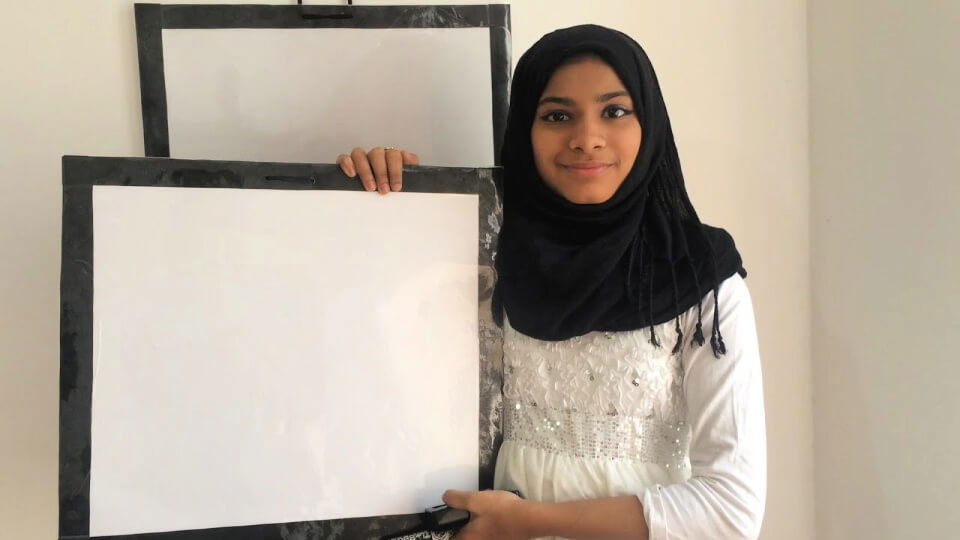 When your kids are entering school or even if they have already, get this easy to handle mini whiteboard for them! To introduce the idea of creativity in them. Kids should be able to be actually productively occupied out of the digital world! Make that happen! youtube
9. DIY Giant Whiteboard Hack
If you're on a budget but still want to add an extra element of productivity and creativity to your workspace, look no further than this 34$ diy giant whiteboard hack. You only need a few materials from your local hardware store and some creativity. Your board will measure up to 4 feet by 3 feet in size, giving ample space for brainstorming or delegating tasks for the day. By following these easy video steps and investing only a fraction of the cost of an actual whiteboard, you can create a perfect custom dry erase board for an amazing price! Follow the DIY giant whiteboard video tutorial below:
10. DIY Dry Erase Board for $20
DIYers rejoice! With just a few simple supplies, you too can make a DIY dry erase board for less than $20. Whether it is to add some pizzazz to your home office or to help the kids with their e-learning projects, this DIY dry erase board project is super easy and affordable. All you need is a piece of glass, some spray paint, and a few sticks of wood to get started. So go ahead and give this DIY arts-and-crafts project a try today!
Frequently Asked Questions
1. What is a whiteboard?
A whiteboard is a type of reusable writing surface that can be used for brainstorming, drawing, teaching, presentations and more. It has a glossy finish and can easily be wiped clean with a dry cloth or eraser to start over again. Whiteboards are popular in classrooms, offices and homes.
2. What are the benefits of using a whiteboard?
Whiteboards are great for brainstorming and creative problem solving, as they allow ideas to be visualized and explored in real-time. They also help people work together more effectively, enabling collaboration and fostering better communication.
3. How do I make a DIY whiteboard?
To make a DIY whiteboard, you will need a hard surface (eg. a piece of wood or MDF panel), whiteboard paint, abrasive cloth and sandpaper, brush, roller or sponge applicator. Apply the paint following the instructions on the packaging and allow to dry. Sand with the abrasive cloth for a smooth finish before use.
4. What are some tips for using a whiteboard?
Using a whiteboard can be a great way to organize ideas, brainstorm, or teach. Some tips include writing legibly, cleaning the board regularly, and pre-planning content before presenting. Additionally, use colors and visuals to enhance your message.
5. How do I care for my whiteboard?
Clean your whiteboard regularly with a soft cloth and an approved cleaner. Use markers specifically designed for whiteboards, and store them properly when not in use. Erase completely after each use to avoid staining or ghosting.
6. What material can be used as a whiteboard?
Whiteboards are usually made of a hard, glossy material such as melamine, laminate or porcelain. These materials can be cleaned easily and allow markers to write on them with ease. Some other materials that can also be used for whiteboards include glass, metal, vinyl, wood and even fabric.
7. Can I DIY a dry erase board?
Yes, it is possible to create a DIY dry erase board using materials such as a whiteboard, magnetized sheeting and markers. With careful preparation and assembly, one can easily make their own dry erase board at home.
8. How do you make a cheap dry erase board?
You can make a cheap dry erase board by using a picture frame, white poster board, and clear contact paper. Cut the poster board to fit inside the frame, cover it with contact paper, and voila – you have your very own dry erase board.
Related DIY Projects and Ideas
Bulletin Board Ideas: These super cool DIY bulletin board ideas will help you organize your home or office. They are easy to make and can be used for many purposes.
Chore Chart Ideas: These simple DIY chore chart ideas are great for homes with children. Use these charts to help your kids keep track of their daily chores, and make them feel rewarded for their efforts.
Bullet Journal Ideas: Bullet journaling is the perfect way to plan your daily life, stay organised, and track your progress. Get easy bullet journal ideas for starting your own bullet journal here!
Back to School Projects: This is a list of easy and best DIY back to school projects that you can do yourself or with your kids. The list covers school supplies, projects for the classroom, crafts, and more!
Felt Board Ideas: Here are creative DIY felt board ideas for your kids' room, crafting time, and more. All you need is a few supplies and a couple of hours to create your own felt boards to decorate with.
Family Command Center Ideas: Whether you're trying to create a command center for your family or just need some ideas, these amazing DIY family command center projects are easy to make and require little to no experience.
Conclusion:
Whether you need a space to brainstorm ideas, make to-do lists, or want an easy way to keep track of your calendar, a DIY whiteboard is a perfect solution. And with so many different materials and methods to choose from, these cheap DIY dry erase board ideas will fit your needs and budget. So what are you waiting for? Get creative and start making your own DIY whiteboard today!