Learn how to make drying racks with these 25 easy DIY drying rack ideas to optimize your laundry routine and efficiently dry clothes in a budget-friendly manner. These creative and functional DIY drying rack ideas for your laundry room include wall-mounted and foldable designs, suitable for small and large spaces alike. With step-by-step instructions, you'll be able to construct your very own DIY drying rack, customized for your needs, enhancing the overall organization and look of your laundry room.
These DIY drying racks consist of hanging racks, ladder racks, and even unique, star-shaped drying racks. By following these detailed DIY drying racks, you can make effective use of the available space while making an aesthetically pleasing drying solution.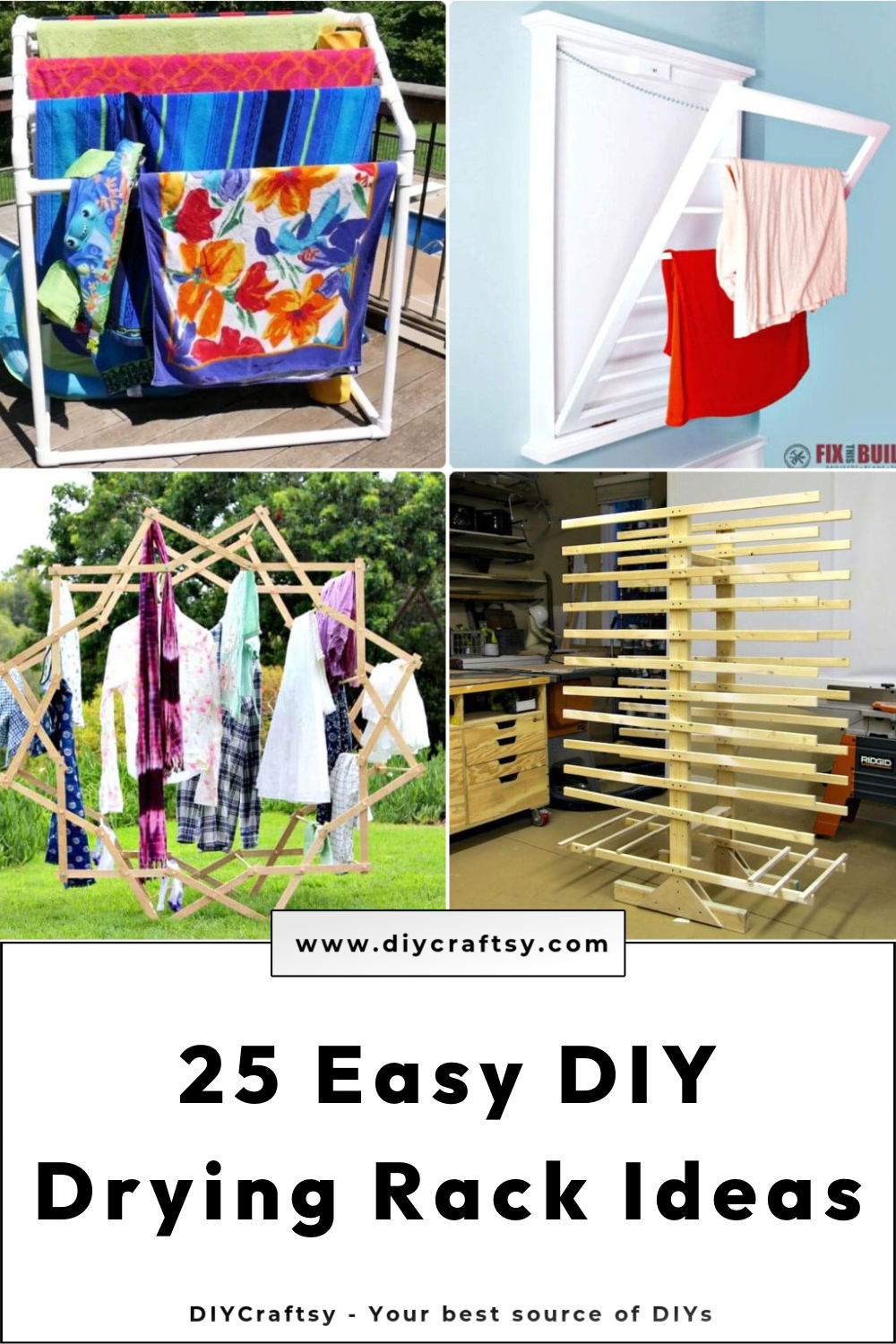 As you explore these DIY drying rack designs, gather your building materials and tools, and embark on a budget-friendly and rewarding home improvement project. Soon, you'll feel proud of your functional and stylish laundry room drying rack, handcrafted with your own skills and creativity. So, let's start building your perfect DIY drying rack today!
1. DIY Laundry Drying Rack
Reinvent your laundry routine with this robust DIY clothes-drying rack. Made from sturdy softwood and robust dowels, this affordable alternative offers a superior drying solution to flimsy, mass-produced alternatives. This design eliminates issues such as thin rods that can crease delicate fabrics, offering a higher-quality drying rack that's both budget-friendly and custom-built to fit your space.
This easy-to-follow guide includes measuring and cutting your materials, sanding for smoothness, and final assembly, ensuring your drying rack is a pleasing addition to your laundry routine.
Its practical yet appealing design offers a drying solution that promises durability without compromising aesthetics. Make the most of your laundry day with this simple and innovative project! dunnlumber
2. Make a Pulldown Hanging Drying Rack
Looking to maximize your laundry space? Make an effective solution with a DIY wall-mounted clothes-drying rack! Constructed from birch plywood, pine, and wooden dowels, this project replaces outdated plastic drying racks with a robust and sleek option that matches any décor. The rack incorporates a pulldown function and a dedicated sweater station, providing ample room for delicates.
Using tools such as a drill, miter saw, and orbital sander, this project is as engaging as it is practical. Enhanced with Minwax wood stain and Valspar black spray paint, the finished product exudes a professional touch.
Plus, the foldable feature allows for easy storage when not in use. So, gear up for a practical, space-saving solution with our comprehensive guide to building a unique wall-mounted clothes drying rack. brittanygoldwyn
3. Make Your Own Drying Rack
Discover space-saving solutions with our top DIY drying racks, perfect for small apartments and laundry rooms. Explore the convenience of this DIY movable drying rack for clothes, perfect for when outside weather conditions are unfavorable or you want an indoor solution. Built from millwork, the design incorporates adjustable dowels to accommodate bulkier items.
Ideal for those seeking a more sustainable way to dry laundry, it offers more drying space, mobility to catch indoor sunlight, and is foldable for easy storage when not in use. A handy solution for winter months or when you're just feeling too cozy indoors to step outside. Follow this tutorial to make your practical drying rack at home. themerrythought
4. DIY Crib Spring Drying Rack
Spruce up your indoor drying system with a repurposed crib spring! This DIY project utilizes an old crib spring, spray paint, zip ties, and eye screws, which serve as a versatile indoor drying rack after a quick renovation. The crib spring provides ample space to efficiently hang clothes, diapers, rags, or towels.
By painting the crib spring navy blue, you add charm to your laundry area and protect the spring from rust. The installation process is simple, using a drill and screw hooks to secure the crib spring to the ceiling.
A crib spring drying rack is perfect for all seasons, ensuring your laundry dries perfectly and adding a unique touch to your laundry area. Build your crib spring drying rack today! practicallyfunctional
5. Wall Mounted Laundry Drying Rack
Uncover the secret to a clutter-free laundry routine with this beginner-friendly DIY guide to building a wall-mounted drying rack! A smart solution for air-drying clothes, the rack reduces wastage caused by running small dryer loads, promoting sustainable living.
Made to fold into itself when not in use neatly, it takes up minimal space, maximizing your laundry area. It requires simple materials, including wooden dowels, frames, hinges, and eye hooks.
The guide provides a detailed process from cutting frames and dowels, assembling the rack, drilling holes for dowels, attaching hinges and crossbars, and finally mounting your masterpiece on the wall. A touch of waterproofing ensures the wood's longevity against damp clothes. Free up your guest room from clutter and make laundry day a breeze with this innovative drying rack! whatbbbuilt
6. Fold-Down Drying Rack With Building Plans
Breeze through your laundry tasks with a DIY fold-down drying rack! This sturdy, space-saving solution is perfect for those who are tight on the room or who want a neat, organized space. This easy-to-build drying rack can be created quickly using three 1″ x 2″ x 8′ common boards, three 1/2″ x 36″ dowels, and a few screws.
The guide includes drilling and cutting instructions, making the creation process as smooth as possible. Wood glue and screws secure the structure, ensuring your drying rack can withstand the weight of the wet laundry.
Want it flat or at a 45-degree angle? No problem! The hinge placements offer flexibility in design, meeting your specific needs. This fold-down drying rack brings functionality and efficiency into your laundry room today. It is built from durable materials and will withstand time, making laundry less daunting! pinchplateparty
7. Homemade Boot Drying Rack
Discover the practicality and ease of crafting your DIY boot drying rack, perfect for managing soggy footwear during rainy days. This unique project is facilitated by Ken Wingard, providing a useful solution for keeping your boots dry and maintaining their longevity.
The construction requires materials such as a 4 feet long wood, an 8 feet wood closet rod, screws, a drill, two mount brackets, glue, and paint. The procedure is straightforward:
Marking and drilling on the board
Inserting dowels
Securing with screws
Attaching brackets
A final touch of paint for aesthetics
This affordable DIY rack helps manage wet boots and adds a functional element to your home's organization. With good practicality and creativity, this boot drying rack project ensures dry and ready-to-wear boots, even in the rainiest weather. Craft it today for an organized and efficient boot storage solution. hallmarkchannel
8. Hockey Drying Rack
Looking for an inexpensive and functional way to dry your hockey equipment? You can easily make a DIY drying rack using only two 2x4s, a few leftover hockey sticks or 1x3s, and a small number of screws. This easy-to-build rack offers a neat and organized solution to keep your hockey gear dry, making it perfect for sports enthusiasts.
With the help of the free plan provided, you can tailor the height according to your preference. This project ensures you don't have to worry about wet gear anymore. Opt for this drying rack and enjoy the benefits of dry, organized equipment while making a functional piece for your home. ana-white
9. Handmade Star Shaped Clothes Drying Rack
Transform your laundry routine by building a functional and stylish DIY drying rack for all your drying needs. Get the beauty of functional geometry with a star-shaped clothes drying rack, an economical and aesthetically pleasing DIY project. Made from plywood and dowels, this innovative drying rack transforms your mundane laundry routine into a visual delight.
With only $18, you can make this expandable, star-shaped piece that impressively utilizes more drying space than traditional racks. It can extend longevity by sealing it with non-toxic exterior-grade paint or an Eco Wood Sealer.
It can be easily tucked for storage, making it a compact yet convenient addition to your home. Detailed instructions are provided for a seamless construction process, ensuring you'll have a rewarding experience making this unique and practical drying rack. apieceofrainbow
10. DIY Laundry Drying Rack Makeover
Revamp your laundry routine with a stylish DIY laundry drying rack makeover! This creative project transforms a standard drying rack into a chic home accessory, perfect for displaying freshly washed clothes.
You'll need a drying rack, high gloss spray paint in black, gold, and white, and a little time. Follow the easy instructions to build your own uniquely painted drying rack, adding a touch of sophistication to your laundry process.
Not only does this rack makes drying a breeze, but it also adds a pleasant appeal to your laundry room. Invest your time in this easy project and take pride in a more efficient and aesthetically pleasing laundry routine. stylishcravings
11. How to Make Cabinet Door Drying Rack
Maximize efficiency in your home by following these simple steps to make a versatile DIY drying rack. Dive into the DIY world with an innovative solution for your cabinet painting needs – a homemade drying rack. This budget-friendly drying rack, under $40, aids in managing multiple cabinet doors and drawer fronts during a kitchen remodel, ensuring a smooth, flawless finish.
Crafted from easily accessible materials, such as 1x2s and plywood, it is cost-effective and simple to assemble. The step-by-step guide takes you through the process, from cutting the wood and laying out the arms to the final assembly.
This drying rack design could be a game-changer for those embarking on similar renovation projects. Get ready to simplify your DIY journey and achieve impeccable results. rogueengineer
12. Creative Fold-Flat Drying Rack
Craft your space-saving, DIY fold-flat drying rack with ease! Utilize readily available materials such as 1 "x2″ boards, dowel rods, a short metal chain, and full-overlay hinges. You'll also require an electric drill, a 1/2" spade bit, and construction nails. The structure comprises two sections: an inner frame hosting the dowel rods and an outer frame for support.
Engage in the process by first making the inner frame using carefully measured and cut wood pieces. Following this, the dowel rods are modified and placed appropriately. The result is an effective, smart home solution for drying clothes or other items.
Unleash your inner handyman and make a functional piece that enhances your living space today! Creativity is the key to uniqueness; your finished drying rack will testify to your crafting skills. engineermommy
13. Easy to Make Ladder Laundry Drying Rack
Put an end to the mess of wet laundry around your home with an easy-to-make, fun, and practical DIY hanging ladder laundry drying rack. The drying rack is practical, and its aesthetic can add a rustic tinge to your home. Made from wood and sturdy wooden dowels and hung by chains, the rack offers a more unique and personal touch than conventional hooks or shower bars.
Detailed instructions direct you through the process, from arranging and drilling dowel holes to gluing the dowels and assembling your ladder. Add your creative touch by choosing a paint color that complements your home decor.
As easy as it is to build, this laundry drying rack provides a long-term, cost-effective solution for drying clothes, preventing them from shrinking and keeping your home tidy. Turn your laundry day into a more organized, easy-going experience with this ingenious drying rack. onecreativemommy
14. Simple DIY Hanging Drying Rack
Tired of cluttered laundry spaces? Learn how to make your own DIY drying racks for a more organized system. Spruce up your laundry routine with a DIY hanging drying rack that adds a touch of style and offers a convenient space for drying clothes. Constructed with inexpensive materials such as plywood, dowels, twill tape, and paint, this project gives a thrifty twist to a Pottery Barn-inspired design, all under $20.
Carefully cut, sand, and paint the materials to your desired specifications; attach the parts following the detailed guide, and your personalized drying rack is ready for use!
Perfect for adding an element of organization to your laundry room or home where space is premium, this drying rack is functional and collapsible for easy storage. Make your laundry chores enjoyable and easy with this project! sawdustgirl
15. Build a Beadboard Laundry Drying Rack
Add a dash of functionality and charm to your laundry room with a custom DIY beadboard laundry drying rack! Inspired by pricier versions from designer catalogs, this cost-effective and space-saving solution is ideal for air-drying delicates in a narrow laundry room.
Crafted from leftover tongue and groove boards, hinges, and a French cleat, this wallet-friendly alternative costs only about $30. Simple to construct with straightforward instructions, this drying rack doesn't, featuring a pleasing Serenity Blue shade, don't skimp on aesthetics either.
When not in use, it folds neatly, maintaining the streamlined look of your laundry space. This versatile laundry rack combines form and function, redefining your everyday laundry experience! jenwoodhouse
16. How to Make Clothes Drying Rack at Home
Unveiling an engaging way to maximize space while optimizing laundry room efficiency, this piece illustrates how to construct a DIY wall-mounted clothes drying rack. This simple yet efficient project incorporates dimensional lumber, dowels, and a ¼" plywood back to make a collapsible, convenient drying solution.
Following comprehensive, step-by-step instructions, you will learn how to build a drying rack ladder and a wall mount frame and install the necessary hardware.
Crafted with easy joinery, this drying rack serves a practical purpose and adds a rustic charm to your laundry room. Experience the satisfaction of handcrafted utility with this appealing DIY endeavor. fixthisbuildthat
17. DIY Fresh Herb Drying Rack From Picture Frame
Dive into upcycling with this practical and innovative DIY herb drying rack, a common thrift store find made from a repurposed wooden picture frame. By transforming this everyday object, you're reducing waste and making a unique and functional item for your home. The process is straightforward:
Prepare your wooden frame.
Apply some paint for durability.
Fit the window screen.
Add the hardware.
Your fresh garden herbs can now dry perfectly on your new rack, ensuring they're ready for culinary use anytime you need them. Remember, the frame size doesn't impact the function; it's all about repurposing and making with an eye for sustainability. Start your upcycling adventure today with this nifty drying rack! sadieseasongoods
18. Ballard Design Inspired Drying Rack
Elevate your laundry routine with a creative Ballard Design-inspired DIY drying rack crafted from repurposed crib parts. Starting with a simple box shape, this project skillfully incorporates a crib rail cut in half and attached to a beadboard backing. The rack is meticulously painted with Rustoleum Heirloom White for a sophisticated look.
Key features include a ribbon separator for maintaining the perfect gap between the rails and a unique fastening system using super-strong magnets. Due to its design, the rack provides ample space for drying clothes, even when closed.
This innovative project exemplifies the power of recycling and creativity, transforming a regular crib rail into a practical, stylish, and space-saving drying rack. Turn the mundane task of drying clothes into a delightful experience today with this fantastic project. myrepurposedlife
19. DIY Laundry Drying Rack – Step-by-Step Instructions
Breathe new life into your laundry routine with a custom-built DIY laundry drying rack, ideal for garments that require to lay flat to dry. Utilizing aluminum sheets, this creation is rust-resistant and perfect for facilitating airflow, ensuring your clothes dry quickly and efficiently.
It's easy to construct with simple plywood, some glue, and a handful of finishing nails. Designed with versatility in mind, the drying rack can be wall-mounted or equipped with makeshift legs, allowing you to adapt it to your space and needs.
It's a cost-effective solution that improves your laundry process, decluttering your space and speeding up drying times. Infuse convenience into your home with this innovative project today! 100things2do
20. Homemade Laundry Room Drying Rack
Explore a handy and budget-friendly solution to laundry with this DIY wall-mounted drying rack. Built from wooden dowels, pine, and beadboard, this drying rack is versatile and custom-designed for your laundry room. The rack is created using simple tools such as a drill and a saw, which makes this project accessible and cost-effective as compared to high-end, store-bought versions.
You can tweak the design to fit your space and preference by adjusting the dowel lengths and placement. Even though drilling holes for the dowels might seem challenging, it's easily achievable with careful guidance. The finishing process involves spray painting the assembled rack for added protection from damp clothing.
Complete your laundry room today with this homemade drying rack, making your laundry routine more convenient and efficient. This guide ensures you get a practical and aesthetically pleasing drying rack in no time! bloomingtonil
21. Clothes Drying Rack Using PVC Pipe
Build your own DIY PVC pipe foldable clothes drying rack with just a budget! This cost-effective solution will cater to your laundry needs, providing ample space for clothes to dry while ensuring a clutter-free environment. Essential materials include PVC pipes, PVC pipe cutters, and glue – that's all you need to kick-start this project.
The process is simple yet engaging, offering a unique opportunity to develop your DIY skills while constructing a functional household item. You'll appreciate the practicality and portability of this homemade drying rack. Its foldable nature ensures you can stow it away when not in use, maximizing your living space.
Remember, the main ingredient here is PVC pipe, the backbone of your new drying rack. Start your journey into DIY projects with this cost-efficient, practical, and functional piece that offers plenty of benefits. Your laundry routine is about to get a whole lot easier!
22. DIY Foldable Clothes Drying Rack
Save money and enhance your laundry experience with these creative DIY drying rack ideas for every household. Smarten up your laundry routine with a DIY foldable clothes drying rack. Constructed from three cedar 1x4s and wooden dowels, this versatile drying rack can effortlessly fold and store away when not in use. This ingenious design is perfect for air-drying clothes without a traditional clothesline and is especially handy for preventing your shirts from shrinking. The easy-to-follow process will guide you in making this practical addition to your laundry room, bringing an element of modern craftsmanship to your space. Elevate your clothes-drying process today with this functional and stylish project.
23. Handmade Clothes Drying Rack
A DIY clothes drying rack can help bring the sunshine indoors and make laundry days a breeze! This practical and compact creation addresses the issue of the lack of drying space in laundry rooms. The setup necessitates common tools and materials, such as wood, screws, and a drill, making it accessible for anyone to try.
After initial preparations, the building process follows simple, straightforward steps. The outcome? A functional, aesthetically pleasing drying rack that will not only serve its core purpose but also add a touch of minimalistic charm to your laundry room. The cost-effectiveness of this project also adds to its appeal.
Through this innovative project, you can harness your creativity, optimize your laundry room space, and enjoy the satisfaction of crafting a useful household item. Plus, the wooden texture of the drying rack can add a warm, rustic touch to your room's aesthetics. Try this project today, and transform your laundry day experiences.
24. DIY Wooden Clothes Drying Rack
Bring the sunshine indoors and hang your laundry on your DIY clothes drying rack! This functional drying rack uses easily available materials like 4.5×4.5 cm lumber. This wooden rack is economical and a space-saver, perfect for optimizing small laundry areas.
This tutorial provides step-by-step directions to build a sturdy and stylish drying rack at a minimal cost. The result is an eco-friendly and durable solution for drying your laundry, which doubles as a towel rack stand.
With the right tools and dedication, you can make this useful piece that adds a rustic charm to your home. Embark on this do-it-yourself journey today to reduce energy usage and enjoy the satisfaction of crafting your household fixture.
25. How to Build a Towel Drying Rack
Tidy up your pool area with a DIY PVC towel rack! This durable and practical creation can hold up to eight full-size beach towels, pool noodles, and floaties. Crafted from a 1-inch schedule 40 PVC pipe, this towel rack is easy to assemble using T-connectors, 3-way connectors, and 45-degree connectors. Remember to work in a well-ventilated area using PVC primer and cement, and always wear a safety mask and gloves. Follow the precise cutting and sanding instructions to ensure a smooth final appearance. With this innovative towel rack, you can say goodbye to clutter and hello to organized pool fun.
Conclusion:
In conclusion, exploring DIY drying rack ideas can help you find the perfect solution for drying clothes in your laundry room. From wall-mounted options to foldable designs, these creative laundry room drying rack ideas offer various styles to suit your needs. Embark on a DIY adventure with these 25 inspiring DIY drying racks, including crib spring racks, ladder laundry racks, and PVC pipe creations. Not only will you enhance your space's functionality, but you'll also add a touch of personalization that's both practical and stylish.