Light up your backyard or patio with these 25 DIY outdoor lighting ideas! These creative backyard lights are perfect for any outdoor space and add ambiance and charm to your evenings. From waterdrop solar lights and outdoor globe lights to rope lighting for landscapes, this list features diverse yet easy-to-follow DIY backyard lighting ideas.
Whether you prefer battery-powered fairy lights, tiki bar lanterns for instant mood lighting, or a solar light post made from 4×4 boards, there is an outdoor lighting design to suit every style and budget. Additionally, try your hand at making ice lanterns, hanging lights on garden gates, or recycling pallets into lights for a backyard oasis. Transform old jars into pendant lamps, create stunning paper lanterns, or explore the magic of glowing watering cans filled with fairy lights.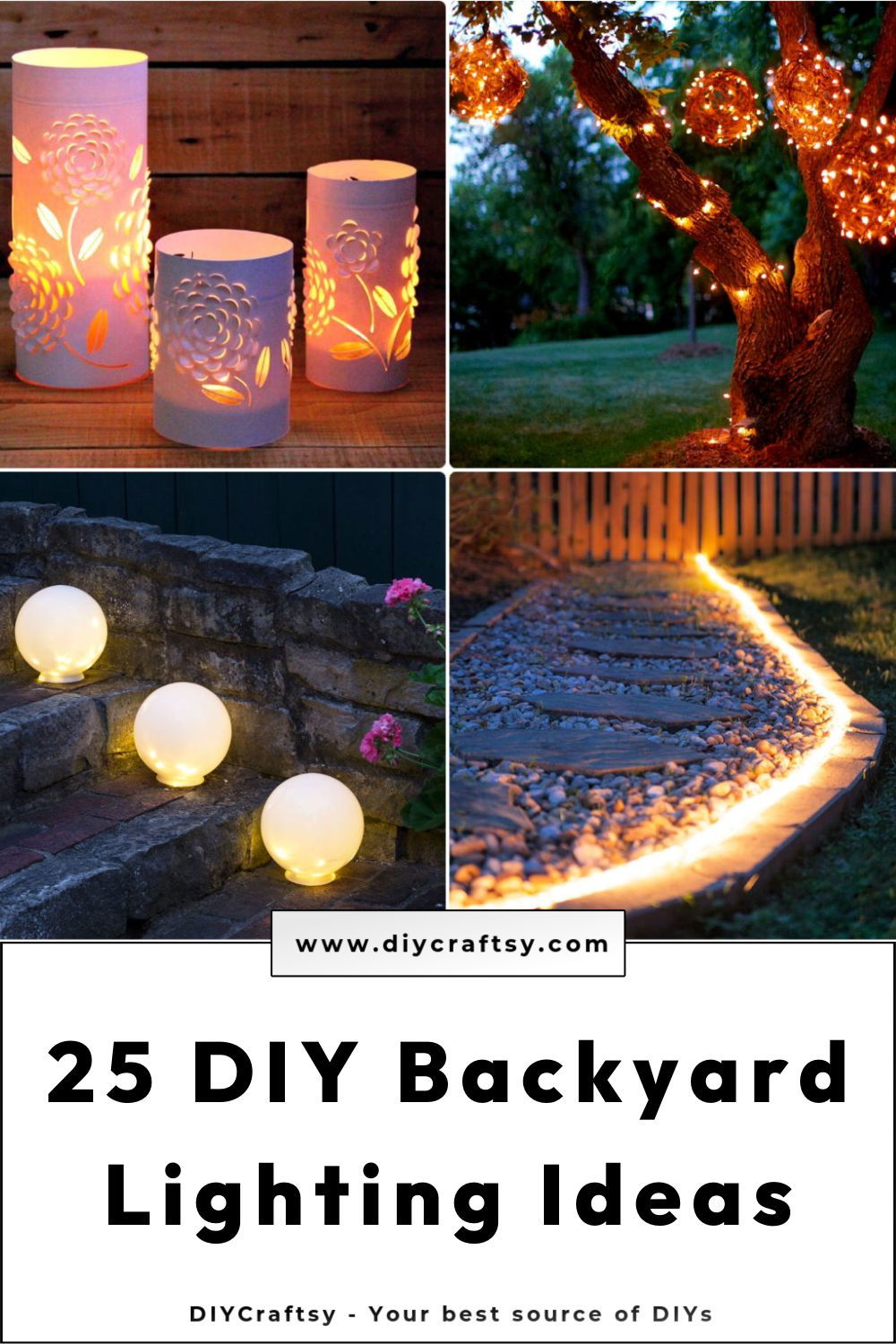 This comprehensive list of DIY outdoor lighting ideas offers something for everyone, providing step-by-step instructions and detailed guides for each project. These exterior lighting designs cater to both function and aesthetics, ensuring your outdoor space remains well-lit and inviting. So why not kick-start your backyard makeover by exploring these amazing DIY outdoor lighting ideas, and turn your backyard into a magical, illuminated oasis?
1. Make Your Own Waterdrop Solar Lights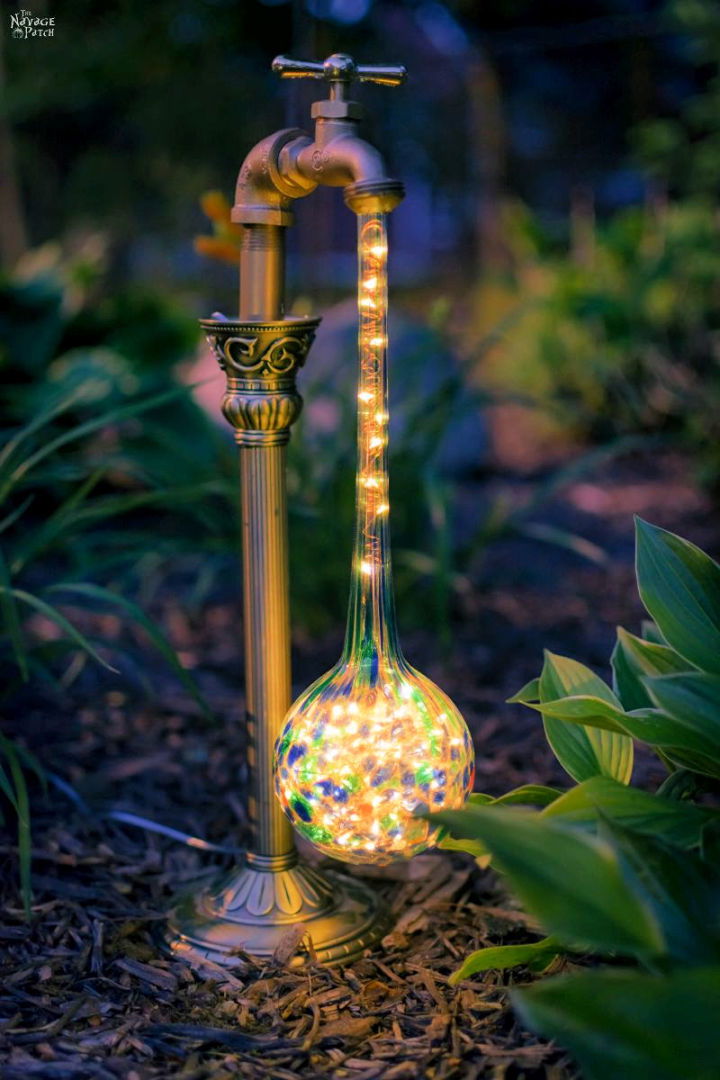 Elevate your outdoor living experience with these creative DIY outdoor lighting ideas, including pathway lights, pergolas, and illuminated water features.
Illuminate your outdoor space with your own homemade waterdrop solar lights in a few simple steps! Simply feed the lights through the pipe and pull them out nicely with a pair of tweezers. And then then insert the lights into the globe, and secure it to your spigot for an eye-catching light show.
This unique DIY project is perfect for anyone looking to add some soothing ambiance to their outdoor space without breaking the bank – watch as these beautiful sun-powered droplets twinkle all night long! So, create your very own stunning waterdrop light display today with this simple yet elegant lighting solution. thenavagepatch
2. Outdoor Globe Lights Tutorial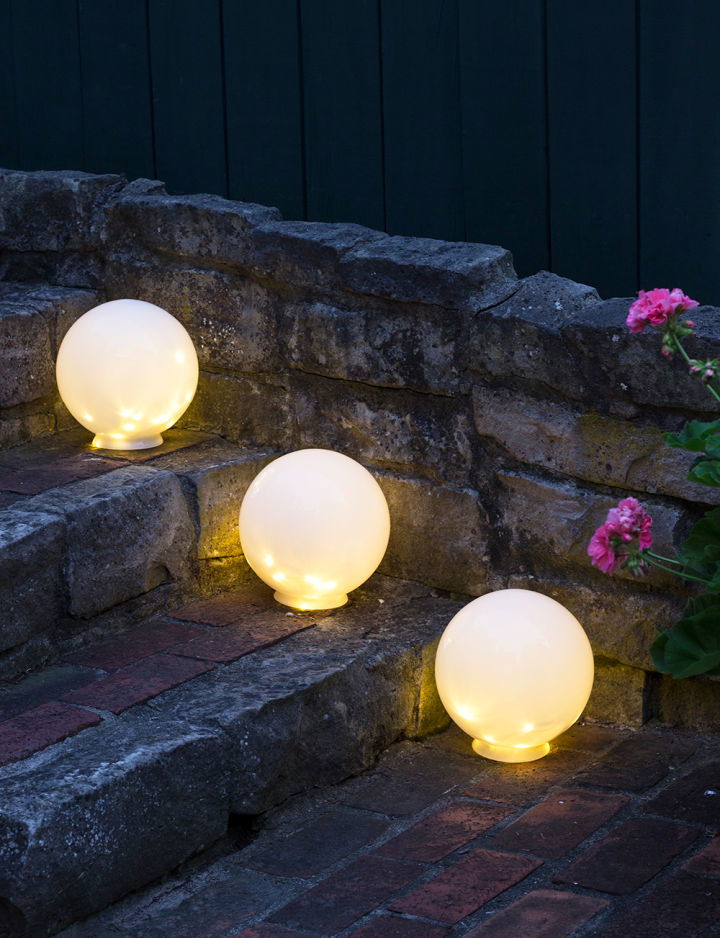 Unleash your inner designer with these unique outdoor lighting ideas, incorporating upcycled materials and artistic installations to create a captivating ambiance. Way to make your outdoor gatherings magical and beautiful with the outdoor globe lights tutorial. With just simple materials, including a glass globe, battery-powered string lights, and batteries, you can easily create your own outdoor party lighting. This tutorial will make it easy to hang gorgeous illumination around trees or in any other spot that needs extra charm.
You'll be quite amazed at how quickly you can bring starry night vibes into your backyard! So, get creative with this DIY backyard lighting idea and transform any outdoor space into an enchanting gathering place for everyone to enjoy. roomfortuesday
3. DIY Rope Light for Outdoor Landscapes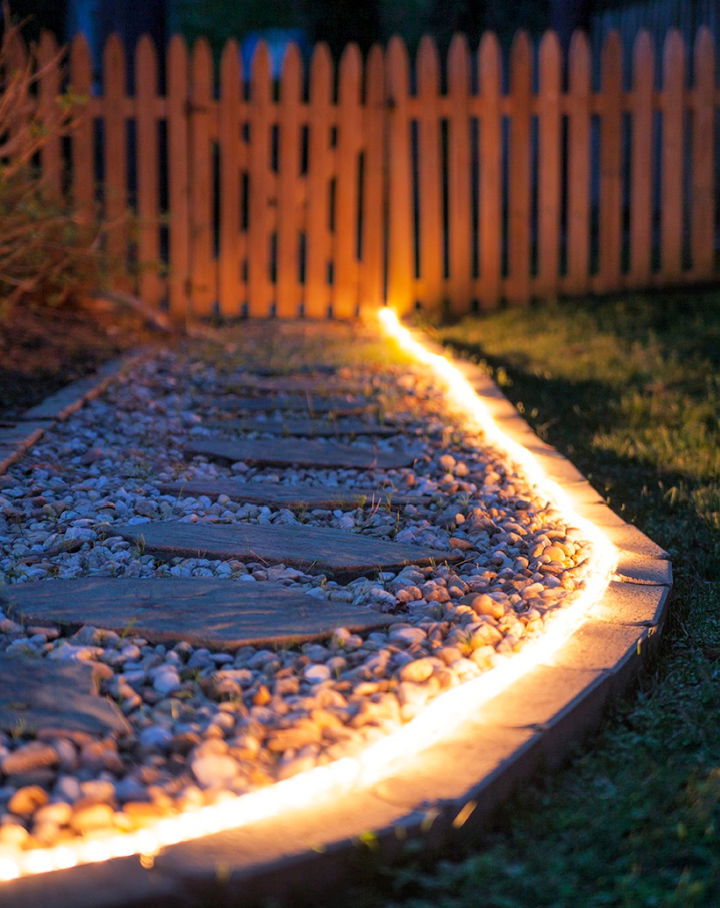 Discover easy DIY outdoor lighting ideas that not only enhance your home's exterior but also provide safety and security at night. Bring a feel of elegance to your outdoor landscape with this DIY rope light. It is the perfect choice for adding illumination and charm to your garden, patio, or porch. You can make these rope lights from durable materials that will easily withstand harsh weather conditions and have an IP44 waterproof rating.
But, above all, this ensures they stay bright even in rainy or snowy conditions, giving you long-lasting enjoyment of your outdoor lighting display. They also come in vibrant colors like green, blue, and red making them ideal for creative landscaping projects. You will need power cords, end caps, garden staples, and screw-in clips. christmaslightsetc
4. Battery-powered Fairy Lights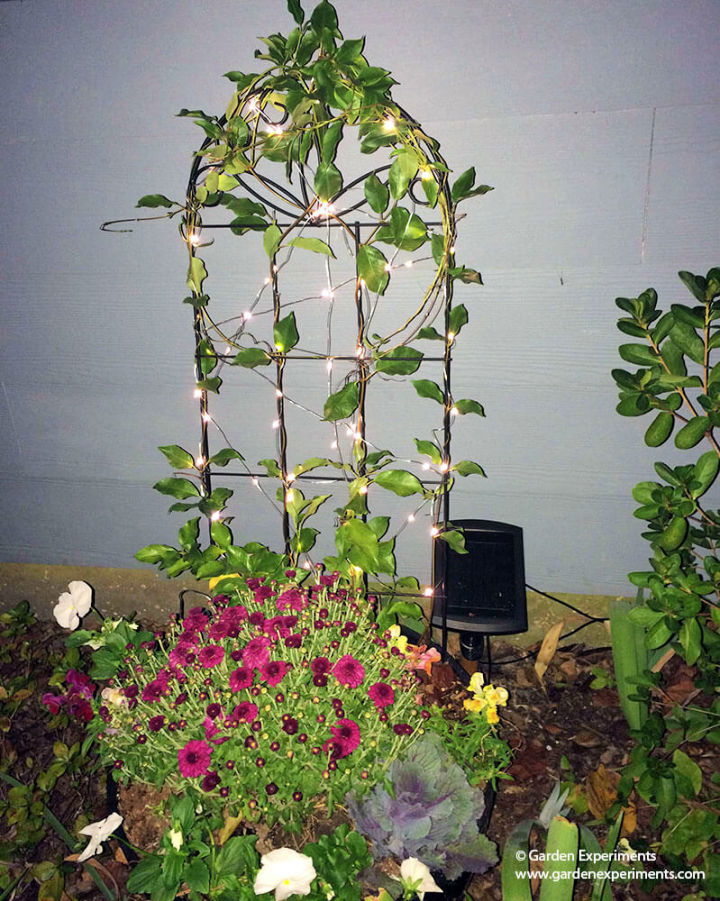 Light up your yard with these wonderful battery-powered fairy lights! Perfect for all sorts of outdoor decor, this 20-foot string of LED lights is attached to a thin metal wire that easily wraps around trellises and other features. You can manually control the lights or use the timer setting to let them run for 6 hours straight. So, brighten up any outdoor get-together or simply add a magical touch to your garden – these battery-powered fairy lights will always create a beautiful atmosphere! gardenexperiments
5. Make Tiki Bar Lanterns for Instant Mood Lighting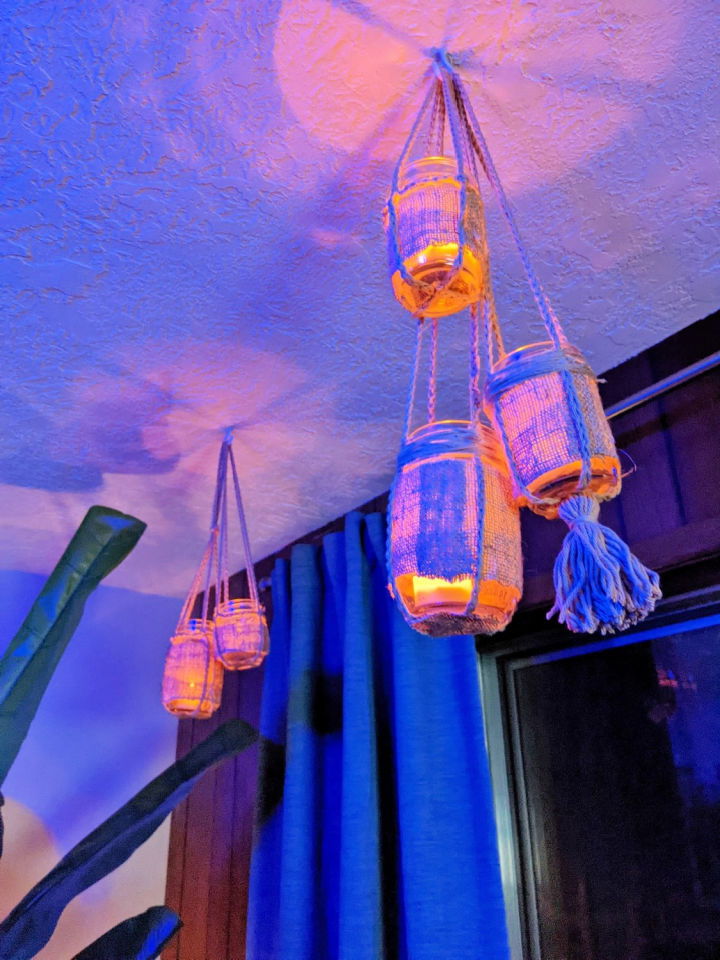 Bring the Tiki bar atmosphere to your home with these DIY mood-lighting lanterns! They are easy to make and will inject a tropical feel wherever you hang them. Gather mason jars, a hot glue gun, scissors, burlap, and cotton yarn or macrame cord for decoration. To turn on the light in your completed lanterns, use battery-powered LED candles with remote control. Don't forget ceiling hooks to hang them up – use a stud finder if needed for extra support. Make tiki bar-style lanterns now for an instant island vibe! hammerandahead
6. Inexpensive DIY Solar Light Post Using 4×4 Boards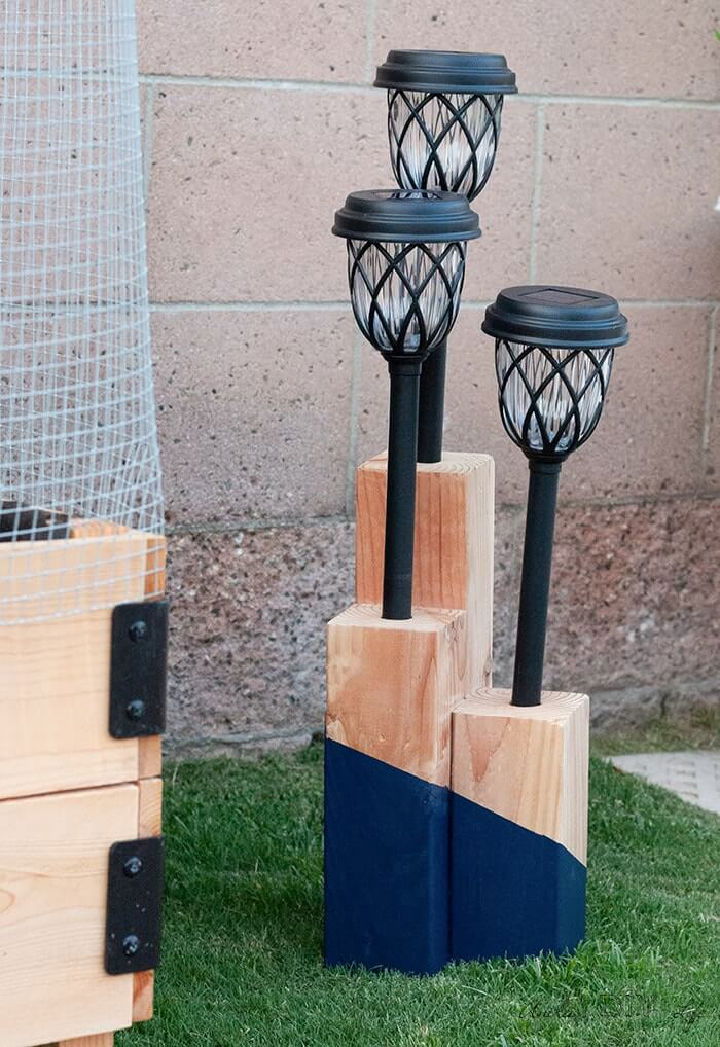 Lighten up your outdoor space with this inexpensive DIY solar light post made from 4×4 boards. This easy-to-make solar post is perfect for illuminating walkways, decks, backyards, and other outdoor areas. Its simple design requires no electrical wiring or tools – just some basic components like a board, drill bit, and screws.
With step-by-step instructions included in the guide, you can have your own lighting solution up and running quickly. Moreover, the post also offers guidance on adjustable heights so it can be adjusted to fit any area of your home's exterior. So, enjoy beautiful ambient lighting while saving on power costs with this great DIY project! anikasdiylife
7. Easy DIY Backyard String Lights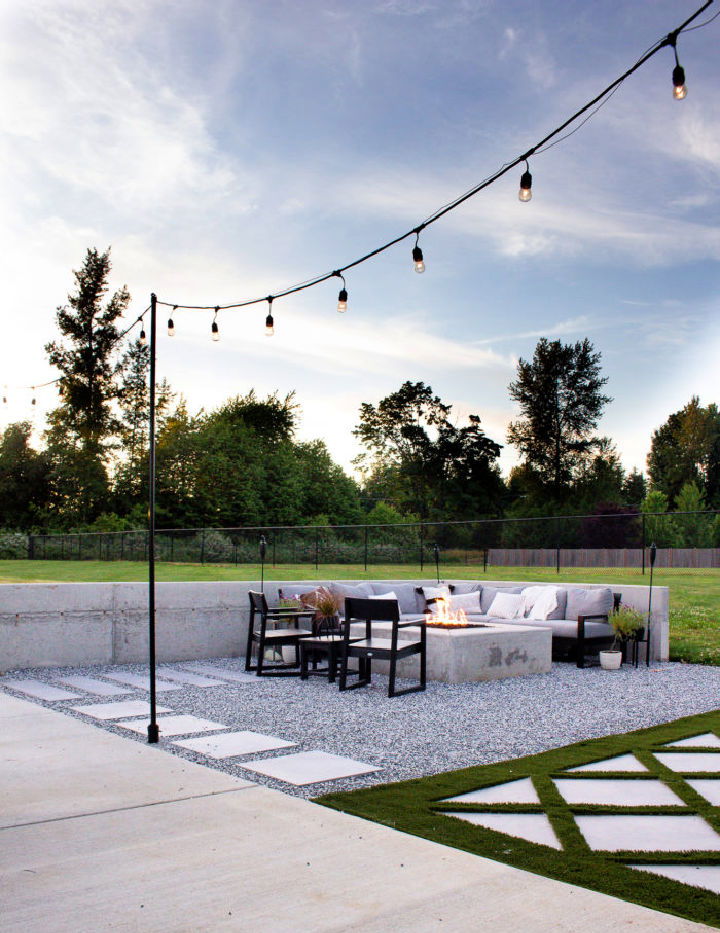 Transform your outdoor space with easy DIY backyard string lights! This hassle-free guide includes all details you need for a magical atmosphere in your backyard or patio. 10.5 ft long 17-gauge vinyl-coated steel chain link fence top rail easily attaches to no-dig ground anchors and is secured with Loctite adhesive. Then, connect industrial string lights using carabiners and black rail end caps spray painted for extra style points. Installing these beautiful lights couldn't be easier – add the ambiance of nighttime illumination to any outdoor space today! tarynwhiteaker
8. DIY Outdoor Lighting and Outlet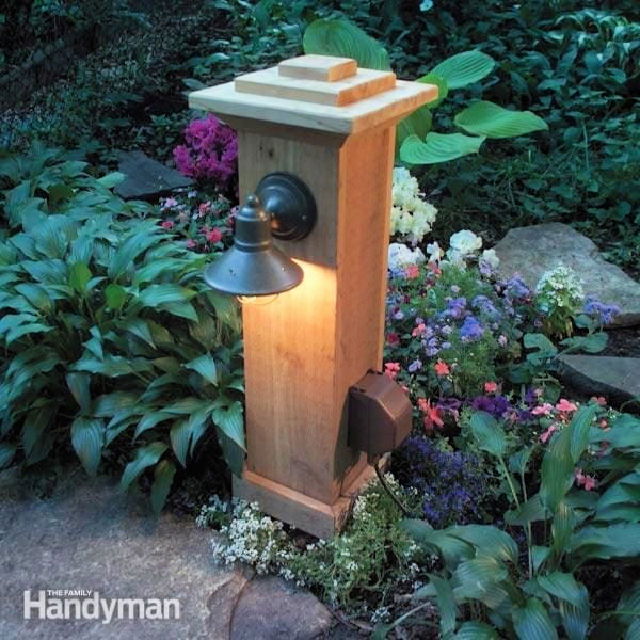 Mattock and trenching shovels are essential tools for DIY outdoor lighting and outlet projects. Mattocks have a sharp blade at the end of their long handle, which allows them to cut through tough soil quickly. They can also be used easily to dig holes for fixtures or outlets. Trenching shovels are designed with extra-large blades that fit into narrow trenches, allowing you to install cables along walls without having to worry about damaging existing wiring. Moreover, with these two tools, you can easily ace this DIY backyard lighting idea. familyhandyman
9. DIY Paper Star Lantern That Looks Like Metal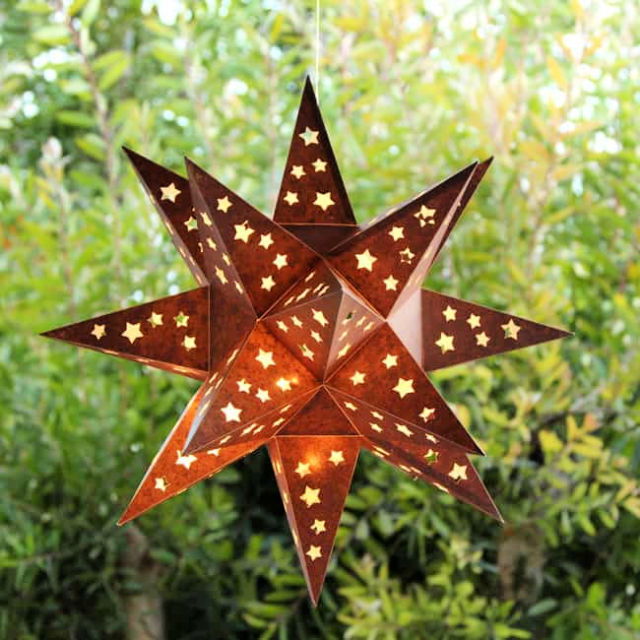 Bring a sparkle to any event with this easy-to-assemble Paper Star Lantern that imitates the look of metal. Constructed from the sturdy 110lb index card stock, these lanterns can be cut easily using a silhouette portrait/Cameo or X-acto knife and star hand punch. For illumination, use micro LED warm white string lights to give off a bright glow without being too heavy. To hang your lanterns, opt for a clear bead cord or fishing line before gluing pieces together. So, get creative with this DIY project today! apieceofrainbow
10. Battery Operated Patio String Lights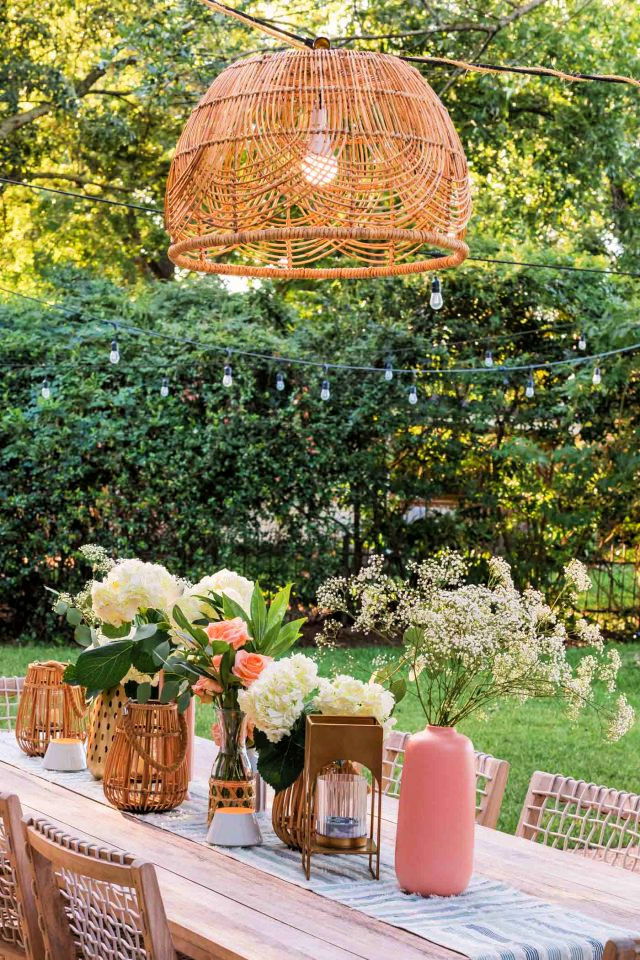 Explore eco-friendly outdoor lighting ideas that utilize solar power, LED bulbs, and energy-efficient designs to brighten your garden.
Enhance the beauty of your patio's space with this exclusive set of battery-operated patio string lights! This stylish and energy-efficient lighting system is made up of warm white LED light, zip ties, rope, eye hooks, and a basket made from synthetic rattan, bamboo, or plastic.
Brighten up your outdoor space without the need for cumbersome wiring or complicated installation. Enjoy entertaining family and friends in style with this perfect blend of convenience and sophistication. Get these unique patio string lights now to make your backyard the envy of all your neighbors. sugarandcloth
11. How to Make Ice Lanterns for Backyard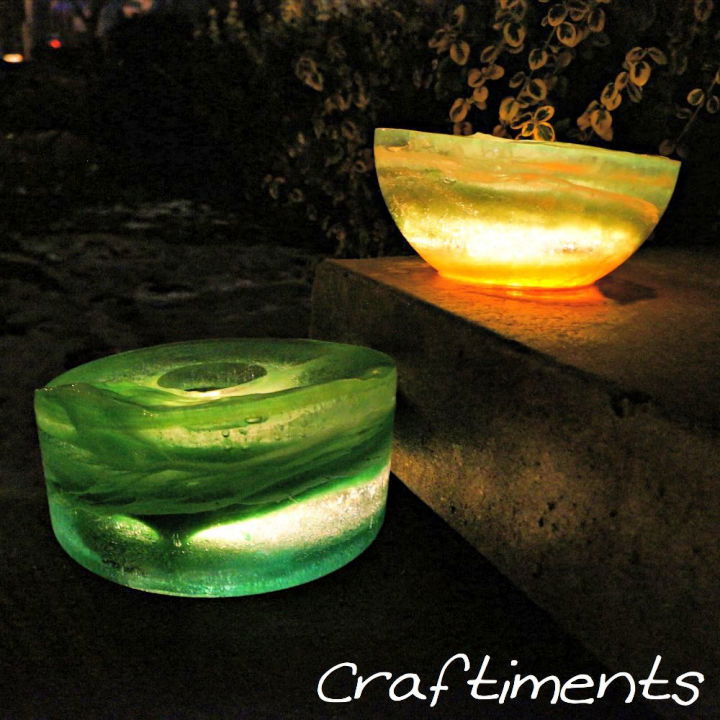 Put together a magical winter wonderland in your backyard with these DIY ice lanterns! All you need is a few large plastic containers, plastic cups, something to weigh the cups down (rocks or sand work well), water, and food coloring. After that, fill the large container halfway with water and add food coloring for extra fun. Place the weighted cup in, fill it with more water, and freeze overnight.
Once frozen completely, remove it from the larger container, and voila! You have an amazing ice lantern that will be just sure to make you feel like you are in a winter fairytale! craftiments
12. Hang Lights on Garden Gate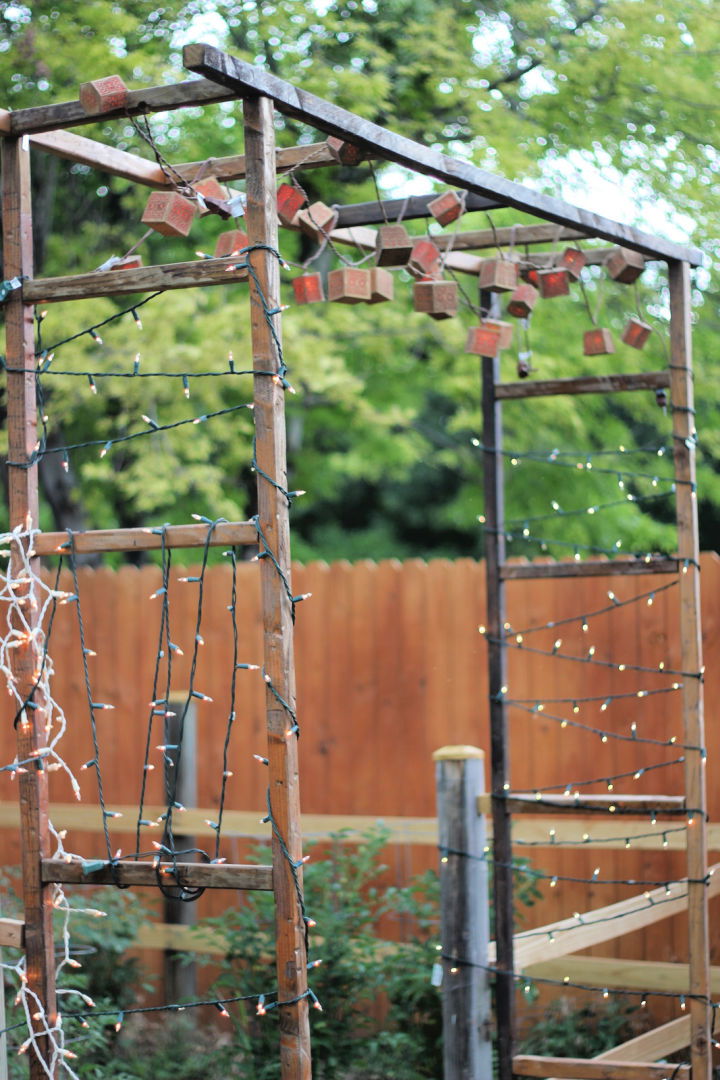 Enhance the beauty of your garden with hanging lights on the garden gate! Start by cutting three 2x4s into half to create your long posts. Use scrap wood to make a pile of 18-inch 'rungs.' For safety, sand all edges to ensure a smooth finish. So, get creative and experiment with various designs for lights and shapes when you hang them from the gate. However, make sure it stands out day or night in full glory, and add that extra charm to your home for an unforgettable experience! kojo designs
13. DIY Recycled Pallet Lights for Backyard Oasis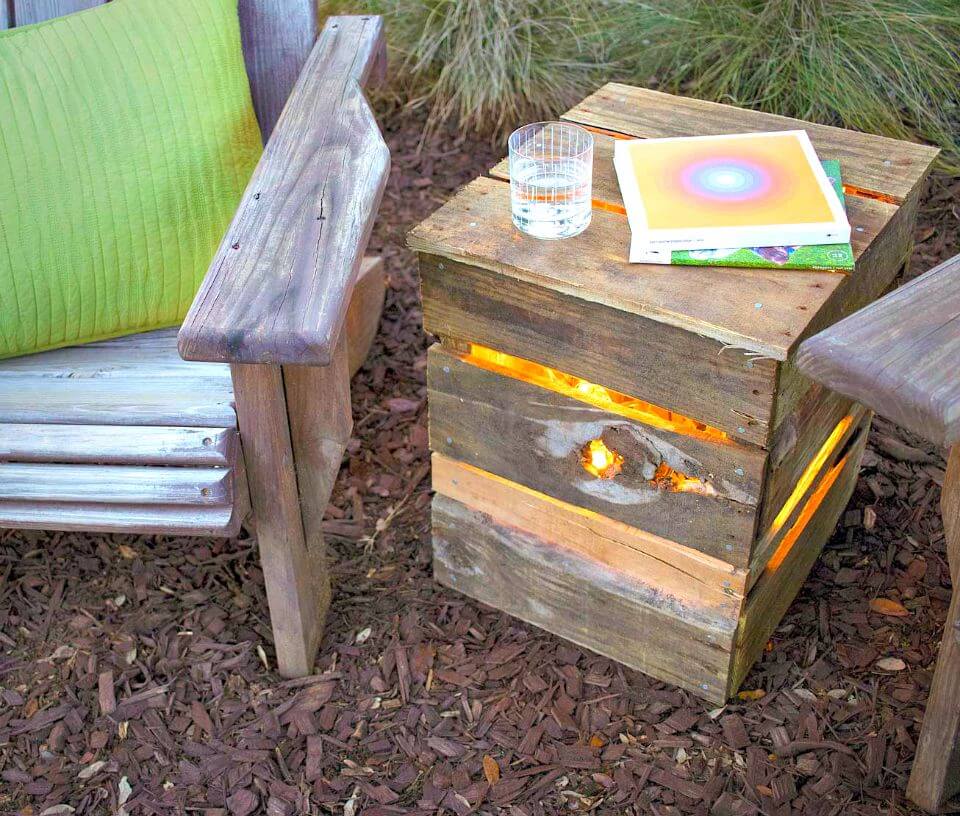 Construct a DIY backyard oasis with recycled pallet lights! Crafted from wood pallets, these battery-operated lights bring life and light to your outdoor area. Just nail the pieces together in a creative way using nails, and voila! You have an instant, rustic addition to your garden or patio. But, above all, these are perfect for barbecues, outdoor dining, or relaxing under the stars, these recycled pallet lights will take you a step closer to achieving your perfect backyard oasis. So, get started now and start creating yours today! fiskars
14. Old Jars to Functional Pendant Lamps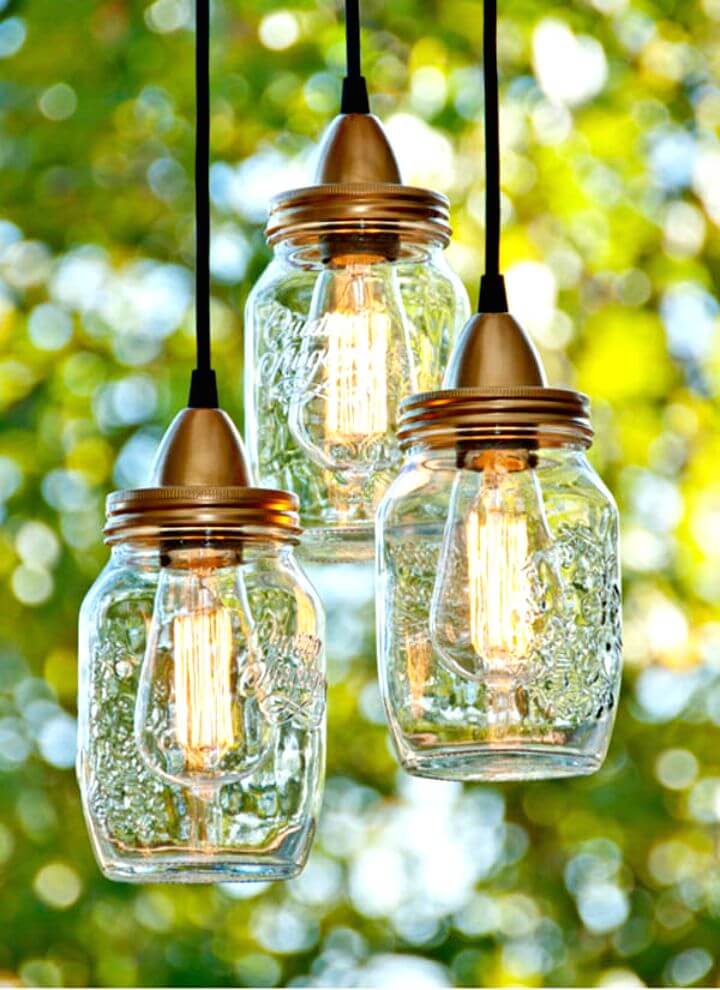 Do you have some old glass jars sitting in your attic? Why not turn them into beautiful pendant lamps? With just a few materials like light bulbs and electrical wiring, you can create stunning pieces of artful décor.
This selection of quality supplies makes it easy to transform any jar from ordinary to extraordinary. But, above all, get creative with our various colors and sizes of glass jars, light bulbs, cords, and more – each one designed to help bring out the best lighting effects for your home or business. So, make the most of those old jars and take advantage of these helpful resources today. decoist
15. How to Make Grapevine Lighting Balls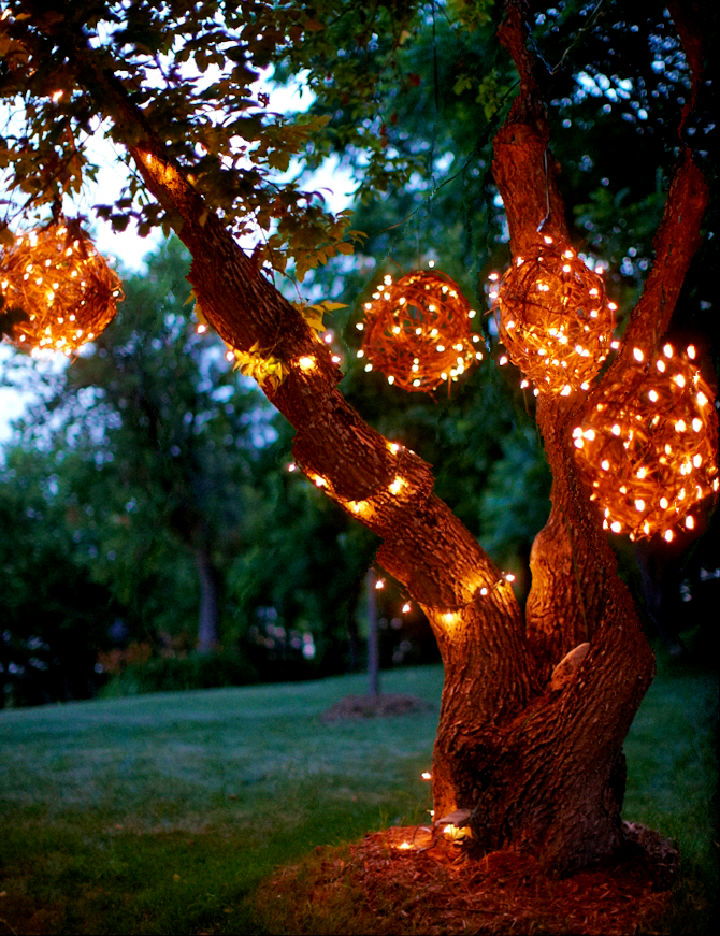 Transform your backyard into a cozy retreat with these stunning outdoor lighting ideas, ranging from string lights to solar lanterns. Enjoy a festive sparkle to any event or holiday season with grapevine lighting balls.
All you need is floral wire, wire cutters, and beach balls. Firstly, cut the floral wire into small pre-cut pieces (about 30) to wrap around each ball in a spiral pattern. Secondly, secure the ends of each piece to finish your grapevine lighting balls, and hang them from a pole or tree branch for an enchanting outdoor display!
Finally, bring light and good cheer to your home this season with a homemade DIY backyard lighting idea. lynneknowlton
16. DIY 3D Paper Flowers Lanterns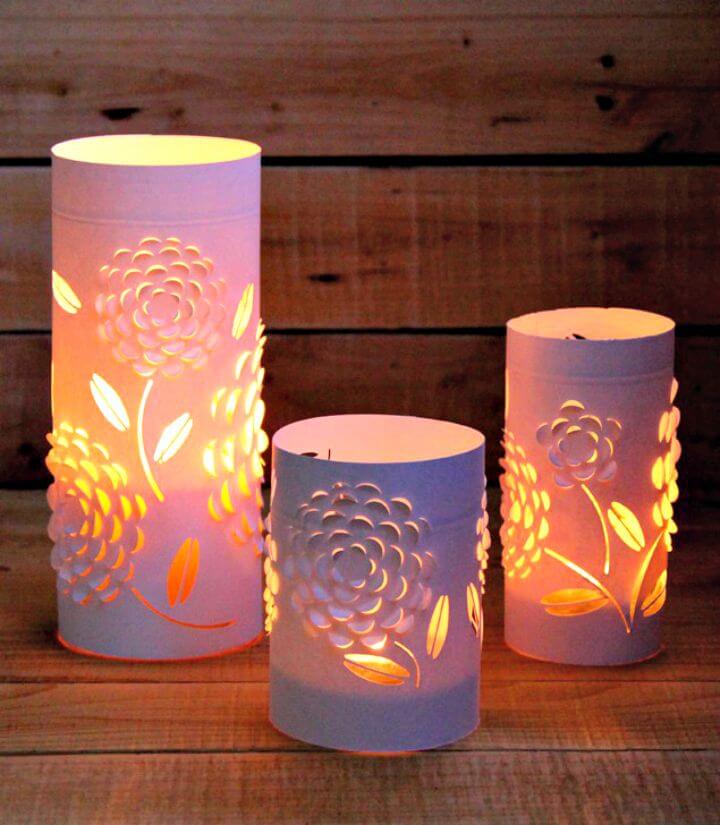 Get creative and create your own DIY 3D paper flower lanterns with ease and in no time! All you need is a glass vase or drinking glass, such as cylinders or cubes from the Dollar Store, double-sided tape, LED candles for light up, and paper. With the silhouette portrait machine, these 3D paper flowers look beautiful all around the house. So, create unique and stylish lanterns that will surely impress family and friends with this fun project in just one night! apieceofrainbow
17. DIY Starry Lights for Starry Nights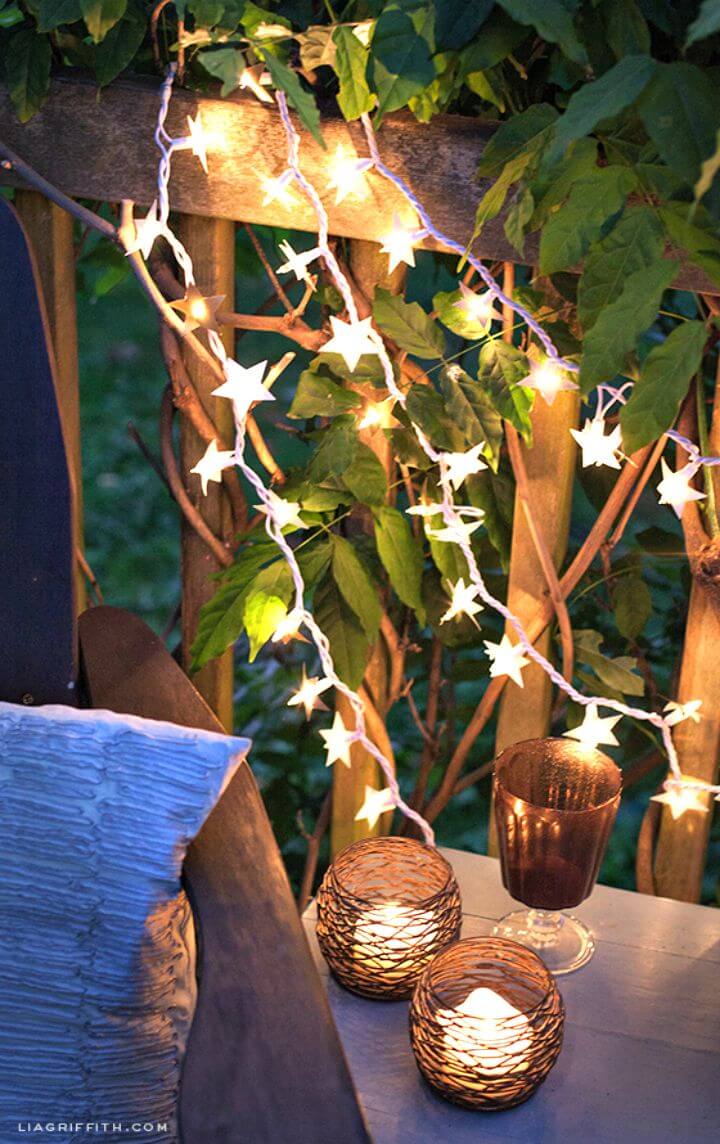 Change your space into a starry wonderland with these easy-to-install starry lights! Using either metallic text weight paper or cardstock, you can transform any room into an illuminated starry night. With simple tools and supplies, like thread, scissors, and glue, these stars will provide beautiful ambient lighting perfect for any special occasion or just add a cozy touch to your bedroom. The possibilities of crafting worlds are endless with do-it-yourself starry lights! liagriffith
18. Make Glowing Watering Can With Fairy Lights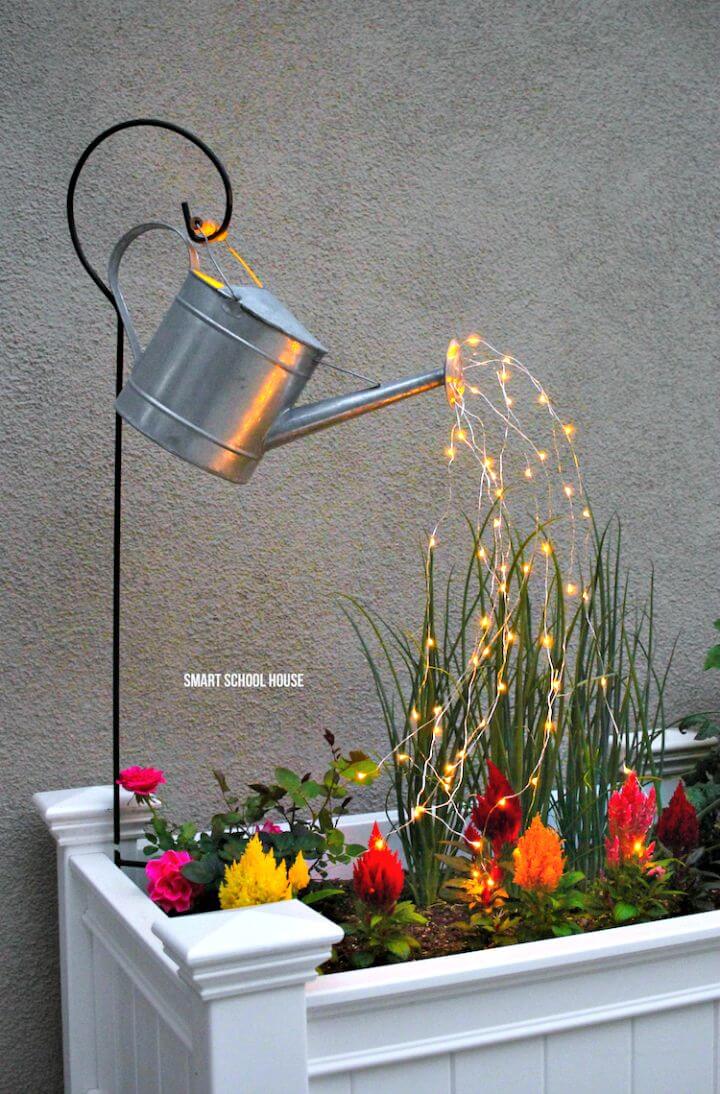 Add some sparkle to your garden with this creative DIY project – make a glowing watering can! This simple and easy-to-follow tutorial shows you how to use fairy lights, Shepard's hook, and a screwdriver. All you need is an old metal watering can, and within minutes, it will be transformed into something magical for your garden. Let the string lights glow through the night beneath the stars while your plants get watered by moonlight. So, with this unique craft project, you can create something special that will light up any outdoor space. smartschoolhouse
19. How to Make Outdoor String Lights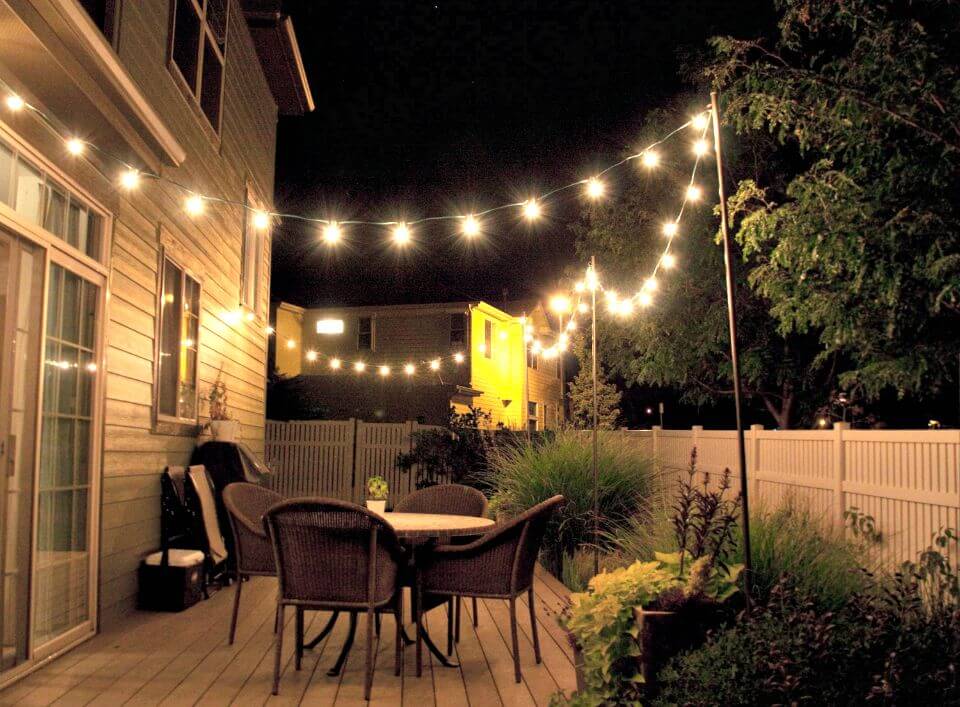 From fairy lights to pathway illumination, these backyard lighting ideas can elevate your outdoor décor while also increasing safety and security. Light up your backyard with the warm glow of these easy-to-install outdoor string lights, creating a soothing and inviting atmosphere.
With just three 10-foot pieces of electrical conduit, pipe straps, and end caps, you can secure them into the ground by burying plastic piping. Follow this guide for stepwise instructions on how to assemble and install your own DIY outdoor string lights to make any space more inviting. So, let the warm glow of light illuminate your yard while adding a touch of class to an evening gathering or intimate dinner. brightjuly
20. Metalwork Hurricane Lantern Ideas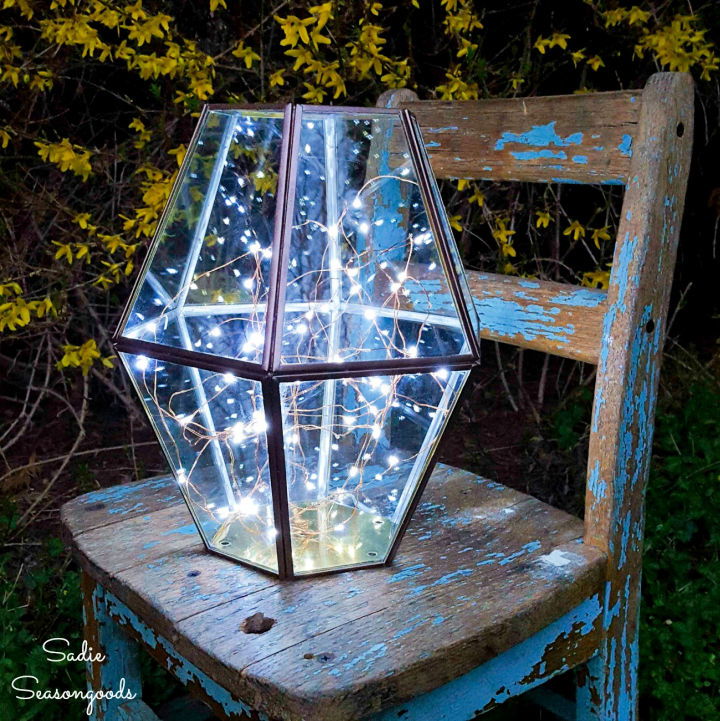 Brighten up your home with stylish metalwork hurricane lanterns. Whether you're looking for an outdoor oasis or just add a bit of extra light indoors, these elegant pieces offer a unique and timeless style that can't be matched. With intricate designs crafted from high-quality iron, brass, and copper materials, these metalwork hurricane lanterns will bring character and sophistication to any space.
Moreover, from hanging styles perfect for porches and patios to tabletop versions great for living rooms or dens, choose the design that fits your home décor best! So, discover eye-catching lighting options that last through every season with our collection of metalwork hurricane lantern ideas today. sadieseasongoods
21. Pretty DIY Backyard Rope Light Sign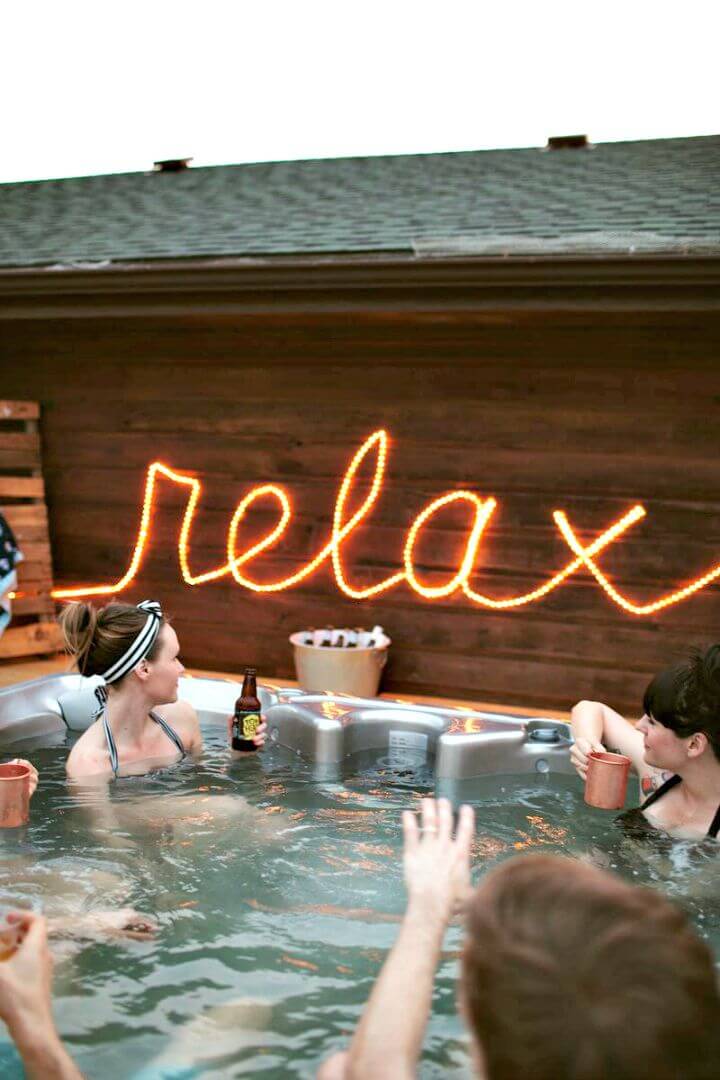 Transform your backyard into a beautiful and creative space with this easy DIY rope light sign! All you need is an outdoor rope light kit, some nails, string or thread, and a few simple tools. Start by measuring the area where you want to hang your sign. Nail it carefully onto the wall at even intervals – use a level for extra accuracy. Once all of the nails are set in place, wrap the rope lights around them in any pattern that inspires you! Finally, connect to an outdoor switch (optional) for ease of turning on and off. Enjoy your new backyard art! abeautifulmess
22. Make Your Own Aluminum Lanterns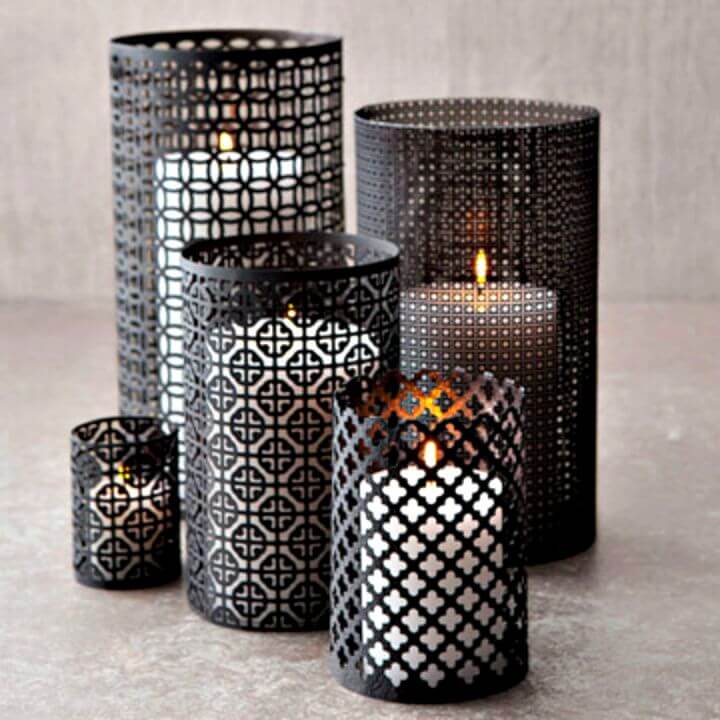 Hang a unique statement piece for your home with make-your-own aluminum lanterns. Easily make lanterns using perforated metal sheets or upcycle them from used radiator covers. With 20 gauge wire, flat pliers, tin snips, and fine sandpaper, you can craft these stylish pieces in no time. Finish off the look with spray paint and place your beautiful handmade lantern anywhere around the house to give it additional character. So, add an eye-catching design to any room with a custom-made aluminum lantern! ruffledblog
23. Easy DIY Tin Can Lanterns for the Backyard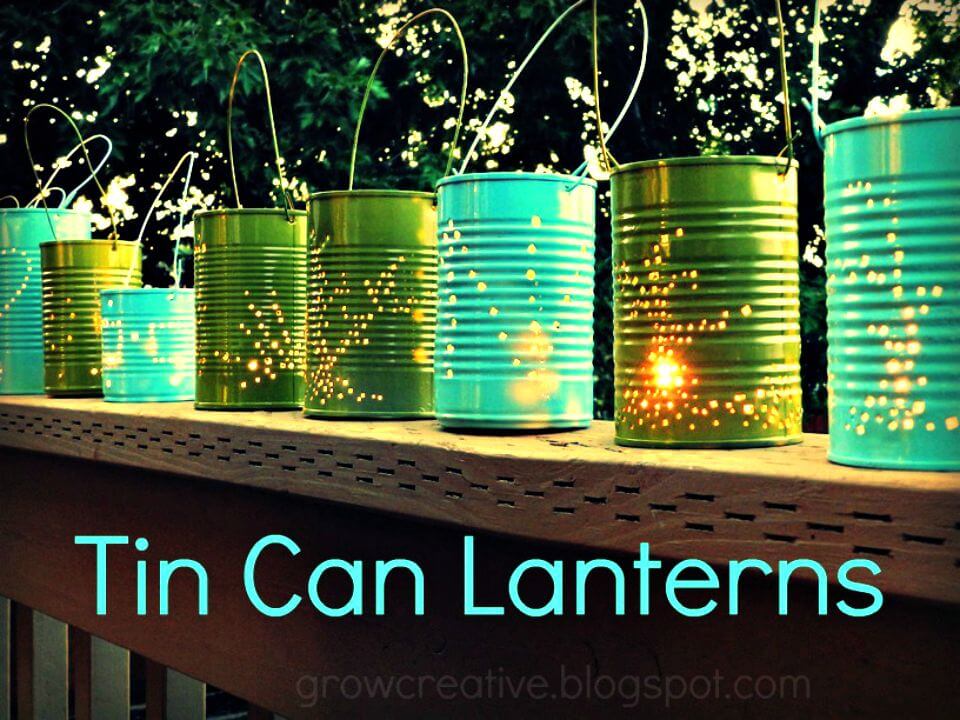 Illuminate your outdoor oasis with these stunning backyard lighting ideas, ranging from simple string lights to elaborate landscape installations. Turn everyday recycled tin cans into unique, beautiful lanterns for your backyard! With just a few supplies and steps, you can easily create DIY tin can lanterns that will turn your outdoor space into a warm and inviting space.
First, use the hammer and nail to poke holes in the design of your choice. Then use baling wire to attach a handle and lid together if desired. Next, spray paint the tin can with any color you choose, or leave it natural for an industrial look.
Lastly, insert a tea light candle or mini LED candle to give off soft lighting when night falls. So, just create one special lantern for yourself or multiple ones as gifts – they make lovely decorations no matter what! eliseenghstudios
24. DIY Backyard PVC Pipe Lights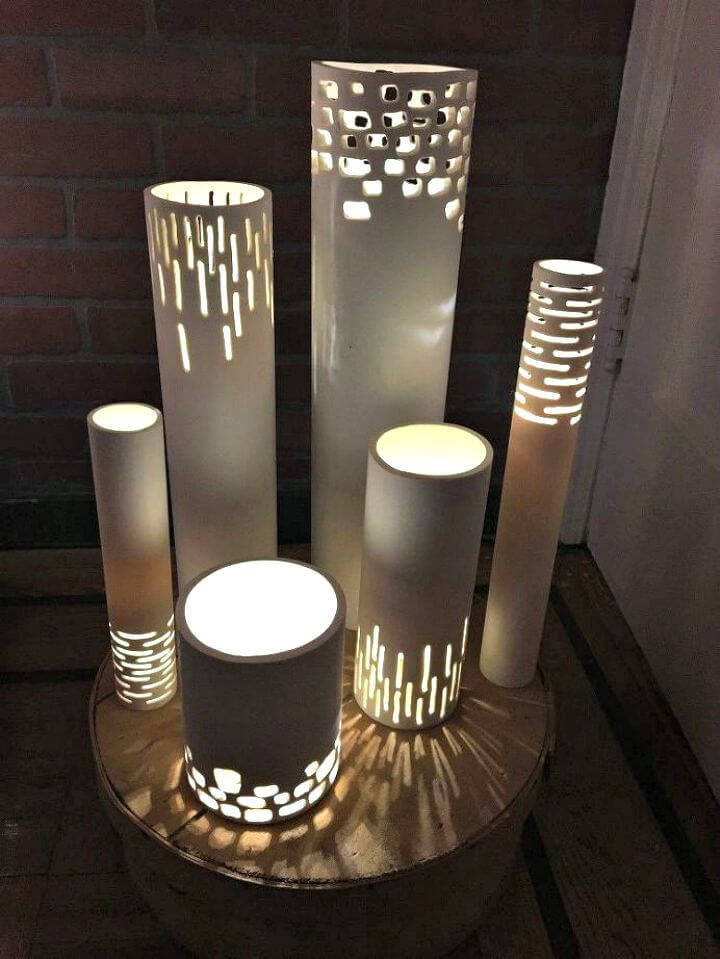 Upgrade your backyard with custom DIY lights made from PVC pipe! With a few simple steps, you can create unique lighting fixtures that will look great in any garden. First, use a hacksaw to cut the pipes to the desired height. And then use a sander to sand down any rough edges on the ends of the pipes.
Secondly, draw out your design using a sharpie, and finally, carve it out slowly with your rotary tool and an appropriate carving tip for whatever shape you are looking for. Finally, make one lamp or multiple lamps – let your creativity shine through! So, create light fixtures that are truly unique, and make them yourself with PVC pipe DIY backyard lights! hometalk
25. Stone Light Waterproof Led Backyard Light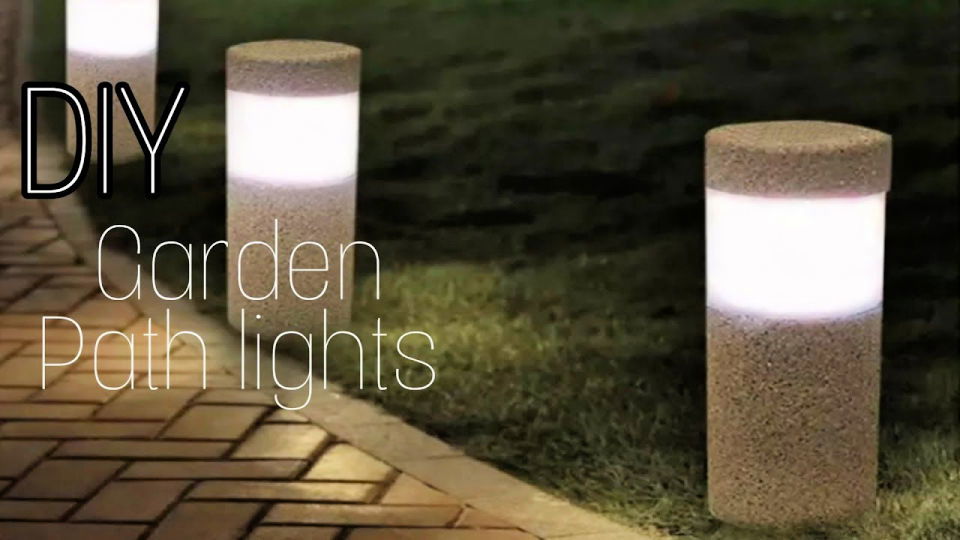 Explore various backyard lighting ideas to enhance your patio, garden, and outdoor living spaces, making them perfect for entertaining or relaxation Enhance your outdoor living experience with this stone light waterproof LED backyard light. This DIY light is certainly perfect for adding a stylish touch to any garden, landscape, yard, lawn, or path.
Moreover, made from waterproof material and featuring an LED lighting system, it's durable and long-lasting for use in all types of weather conditions. But, above all, enjoy the beauty of natural stone combined with modern technology by installing this easy-to-use lamp today! So, brighten up your backyard space and enjoy timeless style with this DIY backyard lighting idea.
Related DIY Projects to Make:
Conclusion: