Learn how to build an outdoor sofa with these 25 free DIY outdoor couch plans, including step by step instructions and videos. These free diy outdoor sofa plans will transform your backyard or patio into a comfortable and stylish space, perfect for lounging and enjoying the outdoors. From simple designs made using 2×4 patio furniture to more intricate outdoor sofa plans, this collection offers various options for all skill levels.
Whether you're building a wooden patio sofa, a homemade outdoor sectional couch, or just learning how to make a porch sectional couch, these outdoor sofa plans ensure that you'll end up with a beautiful and functional piece of DIY furniture.
Enhance your outdoor living area with these DIY outdoor couch plans, all designed to maximize comfort and style. Each plan includes essential information on materials, tools, and woodworking projects, perfect for beginners and seasoned craftsmen.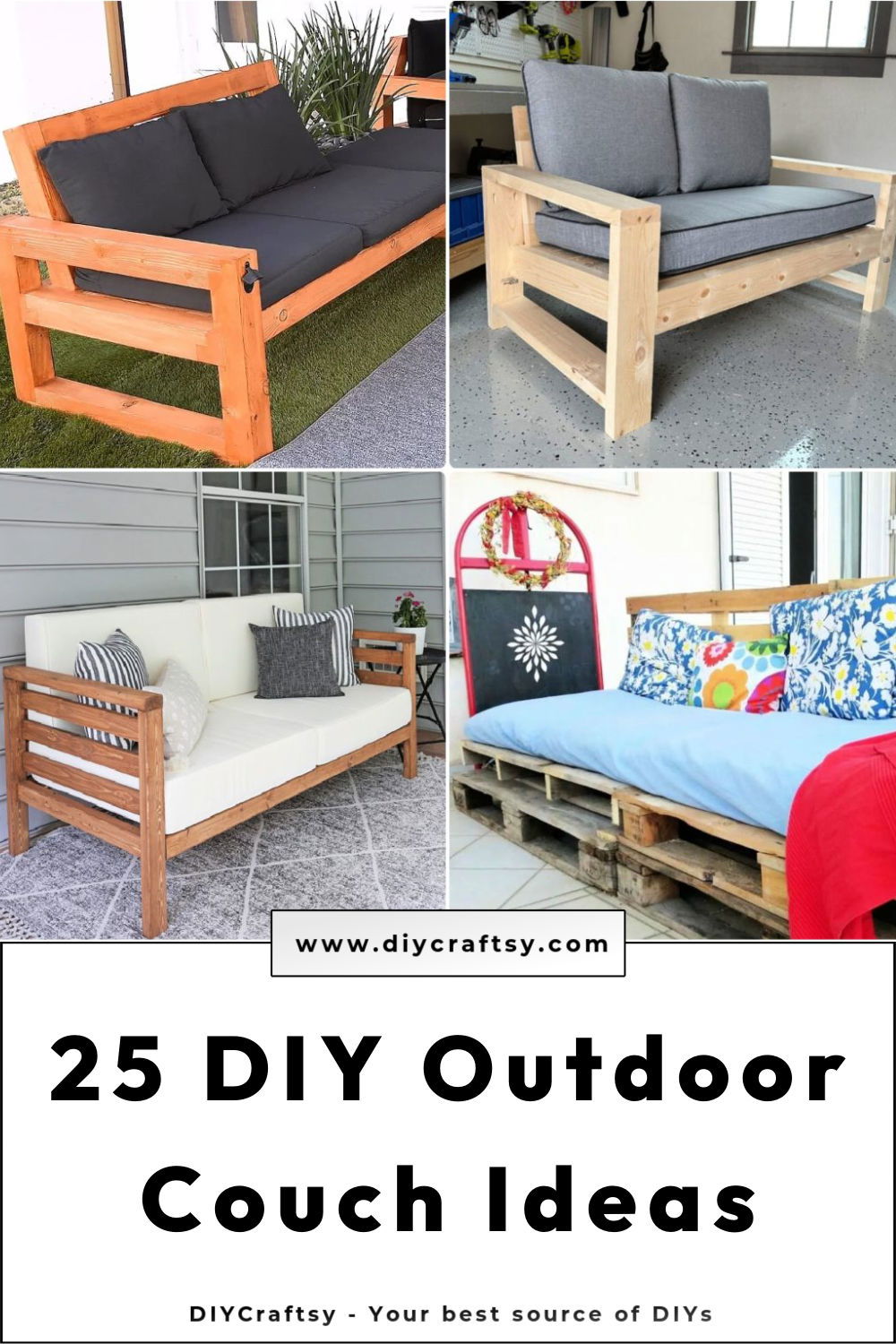 Get started today on your building an outdoor couch and enjoy the fruits of your labor as you relax and entertain on your new outdoor couch. Don't forget many of these DIY outdoor couch plans can also double as impressive and thoughtful gift ideas for friends and family. So, grab your tools and build an amazing DIY outdoor couch or sofa!
1. DIY Wooden Patio Sofa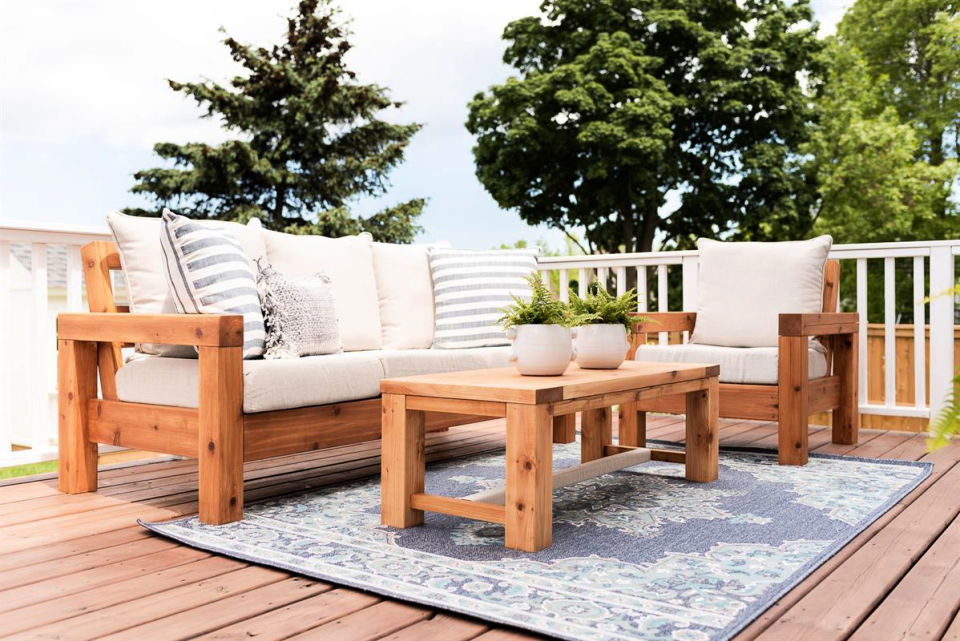 Reinvent your patio with a chic DIY outdoor sofa with a modern and sophisticated design. Skillfully crafted from cedar, this seating arrangement can be fitted with standard 24×24″ outdoor sofa cushions for the utmost comfort. You can also explore matching chair and coffee table plans for a cohesive outdoor setup.
To start, gather the necessary materials, including cedar boards, cedar posts, cedar deck boards, a hardwood dowel, blue-kote pocket hole screws, waterproof wood glue, sandpapers, a penetrating oil stain of your choice, and deck screws.
Furthermore, 24″ X 24″ bottom and back cushions will add a plush finish to your sofa. This project is categorized under a moderate difficulty level, calling for some experience in building. So turn up your sleeves, get creative, and give your patio a fashionable revamp with this outdoor sofa plan! learnkregtool
2. Homemade Outdoor Sofa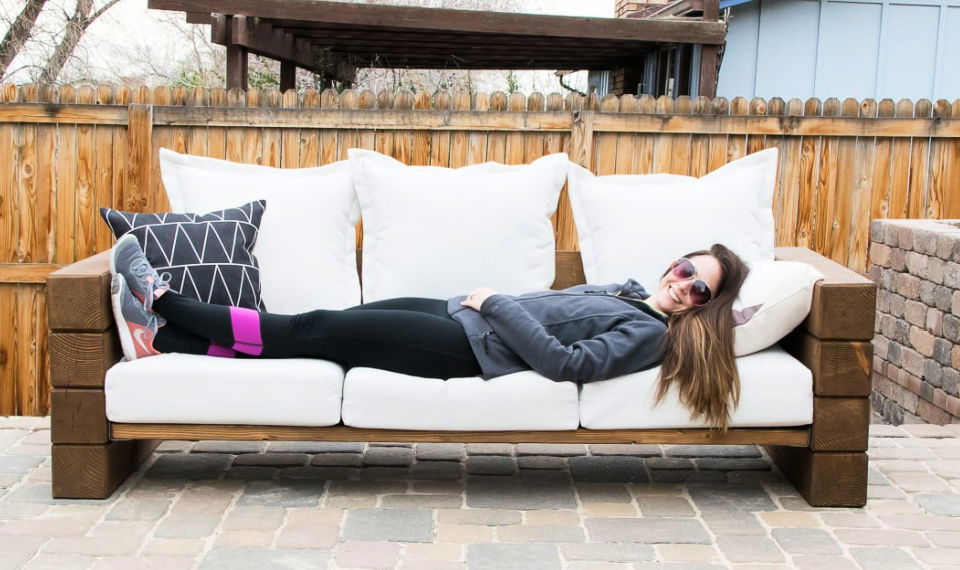 Leap into the DIY scene with a project to construct a stylish and sturdy outdoor sofa. With creativity and some essential tools, you can replace your old patio furniture with a personalized, robust, and aesthetically pleasing piece. This project involves cutting, sanding, and beveling wooden blocks, followed by a thorough staining process to seal the wood for weather resistance.
The laborious process pays off with a finished sofa boasting a bespoke design, perfect for those who prefer handcrafted over store-bought pieces. Cushions and back pillows complete the look, offering both comfort and style.
With a modest budget and a commitment to craft, create an outdoor oasis that reflects your unique taste. Remember, this endeavor demands time and patience but promises an attractive and functional piece of furniture that bears the test of time and weather! garrisonstreet
3. Outdoor Wooden Couch Design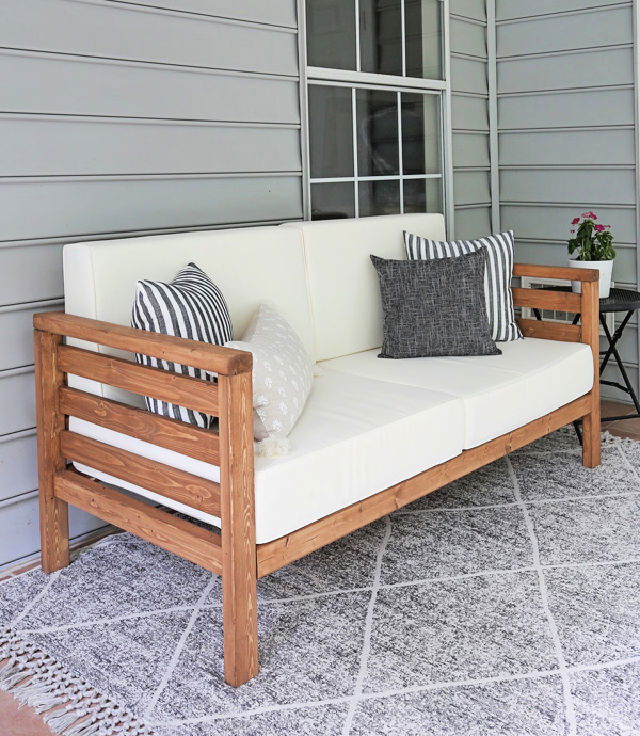 Construct a stylish and affordable outdoor couch with this DIY tutorial! Learn how to create a cozy seating area for your sunroom or patio using inexpensive materials and simple tools. The step-by-step instructions and free printable build plans make constructing this budget-friendly outdoor furniture piece easy.
With only $45, including lumber and exterior stain, you can enjoy the comfort and charm of a custom-made couch. Complete the set with matching chairs, tables, and a dining table. Get creative and transform your outdoor space with this unique and cost-effective project! angelamariemade
4. How to Make a Porch Sectional Couch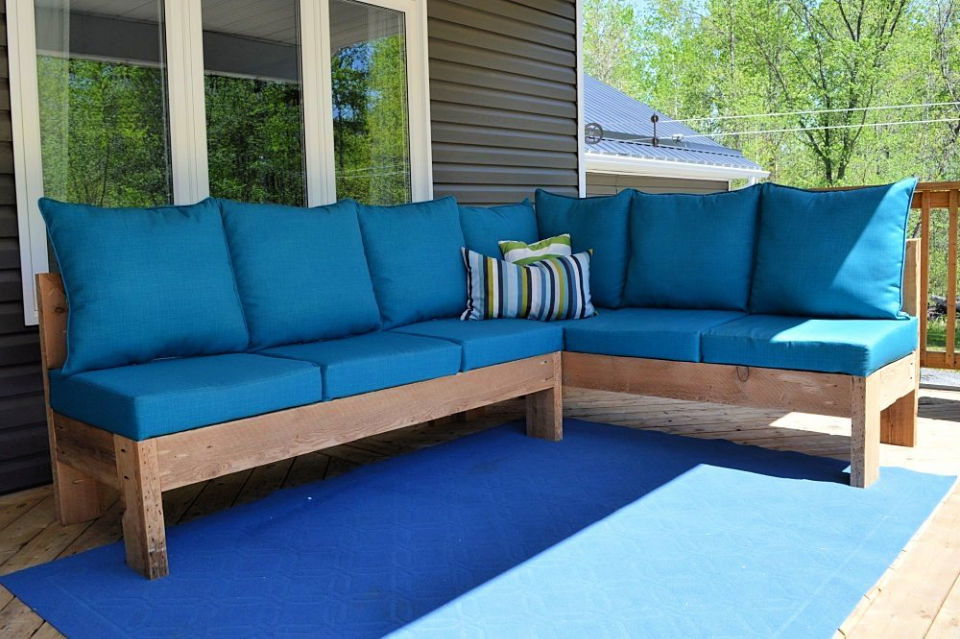 Enhance your outdoor living experience with a charming DIY outdoor sectional. Using reclaimed fir wood, or just standard 2″ by 6″ lumber, craft this comfortable piece to enjoy morning coffee or take afternoon naps while overlooking the kids splashing in the pool.
For this project, you'll need materials like deck spindles, deck boards, deck screws, a miter saw, a palm sander, and wood glue. Begin by prepping and cutting the wood, then proceed to smooth the cut ends, drill pocket holes, and assemble.
You'll have an attractive addition to your backyard deck in no time, perfect for unwinding and socializing. And the best part? It's customizable! You can create a simple couch or an L-shaped sectional with an armrest. Elevate your outdoor space today with this outdoor sectional. vanderveenhouse
5. How to Make Your Own Outdoor Couch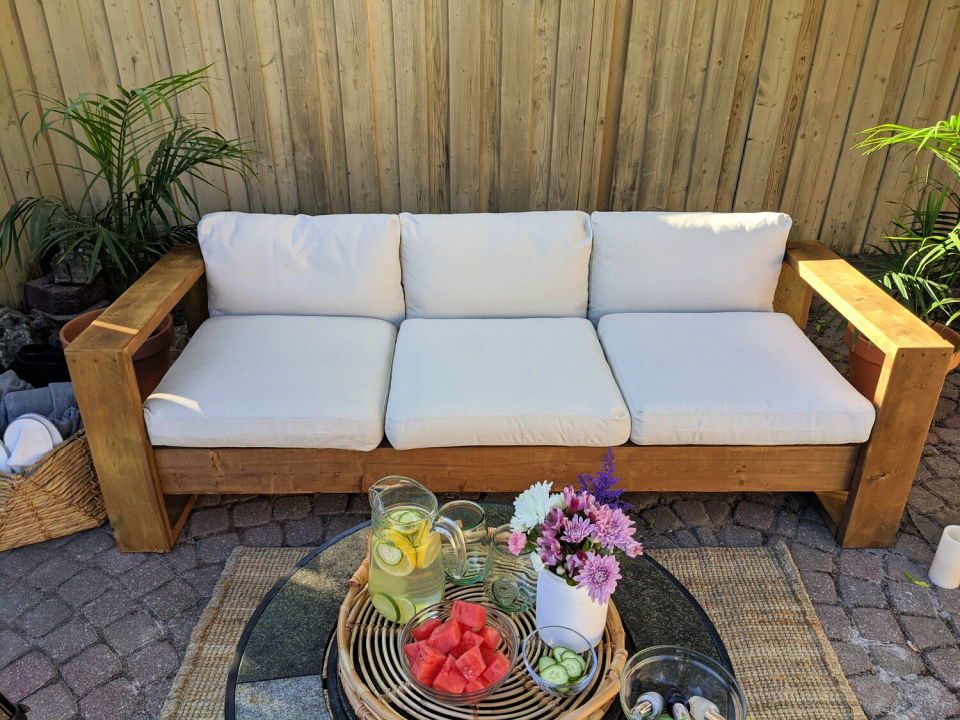 Spruce up your outdoor living space with this engaging and practical DIY project! Discover how to construct a modern, affordable couch using IKEA outdoor cushions and straightforward building techniques. The process involves:
Cutting and assembling 2″ x 6″ lumber into the couch's frame.
Attaching seat supports and planks.
Ultimately adding your IKEA cushions for comfort.
The project requires standard tools like a saw and screws, along with lumber and IKEA cushions. Following these guidelines, you'll build a functional, stylish piece of outdoor furniture. Remember, the comfort of your backyard is just a DIY project away, so embark on this crafting adventure and create your cozy spot to unwind. diyinprogress
6. How to Build an Outdoor Sectional Couch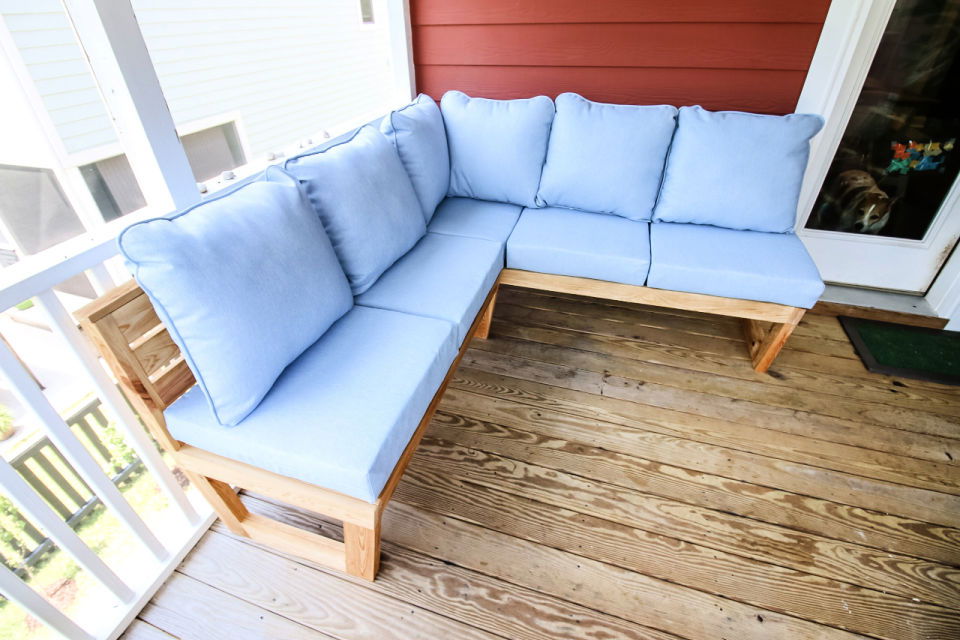 Revamp your outdoor space with a DIY modern outdoor sectional couch! Perfect for lounging on warm summer evenings or gathering around a winter fire, this simple, stylish furniture piece can save you hundreds of dollars. This project is straightforward and satisfying, built using Kreg Tool pocket hole joinery.
Perfect for accommodating your outdoor cushions, this sectional fits perfectly on our screened porch overlooking a scenic pond, providing a comfortable seating area to enjoy the view. This project uses cypress boards, which are both cost-effective and weather-resistant, ensuring the longevity of your outdoor couch.
With the help of tools like a miter saw, table saw, cordless drill, and orbital sander, you can craft this durable and inviting piece of outdoor furniture. Enjoy the process of constructing your own sectional and the many evenings of relaxation it brings. charlestoncraft
7. Building an Outdoor Couch at Home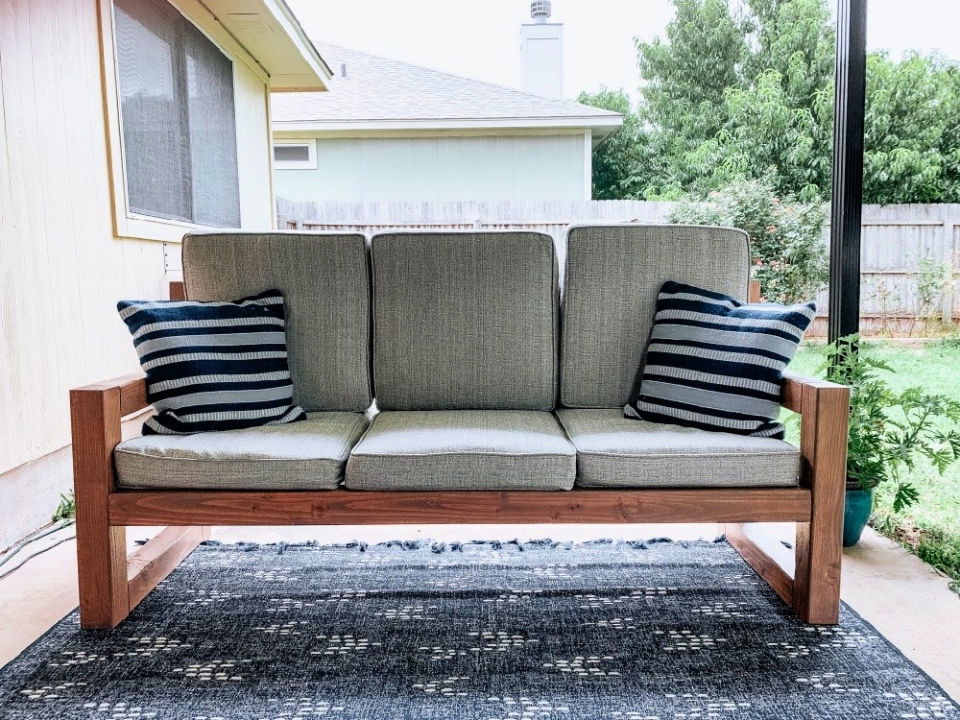 Looking for a budget-friendly solution to your outdoor seating needs? Try your hand at building your DIY outdoor sofa! These sofas can be built for around $50 in lumber per unit. Adjustments, such as additional back support and intricate armrest details, can be made according to your preference. The flexibility of the design lets you construct the sofas according to your cushion size, ensuring a perfect fit.
Cushions may be the costlier part of the project, but smart shopping can keep expenses under control. For example, we used IKEA KUNSO cushions and built three full, stylish sofas for under $800.
The selection of the wood is at your discretion – while untreated pine can be economical and reduce the weight of your furniture, cedar is a more luxurious and fitting choice for outdoor use. So, why not revamp your outdoor living space with these customizable, cost-effective outdoor sofas? loveandrenova
8. Outdoor Wooden Sofa – Step-by-Step Instructions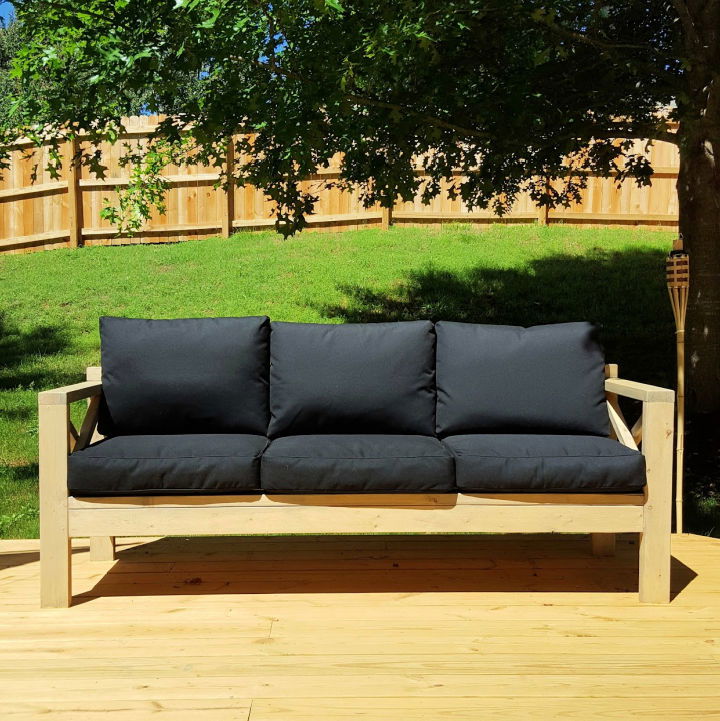 Enhance your outdoor living space with a DIY outdoor couch, a bespoke piece of furniture that will make your backyard more inviting. The build-it-yourself process lends itself to customization, ensuring the couch perfectly fits your patio or porch. The primary materials include:
Wooden boards.
Rockler's Beadlock Pro joinery system.
Comfortable cushions for the finishing touch.
The project can be done within a reasonable budget and timeframe, serving as an excellent alternative to more expensive store-bought counterparts. The guide walks you through each step.
This outdoor couch not only enhances your backyard aesthetically but also creates a perfect spot for relaxation and outdoor gatherings, transforming your exterior space into a cozy extension of your home. Dive into this creative project today and make your backyard the place to be! duoventures
9. DIY Outdoor Couch for Only $60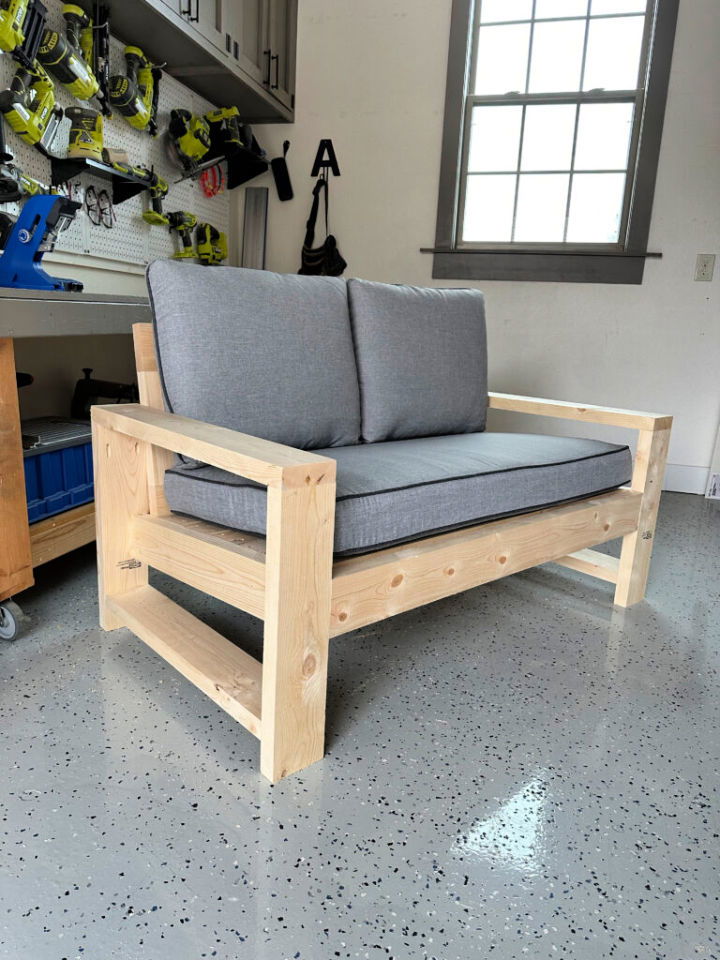 Reinvent your outdoor space with this DIY outdoor couch with just eight pieces of 2x6x8 framing lumber, simple tools, and a clear, step-by-step guide. For only $60, you can have a stylish, sturdy, and comfortable addition to your patio.
This couch, perfect for soaking up the spring weather, requires a miter saw, drill, Kreg Jig, table saw (optional), pocket hole screws, outdoor wood screws, and wood glue for assembly. Along with a detailed plan, you'll construct side arm assemblies, attach seat slats, and build a backrest, all leading to an inviting outdoor relaxation spot.
Finish the project with an outdoor wood stain, and you've got a piece that's as durable as cozy. Get started today and relish the satisfaction of building your outdoor furniture. shanty 2 chic
10. Handmade Outdoor Sofa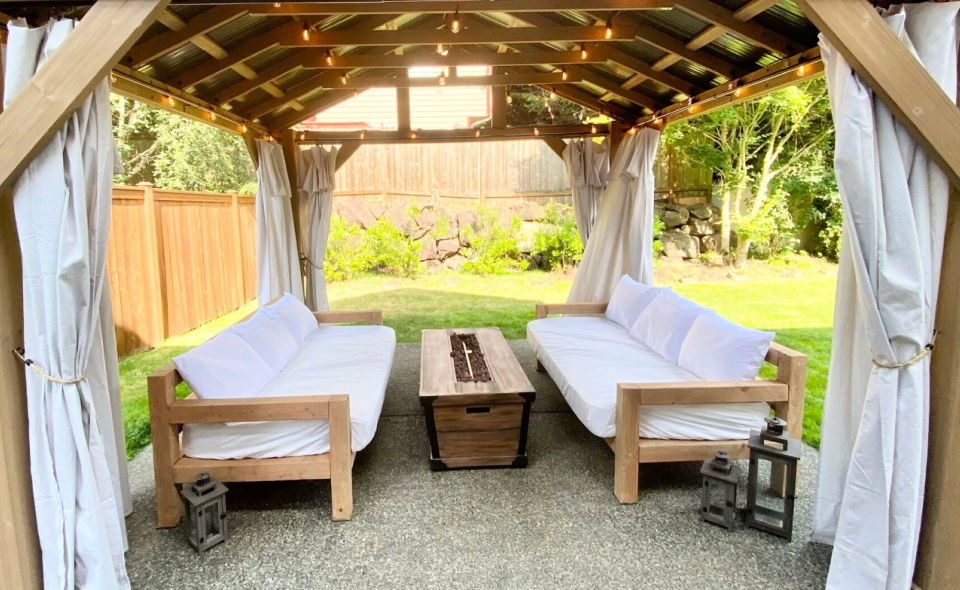 Uplift your outdoor space with DIY sofas that exude style without breaking the bank! With a budget under $100, you can repurpose twin mattresses and standard pillows to create cozy seating for your backyard. Built with a blend of sturdy Doug Fir, #12 x 5-5/8″ screws, and a 3/4 inch Spade Bit, this sofa design is versatile – alter the dimensions for a perfect fit in your pavilion.
The modern, low-profile, and square silhouette can easily accommodate an outdoor cushion, or you can skip the cushions altogether for a more rustic aesthetic. This DIY project, requiring basic tools like a Miter Saw, Pull Saw, and Orbital Sander, is an effortless way to bring functionality and charm to your outdoor living area. minimalistfarmstyle
11. Creative 2×4 Outdoor Sofa Plan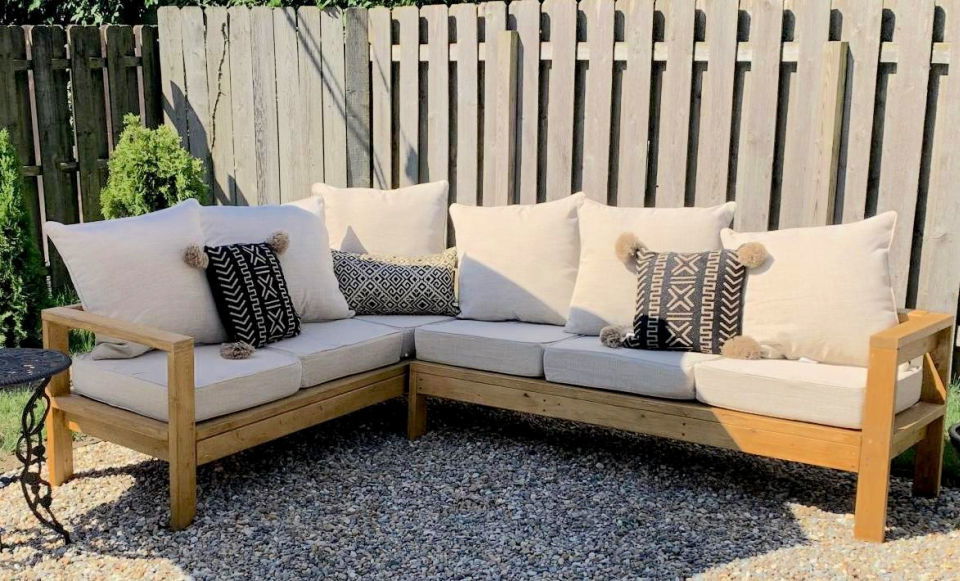 Save money and space with these diy outdoor couch plans for small patios. Improve the longevity and aesthetic of your outdoor furniture with the valuable tips in this guide, borne out of two decades of practical experience in furniture creation and maintenance. This DIY guide provides detailed instructions to build a durable outdoor seat tailored to your cushion dimensions.
You only need 11 cedar boards, three deep seat cushions, and 150 self-tapping exterior decking screws. The method is straightforward: cutting seat framing boards, assembling armrests, and securing the pieces with screws.
Enjoy your handmade piece, built to withstand time and weather while offering optimal comfort and style in your outdoor space. A bonus tip: some builders add a middle row to the back/sides to keep cushions aligned! ana white
12. Easy DIY Outdoor Couch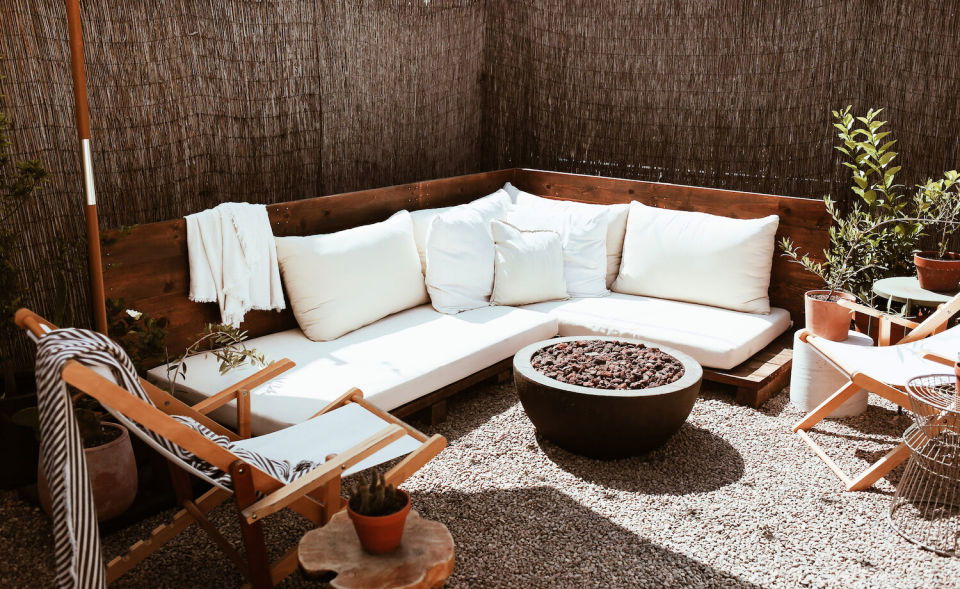 Step into DIY furniture making with this comprehensive guide on crafting your DIY outdoor couch! With this easy guide, you can build a beautiful, magazine-worthy outdoor seating arrangement in the comfort of your backyard. Use readily available materials, such as cushions and wood planks, which lend an aesthetic appeal and offer excellent durability.
This couch boasts a chic, neutral design, complemented by cream-colored cushions and a simple, minimalist structure. With clear dimensions and accessible components, you can build this fabulous piece with minimum cuts and modifications.
The assembly process is surprisingly straightforward, making this a viable project even for those without extensive carpentry experience. Discover the joy of making something beautiful and functional with your hands while saving a considerable amount compared to purchasing a similar item! alyssaponticello
13. Make Your Own Outdoor Couch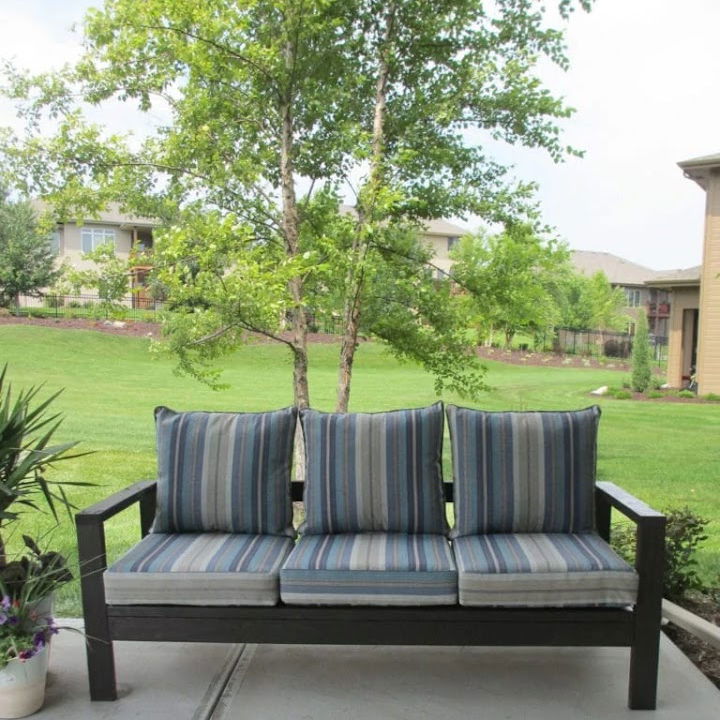 Make a welcoming outdoor space with a DIY outdoor couch handcrafted from common 2x4s and a splash of effort! This flexible project allows you to tailor the design with different stains and cushions to suit your aesthetic. The comfy couch will revolutionize your back porch, turning it into a go-to relaxation spot.
It's a cost-effective alternative to expensive outdoor furniture with a supply list comprising 11 2x4x10 cedar boards, deck screws, and stain. The tutorial also provides a cut list and specific tool recommendations.
With a couple of hours, some manual labor, and a budget of around $165, you can transform your patio into a cozy retreat. This homemade piece promises a cozy outdoor seating arrangement and the fulfillment of completing a project! lifeonvirginiastreet
14. Making Your Own Outdoor Couch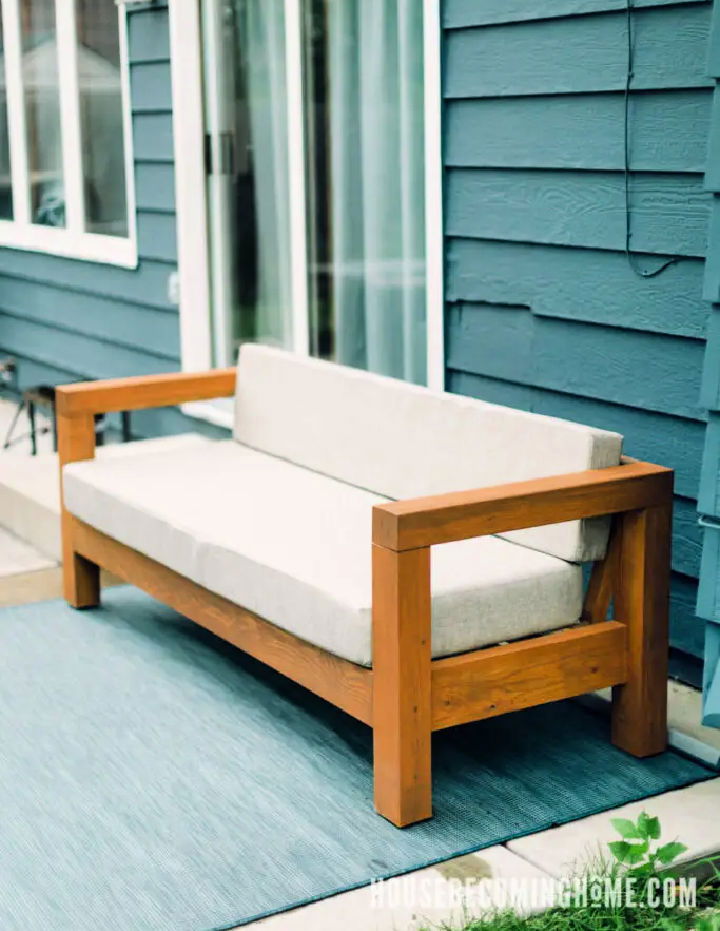 Recreate the magic of your living room outdoors with a handmade modern outdoor couch! This DIY project is fabulous for those who enjoy spending time in their backyard, offering a comfortable and stylish space to unwind. Building this outdoor couch doesn't demand advanced woodworking skills.
From constructing the legs to the seat assembly, every step is broken down, making the project achievable within a weekend. You even have the option to either purchase or handcraft cushions, customizing the couch to your desired comfort level. What sets this project apart is its resilience against the weather.
A touch of exterior finish is all it takes to ensure the couch survives the outdoors, maintaining its look and feel. This modern outdoor couch is a game-changer for any backyard, providing a cozy and attractive addition to your outdoor setting. It's a piece of furniture that promises many memorable moments spent under the open sky. So, grab your tools and build a modern outdoor couch today! housebecoming
15. Build Your Own Outdoor Couch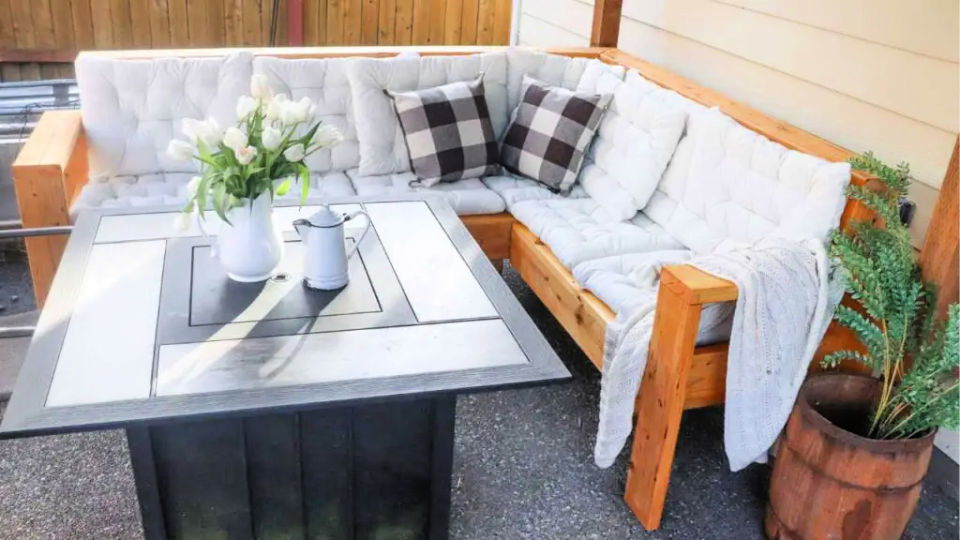 Exalt your outdoor living with a DIY modular sectional couch tailor-made for your backyard. It's an innovative, cost-effective solution that can enhance your patio and springtime experiences. You can construct a sturdy, custom-fit piece of furniture for your outdoor space using simple materials such as 2×6 pine, an Australian timber oil stain, and basic tools.
This step-by-step DIY patio sofa guide will instruct you through selecting a design, procuring supplies, and building the sectional to staining and placing it in your backyard.
End the process with the addition of white cushions for a cozy, aesthetic finish. This is not just an endeavor; it's a journey toward enhancing your outdoor living and making beautiful memories with loved ones under the sky. duvallhomestead
16. DIY Patio Sofa Using Wood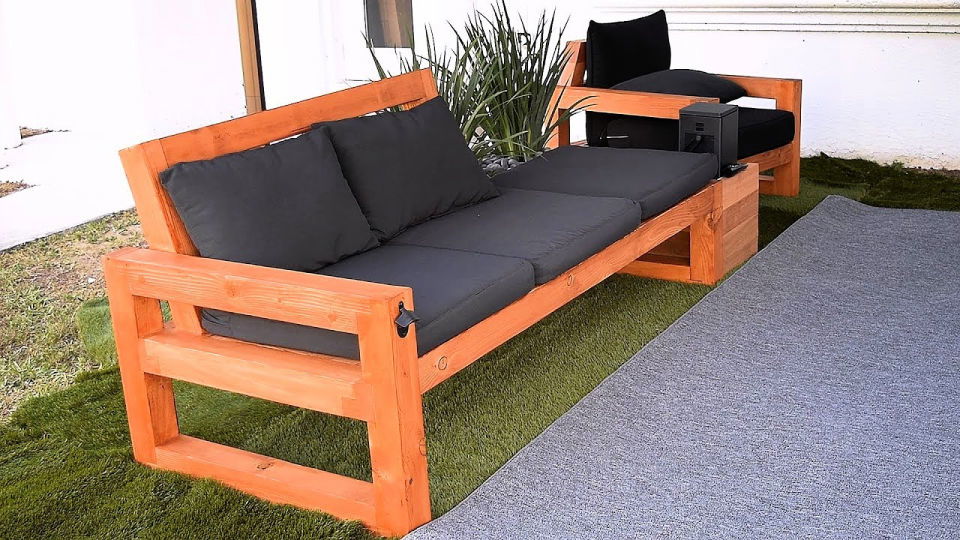 Build a stunning, modern outdoor sofa in your backyard using this DIY guide! With 4×4 Douglas Fir lumber, lag bolts, and other basic tools, you can design an outdoor seating piece measuring 77.5inL x 30inD x 33.5inH, perfect for relaxing in a warm summer. This project includes optional additions such as LED light strips and a large umbrella for comfort and aesthetics.
The instructions are clear, detailed, and beginner-friendly, making the process smooth and efficient. So why wait? Grab your tools and start your modern outdoor sofa today for a space you'll love to unwind in.
17. Outdoor Couch Building Plans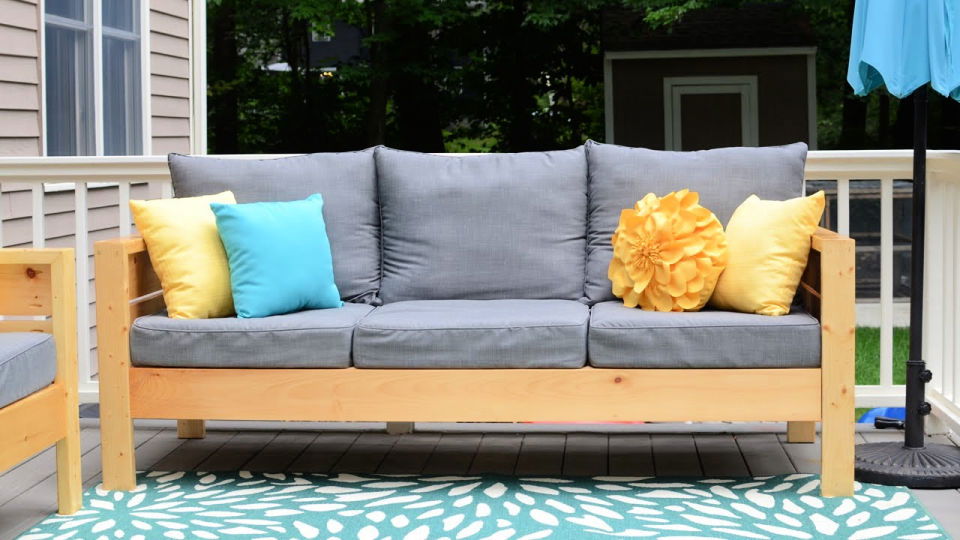 Bring a stylish and cozy addition to your deck with this DIY outdoor sofa guide! Designed for optimal comfort and aesthetics, this sofa will recast your outdoor living space into a relaxing haven. It's built with durable wood, comfortable cushions, attractive accent pillows, robust hardware, and an appealing finish.
The overall cost for this chic outdoor couch is a modest $200, ensuring an affordable venture into DIY furniture. Equipped with readily available tools, you can embark on this journey.
The result? A handmade outdoor loveseat tailored to your comfort needs invites you to relish your deck's tranquility. Enjoy crafting your furniture and making your outdoor space truly your own!
18. Free Extra Long Outdoor Couch Plan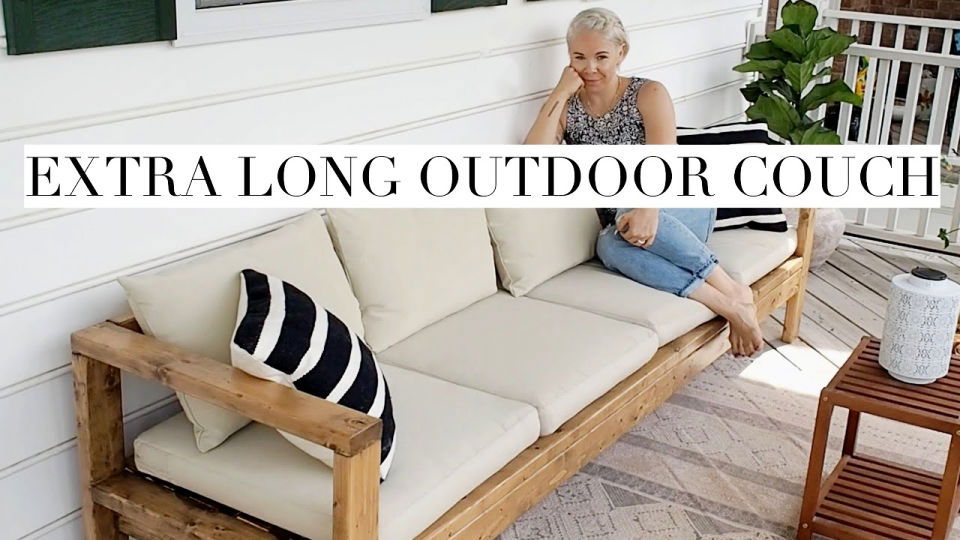 Relish an outdoor oasis with DIY furniture projects using commonly available materials like pine 2x4s, dowels, and composite decking. These pieces range from cozy patio sofas to modern chairs and sectional units. The advantage? Personalization to your liking while keeping a budget-friendly approach.
With the right tools and step-by-step instructions, these projects can transform your outdoor space into a welcoming retreat. Ideal for those who love practical creativity, the end product provides a sense of accomplishment and furnishes your space with unique and functional pieces. Build today and witness your backyard transform into an intimate setting with your handcrafted furniture.
19. How to Make an Outdoor Sofa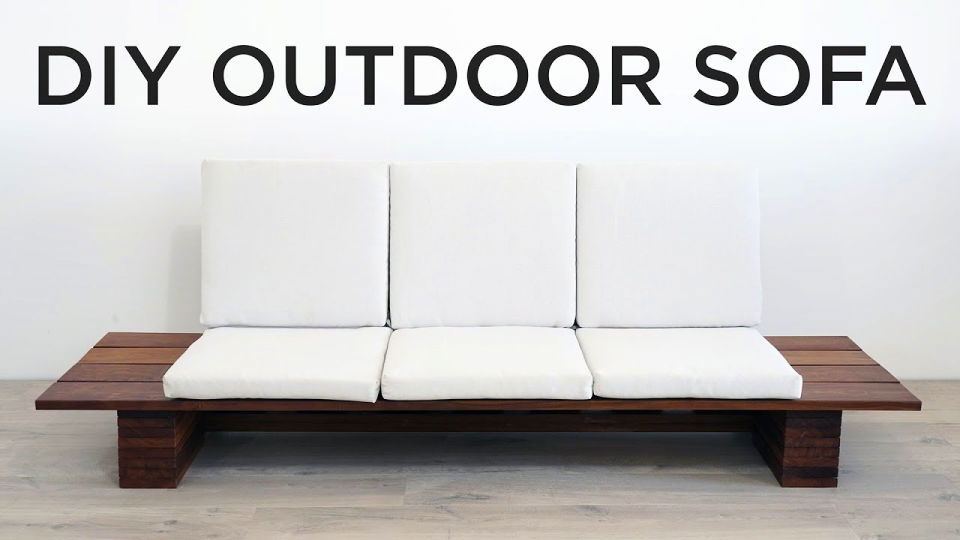 Infuse your patio with a warm, inviting aura with a DIY outdoor sofa. Composed of tropical hardwood decking, primarily Cumaru boards, it perfectly balances affordability and aesthetics. For construction, you'll need basic tools like a cordless circular saw, jigsaw, orbital sander, and drill.
Adding comfort to this homemade beauty, seat cushions from your favorite store make it an inviting spot to relax. To extend the lifespan of your creation finishes like paste wax and teak oil are suggested for sealing and protection.
The addition of waterproof wood glue ensures stability and resilience. This uniquely designed sofa turns any open-air space into a cozy getaway, encouraging relaxation and conversation.
20. Simple DIY Outdoor Couch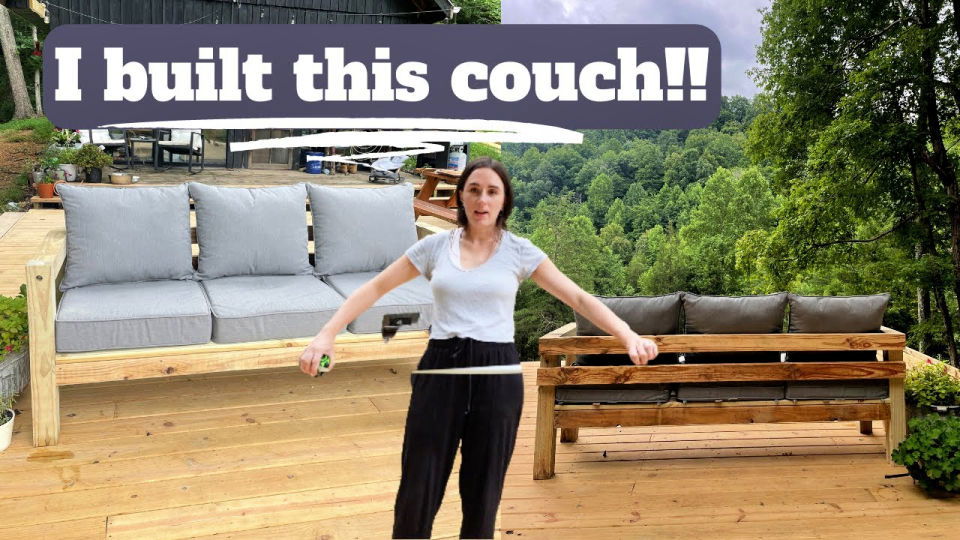 Introducing a fresh take on DIY furniture with a quick, effortless couch project! Leveraging easily accessible resources, anyone can make this DIY patio couch. The primary material is the versatile Ryobi tools, so the process is streamlined and convenient. Every step of this project, from preparation to assembly, is well-guided and user-friendly.
No prior experience is required, making this an engaging activity for anyone interested in adding a personal touch to their living space. This couch is a functional furniture piece symbolizing personal accomplishment and independence.
Besides its obvious use as a comfortable seating option, it is a unique element that adds personality and creativity to your home decor. Get your tools ready, gather your enthusiasm, and embark on this rewarding project today!
21. Build Your Own Deck Couch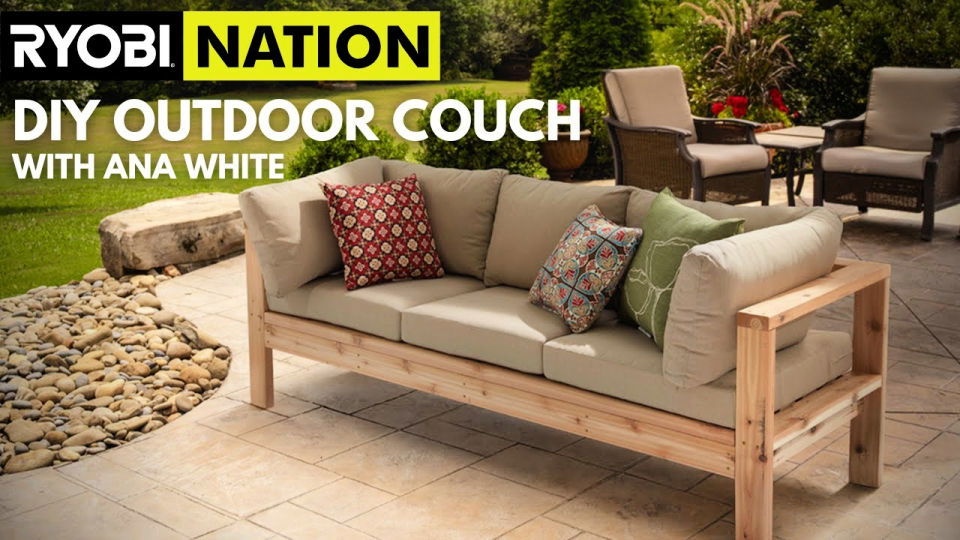 Upgrade your backyard living with a DIY solid wood outdoor sofa. This project adds a stylish and comfortable feature to your outdoor space and provides a practical application for your power tools. You'll need a selection of Ryobi accessories and attachments, including drilling and driving bits, replacement blades, brushes, and sandpaper.
The process involves careful construction, leading to a durable and appealing addition to your deck. This outdoor couch offers comfort and allows you to utilize your existing tools, making it a cost-effective way to revamp your outdoor area. With this guide, make your outdoor living as inviting and comfortable as your indoor spaces.
22. Homemade Outdoor Sofa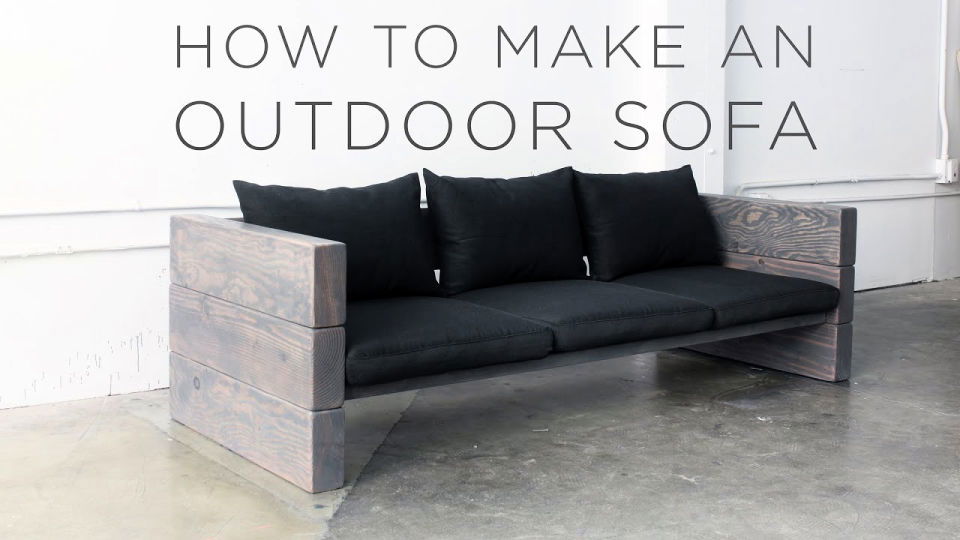 Forget the furniture store; turn your backyard into a cozy lounge with this DIY outdoor sofa! This guide will help you build an affordable, stylish, and durable outdoor sofa in less than 5 hours! This project saves you on pricey furniture without compromising style or quality. To construct this sturdy, solid wood sofa, you'll need basic power tools, 4x8s, 2x8s, and outdoor cushions from IKEA.
An appealing finishing touch is achieved using grey Minwax wood stain, enhancing the wood's natural texture and giving it a modern aesthetic. It's a brilliant way to orient a new and functional element to your outdoor space. Start building your perfect outdoor seating today!
23. Free Outdoor Couch Plan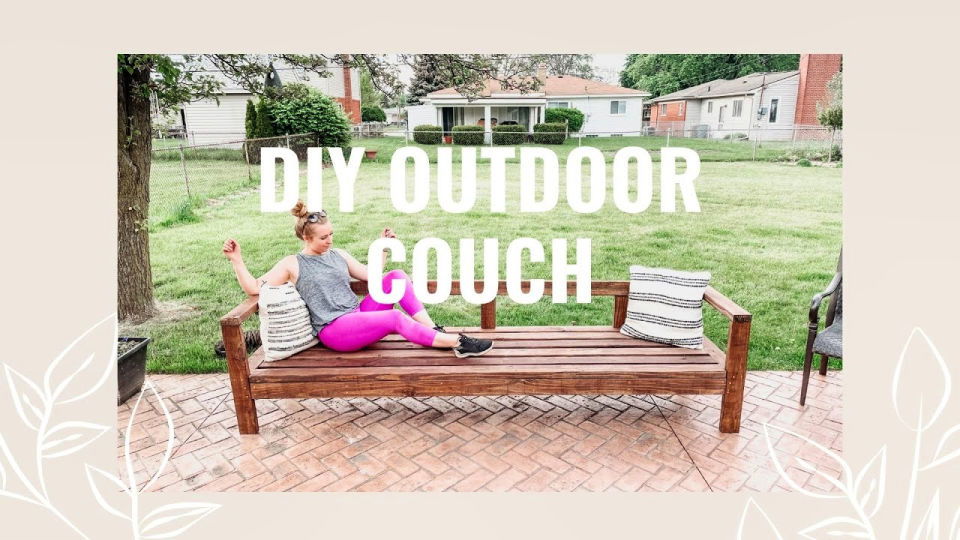 Enjoy your outdoor space in class and comfort with this easy-to-build DIY outdoor couch! With this project, you can add an aesthetic appeal to your backyard and enjoy the immense satisfaction of constructing it yourself. To create this stylish and robust couch, you'll need various supplies, such as wood, nails, and cushions.
Get started with detailed preparation, which includes choosing your favorite design and making the necessary measurements. Follow a comprehensive guide or instructions to bring your couch to life without any hitches.
This couch is functional and uniquely designed to your taste, providing an amazing spot to relax or entertain guests in your outdoor area. The key material, wood, ensures durability and long-lasting enjoyment. Dive into this engaging project today and enhance your outdoor living experience!
24. Easy DIY Couch for Patio Furniture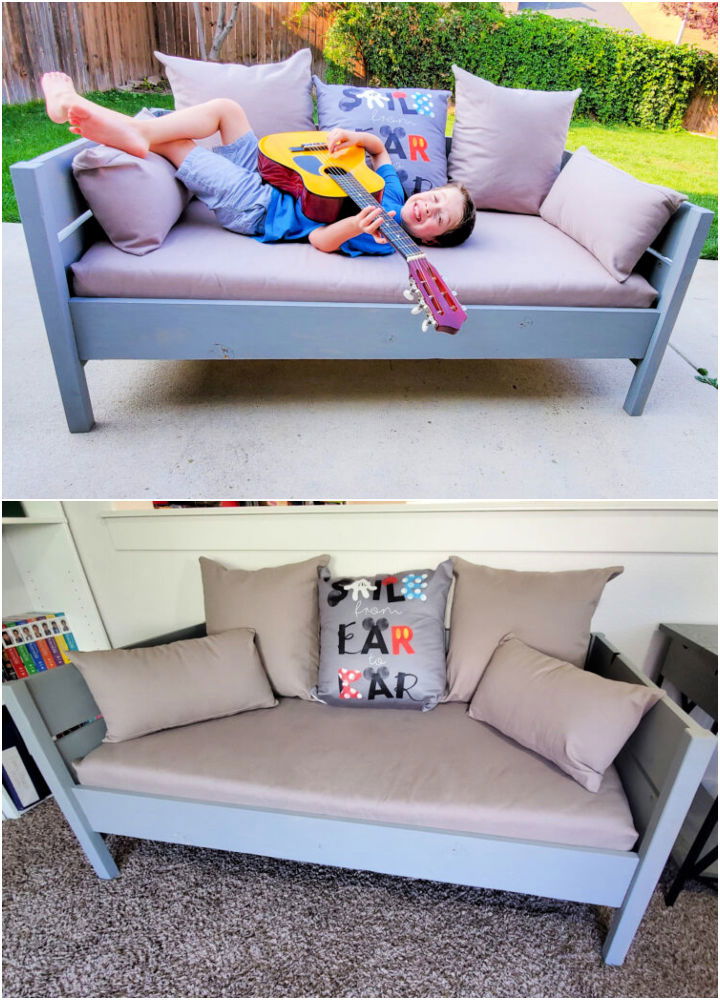 Engage in a creative home transformation with this easy DIY couch project! This plan cleverly converts a toddler bed into a versatile couch suitable for indoor or outdoor usage. Using some basic tools and supplies such as a saw, wood glue, screws, and a crib mattress or foam, this couch can be assembled within a weekend, all under a budget of $50 for the woodwork.
Ideal for a patio setting or a kid's playroom, this couch delivers functionality and comfort in one package. By following the outlined method, you'll end up with a personalized piece of furniture, enhancing your living space or making the outdoor hours more enjoyable. Who knew upcycling could be so rewarding and affordable? Now, get your tools ready, and let's dive into DIY-ing! loveourcrazylife
25. How to Make a Pallet Couch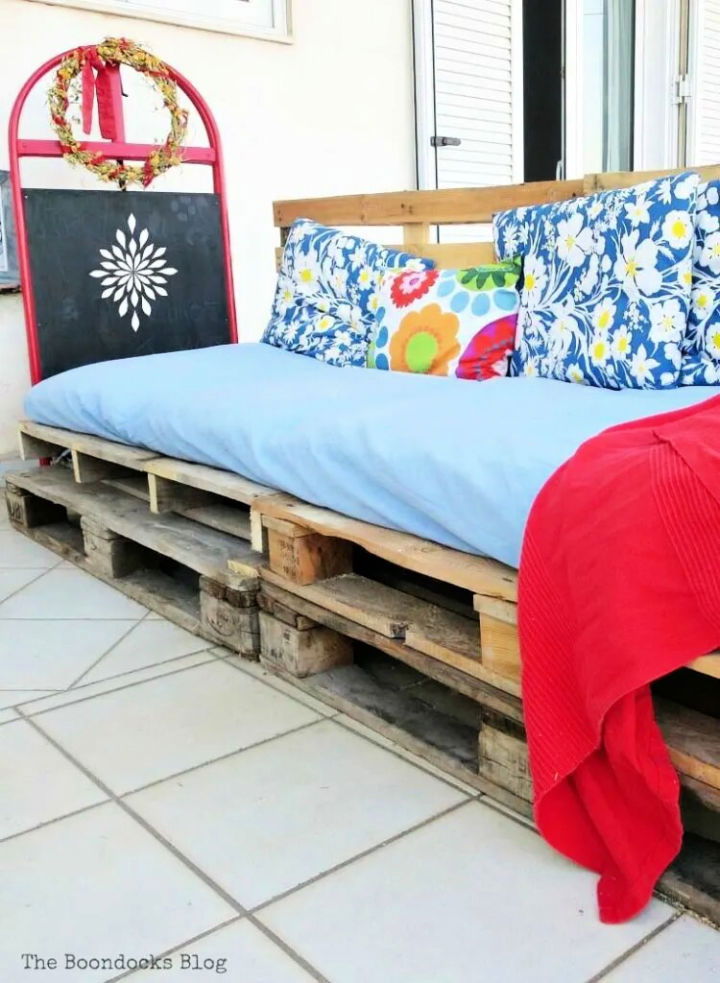 Learn how to make a diy outdoor couch from pallets, wood, or cushions. Bring a sense of amenity and style to your balcony with a DIY pallet couch, an ideal project for those needing a quick and budget-friendly way to enhance outdoor living space. With just six pallets, a saw (if necessary), and some rope, you can craft a comfortable and rustic piece of furniture.
As a bonus, the whole process doesn't require any power tools. Lay out four pallets to form the base, while the remaining two serve as the backrest. Securing these components with rope ensures stability.
Customize your new outdoor furniture with cushions, fabric covers, and decorative pillows. This project adds seating capacity to your balcony and creative and unique privacy. Take advantage of pallets for an easy, inexpensive, and rewarding endeavor that leads to enjoyable outdoor relaxation. theboondocks
Conclusion: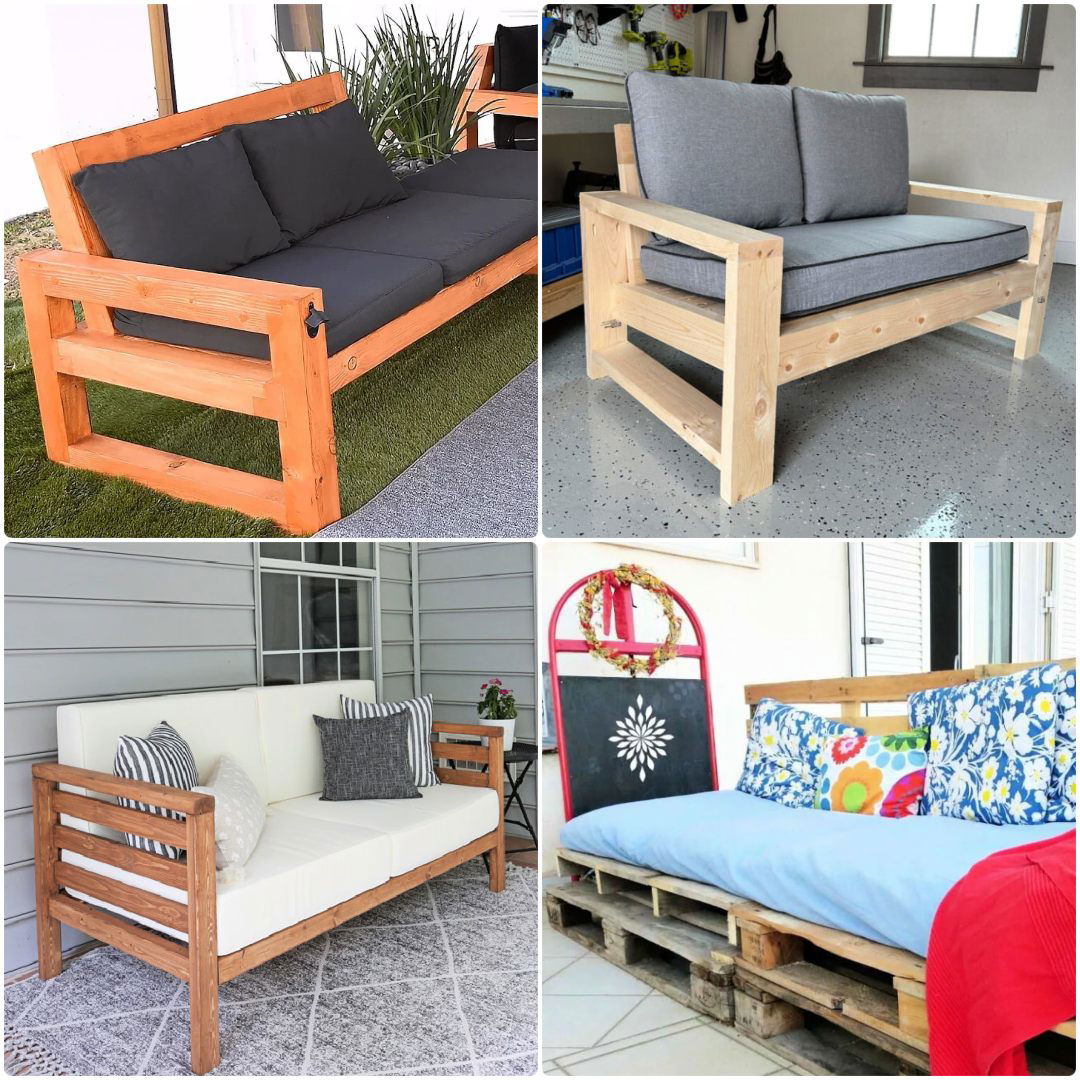 In conclusion, building a DIY outdoor couch is a rewarding project that adds comfort and style to your patio or garden. With various DIY outdoor couch plans available, including outdoor sofa DIY, 2×4 patio furniture, and woodworking projects, you can find a design that suits your skill level and personal taste. Embrace the opportunity to build a cozy and enjoyable outdoor space with these 25 free DIY outdoor couch plans, and start transforming your backyard into a relaxing haven.