Give your shopping a bold style statement with these 15 free DIY Grocery Bag Patterns will help you sew a custom shopping bag of choice. Time to say bye to those plastic and paper shopping bags that are mostly made for one-time use. So, get the step-by-step instructions, visual tutorials, and guides here to sew a grocery bag at home like a pro. From sewing a precious French shopping tote to a bizarre reversible shopping bag to a reusable grocery bag, you will find all the grocery bag patterns here. Check all the designs in 1 minute by taking a tour of these 15 Free DIY Grocery Bag Pattern and designs all will be a beginner-sewing project for sure.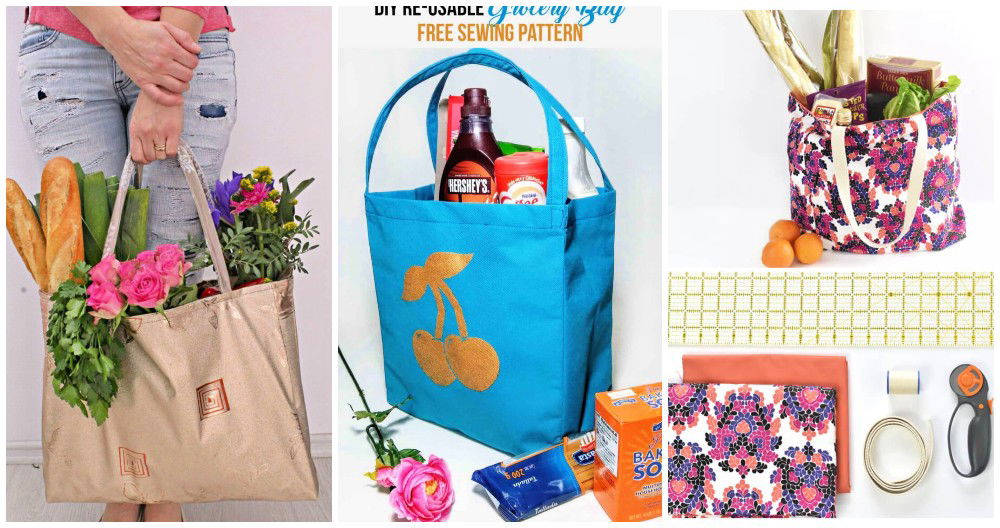 Opt for so many different heavy-duty fabrics and also prefer the custom seam allowance to sew lasting longer grocery bags that will carry all the items. The oilcloth, canvas fabric, and denim will be a great choice to sew a durable bag.
Go for various handbag variations by varying the style and design of straps and handles. The metal chain straps will rock for a French-style market tote. Next, you can vary the strap size depending on whether you want to wear the bag over the shoulder or want to hold it in your hands. Browse the entire list of Free Grocery Bag Sewing Patterns and pick your favorite patterns to sew at home.
1. Grocery Bag – Free Sewing Pattern
Bring a smart twist to your shopping by sewing your beautiful grocery bags. Sew this bag yard of denim or canvas fabric, which should be 45 inches wide. Take 1 yard of cotton fabric with the same width for the lining. Finish with 4 feet of cotton webbing, which should be 1″ wide. The easiest sewing pattern. thesprucecrafts
2. Grocery Bag Shopping Tote from 2 Pillowcases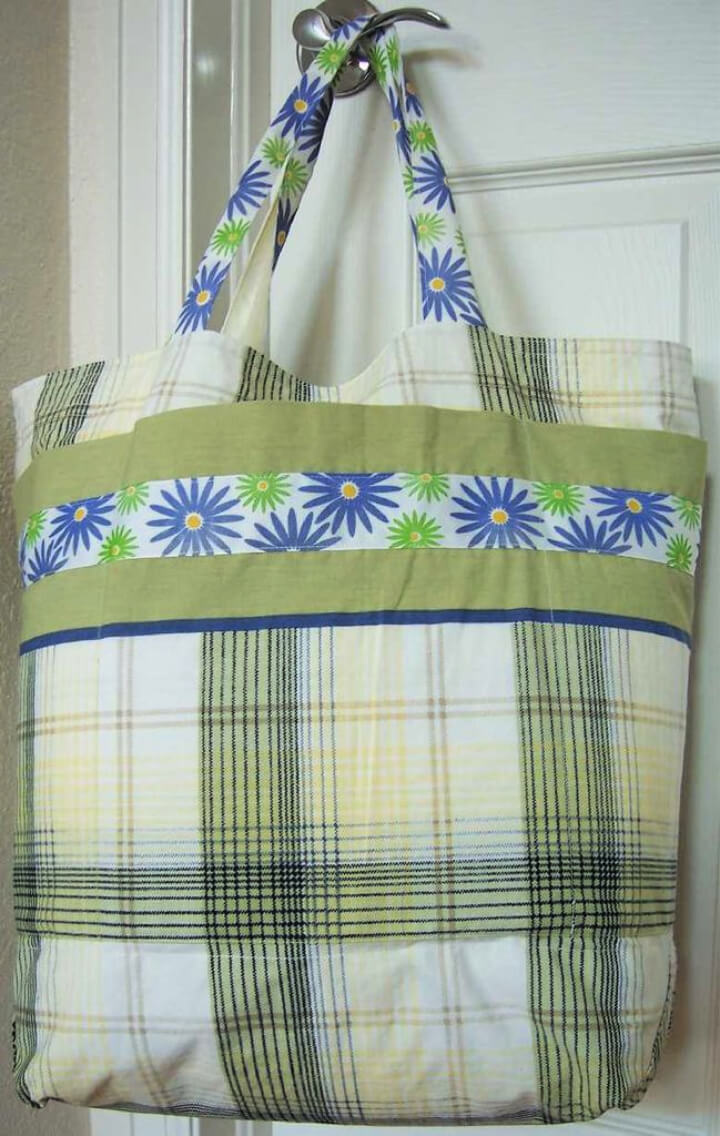 Use cloth grocery bags instead of plastic or paper bags. Sew some elegant ones at home quickly. Use the two leftover pillowcases too to sew a grocery bag like a pro, will be the quickest sewing project. This shopping bag is easy to sew and eco-friendly and will impress you with ultimate durability too. instructables
Find DIY Bags for Beginners:
Crochet Bag Patterns: Looking for free Bags & Purses Crochet Patterns? DIYCraftsy has everything you need for a great crochet tote project.
DIY Cute Lunch Bags: If you are ready to make a DIY lunch bag, then check out these diy lunch bags for adults and kids that are unique and beautiful!
Free Diaper Bag Pattern: Get this diaper bag pattern to sew your own baby bag. Each diaper bag sewing pattern can carry all baby care items and essentials.
3. Make Your Own Grocery Bag
Show your own personal style while shopping by sewing a custom grocery bag, may come with custom logos too. The design of this grocery bag is simple and comes with handles. Use a template to cut the fabric and then start sewing the straight lines until you get a lovely fabric shopping tote. instructables
4. Carryall Bags for Grocery Shopping
Style up your every day or weekly grocery shopping affairs with this carryall bag. Sew it with the fabric having a repeated print of a vegetable or a grocery item. Here it comes with a carrot print. The sewing directions are damn easy to follow. Front and back size is 18″ x 15.5″ and of handles is 3″ x 12″. sewguide
5. The Easiest Reusable Grocery Bag Pattern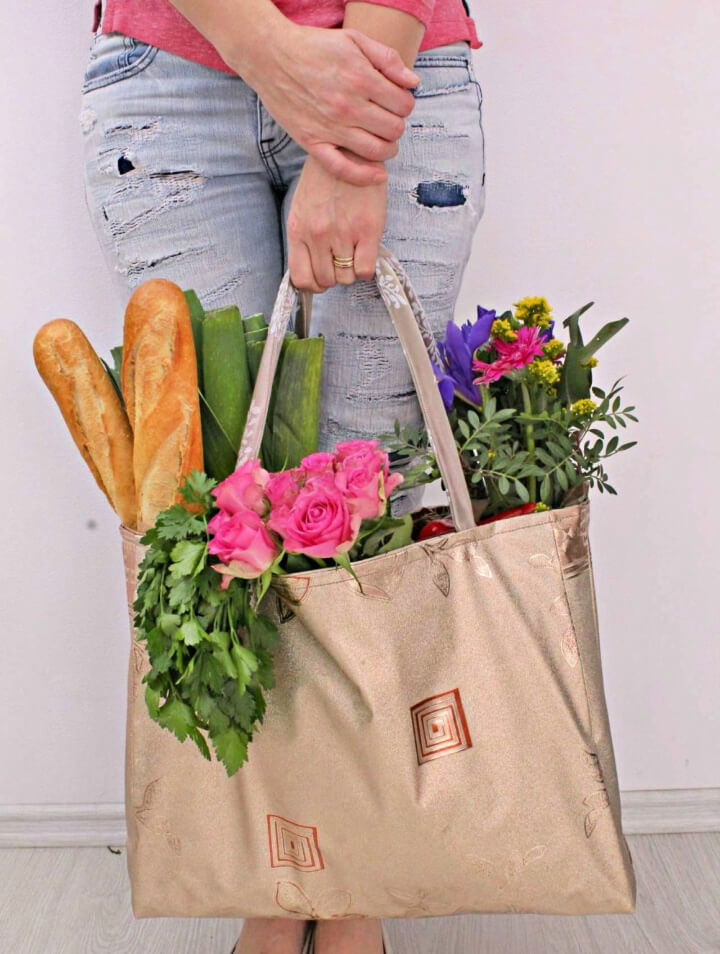 Carry a lot of grocery items safely and stylishly using this grocery bag provides an easy sewing pattern. Sew this bag using vinyl fabric that is hard to sew but is highly durable. Use the wrapping paper to prep your design template, next sew using a sewing machine, and sewing tool kit. Use cord for handles. theseamanmom
6. DIY Reusable Grocery Bags
Sew this reusable shopping tote using 1/2 yard of heavy-duty fabric should be 44″+ wide. Use a 3/4 yard with the same width for the base. For the bottom, go with heavy-duty cardboard and plastic. This bag will make a cute handmade gift too for friends. Further guides and strap measurements here sew4home
7. Fat Quarter Reusable Grocery Bag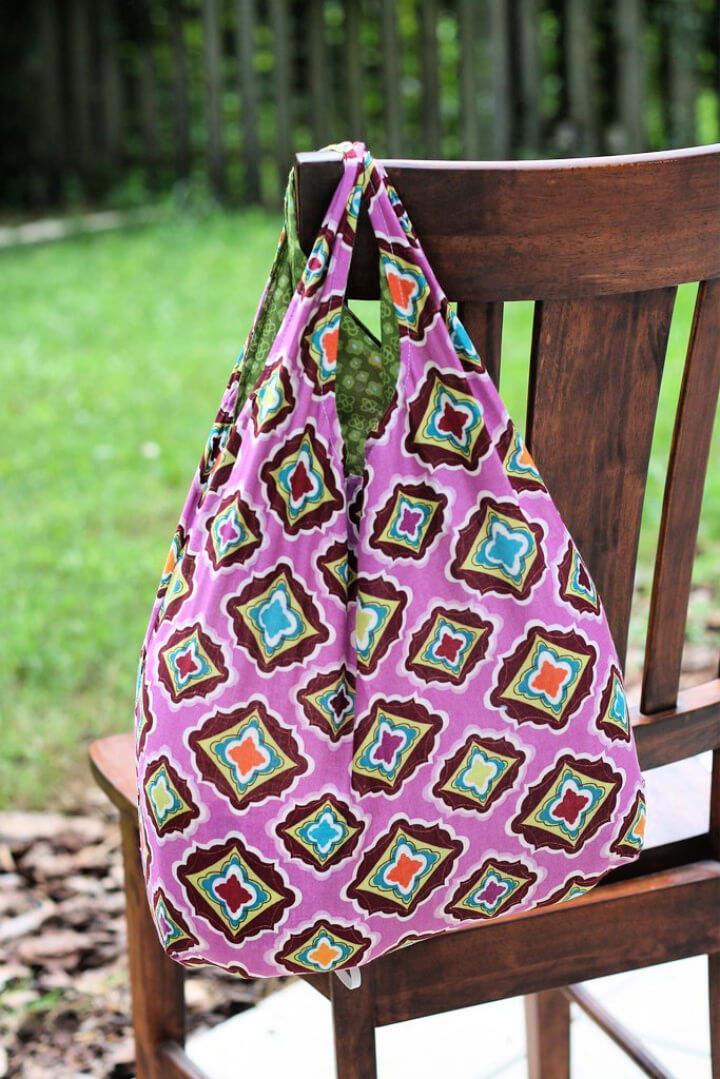 Opt for this bag that you can roll up to store easily, even in your diaper bag. The easy to sew and lightweight fat quarter reusable grocery bag. The fabric requirements will be the 3 fat quarters to sew this grocery bag. Use 6 inches of elastic to roll up the bag for easy storage. stitchedbycrystal
8. How to Make a Tote Bag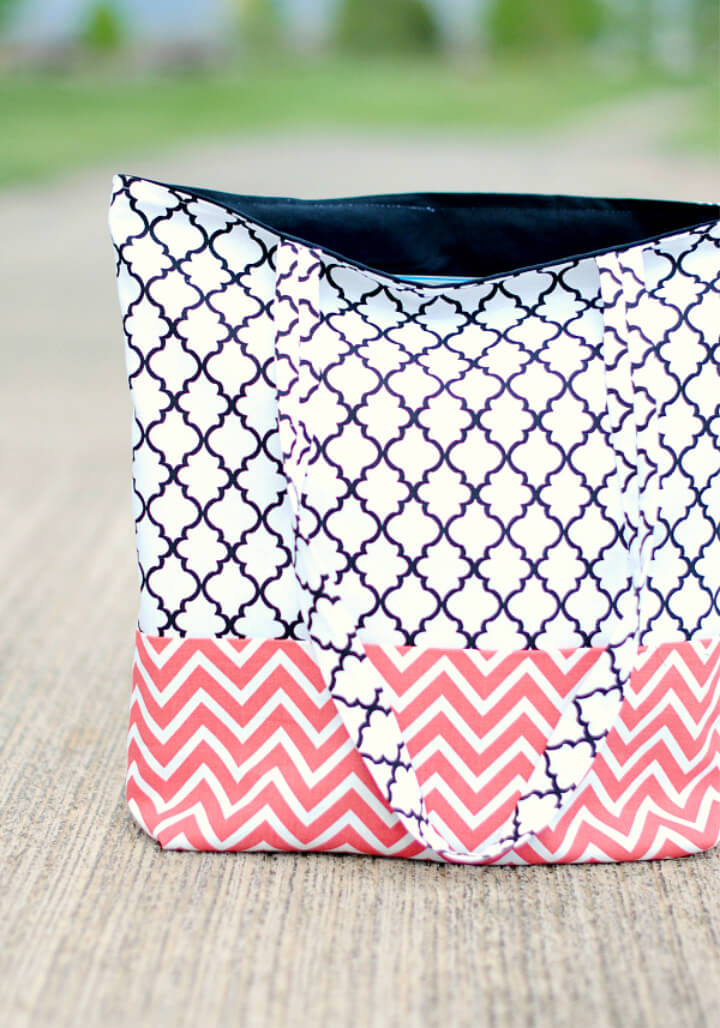 Get the pro tips here to sew a tote bag like a pro. Use the canvas fabric to sew this tote bag. Use 1/3 yard to sew the bottom side, and 1/2 yard will be enough for the top and inside of the bag. For straps cut 2 pieces of fabric having size 31″ x 4". Cutting directions and sewing tutorial here crazylittleprojects
9. Sew Reversible Shopping Bags
Follow the guides here to sew a reversible shopping bag, will have both inside and outside good looking. Sew this reversible shopping bag using 1 1/2 yards of 44″ wide cotton fabric, use the same size of the coordinating fabric, and get busy with the sewing supplies. thechillydog
10. Reusable Grocery Bag Gift Pattern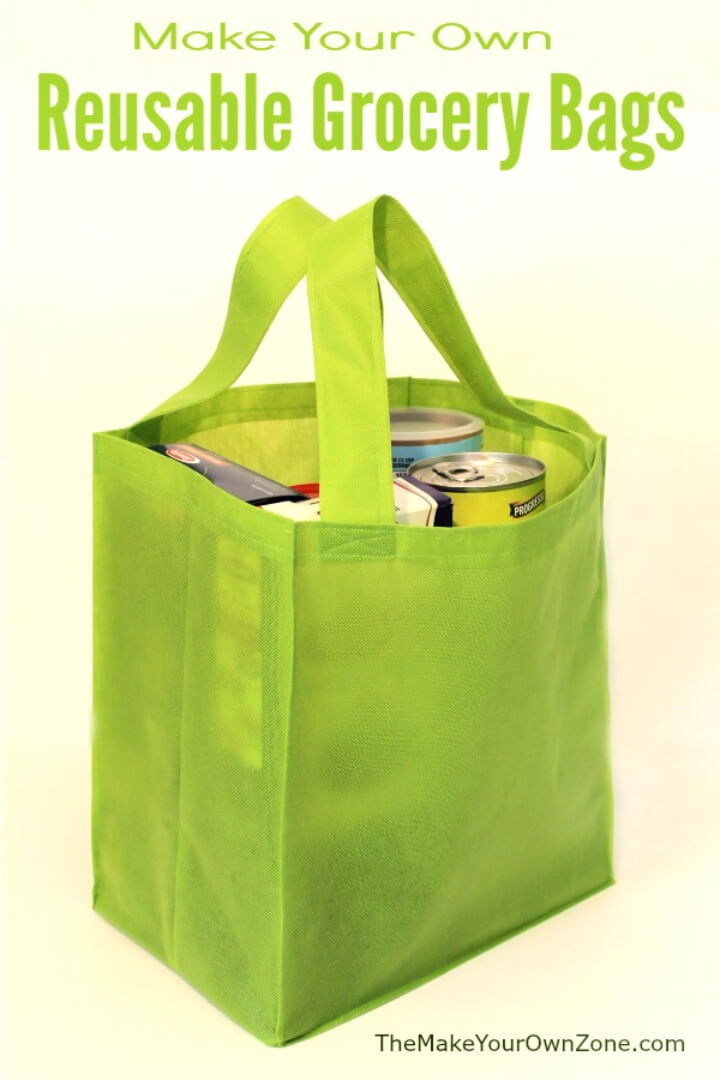 Style up your shopping for grocery using this reusable grocery bag, a perfect project for beginner sewists. Use only 1 yard of the Oly Fun Fabric to sew this grocery bag. For straps, use two lengths of 4.5″ x 20″. Go with 1/4″ seam allowance for added durability in the design. The cute handmade bag gift idea. themakeyouro
11. Free Grocery Bag Sewing Pattern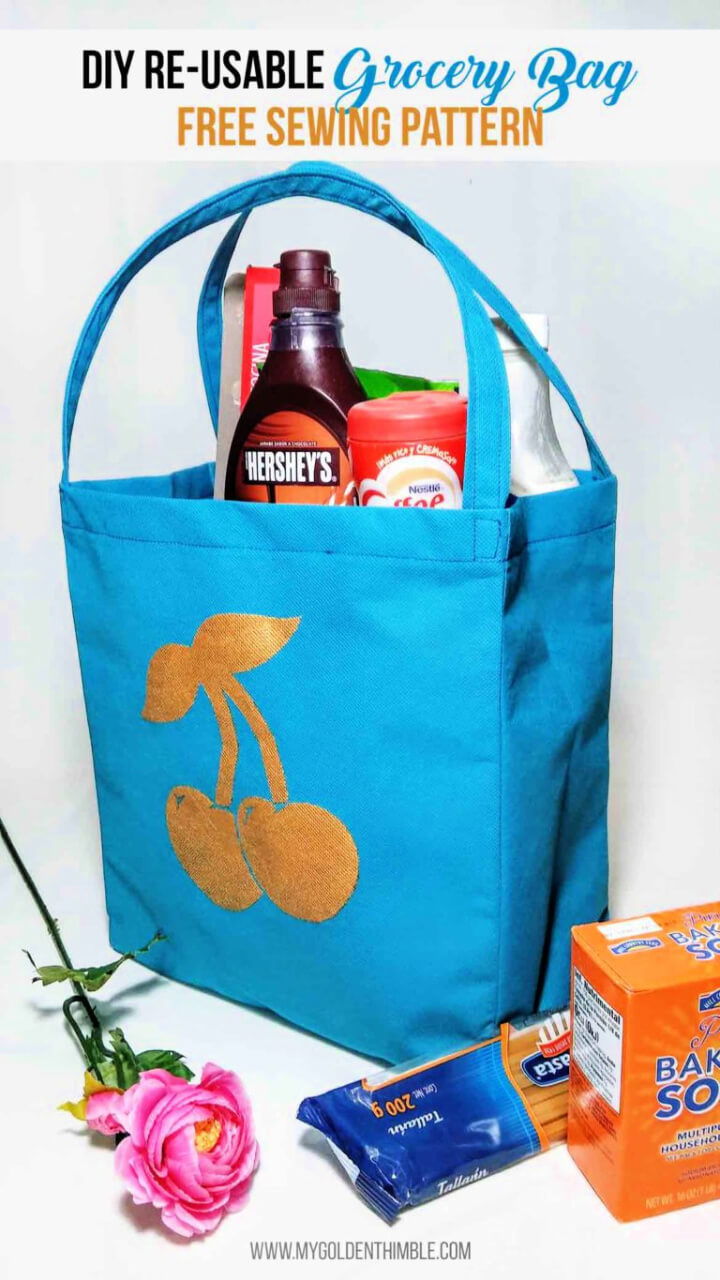 Choose any non-woven fabric to sew this bag. The Oil Cloth and Vinyl Fabric will be a smart choice. For a glorious personal touch, use a cherry logo, make it quickly using a cherry stencil. You need less than a 1 yard of fabric to sew this shopping tote, go with 1/4 seam allowance. mygoldenthimble
12. The Spring Market Tote
Spice up your spring shopping with this market tote, sewed to rock, and inspire. Use the white oil cloth with red polka dots to sew this market tote should be of 36″ x 18″ size. Use the same size of lining material, and choose the 30″ leather straps, braided trim or fabric straps to finish the tote. thegirlinspired
13. French Market Tote with Chain Handles
Are you deeply in love with French fashion? Then why not add a flair of it in your shopping routines using this French market tote. Spend some time with your sewing machine to sew it at home. The damask applique brings a glam touch, and chain handles are like icing on the cake. This market tote is 17″ high, 20″ wide, and 5″ deep. sew4home
14. Market Tote With Ruffly Ribbon Handles & Ties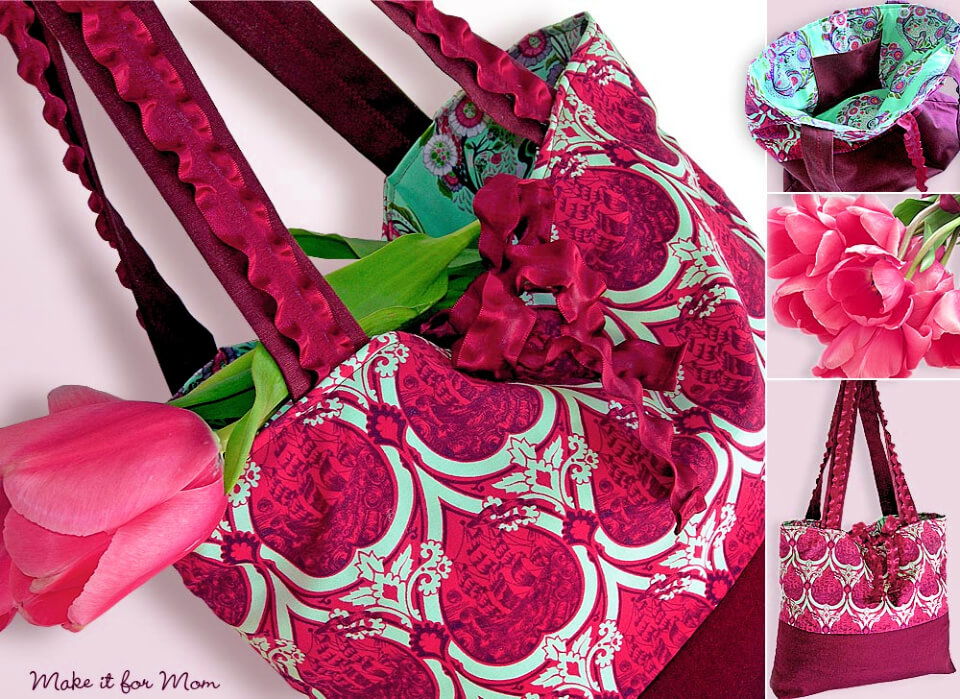 You will love to own this cute shopping tote having ruffly ribbon handles and ties. Sew it using 1/2 yard of 44-45″ wide fabric for lining and bag top exterior, use the same fabric size for the bottom exterior, handles, and pockets. Grab the 1/2 yard of lightweight batting and 3 yards of 7/8″ ribbon for straps. sew4home
15. Free Farmer's Market Totes Pattern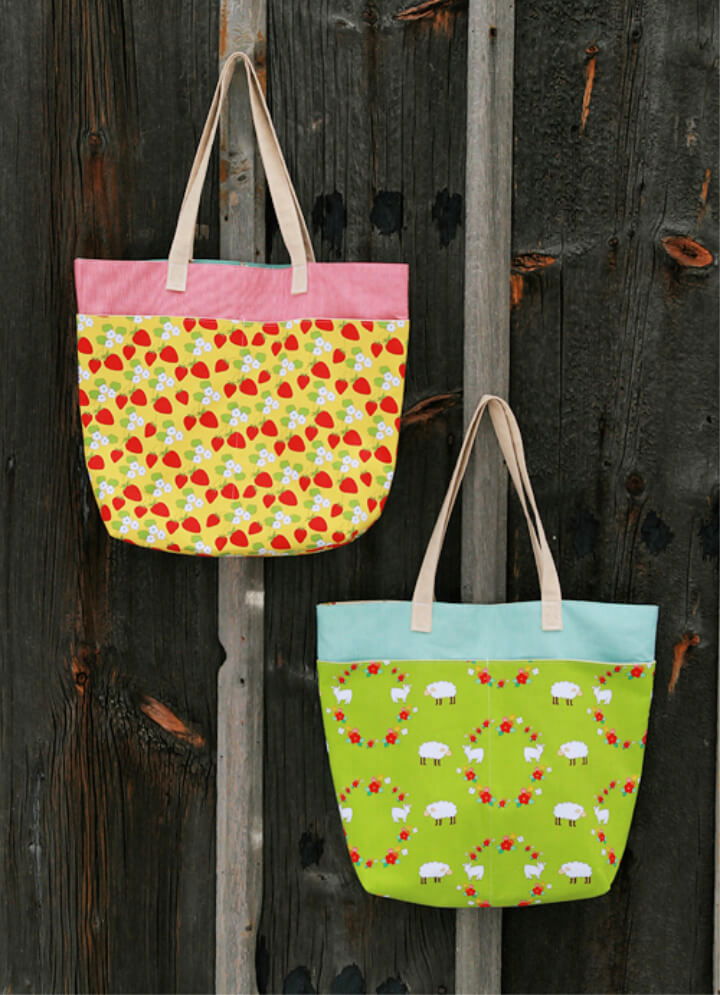 You need 1/2 yard of fabric for each, outer pockets, for pocket lining, inner lining, and straps. Finally, you need 1/4 of interfacing to sew this market tote. Cut the straps having size 2″ x 26″ and get busty with the sewing machine and sewing supplies. Use a logo for a personal touch. freshlemonsquilts