Looking for a fun, easy activity to keep your kids engaged and help them develop strength, fitness and physical health? Building a DIY climbing wall is an excellent way to do this! With 15 different ways to construct a DIY climbing wall in your home or backyard, you'll be able to find just the right option that suits your needs. Whether you're looking for a simple DIY indoor rock wall, like mounting some holds onto existing walls or going all out with wooden boards and slabs of concrete to build a backyard climbing wall – there's a cheap diy climbing wall for everyone.
From creating boulders indoors for the added difficulty to adding suspension ropes for extra grip along the route – these methods are great ways to allow kids to practice their skills without having access outdoors. Plus, crafting each design will also provide learning opportunities as they watch their creations come together. So if you're on the hunt for some fantastic kid's activities that will get kids off screens and into physical play – why not try building a DIY climbing wall today?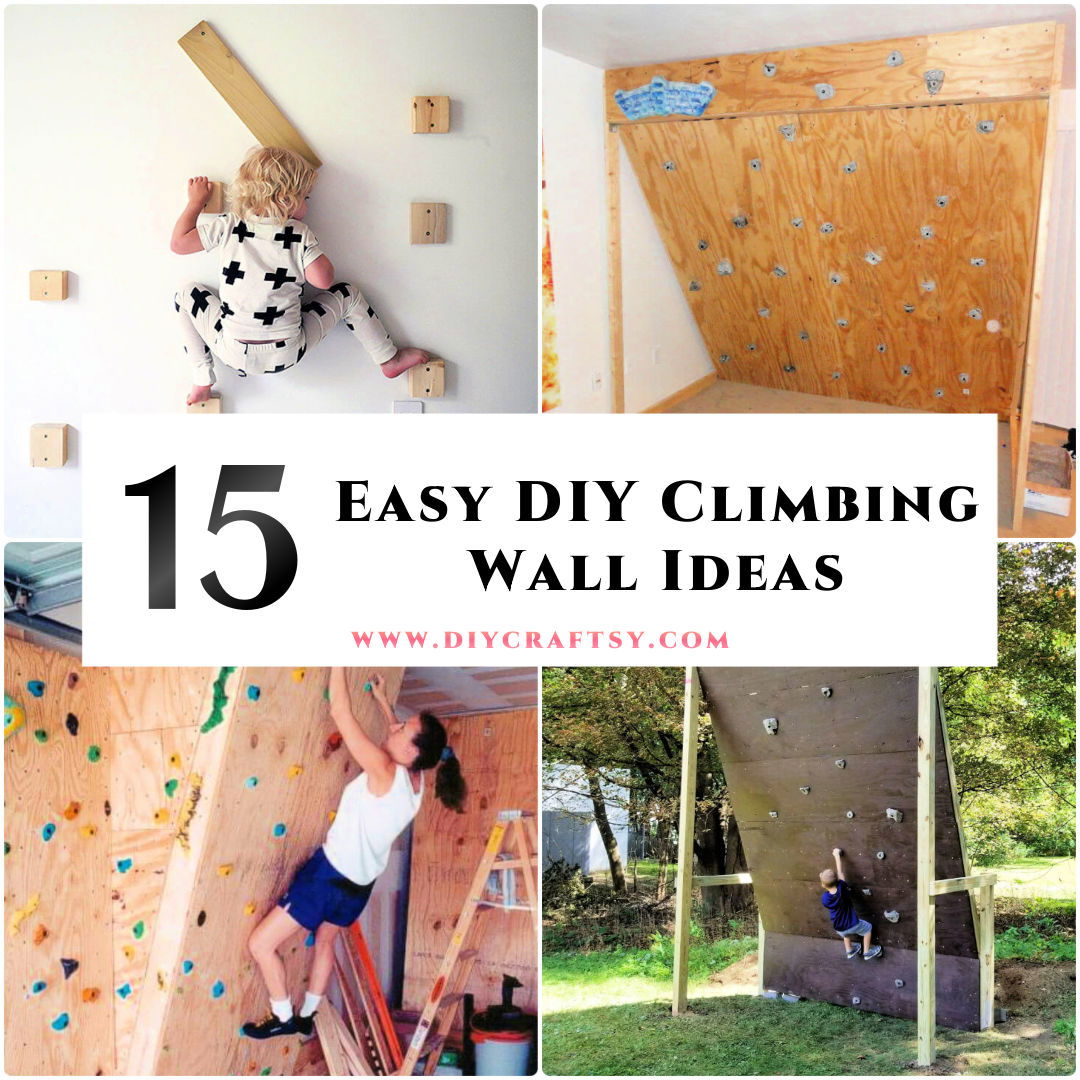 Easy DIY Climbing Wall Ideas to Build Your Own
Are you looking for new and exciting ways to build a DIY climbing wall? A fun indoor or outdoor climbing wall is the perfect way to get your kids busy with healthy activities! From simple step-by-step DIY climbing wall instructions that require minimal tools and materials to a difficult backyard climbing wall build, this list of 15 easy ways to build a DIY climbing wall has something for everyone.
For a unique twist on traditional walls, consider adding colorful tarpaulins for a vibrant aesthetic. If time isn't an issue, but budget is limited, try making homemade rock holds from items around your house, such as bottles or cans filled with sand – these provide great grip and texture while being cost-effective too! And if you're feeling extra adventurous, why not add ladders up one side of the wall and ropes at various points so climbers can traverse across different parts without scaling down again? With these 15 DIY climbing wall ideas for kids, it's never been easier (or cheaper) to craft your own custom climbing wall right in your backyard! So what are you waiting for – start building a climbing wall today!
The list provides free DIY climbing wall building plans for toddlers and adults. There are a few things to note before building a climbing wall. Use the padded floor mats all around the wall for the safe fall of toddlers. Use longer screws to fix the climbing holds in place. You will learn to build from straight vertical walls to tilted climbing walls. Explore all these DIY climbing wall ideas to see many fabulous designs, even a swing set and climbing wall combo.
1. How to Make a Climbing Wall
Lead your kids to a healthier lifestyle by building quick climbing walls. This will be the best fun way to put your kids to regular physical exercise. Build this simple climbing wall using 3/4″ plywood, climbing holds, floor mats, and lag screws. Make sure your finally finished plywood climbing wall panels are fixed durably to the wall. thecreatedhome
2. Ultimate DIY Home Climbing Wall Under $200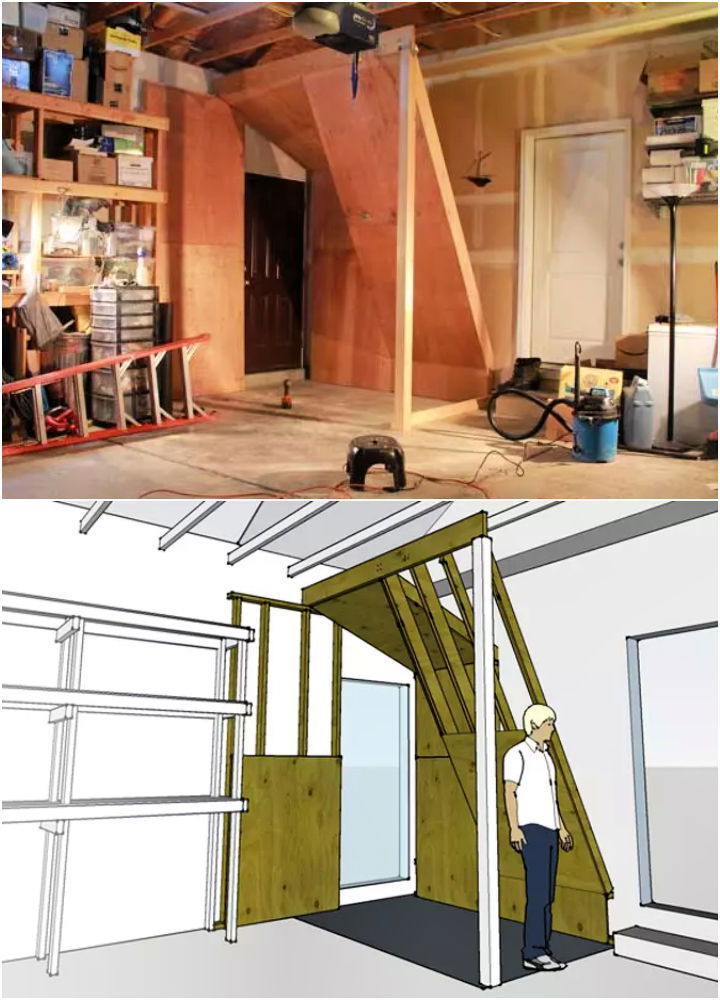 Boost the muscle strength of your kids by building this ultimate home climbing wall, will cost you under $200. You need 4′ -8″ x 3′ -8″ wood panels, 2x4x10ft, and 2x4x12ft studs and 1lb wood screws to build the basic of this climbing wall. The ultimate solution to keep your kids physically fit. growingslower
3. Building an Indoor Rock Climbing Wall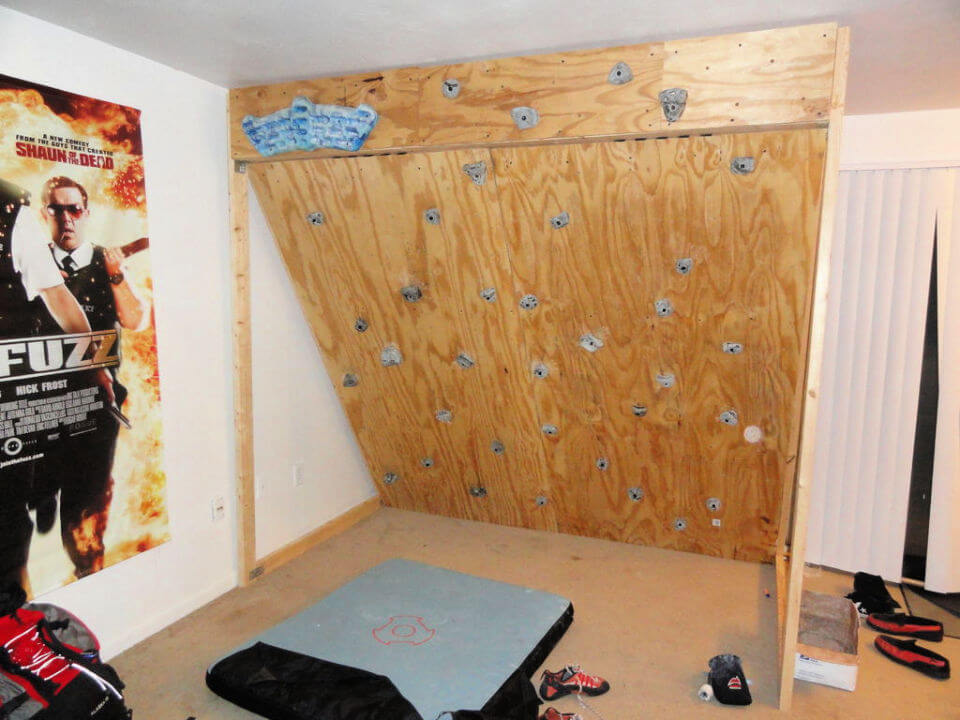 Build this toddler gym at home by spending less than $150. Kids will love to climb it while being alone or with siblings. Produce a significant interest in physical fitness among your kids by building this rock climbing wall. You need plywood, case of beer, drywall screws, and studs to make it. instructables
4. Build You r OwnClimbing Wall
Promote fantastic physical health among the kids by building this climbing wall. Along with plywood, you need lumber, zinc plated t-nuts, flooring, carpet, and custom holds to construct this lovely climbing wall. The project will cost you more than $2000. The best way to maintain the good physical health of your kids. climbing
5. How to Build a Climbing Wall for Kids
All you need is to screw in the climbing holds in a sheet of plywood, must be mounted well on the wall, to build this outstanding kid climbing wall. For making this climbing wall, grab a 4′ x 8′ piece of plywood, climbing holds, and 5″ screws to build this climbing wall. twofeetfirst
6. DIY The Hahn Climbing Wall
Update the kids' playroom with this the Hahn climbing wall, the fun to exercise. This outstanding climbing wall is 20′ feet long, and 8′ feet high will create hours of fun for the kids. Add the super-soft floor mats near the climbing wall for a safe fall of kids. Details here toddthahn
7. Homemade Kids Climbing Wall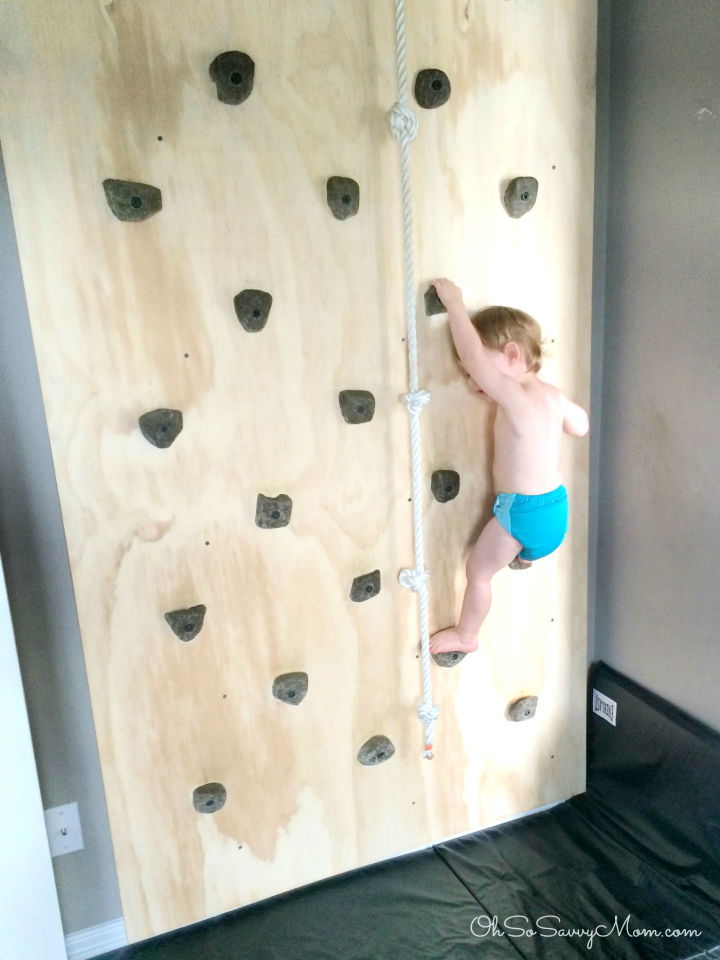 Buying a climbing wall is highly expensive, but DIY always gains your attention when you need to save a lot of money. Keep your kids physically active by building these climbing walls indoor, will rock in the backyards. Grab plywood panel, padded gym mat, climbing holds, and furring strips to build this climbing wall. Details here ohsosavvymom
8. Rock Climbing Wall for Your Kid's Playroom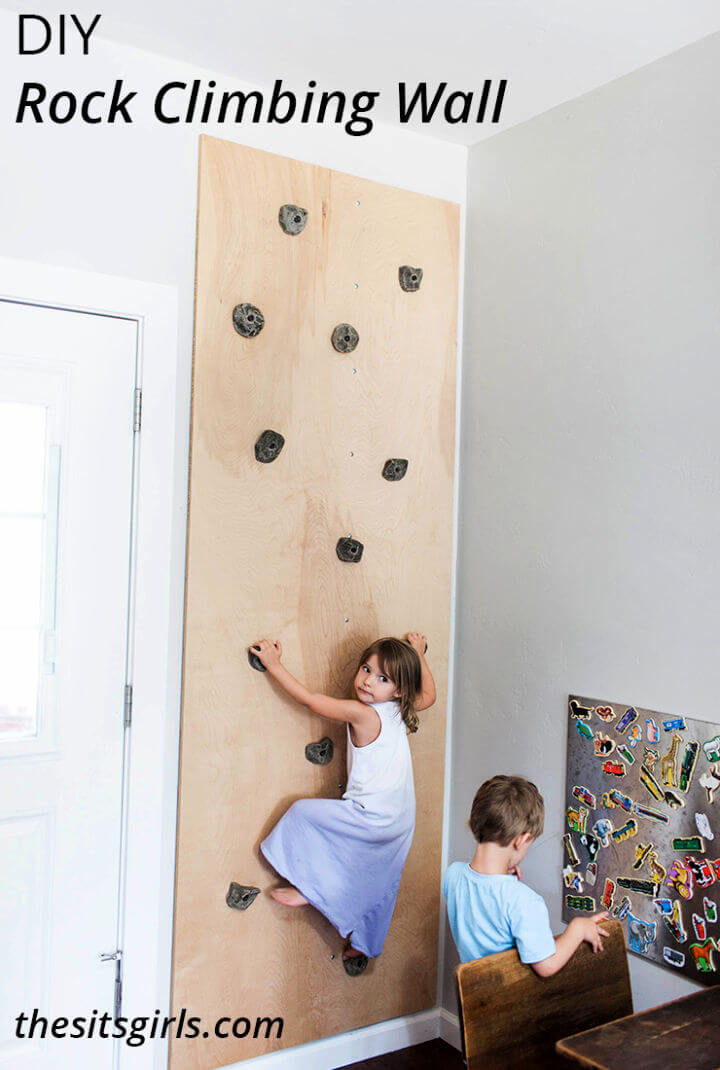 Improve the gross motor skills of toddlers by building the rock climbing walls. Update kids' playroom with this rock climbing wall will be super easy and quick to build. Grab a more significant piece of plywood and fix the colorful or one-color climbing holds on it to build this vertical toddler gym. thesitsgirls
9. How to Make a Rock Climbing Wall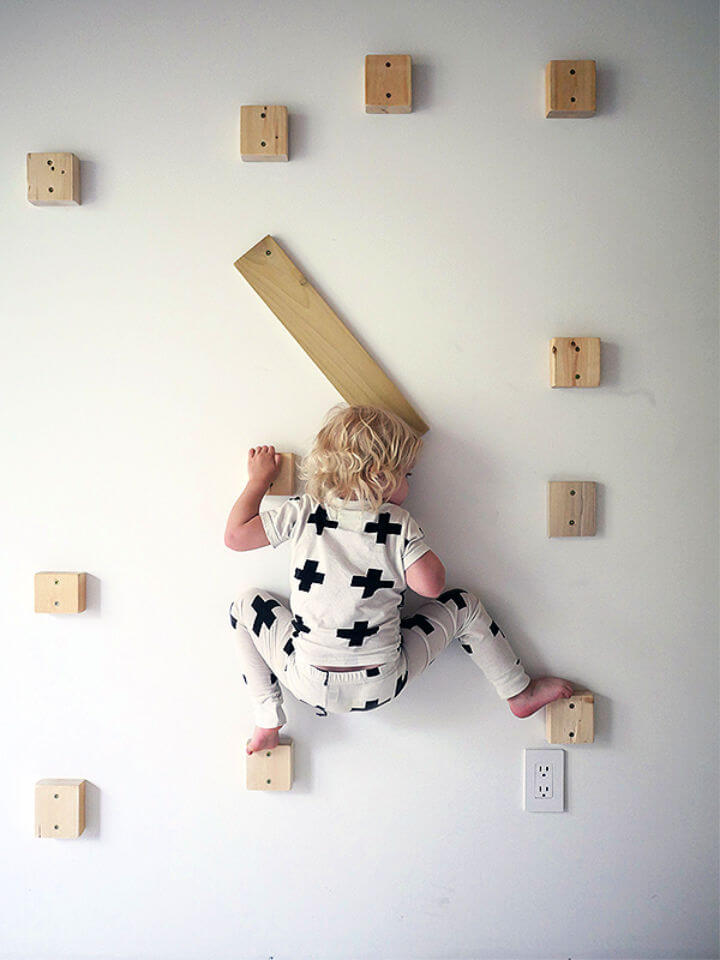 Ensure better physical fitness of your kids by adding this fun gym, the rock climbing wall will inspire your kids for rock climbing. Fix the wooden supports directly on the wall, add the padded floor mats for the safe fall of kids. Heavier woodblocks have been used for this project. designformankind
10. DIY Super Mario Themed Climbing Wall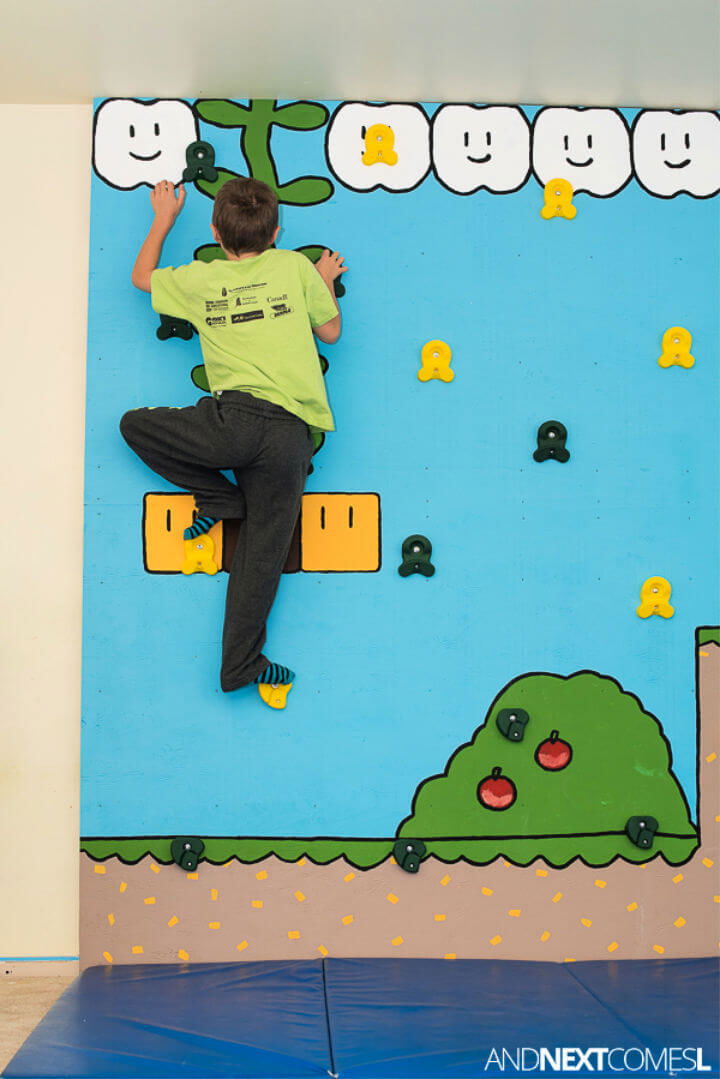 Kids are deeply in love with the super Mario game, so make the super Mario theme climbing wall, will boost the physical strength of kids considerably. Give your kids an enjoyable reason to be physically active all the time. The finished size of this climbing wall is 8′ x 8′ and it will cost you almost $250. andnextcomesl
11. DIY Backyard Climbing Wall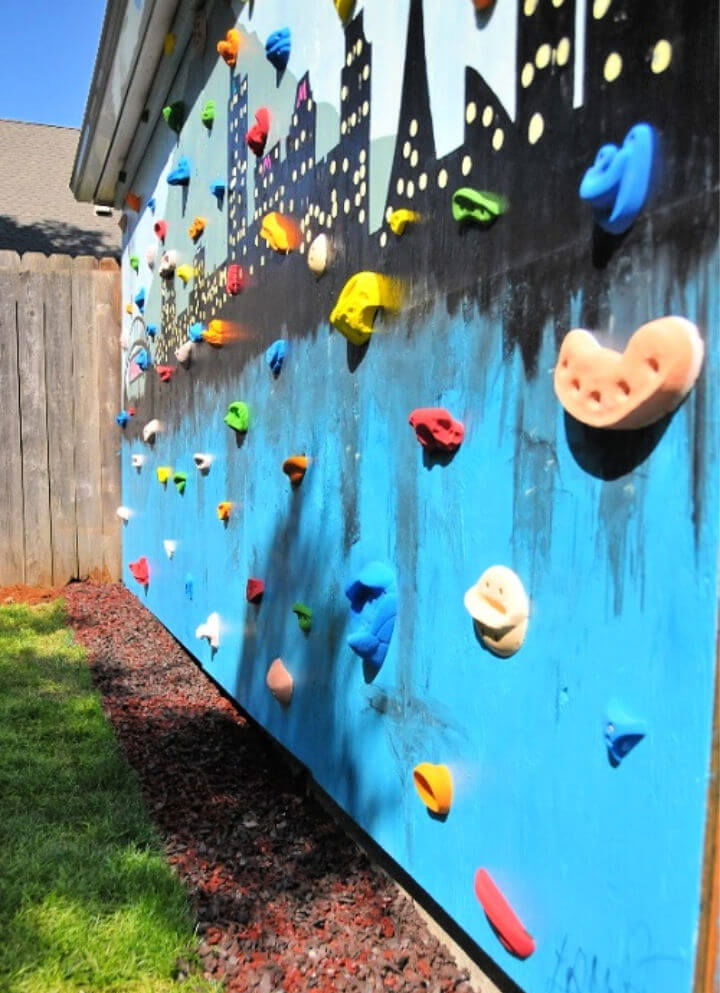 Willing to boost the outdoor activities of your kids? Then building this backyard climbing wall is a must. Get 4 sheets of plywood having 3/4″ thickness, 2x4s wood slats, and climbing holds to construct this fantastic backyard climbing wall. The final step would paint the wall in fun colors. Kids will love to be around it all the time. impatientlycrafty
12. Building an Indoor Rock Climbing Wall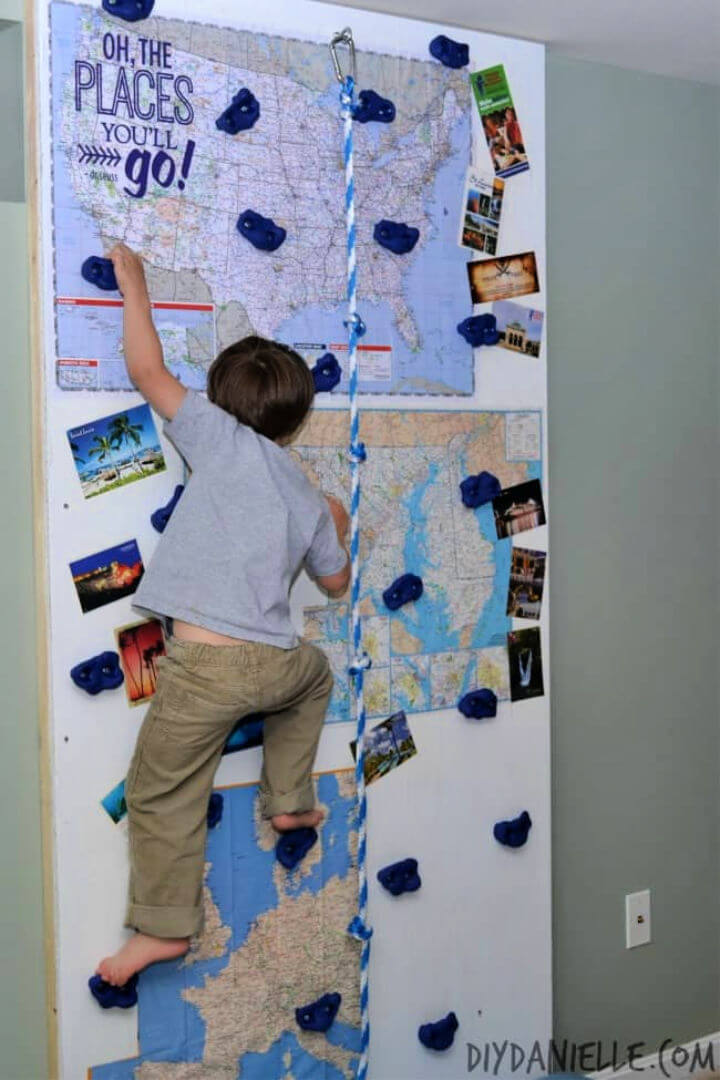 Here you need pine wood, climbing pegs, vinyl, and mod-podge to build this gorgeous rock climbing wall. Build this climbing wall for both indoor and outdoor spaces. Paint the decorate the wall by keeping in mind the interests of your kids. Don't forget to hang a rope for full rock climbing training. diydanielle
13. DIY Outdoor Rock Climbing Wall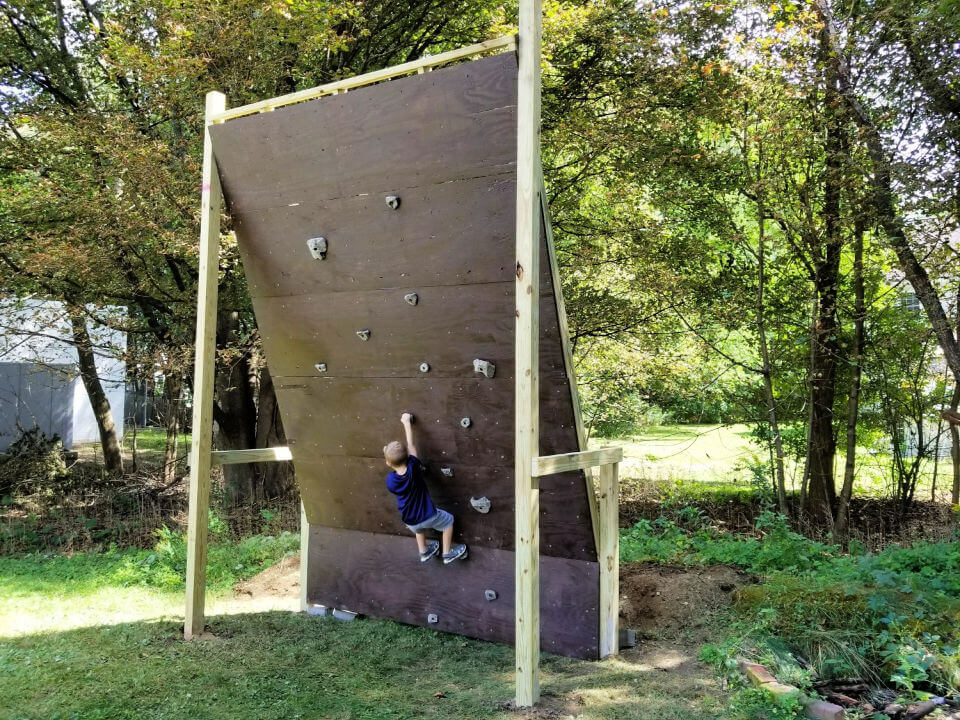 Transform the backyard into a prominent fun place for your kids by adding this outdoor rock climbing wall. The heavy-duty wooden frame supports the whole walls that come with heavy-duty wooden pillars. The choco climbing wall looks great in the wood blank pillars. Here is how to build it chasethesummit
14. Simple DIY Indoor Climbing Wall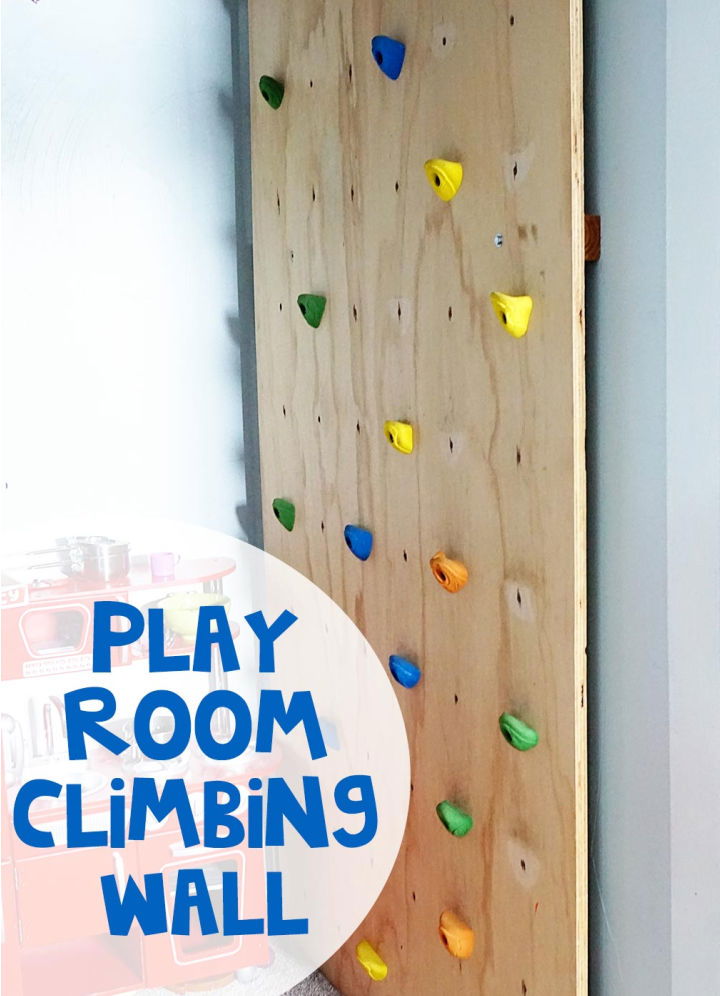 Grab the 4×8′ plywood sheet to construct this 7′ feet high climbing wall for your kids. Grab your favorite climbing holds and fix them durably on the plywood sheet selected for the wall. After you get your wall ready, install them on the wall using the latest and durable hardware. thecraftingchicks
15. Combination Swing Set and Climbing Wall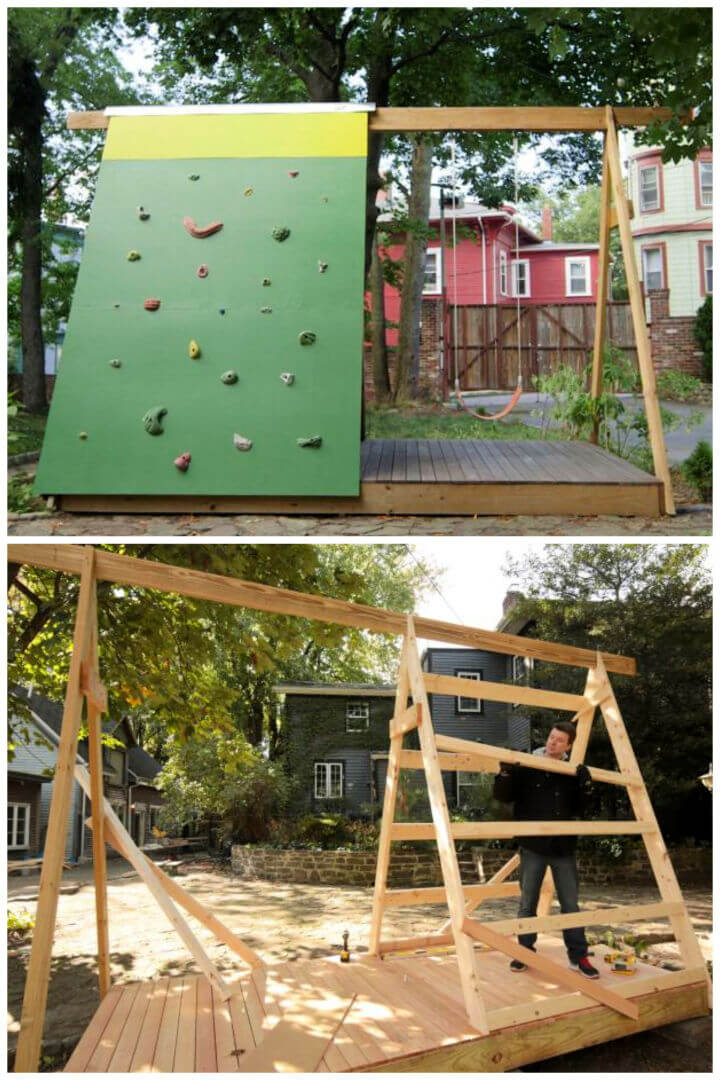 Double up the fun of your outdoor-loving kids by building this double fun station, the combination of a swing set and climbing wall. First, build the wooden deck, then the swing set. Finally, use the plywood to build both sides of the swing set. Paint the climbing wall and adjust as sloped. diynetwork
Frequently Asked Questions:
Get answers to your questions about constructing a DIY climbing wall for kids! Learn how to build the perfect structure with helpful tips and ideas from our experts.
How thick should plywood be for a climbing wall?
Plywood used for a climbing wall should be at least 3/4 inch thick. The thicker the plywood, the more resistant and durable it will be to wear and tear. It is also important to use high-quality plywood that meets safety standards to keep the climbing wall safe and secure. For optimal results, consider using 5-ply plywood. This type is the most durable and can withstand more weight than other types of plywood.
What do I need to build a rock wall for climbing?
To build a rock wall for climbing, you'll need climbing holds, anchor bolts, drill and screws, a sledgehammer, a level, an angle grinder with cutting discs and sandpaper, safety gear (such as gloves and eye protection), and plenty of patience! Ensure that the wall is built carefully to make it safe for climbers. Have fun building!
How to build a child's climbing wall?
To build a child's climbing wall, start by measuring and purchasing enough plywood to cover the designated area. Then add anchors for stability, attach hand holds in different patterns, mark routes with tape for visual guides, and apply foam padding to the bottom of the wall for protection. Finally, make sure to inspect the wall regularly to ensure its safety.
What wood is best for a climbing wall?
Birch plywood is the best choice for a climbing wall. It is strong, lightweight and very durable. Birch plywood also has good performance in terms of impact resistance and when exposed to moisture or extreme temperatures. It's easy to cut and shape as well, making it an ideal material for custom climbing walls. Overall, birch plywood is the best bet for any climbing wall.
Is it worth building a home climbing wall?
Yes, it is worth building a home climbing wall. Building one provides you with an easily accessible and enjoyable way to stay in shape. It also brings the fun of climbing indoors, making it always available for use regardless of weather or time constraints. Plus, it adds a unique touch to any living space!
How far apart should holes be on a climbing wall?
The spacing of holes on a climbing wall should be tailored to the user. Generally, it is recommended that the distance between two largest holds should be at least 12 inches, and the average distance between any two adjacent holds should not exceed 8 inches. It's also important to ensure adequate clearance between individual routes. This helps prevent hand or foot jams when transitioning from one route to another.
How do you make a simple climbing wall?
To make a simple climbing wall, you'll need to assemble the components – plywood, wooden posts, screws and anchor bolts. Then attach the posts to the plywood with screws and secure them with anchor bolts for stability. Finally, paint your wall or add texture for grip before enjoying your new climbing wall!
What angle should a child climb a wall?
The angle at which a child should climb a wall depends on the wall's surface and difficulty. Generally, it is best to start by climbing with an upright posture while keeping the body close to the wall. As they gain experience, kids can experiment with different angles—from vertical to more horizontal—to find what works best for them. Regardless of the chosen angle, safety is paramount; make sure there are no loose materials that could cause falling hazards.
Are toddler climbers worth it?
Toddler climbers can provide great learning and play experience for children. They're durable, entertaining, and can help develop physical coordination and social skills. Investing in a quality toddler climber is worth it if you want to give your little one an engaging and educational tool that will last.
How thick should a rock wall be?
The thickness of a rock wall depends on several factors, including the purpose of the wall, the type of rocks being used and the climate. Generally speaking, walls should be at least 8 inches thick to provide stability in most climates. However, thicker walls may be necessary depending on local conditions. Consult your local building codes for specific requirements.
Can you build a stone wall without a foundation?
Yes, a stone wall can be built without foundation. This is done by constructing the wall directly on the ground and using stones with sharp edges that interlock to keep the wall stable. It's important to ensure proper drainage when building this stone wall style. Otherwise, water buildup could cause erosion and weaken the structure's integrity.
The most successful stone walls are also reinforced with mortar or gravel for added stability. Adding reinforcement will help prevent displacement or cracking over time due to temperature changes or other sources of stress. If you plan on building a large stone wall, it's always best to build it atop a foundation for maximum structural integrity.
Can I use plywood for a rock wall?
Yes, you can use plywood for a rock wall. Plywood is durable, affordable and easy to install and maintain. It's also available in a wide range of colors and styles so you can customize the look to suit your tastes. Additionally, plywood is lightweight yet strong and impact-resistant, which makes it perfect for rock walls. You'll have a beautiful rock wall that lasts for years with proper installation!
Does layering plywood make it stronger?
Yes, layering plywood can make it stronger. Adding more layers of thin wooden sheets glued together increases the resistance to bending and impact damage. The result is a thicker, stronger material that has better structural integrity than a single piece of wood. It also reduces shrinkage and warping with changes in temperature and humidity.
How steep should a climbing wall be?
The ideal climbing wall angle is between 10-40 degrees, depending on the desired difficulty level. A steeper angle is better for more advanced climbers, while a less steep angle is better for beginners. Ultimately it's up to the climber and what they are comfortable with. It's important to make sure the wall can be climbed safely before attempting any climb. ~~~ End Word Count: 50 Words ~~~
Can you hang plywood instead of drywall?
Yes, you can hang plywood instead of drywall. Plywood is an excellent option for wall and ceiling cladding, offering good insulation and noise reduction. It's also easier to install since it doesn't require mudding or taping like drywall does. However, it's important to use the right type of sealant when installing plywood to ensure a lasting finish.
What are the 3 basic forms of climbing?
The three basic forms of climbing are bouldering, sport climbing and traditional (or trad) climbing. Bouldering involves ascending routes up to 20 feet in height with no rope or harness. Sport climbing is more technical and involves a rope and harness to ensure safety. Trad climbing requires specialized protection equipment placed into the rock as the climber progresses up a route. All three types provide different levels of challenge for climbers!
How do you make a cheap climbing hold?
Making a cheap climbing hold is easy! You will need some wood, screws, bolts and nuts. Drill holes in the wood for the bolts, then attach the holds using the nuts and screws. Make sure to check sand down any rough edges for safety, and you are ready to start rock climbing!
How are indoor climbing walls made?
Indoor climbing walls are typically constructed from plywood, fiber glass, steel and artificial rock materials. They often feature handholds and footholds to create routes of varying difficulty levels for climbers to follow. The walls may be angled in numerous directions and can incorporate features such as roofs, ledges and caves. Safety is a key factor when constructing an indoor wall, so quality materials and correct installation processes must be followed at all times.
What is the first rule of climbing?
The first rule of climbing is always to have a spotter who can monitor your safety and provide assistance if needed. It is important to wear the proper gear, like a helmet and harness, and practice proper rope-tying techniques. Always communicate with your partner during climbs and ensure you're aware of any potential hazards in the area. Safety should always be your number one priority when climbing.
What is the easiest type of climbing?
Bouldering is considered the easiest type of climbing. It involves short climbs that can be done solo or with a group and don't require any specialized equipment beyond climbing shoes and crash pads. Bouldering moves tend to be shorter and more dynamic than traditional rock-climbing routes, making it an excellent place for beginners to explore the sport.
What are the 4 levels of climbing difficulty?
Climbing difficulty is generally divided into four categories: beginner (5.0-5.7), intermediate (5.8-5.10a), advanced (5.10b-5.12a) and expert (5.12b+). Each level presents its own unique challenges, from proper technique to route finding skills and physical endurance levels, making climbing a rewarding activity for any level of ability.
Are female climbers better?
The debate over whether female climbers are better than male climbers has no definitive answer. All climbers, regardless of gender, have their own strengths and weaknesses in rock climbing. Every climber should focus on honing their skills and striving for improvement to achieve success. Gender does not affect the quality of climbing one can achieve. It is all about dedication and practice!
Is 2 too old for a Pikler triangle?
At 2 years old, a child's gross motor skills are well-developed enough to use a Pikler triangle safely. However, children's individual needs and learning styles differ, so it is important to consider your child's physical and mental development before investing in one. If in doubt, consult with your pediatrician or early childhood professional for advice.
At what age do climbers peak?
The age at which climbers peak varies but typically occurs between the age of 22-28. At this age, climbers are strongest physically and have developed their skills to a high level, giving them an advantage in competitions or on tough climbs. However, with experience and dedication, some climbers can remain competitive well into their 30s and 40s.
§ END OF DOC
What is the cheapest material to build a wall?
The cheapest material to build a wall is usually corrugated sheet metal, which is often lightweight and easy to install. It has the added benefit of being fire-resistant and resistant to rot and insect damage. It also requires little maintenance. Other inexpensive options include cinder block, brick veneer, or stucco. Whichever material you choose, make sure it fits the needs of your project and budget!
At what age can kids start with climbing walls?
Generally, most climbing walls recommend an age limit of 6 and above. However, this largely depends on the child's skill level and physical capabilities. Parents should always consult a qualified instructor to ensure their children can safely climb the wall. Additionally, there may be age restrictions at certain gyms or climbing centers. Check with your local facility for their rules and regulations.
Are Climbing walls safe?
Yes, climbing walls are safe when the proper safety precautions are taken. Following the best practices, like wearing a helmet and using approved harnesses, can help ensure a safe climbing experience. It is also important to inspect the holds and surfaces before climbing. Always be aware of your environment. With these precautions, climbing walls can provide an enjoyable and safe experience for all climbers.
Related DIY Projects and Ideas
Pallet Playhouse Plans: Make your kids' outdoor playtime super fun and exciting with these free DIY pallet playhouse plans! Easily build a dream backyard playground for less.
DIY Sandbox Ideas: Create an outdoor oasis with these easy DIY sandbox ideas! From a simple square sandbox to a more elaborate pirate ship, you'll find the perfect project for your backyard.
Cardboard House Ideas: Unlock your creativity with these unique DIY cardboard house ideas! From whimsical castles to cozy cabins, build a one-of-a-kind home that repurposes materials and stands out from the crowd.
DIY Ball Pit Ideas: Bring the playground to your living room with these fun & easy DIY ball pit ideas! Create a safe & budget-friendly space for kids to enjoy.
Play Kitchen Ideas: Keep your kids entertained and engaged with these awesome DIY play kitchen ideas! From colorful designs to fun repurposed materials, they'll love cooking up a good time.
Foosball Table Ideas: Make your own mini foosball table with these easy DIY ideas. Learn how to make a classic wooden tabletop game for hours of family fun!
DIY Chalkboard Ideas: Make a statement in your home with creative DIY chalkboard ideas. From crafts to wall art, these easy DIY projects are perfect for any skill level!
Conclusion:
Do you want to get your child outside and away from screens? Are you looking to build an indoor rock climbing wall so your kids can play and practice their skills? Look no further! Our 15 easy DIY Climbing Wall Ideas – indoor and outdoor, step by step instructions with wood and rock materials – are simple enough for a beginner. Our ideas will help you create the perfect climbing wall while staying within budget. So if it's time to take your skills up a notch, check out our easy DIY Climbing Wall Ideas now to build your own!