A coffee table is what that completes the design of your living room and of every sitting space. Being vitally important for a sitting furniture set, it is never to skip. And if you are not having some beautiful coffee tables due to lack of money then get a lovely one cost-efficient with the help of these DIY coffee table ideas. A coffee table with a round table top always grabs extra attention and as they are beautiful but they are expensive, this is embarrassing. To make you come up from this annoying situation, we have got here the perfect solution here. Just check out here these 15 DIY round coffee table ideas & free plans that all handmade and will definitely be a great addition in your farmhouse style furniture.
These DIY round coffee tables will make taking a coffee while enjoying the gossips, big pleasure and will definitely warm up your mood while having a morning coffee with family, friends or guests. These DIY coffee table projects and ideas are for every skill level.
Easy DIY round coffee table ideas and free plans:
Make rustic round top coffee tables at home using upcycled wood and finish them with pedestal bases. They will bring amazing rustic decor vibes to your living room environments. Make the two wooden rounds using recycled wood slats or lengths and then take them into tiered forms using vertical supports and make storage-friendly round top coffee tables. Make also the industrial round top coffee tables out of wood and metal pipes and also cut the beautiful rounds out of leftover plywood to make lovely round top coffee tables.
You can simply grab the wooden circles, rounds or discs that you can also make at home, and custom legs to make these lovely round top coffee tables at home inexpensively. Just finish the wooden rounds with custom metal or wooden legs and gain a lovely DIY round farmhouse table.
You can upcycle the old table furniture from to make a lovely round table top. At the same time, you can also cover the steel buckets with round wooden disc lids to make storage-friendly round coffee tables. Browse the entire list of these DIY round coffee table ideas and choose your favorite design to build at home and click on attached links to grab full free plans and tutorials.
How to Build a Round Coffee Table:
Bring a subtle character to your living room by having this round coffee table in the center. Put together two wooden arch shapes to make the round table top and next finish it up with a reclaimed pedestal base. A nice wood finish will bring shine on the wood grains. Complete picture tutorial here lizmarie
DIY Round Coffee Table: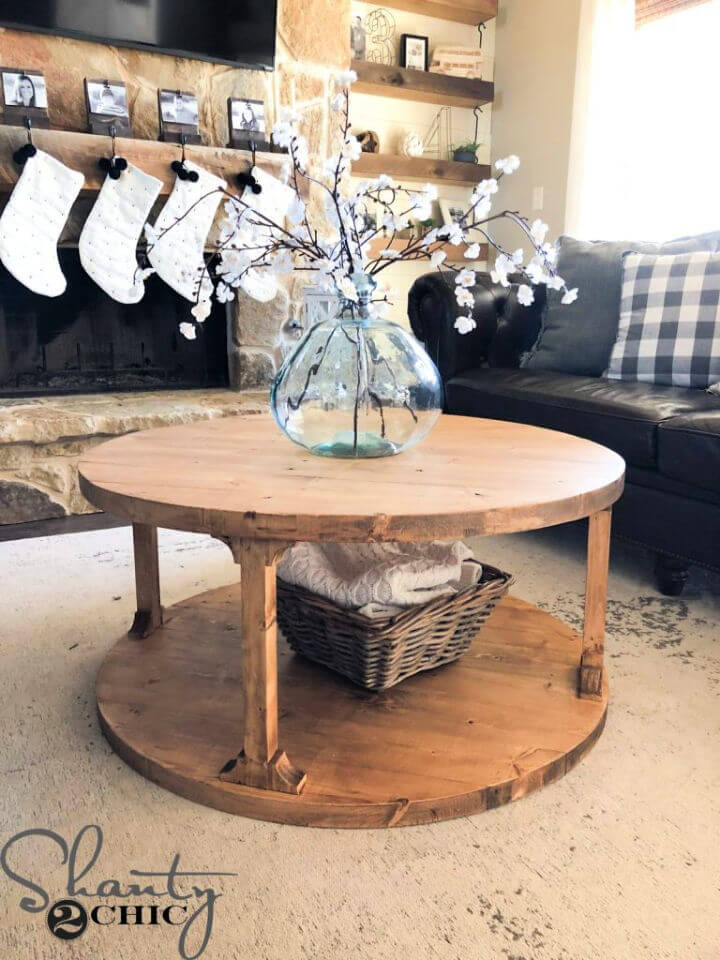 The round top coffee table brings a class to your living room and always gains extra attention. So, build also the two-tiered round coffee table at home to jazz up your living room. Use vertical wood pillars to bring the 2 wood rounds in tiered arrangements and that's it. It also provides inside storage space. Full how-to guides here shanty 2 chic
Easy DIY Round Industrial Coffee Table:
Visit also the nearby thrift stores to get your hands onto some highly low-cost round coffee tabletops. Raise them up on custom bases to build lasting longer round coffee tables. Plan also the leftover plumbing pipes to build durable industrial style base as done here. Complete instructions here adiamondin
Build a Round Coffee Table: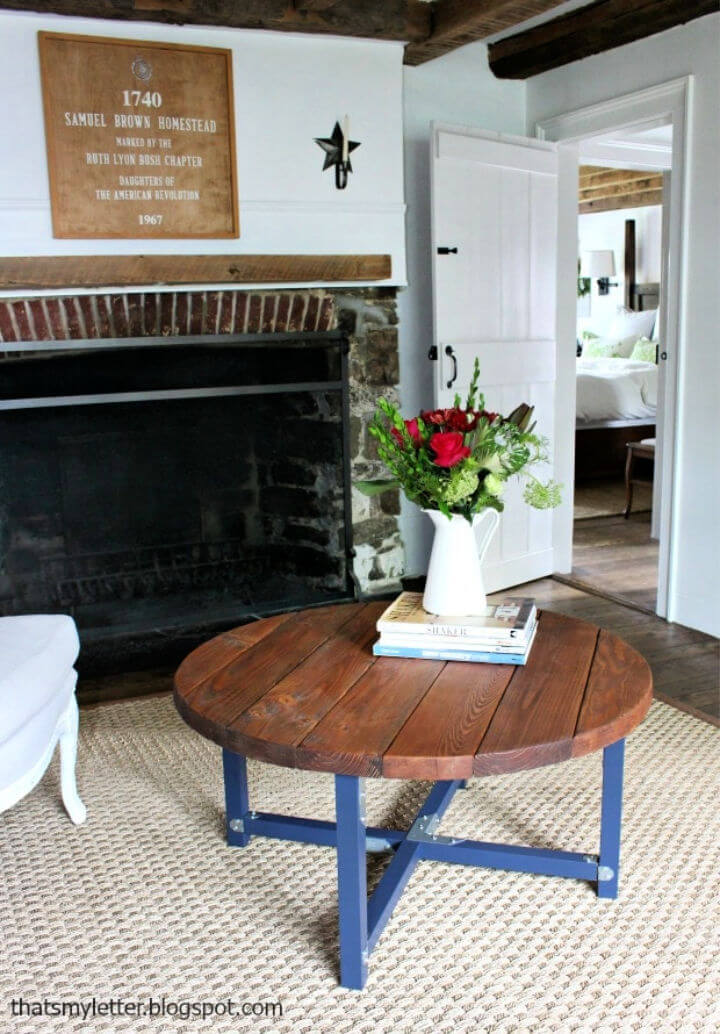 Bring amazing visual charm and grace to your living room by adding this round coffee table, will never get out of style. Put flat together with the reclaimed slats of wood, then cut a round coffee table out of them. Plan the square wood dowels separately to build the base of the coffee table separately. Tutorial here jaimecostiglio
DIY Round Plywood Coffee Table: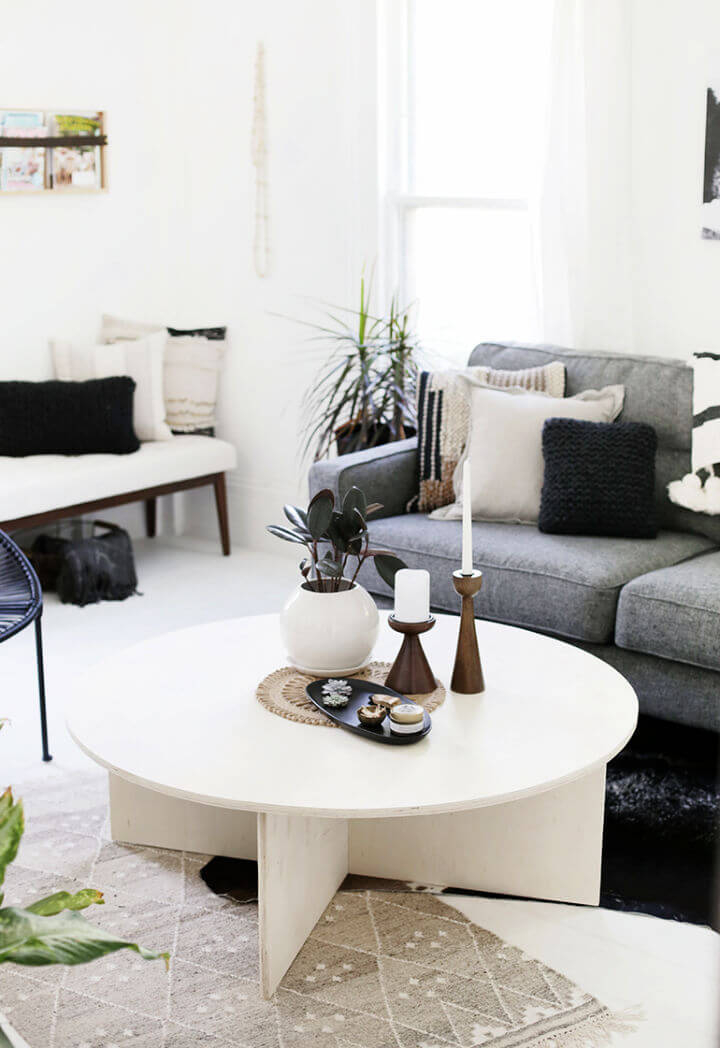 Plywood must be your first choice while the need to get fab and precise round top coffee tables. Cut the perfect rounds out of plywood, give them a nice finishing through sanding, gritting and staining. Next, make a (+) shape base using more plywood lengths and make the round top sit on it. Tutorial here themerry
Modern DIY Danish Coffee Table:
Follow here the guides to build a very modern coffee table, will help create outstanding aesthetics of your living room. Make plywood round coffee table top and next finish it up with tapered wood legs, 3 will be enough for a great standing style. Complete visual tutorial here francoisetmoi
Build Your Own Round Coffee Table: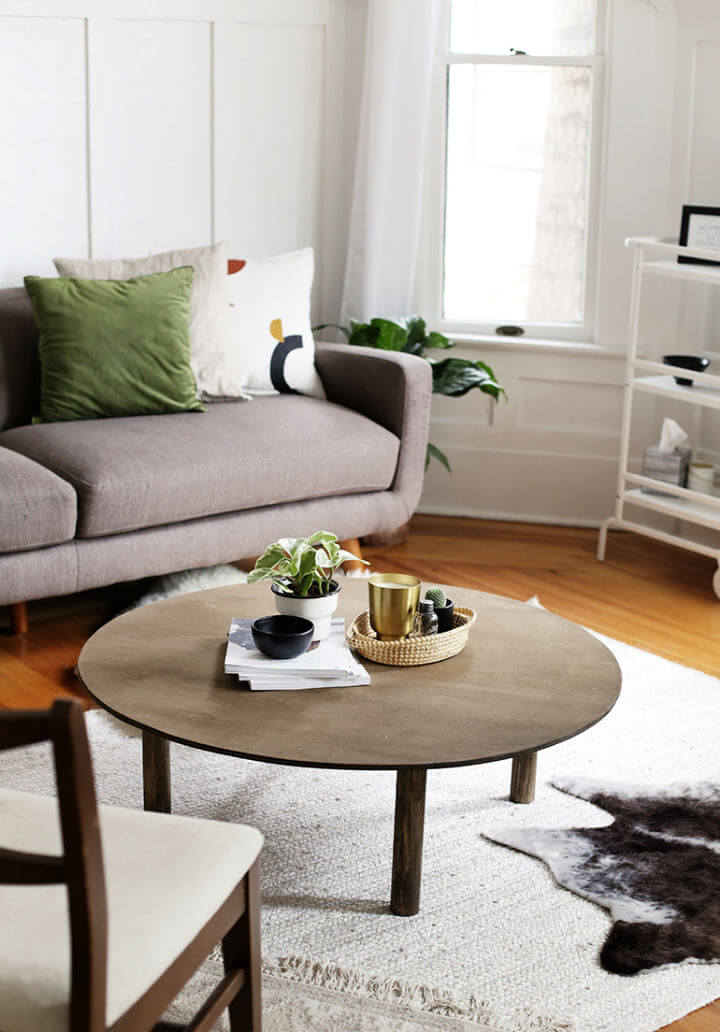 A rustic yet modern round coffee table, a precious conversation starter to add text in the center of your living room sofa. It stands on wooden dowel legs that can handle a lot of weight. Again cut a round table top out of plywood or MDF board. Full how-to tutorial here themerry
DIY Round Farmhouse Coffee Table: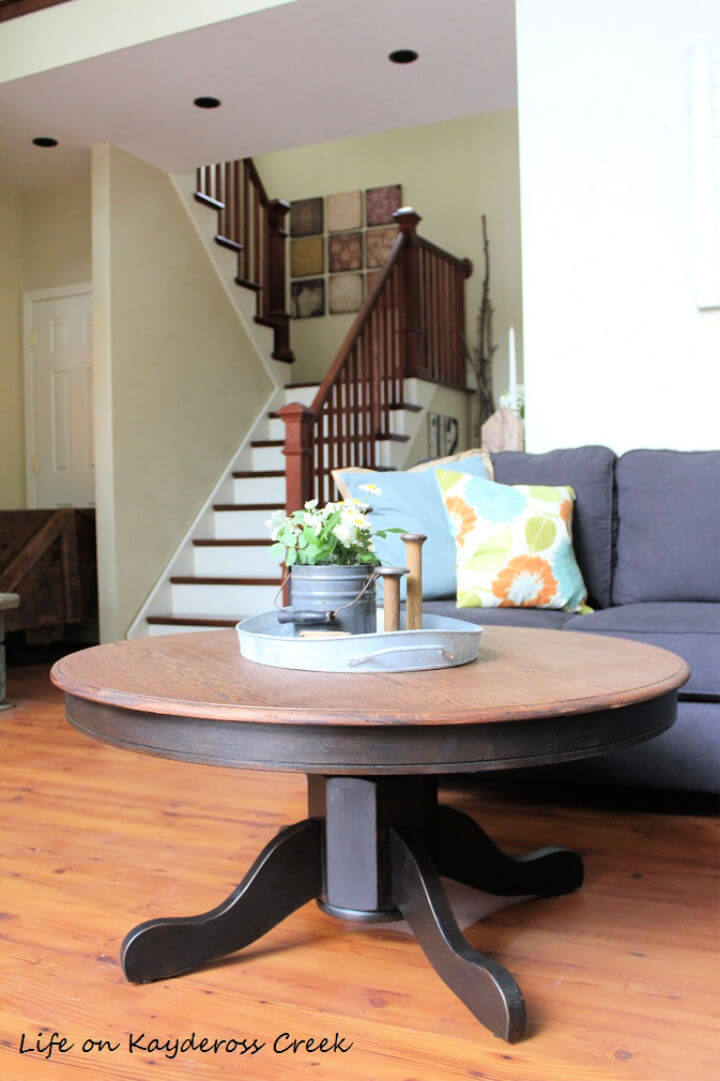 This handsome design of round coffee table does not appear to be handmade, but actually it is. It is actually a remake of an old round table that was having a higher pedestal base. Remove the parts and cut shorten the base and then refit the top in place. Give a nice wood finish for amazing results. How-to tutorial here mylifeonkay
DIY Round Coffee Table – Woodworking Project: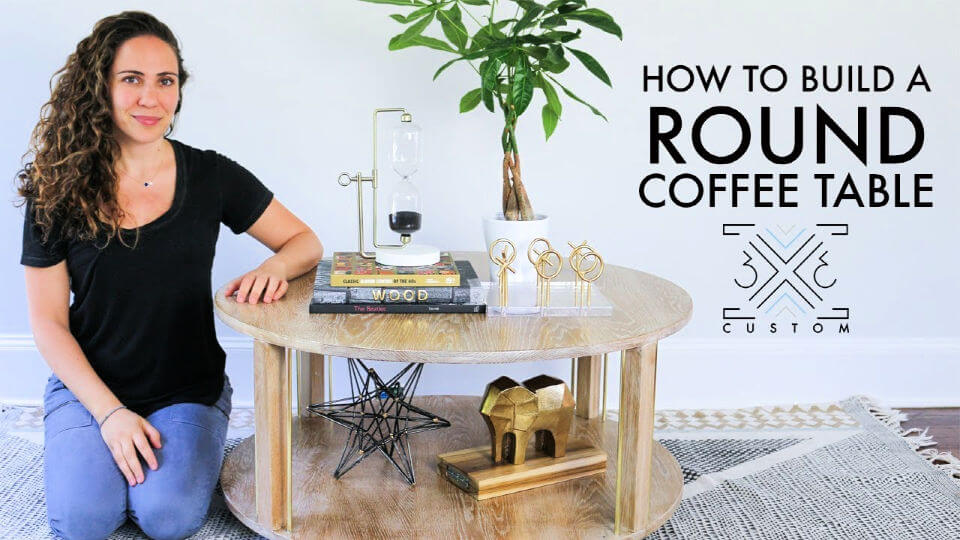 Bring back the lost charm and visual grace of your living room by adding this round coffee table. It is storage-friendly and will also help declutter your living room. Two plywood rounds and some wooden slats or square wood dowels will be enough to make this epic furniture beauty. Full tutorial here youtube
DIY a Hairpin Leg Coffee Table In 5 Steps:
Build industrial round top coffee table in a few easy steps, will bring the new functional character in your living room. Grab the cost-efficient round wooden tabletops from the thrift stores or yard sales, install metal hairpin legs to their bottom side using recommended hardware, that's it. Full tutorial here yellowbrickhome
DIY Handmade Round Coffee Table:
Super smart and storage-friendly design of coffee table made of a wood round and steel bucket. It provides storage under the top and also provides handles for easy lift over. Don't forget to install the short wooden tapered legs for creating an impressive design appeal. Complete tutorial here bobvila
Adorable DIY Round Table: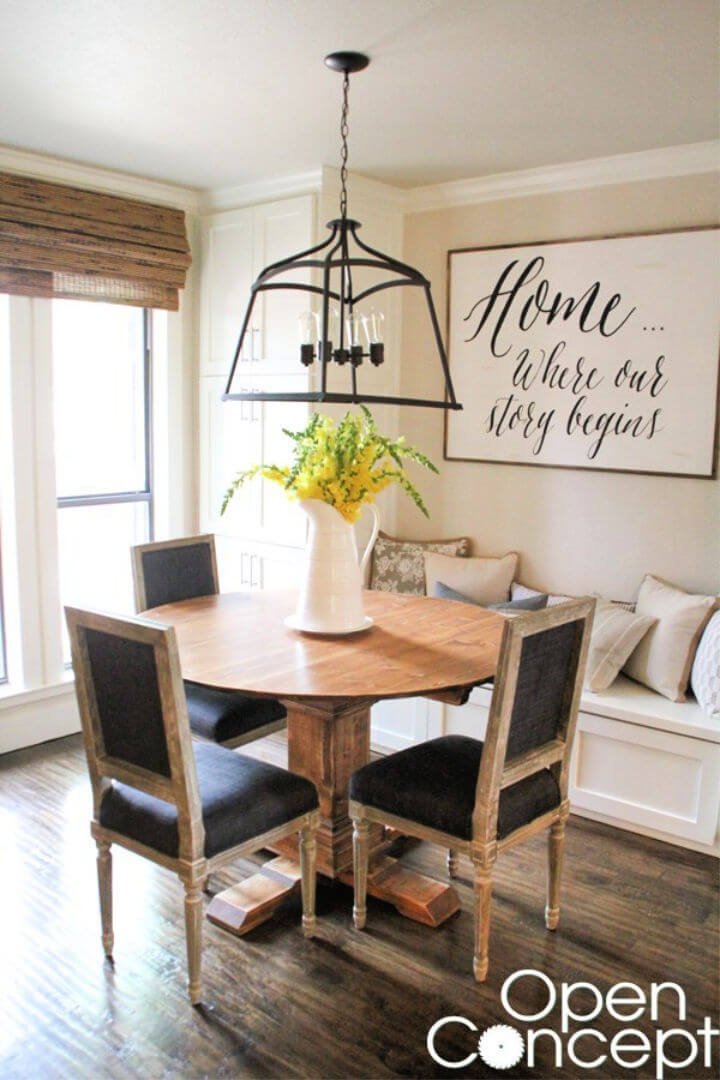 This robust round top table is good for both purposes, for living room conversations and for party night dinners. A glam round table with a solid pedestal base has a sleek wood appeal that will bring a subtle wooden character to any space or room. Free plans and step-by-step tutorial here shanty 2 chic
DIY Farmhouse Style Coffee Round Table: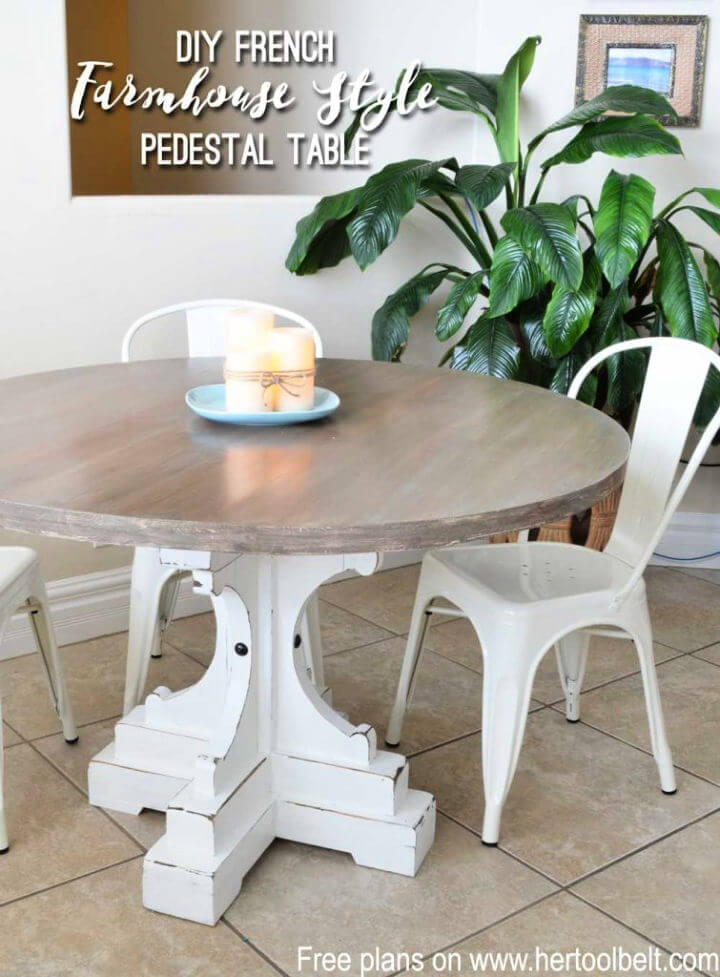 Bring a magnificent touch of farmhouse style living to your modern living room by incorporating this farmhouse style round coffee table to your living room sofa set. Building this table like a pro will demand an intermediate skill level and the final look will all depend on a custom wood finish. Full visual tutorial and step-by-step guides here hertoolbelt
DIY Restoration Hardware Inspired Round Coffee Table: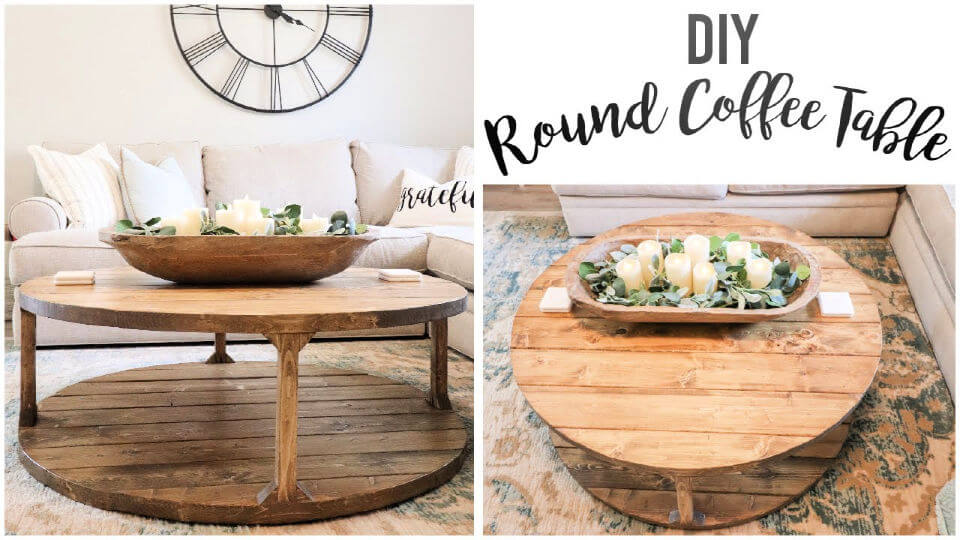 The slatted appeal makes this round coffee table look a bit more graceful. A creative DIY furniture achievement to do with the recycled wood planks. Put the slats together, cut precisely wooden rounds out of them and tier them up using heavy-duty wooden vertical pillar. Restoration hardware inspired round coffee table, will cost you big in market prices. How-to tutorial here youtube
DIY Wood Round Coffee Table:
Willing to display the natural edge of the wood in your modern living room? Then opt for this round wood coffee tables, are actually the cut slices of a heavier wood trunk. The natural cracks and design curves will turn them into a real natural centerpiece in the living room, the functional role will be a big bonus.
Pallet Coffee Table:
DIY round pallet coffee table from pallet ideas
The pallet table has been made in the multi-chevron style and seems much beautiful in it! Installed wooden pallets have many tones that can give a mixed impression to the overall beauty of this round coffee table!