Learn how to build a hall tree with these 25 easy DIY hall tree ideas and plans to spruce up your entryway and keep things organized. From farmhouse-style hall trees for pool towels to old door hall trees, you can find the perfect DIY project that suits your taste and functional needs.
Our collection of DIY hall tree plans covers various designs and features, including those with storage benches, chalkboards, with drawers, and shoe storage. Build a wooden hall tree for your mudroom or entryway, or make a rustic and modern look with a shiplap hall tree. These DIY hall tree ideas provide detailed instructions, and many even include free PDF downloads to guide you through the process step by step.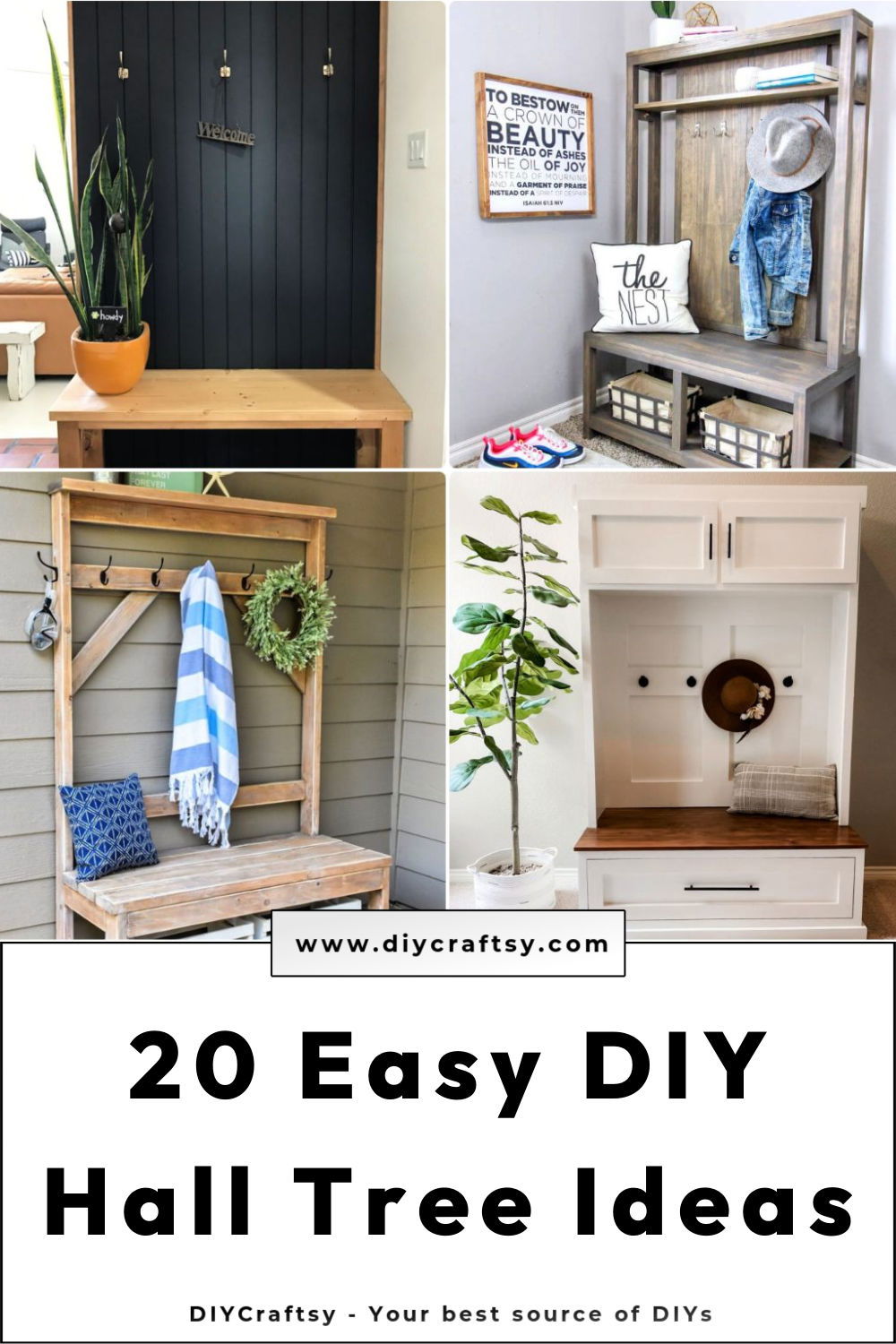 With a DIY hall tree, you can personalize the design to match your home's décor, making it both aesthetically pleasing and highly functional. Make your hall tree with various materials like wood, shiplap, or even repurposed doors to give it a unique flair. Enhance your hallway while keeping clutter at bay with the help of a well-designed and elegantly crafted DIY hall tree. Discover the perfect DIY hall tree plan for your home, and start building today!
1. Farmhouse Style Hall Tree for Pool Towels
Embrace the opportunity to enhance your home with an inviting DIY farmhouse-style hall tree. This versatile piece, simple to construct, can find a place in almost any area of your home. With basic materials like 4-2x4s, 2-2x6s, and a box of pocket hole screws, you'll achieve a sturdy hall tree that will stand the test of time. This project is cost-effective, too, with the total cost falling around just $30.
The finishing touches lend a rustic, beachy feel to the piece, achieved through staining, sanding, and whitewashing. Your creation will be a visually pleasing addition and a valuable asset. It's ideal for hanging wet towels or seasonal items, doubling as extra seating when required.
It can also serve as an innovative storage solution; add wooden crates on wheels underneath for storing shoes or other items. So why wait? Start making your hall tree and experience the joy and satisfaction of building your furniture! frugalhomemaker
2. Build Your Own Hall Tree With a Storage Bench
Discover clever DIY hall tree ideas to transform your entryway, adding style and functionality with personalized touches. Boost the appeal of your home's entryway with a personalized DIY hall tree storage bench. An essential for a decluttered space, this project merges style and functionality for a chic first impression of your abode. Perfect for both compact and spacious foyers, this versatile piece can function as a storage bench or a full hall tree, depending on your need.
Crafted with basic materials, including plywood, screws, and Rustoleum Kona Gel Stain, the project brings organization to life with a sleek, modern vibe. Detailed step-by-step instructions cover every aspect, from assembly to staining.
This design offers ample space for all essentials, from additional storage options to wall panels for coats and purses. Elevate your home aesthetics while efficiently managing space with this storage bench project. Start crafting today for a well-organized, stylish entryway that reflects your unique style. handmade haven
3. Building a Hall Tree With Shoe Storage Bench
Build your DIY hall tree bench with shoe storage, perfect for adorning your mudroom, entryway, or even an extra-wide hallway. This practical addition offers a convenient spot to rest, remove your shoes, or hang your coat after a long day.
The design features open cubbies in the bench seat and basic trim on the back, ensuring a simple, straightforward assembly process. Customize the size or switch up the trim and colors to make it uniquely yours, effortlessly matching any décor style, whether farmhouse, modern, or traditional.
This project uses pocket holes, screws, and brad nails for assembly and is ideal for those with an intermediate level of DIY skills. Dive into the process and build a functional, personalized storage solution today! woodshopdiaries
4. Making a Wooden Hall Tree With a Chalk Board
Relish a functional and stylish addition to your home with this charming DIY rustic hall tree with a built-in chalkboard. Perfect for organizing essentials, such as bags, keys, and shoes, this hall tree also features a chalkboard for leaving notes or reminders, adding a fun and practical touch to your entryway.
It's inspired by the design seen in the Pottery Barn catalog, but with a budget under $100, it's a cost-effective solution for decluttering. This project involves building a 2×4 frame, adding a bench seat and shelf supports, and securing the chalkboard.
It utilizes standard tools and materials like wood glue, pocket screws, and brad nails. You can construct this hall tree without major hurdles by following the step-by-step instructions. The rustic charm of this hall tree will enhance your entryway's aesthetics and bring a sense of organization to your home! addicted2diy
5. Affordable DIY Farmhouse Hall Tree
Experience the Pottery Barn charm in your home with this DIY hall tree project. Curate your storage hub for less than $100 to keep your garage clutter-free and organized, the ideal spot for dropping off coats, backpacks, and shoes. This robust and aesthetically pleasing hall tree will perfectly fit your space.
Key supplies include several 2x4s, 2x2s, and a 2×8, a pack of screws and brad nails, beadboard, hooks, and essential tools like a circular saw, drill, and a Kreg Jig.
The construction process follows with tailored adjustments to meet your width requirements. Building this hall tree simplifies your home storage and introduces a fashionable piece that's sure to impress. ashleymccollum
6. Make an Entryway Hall Tree With Bench
Revamp your entryway with an exquisite DIY hall tree bench. Not only is it an elegant addition to your space, but it also offers great organizational value, particularly for compact spaces. This project becomes an exciting adventure with materials like select Pine, plywood, a frameless mirror, and coat hooks.
The detailed guide starts from building the bench sides, assembling the bench frame, adding trim, attaching the bench top, building the upper frame, attaching the backing, prepping, and painting, right to the final touches of adding coat hooks and mirror, you'll have a sophisticated hall tree bench in no time.
This isn't your ordinary hall tree bench; it features a stylish mirror, serving as your final check before stepping out. It's a winning blend of style, organization, and functionality, with the added benefit of a mirror for those final lookovers. Breathe new life into your home decor with this amazing DIY project! handmade haven
7. DIY 2×4 Leaning Hall Tree
Enhance your home's functionality and aesthetics with a DIY leaning hall tree! This intermediate-level project is a fantastic solution for those seeking to organize their entryway stylishly and effectively. Utilizing simple supplies like 2×4 planks, a 2×10 or 2×12 piece for the shelf, self-tapping star bit screws, and hooks, you can build a sturdy and lightweight piece that even renters can take along when moving.
This hall tree features a lower shelf, making it ideal for resting items on. It's an excellent system for storing backpacks, lunch boxes, coats, keys, and accessories, making your morning rush less chaotic.
The tree is on the shorter side, standing about 5 feet tall, but it can easily be modified to fit your needs. Follow the free, detailed plan, watch the step-by-step tutorial video, and make a practical addition to your home. Start building today and reap the advantages of a well-organized entryway. ana white
8. DIY Wooden Hall Tree for Mudroom
Bring a touch of rustic allure to your mudroom with this easy-to-assemble DIY wooden hall tree! Tailored to meet the needs of compact spaces, this hall tree serves as a vital storage hub. It has a spacious drawer in the bench, ideal for shoes, coat hooks, and an overhead cabinet for hiding clutter.
The project may sound daunting, but with the easy steps provided in this guide, tasks such as building drawers and installing cabinet hinges become a breeze.
This guide provides a comprehensive step-by-step tutorial on transforming your mudroom into a functional and stylish space. All you need to get started are a few essential tools and this free plan. Elevate your home decor with this chic and handy mudroom bench. theaccentpiece
9. Make Your Own Rustic X Hall Tree
Elevate your home's organization game by exploring these inspiring DIY hall tree ideas for a clutter-free entry space. Refresh your home with this charming DIY rustic hall tree project! An excellent piece to enhance your home's entryway, this hall tree serves as a stylish addition and brings in a great deal of functionality. This plan uses only a handful of basic tools and materials, making it perfect for those with intermediate DIY skills.
Using 2x lumber and an assortment of screws, you can build a sturdy, beautiful piece for just around $80. Follow the detailed steps to make precise cuts and assemble the piece effectively. Once complete, attach hooks for added utility and give it a final touch with a semi-gloss white finish. Transform your space today with this rustic hall tree project! ana white
10. Build a Wooden Hall Tree for Entryway
Looking to optimize your entryway with a stylish and space-conscious organizer? Dive into this simple DIY project that will walk you through constructing a functional and aesthetic entryway tree. It offers enough room for your coats, keys, and everyday items without taking up as much room as a traditional storage bench.
With minimal supplies, such as beaded plywood siding, a one-by-four, a saw, and your choice of hooks and finish, this easy-to-follow guide helps you make a personalized organizer tailored to your preferences. After a few hours of crafting, you'll have an efficient storage solution, adding a unique touch to your home's entrance! dunnlumber
11. DIY Pottery Barn Entryway Hall Tree
Upgrade your home's organization and style with a custom DIY entry hall tree inspired by the modern rustic appeal of Pottery Barn's Declan model. Designed to fit a specific wall space, this innovative project transcends the limitations of pre-built furniture while significantly cutting costs. The hall tree is constructed from durable walnut wood, making it a superior alternative to popular versions.
The design includes upright supports, bases, hook boards, and carefully spaced shelves for maximum storage. Each component is methodically assembled, glued, and reinforced for a robust, long-lasting structure.
Completing the project with a dark walnut Danish oil finish ensures an antique rustic appeal. Not only does this project help manage your coats, shoes, and cold-weather gear, but it also adds an element of artisan craftsmanship to your home. instructables
12. How to Make a Shiplap Hall Tree
Unleash your creativity with these easy-to-follow DIY hall tree ideas and make a stunning focal point in your hallway. Find this captivating DIY modern shiplap hall tree bench project! This design, a sleek twist on the original shiplap hall tree bench, incorporates modern style elements, showcasing a blend of black paint, vertical shiplap, and light wood.
Despite its substantial size, this project is incredibly accessible, requiring only five tools: a miter saw, drill, orbital sander, pocket hole jig, and a pin nailer.
If desired, a table saw can add some finishing touches to the 2x4s. The comprehensive plans include dimensions for both versions of this bench. Don't just admire the aesthetic of modern furniture; make it yourself and take pride in your work! awesomeorange
13. Inexpensive Hall Tree With Wood and Industrial Pipe
Revamp your hallway with a rustic, practical DIY wood and industrial pipe hall tree. Crafted from wooden crates, common boards, and industrial pipes, this unique piece delivers style and storage functionality. It starts with sanding down wooden materials and staining them with a walnut finish for a rich, warm touch. Industrial pipes add an urban loft vibe and also serve as a sturdy frame.
This project offers step-by-step instructions, making the process smooth and achievable. It's not just about making a visually appealing addition to your home but also crafting a piece that serves as a place for hanging coats, storing shoes, and keeping your hallway clutter-free. Own the chic industrial look today with your hall tree. instructables
14. How to Build a Wooden Hall Tree
Maximize storage and boost your home's aesthetic with our top picks of versatile DIY hall tree ideas for every style. Bring a practical and stylish addition to your home's entryway with a DIY farmhouse hall tree. This project is perfect for those seeking to organize and reduce clutter while enhancing the overall aesthetic of their space. Utilizing everyday supplies such as plywood, base molding, and screws, this piece can be built and customized to match your home's décor.
The preparation process includes gathering materials and making a detailed shopping list for a seamless building experience. With a comprehensive step-by-step guide, this project offers more than just functionality; its unique farmhouse design adds a charming and rustic touch to any space. The primary material, plywood, offers versatility in design, allowing you to personalize the finished product to your taste.
So, gather your tools, follow our guide, and build your own Farmhouse Hall Tree, an incredible project that offers practical benefits and elevates your home's interior style. Make a truly your piece while saving considerably compared to retail prices. Happy building! ana white
15. Modern DIY Farmhouse Style Hall Tree
Looking to declutter and beautify your entryway? Check out these DIY hall tree ideas that are perfect for any home. Add a touch of rustic appeal to your home with a beautiful DIY modern farmhouse hall tree! Offering an ideal blend of beauty and utility, this project can bring additional storage space to your entryway, making clutter a thing of the past. With approximately $50, this project will be an affordable means to elevate your decor.
You'll need basic tools such as a table saw, a finish nailer, and Kreg Jig. Materials include 2x4s, 2x10s, and 2x2s, wood glue, and various screws. Its modern farmhouse aesthetic, clean lines, and minimalistic design elements set this Hall Tree apart.
The main element – the laminated posts – lend an appealing chunky look, adding character and depth to your space. Paint it any color you like to complement your interior design. So, why wait? Embark on this DIY journey and give your home the makeover it deserves. shanty 2 chic
16. Free Hall Tree Woodworking Plan
Uplift your entryway with a DIY hall tree bench that marries style and utility perfectly. This innovative furniture piece is a versatile storage option, a coat rack, and more, becoming the envy of many mudrooms. You can build a hall tree that stands apart from traditional designs using 13 2x2s, two 1x12s, panel boards, and other essential supplies.
This bench, characterized by a modern aesthetic, was brought to life with the assistance of Kreg Tools, incorporating the invaluable Kreg Jig and Kreg clamp.
Selected Pine is the preferred material, bringing a clean, sophisticated touch to the build, while Rustoleum's Briarsmoke stain delivered a modern, rustic look. Build this hall tree in a day and transform your home entryway with elegance and functionality. handmade haven
17. Building an Entryway Hall Tree – Step by Step
Impress your guests with these unique DIY hall tree ideas that combine both style and practicality for a welcoming entrance. Introduce style and organization into your home with an exquisite DIY entryway hall tree bench. Perfect for compact spaces like entryways, mudrooms, or hallways, this bench gives a neat, organized appearance and adds a touch of class.
Crafted with an array of wood products, including diverse sizes of boards, laminated panel boards, and plywood, its robust and elegant design is sure to charm any visitor. Additionally, its hardware includes a variety of wood screws, brad nails, and attractive garment hooks for that extra functionality.
Construction requires moderate skill, but the result is a beautiful piece of furniture that adds utility and visual appeal to your home. Let's embark on a fulfilling journey of home improvement with this project! buildsomething
18. How to Make a Shiplap Hall Tree With Bench
Get the charm of farmhouse style with this DIY shiplap hall tree with bench, the perfect organizational build for your home. Transform a redundant IKEA cube unit into a functional, attractive piece for multiple purposes – a spot for shoes, jackets, purses, and bags. The beauty of this project lies in its blend of aesthetics with utility, all within a budget.
With simple materials like an IKEA cube unit, hairpin legs, 2 x 8 board, 1×2 board for trim, 1/4 inch underlayment plywood for shiplap, and hooks, you can remake this eye-catching, versatile addition to your home. The result? A stylish, functional space that promises to keep clutter at bay. Enjoy the twin advantages of practicality and charm with this hall tree! thefrugalhome
19. How to Build a Repurposed Door Hall Tree
Venture into the inventive world of home decor with this incredible DIY repurposed door hall tree project by Gail, a true lover of repurposing inexpensive items into artistic creations. Learn how she transforms a simple $2 hollow core door and a $5 sewing cabinet into a stunning hall tree that impresses any entryway or hallway.
You only need a few supplies for this project, such as plywood, a speed square, Gorilla wood glue, a nail gun, and some paint. The tutorial includes easy-to-follow steps, from removing the sewing cabinet top to the detailed paint job.
The final touch, adding coat rack hooks, makes it a functional masterpiece that is the perfect spot for your coats, bags, and umbrellas. Repurposing has never been more fun and cost-efficient! refreshrestyle
20. DIY Wooden Hall Tree With Bench for Garage
Transform your garage space into a practical, charming mudroom with this DIY hall tree project! Make the most of unused space and make a tidy home for your jackets, bags, and shoes. This project provides functional and aesthetic appeal with supplies like an 8′ 1×12 wooden board, hooks, and DecoArt's Satin Enamels painted in Pure White and Grey Taupe.
The hall tree is assembled with wood glue and nails, then finished with two coats of paint. The completed piece features a bench and multiple hanging hooks for coats and bags.
With clear step-by-step instructions, this project promises a clutter-free garage and a convenient stop before heading out the door. Build a charming mudroom in your garage today and say goodbye to cluttered piles of shoes and clothes! thriftyandchic
21. Handmade Hall Tree From a Schoolhouse Door
Easily build your own DIY old door hall tree with our simple plans! Uplift your home decor by repurposing an old schoolhouse door into an aesthetic and functional DIY hall tree. This amazing transformation combines the rustic charm of the vintage door with the practicality of a chalkboard calendar and a handy bench.
Each of the door's twelve window panes corresponds to a month, painted with a black chalkboard for scheduling notes. The project involves an interesting process of sanding, painting, distressing, and detailing the door, culminating in an attractive green color.
Apart from being a daily planner, this hall tree offers hooks for hanging essentials and a bench for added utility. This DIY venture gives a whole new lease of life to an old door, making it a perfect blend of nostalgia and functionality in your hallway. mycreativedays
22. Building a Wooden Hall Tree – Free Plans
Tackle your next home project with confidence using these budget-friendly DIY hall tree ideas to revamp your entryway decor. Dive into the realm of home DIY with a splendid project – a built-in style hall tree – designed to provide functionality and charm to your hallway or foyer. Created for a loved one, this construction offers a blend of practicality and aesthetic appeal, with 1x4s employed for the side supports to maintain an open, welcoming entrance space.
The material list consists of essentials such as plywood, primed 1x4x8′, 1x3x8′, and 1x2x8′ pieces, prime wood casing, quarter round, and a 1x16x6′ piece, primed with Kilz 2 and finished with Sherwin Williams Showcase paint in white. The bench top is carefully stained with Minwax dark walnut, providing a rich contrast.
This project is a remarkable addition to any home, inviting a sense of warmth and order right from the doorstep. So, get your tools ready, and build this striking hall tree that resonates with love and care.
23. How to Make a Hall Tree With Storage Bench
Turn your cluttered laundry or mudroom into an orderly haven with a DIY hall tree storage bench. This project is ideal for families yearning for a system to neatly stow away jackets, hats, shoes, and gloves. Using plywood and solid alder frames, you can make this durable, stylish storage solution that seamlessly matches your existing cabinetry.
Essential materials include Titebond glues and General Finishes High-Performance Satin for a polished finish. Not only does this Hall Tree Storage Bench provide a much-needed organization, but it also doubles as an attractive piece of furniture in your home.
Following this detailed guide, you can build a robust and elegant storage solution, turning chaos into calm and adding value to your living space. Enjoy crafting a functional, high-quality piece that suits your home's aesthetics and needs.
24. DIY Mudroom Entryway Hall Tree Tutorial
Relish a functional, stylish entryway with a DIY mudroom storage bench/hall tree. Using a detailed guide, this project transforms your cluttered entrance into a tidy and inviting space. Essential tools include plywood, lumber, paint, and essential woodworking equipment. The preparation involves sourcing your materials and planning your work area.
The instructions outline a clear step-by-step process for building your hall tree, including cutting the wood, assembling the parts, and painting the finished product. This project declutters your home and adds a unique and personalized touch to your entryway.
It provides a cost-effective solution to mudroom storage issues while adding a bespoke aesthetic element to your home. This project is an informative, engaging, and helpful resource that guides you in transforming your home's entrance with a personalized touch.
25. Make a Shaker Style Hall Tree
Bring an element of classic design to your home while amplifying storage with this DIY shaker-style hallway tree. This easy-build project provides an effective way to organize and declutter your space, enhancing aesthetics and functionality. Key materials include quality lumber, wood screws, sandpaper, paint, and the appropriate hand tools.
The preparation is quite straightforward: gather your materials, measure, and cut the wood to size. This stunning piece of furniture serves as an attractive focal point and offers immense practical use.
Hang your coats, store your shoes, and stash away those keys in one neat, organized spot. The hallmark of this project is its timeless Shaker Style, known for its simplicity and utility, making it a harmonious fit in any decor. Infuse character into your hallway while promoting a clean, clutter-free environment with this fun project.
Conclusion:
In conclusion, explore these 25 cheap DIY hall tree ideas to find the perfect addition to your home's entryway or mudroom. Not only do these hall trees offer practical storage solutions, but they also enhance the aesthetics of your space. From farmhouse styles to shiplap designs and even repurposed door creations, these DIY hall tree plans cater to a variety of preferences and skill levels. With detailed plans and step-by-step tutorials, building a hall tree has never been easier or more satisfying.