Spice up your BBQ party routines with these 10 free DIY big green egg table plans that will be all in one type of table for your grilling space. They cost you big in the market prices, but building a custom design at home suiting best to your needs, can be reasonably inexpensive. You only need to go with the provided large big green egg table plans step-by-step instructions, visual tutorials, and free plans to build an expensive green table in a budget-friendly way.
You only need to build a solid wood table that will be safe housing for a big green egg, serving as a grill, oven, and smoker at the same time. For so many different design layouts, browse these 10 cheap DIY big green egg table plans that come with all the features you want to see in the store bought design. Almost every design is storage-friendly and has rolling bottom feet.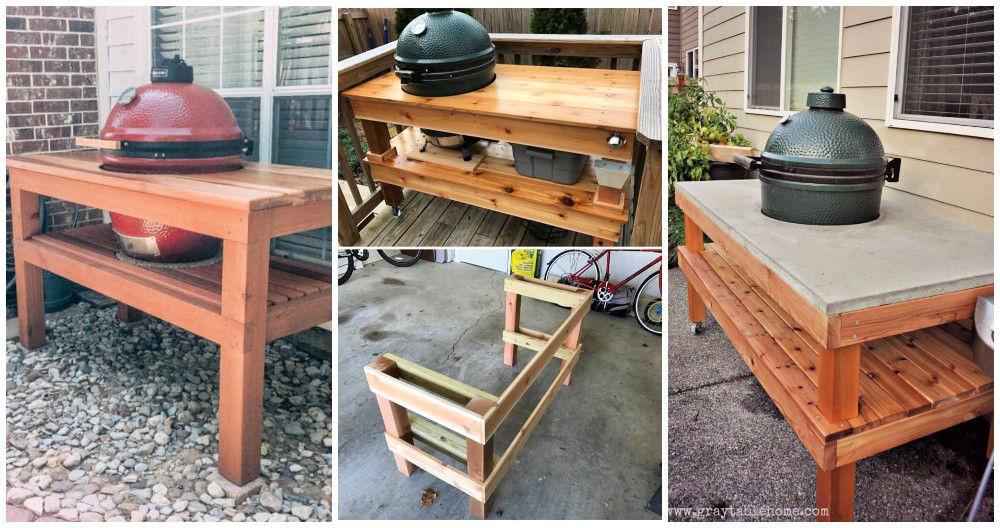 Cedarwood has the qualities to withstand harsh outdoor weather. So, cedarwood will be a smart choice to build any of these green egg tables. Furthermore, opt for a polyurethane finish to extend the outdoor life more of a green egg table. Whether you want to fit a green egg on one side or in the center of the table, this compilation of DIY big green egg table plans provides you with table plans for each design style.
1. DIY Big Green Egg Table
Build this green table for your grilling space, having a 59″ width. You need the heat-treated lumber and cedarwood boards to build the egg table. Keep the hole for fitting your kamado-style ceramic charcoal barbeque cooker, the big green egg. Add custom sub-storage cabinets for getting the desired storage space. allamerican
2. Build a Big Green Egg Grill Table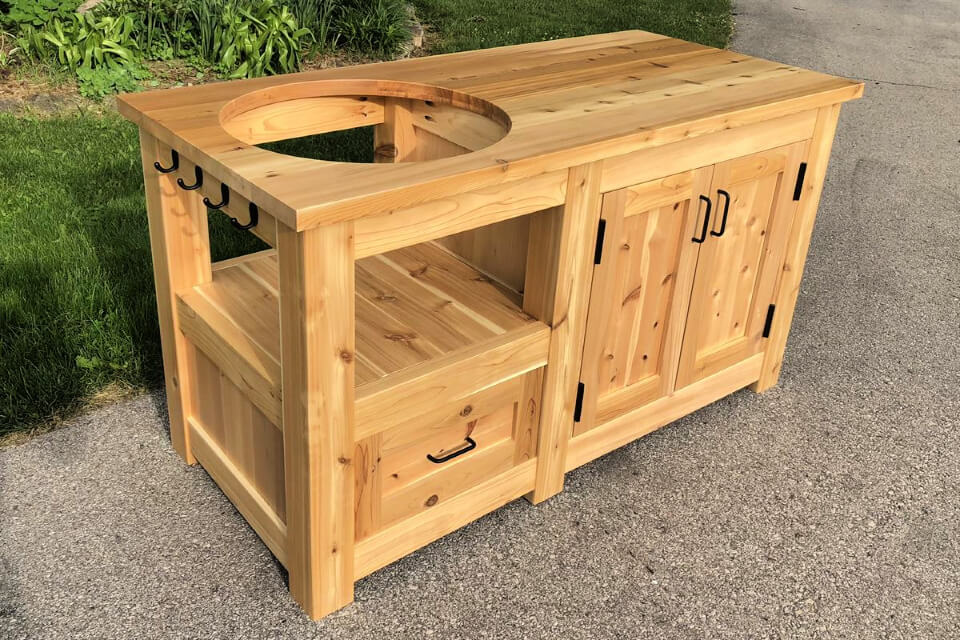 Get here free plans for building a green egg grill table step-by-step! The table will be a smart addition to your outdoor grilling space allowing you to quickly cook your grill, barbeque, and smoked dishes. The only purpose of this table is to help you keep on your BBQ parties! buildsomething
DIY Grill: Find these homemade outdoor grill ideas that are inexpensive and easy to follow for the summer so that you can enjoy outdoor grilled recipes in your backyard or balcony!
3. Big Green Egg Grill Table with Concrete Top
Rock your outdoor BBQ grilling space with this big green egg grill table that looks great with the concrete top. The grill table is solid and will last for years to come, the best way to feature concrete countertops in your grilling space. Caster rolling feet make it touch-to-move. The built-in shelf will allow secure storage of your grilling tools and supplies. ana white
4. How to Make Big Green Egg Table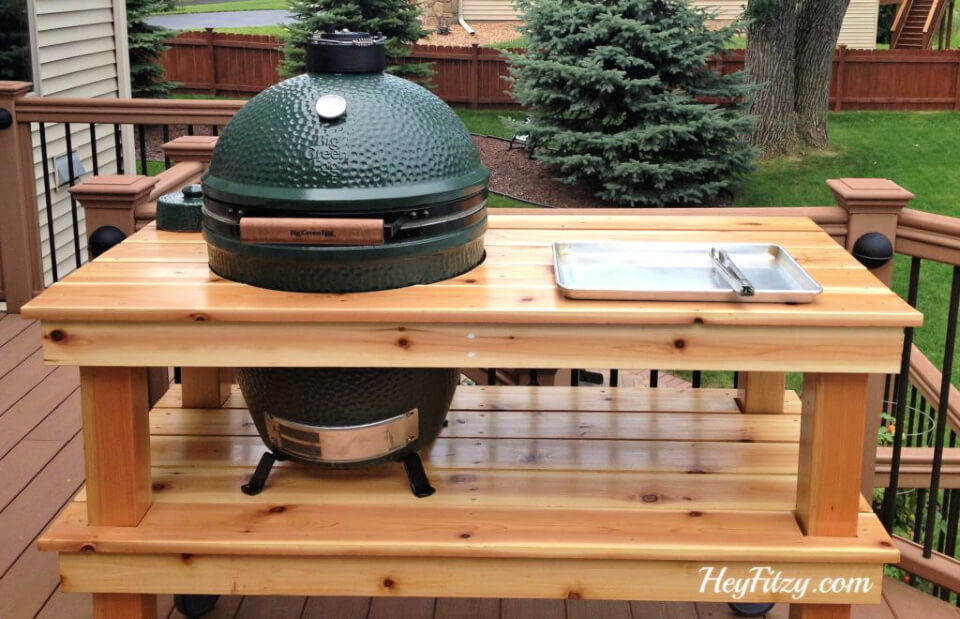 You need here 10 pieces of 1×6 cedarwood, 3 lengths of 2x4s, and 1 length of 2x2s to build this egg table beauty. In features, the table comes on wheels, provides a built-in shelf for secured inside storage, and finally has been finished with a few coats of clear satin. heyfitzy
5. Build a Big Green Egg Table
Enjoy grilling, smoking, and Barbequing at the same place using this big green egg table. Build the wooden table with a leftover space to fit a green egg that comes in so many different sizes. The given design layout provides tons of storage space at both sides and holds the green egg smoker in the center. searedandsmok
6. Inexpensive and Strong Green Egg Table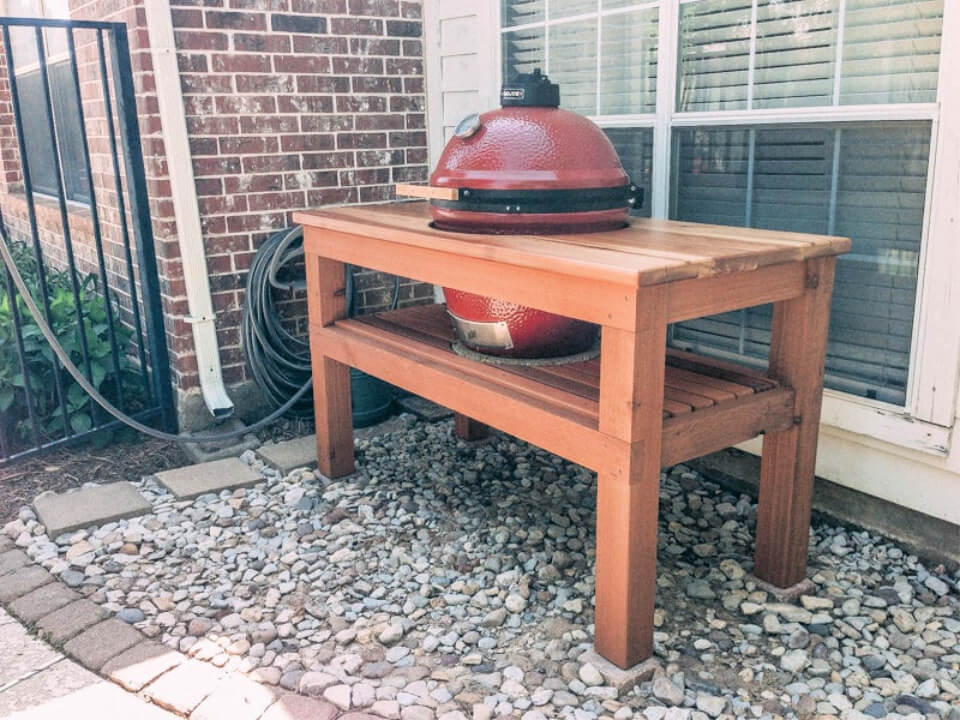 For summer BBQ parties, the green egg table is a big must-have. It is super expensive too to buy from the market. So, save a lot of money by building a green egg table at home. Build this given model using cedarwood boards like 2x4s. The project will cost you under $150. Give a polyurethane finish, and that's it. instructables
7. DIY Large Green Egg Table
You can see a fantastic shine on the wood grains, the large green egg table given a sleek wood finish. The design layout provides a big hole and lower wooden support to accommodate a massive green egg on one side. Build a lower shelf to organize supplies and get the design on wheels. buildsomething
8. Affordable Big Green Egg Table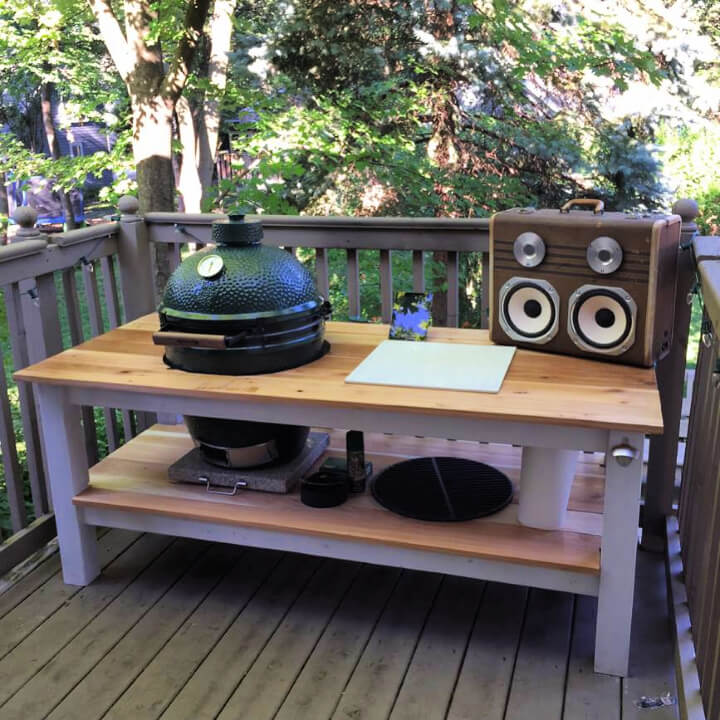 The green egg tables, in market prices, cost you an arm and a leg. So, why not build your own at home without breaking the bank. Get crafty with the 1×6 cedar wood boards, can live long at outdoor, to construct the table design with a built-in green egg table holding. Add a bottom shelf to allow smart storage, install wheels for easy dragging and pushing. imgur
9. Big Green Egg Cypress Table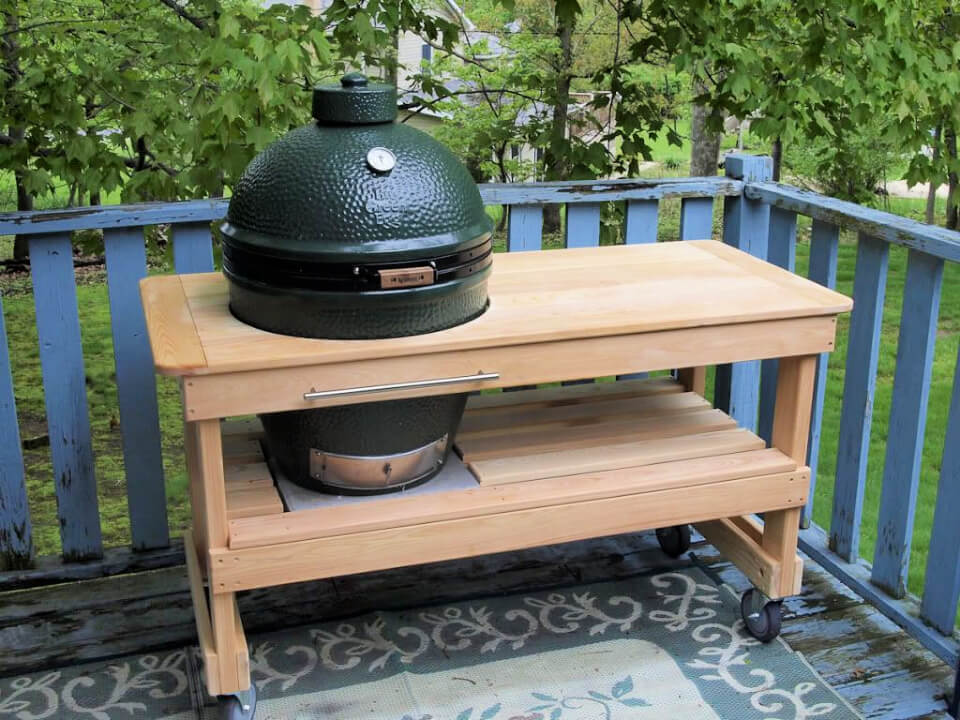 It will only require a minimal woodworking experience to build this green egg cypress table. The blank wood-tone appeal makes it much visually pleasing. It gains a metallic touch from a frond metal handle, a towel rack, and a glam industrial touch from the bottom wheels. A storage-friendly green egg table.
10. Handmade Big Green Egg Table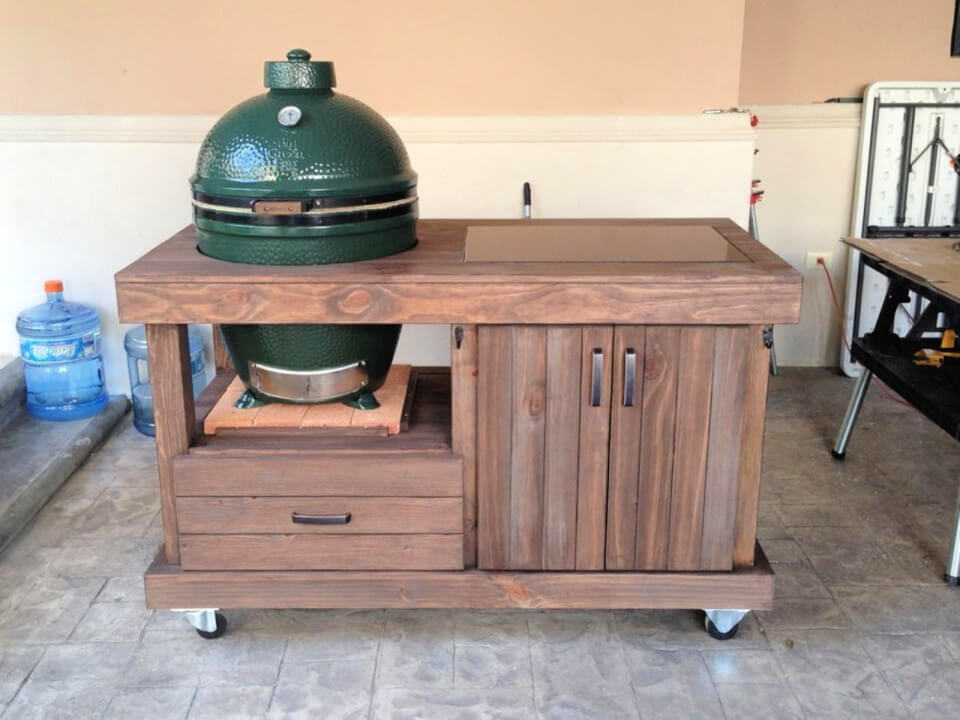 You will fall in love with the slatted arrangements of this big green egg table, looking solid. It has a robust built-in cabinet, a drawer, and a sleek countertop for comfortable food preparations. It provides the holding on one side to fit the big green egg that sits well in place.