Learn how to make a bookend with these 25 homemade diy bookends, including step by step instructions and easy plans. Having diy bookends in your home is an easy and affordable way to add some unique character to your bookshelf.
Making your own diy bookends doesn't need to be complicated either – you can use everyday objects that you already have around the house or various materials and techniques depending on the look you are going for.
From cute animal shaped homemade bookends made out of papier mache to modern pieces made from concrete or metal pipes – there is sure to be diy bookend idea that suits your style. With creativity and some DIY spirit, it is easier than ever to make beautiful DIY bookends that bring interest and charm to any room.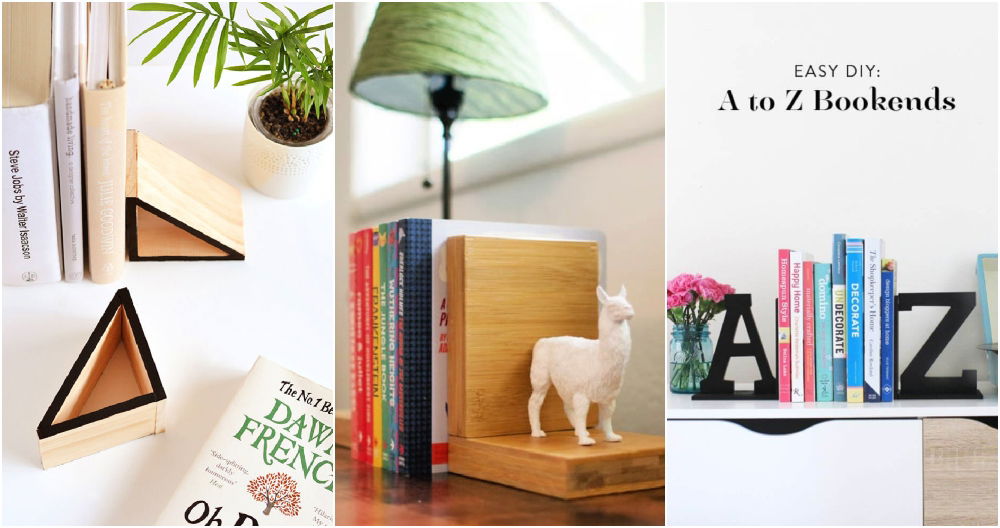 Homemade DIY Bookends to Make Your Own
DIY bookends are a great way to add extra style and flair to your home office or library. They are not only practical for holding up heavy books but also serve as decorative pieces. DIY bookends range from easy and simple to those requiring more advanced DIY knowledge.
With everyday materials such as wood, stone, ice cream sticks, brick, or ceramic tiles – the possibilities for creating DIY bookends are endless. Whether you're a DIY novice looking to tackle an easy project or an experienced DIYer seeking something more daring – building your own DIY bookends is sure to be an enjoyable experience!
1. DIY Wood Triangle Bookends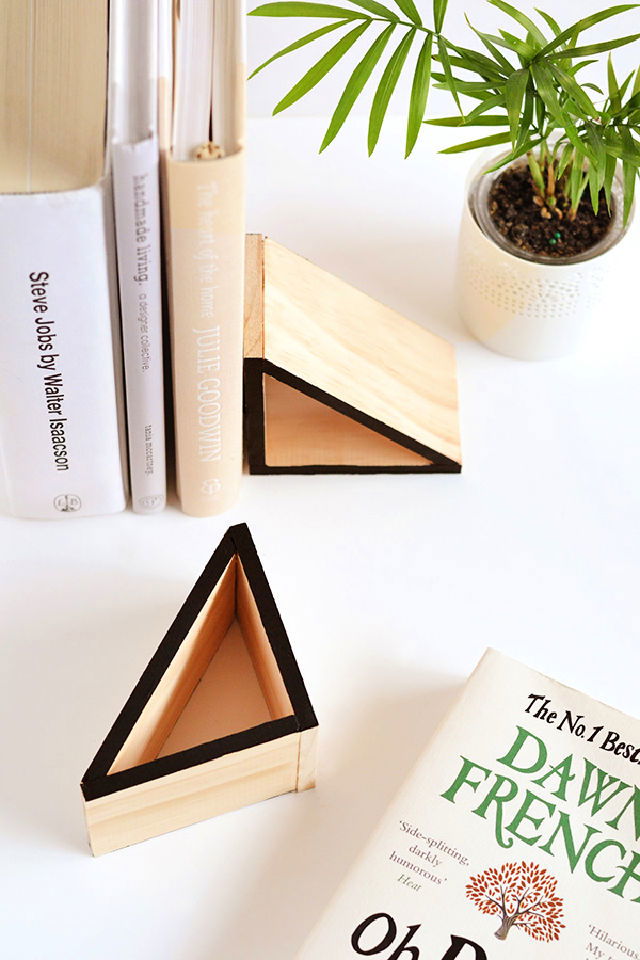 The DIY bookends make your books stand straight over the shelves and add a huge style statement to your decor display, so here are these pretty. These wooden triangular-shaped bookends to be made at home and add to your bookshelves. Three wooden pieces have been glued together to shape up these mini cute triangles and painted with matching hues at the edge lines to look so chick and awesome. You can check out complete details of the idea right on the link here makeandtell
2. How to Make Baseball Bookends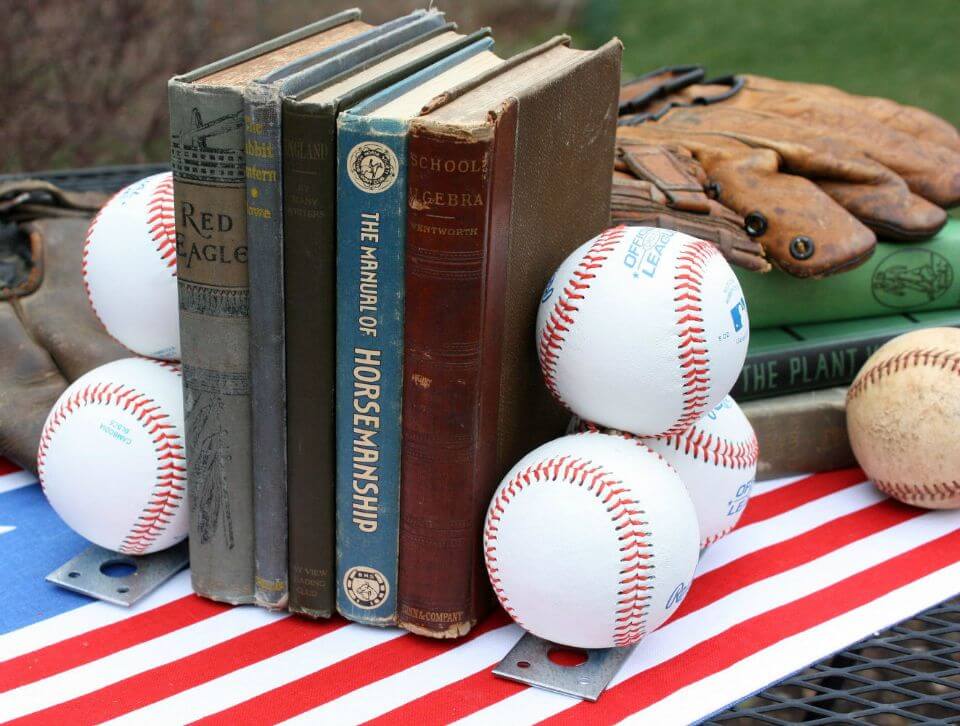 with your books on the shelves, you need bookends to get supported over the shelf and not fall. Find this DIY bookend pair with the help of T posts and 3 baseballs being drill, hold onto each. And you are done with your bookends so simply and cheaply. Follow the complete tutorial details of this fun and the functional idea here virginiasweet
3. Bicycle Bookends Decorated with Mod Podge
A bookshelf is like a mirror to our home decor type, and if you are a modern decor lover, you will fall in love with these cute mini-cycle bookends to flaunt a modern style over the bookshelves. You can make these pretty bicycle bookends using decoupage and some wooden boards. Get complete access to this modern bicycle bookend pair right on the link given here modpodgerock
4. DIY Rock Solid and Glam Bookends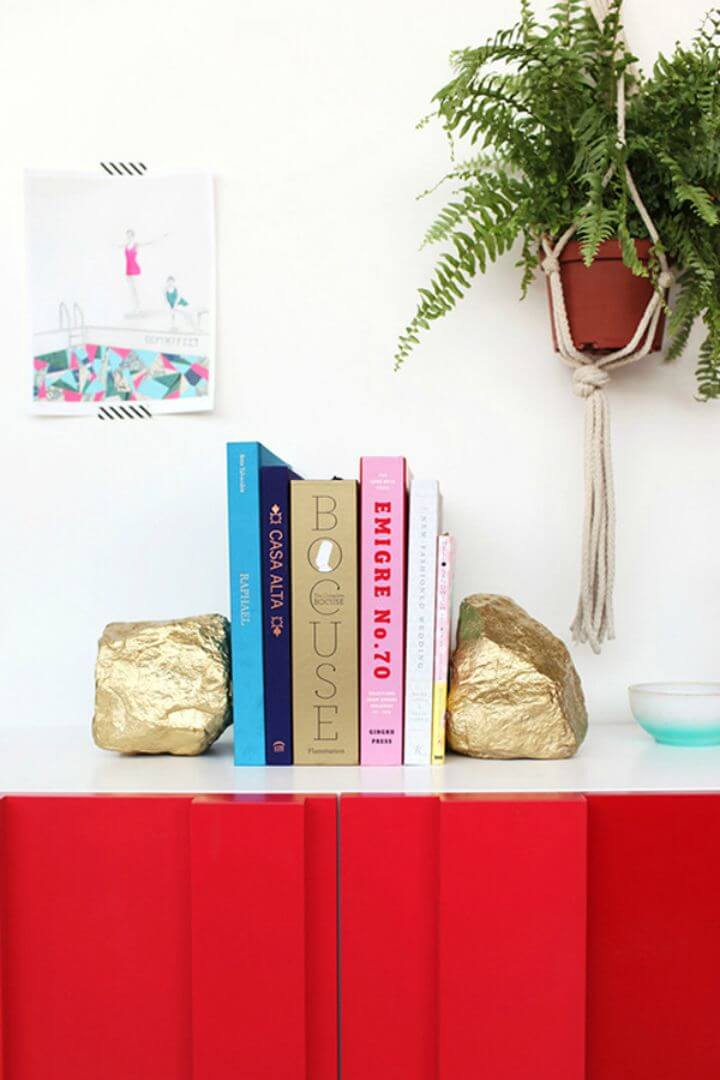 You would surely have a big jaw drop after watching this super cute, but super duper functional book ends without much effort and money. Two rock pieces have been used as the perfectly sturdy bookends for the bookshelf, with just a coat of metallic gold and pink sprayed on them and some cork pads at the bottom to make them hold firmly on the surface. Check out the complete tutorial details here designlove
5. Homemade Spotted Horse Bookends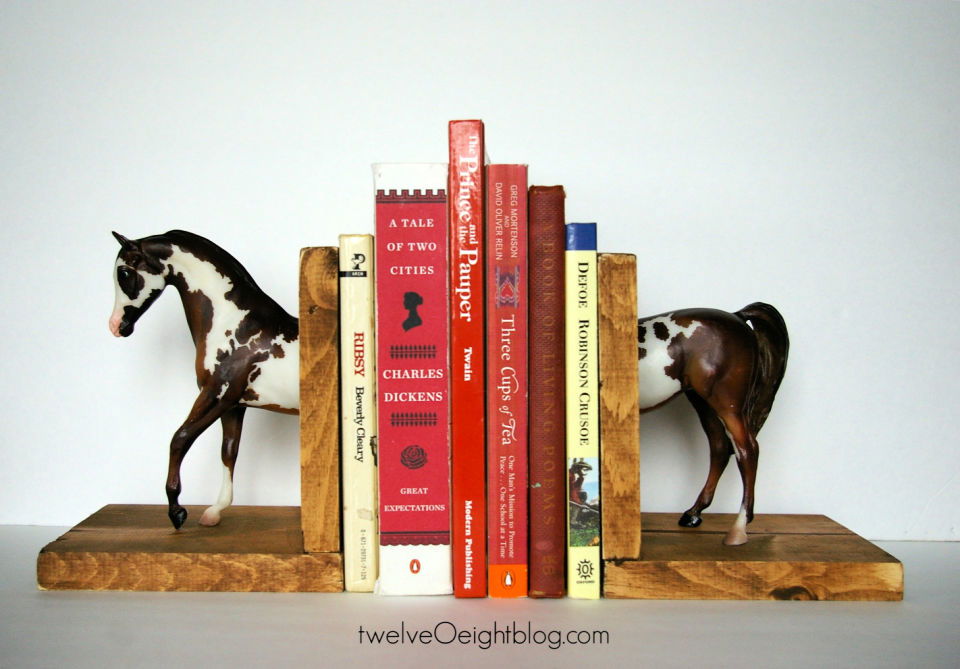 These DIY brown spotted horse bookends would look enchanting on your bookshelves and give stylish support to the books to stand upright. They are super easy and fun to make yourself at home with the help of four wooden square board pieces and a plastic horse. You can follow the step by step details of the idea right on the link here twelveoeight
6. How to Make Acrylic and Gold Bookends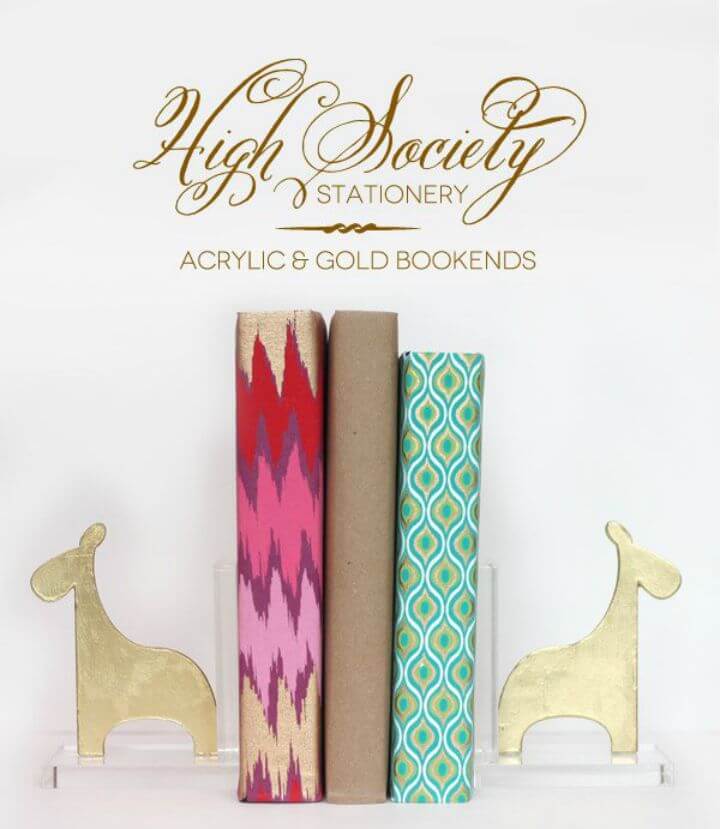 These gold giraffe bookends are no less than those high-priced ones you would see over the famous online brands, but surprisingly it has been made so damn cheaply and simply at home. The giraffe's chipboard has been painted in gold and made to post stand over the acrylic cement support, and you are done. They look rich in modern appeal and add a perfect cuteness to a baby's library more. Follow the step by step details and the instructions of these gold giraffe book ends here damasklove
7. Decorative Bookends Ideas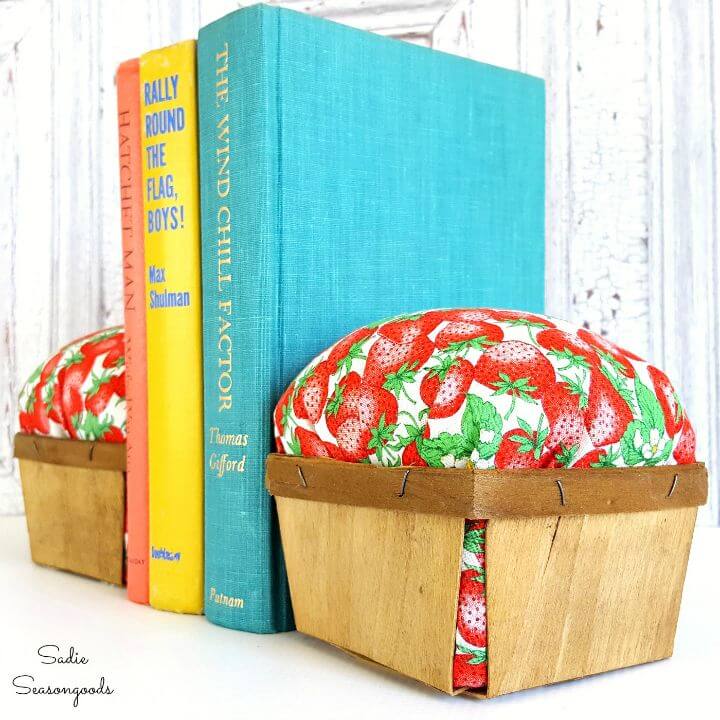 While changing your home decor for the summer, these pretty DIY berry basket bookends would add a perfectly fresh summer look to your bookshelf and the overall home decor. You can easily get these vintage baskets from a thrift store and use them as these berry basket book ends with added stones, berry fabric, and some cotton fill in. The idea is too simple and easy to work on, so do hack all the details of it here sadieseasong
8. Glam DIY Amethyst Bookends
Your favorite books would look great being stacked between these absolutely beautiful and charming amethyst bookends, which are immensely easy and fun to make yourself at home. With four board pieces, the wooden bases have been made for the book ends, and the amethysts have been applied with gold leaf to behold on the wooden bases and accomplish this pair of DIY bookends with charming up your bookshelf decor with. Follow the tutorial details here curbly
9. Simple DIY Bookends
Here is another gold touched bookends to add oodles of charm to your shelf display and the decor of your spaces as well. With the wooden L brackets and the gold geese, these perfectly stylish and cute bookends have been created cheaply. The wooden base has been stained in the choc brown that really has blended beautifully with the gold geese and get you this accent decor piece for the display. Follow the fully detailed tutorial build basic
10. Easy Gold Leafed Agate Bookends
The Agates are super fun and functional to be used as the book ends as they are perfectly heavy to support the books over the shelves. You can bring a pair of Agates at home and make them look custom for your home decor with a touch of gold leaf on one side of each. They would really accentuate your display spots with their sparkly beauty, and that is why you can use them as separate decor pieces for solely the display purpose. Catch the complete gold leaf makeover of these Agate stones here thechronicles
11. Make Your Own A To Z Bookends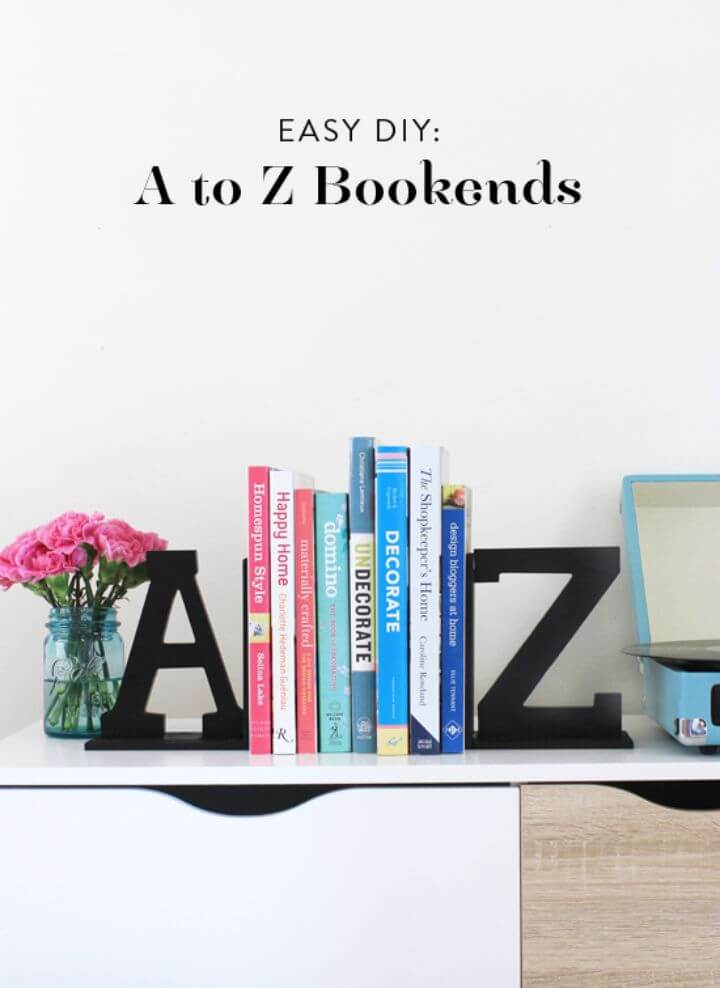 You can get these wooden letters in A and Z and turn them into the cutest, decent, and pretty DIY bookends for your bookshelf display and to support your books to stay upright too. Two wooden L-shaped brackets have been made and painted in black to match the black A and Z as they would be glued to these wooden base. Once they are dry, you can proudly put them on a show over the bookshelves, or you can also gift wrap them for a cheap and functional present for any around. Check out details of this idea here athomeinlove
12. How to Make Animal Book Stopper
If you got some toy animals lying around, we got this perfect bookends idea for you to get your hands on. Yes, by making a moose and a polar bear stand over the brick and then painting them both in dazzling white, you can easily create this pretty pair of bookends to be flaunted over your bookshelves, and that too at the cost of few pennies. Not only this, you can wrap them up and use them as the perfect gifts for your friends too.
13. Dinosaur Bookends with Hot Glue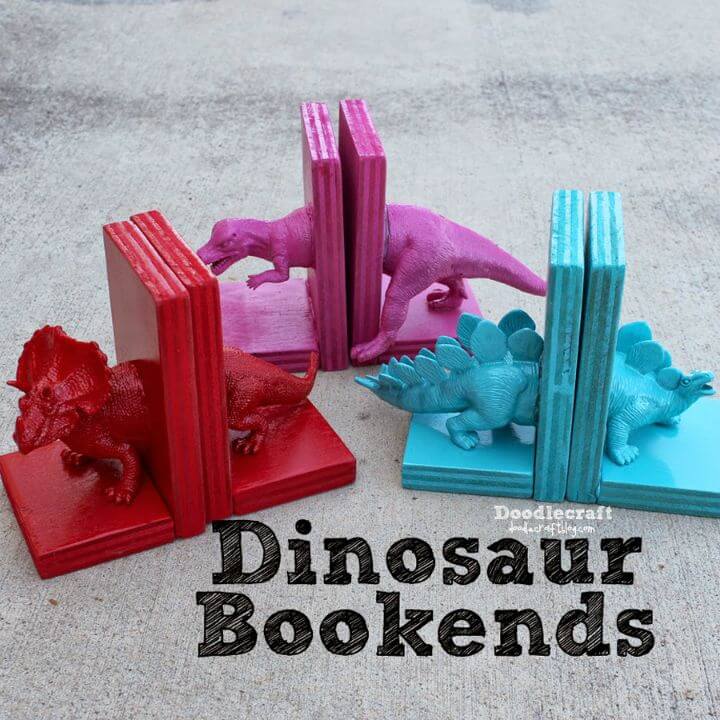 If you go to the dollar store this time, you will pick up these plastic dinosaurs first as they have been turned so great as this dinosaur bookends for your book self-display. The toys dinosaurs have been cut into halves to glue each piece on the wooden L-shaped bookend bases and then get sprayed in any of the bright hues for that perfect funky and chic look to be added to your modern styled shelves. Check out the details and the instructions here doodlecraft
14. DIY Faux Bird Tree Bookend
look at these whimsy kinds of planter or tree bookends that would bring a natural charm to your bookshelf. The terracotta pots with a tray have been placed under the pots. The tree branches have been planted inside the pots with some stones filled under the soil so that it weighs enough to support the books. Lastly, the colorful faux birds have been added to the branches to look totally amazing and visually delightful.
15. Making Lion and Horse Bookends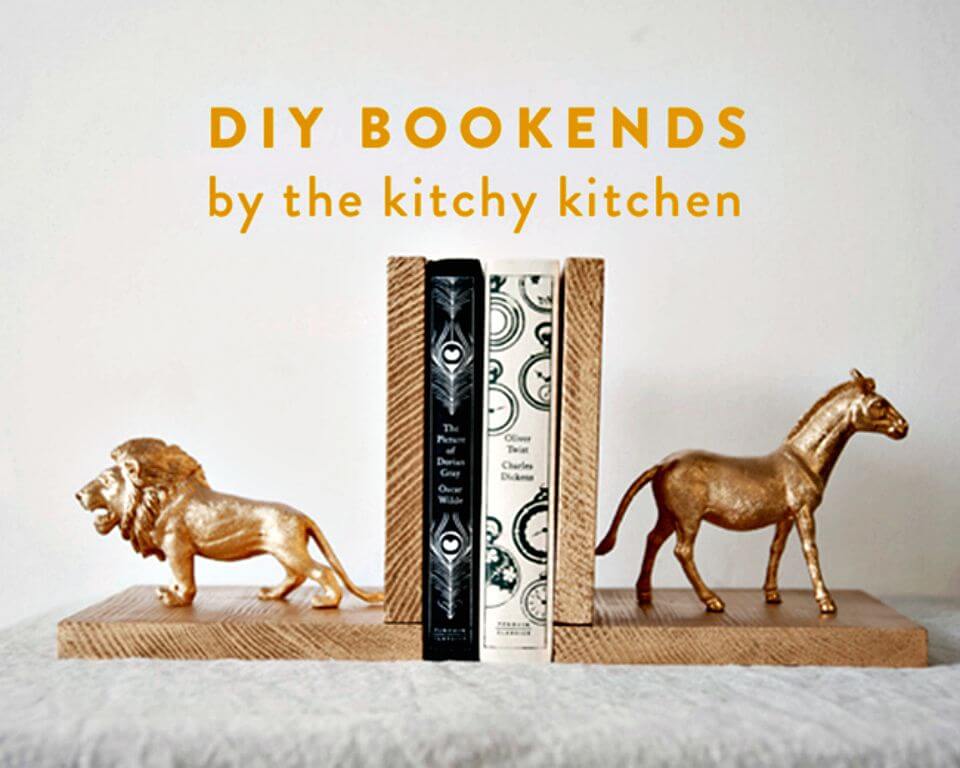 In the world of decor, these animal bookends are getting really appreciated and loved for being so much decorative and functional at the same time. So grab a lion and horse, spray paint them in gold and make them hold over the L-shaped wooden bases and they are ready to act as the prettiest and the gorgeously appealing book ends at your bookshelves in your bedroom or the living. Catch out all the details of this project here thekitchykit
16. Plastic Animal Bookends Revisited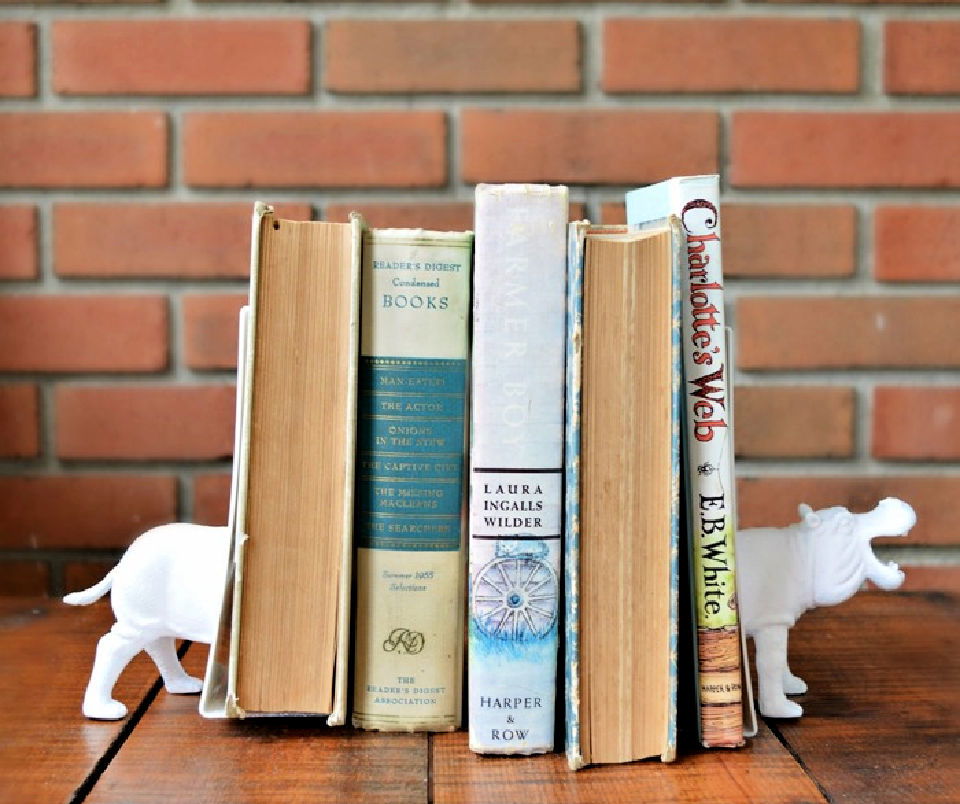 The animal toy made bookends are getting really popular among the home crafters and the decor lovers, and they are just super easy and fun to make at home and save yourself lots of dollars as the book ends in the market are super expensive. These ceramic toys have been cut into halves, and both these half pieces have been used at the back and front of the books and are sturdy enough to hold the books upright and tight. Grab t e details of the idea here madincrafts
17. How to Make Your Own Bookends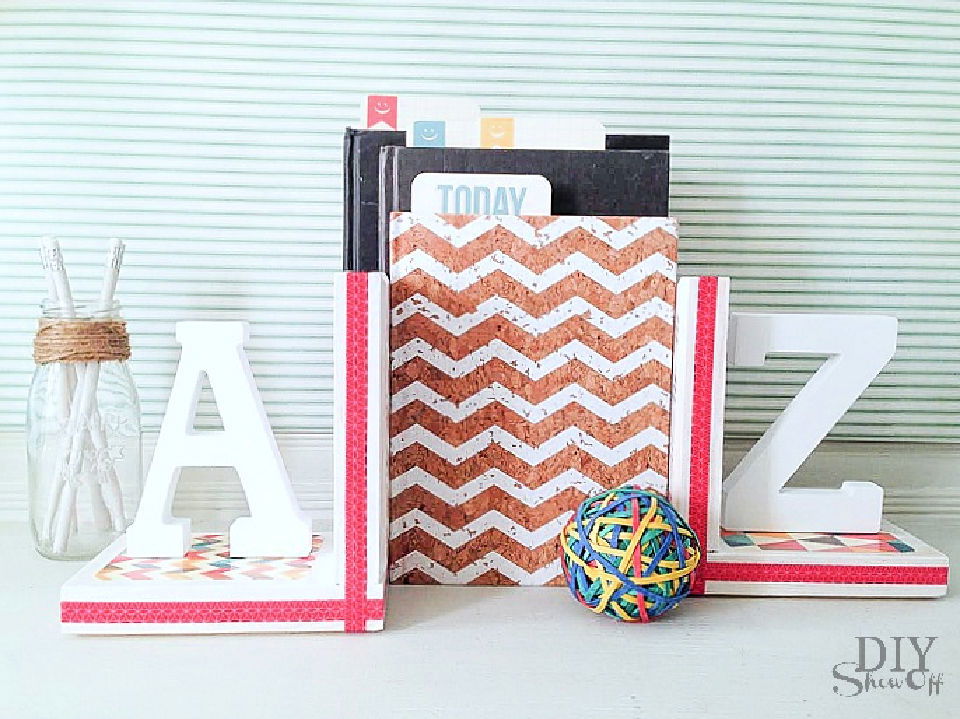 Letters add up to your home decor in so many fun and functional ways, and here is another letter craft to be a part of your library or bookshelf. Yes, these are the A and Z letter bookends to be made and flaunt over the bookshelves, holding a bunch of your books between them. One that really makes this lettered pair of bookends to look stunning is the colorful and patterned scrapbook papers, and the washi tape is used to decorate the L shaped bookends. Find out the details and the instructions of the idea here diyshowoff
18. DIY Arrow Bookends
DIY Arrow Bookends are a great way to personalize your home library or office space. These arrow bookends will not take long to make and are both fun and elegant at the same time. To make them, you'll need four scraps of wood, a drill and small screws; wood glue; a small dowel; feathers; colored tape; and silver clay. With just these materials and a little imagination, you can create something unique that you can be proud of. lovelyetc
19. DIY Cement Bookends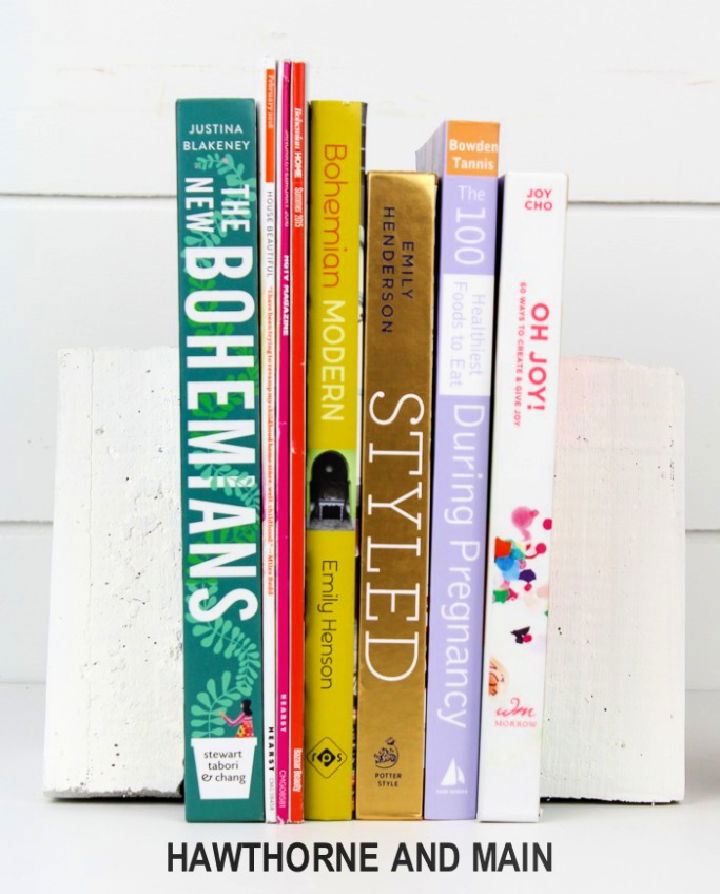 DIY cement bookends are the perfect project for someone looking to get their feet wet with cement DIYs. All you need are some basic supplies like Portland Cement, duct tape, cardboard boxes, scissors, a pen, water and cooking spray, along with a bowl and mixing spoon. Start by tracing your desired shape onto cardboard with a pen and cut it out. Secure the two pieces of cardboard together with the duct tape, making sure that the opening is sealed.
Next, combine the Portland Cement and water in the bowl to make a paste! You might have to adjust amounts of both depending on the consistency needed. Apply the paste evenly onto one side of the shapes. And let it dry before flipping over and applying it to another side. Let the DIY Cement Bookends sit overnight before removing them from the molds — there you have it! hawthorne
20. Faux Ceramic Animal Bookends – Two Ways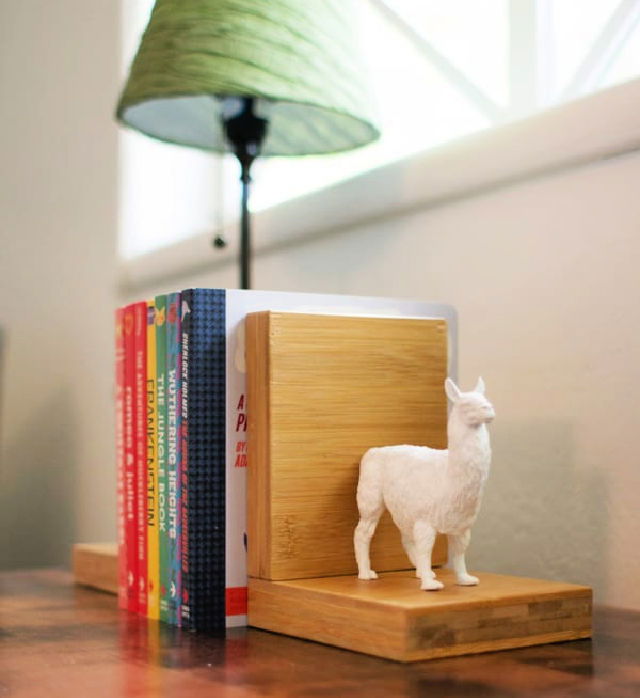 Here is another fun DIY animal bookends idea to let you make and adorn your bookshelves with. A polar bear has been broken into two pieces, and each of the half pieces has been glued to a wooden base of L shape and thus create you this lovely and cute pair of the book ends with the least efforts and the money. Though easy yet the details of the idea can be hacked here lovelyindeed
21. DIY Quotation Mark Bookends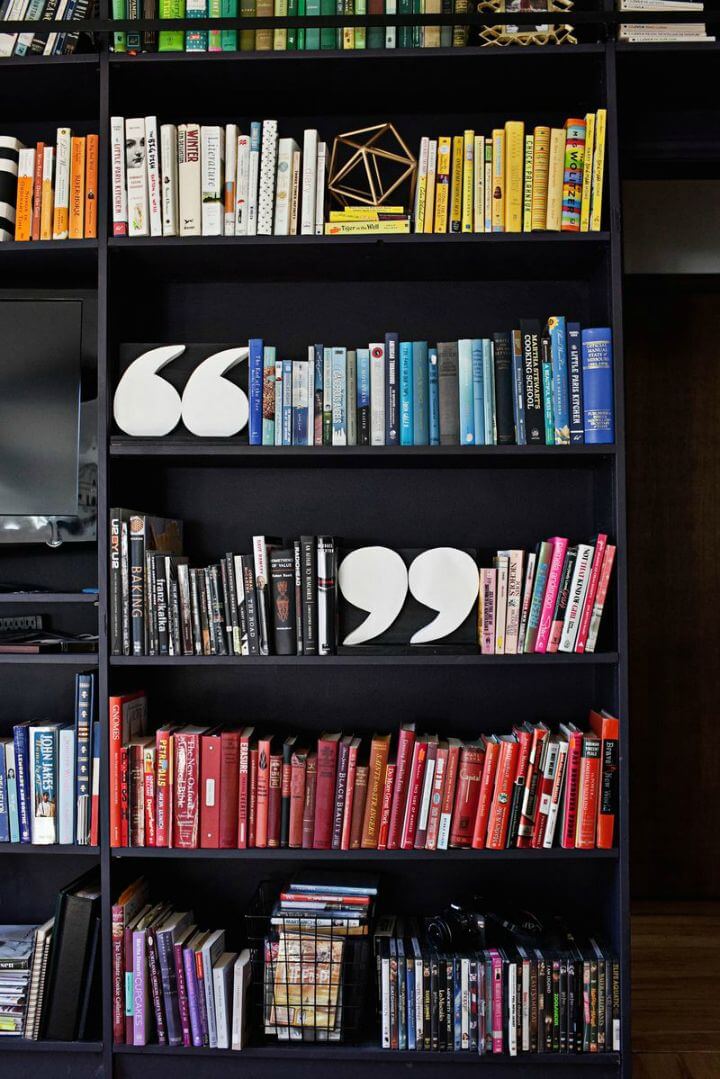 These quotation mark bookends are sure to add a bold statement to your modern bookshelf. They are surely the most quirky and unique kind of bookends you have come across till now. And they are just super easy to make yourself at home using poster board and pottery plaster mainly. Here is the link where you can get more details of the supplies and also the complete tutorial abeautifulmess
22. Building a Striped Bookends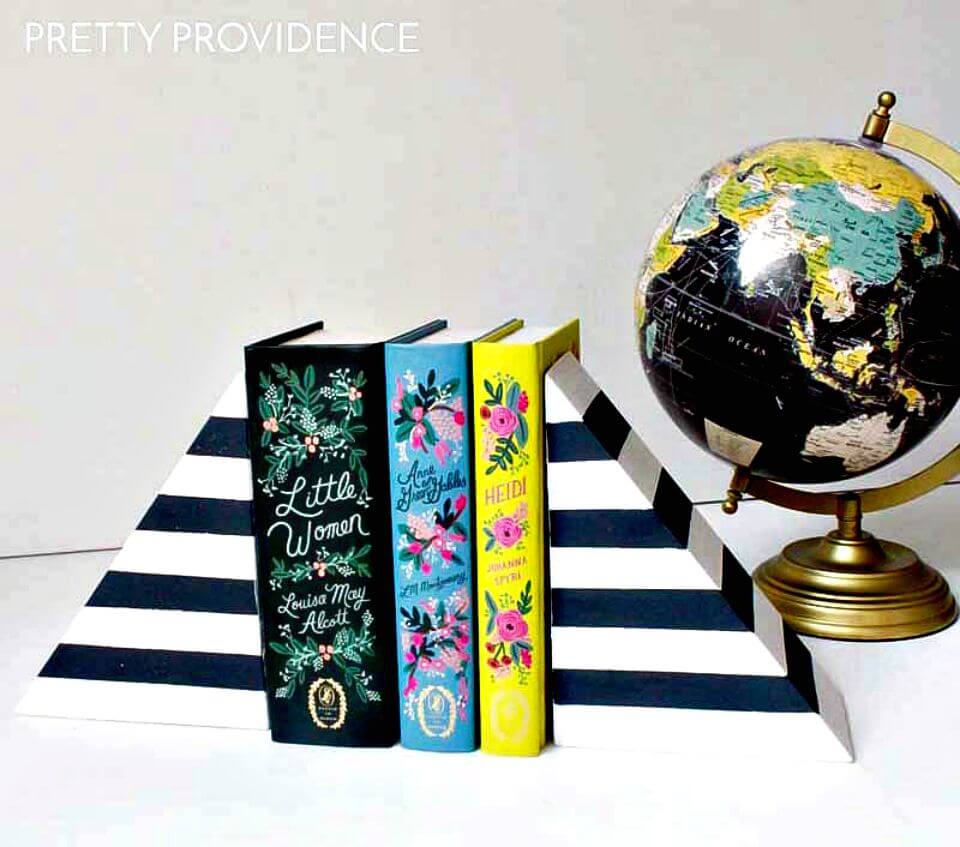 These DIY striped bookends are a great way to spruce up any living space without breaking the bank. All you need is some scrap wood, a little bit of Bondo and lots of painter's tape. Once gathered, simply glue your chosen pieces of wood together. Now, use clamps to allow the wood glue to set and fill any gaps with bondo or wood filler. Once dry, apply stripes of painter's tape and add two contrasting colors of paint for a striking contrast! The black and white paint is an option that works excellently. Finally, simply remove the tape for DIY Striped Bookends worthy of any home! prettyprovide
23. Scrap Wood Guitar Bookends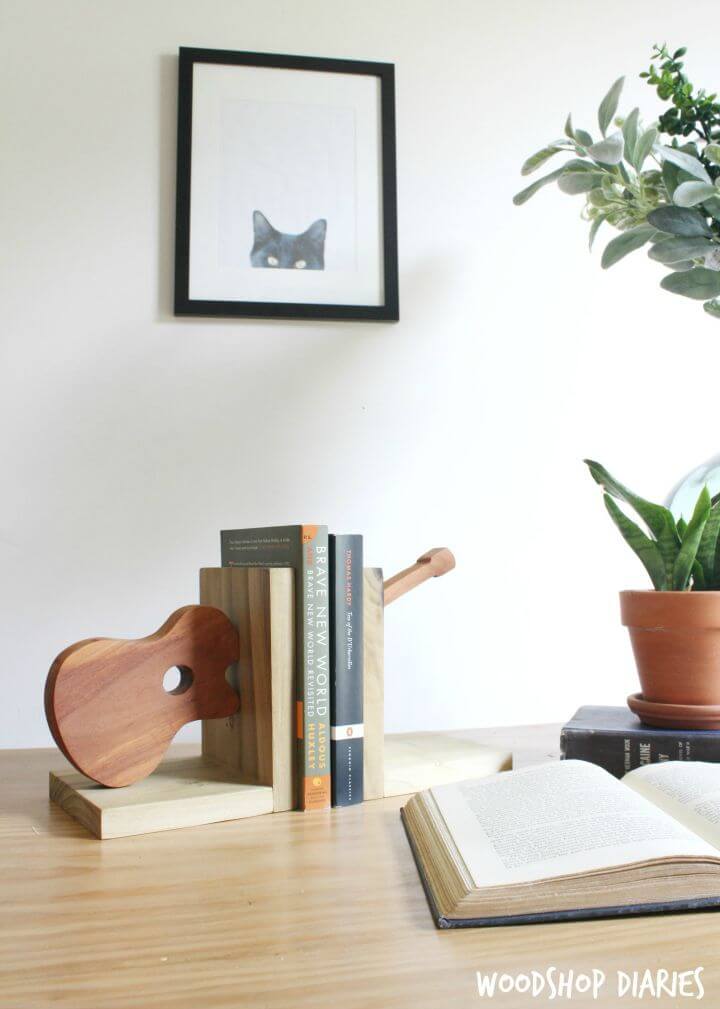 If you're looking for a creative and easy way to spruce up a room, this DIY scrap wood guitar bookends. This project is perfect for woodworking beginners and experts alike! All it takes is some scrap wood, wood glue, clamps, drill (optional), jigsaw and speed square to get started. First, gather all the supplies. Now measure the length of your scrap wood piece and cut the guitar shape with your jigsaw. Start by gluing the two bookend pieces together with wood glue and attach the guitar on top – easy as that! This unique diy project can be customized in any size or color to fit your style. And, who knows? Maybe while working on this diy scrap wood guitar bookends project you'll discover a hidden passion for carpentry! jenwoodhouse
24. DIY Mannequin Bookends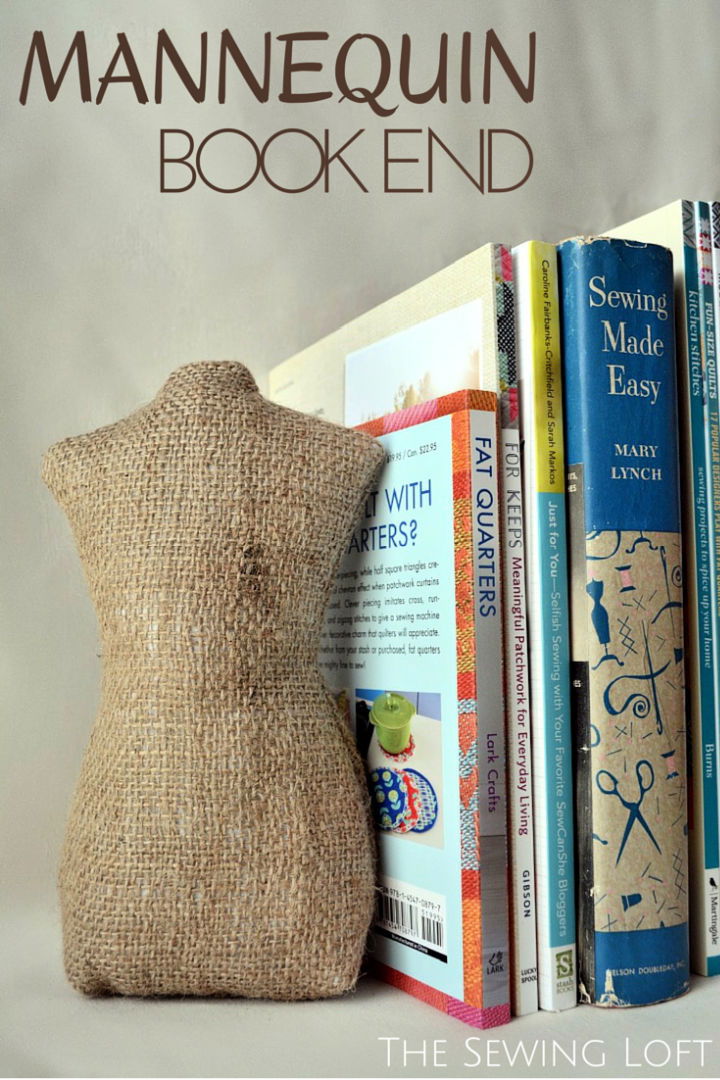 These mannequin bookends are just too cute and unique to win the hearts of every decor lover. And luckily, they are just easy to create yourself at home using the cheapest and the most feasible supplies. With some fat fabric, a mannequin template, and sand to fill in, these DIY bookends are easy to make. You can also use them as door stoppers, thus getting double the benefits. Follow the complete tutorial of making them here thesewingloft
25. Handmade Superhero Bookends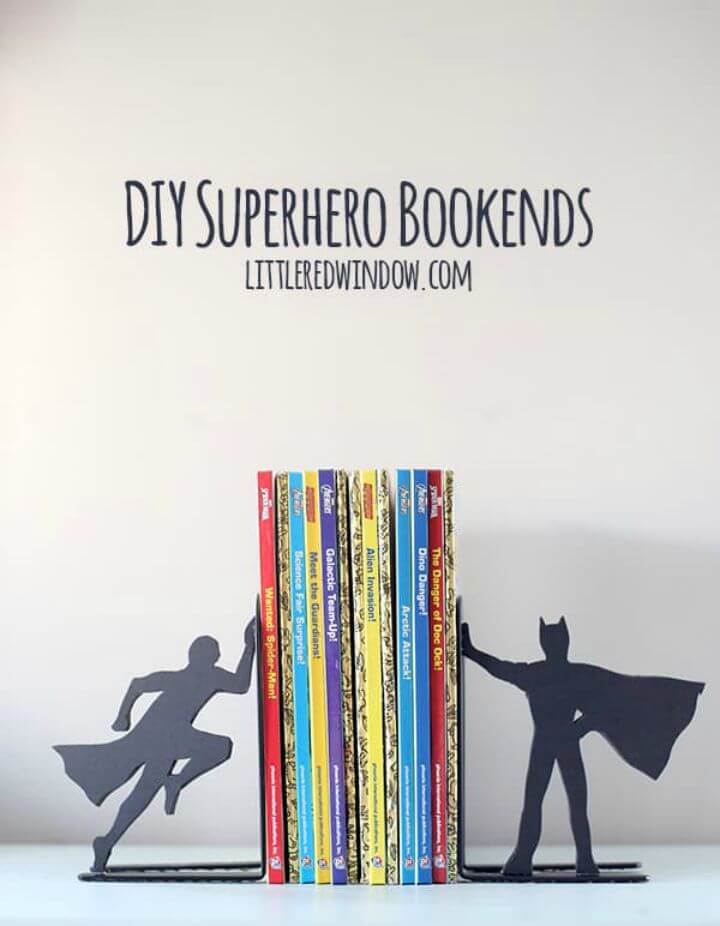 These mini and cute superhero bookends would make a pretty display with the illusion of holding your books safely. You can cut out the superhero templates and a black farm board. And then glue them up over the metal L shape brackets. They are ready to make a cute display in your kid's room by holding their favorite story or comic books. You can check out the details and the instructions for the idea here littleredwind
Related DIY Projects and Ideas
Bookshelf Ideas: Are you looking for a unique way to store and display your books? Find these homemade bookshelf ideas that you can easily build yourself with minimal tools. Get creative with these clever DIY shelves, from floating shelves to wall-mounted shelves and racks.
Key Holders Ideas: Need to find a way to store your keys? These simple DIY key holder ideas will make it easier to store and find your keys.
DIY Lamp Ideas: Discover a wide range of creative DIY Lamp Ideas that will help you light up your home in an original fashion.
Notebook Cover Ideas: These easy DIY notebook cover ideas are perfect for every type of notebook. You can make a unique cover with just a few materials and supplies.
Sneakers Makeover Ideas: Follow these cool DIY sneakers makeover ideas to transform your old sneakers with paint and materials you might already have.
DIY Bean Bags: Whether you're looking for a bean bag for your corn hole board, or just want to make your own from scratch, these easy DIY bean bag ideas are perfect.
Sofa Arm Table Ideas: A sofa arm table can be a handy thing to have in any living room. Here are best DIY sofa arm table ideas that will help you find your new favorite side table.
Solar Light Projects: Solar Lights are not just for inside your house, but for outside! These adorable DIY solar light projects make it easy to turn your garden into a magical place.
Conclusion:
If you need some new bookends and don't want to spend a lot of money, we have the perfect solution for you. We have gathered 25 homemade DIY bookends that will spruce up your bookshelf and save you some money. Most of these DIY bookends can be made with materials you already have around the house, so there is no excuse not to try one out. Which DIY bookends project are you going to try first?