Learn how to make floating shelves with these 15 easy to build DIY floating shelves, including instructions and step by step tutorials. Not only are they easy to build, but they also provide a versatile storage solution for any room in your house. And the best part is that you can customize diy floating shelves to fit your specific needs. Whether you want to display treasured family photos or store books and knick-knacks, there's a DIY floating shelf design that's perfect for you. Let's get started on your next project with these easy-to-build DIY floating shelves.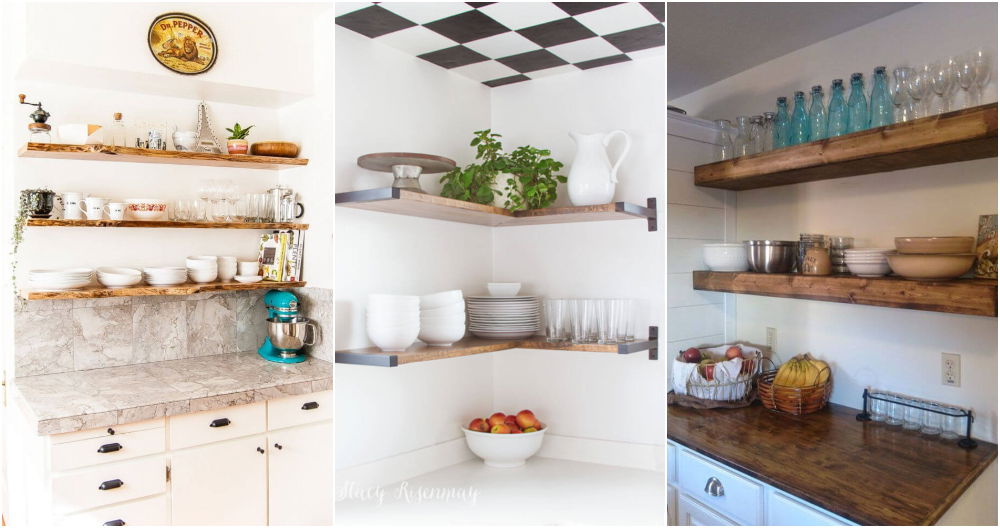 Be it the space over the counters or the space left between the wall cabinets, floating shelves would occupy these spots functionally. From your lovely cooking pots to crockery, spice jars and your daily useable mugs, you can display it all over the shelves with an utter sense of beauty and style. They are feasible to install at home with a few wooden boards, stain hues and your regular tools kit. In short, the DIY floating shelves provide you with a smart, inexpensive and fashionable solution to your storage and organizing problems. Enjoy the detailed DIY floating shelf ideas and plans right below, with a step-by-step tutorial.
1. Affordable DIY Floating Pipe Shelves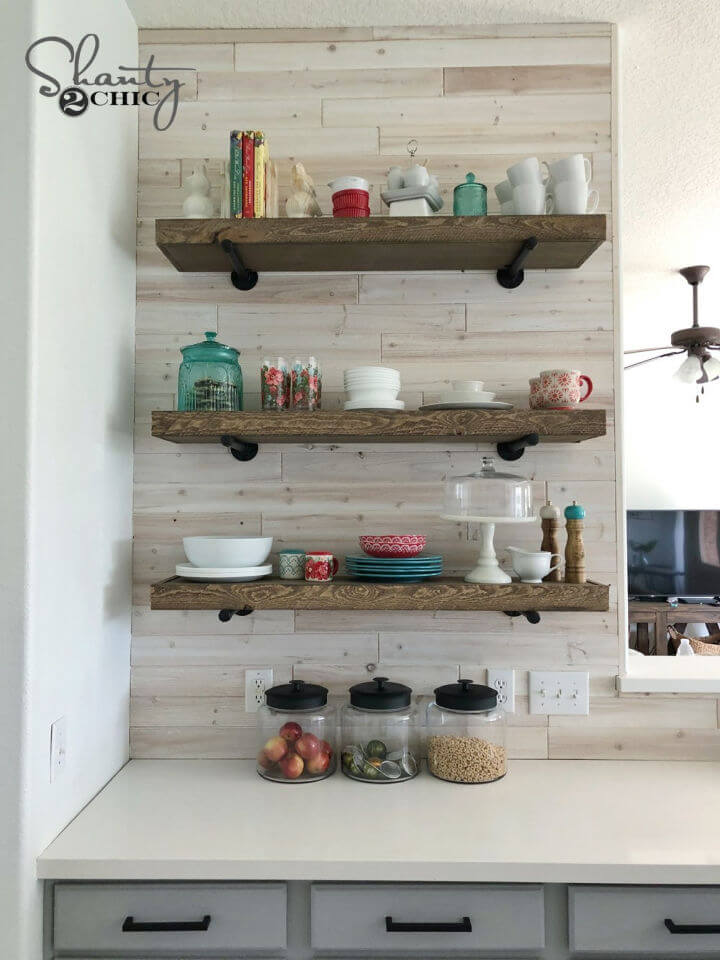 Floating shelves are a smart choice. The adorn a room interior or a wall with their clear enchanting look and create the mystery in mind of the onlooker that how they are hanging there. So, organize your kitchen in a style using these floating pipe shelves, grab wood and metal pipe scrap to get these shelves made. shanty 2 chic
2. How to Build Kitchen Floating Shelves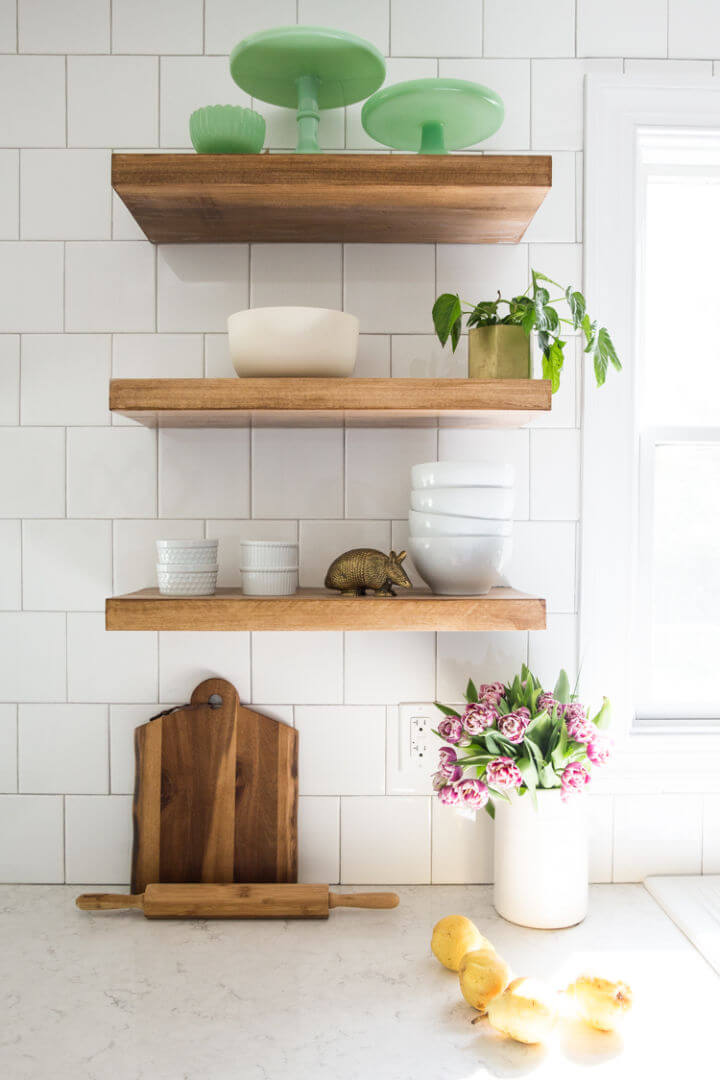 Opt for stylish floating wall shelves when need to give a stylish remodel to your kitchen. Build these shelves, inexpensively will make the wall look wide. The best solution for instant smart kitchen organization. Grab 2x12x10 lumber and cut 6 lengths of 24″ size to make these shelves. livefreecreative
3. DIY Wood-Stained Custom Floating Shelves
Organize your dishes and utensils without sacrificing the fantastic visual style using these wood-stained custom floating shelves. They are quite something easy to make in your spare time but will award a new distinguished look to your kitchen. Use the 5/8 and 1/4 threaded rods to support these shelves on the wall. chrislovesjulia
4. Make Floating Shelves for the Kitchen
Make your kitchen look open and elegant by choosing the open shelves. Build these floating wall shelves in a budget-friendly way using 1×12 and 3/8×4 inch pine boards. The mounting brackets will be the best hanging system for these floating kitchen wall shelves. Details here plankandpillow
5. Inexpensive DIY Floating Kitchen Shelf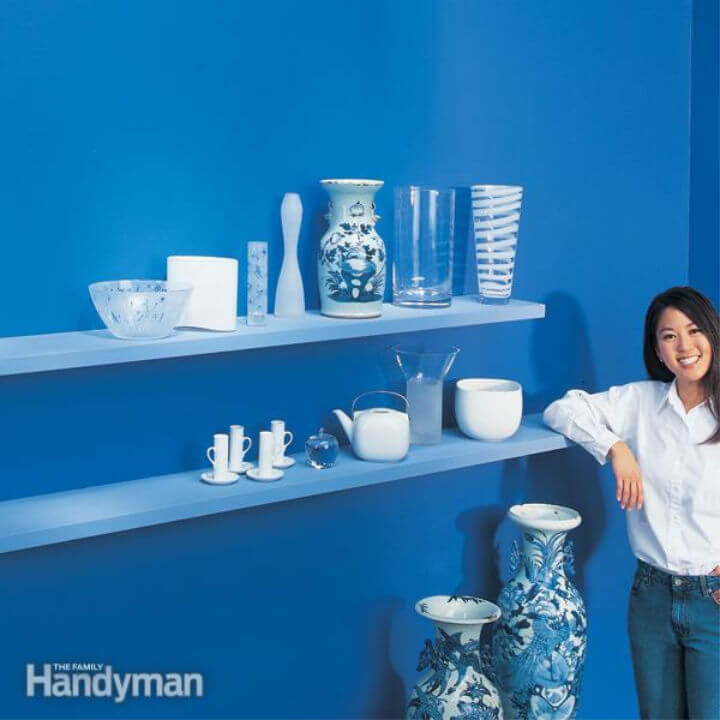 You will love to look twice at these indigo floating wall shelves, hang on blue painted wall, makes an interesting background. The best accent shelves for an impressive display of your hearty centerpieces. You need an 18-in wide hollow-core door, 2x4x8ft boards, masking tape, and lag screws to get these shelves made. familyhandyman
6. Build Floating Corner Kitchen Shelves
The open shelves look great on a blank wall. They will be a smarter choice, too for corners. Get your kitchen super storage-friendly by adding these corner floating shelves. These shelves are 10″ deep and are made of white oak boards. Choose the floating shelf brackets to hang them on the wall. Details here drivenbydecor
7. DIY Chunky Kitchen Floating Shelves
Build the frame of these floating shelves using 2x2s wood slats. Grab the 10×11/4″ metal brackets to support them in place. Cover the frame with 3/4″ plywood, and for the front, use the 1×6 clear pine boards of desired thickness. Don't forget to install the lighting behind the shelves. Details here preparingforpe
8. DIY Wood Floating Shelves
You need 1/4″ plywood and 1x2x8″ lengths of whitewood to build these rustic floating kitchen shelves. Use the whitewood lengths to make the "E" shape frame for the floating shelves, screw it in the wall. Cover its top, bottom, and front then with plywood to get elegant floating shelves. Details here jennasuedesign
9. Live Edge kitchen Floating Shelves
Double up the visual charm of any home or room interior by adding these live edge kitchen floating shelves. Featuring live edge wood will create a subtle rustic manifestation of your kitchen. Grab the live edge wood shelving boards and floating shelf brackets for this rural floating shelf scheme. diyinpdx
10. DIY $20 Floating Kitchen Shelves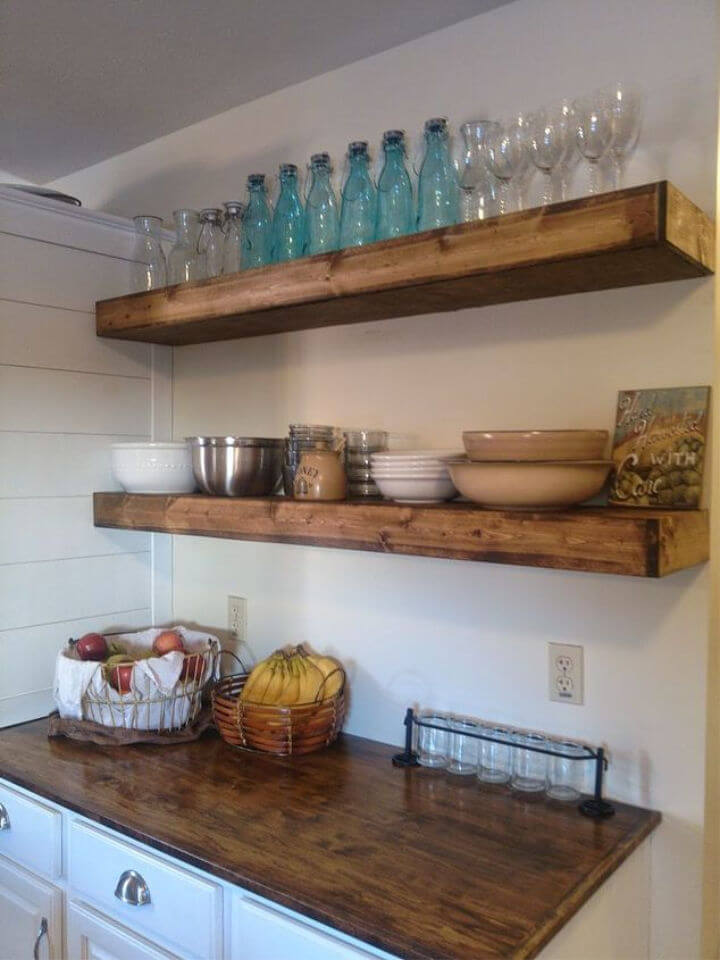 The open shelves are a hot trend, especially when you want to feature wood in a modern room interior. Plush, you get a lot of shelving and displaying space too. Add up your room with these floating kitchen shelves, which will cost you only 20$. Use the whitewood to build the shelf frame, cover it up solid using pine boards. hometalk
11. Build Your Own Floating Kitchen Shelves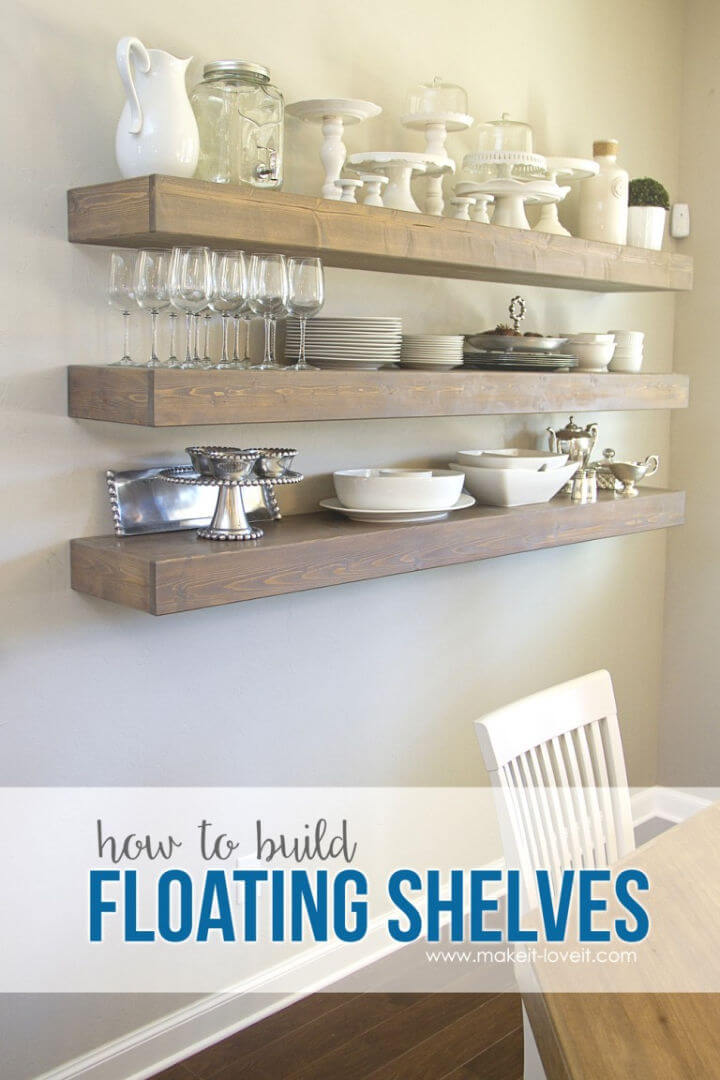 Floating shelves are easy to install and create no mess. Rock your kitchen with farmhouse-style elegance that will come from these rustic floating wall shelves. Opt for these floating shelves also to style up your bathroom, bedroom, and hallway. You need 2x4s, 1×12, and 1×6 to build these floating kitchen shelves. Details here makeit loveit
12. DIY Kitchen Shelves for Under $100
Get 3 lengths of 1×10 wooden boards, 6 metal shelf brackets, and black wood screws to make these outstanding kitchen open shelves will cost you under $100. Sand and stain for a custom wood tone and a lot of visual grace. The best style of shelves to boost the kitchen storage. These shelves will work great for organizing dishes. lifestorage
13. How to Build Floating Shelves
Renovate your kitchen with a warm touch of industrial elegance using these metal pipe floating kitchen wall shelves. Install the shelving frame using metal pipes, elbow joints, and floor flanges. Next, drop the shelves on the frame by making holes in the corner. Full tutorial here patchworkan
14. Build Floating Shelves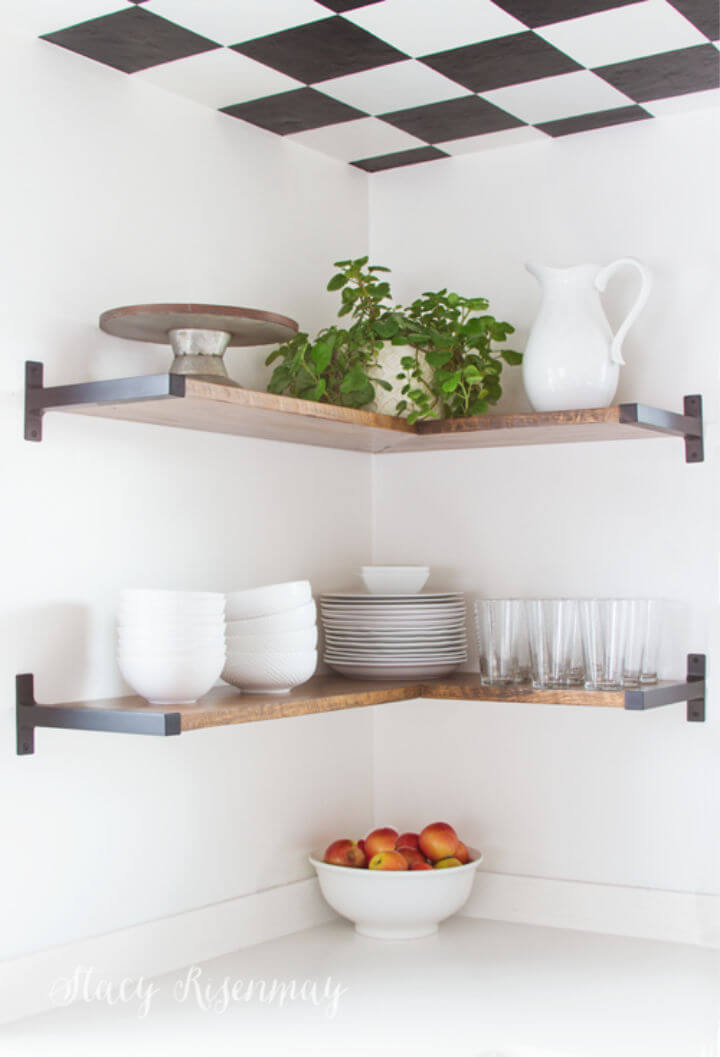 These open shelves are an interesting IKEA hack, the modern edition of rustic floating wall shelves. Grab the IKEA brackets and then fit the wooden shelves in them to hang on the wall as lovely floating brackets. This style of open shelves will rock for any wall and even for a modern kitchen. Tutorial here notjustahousewife
15. Easy DIY Open Kitchen Shelves
Add amazing visual details to your kitchen by adding these open kitchen shelves. The glam rustic wooden touch will take your kitchen decors to the next level. First, build the frame of the shelves, next use 1×10″ wood boards and 1/2×10″ sanded plywood to build the rest. pbjstories
Related DIY Projects
DIY Floating Bathroom Vanity: Even if you're on a tight budget, you can still find ways to make your bathroom shine. Find inexpensive DIY floating vanity ideas to transform your bathroom and make the most of your space.
Room Organization: Have a messy house? Whether you're looking to make your room more functional or just want some organization tips, this list of unique room organization ideas will help your home look neat in no time!
DIY Shelves: A step-by-step guide to build your own shelves yourself. Choose from over 50 different designs or create your own custom shelf.
Ways to Make DIY Built-In Shelves: These DIY built in shelves are easy to make and will give your living room instant visual impact.
DIY Pallet Shelves: It's time to get rid of the expensive shelving units and get creative with pallets. Check out these DIY pallet shelves that are cheap, easy, and look great.
DIY Laundry Room Shelves: These are super simple, yet very functional DIY laundry room shelves that can be used in any space where you need extra storage.
DIY Pipe Shelves: Pipe shelves are the perfect solution for small spaces where you have a lot of stuff to store. We used basic tools and materials to make these DIY pipe shelves, and they only took about an hour to build.
Conclusion:
DIY Floating shelves are a popular way to add storage and display space to any room. They're also a great DIY project because they are easy to build and you can customize them to fit your needs. We've provided some ideas for DIY floating shelves, but you can use your imagination to come up with other designs as well.