A DIY standing desk can be a great way to improve your productivity and health, and you can make one yourself for very little money. Learn how to make a standing desk using materials you probably have lying around your house.
Do you spend most of your day sitting at a desk? If so, you may want to consider standing instead. Not only is it better for your health, but it can also help you be more productive. Researches show that sitting too long can be dangerous to health.
If you're looking for a DIY standing desk plan that you can make yourself, check out these 13 free DIY standing desk plans with simple instructions and a pdf guide.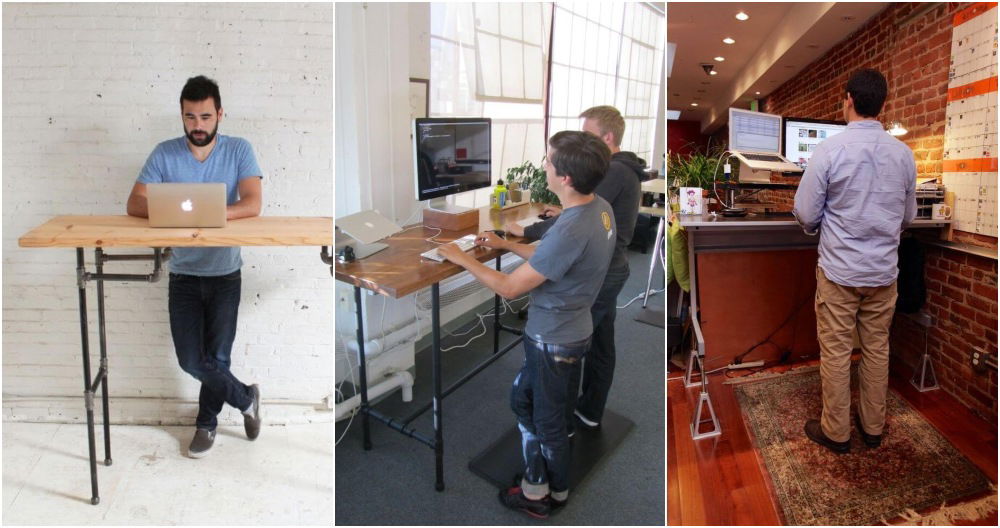 There's something for everyone, whether you want a simple standing desk or one that's more functional. So get your tools ready and explore these DIY standing Ideas with lots of different options for building a custom Homemade standing desk suiting custom needs.
Standing desks are a trend in the workplace. They can increase productivity and decrease neck, back, and eye strain. Learn how to build your own standing desk for less than $20!
1. DIY Industrial-style Standing Desk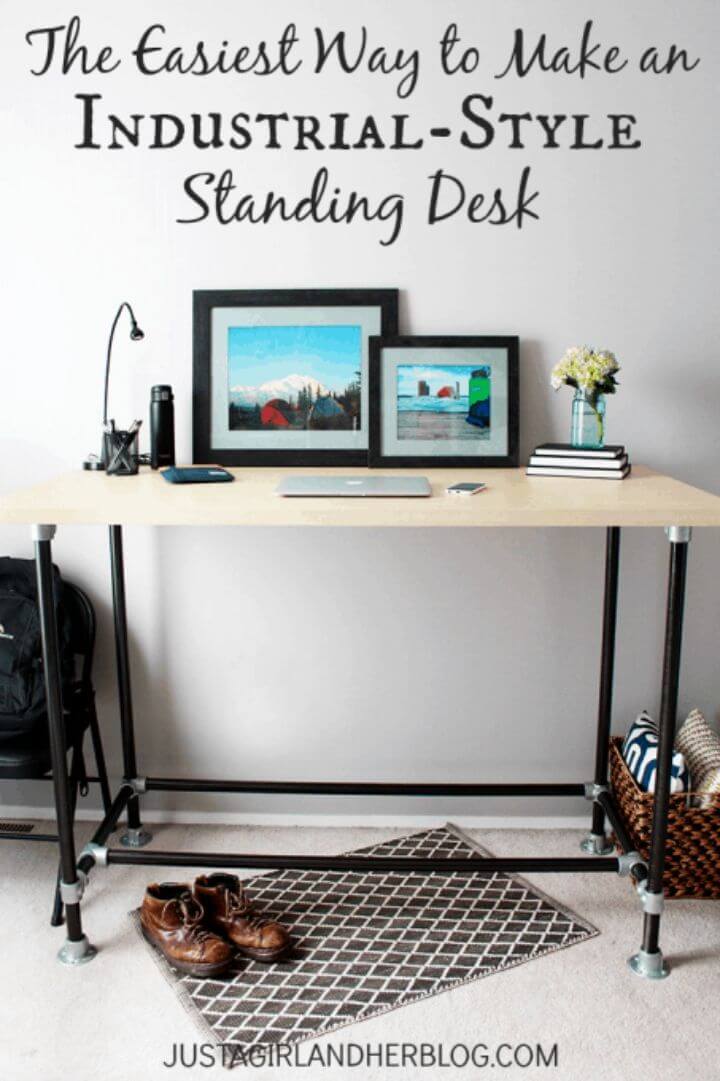 The best IKEA hack for a standing desk design! Use the tee clamps, floor flanges, and metal pipes, etc. to build the base of the desk! Top it up with an IKEA LINNMON top having a cool birch effect! Keep the legs extra long for getting it the desk raised to a comfortable standing height! The best design of an industrial standing desk to get for your home office for easy laptop operating! justagirlandher
2. Adjustable $38 Standing Desk Conversion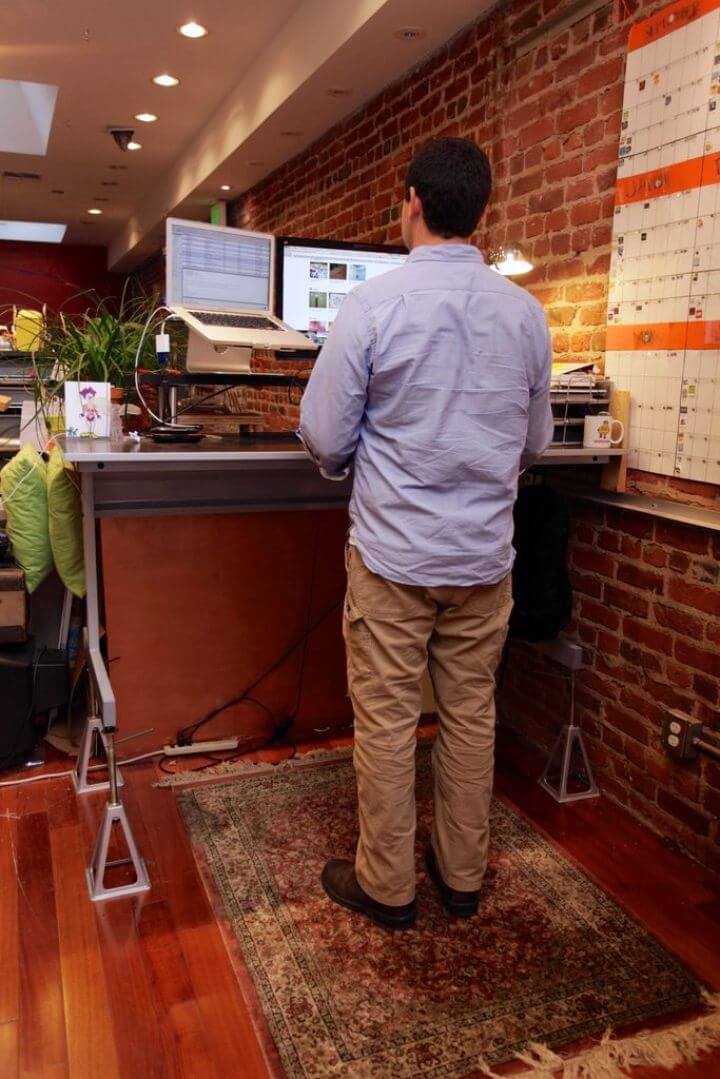 Sometimes you gain a standing height; you are not comfortable with the height of that later! Ease yourself with this adjustable standing stand, a cool furniture conversion desk to build that will cost you $38 or less! Here all you need is to install the adjustable jack stands to get the height adjustment control! instructables
3. How to Build a Standing Desk for $50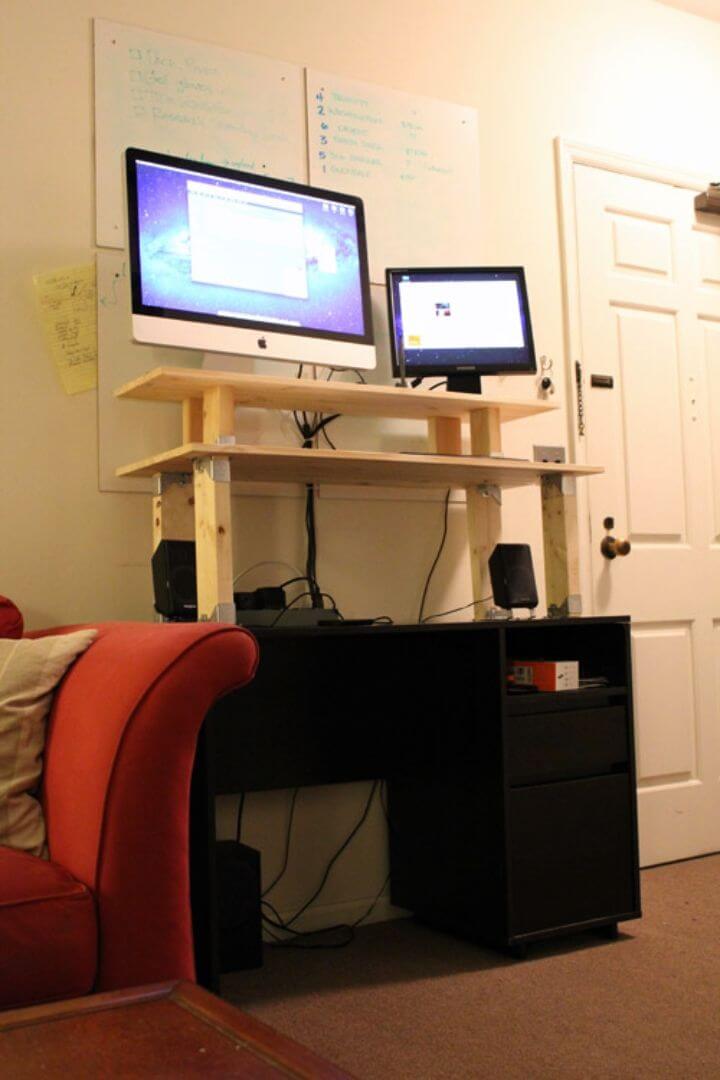 The best design of standing desk to build at a cost price of $50, it is a remake of an office having a low height level! All you need to do is to install the 2 tiered levels, lower one for holding the keyboard and upper will hold your screen! The idea is to add a standing height and some flat wood surfaces to a desk you already own! Use hardware metal plates for a quick and durable assemblage! joshuaberman
4. DIY Standing Desk from Steel Pipe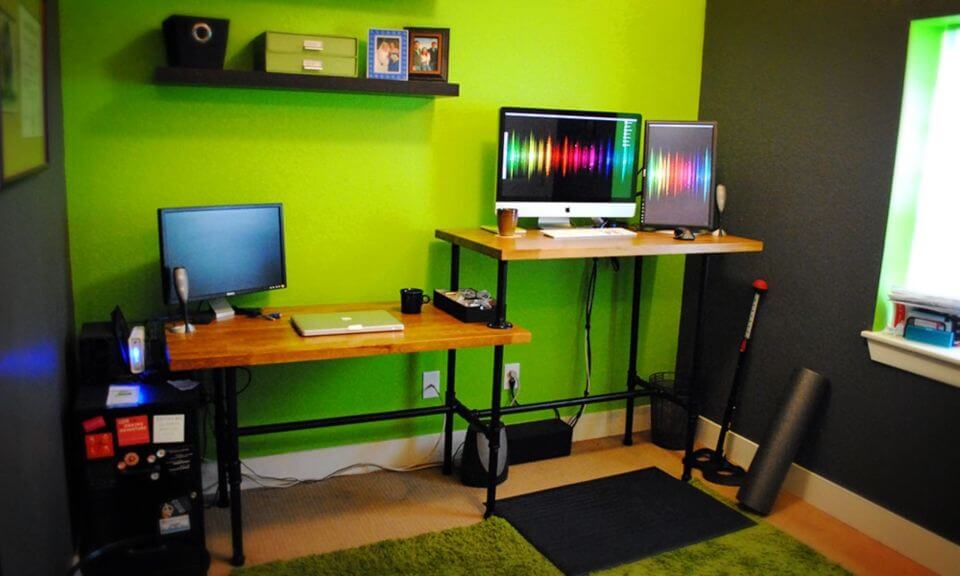 You will become a big fan of the two levels split here, the standing desk having two desktops on two different height levels! The best part is that heights are adjustable! A big thanks to metal pipes, floor flanges, and T-clamps to build this mesmerizing beauty! This creative big desk split will allow you to work on both sitting and stand desks at the same time! The best desk remodel for sure! sparksight
DIY Desk Plans: Need a desk? We've shared free DIY desk plans that will help you get started on your new desk.
Corner Desk Ideas: Looking for a desk that doesn't take up too much space? We've got you covered with these cheap diy corner desk ideas, you can create a working space in any room of your house.
5. Build a Plumbers Pipe Standing Desk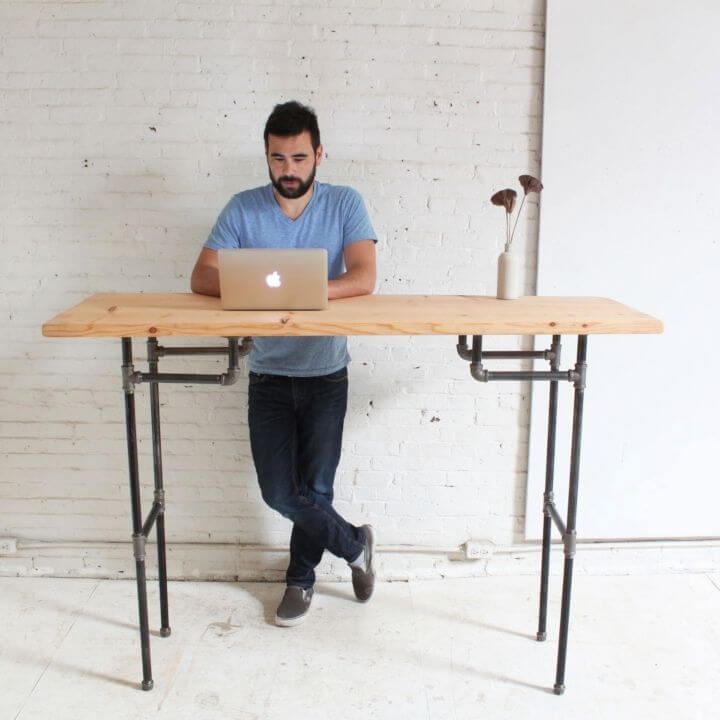 Bring industrial vibes to your home office with this beautiful standing desk design that stands on high metal pipe legs. This is something that will make a great gift too for a friend obsessed with computers. Plan the metal pipe lengths to build the lasting longer base of the desk and then top it up with a solid wood top, even the IKEA LINNMON top will work great. Blitsy
6. DIY Standing Treadmill Desk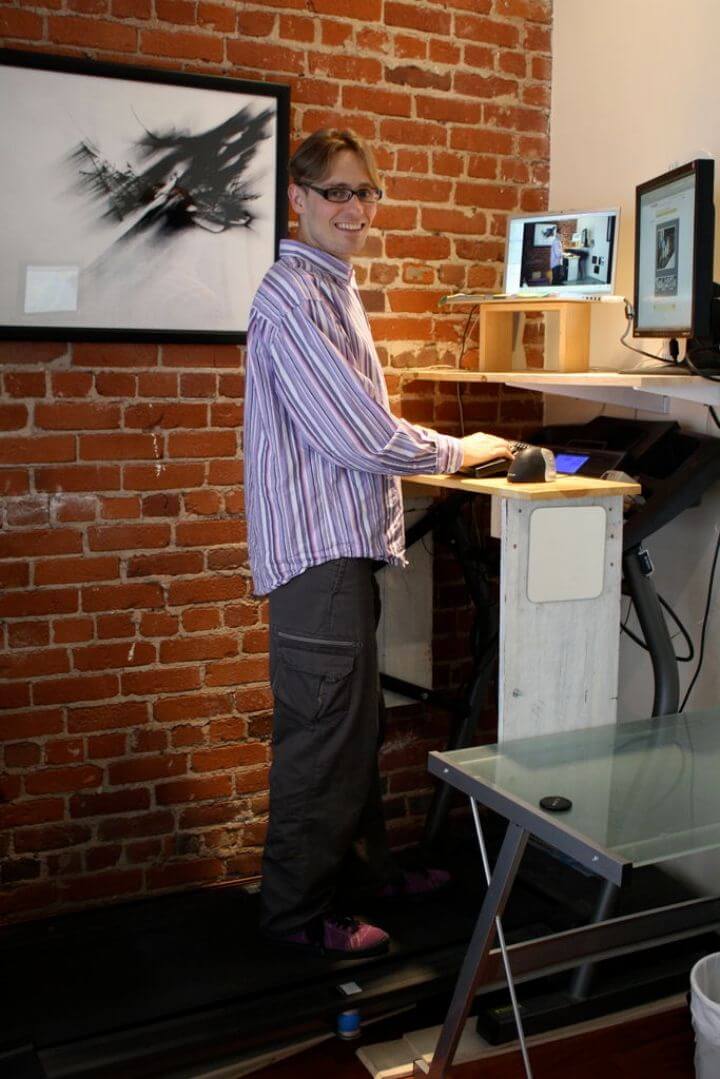 One of the fantastic transformations of a treadmill, a standing desk, added with two wood surfaces, one holds the keyboard, and one holds the screen. A must-build the layout of the standing desk to add to a home office. Make use of plywood or wood shelving boards to create two-tiered U-shaped surfaces over a treadmill, and that's it. It will allow you to work on your computer while walking on a treadmill. The best fitness promotion a model of a standing desk. instructables
7. Outdoor Standing Desk or Kiosk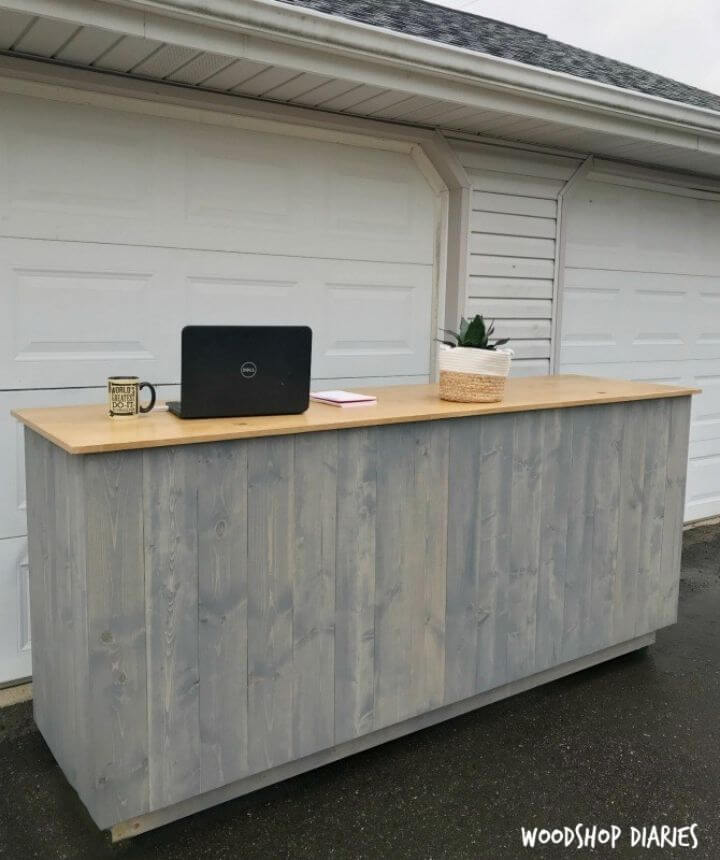 This one looks like a big bar counter and is amazingly solid. A hand-build standing desk having storage shelves built underside the top. You need plywood to install a sleek top, build the rest of the frame using wood planks of choice. Create a gorgeous final appeal using paint, wood stain, and a custom finish. woodshopd
8. How to Make a Standing Desk Add-On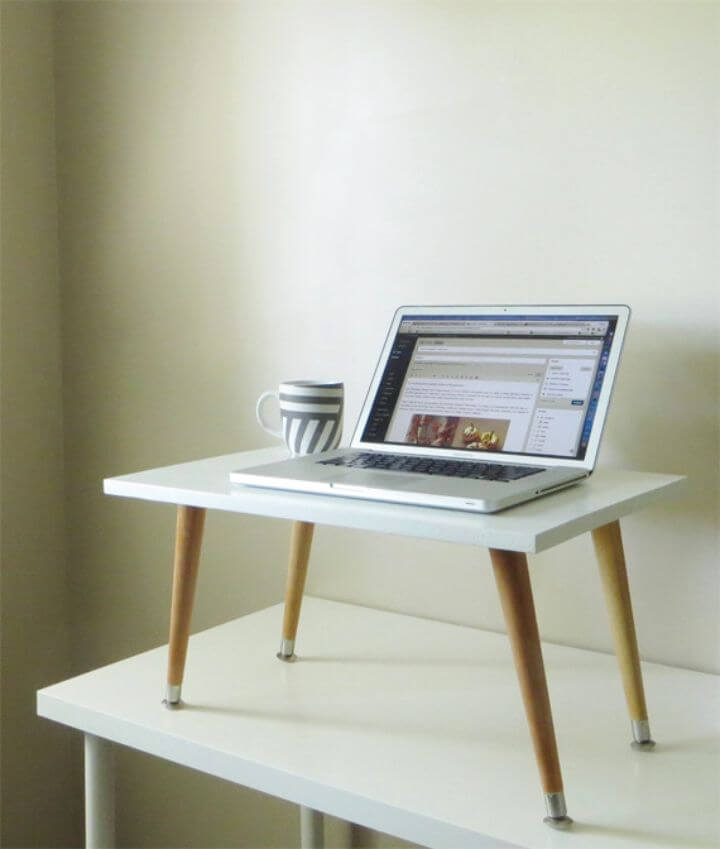 Build also gorgeous standing desks by building custom add-ons, which will be like mini wooden desks to put on the desk design you already have. Finis a piece of lumber with tapered legs using metal angle plates and build a standing desk add-on. Using stain and paint will make you get with some incredible looks and wood tons. creativegreen
9. DIY Steel Pipe Standing Desk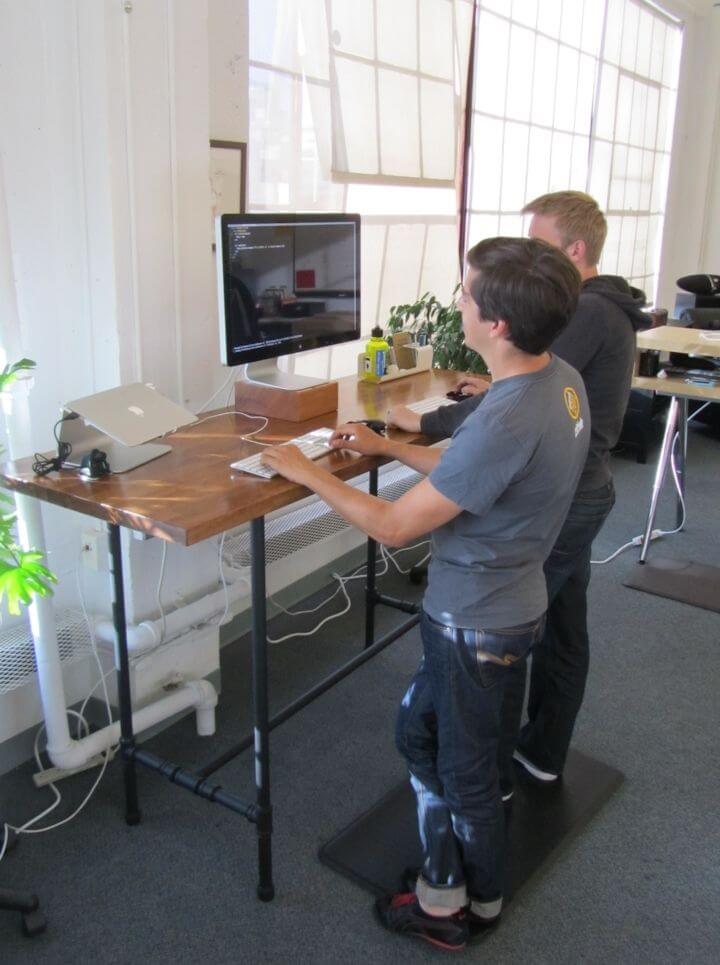 Fall in love with this another excellent steel pipe standing desk, sure to bring some modern industrial vibes to space where it has to be used. Use the T metal pipe fittings, floor flanges, ending caps, and galvanized metal pipes to build the solid metallic base for the standing desk, top it up with the solid wooden top. Complete how-to guides here spacekat
10. Electric Sit-to-Stand Desk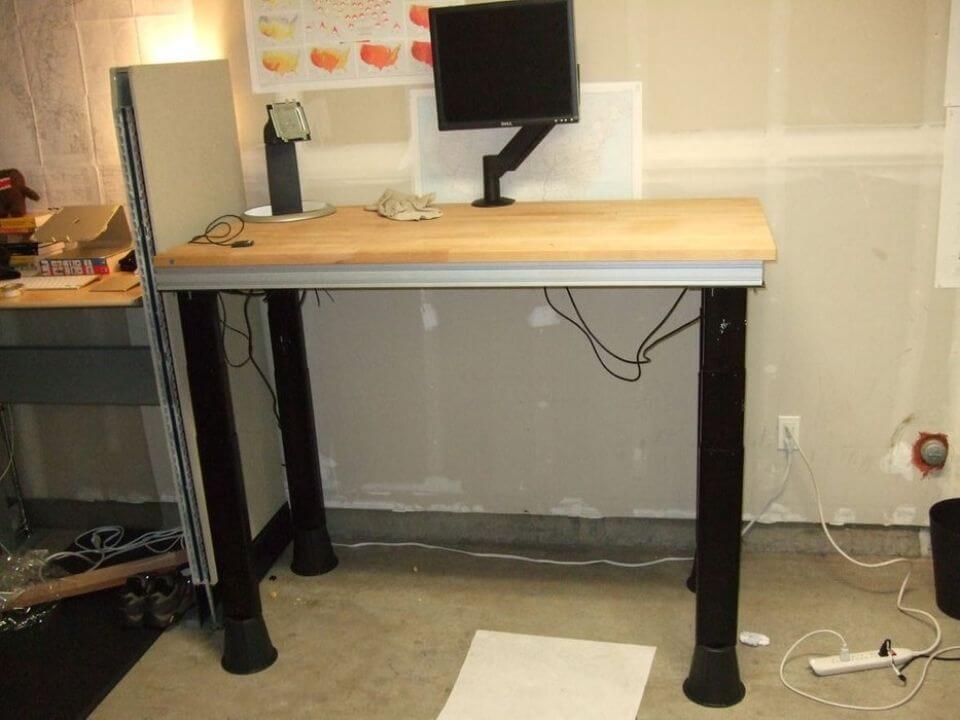 Increase your leg strength by working on a desk in a standing position. Help yourself in doing so cheaply using this electric sit-to-stand desk. Standing position will put weight on your legs and hence will make your legs fit. Work on this desk in both sitting and standing positions. Go with IKEA NUMERAR oak countertop, galvanized steel pipes, and paint to whip up this stylish industrial standing desk. Details here instructables
11. Build a Standing Desk Tabletop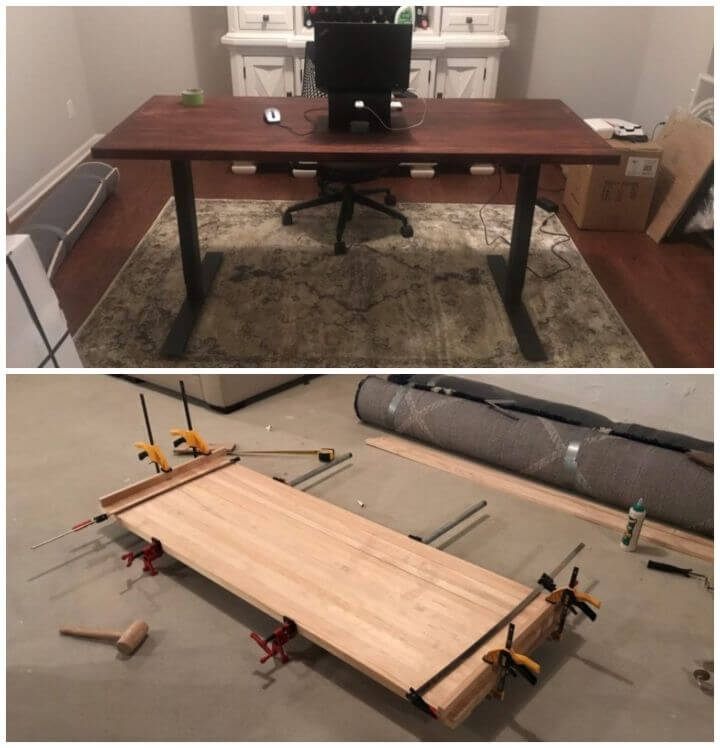 Working on desks in standing positions will also help in weight loss, so working on this standing desk will be like you are following the weight loss routines. It stands on T-shape legs and is having a solid built wooden top, builds the base using lumber wood lengths, here it comes with brackets. Next, make it hold the solid wooden desktop. Full tutorial here startstanding
12. DIY Wooden Standing Desk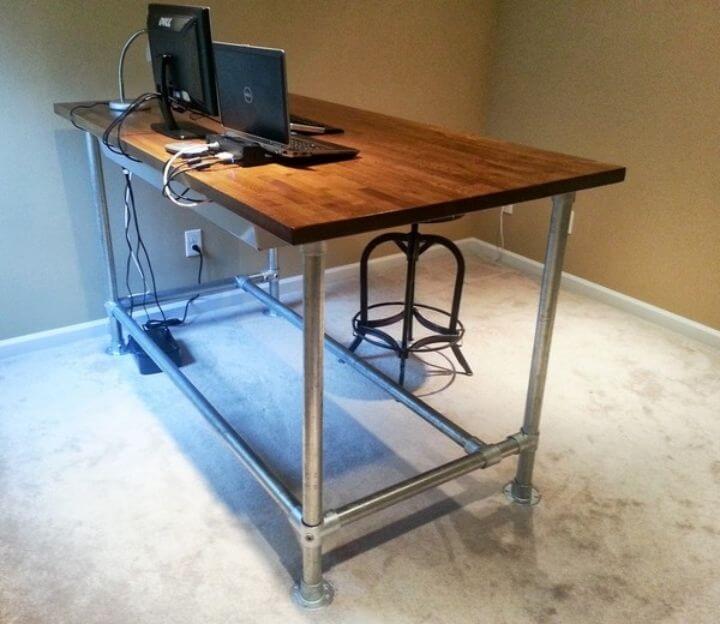 Check out here another handsome standing desk design that is having a cool metal pipe base. Along with having a great stable structure, it has a cool industrial design that is having a solid edged wooden top. A best DIY Industrial furniture project to do with the Plumber's pipes. See the durability in style in this standing desk design. simplifiedbuilding
13. How to Build $40 Standup Desk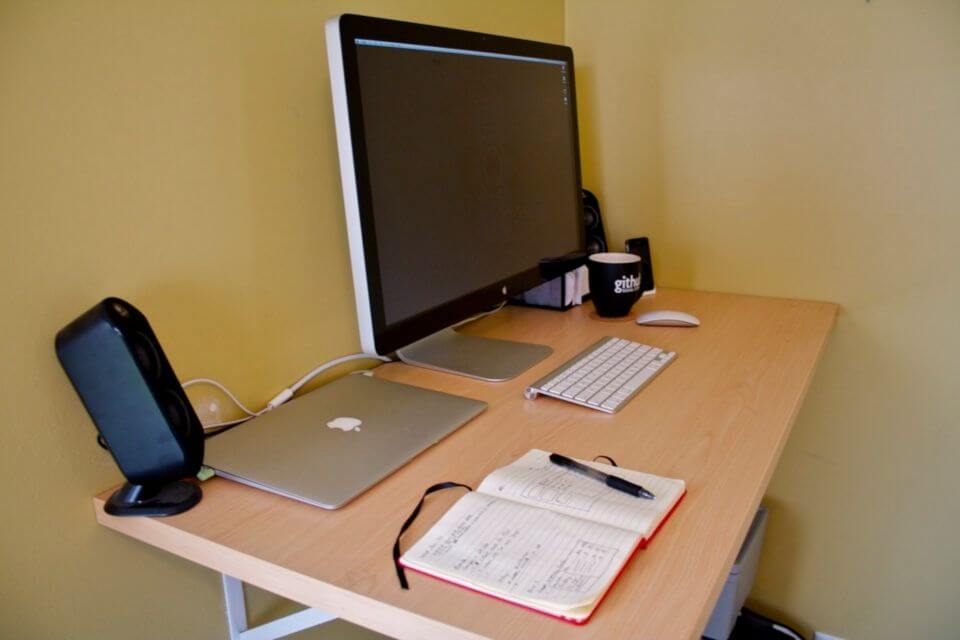 Build also a wall-mounted stand-up desk using the shelving hardware and local desktop surfaces. Add up the wall with shelving brackets and then make it hold a solid desk surface. Use screws to fix the brackets in the wall. Giving a nice wood finish and sealing the surfaces will bring shine to the wood grains. Full how-to tutorial here opensoul
How can I make a standing desk at home?
There are a few ways to make a standing desk at home. One way is to buy a standing desk, or you can build your own using some simple materials. Another option is to raise your current desk height by adding some extra storage or shelves underneath. Whatever way you choose, be sure to make sure your desk is the correct height for you to stay comfortable while standing.
What is the best height for a standing desk?
There is no standard answer to this question as it depends on individual preferences and needs. However, a height of around 50-60 inches is generally recommended. This allows for both a comfortable working position and enough space for accessories such as a computer monitor or telephone. If you are doubtful about the best height for your desk, it is recommended to experiment with different settings to see what works best for you.
What size standing desk do I need?
There is no definitive answer to this question as it depends on various factors, such as the height of the person using the desk and the amount of space available in the work area. However, a known rule of thumb is that a standing desk should be about the same height as the user, or perhaps a few inches taller. Additionally, it's important to make sure that there is enough space for the user to move around freely, so a too large or too small desk may not be ideal.
Can you build your own sit/stand desk?
You can definitely build your own sit/stand desk! There is a lot of great DIY standing desk plans mentioned above that can walk you through the process. However, if you're not comfortable with carpentry or don't have the tools to do it yourself, some great pre-made options are available. Just be sure to do your research to find the best desk for your needs and lifestyle. Happy standing!
What can I use instead of a standing desk?
There are a few alternatives to using a standing desk, depending on your needs. A common option is to use a taller chair so you can raise your working surface to a comfortable height. You can also try using a bar stool or even a kitchen counter. If you don't have access to any of those, you can always try using a box or a stack of books to raise your surface. Experiment until you find what works best for you!
How can I raise my desk without legs?
There are a few ways that you can raise your desk without legs. One way is to use risers. Risers are blocks that you put under your desk to raise it up. You can find risers at most office supply stores.
Another way to raise your desk is to use a bookshelf. If you have a tall bookshelf, you can put your desk on top of it. This will raise your desk up to the same height as the bookshelf.
Finally, if you have a lot of things that you need to store, you can use a storage container to raise your desk. There are various types of storage containers that are available, so you should be able to find one that will work for you.
Why a standing desk is better?
There are many reasons a standing desk is better than a sitting desk. For starters, when you're standing, you're using more muscles, and those muscles are working harder. This means that you're getting more of a workout simply by standing at your desk than you would if you were sitting.
Additionally, when you stand, you're burning more calories and improving your posture. All of these miracles add up to a healthier you overall. A standing desk is also a great way to avoid fatigue and keep your energy levels high throughout the day. A standing desk is a perfect solution if you're looking for an easy way to get more out of your workday.
How do I make an Ikea standing desk?
You can make an Ikea standing desk by following these simple steps:
Measure the height of your desired standing desk and cut the top piece of wood to that length.
Mark the locations of the screws that will hold the desk together on both pieces of wood.
Pre-drill holes for the screws.
Assemble the desk according to the Ikea instructions.
Add a desktop organizer or bookshelf to hold your computer, printer, and other office supplies.
Enjoy your new DIY Ikea standing desk!
What motor is used in a standing desk?
There is no definitive answer as different people prefer different motors for their standing desks. Some people might prefer a quieter motor, while others might prefer a more powerful motor. Ultimately, it comes down to personal preference. Some popular motor options include the DC motor and the gearbox motor.
How do you hack a standing desk?
There is no definitive answer to this question, as people's methods to hack standing desks vary widely. However, some common methods include adding an adjustable keyboard tray, using a stack of books or a small platform to raise the desk surface, or using a DIY standing desk converter kit. Ultimately, the best way to find out how to hack your standing desk is to explore the options and find what functions best for you.
Conclusion:
So, there you have it – 13 Homemade diy standing desk plans to help you stand up and work! Whether you're looking for a quick and easy solution or want to create a more permanent Homemade standing desk, there's a DIY plan here for you. Have fun getting your work done in a more comfortable and healthy way!