Making a DIY air conditioner cover is a cheap and artistic solution to hide your ugly and bulky outdoor AC unit, especially if it's in your front yard or patio. Learn how to build a wood ac cover with these 20 easy DIY air conditioner cover ideas that will hide the unit and enhance your outdoor space. All these DIY ac unit cover ideas come with detailed, step-by-step instructions catering to every skill level, from novices learning new DIY skills to DIYers searching for a weekend woodworking project.
These DIY ac unit cover ideas range from efficient utilitarian covers made out of simple wooden pallets to more elaborate AC enclosures boasting adjustable slats for adaptable airflow. Moreover, you can opt for a multi-purpose unit cover, such as one combined with garbage can storage, adding functionality to your outdoor space. The list also includes the materials required to build an air conditioner enclosure, ensuring you have everything you need to get started.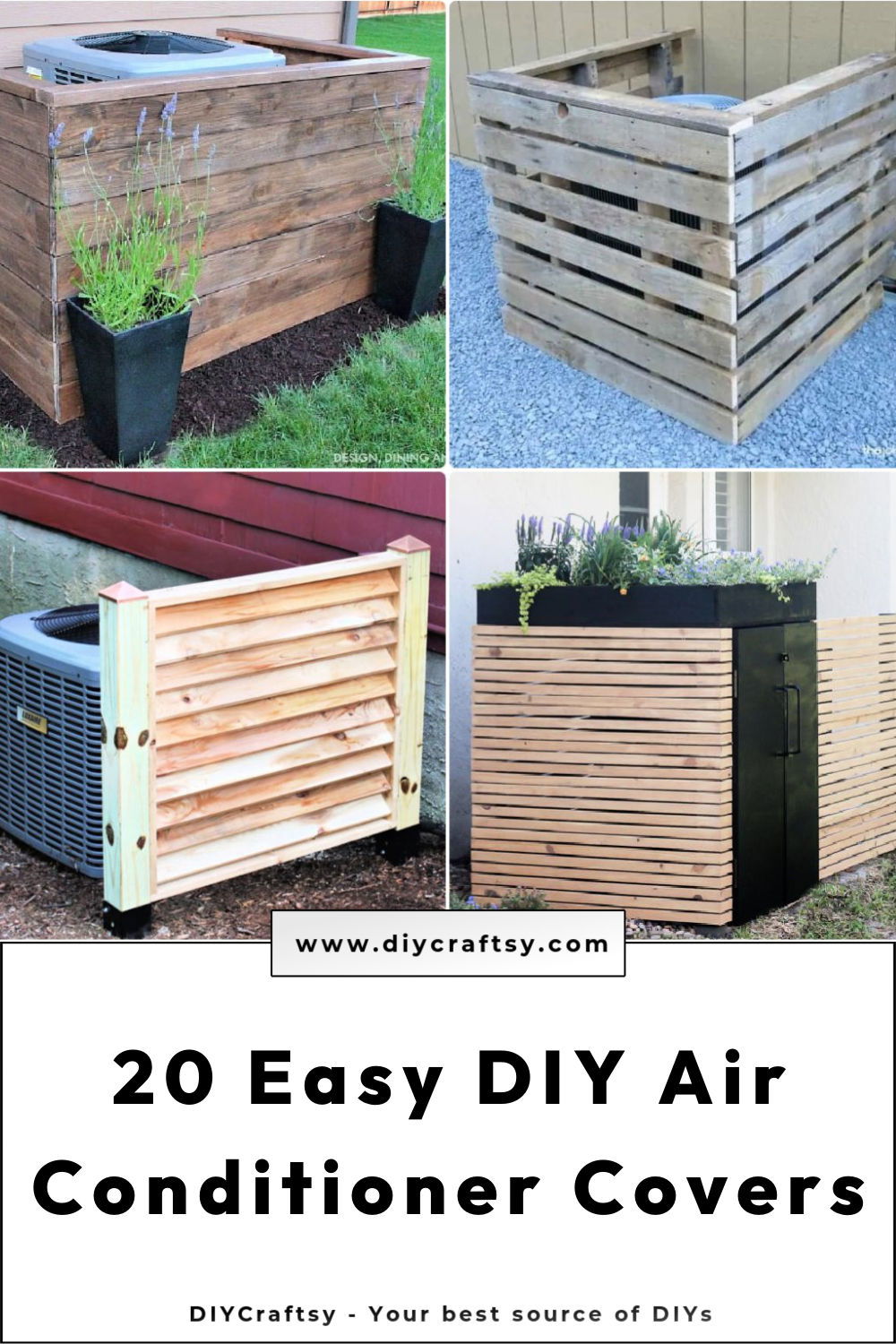 DIY Ac Unit Cover Ideas
Building a DIY air conditioner cover is easier than you think. You don't need to spend a lot of money or time on this project. All you need are some basic tools and materials, such as wood, screws, and a drill. You can choose from different styles and designs, depending on your preference and skill level. For example, you can make a simple wooden screen with slats that allow proper airflow, or you can make a more decorative cover with lattice or fence pickets. You can also paint or stain the cover to match your home's exterior.
Moreover, these DIY air conditioner cover ideas cater to various aesthetic preferences, from a bohemian indoor air conditioner cover to a modern, clean-lined outdoor unit. By making an air conditioner cover, you can effectively hide the bulky metallic unit while enhancing your home's exterior. So, pick your favorite DIY AC cover today, grab your tools, and singlehandedly elevate your outdoor area's ambiance!
1. How to Build an Air Conditioner Enclosure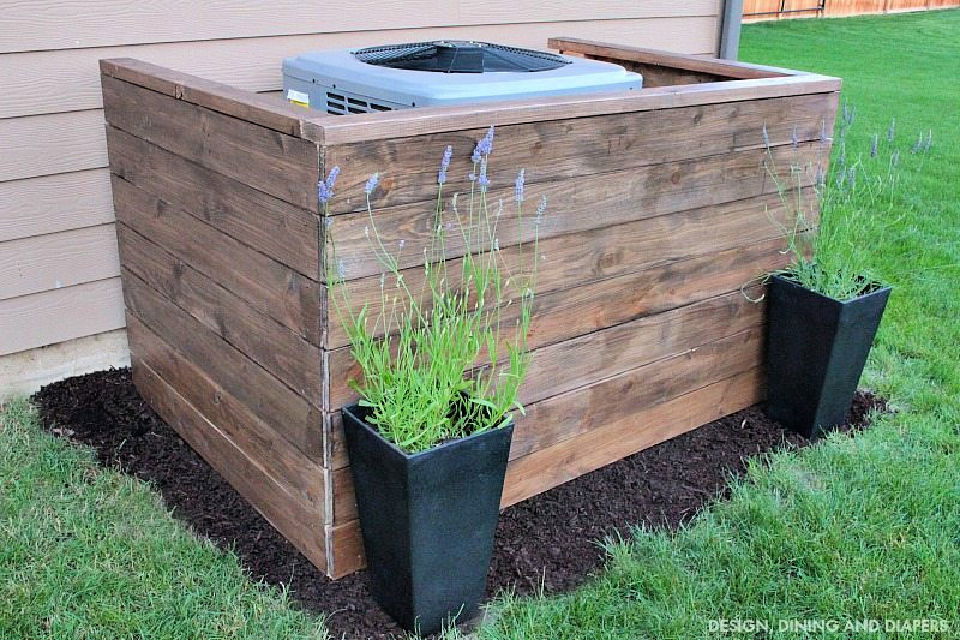 Get hands-on with a DIY project and build your air conditioner enclosure to beat the summer heat! This AC unit cover will help hide your home's unsightly exterior and enhance its curb appeal.
This step-by-step guide lists all the necessary materials, including fence posts, boards, Quikrete, galvanized fence nails, wood stain, sealer, weed barrier, and decorative filler.
The instructions cover removing grass around the AC unit, digging holes for the posts, setting them with Quikrete, staining the boards, and attaching them to make the cover. The project is customizable based on the size of your AC unit, and the finished result adds a polished look to your backyard. tarynwhiteaker
2. DIY Pallet Wood Air Conditioner Cover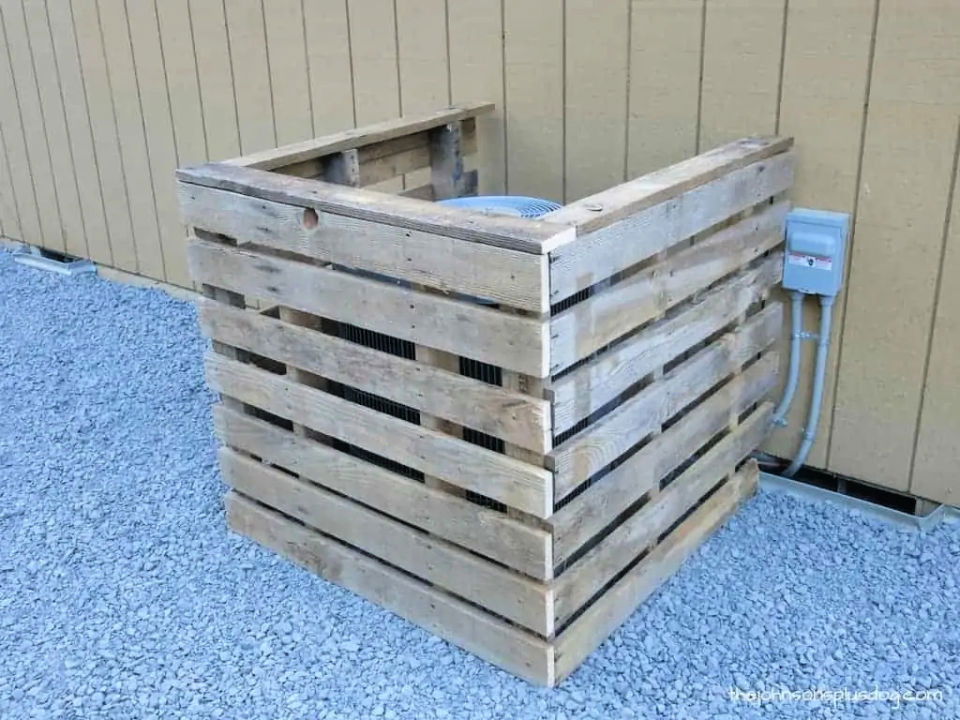 Cover your unsightly air conditioning unit with an easy and frugal DIY pallet AC unit cover. You can make a simple and stylish cover in 45 minutes with just a few basic tools and three pallets. Cut the front pallet to the appropriate size, remove some backboards, and pry out rusty nails.
Then, cut the side pallets to size and attach them to the front pallet with wood screws. For added support and a finishing touch, attach optional top trim pieces. This project requires minimal effort and materials, making it a cost-effective solution for hiding your AC unit and enhancing curb appeal. makingmanzanita
3. How to Make a Stylish AC Screen Cover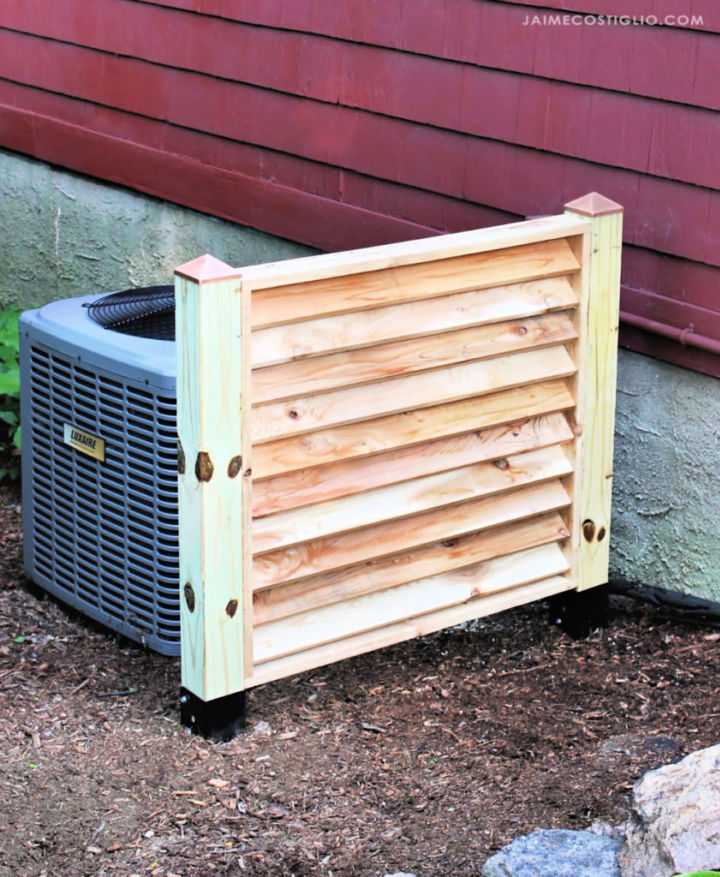 Stay cool and classy this season with a unique DIY AC screen cover! In this informative guide, discover how to hide unsightly objects or conceal parts of your yard with a wood screen. Whether you want to cover up an AC unit, trash can area, or pool equipment, building a beautiful wood screen without digging holes or pouring concrete is the perfect solution.
This guide shares step-by-step instructions on constructing and installing an AC screen that blocks the view but doesn't impede access or airflow. With easy installation using Simpson Strong-Tie E-Z Spike fence post spikes and cedar wood, you can transform an eyesore into an aesthetically pleasing addition to your outdoor space. strongtie
4. Modern DIY AC Unit Cover Idea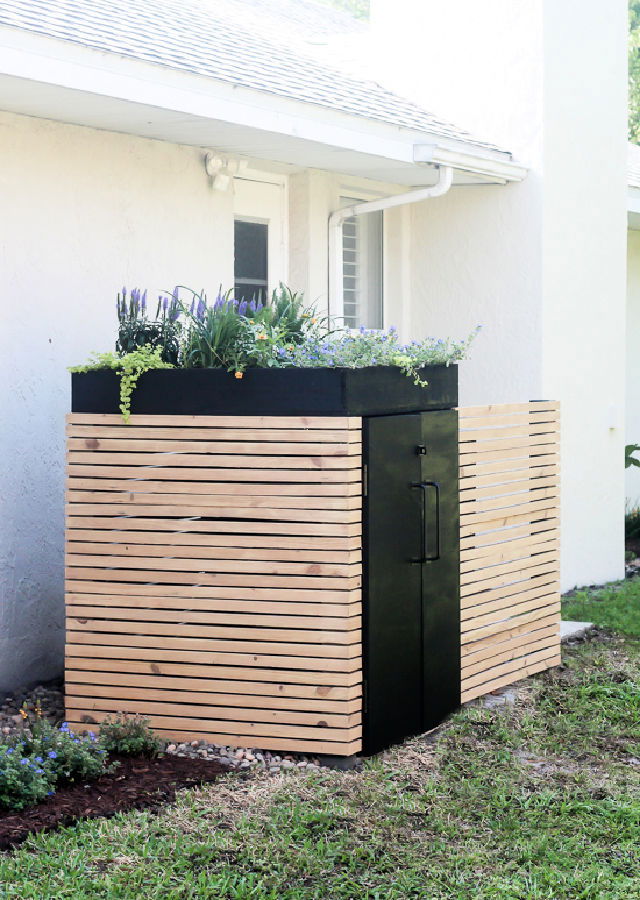 Take your air conditioner from an eyesore to a work of art with this modern DIY AC unit cover idea! This guide will instruct you on building an attractive, functional AC unit with a connected trash can storage area and a cut flower garden.
This detailed guide provides step-by-step instructions for building the cover using materials like 4 x 4 posts, 1 x 2 boards, outdoor paint, stain, plywood, and various tools.
This guide highlights the time-saving benefits of using the HomeRight Super Finish Max Paint Sprayer for staining wooden slats. With clear illustrations and helpful tips, you can conceal your AC unit, store your trash can, and enhance your curb appeal with this versatile project. withinthegrove
5. Build an AC Unit Cover With Garbage Can Storage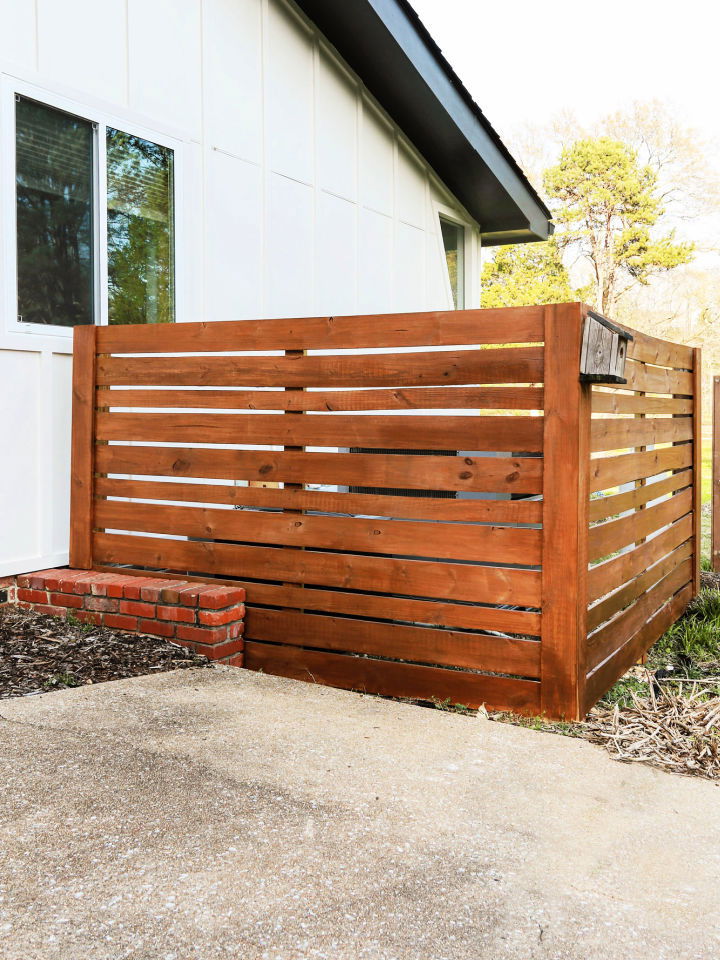 Breathe easily and organize with a DIY ac unit cover that doubles as garbage can storage! Use a simple, affordable cover fence to hide unsightly air conditioner units and trash cans. This tutorial provides step-by-step instructions on building a fence cover using treated pine boards, making a disappearing act for eyesores in your outdoor space.
With just a day's work and under $200 in materials, you can upgrade your curb appeal and transform your outdoor area. The guide outlines the materials and tools needed and detailed steps for installing the fence cover. Enhance the aesthetic of your home and enjoy a more visually pleasing outdoor environment. designingvibes
6. Affordable DIY Air Conditioner Screen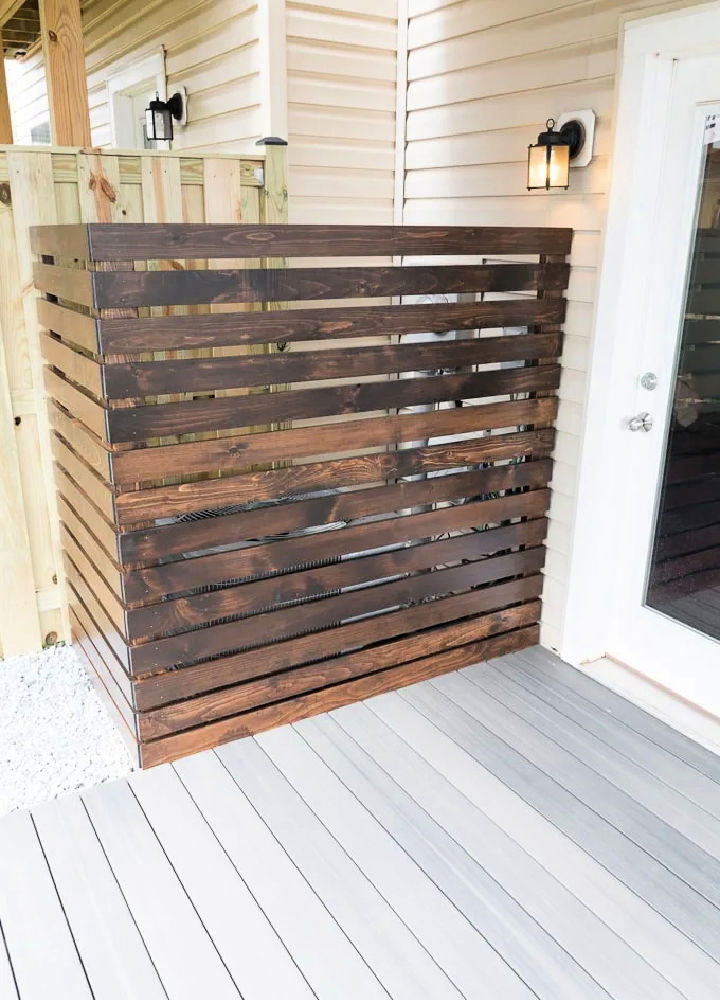 Don't sweat the summer – keep cool with this affordable DIY air conditioner screen! Learn to hide your outdoor air conditioning unit with a removable air conditioner screen in your backyard. This informative guide provides a step-by-step guide on making your custom screen that is both appealing and practical.
Using materials like 2x4s and 1x4s, an orbital sander, a saw, a finish nailer, construction adhesive, wood stain, and pocket hole screws.
The process involves measuring, cutting, sanding, finishing the screen, and assembling it in an "L" shape to allow for appropriate air circulation around the unit. With helpful tips and considerations for placement, this project is a great solution for concealing unsightly AC units while maintaining functionality. bybrittanygold
7. Handmade Outdoor Air Conditioner Enclosure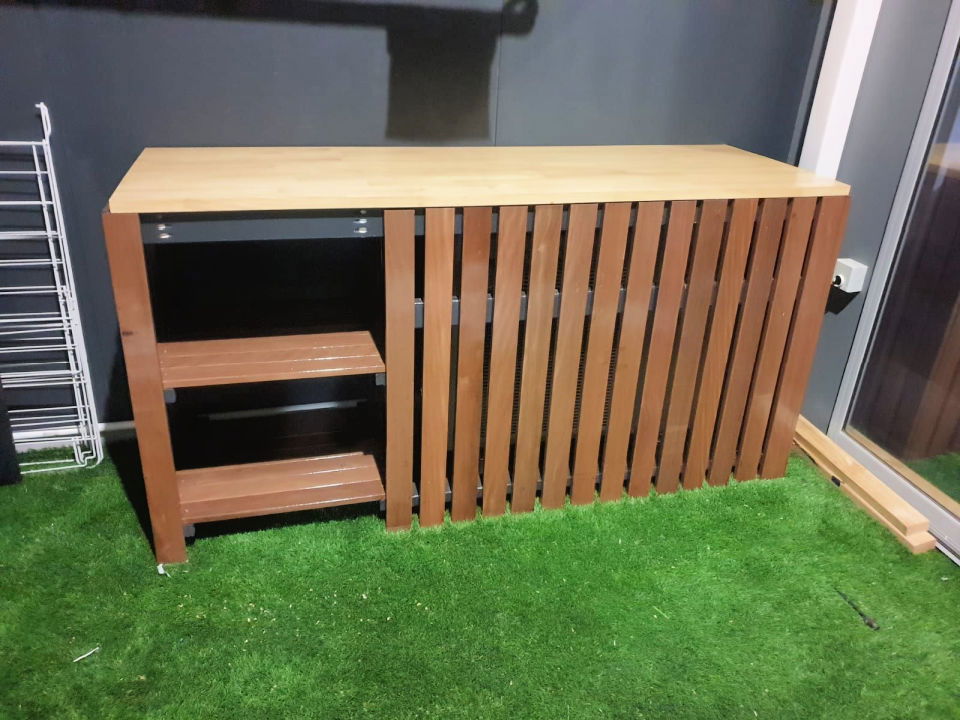 Conquer the heat with your DIY air conditioner enclosure, and save money! Use this guide to make a functional, stylish air conditioner cover with built-in storage and a benchtop. The guide showcases constructing the cover using H3-treated framing timber and includes detailed plans and designs.
The frames are made by cutting and joining timber pieces with pocket holes and wood glue, while the shelf slats are secured using screws.
The completed frame provides ample clearance for the air conditioner unit and is made movable with the addition of wheels. The cover is finished with a water-based and marine-grade gloss varnish for protection. Add the finishing touches to perfect this versatile air conditioner cover. workshop bunnings
8. Make a Beautiful Wooden AC Cover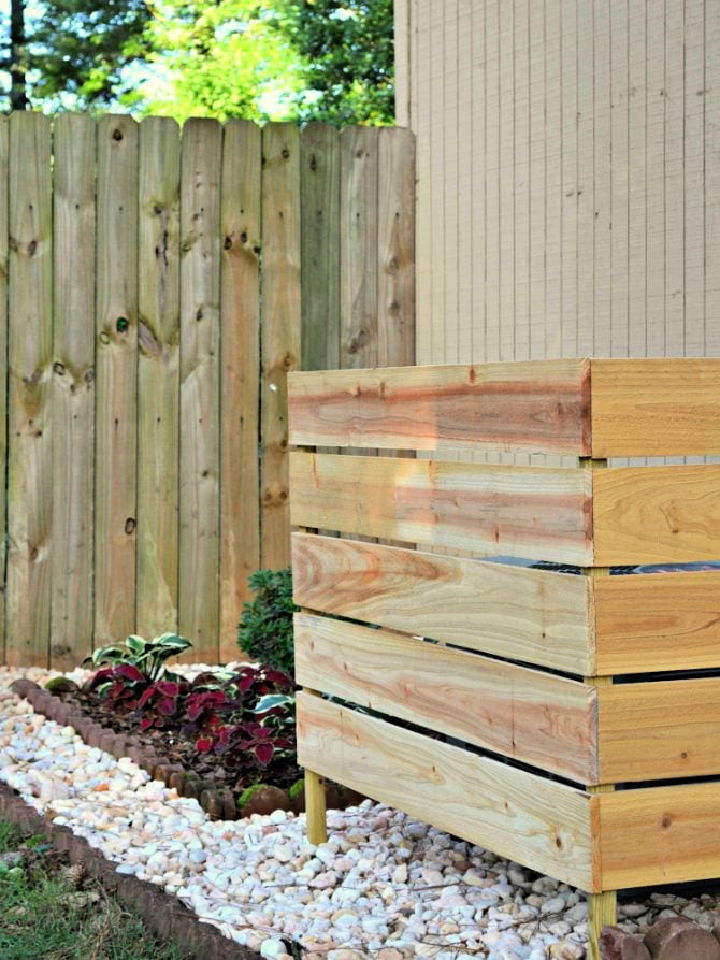 Hide your air conditioner and improve your yard's appearance with this DIY wooden screen project. In this easy weekend project, you'll use cedar planks and Liquid Nails Fuze*It glue to build an attractive cover for your outdoor AC unit. The tutorial provides step-by-step instructions for cutting the pickets, assembling the side panels, gluing the pieces, and securing the posts into the ground. With this project, you can hide your air conditioner while adding a touch of style to your backyard. Get started on this quick and beginner-friendly project today! uglyducklinghouse
9. Building a Wooden Air Conditioner Cover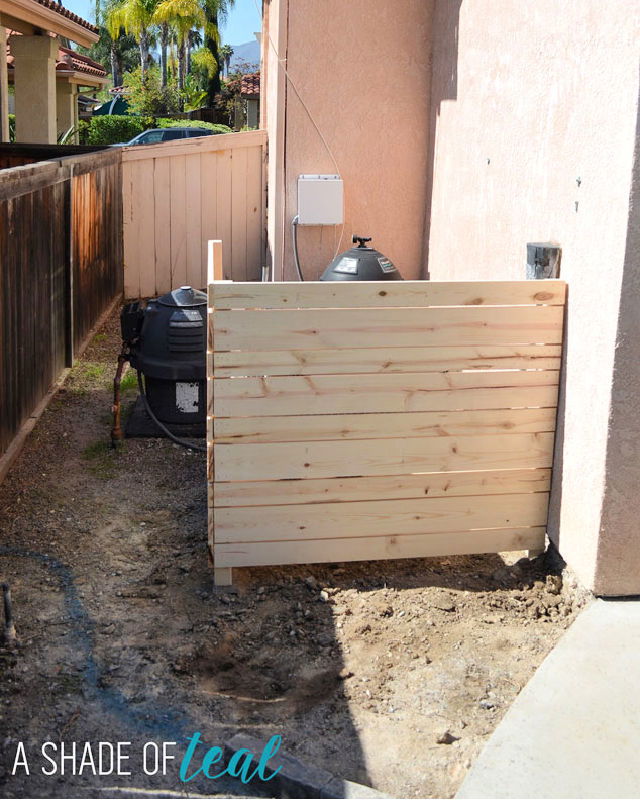 Turn the unsightly view of your AC unit or pool equipment with this easy and removable DIY cover. You can build a stylish cover that hides unattractive equipment using the lumber and a few simple steps. Start by cutting the lumber to size and arranging the slats in a pattern.
Nail them in place, ensuring proper spacing. Then, attach the side slat and posts, constructing a sturdy structure. Once completed, flip it over and move it into position.
Level the ground, add blocks for height adjustment, and lay a weed barrier. This cover will not only conceal the equipment but also enhance the overall appeal of your outdoor space. ashadeofteal
10. DIY Boho Indoor AC Cover Idea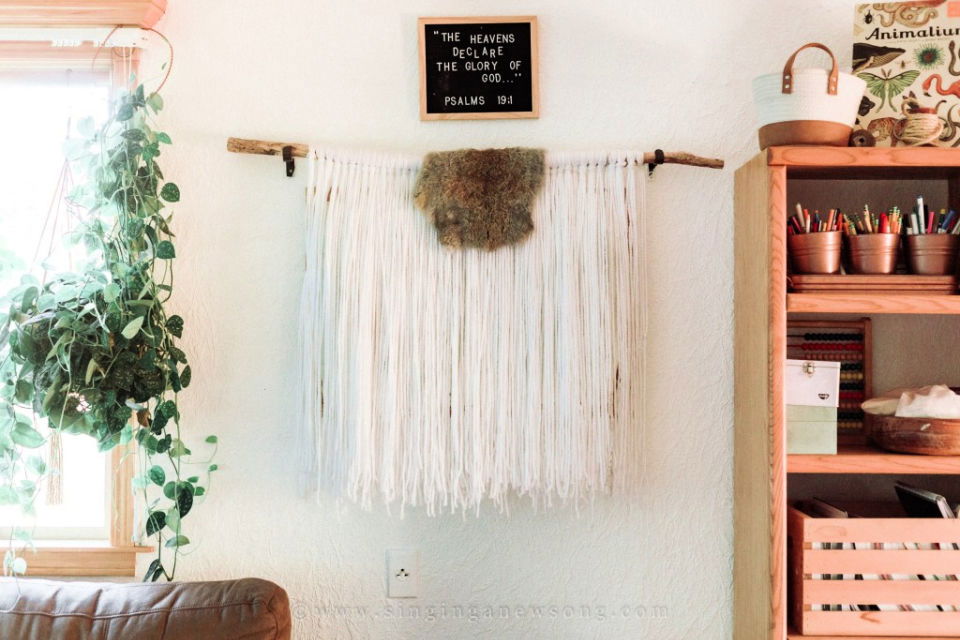 Unleash your inner free spirit with this DIY Boho Indoor AC cover Idea! This unique and attractive AC cover will help to hide that unsightly unit in your home. You can easily make this boho-inspired cover in under an hour with just a few supplies, like yarn, scissors, and a wooden dowel or stick.
The tutorial provides step-by-step instructions and helpful pictures to guide you. This creative solution lets you personalize the cover with your favorite colors and adds a stylish touch to your living space. Say goodbye to an eyesore and transform your air conditioner into a boho masterpiece with this simple project. singinganewsong
11. Creative Air Conditioner Cover Out of Wood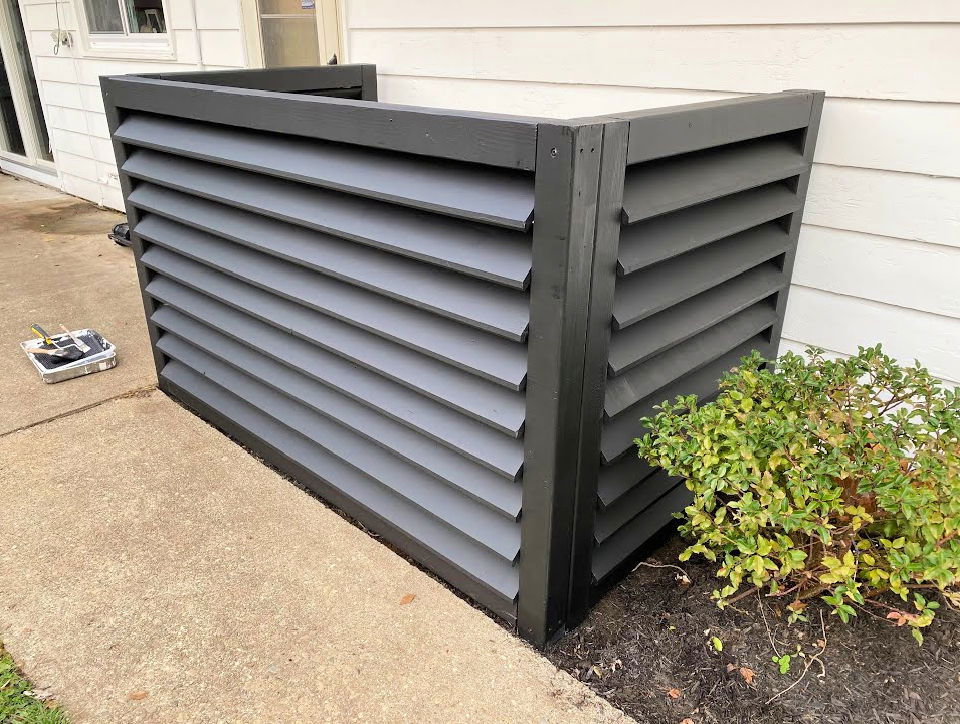 Unleash the creativity to make a modern air conditioner cover with this detailed DIY guide. This tutorial will direct you through building a louvered AC condenser and gas meter screen. The cover is fully removable, allowing for easy access and ensuring proper airflow to the unit.
Using 4″x4″ Douglas fir posts and 1″x6″ pine boards, this guide demonstrates the construction techniques and provides valuable tips.
The materials are treated with oil-based primer and finish coats to protect against moisture, prolonging the cover's lifespan. Follow along and build a functional and aesthetically pleasing cover for your air conditioner unit.
12. How to Make an Outdoor Air Conditioner Cover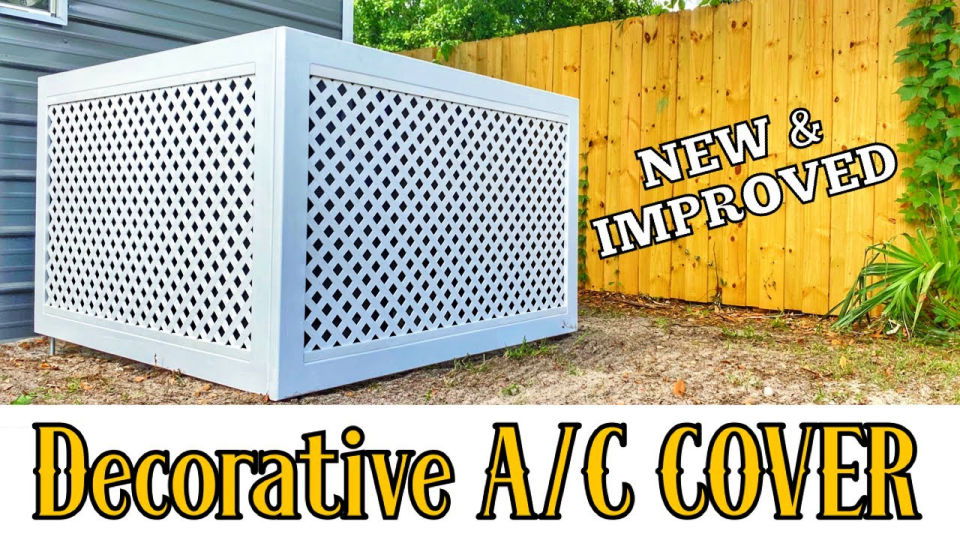 Turn your drably-looking outdoor air conditioner into a wonderful work of art with this simple DIY cover! Nobody wants an unsightly machine disrupting the ambiance of their outdoor space or garden. So why not give it a clever disguise?
With this informative guide, you'll learn how to construct the perfect conditioning cover that will aesthetically enhance your backyard and protect your equipment.
In this comprehensive video, you'll discover step-by-step instructions, useful tips, and expert advice for building a top-rated conditioning cover. So, why wait? Watch the video and start transforming your dull outdoor air conditioning unit into the perfect work of art today. With just a few simple steps, you, too, can have a magnificent piece of outdoor decor!
13. Build Your Own Air Conditioner Fence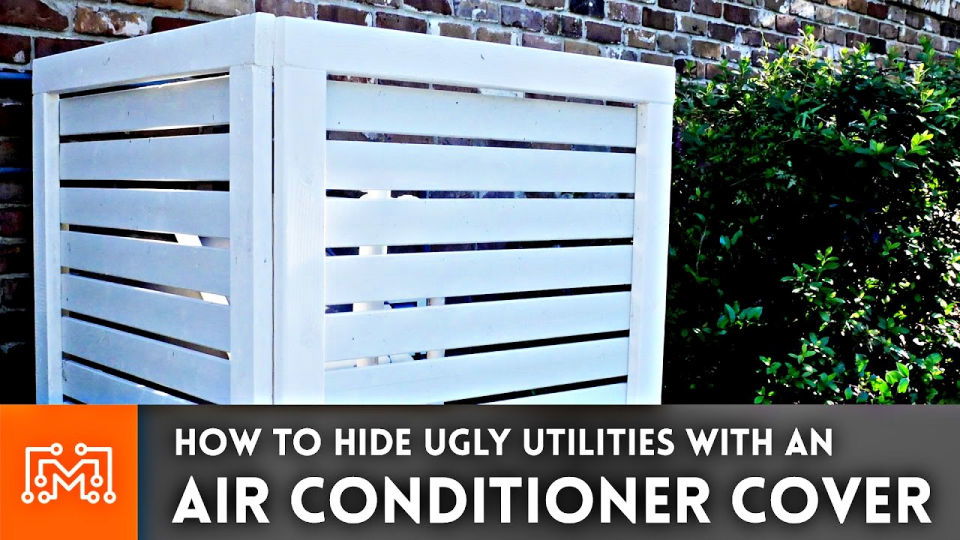 Cool off with the DIY air conditioner fence – your oasis! Exalt the look of your yard with a simple air conditioner cover fence. In this informative tutorial, you'll learn step-by-step instructions on making a stylish and functional cover for your air conditioner.
The video lists tools needed for the project, including a circular saw, drill driver combo, and compound miter saw. With the help of these tools and some creativity, you can build an attractive fence that enhances the appearance of your yard.
Whether you're a seasoned DIY enthusiast or just starting, this project is perfect for adding a touch of charm to your outdoor space. Get ready to upgrade your yard with this engaging and easy-to-follow tutorial.
14. How to Hide AC Units With Wood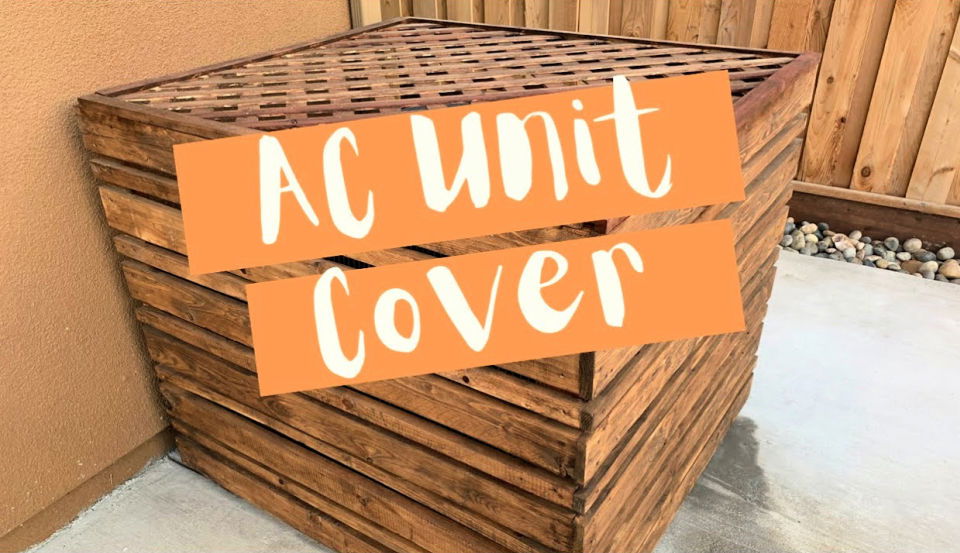 This DIY project will teach you to hide your central air conditioning unit with a creative and stylish cover. Transform a pile of pallets and leftover wood into a beautiful cover that not only conceals the AC unit but also provides ample ventilation.
Follow along with the step-by-step build and discover how to add a touch of aesthetic appeal to your backyard. This project helps homeowners hide their central air conditioning unit and improve the visual appeal of their backyard.
Following the step-by-step guide, you can build a stylish cover using pallets and leftover wood, ensuring proper ventilation for the AC unit.
15. Budget-Friendly DIY AC Unit Cover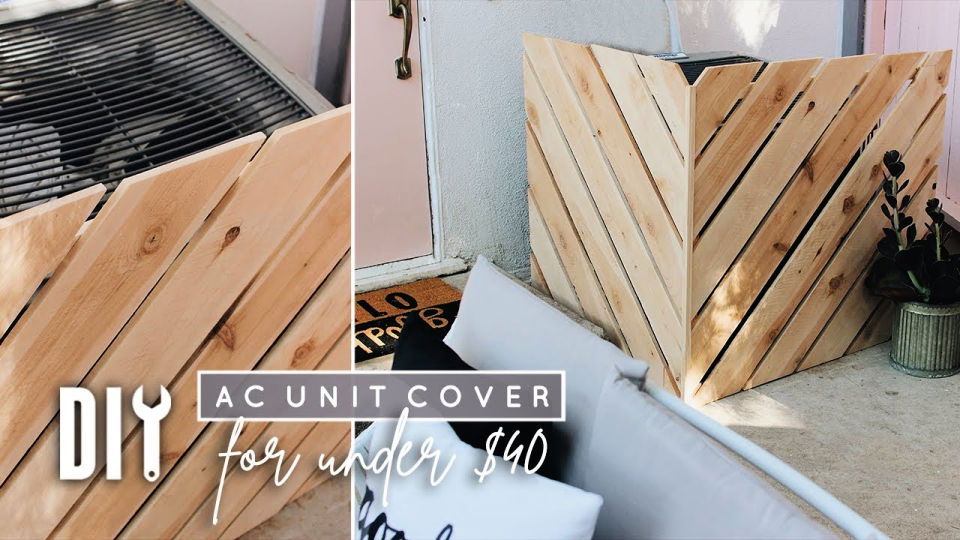 Keep your DIY AC unit stylish and budget-friendly with this easy-to-make cover! This affordable cover for your AC unit can be made with the help of a battery-powered miter saw! This video tutorial demonstrates how to make a custom AC unit cover that can be easily adjusted to fit any space.
With a budget of less than $40, this guide shows you the step-by-step process and provides all the materials she used, including the Milwaukee cordless 10-inch compound miter saw.
Enhance the appearance of your outdoor area while protecting your AC unit with this creative and cost-effective solution. Follow the easy instructions and unleash your DIY skills today!
16. Make Your Own Wooden Hvac Cover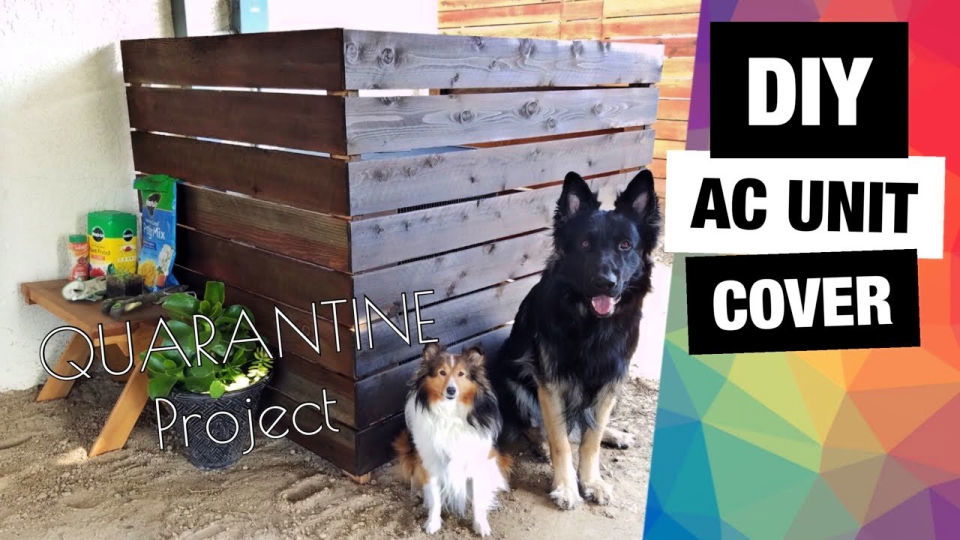 With this DIY wooden HVAC cover, you can customize your home's heating and cooling to look as beautiful as it functions! This informative video will show you how to make a cover using leftover materials from a fence and gate construction project. The cover is easily removable and effectively hides the eyesore of the AC unit. With step-by-step instructions and minimal supplies required, you can turn the appearance of your outdoor space while repurposing materials. Follow along and make a stylish and practical solution to hide your AC unit.
17. DIY Air Conditioner Cover With Adjustable Slats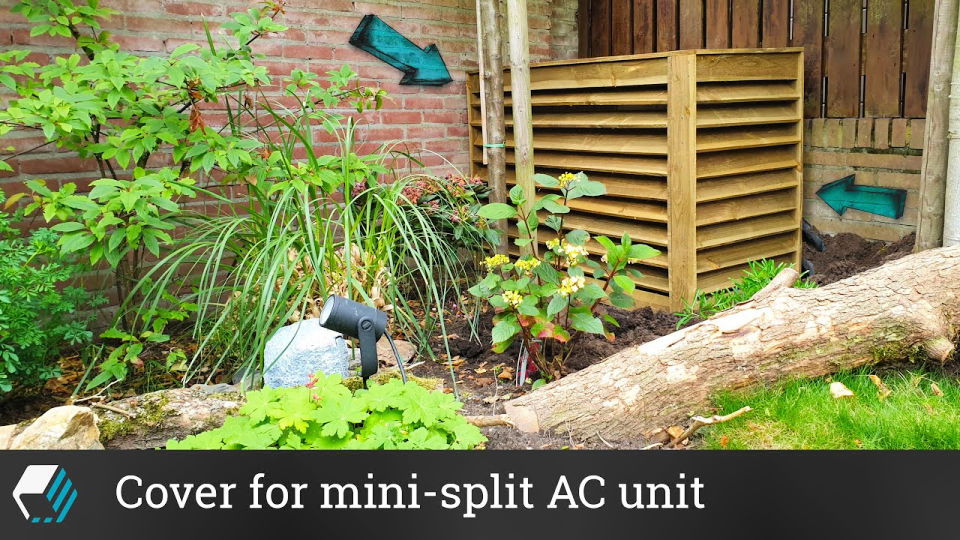 Discover how to build an elegant and cost-effective DIY cover for your mini-split air conditioning unit using this easy-to-follow video tutorial. This cover features adjustable slats that strategically optimize airflow while expertly concealing the unit from your guests' sight.
This informative guide is detailed enough for novice woodworkers to follow at home. Select your treated boards and supplies and commence this fun weekend project.
Not only will this project improve your home's aesthetic outdoor appeal, but it will also protect your AC unit in adverse weather. Say goodbye to rusty appliances and hello to a comfortable outdoor space!
18. Lattice Outdoor Air Conditioner Screen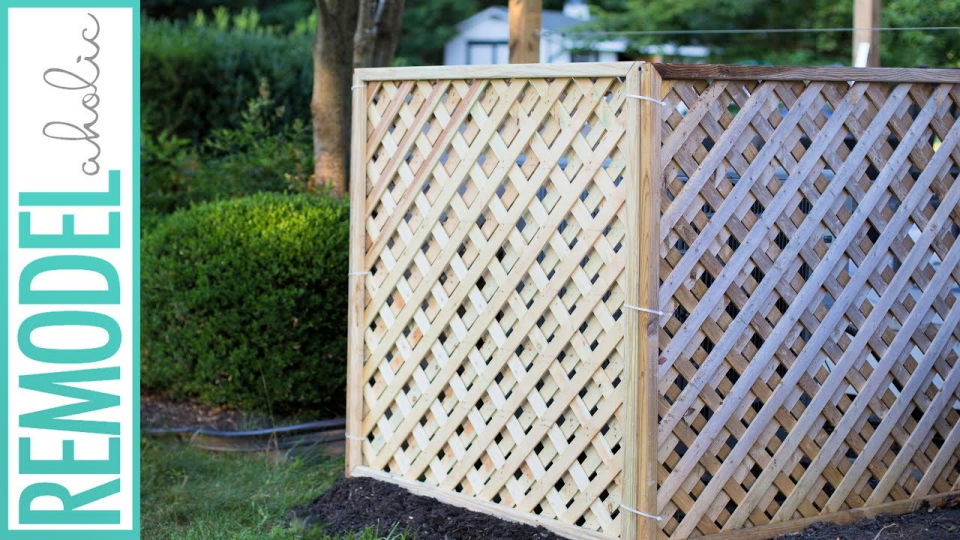 Cool down your summer days with a DIY lattice outdoor air conditioner screen! This easy lattice air conditioner screen teaches you to hide your outdoor AC unit. This guide provides a step-by-step tutorial, complete with photos.
Following the easy instructions, you can make a lattice screen to conceal your AC unit and add a stylish flair to your outdoor space. The materials needed for this project include a lattice, a frame, and basic assembly tools.
This creative solution lets you maintain your AC unit's functionality while improving your outdoor area's aesthetics. Check out the tutorial in this guide to start this project today.
19. Making an Air Conditioner Cover Step by Step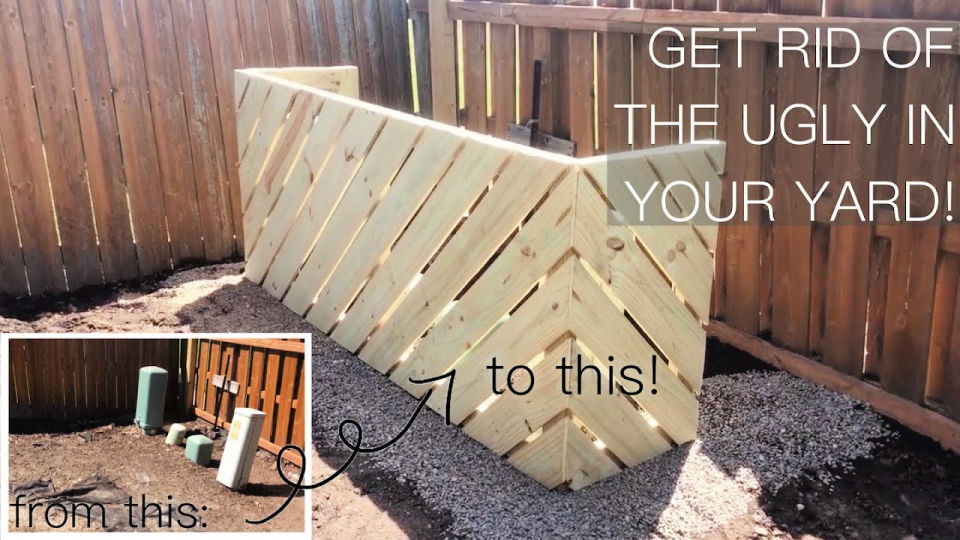 Learn how to hide those unsightly outdoor eye sores with this DIY cover project for AC units and utility boxes. In this tutorial, you'll discover how to make attractive and functional covers for your AC unit and utility boxes, perfect for a backyard makeover. With minimal time and effort, you can achieve maximum results.
This tutorial provides step-by-step instructions and dimensions for the frames and final sizes of the covers. Plus, you'll find a list of your favorite tools to make the project even easier. Say goodbye to eyesores and hello to a more aesthetically pleasing outdoor space!
20. DIY Air Conditioner Cover Less Than $20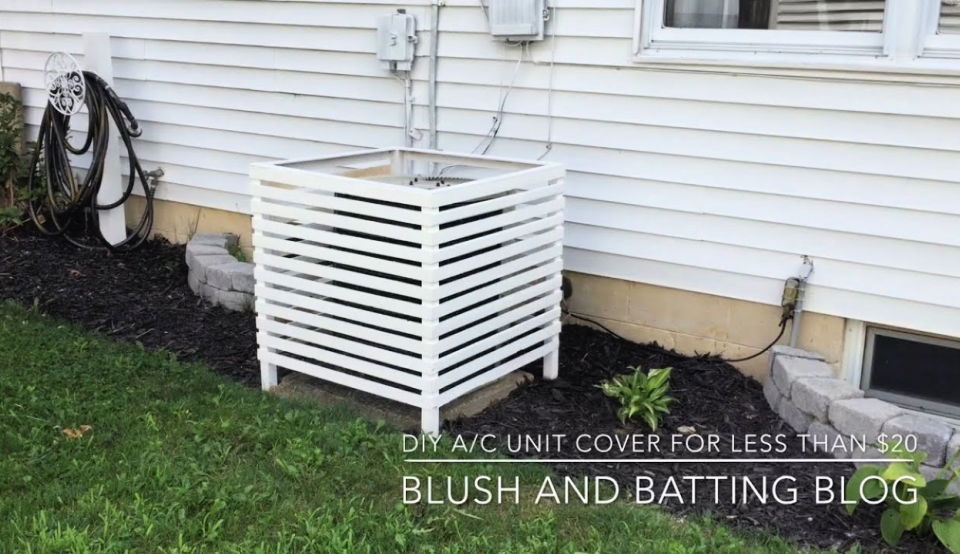 Transform your outdoor space with a budget-friendly DIY A/C unit cover that costs less than $20. This tutorial provides clear instructions on building a stylish and practical cover for your air conditioning unit. The materials needed for this project are readily available, and the step-by-step instructions make it suitable for beginners. By following this guide, you can enhance the aesthetic appeal of your backyard while protecting your A/C unit from the elements. Get creative and add a touch of uniqueness to your outdoor area today.
Related DIY Projects to Try This Weekend
Discover some fun and easy DIY home projects to tackle this weekend! Our list inspires you to get your creative juices flowing and gives you a break from the usual routine.
Practical DIY Projects for Backyard
Discover fun and easy DIY backyard projects! From gardening to outdoor decor, get inspired to create a beautiful backyard oasis.
Conclusion: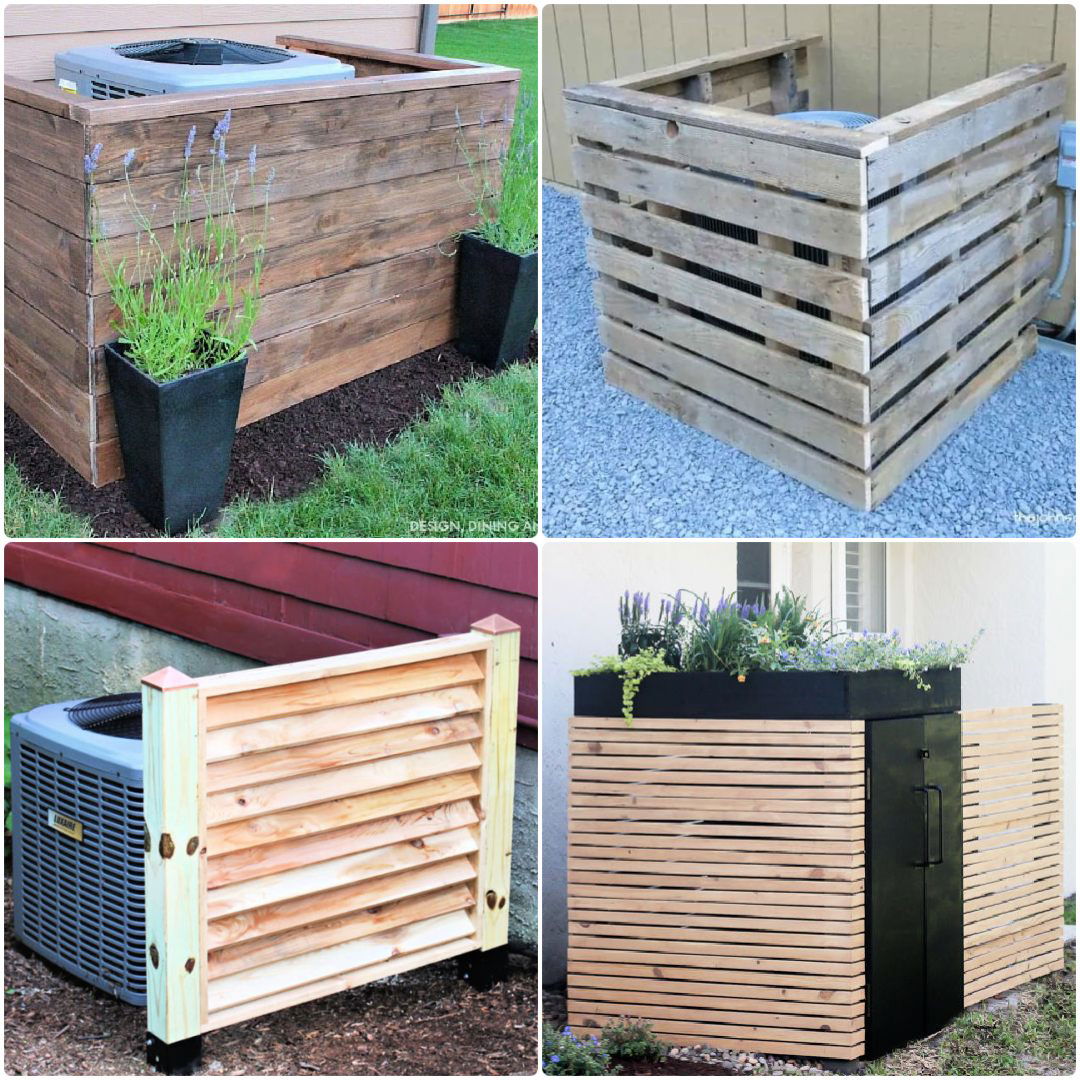 In conclusion, DIY air conditioner covers offer a practical and aesthetically pleasing solution to conceal your AC unit. With numerous ac unit cover ideas, from building enclosures to making screens, you can find the perfect option to suit your taste and budget. Explore the various possibilities, such as using pallet wood, crafting adjustable slats, or incorporating additional storage. Get inspired and embark on a DIY project that not only enhances the appearance of your outdoor space but also protects your air conditioning system.